Best Ways to Clean Paint Brushes
Hey, hey there Graphics Fairy peeps!  In case we haven't met, I'm Jessica from Mom 4 Real, and I hang out here once a month to share a cleaning trick or household tip with you!  This month, I want to talk about how the Best Ways to clean paint brushes!  I know a lot of you love to paint, and so do I.  The part I dread the most about painting is getting my brushes clean.  I have thrown so many ruined paint brushes away…it's shameful I tell ya!  Well, no more!  I have researched and found 4 different ways to clean your paint brushes, and I can't wait to share them with you! At the end, I'll tell you which one worked best for me, and I would love for you to leave a comment telling me what methods you have tried!
Cleaning Paint Brushes with Vinegar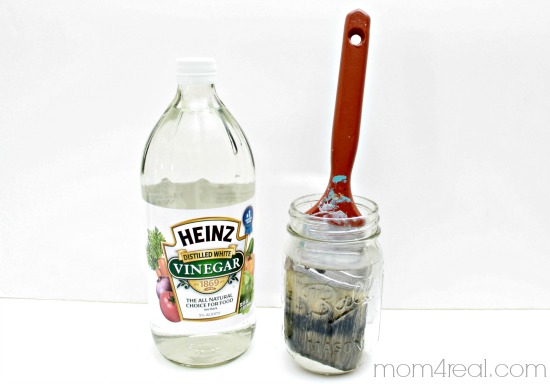 Distilled Vinegar.  I love cleaning with vinegar, so this is the first method I tried.  You simply add as much distilled vinegar in a jar as needed to cover the bristles of your paint brush.  (DO NOT SOAK THE HANDLE) Let your paint brush soak for about 5 minutes.  Take your brush out and rinse well.  This method worked great for getting my brush clean, but didn't remove the dried on paint.
Paint Brush Cleaning with Murphy Oil Soap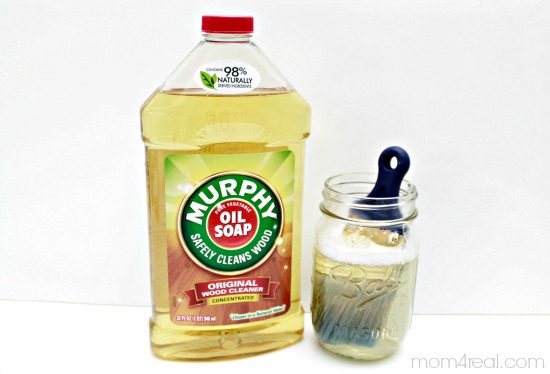 Murphy Oil Soap.  Mix 1 part Murphy's Oil Soap and 1 part warm water to a jar or cup and let your bristles soak for 30 minutes.  Rinse well with warm water. This method is great, especially if you accidentally leave your brush lying out with paint on it all night long…ermmm…not me of course!
Cleaning Brushes with Dish Liquid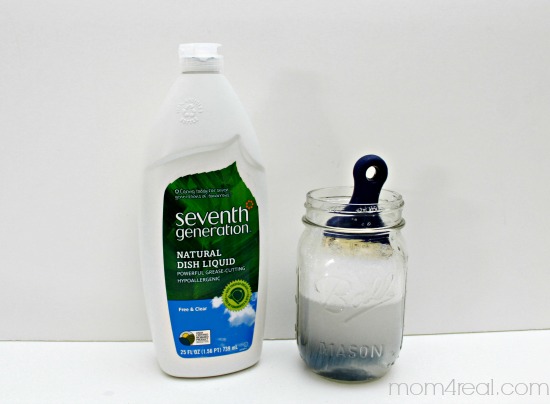 Dish Liquid.  Mix a few drops of dish liquid with warm water and soak your brush for about 10 minutes.  This method is great for making sure your get all of the paint off of your brush after rinsing…you know, just to be sure it's all out.  I wouldn't recommend this method for deep cleaning though.
What to use to Clean Paint Brushes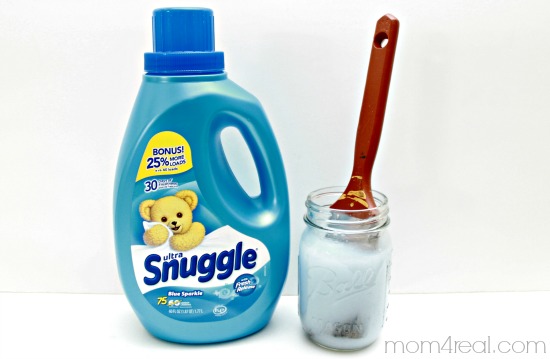 Fabric Softener.  Mix 2 tbsp. of fabric softener with 1 cup of warm water.  Soak your paint brush for 10 minutes.  Rinse with warm water. Surprisingly, this method worked the best.  The fabric softener does just what it says and softens the dried on paint as well as loosening the paint in the middle of the brush.  Just be sure to rinse really well!
I hope you find this Best Ways to Clean Paint Brushes post useful. I love that I found some methods that are great for cleaning my paint brushes after regular use, and also some methods for cleaning my brushes after I accidentally leave them lying around!  How about you?  Do you have any methods that work for you?
I love sharing cleaning tips and tricks…here are a couple that I have shared over at my blog, Mom 4 Real lately..
10 Tips For Cleaning With Vinegar
I can't wait to come back next month and share some more household tips with you!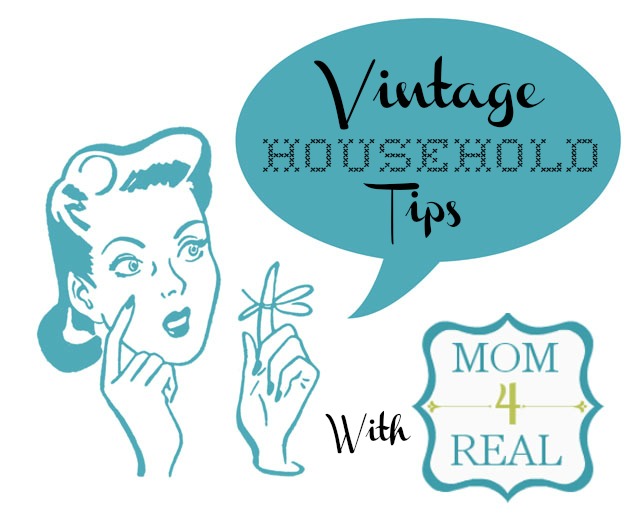 Jessica