Alcohol Ink Art Techniques
Hello, Graphics Fairy Friends – it's Heather, from Thicketworks. Some recent projects called for Alcohol Ink Art techniques, and it seemed like the perfect opportunity to share them with you! It's been too long since I had fun with alcohol inks! While I was playing with them, I thought you might enjoy a little 'refresher', too!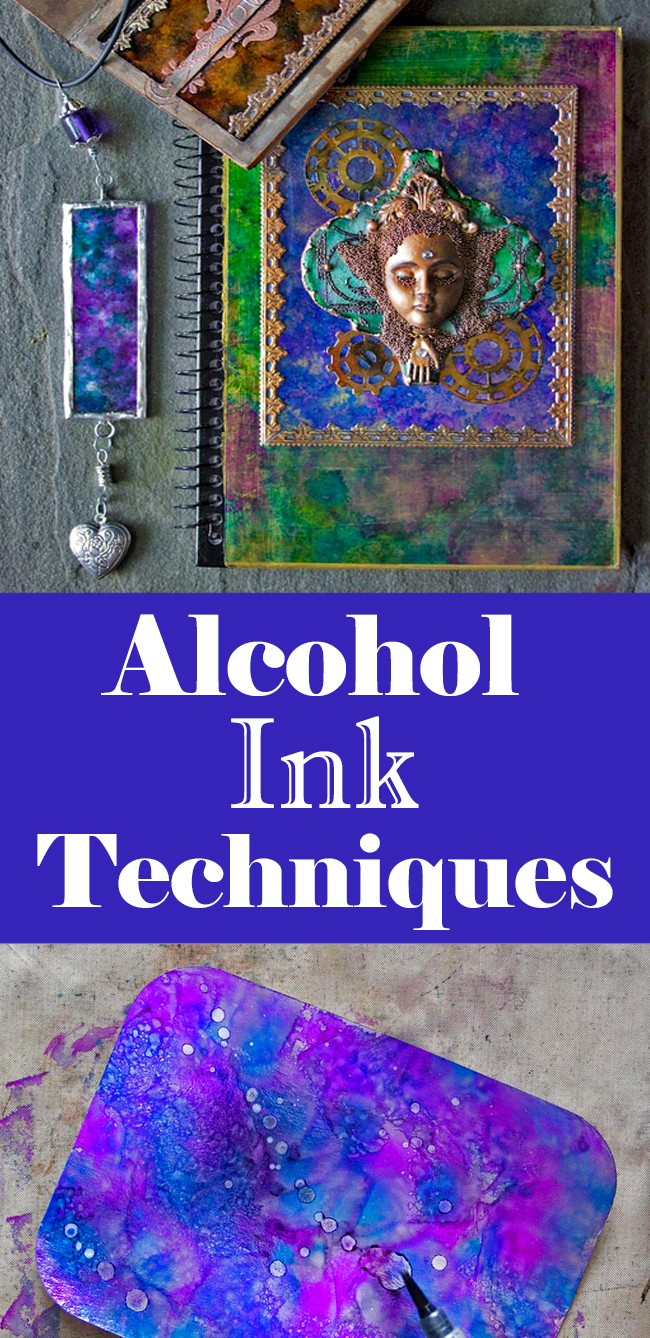 Alcohol Inks can permanently alter the color of non-porous surfaces, which makes them a perfect match for projects using:
Glass
Acetate
Plastics
Ceramic Tile
Metal
Glossy paper
Here's a sampling of projects created with the techniques we'll be reviewing today: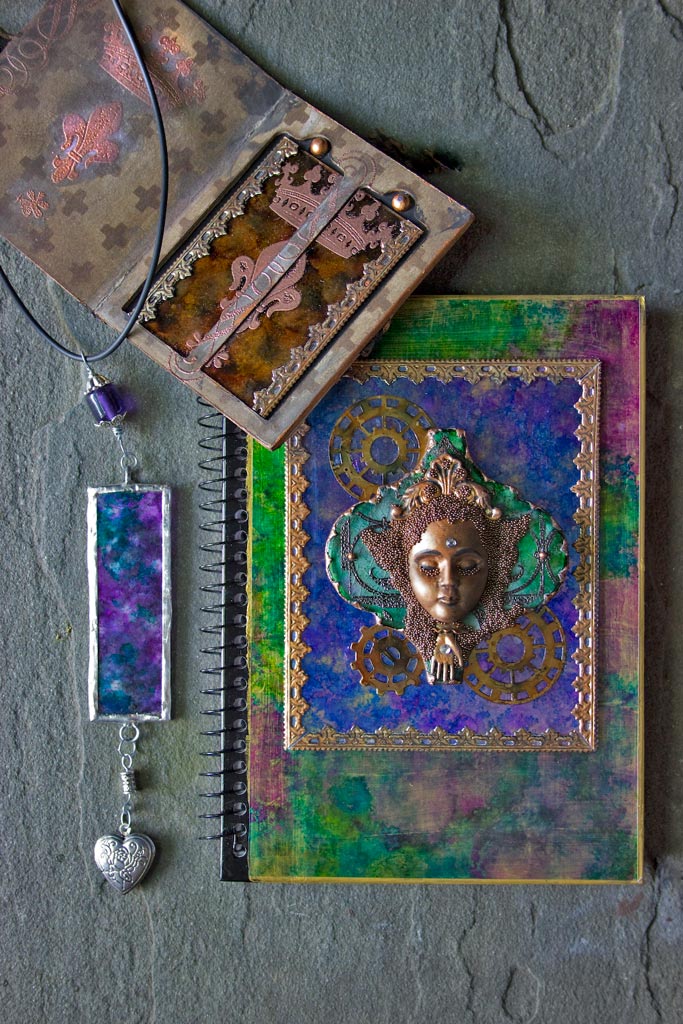 If you'd like to fall in love with Alcohol Inks again, join me for some fun!
Alcohol Ink Art Techniques Supplies:
Items to Alter:
Optional Embellishments:
How to apply Alcohol Inks:
Gather your Alcohol Inks, Applicator, Blending Solution and Water Brush filled with Isopropyl Alcohol onto your Non-Stick Craft Sheet.
Assemble the items you will be altering with Alcohol Inks.
Wear a pair of protective gloves (or have fun explaining your colorful fingertips for the next three DAYS!)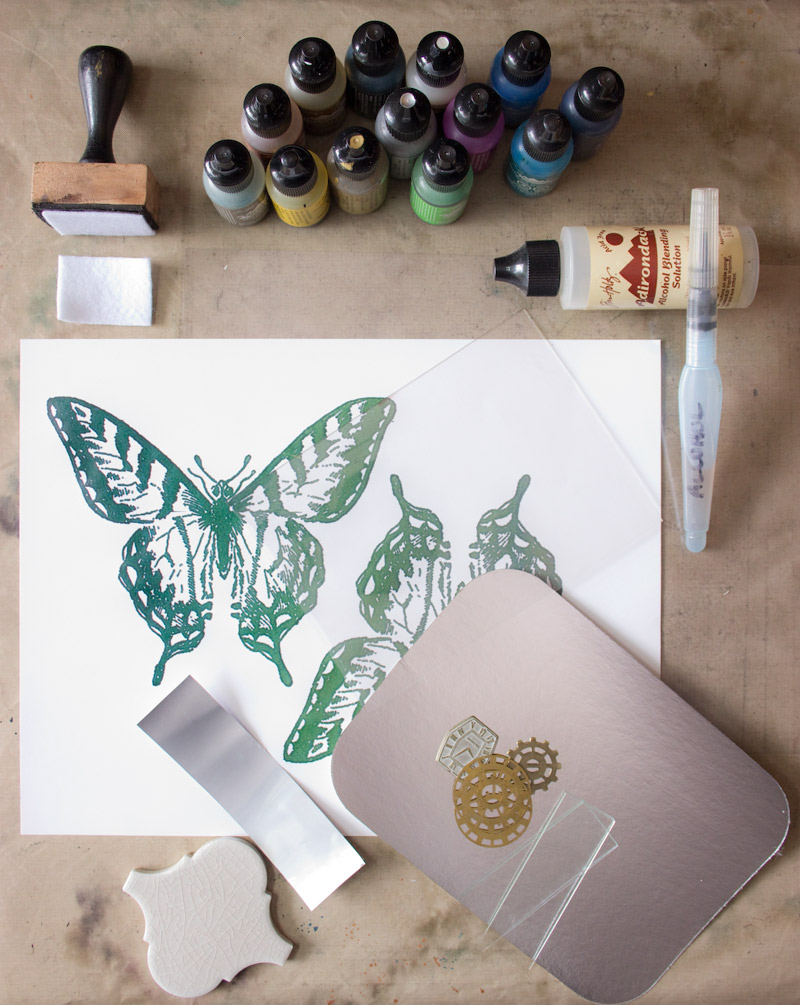 You can use these wonderful inks on any glossy paper.
Here, we have a sheet of regular glossy photo paper, printed with a standard Ink Jet printer.
(The inks will 'melt' toner based prints, but leave Ink Jet Prints in perfect condition)
Source Image: Vintage Butterfly
Dab dots of harmonious ink colors onto a clean felt applicator, then add a touch of Blending Solution: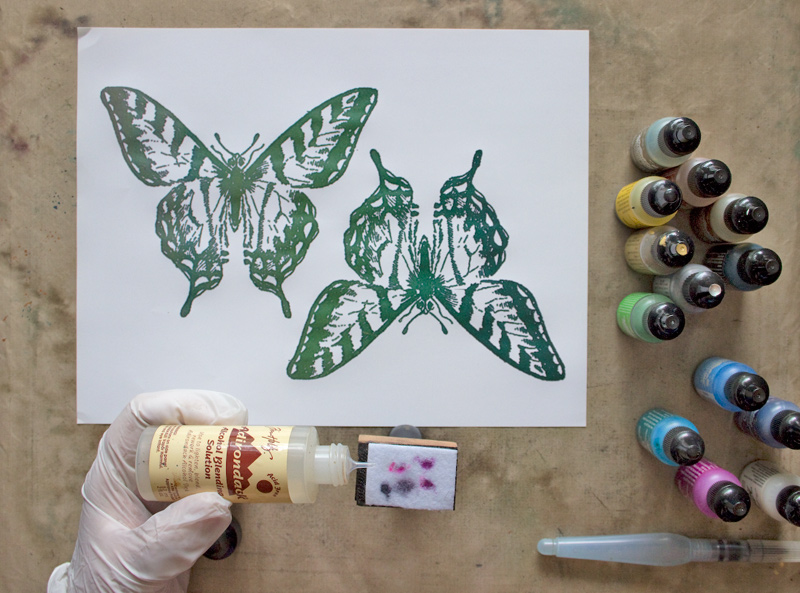 Pounce the ink onto the surface of the paper, creating a multicolored blend: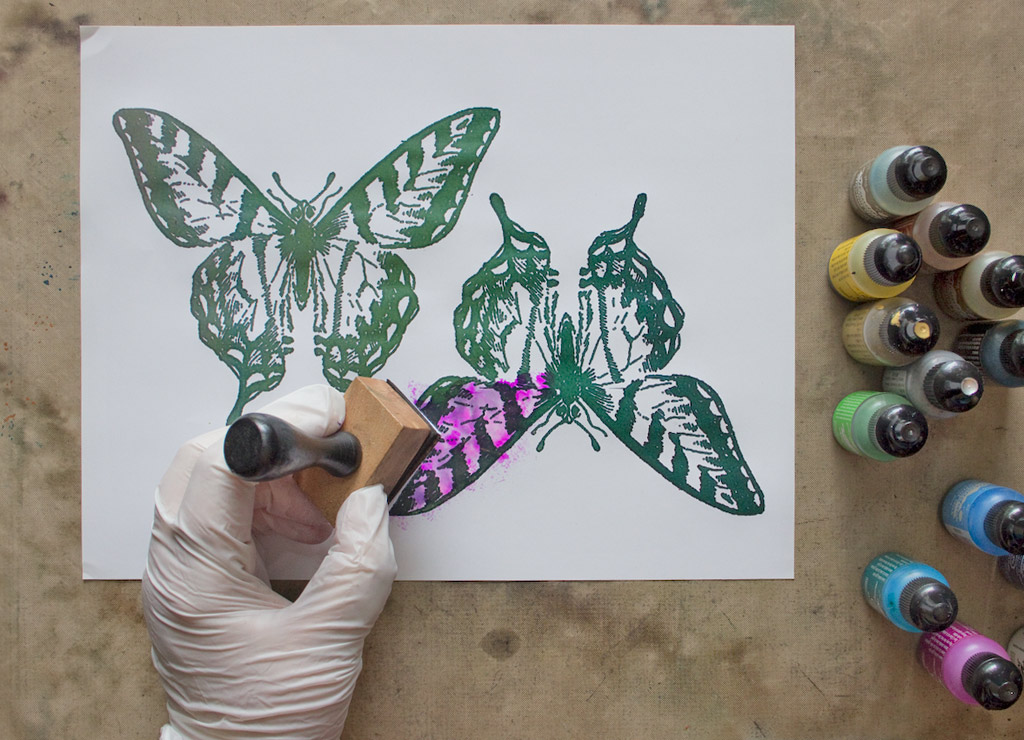 Using a fresh felt applicator, select a second group of colors for the opposite pair of wings: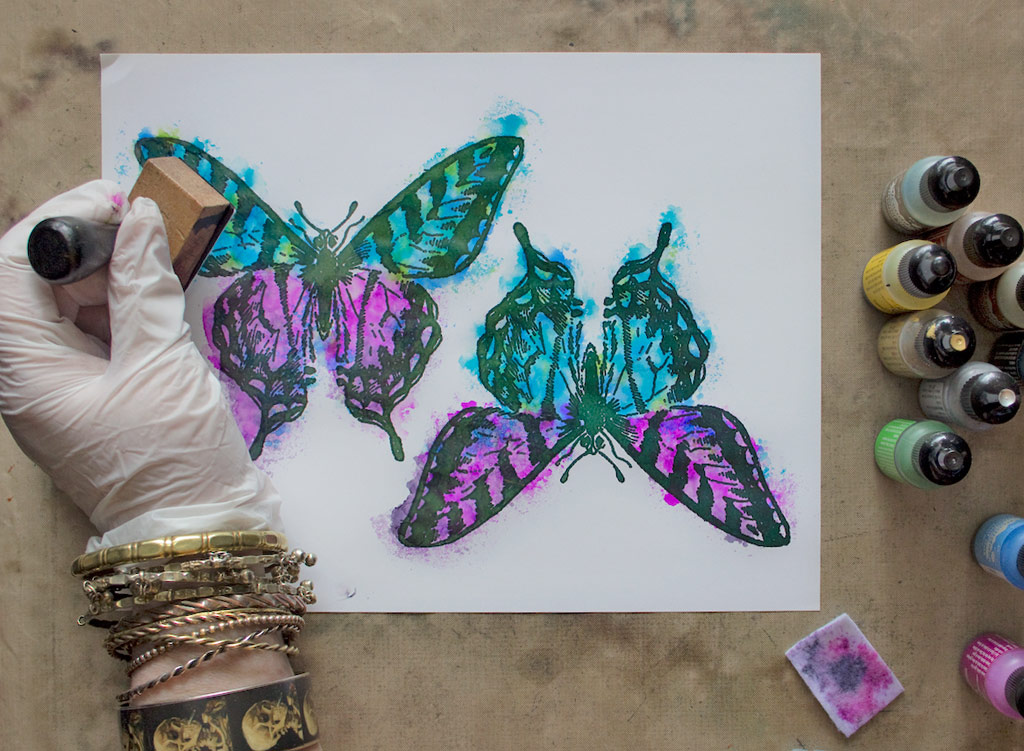 When dry, fussy cut the butterfly images from the paper, and decoupage onto your project.
Next, let's add some drama to a clear sheet of acetate. (I've positioned the acetate over a sheet of white paper for demonstration purposes)
Select colors that make you happy!
Because the inks are translucent, you will never make a 'muddy' color…experiment with different combinations, and have fun!
Add a bit of Gold Mixative to liven things up, if you like.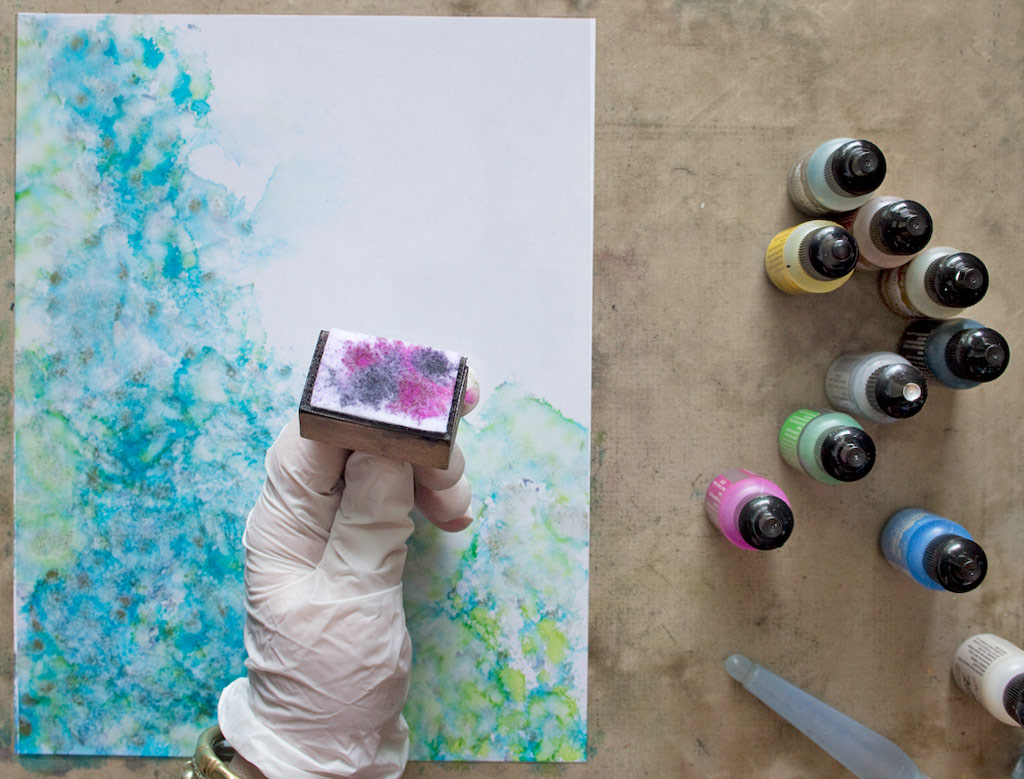 Repeat the application of color blends until you are pleased with the results.
For a bit of the unexpected, use drops of Isopropyl Alcohol and a drinking straw to create interesting shapes.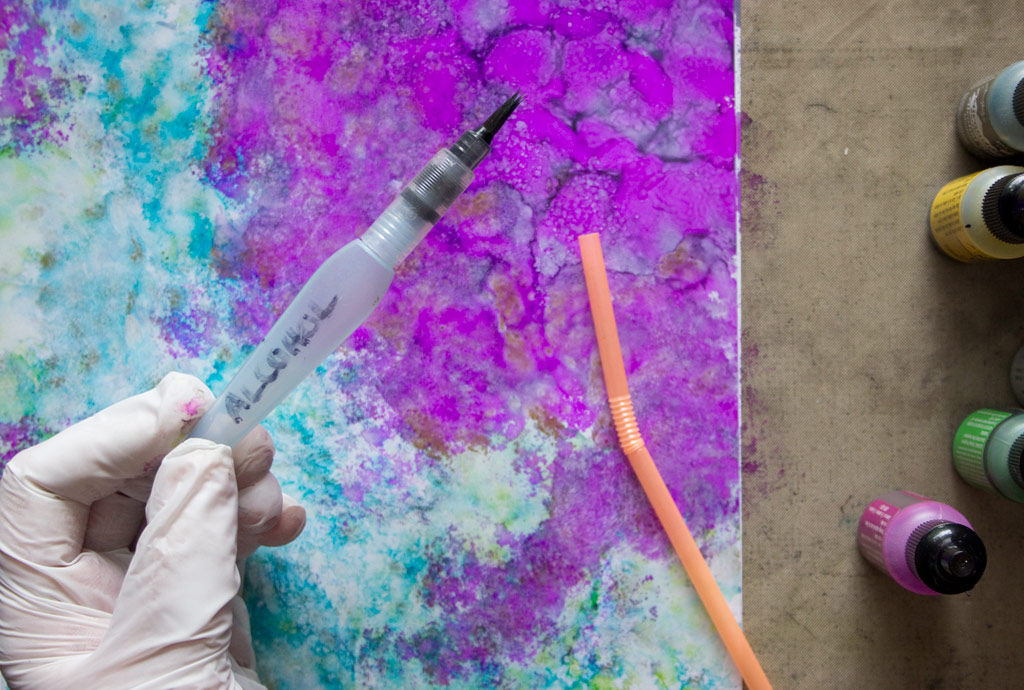 Sprinkle drops of alcohol to the inked surface, then blow the liquid around with a drinking straw (don't breathe IN!)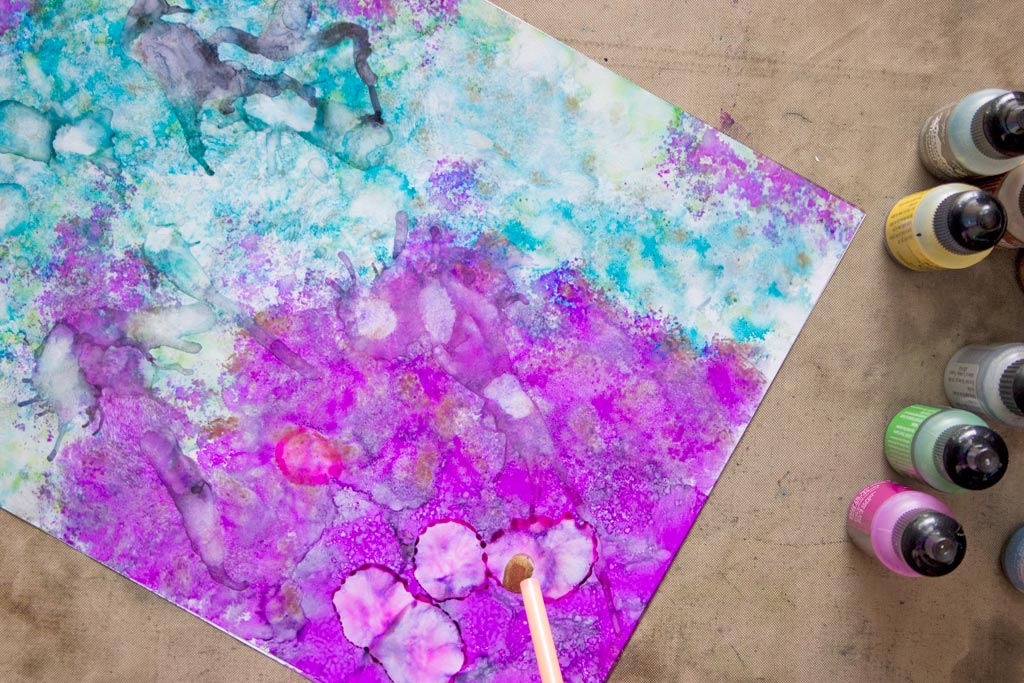 The results will be organic and a little wild: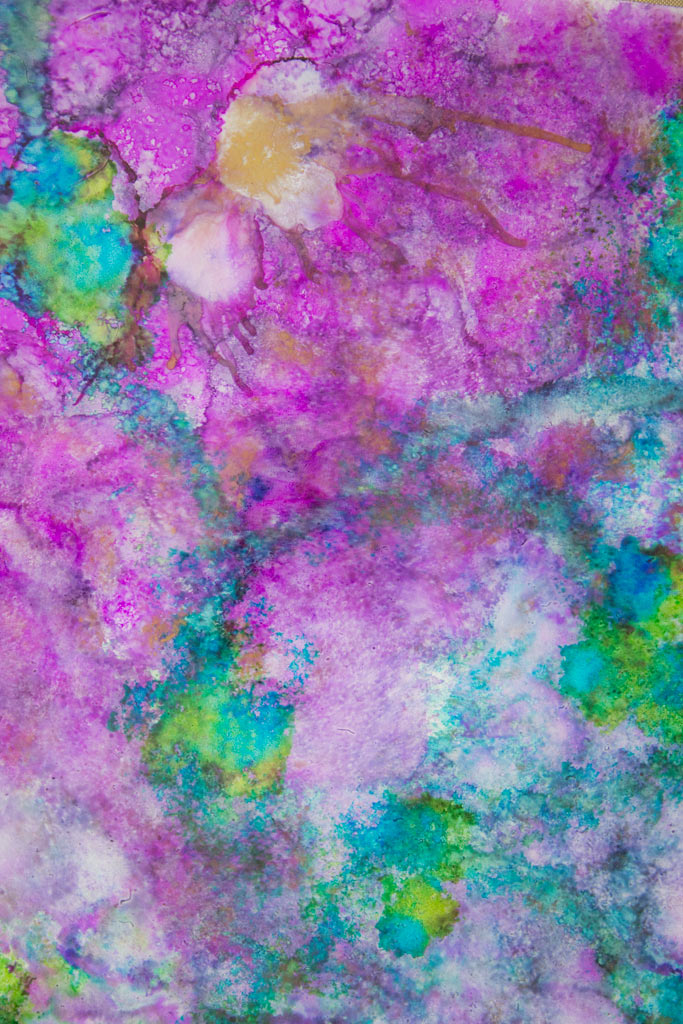 Next, let's add some grunge to these assorted metal embellishments: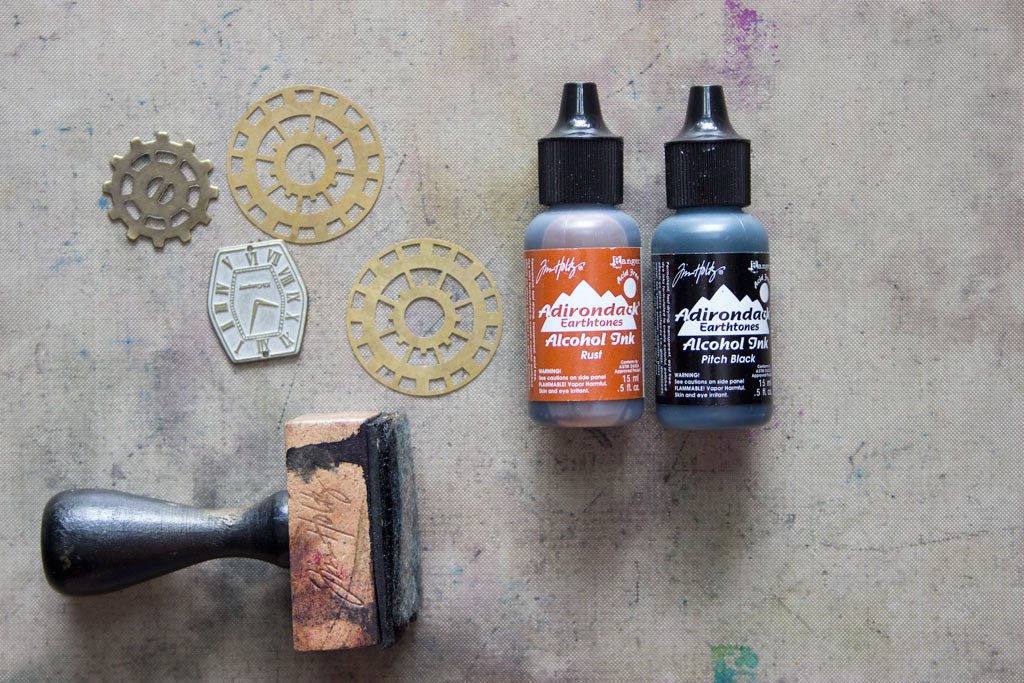 A mix of Pitch Black and Rust Alcohol Inks gives a wonderful 'patina':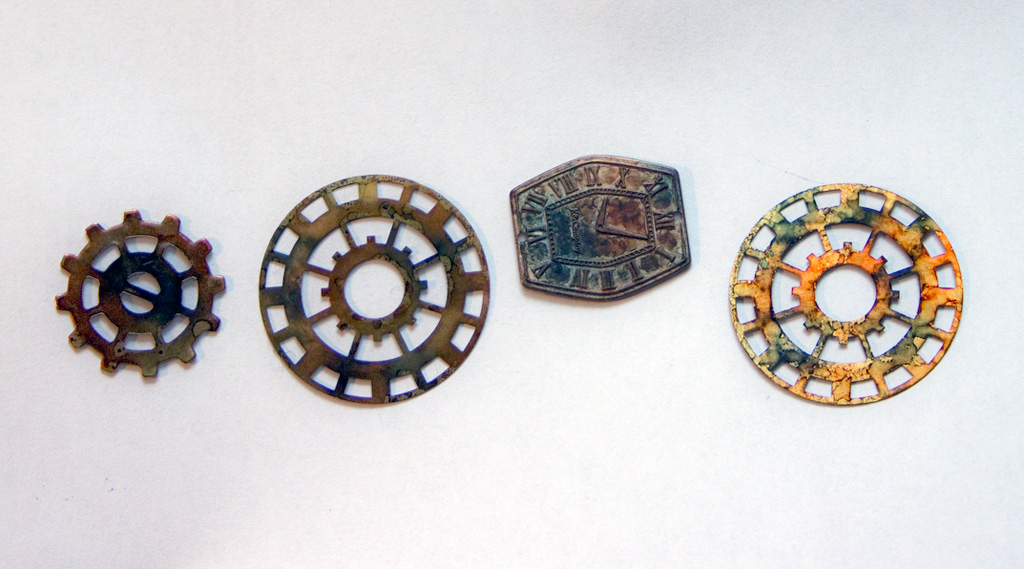 Microscope slides are perfect little canvases for Alcohol Ink techniques.
Note: any transparent substrate will look more interesting from the opposite side, so that you are gazing through the material to the inked surface.
Here, a fun blend of blues, pinks and purple creates a tiny galaxy: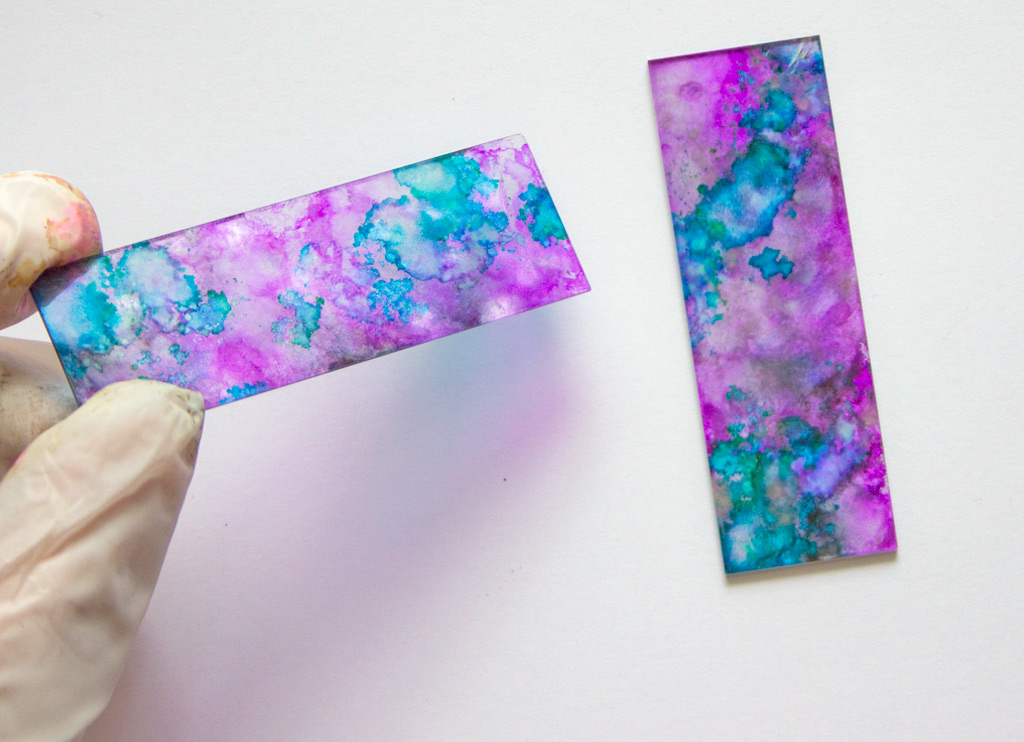 Ceramic tiles are wonderful for experimenting with various color blends.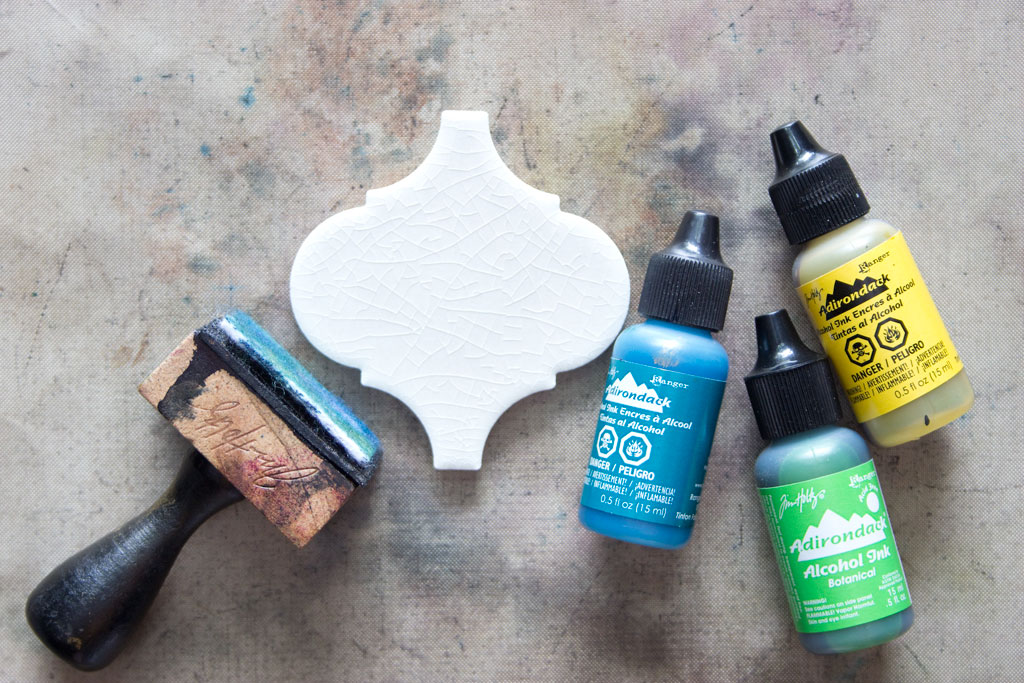 A rich mixture of blues and greens, with the original crackle glaze peeking through: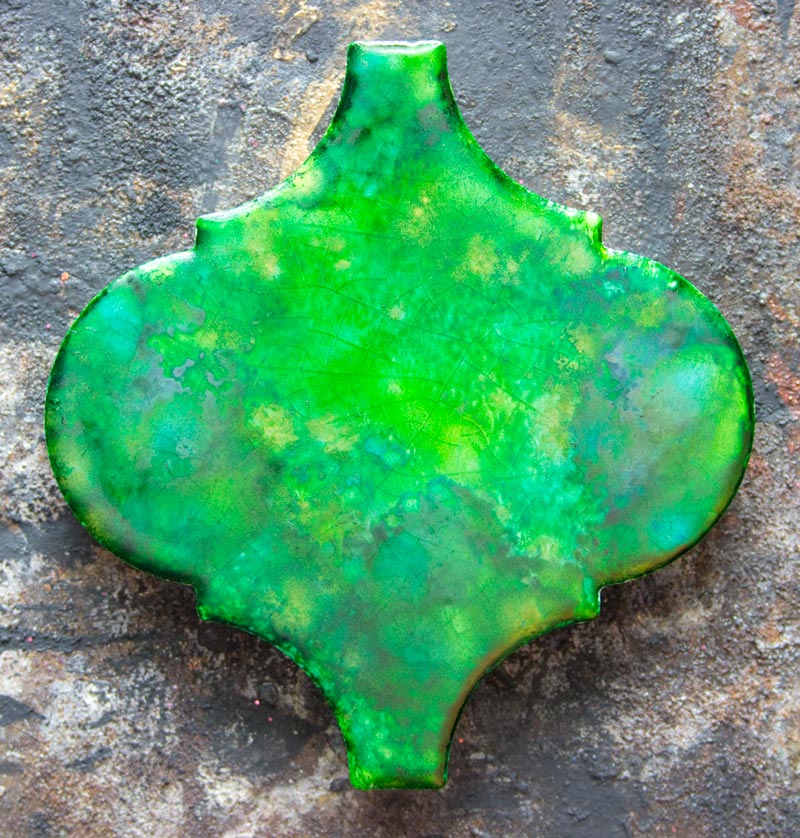 This is a foil-topped lid from a take-out container. A few drops of alcohol create a constellation of bright points in a sea of indigo and purple: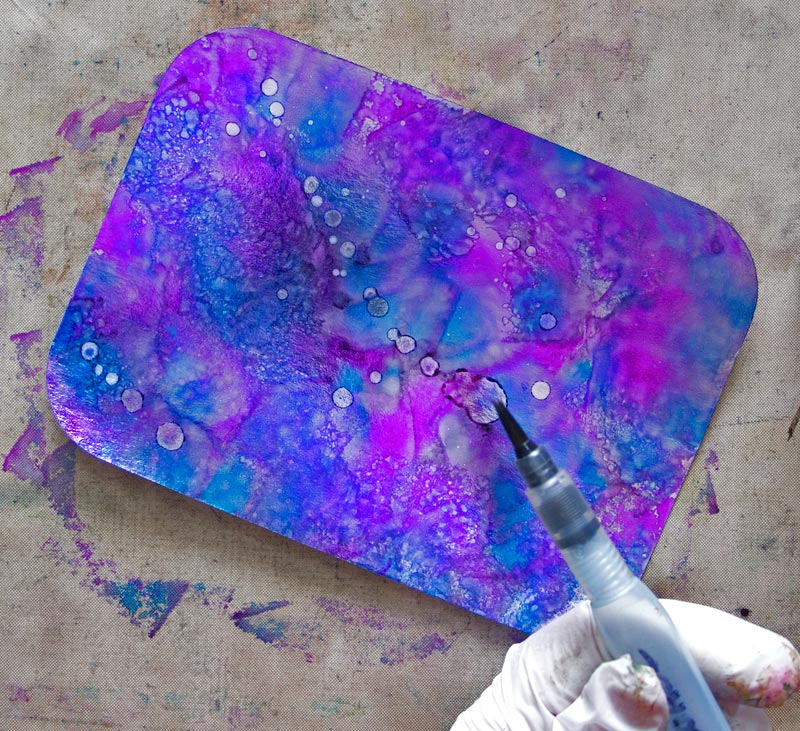 The ink collects at the margins of the 'clear' areas, creating dramatic outlines: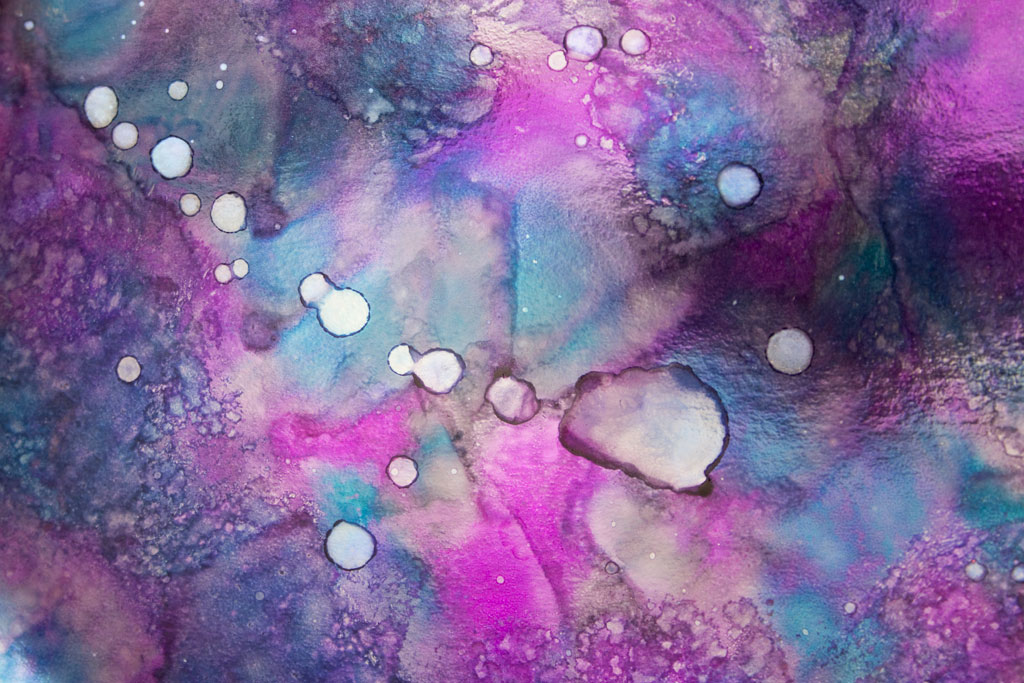 So, now that you've covered a bunch of different surfaces with Alcohol Inks, what are you supposed to do with all this loveliness?
What to do with all these Gloriously Inked Surfaces!
Here are a few examples of how these wonderful pieces can be incorporated into your projects.
Acetate Sheet (inked side DOWN), adhered over a Gold Painted journal cover, using Glossy Accents: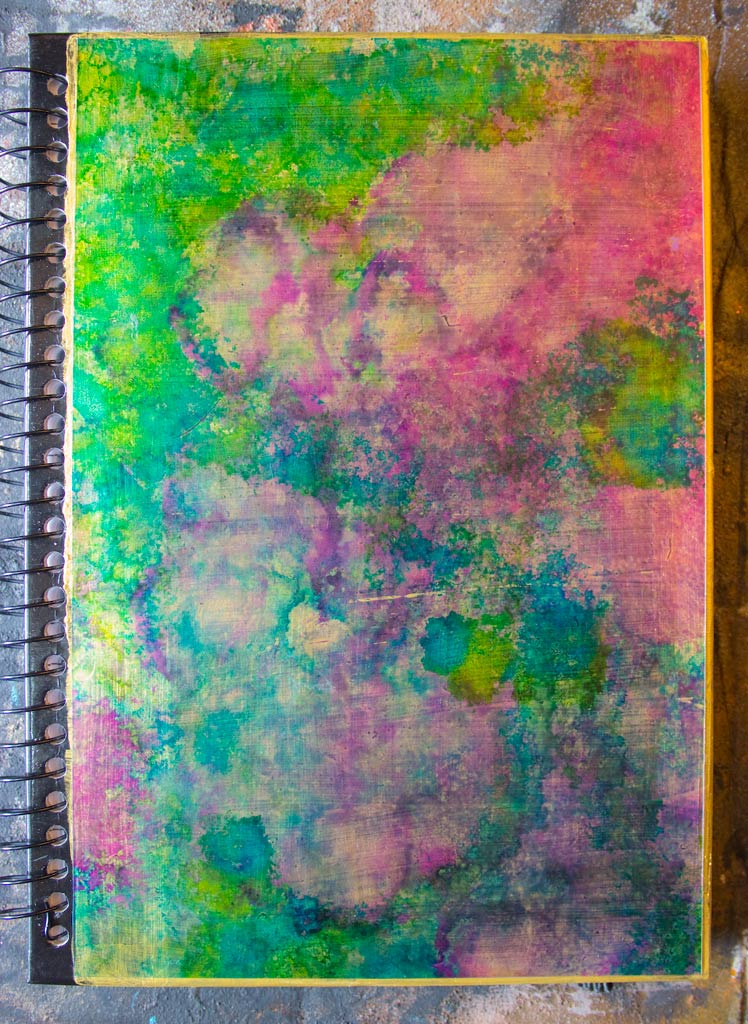 The Butterfly has been decoupaged to the back cover of the journal, and embellished with Rhinestones and touches of paint: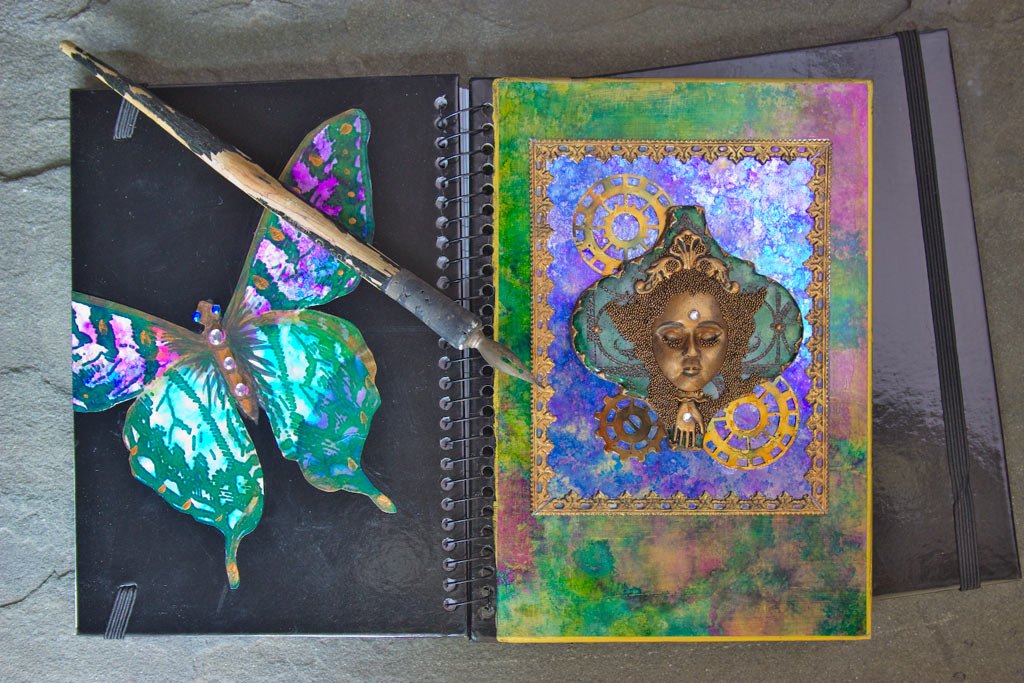 A vintage vibe Glass Slide Mailer makes a wonderful gift for the Royalty in your life.
Ink the slides, heat emboss the other side of the glass, then embellish with Dresden Trim. Adhere into the slots using Glossy Accents.
Black, Espresso and Rust Alcohol Inks blended with a touch of Gold Mixative create a rich, almost tortoiseshell effect: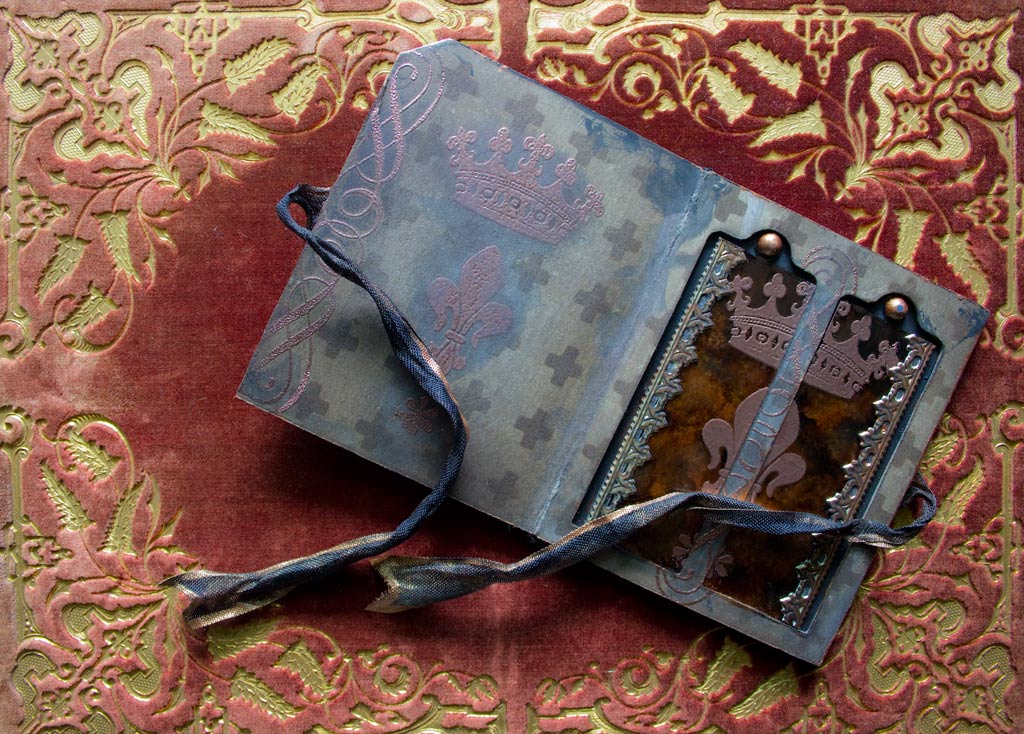 Inked Acetate (ink side down)used as window glass in an Art Journal Page: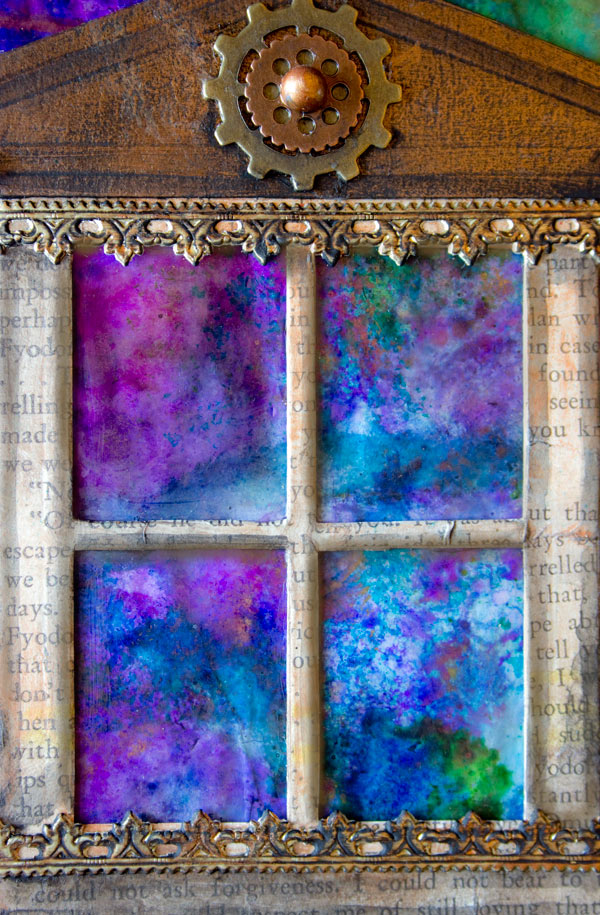 Two microscope slides placed inked sides together, then soldered, make a lovely, but simple pendant: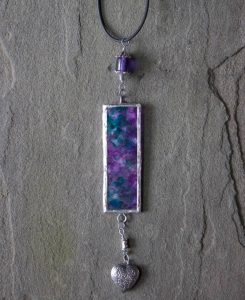 I hope you've enjoyed this exploration of Alcohol Ink Art Techniques! It was a real pleasure to play with them again, and to share the results with you!
You may also like our Comprehensive Guide to Artist Inks HERE.
Thank you for visiting The Graphics Fairy today! Any time you feel like exploring odd techniques and quirky projects, come see me at Thicketworks – there's always a happy mess being made!
Until next time,
Heather