Bible Art Journaling – A Beginner's Guide
Hello Graphics Fairy friends! It's Rebecca Parsons and I am excited to give you an introduction to the wonderful world of Bible Art Journaling. It is one of my favorite forms of creativity that I practice every single morning. Bible journaling is a very personal endeavor, chronicling your unique journey with God.
The major benefit is to help you learn and understand the Word of God. Another plus is that you will grow your drawing, painting, and hand lettering skills as you grow in faith. That is a Win-Win for sure. If you have been wondering How do you do Bible Art Journaling? … then this post is for you!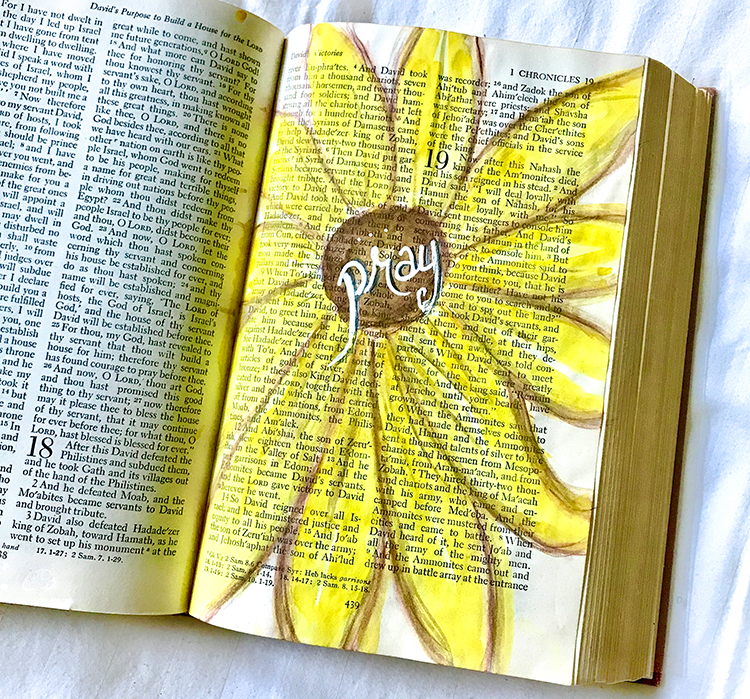 What is Bible Art Journaling?
Bible journaling can be described as a creative devotional practice using a combination of quiet time, prayer, art, hand lettering, and/or notes. It is a very personal expression and can be a new form of worship. Although it can be done in a standard journal, it is typically on the pages of a Bible.
As your Bible study journey moves forward, it becomes a private place where you can write down notes or draw images to reflect your own personal thoughts and feelings as you read and study your Bible. Some may enjoy journaling for expressing private devotion, while others consider it an act of worship. It can be a creative outlet that many believe should be shared.
Your journal will become a valuable keepsake and provide inspiration to study the Bible over time. Below is a Bible made especially for creative journaling.
Artistic Bible journaling has become very popular in recent times. It is truly a remarkable way for you to explore your creativity by reading and interpreting the Word of God. It enables expression of your feelings by drawing, painting, or coloring on the pages or into the margins of your Bible. However, it is not really a new movement, because when Bibles were hand copied, it was common for them to have lovely illustrations and even typography. Creative expression has long been considered to be a worshipful and meditative way of responding to God and Scripture and for a personal devotional life.
The art form developed from the age old custom of highlighting special or meaningful passages in your Bible. Some people actually color coded their highlighting. There are even Rainbow Bibles available, which are already highlighted for you. If you have ever seen one of these beautiful highlighted Bibles, you would understand the evolution.
It is important to note that some people consider Bible journaling to be disrespectful, while others feel that it is perfectly fine, based on the belief that humans are supposed to be creative, and we all learn in different ways. If you're like me, you learn best visually, making journaling a splendid method to learn and memorize God's word without any disrespect. If you are uncomfortable working in your Bible, you can use a notebook or stand alone journal. This type of journal is actually very similar to a diary.
What Bible is Best for Journaling?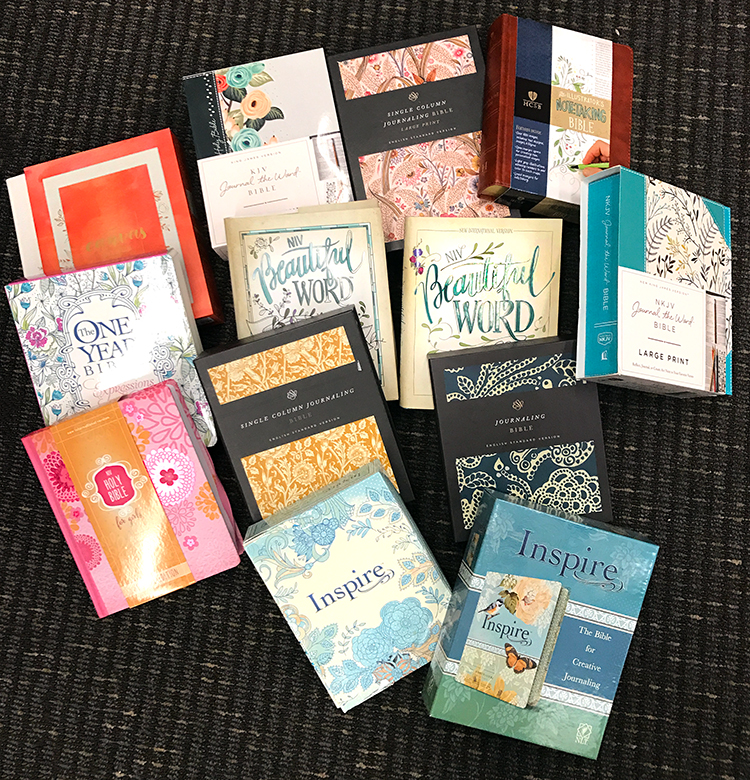 When it comes to Bible Art Journaling the selection is huge. Pictured above are just a sampling of the Bible Journals I found on a recent trip to a book store. You can check out a Beautiful New Journaling Bible HERE.  and a gorgeous New Beautiful Word Bible HERE.
There is not one 'best' Bible for journaling. I say, "Use the Bible you have." Selecting a Bible for journaling is a very personal choice. Like choosing a surface for your art, you will have preferences, likes, and dislikes. Some things to consider are:
The translation or version
Single column or double column
Thin paper or thicker
The cover (is you want to paint there)
The Bible design or format (see below)
Use a Bible
If using a Bible, a standard one is acceptable for your bible study reflections. No need for extra cost if it's not in the budget. If you want to purchase a Bible to journal in there are many to choose from. There are Bibles made made specifically for journaling that contain blank or lined spaces in the margins or on chapter end pages. There are interleaved Bibles with a full blank page between each page of text. This allows for making notes or drawing to your heart's desire. You could purchase a coloring Bible with designs already printed on the pages. This is a great way to easily dip your toe into the art journaling world. Remember, I bought a Bible at the thrift store to begin. Be creative. Write and draw wherever you want whether it be in the margins, over the lines, or between paragraphs. There is no right or wrong space!
A Word About Bible Paper
The ultra thin, translucent paper used for many Bibles presents a challenge. Some people love them and view them as an opportunity to be creative. Others prefer more opaque paper. It is another choice to consider.
Use a Digital Bible
With the technology available today, many who journal use a basic notebook-style journal versus a Bible, and don't actually use a physical Bible at all. Instead, they obtain their information from a 'digital Bible' online using a smartphone, tablet, or laptop. There are even apps available such as the 'YouVersion' Bible app. Digital Bibles offer various categories of study with commentaries. Plus, some people now use their digital devices to journal as well.
How to Bible Journal
Anyone can create Bible Art Journaling! Regardless of your reason for Bible journaling, what makes it special is that you don't have to be a skilled artist. My best advice is to remember that it is not about the quality of your art. This practice is ALL about your deepening relationship with God. Bible Art Journaling is truly limitless. What you can do is based on nothing more than where your imagination takes you. The only thing that matters is that your intention is to fully experience God and His Word in a creative manner.
Almost anything goes. You can fill one page or spread the art across two pages as seen below. This one is done with metallic markers.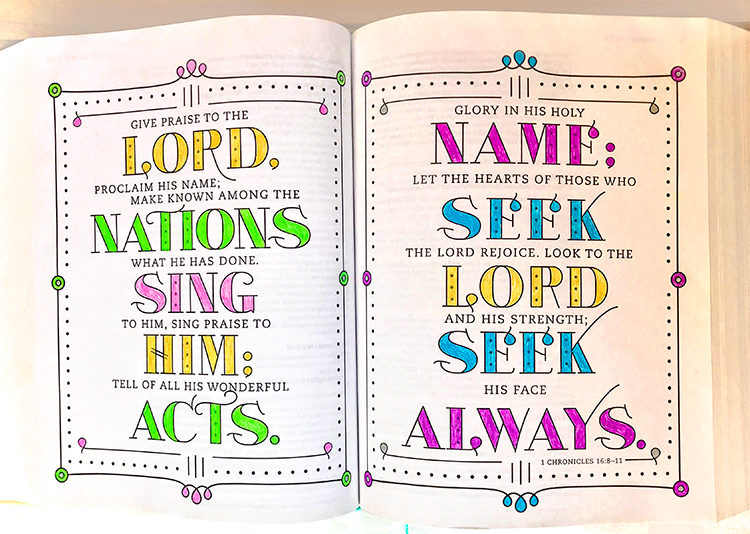 You can do doodling with highlighters, markers, transparent watercolors, gel pens, or colored pencils. This example is done on the extra wide margins of a page, using word art.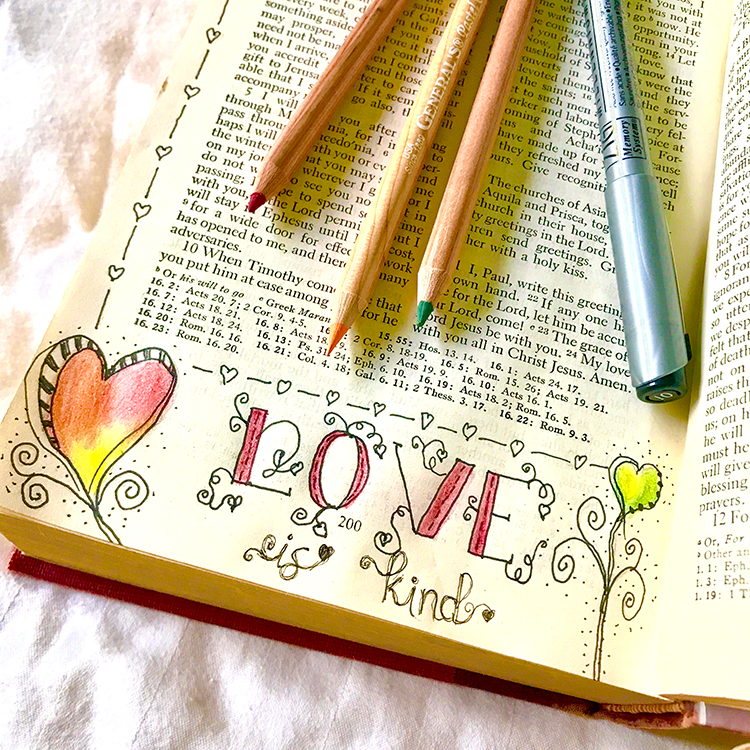 Below you see Bible art journaling in a Junk Journal style with a 'Tip in' journaling card. It is an ATC printable from the Graphic Fairy Premium Site. I used washi tape to affix affix it to the pages of my bibles.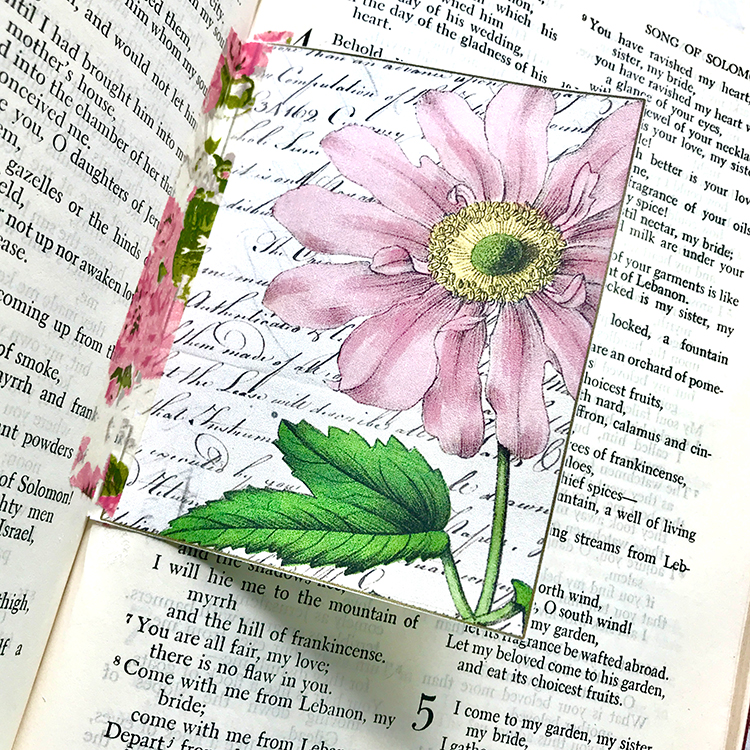 Here is the back of the Tip in card where you can write your Bible study notes or reflection. You can see that the wash tape is used on both sides of the card.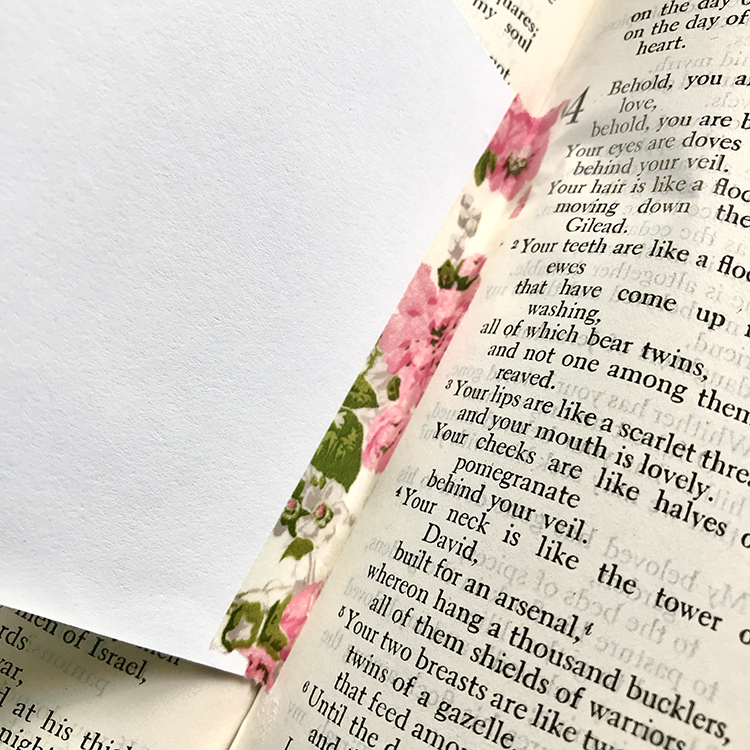 Some use their scrapbooking skills and materials to design with stickers and rub ons. You can focus on a phrase, a word, or the whole verse. It is about the message you receive as you read and pray. How you document or convey that message should be personal and meaningful to you. Some people write special notes on post-its. There is no right or wrong way to express what is in your heart. TIP: The art itself is subordinate to the message.
You can also decide if you want to journal in silence or play your favorite Christian music in the background.
Tips for Your First Bible Art
To get started on your journaling, you need a Bible, a journaling Bible, a Praise book, a plain notebook, or a journal, along with just a pen or pencil! Bible journaling is a very personal endeavor, and a beautiful style of expression, chronicling your unique journey with God. The major benefit is to help you learn and understand the word of God while you grow in your faith. It is more about that than showing off your artistic skills to others. Don't be afraid to be whimsical if you wish, or just doodle whatever comes to mind.
I personally began on a Bible I picked up at the thrift store. That gave me permission to learn the art form without feeling guilty if I messed up. For your first artwork, I recommend that you create it on the title page. That way you will get used to making marks in the Bible and, if you make something you don't like, it is not on a page you will be reading.
Painted Bible Art Journal Page Tutorial – A Simple Flower
Here is a quick and fun page idea to get you started in Bible Art Journaling. It was inspired by a Black-eyed Susan from my garden. It could be a daisy or a sunflower as well. You use colored pencils and watercolors for this one.
Step 1 – Sketch a flower design using a drawing pencil. Keep the lines light. Draw a circle and then draw petal shapes out from the center.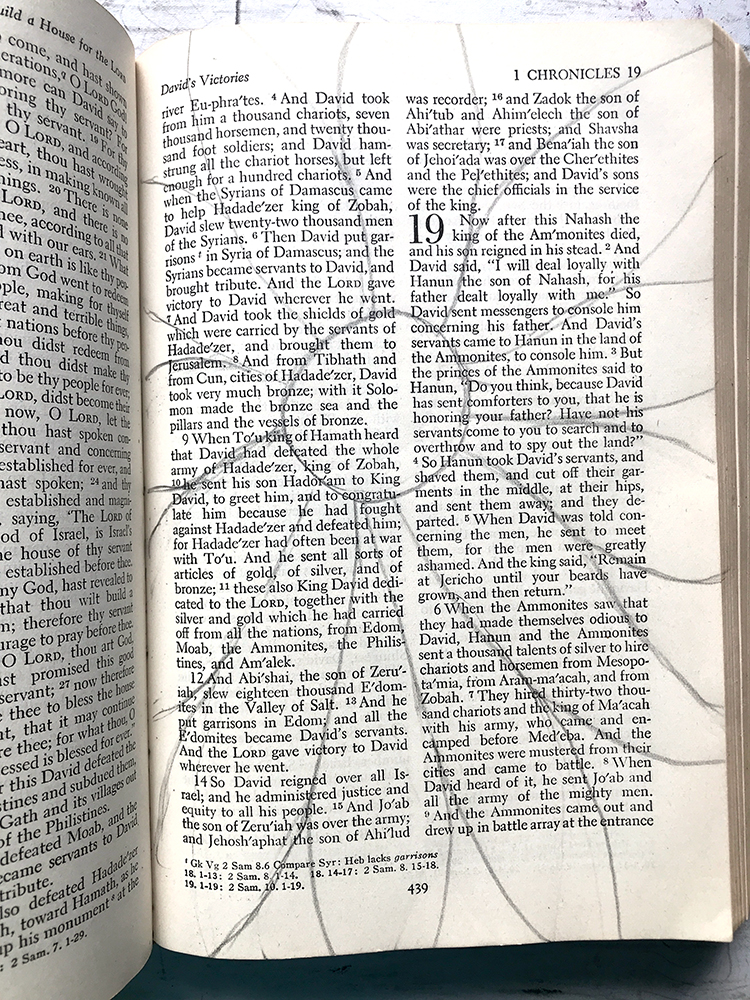 Step 2 – When you are happy with your sketch, use brown and orange colored pencils to go over the pencil lines.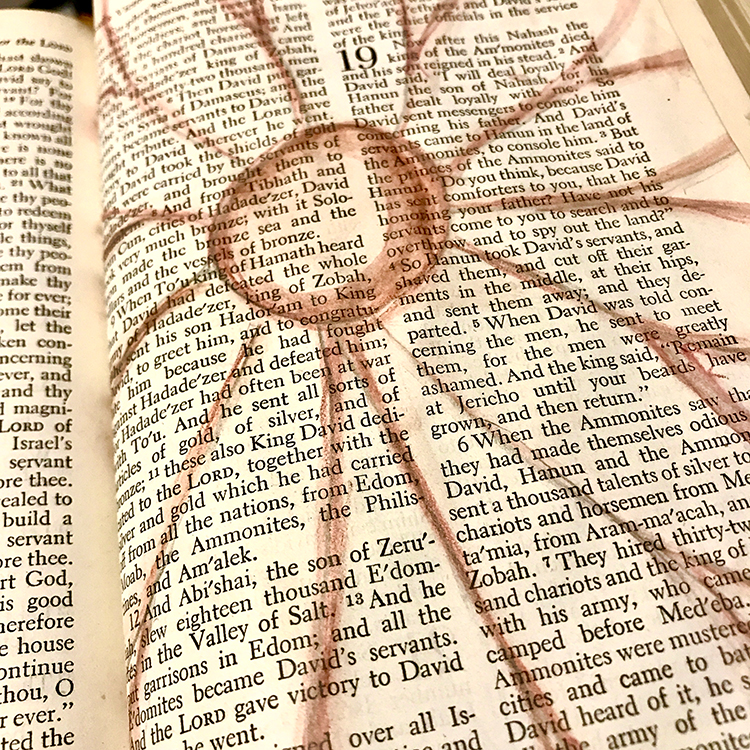 Step 3 – Fill in the petals with yellow colored pencil or watercolor. You could even use a crayon here. Have fun.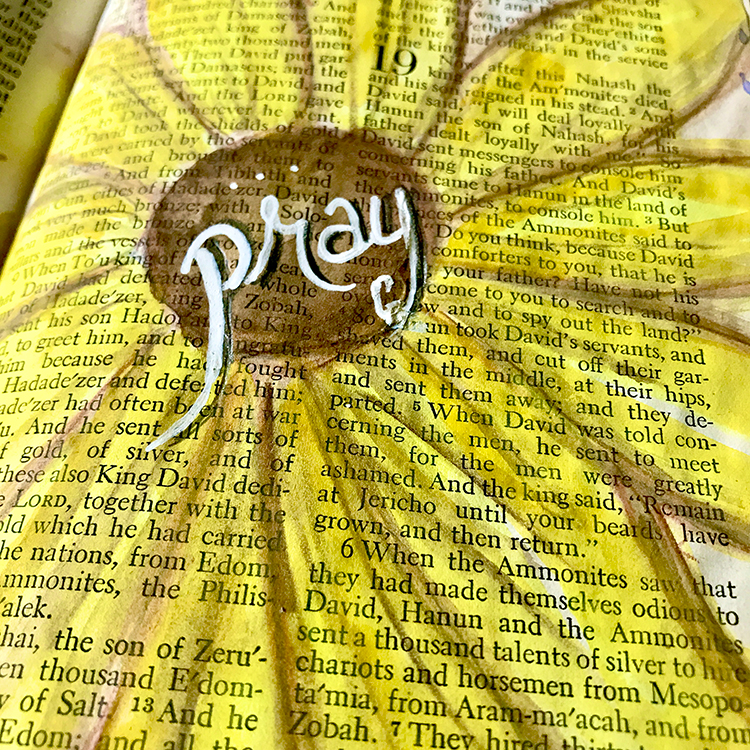 Step 4 – Write the word 'Pray' in the center of the flower with a white marker.
Practice new pens, pencils, mediums on the index or glossary pages. See how it reacts on the pages of your book. Each Bible is created with a different type of paper. Some are very thin and translucent. Others are thicker and more opaque. You should make these tests for each book before you take to embellishing the pages.
Some art mediums will bleed through the pages. That is why we test. You can help lessen this bleeding by preparing your pages with a coat of clear gesso or transparent watercolor ground before drawing or painting on them with wet mediums.
Look at what others are doing for inspiration. Pinterest is a great place to go for inspiration as there are many journaling boards to view. Don't copy them or compare your art with theirs. Do it your way and let the Spirit move you!
Bible Journaling Examples and Ideas
Let's look at some good examples of Bible journaling activities that you may want to consider. This list of course doesn't cover everything since there is no limit to what you can do!
Color code your notes for beautiful lettering without having to paint for displaying where different topics in your journal are located. For example, you might choose a light blue for something heavenly, dark grey for something that is painful, and gold for God's attributes.

Highlight verses and things you write that are most special to you like prayers or letters to God.
Draw nature scenes like the Sun, plants, animals, clouds, lakes and streams, etc.
Draw Biblical related ideas like the Cross, your perception of Heaven or God, the Holy land, etc.
Use a passage from the Bible that can easily be made into a scene to paint such as the three Wise men following the Star of Bethlehem or Jesus in a manger.
Create artistic cover pages for favorite passages in your Bible. This is another journaling example where applying lettering is a superb way to add some 'zest' to the page.

Write the verses you love in calligraphy for artistic flair.
Visually create Bible Verses or a Biblical passage or a personal thought, or special memory that inspires you.
Add song lyrics that inspire you spiritually.
Visually explore a word or phrase or add your own thoughts.
Hand letter a favorite phrase, blessing or word.

Chronicle your favorite latest sermon notes or quotes.
Document what is happening in your life.
Make page tabs to mark specific verses or sentiments.
Add tip-ins of special art for certain pages.

Add embellishments like buttons, stickers, die cuts, or printables.
Add photographs and pictures from magazines or other publications.
Make a collage by writing several verses on a sheet of paper, cutting them into shapes, adding stickers, then organizing it into your journal.
Personalize the Bible cover with items like stickers, fabrics, and photographs that represents who you are as a person and what you like.
Consider a separate 'Scrapbook Bible' with items such as collages, church images, and paintings that tell a story about your journal as a Christian.
Create pages digitally that can be printed and placed in your Bible or applied to a digital Bible using an app. online.
Display some of your journaling ideas on Pinterest or other Internet sites for others to view and learn from.
Create in an elegant style or choose a more casual and cozy style
Use TGF Images
I often find a new Graphics Fairy image that inspires me in my journaling. The flowers, birds, frames, ornamental designs, religious, Christmas, and angels all lend themselves to art journaling. You can print them out and trace them or cut them out and glue them onto the Bible pages. HINT: Printing them on tissue paper works beautifully.
Here you see a TGF butterfly printed on tissue paper and attached to the Bible page.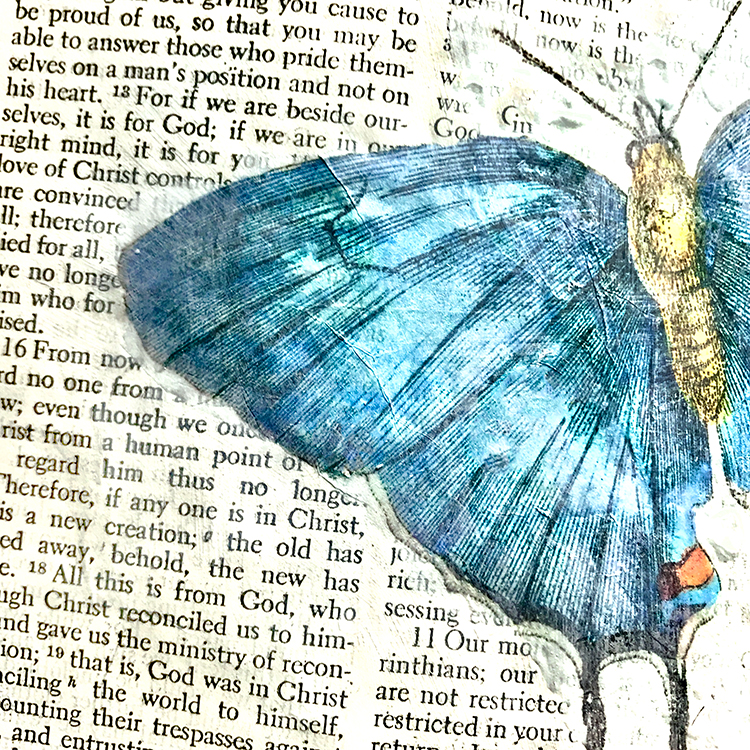 While you are at it, be sure to check out our beautiful stained glass Bible Bookmarks with FREE Printable designed by Diana.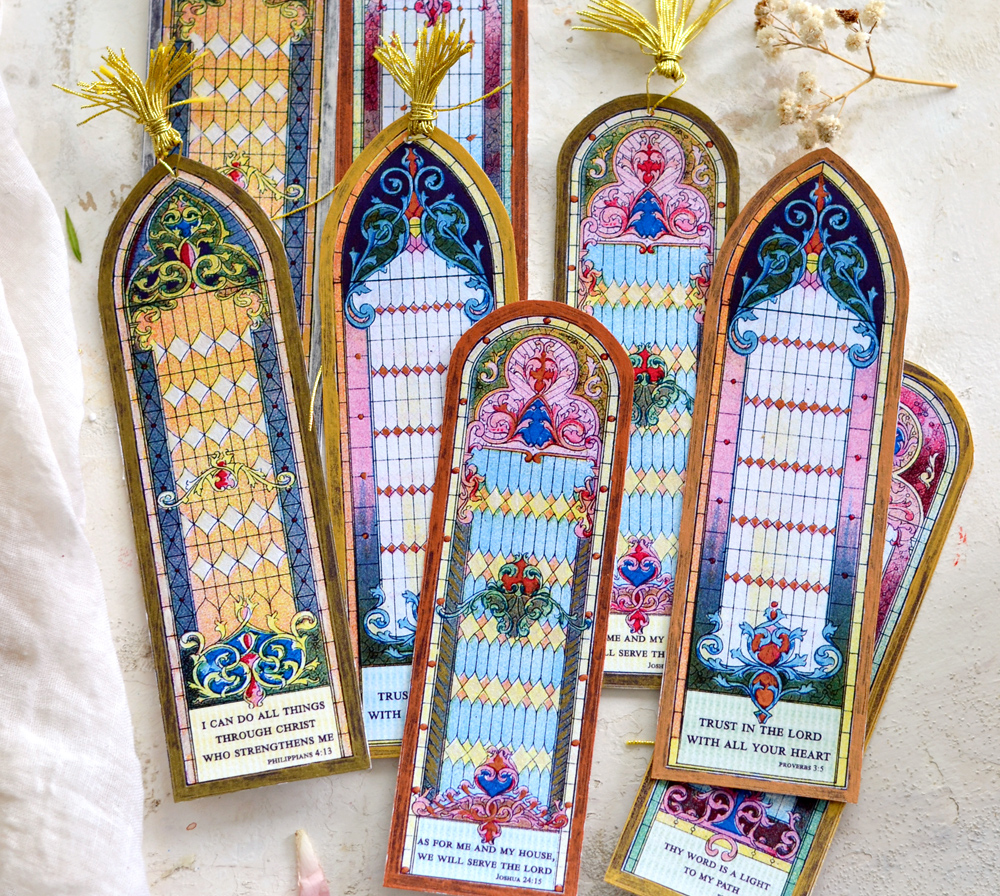 Bible Art Journaling Supplies
Almost any art supply can be used in Bible art journaling. You can find various supplies and different types of pens at craft stores like Michaels or Hobby Lobby. Before using your journaling supplies in your Bible, take the time to sketch out your ideas on a piece of paper if you are a beginner. Practicing hand lettering and drawing is also a good idea. This will make journaling easier for you, and the quality of your work will be better once you get started.
Here are some of the supplies to consider:
A note taking Bible or one made specifically for art journaling like the one below

Clear acetate sheet to protect the page from bleeding
Clear gesso or transparent watercolor ground
Paints – watercolor or acrylic
Pens (ones that does not bleed through the page is preferable)
Colored pencils
Markers
Highlighters
Rubber Stamps
Watercolor paints or pencils
Sticky notes
Stickers, stencils, and die-cut paper pieces to add decoration
Washi tape for decorating edges or embellishing the pages
Glue (I prefer glue stick because it does not wrinkle the page)
Paper towels
I hope you had a good time learning about Bible Art Journaling – A Beginner's Guide with me! It is a great way to study and learn the Bible as well. I also create Photoshop Elements tutorials and craft project videos over on The Graphics Fairy Premium Membership site. You can find even more of my books, art, and whimsical shenanigans on The Bookery.
May joy be with you all,
Rebecca
Hello! Are you new to The Graphics Fairy?
Welcome, I'm so glad you're here! Browse around to find thousands of Stock Images that you can use in your projects or designs! I post new Vintage images every day, as well as projects and DIY's too! Need more info about my site? Try my FAQ page.