Religious Bookmarks for your Bible
Hello Graphics Fairy friends! I'm Diana from Dreams Factory and I'm happy to be here again for another one of our creative encounters. Today I have a beautiful project to share with you, I will show you how to make these lovely DIY Bible Bookmarks. I used some metallic gouaches in different colors for this Religious Bookmarks Printable project.
I've also created a few mini tassels to complete the whole vintage-with-a-metallic-touch.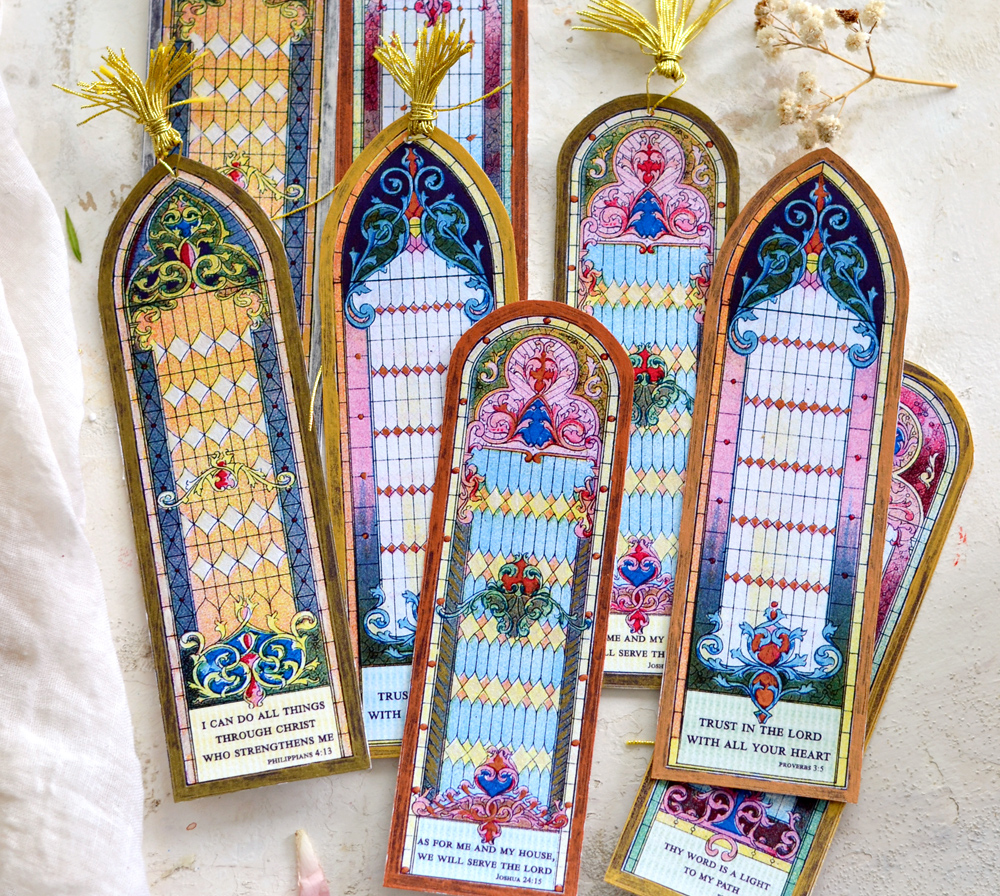 As always, I've created a beautiful printable and I'm sharing it with you! The starting point for the printable were these absolutely gorgeous stained glass window Images HERE. These were scanned from a circa 1903 Windows and Doors Catalog, and were shared a while ago. As you can see there are several different designs included with inspirational messages.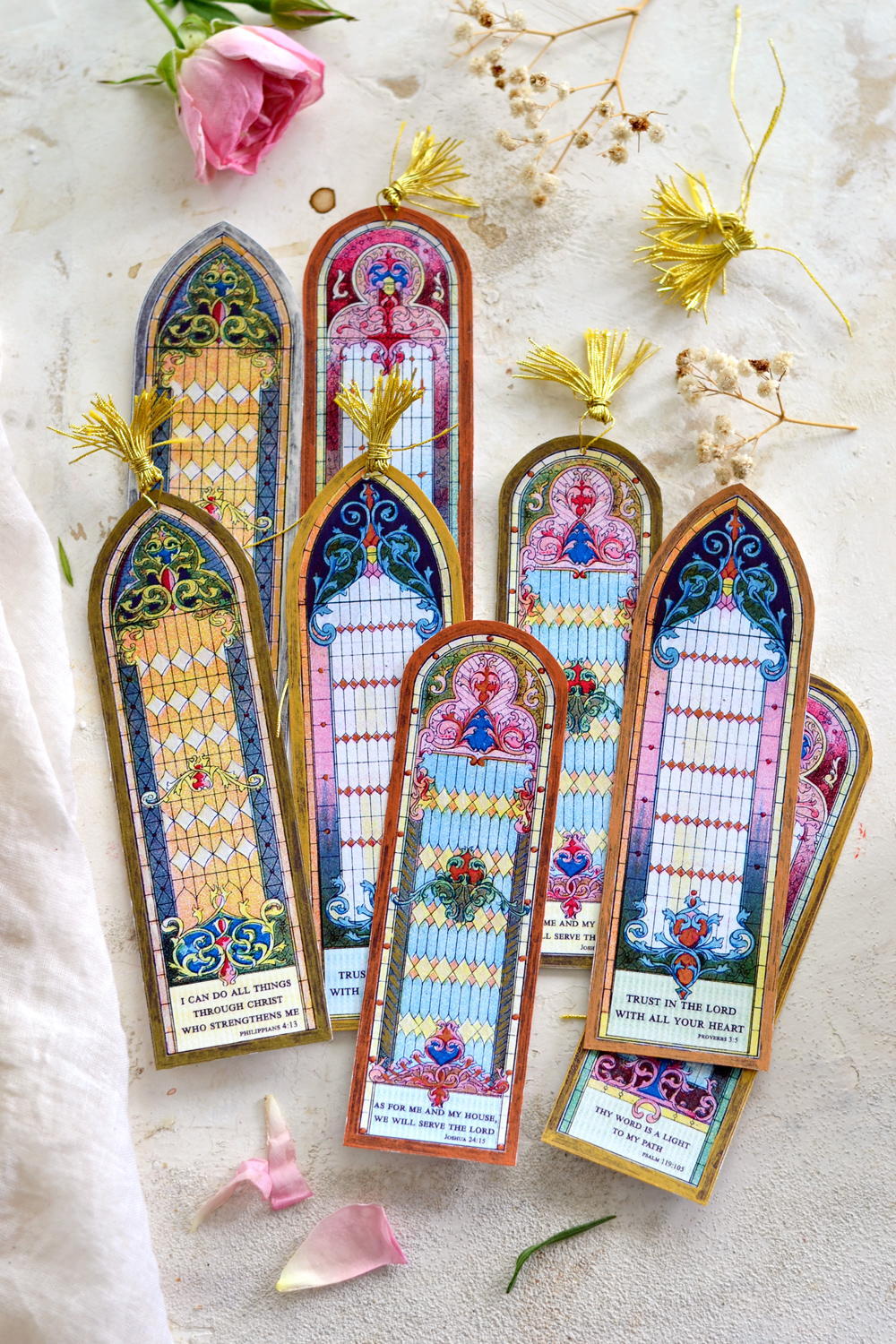 Even though I LOVE the design of these exquisite windows, I've actually made a few changes to the original images, but only to make them even more beautiful! First I changed the black border into this lovely dark purple. I wanted to be able to add some of my favorite verses and scriptures to the images so I've also created an additional space – let's just call it a small faux window – on the lower part of each image.
You can simply save the printable on your computer, then print it as many times as you want!
Bible Bookmarks Printable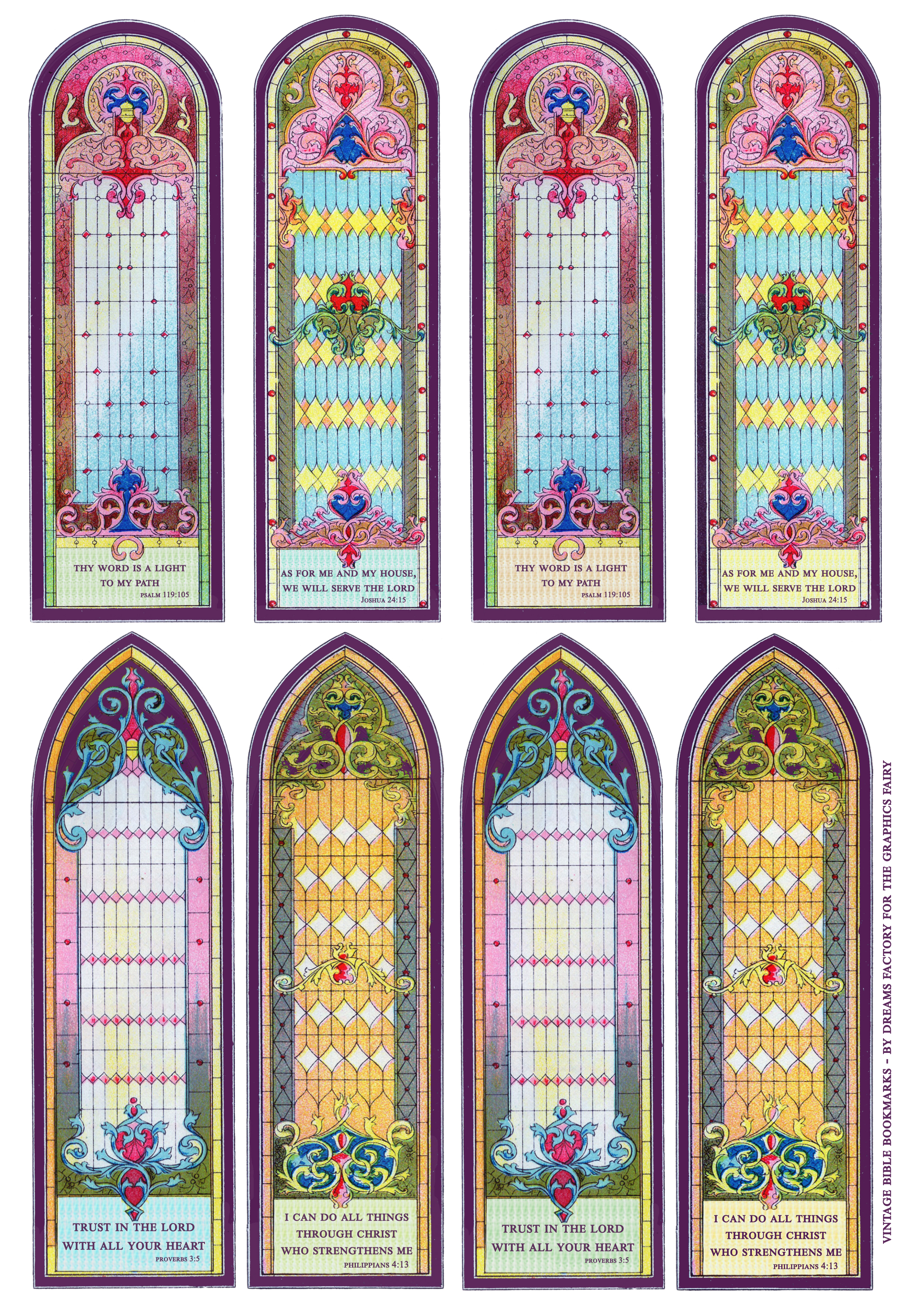 —-> Click HERE to Download the Full Size Printable PDF <—-
As you can see, the free printable Bible verse bookmarks are really beautiful on their own and I could have easily just used them as they are. But you know me, I love adding my own personal touches to the DIY projects I'm making, so this time I've decided to use metallic gouaches to decorate and highlight some parts of the images. You can also use metallic acrylic paint or metallic watercolors, just use what you have around!
And if you just ran out of metallic paint, you can improvise and use metallic or glitter nail polish to add some highlights here and there – as I did here with my DIY Mother's Day Card Ideas for Grandma project.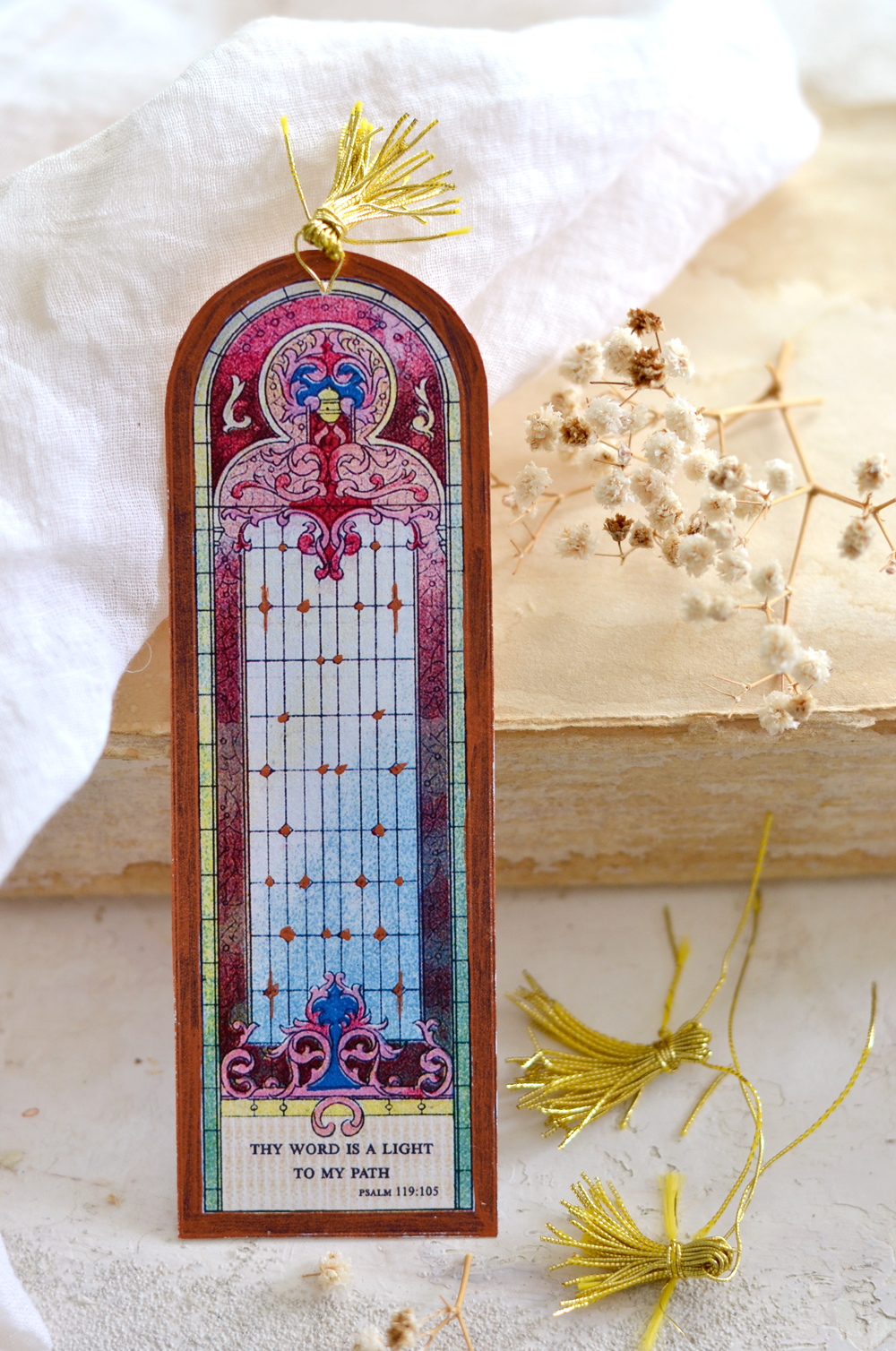 Religious Bookmarks Supplies:
The lovely printable
Laserjet printer (or an inkjet printer with some spray sealer to set the ink)
Metallic gouaches (I used the Sonnet brand)
Small brush
Fork and some metallic twine (optional, to create the mini tassels)
Bible Bookmarks Tutorial: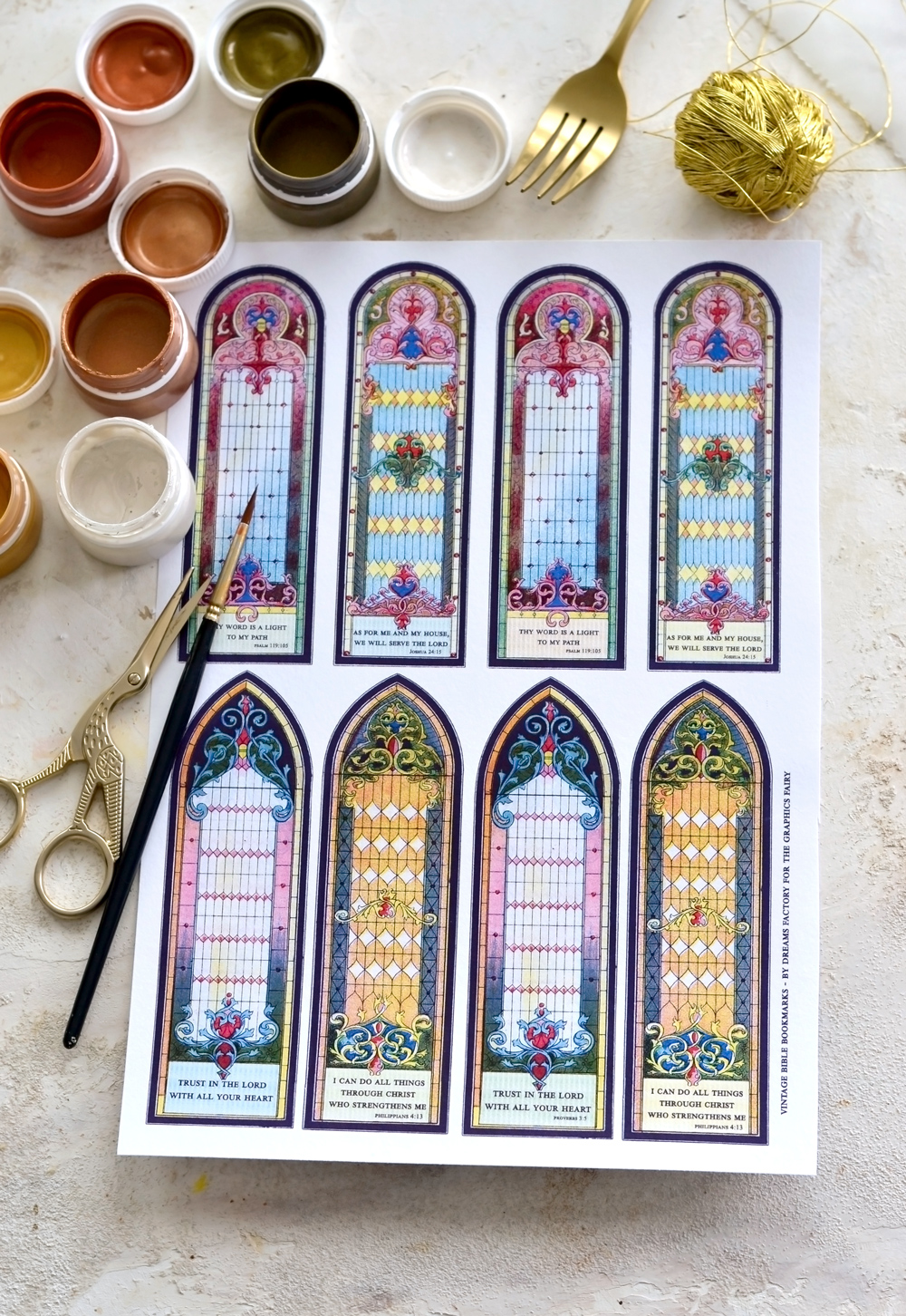 No water was used while painting, my gouaches had the perfect consistency for what I had in mind. I only wanted to bring some metallic touches here and there to add depth and highlight some areas, not to completely cover the design. The colors that I used were these amazing gold, bronze, copper, green and pearl colors.
You will need to use some water if you are using metallic acrylic paint (to lightly dilute it) or metallic watercolors (to activate the colors).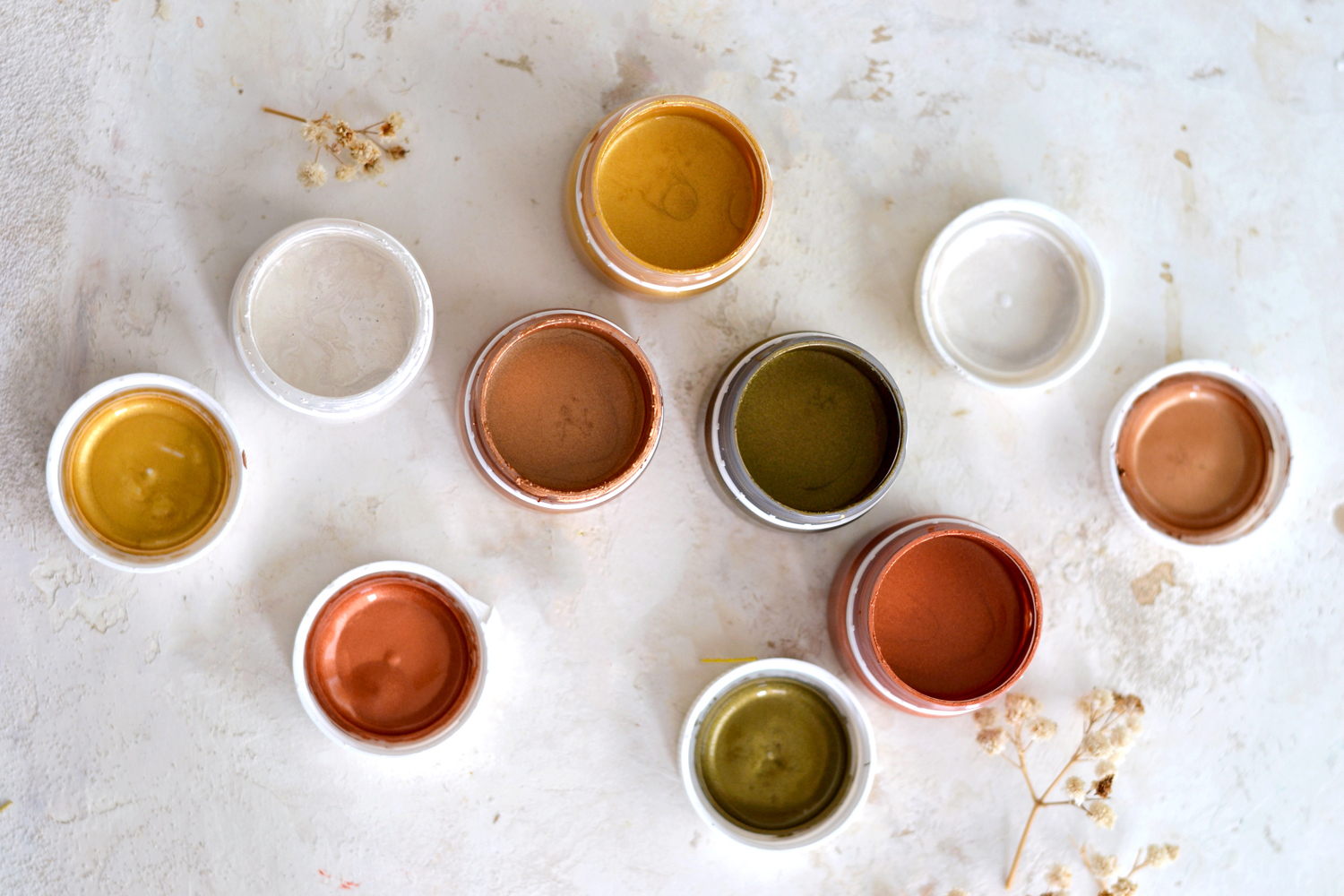 Start by printing the Bible printable Bookmarks, then following the shape of each bookmark, cut off all the excess white paper.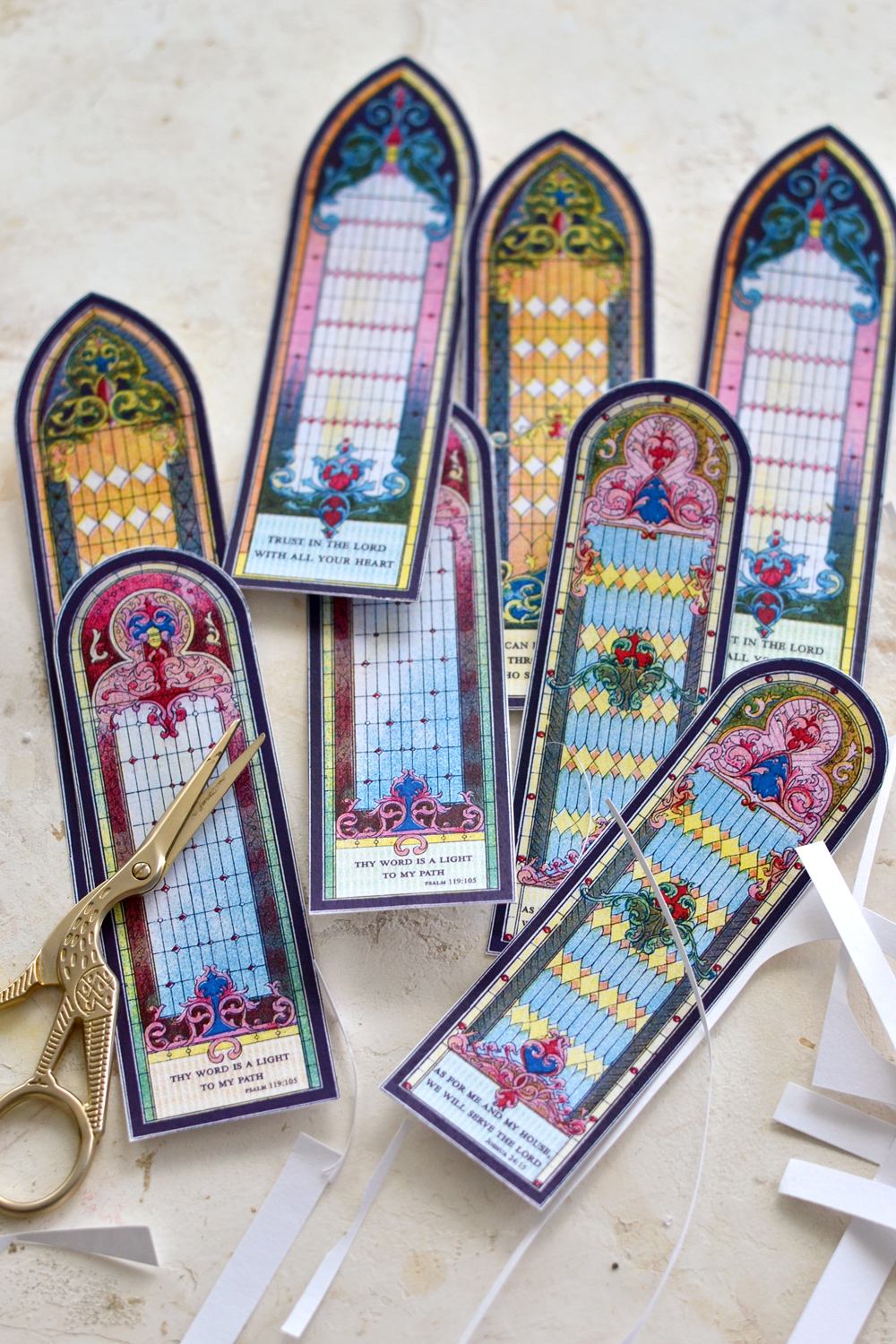 Open your metallic gouaches and let your inspiration guide you! I didn't have a specific plan in my mind, I just wanted to bring some oomph to these lovely Christian Bookmarks. What I mostly did was paint the outside border (1) of each bookmark using one color by going all around the border with my small brush.
You can choose any color, the dark border will allow you to experiment as you want. Some of the paints had better coverage than the others, so I got some mixed highlights that contributed to the whole vintage final look.
For the stained glass windows that had some red or pink gems inside the border, I just picked some bronze paint with my brush and I dotted it on the paper (2), on top of the gems – to also create a small raised effect.
On the inside of the stained glass window, I mainly used the pearl paint to go over the yellow diamond shapes (3) to create more interest.
I've also used some metallic green to paint these oblique parallel brush strokes (4).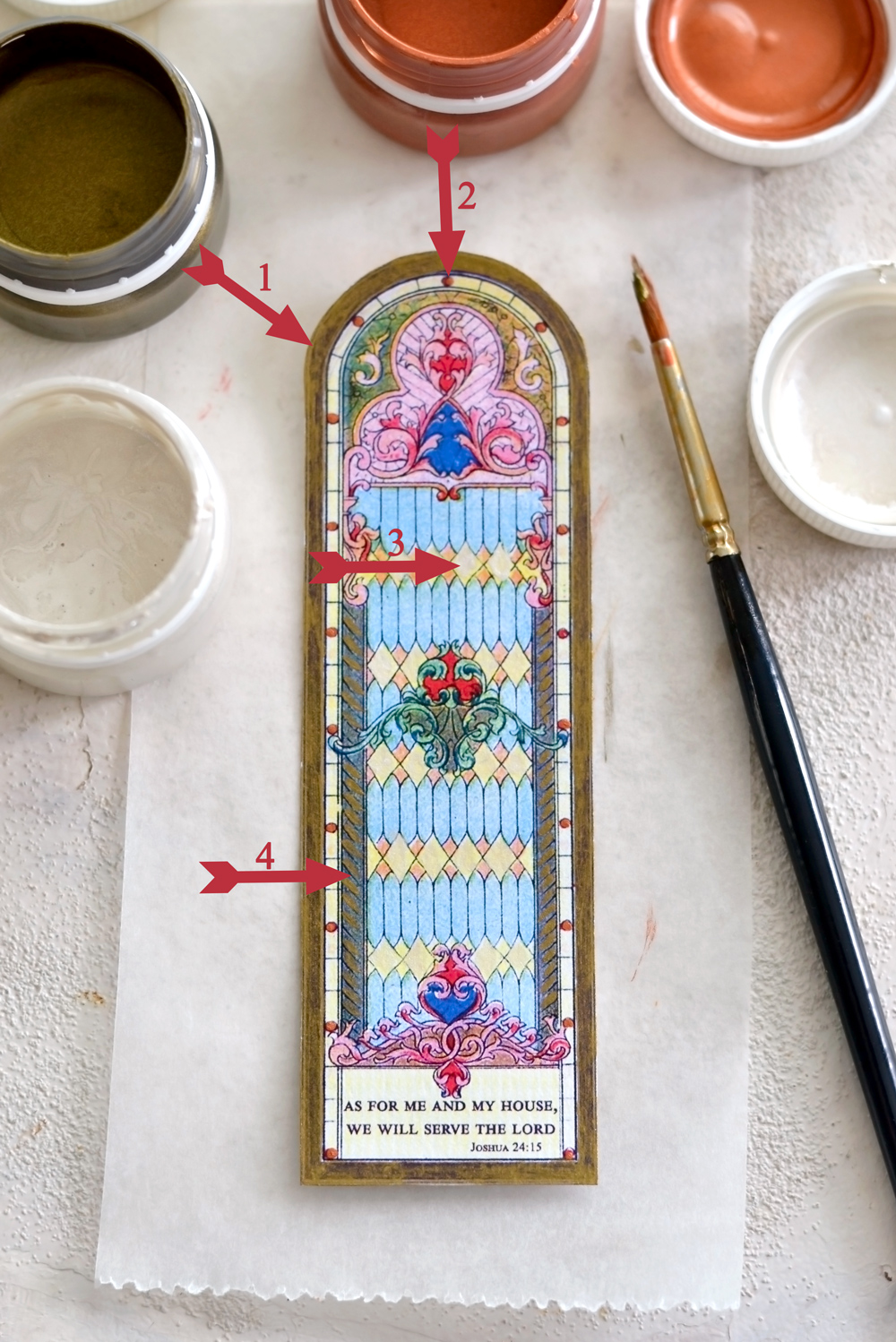 As you can see, I chose random different colors to cover the dark borders of each bookmark – I went with metallic gold, copper, bronze and green.
To paint the accents I used metallic colors from the same color palette as the colors of the design. I used metallic green to highlight the green accents, metallic copper or bronze to highlight the pinks and the reds and pearl to highlight the yellows or the whites. But of course, you can create your own 'rules' and paint the printable scripture bookmarks as you want!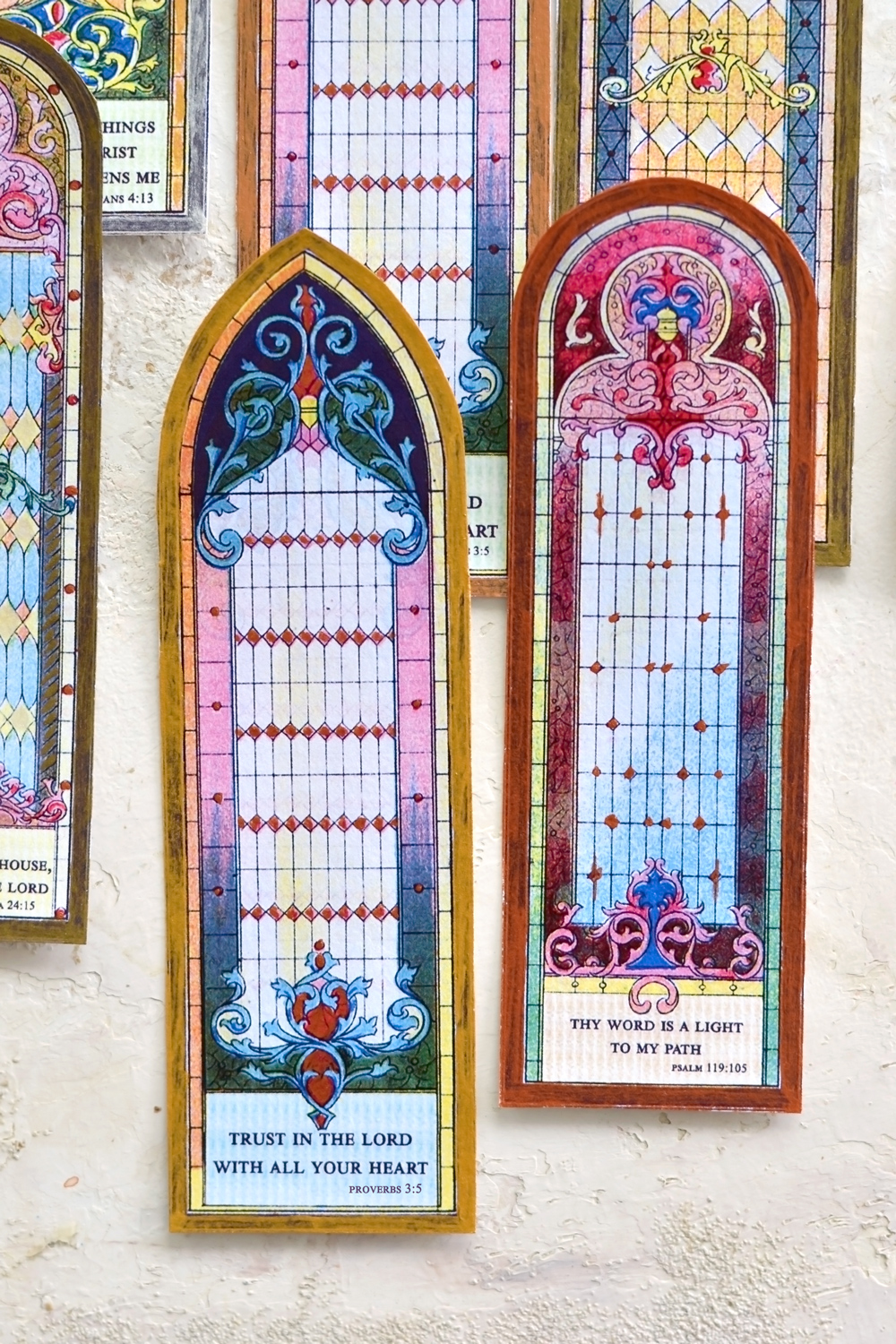 While the bookmarks are drying, you can create some tassels to further embellish them. I've actually created some adorable mini tassels using … a fork! I know it might sound strange, but I wanted them to have about the same size and the fork helped to achieve that!
It also helped with actually keeping the tassels in place while making them because I kind of complicated my life with this metallic twine that I've decided to use. I love this gold twine, it has an almost wire-y feel to it, but it was really slippery and difficult to handle. But I've made it work and I was really happy with my gold metallic tassels! Other options would be to use yarn, twine or even silk or satin ribbons.
As you can see, I actually added a small piece of this metallic twine on top of the tassels so I can easily hang them afterwards.
Of course, you can use any type of twine that you have around.
P.S. I'm guessing you already know how to make tassels, but if you don't, Rebecca has a great tutorial on how to make some of these lovely embellishments here -> How to make tassels.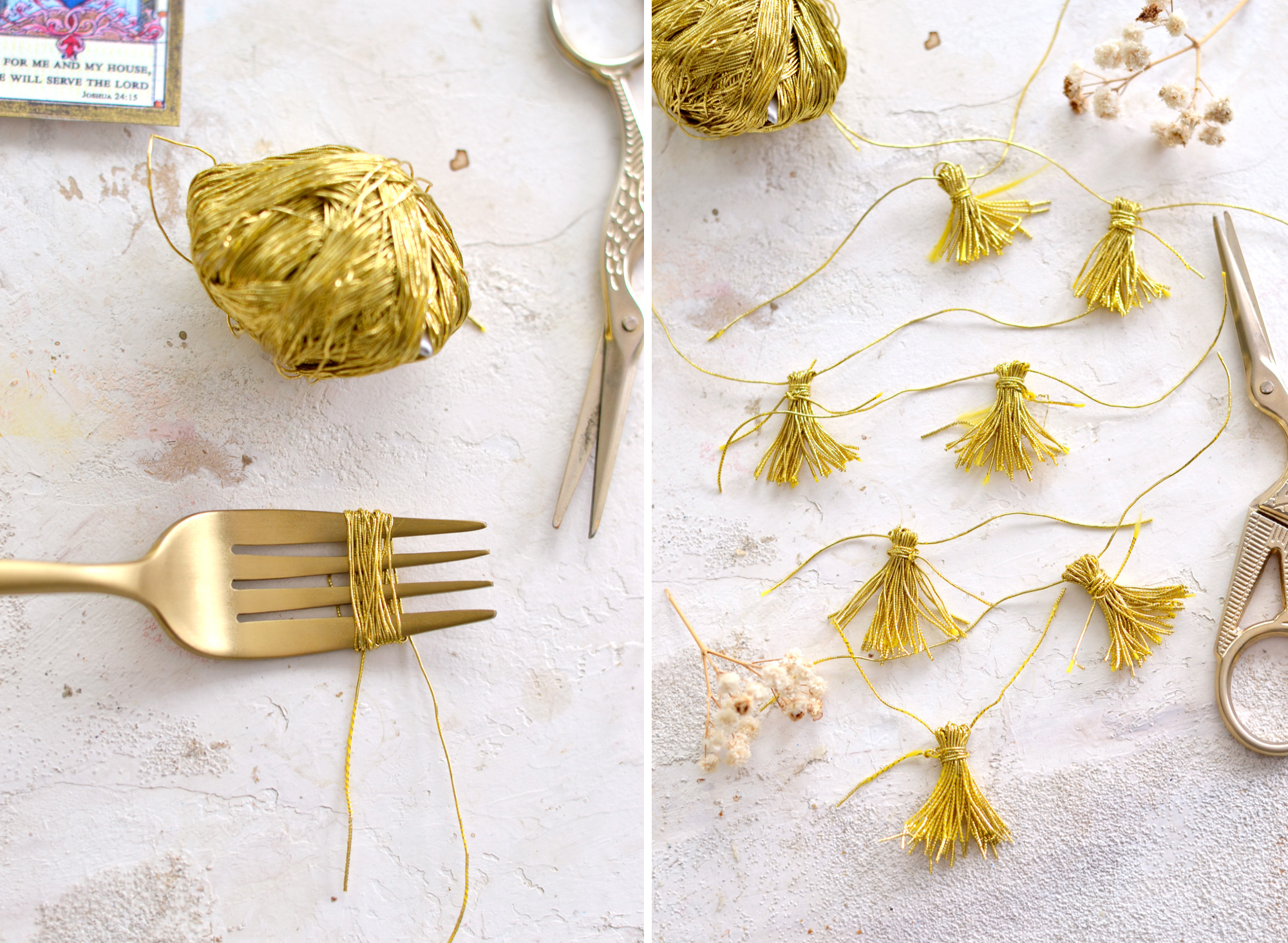 I'm loving the final look of my Vintage Bible Bookmarks! If you choose to go on the metallic paint road like I did, you will be amazed to see that they look even more beautiful in real life! The light always has such a playful way of highlighting metallic paints, it creates really gorgeous effects!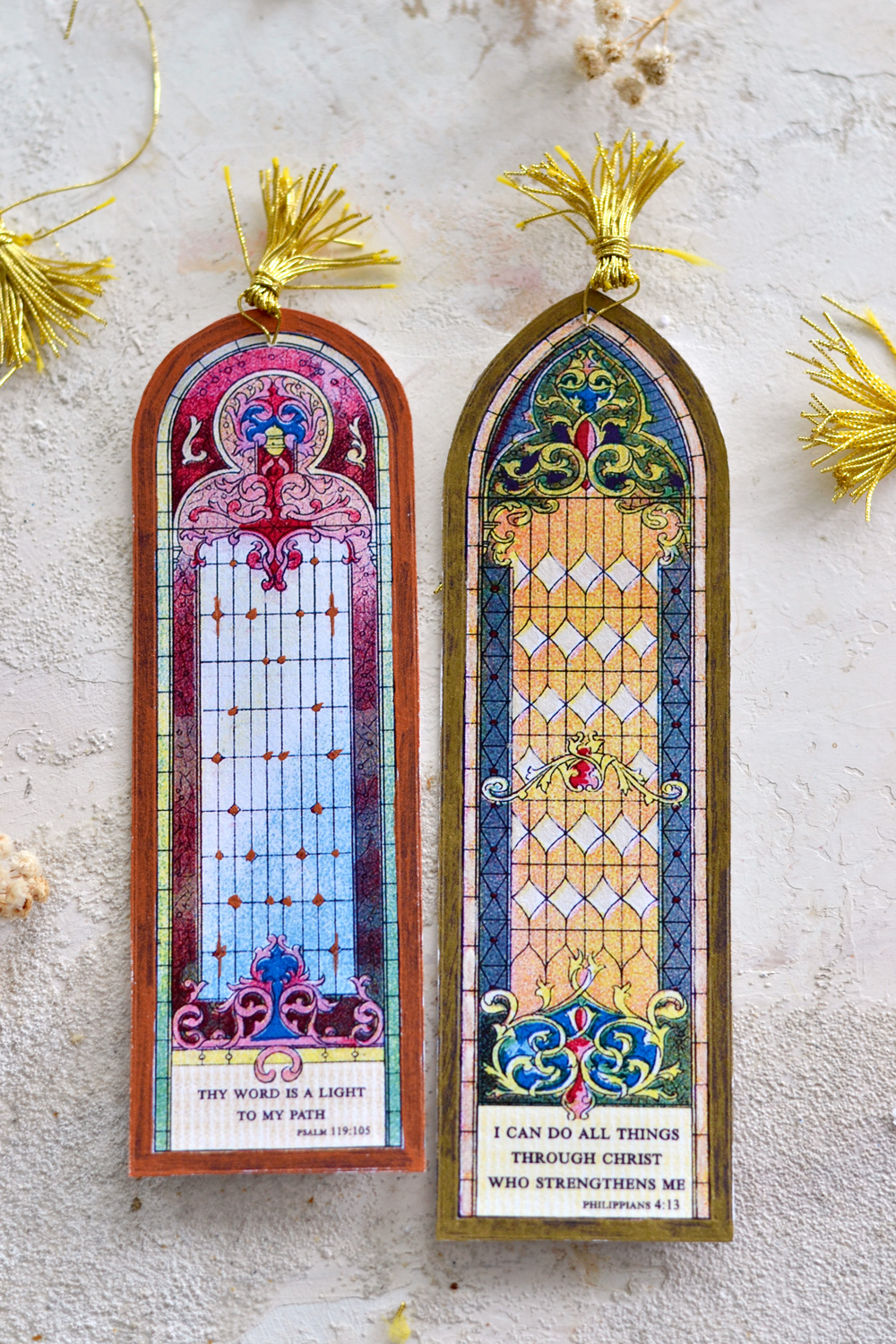 Another thing that you could do is to use white craft glue that dries clear to 'paint' over some of the details. After drying, the transparent glue will create a beautiful raised effect that enhancing the gorgeous details of our Bible Bookmarks! If you want to know more about this technique, you can check this tutorial here – Boho Wall Decor.
You can also use a laminator to make them more durable in time if you want. I like to spray a thin layer of matte acrylic spray after feeding the paper and the laminating pouch through the laminator to take off some of the shine.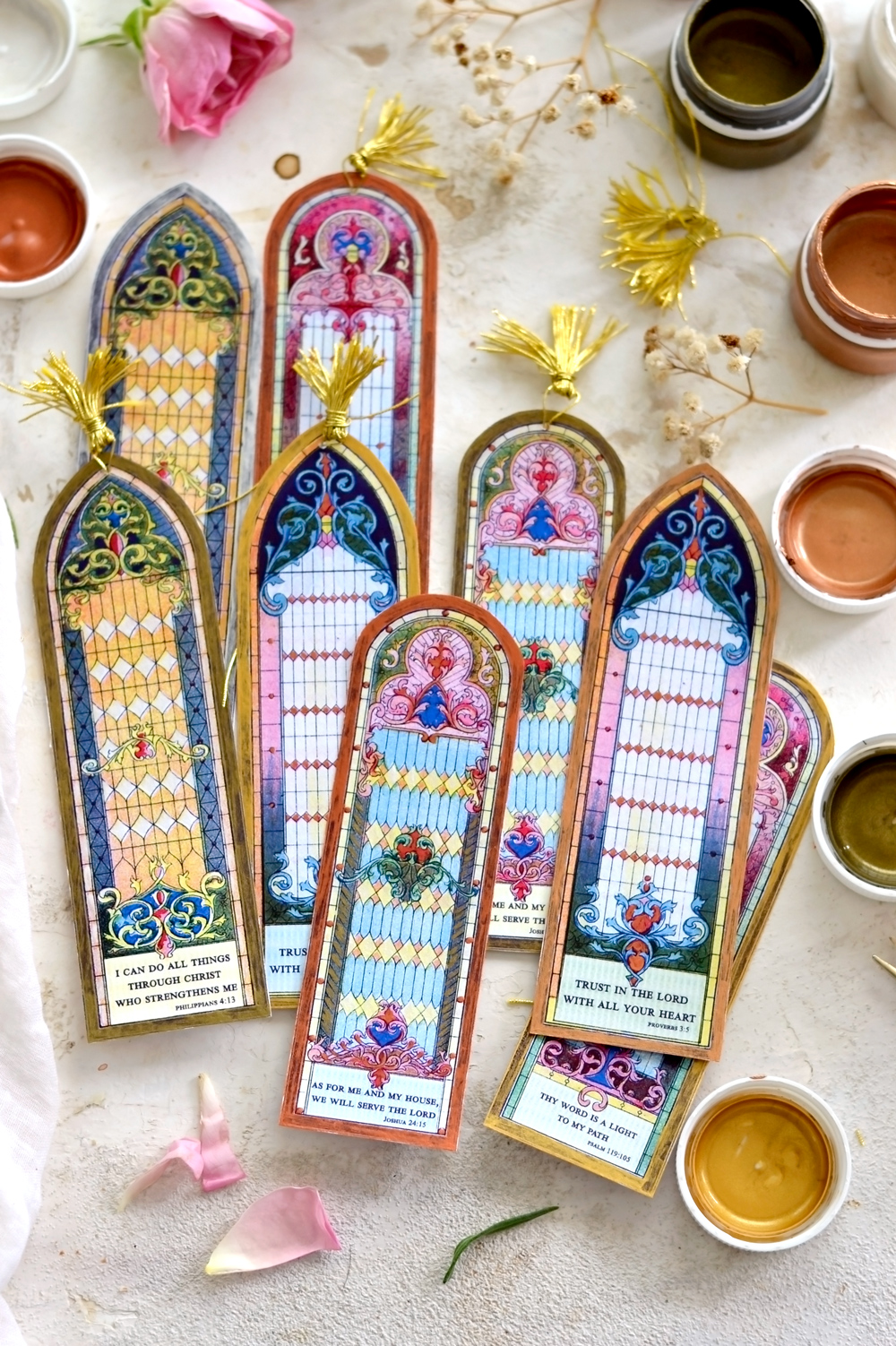 These beauties will make the perfect gift for friends and family! You can even gift them to your church members on Sundays, after the sermon. Everyone will appreciate a beautiful gift like this, handcrafted by you and with such a powerful message.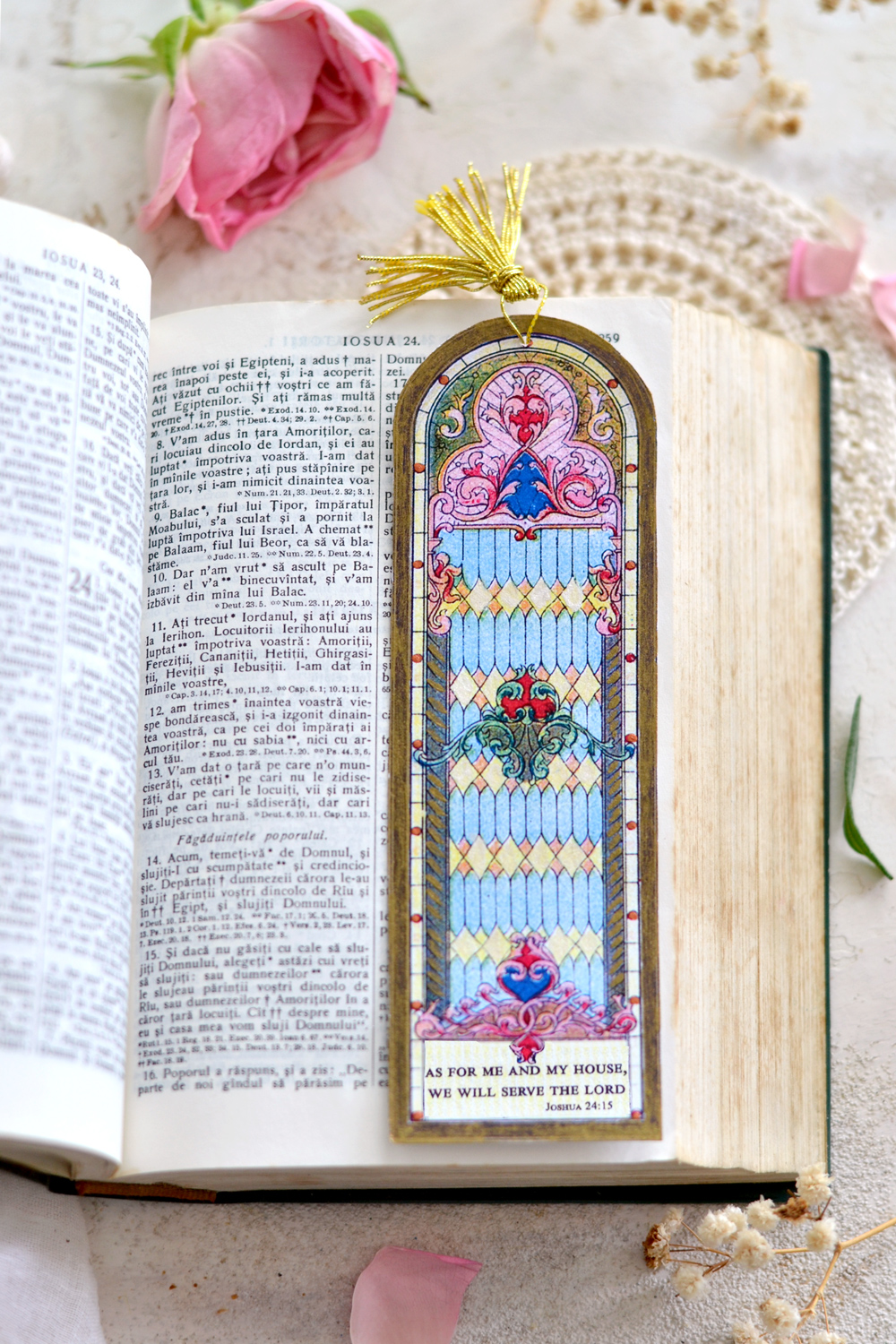 I'm really curious which one do you love the most – this one with the tassel or the other one without?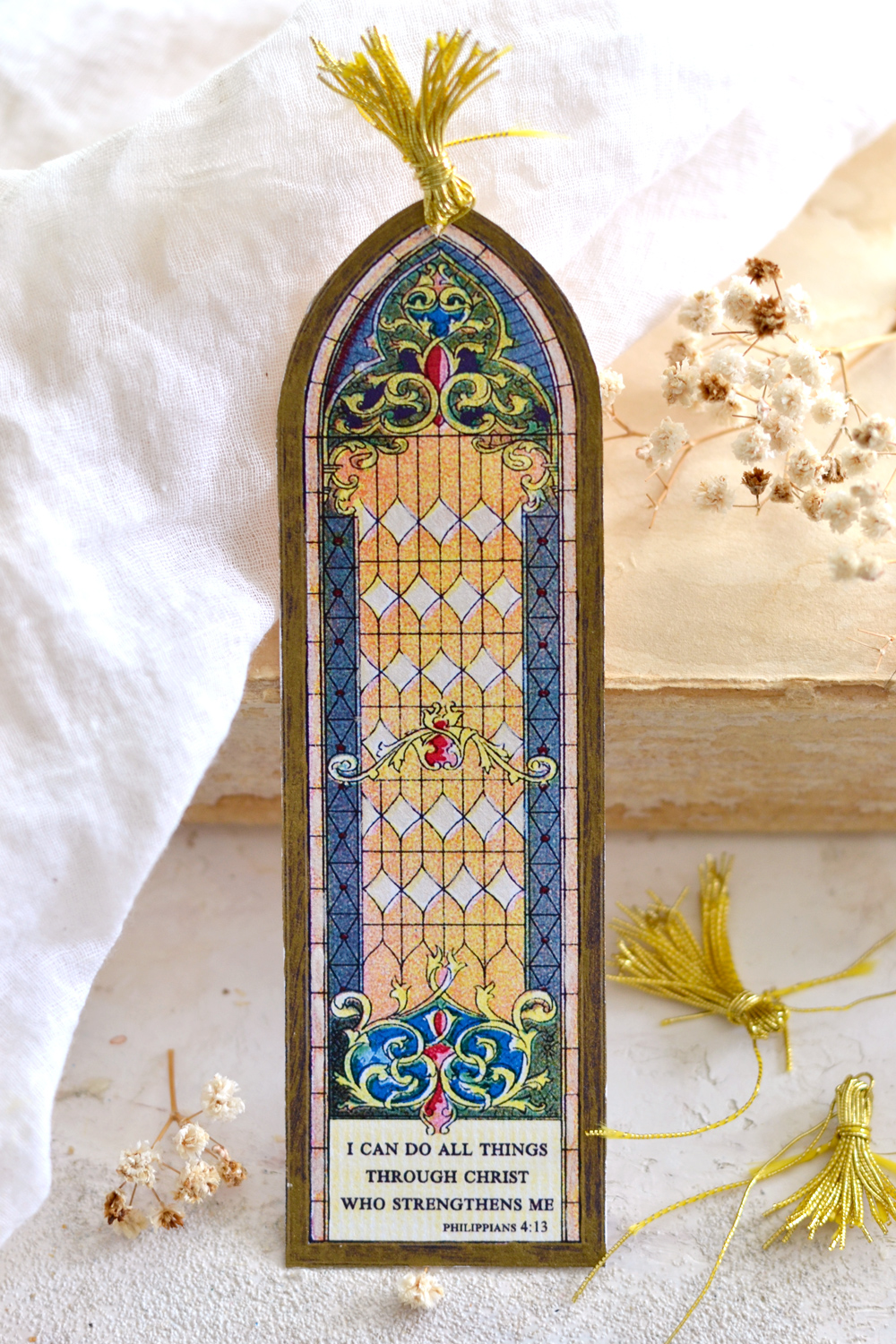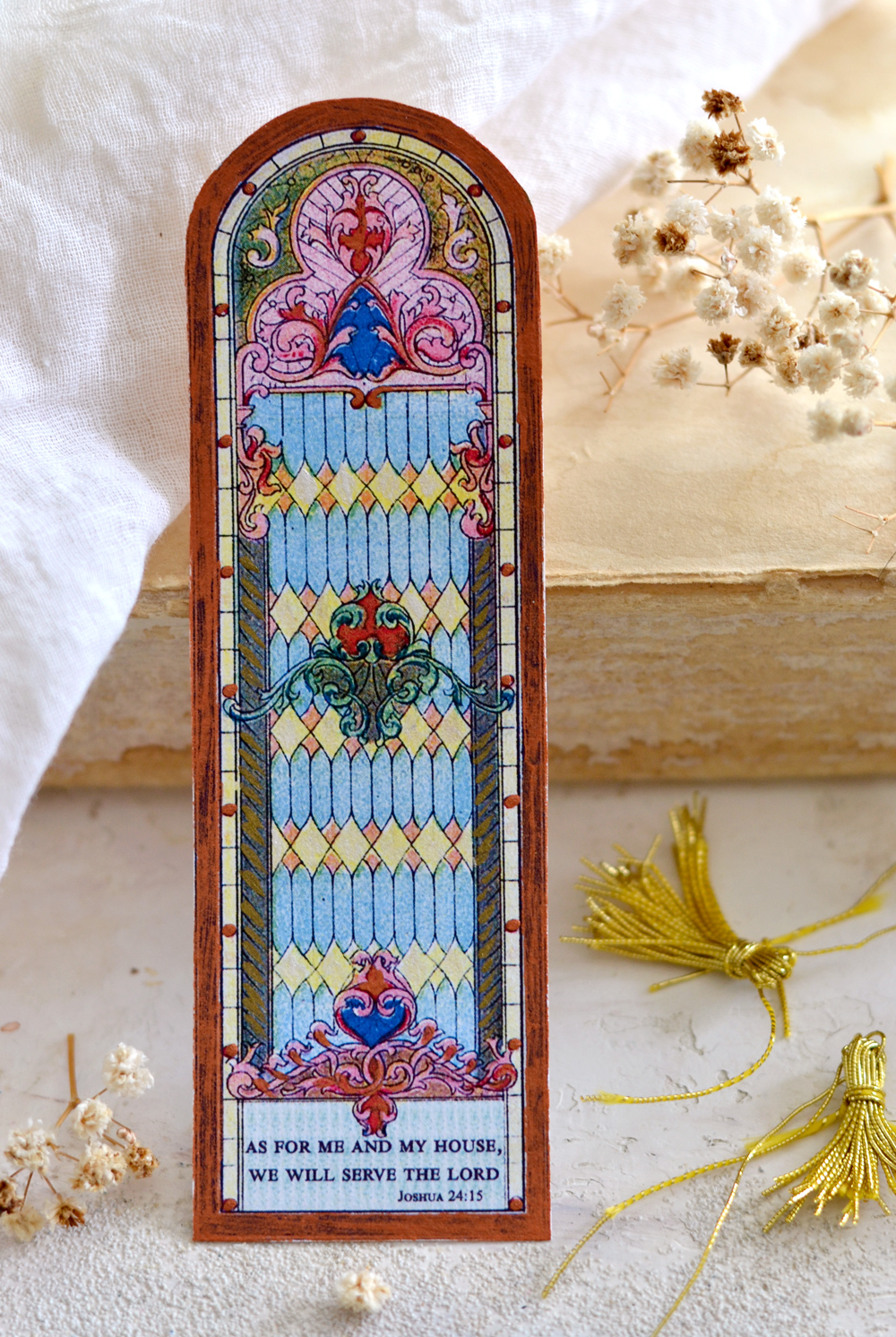 I hope you download the Religious Bookmarks Printable and create your own beautiful Bookmarks for your Bible or latest novels! You might also like our Bible Art Journaling Post HERE. 
Happy crafting,
Diana | Dreams Factory