Christmas Card Coloring Pages
Hello Graphics Fairy friends! I'm Diana from Dreams Factory and I'm happy to be here once again to share another DIY project with you! Today we are in full swing with our Christmas in July party and I'm sharing these lovely Christmas Card Coloring Pages that can be ready in no time! In fact, this has to be one of the easiest projects that I've shared so far, you'll just need to print the holiday cards, fold and use them as you want! There is one small thing that you can do to embellish your cards here and there, but only if you want to! This one small thing will completely transform your cards and will give them a super chic gilded look in only a few seconds!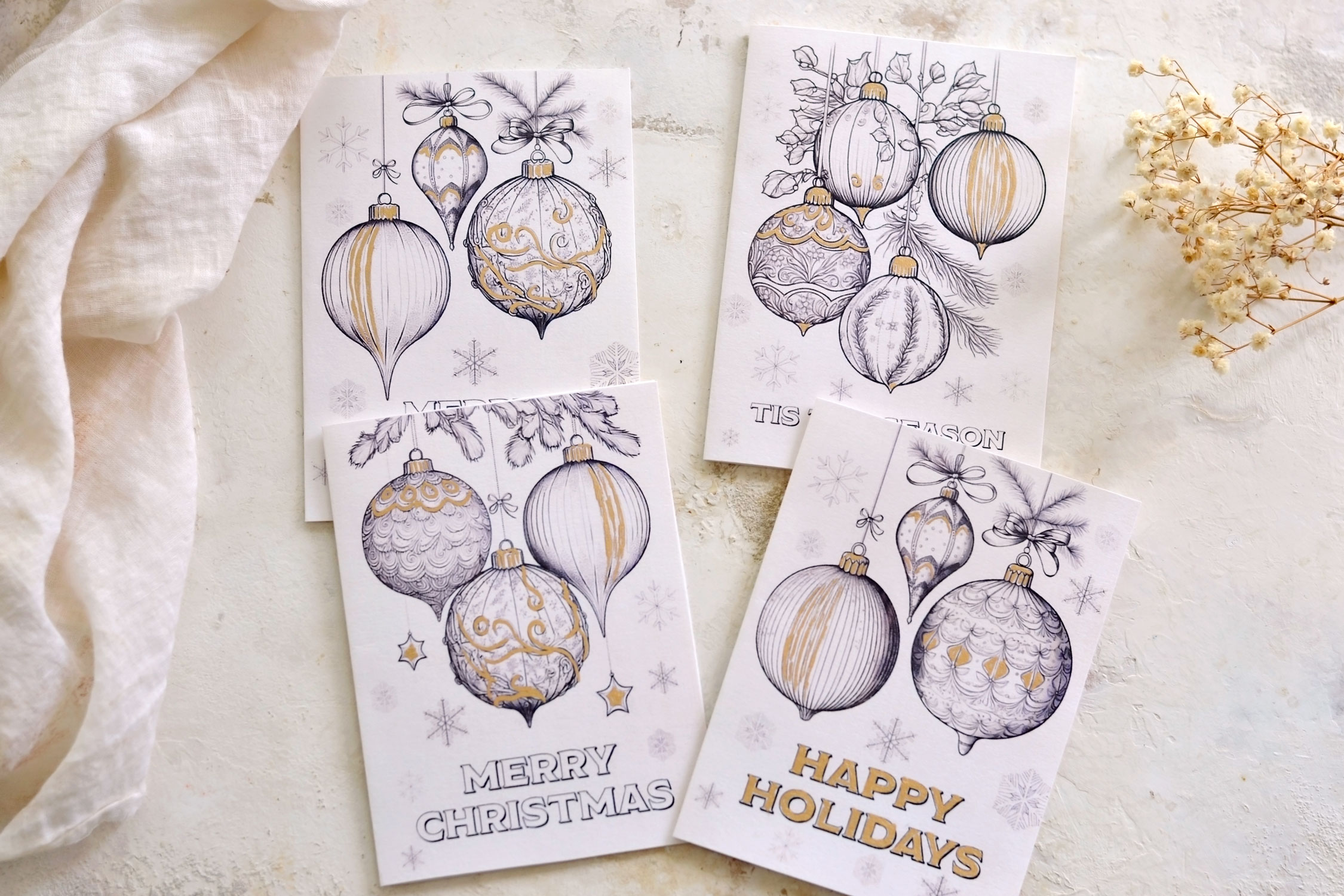 Are you curious how to easily achieve this super chic gilded look? OK, I'm ready to spill the beans … we will be using a gold marker! I love using this technique with coloring page cards because you can have fun coloring some parts of the image while also giving the receiver the chance to color some more!
While designing the cards I thought they would look even more beautiful with a slightly colored background, so I chose a light cream color as my background for all the cards. The cream pastel background imprints them with a playful vintage vibe, making them truly unique.
You can find the downloadable free printables below – if you print them all, you will be able to make 4 different cards.
Free Printables: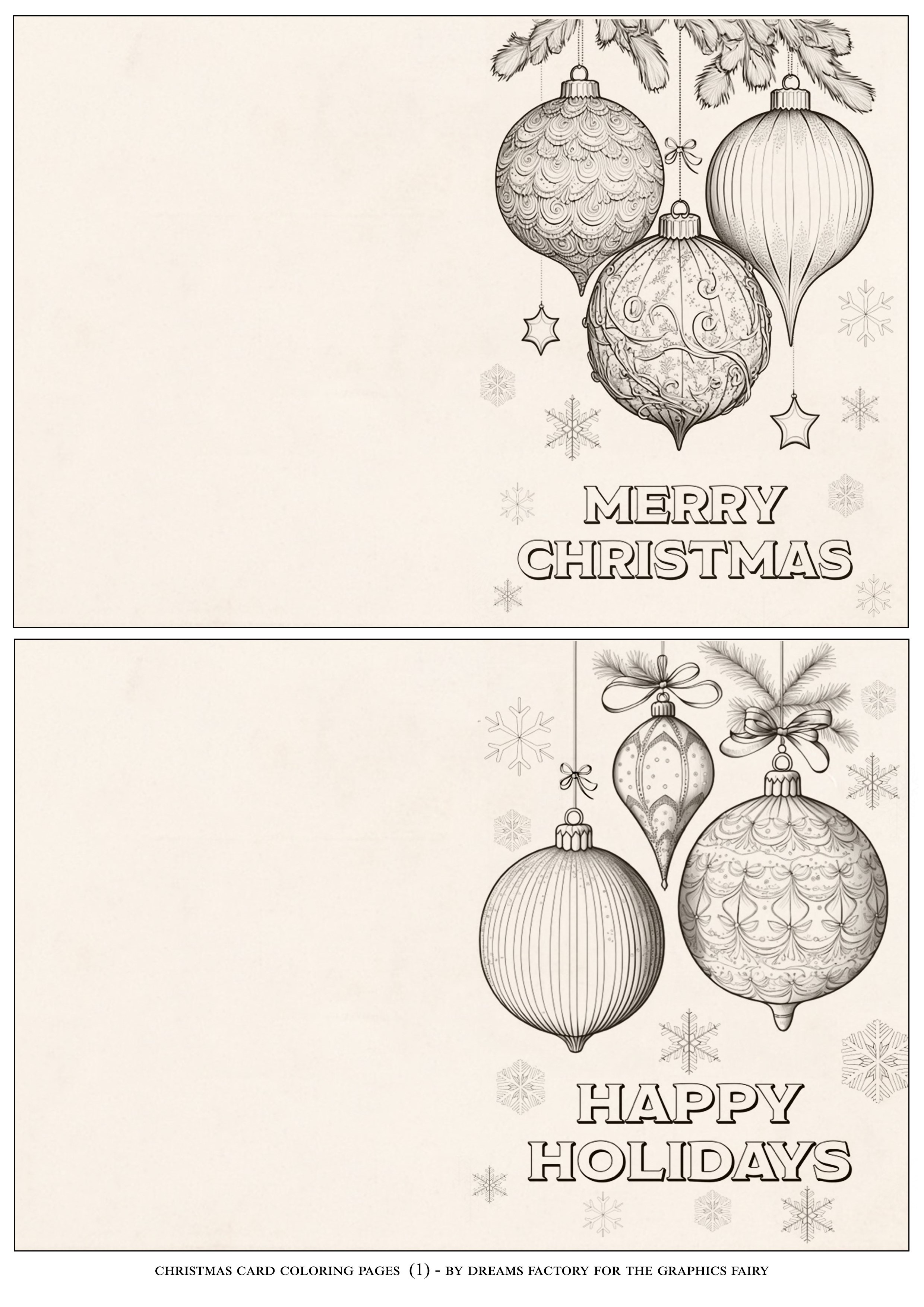 —-> Click HERE to Download the Full Size Printable PDF (1)  <—-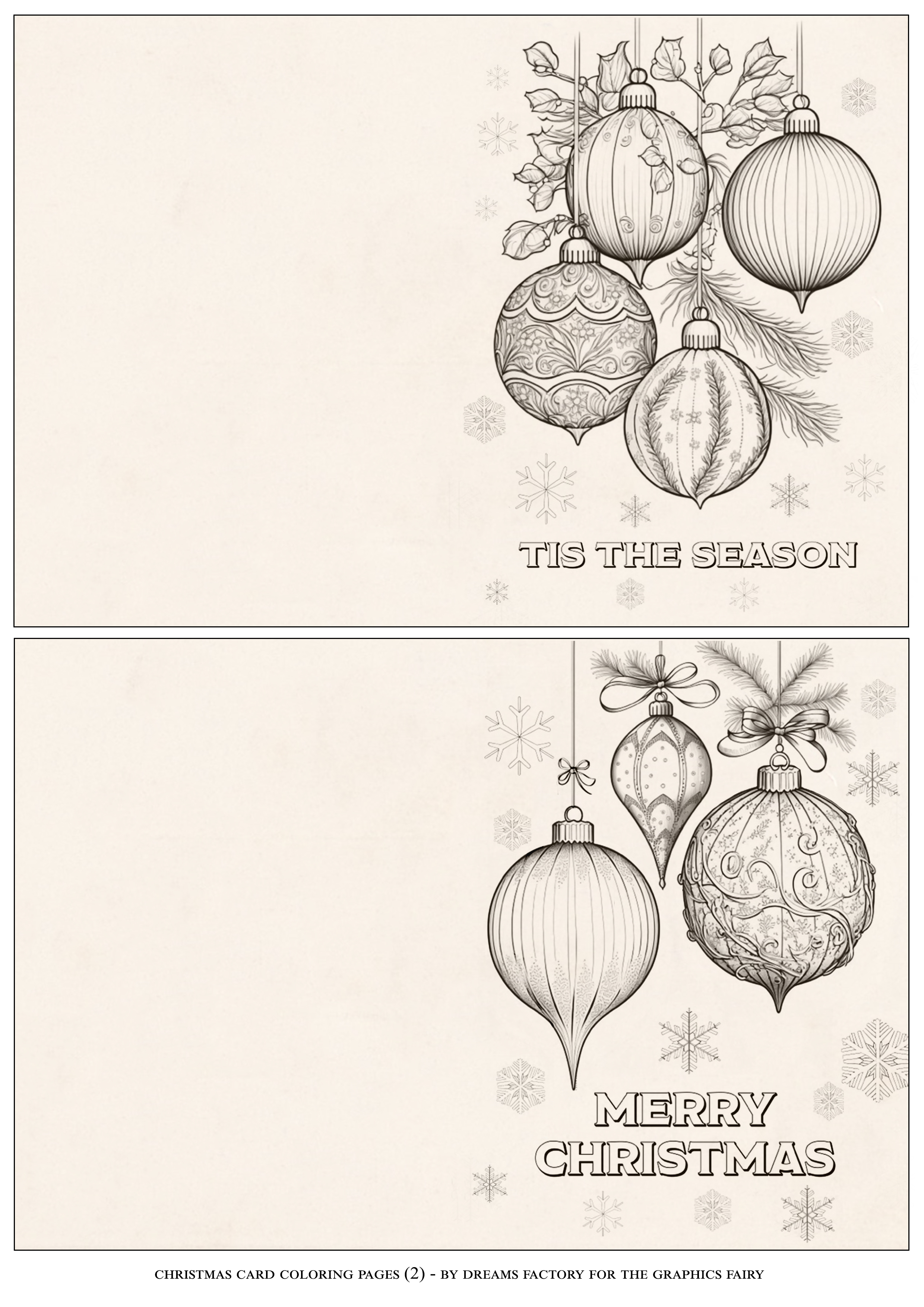 —-> Click HERE to Download the Full Size Printable PDF (2)  <—-
Christmas Card Coloring Pages Supply List:
regular paper or white cardstock paper
bone folder
DecoColor gold marker (optional)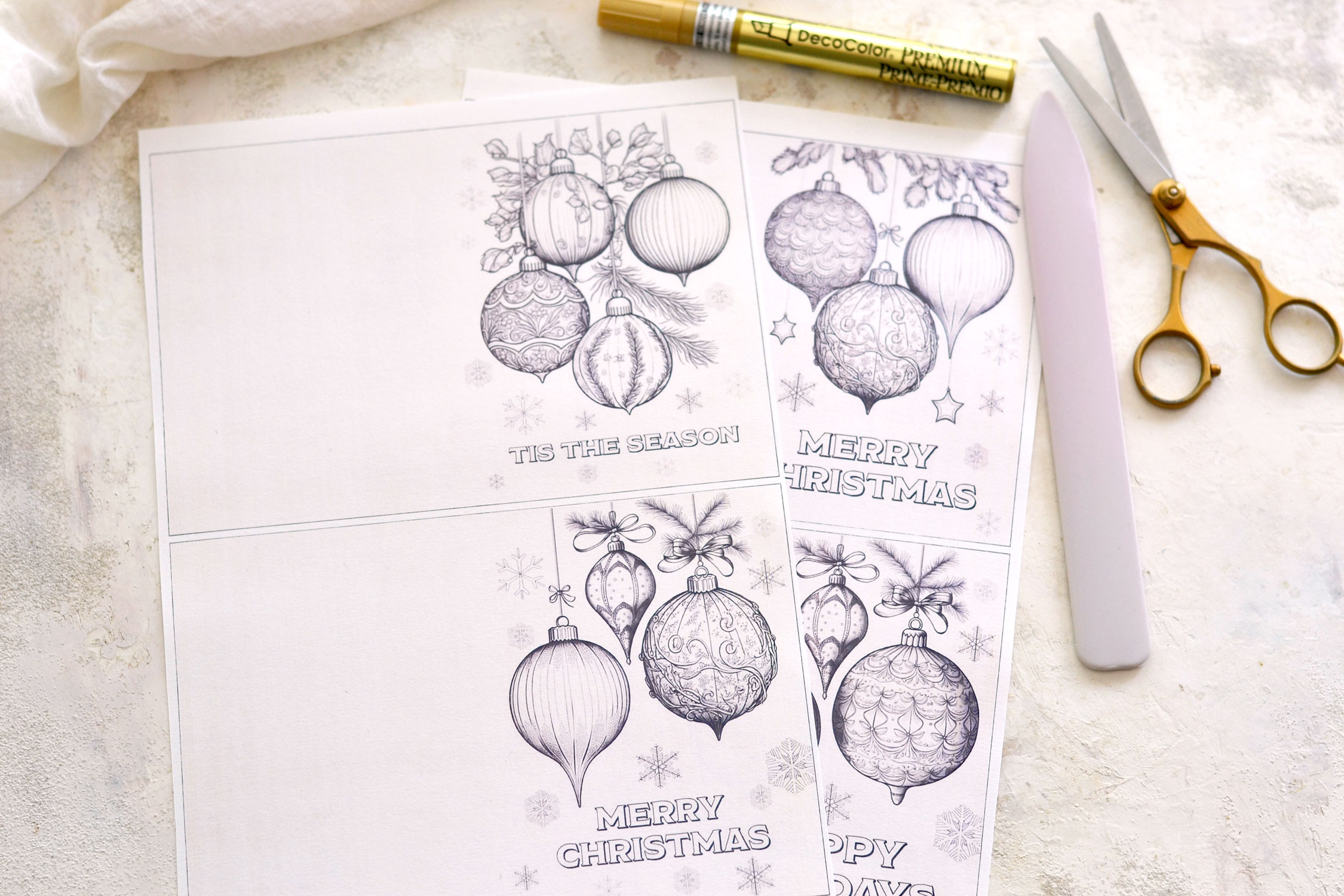 Free Printable Christmas Cards Instructions:
Start by printing the printable templates on cardstock paper.
Use your scissors to cut each card out while trying to completely remove the black border.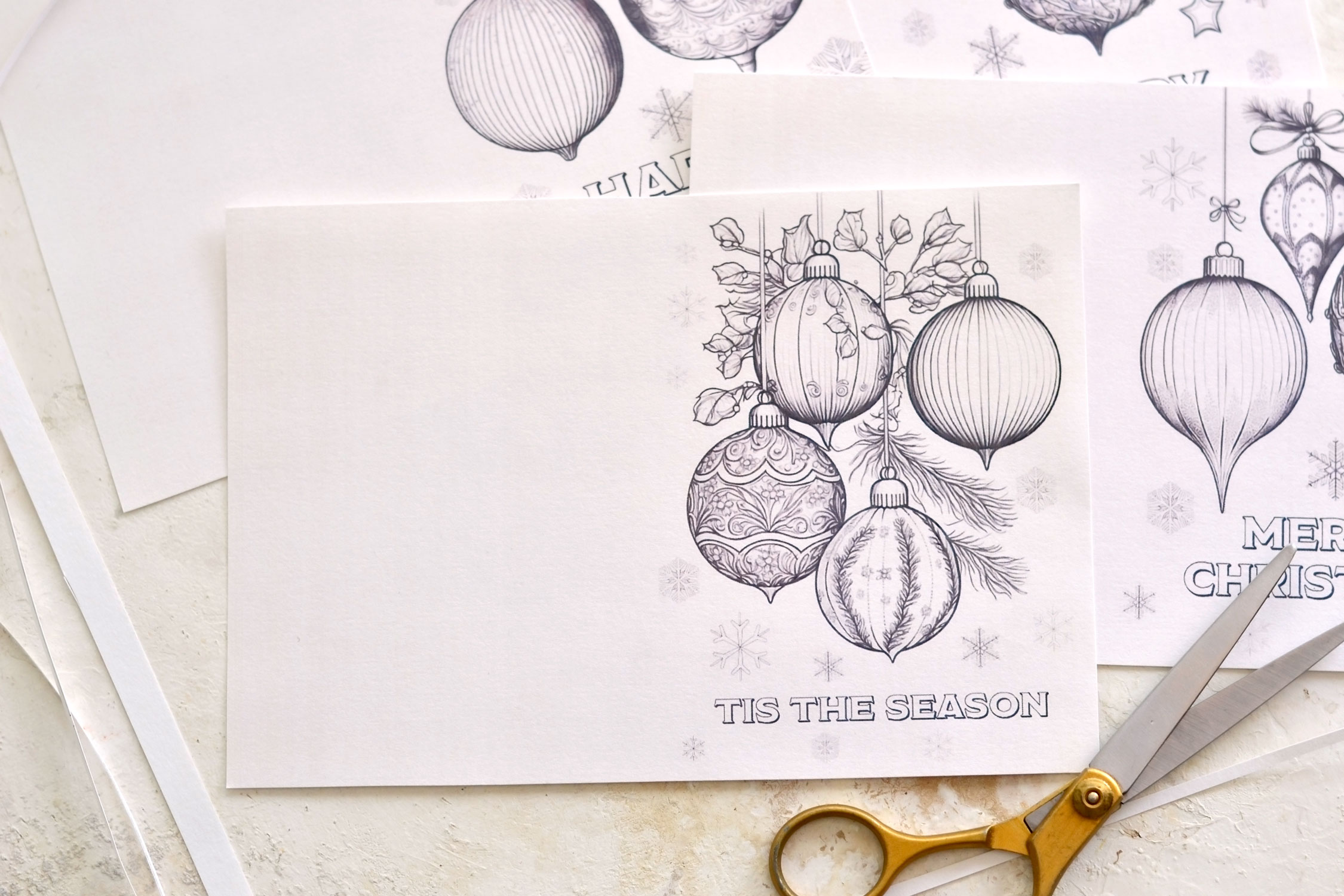 Use a bone folder to score and fold your cards.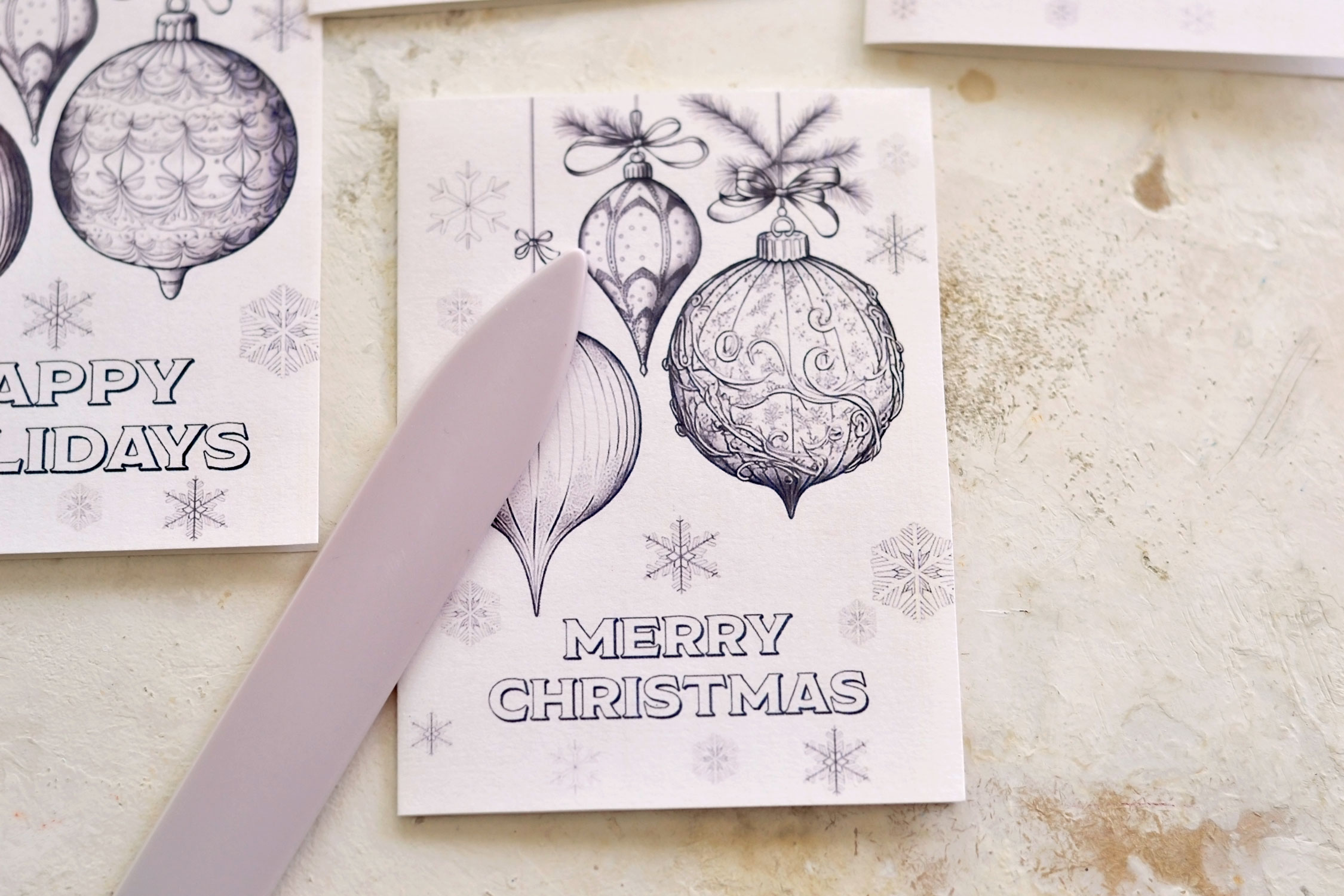 If you want, you can stop now and admire these lovely cards that are just right for the holiday season! All the designs are looking really beautiful, they will make the sweetest gifts for the holidays!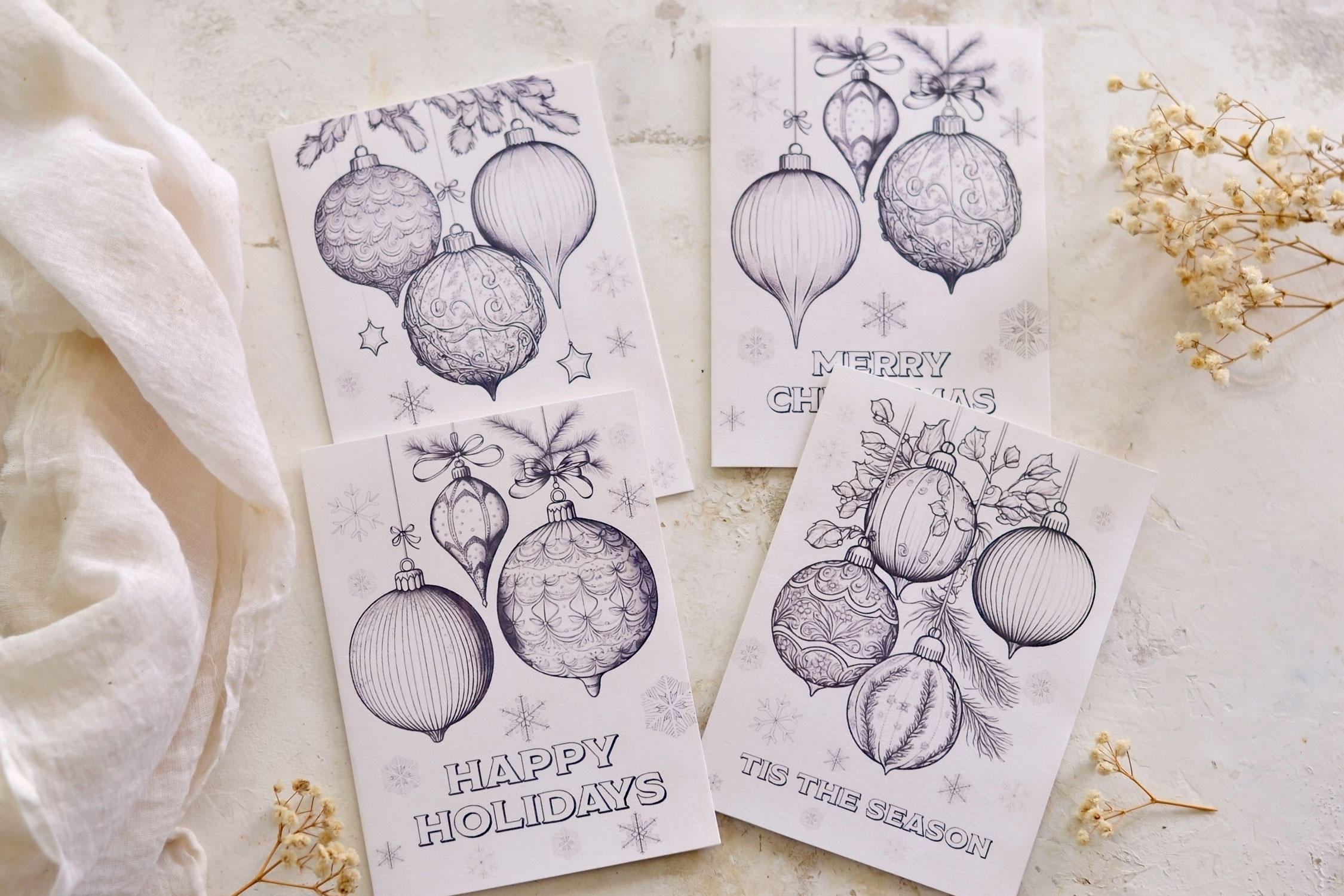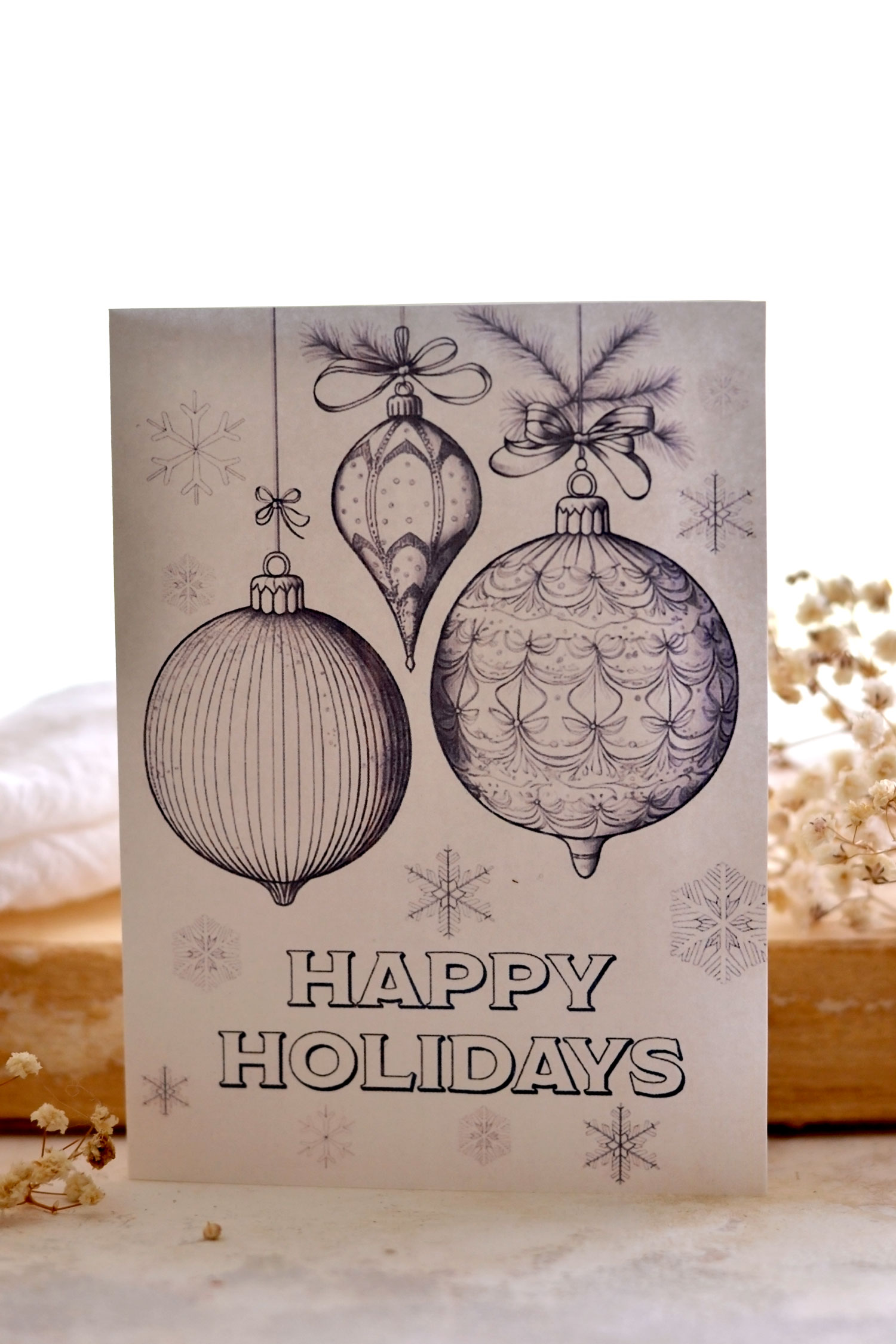 But if you want to take things to the next level, just use a gold marker to highlight some of the Merry Christmas ornaments here and there!
You can use any gold marker that you love, but I wanted to show you this one that I recently discovered. It's a Decocolor gold marker that looks like liquid gold, if you haven't had the chance of using one, you need to try one ASAP because it's absolutely amazing!
P.S. This is an oil-based paint marker, so depending on the cardstock paper you are using it might create a shadowing effect on the back of your paper. Just try it on a small surface first to see how it reacts with your specific paper.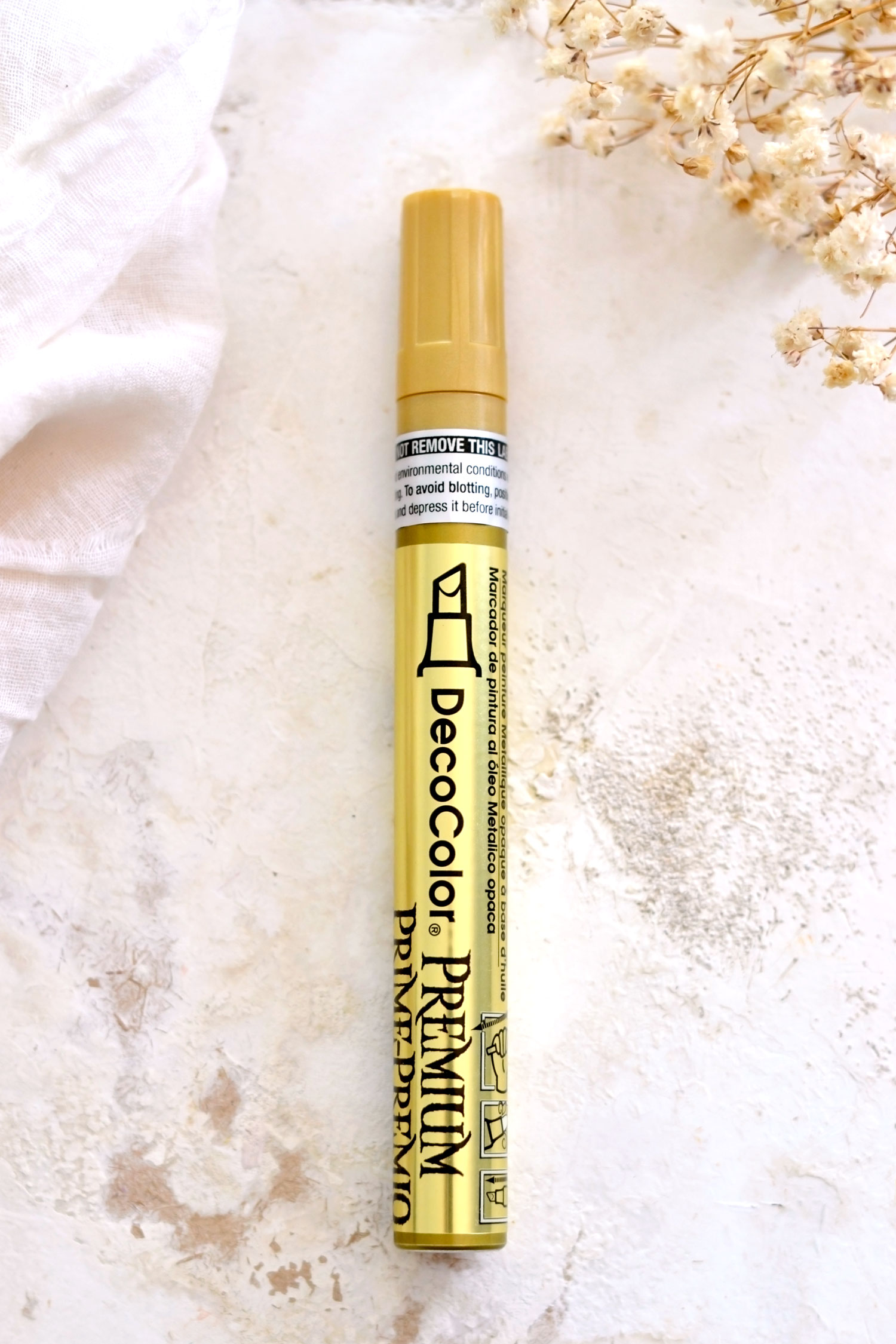 The truth is I can't wait to use this on other projects too because it's really easy to use and the final results are absolutely amazing!
You can choose what elements you want to highlight, just keep in mind that we only want to add some gilded accents here and there.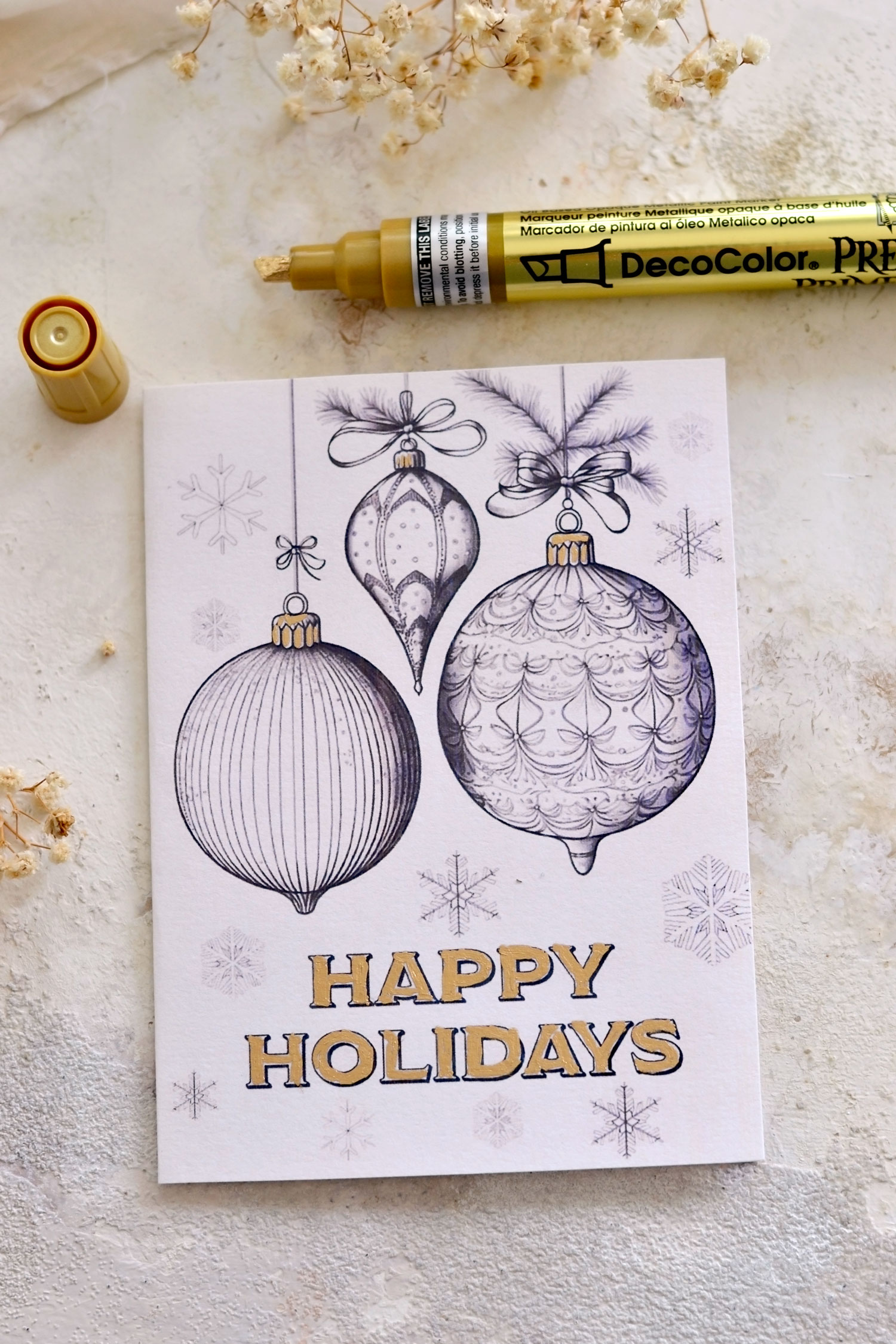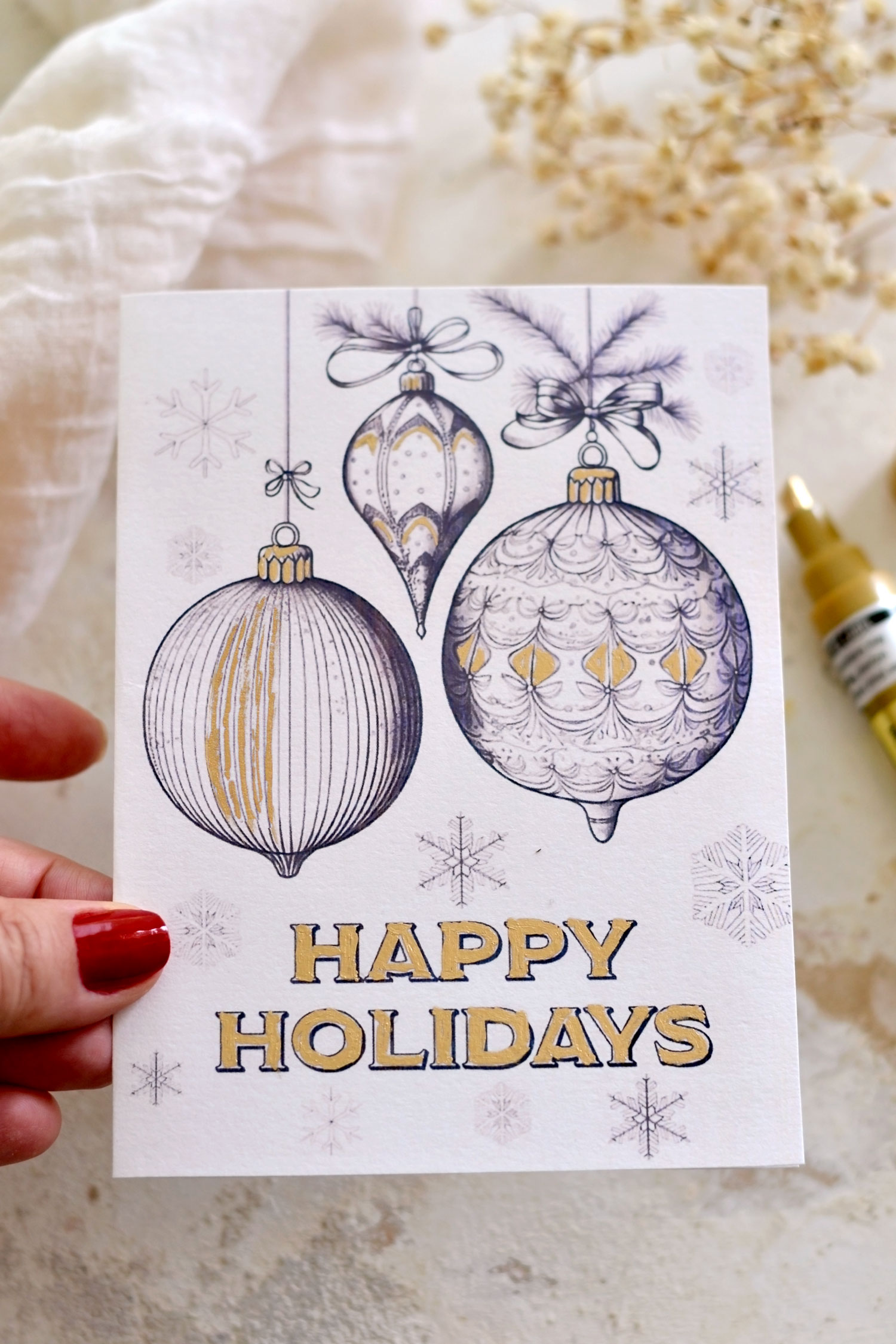 Tilt your cards to bring some light in, light always accentuates the golden highlights in such playful ways, making them even more beautiful!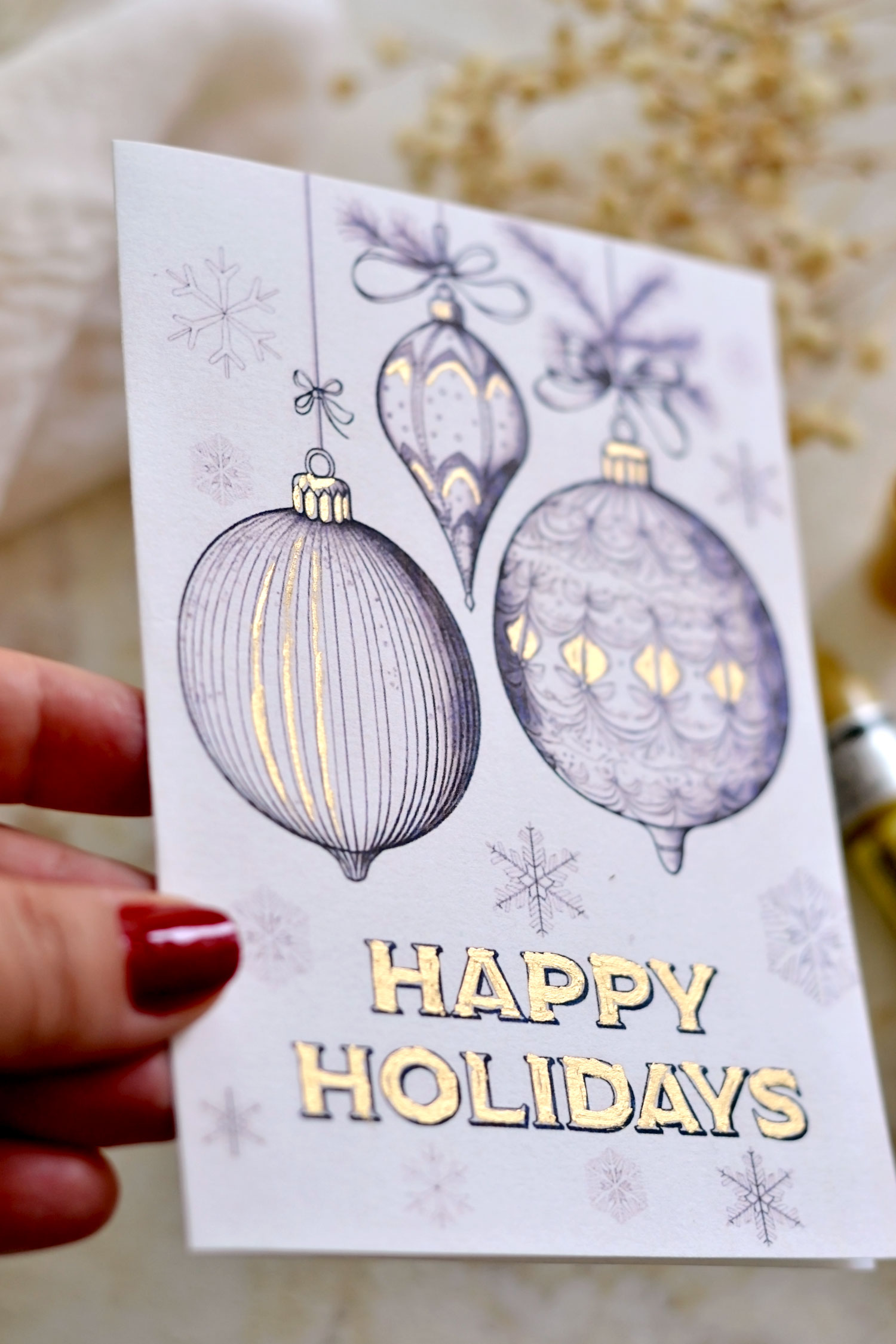 If you don't want to color the Christmas wishes, just leave them blank and only gild some of the other details!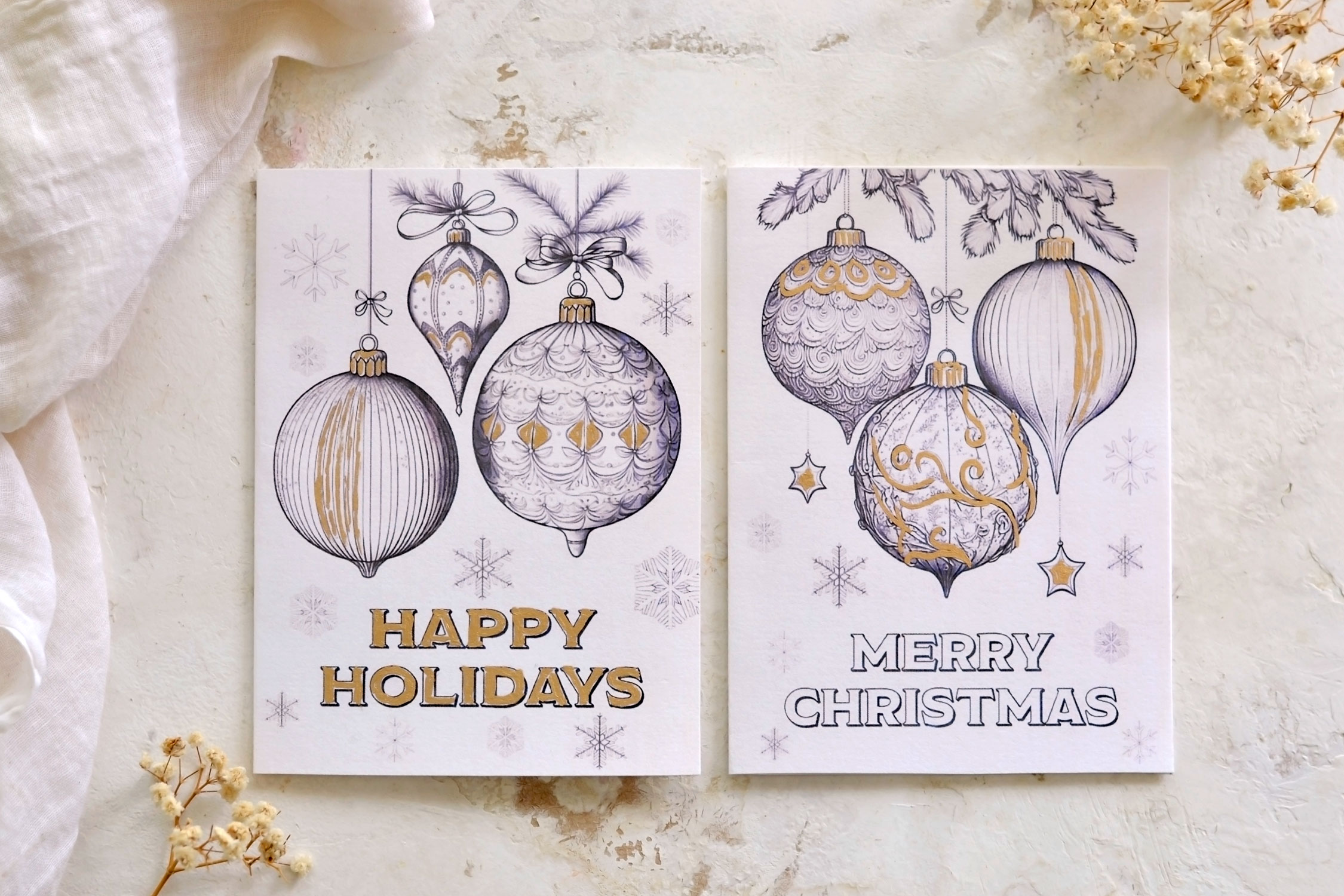 You can gift the simple versions of the Christmas coloring page cards or the gilded ones to your friends and family this Christmas. You can even include a small set of colored pencils, crayons or colored markers that will make the whole coloring page card concept even more intriguing! And so much more fun!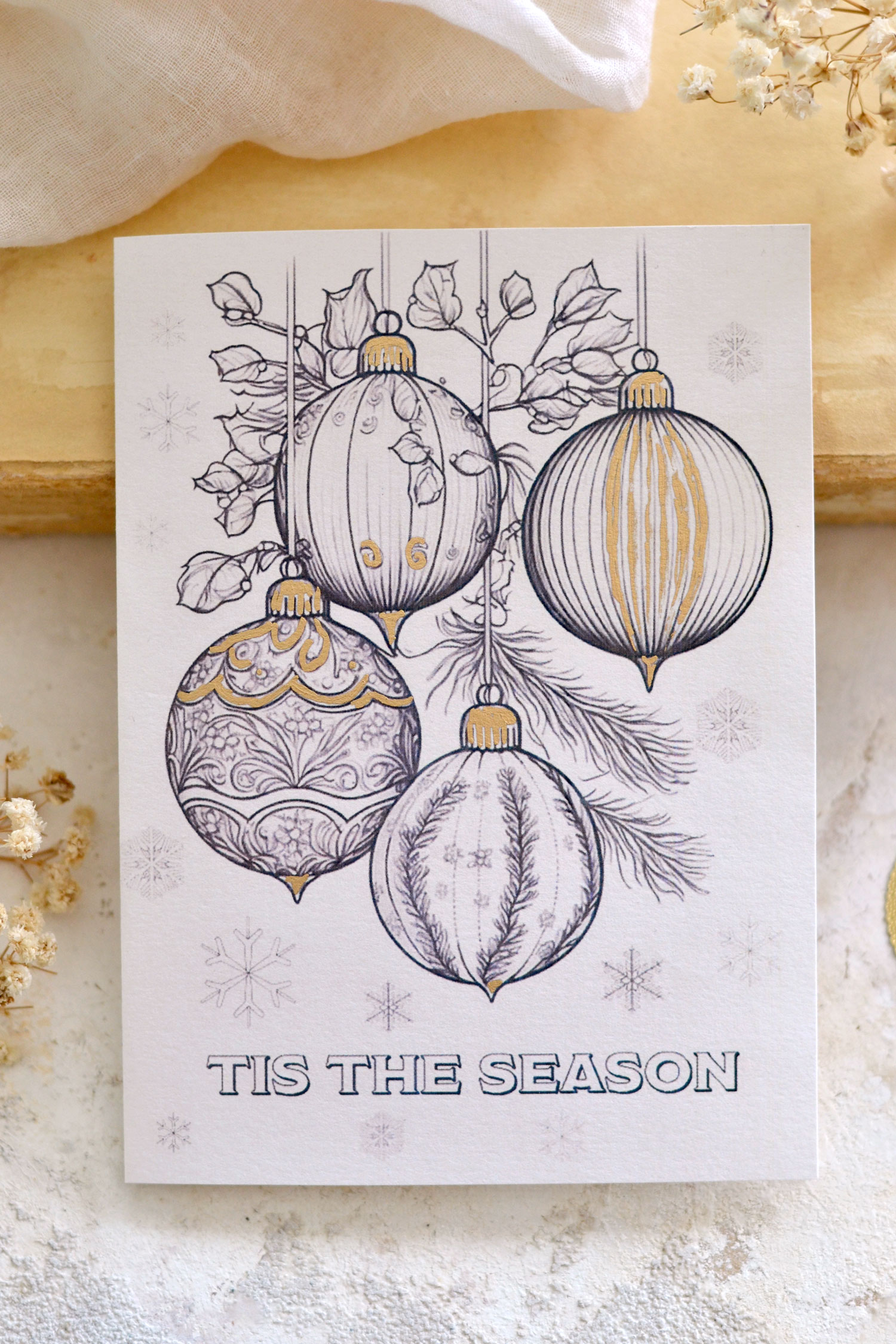 As always, feel free to include the cards in other projects too or why not, even give them a completely new purpose! For example, you could turn them into beautiful tags, mini paintings that you can display in your home for the holidays or even lovely inserts for your Christmas-themed junk journals!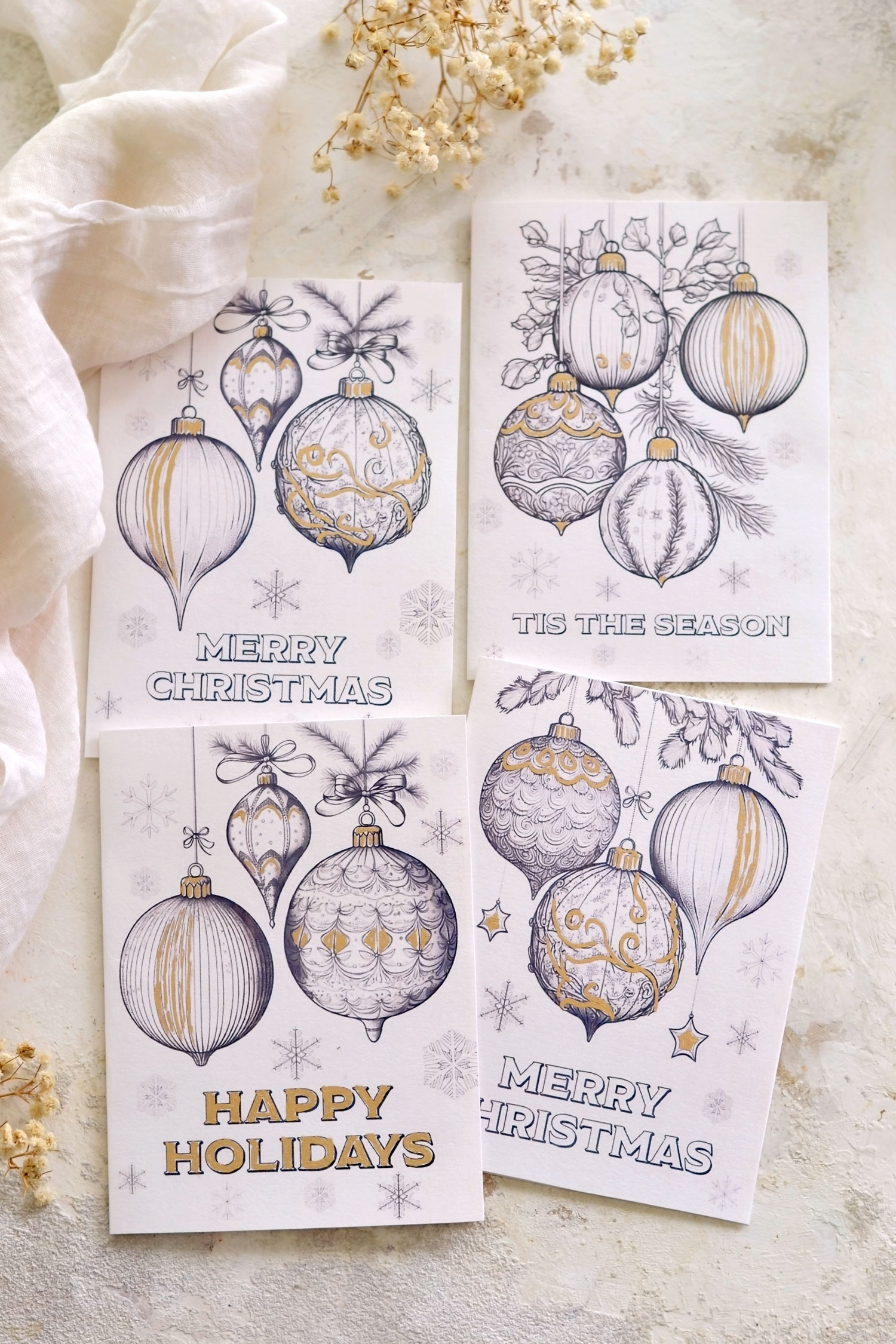 I hope you enjoyed these crafts and that you have fun making your own Christmas cards. Don't forget to add your own message to the inside of the card if you like, that is a fun way to personalize them even more! I think kids of all ages would have fun coloring these too, including toddlers and preschoolers, just make sure you give them crayons or other different mediums that are kid safe, to color with. You might also like the Snowman Coloring Pages HERE. 
Happy crafting,
Diana / Dreams Factory