19 Halloween Kids with Pumpkins
Today we have a fun collection of Halloween Kids with Pumpkins! The images are beautiful and colorful graphics of Children with Halloween Pumpkins. Featured below we have some cute drawings of children playing with Pumpkins, wearing Pumpkin Costumes while Carving Pumpkins. We have several Halloween Greeting Postcards that would be great to use for party invitations or place cards. There are a few Children with Pets that are just adorable. Then we have a few scary Halloween Pumpkins. So nice to use in your Halloween Craft, Handmade Card, or Collage Projects!
Unusual Halloween Kids Clipart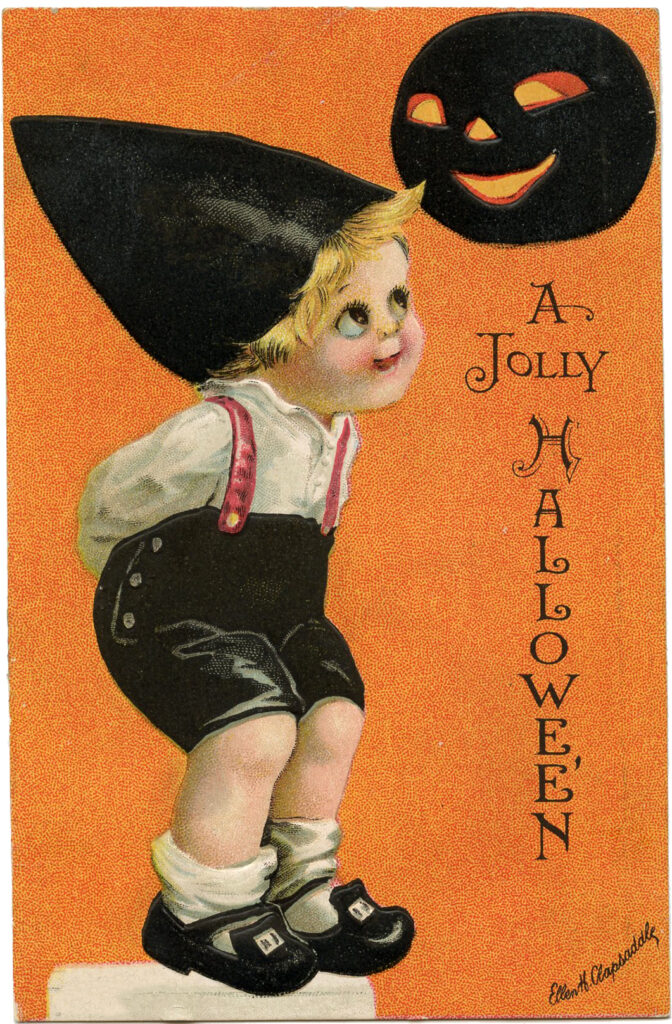 Here's the newest addition to this collection. Shown above is a darling little boy with Googly eyes! This is another one by Ellen Clapsaddle I just adore her googly eyed children. The little boy is wearing a black hat… it looks like a Dunce Cap or like a cone head cap! Haha. He's staring at a little black Pumpkin that appears to be floating in the air.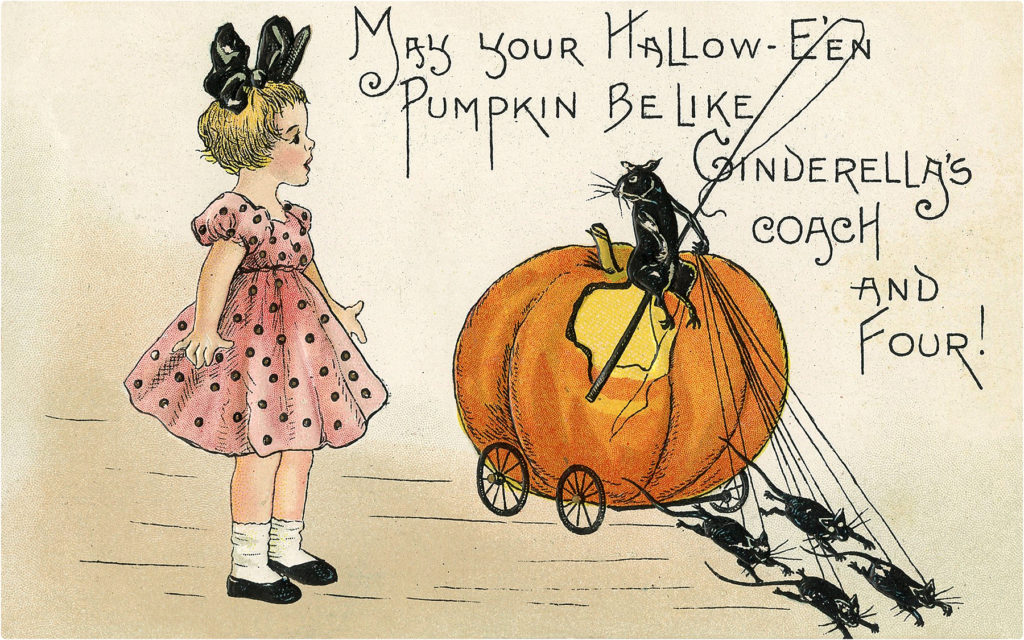 This is an unusual card, so quirky and fun! This one shows a little girl in a pink dress, she seems in awe of the scene in front of her and who could blame her? She's watching a Pumpkin Carriage being driven by a large Rat and pulled by 4 black Mice (or maybe they are small Rats?). Cute!
Pumpkin Carving Images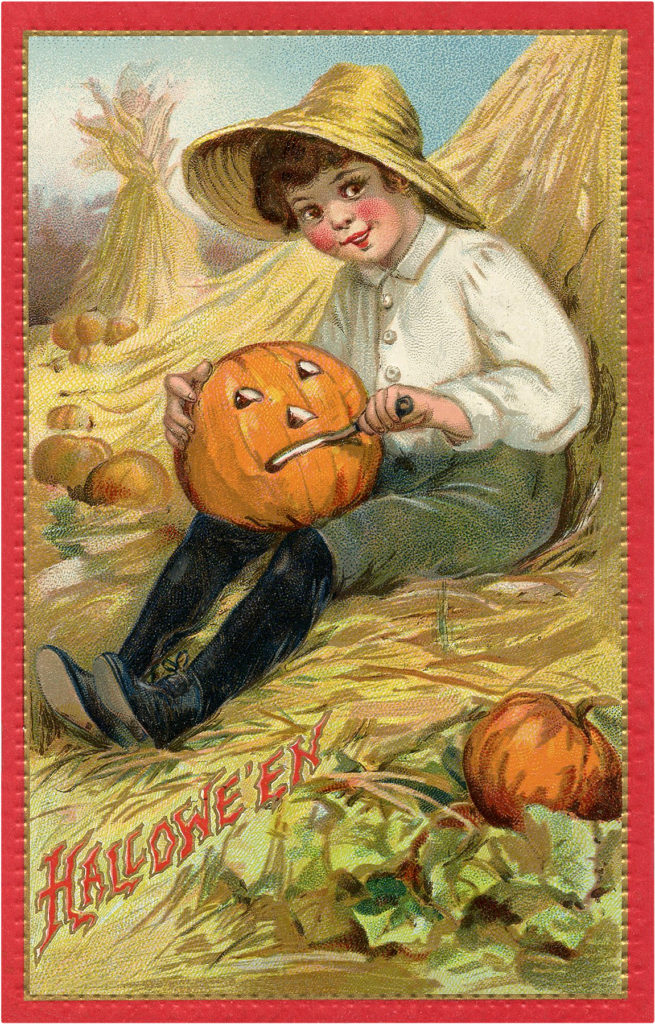 Shown here is a charming boy getting ready for Halloween. He's out in the Pumpkin Field and he's already started carving his Jack O Lantern!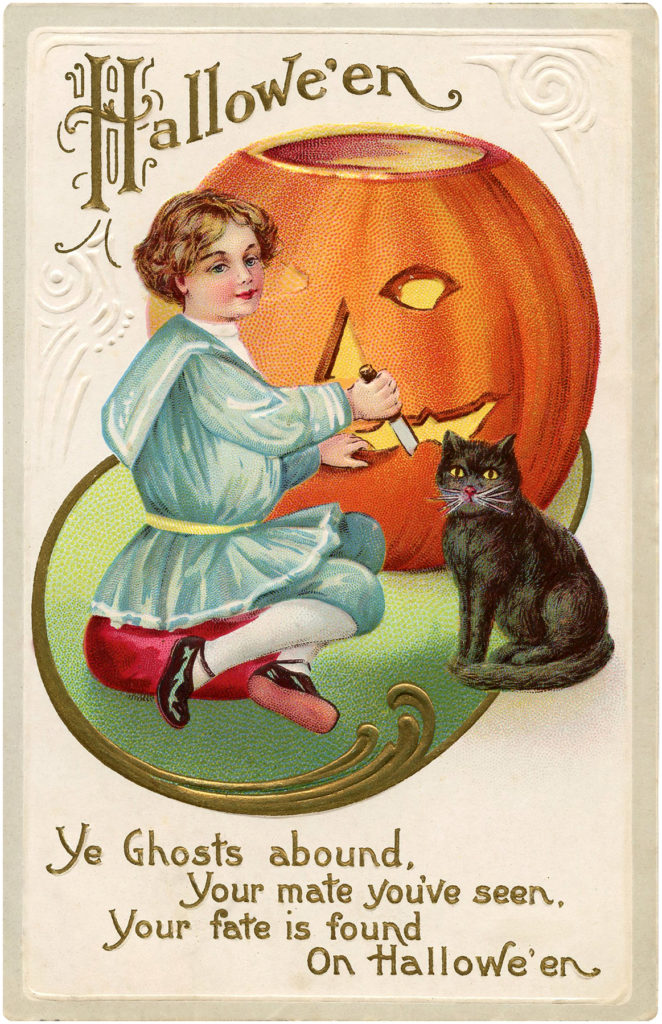 I love this Pumpkin Carving Image! Above is a fun Vintage Postcard showing a lovely little Girl carving a Pumpkin! Her Black Cat is standing by to keep her safe!
Cute Halloween Kids with Pumpkins Clipart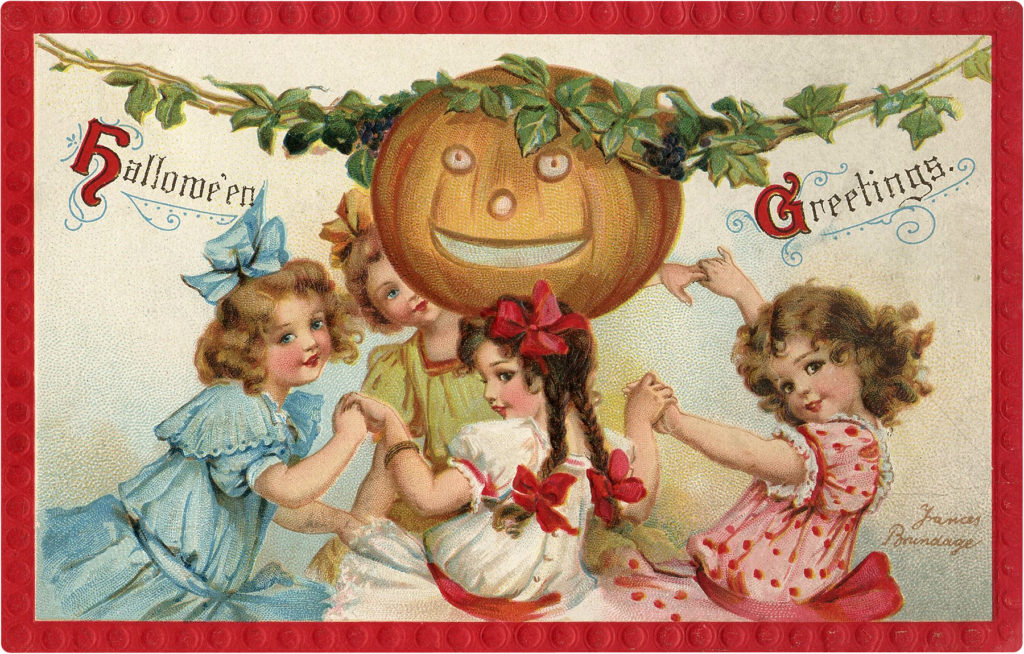 Shown above are 4 pretty little girls dancing around a funny Jack O Lantern! Perhaps they are at a Halloween Party? The artist is Frances Brundage.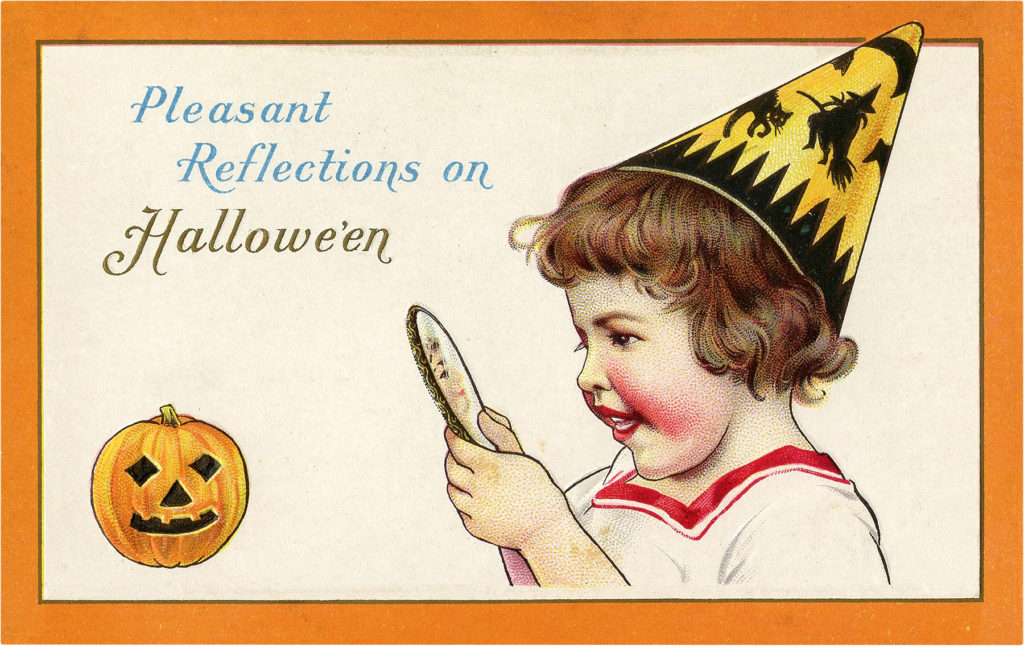 This appears to be the sister of the little boy below! This adorable child is looking at her face in a mirror, she seems to be admiring how she looks in her Halloween Party Hat!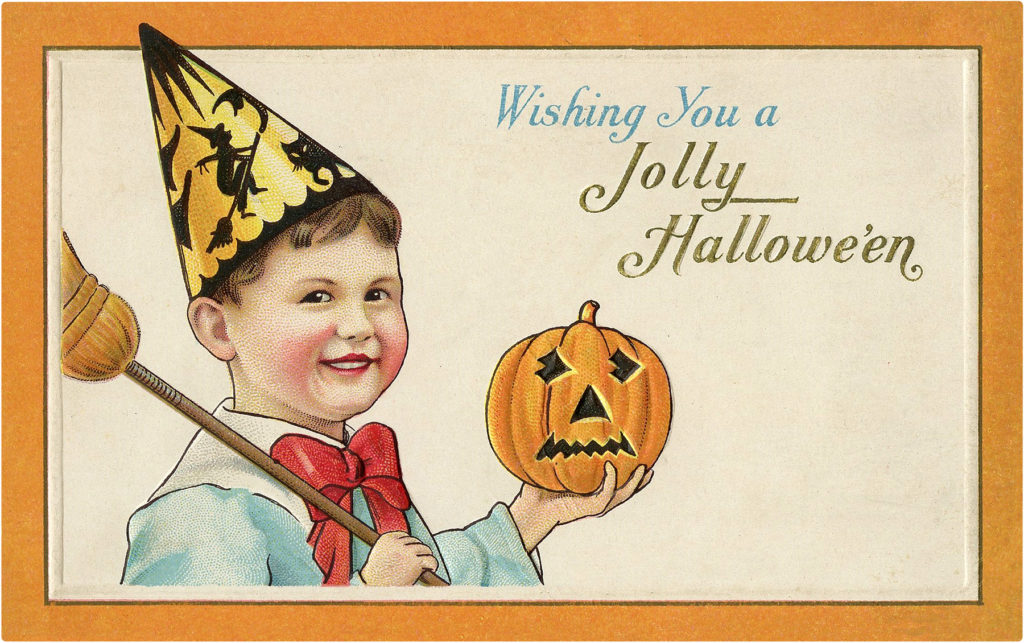 Isn't this little boy's face just so cute?! He's wearing a fun Gold and black Party Hat and he's holding a small Jack-o-Lantern in his hand.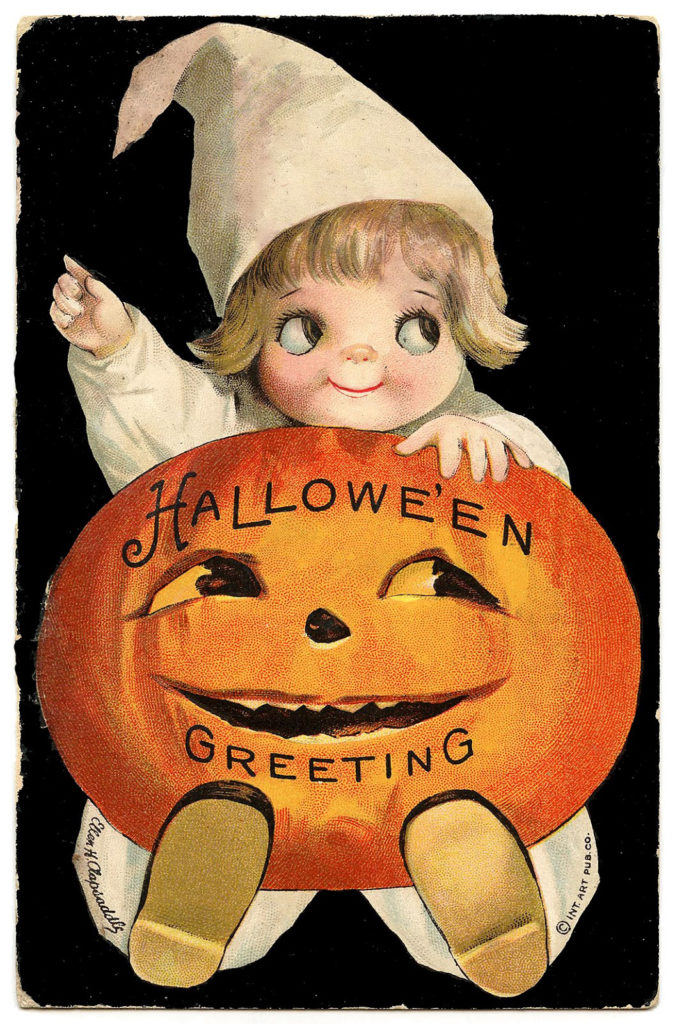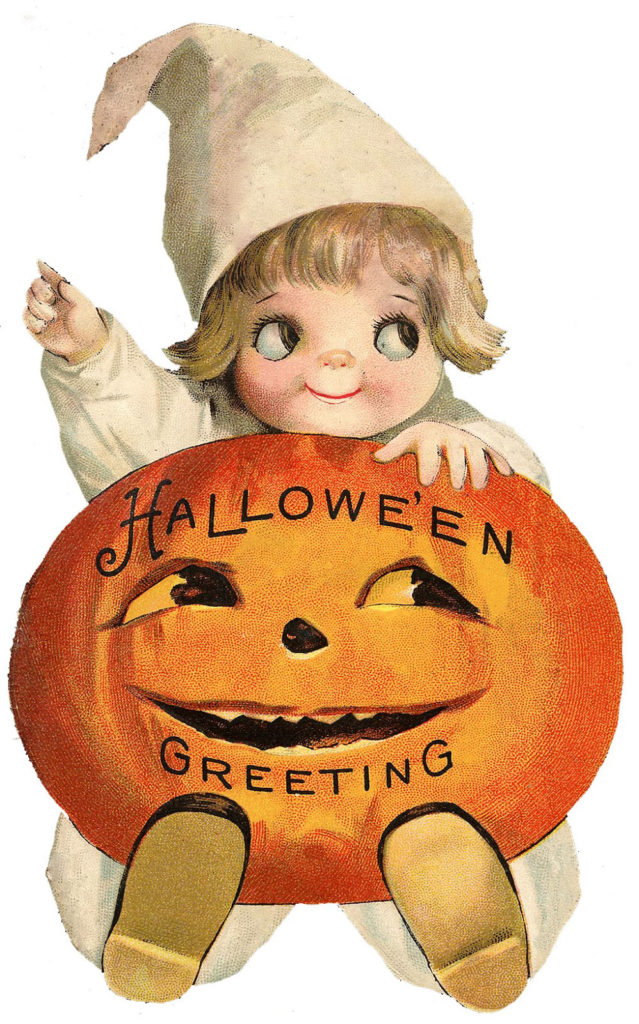 This is an adorable Vintage Halloween Graphic!! Shown is a darling Googly Eyed Girl with a big Orange Pumpkin on her lap! This image came from an Antique Postcard that was illustrated by the artist Ellen Clapsaddle. This card was in sad shape when I got it. A whole lot of clean up was needed to get to where it is here! I think it was worth it though. I'm including two options, one with the original black background, and one with a white background.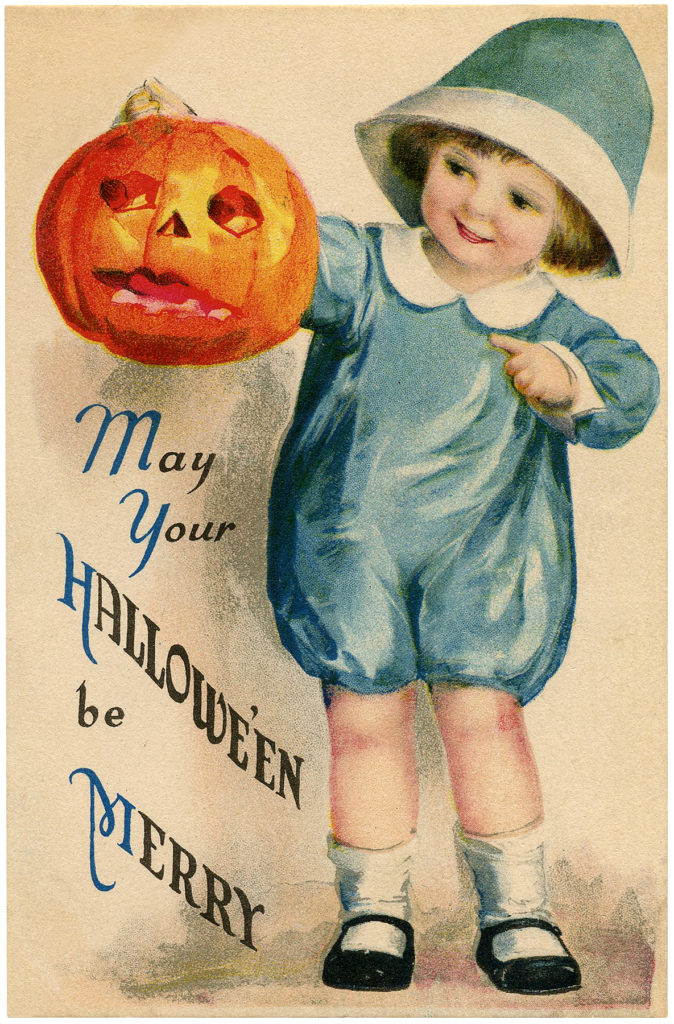 Isn't this precious? I'm sharing an Adorable Vintage Halloween Image!! Shown above is a wonderful Vintage Postcard featuring a darling Child in a Blue Romper and matching Hat! The child is holding a Carved Pumpkin. It reads, "May your Halloween be Merry!"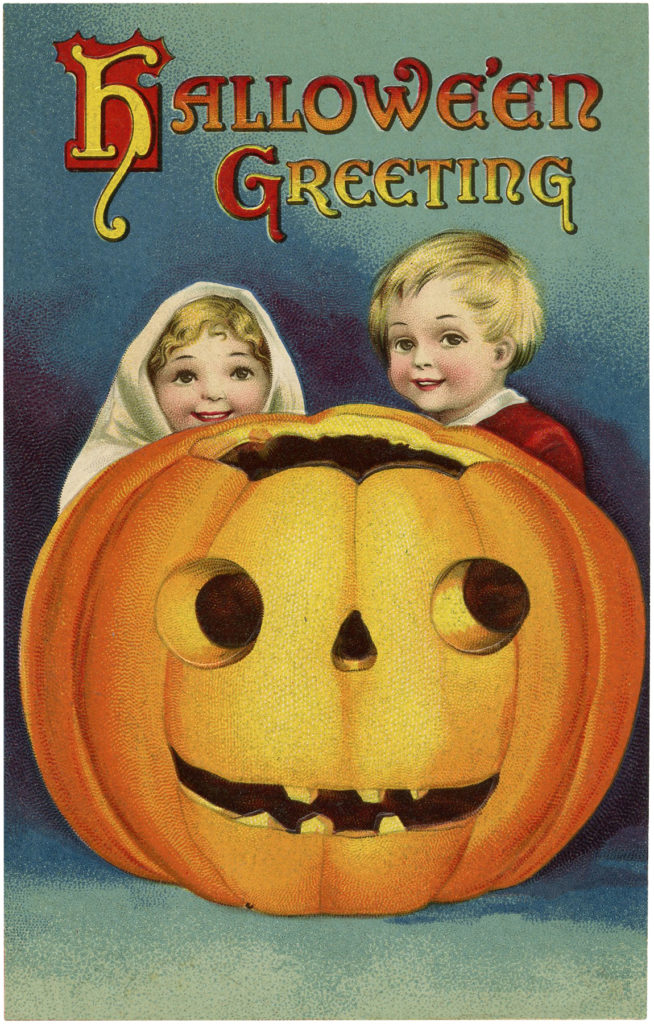 Here is a cute Vintage Halloween Pumpkin Kids Image!! Shown above is a wonderful Vintage Postcard showing a funny Jack-O'-Lantern Pumpkin with two cute Children sitting behind it. It appears to be quite a large Pumpkin!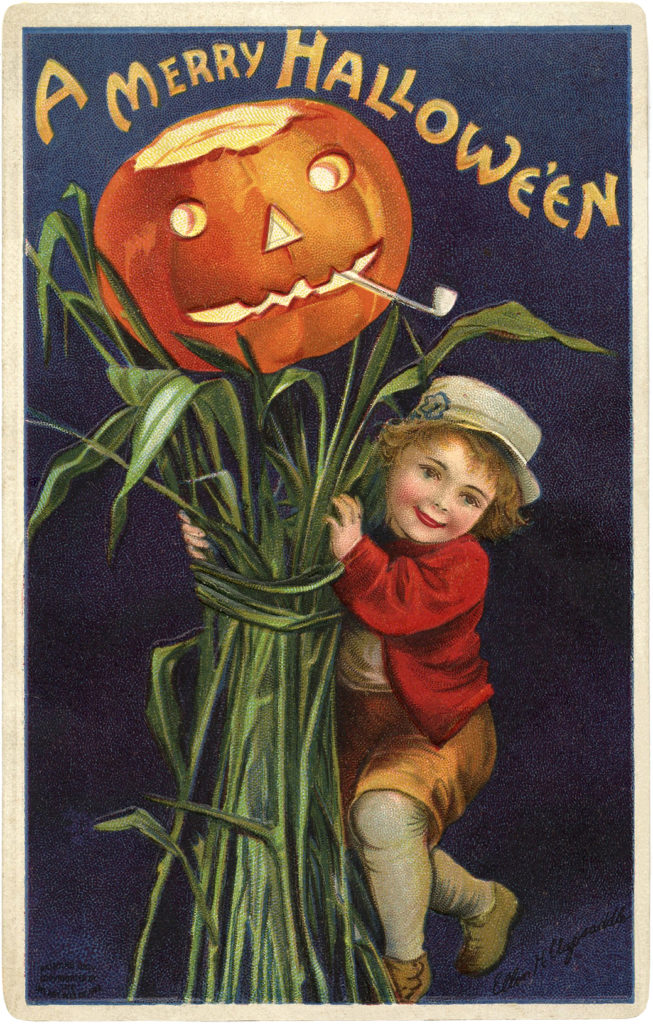 Above is a Fun Vintage Jack-O'-Lantern Image! Featured above is a quirky Vintage Postcard showing a Pumpkin Head smoking a Pipe. There's a little boy trying to climb a Corn Stalk in order to get to him. This is another lovely card by the talented Artist Ellen Clapsaddle.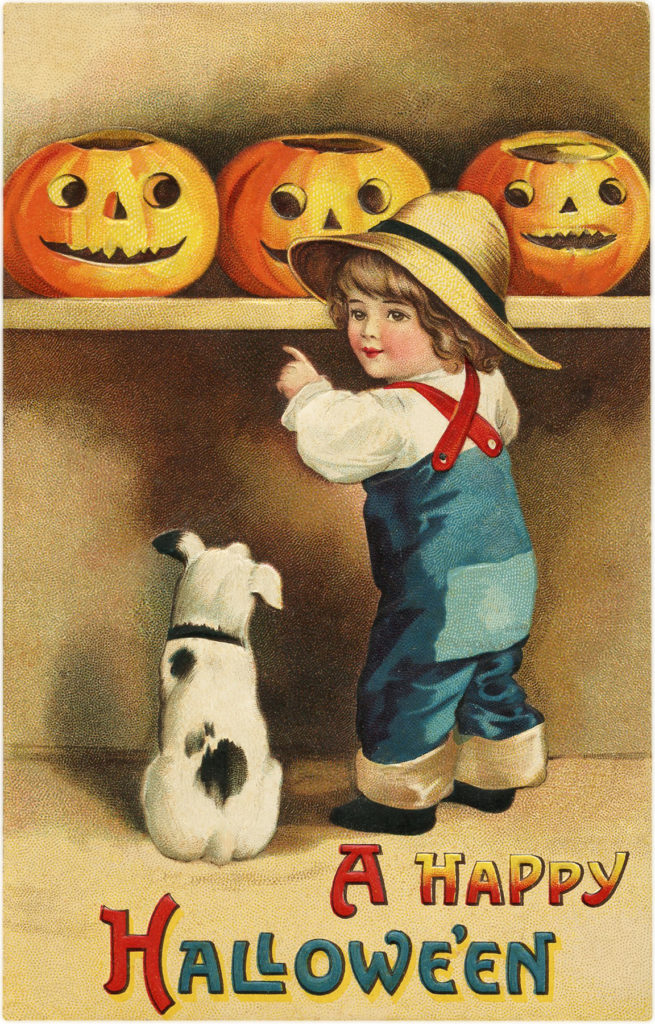 This is a Darling Vintage Halloween Boy Image!! Shown above is an adorable Vintage Halloween Postcard with a sweet little Boy and his Dog. They are checking out three funny carved Pumpkins.
Scary Pumpkins with Children Images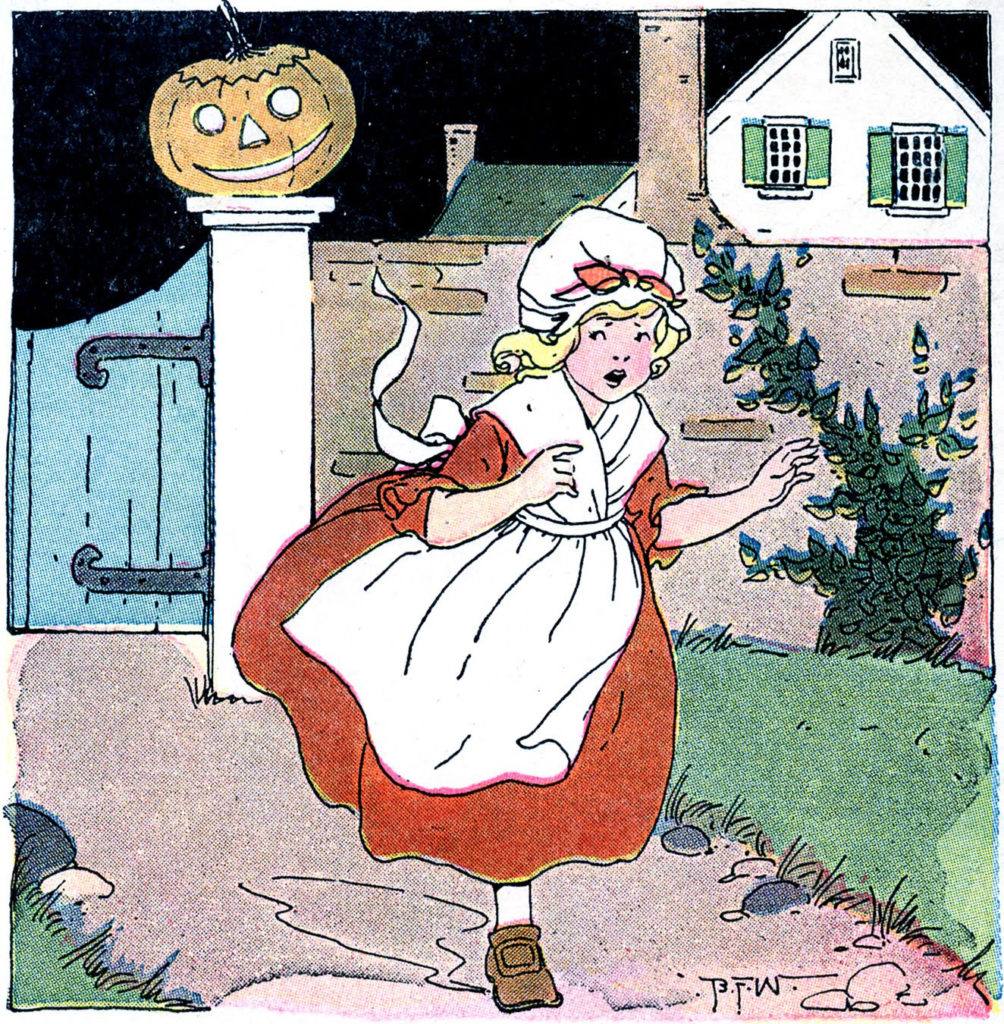 Here is a fun Vintage Halloween image! This one is from an Antique Children's book and shows a frightened little girl running from a Jack-O'-Lantern!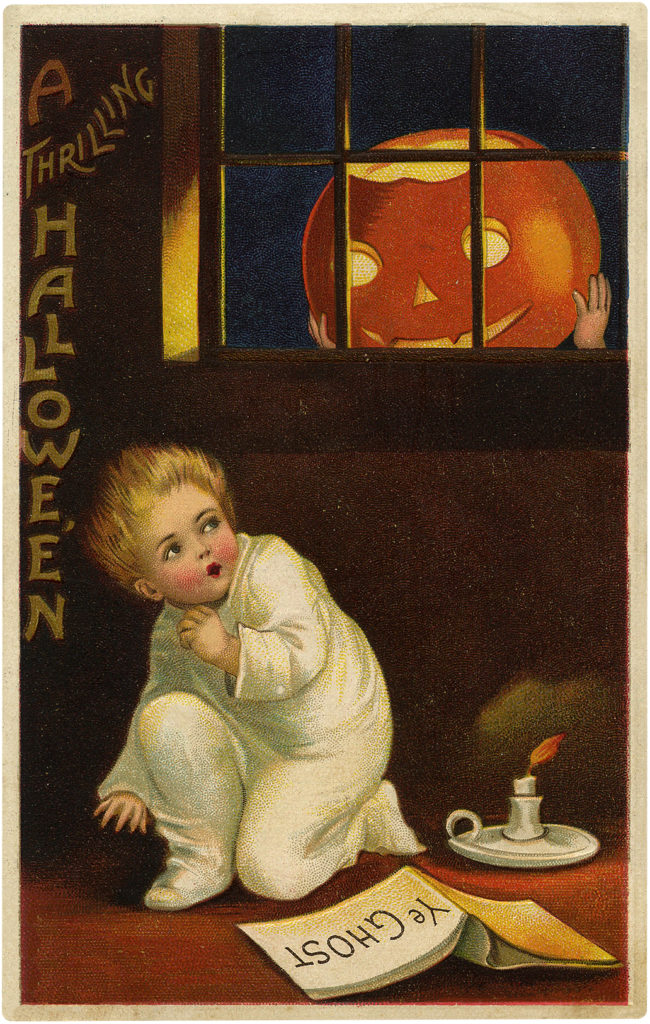 Pictured above is a Vintage Frightened Child Sees Huge Jack-O'-Lantern Postcard! An adorable child reading ghost stories cowers in fear in a corner as he sees a huge Jack-O'-Lantern in the window. He appears to be wearing a ghost costume. The postcard says,"A Thrilling Halloween." It might make a great cover for a Ghost Story Halloween junk journal.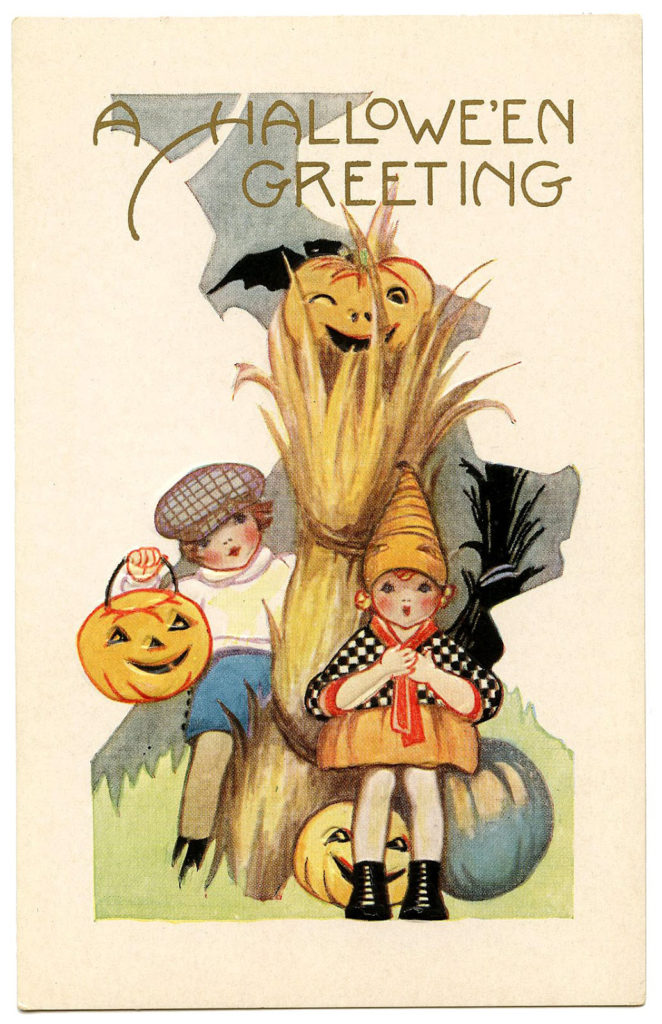 This is a sweet Vintage Halloween Postcard! The graphic shows two cute Children with their Jack O' Lanterns! This would make a fun Halloween Card. Wouldn't it look pretty with a little Glitter on it?!
Adorable Children and Halloween Pumpkins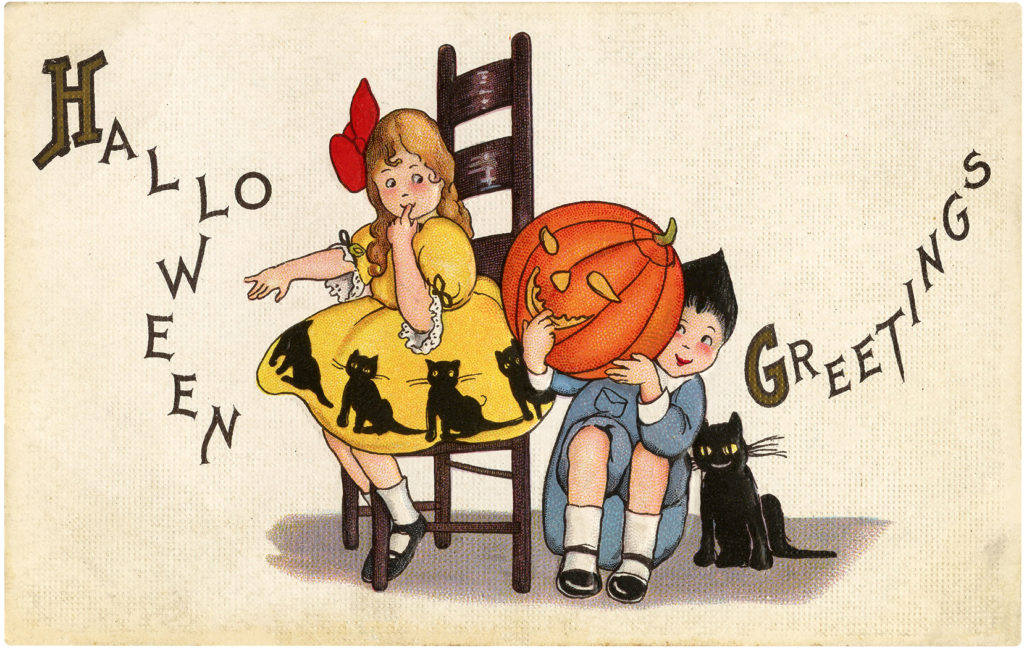 Isn't this Vintage Halloween Greeting with Children PostCard adorable?! In this cute image, a girl with long brown hair and yellow dress peeks shyly at a little boy hiding behind a Jack-O'-Lantern while a black cat smiles beside him. The boy has a gray Little Lord Fauntleroy suit on. Both wear black shoes and white socks. "Halloween Greetings" is written across the creamy card.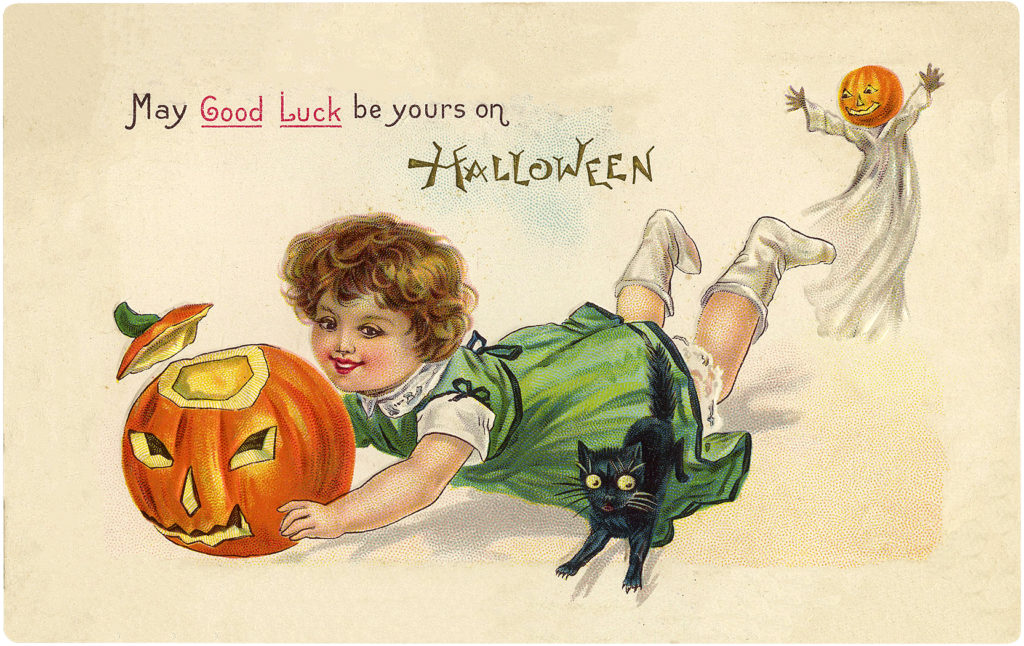 Here is an Adorable Retro Pumpkin Head Ghost Halloween Image! This oh too cute postcard shows a curly haired little girl holding a pumpkin next to her little black cat as a ghost with a pumpkin head sneaks up behind them. She may have fallen while running away as her cat is also running with huge eyes glowing. The greeting says, "May Good Luck be yours on Halloween!"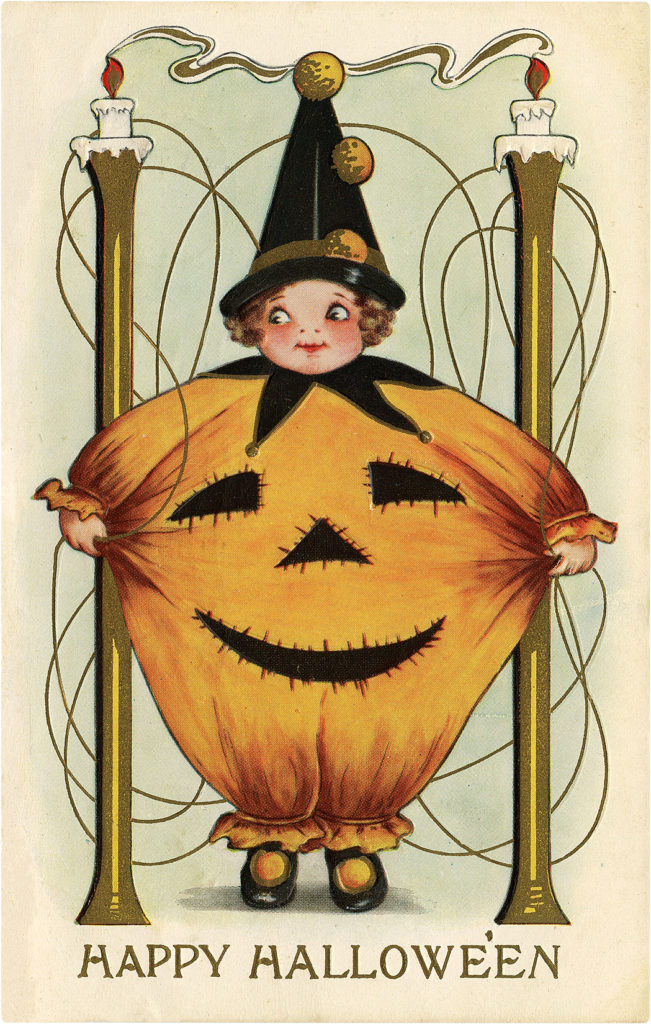 Featured above is a Vintage Adorable Child in Pumpkin Costume Image. For those of you that prefer the not so scary Halloween graphics, this one should be right up your alley! What a cute Happy Halloween postcard this is. Here we have a darling child, who is dressed in a huge pumpkin costume with a Jack-O'-Lantern face on it, and some very rustic looking stitches around the eyes, nose, and mouth. Perhaps she helped to make her own costume. She is wearing a pointed black Pierrot Clown style Hat with orange pom-poms on it. There is a gold band around the hat with her blonde curls peeking out from under it.
She has big eyes … she looks a bit googly eyed and her mouth is forming a little smirkish (is smirkish a word?! Lol) smile. She is holding the sides of the costume out for the full round Pumpkin effect and it looks like she has black patent leather shoes on her feet. There are candles on tall gold candle holders with a scroll design behind her. The sentiment is "Happy Halloween" of course! Such a quirky funny little card. You might use the idea to create a costume for your own child or grandchild.
I hope you enjoyed this fun curated collection of Halloween Kids with Pumpkins ! You might also like our 250+ Clipart Images in our Halloween Archives HERE!
Hello! Are you new to The Graphics Fairy?
Welcome, I'm so glad you're here! Browse around to find 
thousands of Stock Images
 that you can use in your projects or designs! I post new Vintage images every day, as well as projects and DIY's too! Need more info about my site? Try my 
FAQ
 page.