Hello, Graphics Fairy Friends – Heather from Thicketworks here with a simple technique to create this Classic Black Beauty Paint Finish!
The amazing creative team at Heirloom Traditions Paint provided the products for this project, and has
sponsored this post.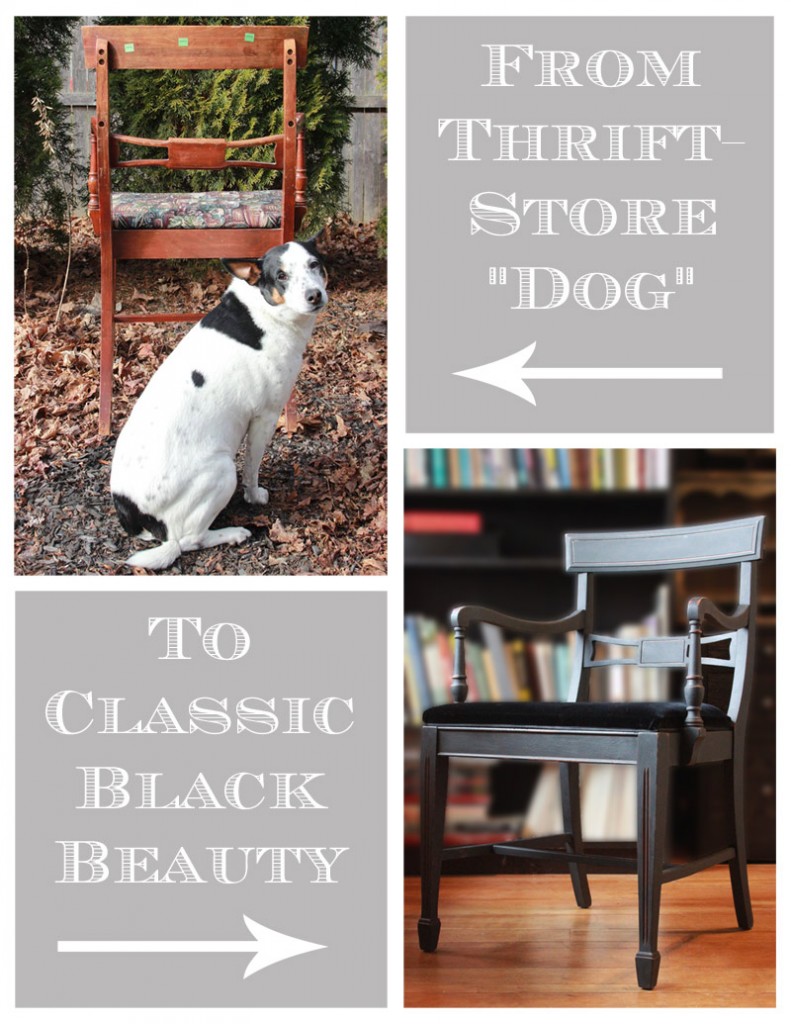 If you would like to recreate this finish, here's what you'll need:
One forgotten chair, full of potential
A thin, flat paint brush for detailing
400 grit sandpaper
Clean rags (I prefer micro-fleece, but old t-shirts make great rags, too)
Optional: TSP (trisodium phosphate) solution to clean the wood prior to painting
---
This little chair had gorgeous lines, but was in dire need of some love.
Jackie isn't sure that this one can be saved! She's a very dubious dog…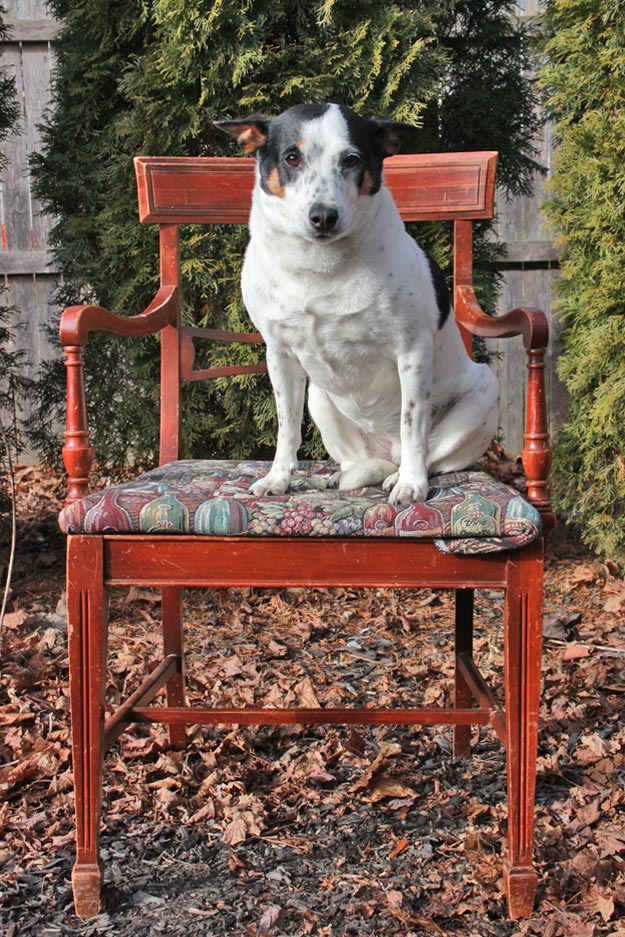 How to:
If your rescued piece has any upholstery you'd like to replace, remove the existing fabric carefully, using a screwdriver and pliers.
This chair pad had six layers of fabric!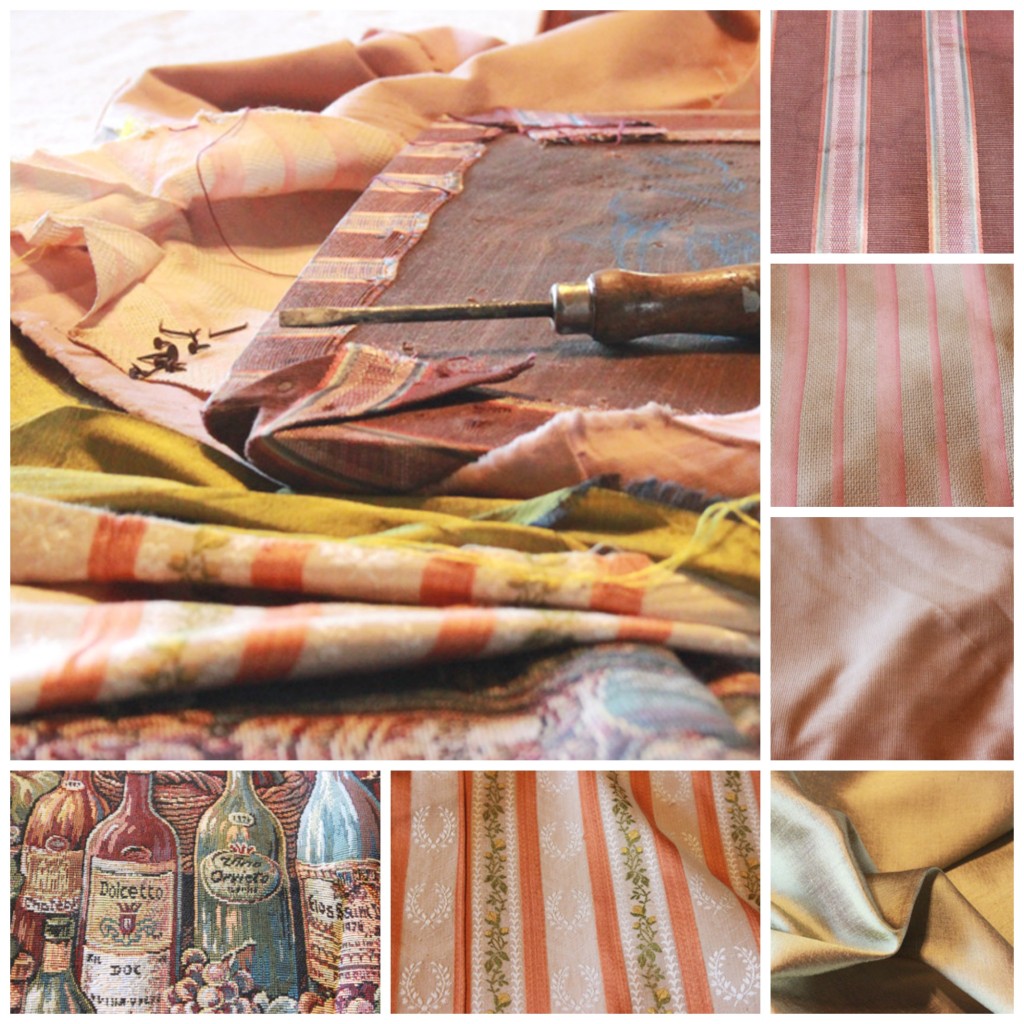 (The existing pad was in good shape. It got recovered with black velvet.)
Note: There's no need to sand, prior to painting with HTP Chalk Type Paints – making a project like this one a BREEZE!
2. Apply two coats of Black Bean Chalk Type Paint. I allowed two hours drying time between each one.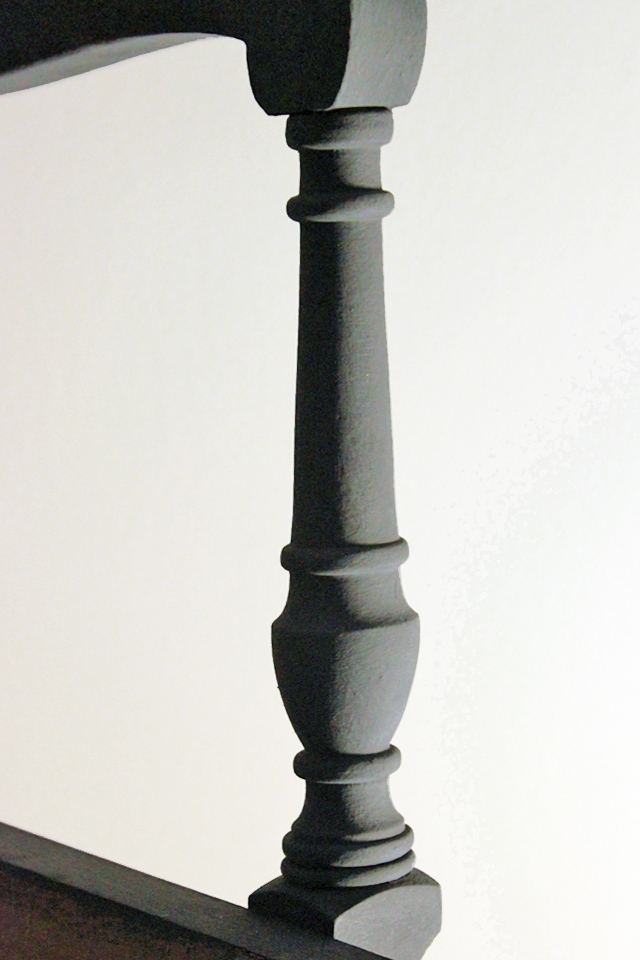 Note: For this finish, allow the final coat of paint to cure overnight, prior to distressing or waxing.
3. When the paint has cured, apply a coat of Jet Black Soft Wax with your Best Chalk Brush, making sure to get in all the nooks and crannies.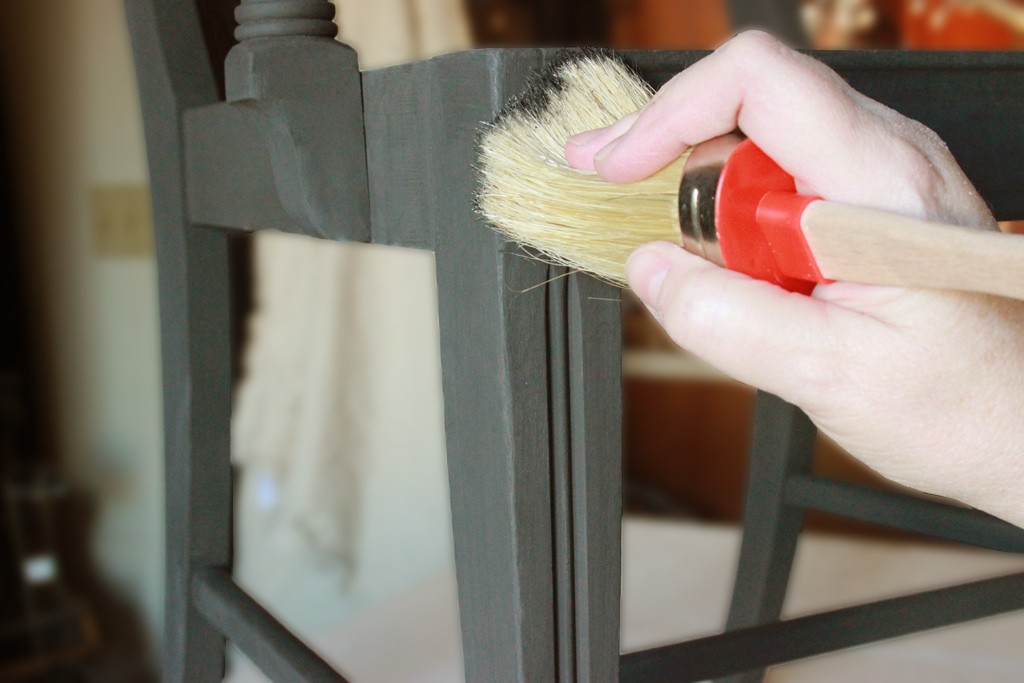 4. Buff the wax with a clean rag until it feels silky, and has a soft gleam. I like to work in sections: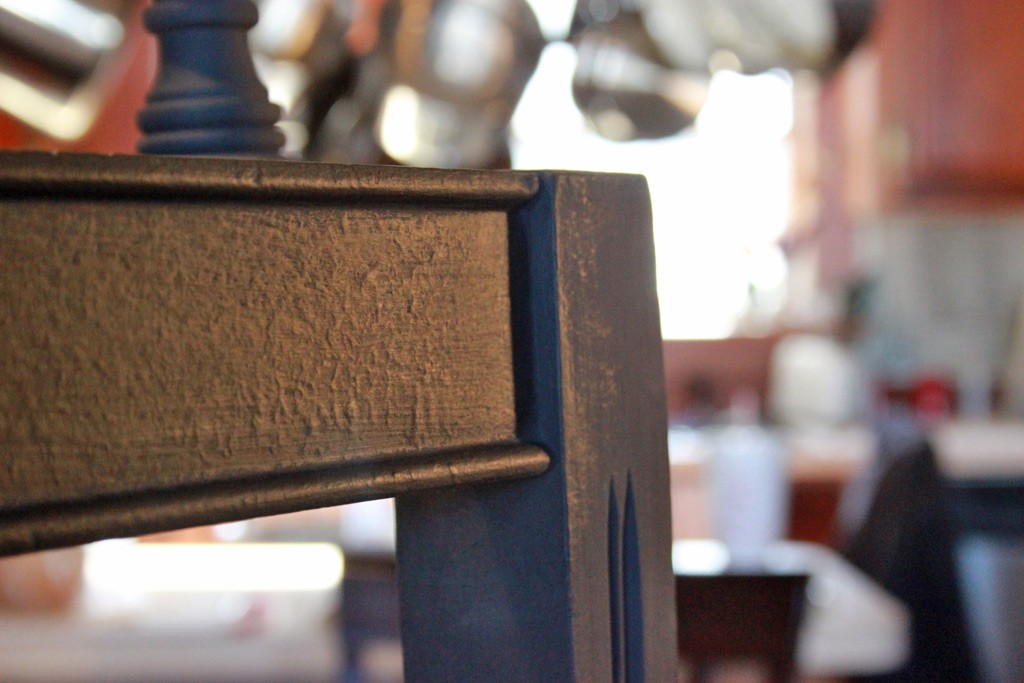 5. Add some gentle distressing on the carved details, with 400 grit sandpaper: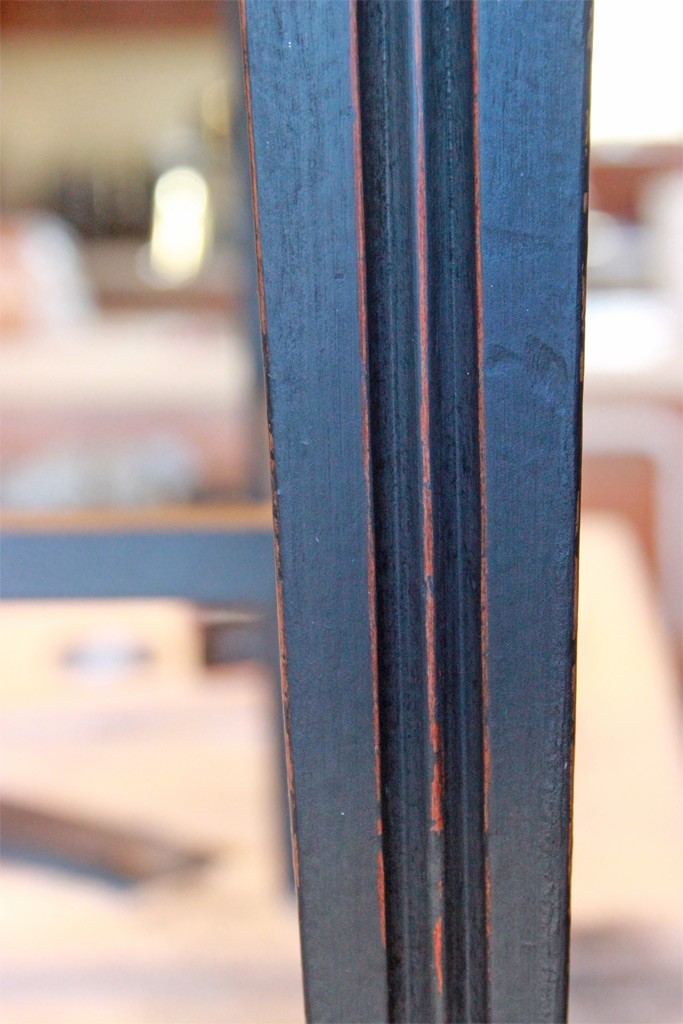 6. Using a flat artists brush, add a bit of Copper Penny Gilding Patina in the recesses: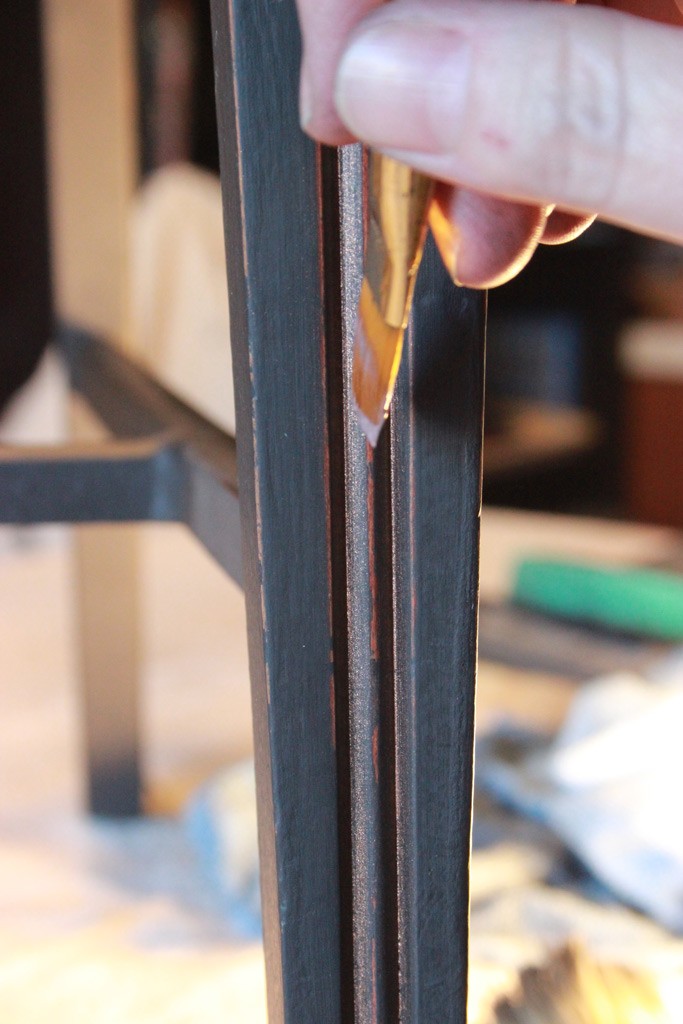 Note: This preliminary layer of wax will make it easy to wipe back any metallic finish that touches areas you don't wish to tint. Uncoated Chalk Type Paint will be harder to 'clean'.
7. Wipe away any excess Gilding Patina – a damp rag is perfect for this clean-up step.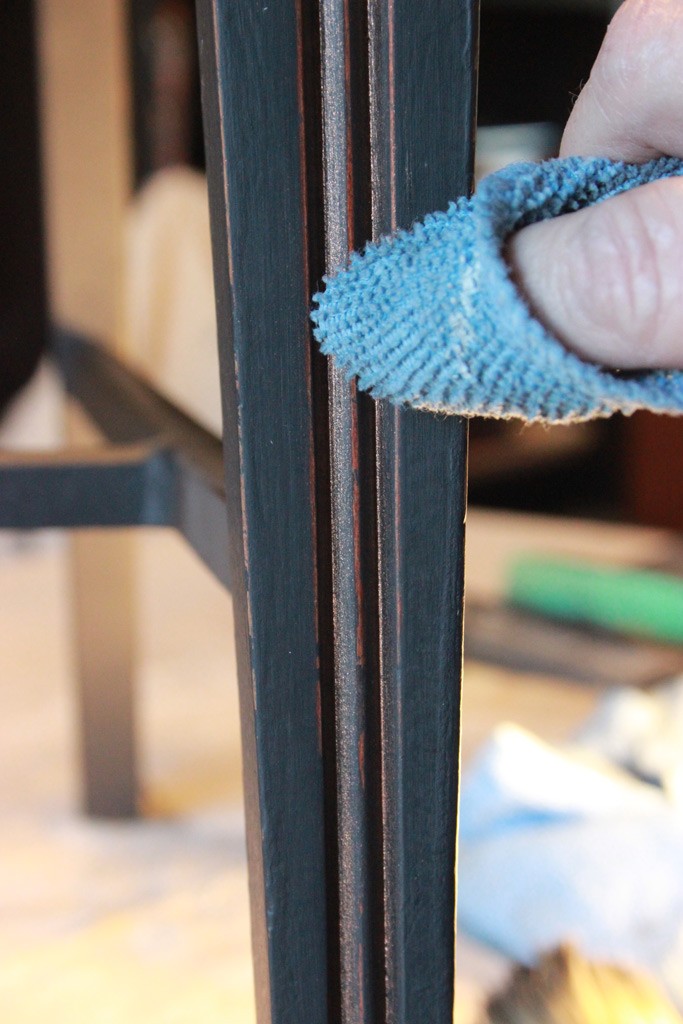 8. Add metallic detailing wherever you want to see a little glimmer.
I love the Gilding Patinas, they're so versatile.
In this detail shot you can see where I got Copper Penny on the face of the chair – wiping it off with a damp rag leaves a perfect line of copper in the groove!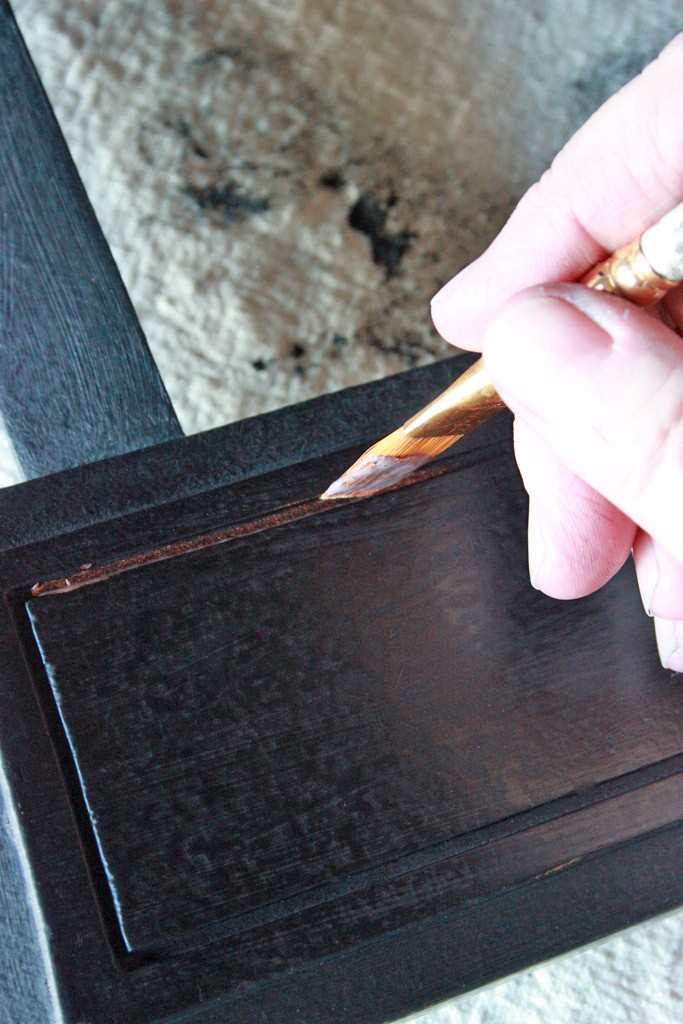 9. Add a final touch of Jet Black Soft Wax on the areas exposed by distressing, and buff.
Here's the simple process:
A. Paint with two coats of Black Bean Chalk Type Paint.
B. Apply a layer of Jet Black Soft Wax, buff, and distress lightly with 400 grit sandpaper.
C. Apply a final layer of Jet Black Soft Wax over the distressed areas and buff: this deepens the finish and the wood tones become richer.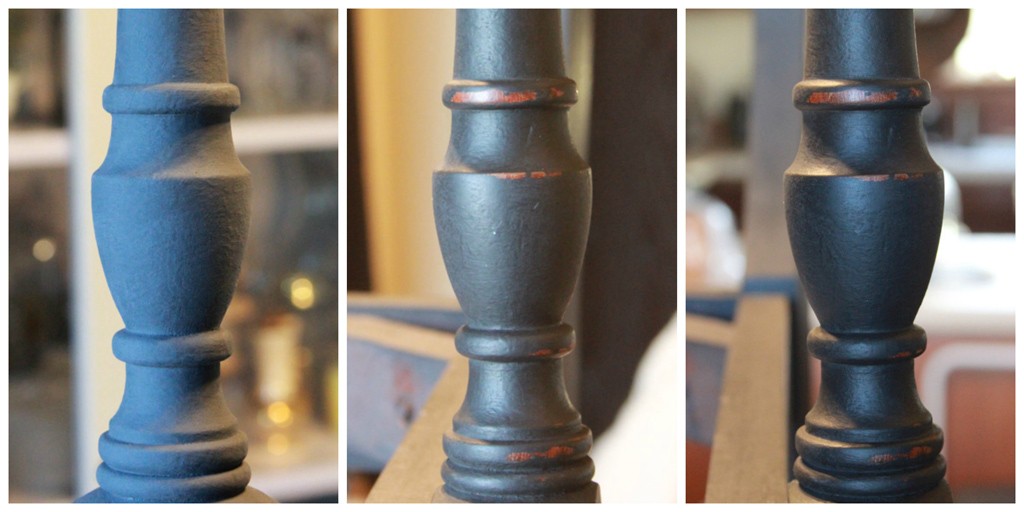 That's all there is to it! So simple, but so effective…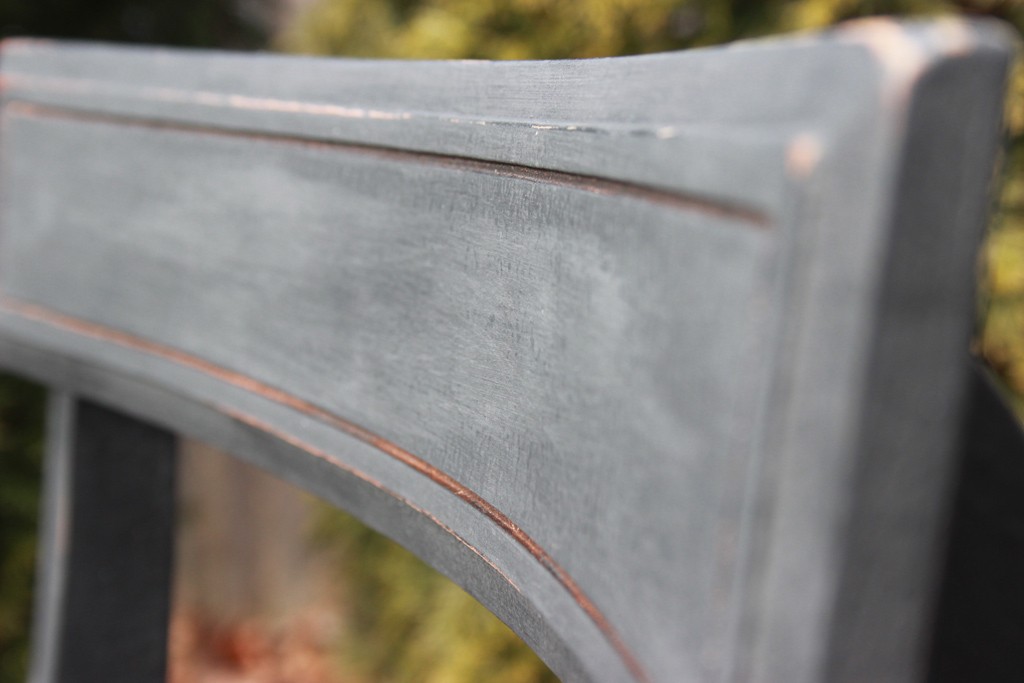 I love the final result…it reminds me of antique furniture I've coveted (but couldn't afford) over the years.
This piece was forlorn and neglected, but HTP products made it so simple to transform it into treasure with this Classic Black Beauty Paint Finish. I can't stop touching the finish – it's so silky…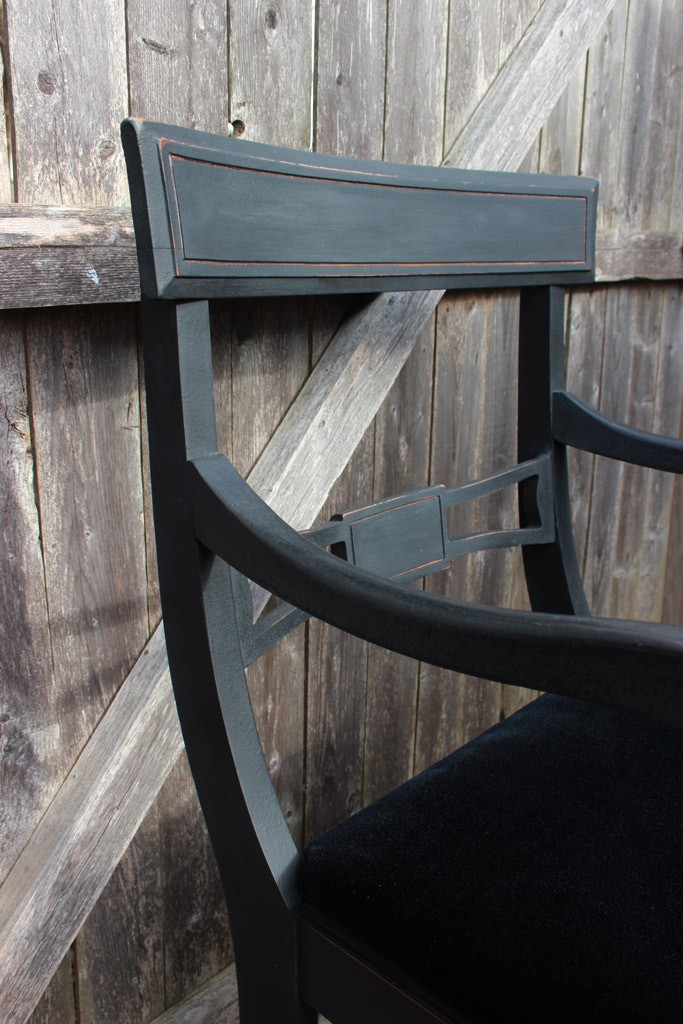 HTP Chalk Type Paints are so easy to work with…whatever your style, they make it easy to get the look you want.
You can distress a little, a lot, or not at all.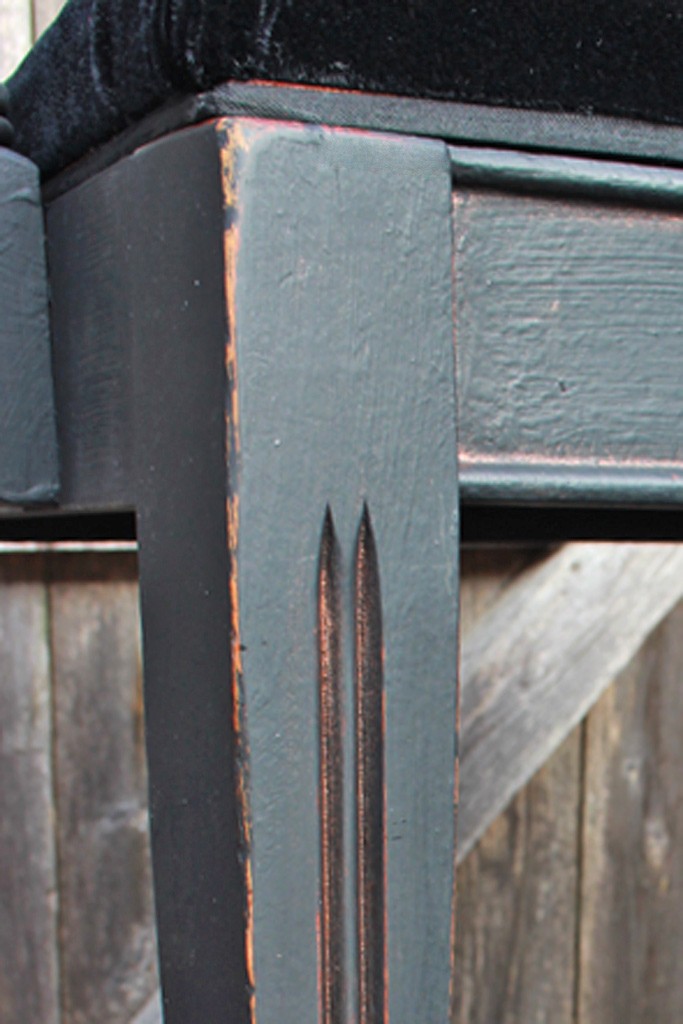 ---
For more information on Heirloom Traditions Products, please visit www.heirloomtraditionspaint.com
* Full Disclosure: Heirloom Traditions supplied their products to be used in this project, and they sponsored this post – however, I supplied the elbow grease, rescued furniture, design concept, and opinions! All of which reflect my own point of view, regardless of affiliation…
---
Now this lovely chair has a new lease on life – and you've learned a simple new paint technique!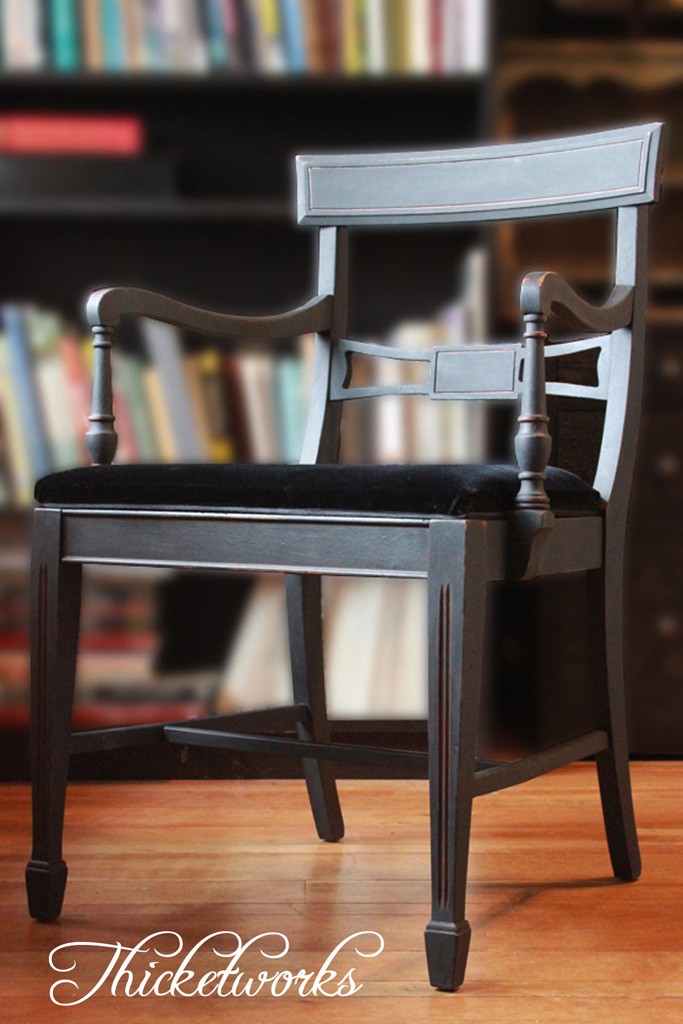 Thank you for taking the time to visit The Graphics Fairy – I hope you enjoy this Classic Black Beauty Paint Finish on one of your projects!

If you'd like to explore more ways to transform forlorn objects into precious treasures, stop by Thicketworks, and poke around – you're sure to find something odd interesting!
Take Care,
Heather