Embossed Paper Clay Technique
Hello, my wonderful Graphics Fairy Friends! Heather from Thicketworks, here to show you a wonderful way to add texture to your projects! Embossed Paper Clay is one of my go-to ingredients for surfaces that are richly detailed, but a breeze to create! And because we'll be using the Outlaw Approach to this simple Embossed Paper Clay technique, it's FAST!
This post may contain affiliate links which won't change your price but will share some commission, you can find our
privacy policy here
.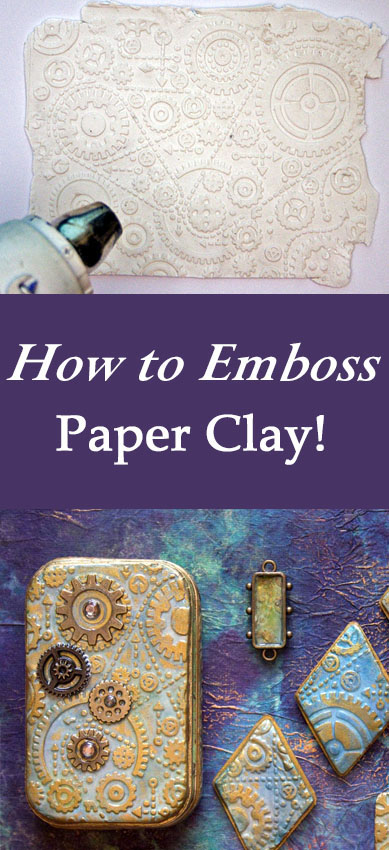 If you'd like to add a quick 'n easy layer of texture to your project, you'll need a few simple supplies!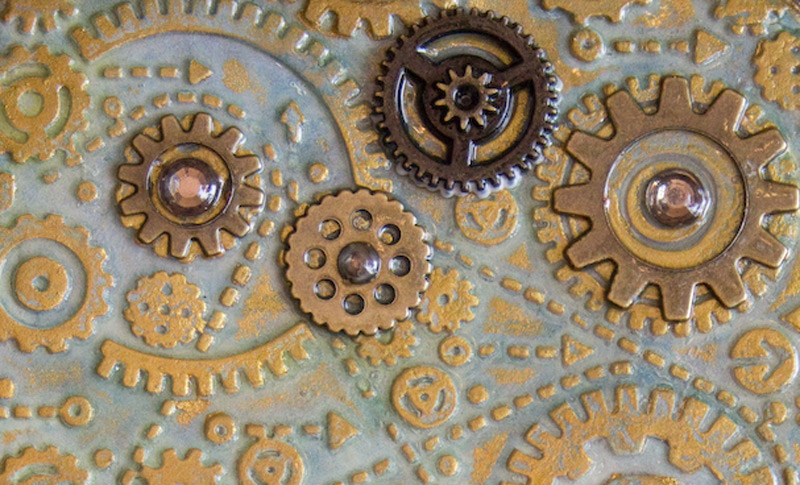 ---
Supplies:
Cornstarch in small container
Fluffy Brush
Spray Bottle of Water
Flat Artist's Brush
Scissors
Metal Ruler & Craft Knife
Soft Cloth
---
How to create Embossed Paper Clay Panels:
Begin by applying a light dusting of Cornstarch to the surface of your embossing folder. A fluffy brush is a good choice for this step.
Condition your Paper Clay by kneading it with your hands until it becomes smooth and easy to work. Flatten the clay with your hands.
Place the Paper Clay onto the surface of the Embossing Folder.
Apply a light dusting of Cornstarch onto the Paper Clay.
Use an acrylic brayer to firmly roll the Paper Clay onto the surface of the Embossed Design.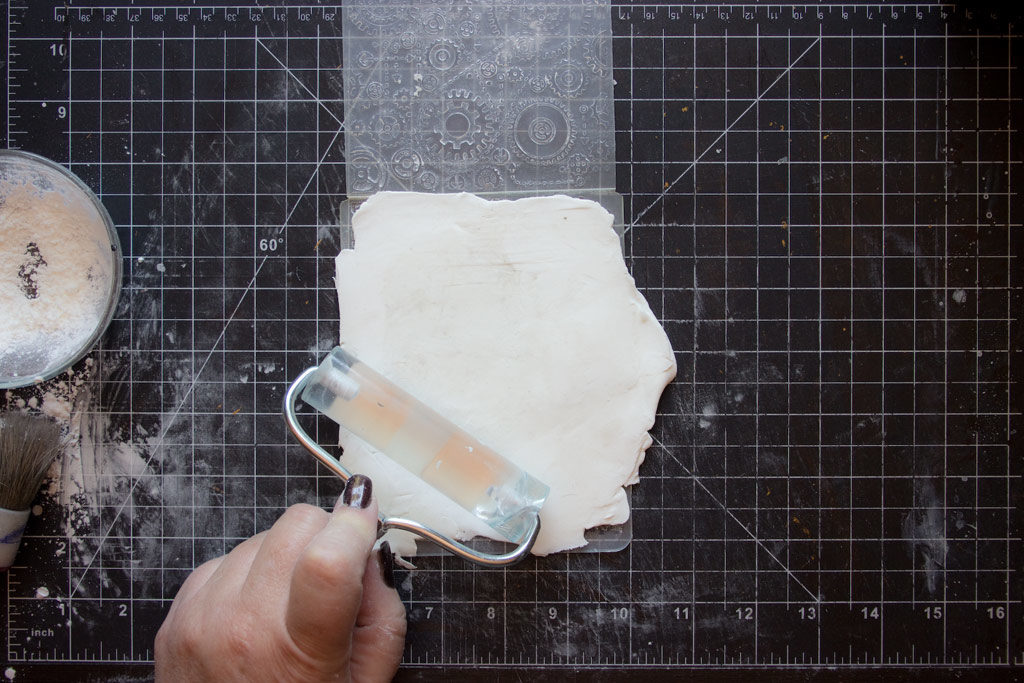 Flip the Embossing Folder over, and deposit the Embossed Panel onto your work surface.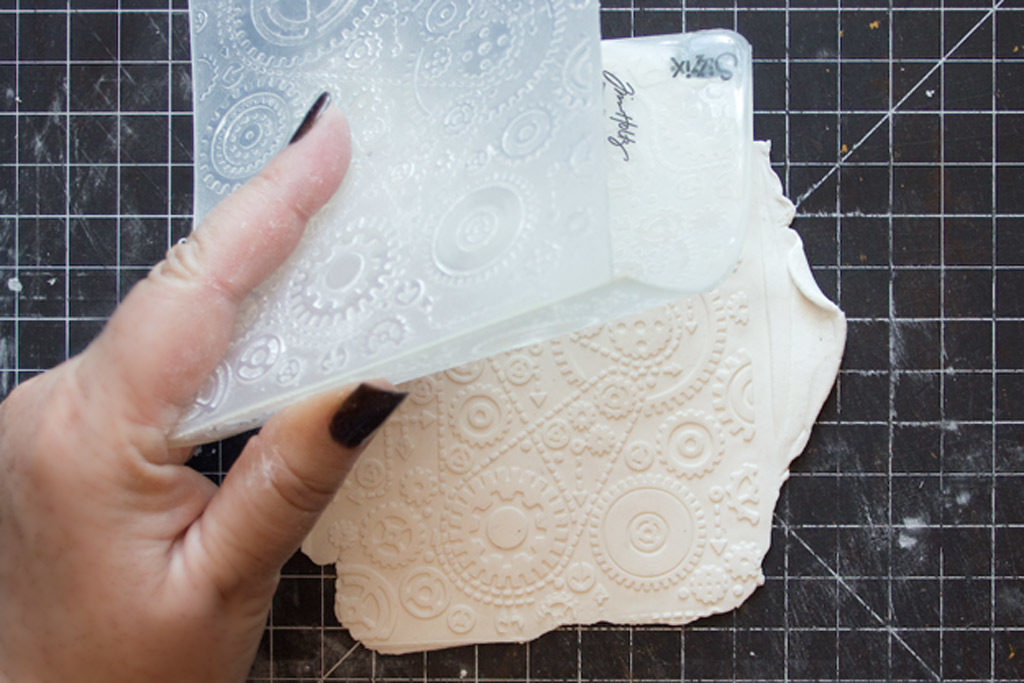 Use a Heat Tool to create an 'almost dry' surface on the Embossed Panel.
Note: we will be working with the Paper Clay while it is still damp – the goal is to create a kind of 'crust' on the embossed surface before proceeding.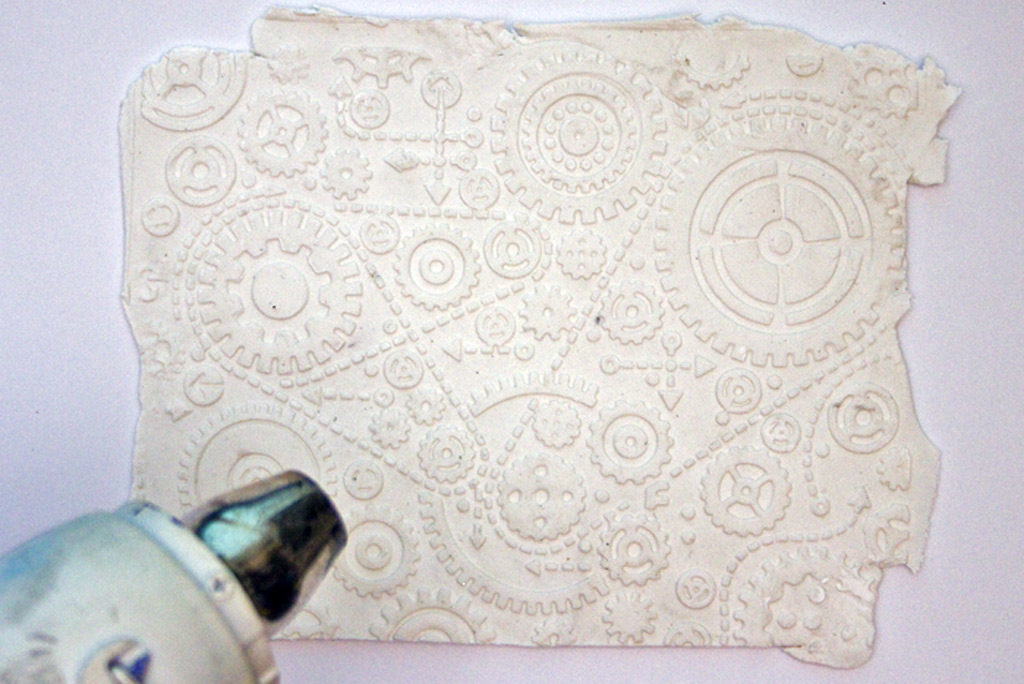 Grab your favorite Distress Stains! These watery tints will penetrate the surface of the Paper Clay, without creating a 'skin' of paint that might obscure the texture.
To create a Verdigris vibe, I've selected Evergreen Bough and Old Paper.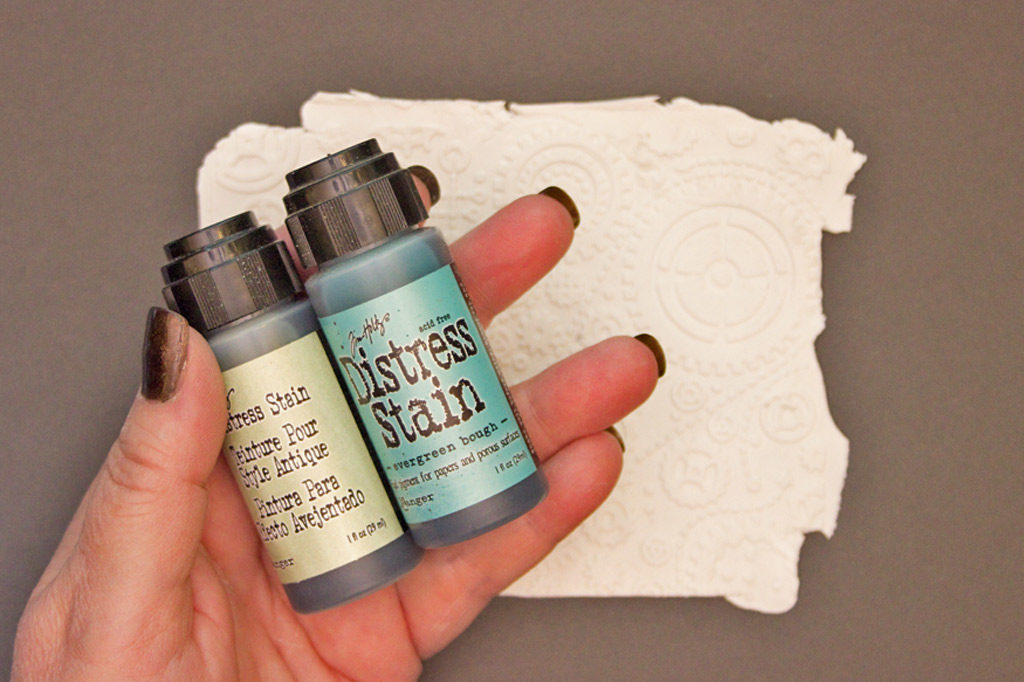 Begin by applying the lighter tint over the entire surface of the Embossed Panel.
Yes, this will 'reactivate' the Paper Clay to some extent – but not to worry!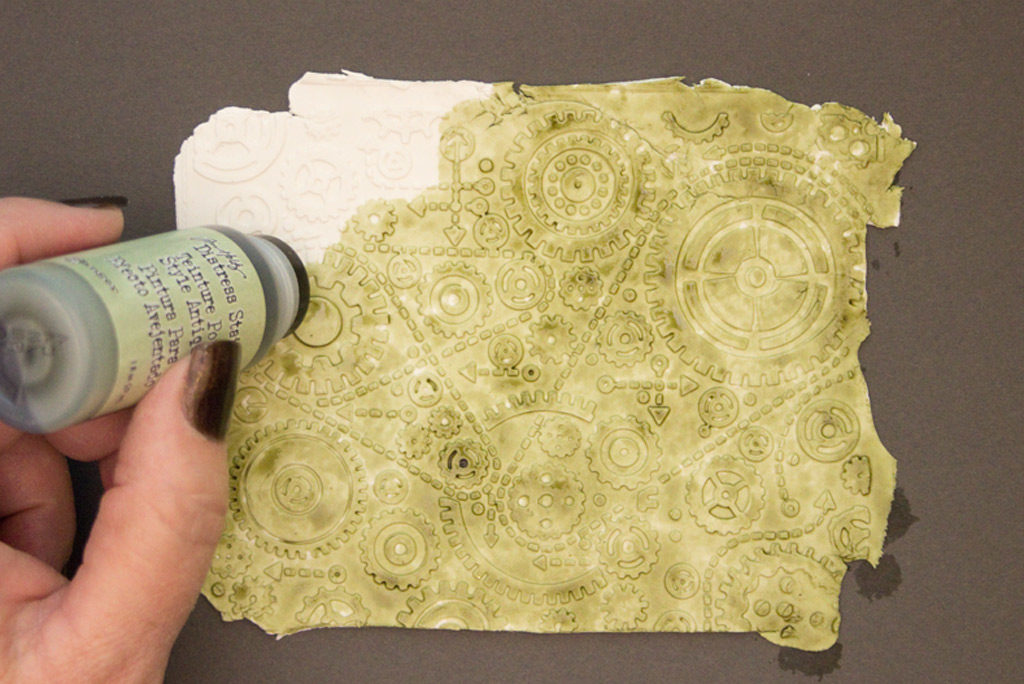 Dab a pleasing pattern of the darker Distress Stain right over the first layer, then dry the surface with a Heat Tool.
No need to dry the entire thickness of the Paper Clay – we want it to remain flexible!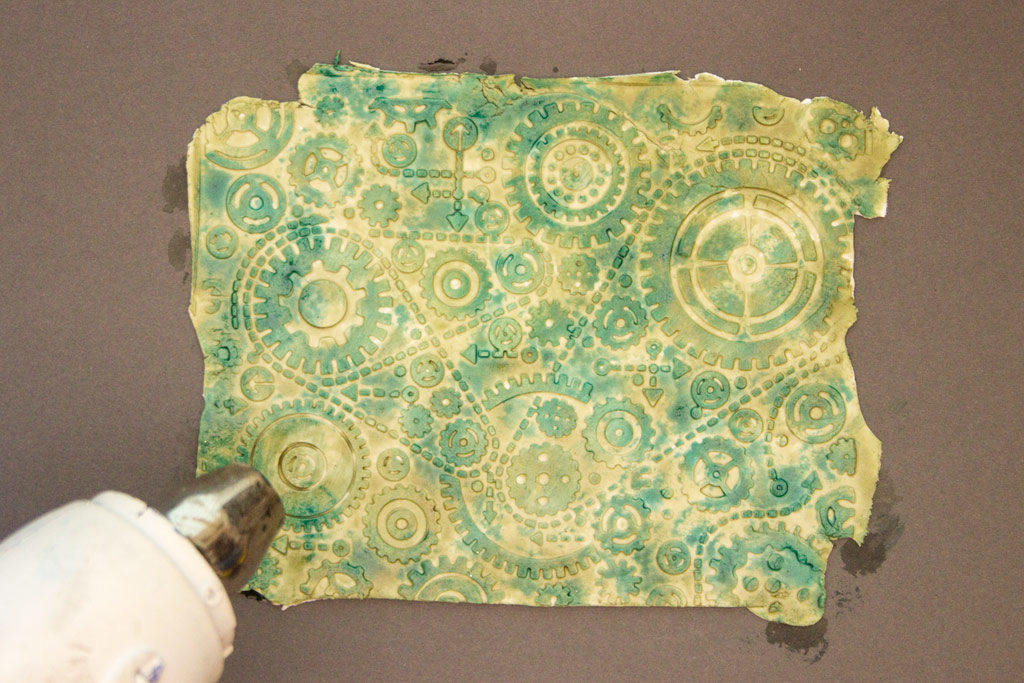 Once the upper surface has dried, you can add even more pigments!
This time, I've selected Distress Oxide in Broken China to add that powdery blue tint that we often see on actual Verdigris details. 
By using a Blending Tool, you can add the Broken China to only the upper level of the Embossed Paper Clay Panel.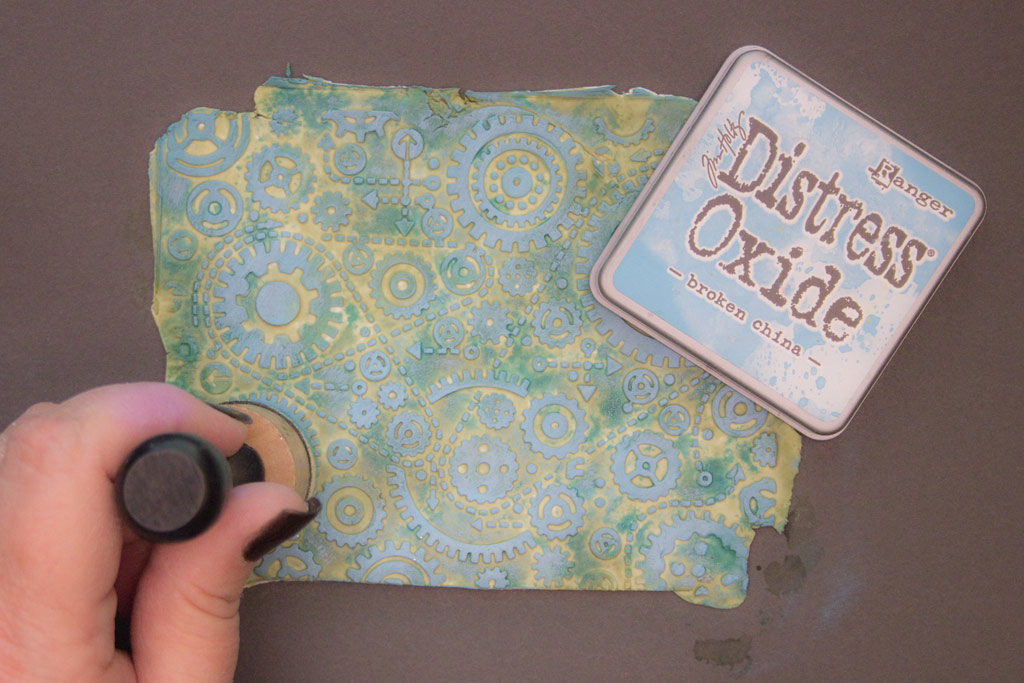 Touches of Peeled Paint Distress Oxide add to the richness of the resulting finish.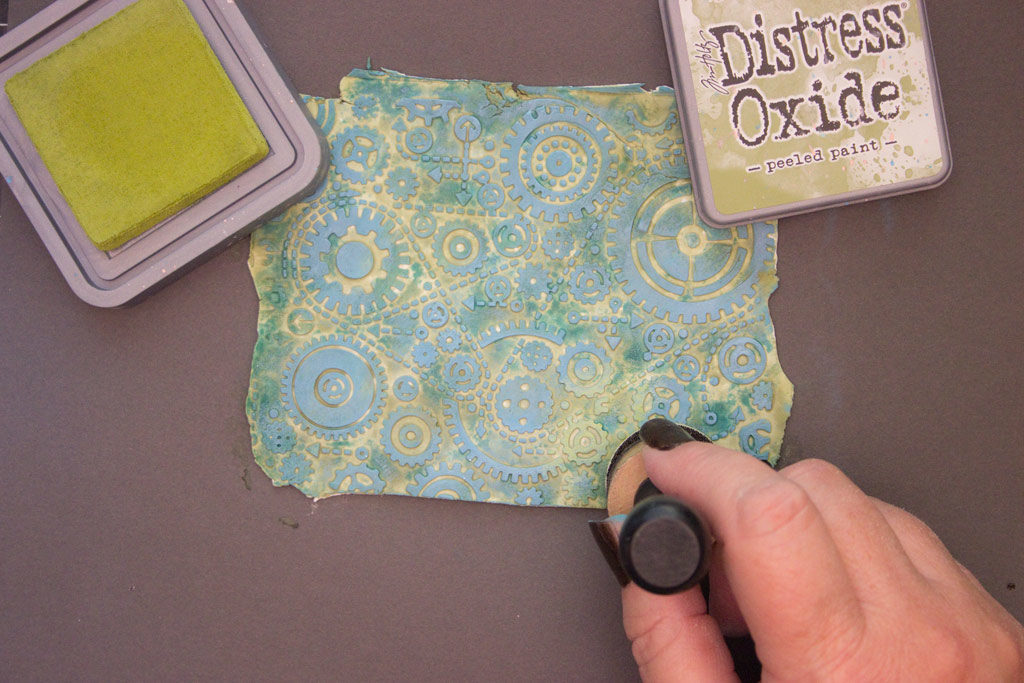 Distress Oxide Inks become 'activated' when they are dampened with water…so spritz away!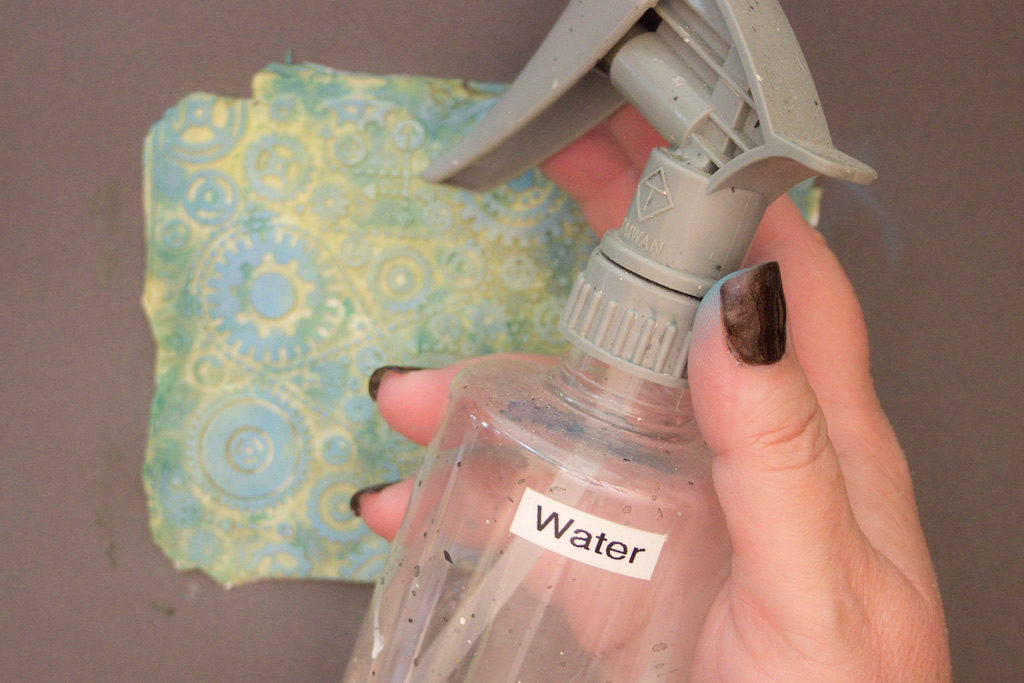 Dry with a Heat Tool…
Then add touches of Inka Gold: Old Gold to the uppermost surface of the Embossed Paper Clay Panel with your fingertips.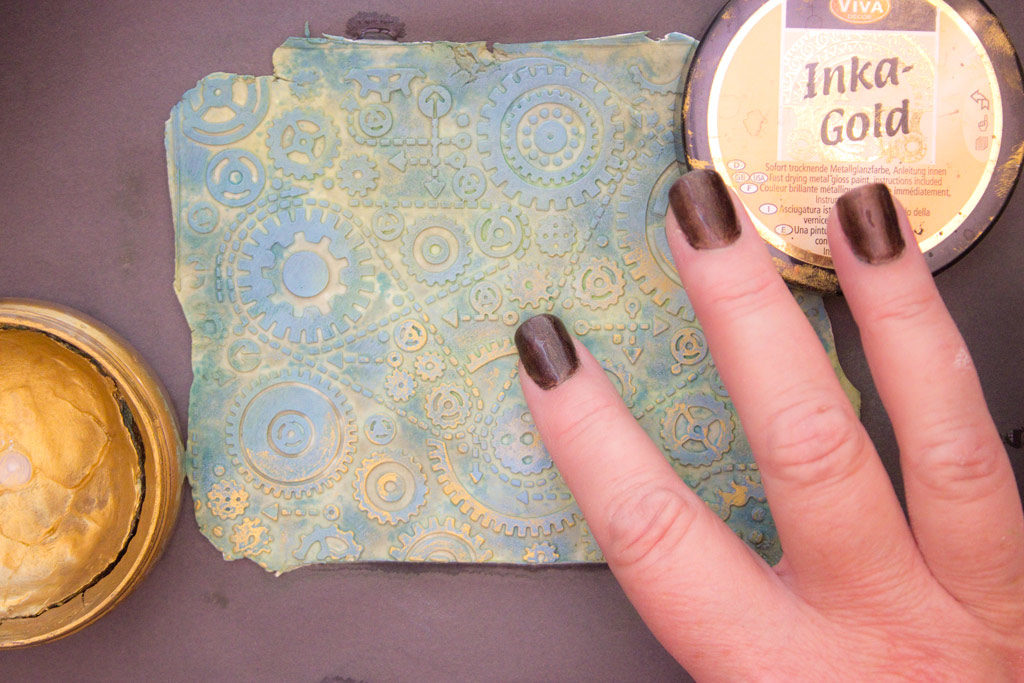 Here's a close up of the resulting Embossed Paper Clay Panel: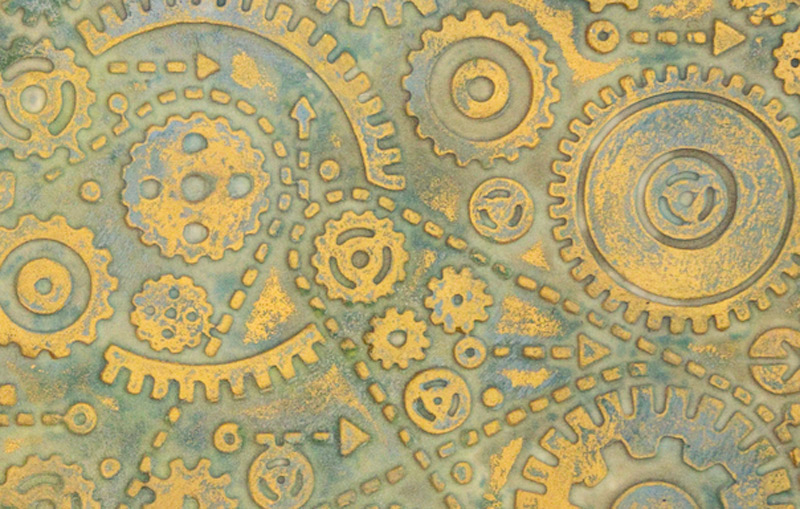 Now, make sure that the Embossed Paper Clay Panel will comfortably fit on your chosen item.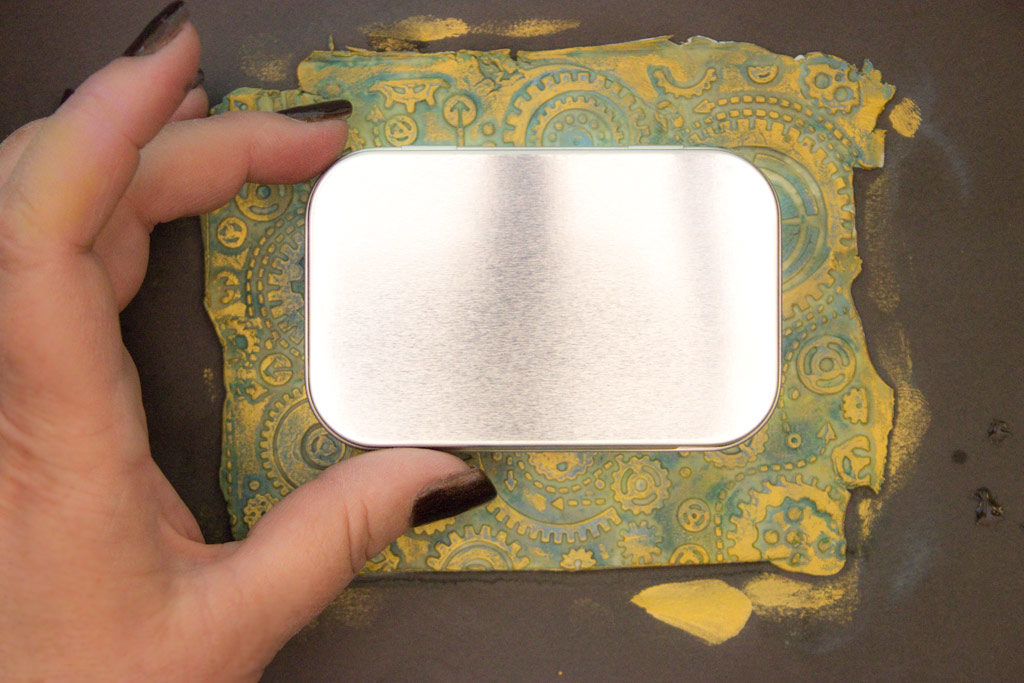 Apply an even layer of Aleene's Quick Dry Tacky Glue onto the surface: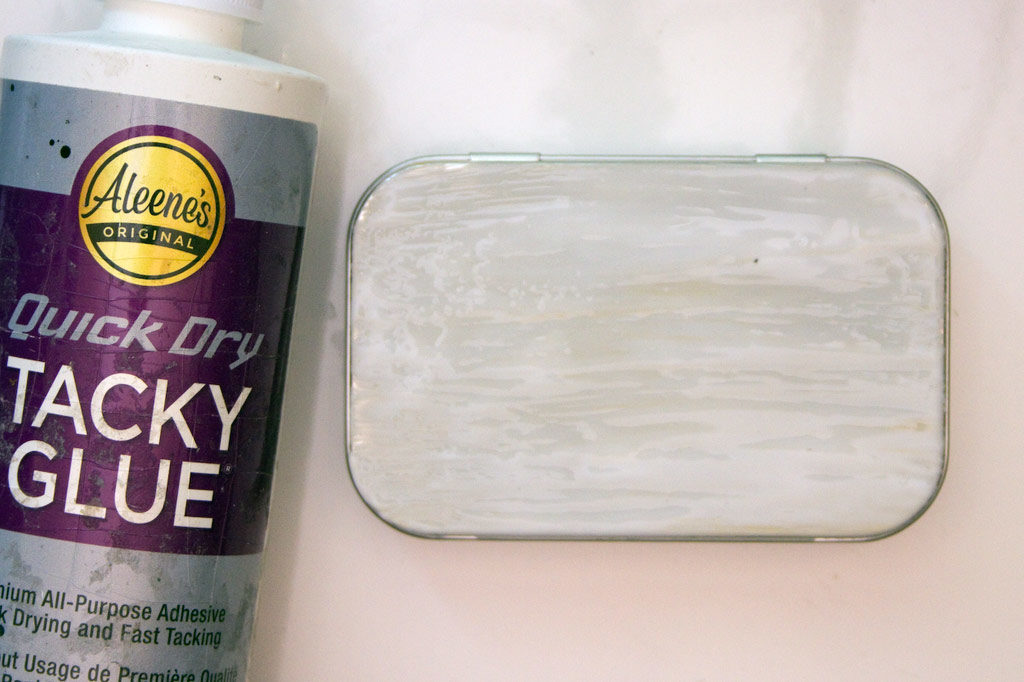 Firmly press the still damp Embossed Paper Clay Panel against the adhesive.
Note: it should feel a bit like leather at this point.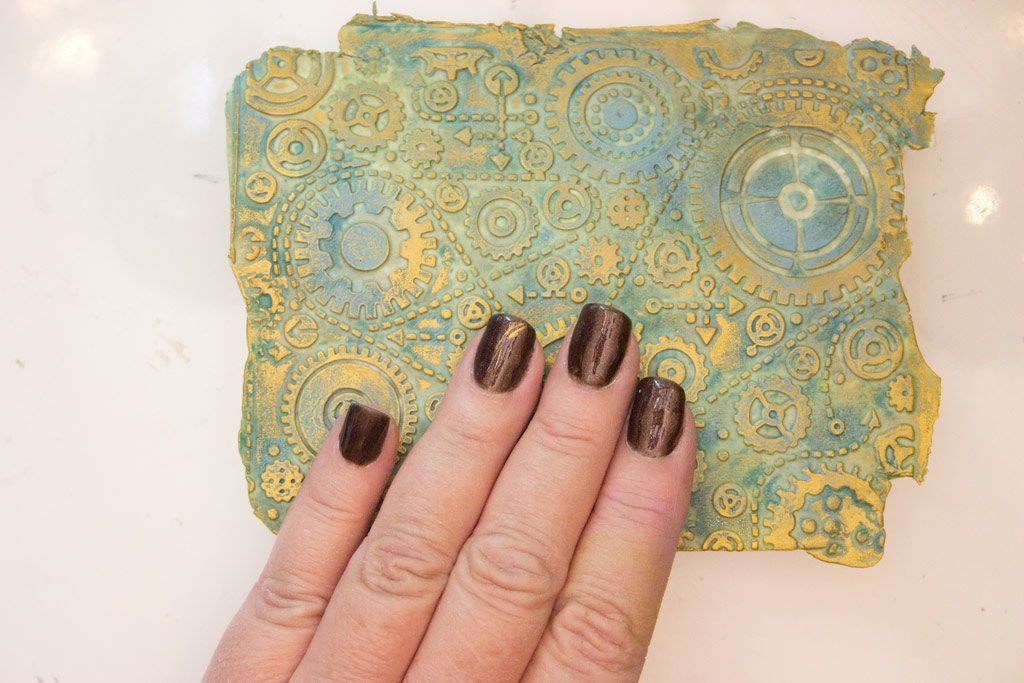 Flip the piece over, and carefully trim away the excess Embossed Paper Clay with ordinary scissors.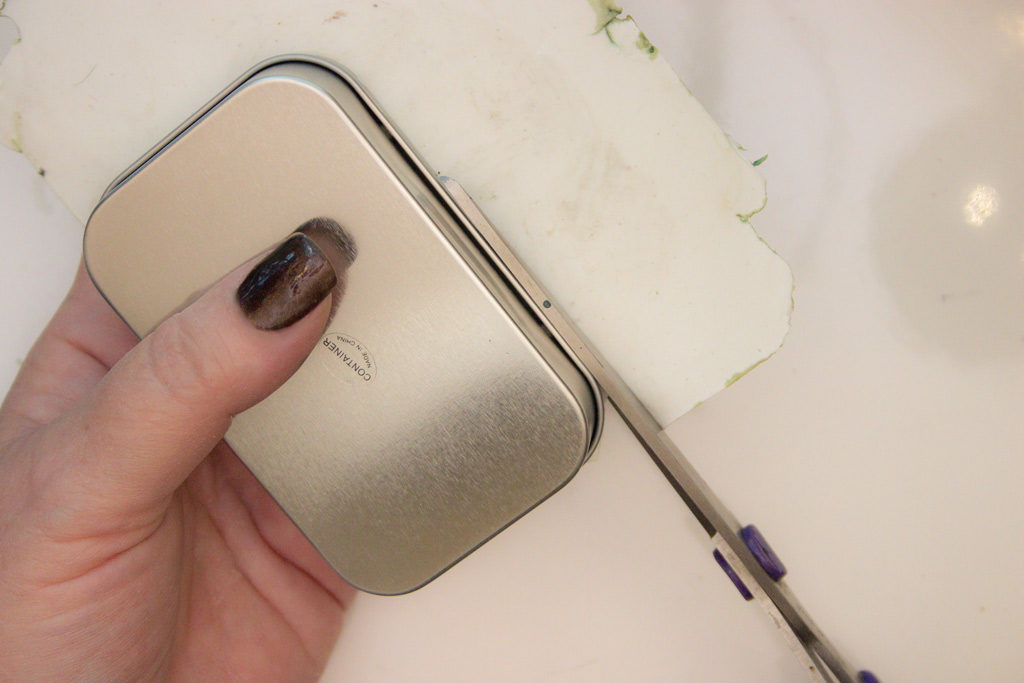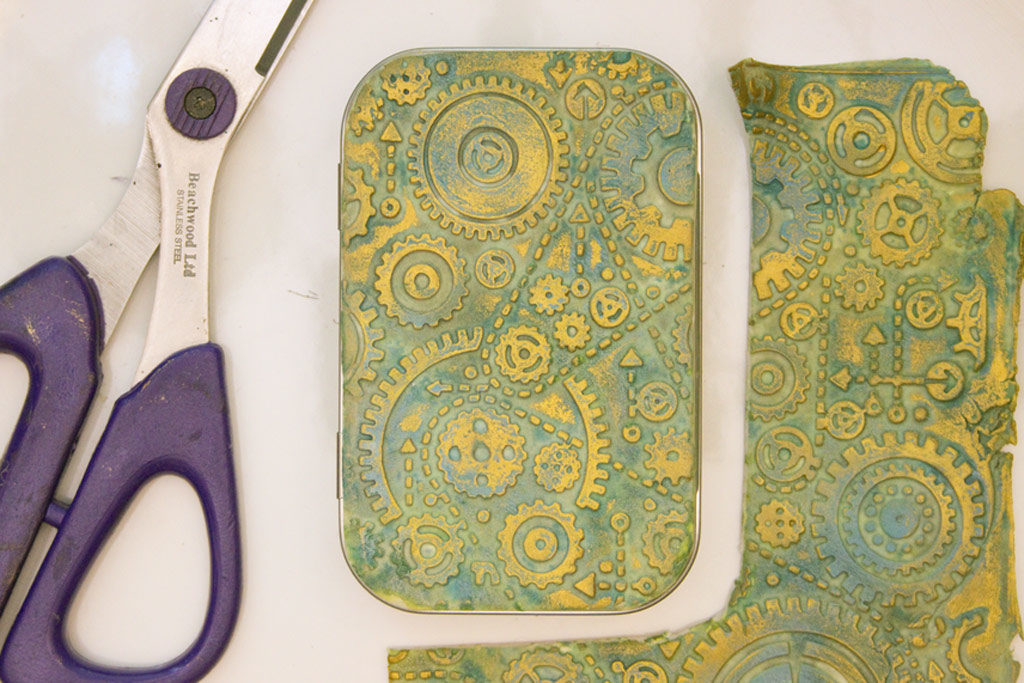 Next, cut strips of the Embossed Paper Clay sized to fit the sides of your project: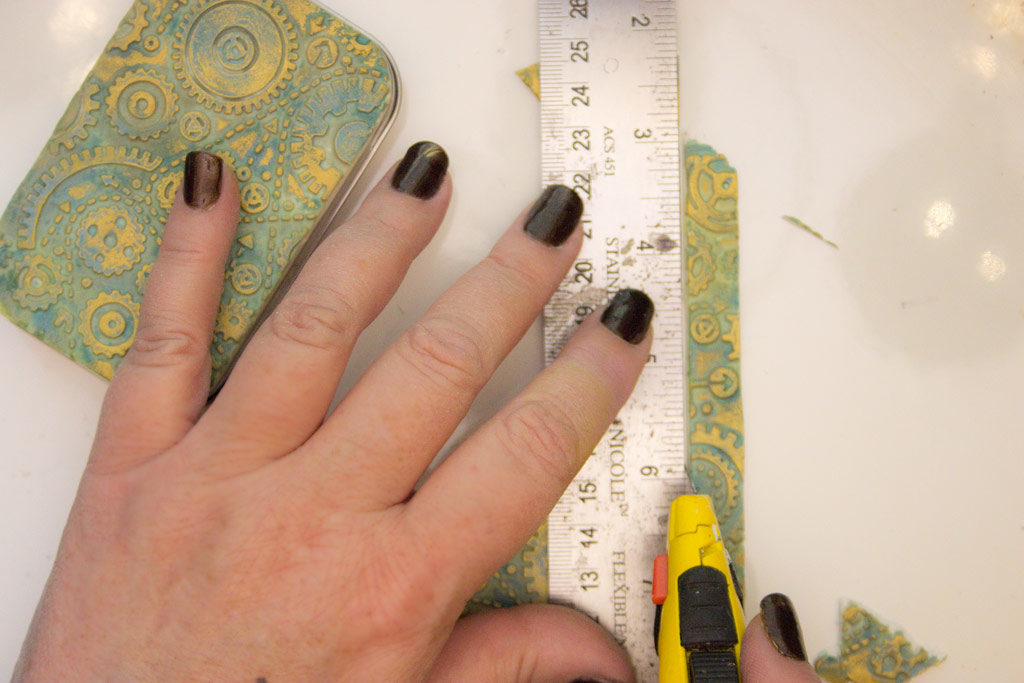 Apply an even layer of Aleene's Quick Dry Tacky Glue to the sides of the tin…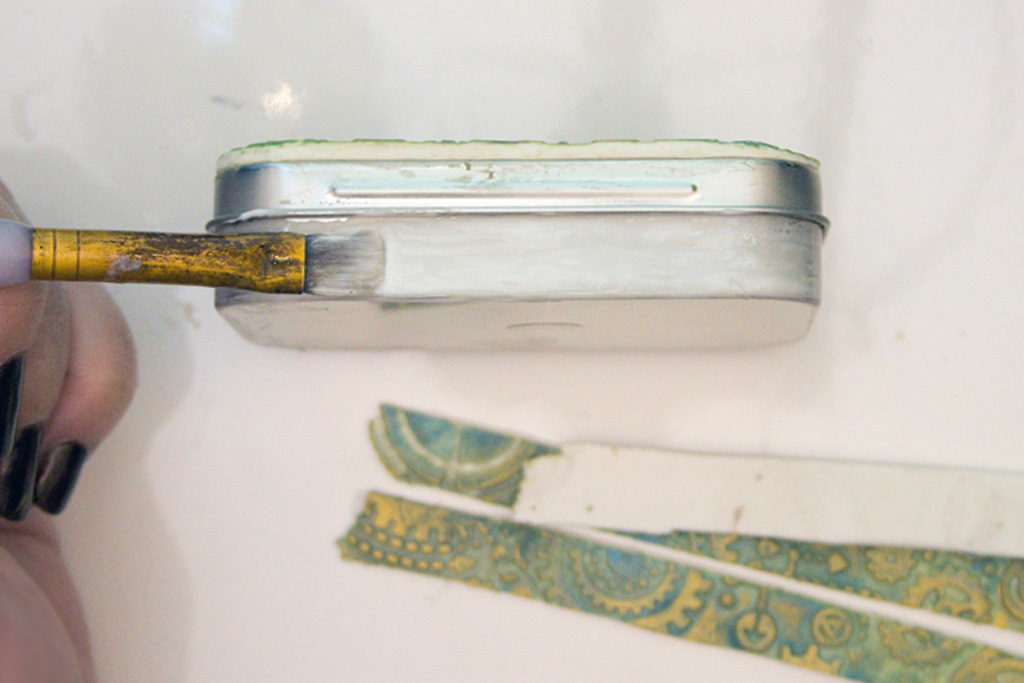 Wrap the Embossed Paper Clay Strip around the sides, and trim to fit.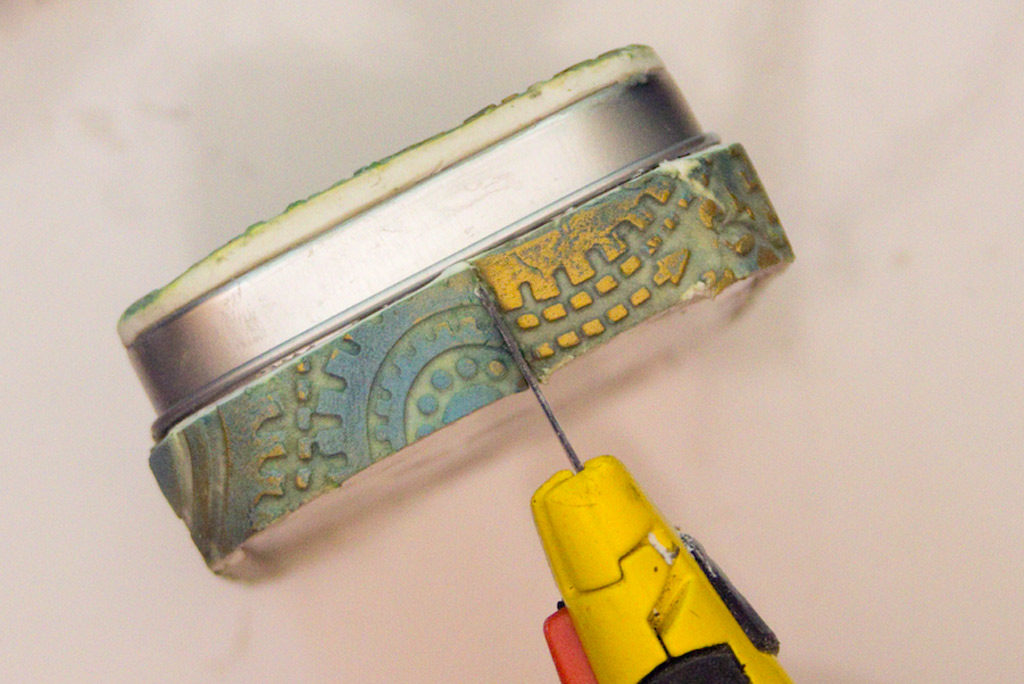 Use a dampened cloth to firmly wipe away any adhesive that has transferred to the bare metal.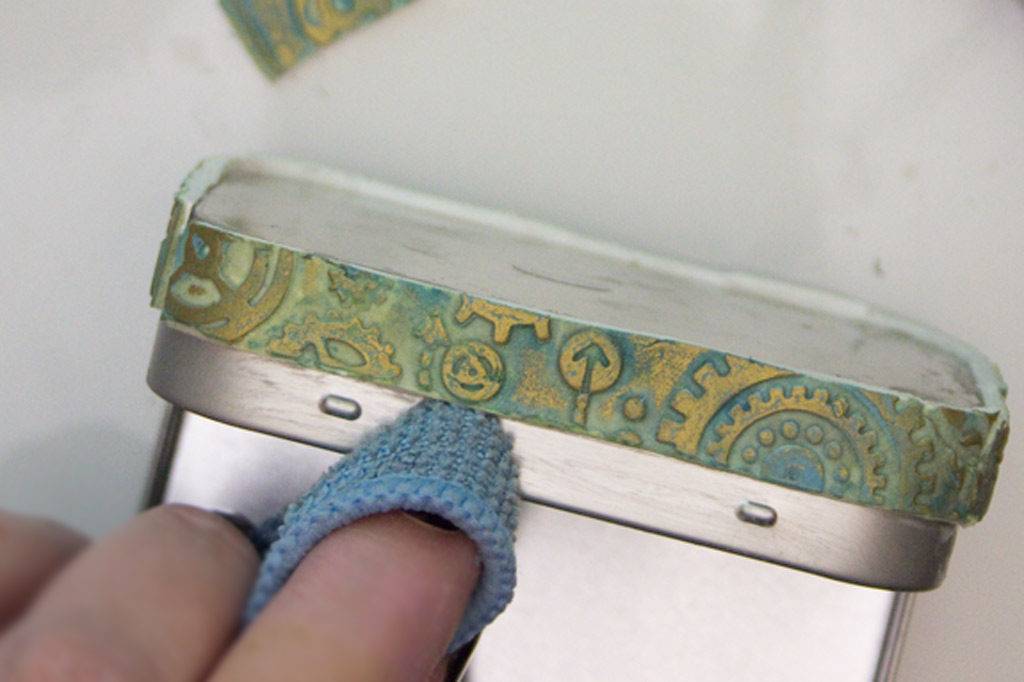 Trim the bottom of the piece flat with a sharp blade.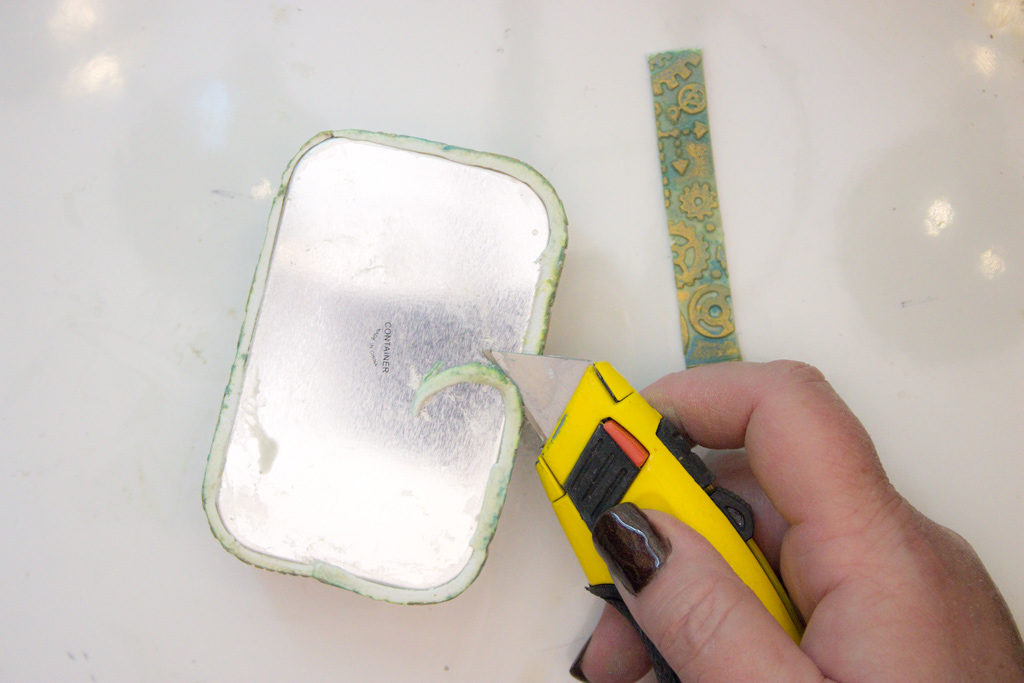 And that completes the Embossed Paper Clay panels on this piece!
Embellish and tint the remaining surfaces to your heart's content…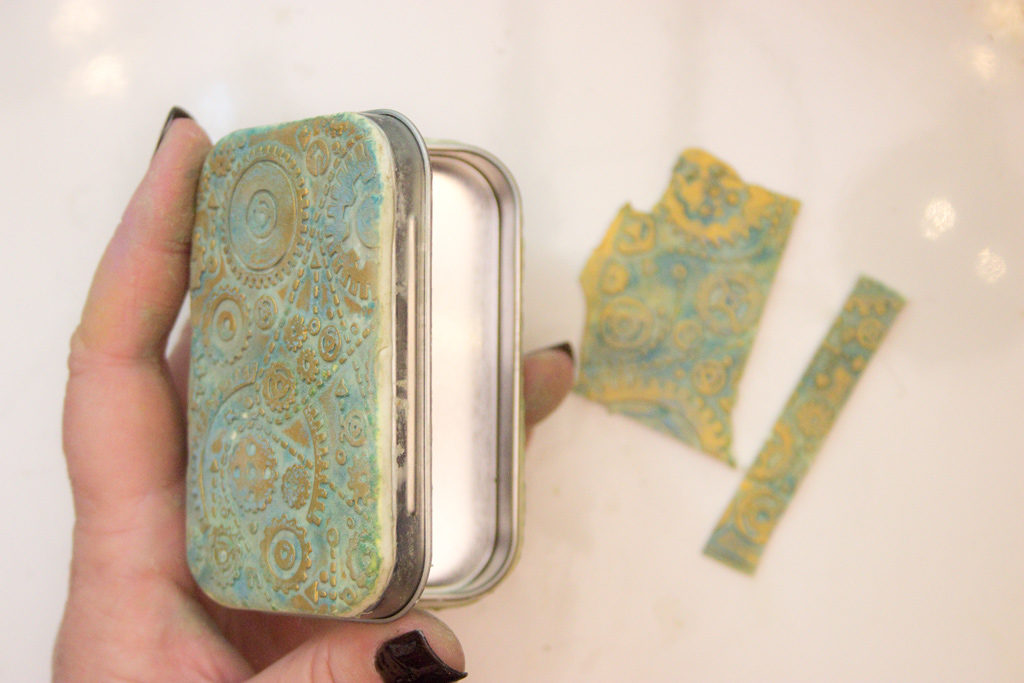 Create jewelry components with the scraps of Embossed Paper Clay that remain!
Apply Aleene's Quick Dry Tacky Glue to the bottom of your chosen bezels: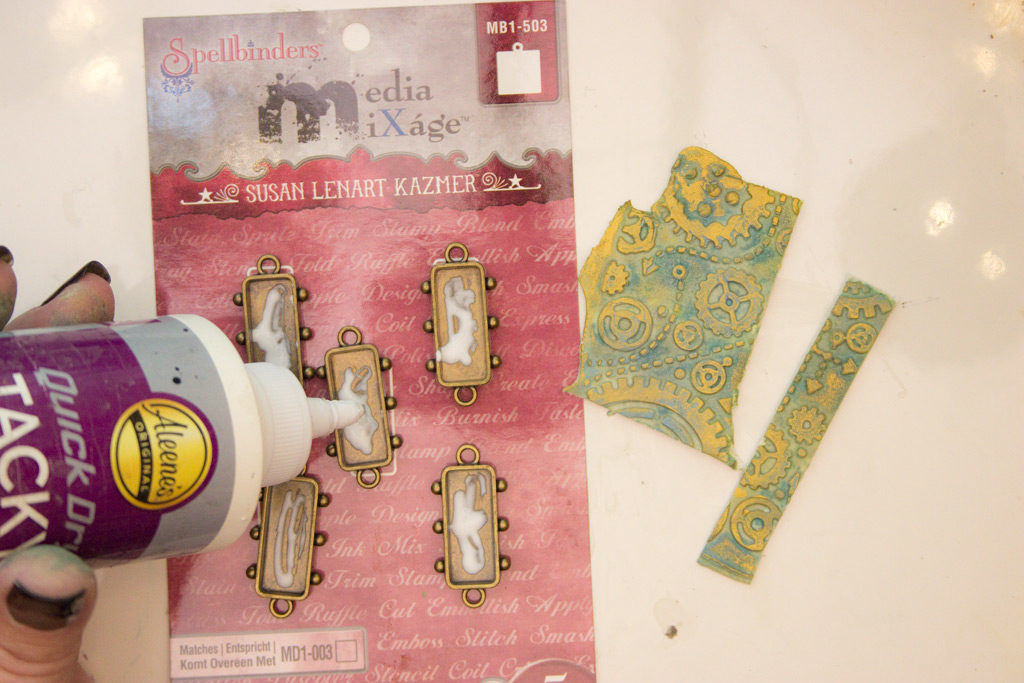 Smooth the adhesive with a dampened flat bristle brush: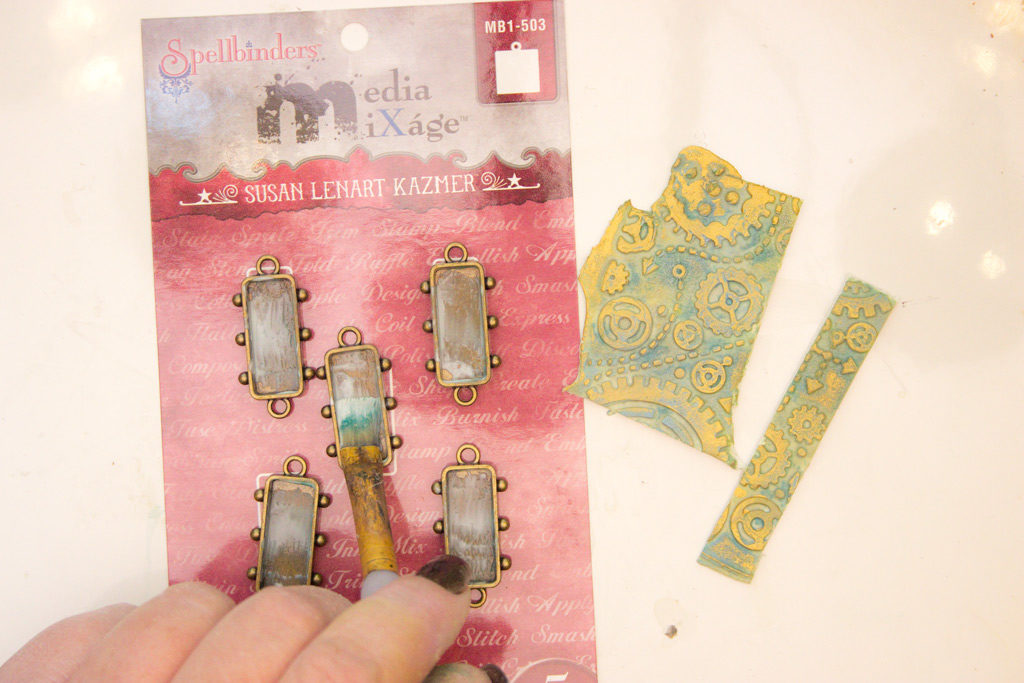 Cut the scraps of Embossed Paper Clay to fit within the bezels…then firmly press them against the adhesive coated base.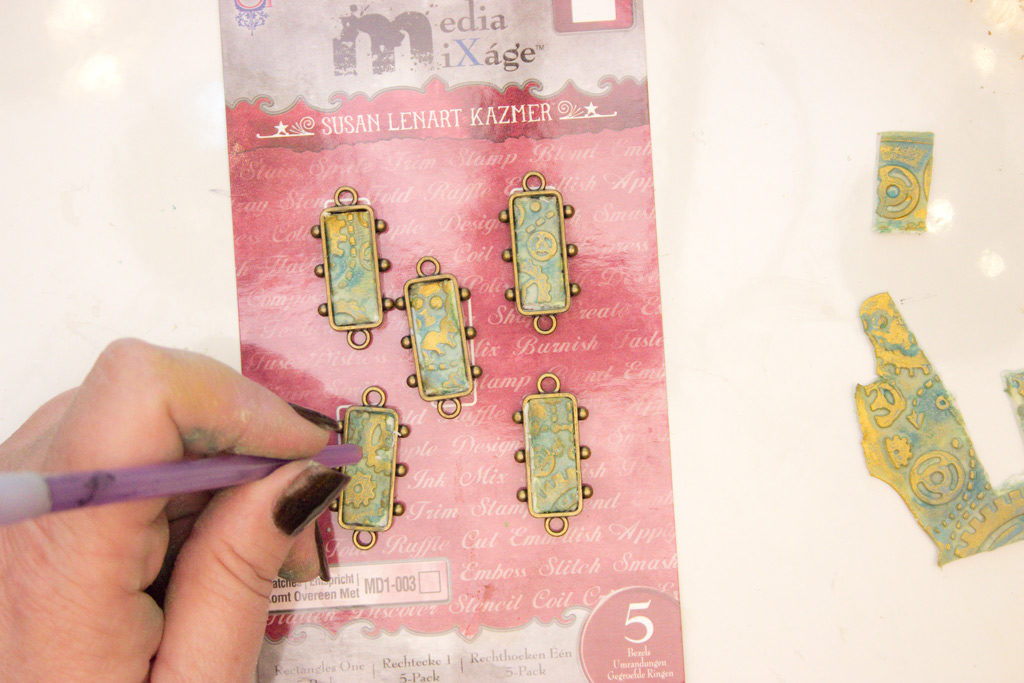 Looking good so far!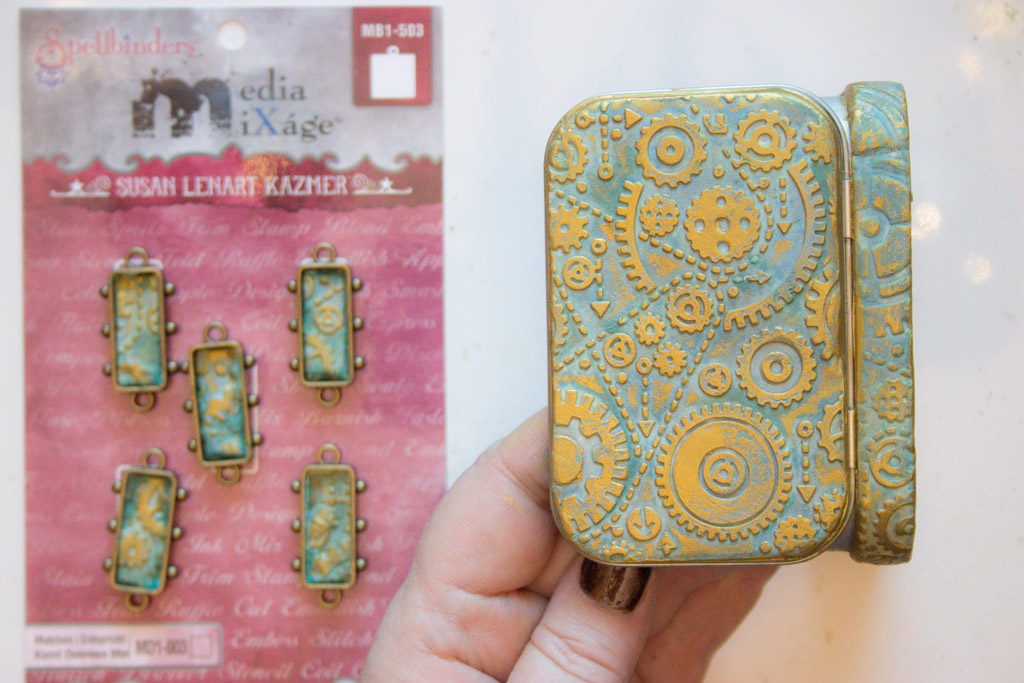 Reach for Triple Thick to add a crystal clear and sturdy layer of protection over your Altered Tin & to fill the bezels!
Note: we are STILL working with the Paper Clay while it has not fully dried – and that's okay!
Thus the Outlaw reference to this method…it breaks the 'rules'!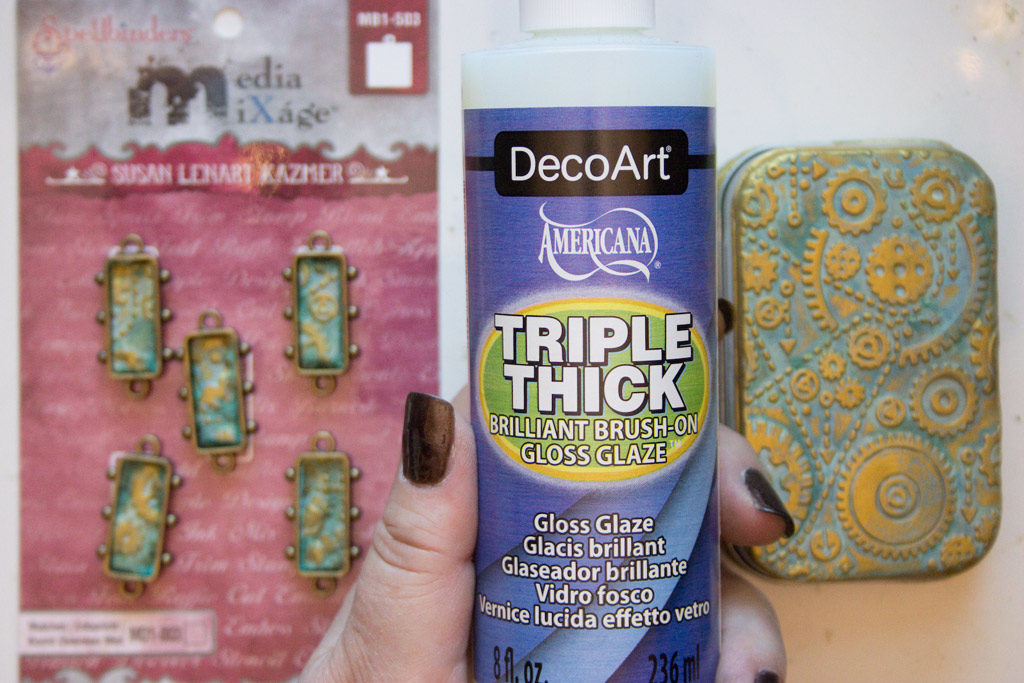 Add Gears, Cogs & Rhinestones if you wish…then seal them in with a generous layer of Triple Thick.
Note: even though this entire process was completed prior to the Paper Clay curing – there were NO cracks or warping in the final, hard cured finished piece! Yay!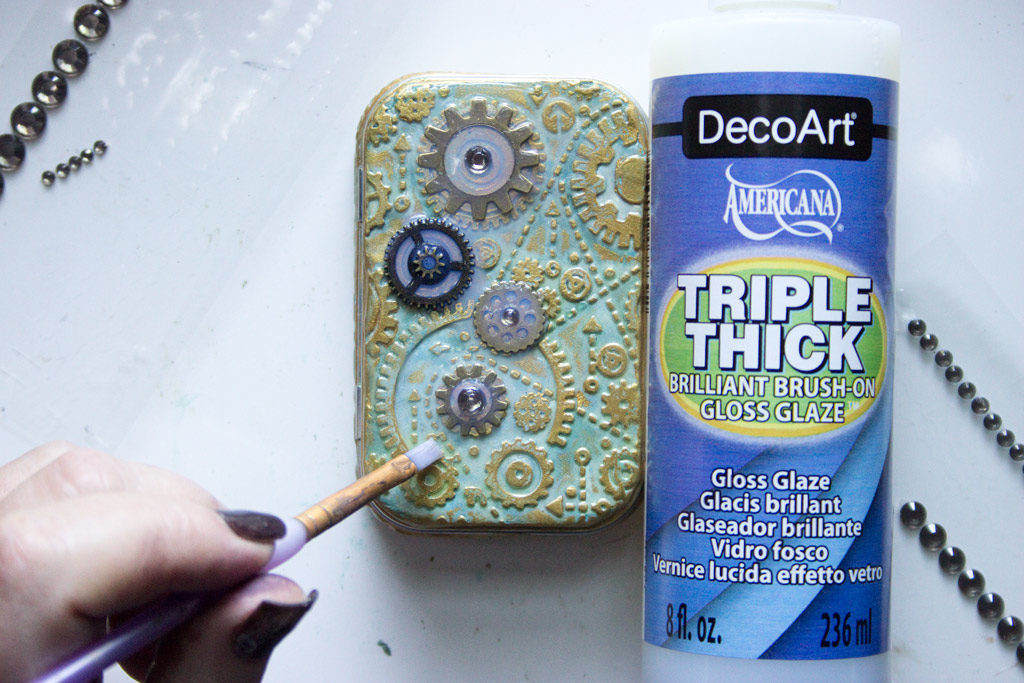 Fill the bezels with Triple Thick!
It will remain 'milky' for several days – but not to worry – the haze will dissipate, and they will cure to a crystal clear finish! 
Note: it can be easier to work with the bezels while they remain attached to the packaging. Just remove them once the items have cured!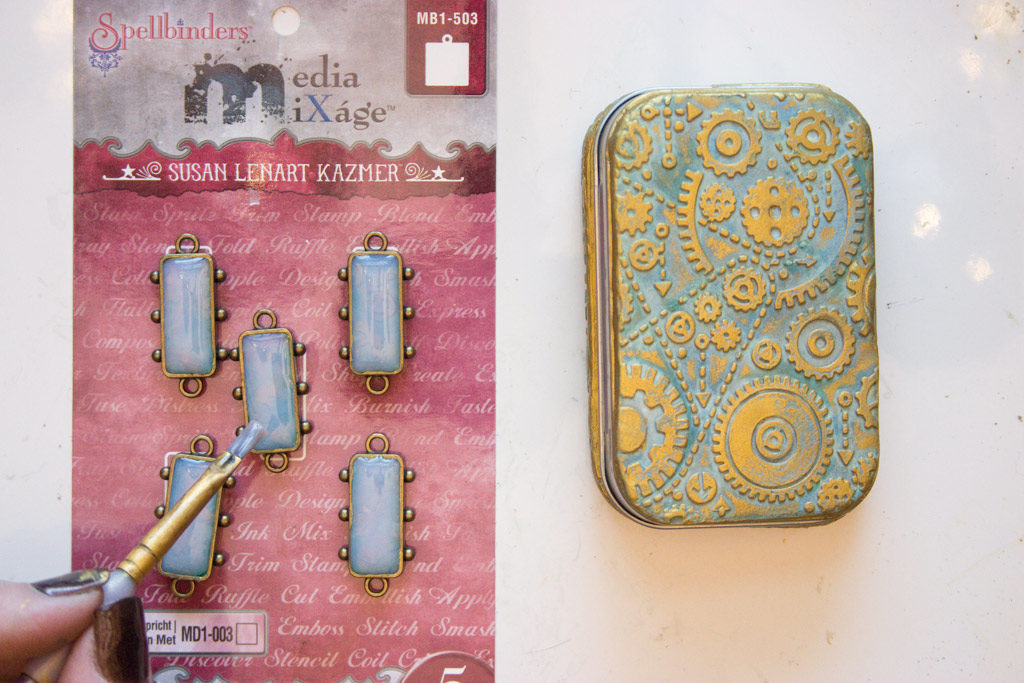 The final results are richly textured, tinted with a complex mixture of pigments, and ready to assemble into a gift for a dear friend!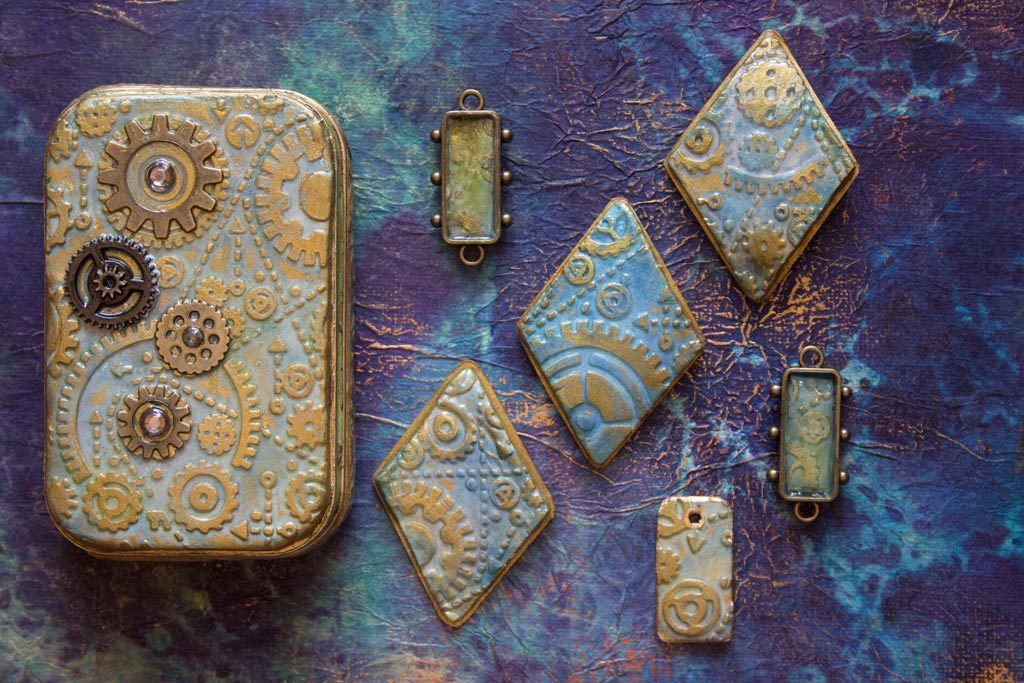 Working with Paper Clay is fun and easy – and the resulting pieces are not as fragile as you might imagine…once coated with Triple Thick, these pieces have the look, feel and sturdiness of Polymer Clay – without the need to bake!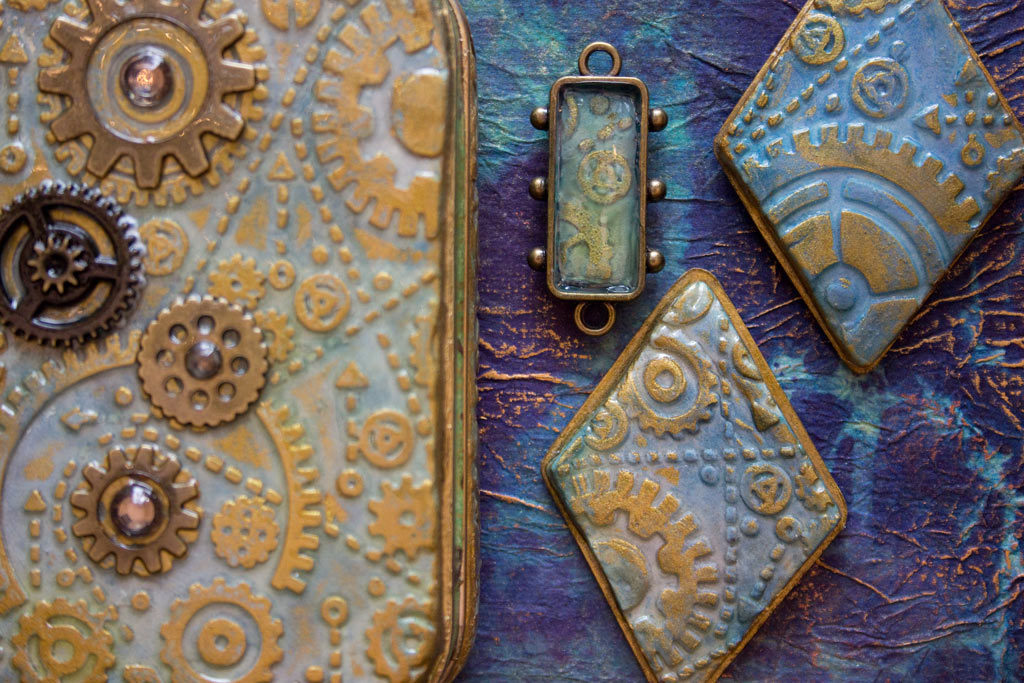 I hope that you have found this Outlaw Technique useful – it can be applied to many different surfaces – working with the Embossed Paper Clay while it is still damp gives you endless flexibility of design!
Thank you for visiting The Graphics Fairy today!
Until next time,
Heather ♥
---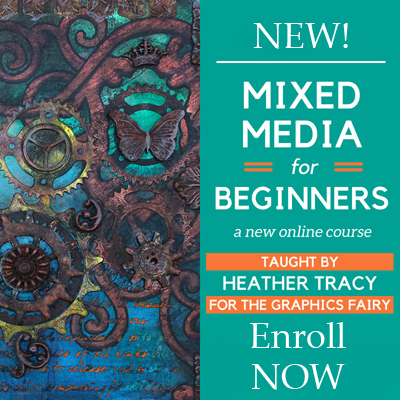 It's finally here! Our first online crafting eCourse! If you've always wanted to try the art of Mixed Media, be sure and check out this amazing course by Heather Tracy!
Click HERE to learn more about it.