Faux Leather Paper Technique
Hey there! It's Heather from Thicketworks…here with an awesome Faux Leather Paper Technique. The basics of this technique have been around for awhile, but I have a twist I'd like to share with you. If you like making Faux Leather Crafts this paper technique is a great first step!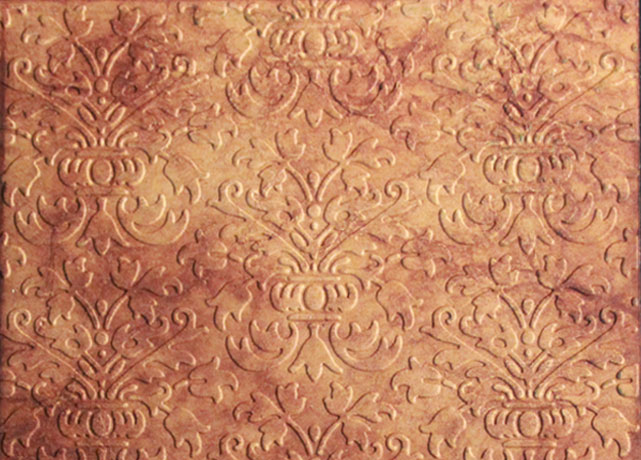 Supplies for the Faux Leather Paper Technique
To achieve this look, you'll need the following:
Technique Instructions:
The first step is to dampen your cardstock with water
(I just use a spray bottle)
Pour a generous amount of Glycerin onto the surface of the damp paper
Swipe the Glycerin across the surface with your gift-card, making sure the entire surface is coated.
Repeat these steps on the other side of the paper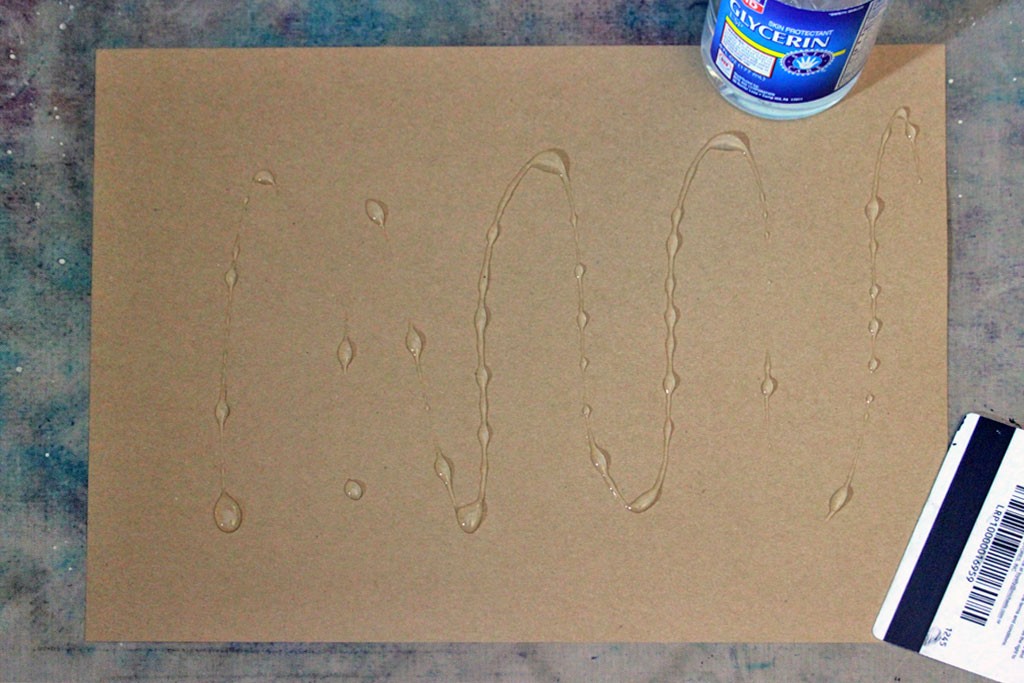 5. Once the paper is thoroughly coated with Glycerin on both sides, carefully begin to crinkle it up.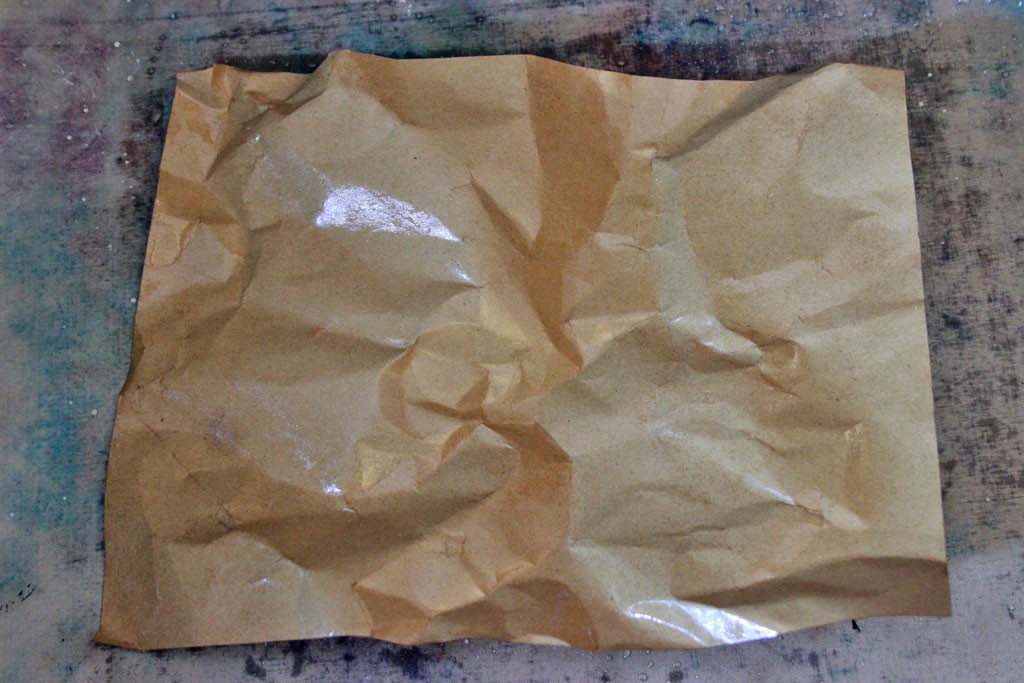 6. When it feels fairly flexible, gently wad it up into a ball.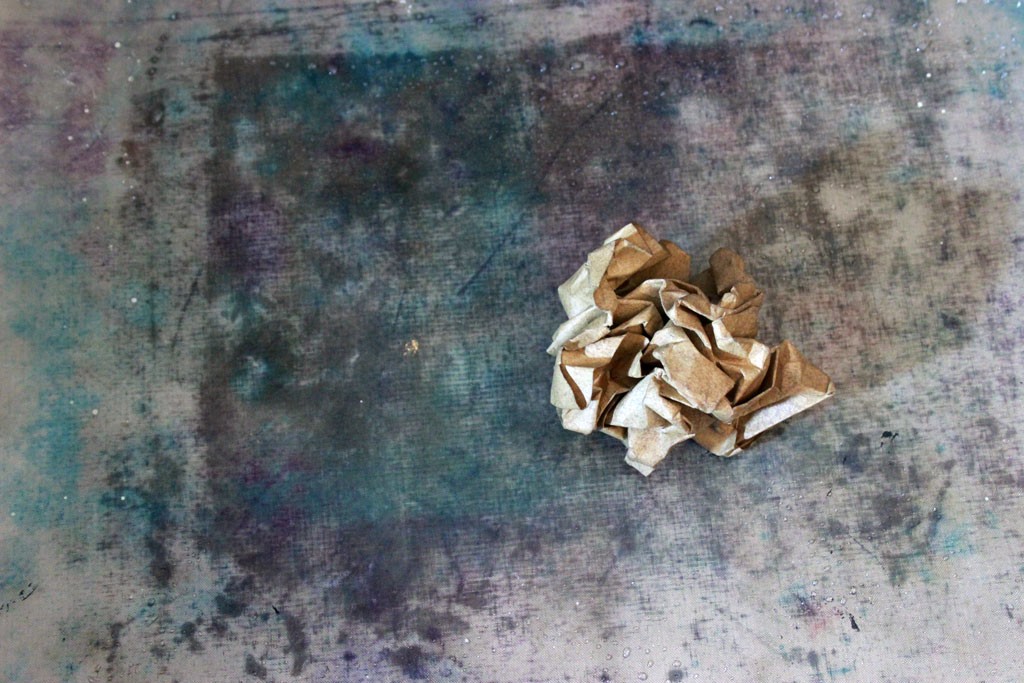 7. Repeat this process of wadding up, then gently smoothing out the paper several times, until the creasing looks something like this: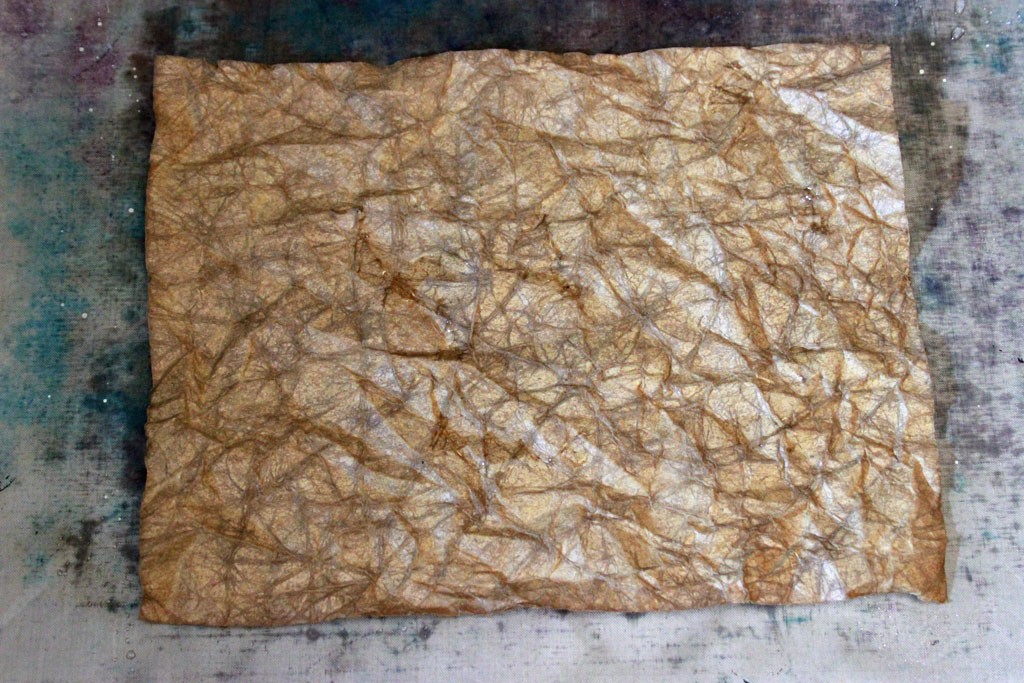 8. When you're satisfied that you've abused the poor thing enough, smooth it out one more time, and gently fold it in half, creating a 5 1/2" x 8 1/2" 'card'.
9. With your iron set to 'no steam', and on the 'Wool' setting, press the folded paper repeatedly until it's dry and as smooth as it's ever gonna get after all our crinkling…(when your iron cools down, make sure to wipe the surface with your favorite cleanser, or expect weird stains to appear when you iron the next time)
10. Now we'll add some depth with Distress Inks. Load up your Blending Tool with ink and swirl it all over the surface of the paper.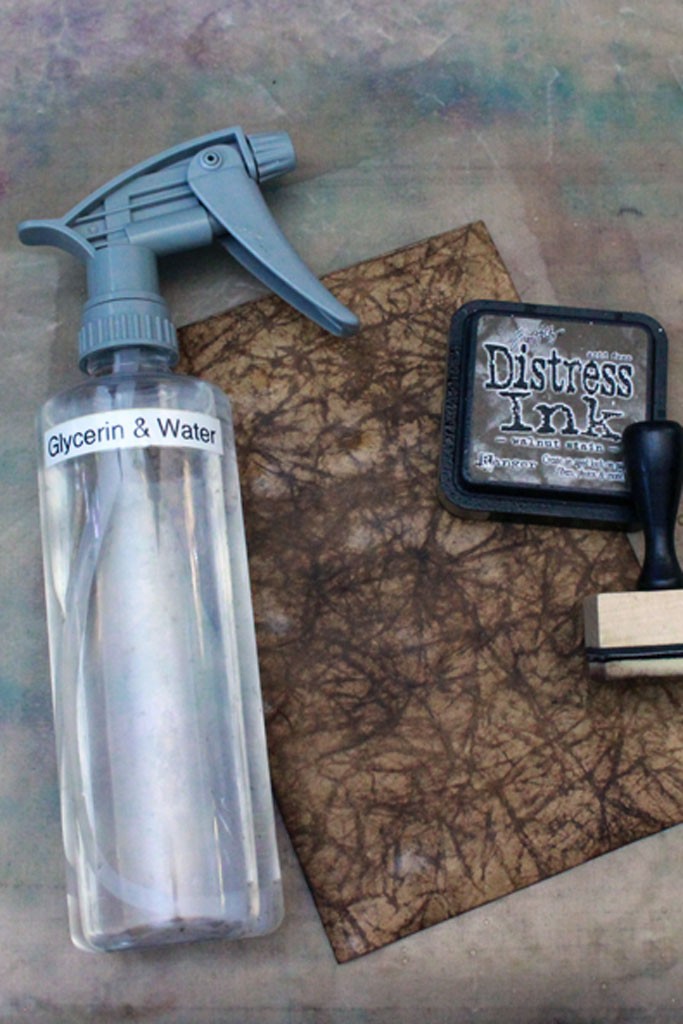 11. It will gather in the creases and you may think that it looks way too dark – don't be alarmed. As the ink dries it will lighten in tone. If you still don't like it, you can soften the look by spraying it with a light mist of water.
For a classic Brown Leather look, try using Vintage Photo: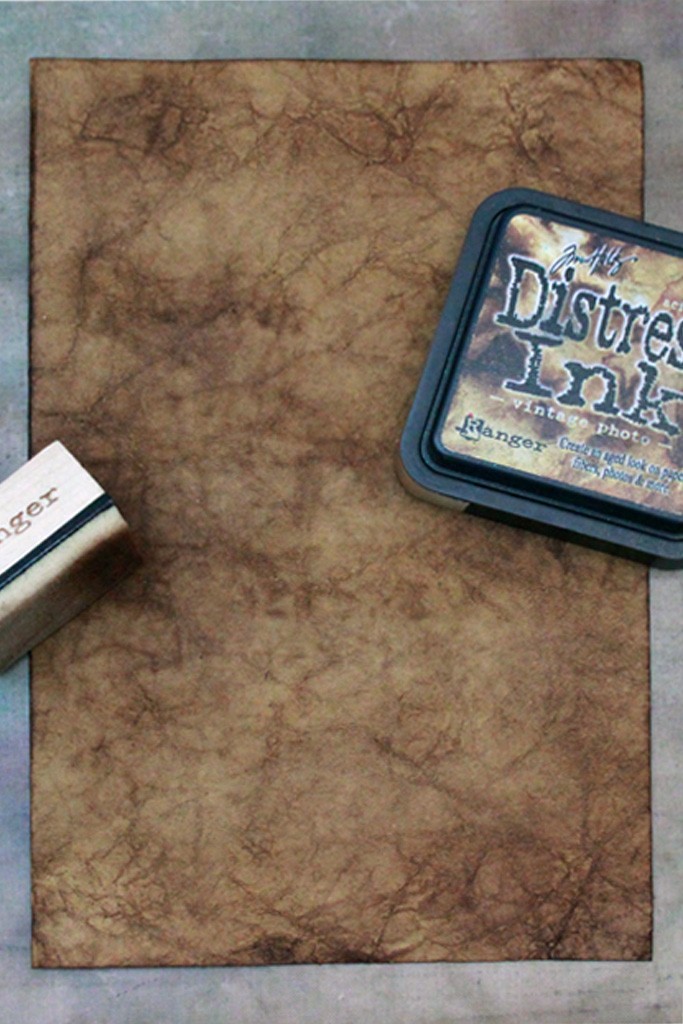 If you'd like to try the Red Leather Look, begin by swirling Walnut Stain Distress Ink over the entire surface of the crinkled Kraft, then follow it with Aged Mahogany.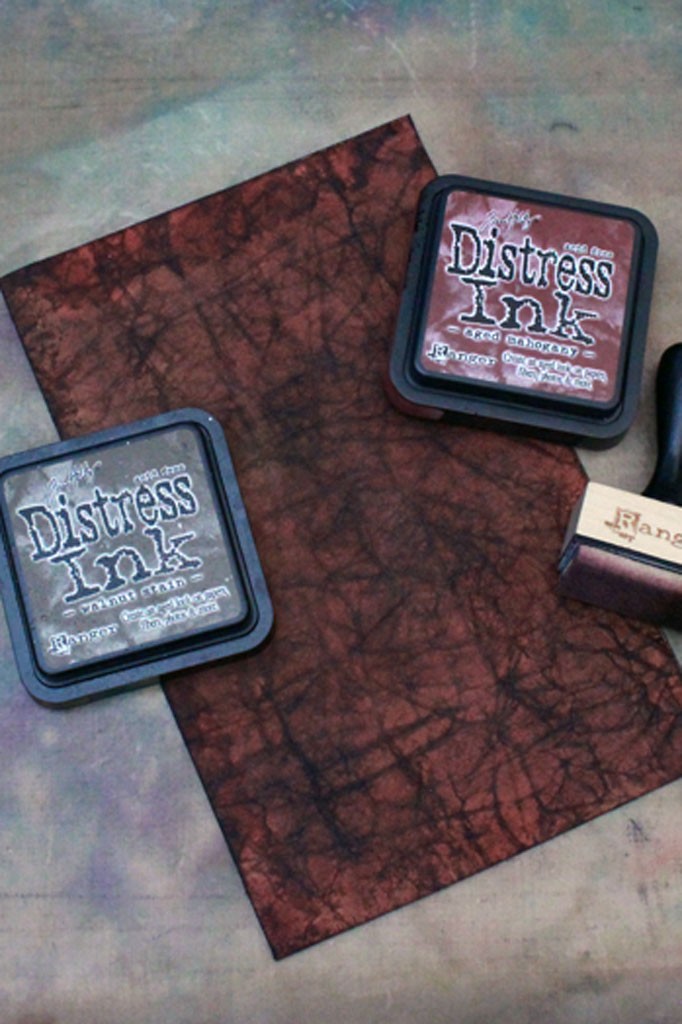 For the Green Leather Look, begin with Mowed Lawn Distress Ink, followed by Salty Ocean.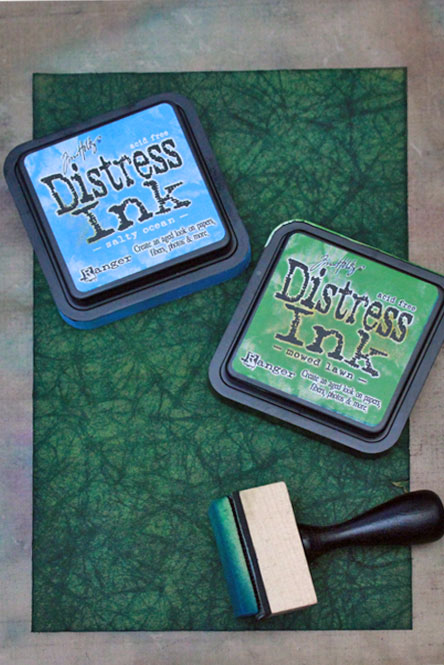 12. Iron your inked-up papers until they are almost, but not quite dry. Note: The paper will be 'limp' even when dry, due to the effect of the Glycerin. I can think of a ton of ways to use the Faux Leather, even without further tampering. BUT…if it's possible to tamper, tamper I will. If you feel like tampering – read on:
13. Place your folded paper into your favorite embossing folder, and crank it through your favorite die cutting machine. I used the Damask Brocade embossing folder by Cuttlebug (This folder is no longer being made, you can find a similar Embossing folder HERE), and a Sizzix / Vintaj Big Kick).
Note: Between each embossing process, it's a good idea to wipe the interior of your embossing folder to remove any ink or moisture that transferred to it during the embossing process.
Here are examples of the glycerin soaked, crumpled, ironed, inked and embossed cardstock:
Vintage Photo Distress Ink + Damask Brocade pattern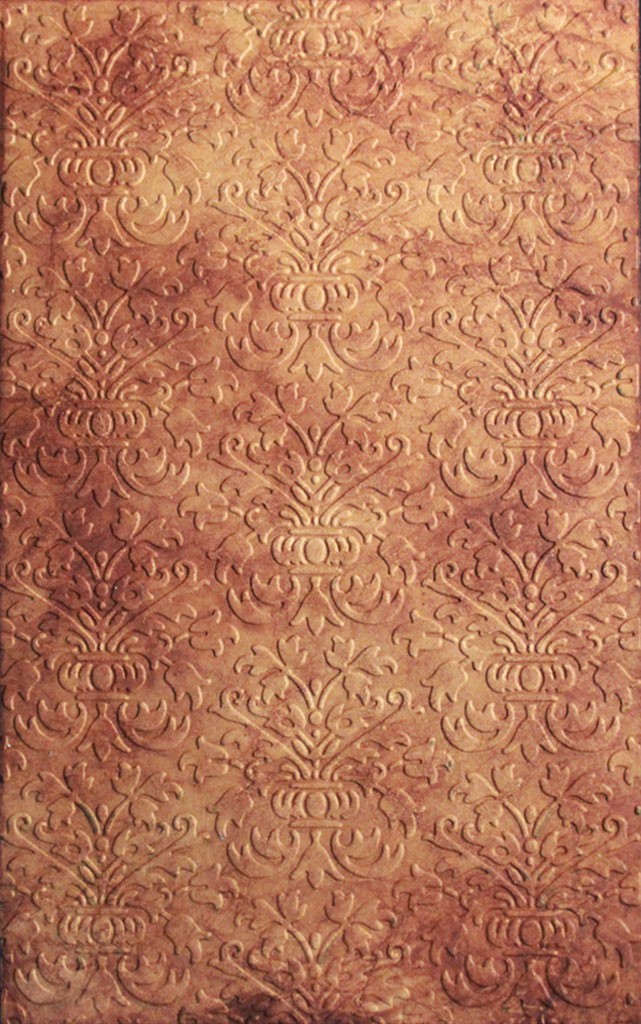 Walnut Stain Distress Ink + Aged Mahogany
+ Damask Brocade pattern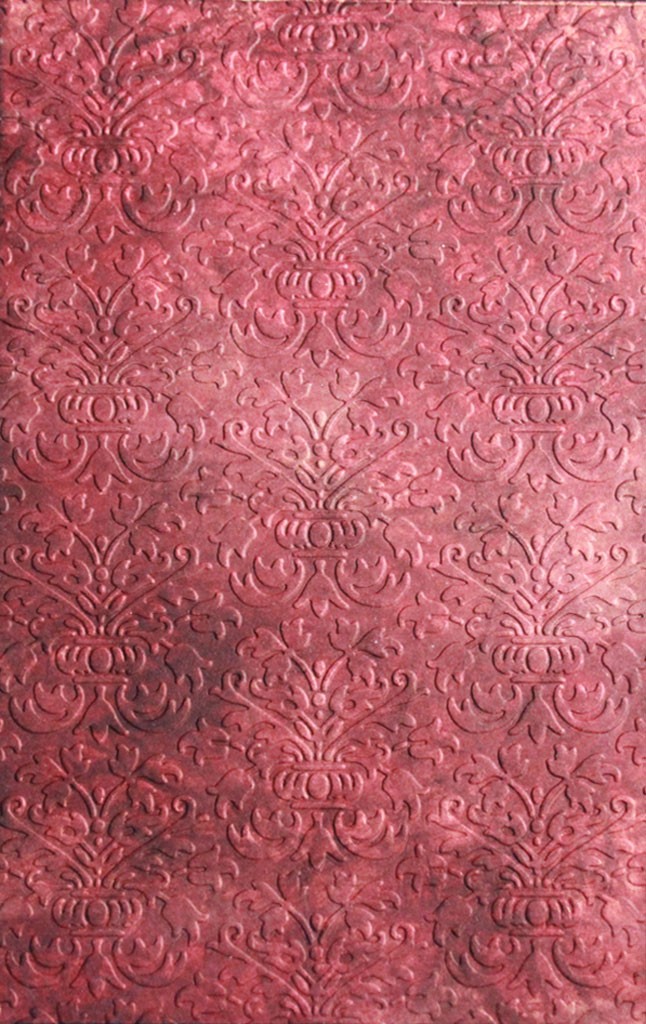 Mowed Lawn Distress Ink + Salty Ocean
+ Damask Brocade pattern
If you're a 'too much is never enough' kind of person, then you'll understand that I found it necessary to add another layer of richness to all this lovely embossed 'leather'.
If you're more reasonable in your outlook, then I envy your restraint – you can just skip over the next section…
I loved the look and feel of the project so far – the depth of the colors, the classic pattern of the embossing. However, if it's worth doing, it's worth finding a way to add Inka Gold to it. So I did. The twist to this project? Yep, here it is:
Because I didn't want a slap-dash application of the metallic sheen, I decided to re-purpose my Blending Tool.
This is a little secret that has helped me many times. When you just want to add color to the raised portion of an embossed surface, using your fingertips can be a really bad choice.
More often than not, the color will get into the crevices of the design and cause a less than pristine outcome. I'm okay with that most of the time. In fact, messiness is my forte.
But for this project I wanted more control – the Blending Tool is ideal for this job.
I like to dig out a small dab of the Inka Gold and smear it on my Non-Stick Craft Mat. Then I spritz it with a bit of water, and blend until there's a smooth and thin layer.
14. Drag the blending tool over the gold mixture, then carefully smooth the blending pad along the surface of the embossing. This will transfer the gold only to the raised portions.
For the Brown Leather Look, I chose Inka Gold in Orange.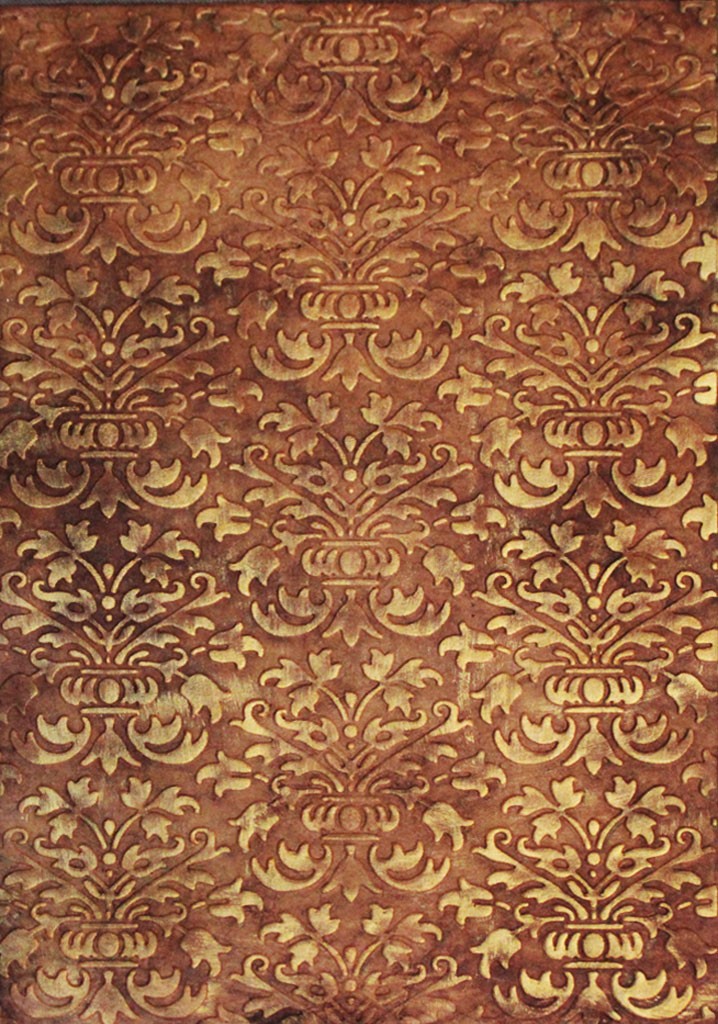 For the Red Leather Look, try Inka Gold in Old Gold.
For the Green Leather Look, Inka Gold in Green/Yellow adds just the right touch.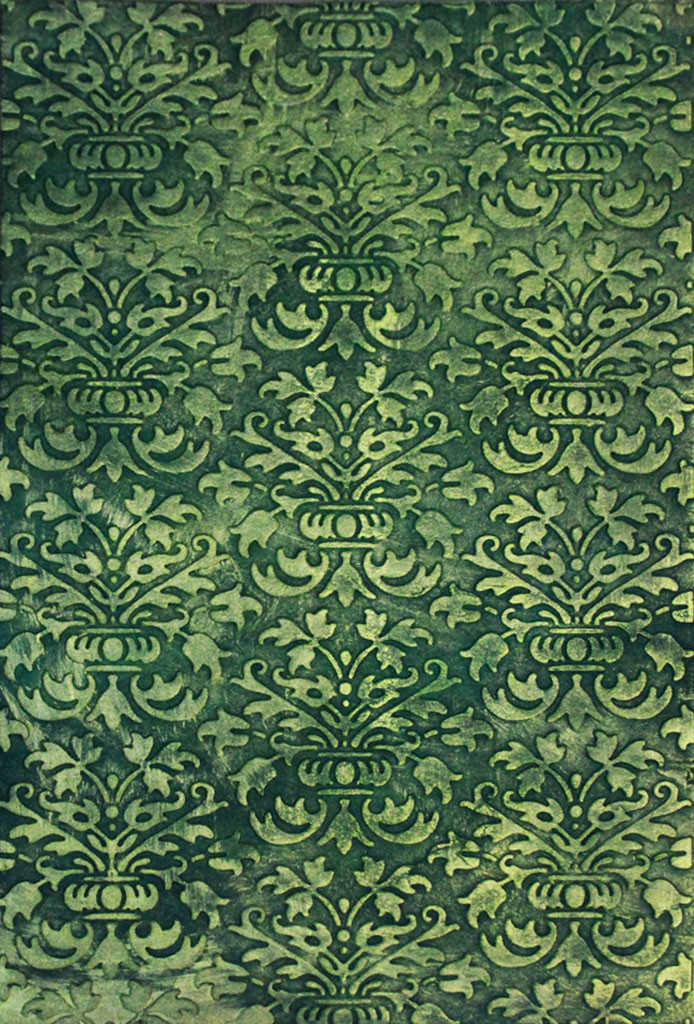 15. Once the Faux Leather has dried thoroughly, seal with your favorite top-coat. Keep in mind that Inka Gold and Distress Inks are water soluble, so adding a top-coat with a brush may ruin the metallic effect. To seal these beauties, I chose Rustoleum Ultra Cover Gloss Clear spray, which I pick up at Home Depot.
Well, there you go – Faux Leather Paper, suitable for book covers, faux leather crafts or whatever your feverish imagination can conjure! You might also like the Ancient Parchment Paper Technique HERE. 
Thanks for joining me for this little jaunt! If you enjoyed this technique, stop by Thicketworks some time and join in the mayhem.
Take Care,
Heather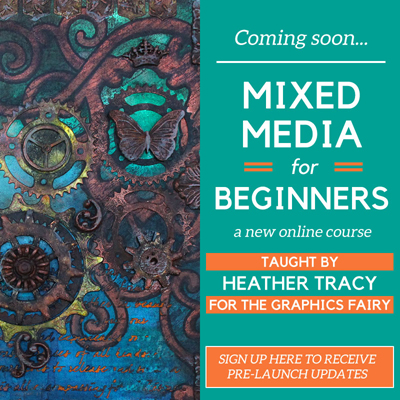 Are you interested in learning more fabulous Techniques from Heather Tracy? We have an amazing Mixed Media Video Course in the works! You can learn more about it, and sign up to receive updates, HERE.