10 Forest Animal Coloring Pages
In this post I'm offering some wonderful Vintage Forest Animal Coloring Pages! These are all fun Free Animal Coloring Sheets that were scanned from an old vintage coloring book in my collection. I'm offering these for non commercial use.
You can print out as many as you want to share with your Family, Sunday School Class, Classroom, Adult Day Care, Creative friends meet up and more. Teachers may be interested in sharing these Wildlife Coloring pages with their students. These Printable pages are fun for both kids or grown ups.
 Fox Coloring Page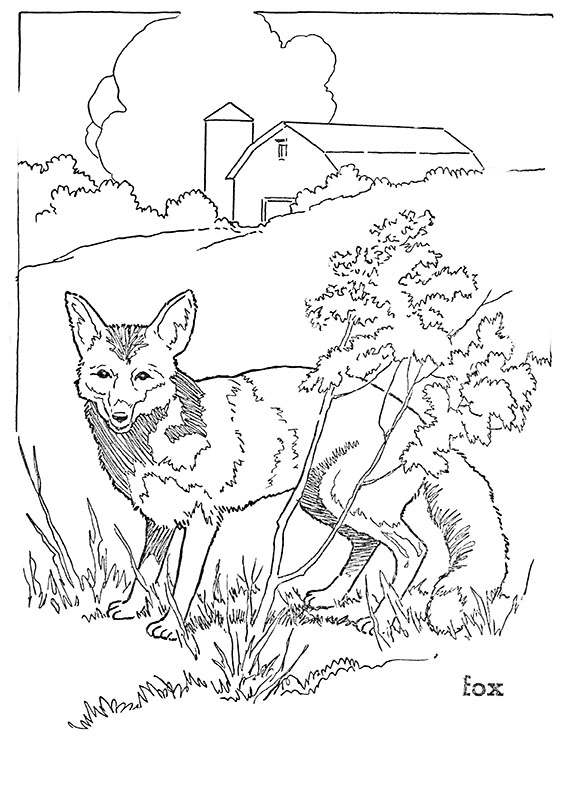 Our First Forest Animal coloring page is this beautiful Fox. I think these guys are just the cutest looking animals! This guy appears to be on a Farm somewhere hiding out next to a little bush. You can see a Barn and Silo in the background behind him.
Wolf Coloring Page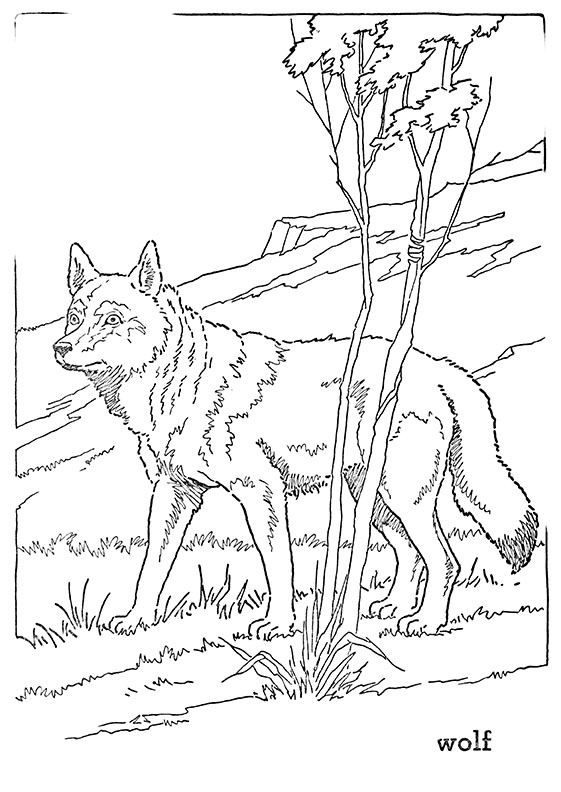 Next up we have a wonderful Wolf. I've never seen one of these guys in person, but we do have some Coyotes in the woods behind our home. There are actually 3 pups that I've been watching on and off all Summer, they are the cutest things! Anyway, this guy looks quite alert, he seems to have spotted something off in the distance.
Raccoon Color Sheet
Here's a cute one! This Raccoon coloring page shows an adorable Raccoon climbing on a branch up in a tree.
Printable Deer to Color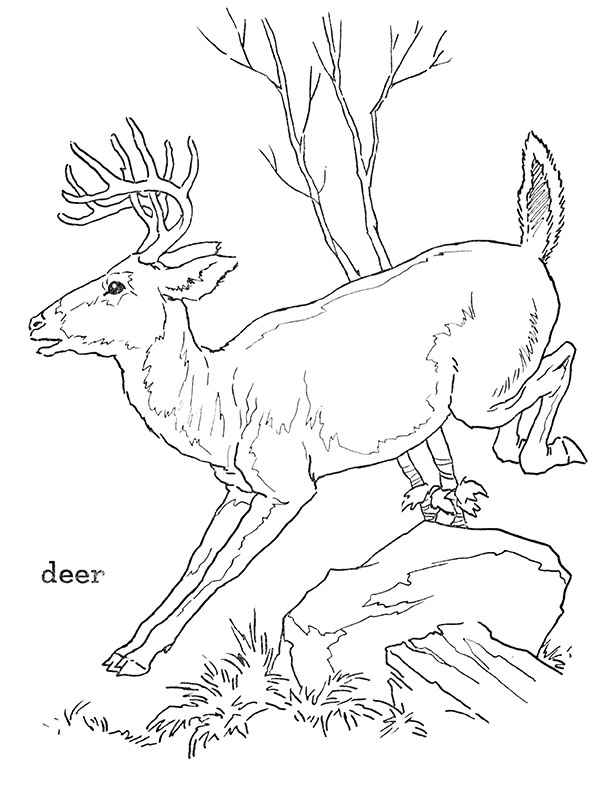 Next we've got a beautiful Deer Coloring Page Printable. This guy is on the run from something. Here we see him jumping over a large rock and we catch him in mid air. I hope he gets away to safety!
Mountain Lion Coloring Page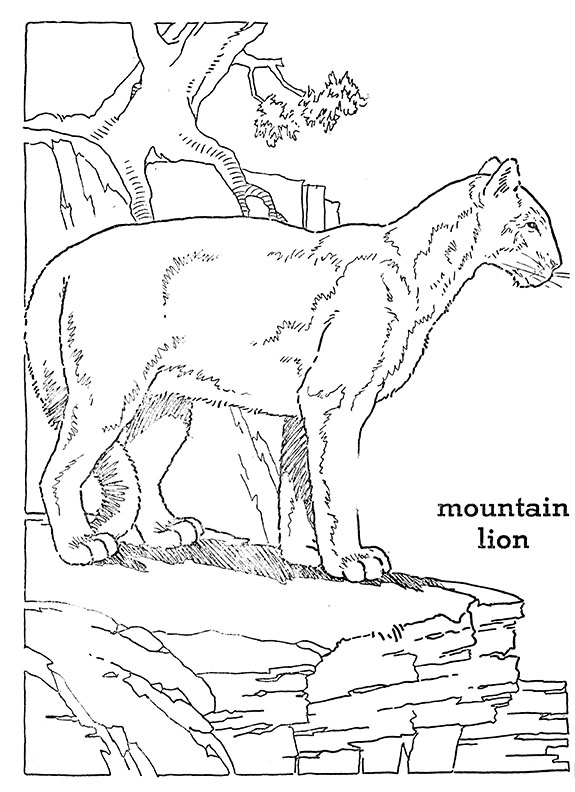 Click HERE to Download the Mountain Lion Color Sheet Printable PDF
Perhaps the Deer above was running away from this big cat! Here we see a marvelous Mountain Lion standing on a rock. It looks like the rock may actually be a cliff on a mountain, he probably has a great view of his prey from there.
Printable Bears to Color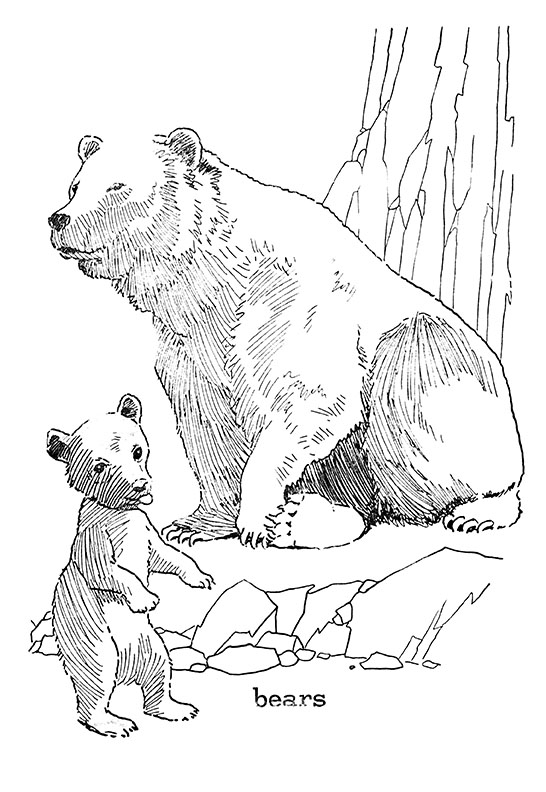 Click HERE for the Full Size Printable PDF of the Bears
This Forest Animals Coloring Page shows some beautiful Bears. We see a large Mama Bear and her Cub. The baby is standing up and sticking his tongue out, so cute! As cute as he is, I would not want to run into these guys in the forest.
Bison Coloring Sheet
Click HERE for the Full Size Printable PDF of the Bison
Next we have a fabulous looking Bison! These guys are quite large. He's got 2 large horns on his head and some shaggy looking fur, including some under his chin that looks like a beard.
Porcupine Printable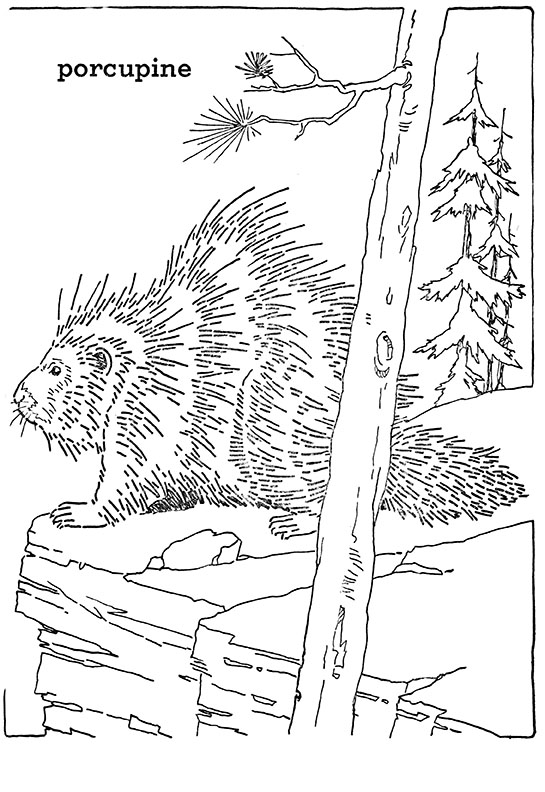 Next up we have a prickly looking Porcupine! He's standing on the ledge of cliff or large rock and surveying his surroundings. He's surrounded by some beautiful Pine trees!
Groundhog Coloring Page
Next we have two furry Groundhogs! I know it says Woodchucks on the printable, but apparently Woodchucks and Groundhogs are the same creatures. It looks like one has just come out of his hole and is having a look around. Perhaps he is checking for the first signs of Spring!
Beaver Printable
And here we have a cute Beaver! He looks to be packing a dam with this tiny paws and large flat tail. There is a lovely Pine forest in the scene behind him.
I hope you enjoy these Forest Animal coloring pages… they are a fun way for adults, and kids of all ages, to relax, unwind and be creative.
Other Coloring Pages
You might also like some of our Other Instant Download Coloring Pages :