5 Elephant Coloring Pages
In this post I'm offering some wonderful Vintage Elephant Coloring Pages! These are all fun Free Animal Coloring Sheets that were scanned from an old vintage coloring book in my collection, or that have been newly created with old coloring page parts. I'm offering these for non commercial use.
You can print out as many as you want to share with your Family, Sunday School Class, Classroom, Adult Day Care, Creative friends meet up and more. Teachers may be interested in sharing these Animal Coloring pages with their students. These Printable pages are fun for both kids or grown ups.
Realistic Elephant Coloring Pages
First up I'm sharing this wonderful Free Elephant Coloring Page Printable! This one came from a Vintage Coloring Book, probably Circa 1950's, but the book does not contain a copyright date in it. Shown above is a majestic looking Elephant with long Tusks. Isn't he fabulous?! You can just print him out and then grab your markers and pencils, so that you can color him in.
Here we have another realistic looking Elephants coloring sheet. This one shows a Mama with her sweet baby. If you look closely you can see that the Mother is holding the babies trunk! So cute.
Mandala Coloring Sheet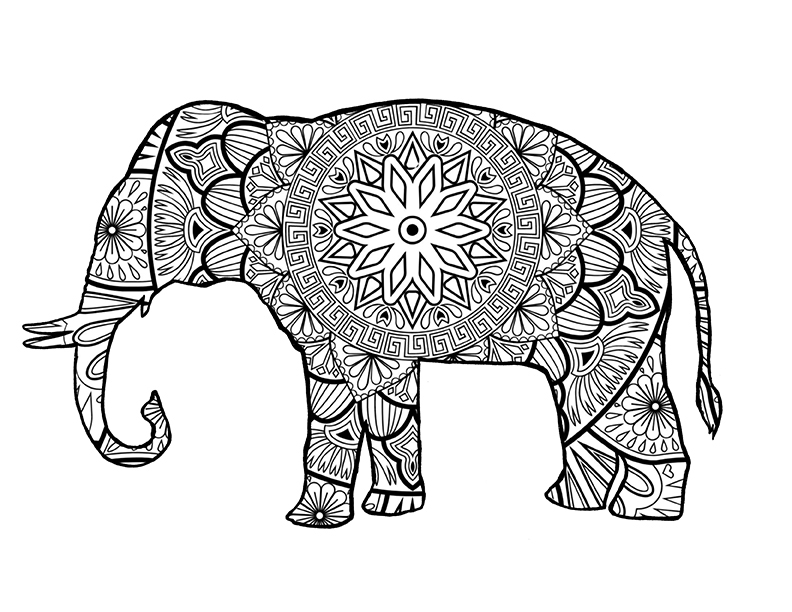 Click HERE for the Full Size Printable PDF of the Mandala Page
Next up with have this intricate Mandala version for those that want a little more of a challenge. Lots of stress relief to be had while coloring all of these small details in!
Cute Elephant Coloring Pages
Click HERE for the Cute Coloring Page Printable with Flowers
This one is great for kids. Pictured above is a darling little baby Elephant. He has picked a single flower and there are multiple other blooms in the picture as well. Such cuteness!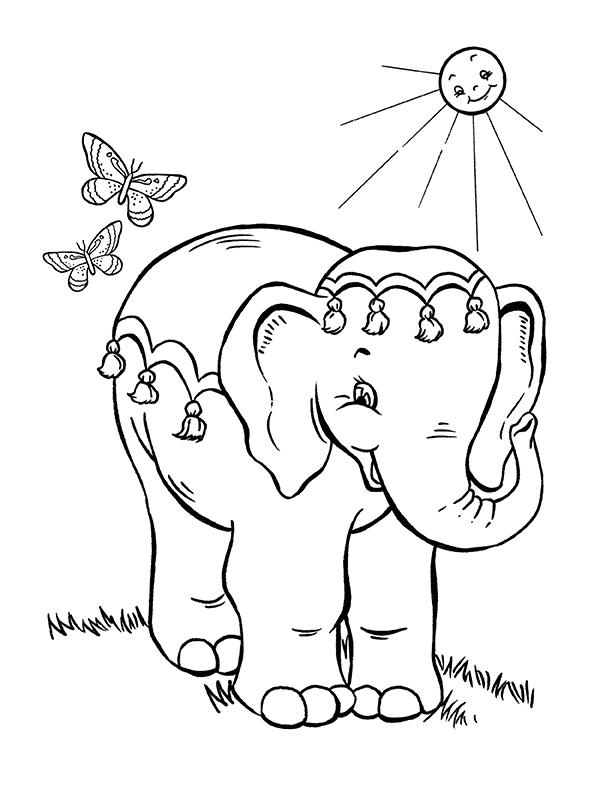 Click HERE for the Elephant with Butterflies Printable PDF
Lastly we have this guy with his fancy outfit. He's wearing a jacket of sorts, with a matching head scarf. Both pieces are adorned with large tassels. There are Butterflies flying around him and a happy smiling Sun up in the sky.
I hope you enjoy these Animal coloring pages… they are a fun way for adults, and kids of all ages, to relax, unwind and be creative.
Other Coloring Pages
You might also like some of our Other Instant Download Coloring Pages: