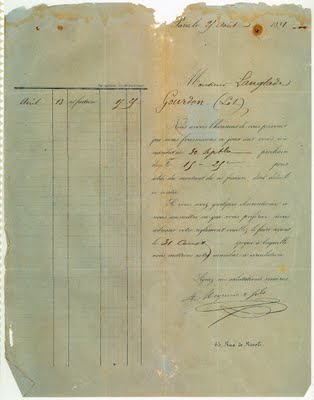 Recently I had the pleasure of meeting, via the magic of email, Cher Lashley. Cher is an amazing artist and graphic designer, she currently does all of the designing for Scrapbooking.com and has recently unveiled an exciting new project called Your Memory Book. Your Memory Book is a wonderful online easy peazy digital photobook that you can create in minutes. You can also make other assorted useful items, like calendars and mugs and such.
At any rate Cher is responsible for today's gorgeous antique graphic, this amazing piece of French Ephemera from 1881! Isn't the handwritting just so delicious!! This one made swoon when I saw it! Make sure you click on the image to bring up the largest size, I saved this one in quite a large format so that you can see all the beautiful details.
Cher has started a brand new blog at www.yourmemorybook.blogspot.com . She has some fabulous tutorials on her blog, that will help make digital scrapbooking and working with Photoshop a breeze. Be sure to stop by and check her out!!
XXXOOO