43 Pink Rose Images
Today we have an exquisite collection of Pink Rose Images! There is something so special about Pink Roses. Whether for love, remembrance, or other purpose, Roses are the perfect gift, aren't they? I hope you like the Romantic Flower Images we have gathered for you! Many are shabby and worn with great aged papers. A wide selection of Victorian Scrap Roses is included. I think the cards with the Biblical passages are so poignant and meaningful. Nice for your Garden themed Craft Projects or maybe a pretty Mother's Day Card!
Framed Pink Rose Images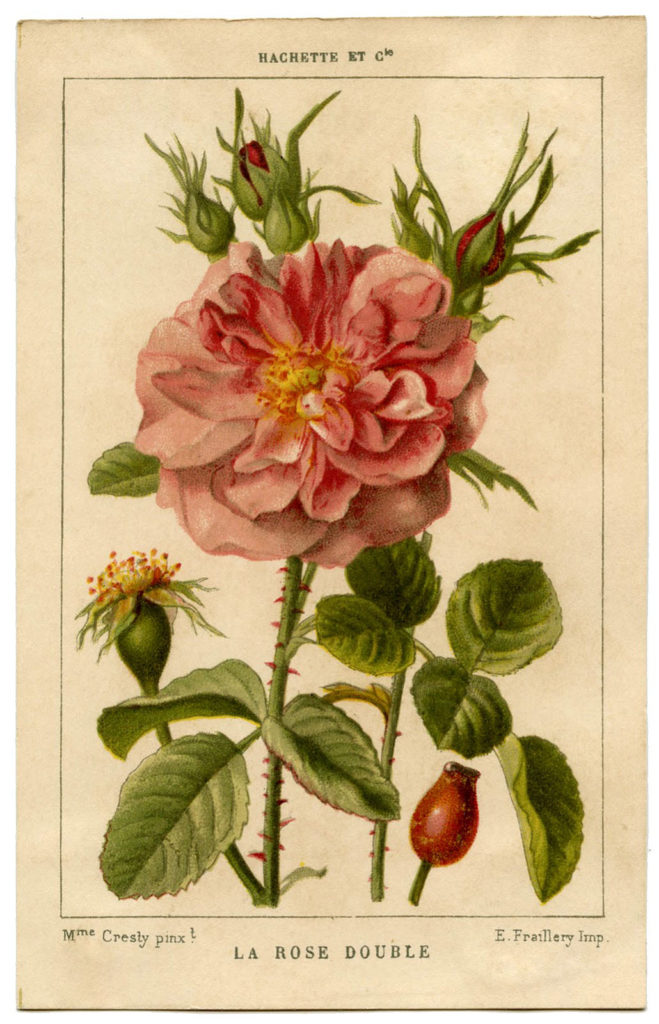 This is a Romantic looking French Card! The card shows a beautiful Old Fashioned Pink Cabbage Rose. Lovely! Great for your Shabby Style projects.
Above is a lovely Victorian card featuring a single perfect pink Rose!boveLove, love, love this one!! This is a gorgeous floral postcard with a stunning pink Rose and the name "Alma" printed over top of it! I absolutely adore the faded blue and white background, the torn corners, and the crumpled texture. A well loved card that's still hanging in there!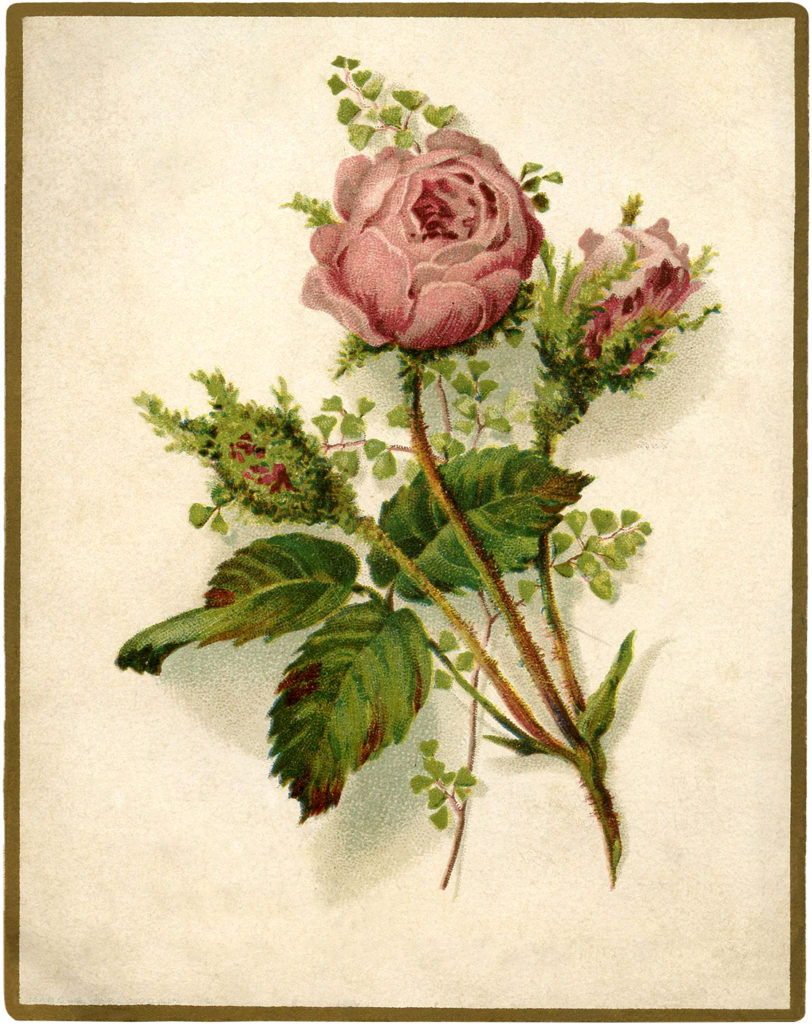 Here we have a pretty Vintage Moss Rose Image! Featured is a lovely little Victorian Card with a pale Pink Moss Rose and two Moss Rose Buds on it. The card has a creamy paper background and a metallic gold border.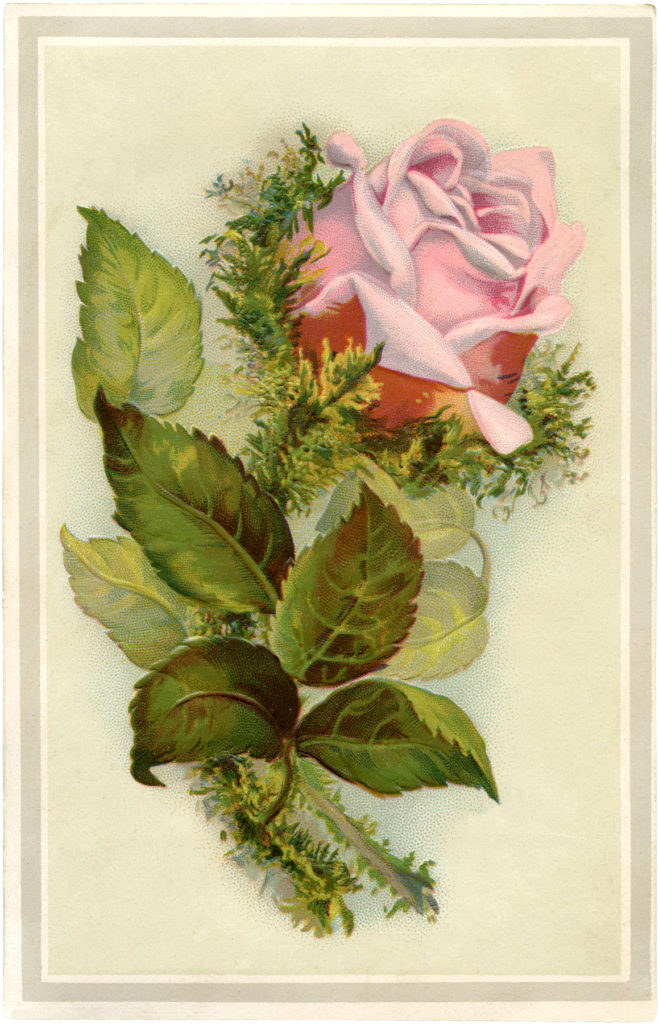 This is a Gorgeous Vintage Pink Moss Rose Image! Shown here is a pretty Pink Moss Rose with lovely soft green leaves. I think this is an extra pretty Flower Picture!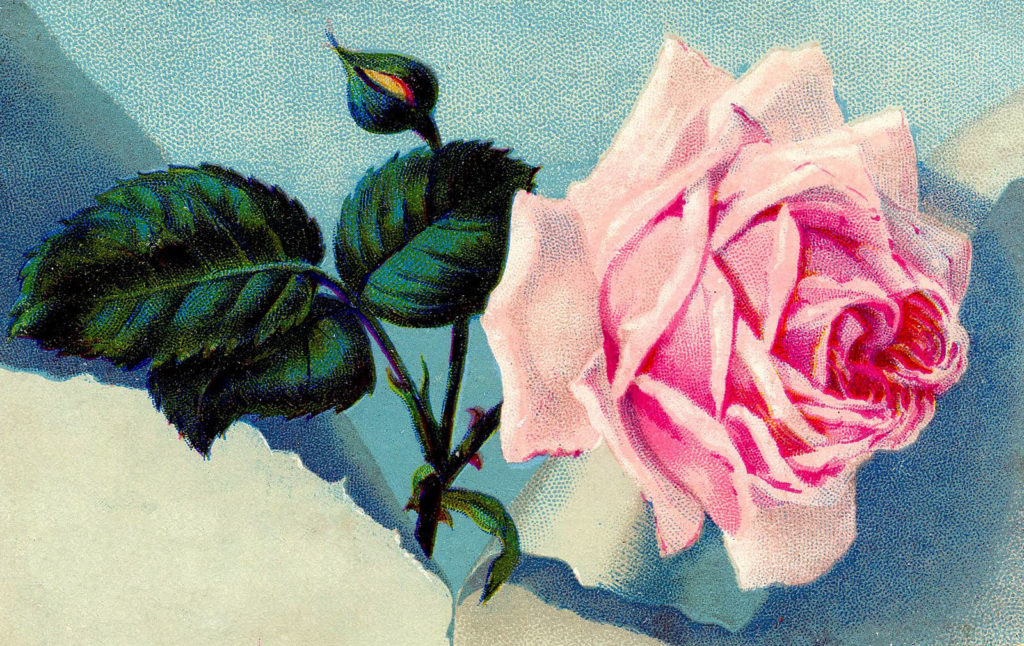 Featured above a stunning antique advertising card featuring a really lovely Pink Cabbage Rose! I like the blue background with the pink; such a pretty combination.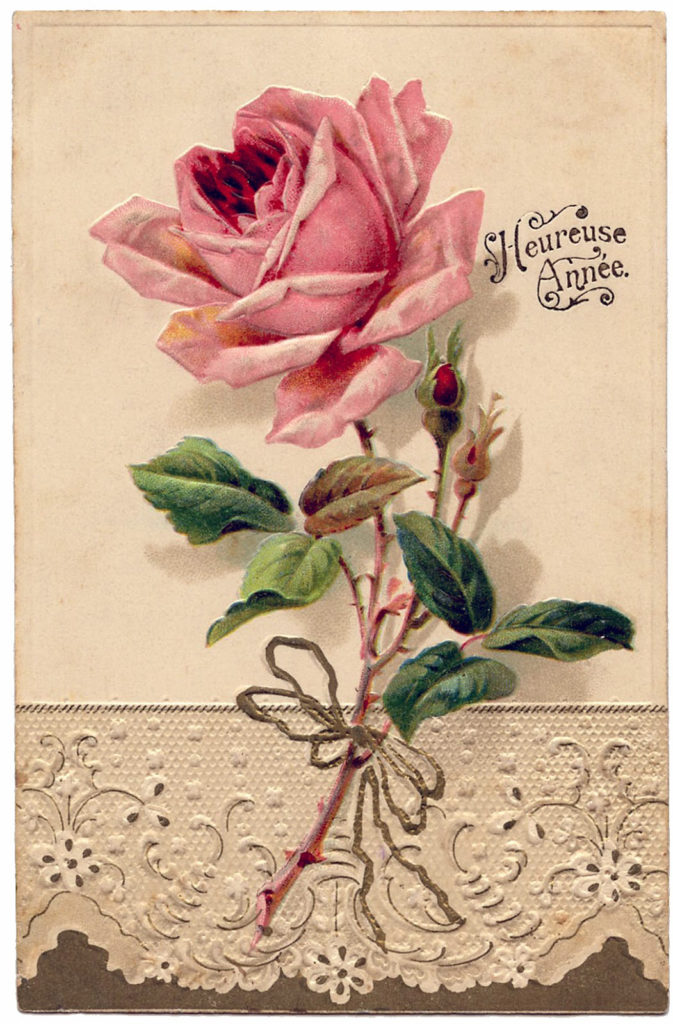 This is such a yummy looking French Card!! The card shows an Image of a perfect Pink Rose. However, my favorite part is the bit of Lace along the bottom edge. It's so dreamy!!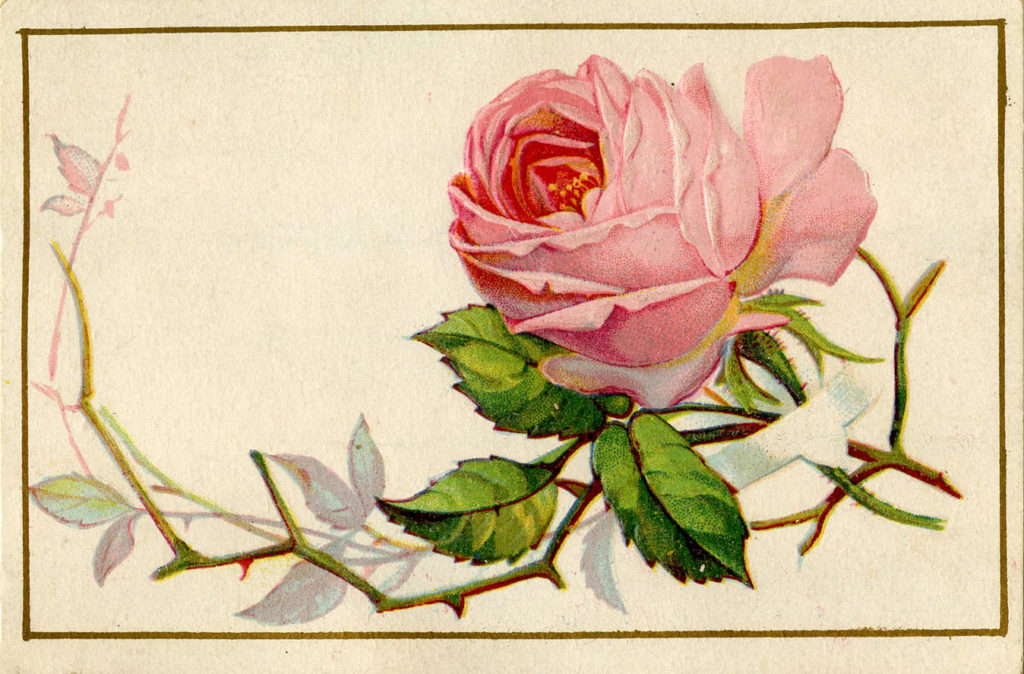 Here's a very pretty Vintage image! This lovely card shows a beautiful Old Pink Cabbage Rose. The Rose has some trailing stems coming off of it with thorns and all. This one comes from France.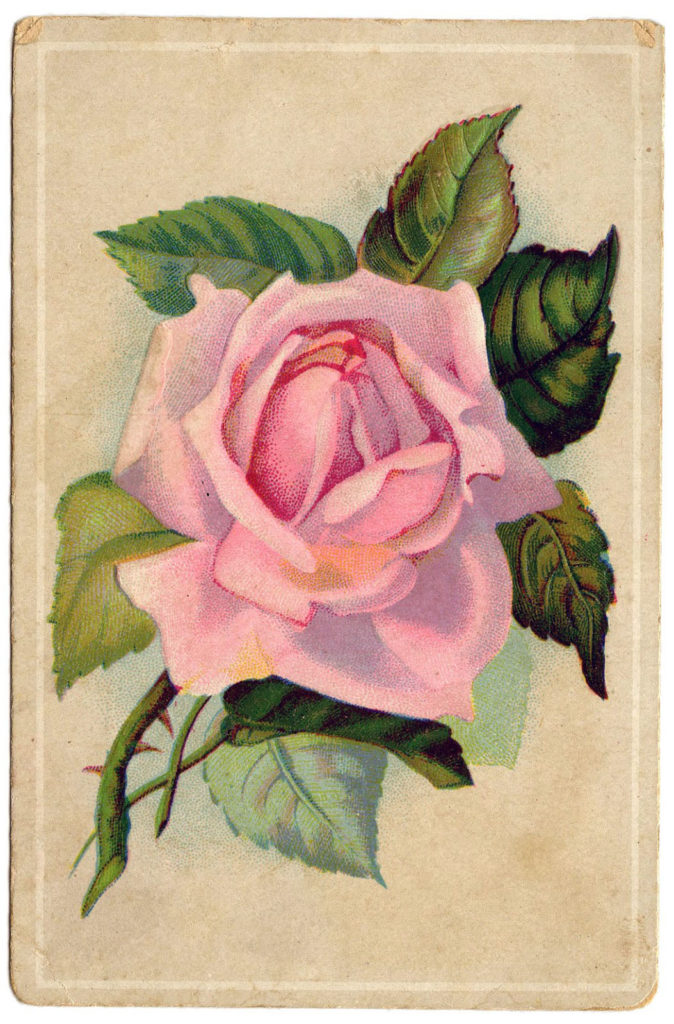 Above is an especially lovely Victorian Card! The Graphic above shows a Soft Pink Rose with Green Leaves.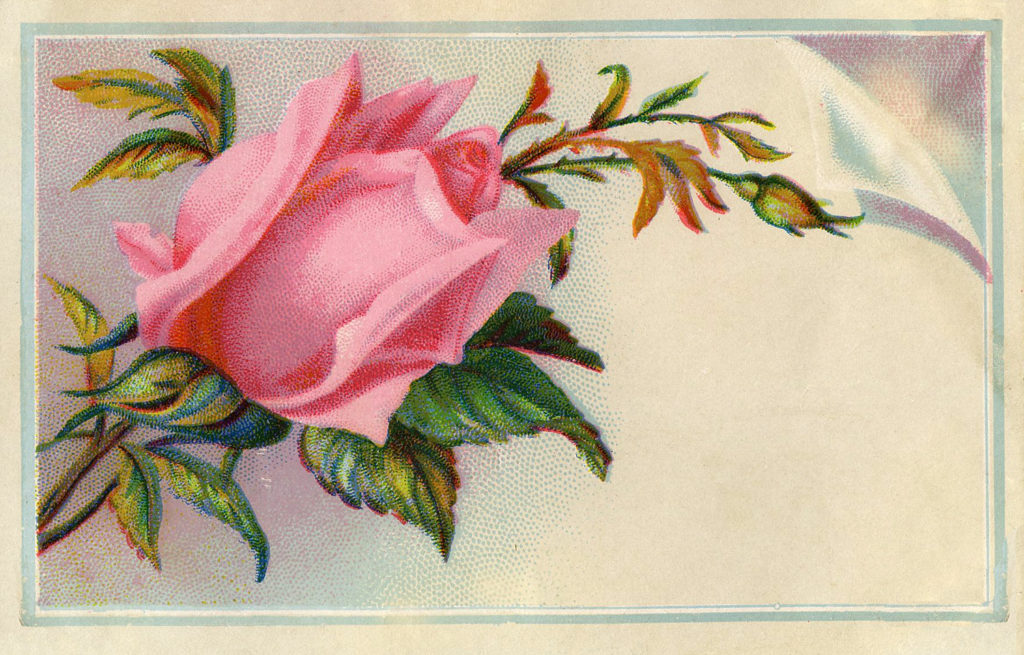 This is a pretty Victorian Graphic. It's an old Calling Card with a big Pink Rosebud on it! This one has quite a lot of damage on it in real life, but I thought it was worth cleaning up because the flower is especially pretty.
These Vintage Images are scanned from an old French Postcard! Featured here is a beautiful Pink Rose! I think this is a particularly pretty Rose with it's light and dark pink combination petals! The original version has a French Stamp on it and some romantic looking Handwriting as well. A second version has been created with just the Rose by itself, to give you some options to choose from. These are so lovely.
Moonlight and Roses Pictures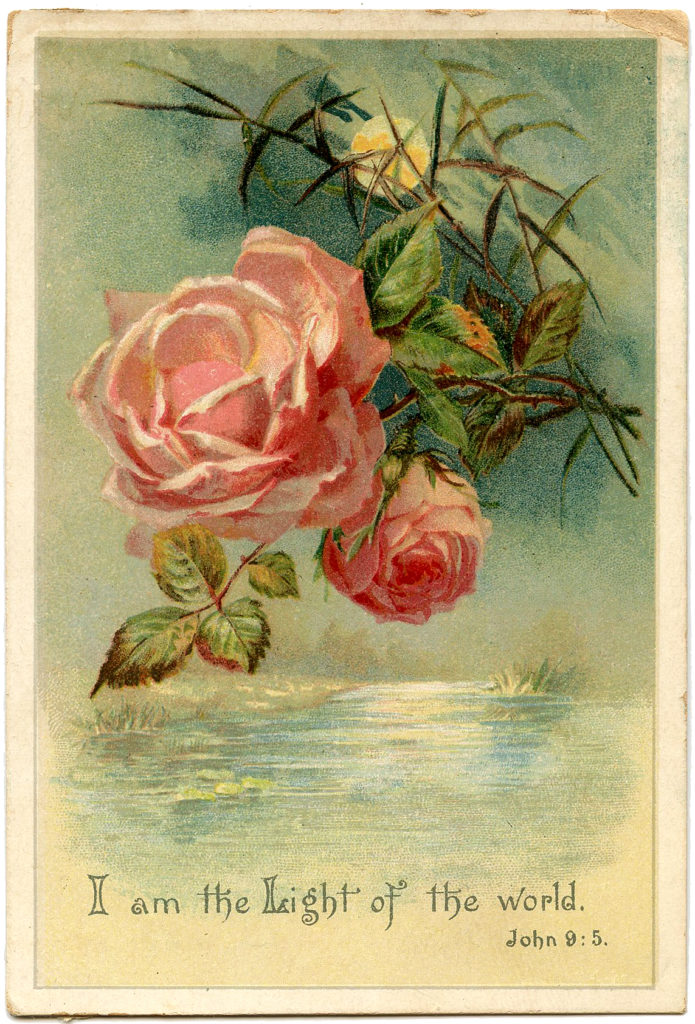 Moonlight and Roses- what more could a girl ask for?!! I just love those gorgeous blues mixed with the pinks! Such a tranquil and serene setting here.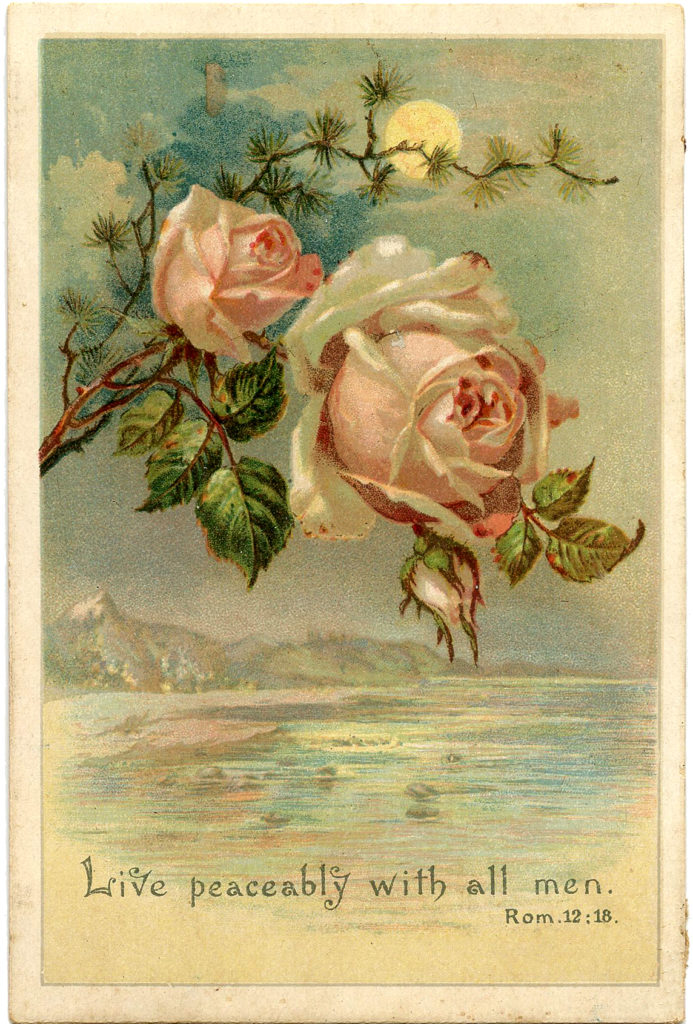 Another beautiful Moonlight and Roses card. I hope you don't mind the little torn area at the bottom. I could have removed it, but I liked how Shabby it looked.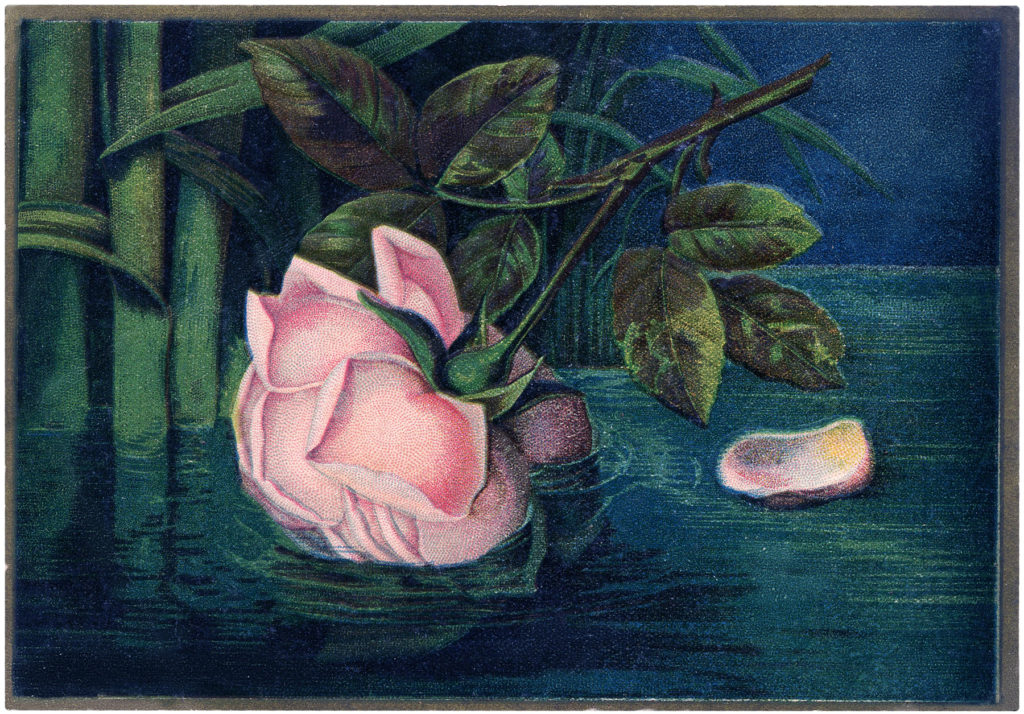 Pictured above is a pretty Vintage Shabby Pink Rose Image! Shown here is a lovely Water scene with a beautiful Droopy Pink Rose! This one has such a soft romantic feel to it!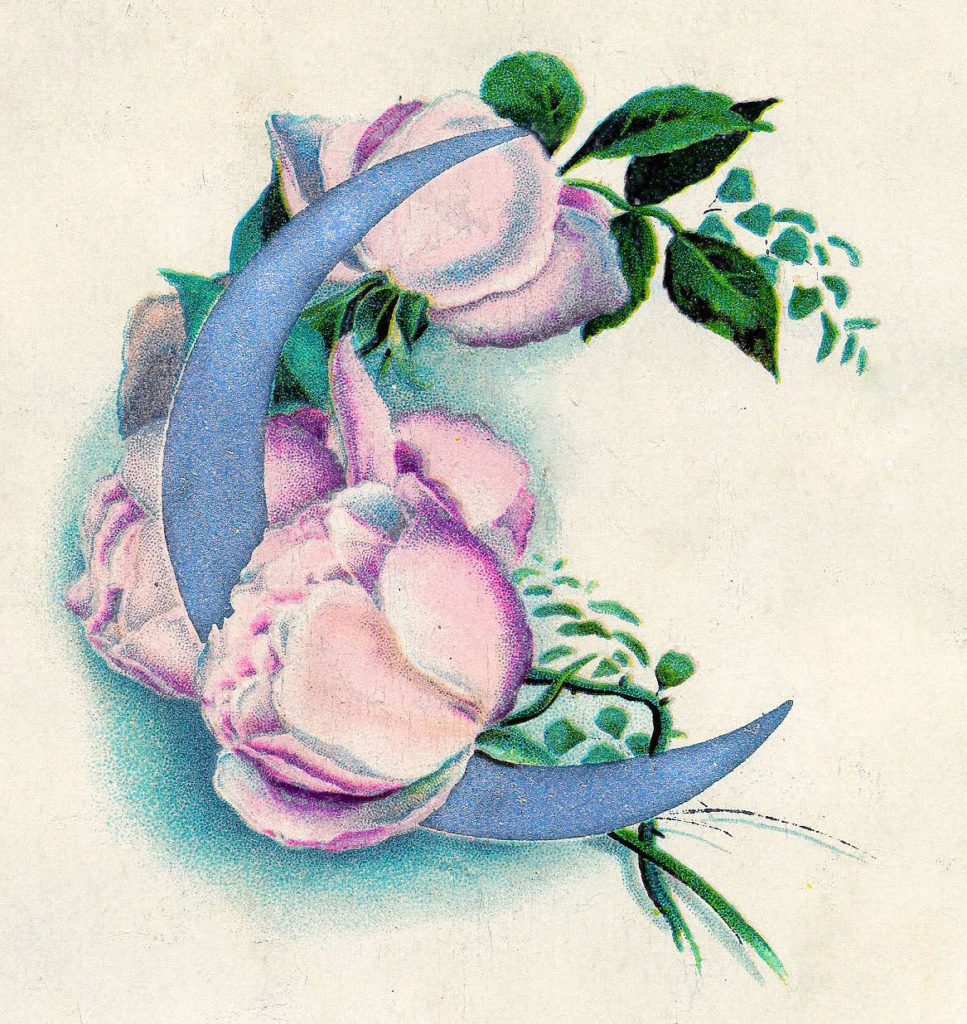 Such a pretty little card displaying pretty pink roses with a silver crescent Moon. I think it would be fun to add some silver glitter to the Moon.
Roses with Birds Drawings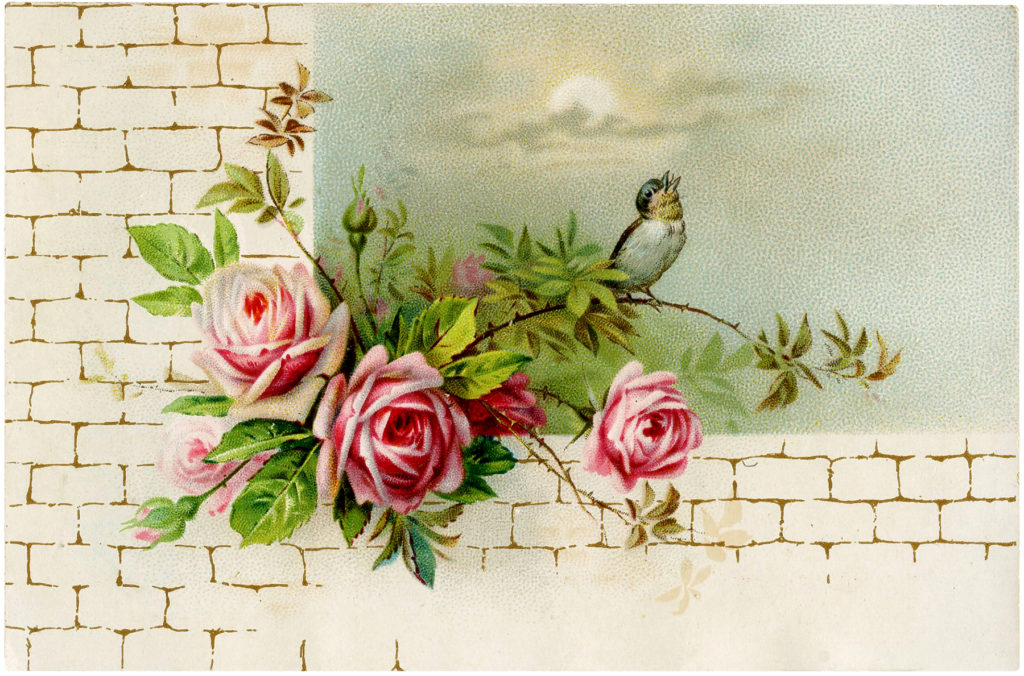 This is a lovely Vintage Roses on Wall Image! Shown here is a pretty card showing some Pink Roses on a Painted White Brick Wall. There's also a sweet little Bird in the scene! Such a great Shabby look!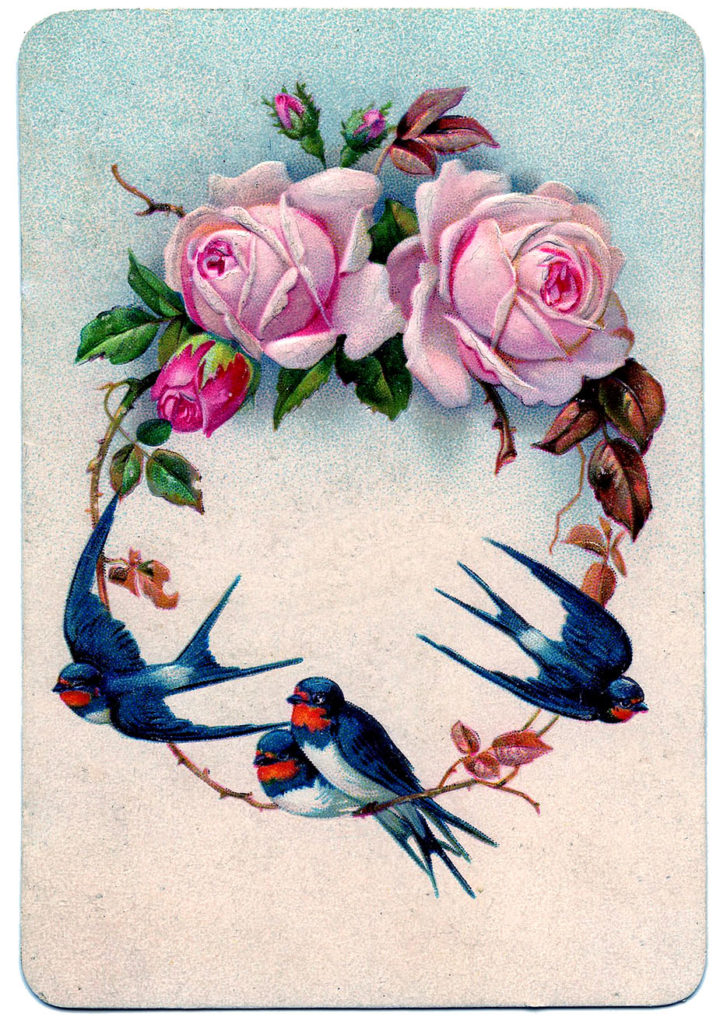 Isn't this the prettiest vintage card?!! This lovely piece shows four Swallows and some beautiful Pink Roses, forming a Wreath shape!!
Pink Rose Victorian Scrap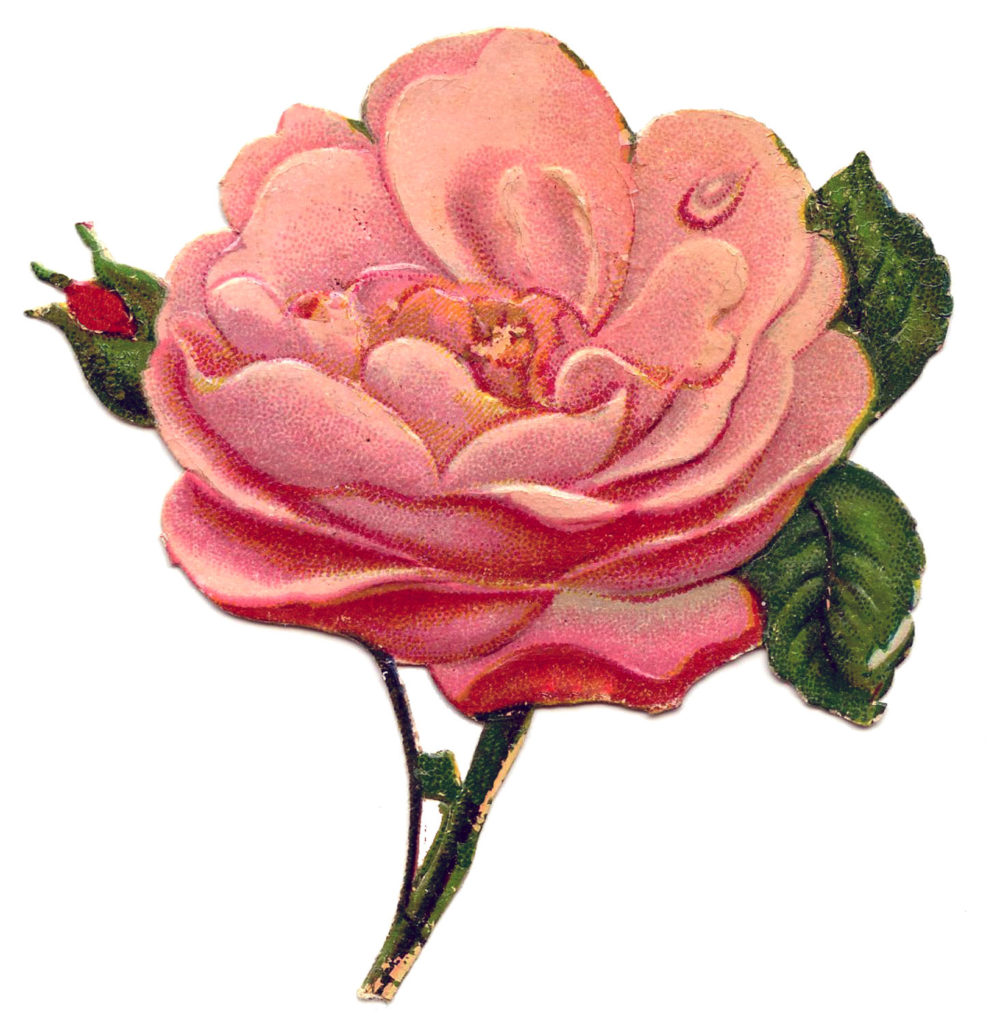 Above is a classic Victorian Scrap Image! The Pink Rose is just gorgeous. I like the little dew drop on it!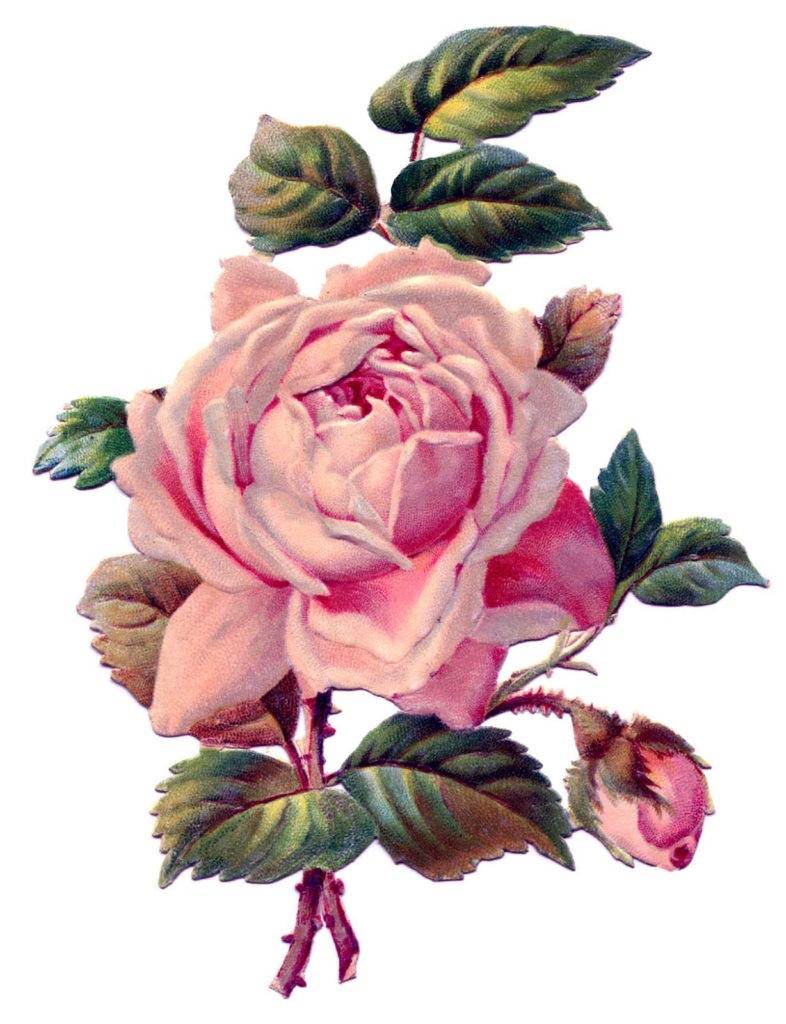 This is a classic Victorian Scrap of a perfect Pink Rose and a beautiful bud!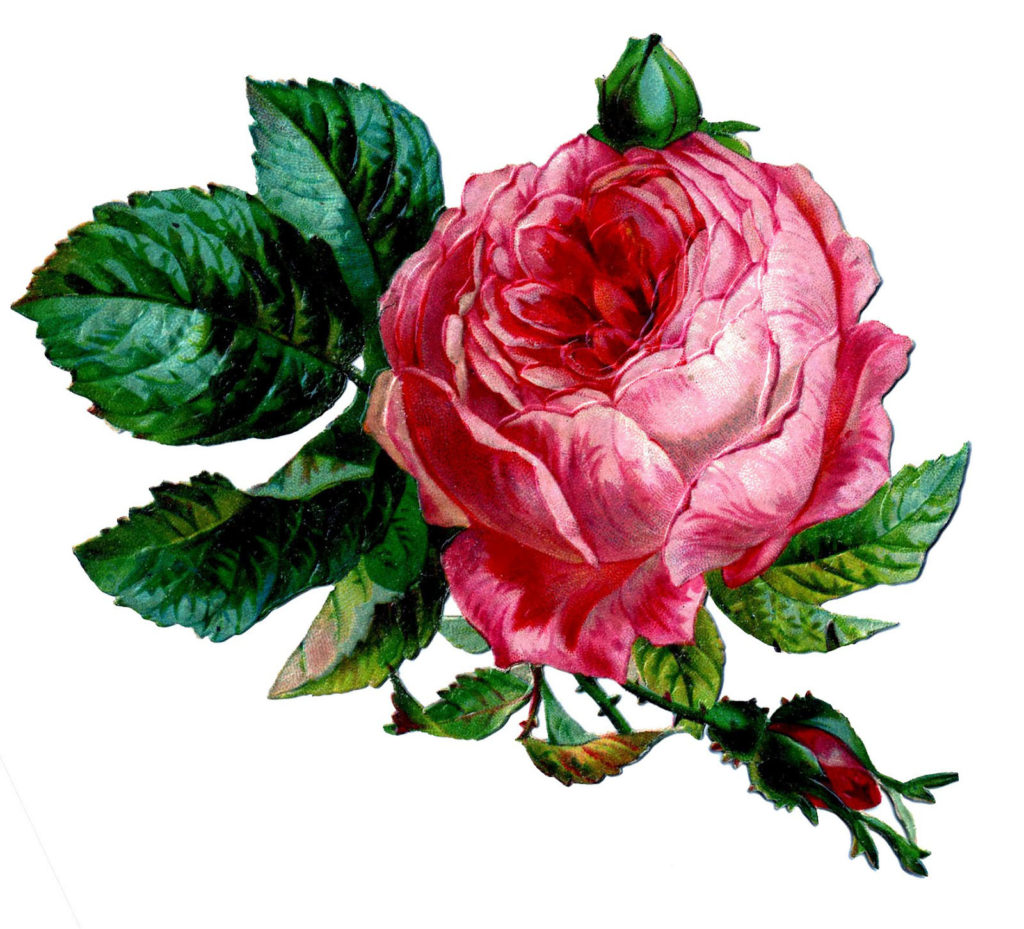 Here is a Vintage Rose Graphic! This is an amazing Pink Cabbage Rose and Rosebud! It is exceptionally pretty I think!!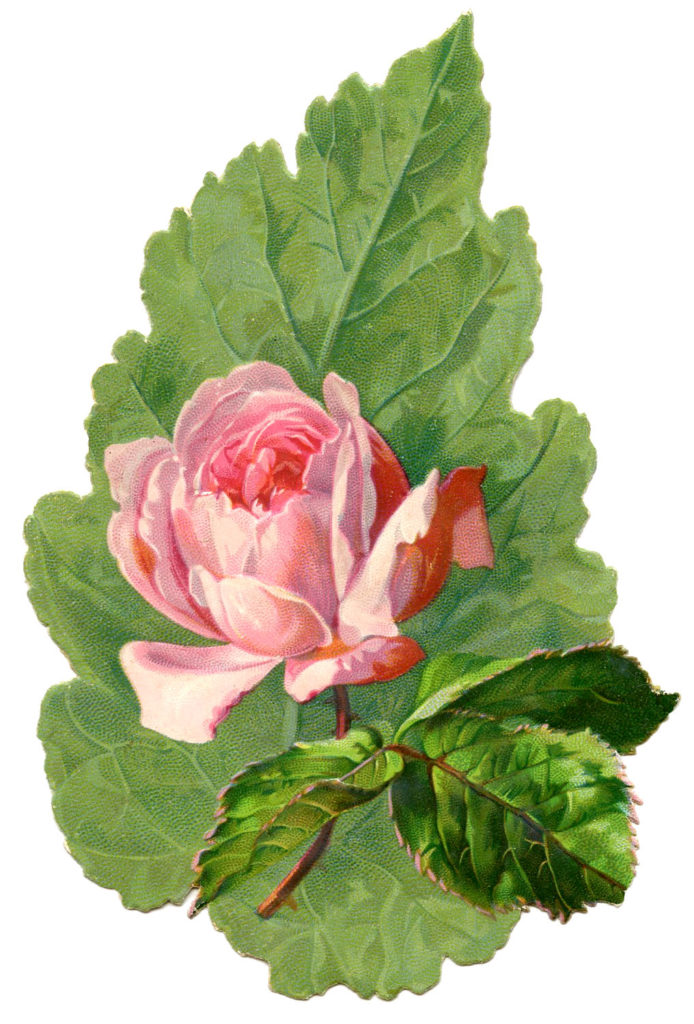 Above is a gorgeous Pink Rose collaged onto a big Mint Green Leaf. I'm not really sure why it's shown this way, but I think it's extra pretty! A very nice Scrap Piece.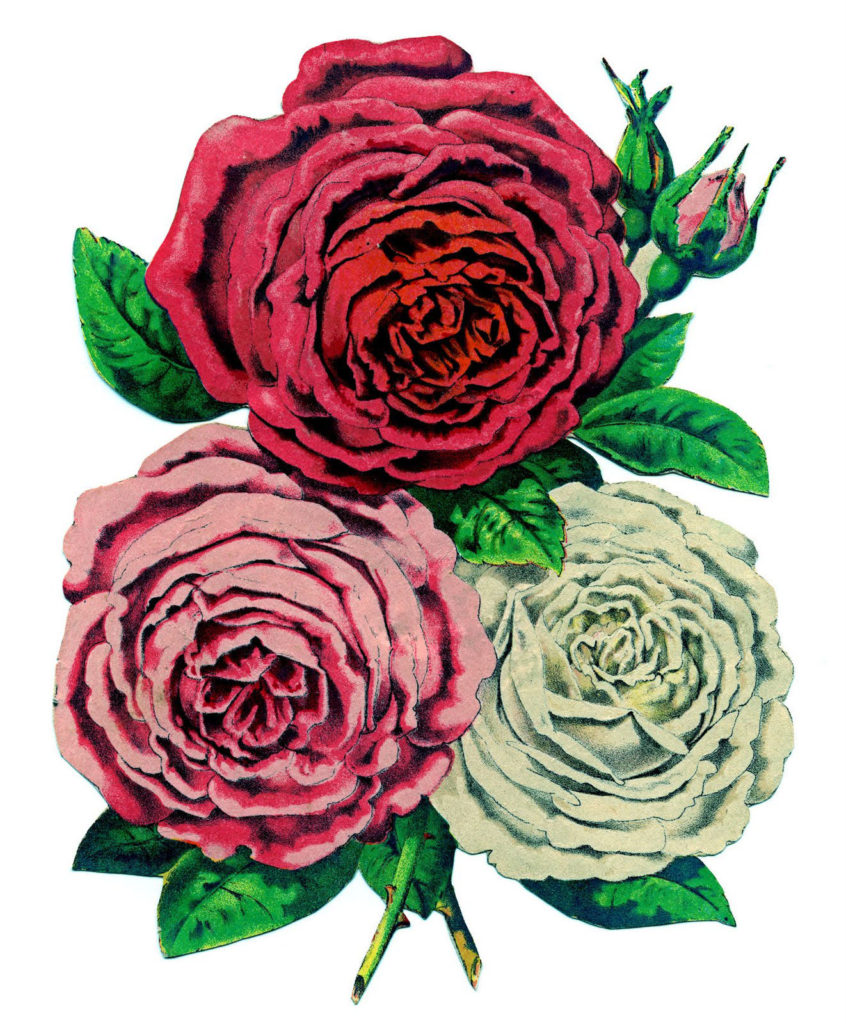 Aren't they lovely?!! These were cut out by someone a long time ago, from an antique seed/ nursery catalog. Such beautiful Old Roses!!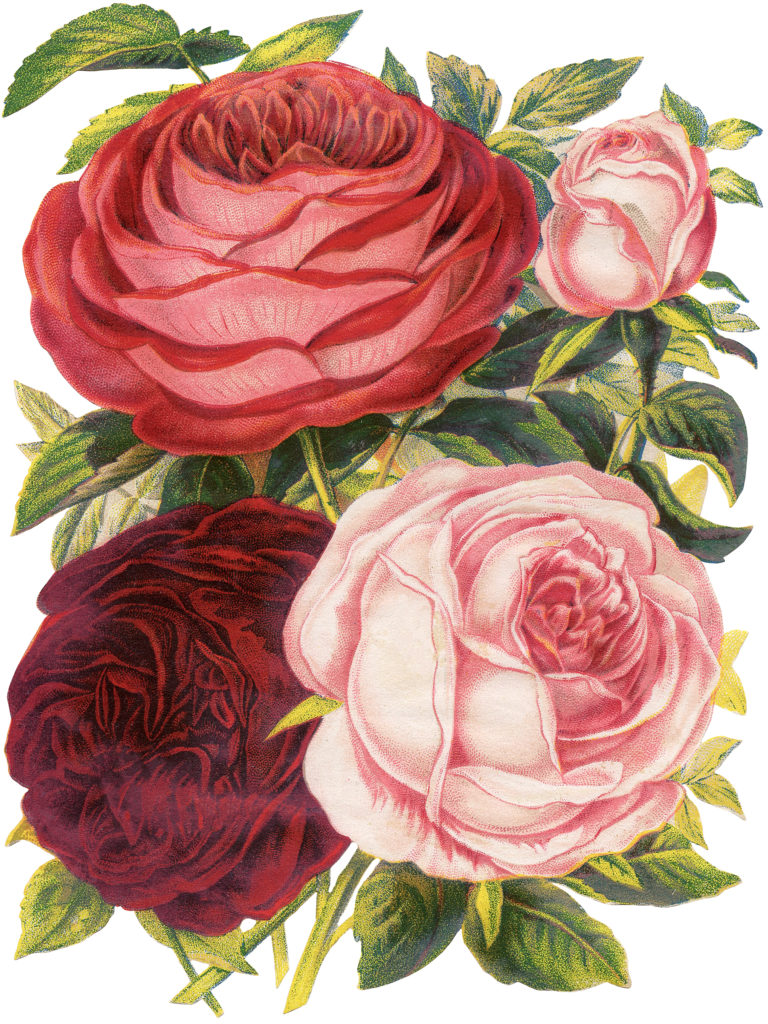 Featured here is a Gorgeous Victorian Large Roses Botanical Image! Three large roses in shades of pinks, burgundy, and coral are the focus of this botanical print. There is also one perfect pink rose bud among beautiful green leaves.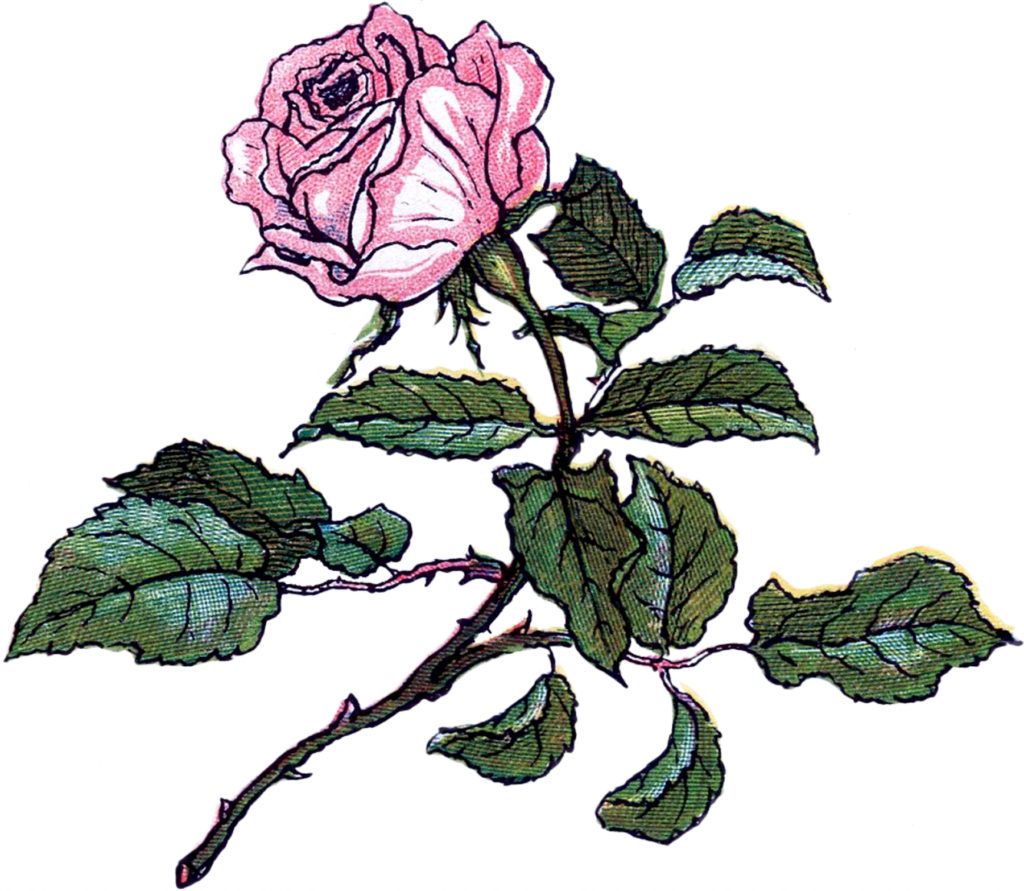 This is a super pretty Vintage Rose Illustration! Shown here is a lovely drawing of a Pink Rose with Green Leaves. This illustration was done by one of my favorite Artists, Kate Greenaway.
Rose Label Graphics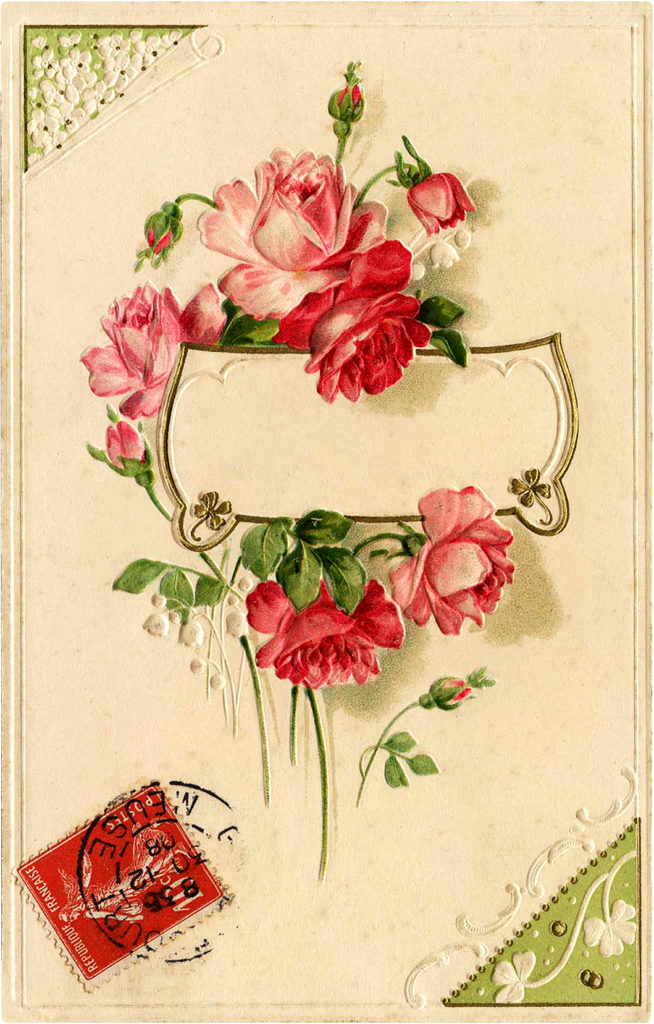 Such a Delightful Vintage Stamped French Pink Rose Postcard seen here! This lovely, embossed cream card has a central image of light and dark pink roses circling an open label area where you could place text. There are two four-leaf clovers on the thin gold label frame. A bright red canceled French postage stamp is in the bottom corner. Little triangles in the two corners have floral motifs.
This is a lovely little piece that includes a big Pink Rose on an ornate French Frame!
Flower Bouquet Pictures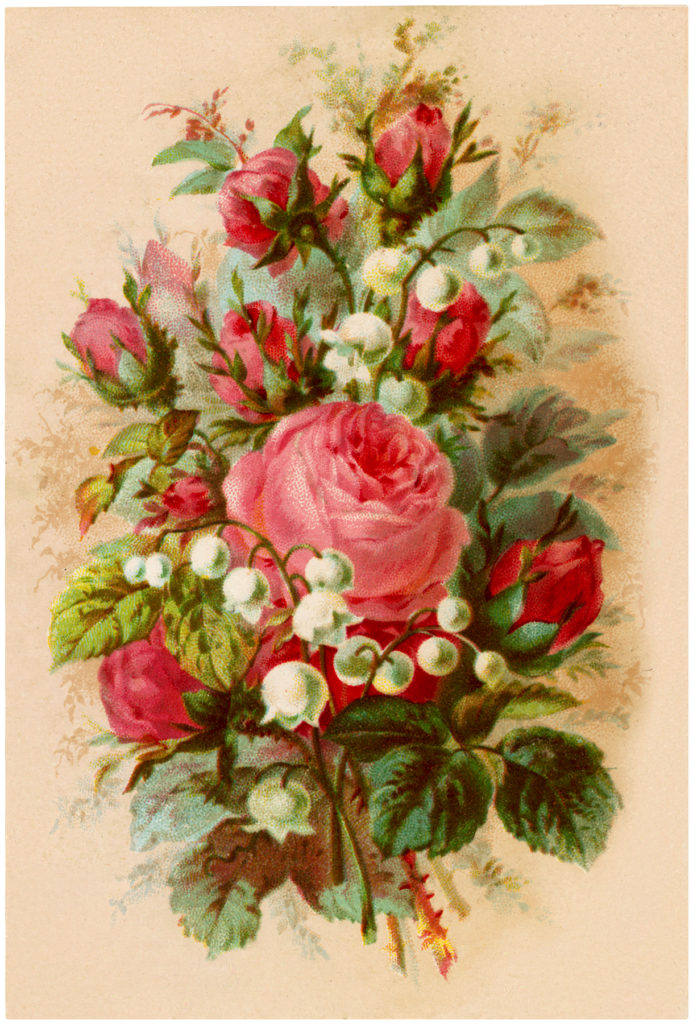 Isn't this one just so pretty! This is a Free Vintage Roses and Lily of the Valley Bouquet Image! Shown above is a lovely Bouquet of Pink Roses and White Lily of the Valley. Such soft and lovely Flowers!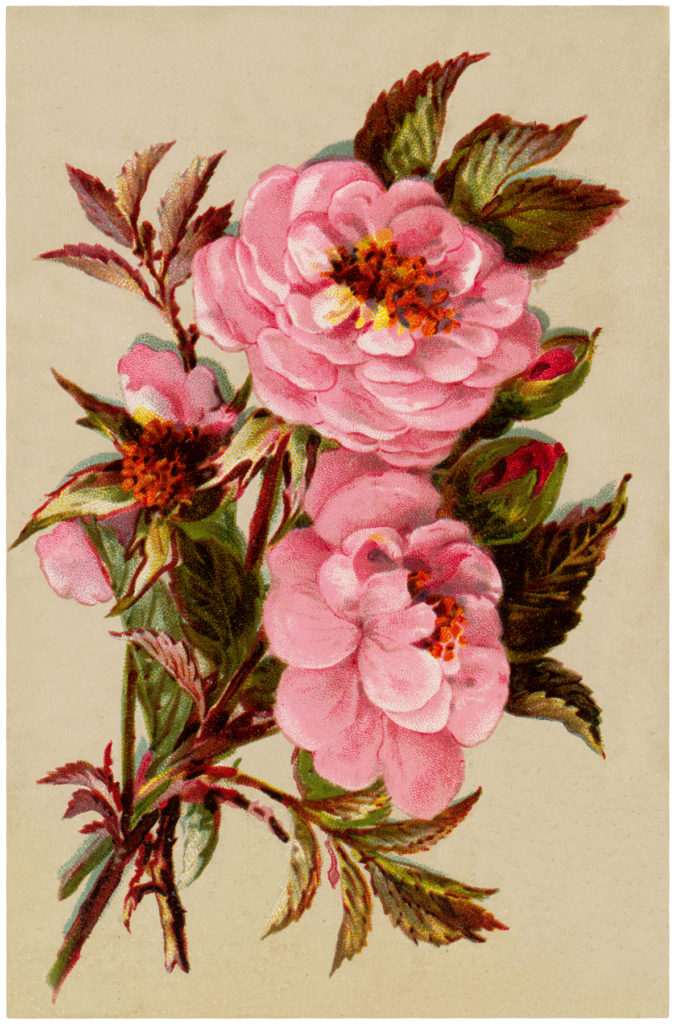 This is a nice Vintage Pink Roses Image! Shown above is a lovely Bouquet of soft Pink Romantic Roses. So pretty!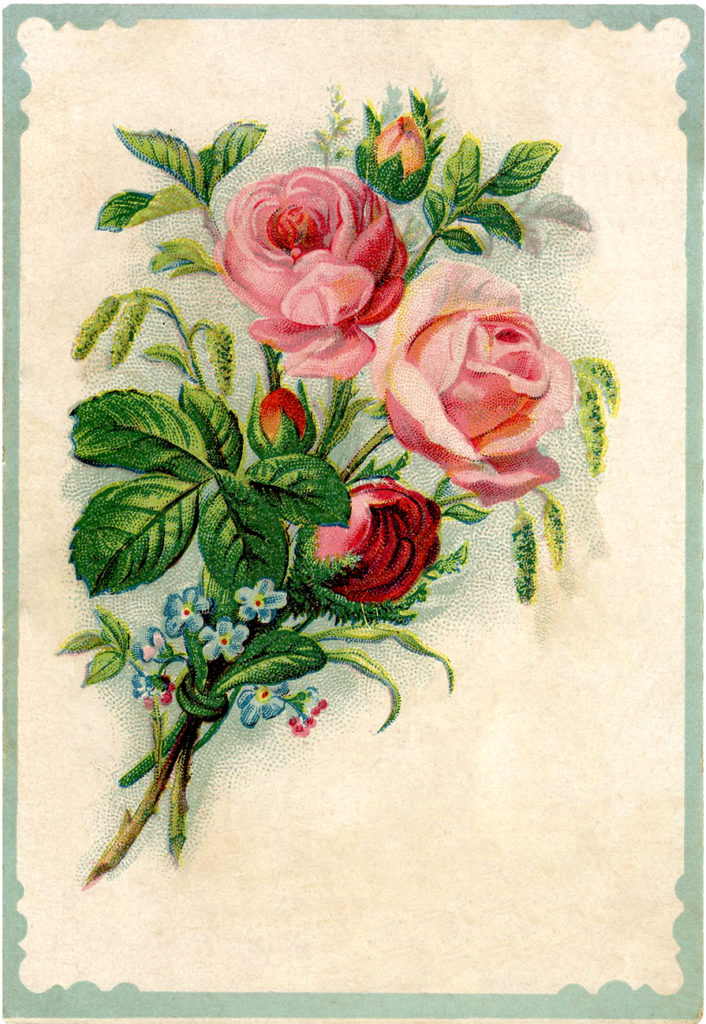 Seen above is a Pretty Flower Bouquet Picture! Featured here is a lovely Bouquet of Pink and Yellow Roses as well as a few Forget Me Knots. One of my favorite parts of this little Vintage Card though is the lovely soft blue Scalloped Frame around the Flowers. Such a charmer!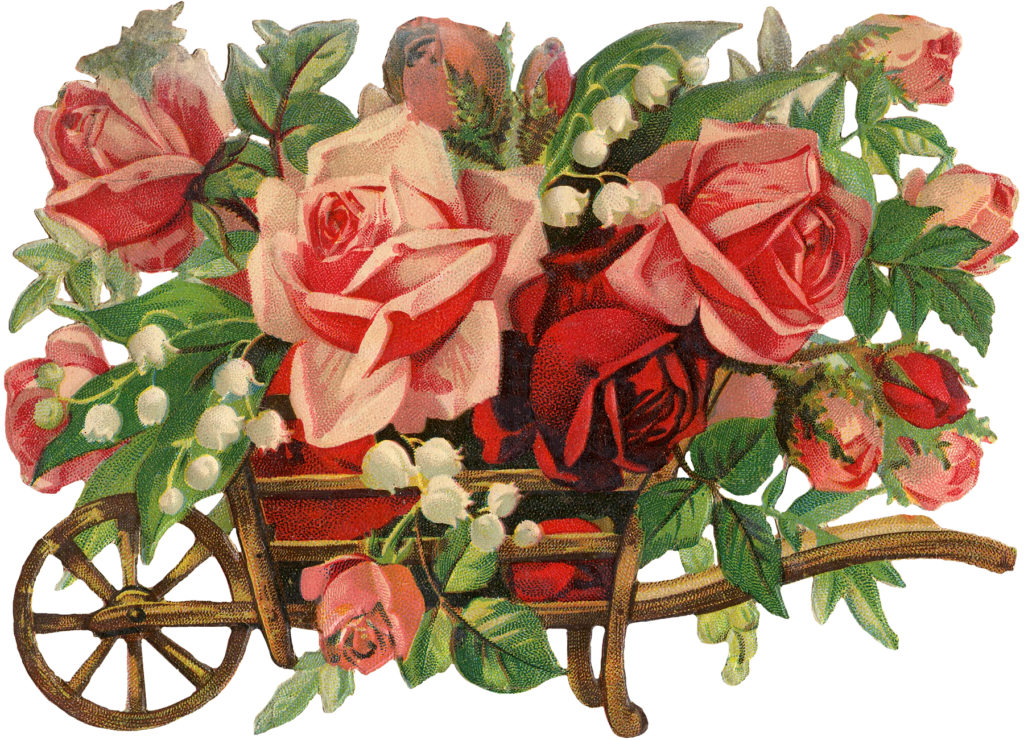 Featured above is a Vintage Peach Roses in Wooden Wheelbarrow Image! This is a delightful image of a wooden wheelbarrow brimming over with beautiful peach and red roses with springs of Lily of the Valley and greenery.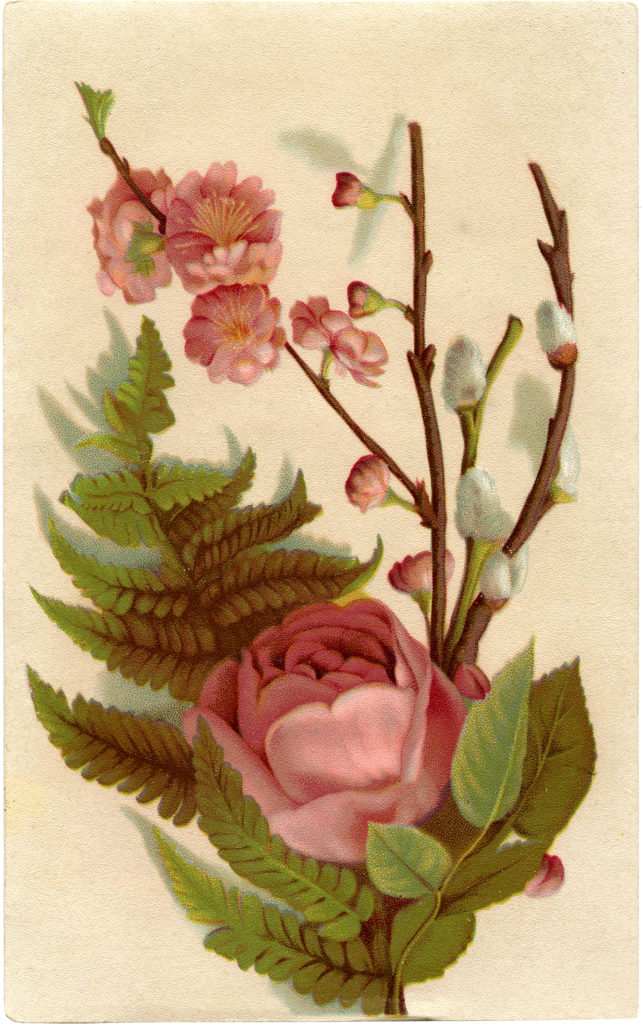 This is a Beautiful Romantic Pink Roses Picture!! Featured here is a lovely card with Pink Roses and fluffy white Pussy Willows on a creamy ivory background! I love the soft muted tones on this one!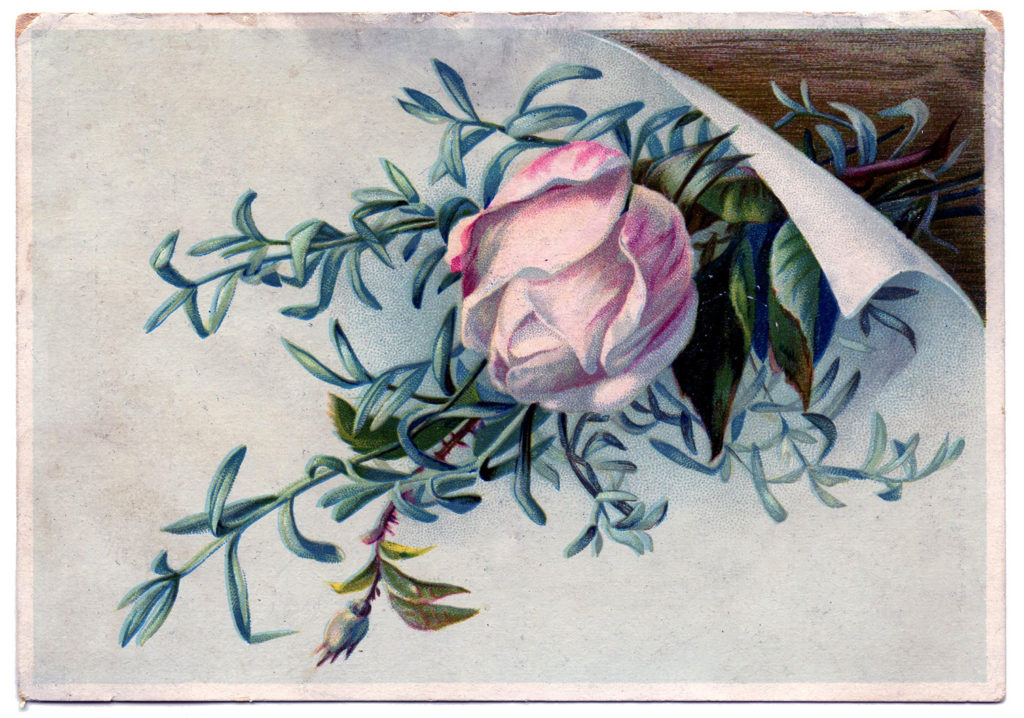 This old advertising card is so pretty! I love the Pink Rosebud and thought it was interesting the way the corner of the paper is shown turned down to show a bit of wood behind it. Lovely!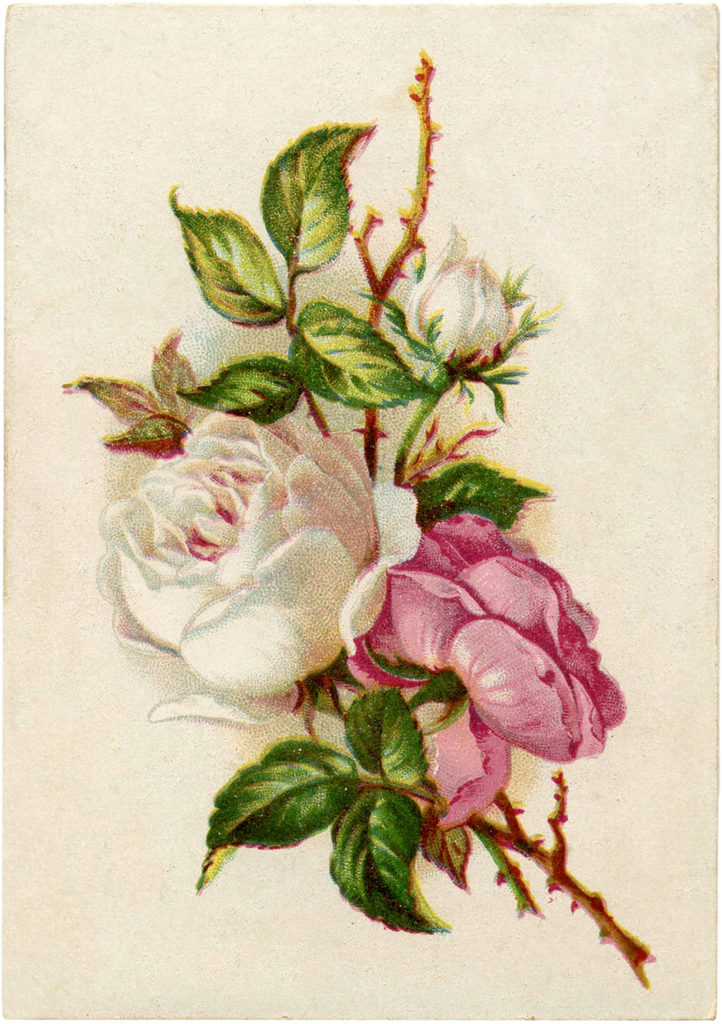 This is a Lovely Roses Digital Freebie Image!! Featured here is a gorgeous card with two Cabbage Roses, in light and dark Pink, and a Rosebud. The background is done in a soft ivory tone. Such a beautiful card! I hope you like this one as much as I do!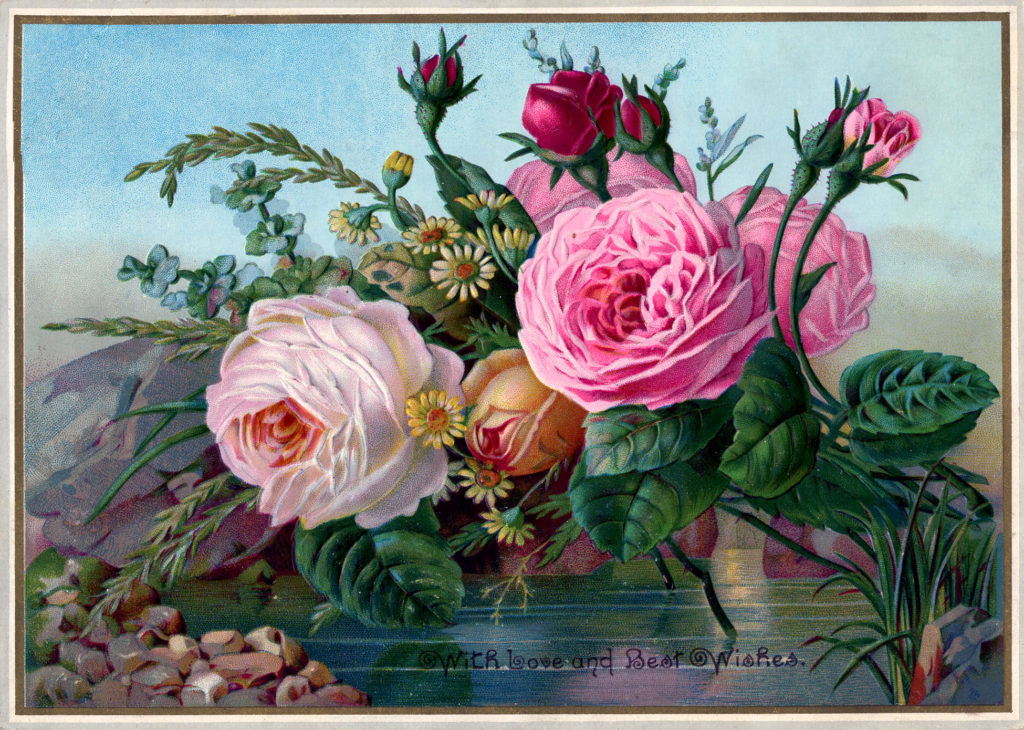 This Public Domain Vintage image shows some Stunning Flowers!! Isn't this one fabulous?!! Shown above are some gorgeous Cabbage Roses in pale pink, bright pink and soft apricot, set in front of a lovely blue sky. The colors are truly amazing on this one! I'm not sure of the exact date on this one, but I'm pretty sure that it's at least 100 years old. This was used as an Advertising Trade Card back in the day.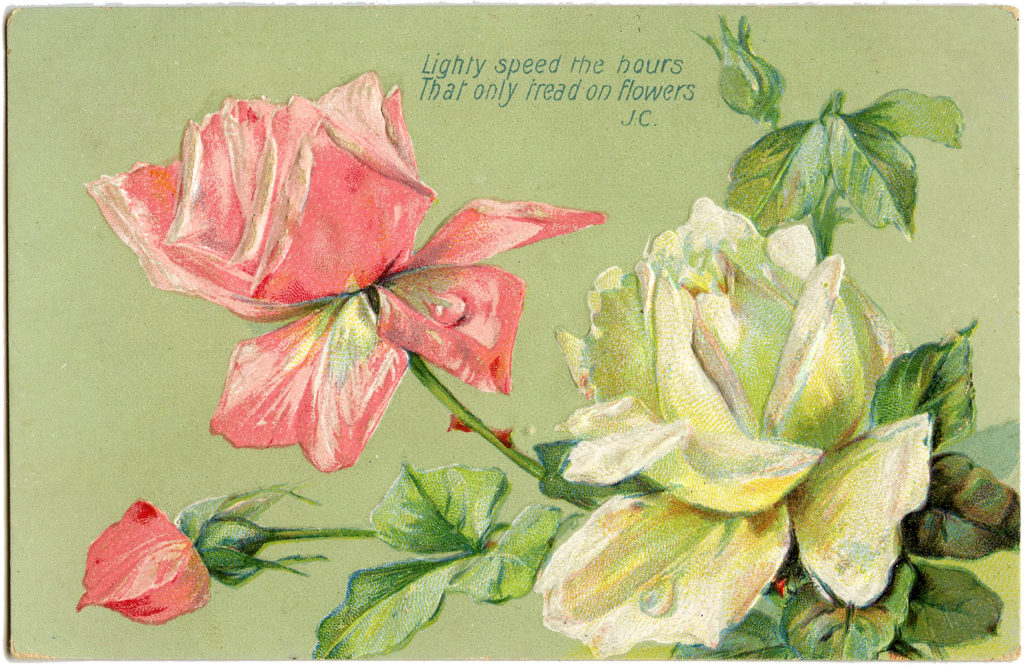 Here's a pretty vintage postcard! This one features gorgeous pink and white Roses on a lovely sage green background. So shabby and chic!
Roses in Vase Images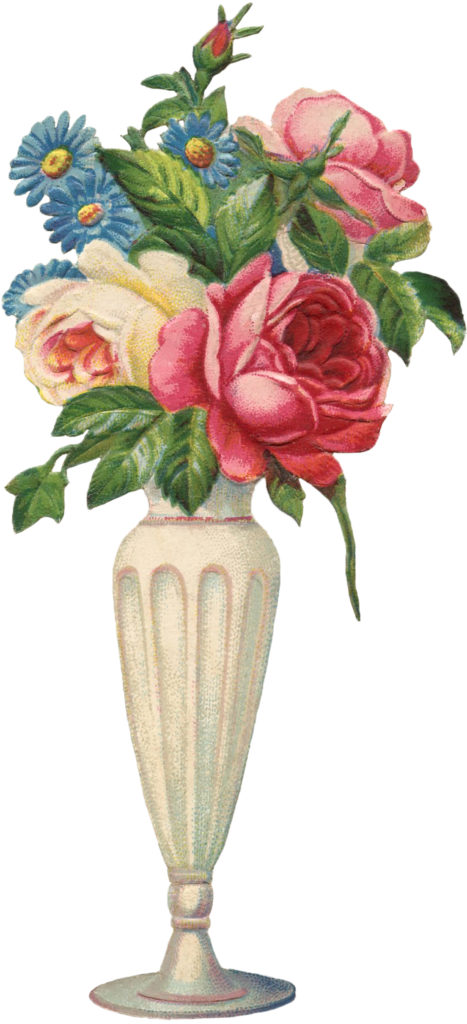 Here we have a lovely Vintage Flowers in Vase Image! This one is an Antique Victorian Scrap piece that has been cleaned up to make it more useable. I think the Vase is quite pretty with it's fluted base. The sweet flowers inside of it include Pink and White Roses and some Blue Asters.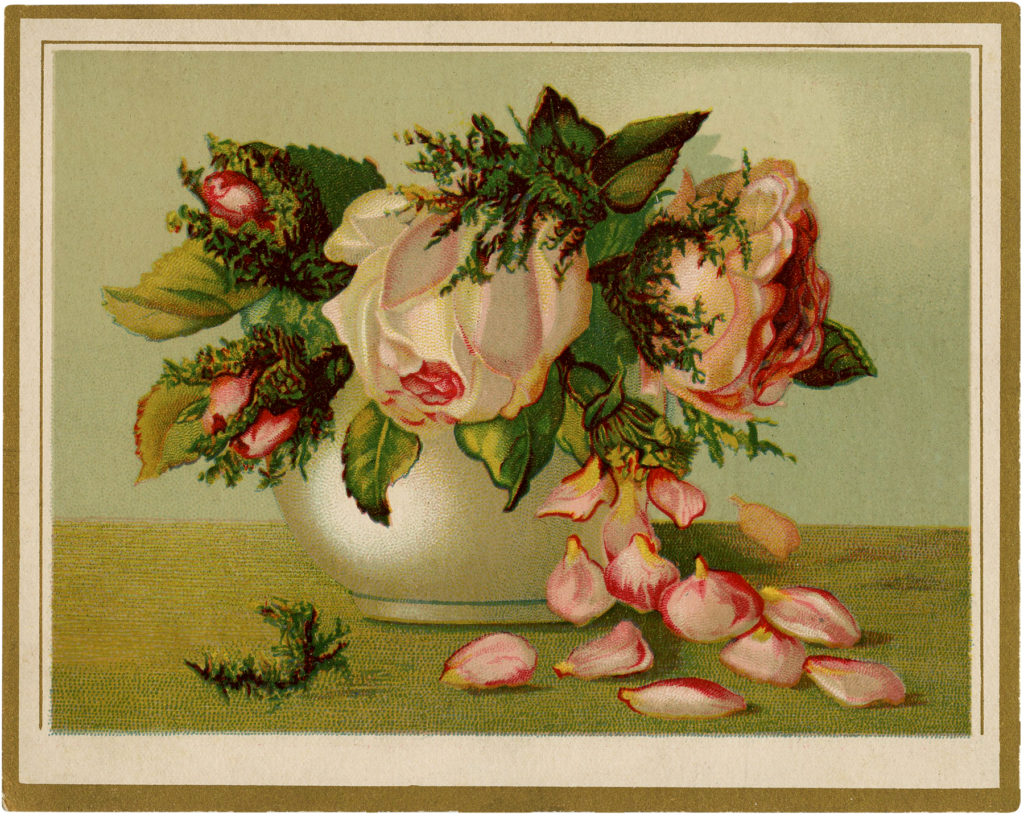 This is a Soft Vintage Drooping Roses Image! Shown here is a pretty bouquet of soft Pink Cabbage Roses, with one of the Roses is losing its petals. This one has such a soft romantic feel to it!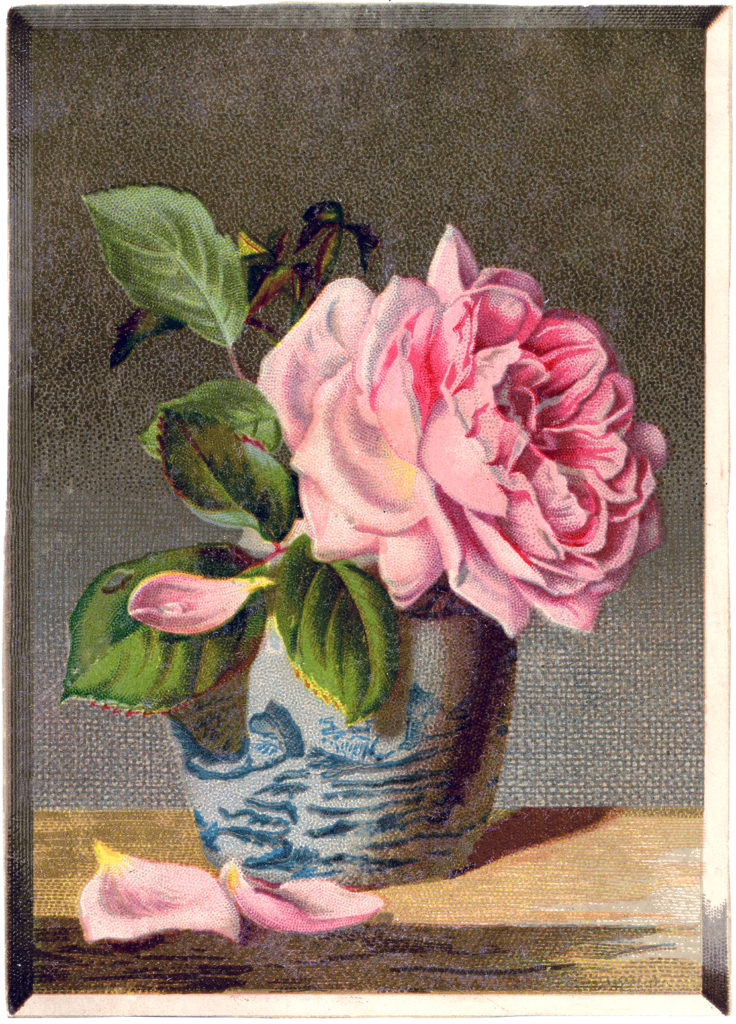 Above is a Gorgeous Rose Still Life Image! This is such a beautiful Graphic! Shown above is a perfect Pink Cabbage Rose stored in a pretty blue and white pottery Vase. There are a few drooping pink Petals gently falling off of the Rose onto the rustic wooden table below.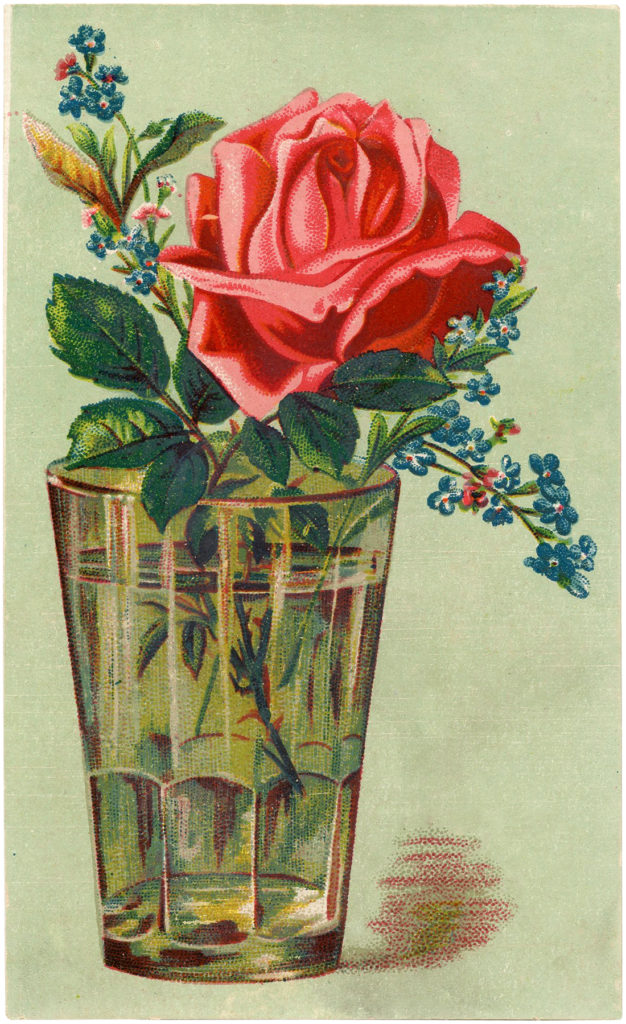 This is a lovely Digital Download Rose in Glass Image! Shown here is a pretty Pink Rose with Blue Forget Me Knots inside of a Drinking Glass that's being used as a Vase. The Glass is so realistic looking!
Here is such a lovely card showing a gorgeous Vase with Flowers in it. They look like a mix of Peonies and Roses to me. I love the bright blue sky background on this one too!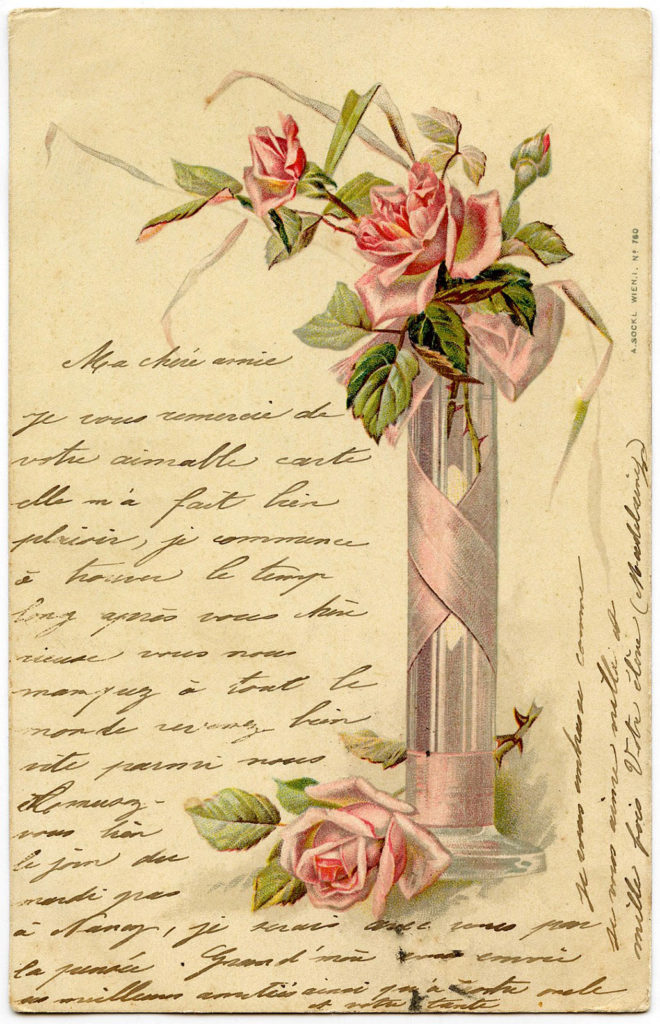 Such a Romantic looking Image! Filled with Pink Roses and a Pink Satin Ribbon wrapped around a pretty vase, this old French Postcard is truly special. My favorite part is the lovely Handwriting that surrounds the vase!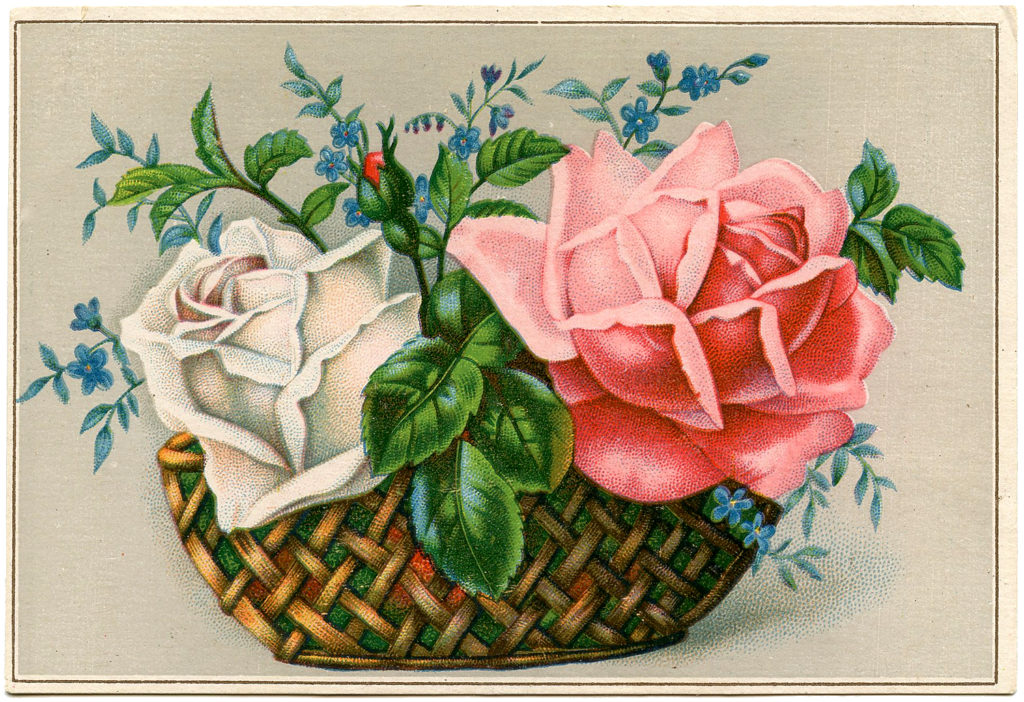 Here's a pretty little Victorian trade card, featuring a small basket of gorgeous Roses! I just love the white and pink Rose combo shown here!
I hope you enjoyed this beautiful curated collection of Pink Rose Images!! You might also like our 750+ Images from our Flowers Archives HERE!
Hello! Are you new to The Graphics Fairy?
Welcome, I'm so glad you're here! Browse around to find 
thousands of Stock Images
 that you can use in your projects or designs! I post new Vintage images every day, as well as projects and DIY's too! Need more info about my site? Try my 
FAQ
page.oses