Hello there, it's Heather from Thicketworks! Today we're going to test out a recipe for aging galvanized metal that has been making the rounds, and I'll share one with you that I've used for awhile.
Hazardous materials: Be sure to follow all safety warning on product labels…protect your skin and eyes. Work in a well ventilated space (preferably outdoors), and keep all chemicals away from children and pets.
Do not mix the Lysol with the home-made patina solution: bleach and ammonia in combination are dangerous. Work with each method separately. 
If you are especially sensitive to odor, skip the home-made patina solution. Your safety is more important than any faux finish!
---
How to Age Galvanized Metal:
I'm always looking for great patina formulas, and am thrilled with the results of this experiment!
It's exciting to get to share this with you today – I did a comparison test for us, so you can determine which method you prefer.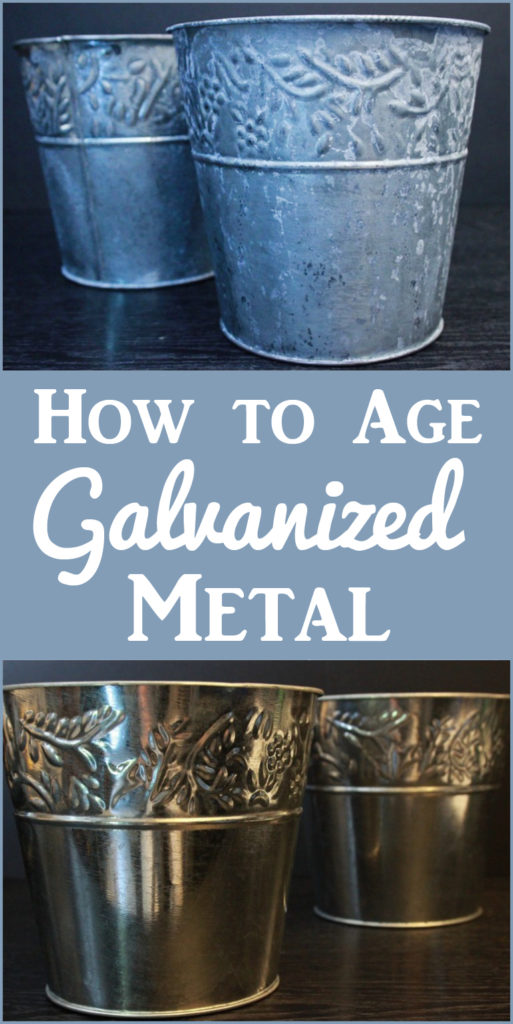 We've updated this post with a Video Tutorial! You can watch it below or get the step by step written tutorial further down the page:
Materials & Supplies:
Galvanized item (I found these two pails at the dollar store)
220 grit sandpaper
Optional: sanding block
Plastic bin large enough to place your metal item in
Rubber Gloves
Eye Protection
Method I: Lysol Brand II Toilet Bowl Cleaner with Bleach
Method II: Old Rag, plastic mixing bowl, household Vinegar (either White or Apple Cider), Steel Wool, Pennies, Salt and Ammonia – Optional: Industrial Strength Spray Bottle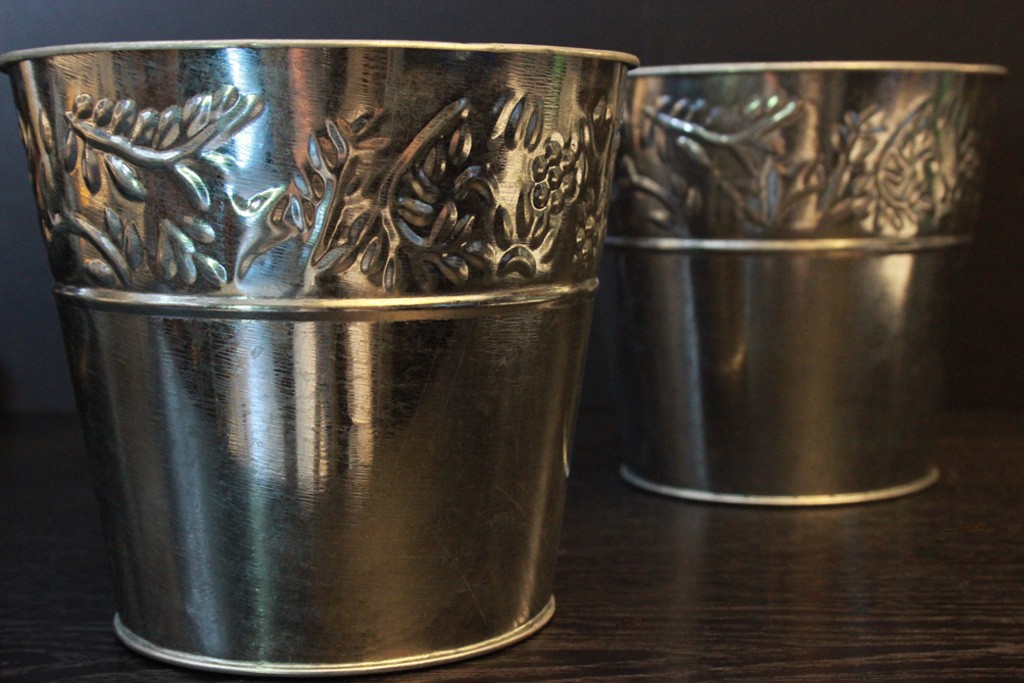 Both methods begin with the same process:
Rough up the surface of your item with the sandpaper. Try to get into all the nooks & crannies as best you can.
NOTE: Be sure to wear a dust mask – we don't want to breathe the dust created by sanding!
Once your item has been sanded, wipe the surface down with a damp rag.
Method One:
Wearing your rubber gloves, spread an even coat of Lysol Cleaner over the sanded surface. For my experiment, once the pail was coated, I slipped it inside of the other pail to contain the mess.
Place the coated item somewhere safe, where pets & little ones can't access it
Wash your hands, and go about your business for at least 8 hours. (I left mine for overnight, so as to resist temptation). You probably have WAY more willpower, so exercise it!
When you can't stand it any longer, wash your pail thoroughly, dry it and be amazed! (I was thrilled, but then a simple patina method is always cause for celebration 'round here)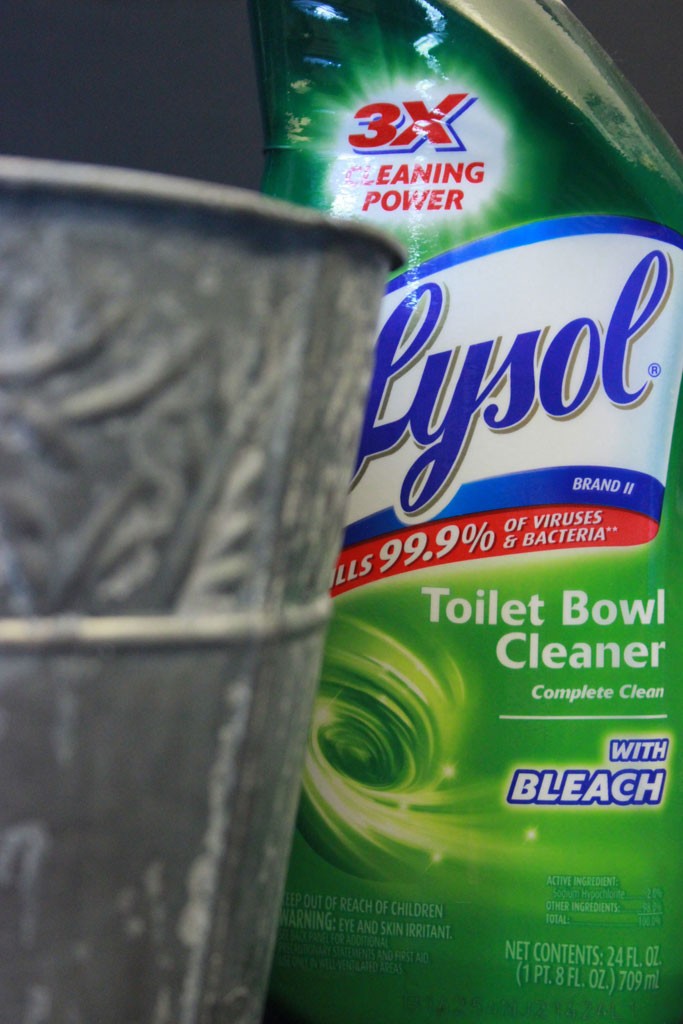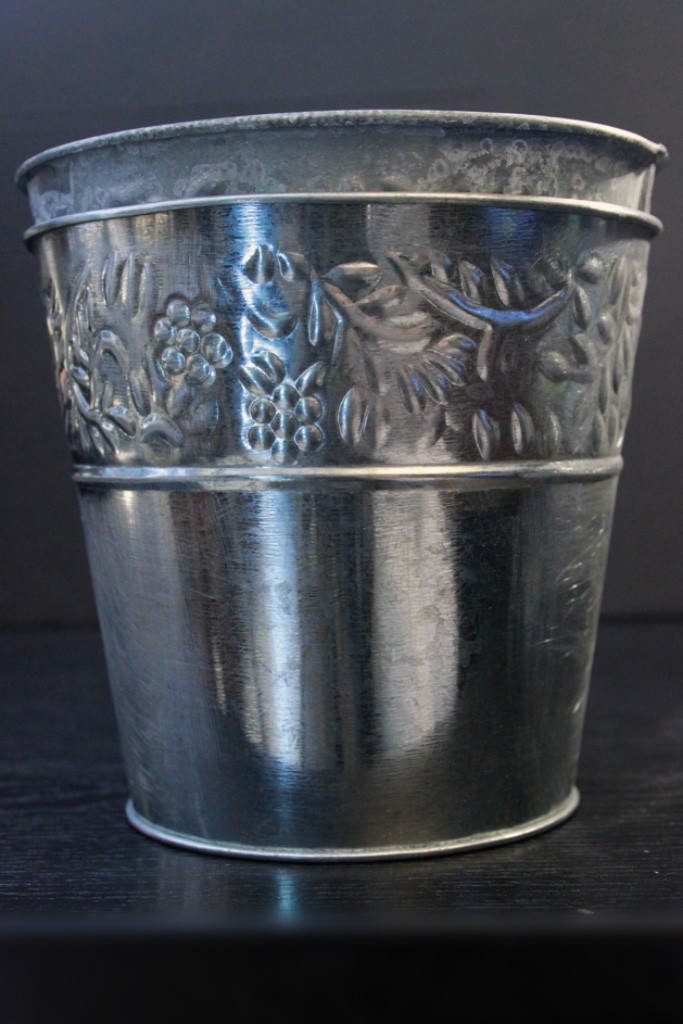 Method Two:
Grab your plastic mixing bowl, don your rubber gloves and eye protection and assemble your ingredients. Put on your best mad scientist face..
Carefully mix together about a cup of vinegar, a cup of ammonia, two tablespoons of salt, a clump of steel wool (this will dissolve over time, adding oxidized steel to the mix), and a few pennies. (the pennies add a bit of a darker finish, as some of the copper leaches out of them and into your disgusting mixture.)
Cover this vile smelling concoction with a lid, or seal loosely with plastic wrap and let it stew in a safe place for a couple of hours. This gives the steel wool time to break down a bit, and the copper will begin to leach from the pennies. Note: I keep this all-purpose aging solution in a clearly labeled industrial strength spray bottle, and use it all the time, so it's worth it to me to go through all this mixing/stewing nonsense. You may not be as obsessed with these things. If so, your therapist will be pleased…
Once your evil smelling stew has brewed for a couple of hours, it's time to put it to good use: place your prepped galvanized item in an open plastic container. Working outside, away from pets and little ones is a good idea. Note: the mixture can harm plants, so be careful!
Grab an old rag…make sure it's large enough to drape comfortably over the entire surface of your galvanized victim.
Soak the rag in the patina solution, wring it out just a bit, and cover your item with the wet rag. This solution will discolor wood surfaces, and probably many other things, so be careful. Make sure that the edges of your rag are safely tucked within the plastic container, so that all the drips are safely contained.
Exercise that willpower and watch a couple of movies, or something.
Unveil your freshly aged pail, wash your rag & plastic container, wash the pail carefully, and do a happy dance!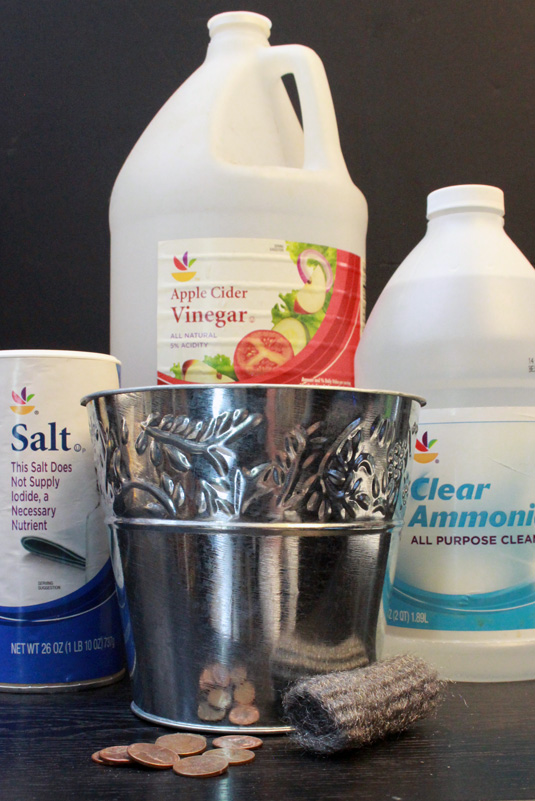 Results:
The pail in the foreground below was aged using the Lysol method.
Pros: the oxidization created a lovely white chalky glaze in the nooks & crannies
Cons: You have to explain to your friends that the Toilet Cleaner really belongs in your crafting space…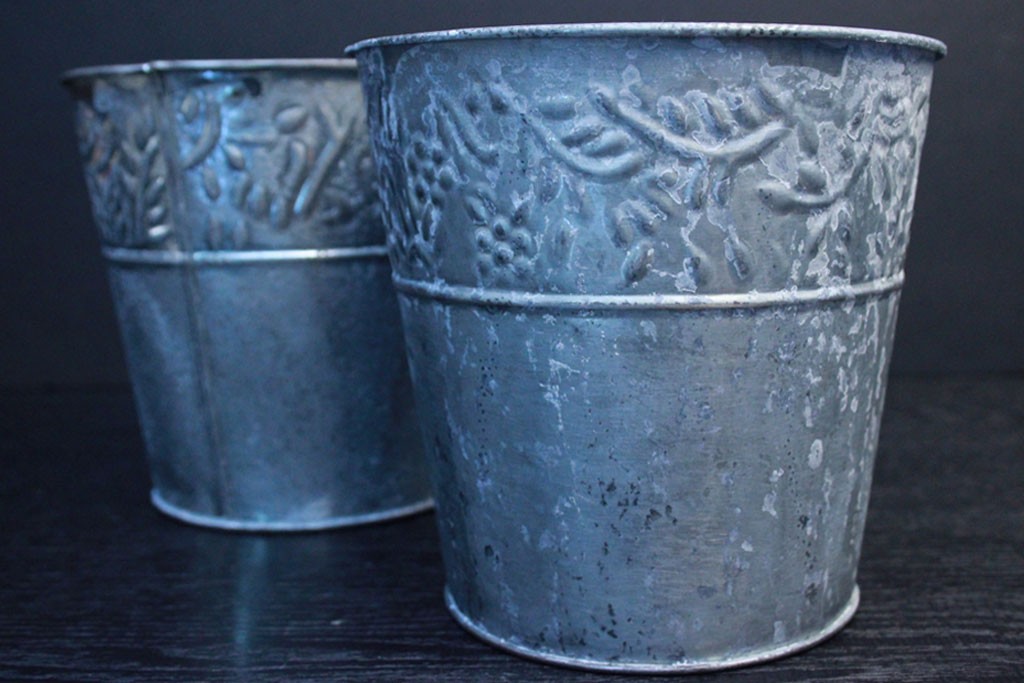 Results:
The pail in the foreground below was aged using the evil smelling vinegar concoction.
Pros: You get to make a patina solution that will help age many surfaces. You probably have all the necessary ingredients in your cupboard right now!
Cons: I found that the weave of the rag left a distinct pattern, and the oxidization stayed more on the upper surface of the item…basically, where the fabric touched, great patina, where it didn't, not so great. Oh, yeah…and it's stinky. (only until you rinse it off!)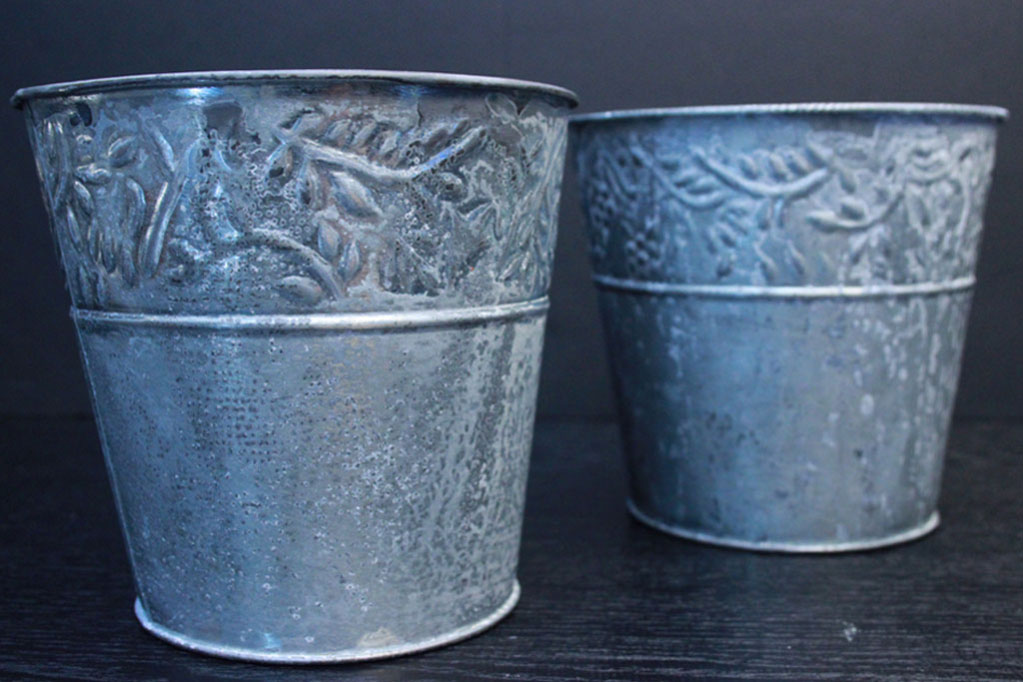 Conclusion: each method results in what I would call a great patina, and each will continue to oxidize over time. If you want to 'halt' the oxidization process, seal your item (inside & out) with a high quality spray sealer. It's up to you which method you prefer.
It's just so great that we can harvest all that shiny galvanized goodness, and transform it into pieces with history!
Thanks for joining me for this little experiment, and I hope you enjoy the results as much as I do.
If you appreciate patinas and faux-finishes, stop by Thicketworks – I'm always cooking up some new process to transform the normal into the abnormal extraordinary!
Take Care,
Heather