28 Vintage Dog Images
Today I am sharing a wonderful large collection of Dog Images! Below are some of the most adorable pet illustrations you can imagine. There are a wide variety of breeds to choose from. I hope you can find a few favorites to use in your crafts!
Cute Dog Pictures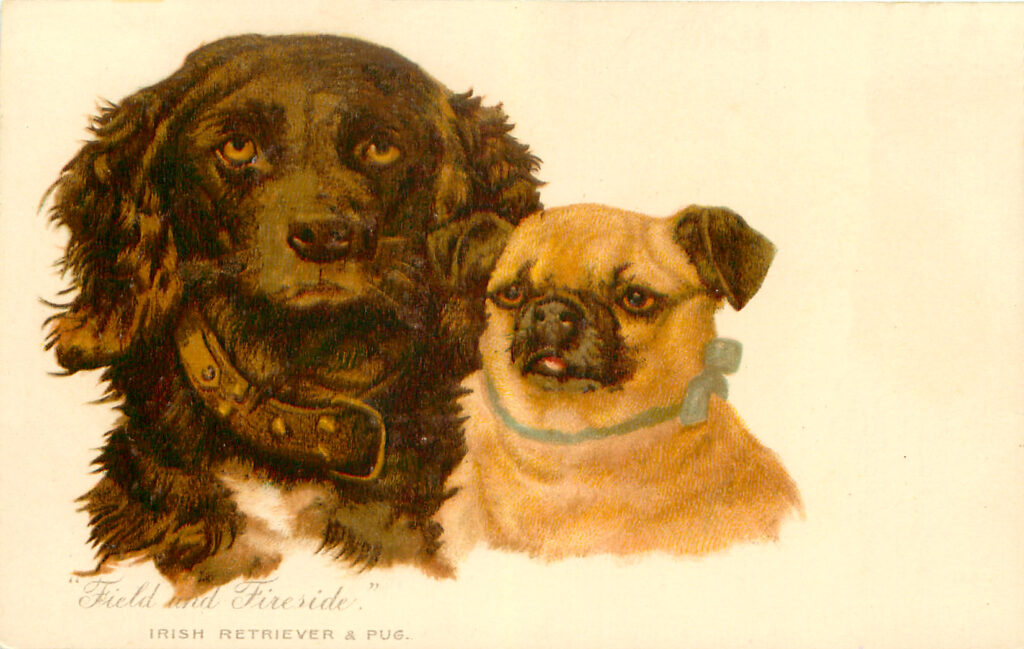 Shown above are 2 furry friends! A cute little Pug with a blue bow around his neck, snuggled up to a lovely Irish Retriever. So fun!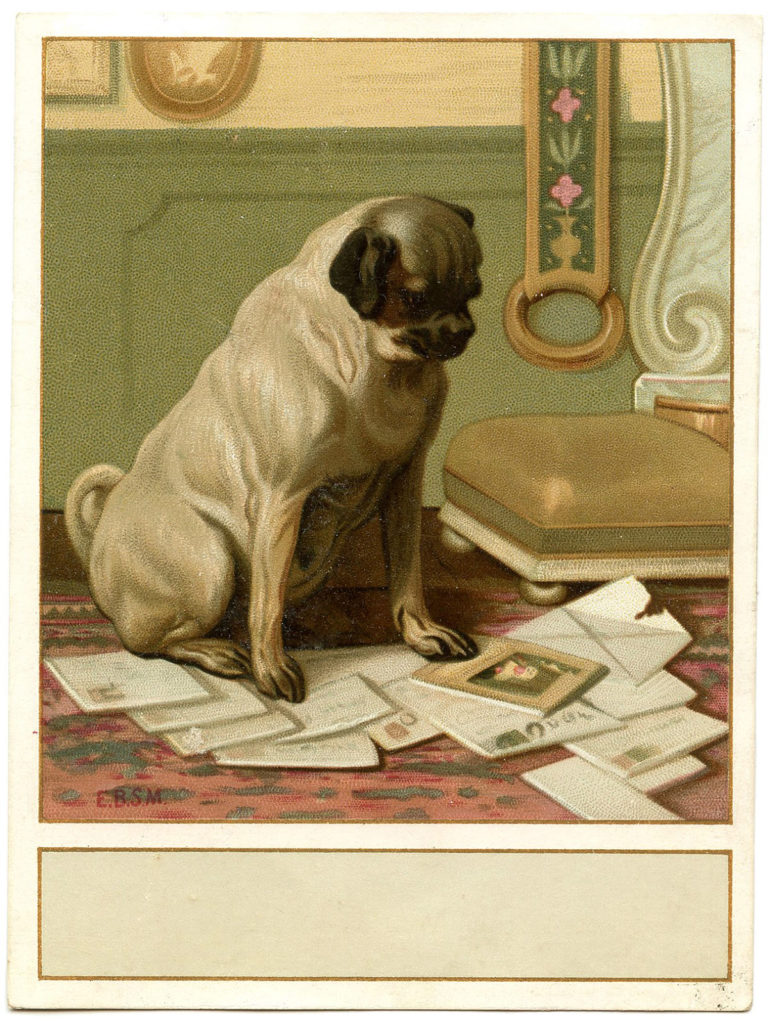 Here we have a cute Vintage image! This one shows a darling Dog (a Pug I think) helping to sort the Mail! Haha! The image has a little space at the bottom, and could be used as a Label. Perhaps you could use it to label and sort your own Mail or other Important Papers.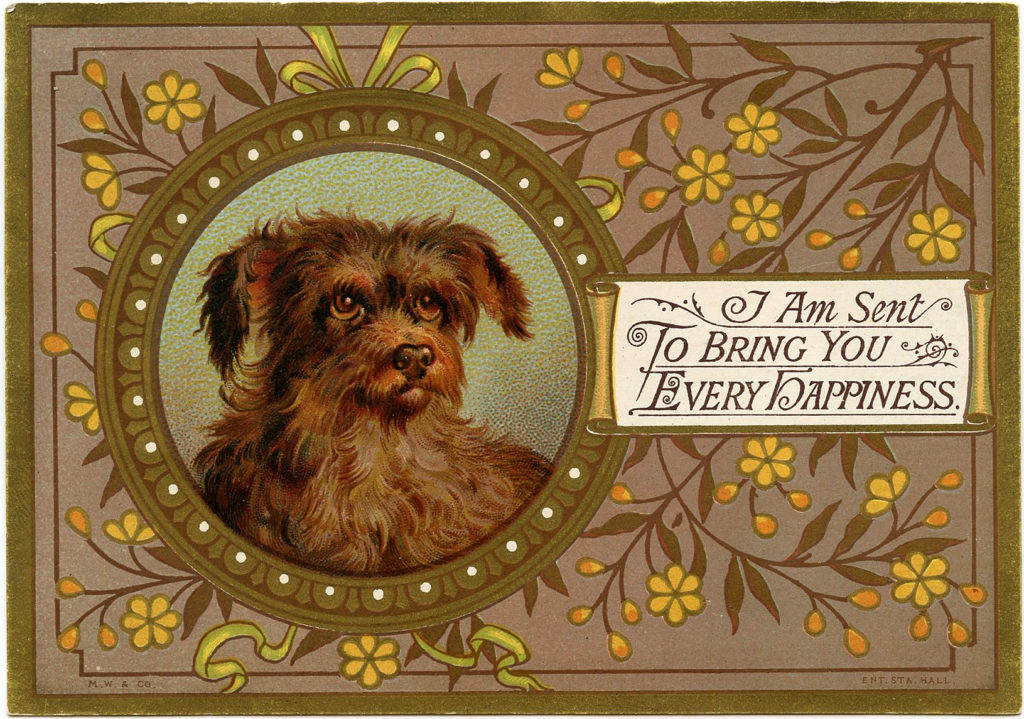 This one is an all time favorite of mine. I love this scruffy little guy and the beautiful frame around him! The caption reads "I am sent to bring you every happiness."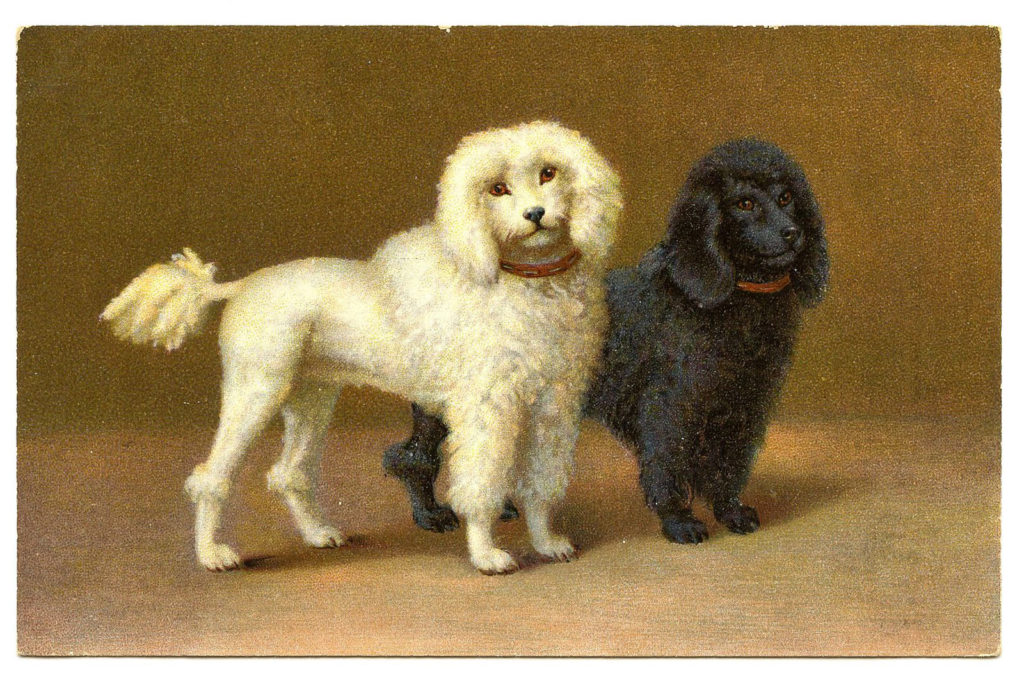 This next one is a nice old postcard showing two adorable Poodles!! Don't they have sweet faces? How precious.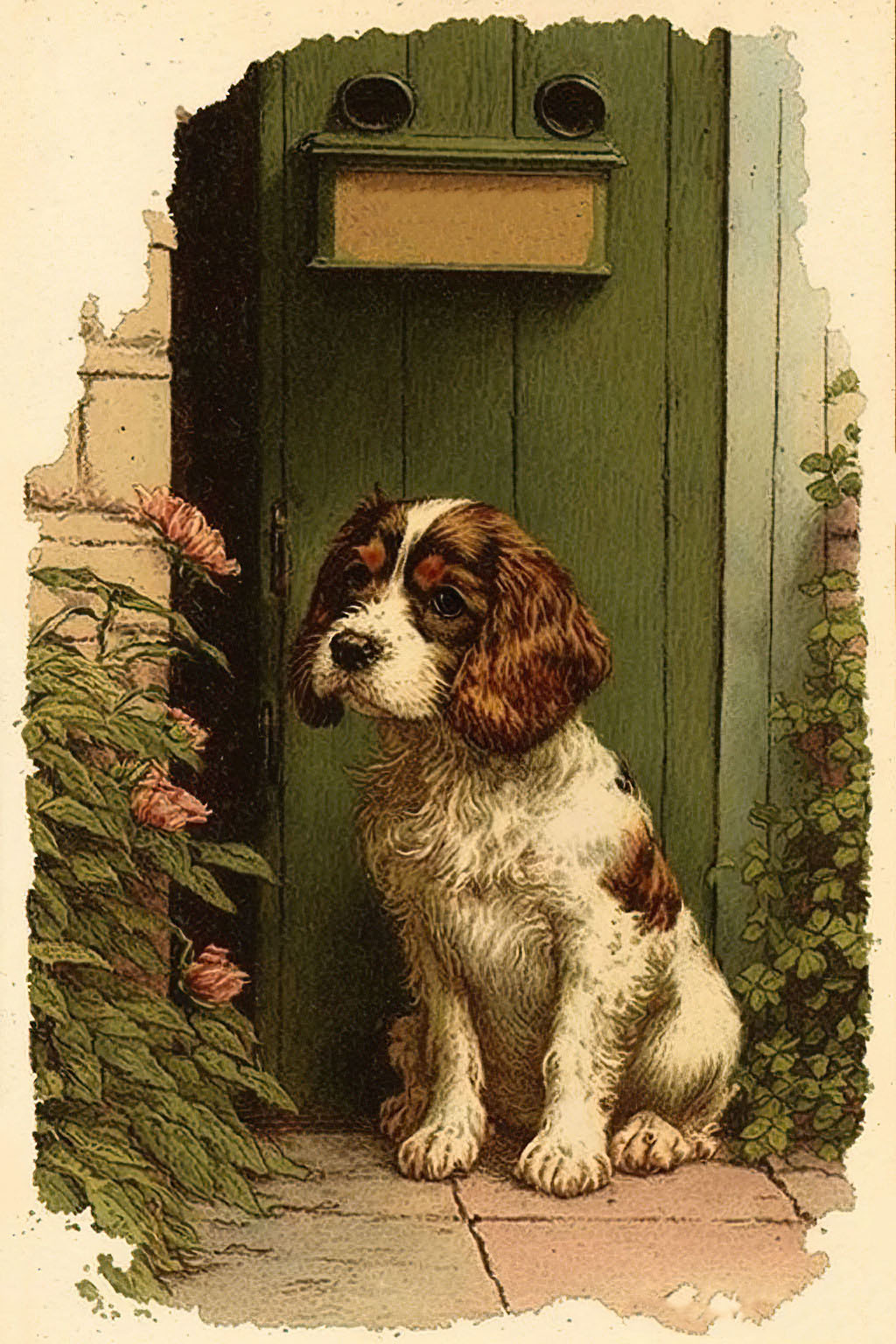 This cute Canine is standing next to a green door. Perhaps he, or she, is waiting for his favorite people to come home. Such a sweet face!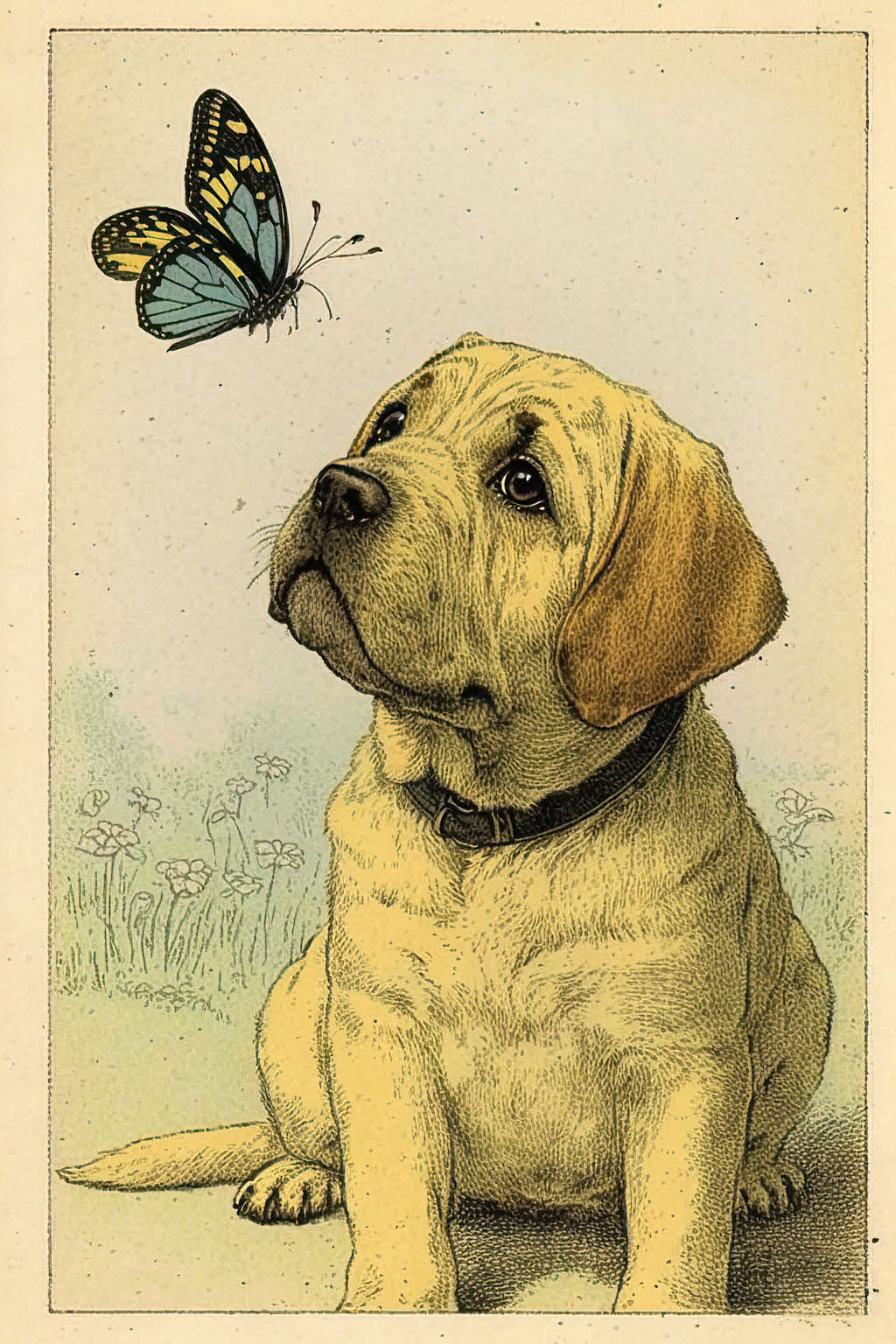 Here is the latest addition to this collection. This darling Yellow Labrador has caught site of a pretty Butterfly … he appears to be quite mesmerized!
Cute Vintage Dog Images
Here we have a sweet little Dog with Sign Scrap piece! It looks like a cute little Terrier to me and she's holding a Pink Sign with some lovely ornate text on it. I'm also including a version without the wording so that you can write your own. It would make a cute Tag or Label.
Above is another cute Victorian Scrap piece showing a Dog holding a Sign! The sign has the sentiment "My Love to Thee" on it. Very sweet! I'm also including a version without the wording.
Old Dog Advertising Images
Above is an old cigar label that has a sweet dog on it. He appears content sitting on top of a chest. Could he be protecting the cigars?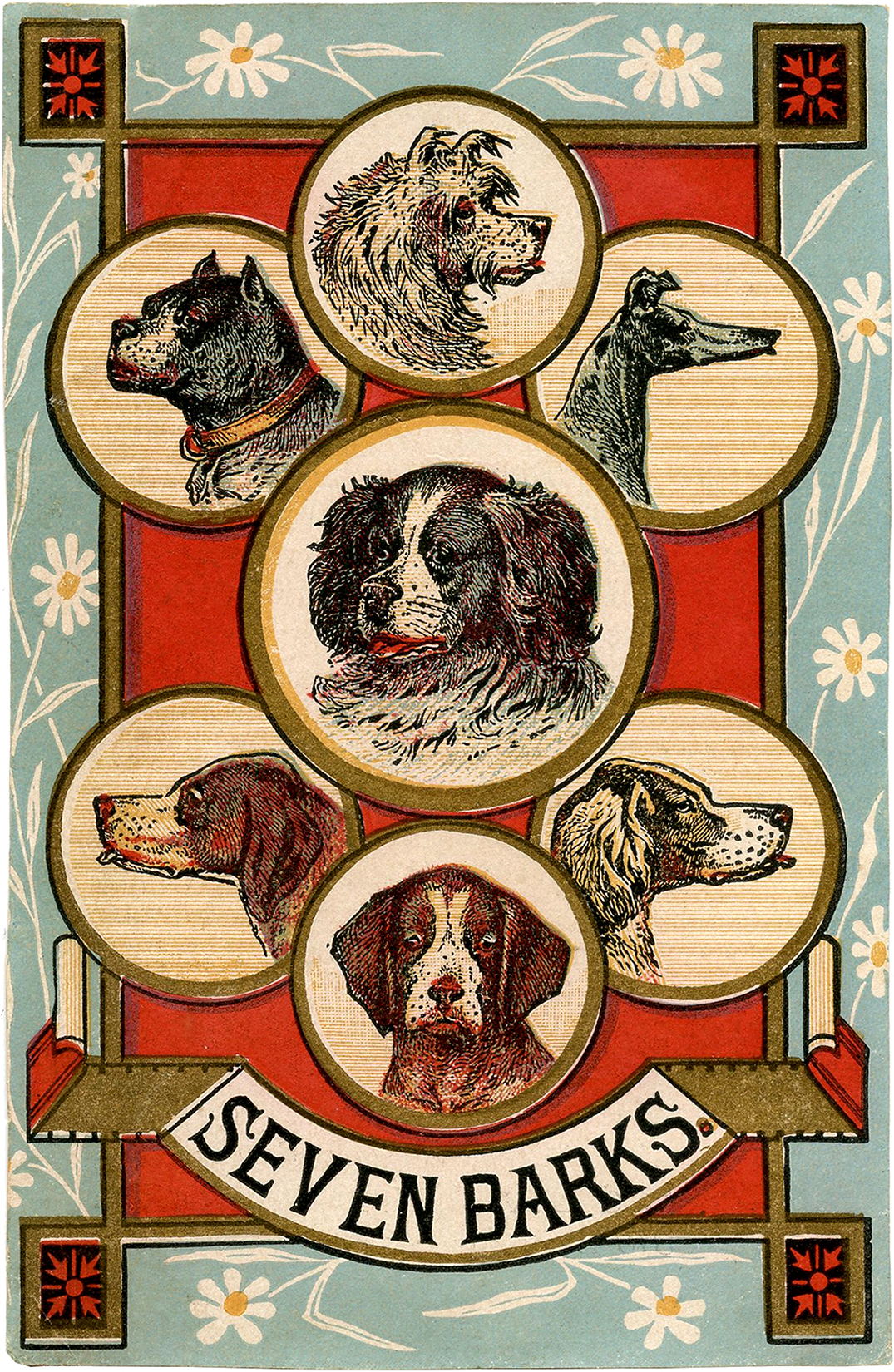 This is fantastic Vintage Dogs Trade Card! Shown above is an old Advertising Card featuring seven adorable Dogs! The card was made to advertise Seven Barks… although I have no idea what that was! I love the red and blue color combo on this one and the layout of the card is awesome! And such a fun one to use in your Furry Friend themed projects!!
Antique Dog Images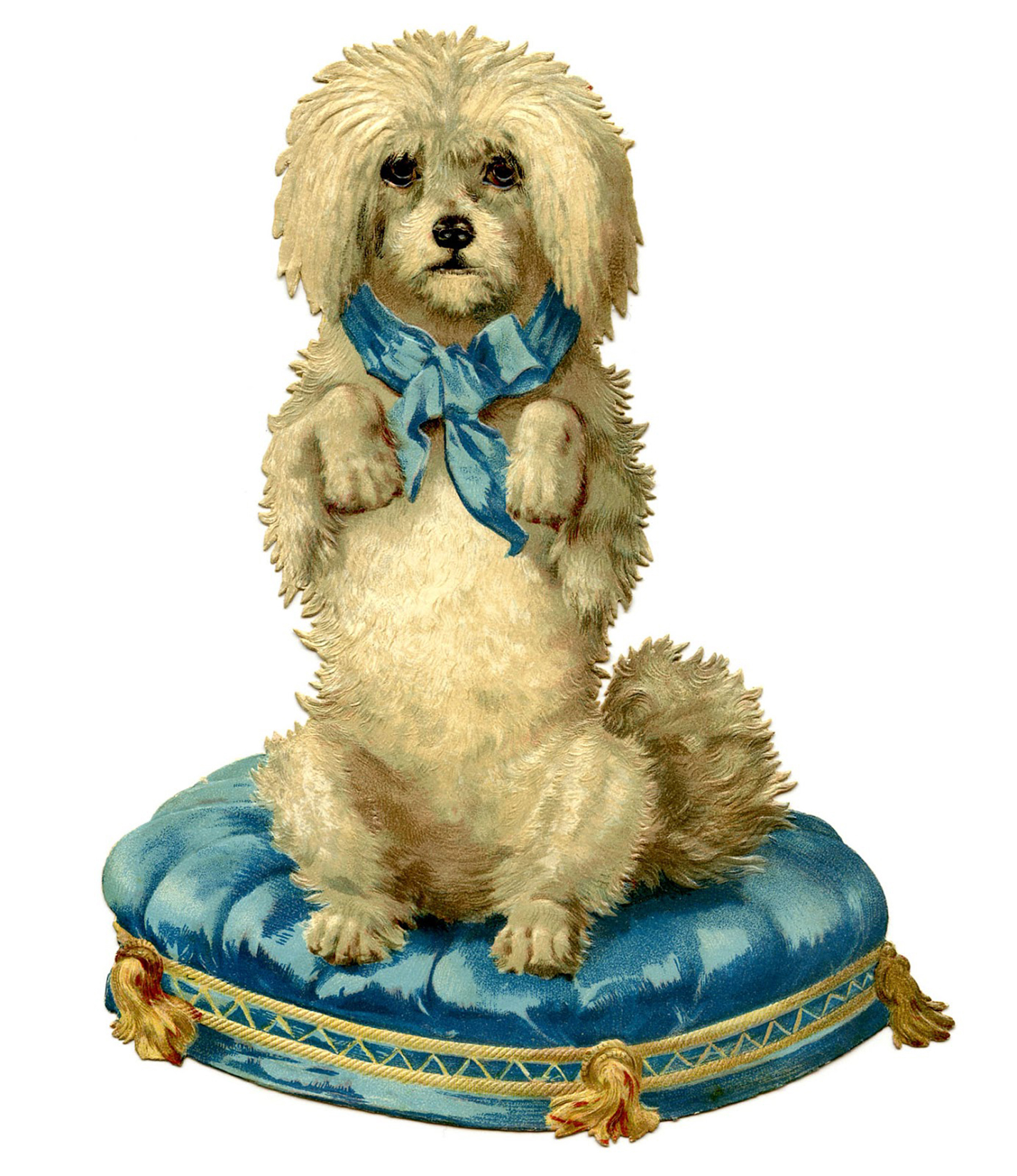 This image is a gorgeous Victorian Scrap of a darling Dog on a Blue Satin Tufted Cushion. Adorable!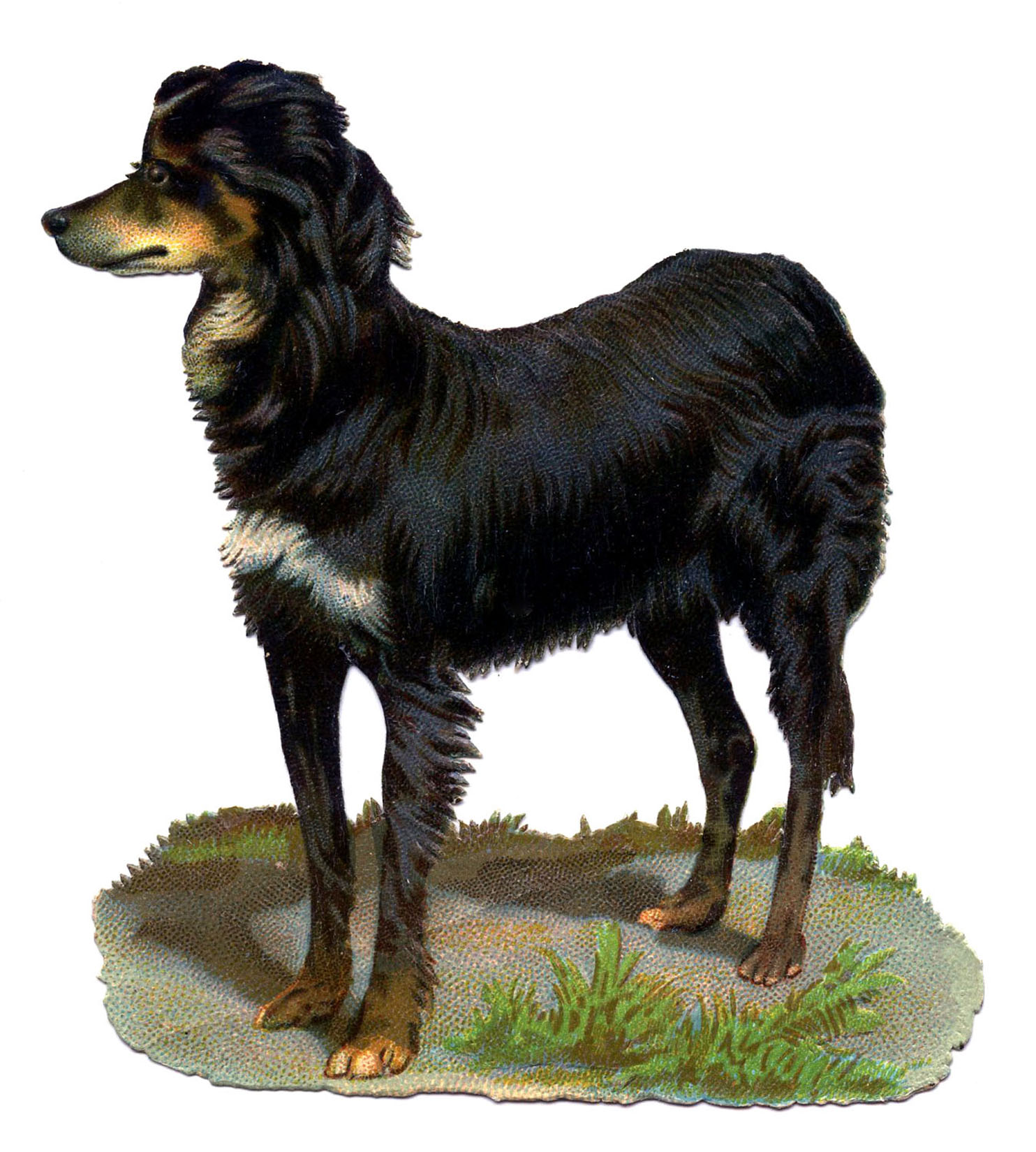 Here's a sweet Vintage Graphic of a Black and Brown Dog. I'm not sure what kind of Dog this is, but he looks very nice!
Victorian Scrap Dog Images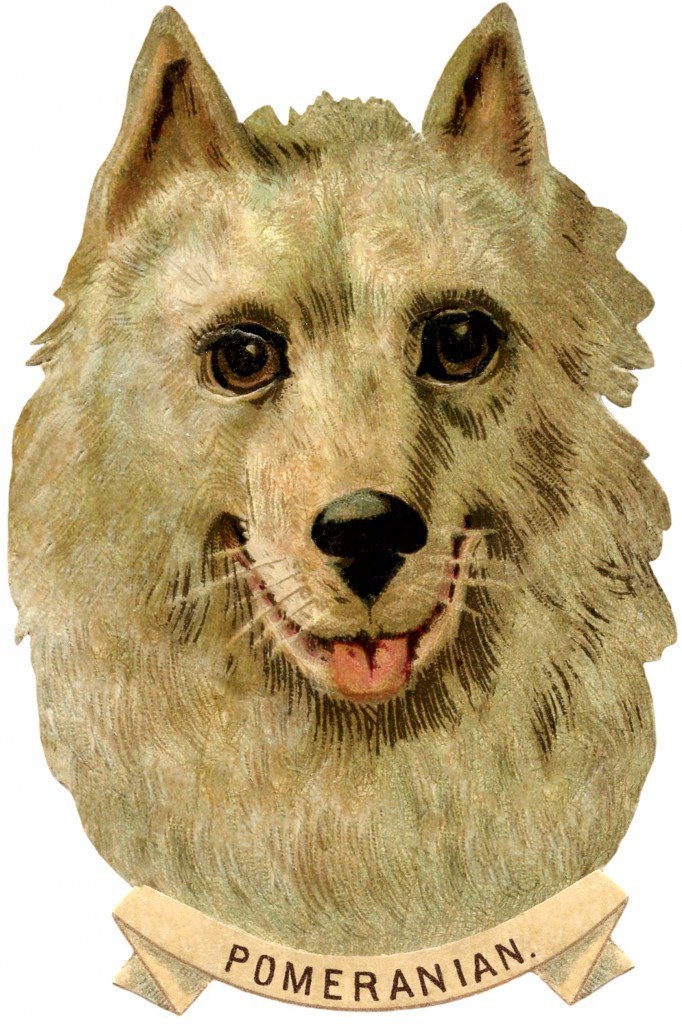 This is a cute Pomeranian Dog Image! It is Antique Victorian Scrap Die Cut piece. It's the bust of a Pomeranian, (or at least it's supposed to be), according to the little paper tag attached to him.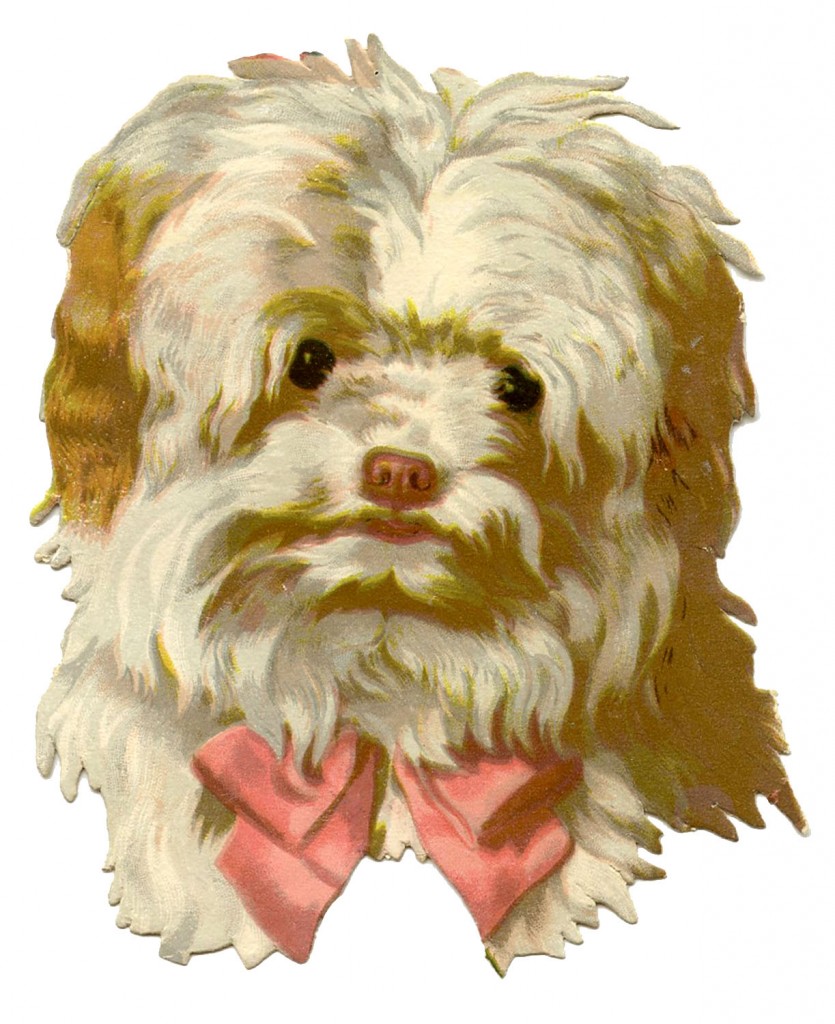 Here's a dear little Antique Scrap Piece! Pictured above is a Vintage image of a scruffy looking little Dog with a Pink Bow. She has sweet eyes (I'm assuming she's a she, with the pink bow and all), but looks a bit sad to me. I'm not sure what breed this is supposed to be … maybe a Terrier of some sort? I know some of you guys will be able to figure it out!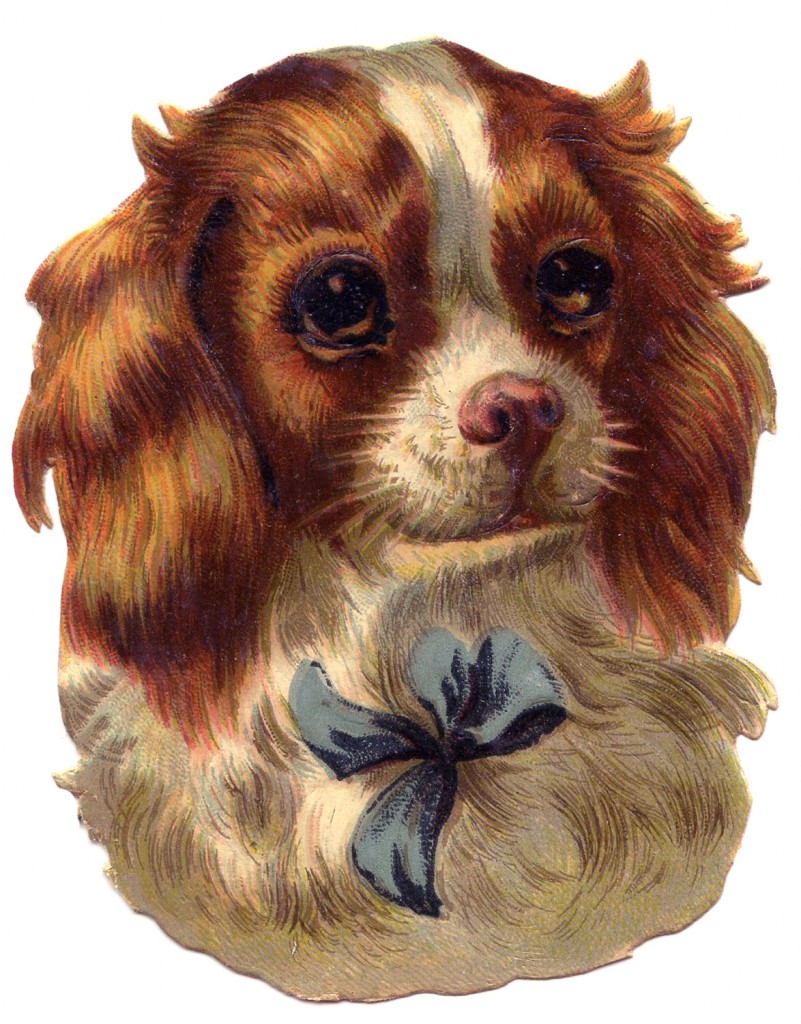 This is a cute Vintage Image of a Dog! I think he is some kind of a Spaniel; hopefully one of you guys can verify that. Update: I am told that this guy is a Cavalier King Charles Spaniel. Thanks for all who helped out with info on this one! He's a cutie with precious eyes and his blue satin bow!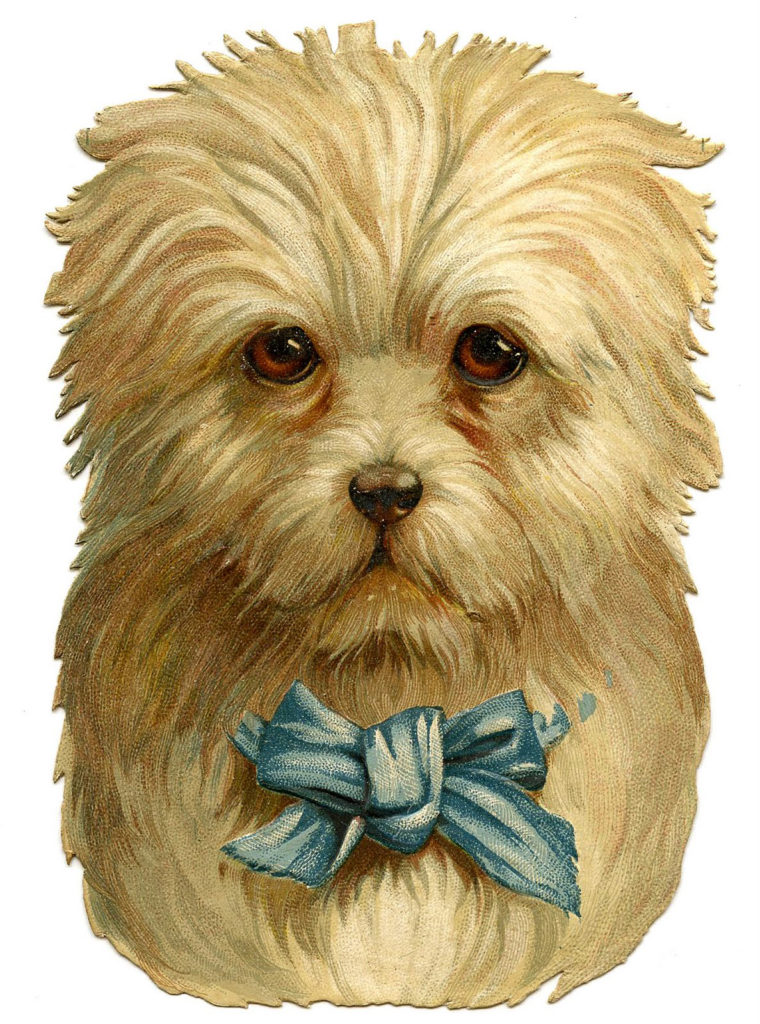 Isn't he adorable?!!! This is an antique Victorian Die Cut or Scrap piece. What a precious little Dog he is! I'm not entirely sure what kind of breed he is… a Maltese? or some sort of Terrier? Either way he's cute as a button!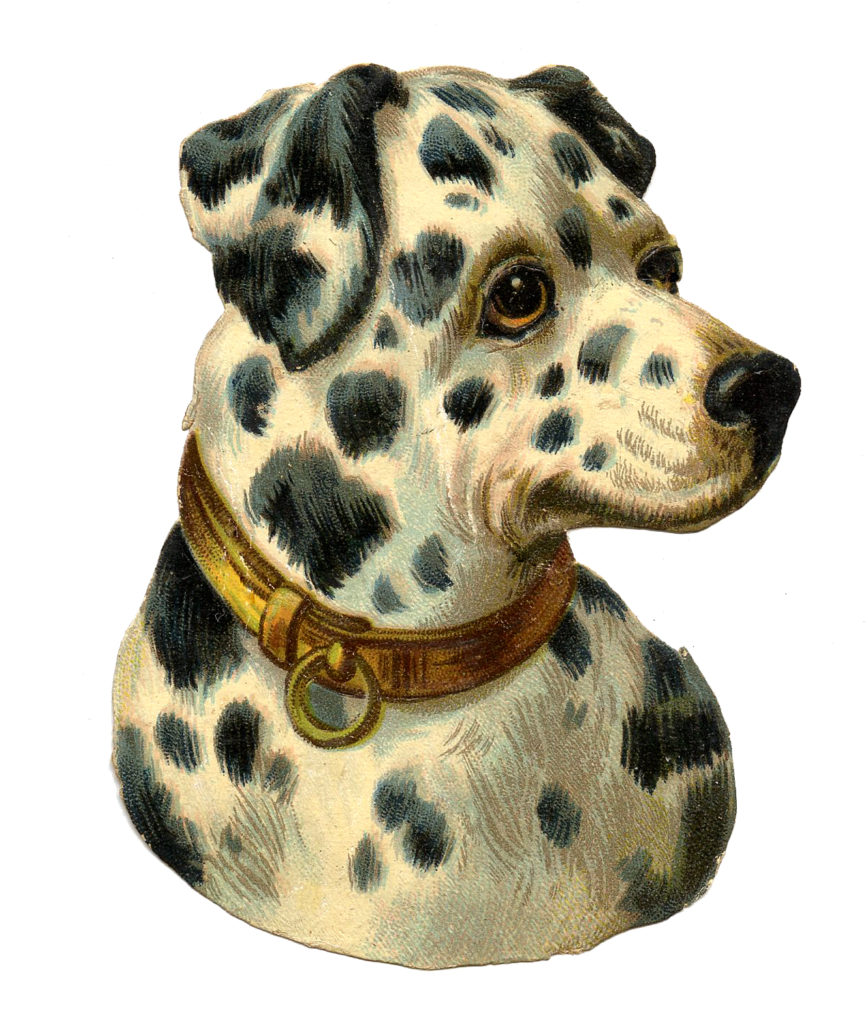 Here we have a darling Free Image of a Dalmatian Dog! He has all his lovely spots and a nice gold collar. He almost appears to be posing.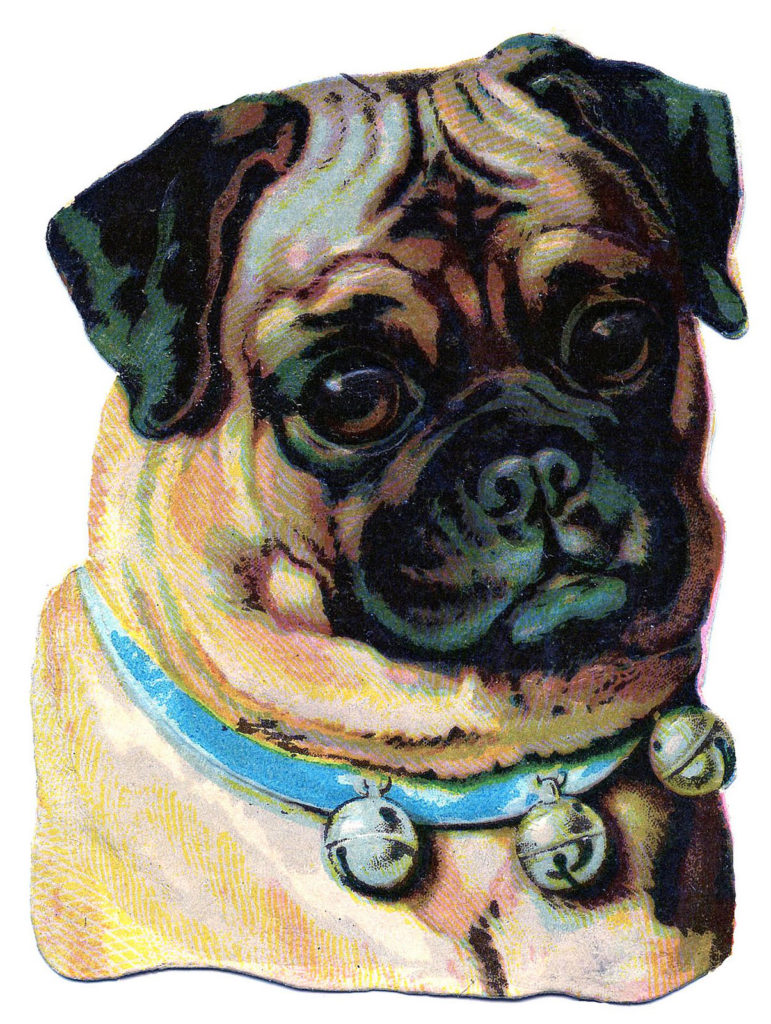 Above is an old Victorian Scrap piece. This shows is a darling little Pug dog! I think he looks so cute with his blue collar full of bells!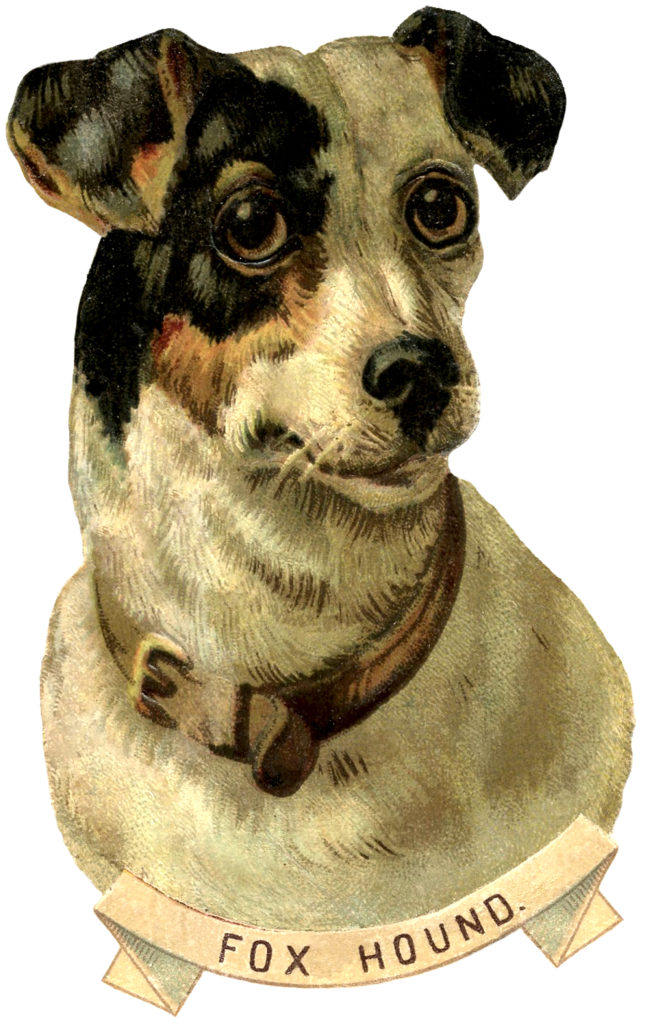 This is another cute Scrap Dog Free Vintage Dog Image! It is an Antique Victorian Scrap Die Cut piece. It's the bust of a cute cream colored Dog with Black and Brown spots. According to his little tag, this is a Fox Hound although he looks a lot like a Jack Russell to me. Perhaps the breeds are related? I'm sure some of you probably know the answer to that!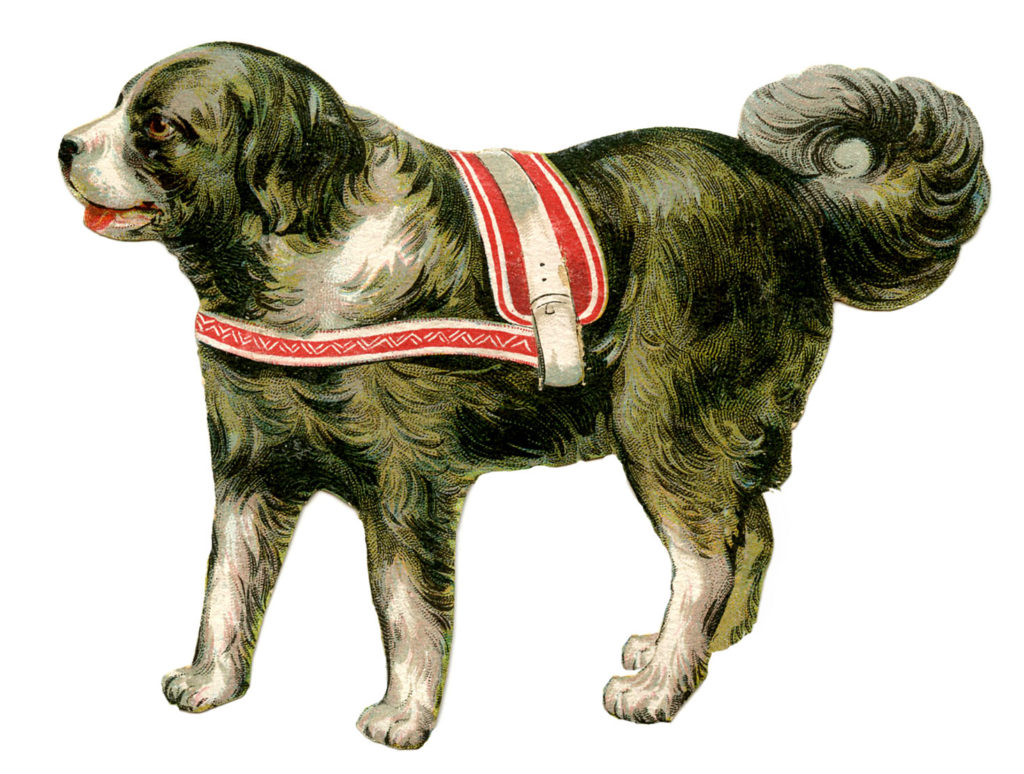 This is a sweet looking Dog! I love his shaggy tail. I'm told that this one is a Newfoundland. Cute!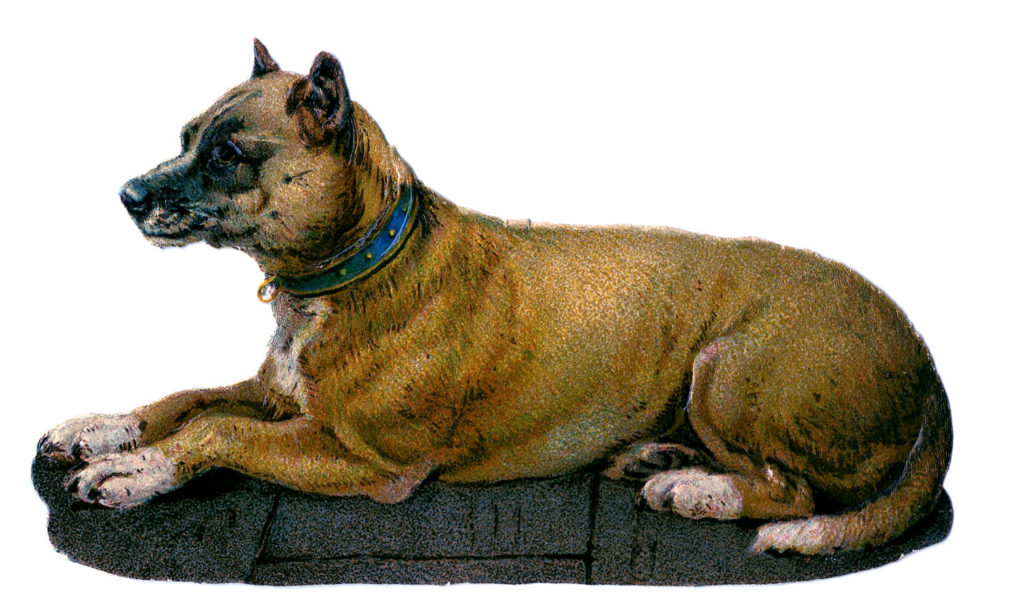 This is a piece of antique Victorian scrap. These pieces were often made in Germany, but it's not marked so I can't say for sure. What a strong proud looking Dog this guy is. I wish I could tell you what breed he is, but I guess I don't know my breeds that well! Perhaps it is a Boxer. Please clue me in should you know the answer.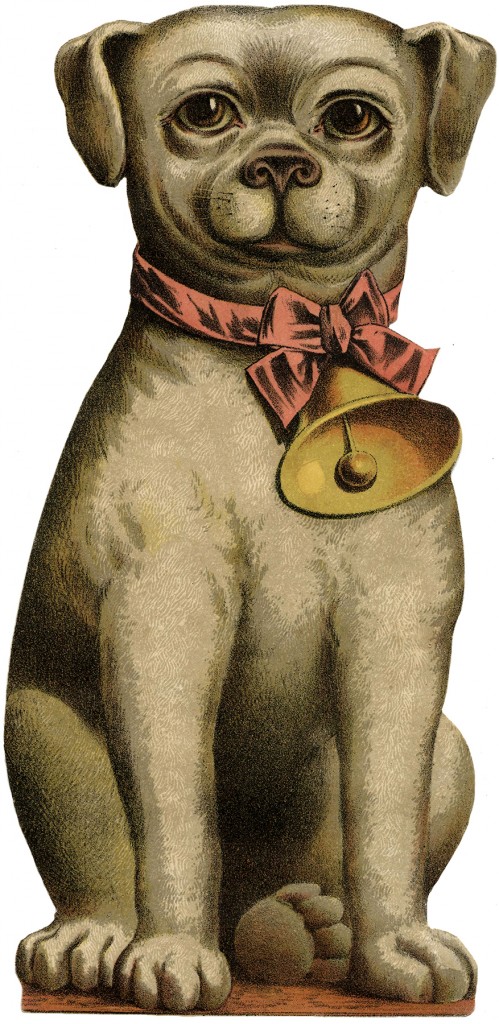 Above is a Vintage Quirky Dog Image! Pictured here is a funny little Dog with a bow and large bell around its neck. I love that sweet face! Cute! This one is a splendid Antique Scrap Die Cut piece.
Dachshund Dog Clipart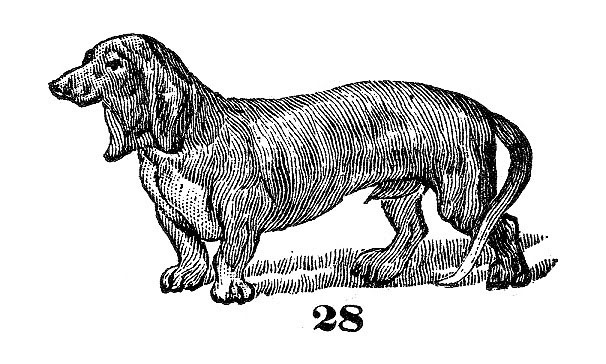 This is a cute little engraving of a Dachshund Dog clipart image scanned from an Antique Encyclopedia.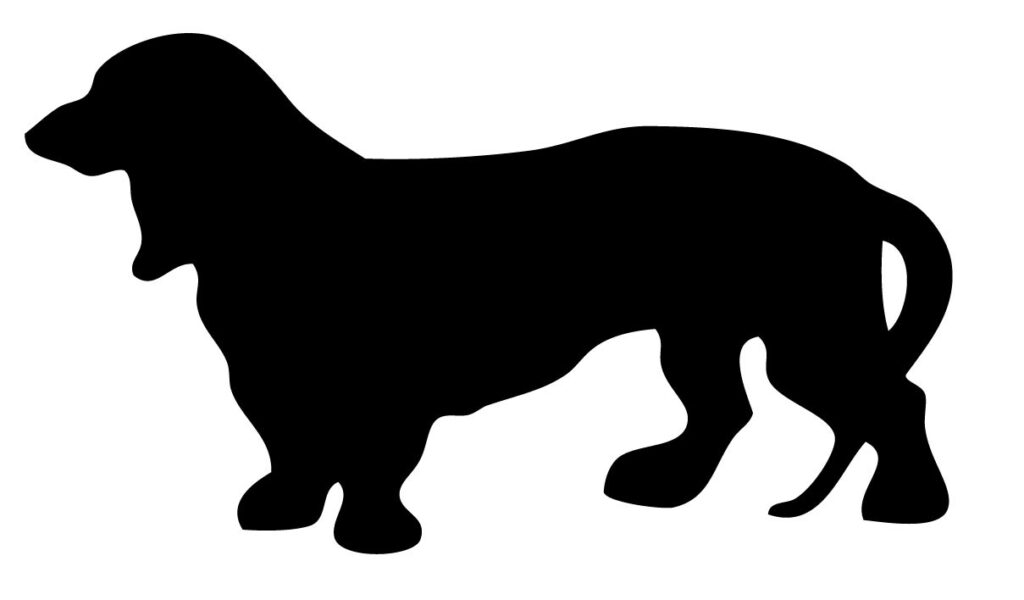 And here we have another version of that same image above. This time I recreated the Dachshund as a Silhouette to give you additional options for your projects!
Vintage Canine Label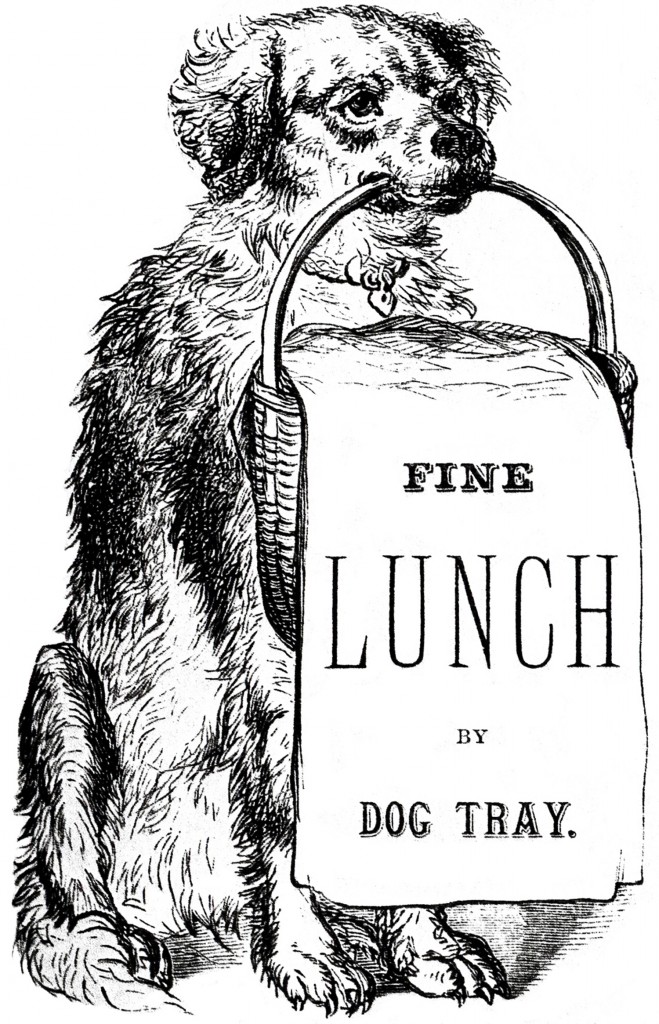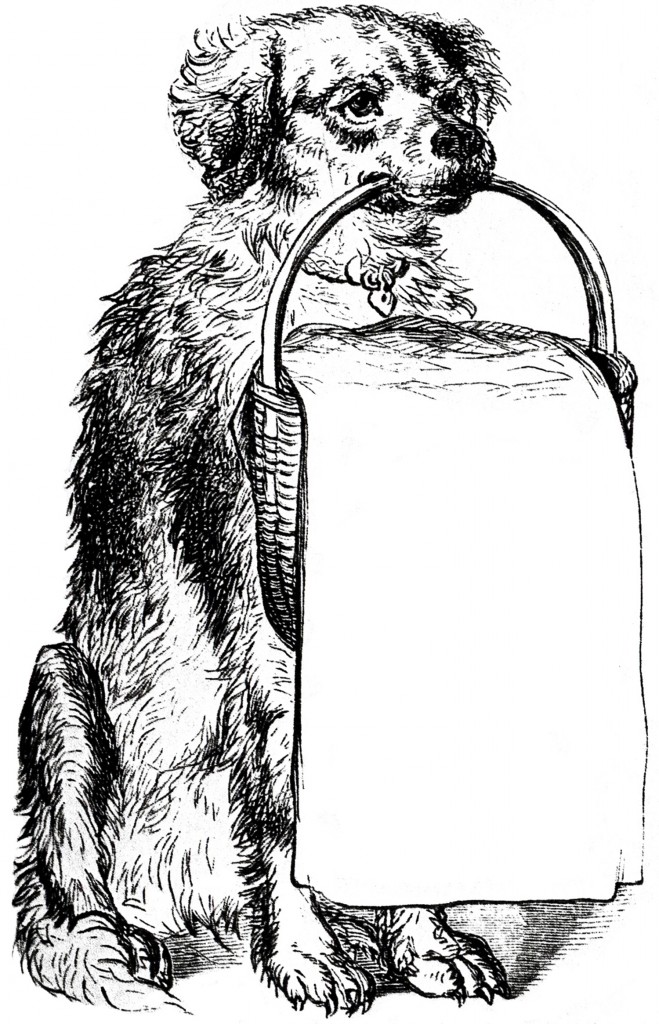 These are just darling! Shown here is a fabulous 1884 Illustration from an Antique Type book. This is another one from my recent trip to D.C. to The Library of Congress! This sweet boy is holding a Picnic Basket in his mouth. The Basket is holding a towel that's used as a sign for a Restaurant. I love these old pictures that have the little signs on them, as they are so useful, as Labels, Gift Tags, Price Tags or Signs in a Shop!
I hope you enjoyed this curated collection of Vintage Dog Images. You might also like our Best Cat Images HERE or our Best Free Bird Images HERE!
Hello! Are you new to The Graphics Fairy?
Welcome, I'm so glad you're here! Browse around to find 
thousands of Stock Images
 that you can use in your projects or designs! I post new Vintage images every day, as well as projects and DIY's too! Need more info about my site? Try my 
FAQ
 page.