Today I will show you how to Make Printable Mini Books! Creating this little Book was such fun…having access to the endless well of inspiration here in The Graphics Fairy treasure trove is a huge gift that I know we all appreciate!
Hello, Graphics Fairy Friends! It's Heather from Thicketworks. Today I'm excited to share a special printable, that you can use to make many variations of this charming printable mini book!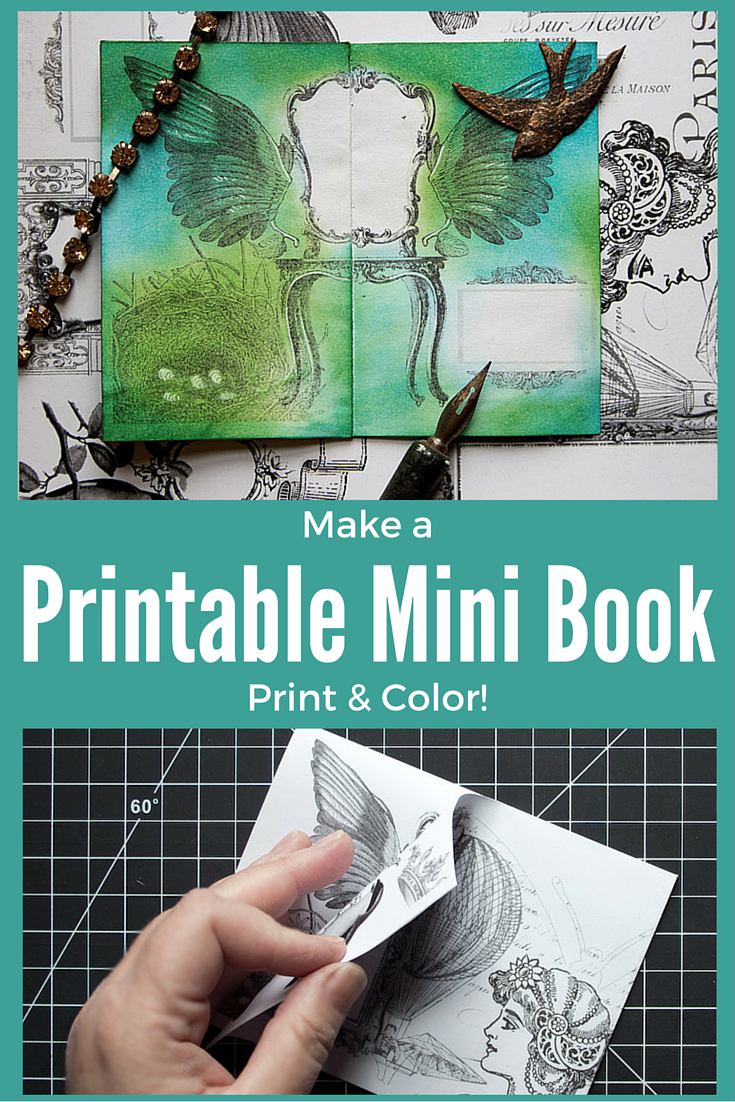 – This post contains affiliate links –
This project began with a delightful trip through the archives, here at The Graphics Fairy. Such a pleasure to just spend time browsing among the offerings…Thank you Karen, for providing the world with the raw materials to create joyfully!
After having selected the images that 'spoke' to me, I arranged them into a printable collage.
Don't worry, the fact that some of the images are upside down is intentional!
Click HERE to download your free PDF file: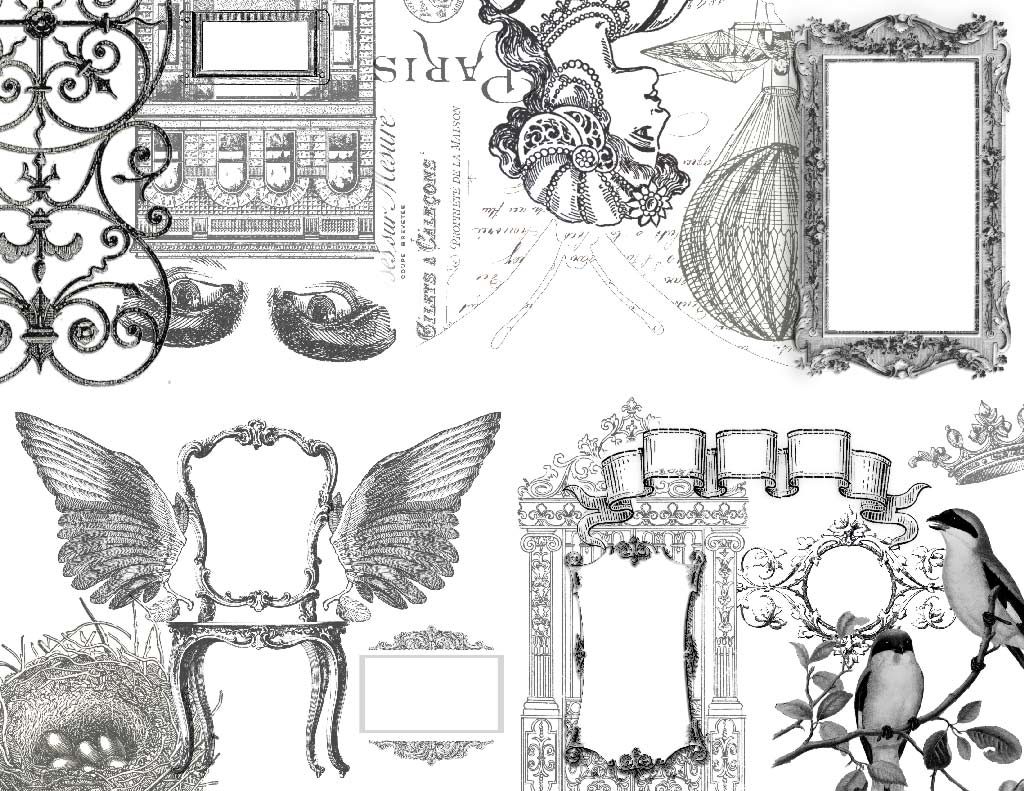 A list of the source images used in this project:
Fancy Ornamental Embellishment
---
Note: The collage was printed on sheets of ordinary printer paper, on a laser jet home printer. If you don't plan to use wet media to color your book, or if you use Durabrite Inks, a thoroughly dry ink jet print is fine. 
---
If you're looking for a great Printer for Crafting, with Water Resistant Ink check out this post:
 The Best Printers for Crafting!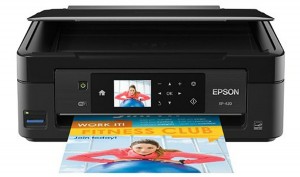 ---
We'll need just a few simple supplies to complete this project, in addition to the printed collage.
Supplies:
Optional:
---
Below, you see a plain diagram describing the fold lines and cut line for our mini-book.
(Each fold must be created precisely to obtain the best results.)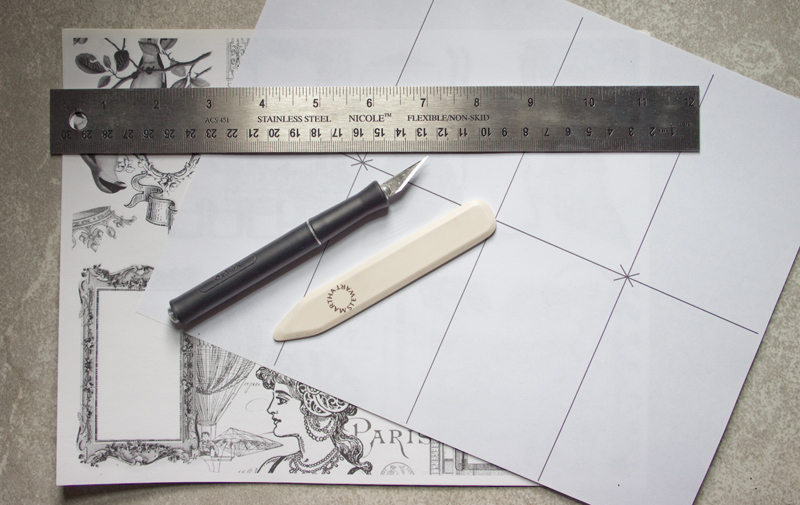 To begin, fold the printed collage down the center of the long axis, and crease with your bone folder: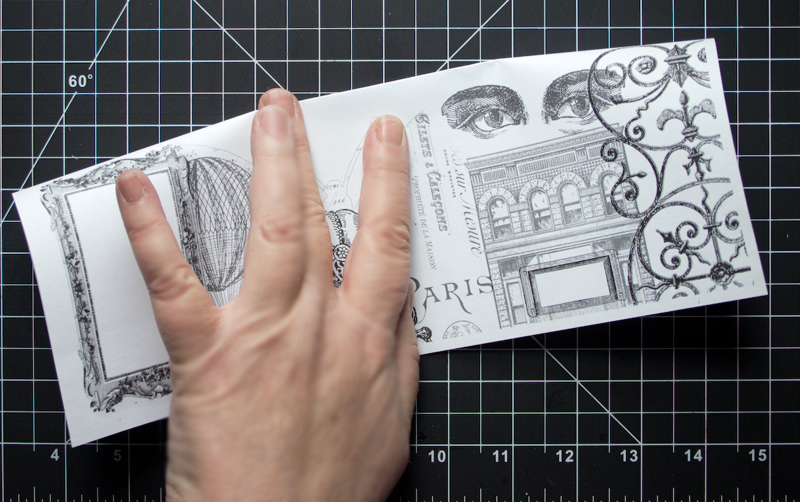 Next, fold in half along the shorter axis. You now have one vertical and one horizontal fold.
Keeping the vertical fold in place, fold each half of the paper back on itself, creating two additional horizontal folds: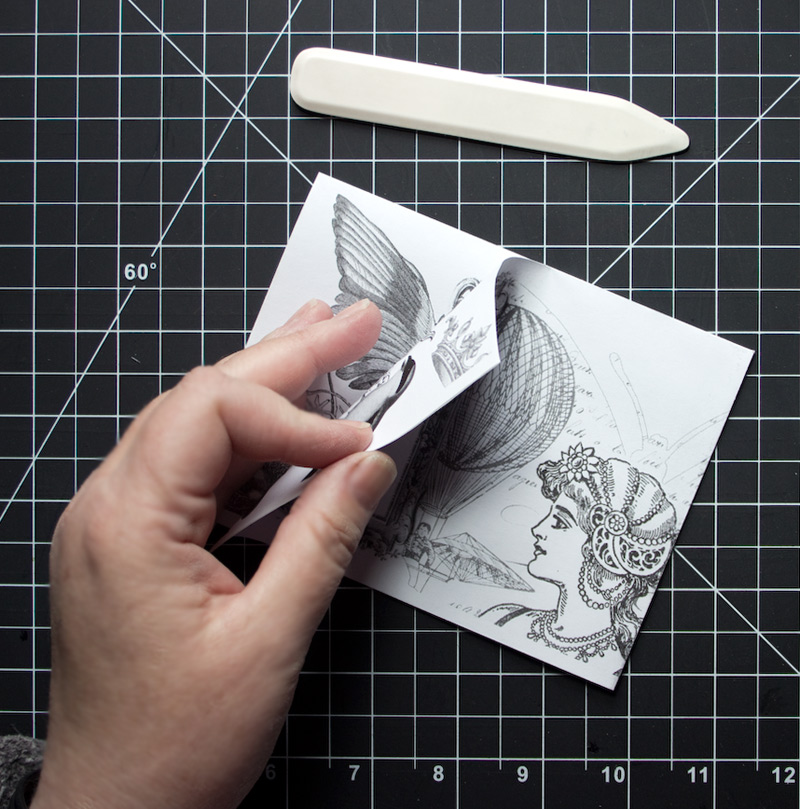 Crease them firmly with a bone folder. The result should resemble an accordion shape, with the imagery displayed 'right way up' on both sides: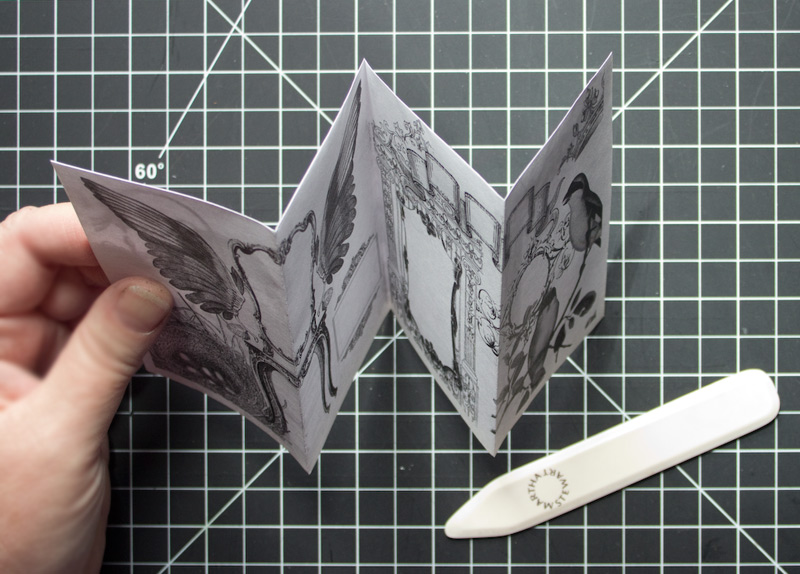 Open the sheet of paper, and re-fold it along the central horizontal axis: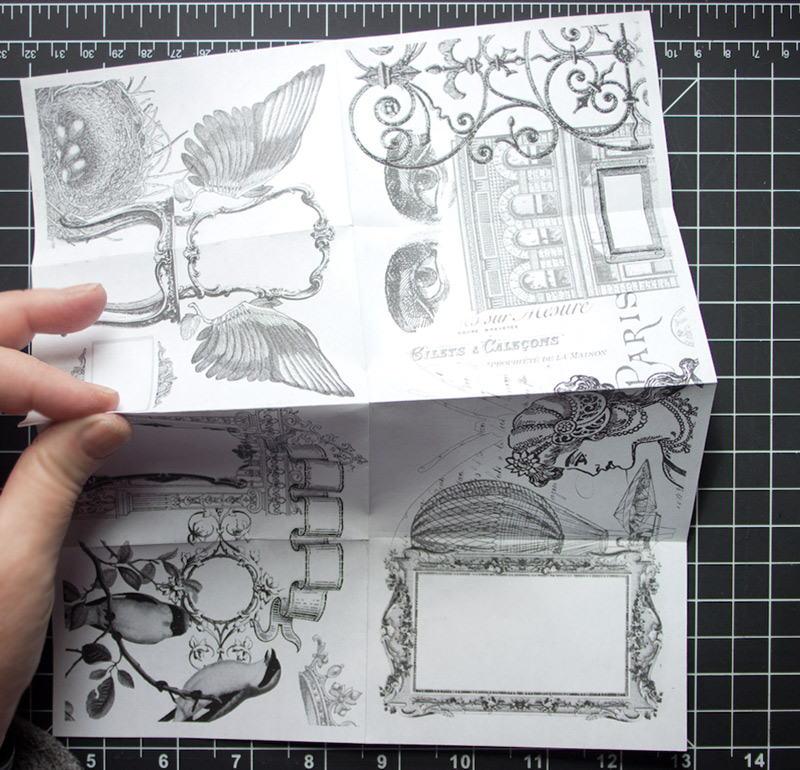 Using scissors or a sharp craft blade, make a precise cut from the point indicated by the red arrow to the folded edge: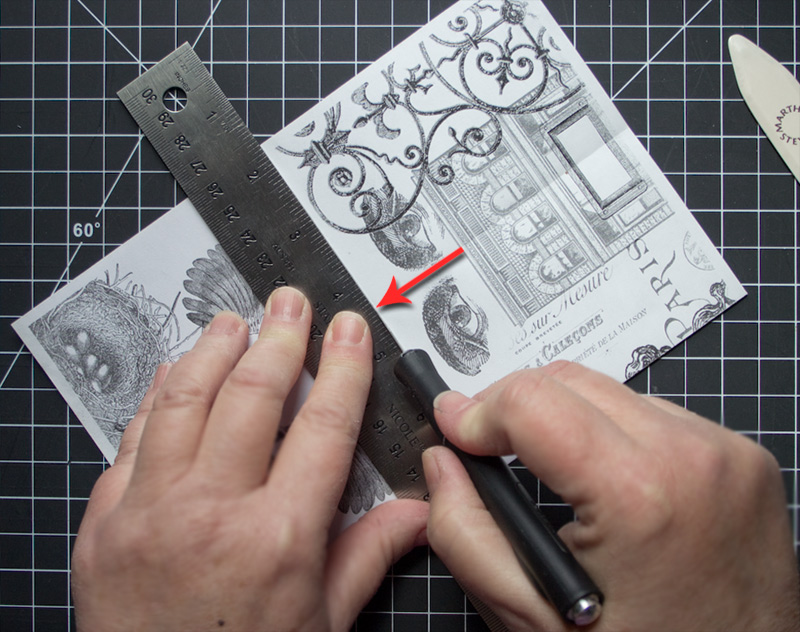 The resulting slit should extend along the central vertical axis, between the fold lines shown: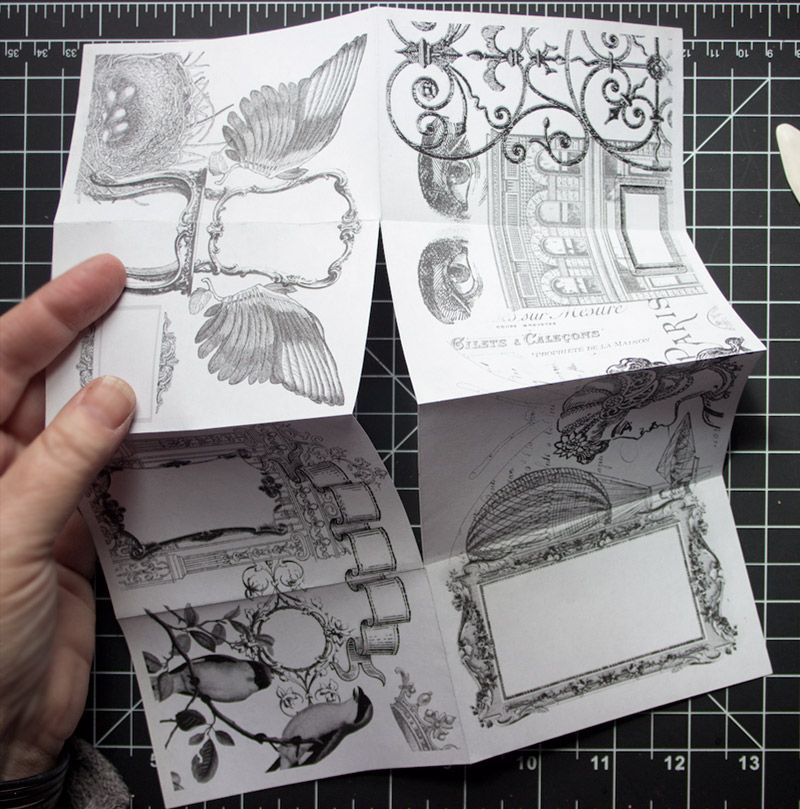 The slit allows the paper to now be folded into a 4 pointed star shape: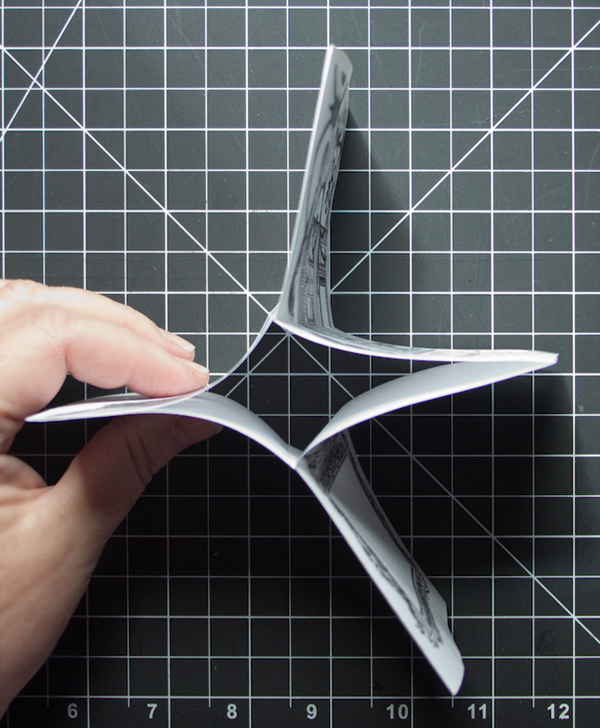 Using your glue stick, glue the papers back-to-back in this star shape.
Note: I recommend a glue stick, rather than liquid glue; it will not cause warping of the paper, and provides plenty of adhesion.
Smooth each set of pages with the bone folder, reinforcing the creases and gently coaxing them into a book form.
I chose to have the birds and crown on the 'cover', but you can use any page you like: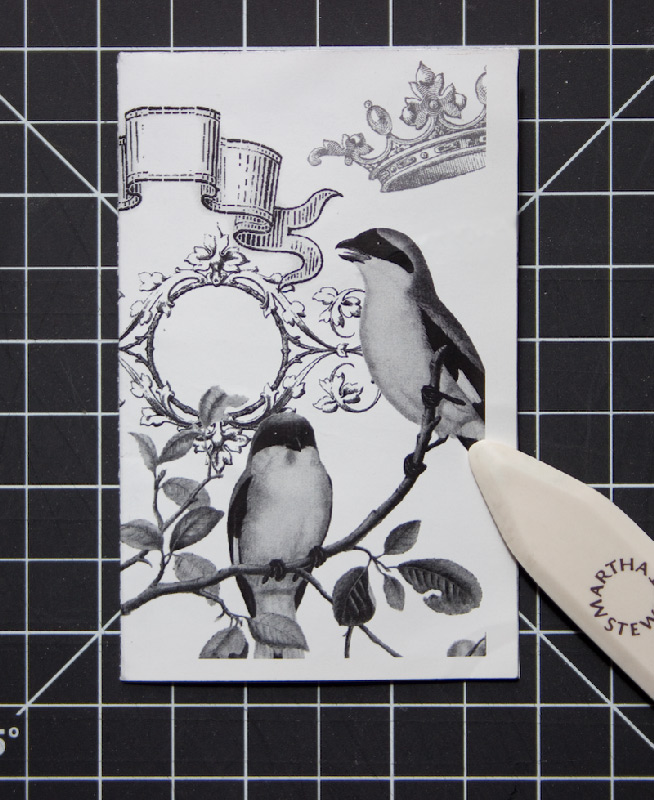 For an added touch, you can punch two holes, with the hole punch tool,  along the 'spine', one at each end, and thread decorative cord through them.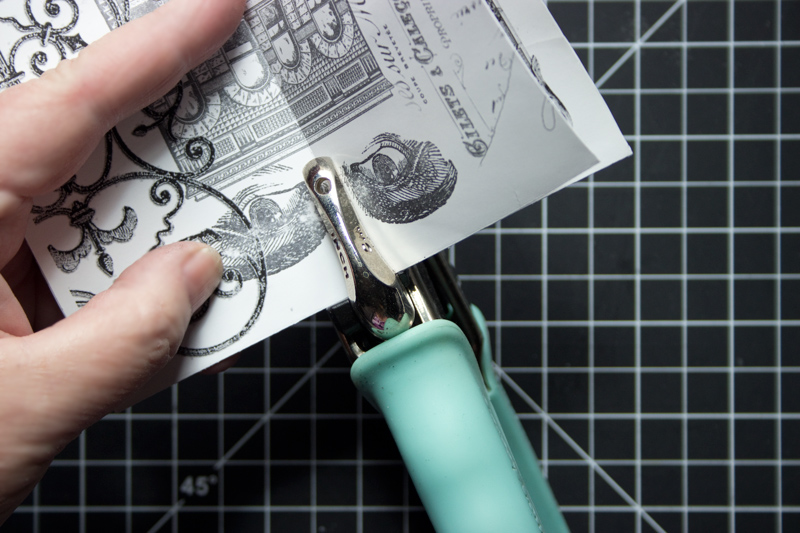 Your printable mini-book is complete!
It's perfectly lovely as is, and there is no need to embellish further…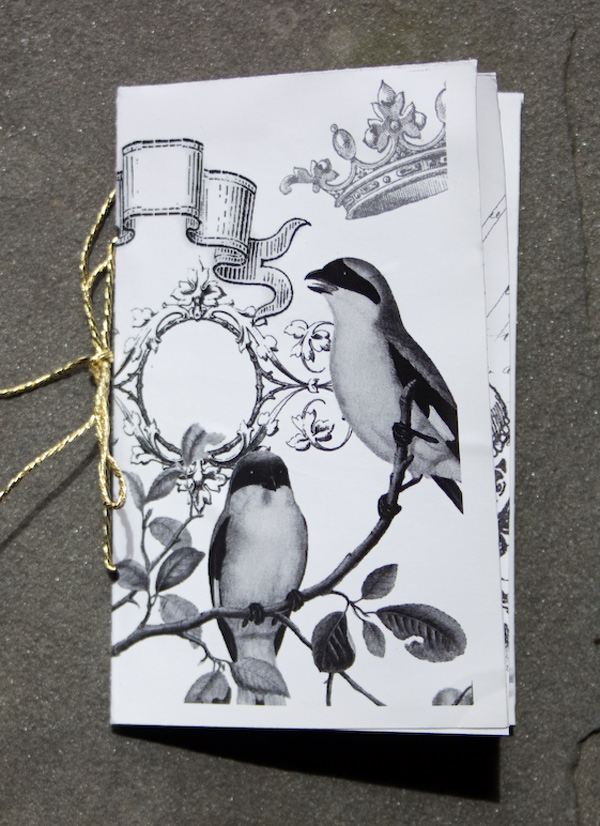 Unless, of course, you're a 'more is more' type of crafter! (I am!)
It can be very enjoyable to create more interest and drama with color.
I used Mowed Lawn and Peacock Feathers Distress Inks to add color: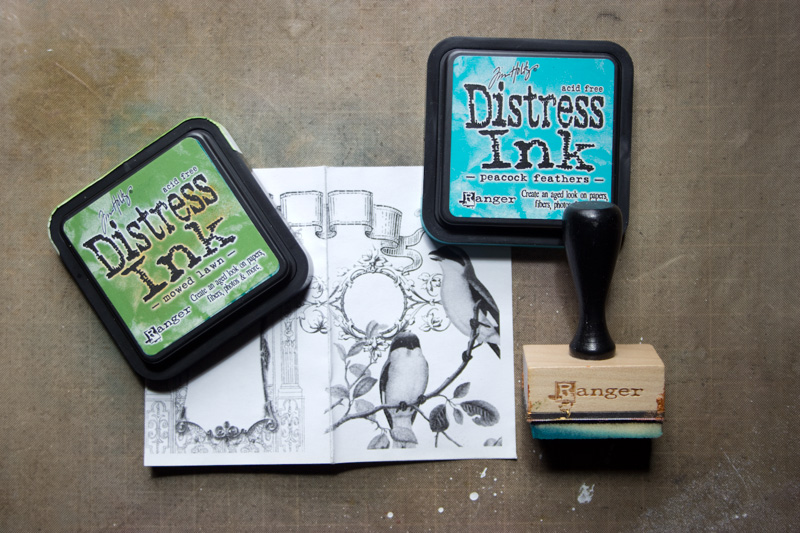 A blending tool allows you to gently swirl the ink onto the surface of the paper, creating lighter and more vivid areas: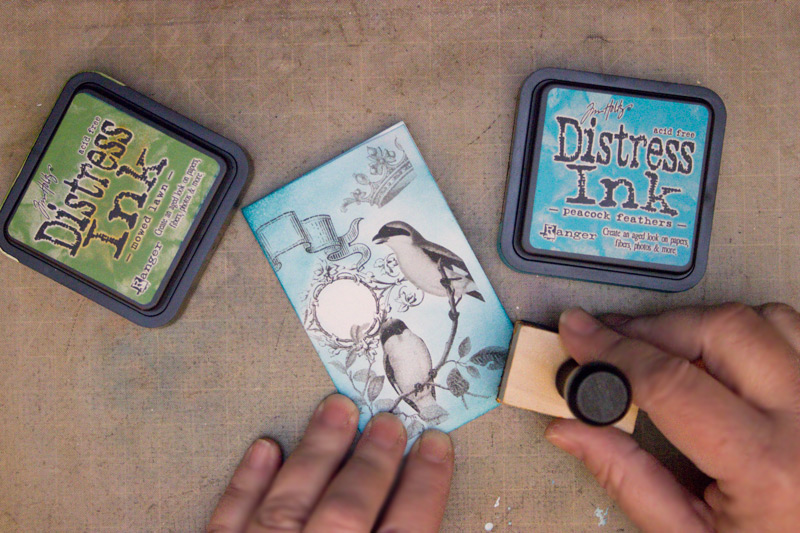 The design includes several 'framed' areas to allow for journaling, or sentiments to be hand written.
I chose to leave these areas white: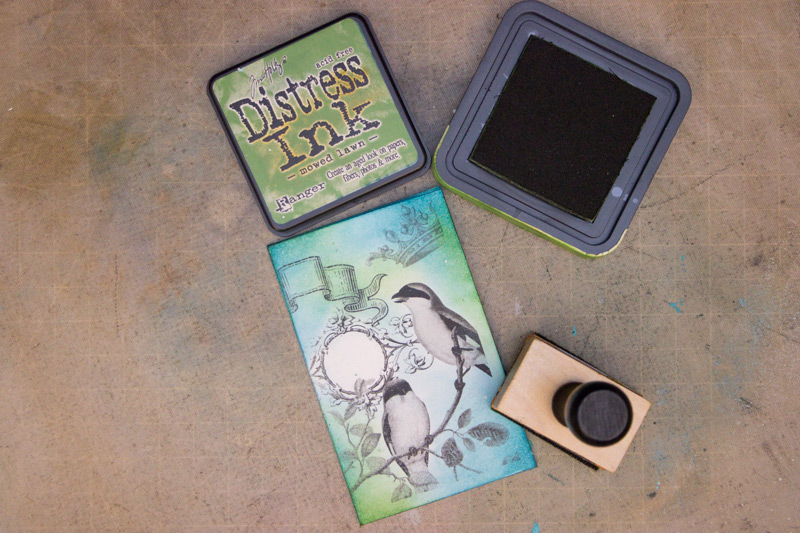 Once you have completed inking your pages, a heat tool ensures that the ink is dry before moving on to the next steps: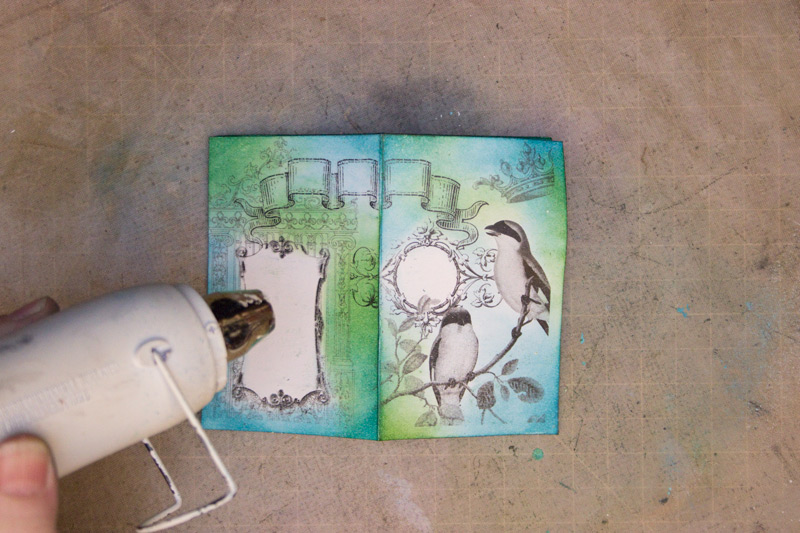 I love to embellish graphics with touches of white and gold…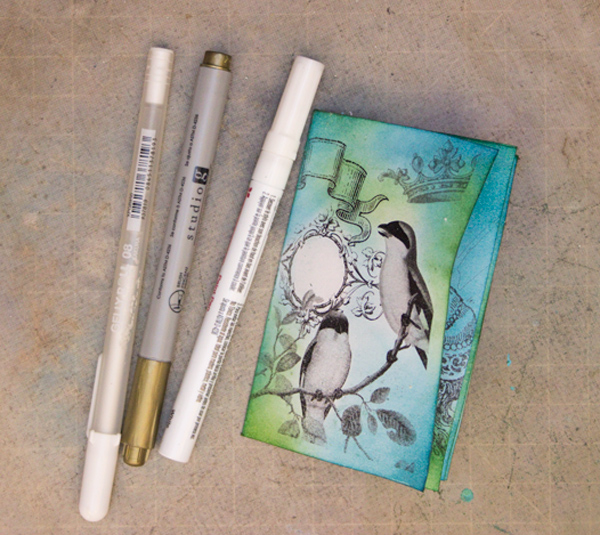 Tiny dots and lines of white Pen can highlight portions of the graphics: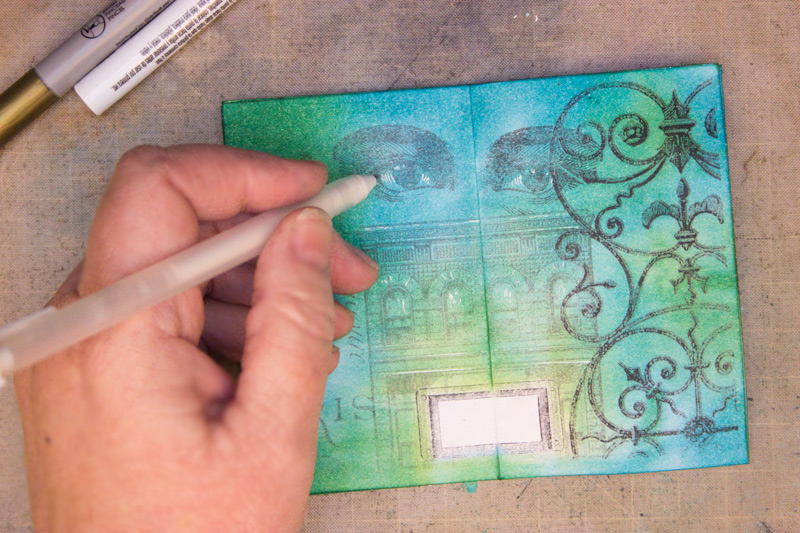 Touches of gold Pen can emphasize the 'bling'!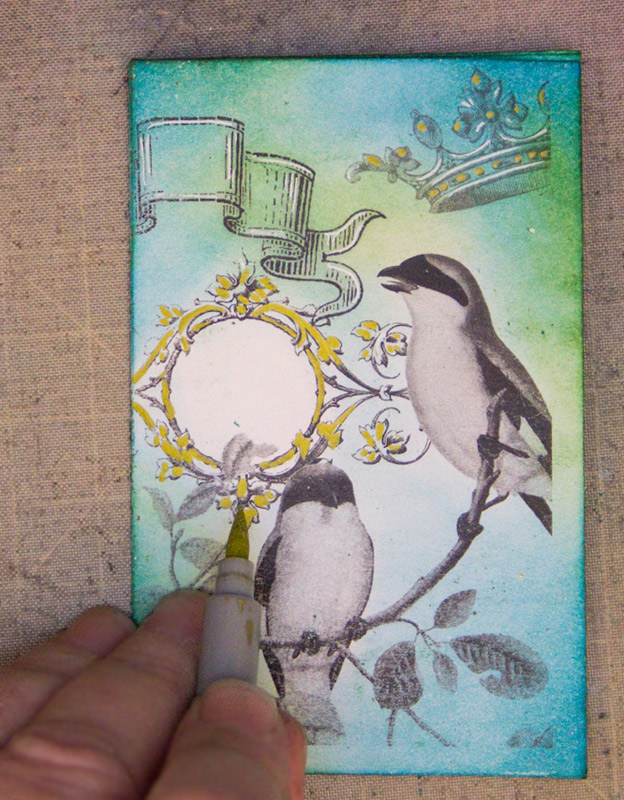 The addition of tiny gems or pearls enhance the design: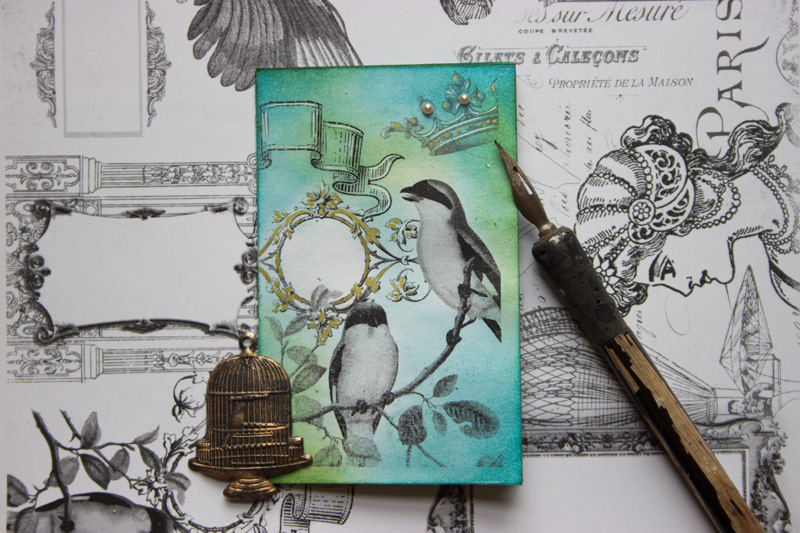 The headdress of the figure has been highlighted with white and gold pens, and tiny pearls: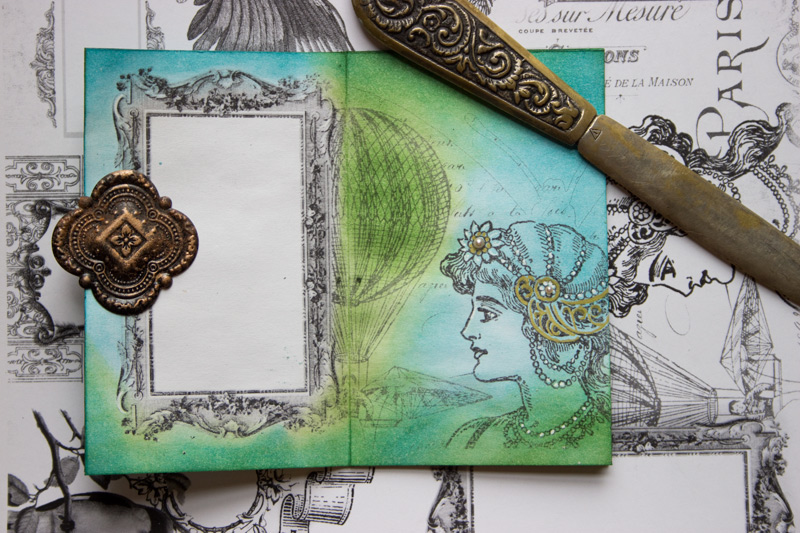 The tinted pages leave spots for tiny love notes in the white areas: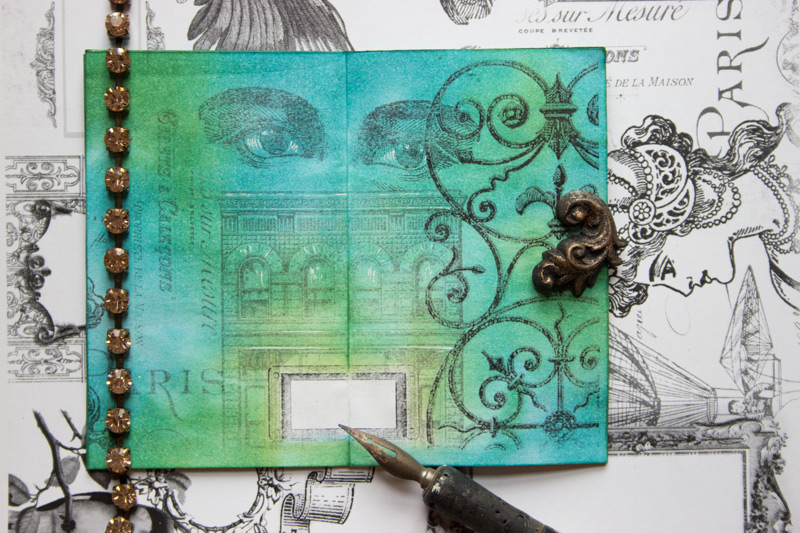 Use your imagination, and create color combinations that appeal to your senses!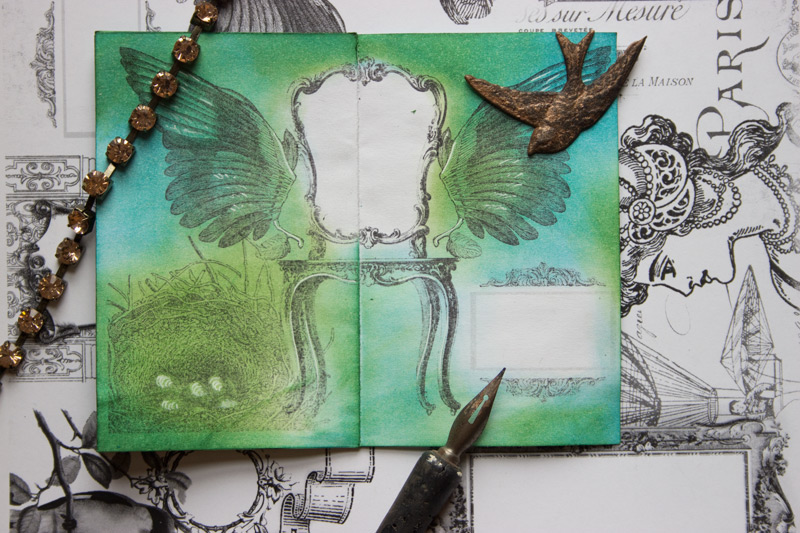 The completed mini-book is the perfect way to tell someone you care, or to showcase your favorite quotes!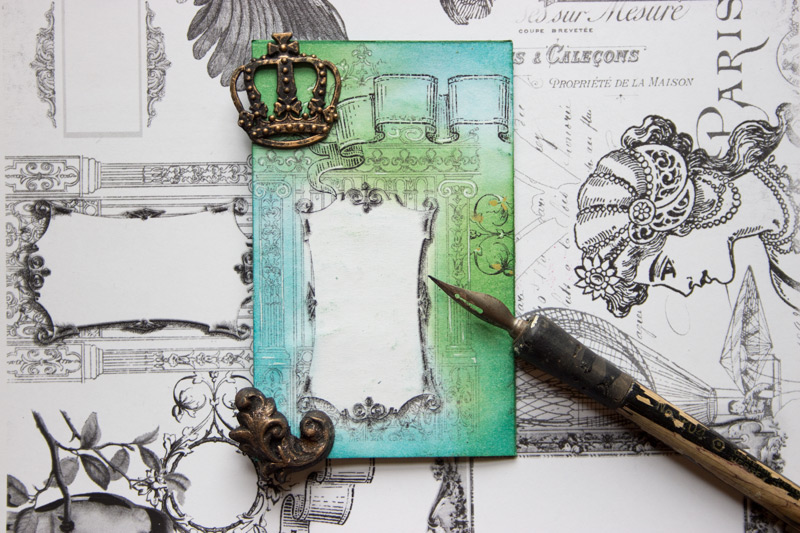 Both versions of the Printable Mini-Book are charming…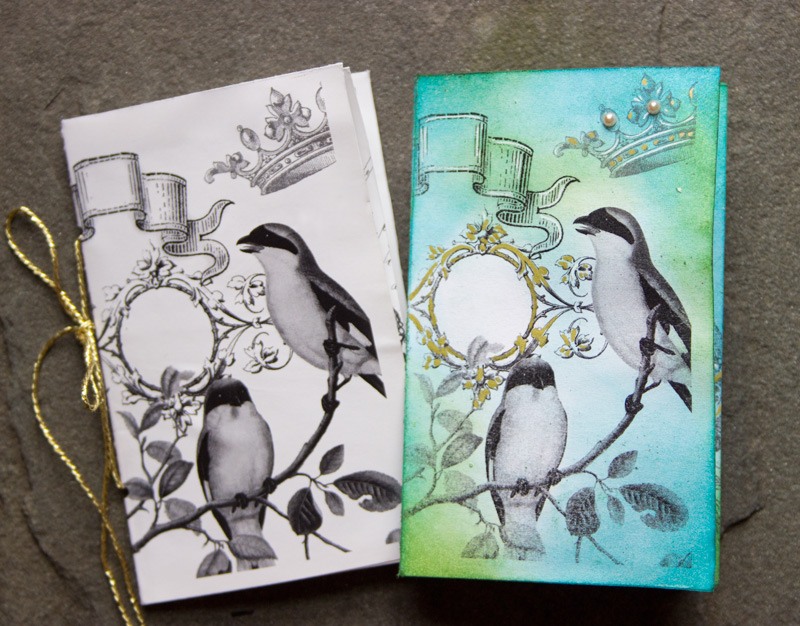 Isn't it fun that this sweet keepsake can be created from a single sheet of printer paper? I hope you enjoyed learning how to Make Printable Mini Books today!
I love that.
Thank you for visiting The Graphics Fairy today – it's such a pleasure to share crafty goodness with you!
Take Care,
Heather
P.S. If you're in the mood to explore quirky techniques and mixed media mayhem, drop by Thicketworks and say 'Hi'! You're always welcome there.
You might enjoy this recent project: