Ottomans are such a handy way to add a lot of character and style to any space, plus you get the comfy factor of being able to put your feet up – or even use it for additional seating when you're hosting a crowd. This week's project is an easy ottoman DIY that is low skill level but high on style. I made this ottoman in about 2 hours from an empty cable spool – so it's recycling, too!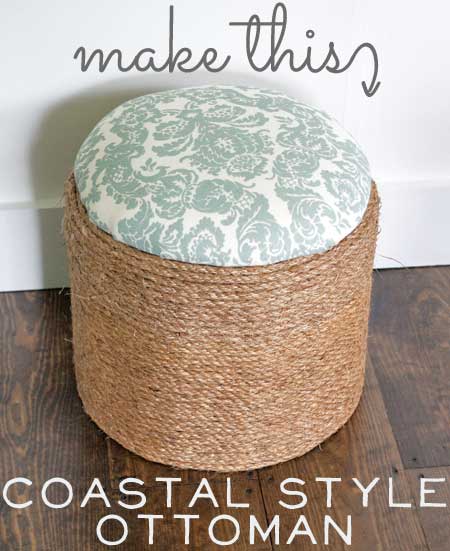 This post may contain affiliate links which won't change your price but will share some commission, you can find our
privacy policy here
.
First you'll need a few supplies:
A cable spool
Some 2x2s
Cardboard boxes
Screws
Staple gun & staples
Manila Rope
Hot Glue
Sharpie
Posterboard
Foam chair pads
1/2 inch plywood
Quilt Batting
Fabric of your choice
Scissors
Command Picture Hanging Strips
Alright – let's make this!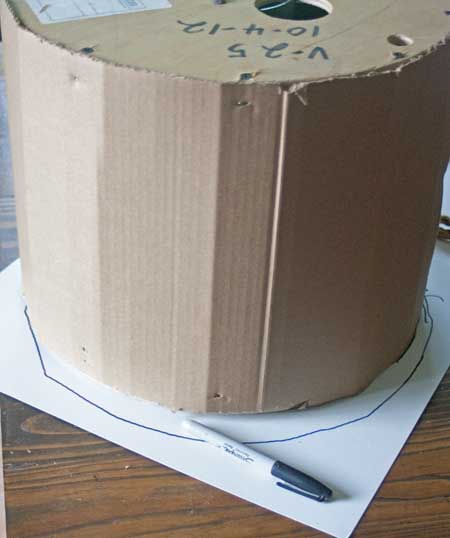 Start by putting together the base of the ottoman. You'll need to cut pieces of the 2x2s to give strength, then cover the whole thing with cardboard. You can learn how to do this in my Slipcovered Ottoman Post.
Next, trace the end of the spool on the posterboard to get the pattern for the top. Put it aside and let's rope it up!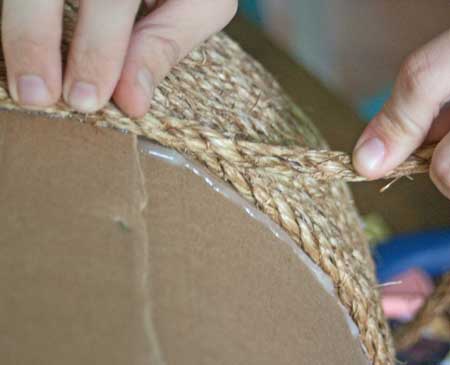 Using hot glue to adhere, go round and round the ottoman base, adhering the rope. For more tips on how to work with the rope, you can see my
Rope Mirror project.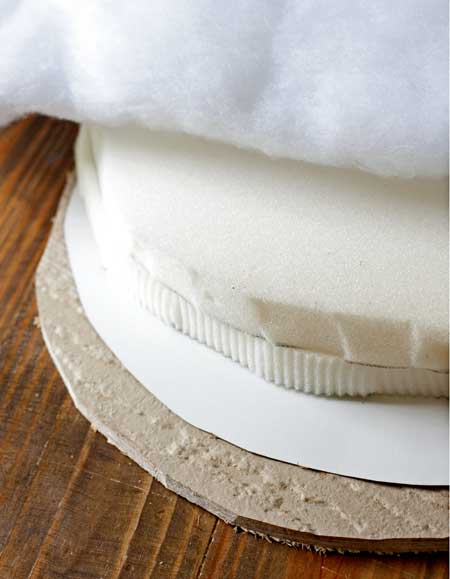 Once the base is finished, let's make the top: You can see the plywood, then the template, the foam (I used two layers for maximum comfiness, then 3 layers of quilt batting. I had all of these left from other projects, but you can purchase a set of chair pad cushions for about $8 at Walmart (for a set of 4) – it's the cheapest option if you don't have any on hand.
You don't need to leave the cardboard template in the stack, I just put it in the photo for reference. I used the template to cut the foam and the board (which I cut out with a jigsaw.)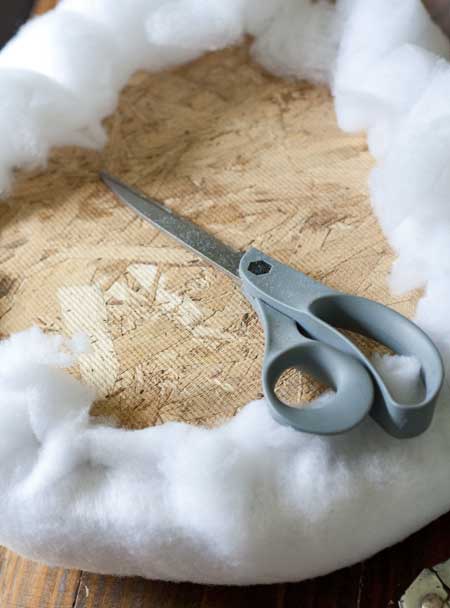 Once you have all the layers in place, wrap the batting tightly around the board/foam layer and then staple. After you have it secured all the way around, trim up the batting.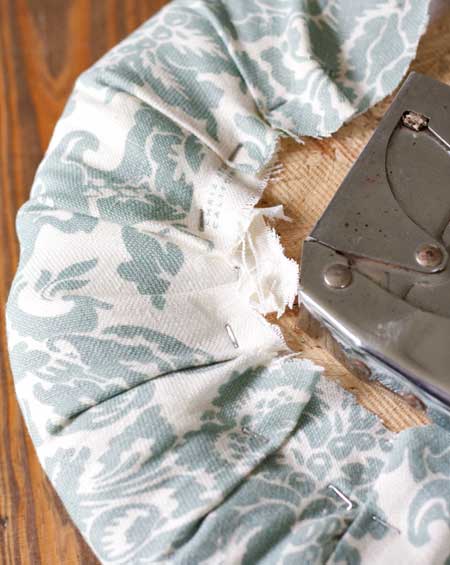 Next, wrap the fabric around tightly and staple. I did four sides (think north, south, east, west), then pleated the rest with small tucks and staples. Trim out all the fabric and then you're ready to attach the top to the base.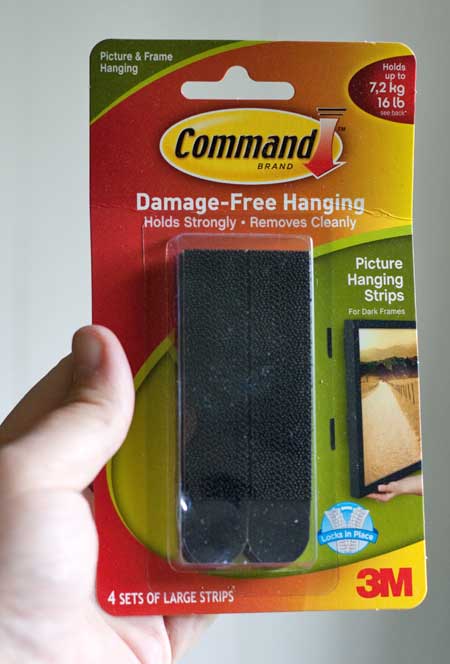 For this project I used Command Picture Hanging Strips – just use them according to the directions on the package. (Umm… these things are like magic!)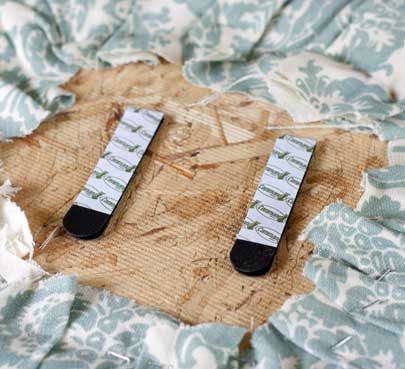 Click two of them together, peel off the paper on one side, stick it to the top, peel off the other side, then press into the top. If your top is too thick to make them work (my first attempt was), you can attach a small, round piece on top of the base to give them something to hold on to.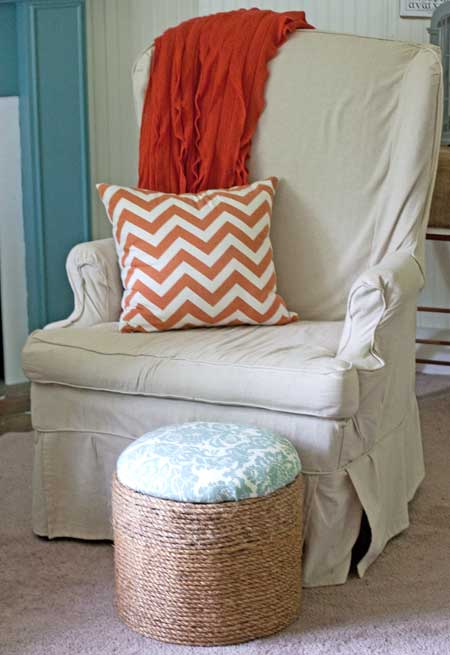 Then, sit back, relax and enjoy your new coastal style ottoman!
See ya soon with another project! In the mean time, I'd love to see you over at my blog at The Shabby Creek Cottage.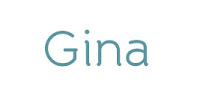 Hello! Are you new to The Graphics Fairy- DIY?
Welcome, I'm so glad you're here! This is actually a separate blog from my Vintage Image site. Browse around to find Projects and DIY Tutorials, as well as Free Iron On Printables (many of them French!) You can subscribe via email so that you don't miss a single project or printable, just click HERE to sign up!