Paint Stick Wall Art
Hi everyone, it's Andrea from The Cottage Market and it's great to be with you, here at The Graphics Fairy blog, once again. Today I have a very easy project for you that you can customize with any of the TGF graphics, that you like. This Tutorial is for a DIY Paint Stick Wall Art Project…you know those things that you use to mix up paint, in a paint can? How fun is that?! Have you ever thought about using those Wooden Paint Stir Sticks for your creative projects?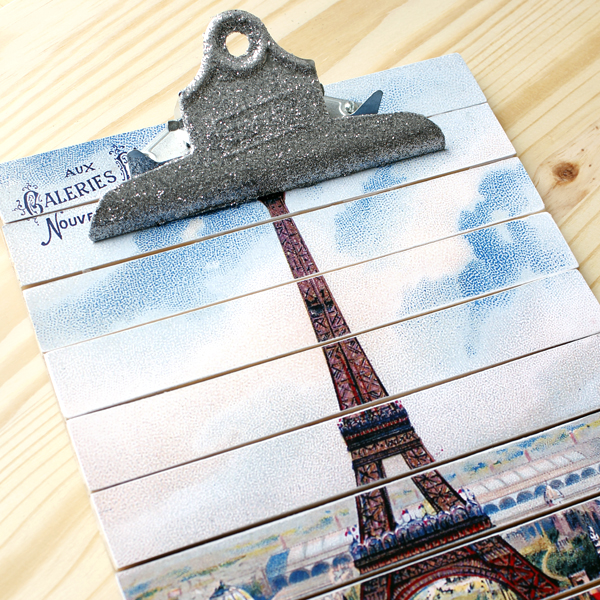 I love a good upcycle idea … and this one happens to be super simple too. For this piece, I chose a cool vintage Parisian print that I love, but you can browse around and select whatever you like, or whatever matches the décor in your home as the perfect accent. There are lots of options in our Free Printable Wall Art Post HERE. You can make one of these DIY Parisian Paint Stick Clipboard Projects in just about an hour!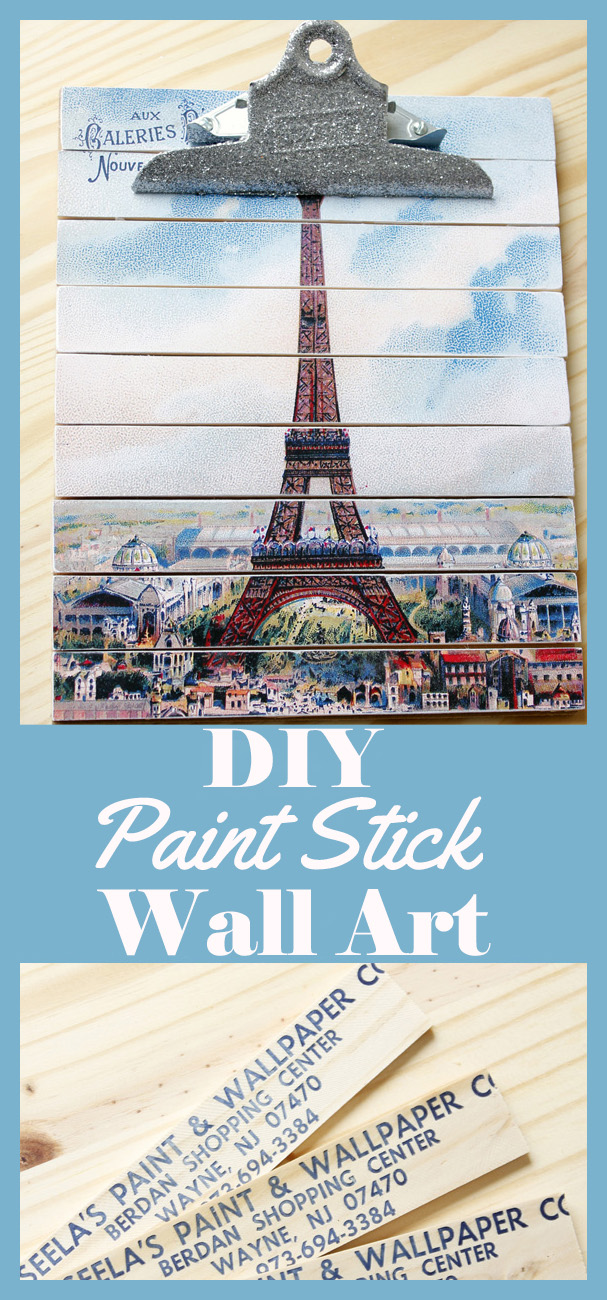 How's that for instant, creative, gratification?! I think it would make a great diy gift too. Now, let's see what we need to start creating… you'll find the supply list and all of the steps in the post below.
Paint Stick Wall Art Supplies:
Clip Board (Or Board cut to size and a Metal Clipboard Clip that can be screwed in, or glued on)
Scissors
Brush
Mod Podge
Glitter (Optional, but oh so fun!)
Hot Glue Gun (with glue)
Sand Paper
Craft Glue
Box Cutter (or small saw)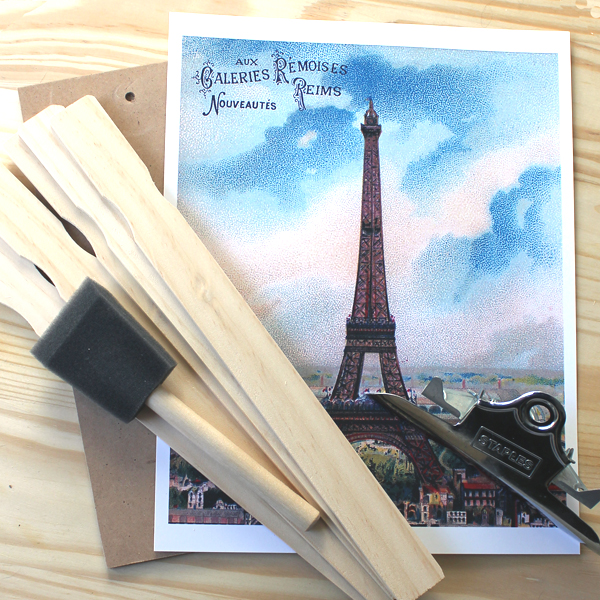 Instructions:
Step 1: Trim your print, to remove the white border around it, if it has one.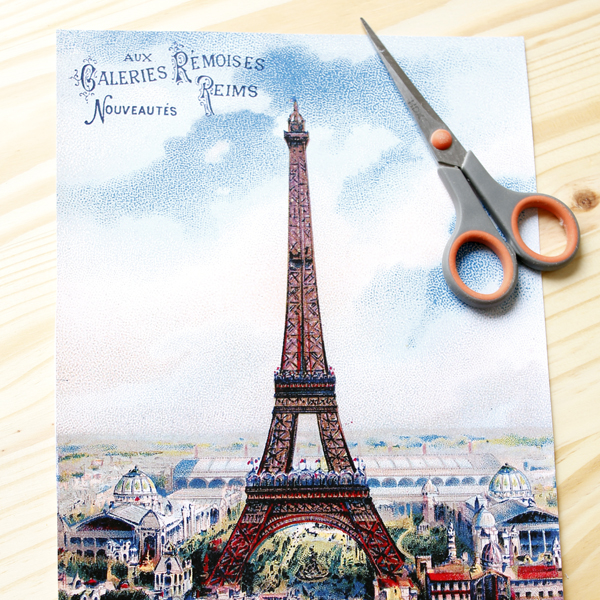 Step 2: Once you have determined the size of your clipboard…then you will have to trim the paint sticks to the exact width that you will be using. You can use a box cutter, or of course a saw… or your cutting tool of choice.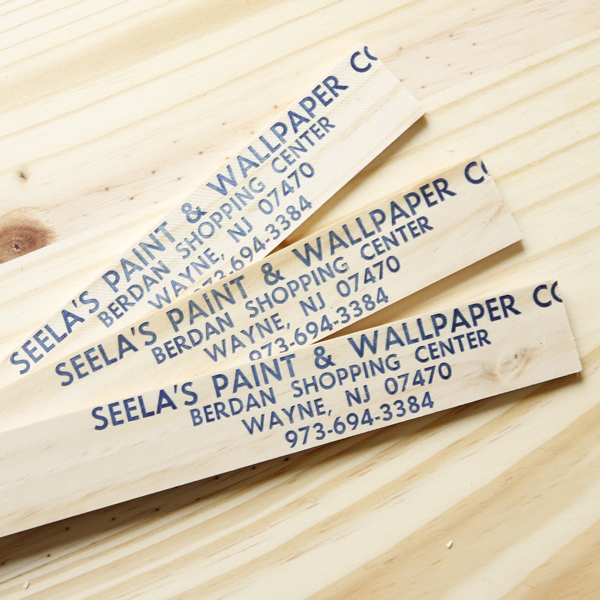 Step 3: After your paintsticks are cut to the desired size…apply some glue to each of the sticks, one at a time, and glue them onto the back of your image leaving a little space between each for cutting…repeat this till the entire piece is complete.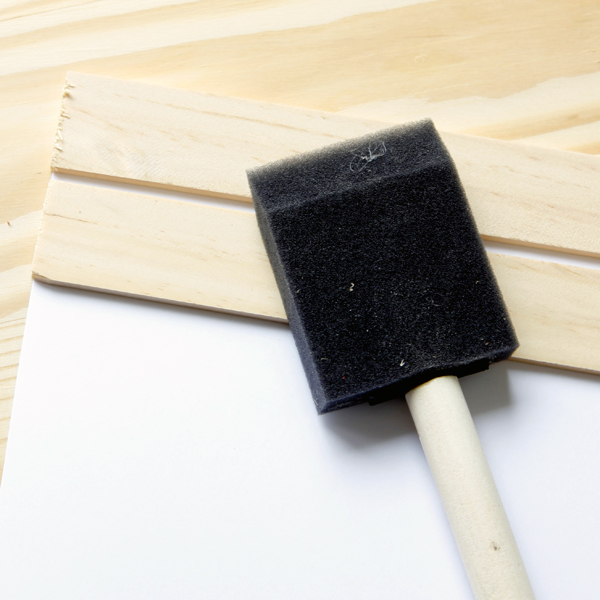 Step 4: Once they are all glued,  and the glue has throughly dried…take an X-acto blade and cut them apart…then sand each side till you have a smooth edge with no fraying from the print.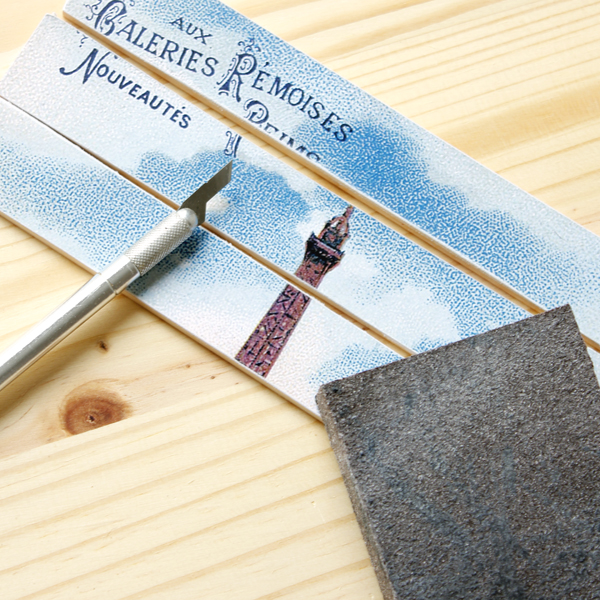 Step 5: Then you take your slats and hot glue them to the base of the clipboard…it will look sort of  like pallet art, only smaller.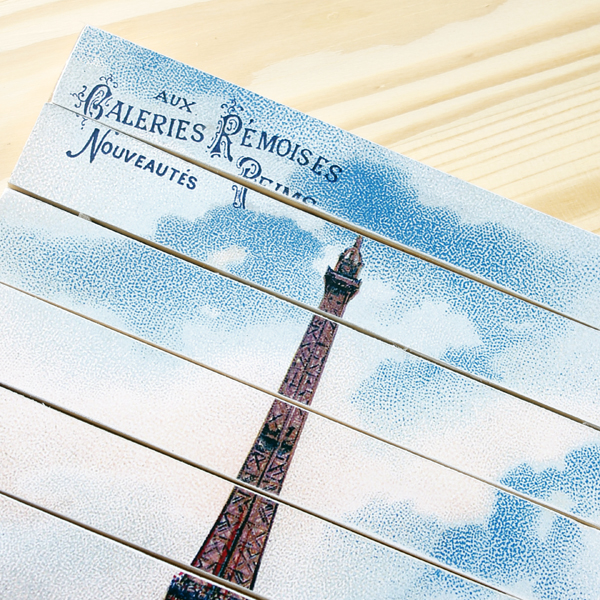 Step 6: Once all of the slats are attached…attach the metal clip. I gave mine a little glitter bath first, with some silvery glitter, and then applied a coat of thin watered  down Mod Podge and allowed it to dry so that the glitter won't shed. I used a regular clipboard and detached the clip so I could work easily and then attached it right back. You can use wood…mdf… or masonite…the choice is yours.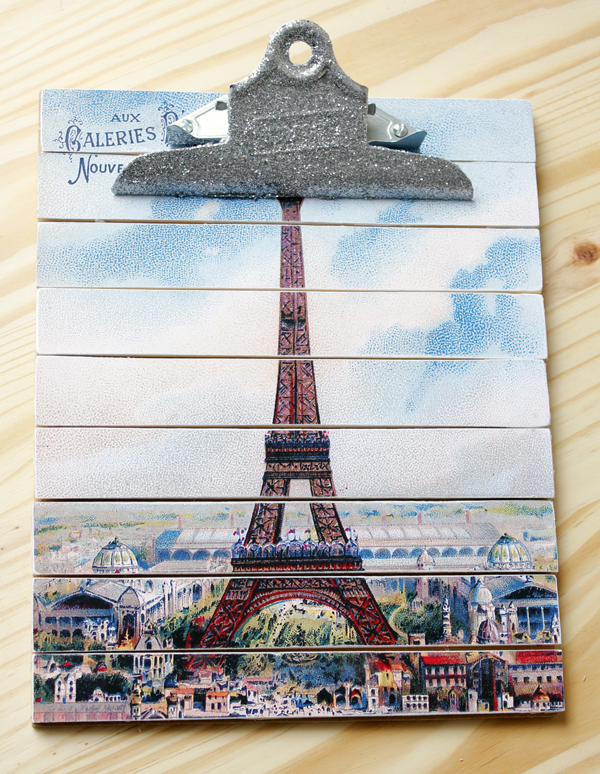 Step 7: Give the final piece a coat of protection with Mod Podge if you would like. If it is just going to be decorative…then there is no real need. Now the piece is ready to use on your desk or hang just about anywhere…you could even put HIGH power magnets on it and attach it to the fridge…tons of possibilities! See … I told you it was easy : )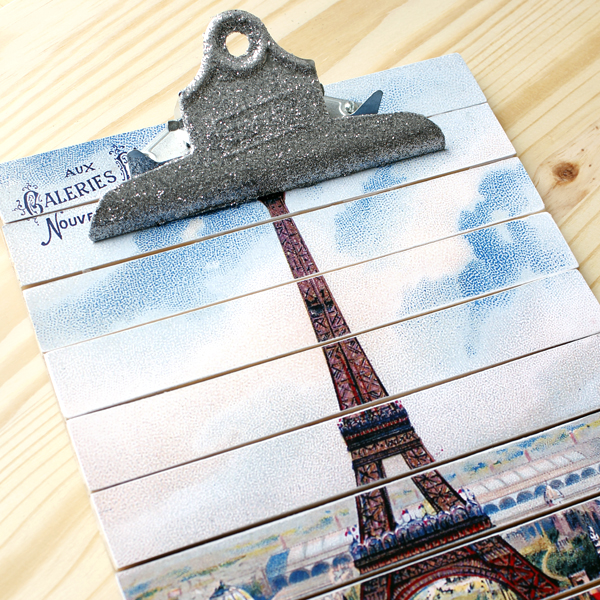 Step 8: Step back and admire your pretty project! I think this would be so cute on the wall of a craft room or bathroom for some rustic wall art.
I hope you liked this Paint Stick Wall Art Project! Is your mind open to the possibilities of creating Handmade Projects with paint stir sticks? I hope this has given you inspiration to dig out those unused Paint Stirrers out of your garage, or basement, and make a fun Upcycled Craft or Home Décor piece for yourself. (Of course you can actually purchase them too, but it's so fun to use up those free ones!) I've seen these sticks used as Tabletops (with a little stain), Lampshades, Wall Décor, Picture Frames and so much more. You can paint them, stain them, decoupage them, or embellish them however you like.
For more creative DIY Ideas you might also like this Boho Wall Decor Project HERE.
Once again it was wonderful spending some time with all of you and I hope to see you again soon.
If you want to visit before that…just drop by The Cottage Market…that is where I hang out all the time!
Hugs…
Andrea