230 Free Vintage Prints
In this post I'm sharing a collection of my favorite free Vintage Prints. Whenever I'm able to purchase full page antique prints or plates that would look great framed, I get super-excited! These are all larger size printable images, suitable for framing, as-is. Many of these Vintage Art Prints are antique pieces that I have found on my travels. I have scanned them in, and cleaned up, and they're ready for you to hit print and frame for some instant free Printable Wall Art for your home. Click on the links next to each description to be taken to the original post and image. Keep in mind each post has numerous pictures on a particular topic or category, but the number shown next to the topic reflects how many of those are Full Size Printables that are just right for framing, so you will need to scroll through those posts a bit to find them in some cases to find those larger pieces. Many of them are PDF's, but not all. Enjoy!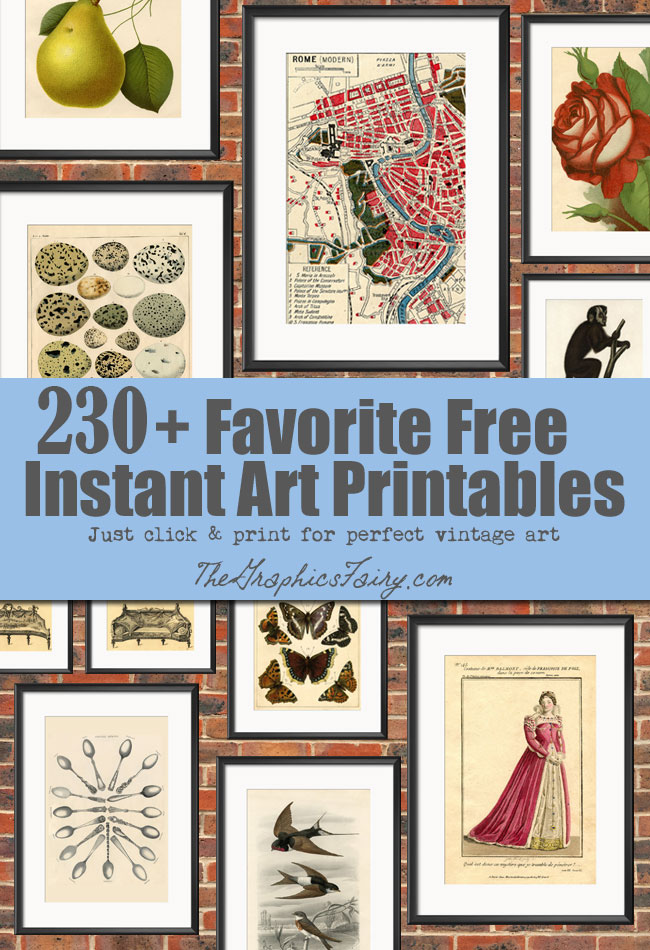 Free Printable Wall Art Women and Costumes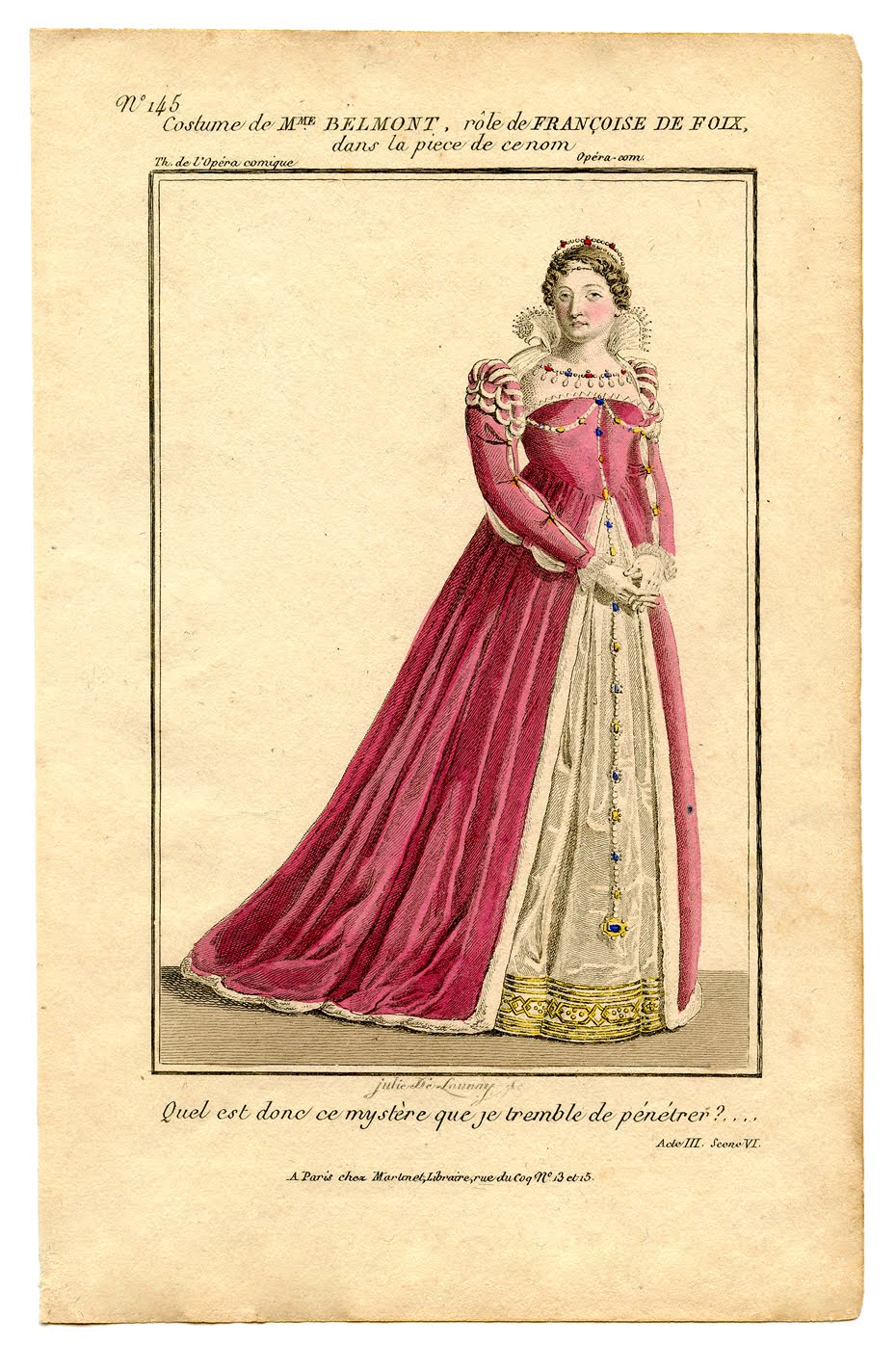 1 French Queen Opera Costume Print This one is a fantastic 1830's print of a queen dressed for the opera in a beautiful fur-trimmed pink gown. The image of the queen standing shows her intricate dress, complete with jewels and tiara!
1 French Woman with Bird on Hand This wonderful old black and white etching is of a "Lady of the Court of Louis XVth". This fashionable French woman is holding a tiny bird, and just look at the fancy tiny cage she keeps him in. This is a nice one for your Marie Antoinette projects. She would be beautiful colored in too!
4 Regency Fashion Plates   There are several lovely Vintage Print options here for you including a fun French Actress Print! This lovely costume print shows an actress with a regal dark blue dress with lace & fur trims. She wears a blue banner across her shoulder, and her hair (or wig) is piled high on her head, with a pretty pink ostrich feather in her hair.
3 Beautiful Brides Free Prints Vintage My favorite in this collection is the beautiful Fairy Bride. This fairy wears a flowing white gown with a veil. She is standing in the grass, and the cutest beetle is holding her train. This pretty print is a black and white etching with the prettiest yellow touches on her dress and green on the plants.
6 Antique Fashion Plate Prints Included is a Victorian fashion print from 1855. These ladies look so stylish with their tiny waists and full skirts. One woman is wearing a gold colored gown with a blue ribbon in her hair. The other woman is wearing a pretty white tiered dress with blue accents. The other plates are lovely as well!
4 Charming Garden Fairies Included is a fanciful print that shows a Winter Fairy with a black and white gown, magic wand, and large hat. She is riding a brown horse with icy bridle and reins. Adorable angel children carry the fall leaves away in the whipping wind. So charming!
Vintage Art Prints Flowers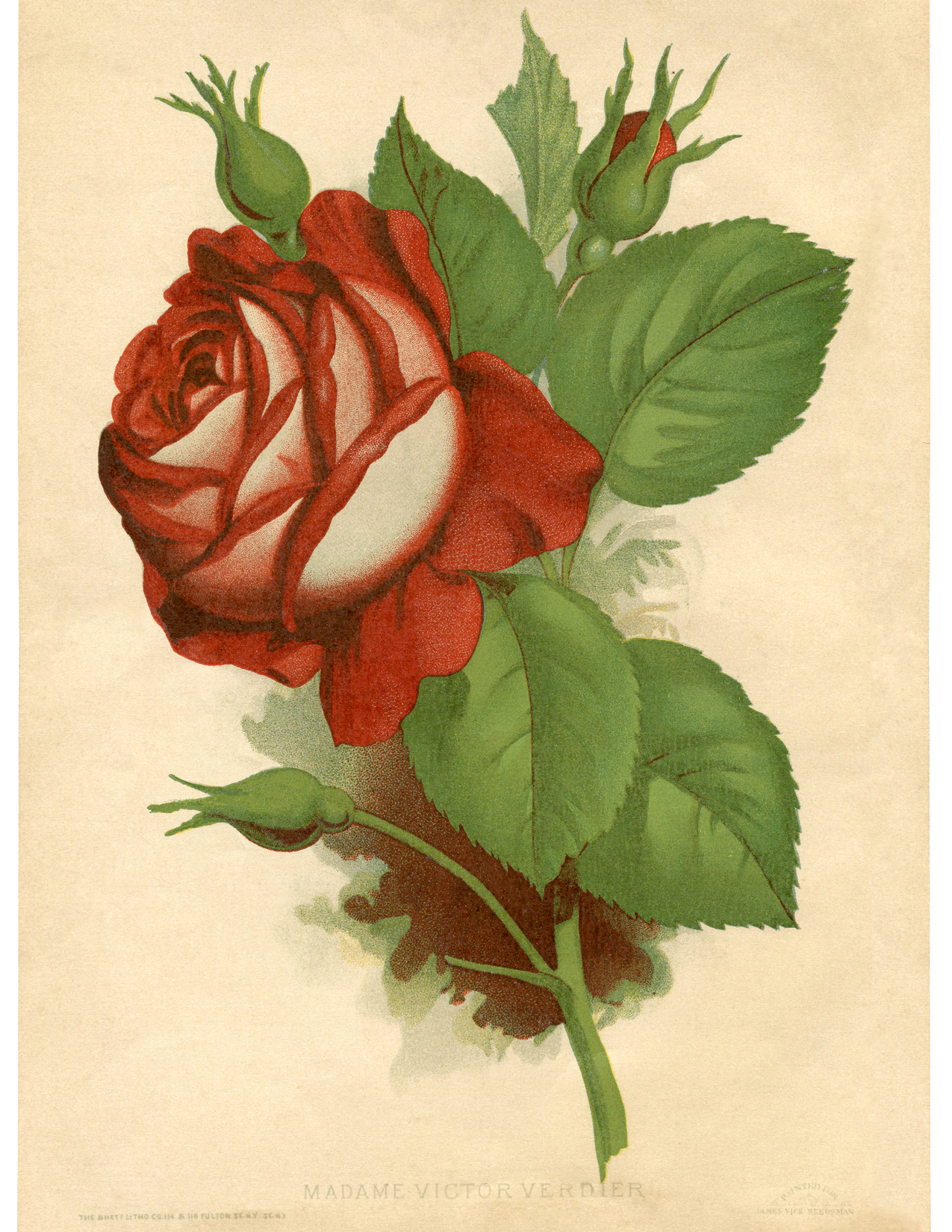 3 Red Rose Vintage Printables This is a lovely set of red rose vintage printables. Included is a marvelous antique print of a perfect red rose came from an old nursery catalog and is likely 100 years old. According to the caption this is a Madame Victor Verdier.
 12 1855 Botanical Bouquets Here you will find a beautiful instant art print of a passion flower vine from an 1855 botanical book. This one is wonderfully monochromatic with all of the various shades of green. There is a high resolution printable as well as the flowers on a plain white background. The other prints on the page coordinate so nicely with it, nice for a living room or hallway!
 9 Botanical Flower Prints This is a stunning collection of botanical floral prints. A favorite in this set is a bright pink and white lily. This one came out of an 1870′s gardening book. There is a large instant art printable. This one is perfect for card making, decoupage, and other craft projects.
 4 Lavender Botanicals This lovely set of Lavender botanicals. In particular one these is from an 1852 encyclopedia of useful and ornamental plants. It shows three purple flower stems and leaves. This would be wonderful for labels for bath and body products or great for sachets.
1 Daisy Botanical This is a very sweet daisy botanical from the 1850's. The image shows a daisy from the front, one from the back, and a bud. The hand colored image shows springy green leaves with white petals and a bright yellow flower center.
5 Hydrangea Prints One of my favorite sets! Match your decor by downloading the Hydrangea in the color that you need, blue, white, pink and lavender are all offered here.
7 Botanical Branches This one has such a lovely woodland feel to it. The branches all have green leaves, many have flowers and a few have berries as well. They are all from the same Antique book and coordinate very nicely.
Free Vintage Prints Birds, Eggs and Nests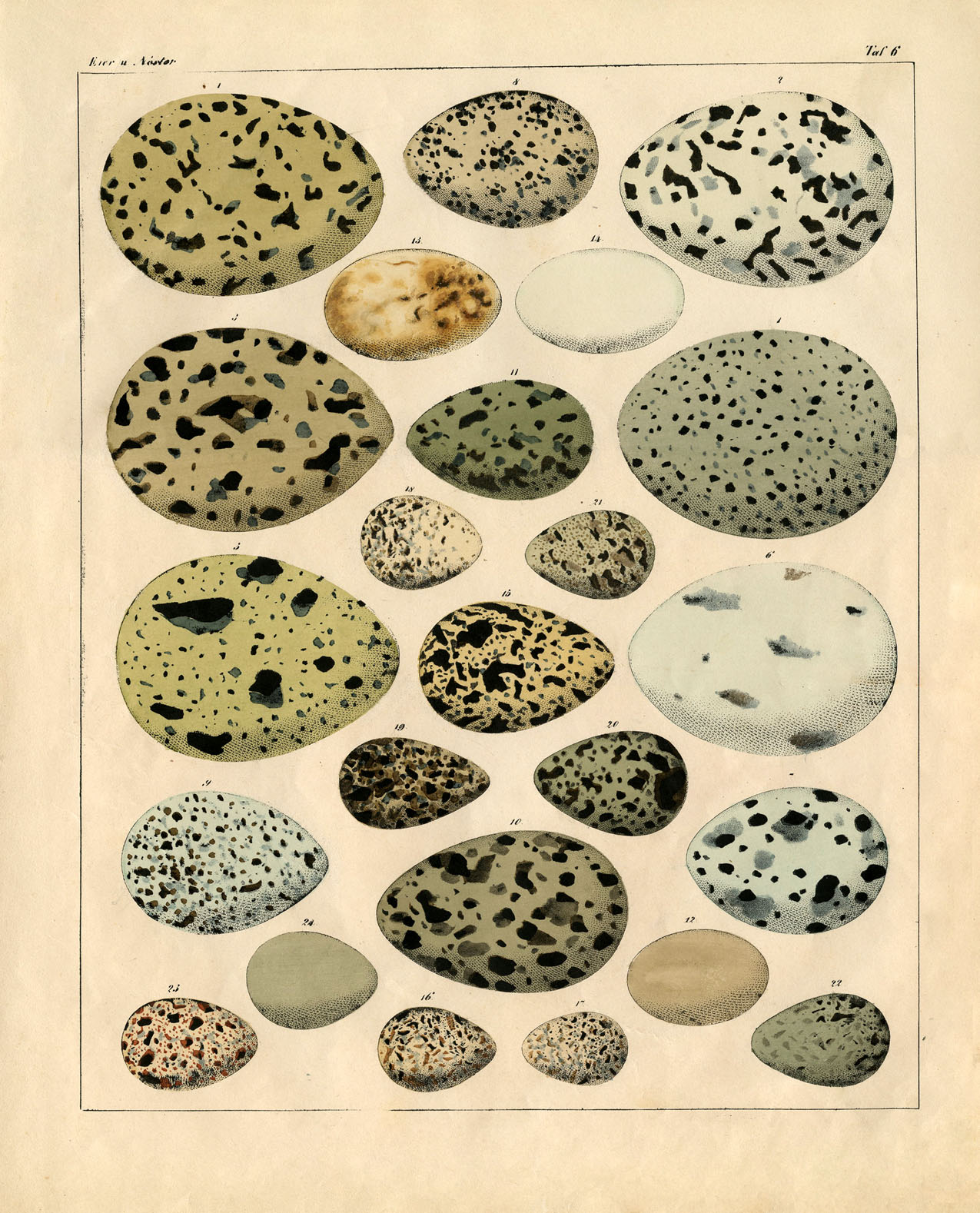 8 Bird Egg Prints This is such a charming collection! Included is a favorite egg print from my collection that you see above, circa 1843. The print shows 24 eggs in all shapes and sizes with the greatest speckled patterns. The one has shades of blues, greens, and tans. I think it would be gorgeous as canvas prints or printed on linen fabric!
11 Spring Nest Printables So many really lovely Vintage Art Print Nests! Included in the set is a very interesting brown nest built in tall green grasses by the Towhee bunting. There are four adorable white speckled eggs in the nest too! Most of these come from a rare 1880′s natural history bird book in my collection.
6 Owl Vintage Art Prints This is a wonderful set of Owl Prints. I think these would be perfect for changing up your decor in the Fall season!
5 Shorebirds This set of Vintage art would be just right for hanging on the walls of a beach house, or if you just want to add some coastal touches to your home.
3 Pink Birds I could see these in a little Girl's room. They are very charming Antique Natural History prints, with a lovely rosy hue.
4 Yellow Birds Prints Just as it sounds, these are lovely Yellow Bird Prints. Nice for adding a bit of warmth to your space.
3 Peacock Art Printables This is a long post, you'll need to scroll through numerous Peacock Images, but the I promise there are prints there as well and they are really stunning!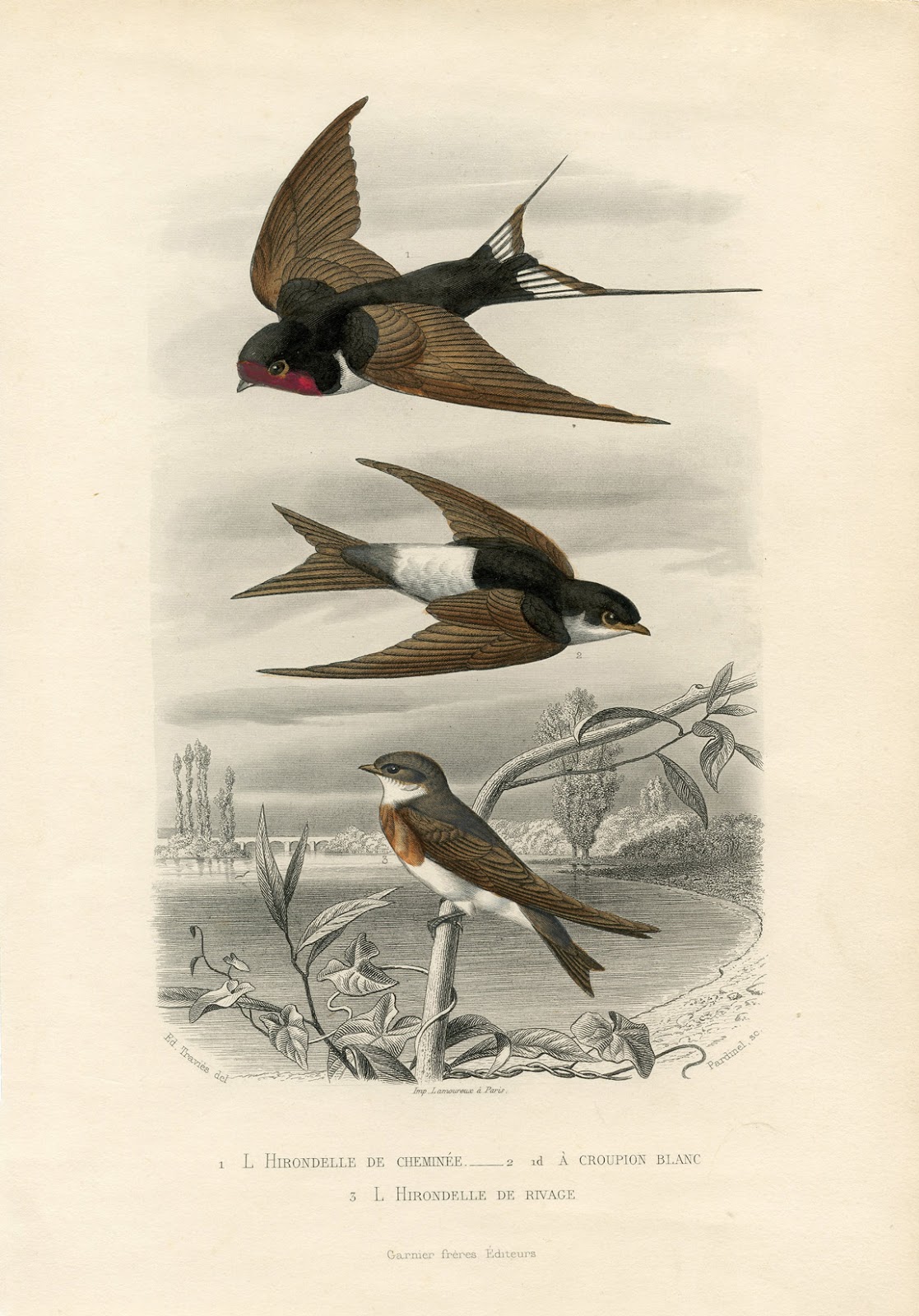 9 Vintage Art Bird Prints These gorgeous Natural History Birds are some of my favorite all time pictures on this site!
6 Natural History Bird Bookplates These are a bit smaller than the ones above, but it's a really charming collection all the same.
1 Rooster When you want to add some French Country Flair to your Kitchen or Dining room walls, this full color print is ready to be framed.
Printable Wall Art Fruit and Vegetables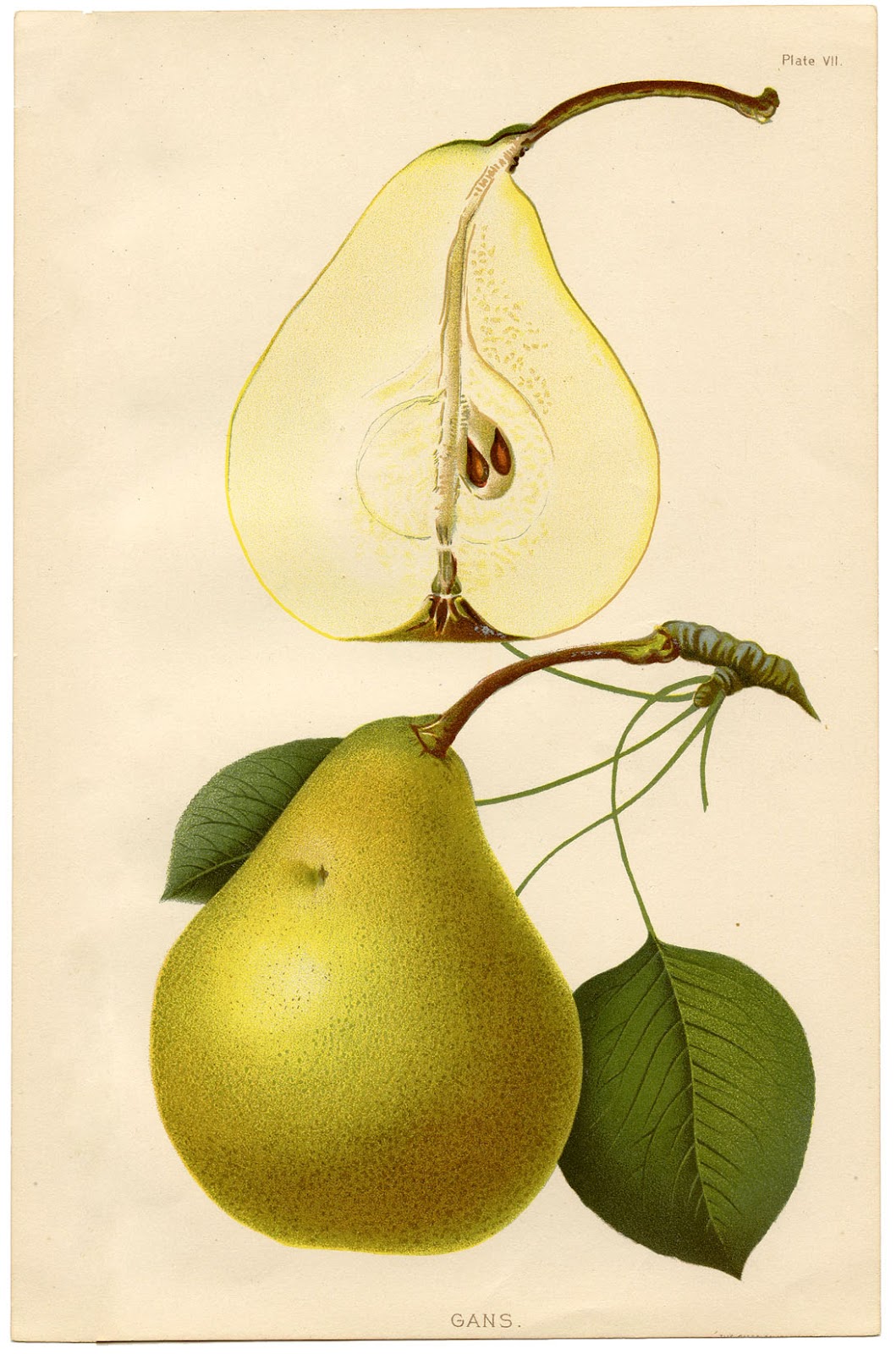 3 Botanical Pears This a gorgeous set of botanical prints. Included are the one above which shows a golden yellow pear with a pair of leaves. The print also shows the pear cut in half with seeds visible. This beautiful print would look lovely framed in a living area or kitchen.
 2 Kitchen Vegetables Prints This is a wonderful pair of botanical free printable wall art pictures. One in these in the set set shows some lovely vibrant vegetables, including a bright green cabbage, a turnip and cauliflower. This would look great framed and hanging in a kitchen. This image was scanned from an 1860 antique British botanicals book in my collection.
 3 Coffee, Tea and Spice Printables  In addition to the Coffee and Tea Plant Vintage Art Prints, you will also find a fabulous bright red chili pepper botanical print. This one shows the chili plant with green leaves and white flowers. There is a small green pepper on the vine and a full size red pepper. This is a Circa 1829 rare print by G. Spratt. This would look lovely in a kitchen.
 1 Black Olives Printable This one is a great looking botanical print circa 1887. Featured is a branch of Mission Olives, which are a dark black color. The leaves are a nice dark green. Wouldn't this look great in a Tuscan Style Kitchen?
 2 Grapes This antique pair of free prints vintage pictures shows a bunch of plump juicy looking green grapes with a dark green leaves and some coordinating Purple Grapes. The backgrounds are a nice aged sepia tone. I think they would look great in a kitchen, or displayed near bottles of great wine!
Vintage Prints Butterflies, Bees and Moths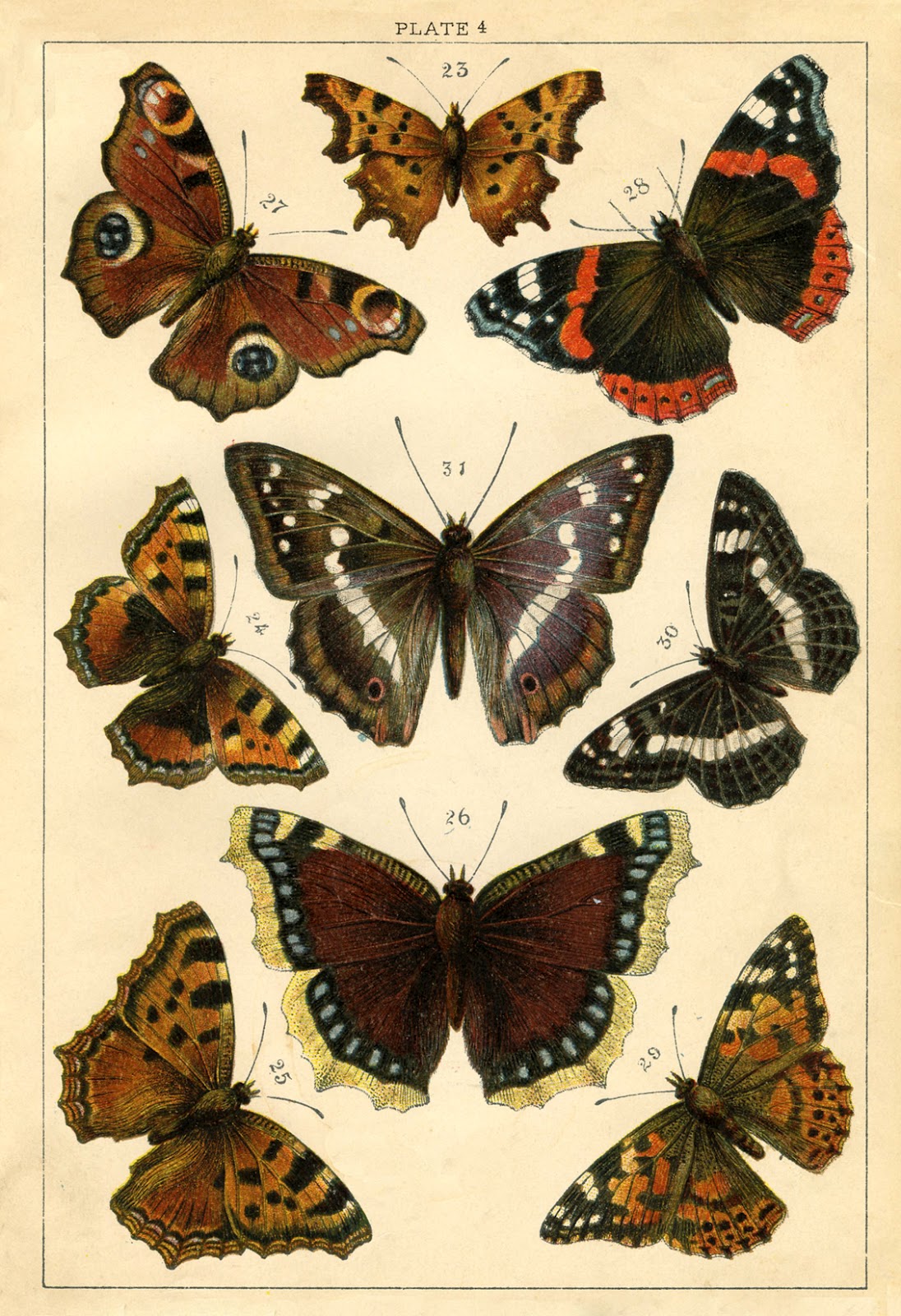 3 Orange and Brown Butterflies and Moths This lovely set of prints show Autumn hued Butterflies and Moths. Included are the pretty antique print that you see above, which shows nine butterflies and moths artfully arranged on a sepia toned background. I love the variety in color and wing shape on these! The butterflies are all in tones of orange, rust, red, and brown. A few have nice blue accents. So crisp and clear they almost look like photographs.
9 Bohemian Butterflies Vintage Art Prints Another favorite collection! These lovely French prints show a nice selection of colorful butterflies with Flowers. The butterflies, and moths, are all different colors and sizes; the chartreuse butterflies are my favorites! The variety on these images makes me think of Anthropologie as they have a Bohemian style look!
9 Natural History Bees Instant Art  This is a really marvelous collection! One of my favorites is a fun old engraving of flowers in black and white with three varieties of honey bees in mid flight, ready to land. I love the contrast of the bees in color against the black and white flowers in the background.
5 Natural History Moths and Butterflies This a popular set on this site. Some really lovely Free Printable Wall Art prints some with Moths and some with Butterflies, several are French!
3 Blue Butterfly Prints Some nice pieces here when you need a touch of blue for your room decor. Included is a print with some lovely butterflies, in soft blues, greens, periwinkle, brown, and a creamy one too! There's some wonderful typography on the page as well. That one dates to the mid 1800′s and came from France.
8 Butterfly and Bug Book Pages This is another popular set! These are all done in neutral tones of sepia and black and are very striking singularly or as a group.
Maps and Architecture Free Prints Vintage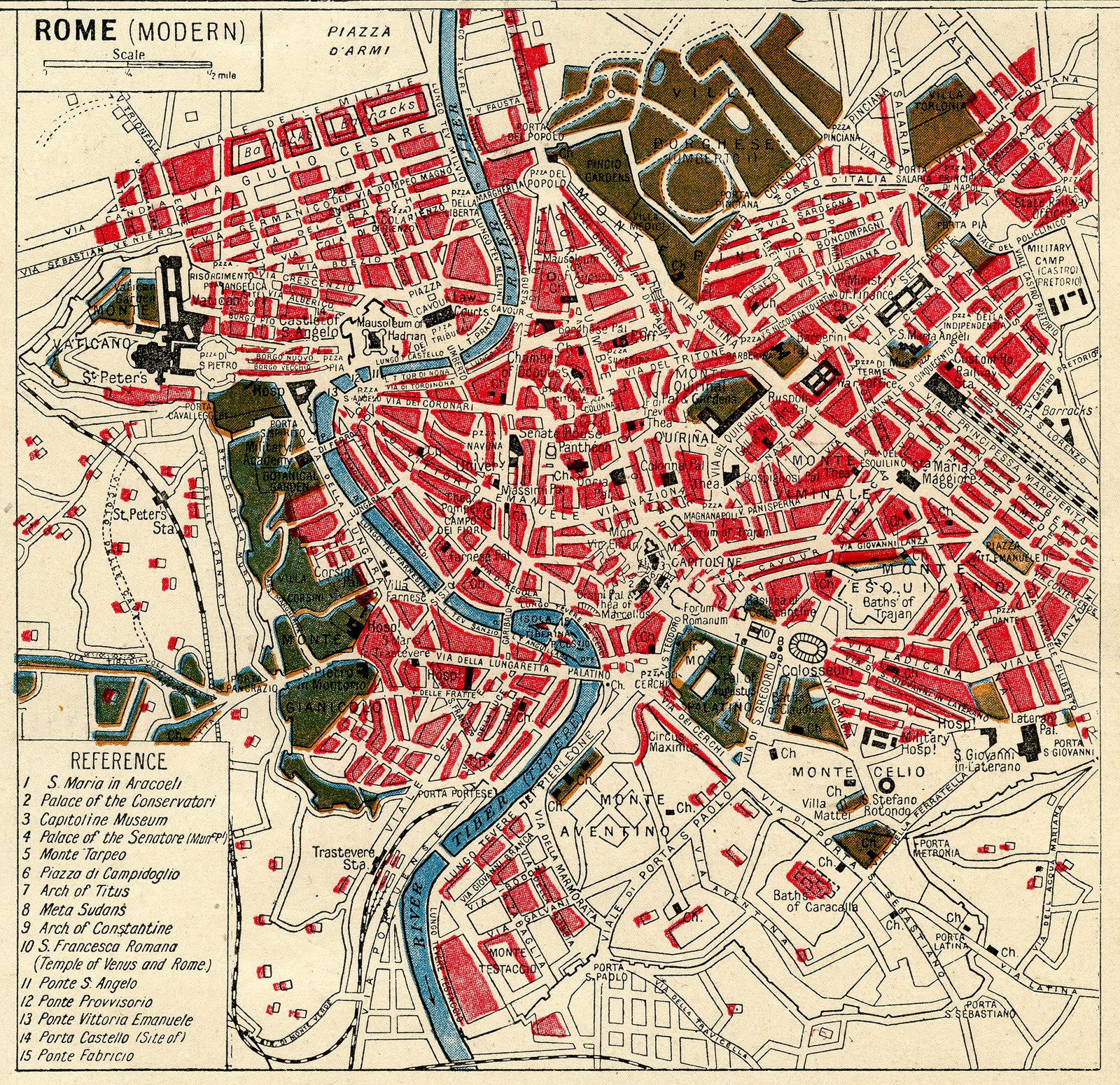 15 Printable Vintage Map Art Maps are a great choice for some Printable Wall Art for your home! They look great in Home Offices, Bedrooms and more. One of my favorites in this set is a wonderful map of Rome from an old Atlas. The streets are labeled, with major features marked in red and dark green. The Tiber River cuts through the center of the map and is blue.
1 Armillary Etching. This superb early print is of an armillary sphere globe on a stand. Armillary spheres tracked the paths of objects in the sky. There is the original version with sepia tones and age marks, it also shows mountains in the background and a person standing off to the left. There is also a black and white version of just the armillary.
1 French Astronomy Print  This one is a fabulous vintage French astronomy print with white images on a black background. This print comes from a circa 1874 French astronomy book. This shows earth's rotation around the sun. I just love the contrast of the white etching on the black background.
5 Architecture Prints In this set you will find a marvelous collection of coordinating Architecture Prints in cream and black. These are so striking, especially all together!
1 Architectural Arches This is a very early and gorgeous full color print! I'm sure this one was hand colored. This may possibly be the oldest piece in my collection.
Vintage Art Prints Household Objects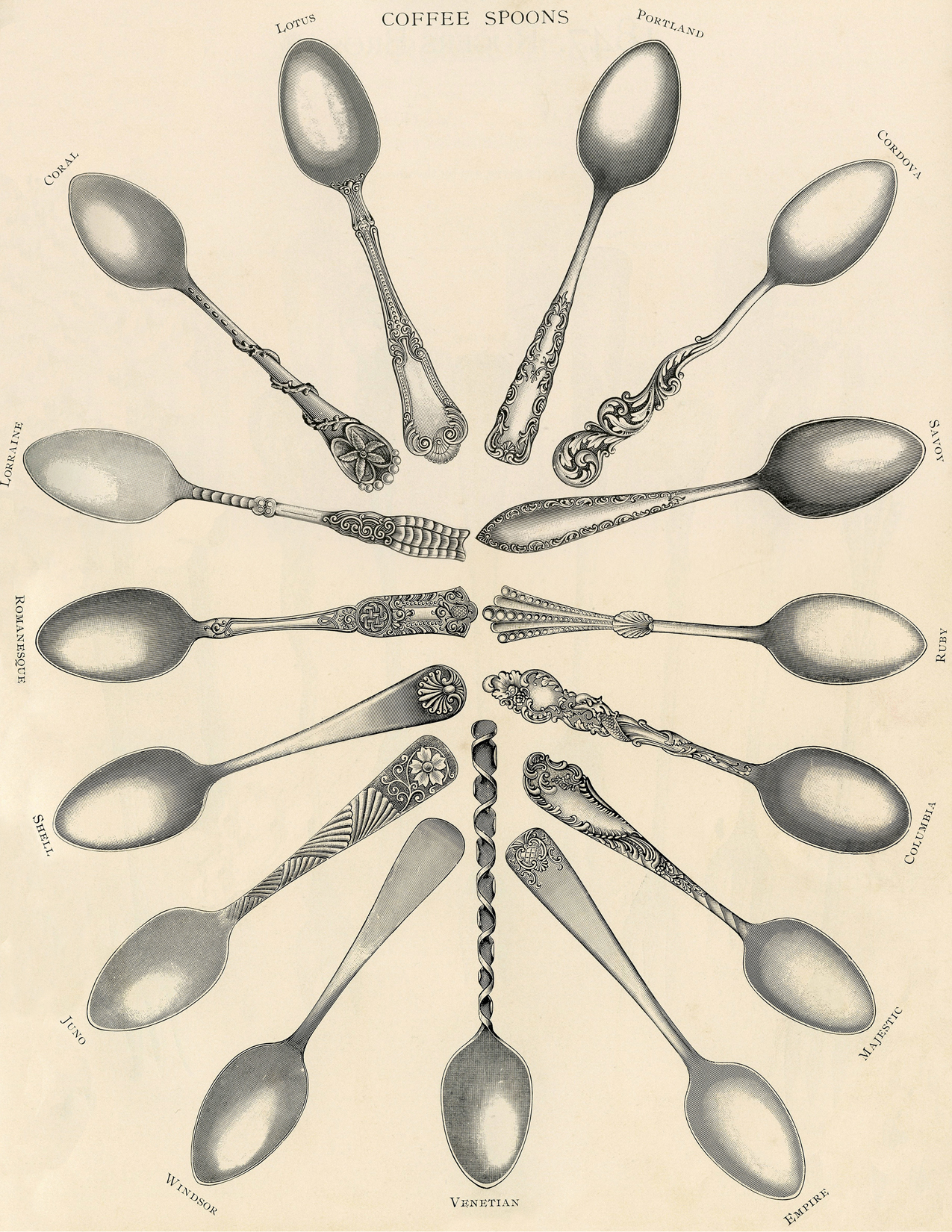 1 Coffee Spoons Print This fantastic coffee spoons Free Prints Vintage Picture was scanned from an antique silverware catalog. The print shows a collection of 15 silver coffee spoons, in all different patterns, fanned out in an oval shape. If you look closely you will see that each of the pattern names are next to the spoon. Some are very ornate and some are quite plain.
1 Tooth Brush Art This free printable wall art shows nine different styles of vintage tooth brushes lined up. You may not necessarily think of toothbrushes as being adorable, but these are pretty darned cute. How cute would this be to print up and frame and hang it in your bathroom?
2 Vintage Bathtub Printables This fun set of vintage bathtubs printable are from an 1897 catalog filled with plumbing supplies and fixtures. The black and white bathtub has claw feet and stylish stripes on it. There is a huge shower head and some lovely ceramic tile on the wall. Such a classic looking image, perfect to print and hang on a bathroom wall.
Vintage Free Printable Wall Art Animals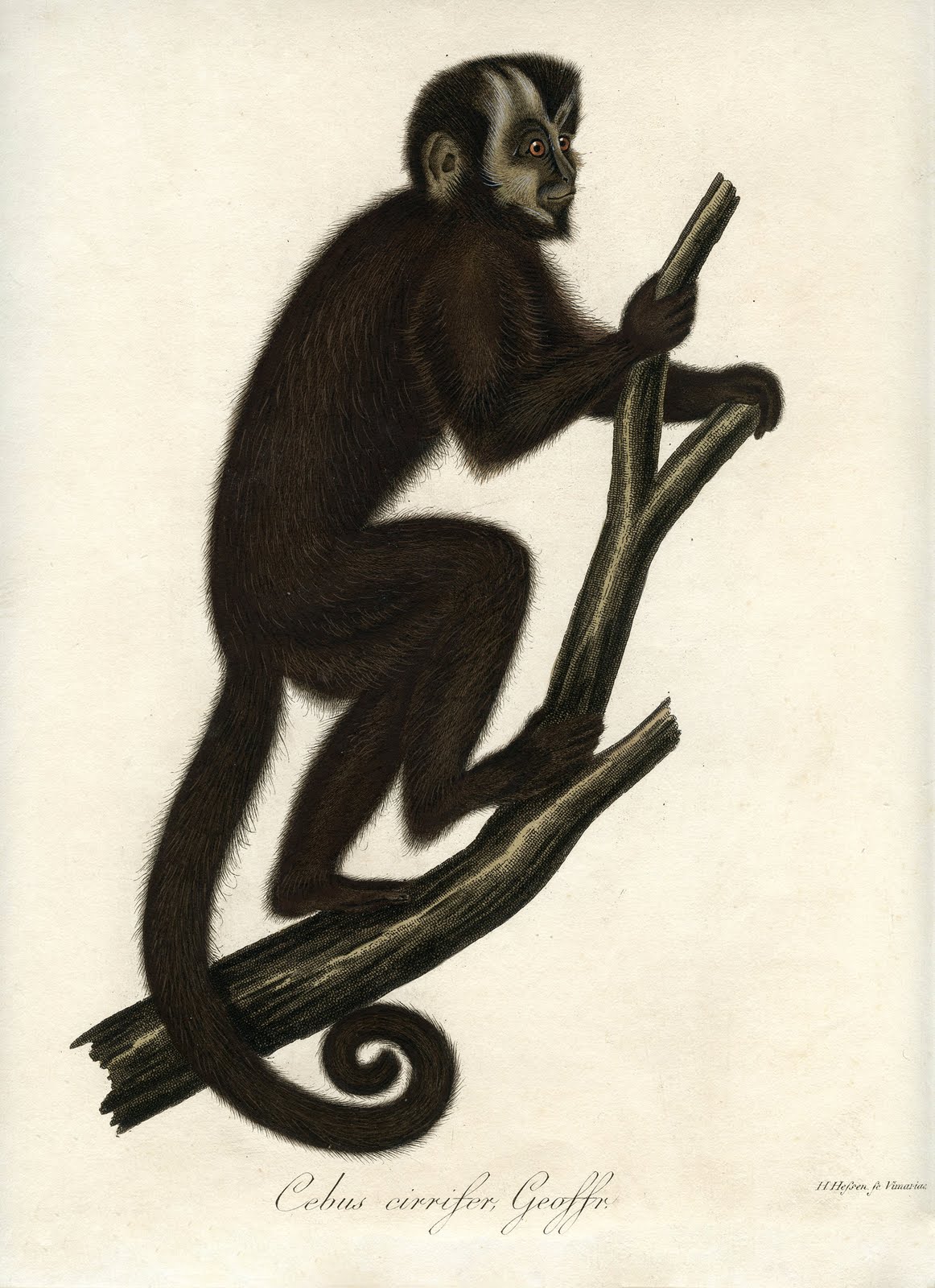 1 Fabulous Monkey This antique natural history print, features such a gorgeous looking monkey! This cute monkey is climbing on a branch. He is in dark brown, with what looks like grey stripes on his face, and deep brown eyes. Be sure and click to view details on this amazing print, it's amazing how the individual hairs of his fur are drawn in.
1 Sheep and Pigs Print This one is from an antique dictionary and shows a large grouping of sheep and pigs lined up in neat rows. This black and white etching likely identified various breeds of livestock. I just love the varieties shown in this printable!
2 Farmhouse Style Cow Prints On this post you will find 2 wonderful Cow Prints, including a circa late 1800′s chromolithograph print showing some lovely cattle, in all different colors. According to the info on it, from left to right, we have a Zebu or Brahmin Bull, an Alderney Cow, Scotch Cattle and a Durham Cow. I thought these vintage posters would look fabulous in a vintage style farmhouse kitchen wall!
4 Deer Vintage Art Prints A beautiful collection of Natural History Printables. Included is an extraordinary 1860′s natural history print that shows a scene of some beautiful reindeer wandering through a snowy forest. The color print is done in shades of brown, tan, and black and white. You can frame this one right up, or I'm sure you'll find some uses for your Christmas and holiday projects.
1 Tiger Family Print This one is a splendid vintage tigers printable! The print shows a mother and father tiger laying down with three cubs in the grass in front of a rocky den. The detailed drawing is done in shades of orange, green and brown. What a wonderful print for jungle-themed decor.
4 Horse Art Prints This collection has several Horse Prints in it. A popular one is a nice looking vintage horse print is from an antique dictionary. The black and white diagram shows 15 different horses of various light and heavy breeds. This would be a perfect art printable framed up for a horse lover or animal lover.
2 Flying Bats This is an interesting pair of prints. Included is a great print of two bats flying through the night sky. The bats are hand colored in brown, with a black and white etching of a castle, some rocks, and grass in the background. The print is from the 1840's and would make perfect framed art for Halloween!
Nature Free Prints Vintage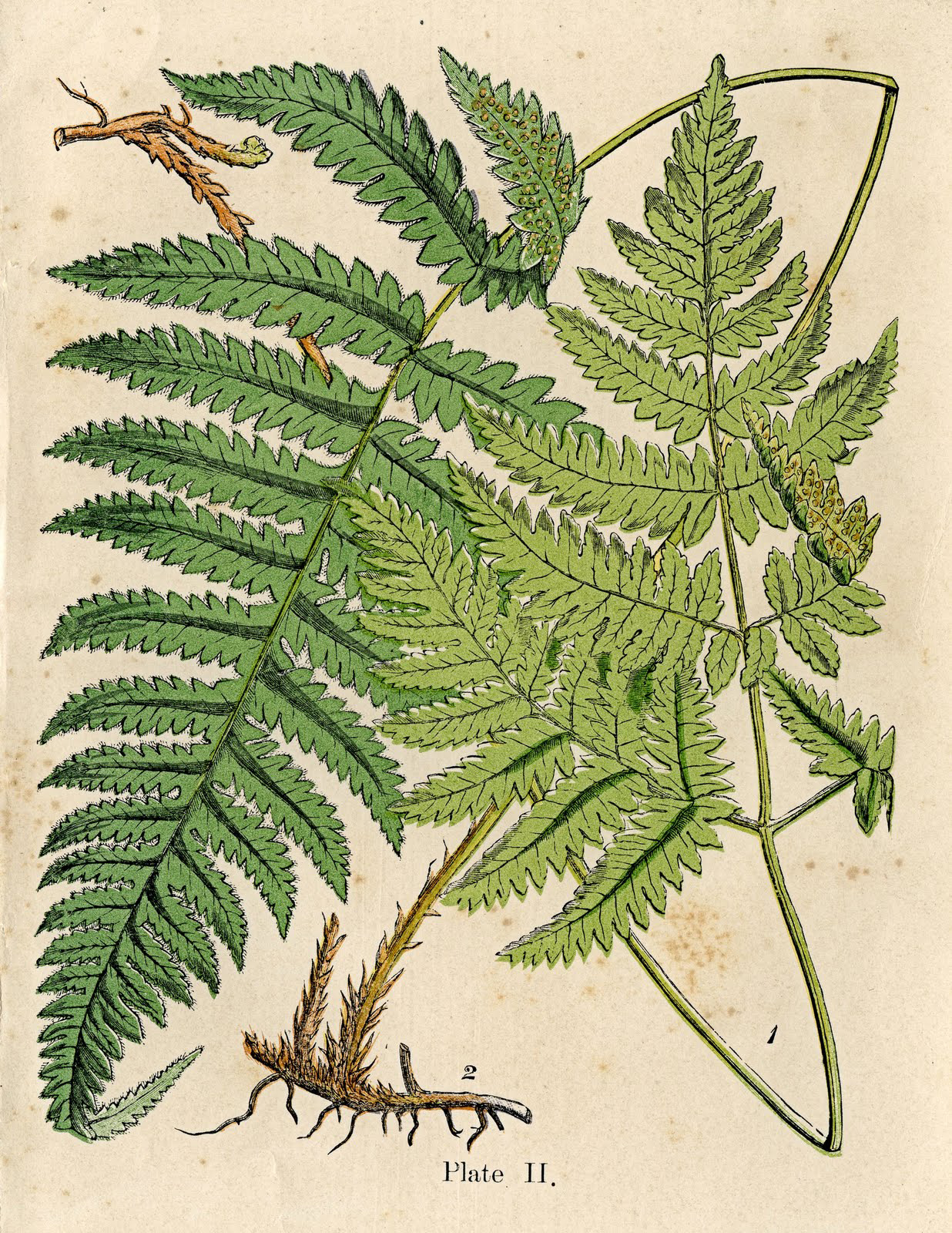 2 Gorgeous Ferns This pretty pair of fern botanicals are from the 1850's. The have a few different shades of green and a lovely textured sepia background.
 11 Tropical Leaves A gorgeous set of colorful Tropical Leaf Art Free Prints Vintage from a circa 1860's Botanical book. These beautiful leaves would look lovely in a group together on a wall. They might just be the finishing touch that you need for your home.
 2 Christmas Tree Printables One of these lovely artworks prints shows a huge pine tree in its natural setting with mountains in the background. A couple sits on a log in the foreground. The colors on this one are softer green, grey and brown tones.
2 Mushroom Species Prints A favorite print in this set is a fabulous vintage mushroom free printable wall art that shows an assortment of different mushrooms. Included are a common mushroom, a chanterelle and a morel. This one was scanned from a circa 1860′s antique British botanical book from England. The paper has aged to perfection with its brown aged edges; such a great patina on this one.
7 Vintage Seashell Prints Another one for your Coastal Decor! Some of these are even offered in different color waves so that you can match them to your room.
1 Bohemian Fern Printable More than just a print, you also get project instructions for making a rustic frame to go with this boho vibe printable. The Print itself is quite beautiful and was created in a bold indigo color!
I hope you enjoy my  Favorite Free Wall Art Printables!   I hope these inspire you to create some art posters for your spaces. Don't forget there are plenty more instant art printables in the archives for you to browse too! Enjoy!
Hello! Are you new to The Graphics Fairy?
Welcome, I'm so glad you're here! Browse around to find 
thousands of Stock Images
 that you can use in your projects or designs! I post new Vintage images every day, as well as projects and DIY's too! Need more info about my site? Try my 
FAQ
 page.