11 Pictures of Bird Eggs
Today we have a beautiful collection of Pictures of Bird Eggs. These antique birds eggs prints are the perfect way to show off your love for vintage goods and nature. The prints can be used as a great decoration, even if you just want something simple that will catch your eye every time you walk by. You can also use these prints in various crafts projects or to give someone who loves handmade gifts. These unique patterns showcase the wonderful work of mother nature, and the artists that were inspired by her, and provide endless possibilities for creativity!
Vintage Prints of Bird Eggs
Click HERE for the Full Size Printable PDF of the 2 Speckled Eggs 1 
I'm always on the hunt for amazing Natural History Prints, and Egg Prints and Nest Prints are among my favorite themes, when hunting down those paper treasures. Here we have a gorgeous Antique Morris Egg print!! I just love the aqua color on the second Egg and all of the speckles on both of them! I'm providing a High Resolution download so that you can get the full size image. I decided to leave the raggedy edge on this one, for those that do collage or mixed media work. If you're framing this, you can just cut the edge off. I hope you love this beautiful Natural History Print as much as I do!!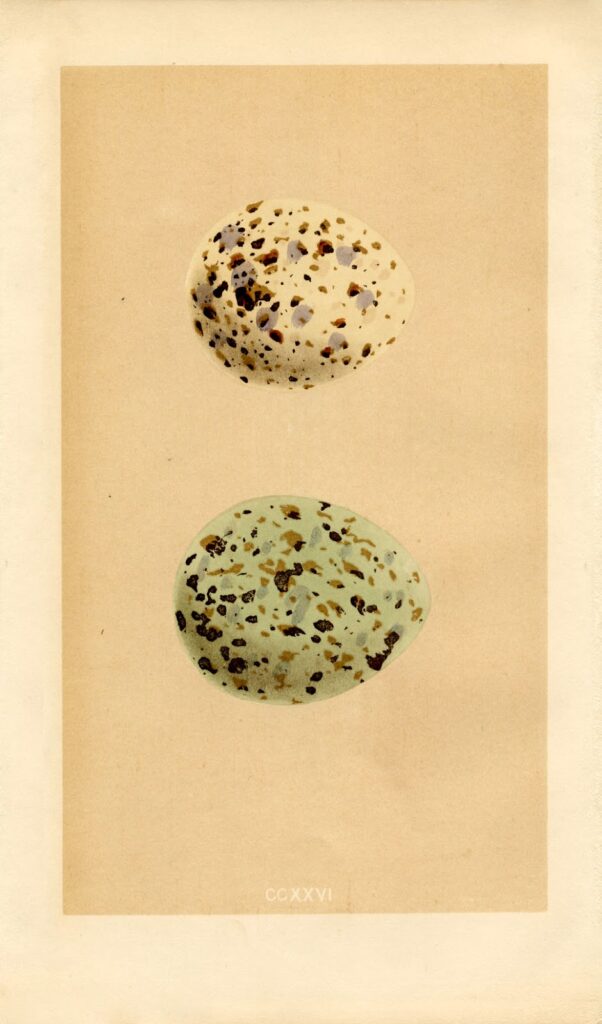 Click HERE for the Full Size Printable PDF of the 2 Speckled Eggs 2
This is a nice Antique Natural History Print of some Speckled eggs! It is a High Resolution Printable that would look great framed and hung together with the others in this group! I did clean the edges up on this one, but the aging is amazing. This is another drawing by Morris.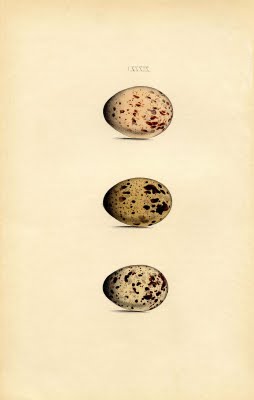 This is another fabulous antique Morris Egg Print! I just love these Speckled eggs, all done in natural tones of cream and brown. I've created a full size printable so that you can frame this right up for some instant art! You can find the bottom egg separated out in a section below.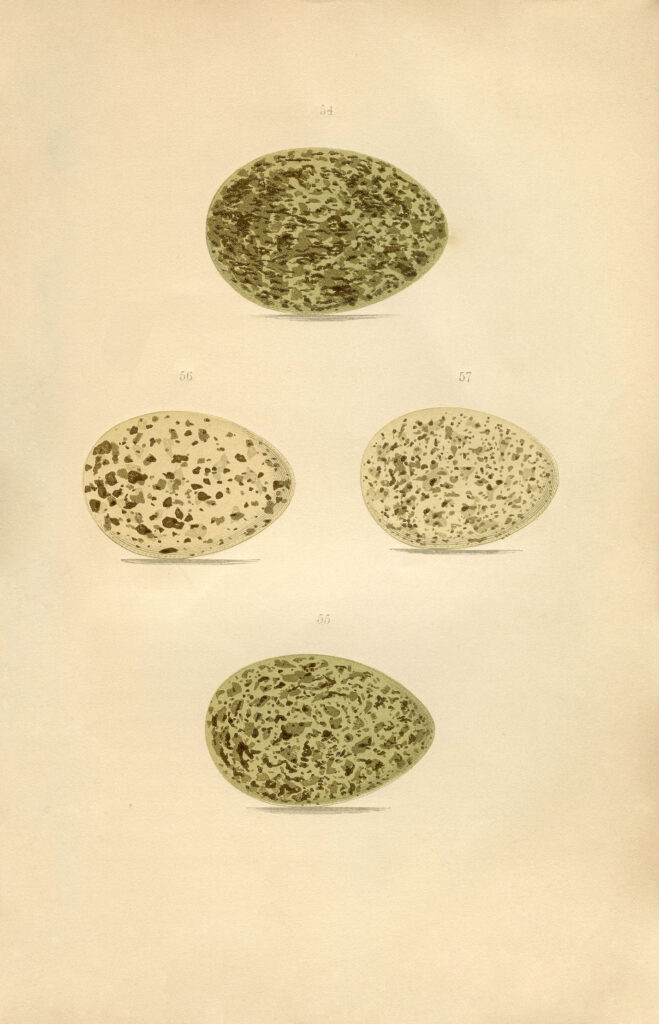 Click HERE for the Full Size Printable PDF of the 4 Speckled Eggs
This splendid Vintage Image is a page from a Circa 1871 Nests and Eggs booklet from my collection. Shown above are four lovely Speckled eggs. I have three of these booklets, and the plates don't match up very well with the descriptions. I couldn't find a description for these eggs in this particular booklet. Either way they are very nice to look at, all of them speckled, some with creamy backgrounds and some with greenish backgrounds.
Old Illustrations of Bird Eggs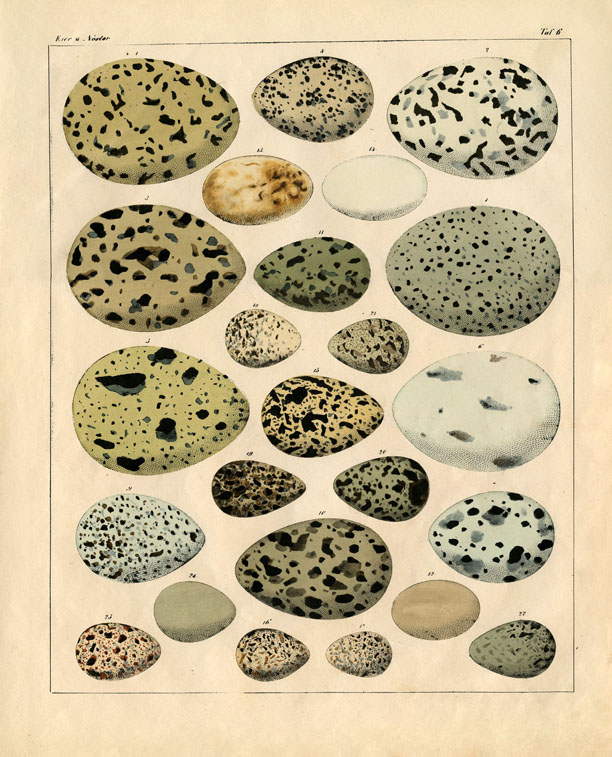 Click HERE to Download the Full Size Eggs Printable PDF
This is a gorgeous Natural History Print Circa 1843! This one shows all Bird's eggs (no Nests) of various shapes and sizes. Some are spotted and some are not. There are 24 different eggs in total. I think this Printable and the one directly below would look fabulous framed and hung together on a wall! The colors include soft greens and pale blues, along with tans and browns, with a natural aged parchment colored background. One of my favorite ways to display these old prints is under a glass cloche. You could add a little natural Bird's nest to the vignette with a few Faux eggs and perhaps a feather or two.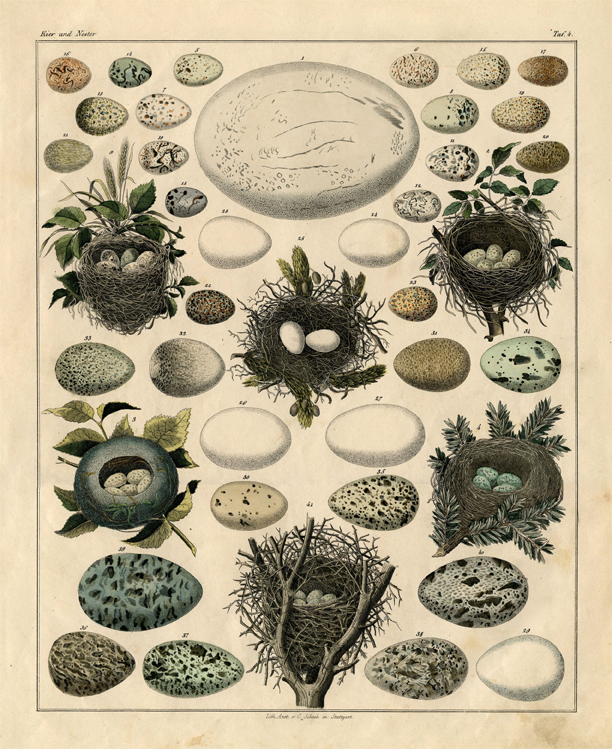 Click HERE to Download the Full Size Eggs and Nest Printable PDF
I think this is probably the best Eggs and Nests print that I've ever had and it will be hard to top this one in the future! Totally swoon worthy and so worth splurging on!! This amazing German print dates to 1843 and shows a variety of different types of nests and eggs, in soft muted colors. So beautiful!! I'm planning on extracting and enlarging some of the nests on their own for you guys in the near future, but for now I hope you will enjoy the print as a whole. I did some moderate cleaning up, but left some of the age marks, so that it will still look old when you print it out.
Antique Pictures of Bird Eggs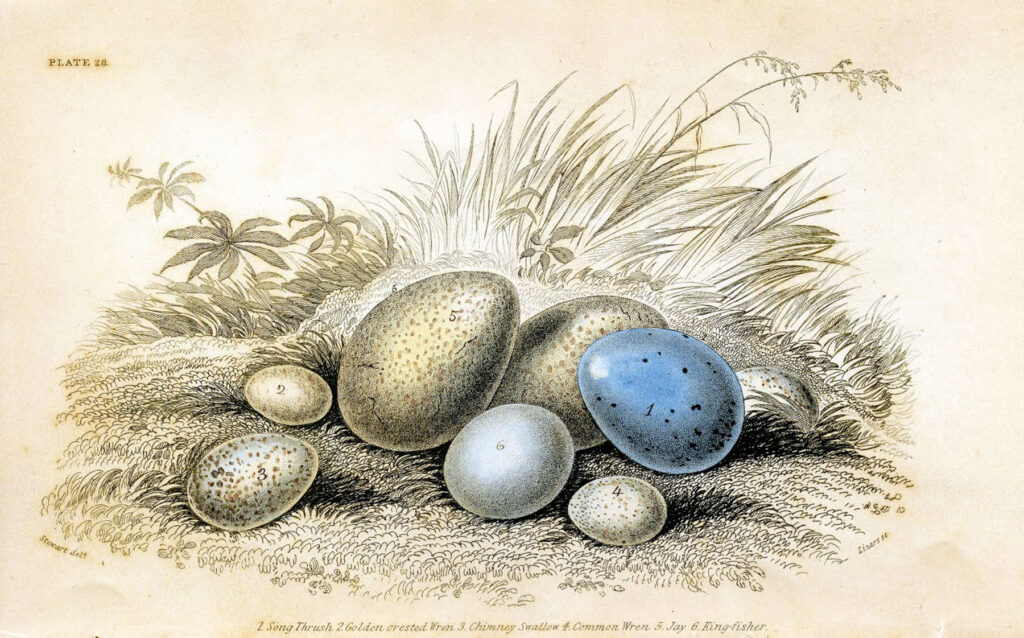 I love these pictures of Bird eggs with its sister green egg version below!! The stunning print above is mostly done in creamy sepia tones, except for one very lovely blue speckled egg! The eggs are numbered. According to the legend on the bottom of the print, the blue egg is a Song Thrush. 2 is a Golden Crested Wren. 3 is a Chimney Swallow. 4 is a Common Wren. 5 is a Jay. 6 is a King Fisher.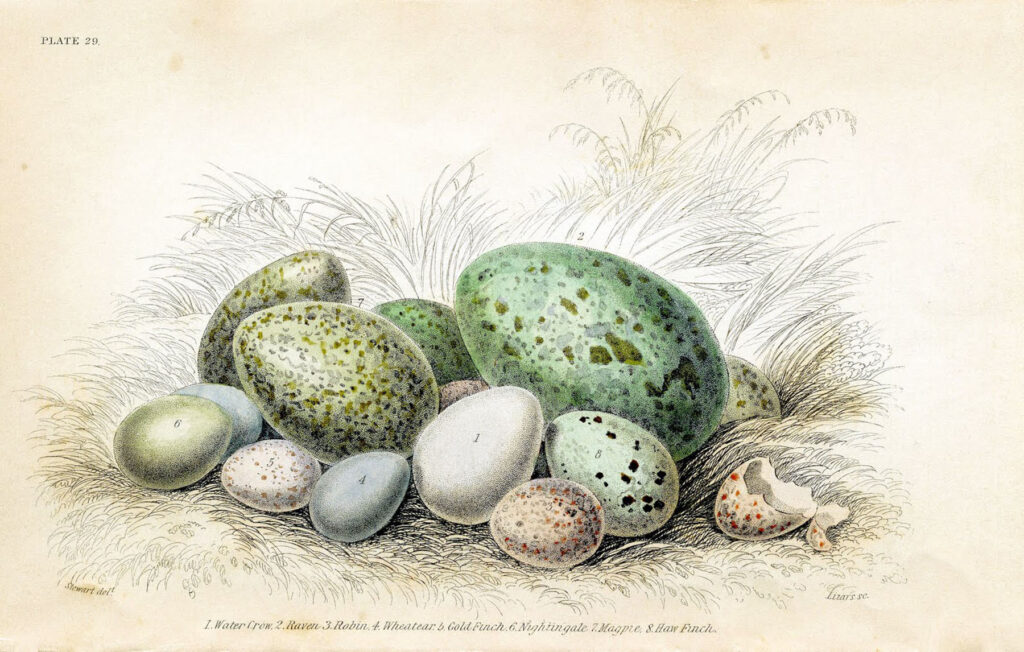 Here's another one from the 1830's Bird Print collection. These are some pretty fab looking Bird eggs, done in soft pastel shades. I love how they're all together in a pile and love the broken one too!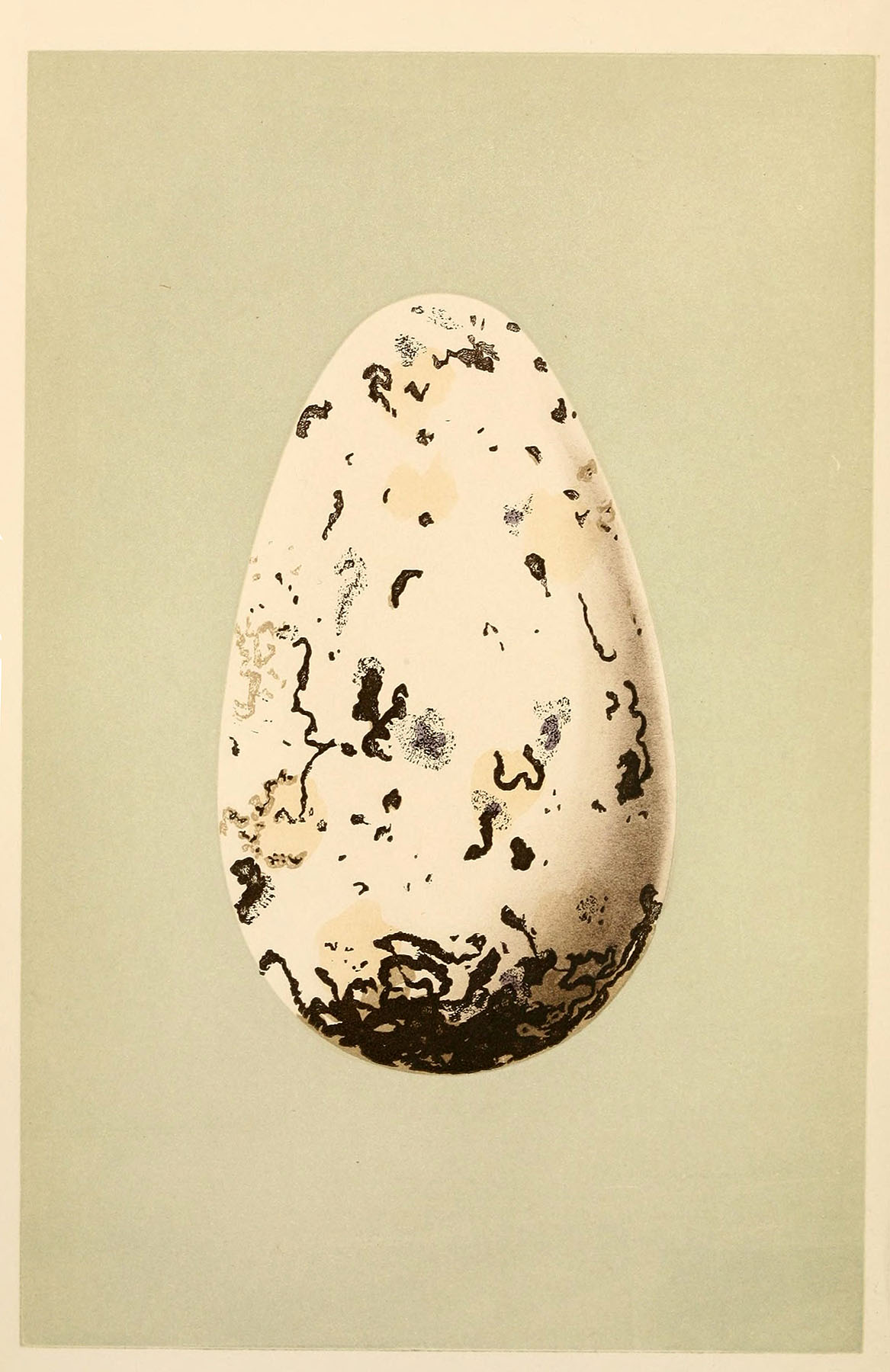 Here is the latest addition to this collection. This is one large speckled specimen! I believe this one belongs to an Auk actually, which would explain why it's so large.
Cute Bird Egg Drawing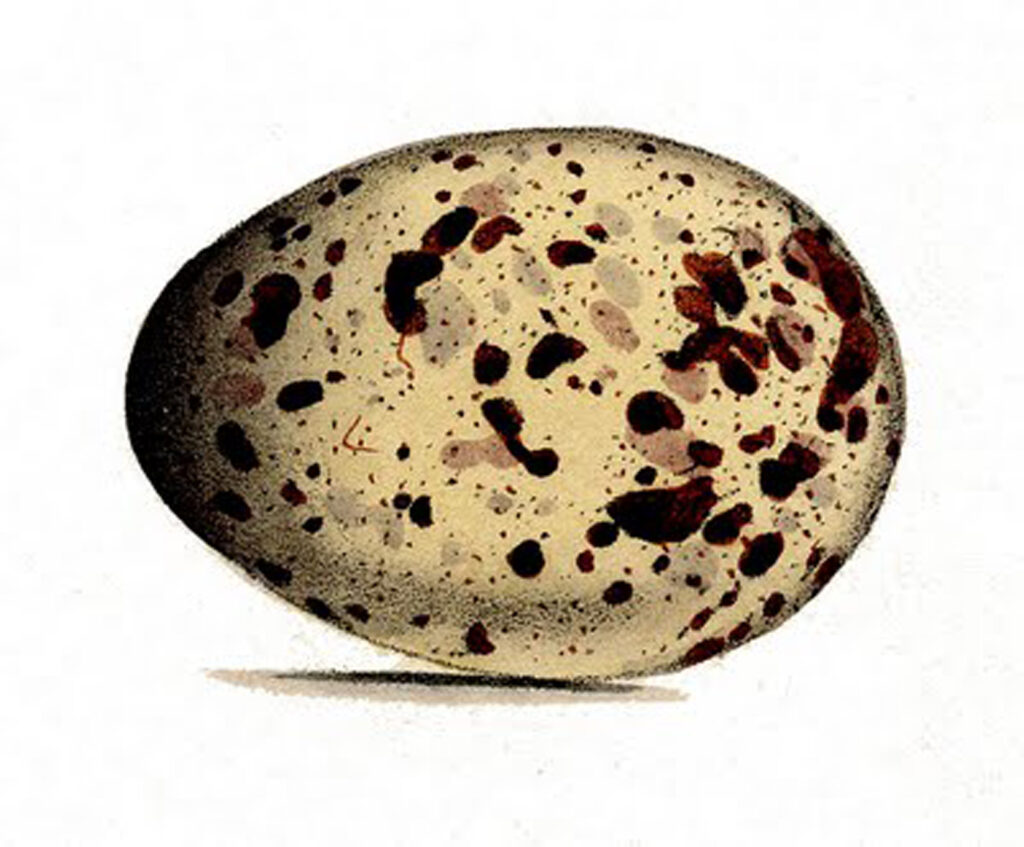 Pictured above is a Morris egg. It is one of the eggs from the Three Egg Printable in an above section. I was unsure what a Morris egg was, so I looked it up. It seems that the Illustrator's name is Sir Cedric Morris. He was a nature lover, gardener, and painter.
Black and White Pictures of Bird Eggs
This is a wonderful Black and White Vintage Stock Image. Shown above is an Old Engraving of a Bird's egg, I believe it is a Thrush egg. This lovely graphic comes from an Early Natural History book from my Collection. This might be really fun to color in!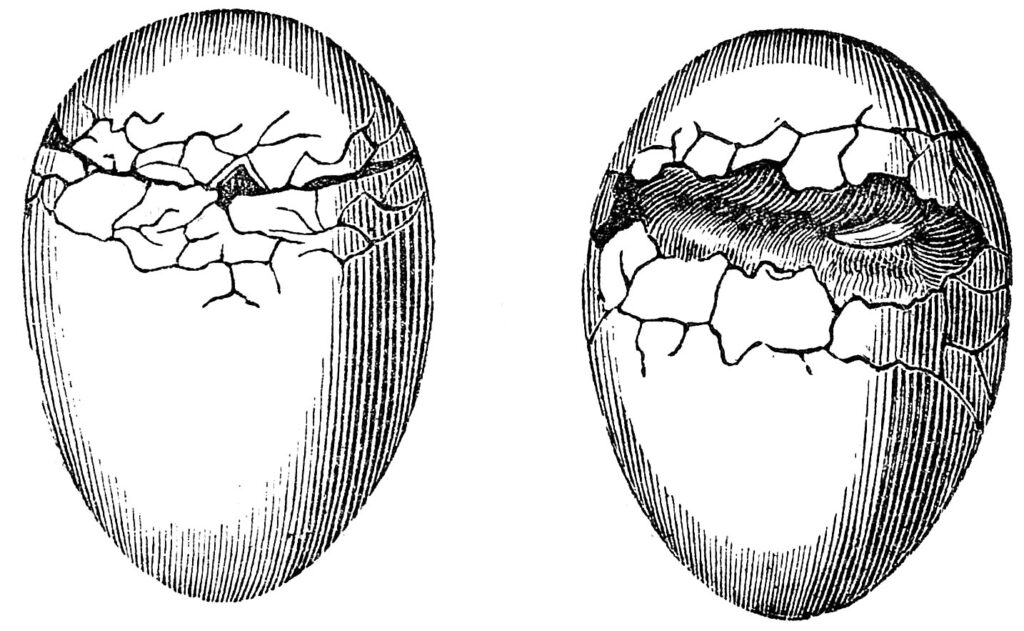 These graphics are from an early Natural History book. This is an interesting pair of cracked eggs, about to hatch some baby chicks! This is a cleaned up black and white version as the original was on a creamy background.
I hope you enjoyed this wonderful curated collection of Pictures of Bird Eggs! You might also like our Best Bird Images Collection HERE and our Bird Nests Images HERE. 
Hello! Are you new to The Graphics Fairy?
Welcome, I'm so glad you're here! Browse around to find 
thousands of Stock Images
 that you can use in your projects or designs! I post new Vintage images every day, as well as projects and DIY's too! Need more info about my site? Try my 
FAQ
 page.