Hello, it's Heather from Thicketworks, with a lovely technique to create Shimmery Antiqued Paint Effects!
With this method, we're allowing touches of gold from the original (gaudy) finishes to peek through, creating a look that is rich but not ostentatious.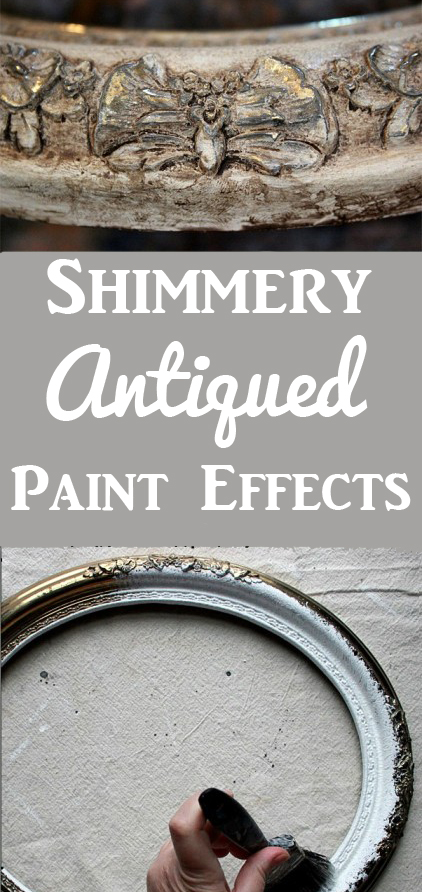 The amazing creative team at Heirloom Traditions Paint provided the products for this project, and has sponsored this post.
Supplies:
An ordinary small paint brush
Clean, damp rags
How-to:
Just the right amount of bling can bring a touch of elegance and flair to the most ordinary objects.
Overdone, though, and it's just sad and tacky: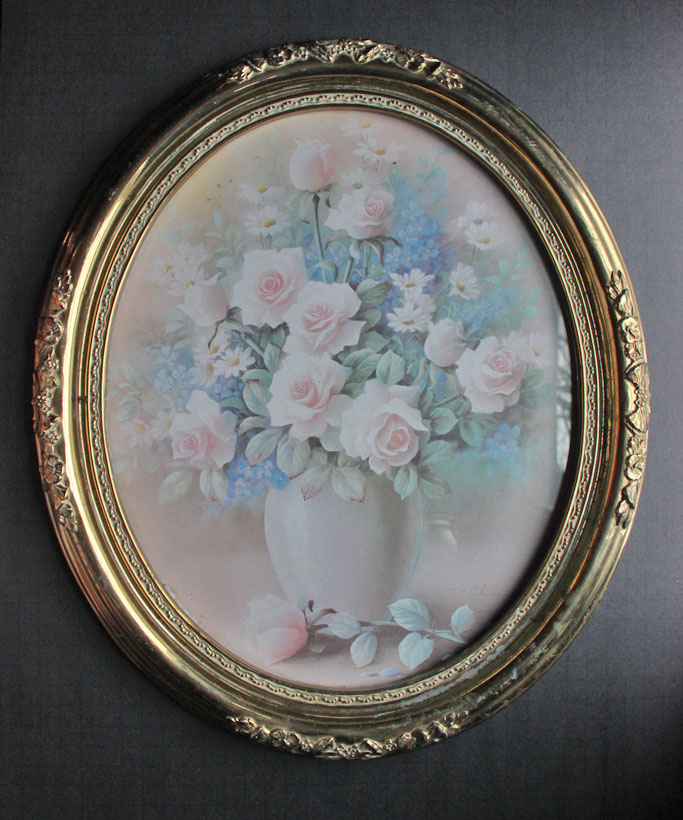 This neglected thrift store frame had some lovely detail, but it was languishing under a worn coat of shiny gold-toned finish.
A quick coat of Ultra Guard takes care of the garish gold, and allows us to discern the nuances of the sculpted detail. For a super-slick finish like this gold, a pounced, rather than stroked application of primer provides excellent coverage.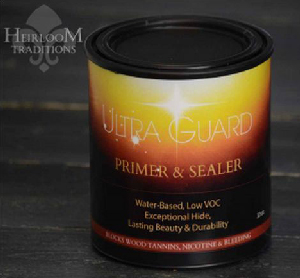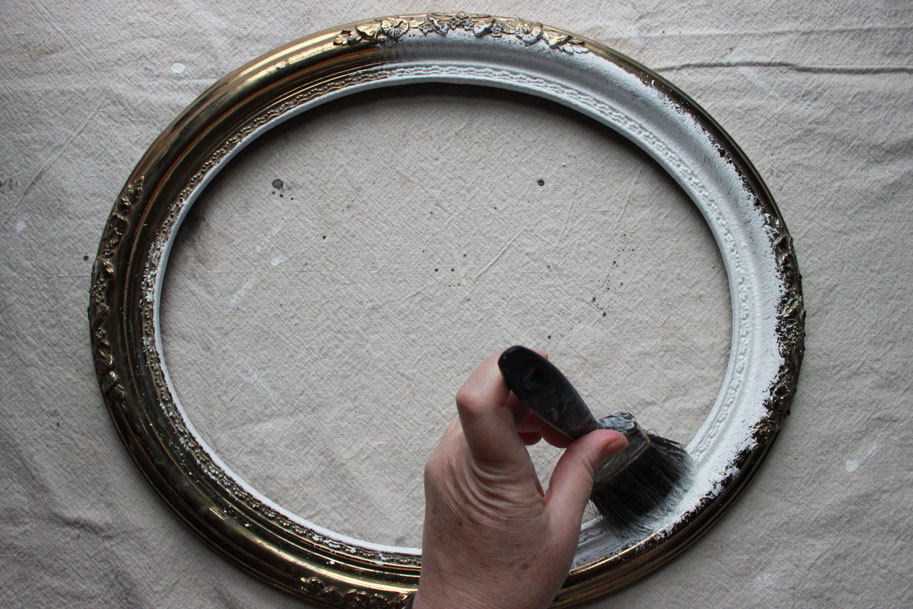 2. While the primer is still damp, wipe the details carefully with damp rag to reveal slight touches of gold on the high points.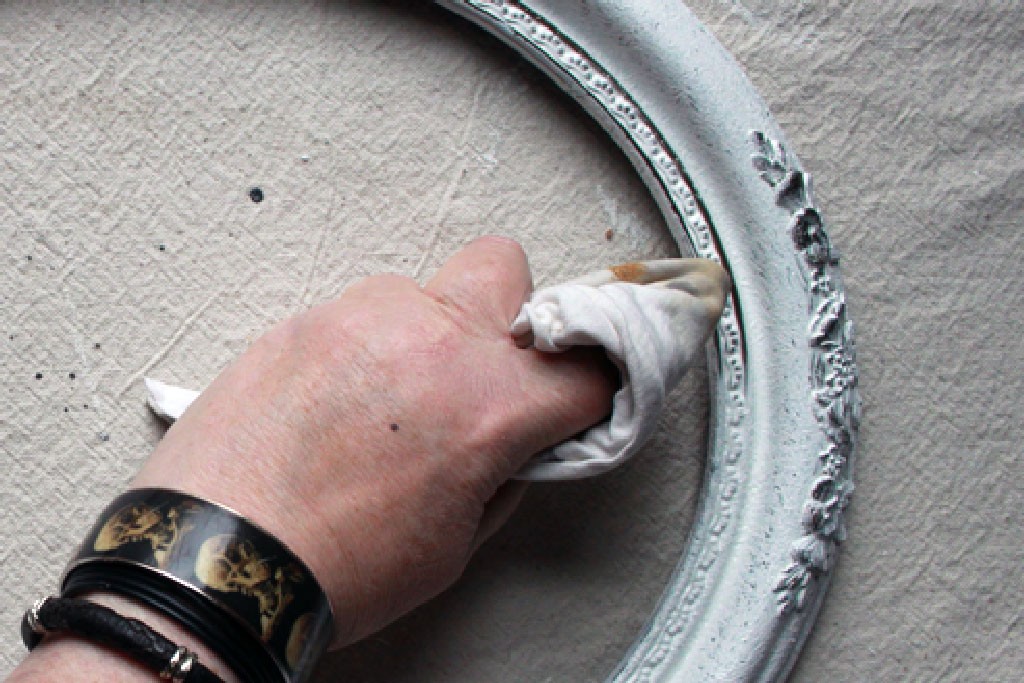 3. Once the primer is dry (usually less than an hour), give the entire surface a coat of French Vanilla. This is a lovely warm white, classic and understated.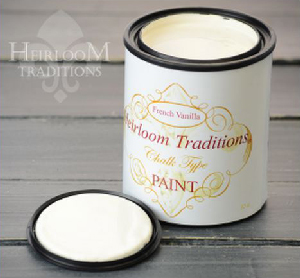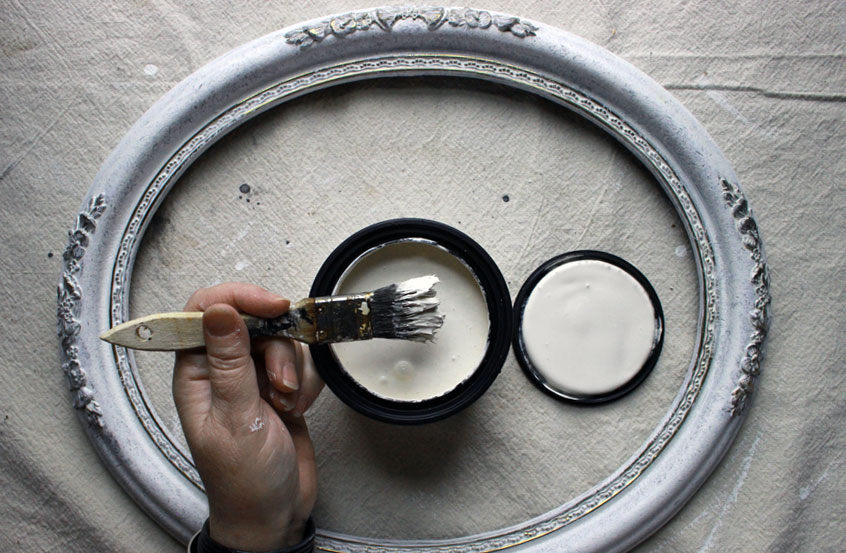 4. Once again, wipe back the paint while wet to reveal touches of the original gold.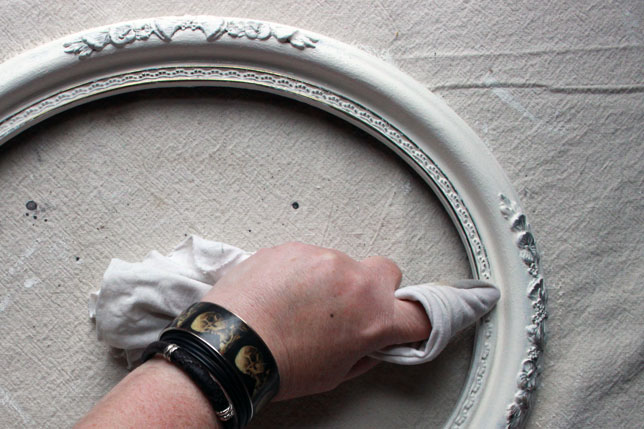 5. When the French Vanilla has dried, mix up a wash of Row House, a warm beige. About 2 Tablespoons of water and one loaded brush full of paint will do it.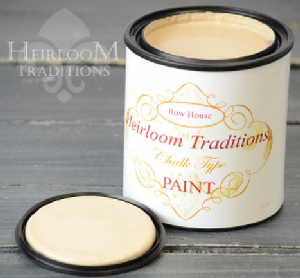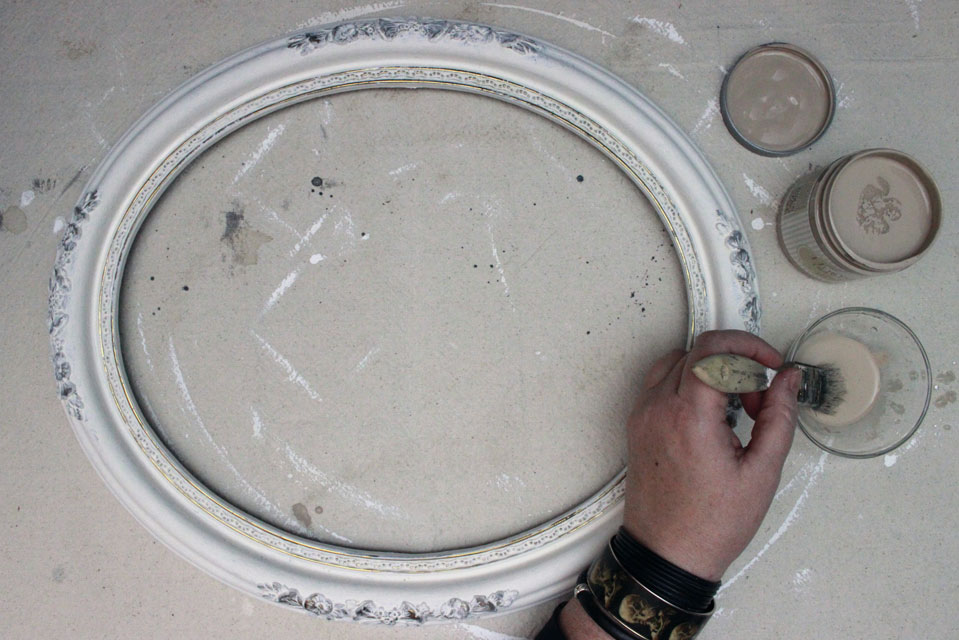 6. Apply the wash to the entire surface, then wipe back along the larger surfaces of the piece. Allow a gentle layer of Row House to collect in the recesses.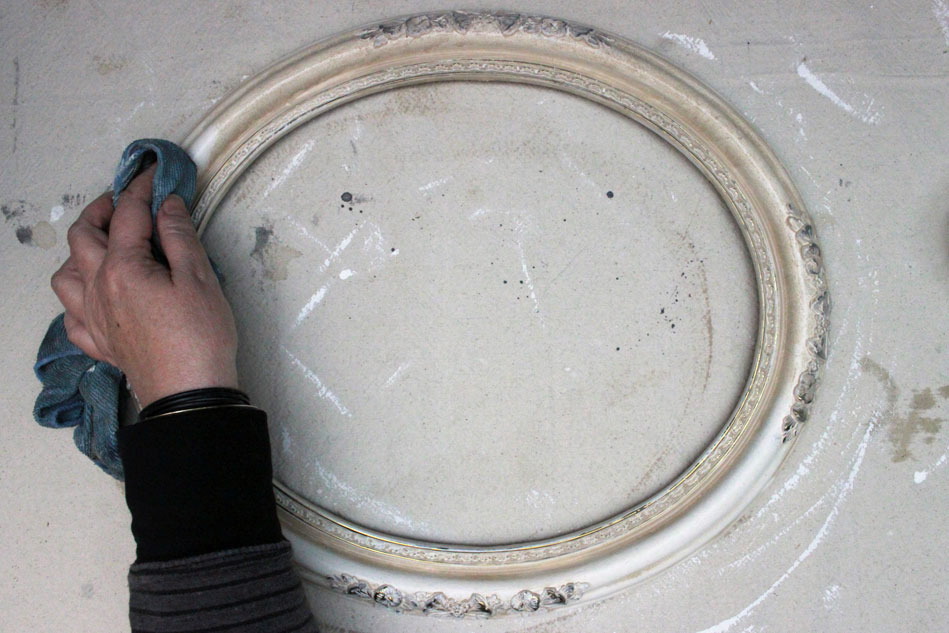 The piece is beginning to acquire some nuance and layers of aging are emerging: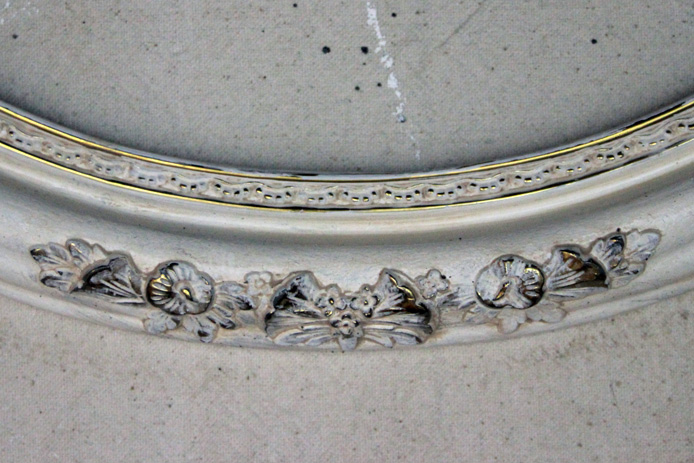 7. Now it's time for the Dark Umber Spray Wax! Now, I know it's spray wax, but for this application it made more sense to brush it on. The Best Chalk Brush is perfect for applying either Soft or Spray Waxes.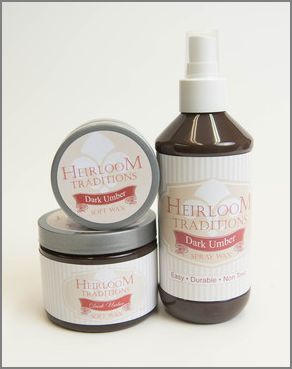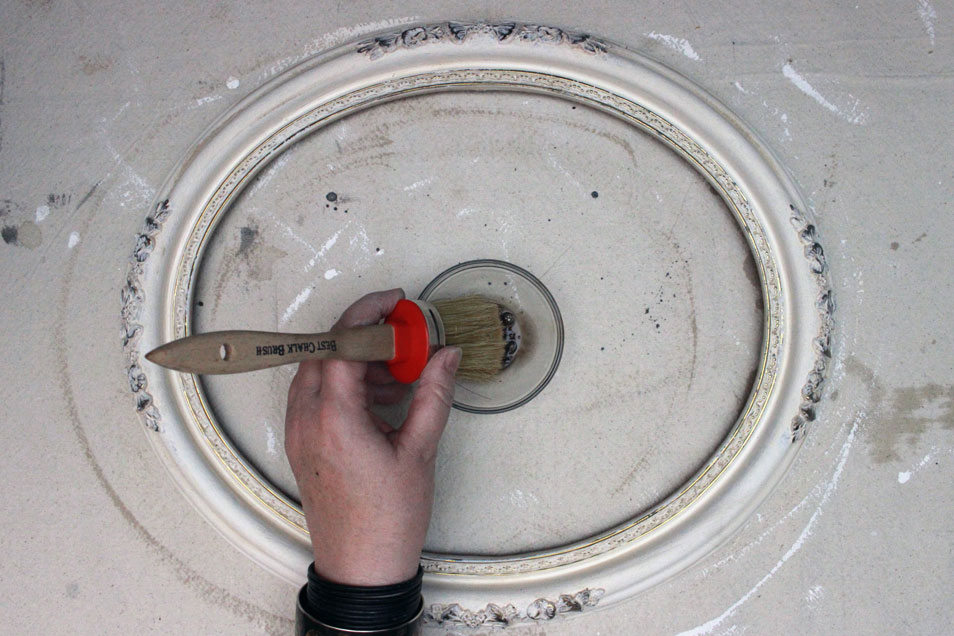 I love this stuff – it flows on effortlessly.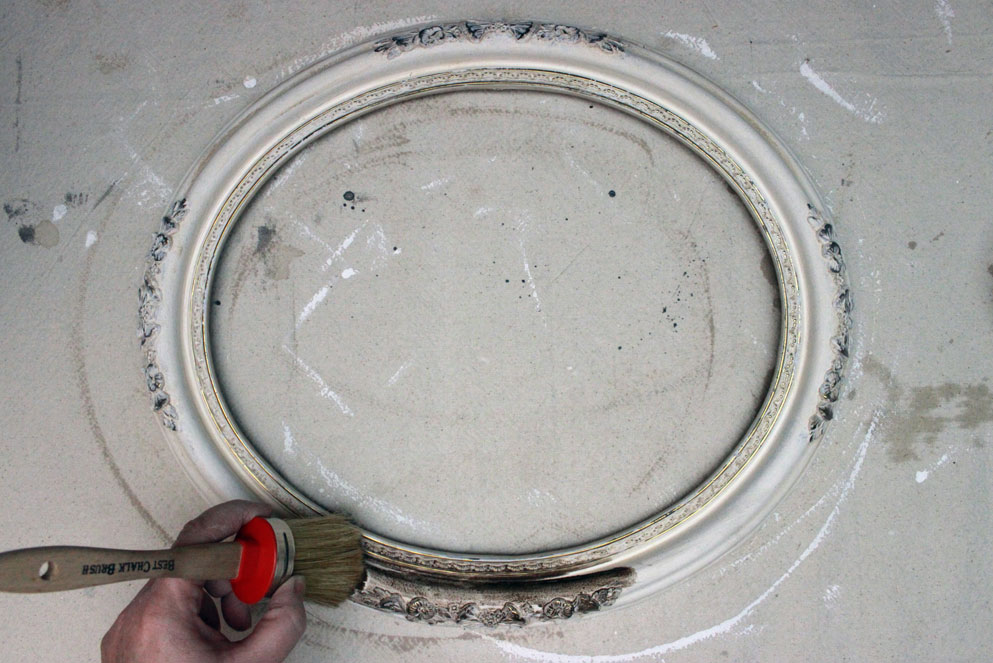 8. It's super easy to wipe back with a damp rag: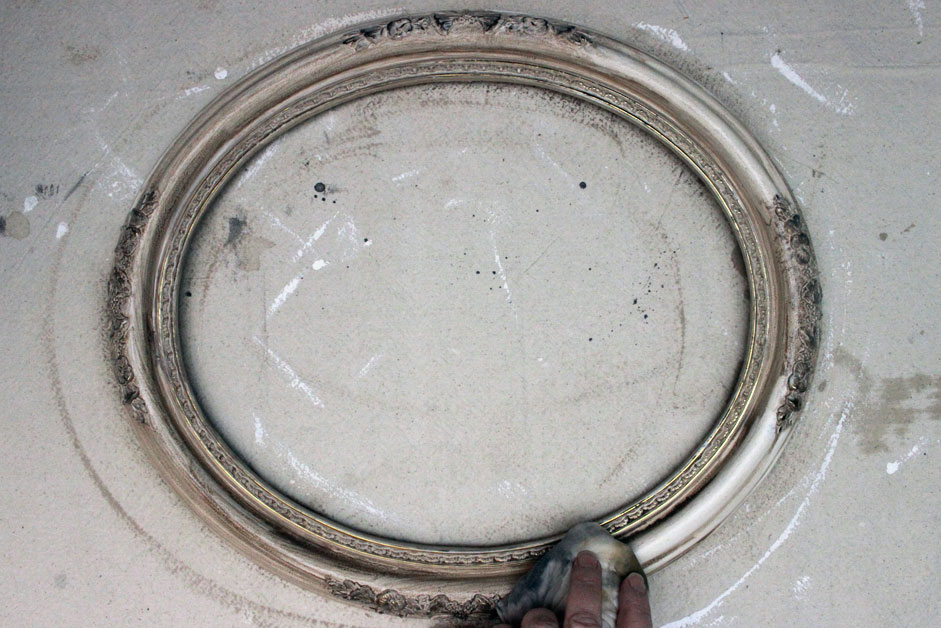 Now we're getting somewhere: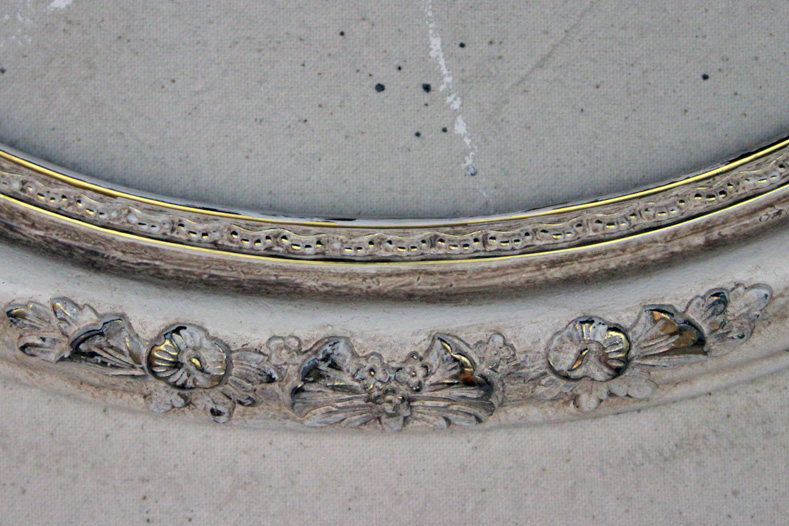 9. Time to add the softest touch of shimmer.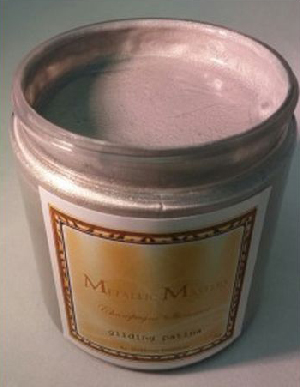 Metallic Masters Gilding Patina Champagne Shimmer looks like molten gold in a jar: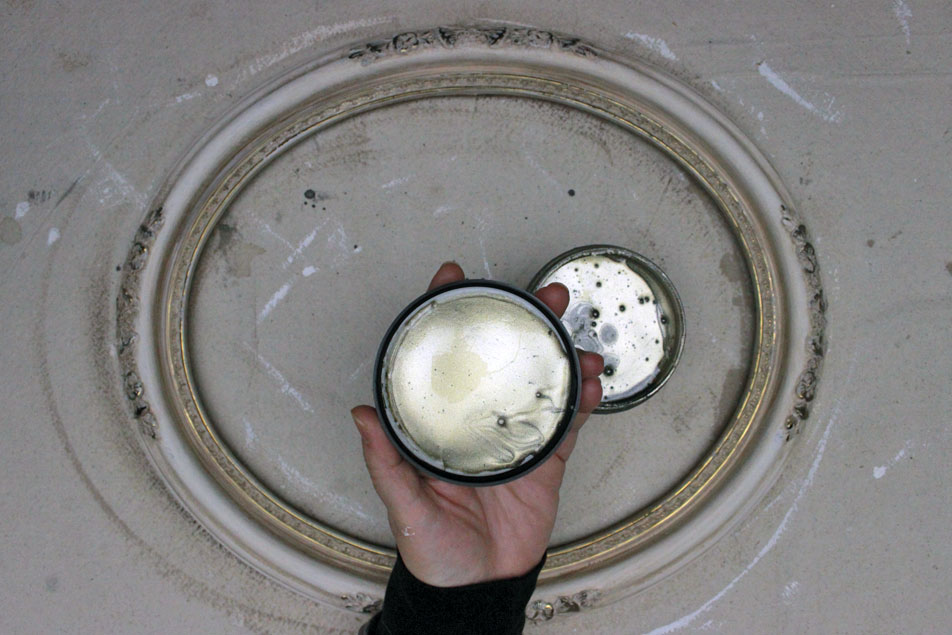 10. Just brush on a single coat. Cleans up with water – dries quickly. It adds the most subtly elegant layer of gleam. Perfect!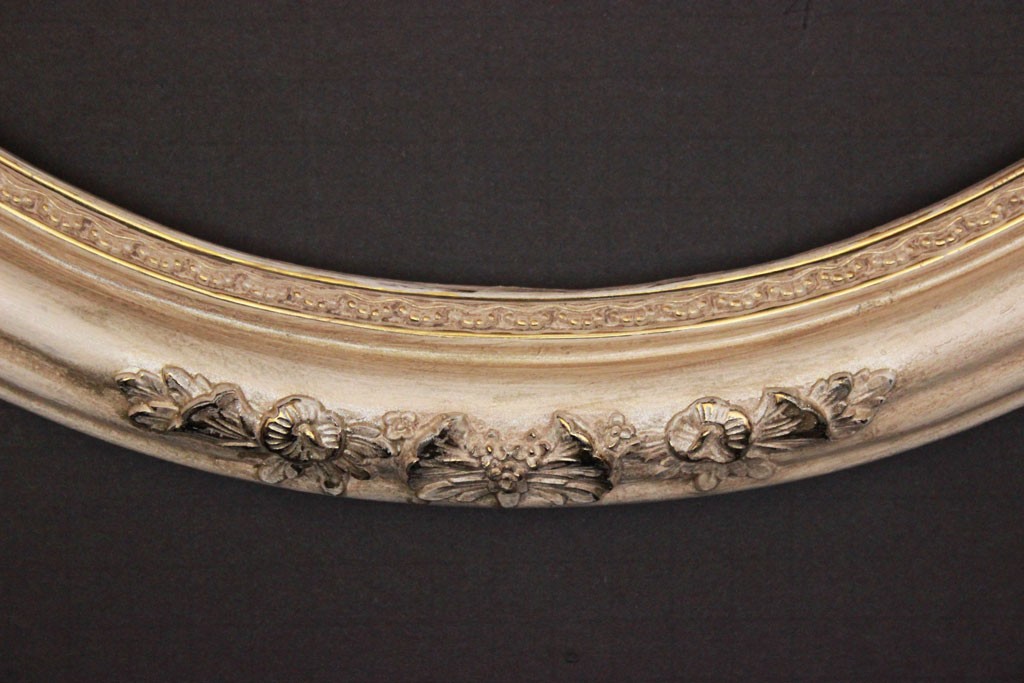 11. You could easily leave it there. But I can't…something inside me won't rest until I've added another layer of Dark Umber. There is no buffing required with Spray Wax – the finish is durable, smooth and silky.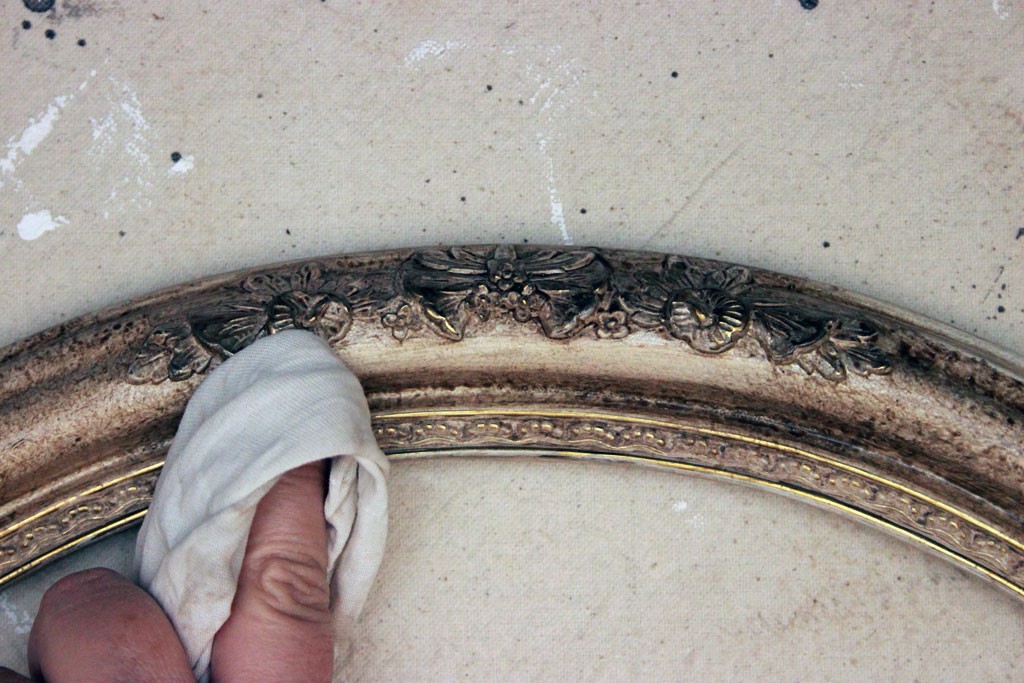 Now I'm happy: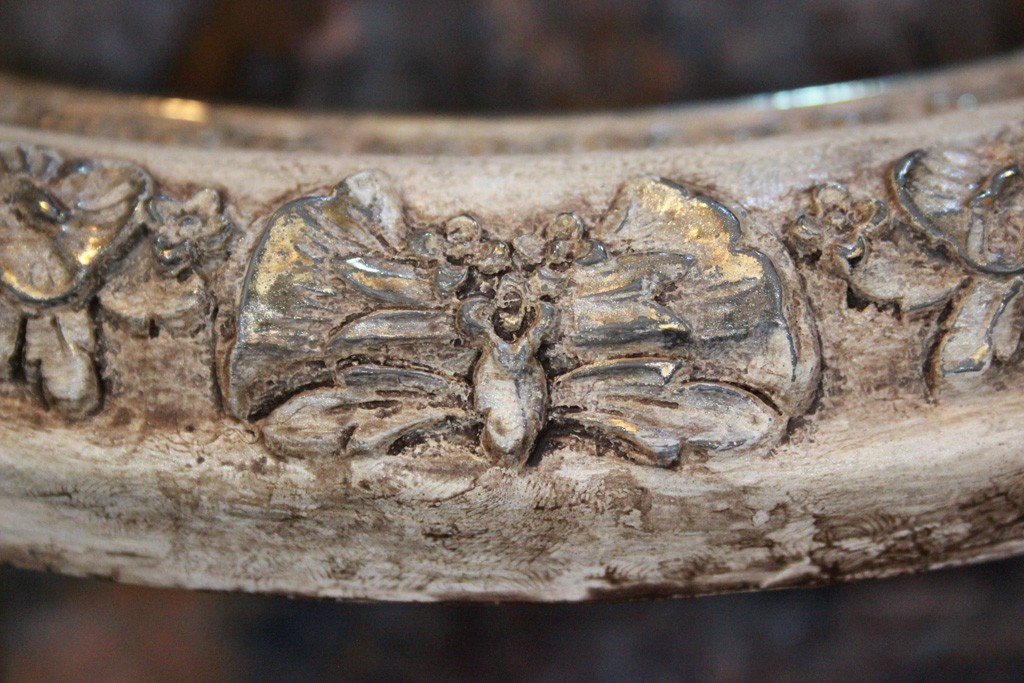 That's all there is to it!
Now you have the secret recipe for creating subtle layers of shimmery goodness.  
I never know when to quit, so might as well take care of this gaudy little thing while we're at it: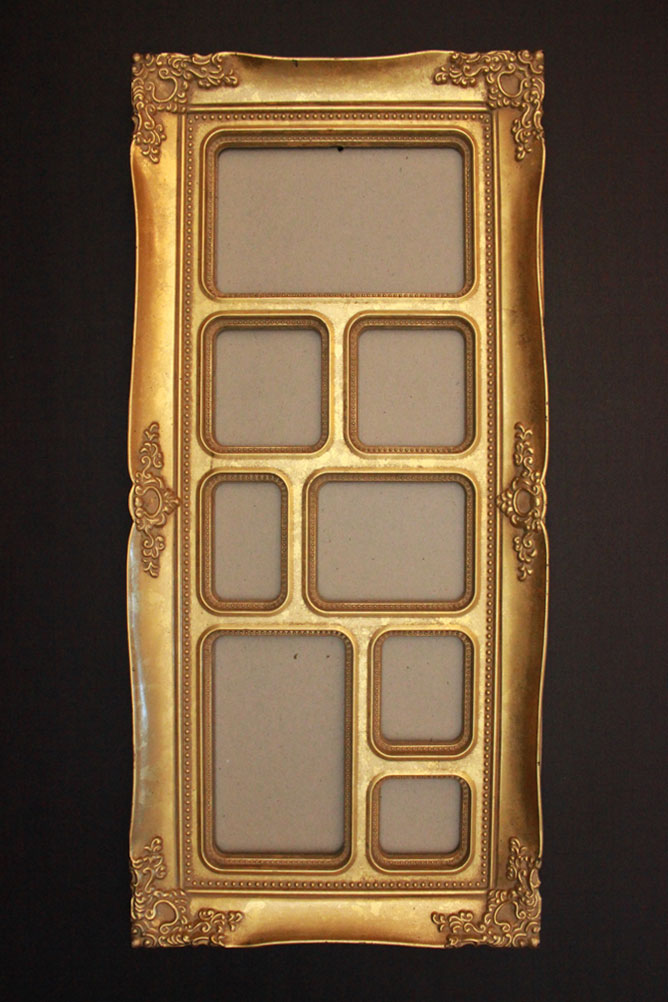 Ultra Guard, wiped back to reveal a bit of the gold: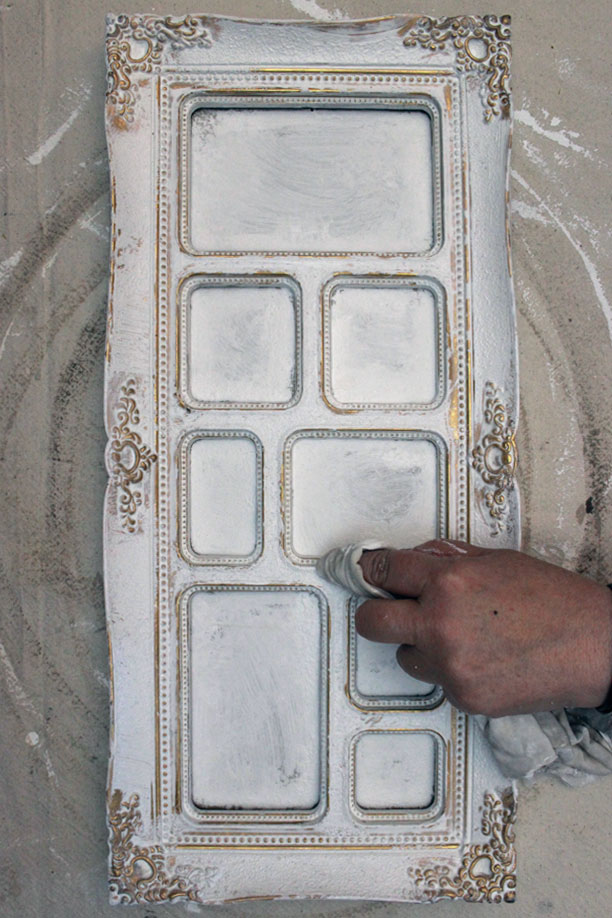 After a coat of French Vanilla + a wash of Row House: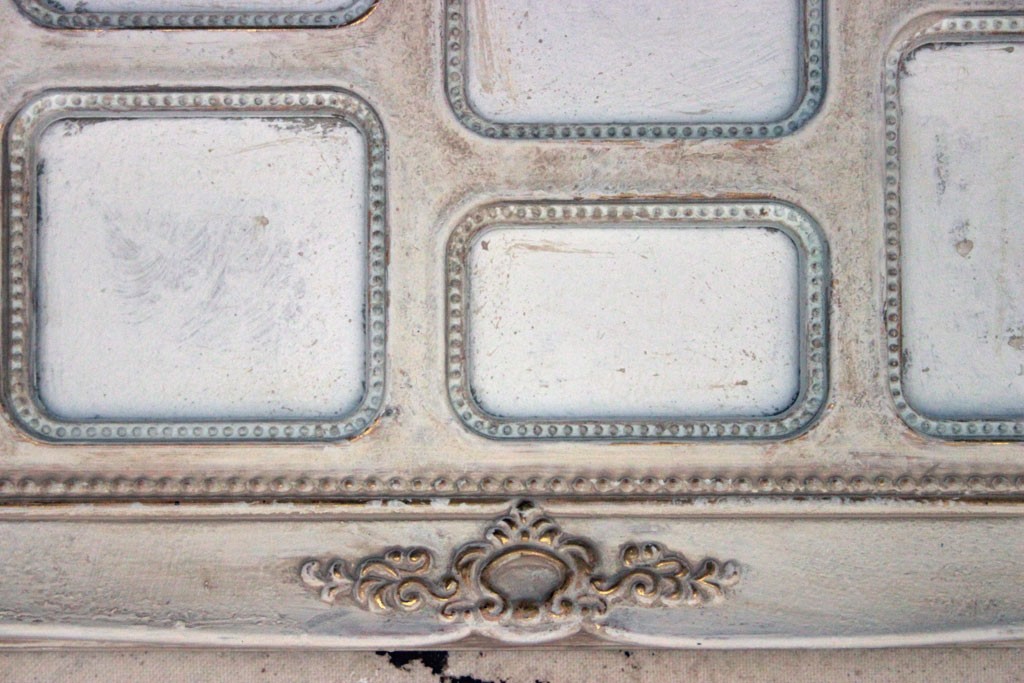 Dark Umber Spray Wax, Metallic Masters Gilding Patina Champagne Shimmer, and a final application of Dark Umber: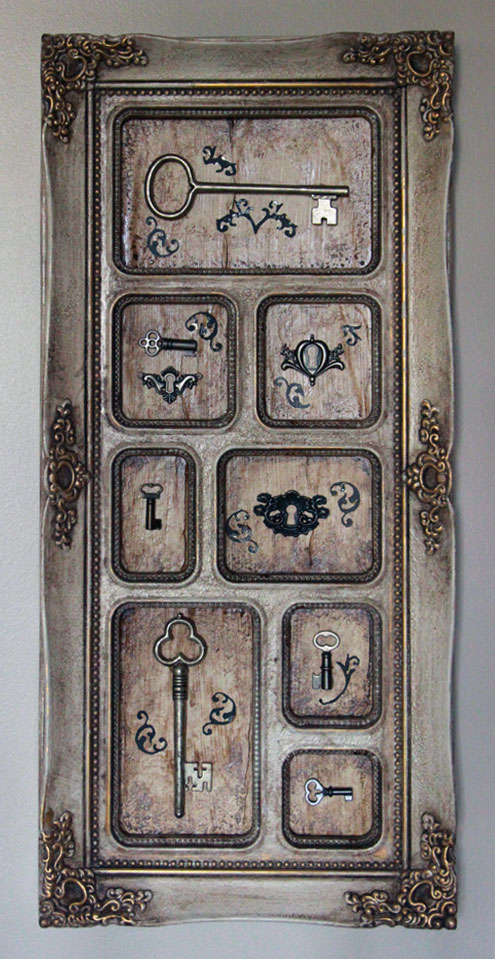 These two lovelies can hang around on my walls any day!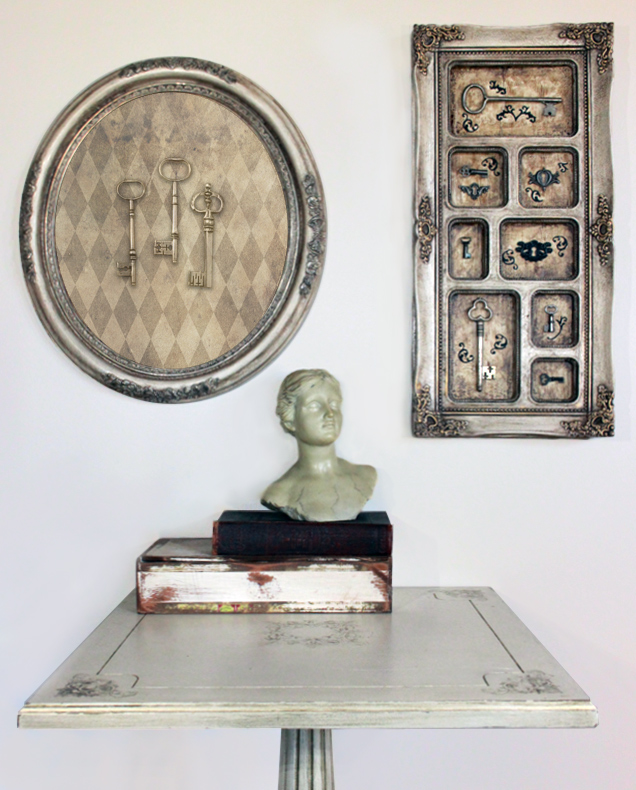 Thanks for joining me for this little paint therapy session! Our two subjects are feeling much better now…if you'd like to rehabilitate some gaudy old cast-offs, have fun experimenting with Shimmery Antiqued Paint Effects!
For more information on Heirloom Traditions Products, please visit www.heirloomtraditionspaint.com
*Full Disclosure: Heirloom Traditions supplied their products to be used in this project, and they sponsored this post – however, I supplied the elbow grease, thrift store cast-offs, design concept, and opinions! All of which reflect my own point of view, regardless of affiliation…
Anytime you feel the need for a little inspiration, drop by Thicketworks and poke around – you'll find many strange ways to create magical transformations!
Take Care,
Heather