Paper Mache Beginner's Guide
Hello my sweet Graphics Fairy friends! It's Rebecca E. Parsons here, back today with a fun tutorial for a Paper Mache Beginner's Guide! Paper Mache is a marvelous art form for beginners because people of all age groups can enjoy the simple applications of this technique without any prior experience. In this tutorial, we will make a nifty little Paper Mache Bowl using an inflated balloon as a mold. I'll even included 2 recipes for the mixture you will need, one is a flour paste recipe and one for water and glue paper mache. Easy peasy! Plus we will decorate the inside of our bowl with a beautiful Graphics Fairy bird!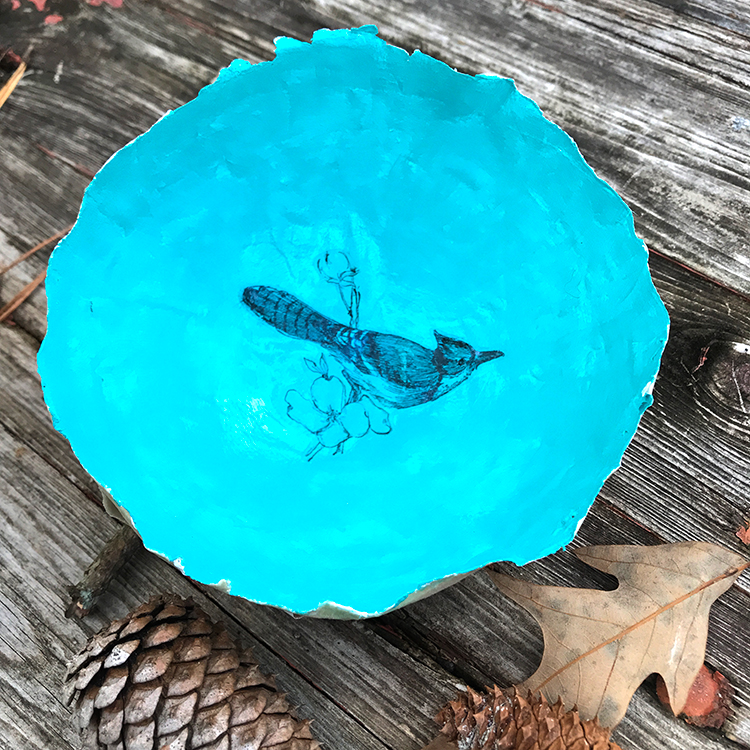 What is Paper Mache?
In simple terms, paper mache refers to the layering of paste moistened paper onto a blank surface. The paper then dries into the shape of that blank surface. Cool! The term paper mache is derived from the French words Papier-mâché, meaning of all things "chewed paper." Paper mache is a method of crafting in which paper is combined with a 'paste' to create a wide variety of objects.
Don't forget to Pin and save this post for later!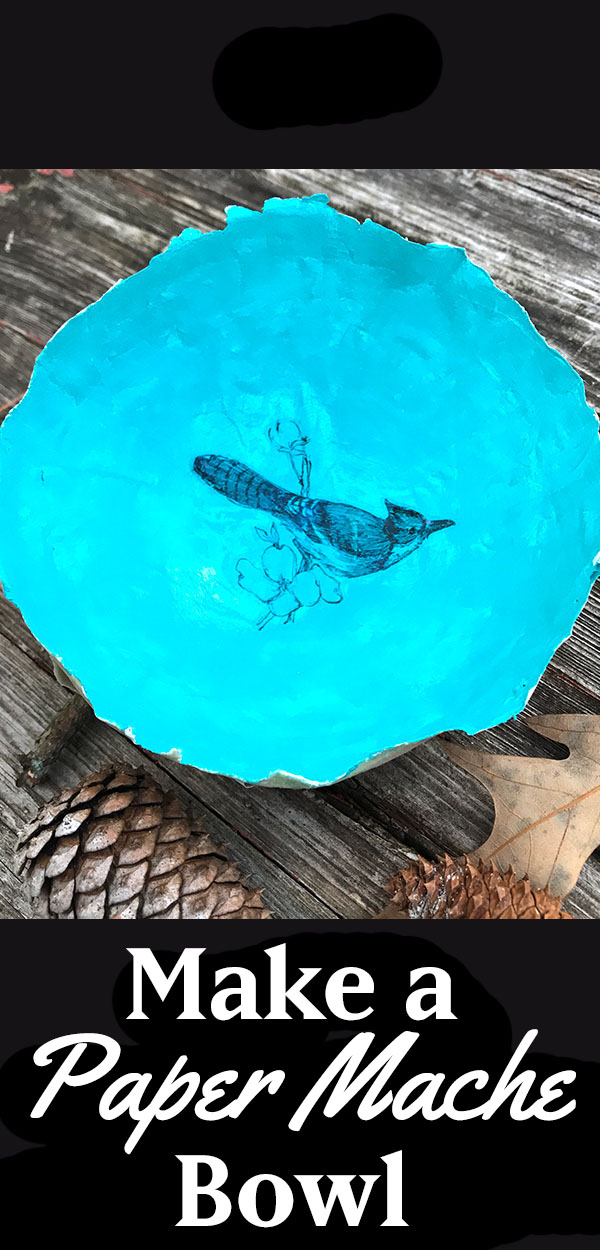 You can create something as simple a little bowl to something as grand as a Mardi Gras float and even a useable canoe! This age old craft dates back thousands of years to Egypt and China.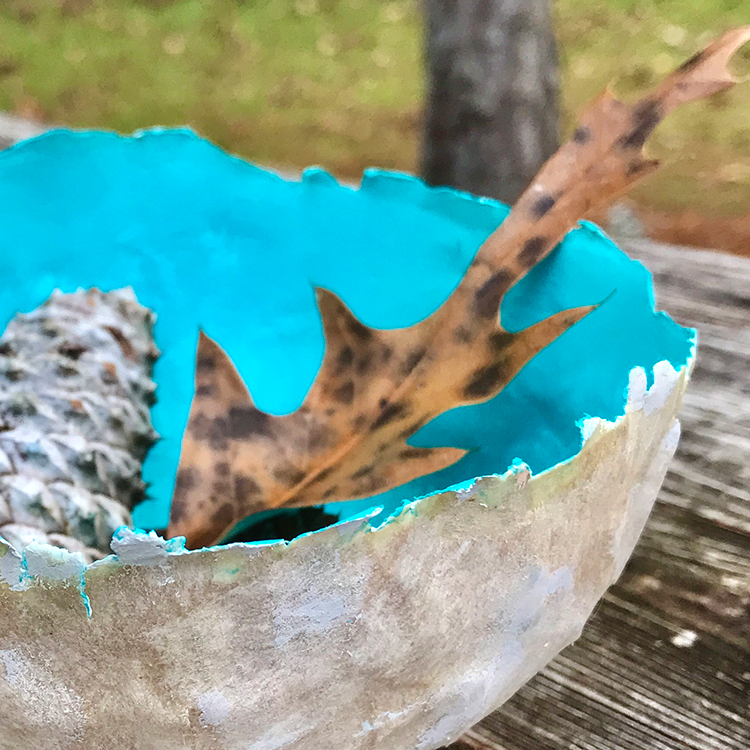 Materials Needed
The basic materials needed for paper mache crafting include:
Newsprint Paper (I prefer blank newsprint, but you can use old printed newspapers as well)
Water
Salt
An Adhesive (see options below)
Sandpaper
Vaseline (for highly detailed molds)
How to Make Paper Mache
There are two options for preparing your paper for paper mache. One method uses paper pulp created by placing paper scraps into boiling water or soaking the paper in water overnight, then mixing in an adhesive. This is best for sculpting and intricate designs. The most commonly used method requires tearing strips of paper, soaking them in paste or adhesive, then laying them on a shape. The adhesive used to moisten the paper acts as the binding agent. The outer shell hardens as the paper dries. After drying, your paper mache creation can be painted and decorated. We will be using the 'strips of paper' method in our crafting.
The Paper
A soft paper that is easy to mold is the best option for paper mache. Although different types of paper can be applied, torn strips of newspaper is the definitive choice for most crafters. It is inexpensive; free if you use old newspapers! It is very absorbent and thin. I actually buy unprinted newsprint that is used as packing paper when moving. TIP: Make sure that it is uncoated. I prefer this because newspaper ink stains the piece. That is fine however if you plan to paint it.
As always, I encourage you to experiment. You can use lightweight papers like 20-24 lb. printer paper. Just make sure that you soak them a little longer so they absorb the glue. I have heard of people using cotton or rag papers with success as well. Those would be pricey though. NOTE: Coated and glossy papers like magazine pages will not work!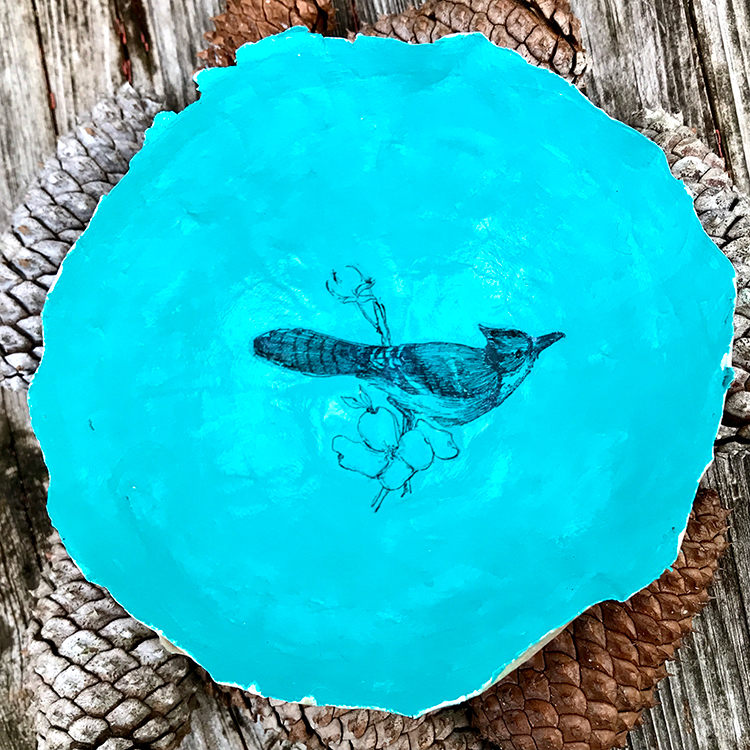 The Adhesive
Crafters have two choices for the adhesive:
Homemade Flour Paste: A part water, part flour mix. There isn't really an exact flour to water ratio, but 1 cup flour to 1 cup water is a good reference point. It is best to use a whisk and bowl to create the flour based paste.
Ready-made Glue Mix: Plain white school glue (PVA glue like Elmer's) mixed with water is very popular. Wood glue can also be used. White PVA school glue should be mixed 2 parts glue to 1 part water. A 4 ounce bottle is mixed with 1/4 cup of water.
The use of glue is similar to using flour, but glue produces a stronger structure and is less likely to deteriorate over time.
Salt: I recommend use of salt for preventing future mold on your paper mache project. It also speeds up the drying process by removing excess moisture from the paper more quickly. It is optional, of course.
Advanced Paper Mache
Three-dimensional paper mache sculptures can be created by starting with foam core board that you can cut to form whatever your imagination leads you to. Whether it be a face, birds, flowers, etc., the options here are virtually limitless. Wire can also be utilized as a reinforcement tool or by itself to actually build the 'skeleton' for a sculpture. The paper mache that covers the skeleton can be viewed as the 'flesh' of the sculpture.
Another optional material is vaseline. This is utilized if you decide to create a paper mache piece by covering your paper over a mold of some sort by rubbing vaseline over the mold first to prevent the paper from sticking to the mold.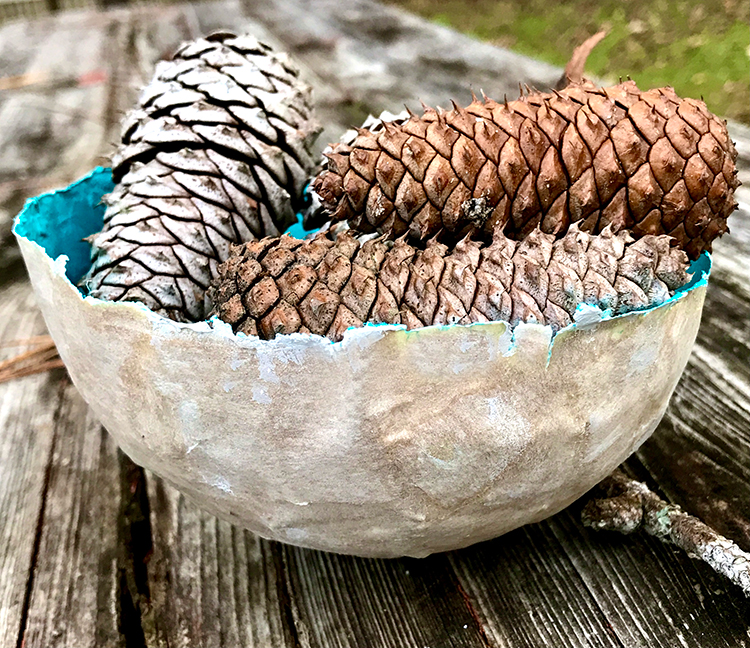 How to Seal Paper Mache
You generally do not have to seal paper mache items. YAY! However, sealing can be beneficial if you want the paper mache surface to be very smooth. Prior to sealing, you can use sandpaper to smooth out rough areas. If any gaps or wrinkling remains after sanding, a sealant can fill in the uneven parts. TIP: Sealers should be applied after your paper mache item has dried completely. Overnight is best for smaller pieces. Thicker pieces can take several days.
Gesso is highly recommended for use as the sealant since it dries very hard and provides an excellent finish that is ideal for applying acrylic paints. The best way to apply gesso is with a sponge or brush in multiple thin layers. Gesso is available in clear, white, and black. It dries in just a few minutes. People have had success with Mod Podge as a sealer as well.
How to Paint Paper Mache
Make certain that the surface is dust free and completely dry before you paint. Also be sure that the paper mache layers are not loose or uneven before painting. If there are loose pieces, just put a dab of white glue to hold it down. Painting with acrylic paint and a paintbrush is the preferred method of painting on paper mache. Acrylic paint is ideal because it is waterproof and has many color options. NOTE: The paint needs to be thoroughly dry between applications.
Acrylic markers sometimes are used instead of acrylic paint, and are a viable option. Watercolors are not ideal because they aren't waterproof and tend to dry somewhat soft and dull. Additionally, watercolors and other paints can actually damage the unsealed paper itself. If you wish to apply your own personal touches to your project after painting, colored pencils or waterproof marker pens are a splendid choice. There are of course many other ways to embellish your work of art with your own, unique ideas!
Sealing After Painting
Your new paper mache creation can be sealed. This is an option that will protect the paint from sunlight and help to maintain vibrancy. The two practical materials for this final stage are gloss varnish or Gloss Mod Podge. Applied with a brush or sprayed, both will dry transparent and leave a hard shiny finish. Acrylic sealing spray is an alternative option and is considerably easier to apply evenly. PLEASE NOTE: The items you create are not food safe!!! They are for decorative use only!!!
How to Make a Paper Mache Bowl
Now that you know everything about creating with paper mache, let's make a bowl! This is a fun and messy project, so protect your surface well. Kids absolutely love to do this. I find it very satisfying and almost meditative to make these small bowls. I used a small, round balloon for this project.
Materials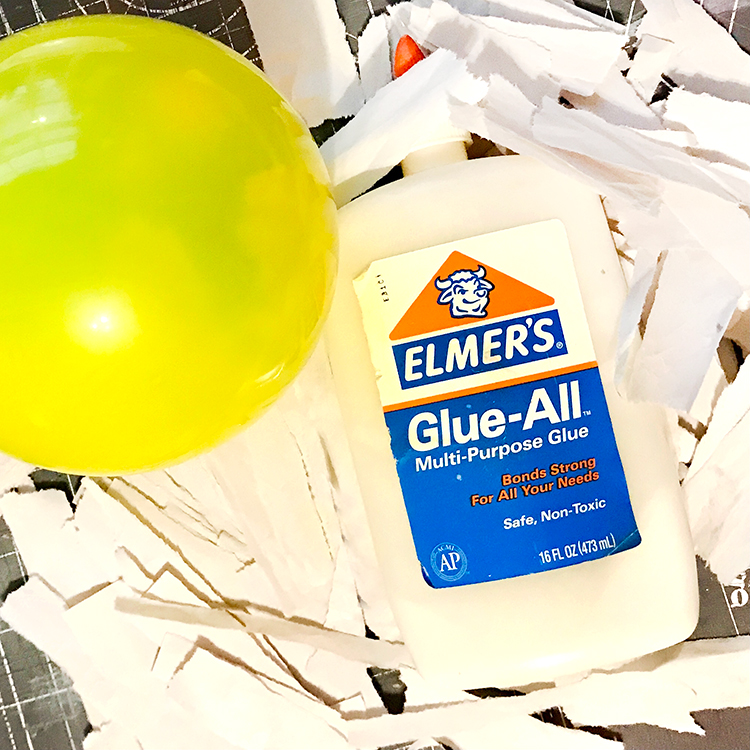 Small Balloon blown up and tied shut
Permanent Marker
Paper torn into 1/2″ wide strips about 3-6″ long
White School Glue 4 oz. mixed 2 parts glue to 1 part water
Salt (maybe 1/2 teaspoon)
Foam Plate
Whisk
Gesso
Acrylic Paint in color of choice (I used aqua)
Blue Jay Print Here from The Graphics Fairy
Step-by-Step Directions
Step 1 – Prepare the Balloon: Blow up the balloon. Lightly draw a line around the balloon with a permanent marker. This will give you a guide to the edge area. However, the uneven edges of a Paper Mache bowl are what gives it the carefree look you want.
A Word About Balloons: I prefer to work with a colorful balloon. You can see any thin or gap areas more easily. I learned a lot about balloons while making this tutorial. I first bought a bag of small balloons (2-3″ round) at the grocery store. They were very small and so thin that some of them broke while being blown. I did like the small size bowl I made with them (see below). Then I went to my neighborhood dollar store that only had 6″ balloons. They were sturdy when blown, but larger than I had hoped. I would say that a 4″ balloon would be perfect for what I wanted. Just be aware that inexpensive balloons might frustrate you!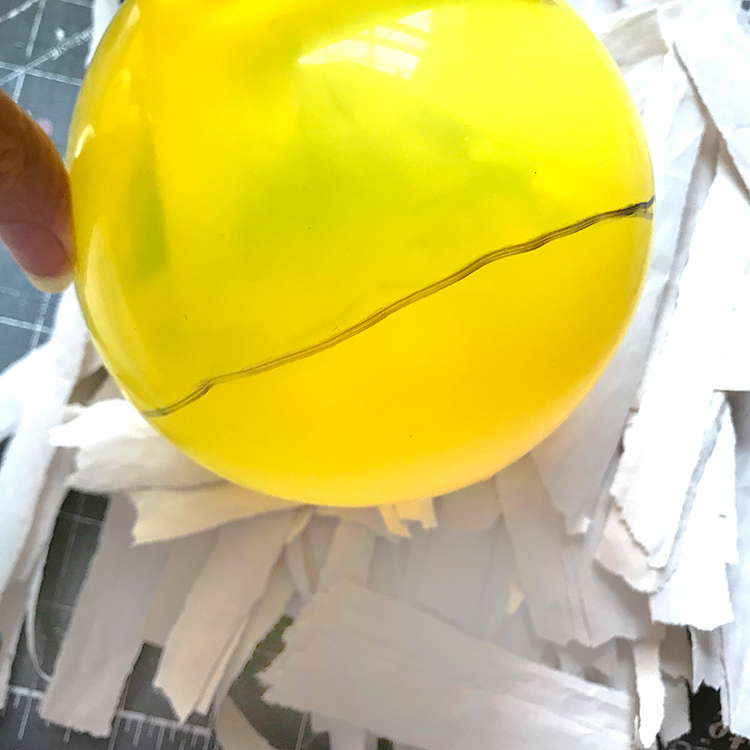 Step 2 – Tear the Newspaper:  Tear the newsprint paper into strips about 1/2″ wide strips about 3-6″ long.The edges of the ripped paper will have fibers that grasp and grab hold of other pieces easily. (see the strips in the above photo) HINT: Do not cut the strips (tear them) as the crisp edges will be harder to work with. Trust me on this!! NOTE: The bigger the balloon, the longer the strips can be. I used 3″ strips for my 6″ balloon. The edges of wider strips will pucker when laid on the balloon.
Step 3 – Prepare the Paste: Thoroughly mix 2 parts white glue to 1 part water in a foam plate Sprinkle in a little salt; maybe 1/4 teaspoon. I use a wire whisk for this. The mix should be thin but not runny!!! (see photo below)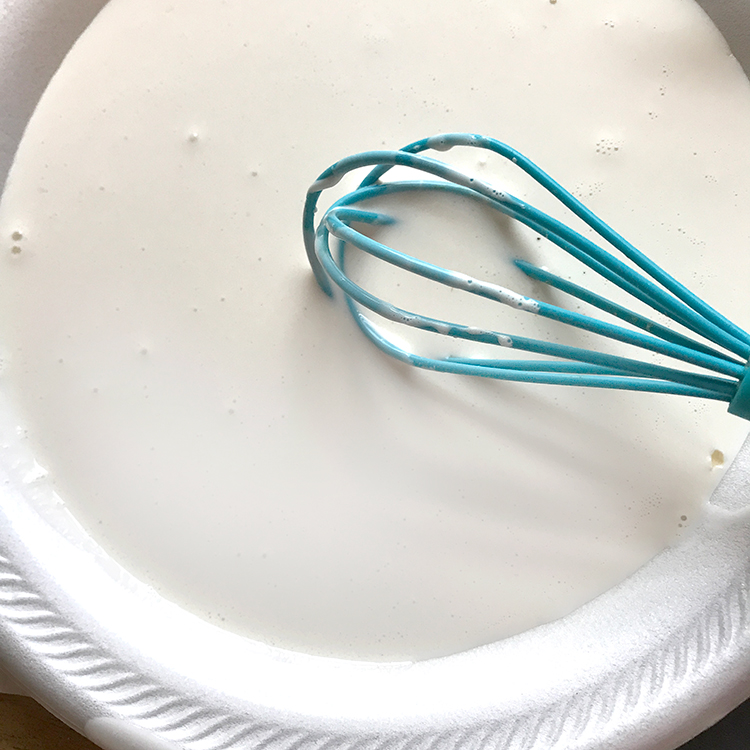 Step 4 – Dip and Place Newspaper: Place your balloon on top of a glass or jar with the tie inside. This will help to stabilize it while you work and dry the bowl. (see photo below) TIP: I added water to my jars to make them less apt to fall over while working!! WINK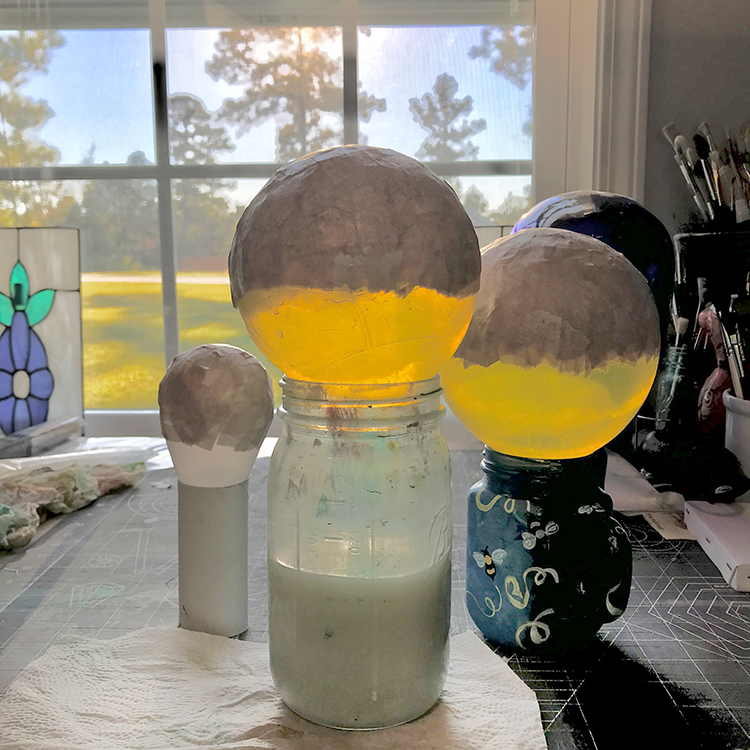 You will be working on the bottom of the balloon. Dip one strip of newspaper at a time into the paste. (see photo below) When coated thoroughly, pull it between your fingers to remove the excess.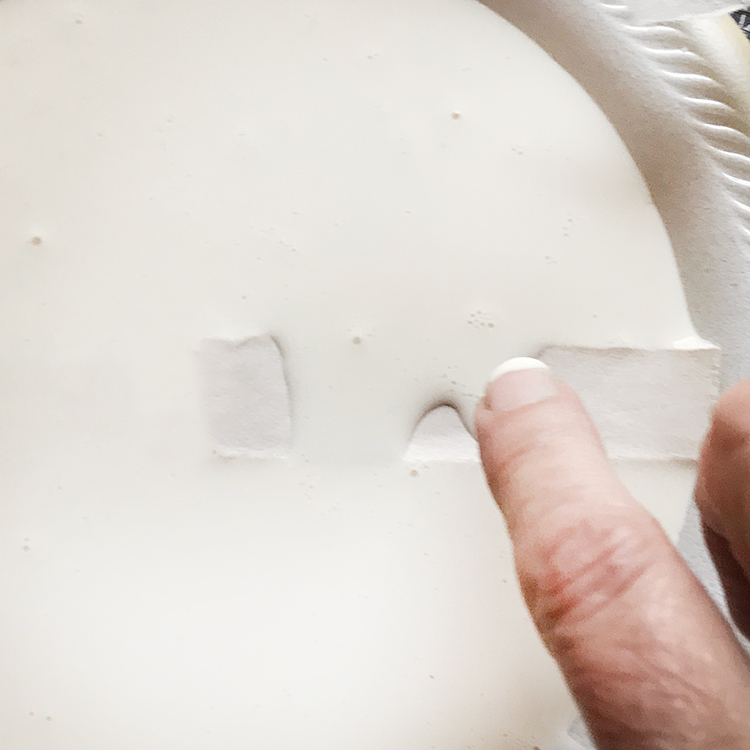 Lay it over the balloon and smooth it down with your fingers. (see photo below)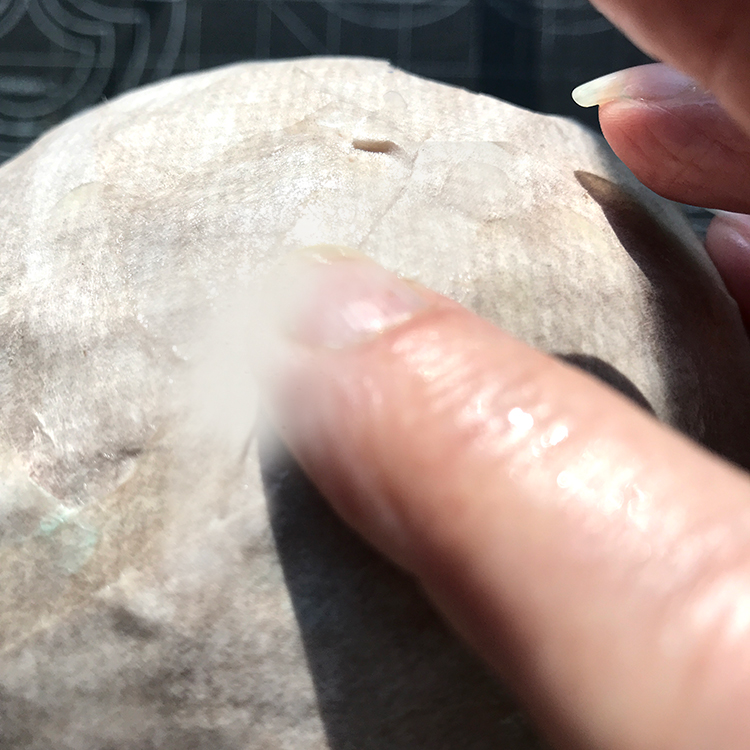 Lay the strips randomly in all directions (see photo below). Repeat this process until you have three or 4 layers over the entire balloon.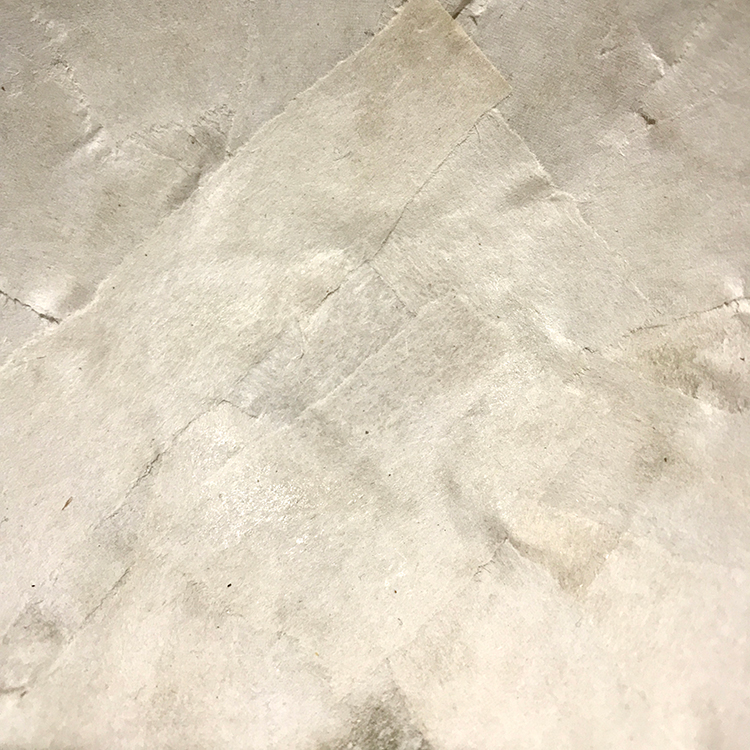 You can hold the balloon up to a light source to see any thin areas. Leave it to dry overnight. The more layers of paper, the longer it will take to dry. If the bowl feels cold to the touch, it is still wet. Allow it to dry completely before removing balloon and decorating!
Step 5 – Remove the Balloon: There are a few ways to remove the bowl from the balloon. I will share my favorite. PLEASE NOTE: If the paper is not completely dry, it will be a struggle to remove the balloon. I found this out the hard way!!! Methis 1 worked like a charm on my second bowl. Method 1– Begin at the edges of the bowl where it touches the balloon. There will probably be a few gaps where the paper has started to pull away from the balloon. Start on one of these. Gently press the balloon in, away from the bowl. The paper should pop off fairly easily. Slowly and carefully work your way around the bowl, pressing and releasing the paper. If it is really stuck, allow the bowl to dry more. Method 2– Pop the balloon. Then gently pull the balloon out of the bowl. (ph0to below shows balloon sticking to the bowl) TIP: If it sticks to the bowl … STOP, it is still too wet. Allow to dry longer. Then gently remove the balloon.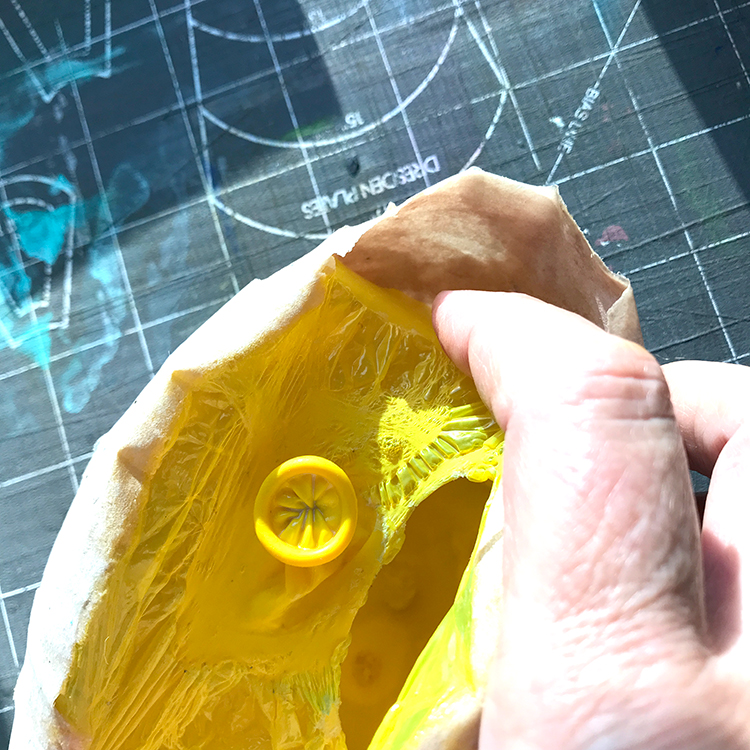 Finished Bowl and Bowl Edges
Here is a look at the yummy, uneven edges of a paper mache bowl. The top photo is my test bowl. I did not have enough layers of paper at the edge. The front edge is torn a bit and you can see how translucent it is. But it still works, I think!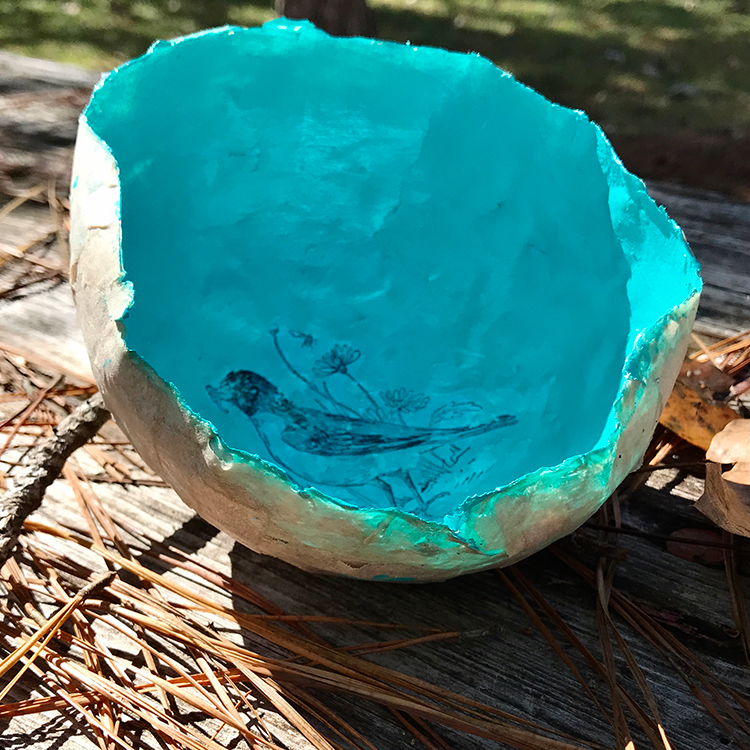 In this image, you can see the wavy and wispy edges of my finished bowl. Most of the edges have three or four layers of paper in my second try. You can also see the beautiful outside of the bowl, which is unsealed. Using plain newsprint dries to this rustic, almost rough plaster like look and feel. Printed newspaper with have dark areas where the ink was.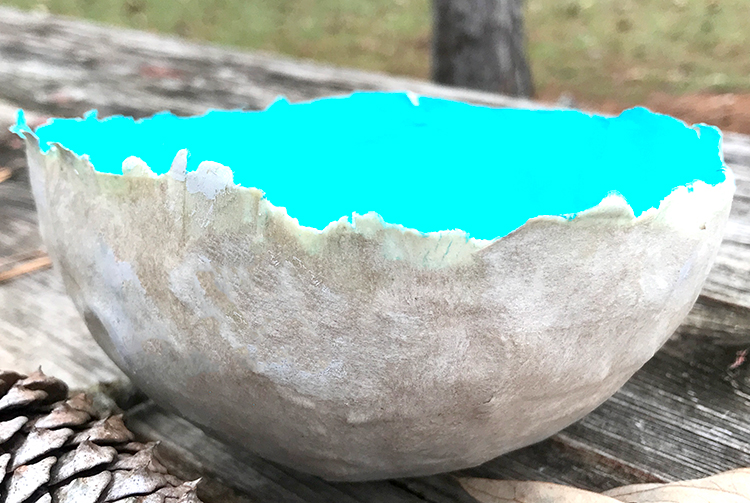 Step 6 – Decorate: There are several options for decorating your bowl. We will be painting ours and doing a transfer to the inside. But you can stain it, glitter it, gild it, etc.
Sand the bowl if necessary according to the directions in the "How to Seal Paper Mache" section above.
Seal the dried bowl with gesso inside. Let dry. This should take 15 minutes or so for 2-3 layers. TIP: This is a critical step if you are going to transfer an image! When you add water to remove the paper from the transfer, it will soften unsealed paper mache!!! If you don't have gesso, try Mod Podge.

Paint the inside of the bowl with your color of choice. I used Golden's Acrylic in Cobalt Teal. Allow to dry at least 1 hour. HINT: You want the paint to form a strong bond to the Paper Mache bowl for the transfer to work well. So don't rush it!
Transfer the Bird Image. Photocopy or Laser Image to transfer – I used this Blue Jay. I am using my Acrylic Paint Transfer Technique to transfer the little bird onto my bowl bottom. Again, I used Golden's Acrylic in Cobalt Teal spread liberally in th area where the transfer will be. You can find the instructions for this technique HERE! NOTE: It is a little trickier to transfer an image to a soft and bumpy surface.
TRANSFER TIPS:

Take your time; don't rush.
Fussy cut the image leaving just a tiny white edge around it.
Apply plenty of paint; more than you may think is necessary. If it dries before you get the image burnished down, those areas will not transfer.
Burnish, then burnish more. I used my fingers first and them my bone folder. I worked on this for several minutes to make sure every single part of the image was embedded in the paint.
Allow the image to dry at least 3-4 hours before wetting and removing the backing paper. It would be better overnight!
Use very little water to remove backing paper. The water necessary to remove the backing paper can soften sealed and unsealed Paper Mache.
Rub the paper backing very gently and stop if any of the image begins to come off!!

If you rub off spots of the image: I did this in both of my bowls even though I was very careful. I used a very fine point black felt pen to fill in (fix) the areas. In the image below there were two areas – the top of his head and the lower section of his tail. I just dabbed the pen the pen gently in those areas. I did not draw! Less is more when doing this!!

Seal the transfer inside of the bowl with a glossy medium or spray. This will help make the image pop and look clear. I used Mod Podge Gloss Spray! Use the steps in the "Sealing After Painting" section above.
Enjoy your bowl!!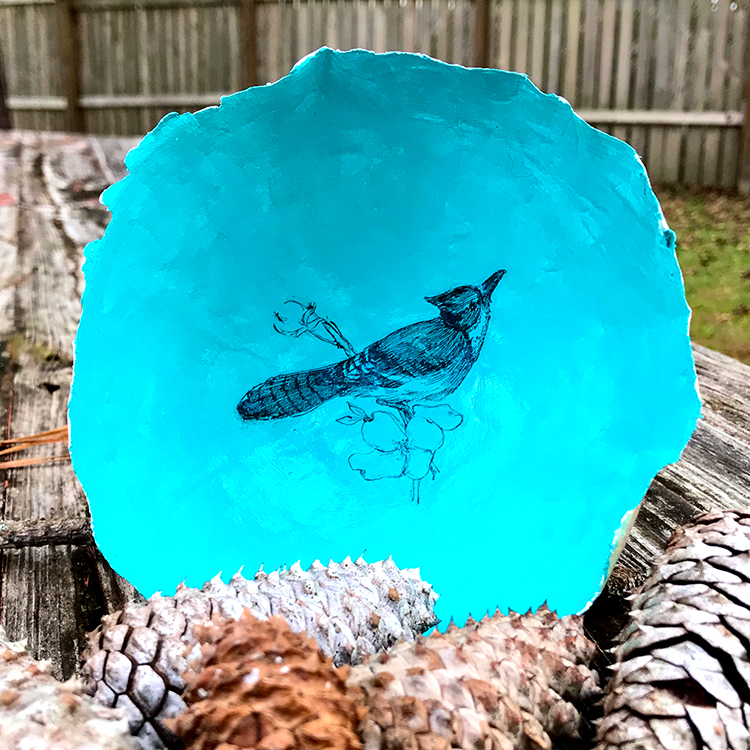 That was a bunch of messy, creative FUN!!! I hope that you enjoyed The Paper Mache Beginner's Guide and learning How to Make Your Own Paper Mache Bowl with me!! When I am not exploring with new and old Techniques for Mixed Media in my Graphics Fairy sandbox, I also create Photoshop Elements tutorials and craft project tutorial videos over on The Graphics Fairy Premium Membership site. You can find even more of my books, junk journals, mixed media art, classes, and whimsical shenanigans on Rebecca E Parsons Dot Com.