Aging Powders are a wonderful way to add a Shabby, Farmhouse or Faux Rust finish to your crafting projects!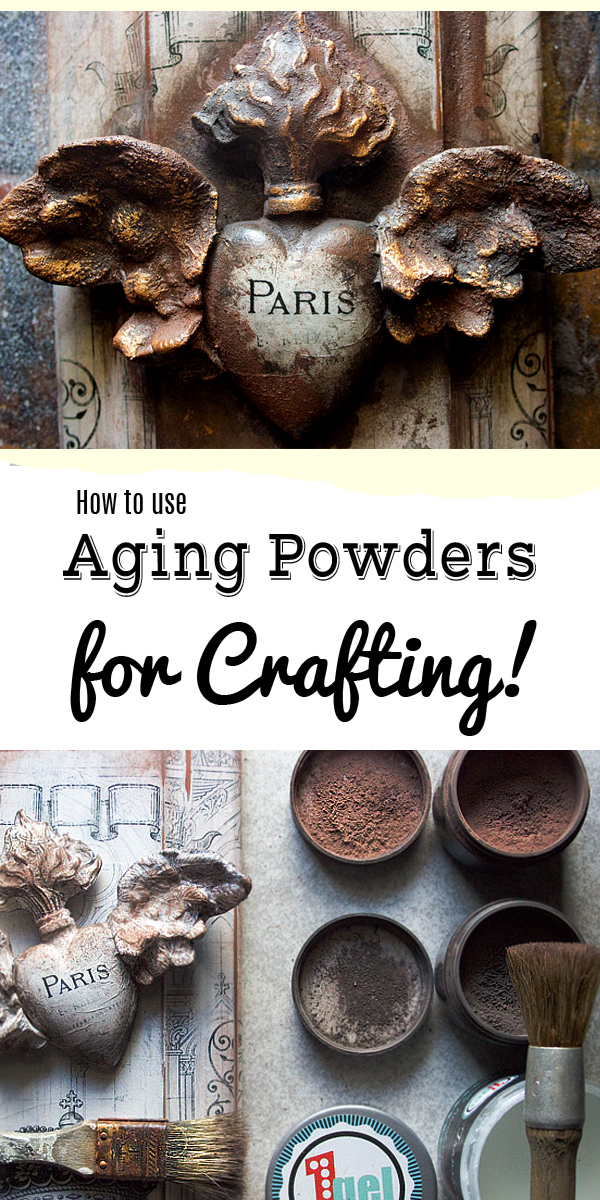 ---
– This post contains affiliate links –
Sandra Evertson supplied the Relics & Artifacts ® for this piece – Thank you!
Heirloom Traditions supplied the Aging Powders and 1Gel for this project – Thank you!
---
Hey there! It's Heather from Thicketworks…today we'll be exploring how Aging Powders can enhance your crafting projects. 
If you'd like to follow along, here's what you'll need…
Supplies:
---
Begin by preparing your base.
Apply one coat of DIY Chalky Paint, or Gesso, allow to dry.
Distress the edges with a scrap of sandpaper or an emery board.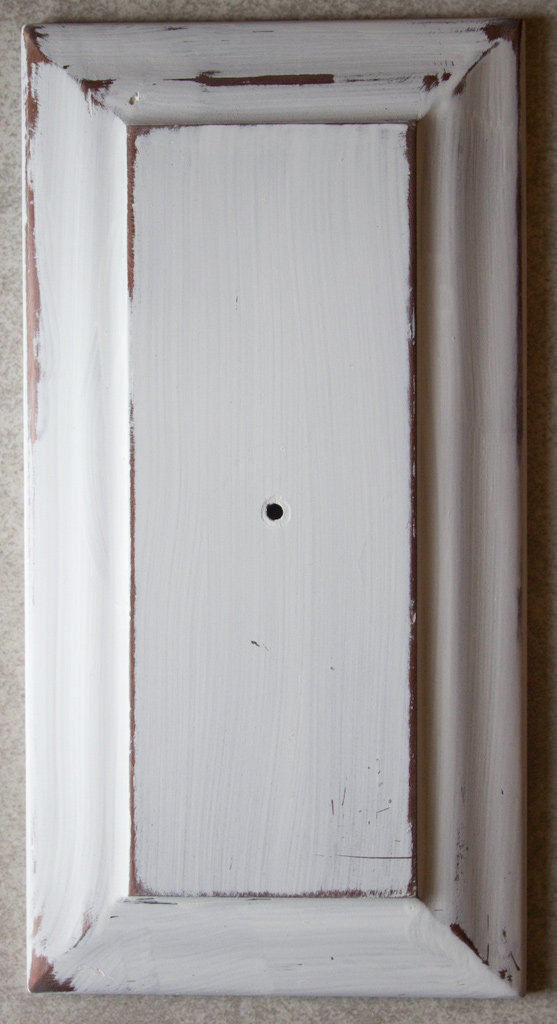 Prepare your printed tissue paper…
To learn how to create printed tissue paper, click HERE to read this wonderful post
by Andrea of The Cottage Market: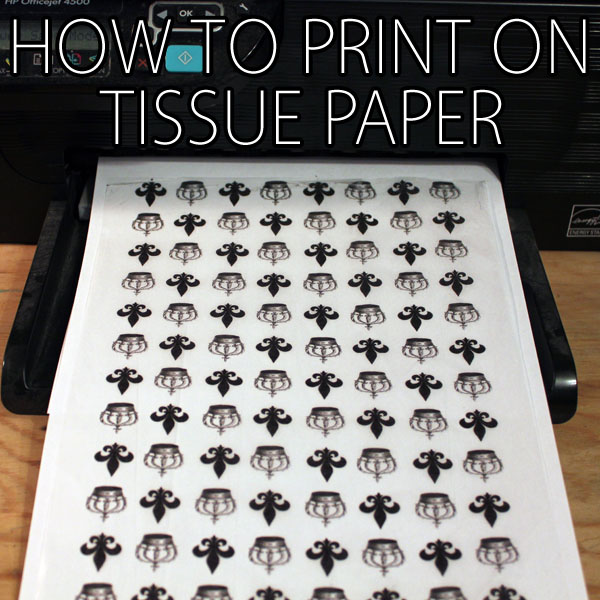 I used a variety of imagery from The Graphics Fairy, all printed out on 8.5 x 11 inch sheets of tissue paper: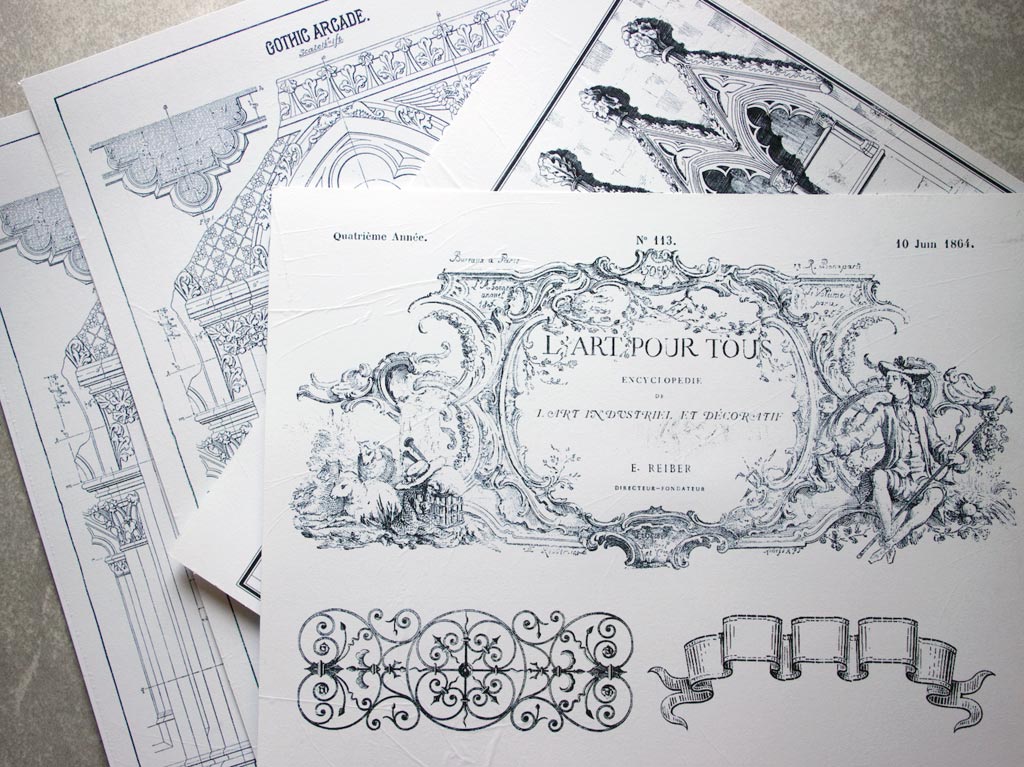 Source Images:
Gorgeous French Frame Engraving
If you would like to use the same graphics, I've prepared 3 simple collages for you.
Click on the images below to grab your copies:
Remove the fragile tissue paper from your backing paper (I used white cardstock as the backing for these printed sheets)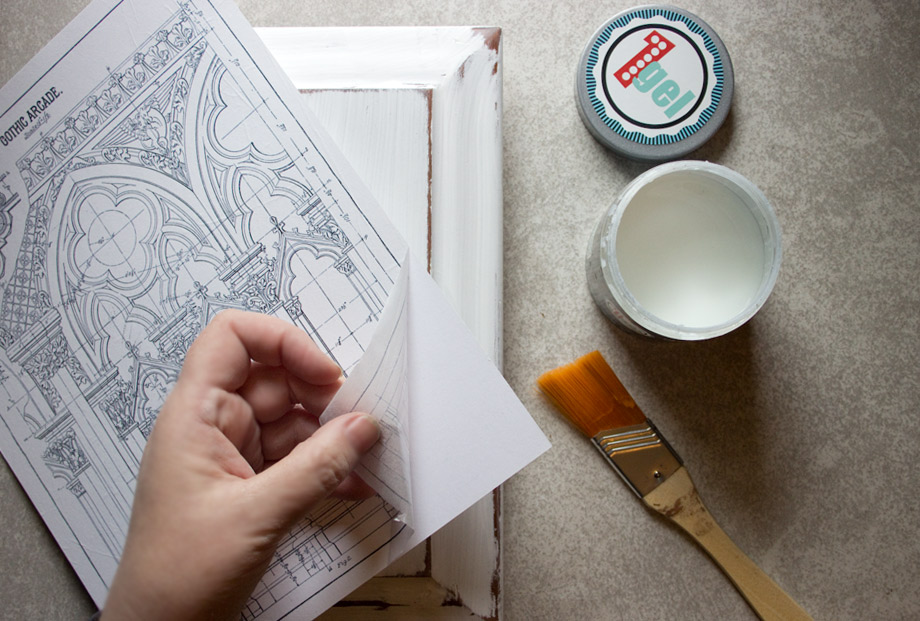 Coat the surface of the wood with a generous layer of 1Gel, and gently smooth the tissue onto it. I use a Spreader tool for smoothing.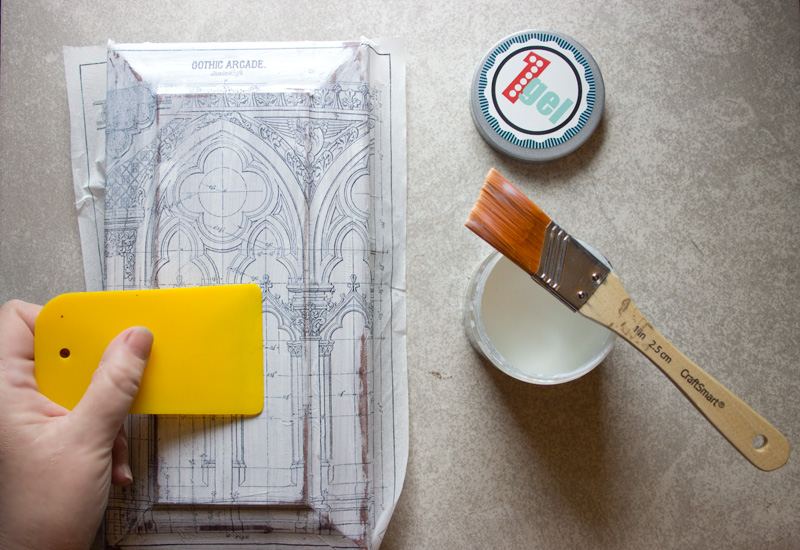 Once the 1Gel has cured (it won't take long) – use sandpaper, a sanding block or emery board to smooth away the excess paper: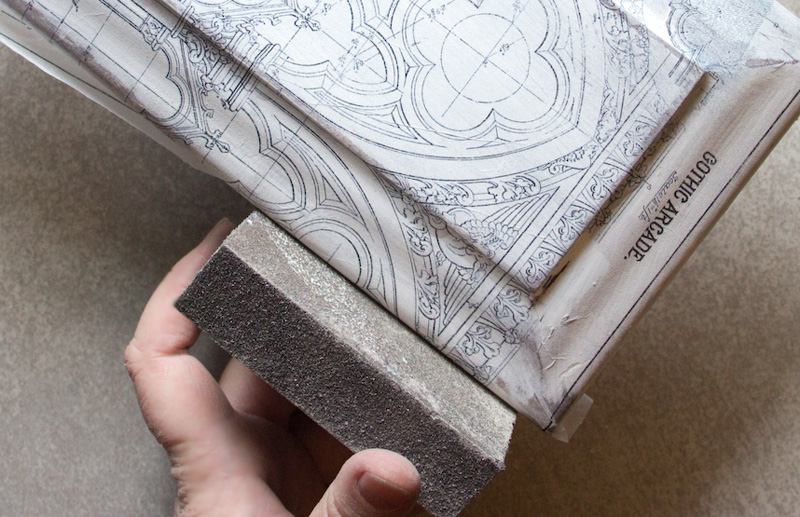 Then distress the same areas as before – This gives a feeling of antiquity to the piece…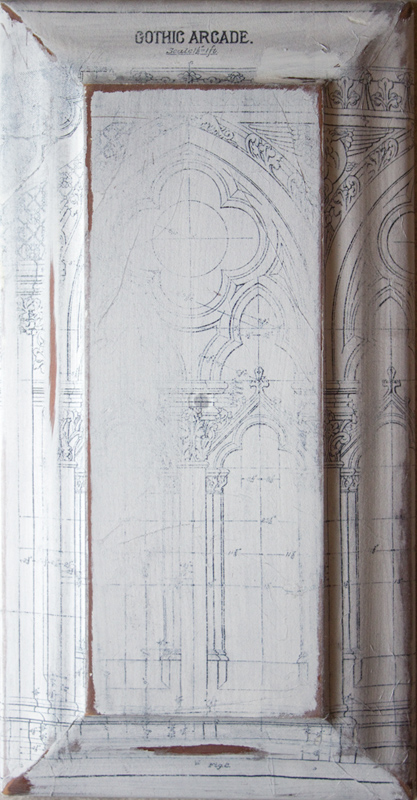 Now we can have some fun!
Working with Relics & Artifacts ® is such a pleasure. These high-quality castings are perfect for so many different looks – they lend themselves to endless crafting possibilities!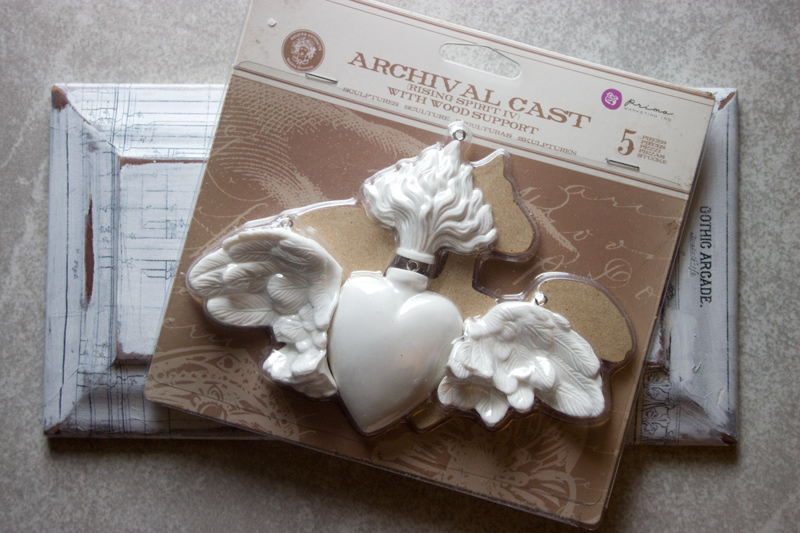 I chose Rising Spirit IV, because the wooden backing makes it incredibly easy to join the parts into a cohesive whole…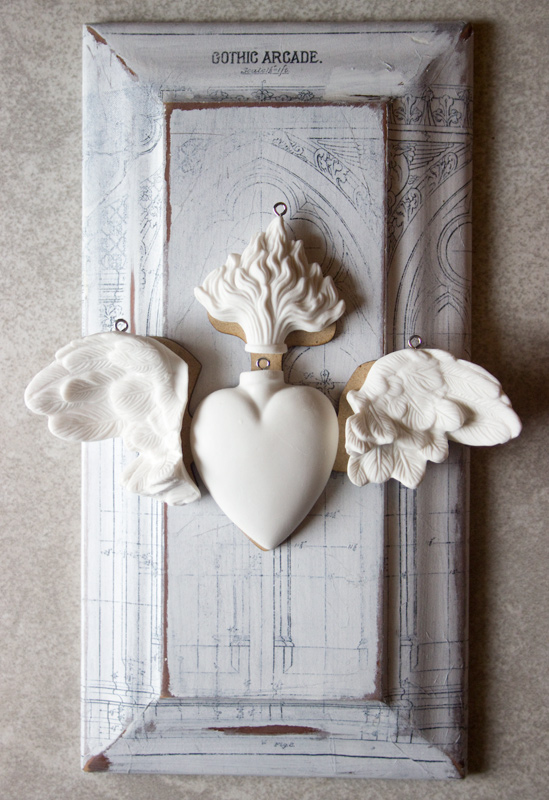 Just gently remove the screw-eyes.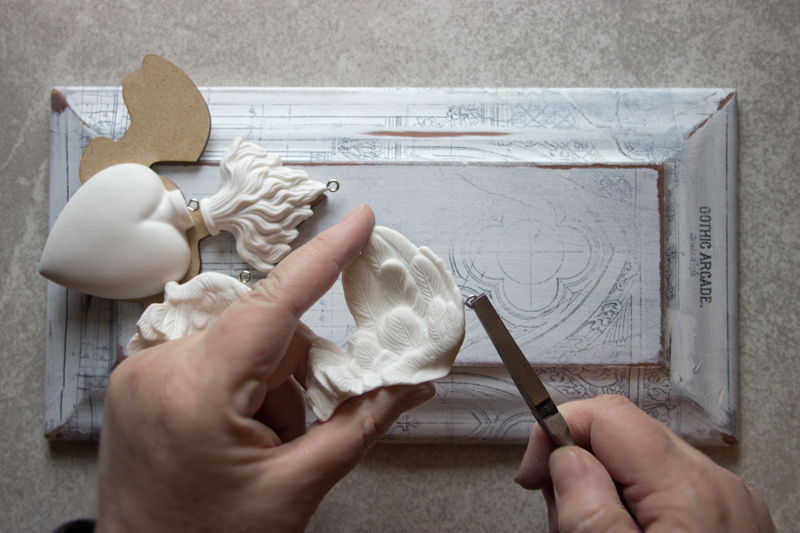 Give the wooden backing a coat of Chalky Paint or Gesso, allow to dry.
Attach the wings, flame and heart to the backing with heavy duty adhesive and allow to cure.
FabriTac creates a strong bond within 10 minutes.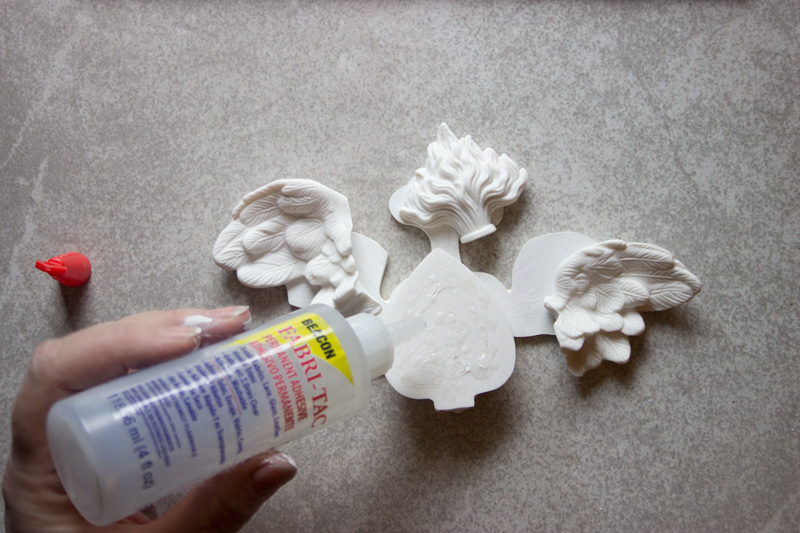 You can see how beautifully the backing fits the motifs…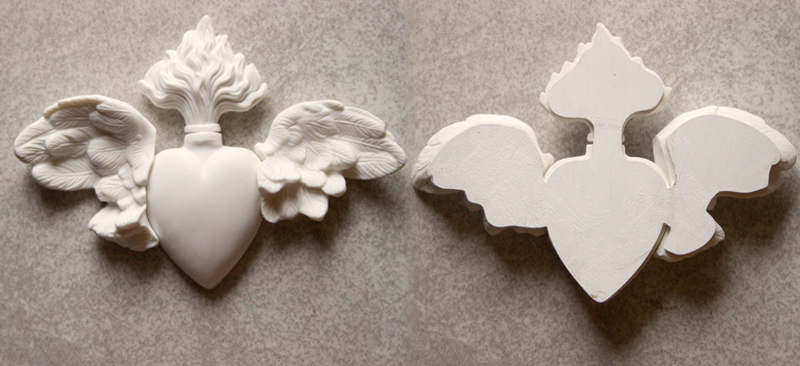 Now, put on your designer shoes, 'cause you have some creative decisions to make!
I chose to cover the entire piece with the French Engraving – I wanted a delicate and sketchy feel…
A coat of 1Gel on the piece, then a gentle encouragement with a damp brush is all it takes to bond the paper to the intricate surfaces: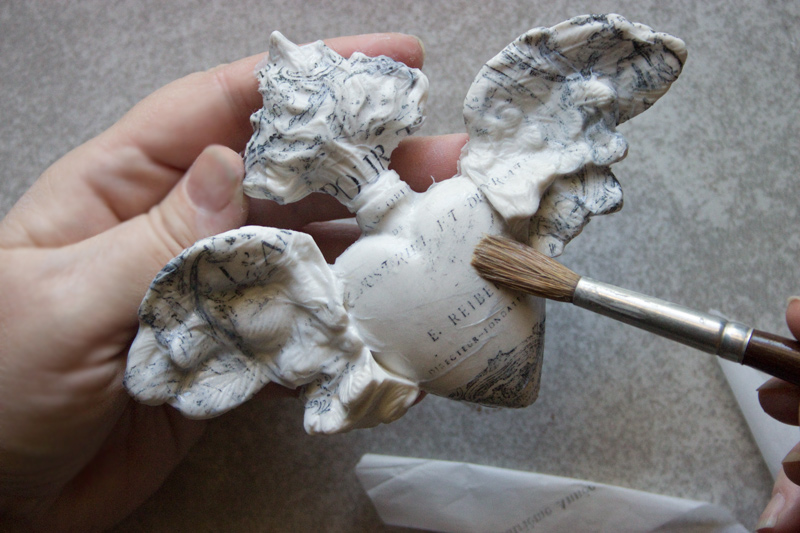 Love this. You could stop right here, for a delicate Toile look. I plan to do just that on a future project.
So pretty!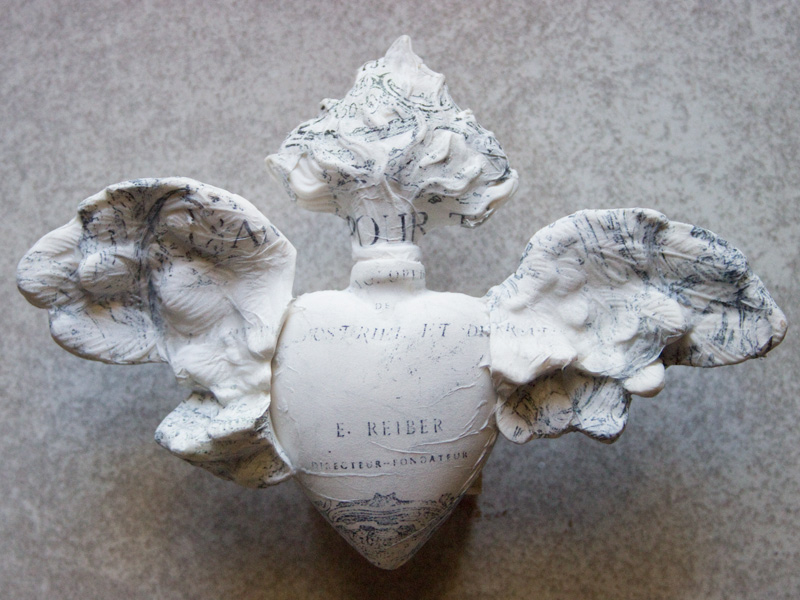 Continue adding Typography and graphic motifs, using 1Gel and a brush…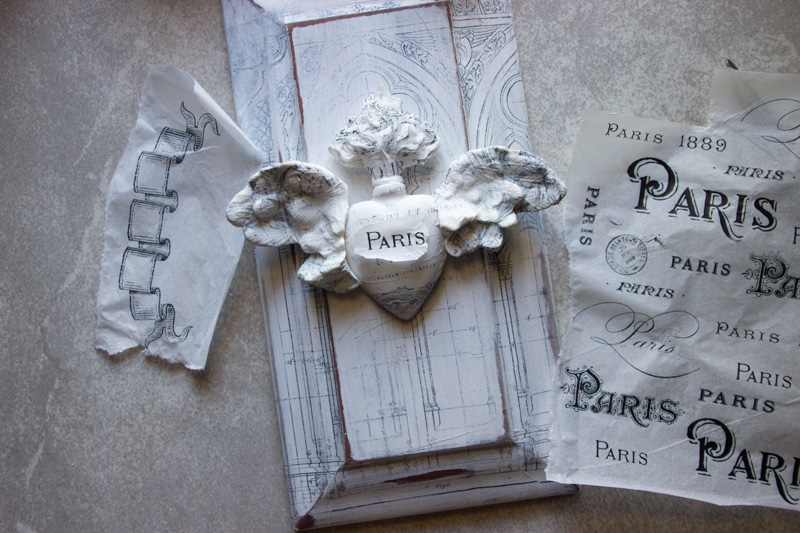 The tissue is so thin that one layer just melts into the next, allowing you the opportunity to create wonderful arrangements of text and graphics however you choose…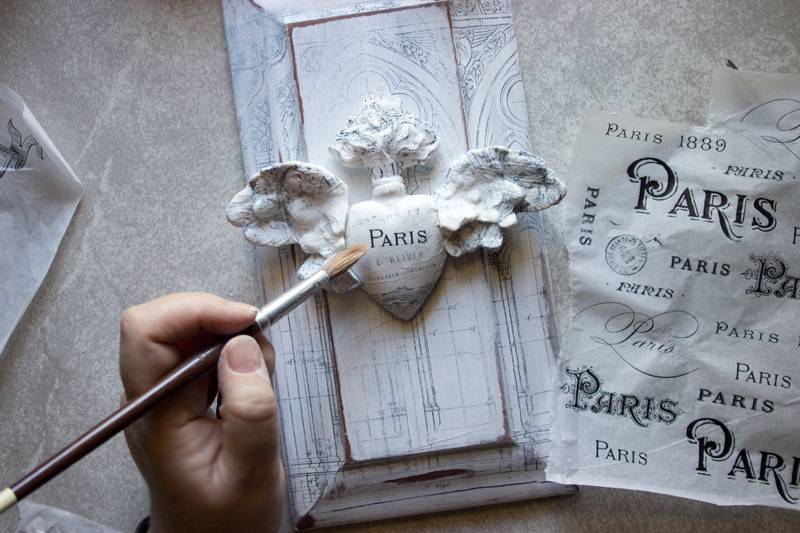 This banner just thrills me. I use it ALL the time…layer it right over other imagery for a lovely effect: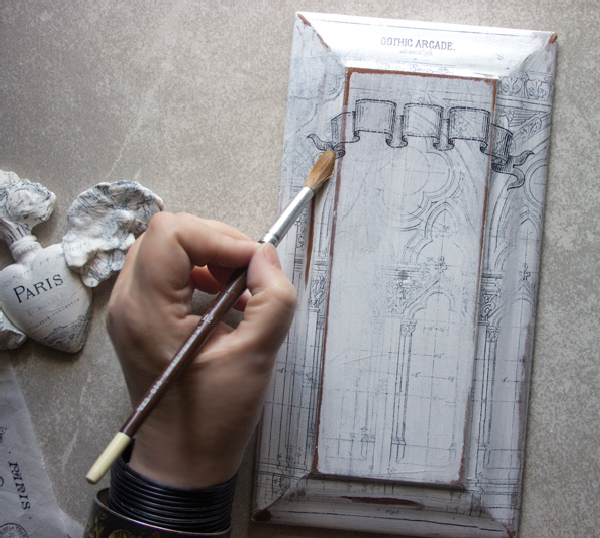 Once the 1Gel has cured, distress the surface once more with sandpaper, to reveal the wooden under-layer: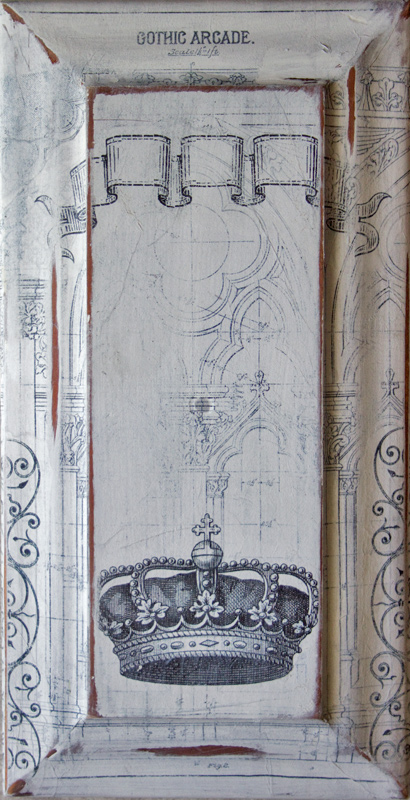 Now, it's time to add a bit of character! 
Have two brushes handy for this part:
Dab Heirloom Traditions 1Gel wherever you want to see a bit of rusty goodness, then tap a generous amount of Rust Dust onto the damp surface: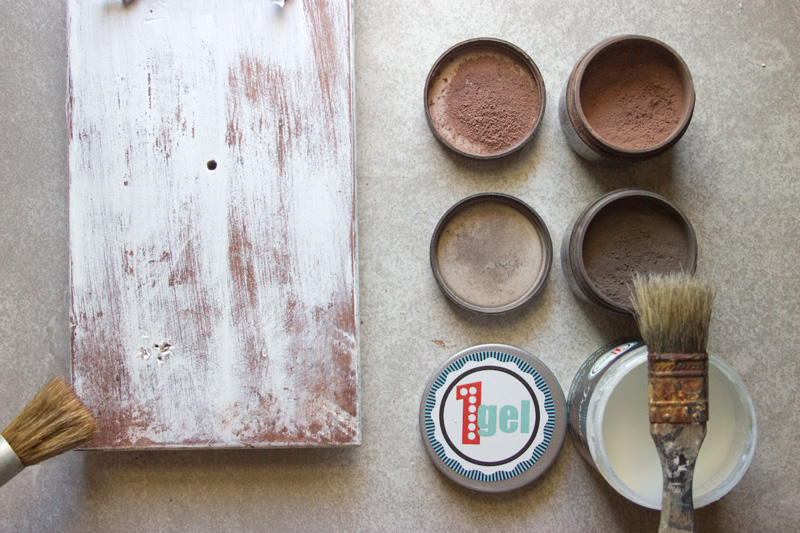 Alternate the Aging Powders for a more authentic look.
Make sure to dust your Rising Spirit emblem as well: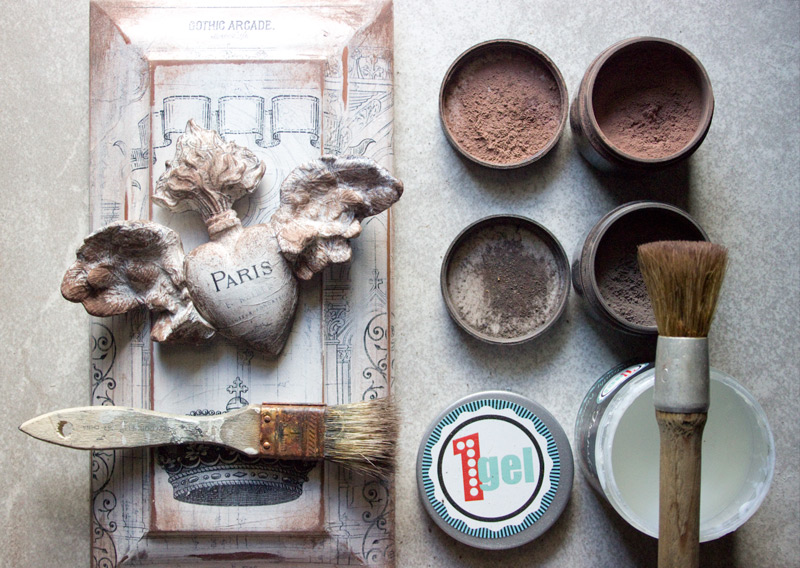 Attach the Rising Spirit emblem to the plaque with heavy duty adhesive. Allow to cure. 
This creates a soft, Shabby Chic finish that is at home with French Farmhouse decor, of any interior with a light and airy vibe: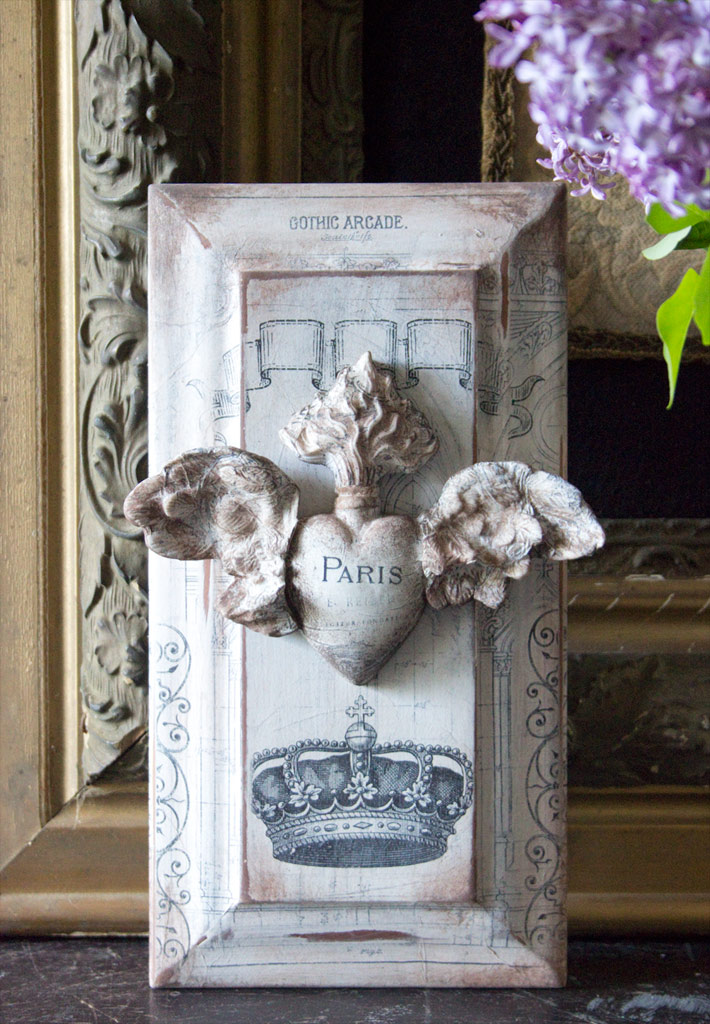 Just a touch of Aging Powders creates a subtle and sweet atmosphere to the piece: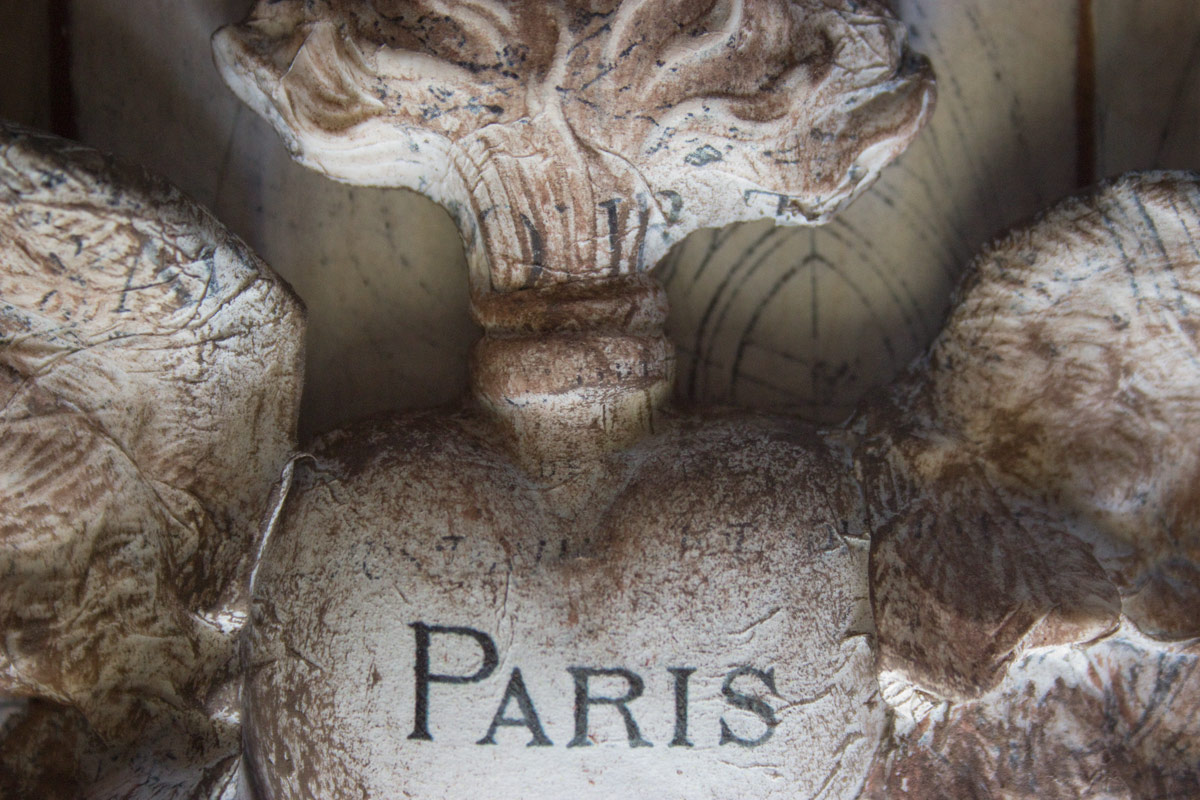 Love the way the printed tissue peeks through…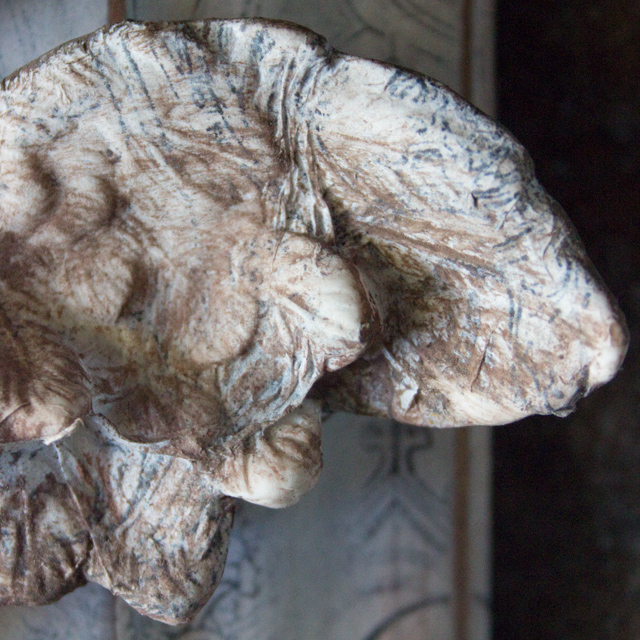 However, I really wanted to push the limits with this piece. Rust is one of my all time favorite finishes, and I needed MORE.
If you like a heavier application, this next section is for YOU!
Continue to build layers of 1Gel and Aging Powders, one atop the other until you've created a look that pleases you: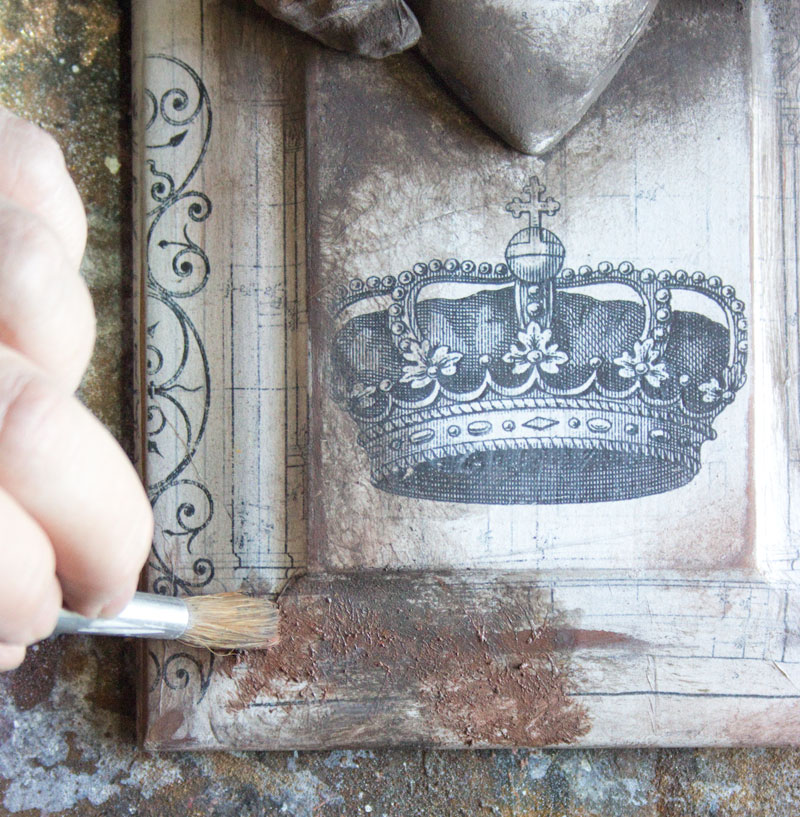 Although I love the look of the decoupaged graphics on the wings, they had to get RUSTY!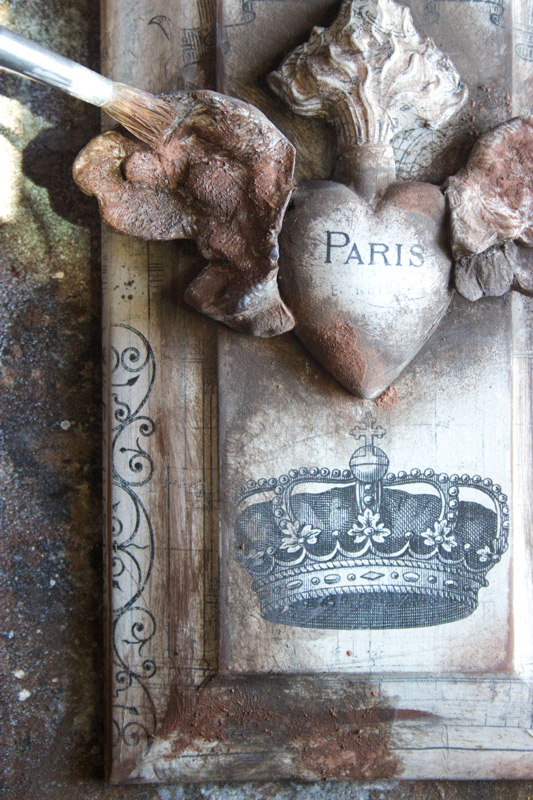 Adding a few dabs and splatters of thinned black craft paint increases the drama of the piece, and imparts that blend of colors that real rust always has…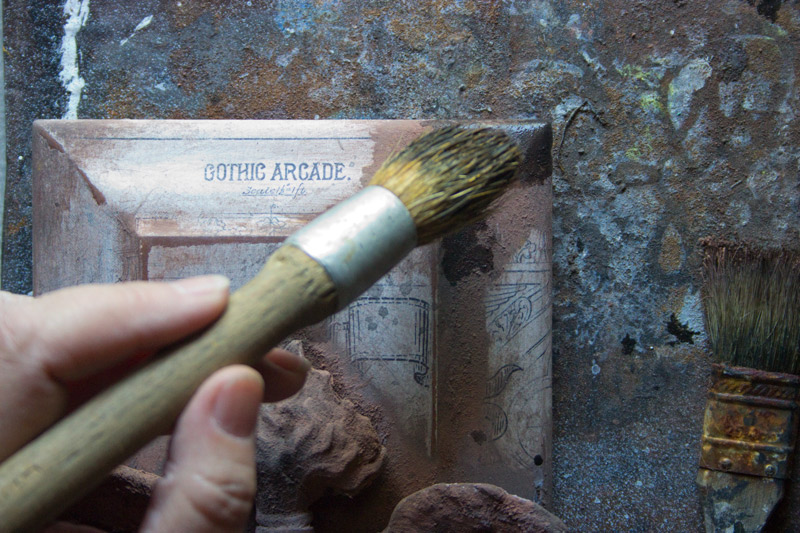 Now, we're getting some grunge!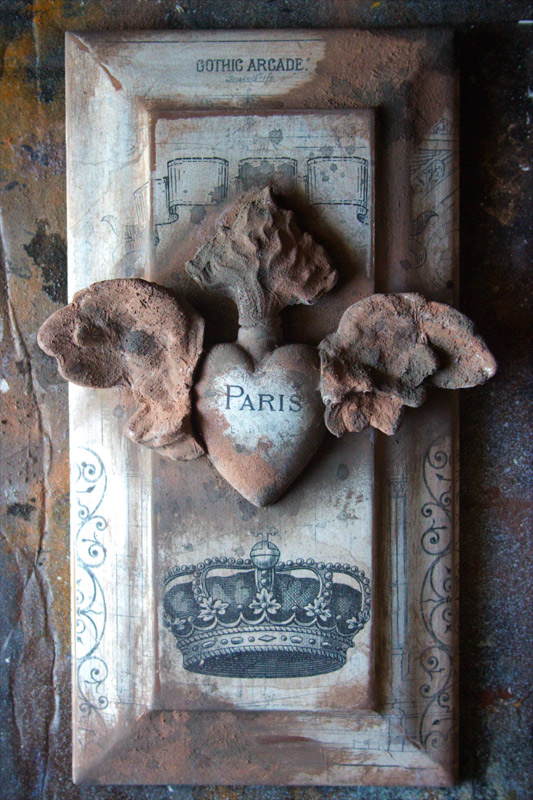 Apply just a few very light touches of metallic paint on the high points with the tip of a finger: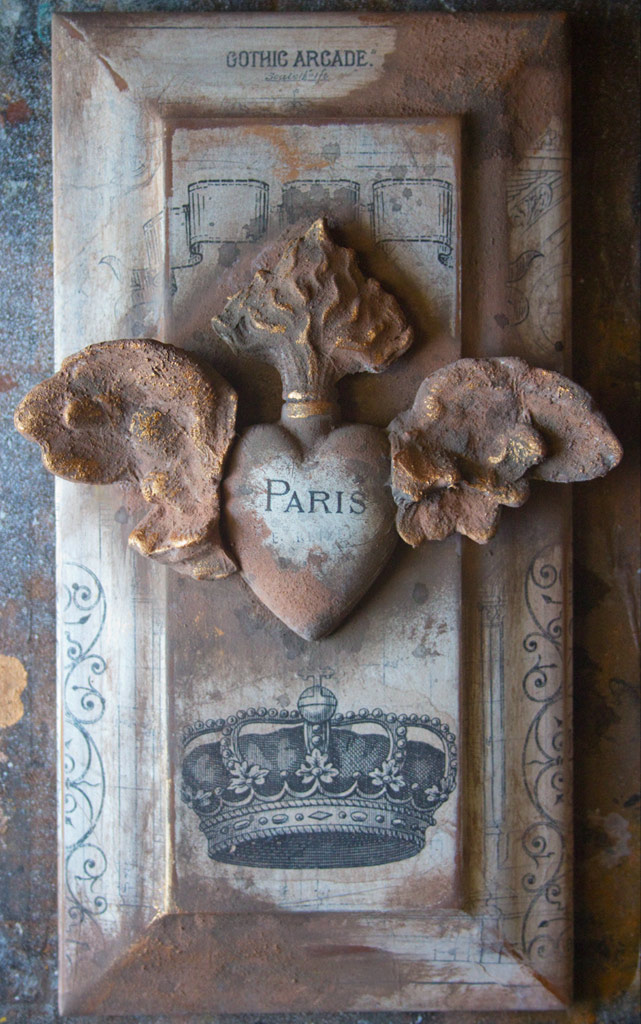 The soft gleam of the metallic adds interest to the yummy texture created by the Aging Powders: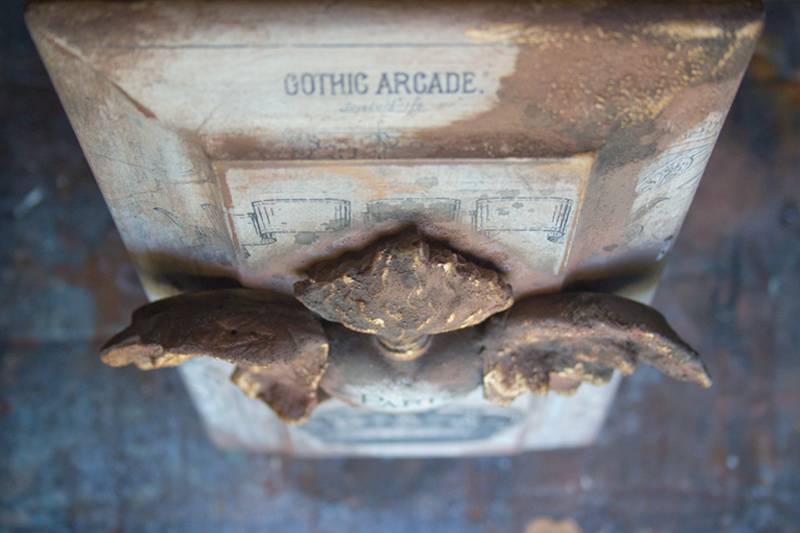 Tiny amounts of Copper on the gritty high points: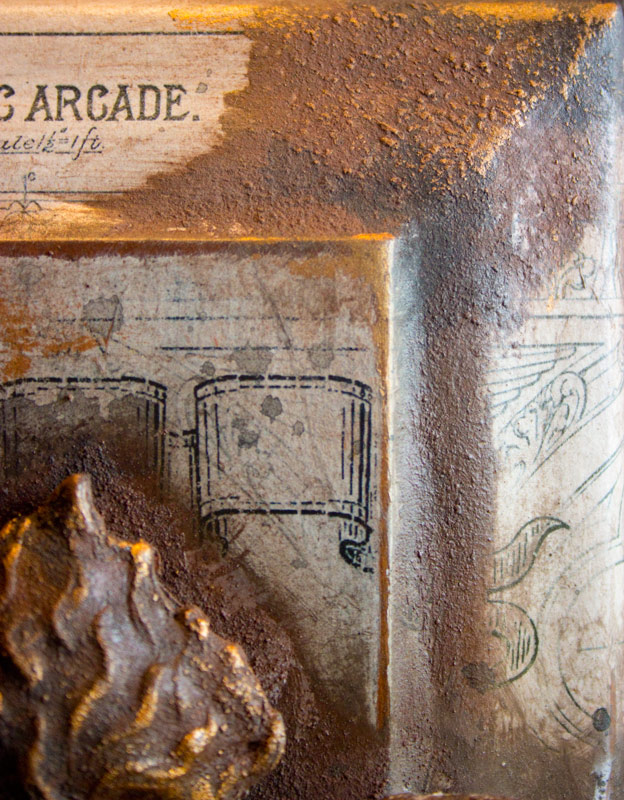 I LOVE how ancient this finish appears!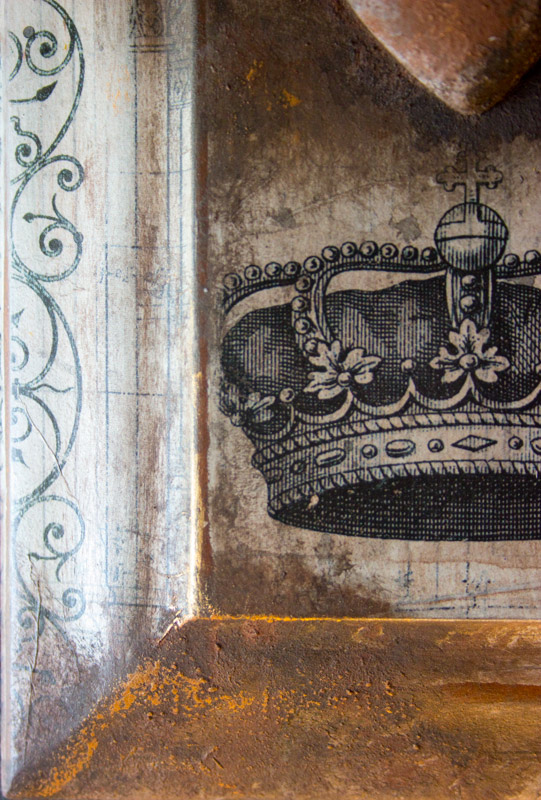 Spray seal to protect, and viola!
You've just created a treasure, straight from an abandoned Chateau…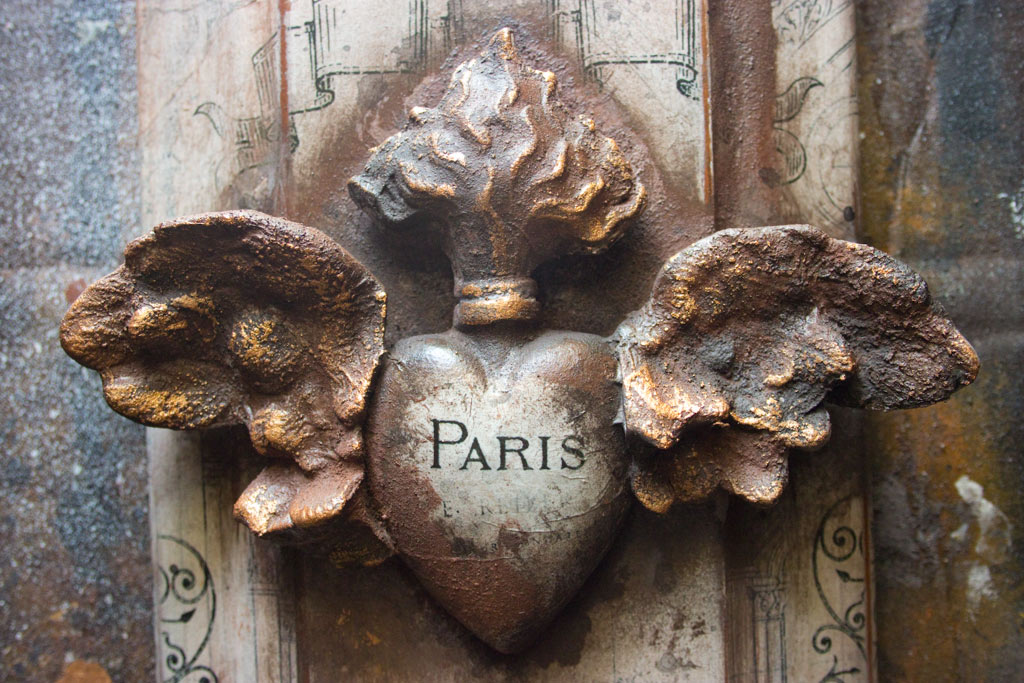 So there you have it: light and airy, or rusty and grungified.
Either look is possible with Aging Powders!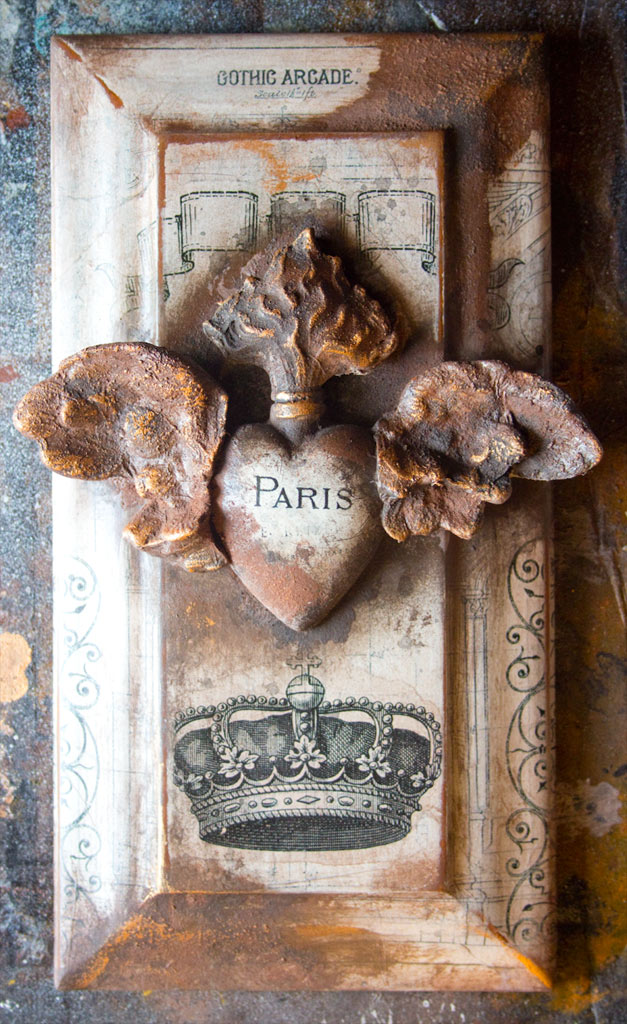 It was a joy to create this piece, and even more fun to share it with you today…I hope this inspires you to experiment with Aging Powders – you'll love them!
Thank you for visiting The Graphics Fairy today, and I'll see you next time!
If you're in the mood for more funky finish techniques, stop by Thicketworks and say 'Hi'
– the door is always open (usually because of the paint fumes!)
Take Care,
Heather
You might enjoy this recent post: