Metallic Gel Stains add the glamour and gleam of precious metal to furniture projects!
It's a simple and satisfying process, and one that I'm sure you'll enjoy.

This post contains affiliate links, and was sponsored by Heirloom Traditions Paint
---
Hey, Graphics Fairy Friends! It's Heather from Thicketworks. Today, we'll be exploring one of the many ways that Aurora Staining Gels by Heirloom Traditions can enrich your furniture projects!
With a few simple supplies, we'll take this little table from beyond drab to exquisite. Seriously.
To get this look you'll need a few things….
Supplies:
Any piece of furniture that needs a touch of glamour!
Heirloom Traditions Chalk Type Paint: Black Bean
Aurora Staining Gel: Goldilocks
Aurora Staining Gel: Silver Bullet
Heirloom Traditions Wax: Dark Umber
Your favorite paint brushes, including a small flat artists brush
Foam Makeup Sponges
A small surface on which to mix the Gels
A damp cloth
Optional: sandpaper
---
How to use Metallic Gel Stains on Furniture
So, you've probably guessed already….
I couldn't pass this sweet table up, and it's the fault of those tiny little appliques.
Well, yes, the style of the piece is slightly Neo-Classical, and I love that too.
So I didn't stand a chance.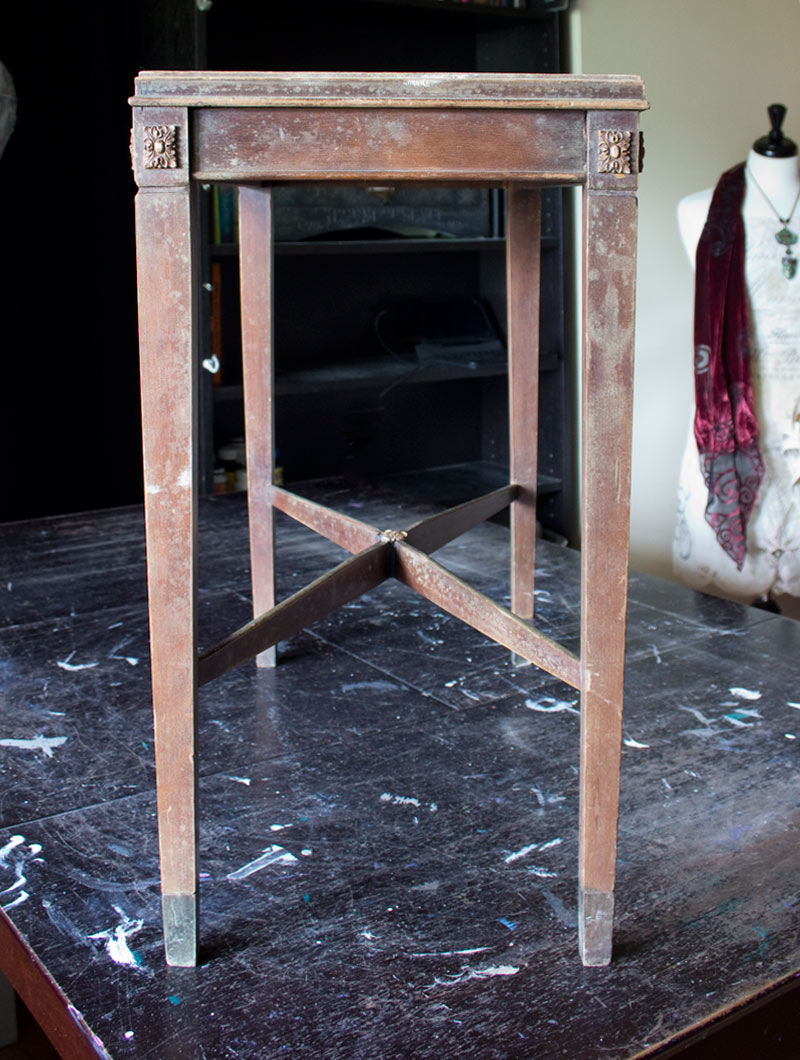 But, oh my. She was in wretched condition.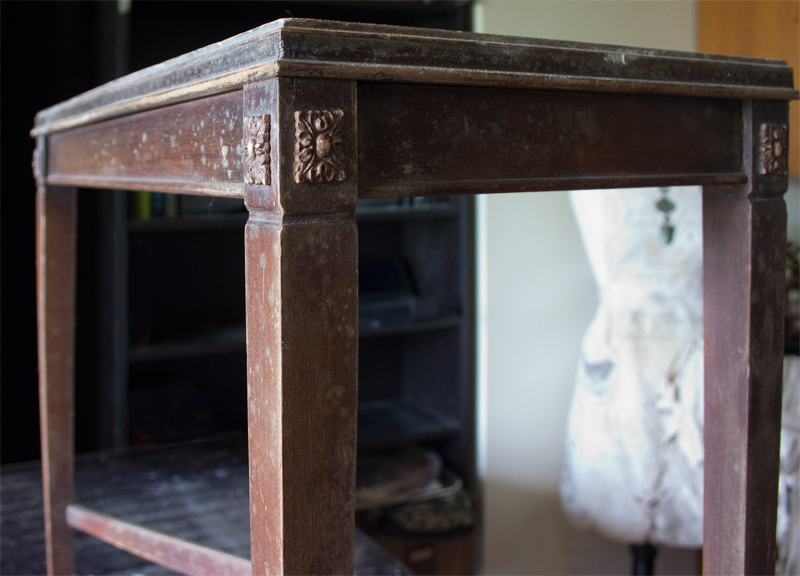 The top after a quick sanding: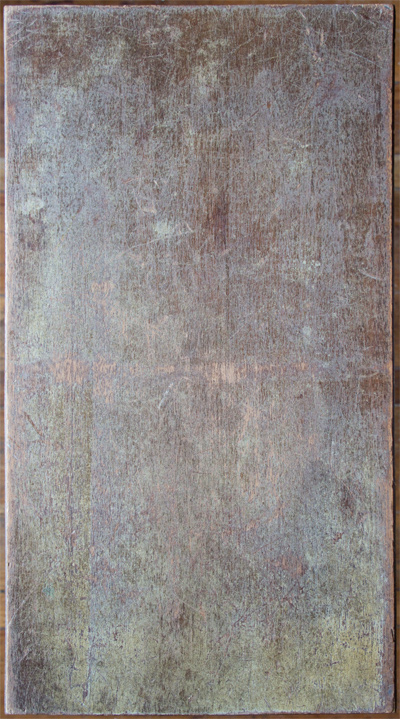 Two coats of Heirloom Traditions Chalk Type Paint: Black Bean later, and it's easier to appreciate her good lines: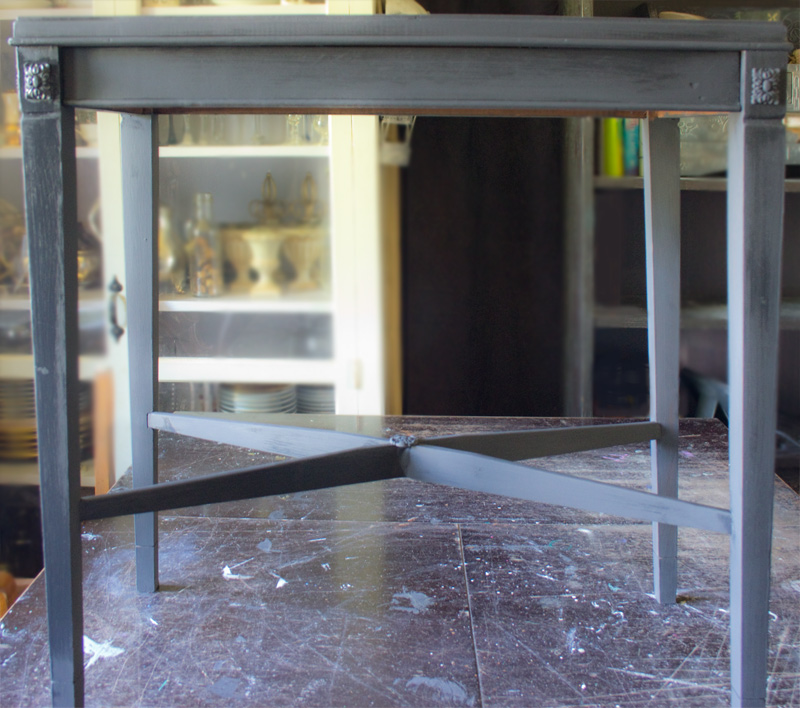 Once the paint has dried completely, carefully position your stencil atop the table. (I promise the table really is under there!)
Don't worry if the motif spills over the edges – it will look fantastic.
Just make certain that the motif is positioned in a way that pleases you. 
You can add a dab of low-tack tape if you'd like. I didn't bother.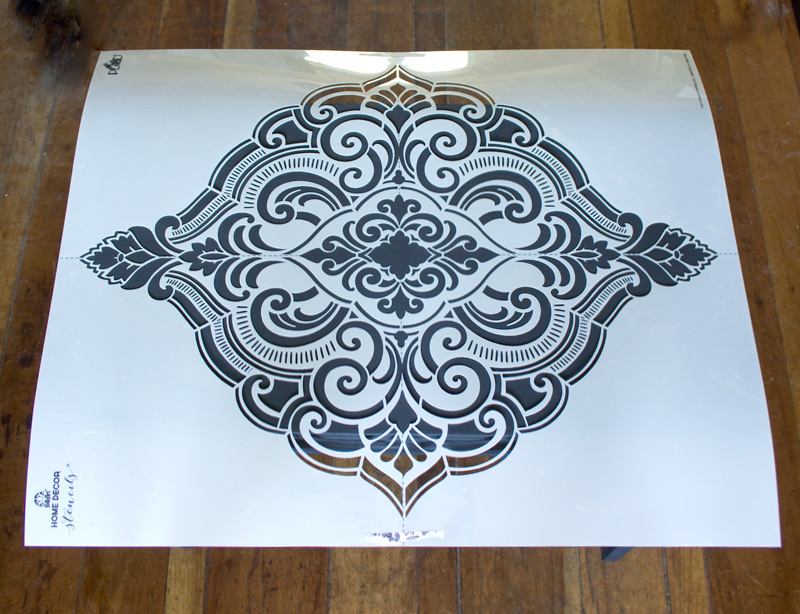 Now for the glamour! Metallic Staining Gels are an amazing product that can be used in countless ways.
This is just one of the many possibilities…because they are formulated to bond with unsealed Chalk Type Paint, they are the perfect companion to a Chalky Base Coat.
Shake the bottles very thoroughly, then squeeze a dollop of each color onto your mixing surface.
Dampen, then squeeze out a makeup sponge.
Pick up a touch of each color on the sponge.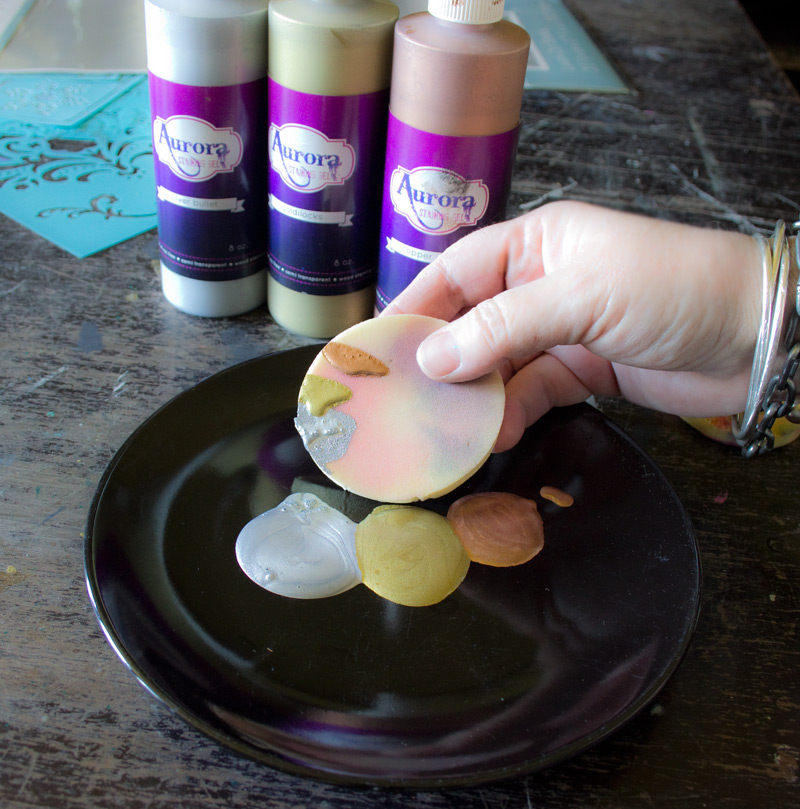 Pat the sponge down on the surface to blend and smooth the colors together.
The goal is to have a mix of colors on the sponge, without 'blobs'.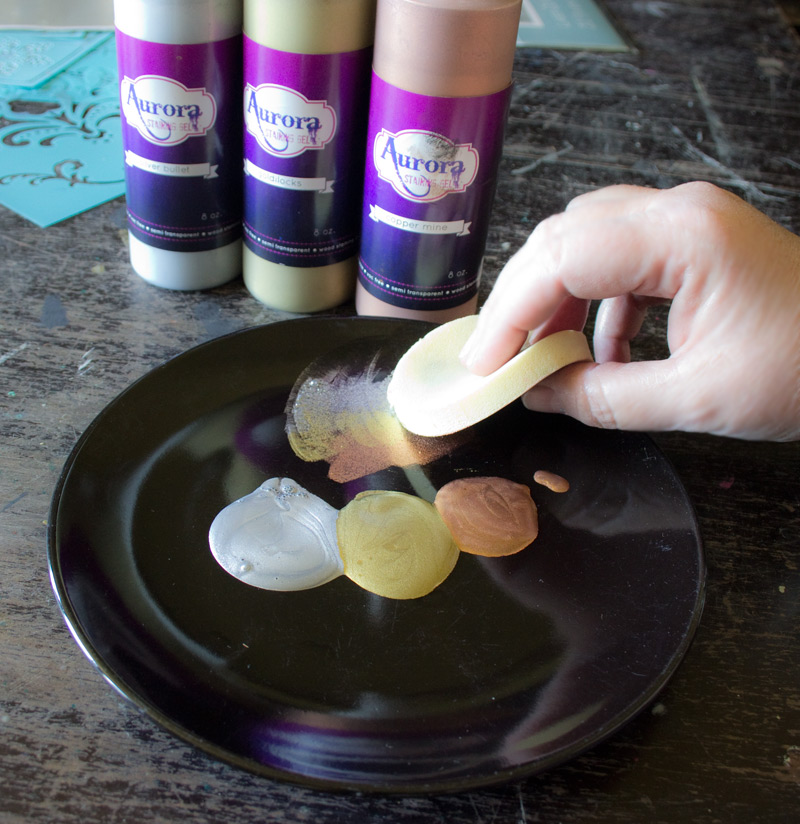 With a dabbing motion, tap the color through the stencil, onto the unsealed Chalk Type Paint: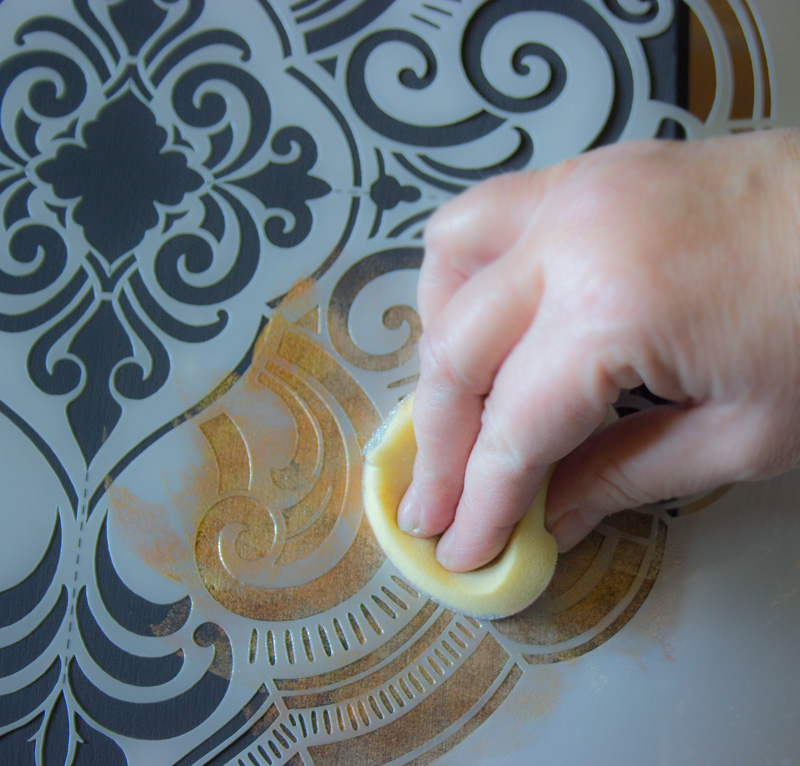 Continue this process until the entire motif has been completed.
Go over some areas to create strong tints of Copper, Gold or Silver.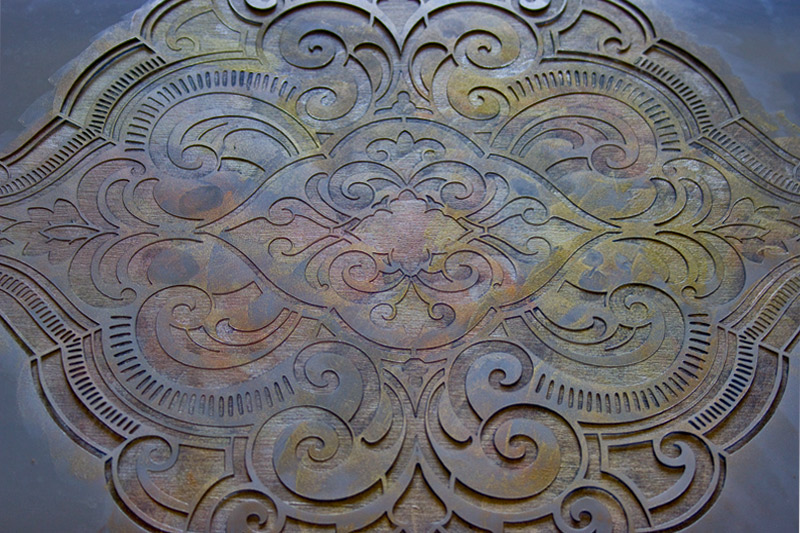 Peel the stencil away carefully, while the Metallic Staining Gels are still wet: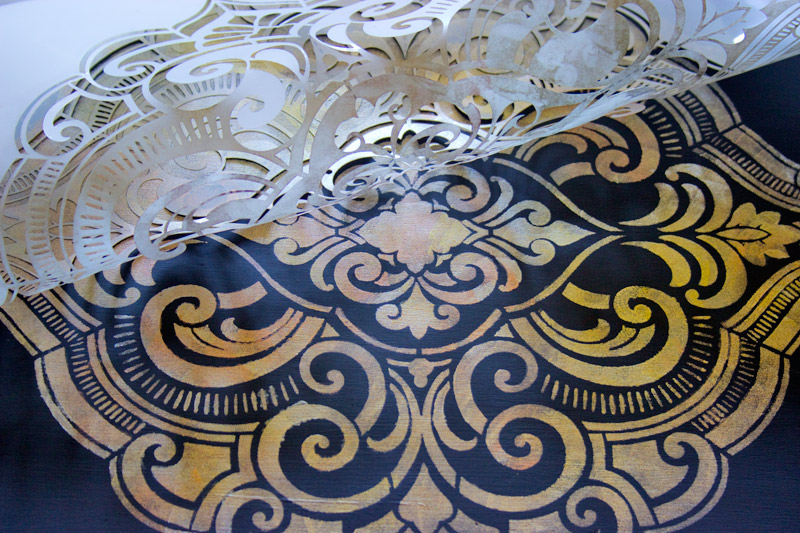 Ahhh…such richness of metallic goodness.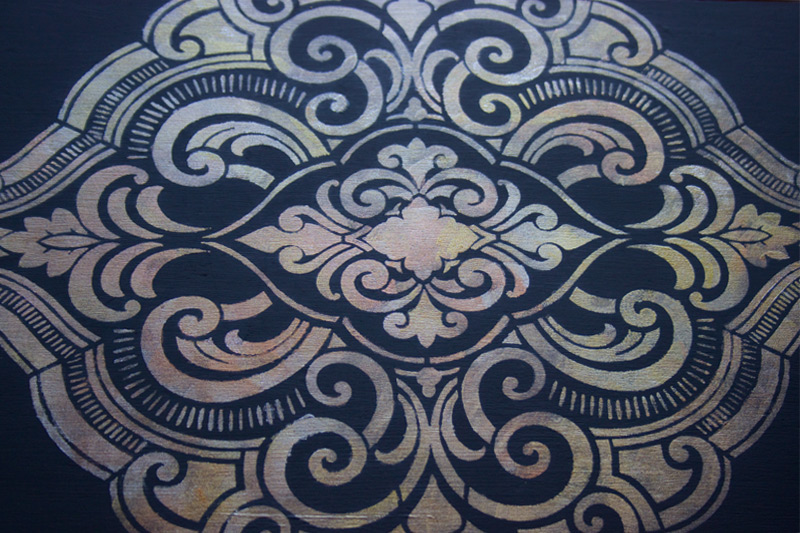 Use the sponge to dab touches of metallic to the edges and high points of the piece: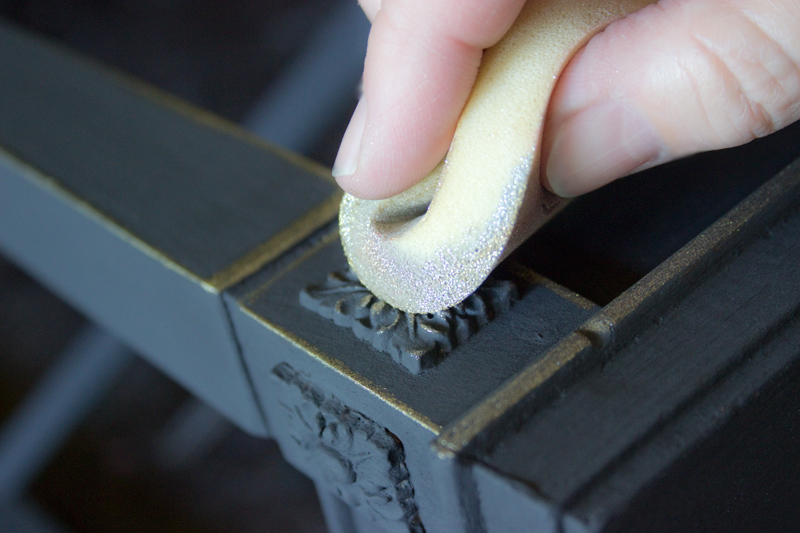 Use a fine, flat brush to accent wherever you choose: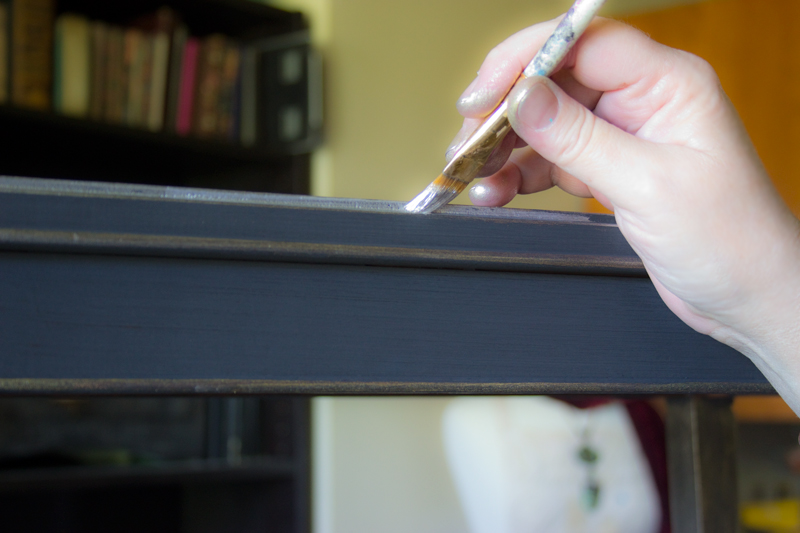 The design is harmonized by repeating areas of each color individually, as well as repeating the three color blend on the main body of the legs: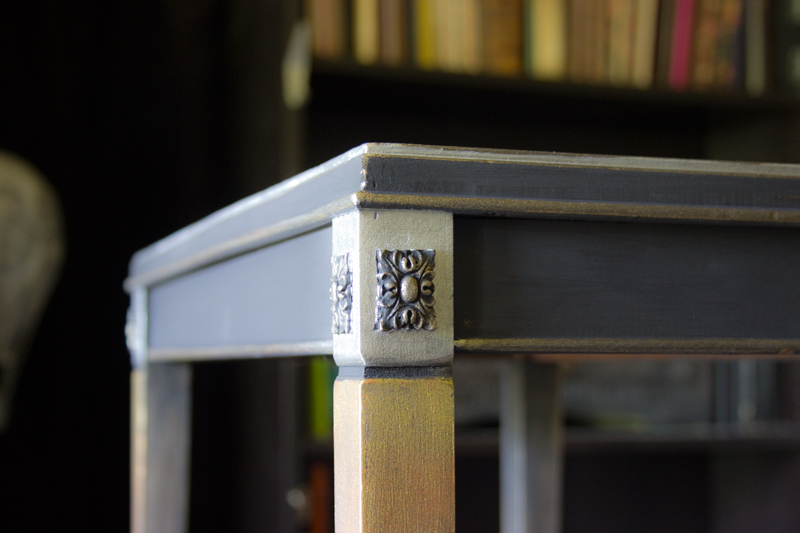 Once the Metallic Staining Gels have dried, (about half-an-hour on a warm, dry day) add depth to the finish with Heirloom Traditions Wax: Dark Umber.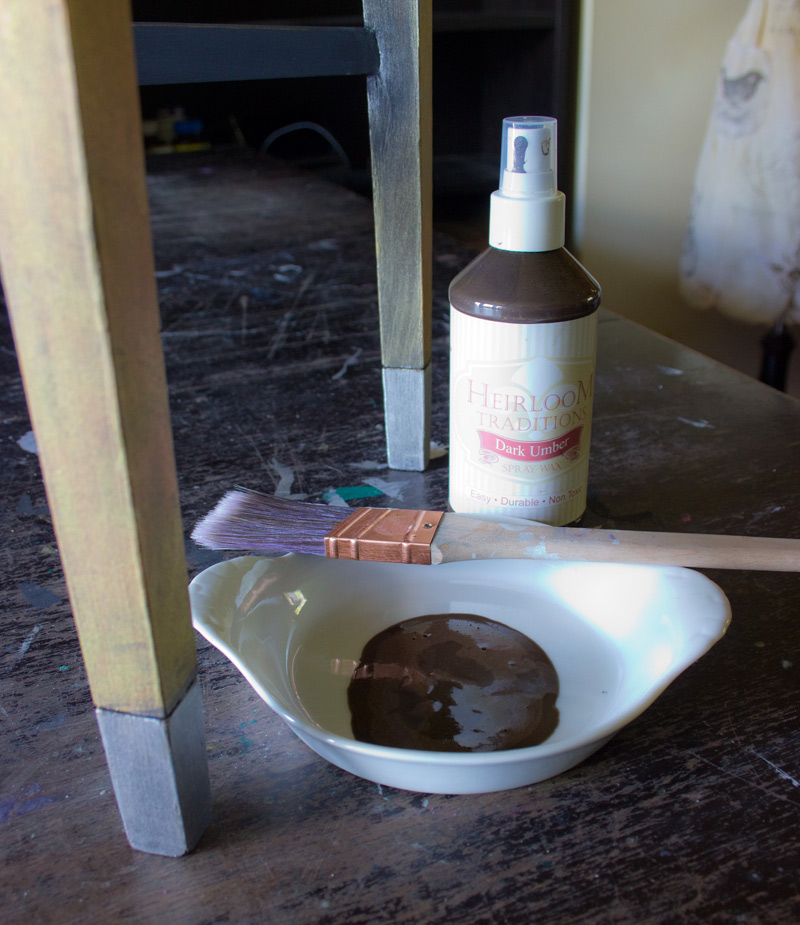 A sloppy coat of this magic potion will seal, protect and deepen the finish.
I suggest having a damp, lint-free cloth on hand to dab away drips, and to smooth the finish very gently.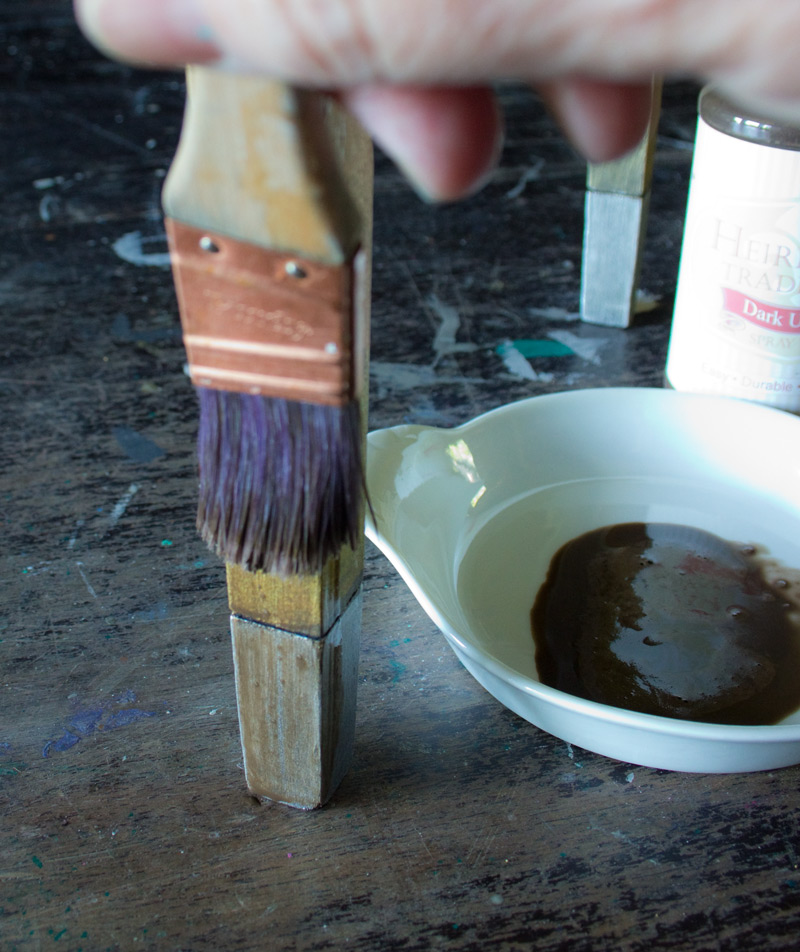 Add Dark Umber over the entire piece, and gently wipe back.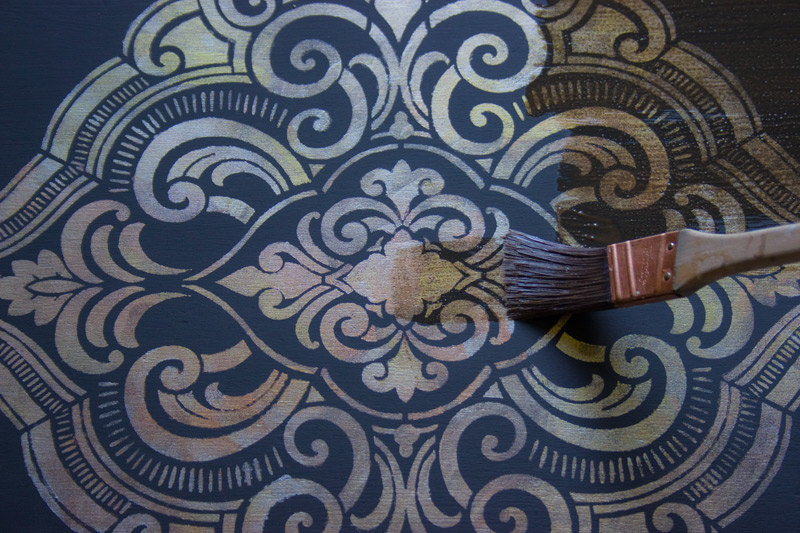 Allow the Spray Wax to dry. 
Enjoy the fruits of your labor!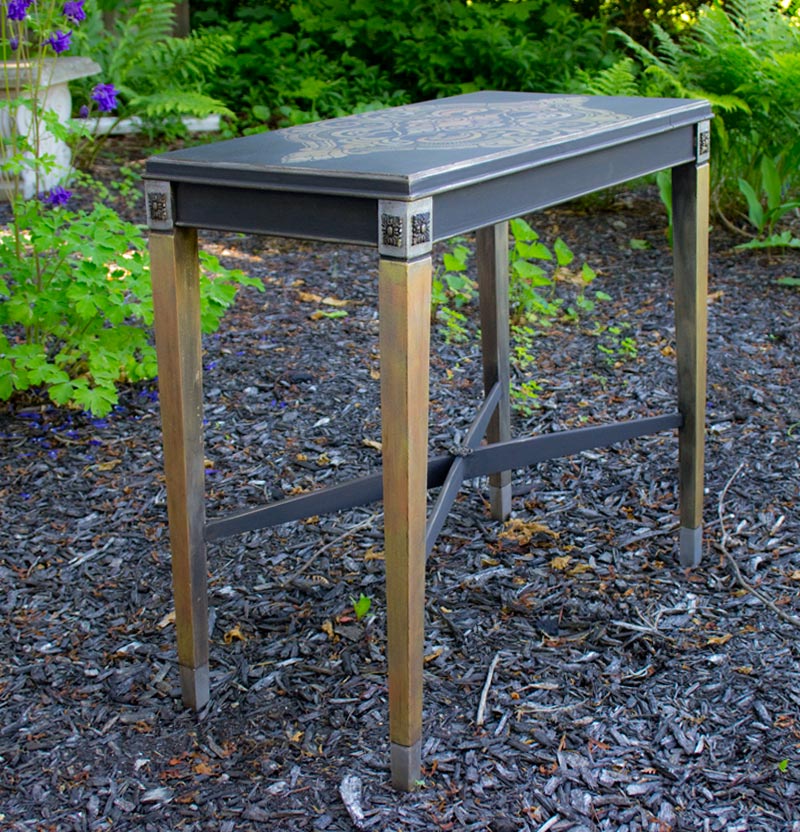 The richness of the metallic pigments create an understated but gloriously high-end finish: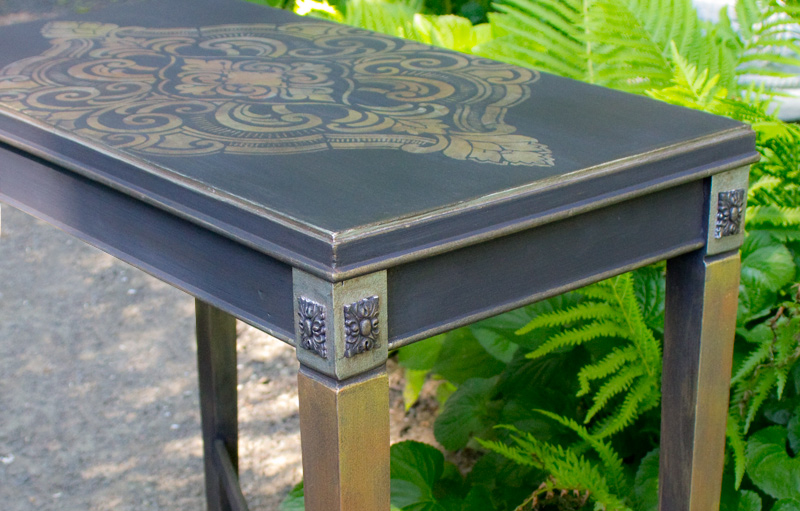 Blending the colors creates a subtle complexity that pleases the eye:
The variations in tone give a real sense of life to the piece…
The Dark Umber Spray Wax unifies and mellows the various pigments, creating a gently aged aura.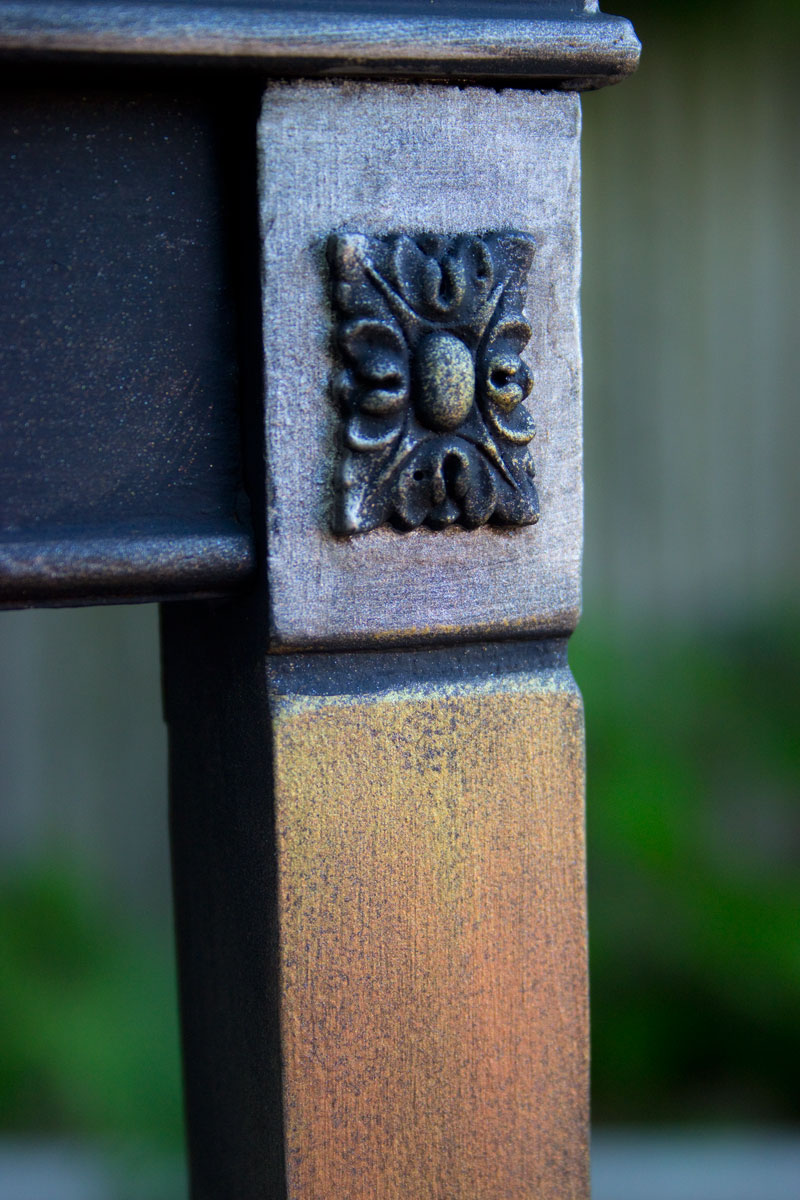 For more information on Heirloom Traditions Products, please visit www.heirloomtraditionspaint.com
---
Full Disclosure: Heirloom Traditions supplied their products to be used in this project, and they sponsored this post – however, I supplied the elbow grease, rescued furniture, design concept, and experimental insanity! All of which reflect my own point of view, regardless of affiliation…
---
Experimenting with these wonderful Metallic Staining Gels is always rewarding. They lend richness and depth to the most humble of projects.
Thank you so much for visiting The Graphics Fairy today! I hope you're inspired to indulge in some glamorous creative play on your next furniture piece…
Stop by Thicketworks, where there's always some mischief brewing – I'd love to see you there!
Until next time,
Heather
You might enjoy this recent project: