25 Bohemian Lady Images!
Today I am sharing an engaging collection of  Bohemian Lady Images. I'm always on the lookout for really beautiful Vintage Bohemian Photos. Below we have a variety of lovely Postcard and Photo Card images featuring beautiful Romantic looking Girls and Ladies. At one time we called these ladies Gypsies, but we are working on removing that word from the site. I received an email from a Romani woman that informed me that the word Gypsy, is a derogatory term and that the Romani people are very offended by it. They consider it a slur. We are attempting to correct that! So now we are using the term Bohemian instead. I hope this information helps you, if you were not aware of that.
Many of the postcards below have the word "Mignon" inscribed on them. I was intrigued by this, so I looked it up. The word is from an Old French word, mignot, which means dainty. Mignon also means "delicately formed," and from 1550s French, it literally meant "delicate, charming, pretty." As a noun it has meant "pretty child" from around 1827. I think these would be so nice for your Collage or Mixed Media Projects. I could even see a Musical Bohemian Lady Junk Journal!
Antique Bohemian Lady Photos – Sepia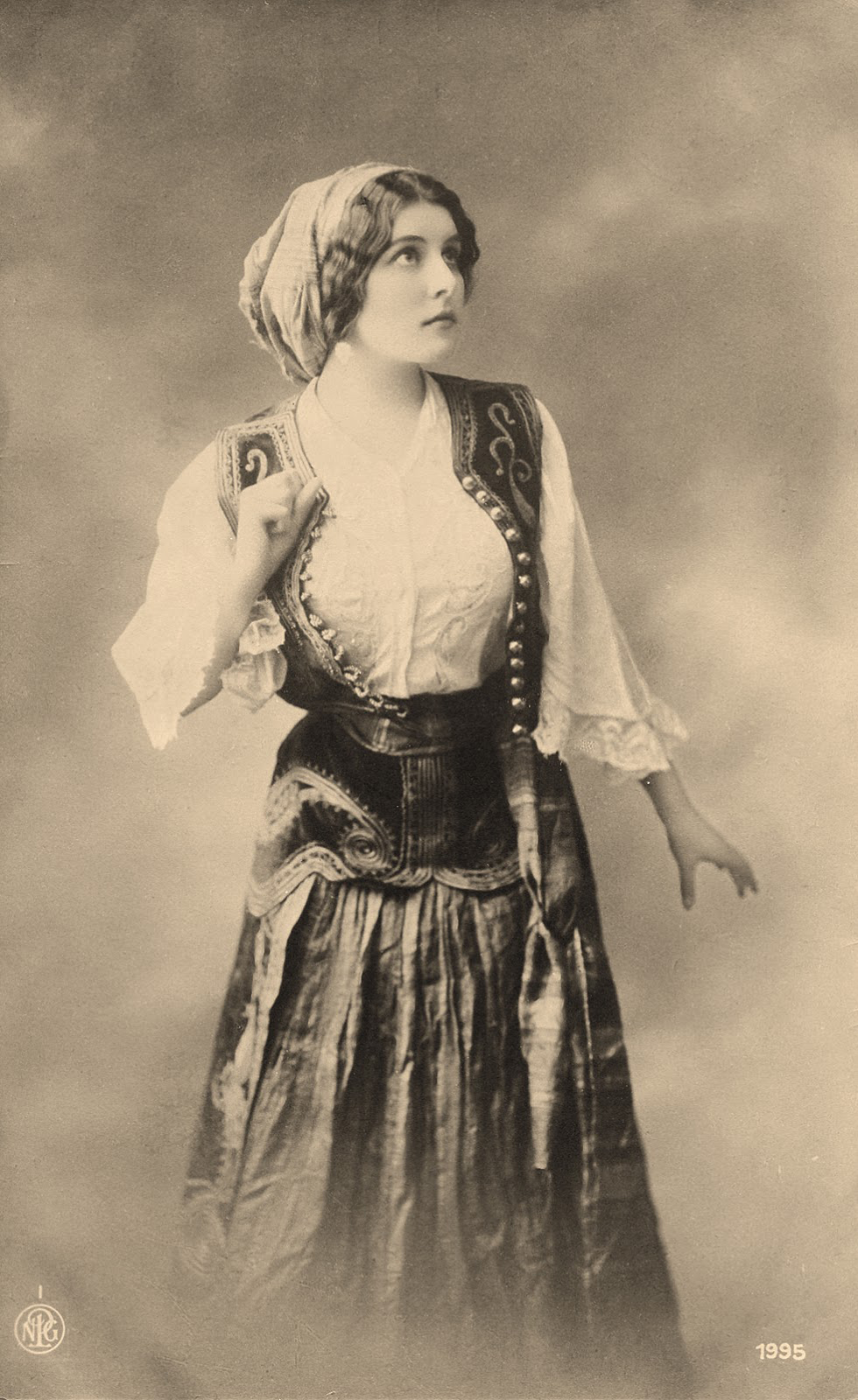 This is a nice Old Photo Bohemian Lady Postcard! Shown above is a pretty young Romani Lady, or perhaps a Lady who is only dressed in a Romani Costume. Either way she has an exceptionally lovely face. Her clothing is very nice too; if you look closely you can see all of the decorative embroidery her vest!
This is such a cute picture! The photo shows a young Woman in a Chiffon Dress, she appears to be dancing.
Here we have a gorgeous Vintage Image, of a young woman wearing a traditional style Costume! This is a wonderful black and white vintage photo postcard. This lovely Girl has long flowing dark hair and such a beautiful face! She's wearing a white peasant style top and a long skirt.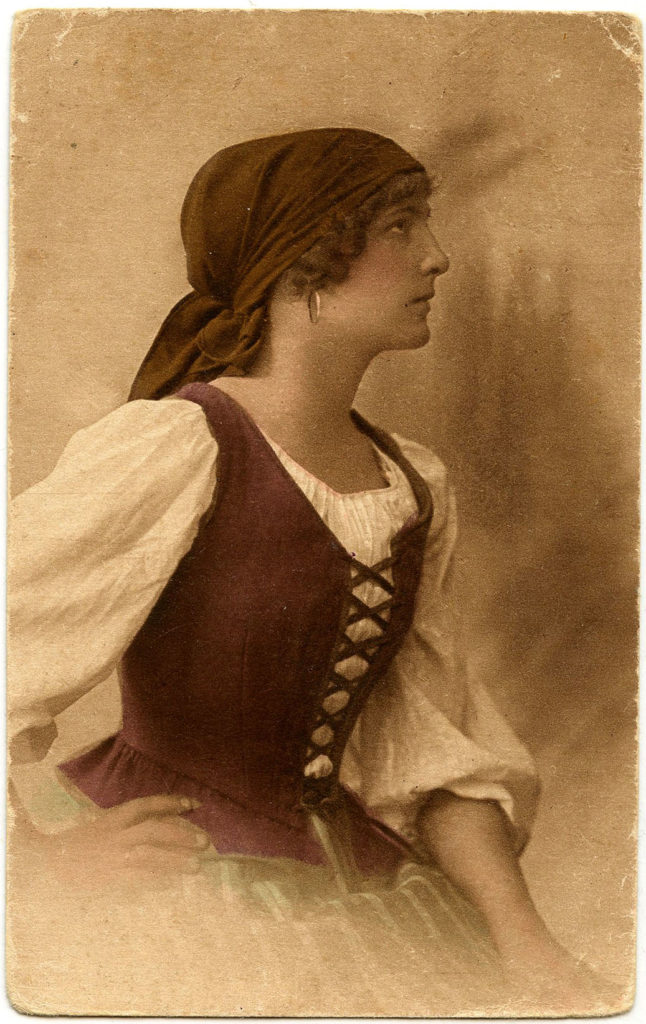 Here's a romantic old postcard showing a young Romani Girl. I love the soft sepia tones in this one!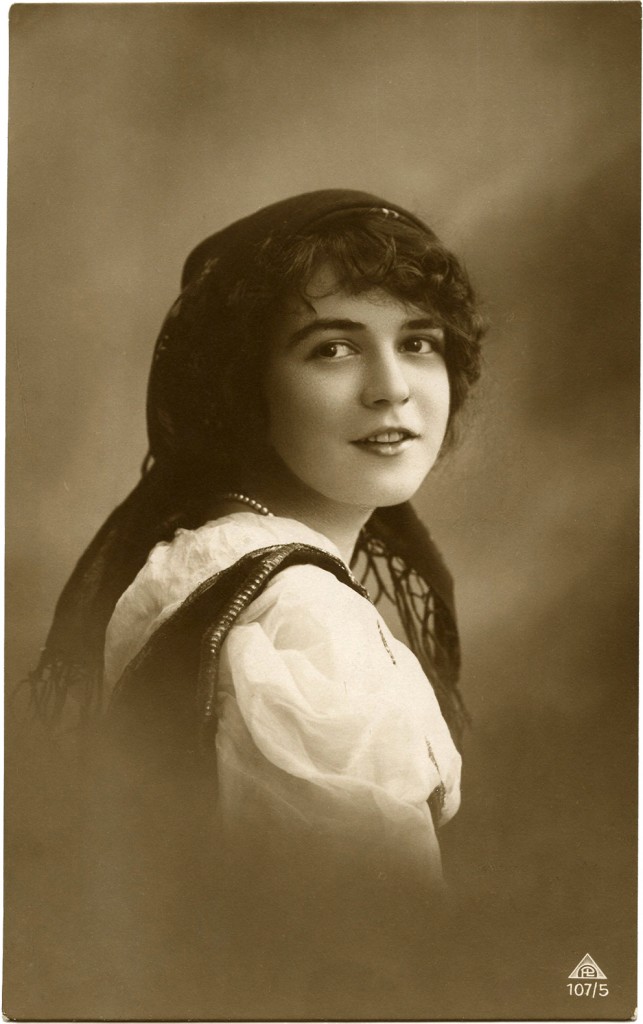 This is a wonderful black and white Vintage Bohemian Girl photo postcard. This pretty girl has beautiful dark curly hair and a scarf worn on her head. She's also wearing a white peasant style top. Such a great looking old photo!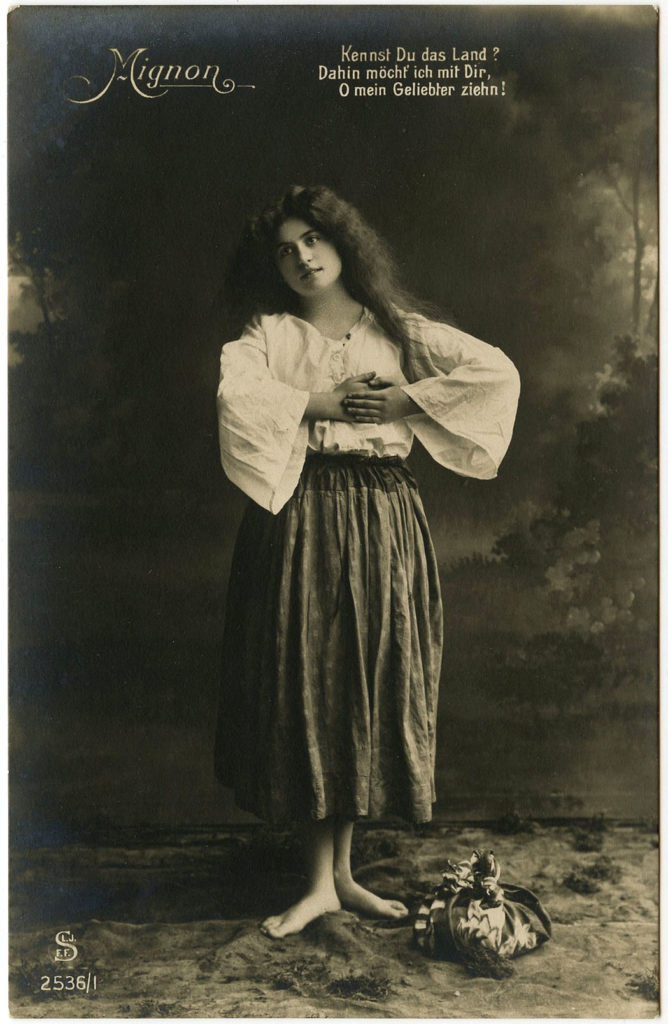 This postcard has such lovely sepia tones. German Lyrics from Mignon's Song 'Do you know the land?' are quoted on the card.
Bohemian Girl Photographs – Hand Tinted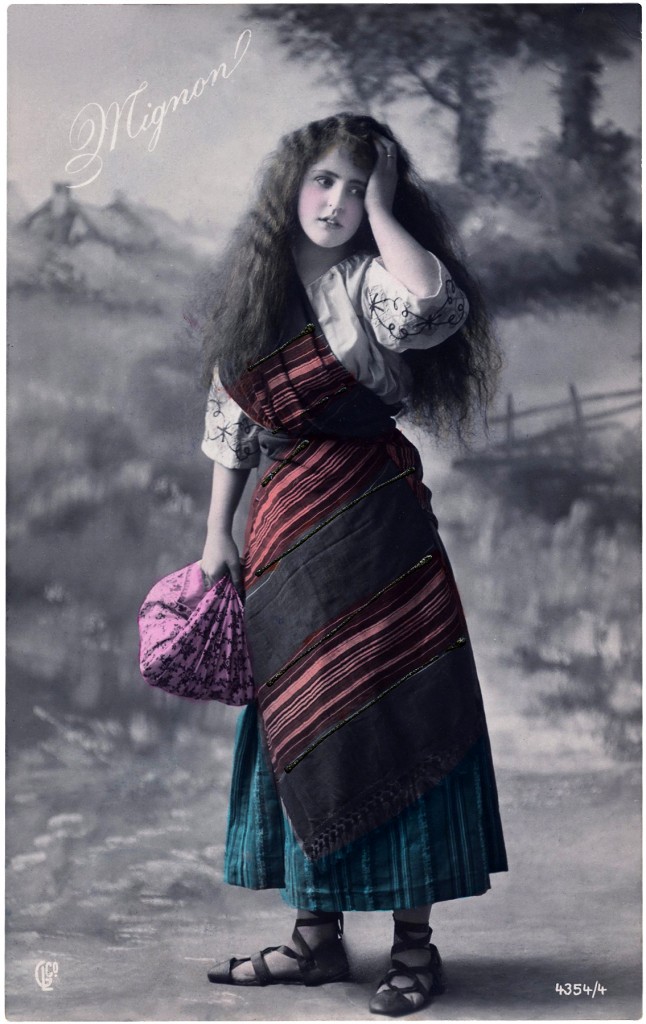 This is a Beautiful Bohemian Lady Photo! She has such a pretty face and long lovely Hair! I love her Gladiator style Sandals. Interestingly, they fit right in with today's Fashion!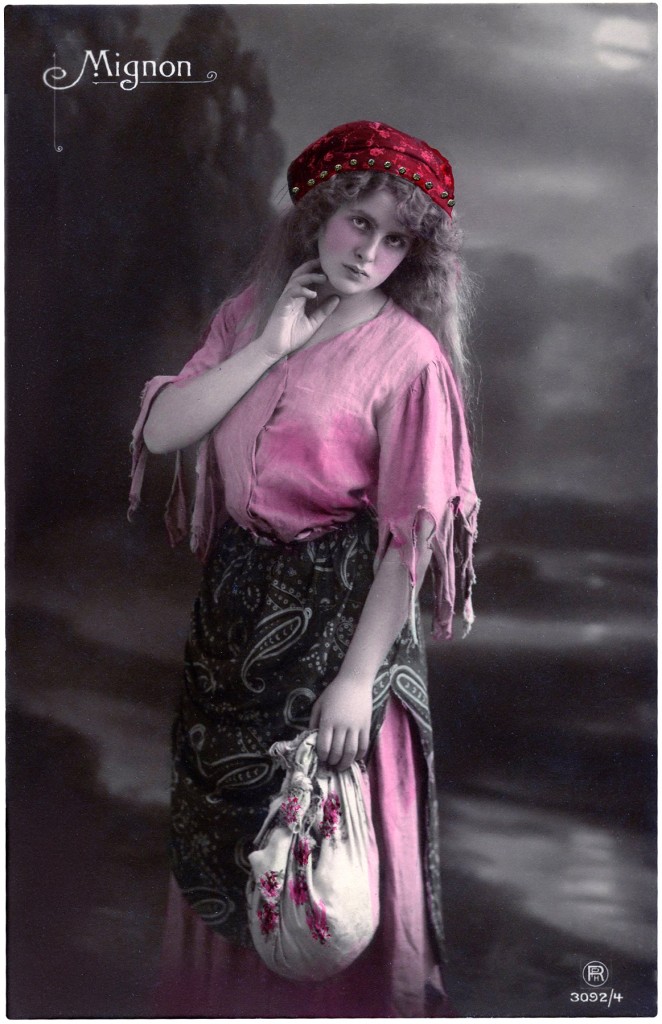 Here we have a Lovely Vintage Photograph! The picture shows a young Woman wearing colorful clothing and a scarf on her head, she is hand tinted in bright pink.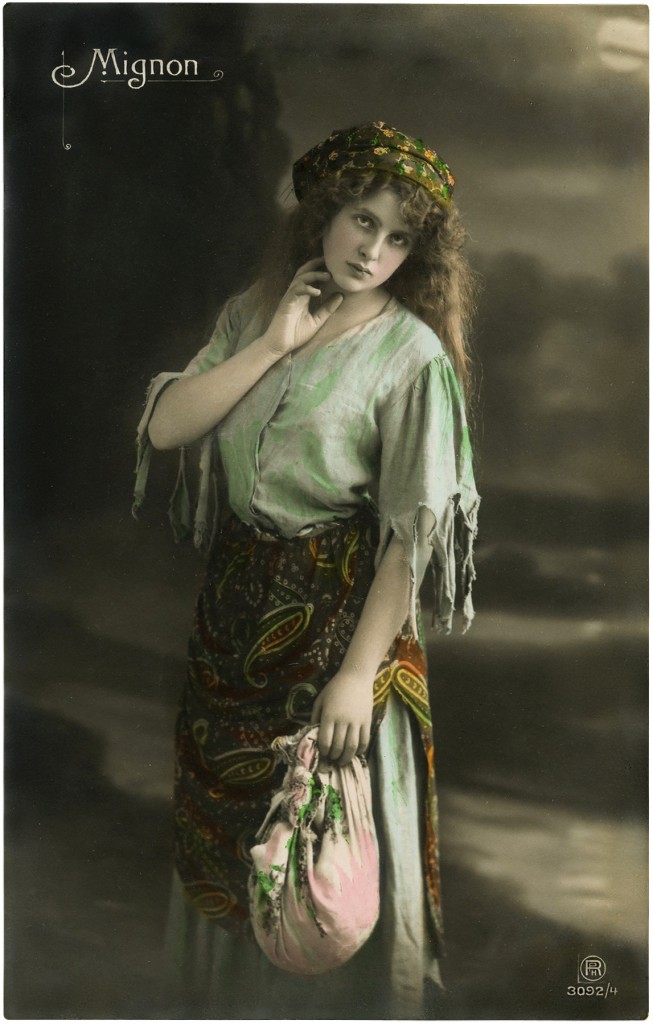 Here she is again, same pose, but now she is tinted in greens! I bought these at two different times over the years and I never realized until now that I had these 2 different versions.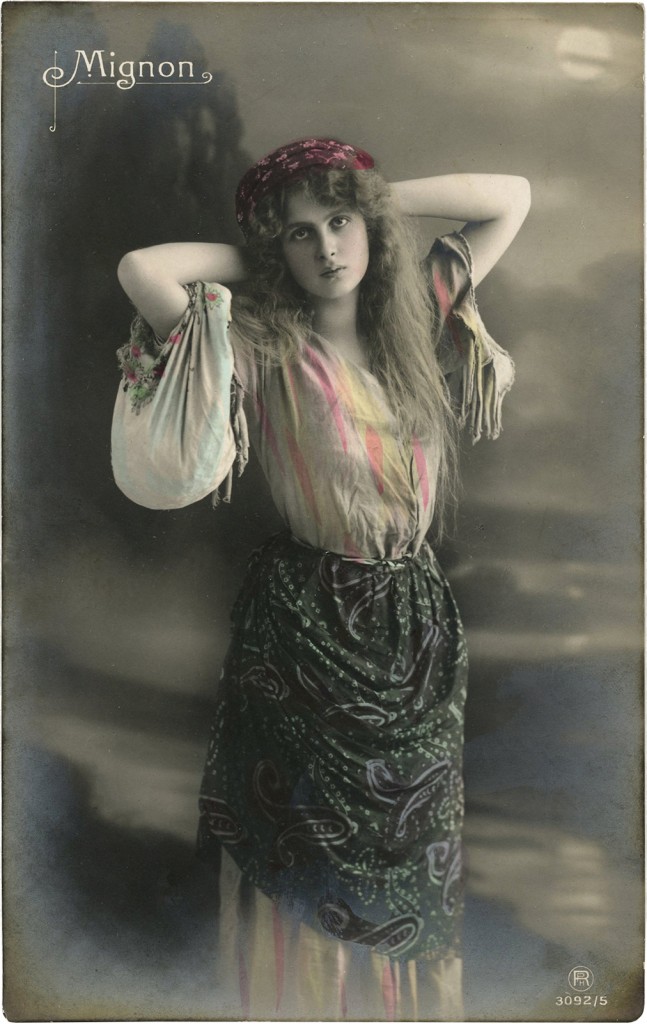 Here we have the same young woman again, only in a different pose. In this one she has her hands over her head, she is wearing the same clothing as the one above.
This is a wonderful black and white vintage Bohemian photo postcard. This lovely Girl has beautiful very long dark curly hair with some shiny coins adorning her head. She's also wearing a white peasant style top.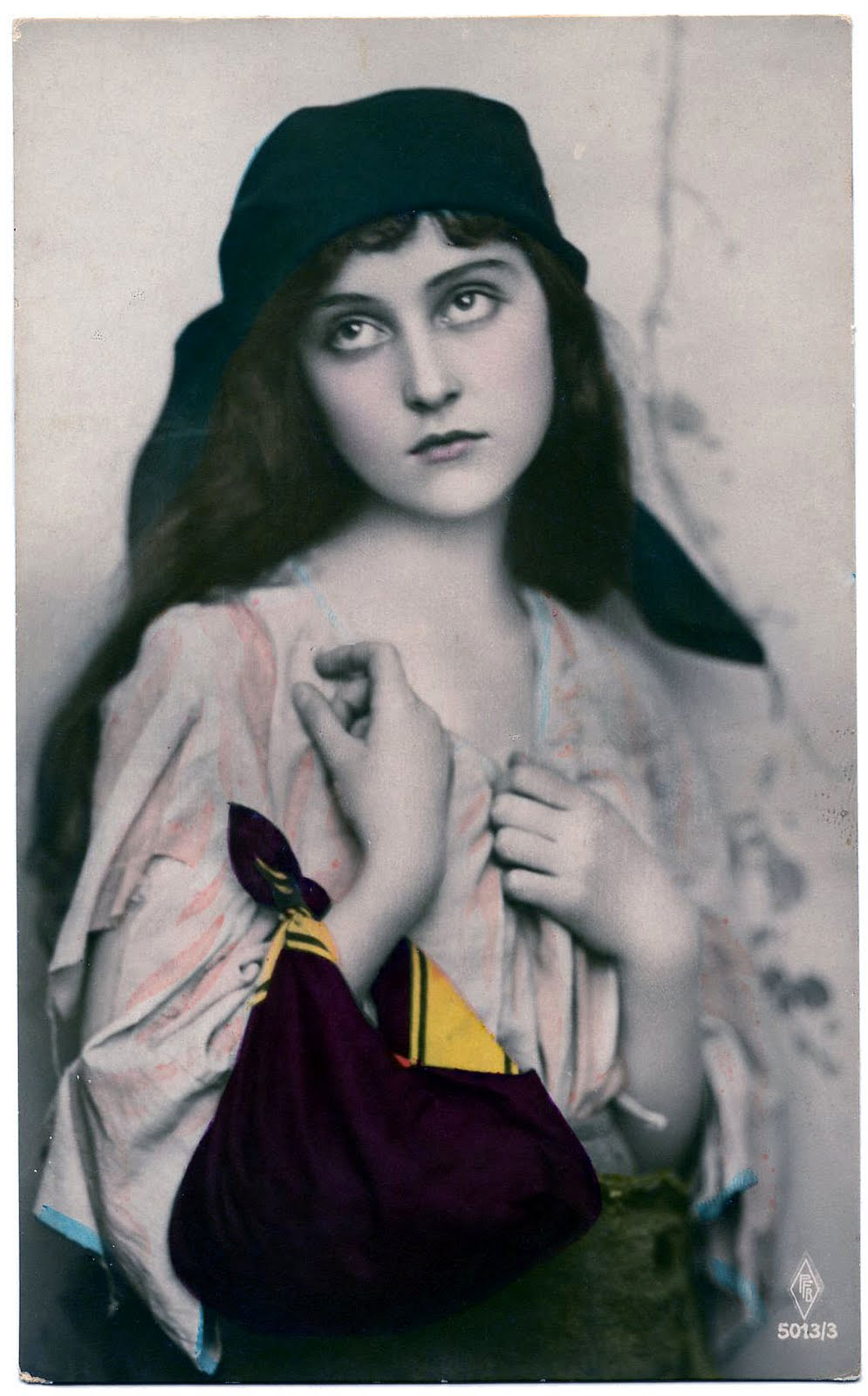 Here we have an alluring image of a young woman. She's quite mesmerizing isn't she?! I love the colorful little scarf bag wrapped around her wrist.
Vintage Bohemian Lady Images with Musical Instruments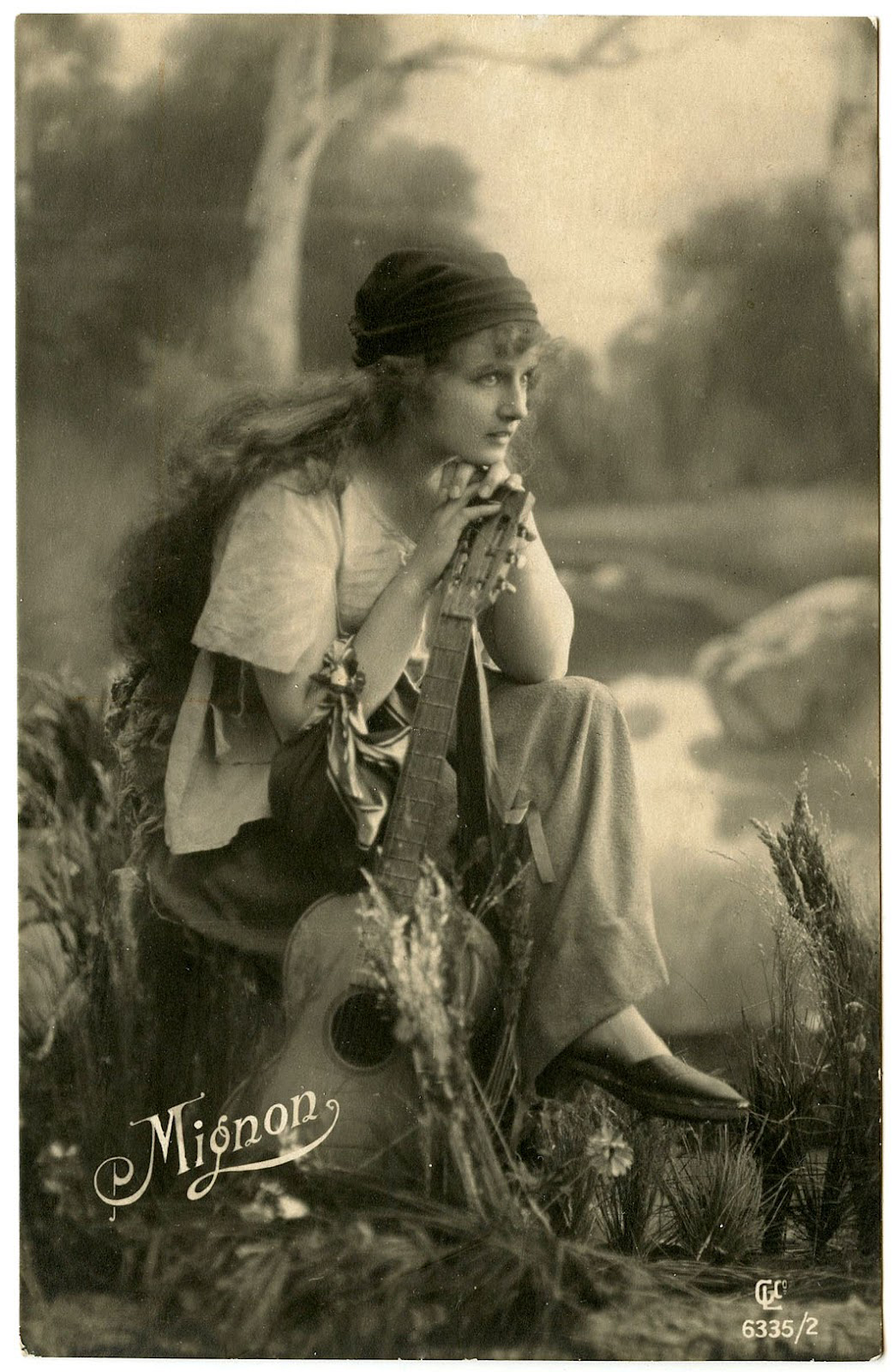 I think this one may also be the same young woman as the one just a few above in the previous section, only with different clothing this time. She has such a beautiful face and long lovely Hair! In this picture she's holding a guitar.

Featured here is a sister image to the one above it! It is another view of the beautiful long haired Bohemian Girl once again proudly displaying her Guitar. She must have been a very popular model back in the day.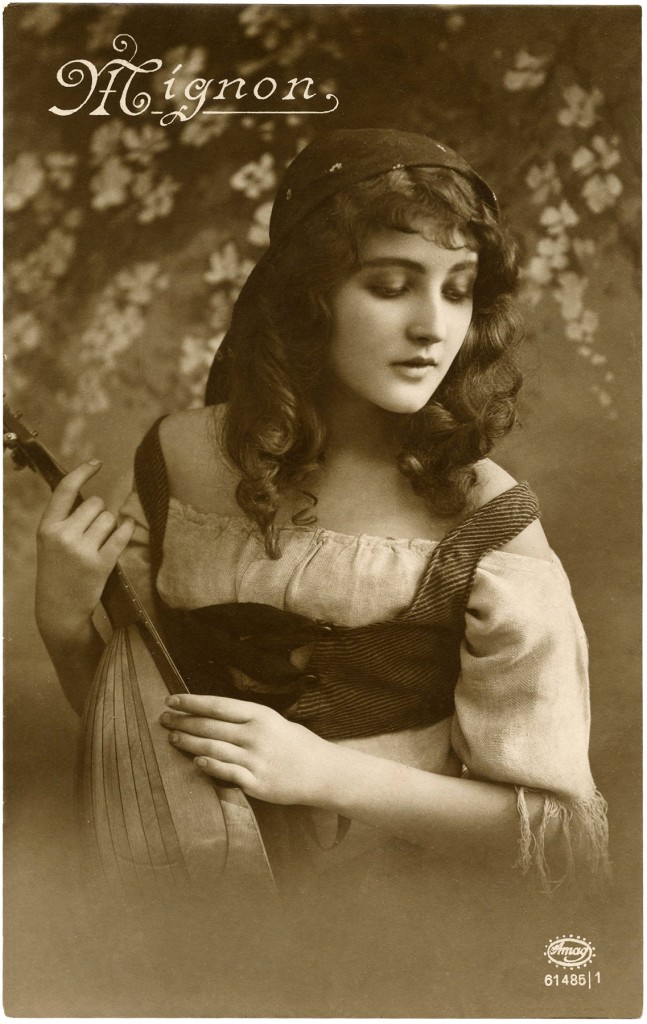 Here we have a Stunning Vintage Mignon Postcard Image! This is such a gorgeous picture! The picture shows a lovely Woman in a romantic Style Costume. She's holding some type of Musical Instrument. It looks like a Lute or something along those lines.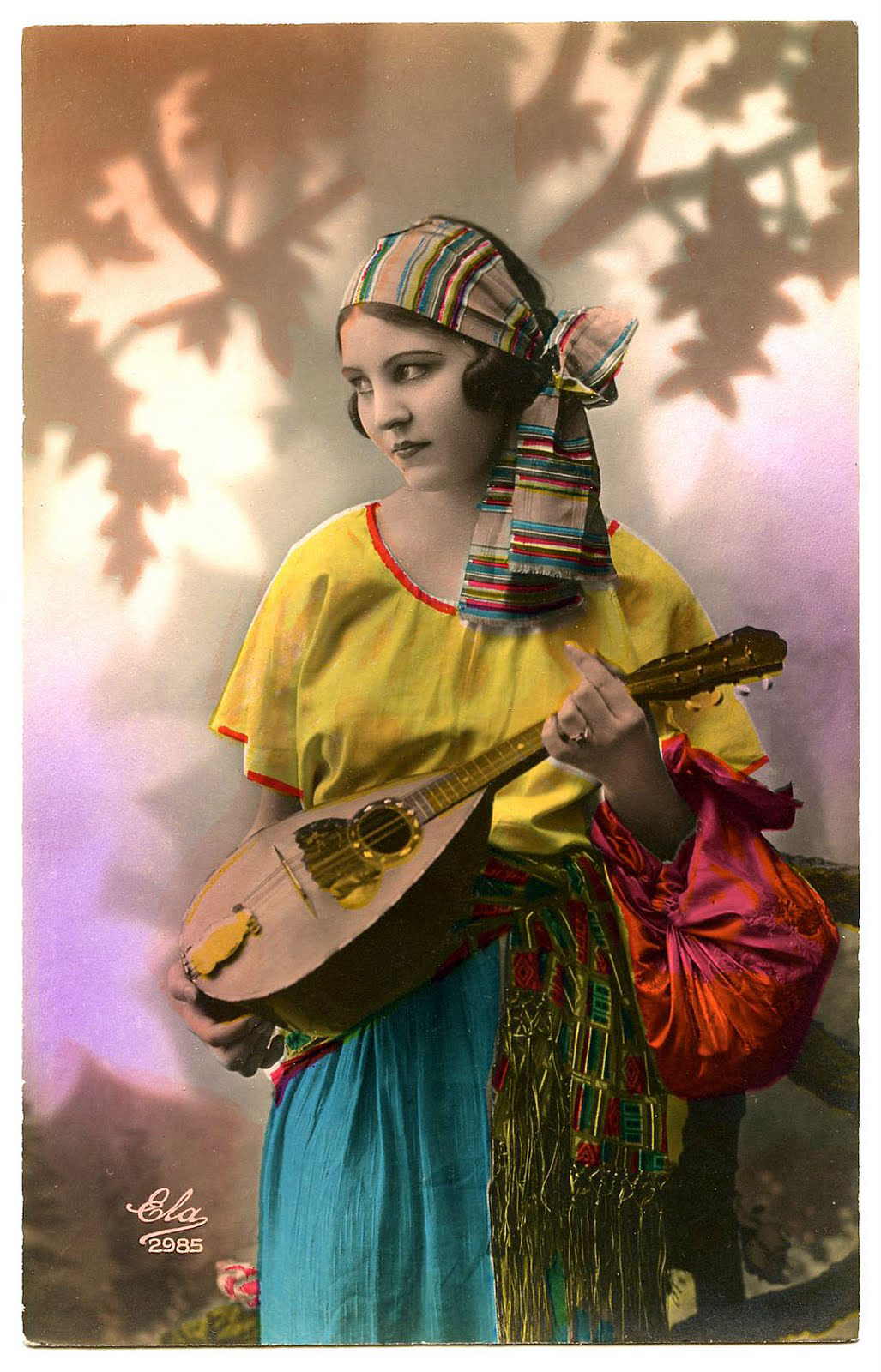 I just adore this gorgeous colorfully dressed Lady!! The colors in her clothing are fabulous and her face is so lovely! She appears to be carrying a Mandolin, or Lute (?) I believe.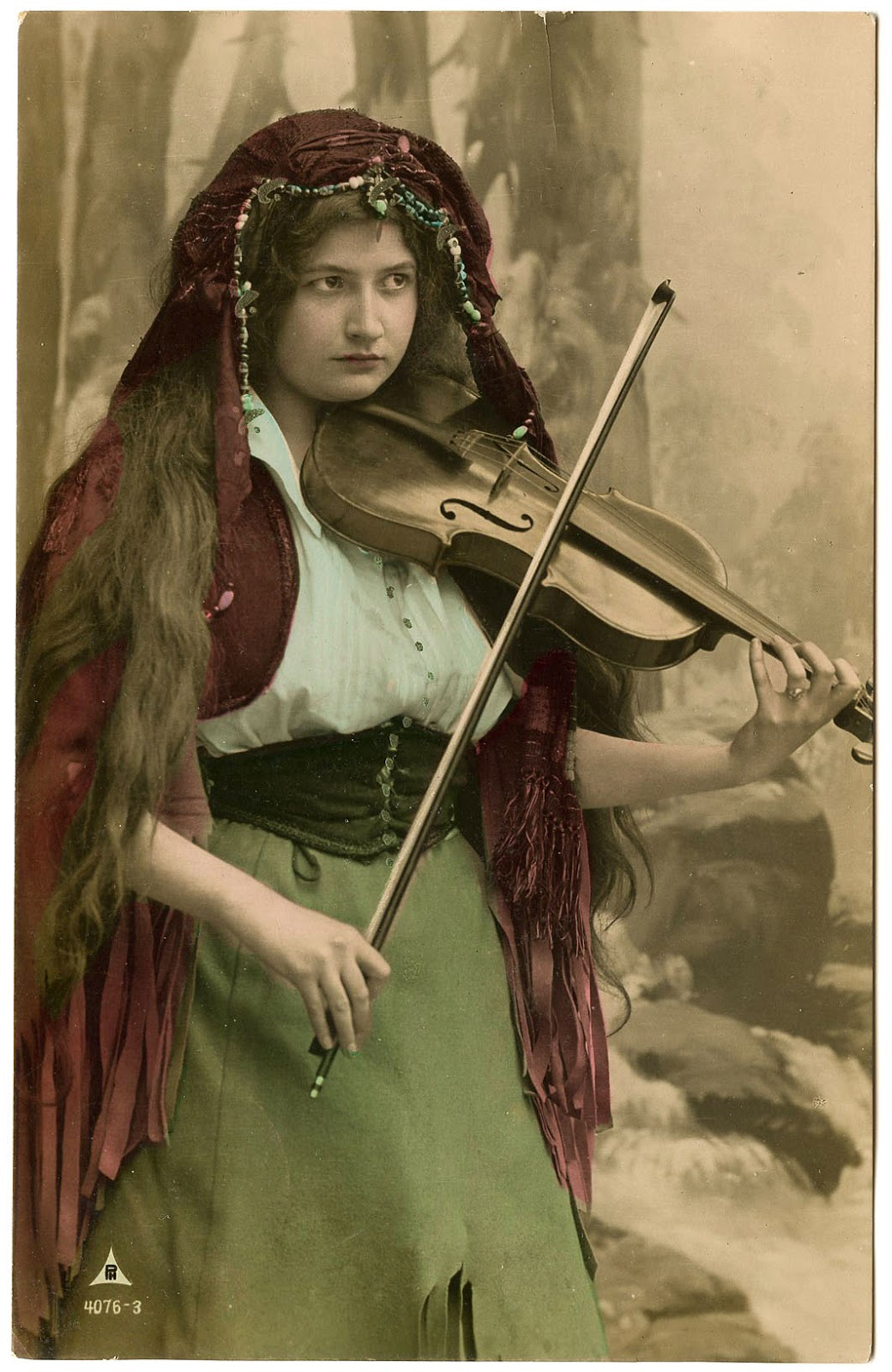 Isn't this young lady, with her Violin,  pretty? I love the muted green and red colors in her Costume and her long flowing hair. Such a romantic graphic.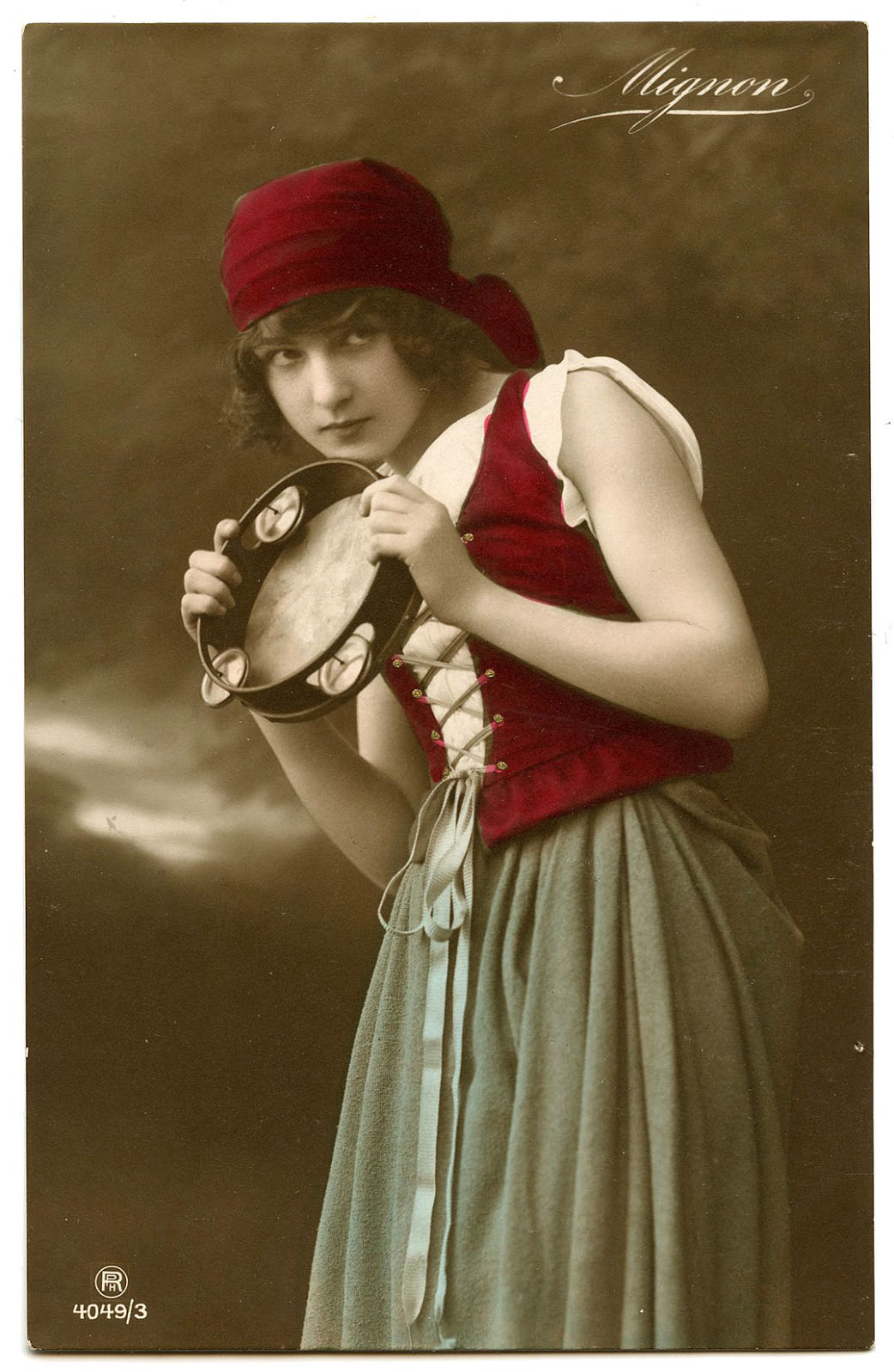 Here we have another lovely little Girl in a Bohemian outfit! She's holding a Tambourine in her hands. She has such an attractive face, and I love her colorful red vest and bandana too!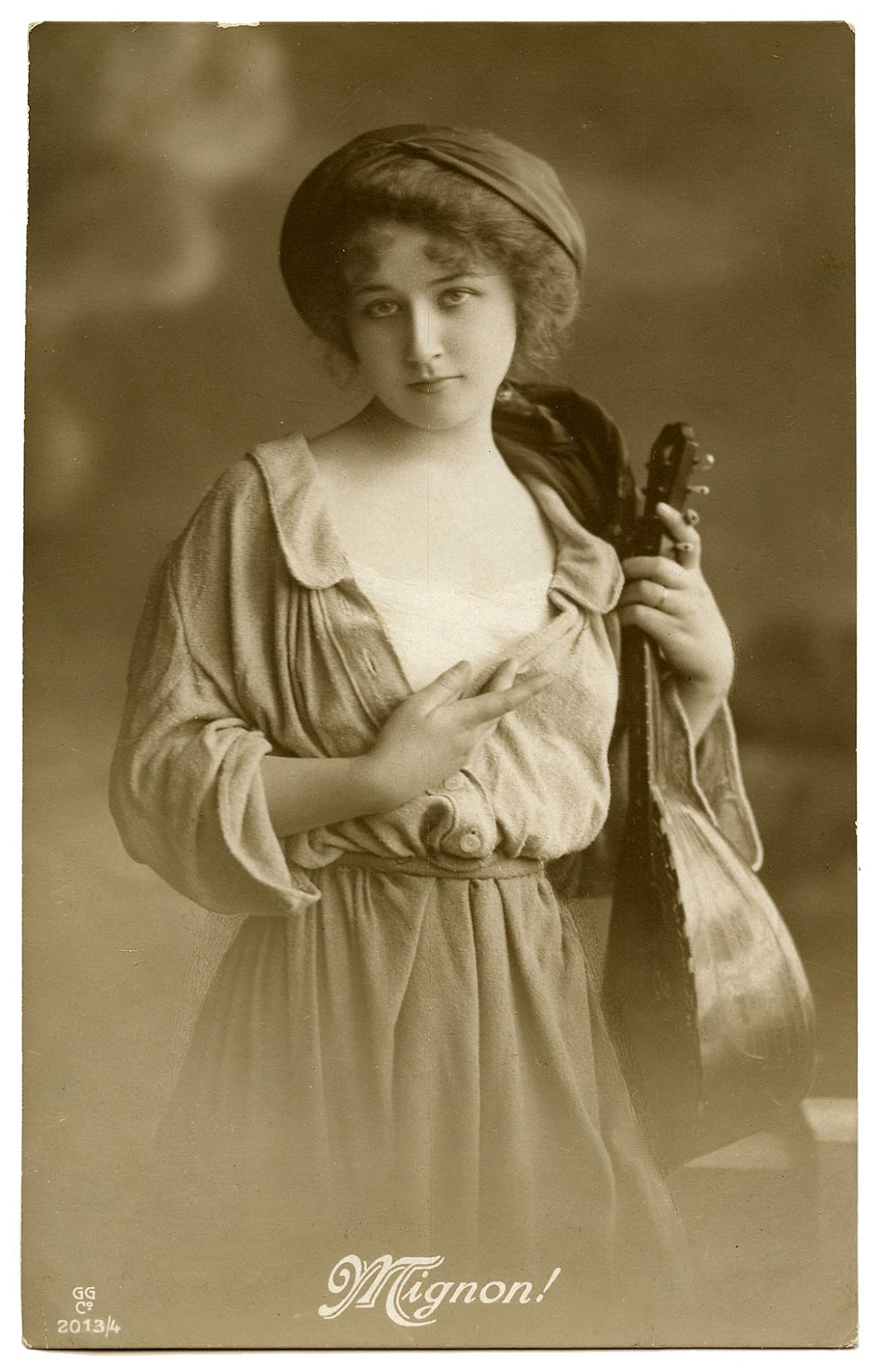 This is another beautiful Old Photo of a pretty Woman, holding a Lute, or Mandolin! Such a gorgeous Vintage Postcard. I love the old Sepia Tones here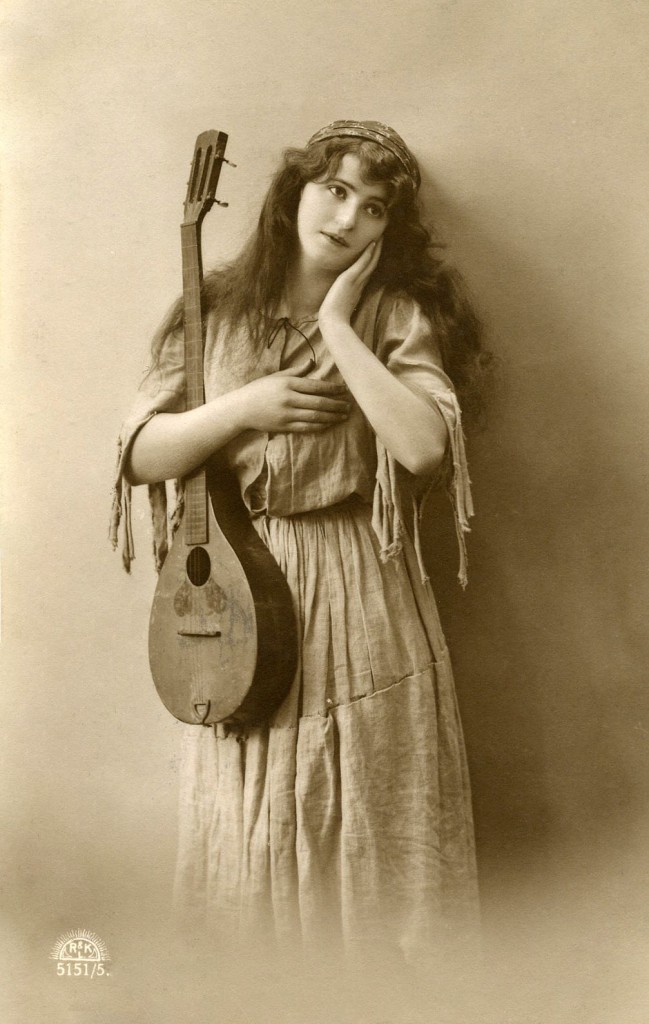 Here's a nice Old Photo of a Bohemian Lady, or perhaps a Girl in Costume! It is such a classic looking Image with her Mandolin and all. This Girl has such a lovely face. Great Sepia Tones!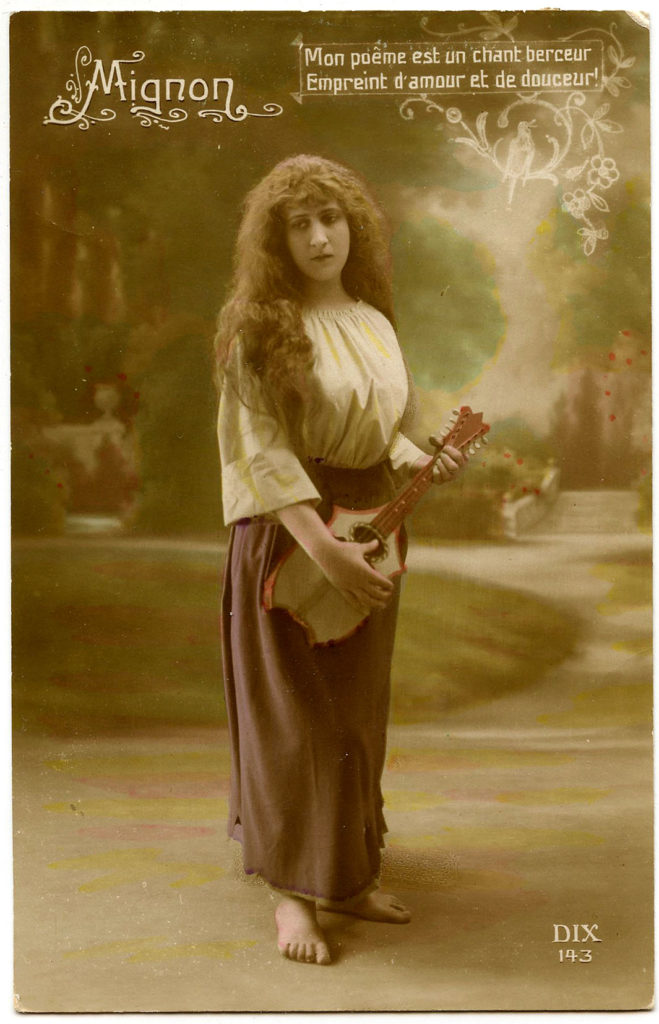 I picked this little beauty up on an antiquing excursion. This is an eye- catching French postcard featuring a barefoot Mignon Lady with lovely landscape background.
Illustrations of Romantic Ladies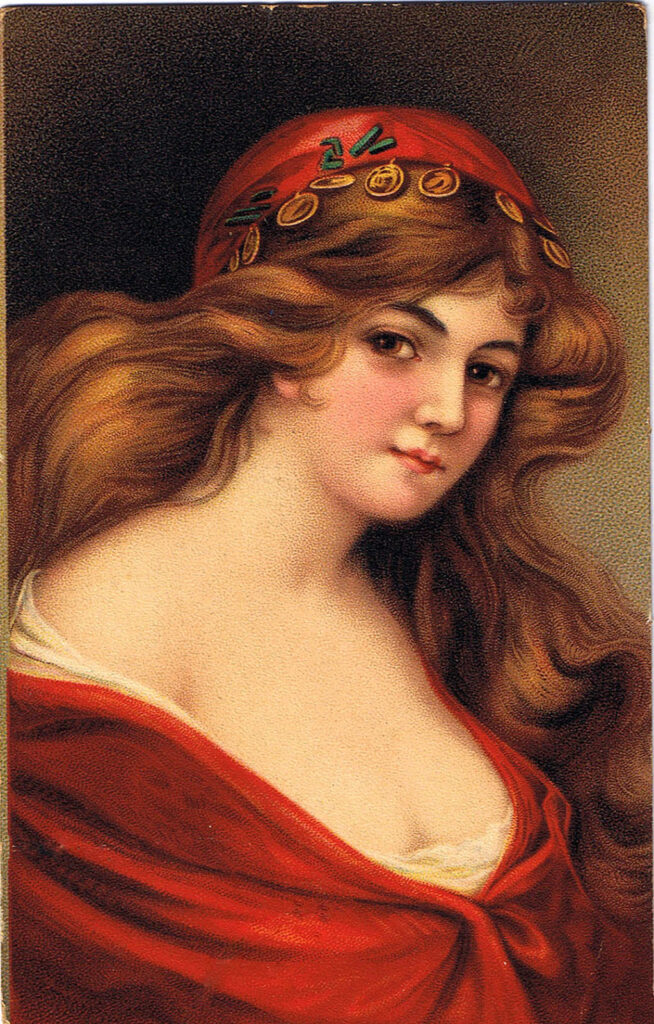 This Vintage Postcard shows an Image of a beautiful Woman! She has long flowing Hair and she's dressed in Red, with some Gold Coins sewn to the scarf on her head. This one was submitted by a very kind couple, Margaret & Paul, it's a family heirloom from their collection.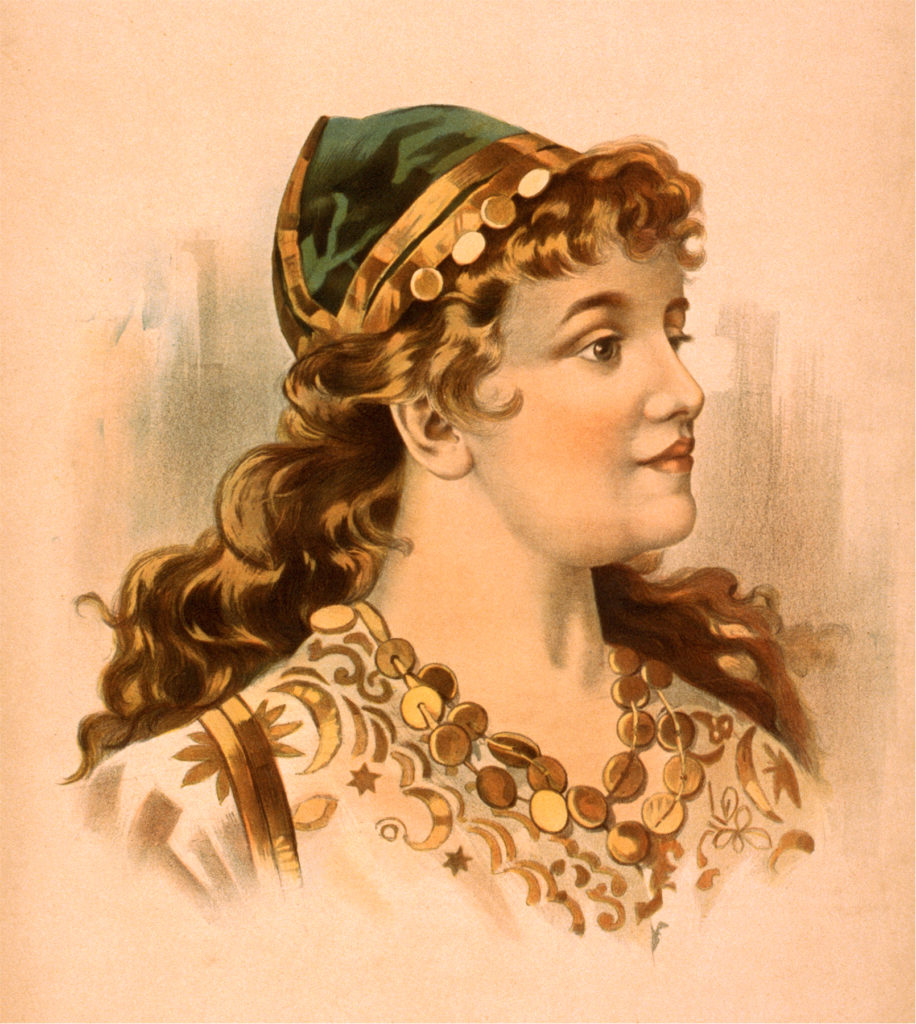 Today I'm sharing this Charming Vintage Woman with Coin Necklace Image! This circa 1892 portrait of a lovely young Woman has muted peach, green, and sepia colors. She wears a necklace of coins over a highly embroidered top. Her luscious curly hair is held with a green scarf edged with coins.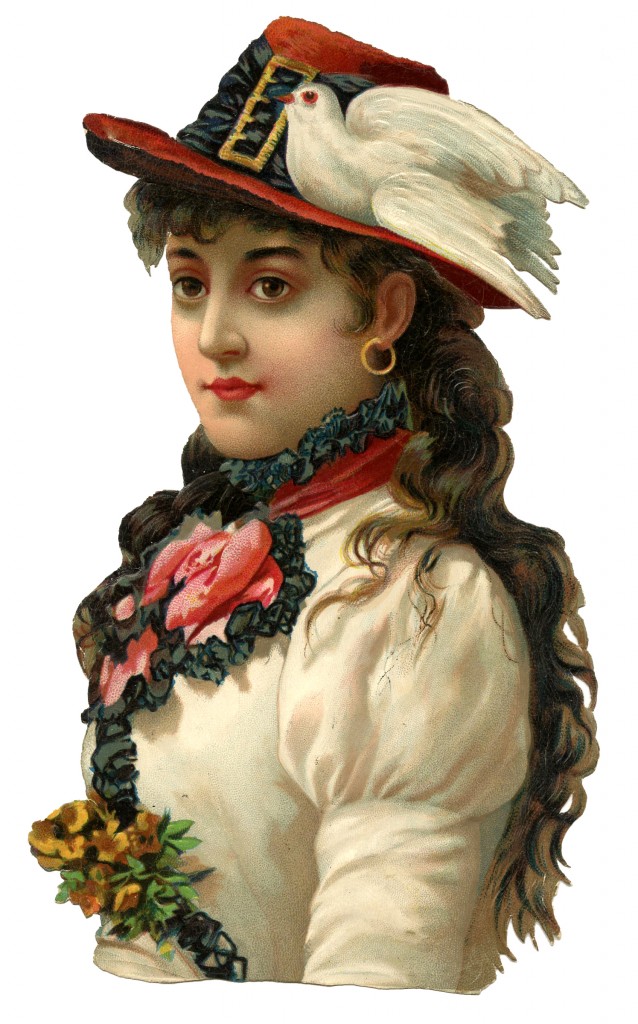 This one shows a gorgeous Lady with a Bird on her Hat! It looks like the lovely White Dove just landed there, right on her head! I had to pay a good bit for this graphic, but I think she is well worth it. This one is an Antique Scrap Piece and a real beauty at that. This lady has such a beautiful face and her costume is so pretty too with all the flowers and embellishments on it.
Bohemian Girl Image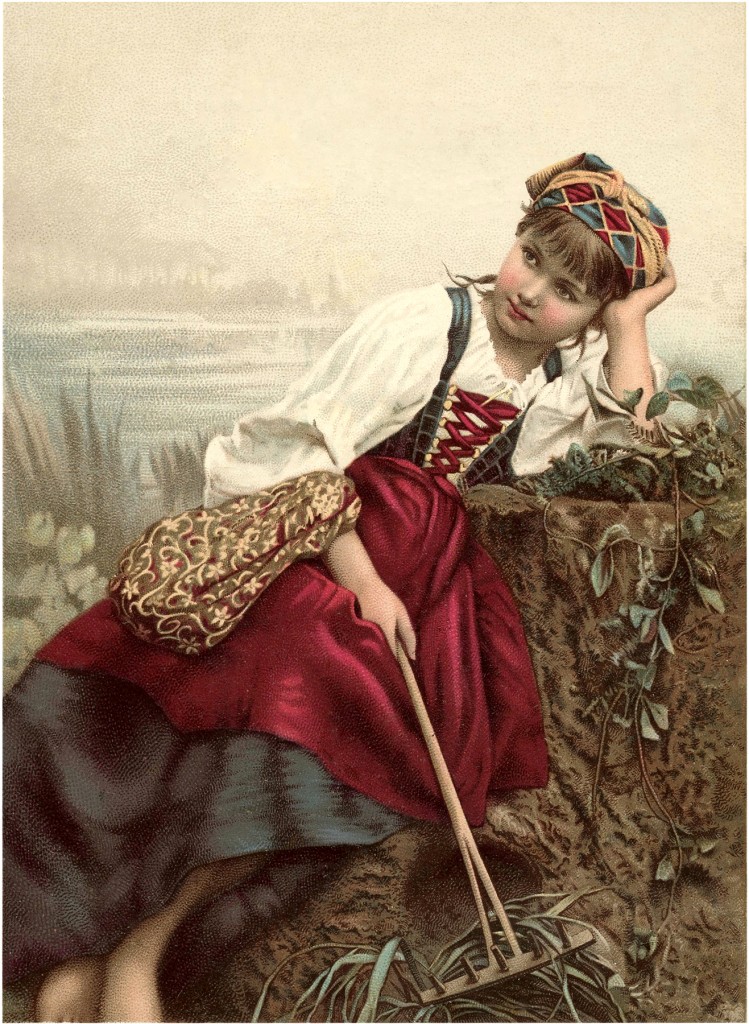 This is such a gorgeous picture! The picture shows a lovely Child in a red and blue costume. She's holding some type of rake and appears to be taking a break from some type of farm work or gardening.
Hello! Are you new to The Graphics Fairy?
Welcome, I'm so glad you're here! Browse around to find 
thousands of Stock Images
 that you can use in your projects or designs! I post new Vintage images every day, as well as projects and DIY's too! Need more info about my site? Try my 
FAQ
 page.