25 Vintage Beautiful Women Images
Today we have a charming collection of Vintage Women Images and these are nearly all actresses! Wait till you see these lovely women, some of whom surely must have been among the prettiest actresses of their time! Featured below are beautiful young ladies wearing costumes and crowns, and others with long luscious hair. Each one is posing dramatically with a unique and interesting expression, making them so fun to look at. Both black and white and color photographs and photo postcards with writing are truly superb. These are wonderful vintage images to use in mixed media or collage work! Some could make great tags as well.
Vintage Beautiful Women Actress Images
How divine is this antique photo postcard?!! I think I probably paid way too much for this one, but I was smitten and couldn't help myself! What a beauty this glamour girl is! I love her pose, beautiful face, soft green dress, and of course that amazing gilded folding screen behind her! I hope you like her too!

Here we have an oh so fabulous Lina Cavalieri postcard! Of all the Vintage Beautiful Women on this page, I think Lina is my favorite. My grandmother had a favorite doll named Lina that she gave to me when I was a little girl (I still have her!) and I have a feeling she was named after this actress. Anyway, she is wearing a beautiful bright blue gown, with loads of sparkly jewels. I wonder if her necklace is made of real rubies? There's actually glitter on the postcard. So pretty!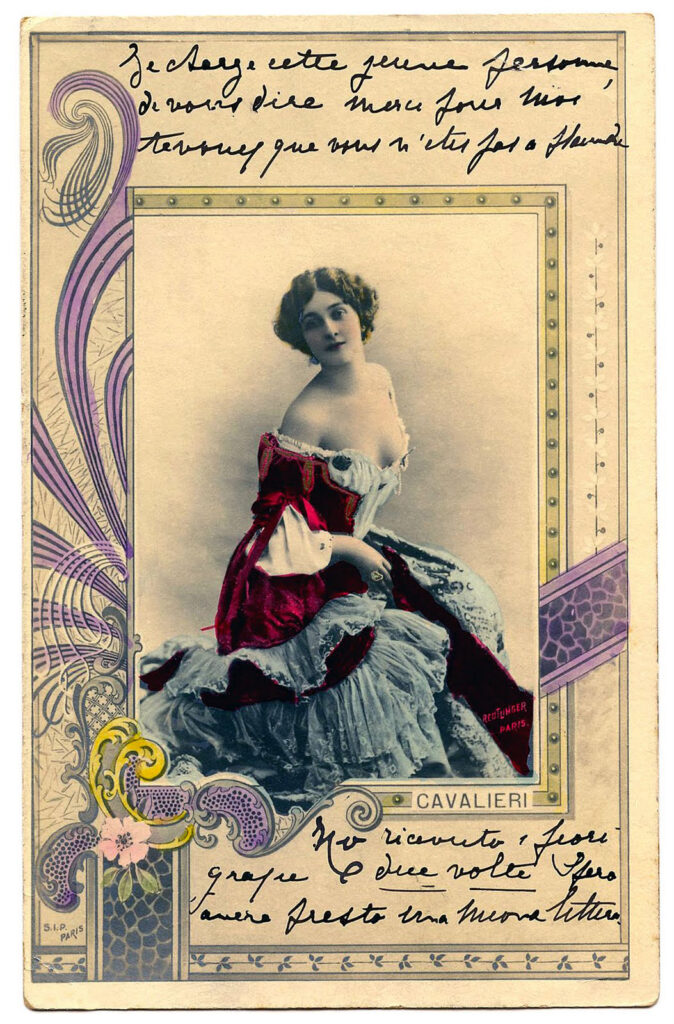 It took me several months to acquire an image of this famous beauty. She is Lina Cavalieri, who was an Italian opera star born in 1874. I was so excited when this gorgeous image finally arrived in the mail! Her luscious red dress with long white ruffles is as stunning as her face. The impressive card itself has a beautiful, ornate design and handwriting.
This is an Old Photo of a French Beauty! Arlette Dorgere was a Stage actress in France. She has the loveliest face and such large soulful eyes. She wears an embroidered pink veil over her puffed light hair. Very pretty!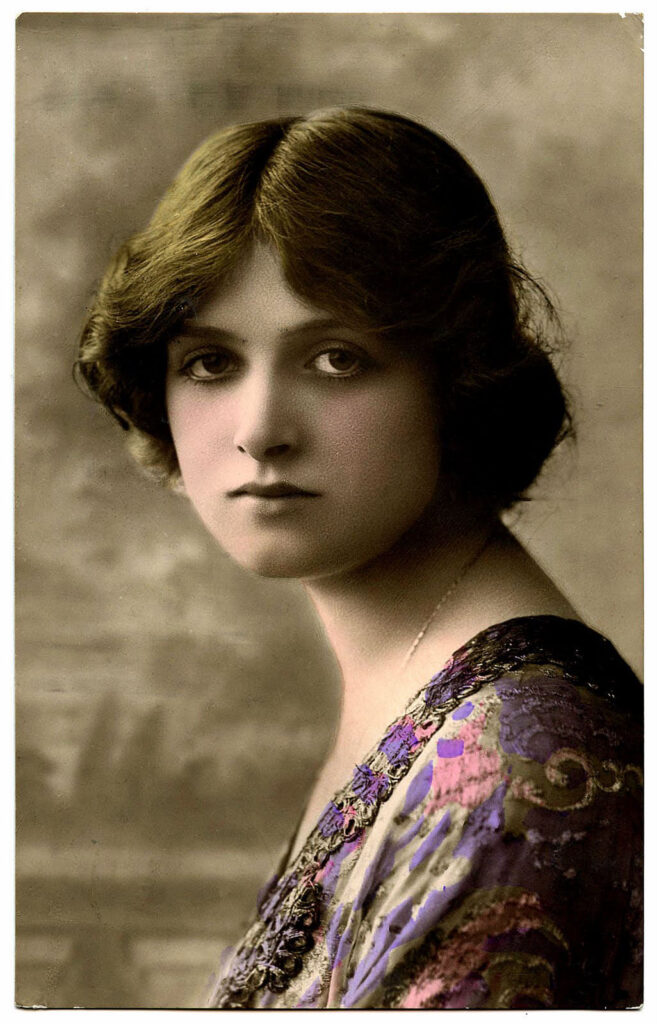 Pictured above is a wonderful antique real photo postcard of actress Gladys Cooper! Such a beauty!! She looks a bit melancholy in this photo, don't you think? I love the dramatic cloudy sky in the background and the gorgeous colorful dress she's wearing! The tinting on this Vintage Actress Image is also beautifully done.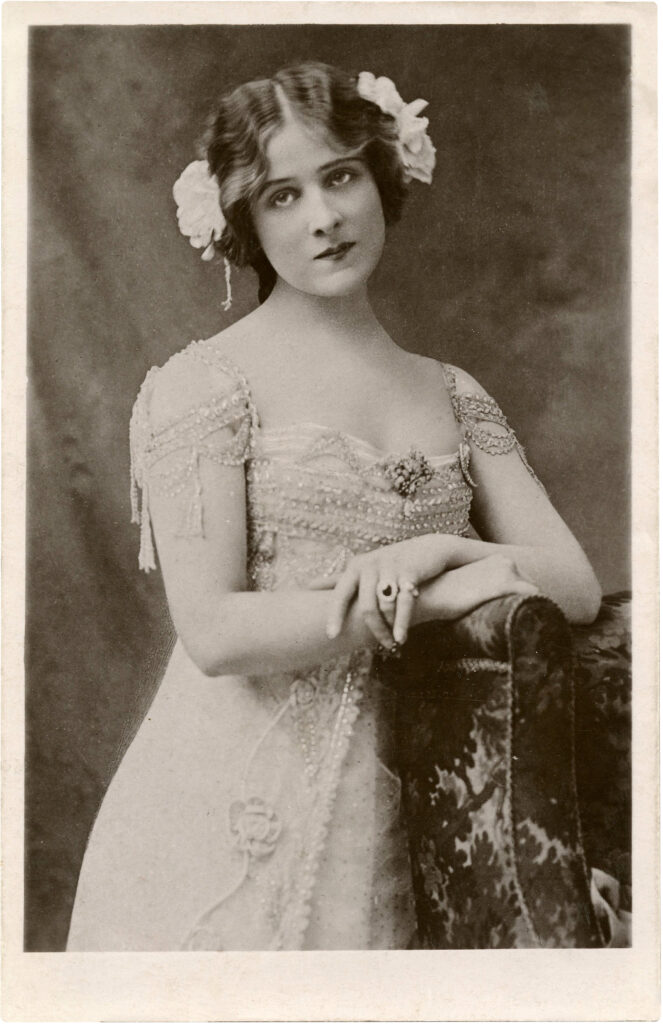 Here we have a Beautiful Actress Photo in Elegant Beaded Gown! In this sepia photo, a woman with a sweet face poses in a classy beaded gown. Her hands are resting on the back of a chair, with a large stone ring on her left ring finger. She has flowers in her beautifully coiffed hair. So nice!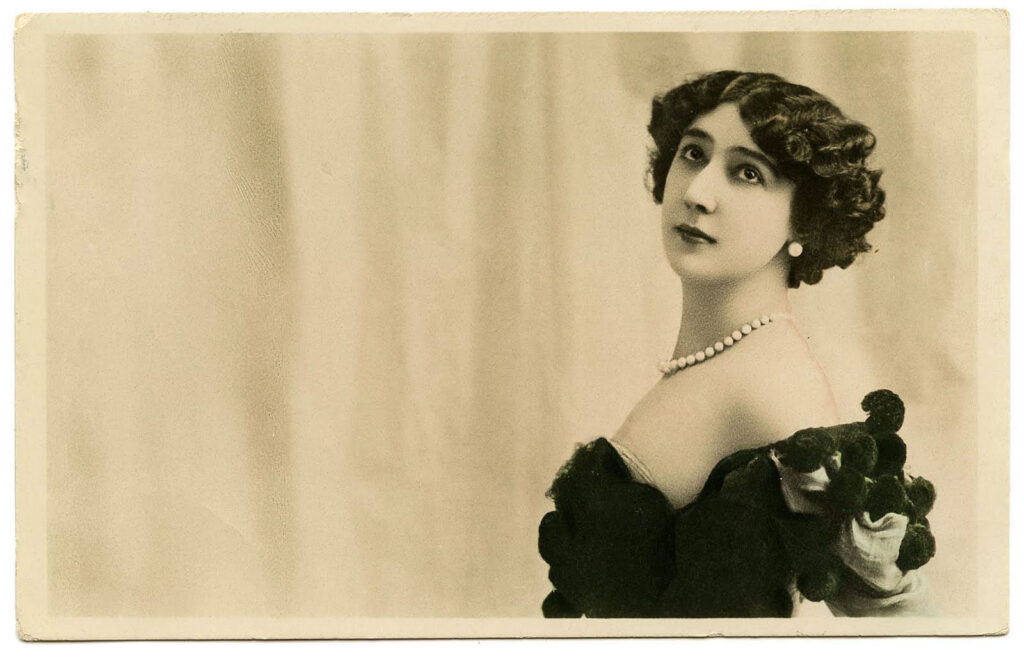 What a marvelous vintage postcard this is!! The postcard is from France and shows a dark haired beauty. She looks like such a diva; just look at the fabulous pompoms on her dress! I think it is quite unusual the way she is off to the side of the postcard, with all that blank space on the other side. What I love is that you can use the blank area to write whatever you like, making it great for tags!! This one reminds me of the woman in the postcard just below. What do you think? Is it the same woman?
Love this one!! Above is an old photo postcard, originally taken in Paris. The card features a very striking looking woman with amazing smokey eyes! The face on this beauty just really spoke to me.
Actress with Long Hair Photos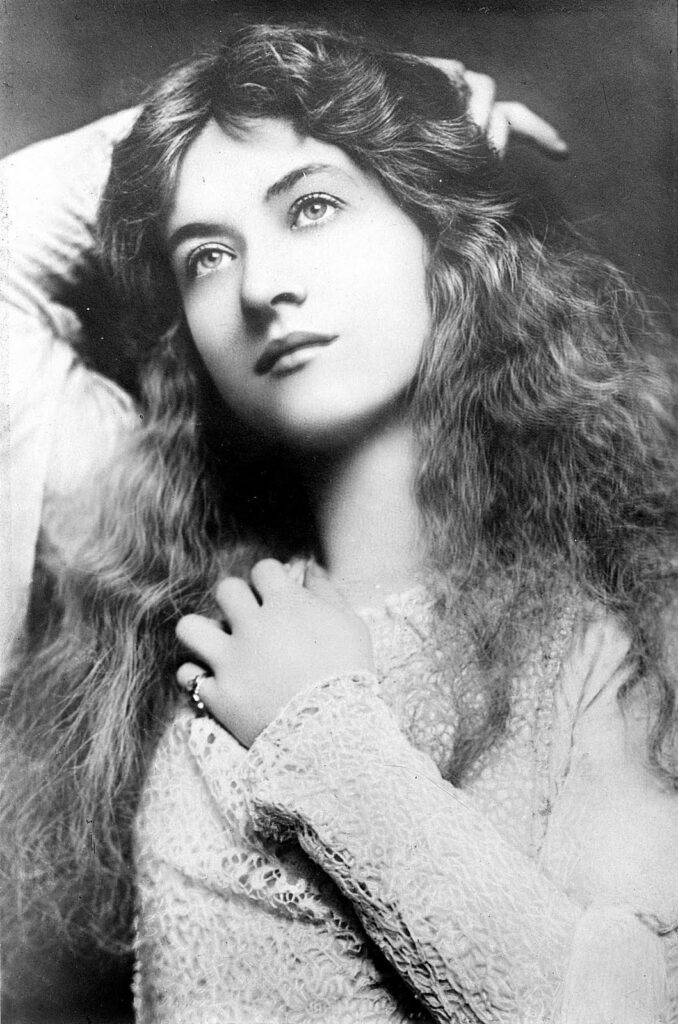 Isn't she stunning?!!! This gorgeous glamour girl is actress Maude Fealy. What a beauty!! This photo is not from my personal collection, but from an archived source, and is in the public domain. I just had to share in case you don't already have this one!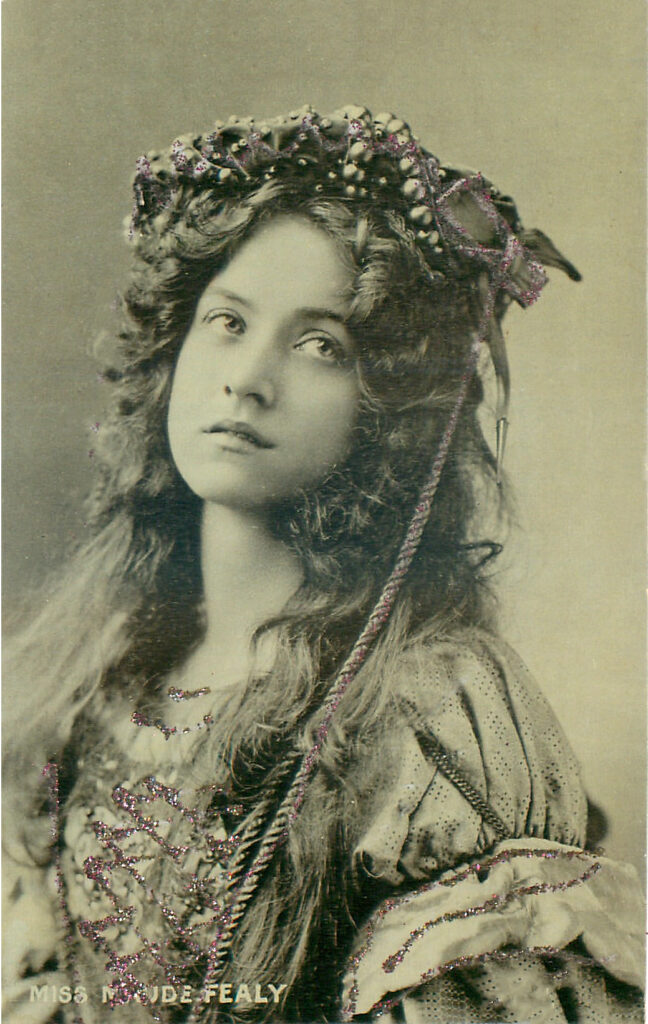 This is another one of Miss Maude Fealy. She appears to be wearing a Medieval style costume. She looks a bit younger than in the image above. This one has a nice sepia tone to it along with a bit of purple glitter. I think it would be fun to add some additional glitter over top of the glitter areas to make sparkle!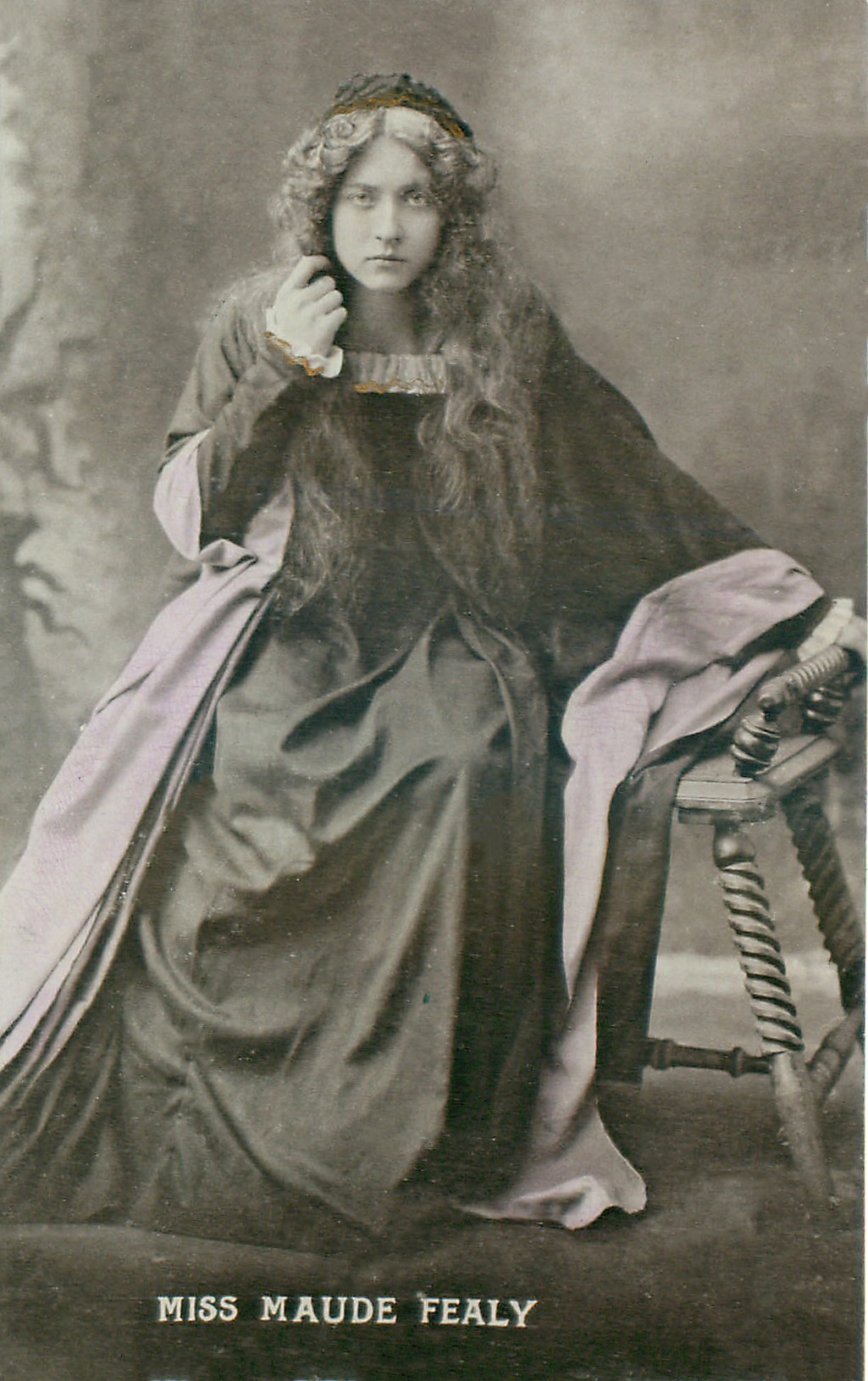 Here is the latest addition to this collection. Here is another one of the lovely Miss Fealy. She appears to be dressed in Medieval clothing for this role as well.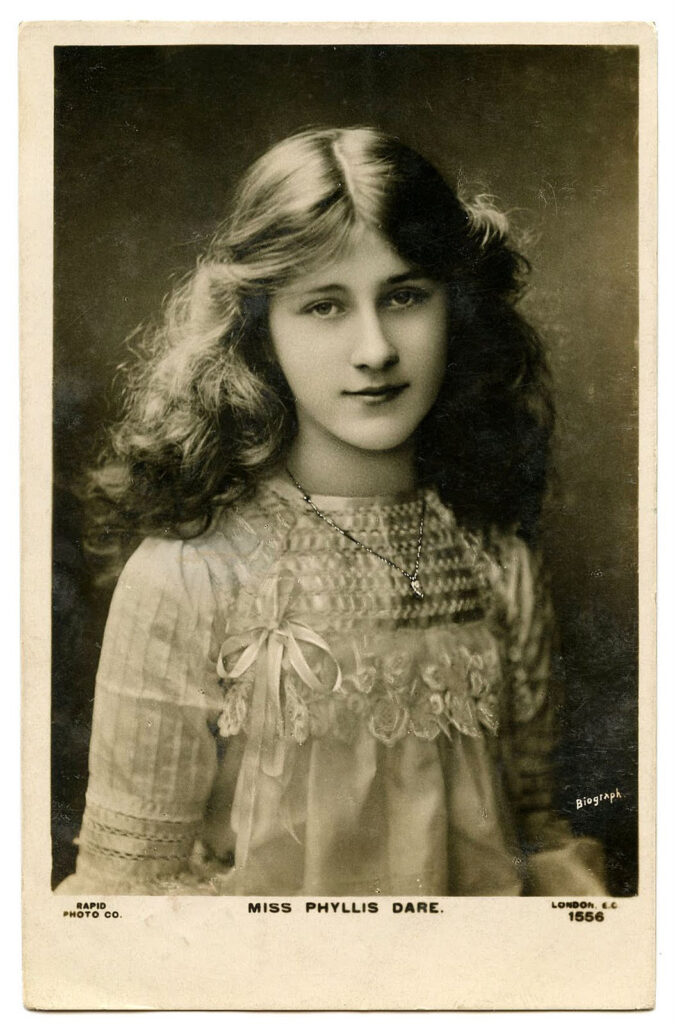 Featured above is an old fashioned photo is of Miss Phyllis Dare. She was an actress, and such a beauty with her long curly hair and beautiful eyes!!! Her white sheer dress is striking with pin-tucking, lace, and little ribbon bow. Love the sepia tones in this one.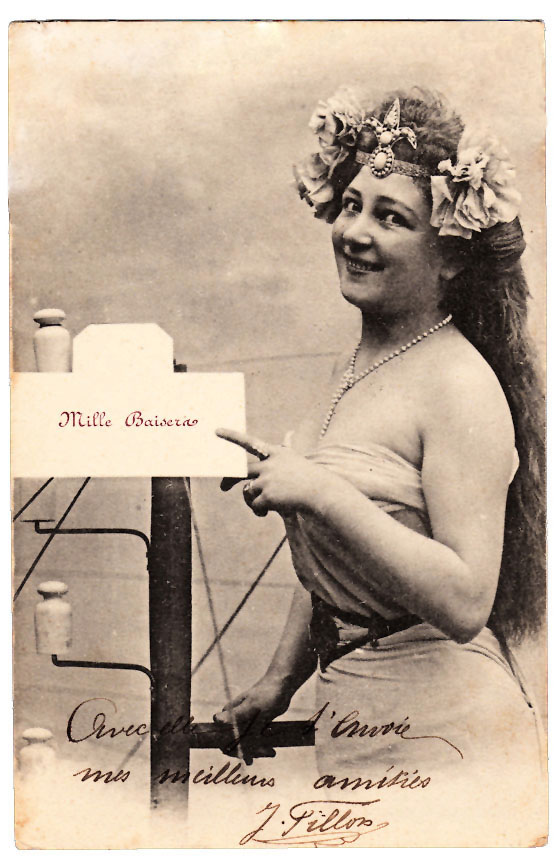 This is a fun old French postcard, featuring a woman with an ornate crown on her long, waist length hair. She wears a fitted dress and pearls. She looks like a Mermaid Queen to me!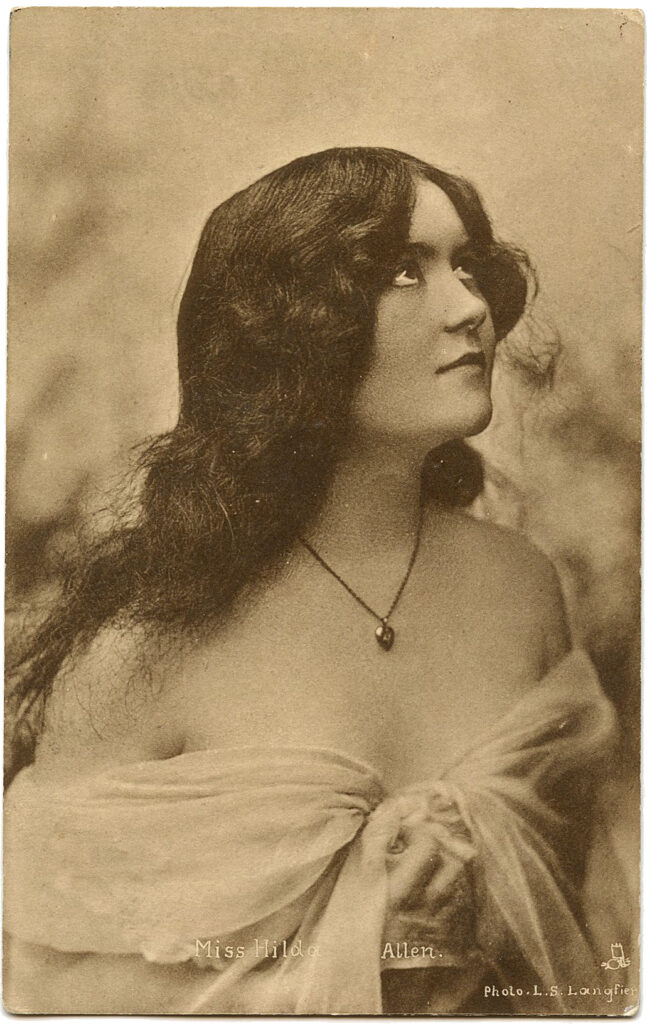 Here's a wonderful old postcard of a lovely young woman. Her name is "Miss Hilda Allen," as seen on the card. Perhaps she was an actress from long ago. She has long, flowing dark hair over her shoulders. I like the soft romantic tone and sepia colors.
Vintage Beautiful Women with Crowns Pictures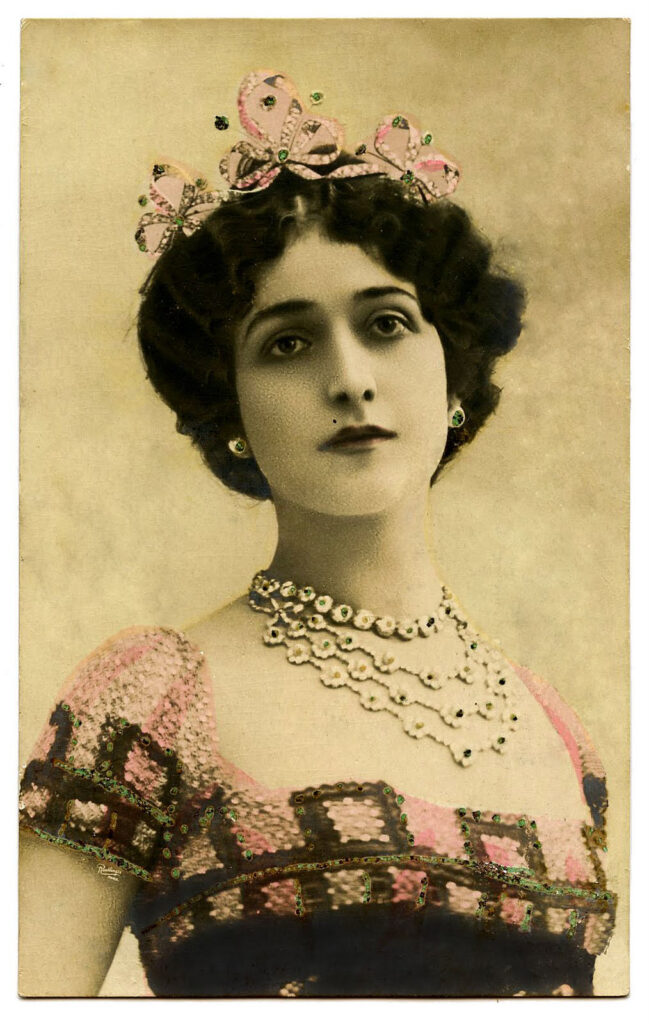 Pictured above is the famous Italian Opera Star, Lina Cavalieri. Such a beauty!! I was so happy to come across this postcard, showing her all decked out in a beautiful pink crown or tiara, and loads of jewels. This postcard displays a tiny bit of glitter on her dress that you probably can't see in the image, but you can of course add your own! The original has old handwriting on it, so I cleaned it up for you.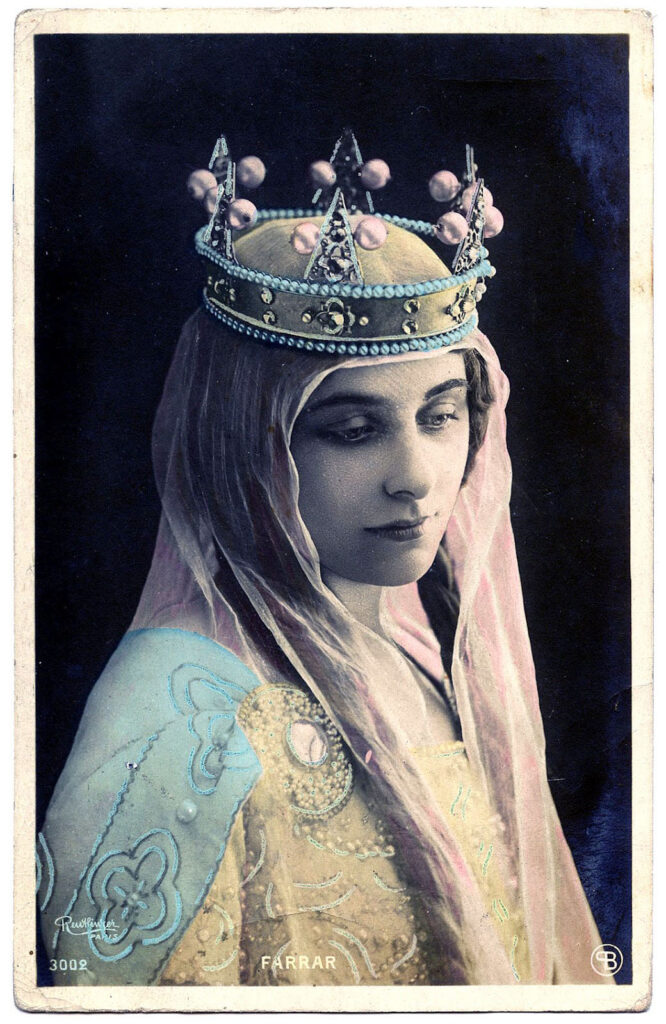 This is a lovely Antique Photo Postcard! The card shows a woman wearing a crown and a veil. The aqua, pink, and yellow tinting is charming. I believe she was an actress. Her name might be Farrar, which is written at the bottom. I think it would be fun to add some glitter to her crown!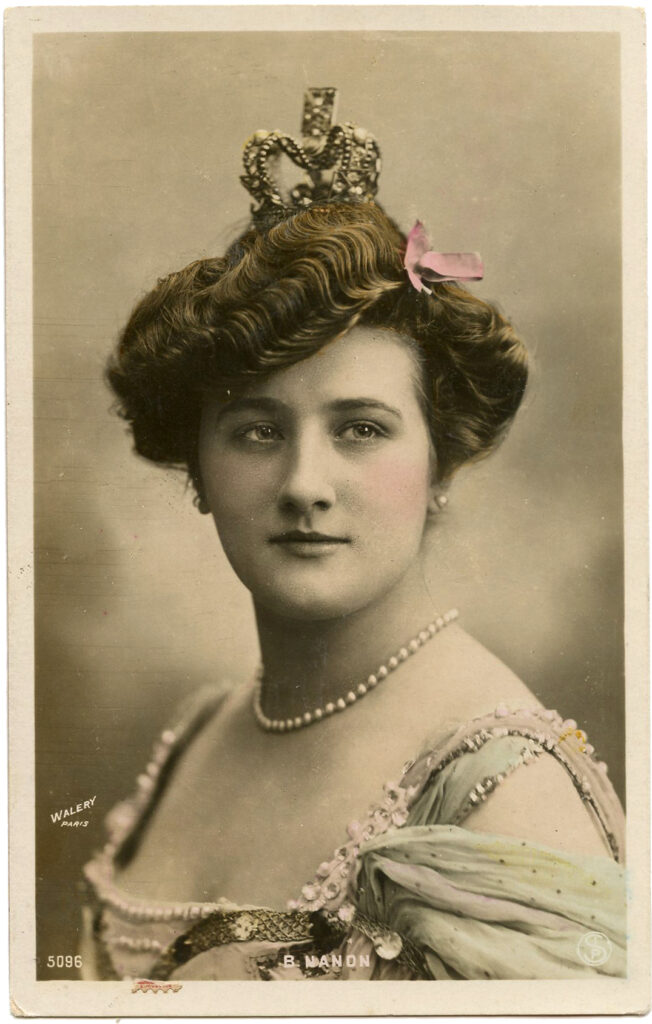 Here we have a lovely Vintage Lady with Crown Tinted Photo! This is a fabulous Antique Postcard, showing a French woman with a delicate tiny crown on top of her head! She's also wearing a fancy dress, pink ribbon in her hair, and a strand of pearls around her neck.
French Actress Pictures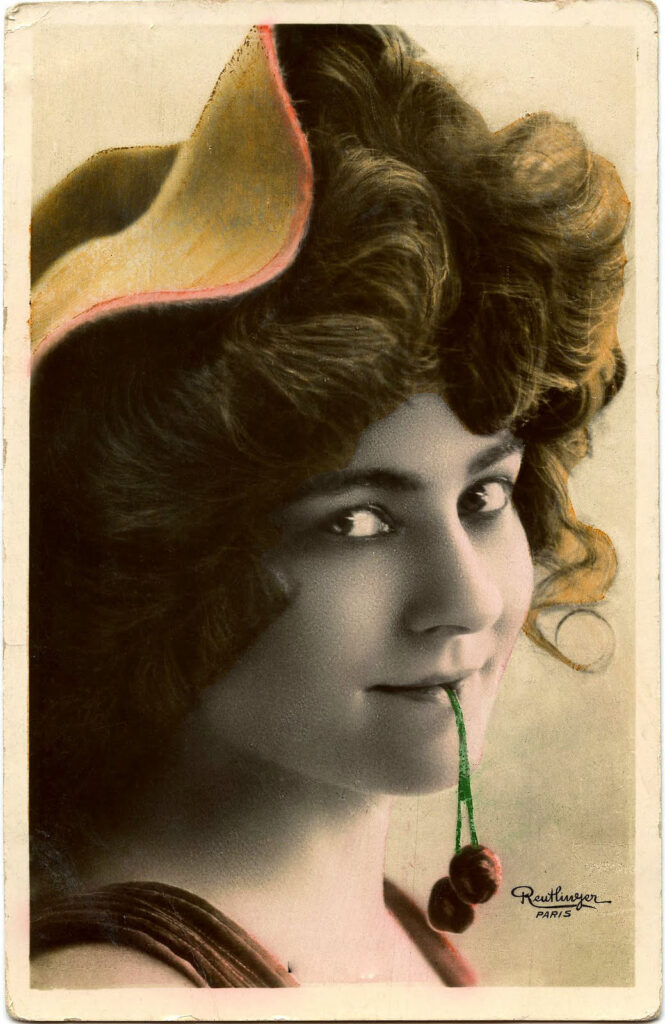 This is a sweet vintage postcard of a Parisian woman with cherries dangling from her mouth! She has a very flirty look in her eyes. Too cute! She is one of my fave Vintage Actress Images!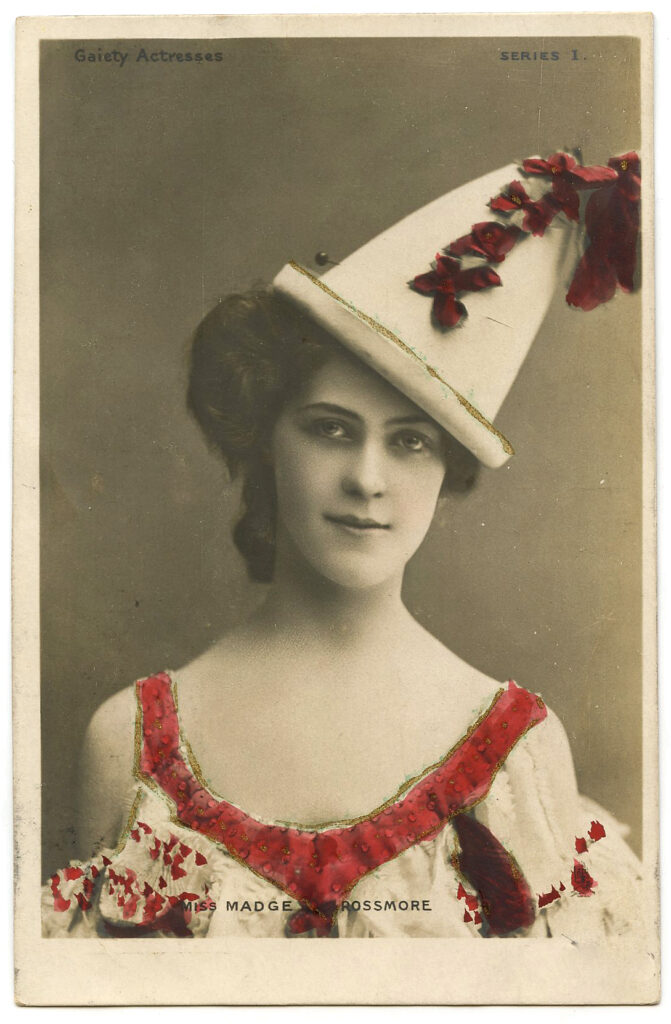 This girl looks as though she is ready for a party. The fabulous old postcard above features a lovely young woman in the most wonderful Pierrot clown costume. Her dress has a torn shoulder and is accented with red collar. Her white pointed hat is laced with a red ribbon. I think the red tones look quite festive! This one was an unusual find. I hope you enjoy it as much as me!
I just adore this card! This is a lovely antique postcard, featuring the image of a French woman dressed in a coachman costume. Love the hat and the coat! The card reads, "Les Femmes de l'Avenir" in red typography. It means, Women of the Future.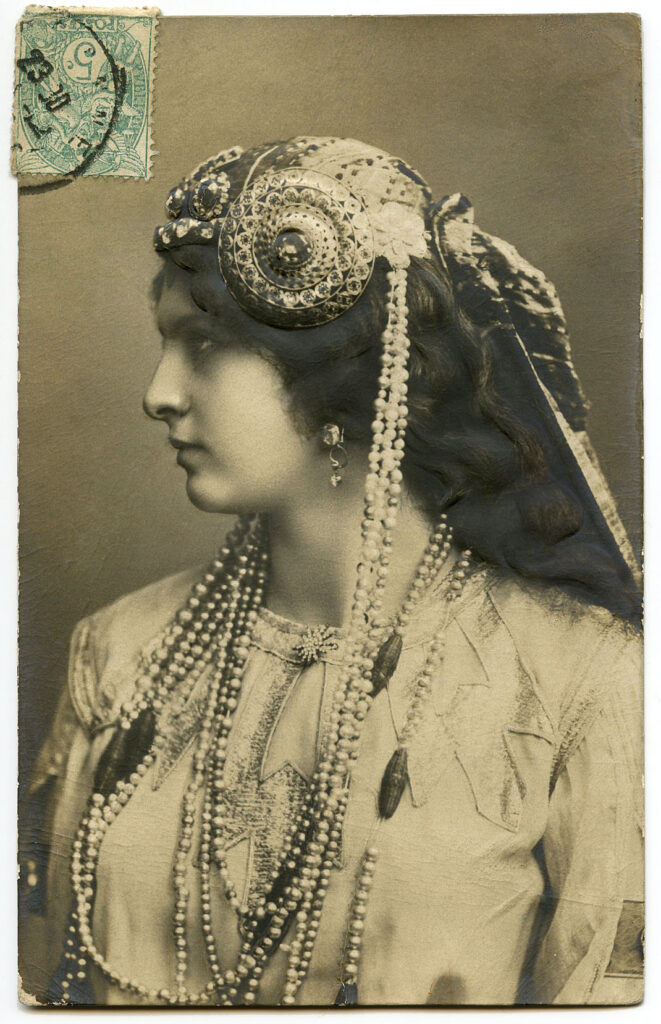 Here's a marvelous Old Photo Postcard! This one shows a lovely French lady in a stylish Art Nouveau Costume! She's wearing loads of jewelry (I see lots of pearls there) and an elaborate headdress on her head! She's even wearing some pretty earrings. Her clothing is quite detailed as well, with quite a few appliques sewn on to it. I love the little blue postage stamp at the top. I think it looks great with the sepia tones of the card, so I left it intact.
Vintage Beautiful Women English Actresses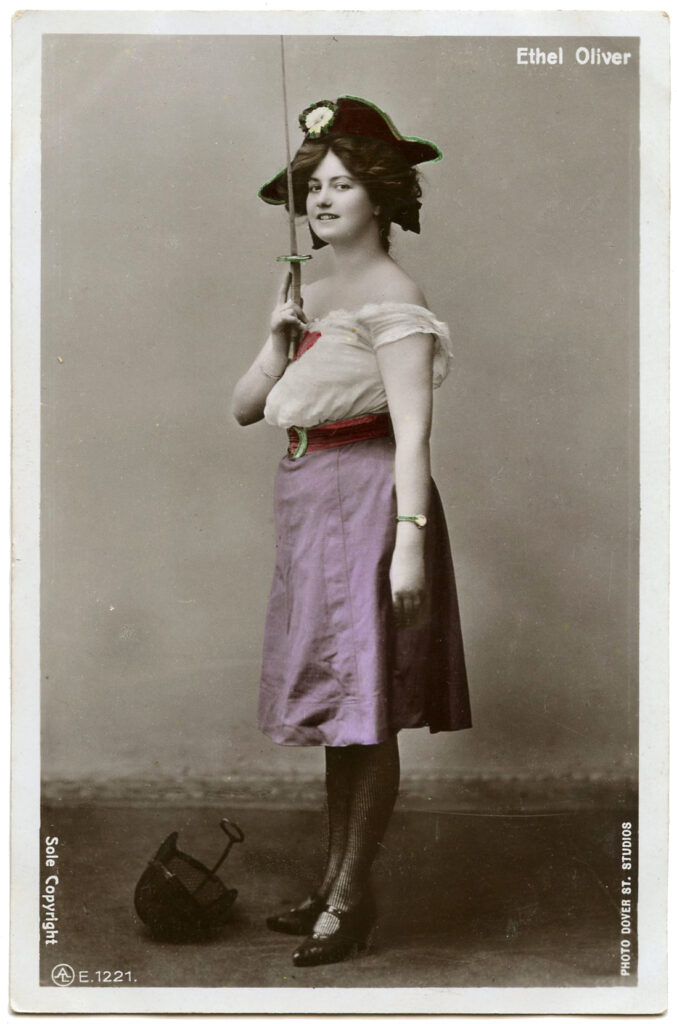 This is a marvelous old postcard from England! It features a young actress dressed as a pirate. She seems ready to fence with her sword held upwards. She wears a purple skirt and white blouse with a red belt. Her name must be Ethel Oliver as printed at the top of the card. The writing in one corner indicates it is from a studio, so it might be for a film. What a fun vintage graphic!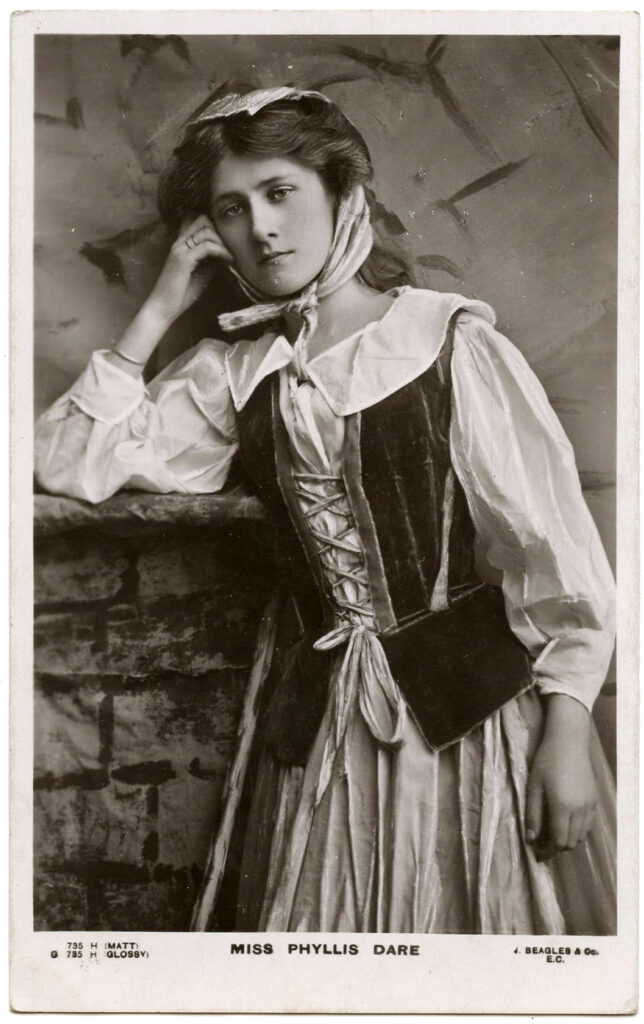 I just love this one! This is a real photo postcard of Miss Phyllis Dare, who was a beautiful English actress. She appears to be dressed as Cinderella in this lovely Medieval style costume. She has a sad, wistful look on her beautiful face. Be sure to click on the image to bring up the larger size view.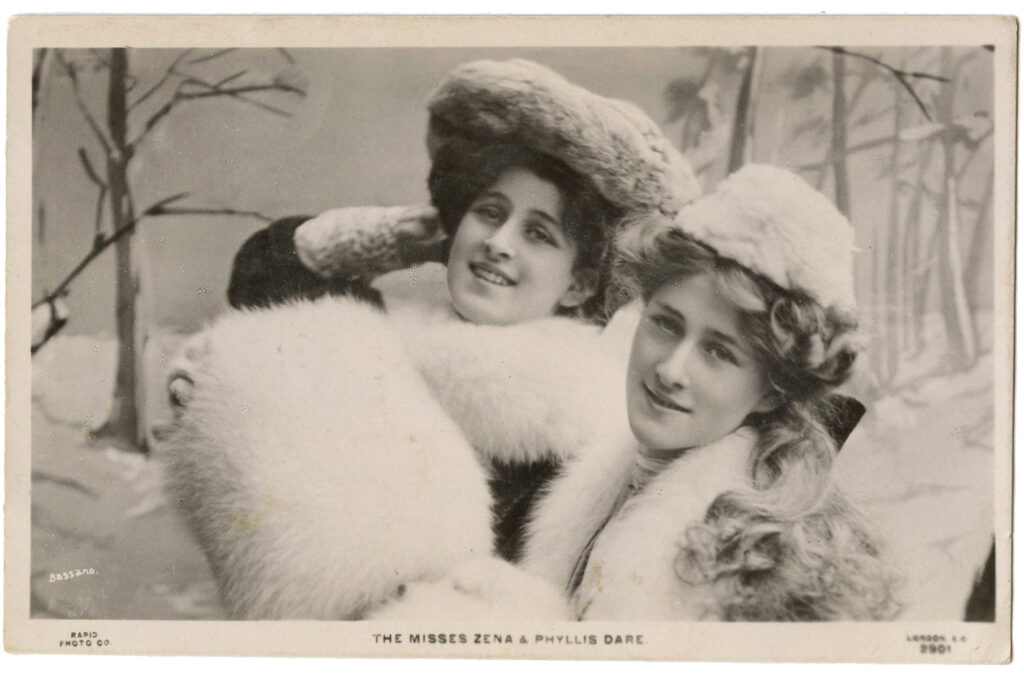 Above is another wonderful old postcard. Displayed are two vintage beautiful women, they are sisters actually! Dare sisters dressed in their Winter finery, including fur muffs, collars, and hats. I so love their jovial expressions!
Quirky Photos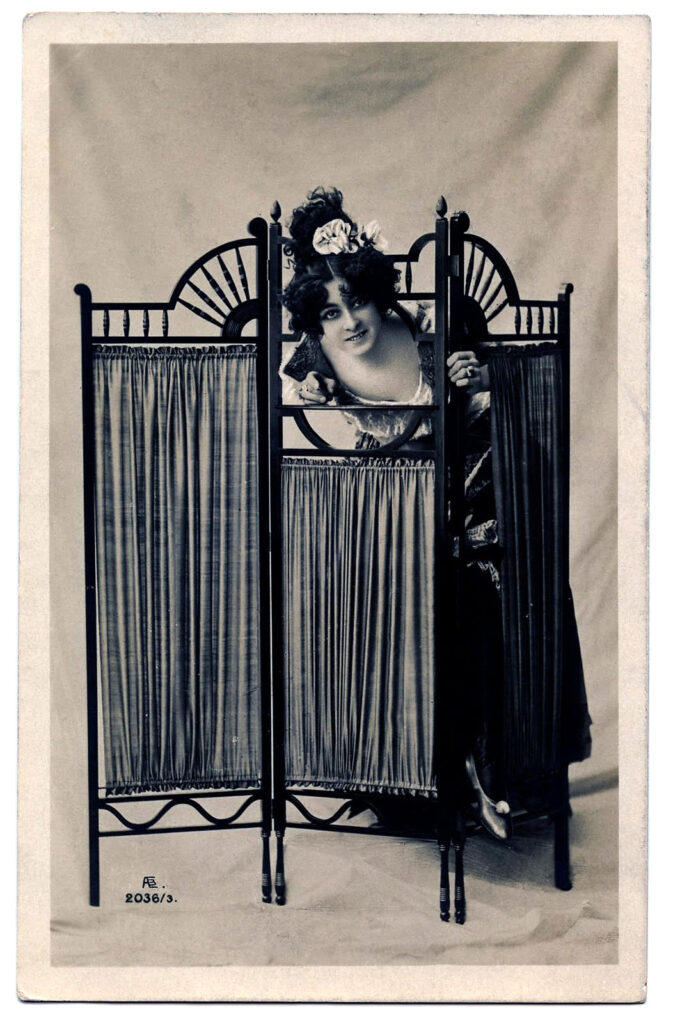 Isn't she cute?! Here we have an old photo postcard showing a young Woman peeking through a dressing screen! So fun!
I hope you enjoyed this fun curated collection of Vintage Beautiful Women Actress Images! You might also like best Ballerina Photos HERE! 
Hello! Are you new to The Graphics Fairy?
Welcome, I'm so glad you're here! Browse around to find 
thousands of Stock Images
 that you can use in your projects or designs! I post new Vintage images every day, as well as projects and DIY's too! Need more info about my site? Try my 
FAQ
 page.