32 Ballerina Pictures
Today we have a gorgeous collection of Ballerina Pictures ! I'm always on the lookout for wonderful Dance themed photos. I just love this assortment of Dancers in various poses. All are vintage images that are aged to perfection. We have adult along with children. Many of these lovely Pictures have wonderful Sepia Tones, which are perfect for your Collage or Mixed Media Projects. Or perhaps you could transfer one onto a Tote Bag as a lovely Gift for your favorite little Dance Student!
Lovely Ballerina Photos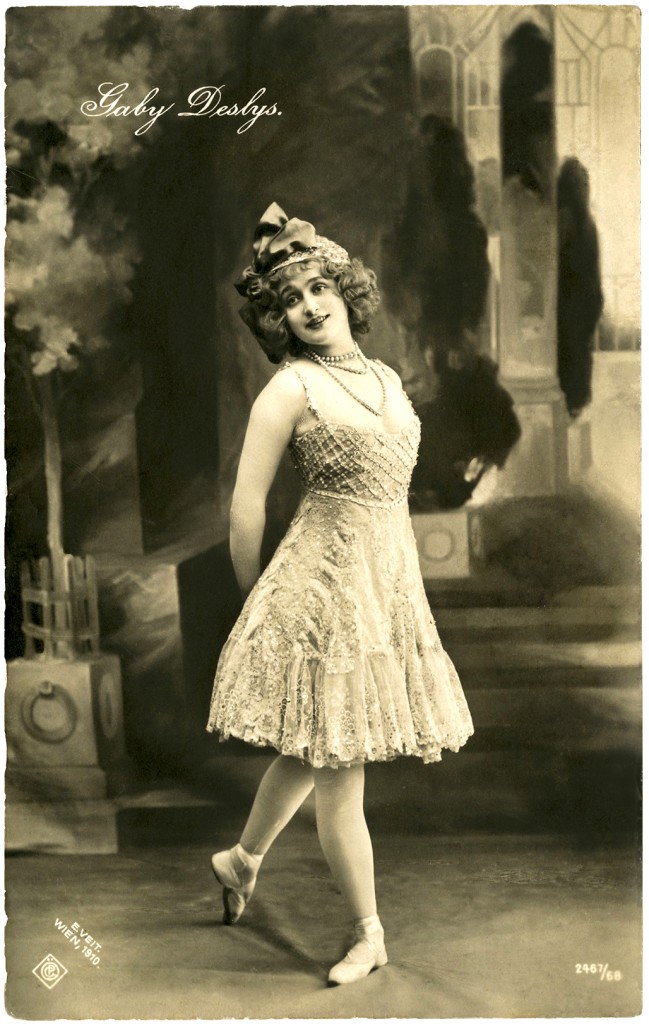 Pictured above is a wonderful Vintage Ballerina Photo Card! This appealing card shows a French woman named Gaby Deslys, who apparently was a Dancer, Singer, and Actress. I think she looks beautiful in her Lace Costume and traditional Ballet Shoes!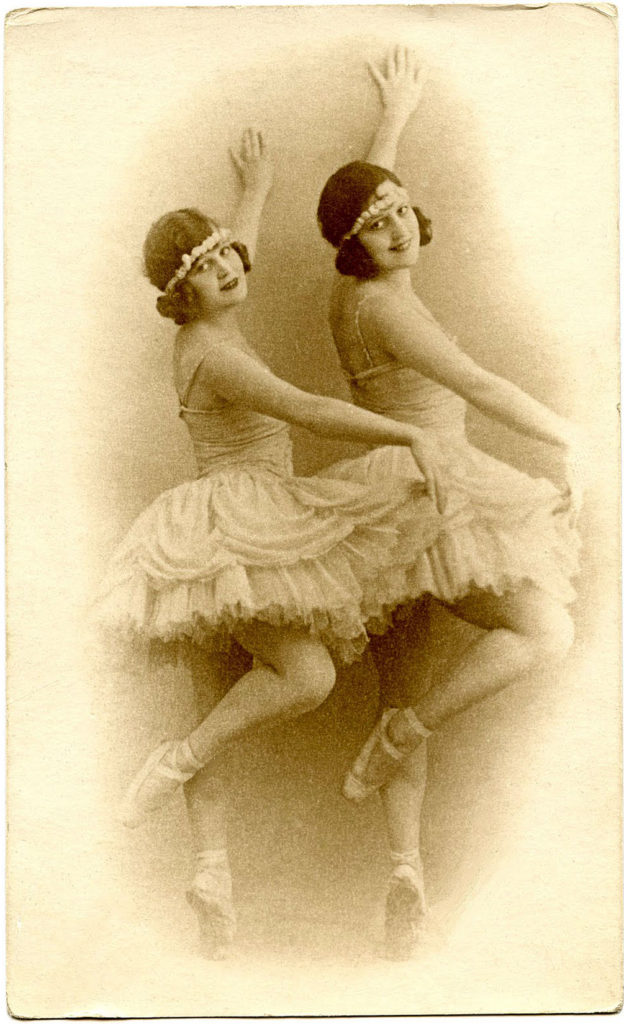 Oh, be still my heart!! I so love this one!! These vintage ballerinas are posing in perfect symmetry along with matching outfits and shoes. I think they must have actually been very talented dancers. It is really quite the perfect image!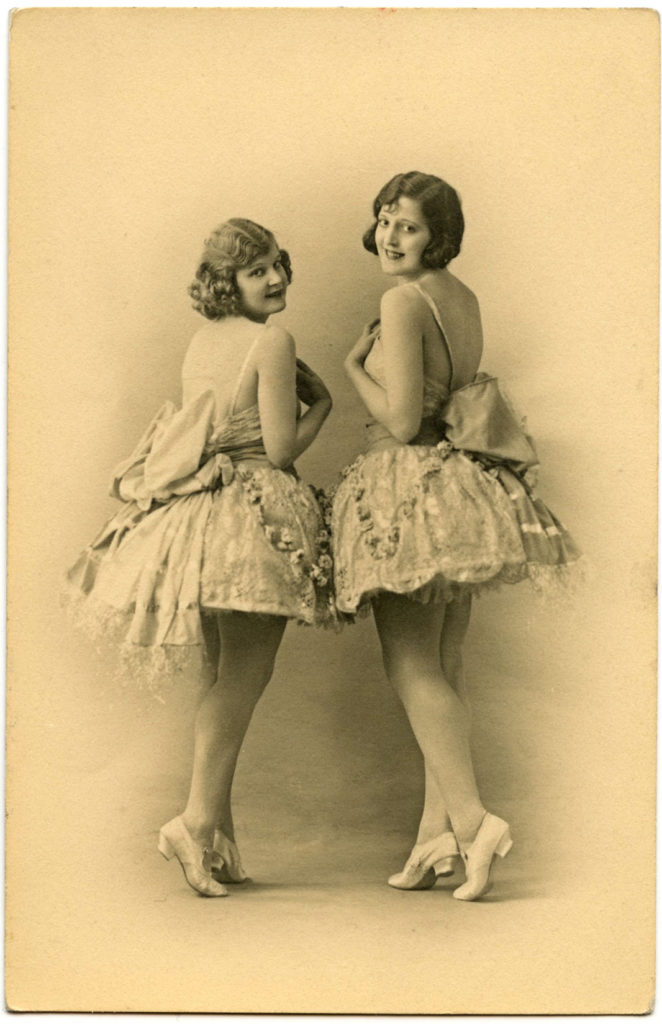 This is a nice ballerina card with an actual photo showing two pretty sisters wearing fancy dance costumes. The detail on the costumes is incredible, with lots of lace and flowers and big beautiful bows on the back!
Sweet Ballet Children Graphics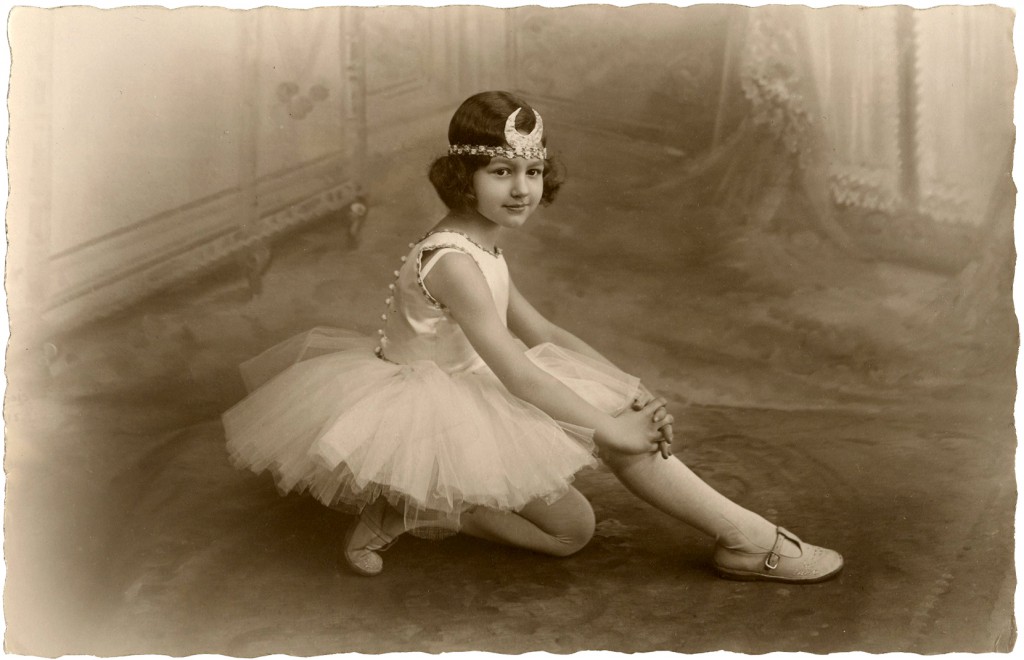 This is the Prettiest dancer Girl Photo!!! The photo of this little Girl is so breathtakingly beautiful! This wonderful black and white vintage photo postcard shows a darling Girl wearing a White Tutu and a Crescent Moon Crown in her hair!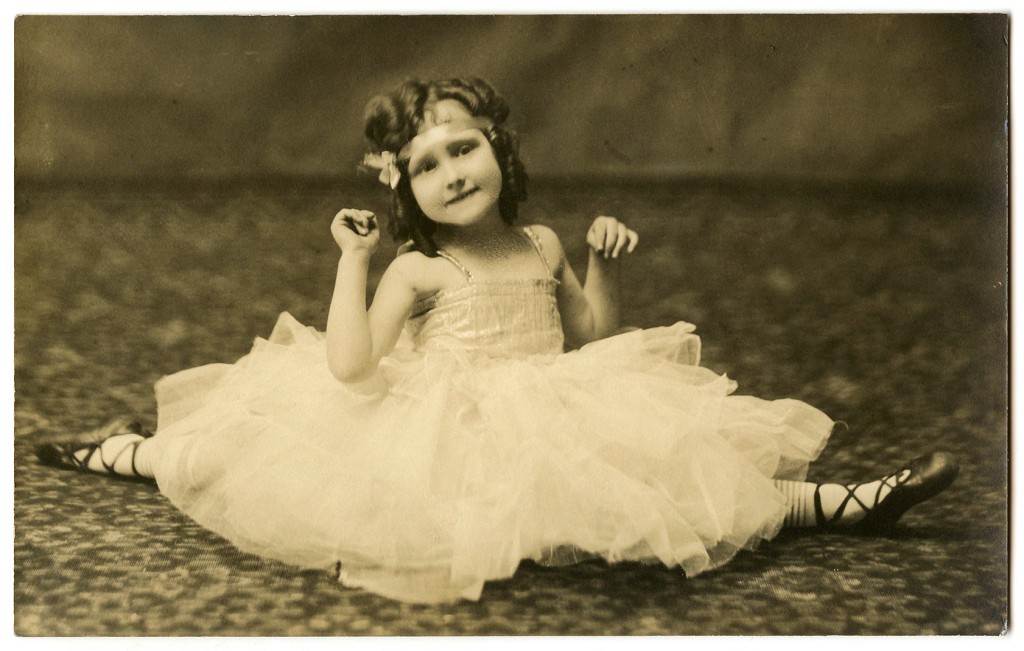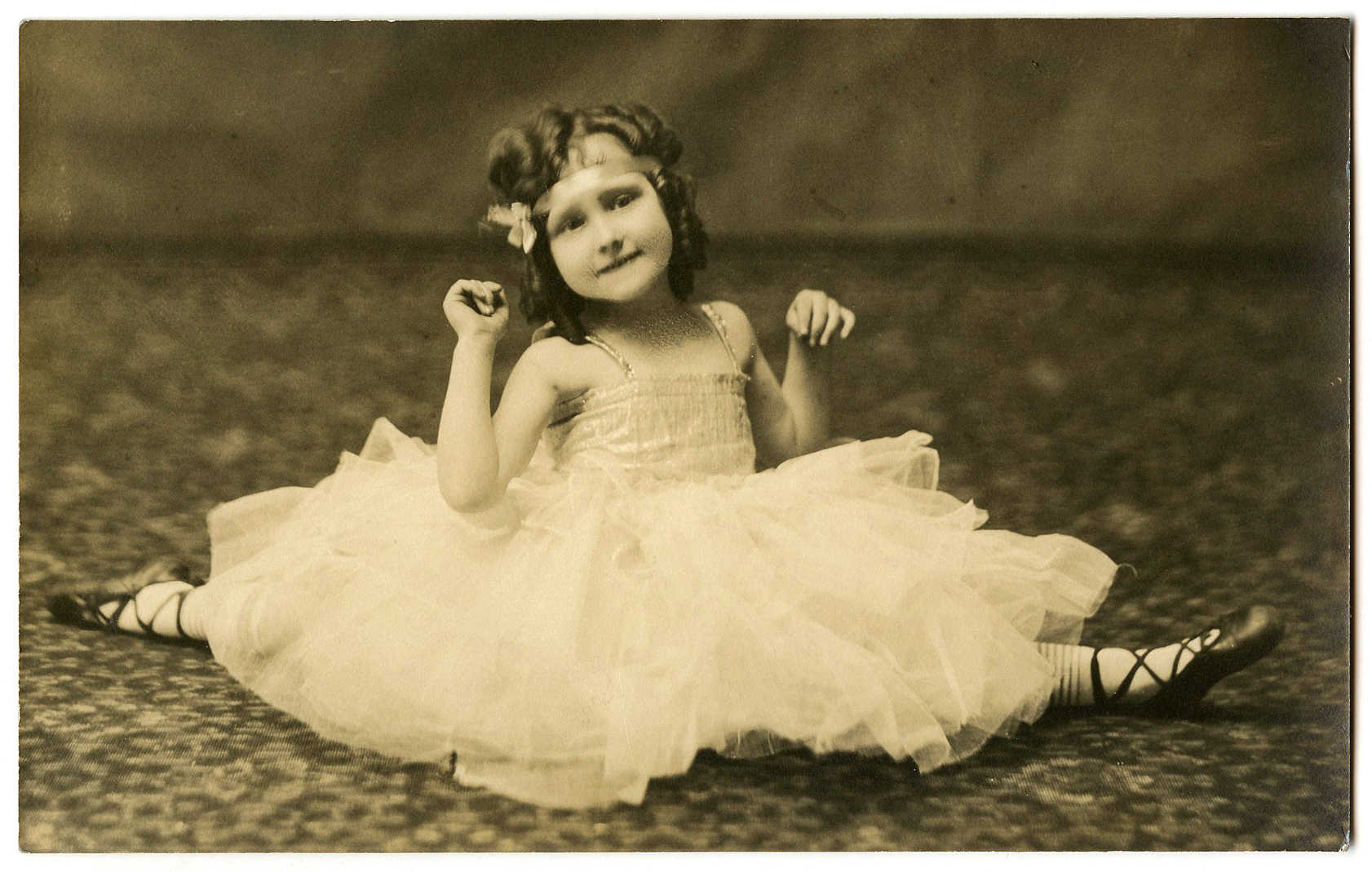 Here we have a Cute Ballerina Picture of a little girl doing the Splits! This is an Old Photo Postcard featuring a cute Girl wearing a full Tutu, some pretty laced up toe shoes, and a fancy floral headband. Can you believe this pose? These old photos took quite a while to take, and she may have had to stay in that pose for quite some time. She seemingly doesn't mind though as she has such a sweet expression on her face.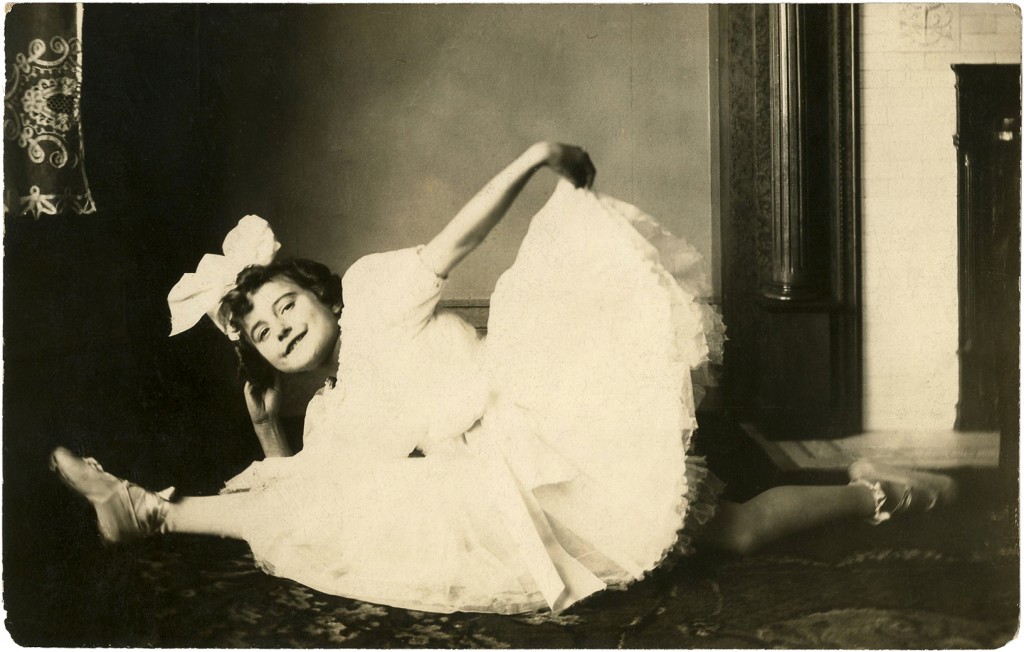 Seen above is a splendid Vintage Photo of a little Girl dressed in a Ballet costume, with Tutu and ballet shoes! She's also got a big fancy bow in her hair. The girl is posed in a splits position, which doesn't appear very comfortable. However, she's still smiling!
Cute Ballerina Pictures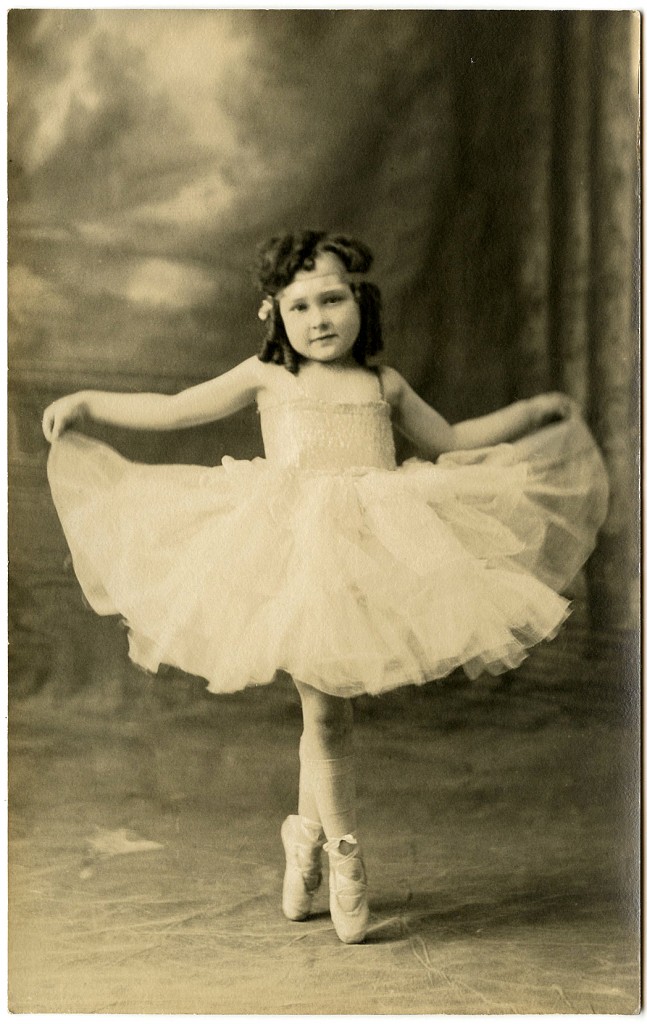 This fabulous Antique Postcard shows a little girl in a pretty dance Costume. She is wearing a full Tutu that she's holding in her hands in a classic pose and is even standing on the very tips of her Ballet shoes! She looks quite young doesn't she? I wonder if she continued on with her dance career later in life.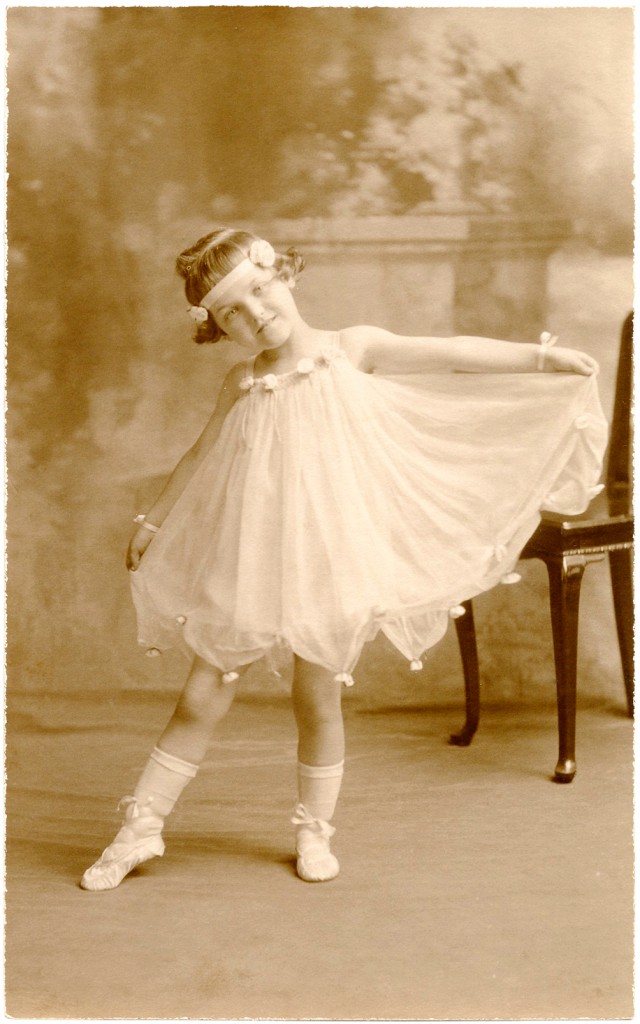 This is a darling Old Photo of another Ballerina Girl. This is a sweet Antique Postcard showing a little Child dressed in a flowing Dance Costume that's embellished with pretty little Rosettes! She's wearing a matching headband and white ballet slippers. Such a sweetie!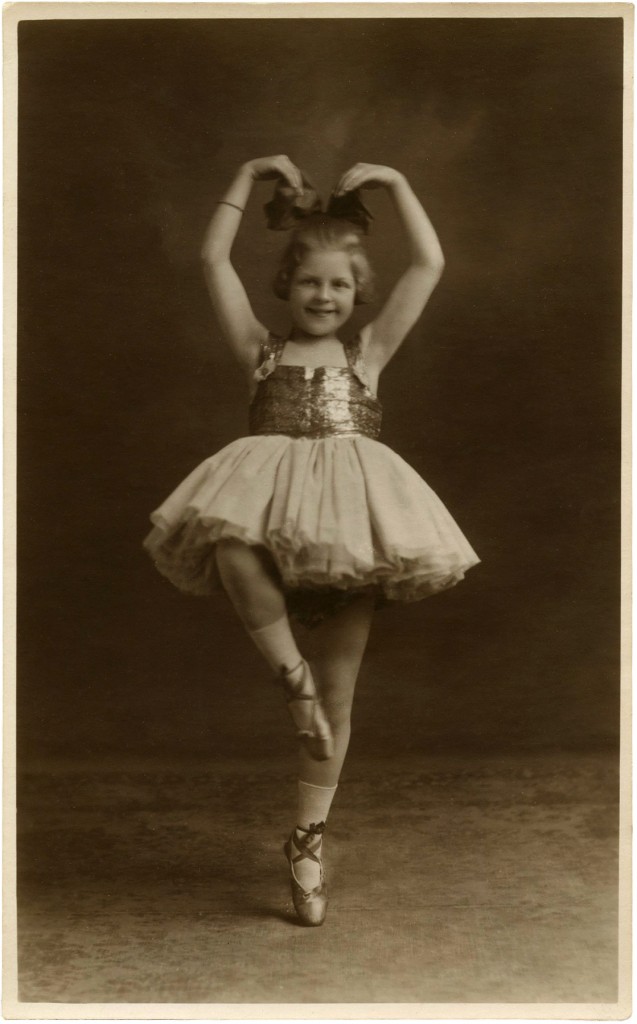 Pictured above is a Vintage Ballerina Child Photo! Isn't she precious? This little dancer girl is wearing her prettiest Tutu and Ballerina toe shoes. She appears to be making a heart with her hands. Such a cute pose!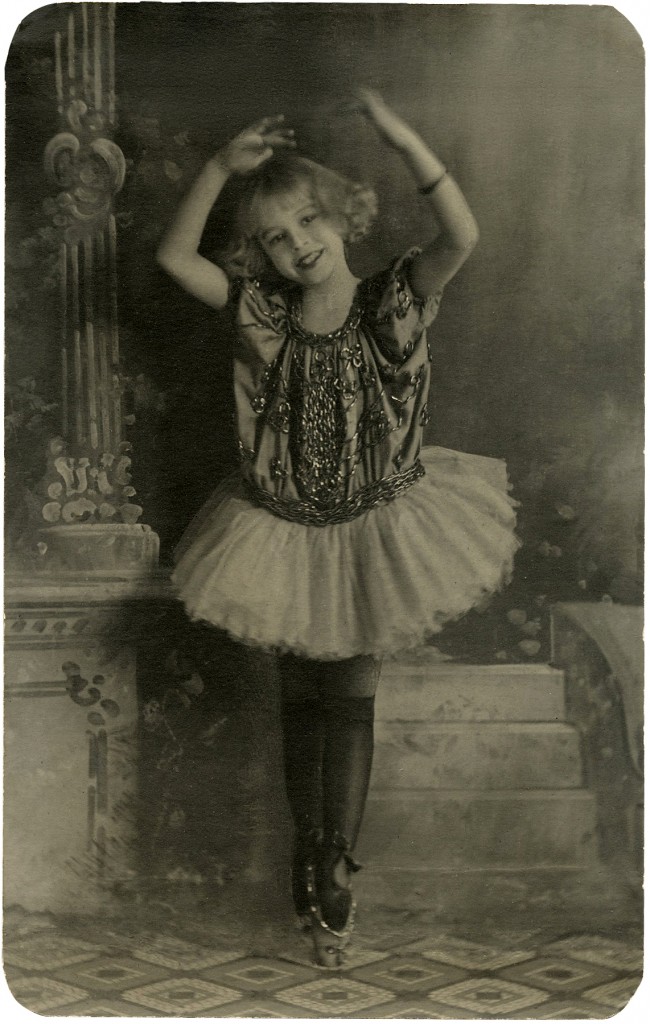 Here we have a Vintage Cute Ballerina Girl Photo! This is such a darling picture of a sweet little Girl dressed in a Dance Costume … tutu and all! She's balanced perfectly on her toes!
Colorful Ballet Dancer Pictures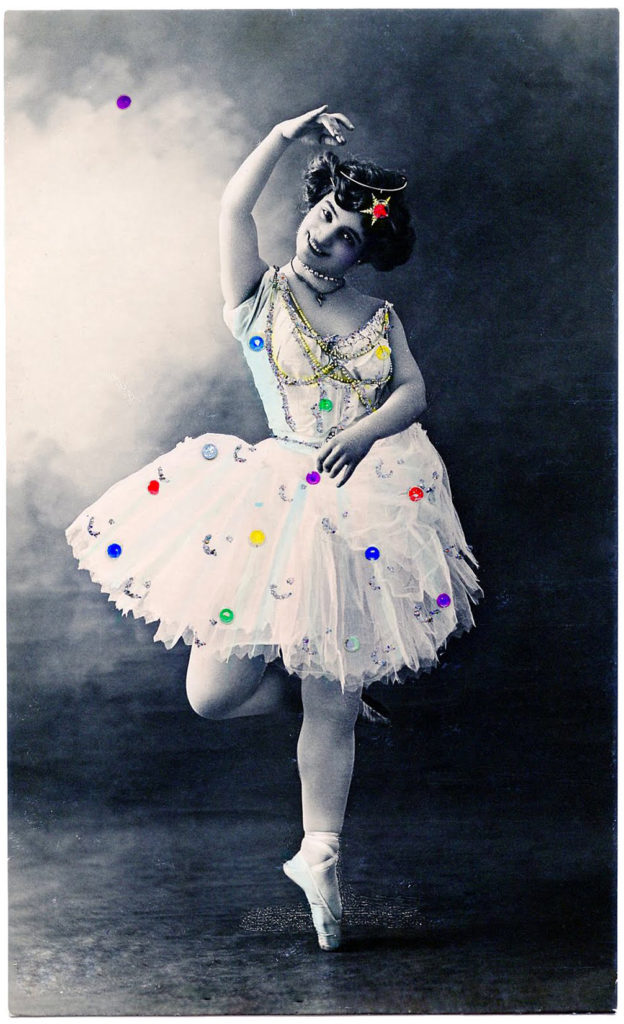 Every once in a blue moon I find a fabulous Ballerina image like the one above! This Ballerina is so special with the colorful glittery accents on her tutu and the lovely star crown on her head. Such a pretty face too. I hope you can find some uses for her in your art.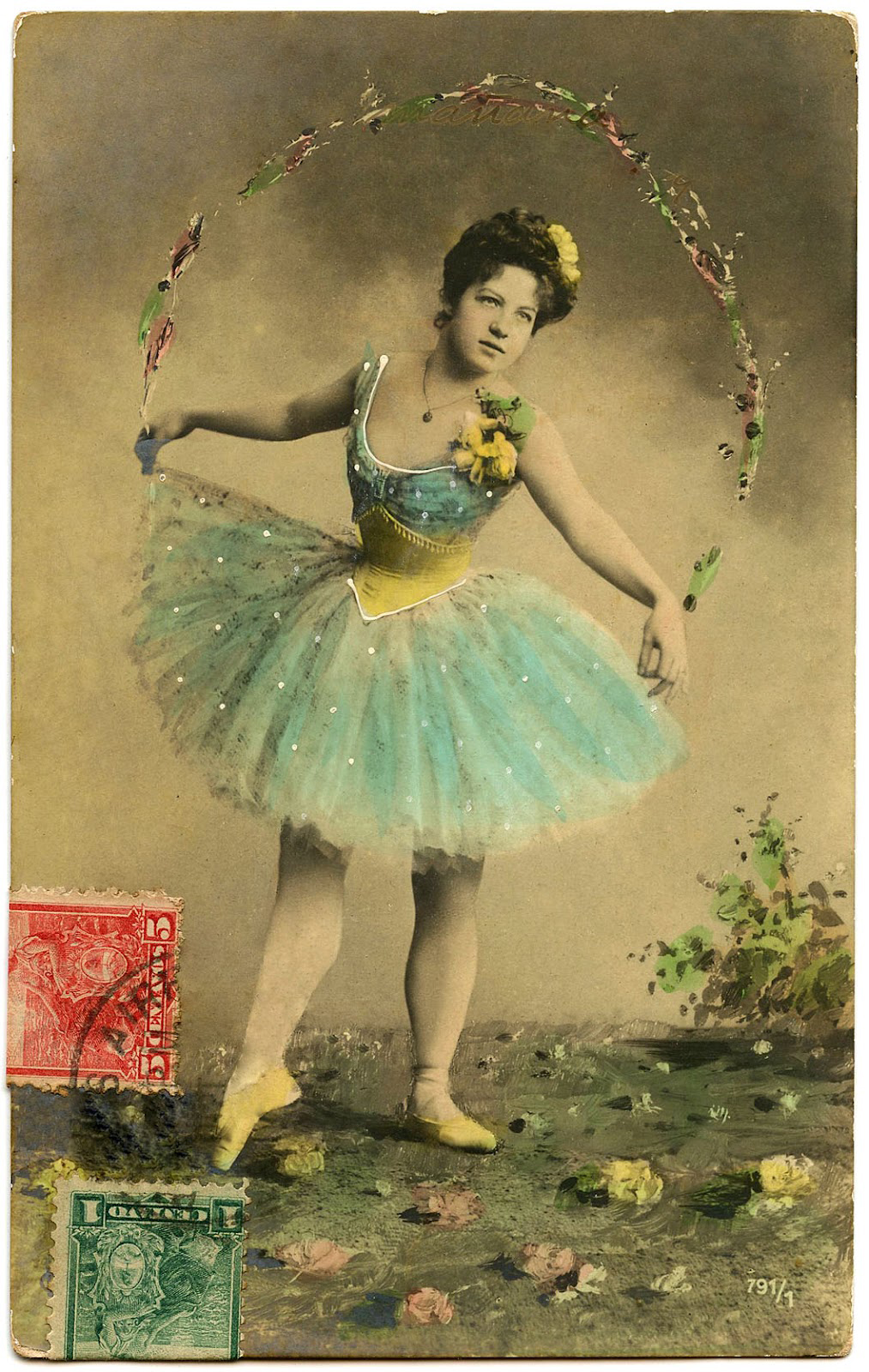 Isn't this fun?!! Here we have a cute Ballet Dancer Postcard. I love the colors on this one! She's wearing an Aqua Tutu with Yellow accents. She's holding up some sort of painted Garland that matches her costume. There are 2 Antique Postage Stamps on the front of the card. I left them in place, because I like the look of it all together.
Colorful Ballerina Images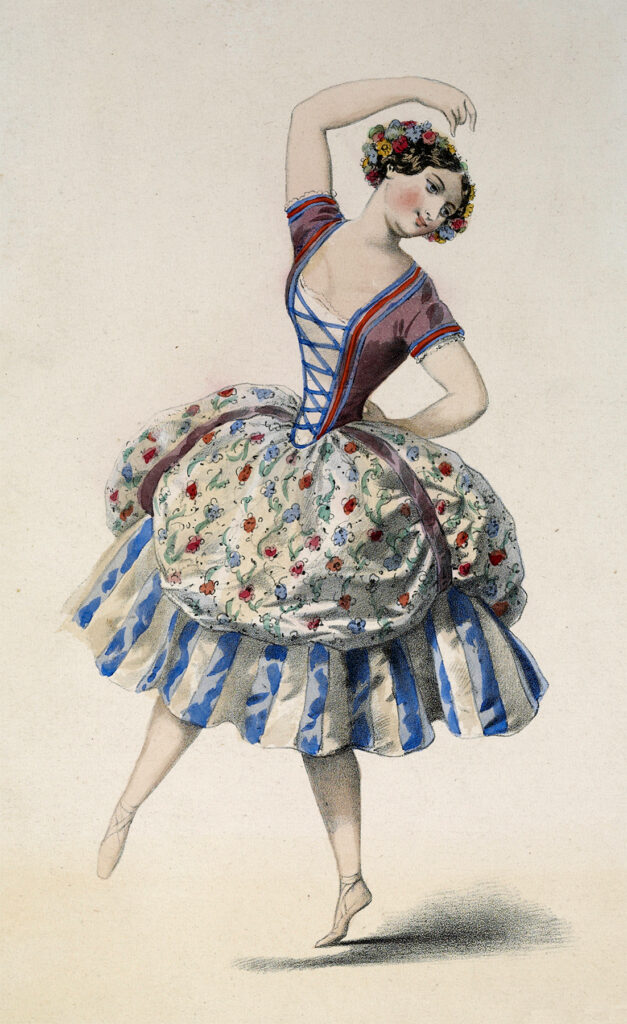 I'm so pleased to be sharing this Beautiful Vintage Dancer Girl Image! Shown above is a lovely Antique Picture of a pretty Dancer Girl with a traditional looking costume and delicate Ballet Shoes!
Shown above is a lovely old Picture of a pretty Dancing Girl with a traditional looking costume and delicate Pink Ballet Shoes! There are a couple of Pink Roses on the ground near where she is dancing, and she seems to be holding some castanets.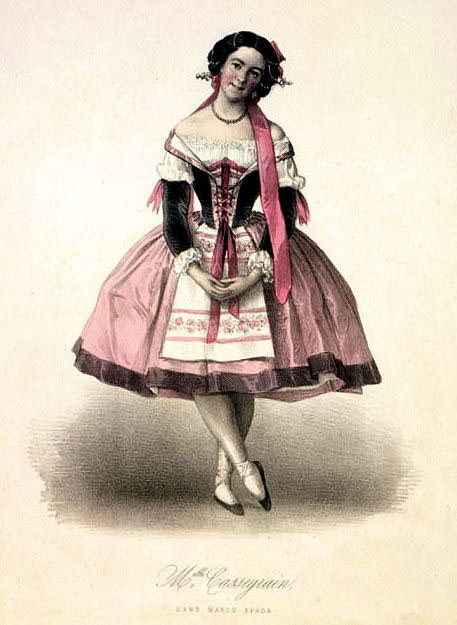 Here we have another pretty ballerina image for you to play with in your art! This one isn't as large as some of the others, but should still work in smaller projects. Her pink costume with the laced up bodice is so pretty, don't you think?! It reminds me of Scandinavian clothing.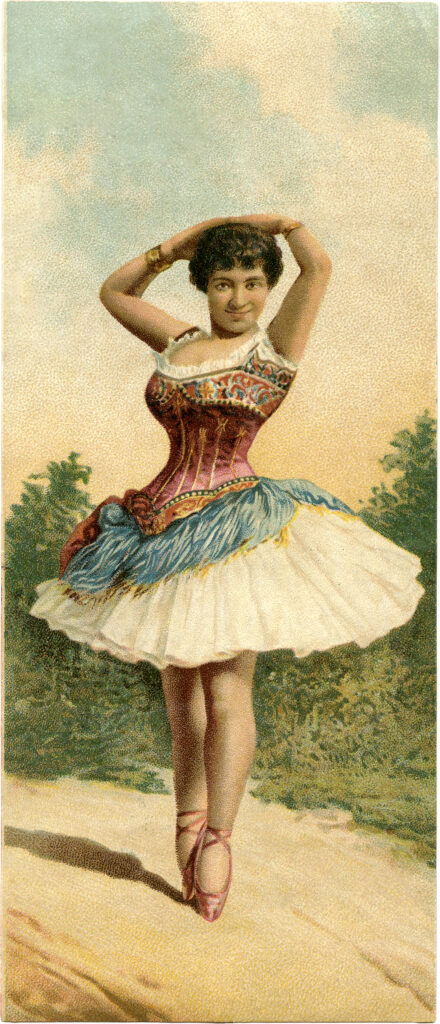 This is a Fabulous Antique Ballet Toe Dancer Picture!! Featured above is a Ballerina Lady with the most beautiful colorful Costume! Make sure you zoom in to see all the gorgeous details on this one!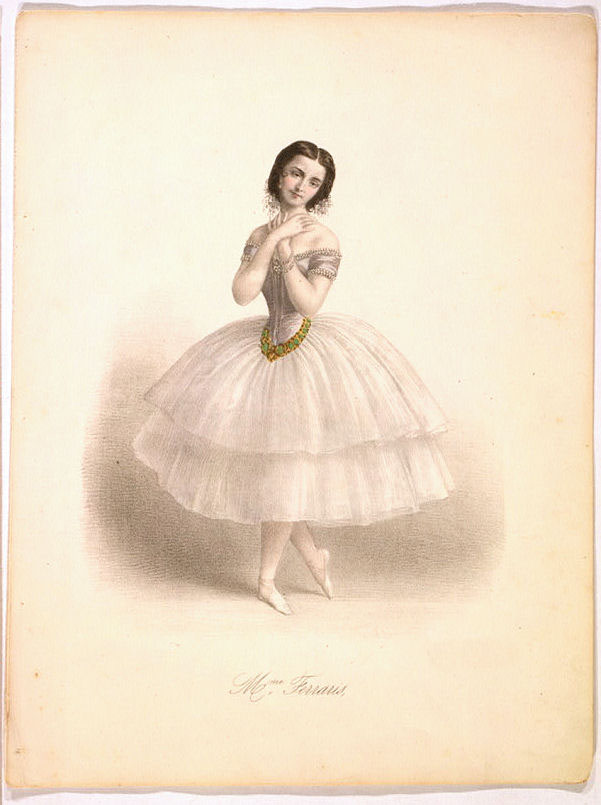 Swoon! I adore this amazing antique ballerina image. She is wearing a full layered tutu in dreamy white lace. Her lovely hands are crossed at her neck. Isn't she lovely?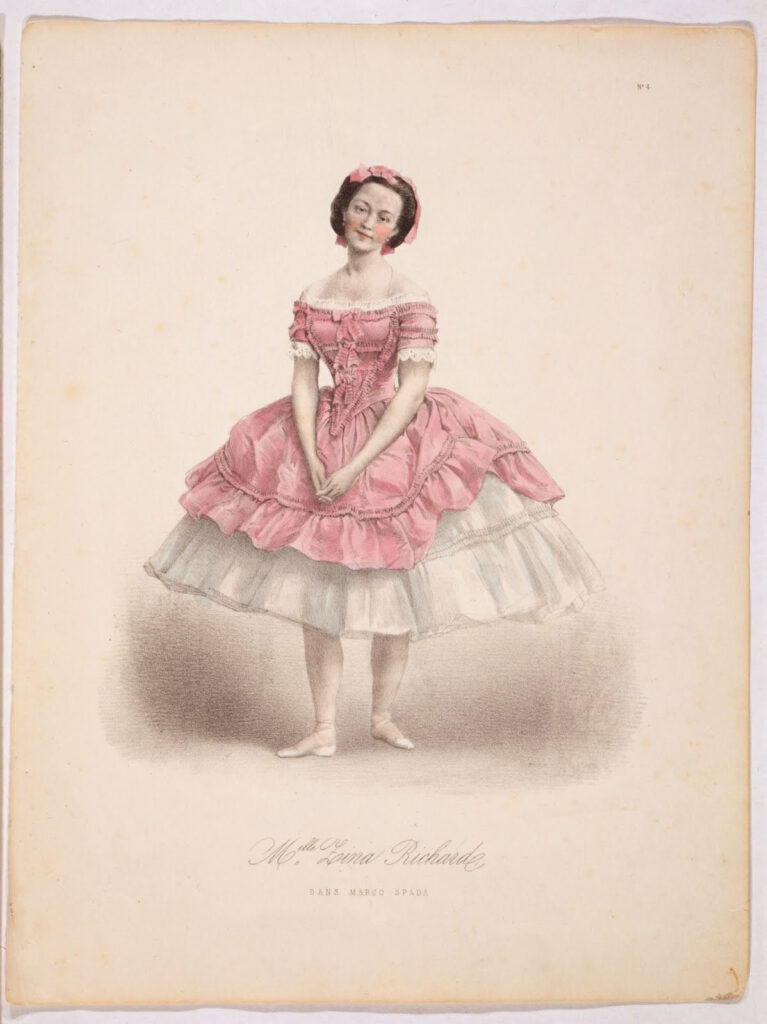 Pictured above is another wonderful Antique Dancer print! She wears such a lovely pink dress with white underskirt. I think it would be so sweet to frame and hang in a little girl's bedroom!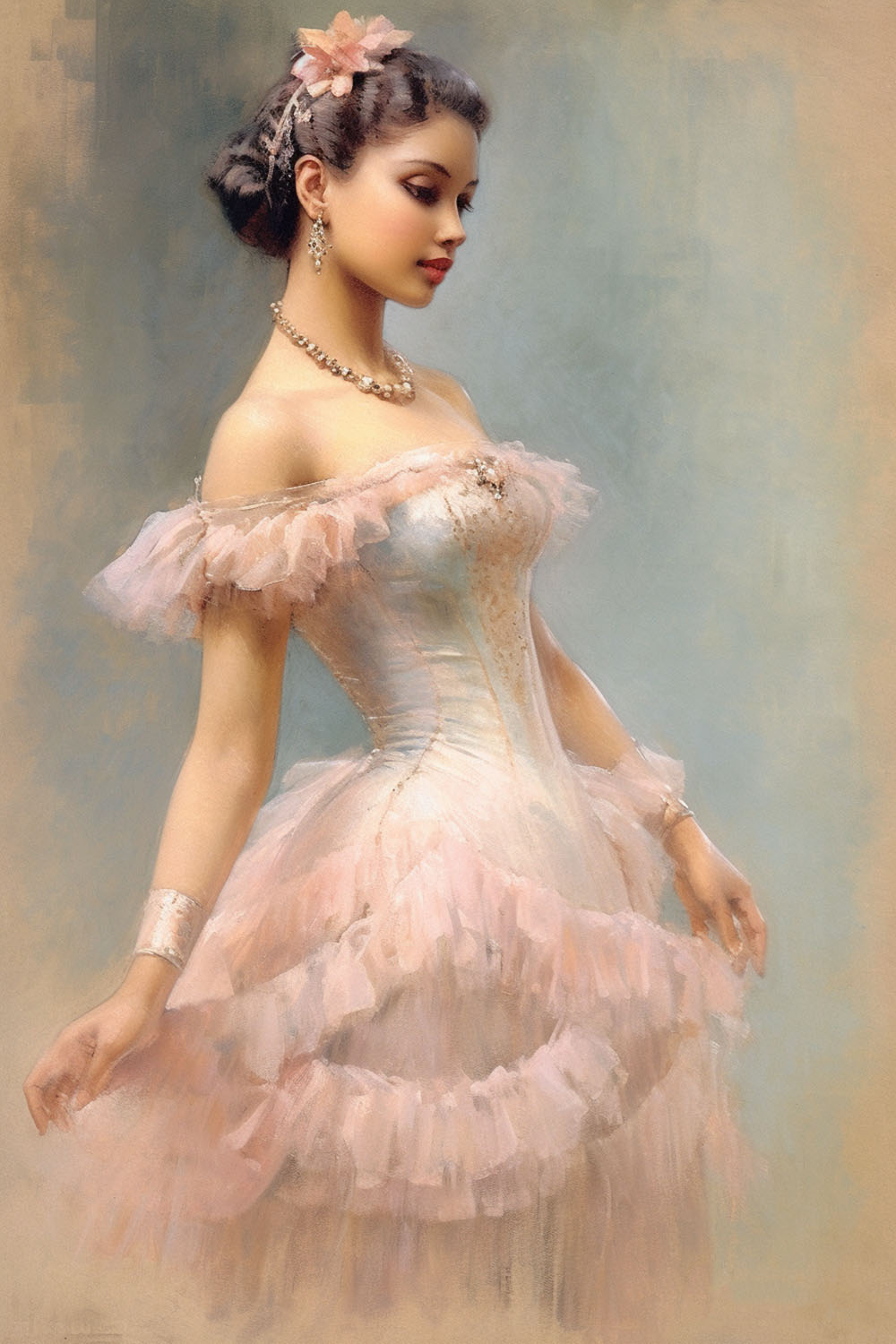 Here is the latest addition to this collection. This one has such soft pretty tones. What a gorgeous costume!!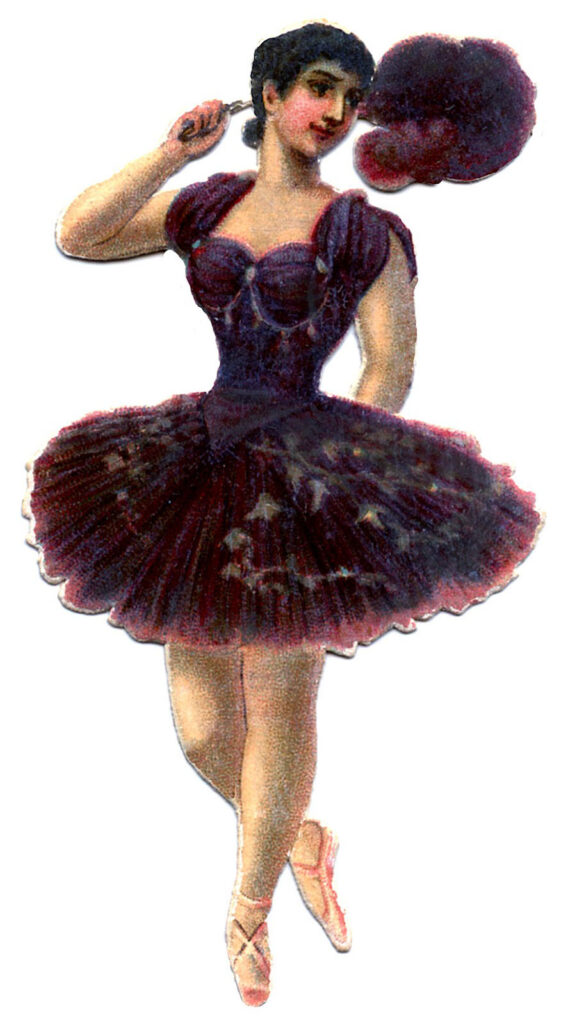 This is such a nice Victorian Scrap of a Ballerina! She's wearing a pretty Plum colored Tutu and has a matching Feather Fan. She wears pink toe shoes. So lovely.
Unusual Dance Photos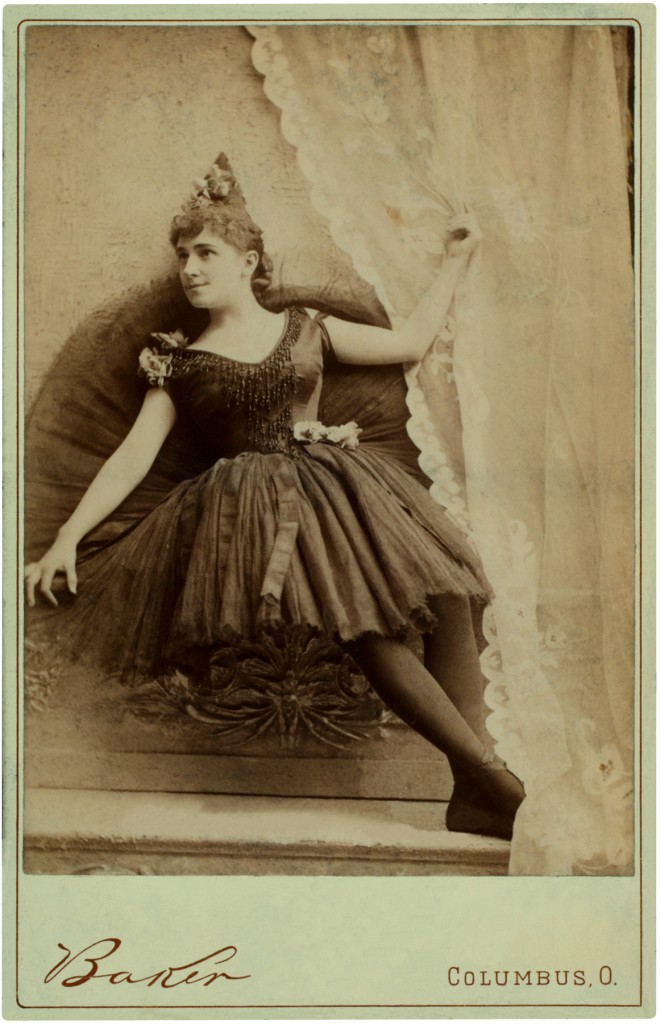 Featured above is a Gorgeous Vintage Ballerina Black Tutu Photo! This is such a wonderful picture showing an attractive Woman dressed in a black tutu, which you don't see very often in these old Photos!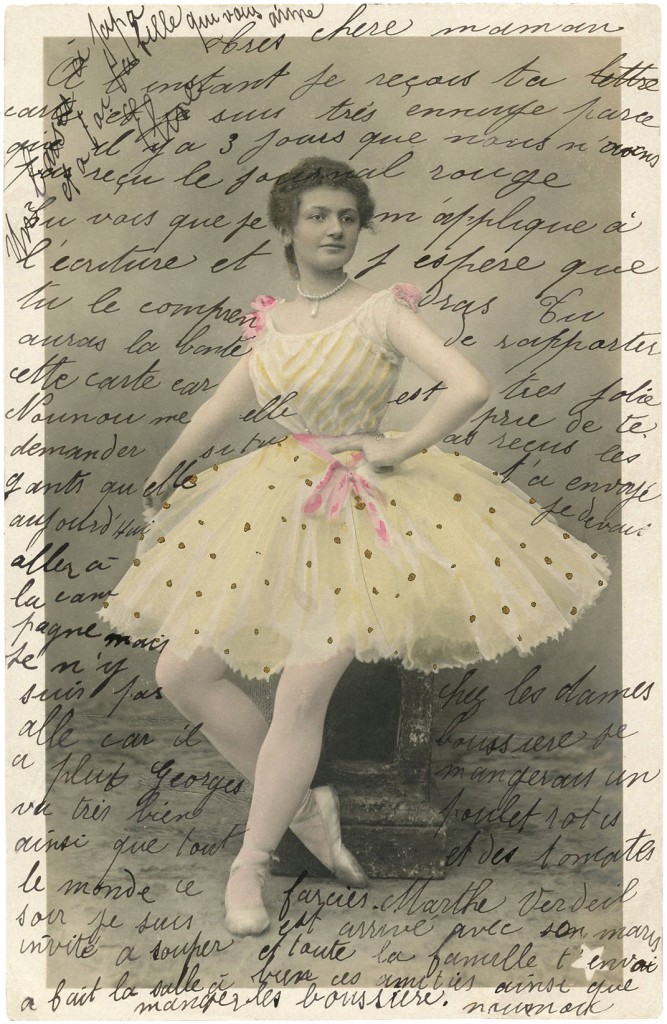 This splendid card shows a dancer dressed in a White Tutu with Gold dots on the skirt and Pink bows adorning her waist and shoulders. Someone has written a message in French all over the front of the card, which I think makes it extra special!
Unusual Ballerina Images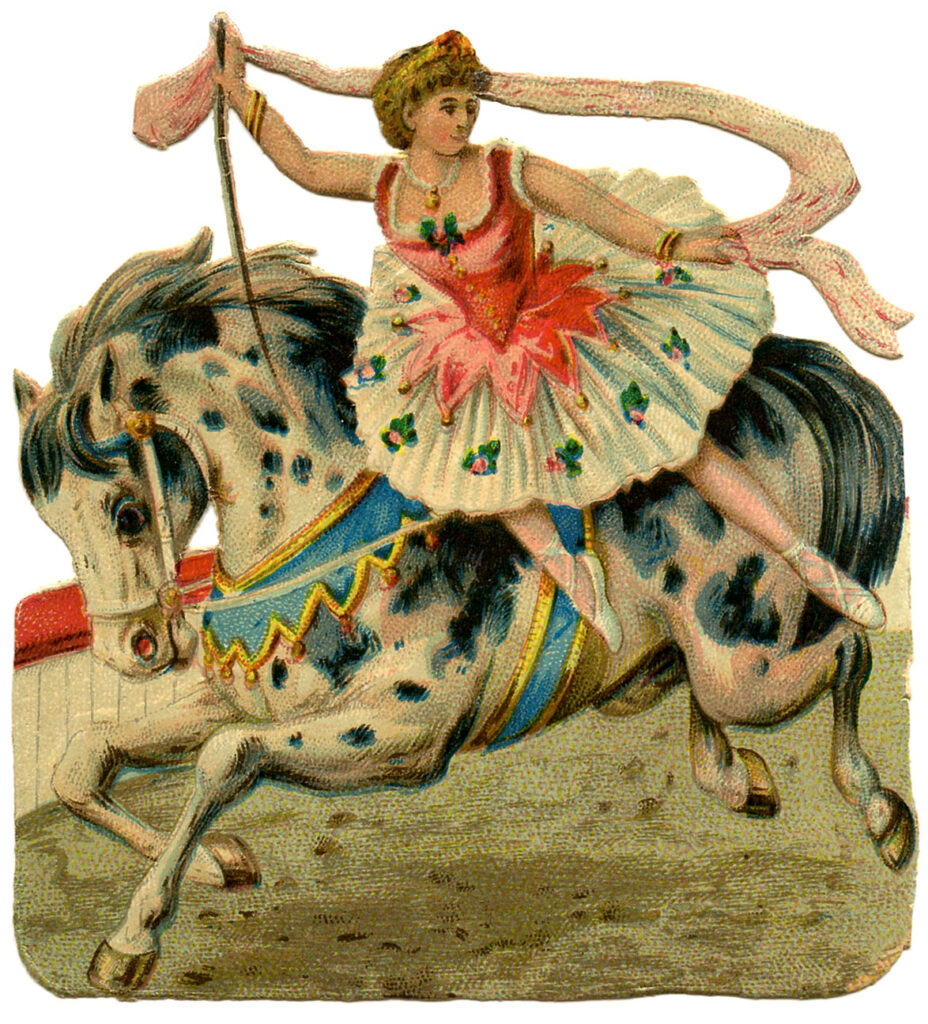 This Antique Graphic has a fun Circus Theme! Here we see a Woman, in a lovely Costume, riding precariously on a Horse. She is quite a brave and talented performer!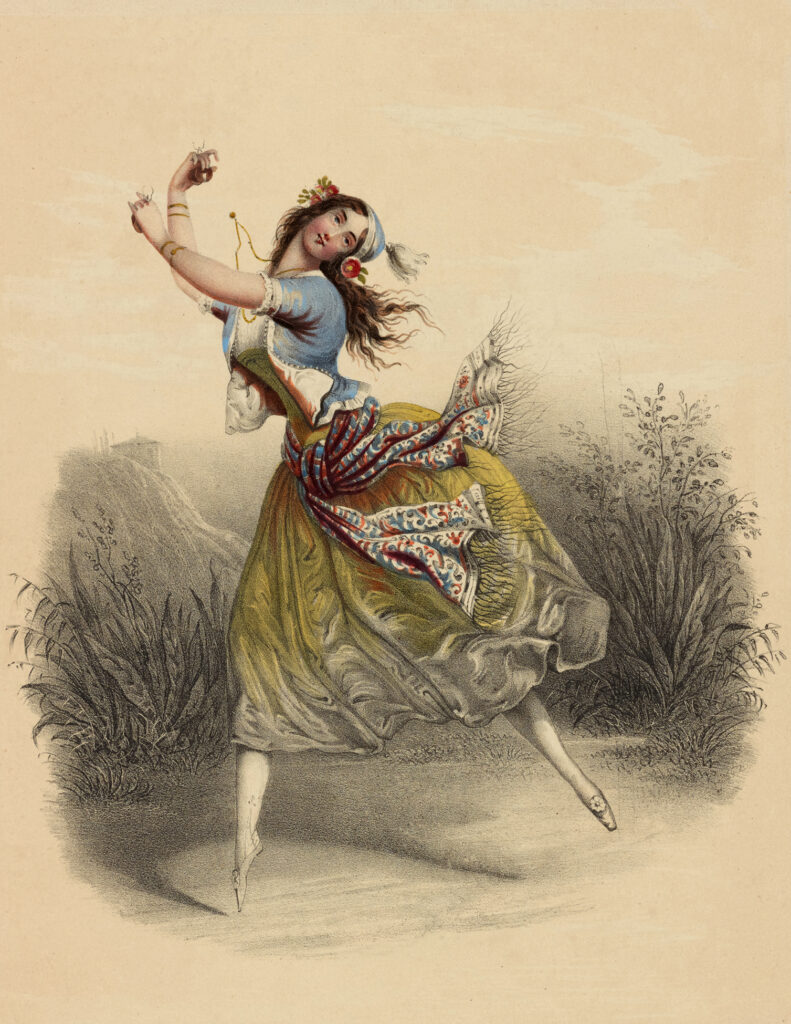 Here we have an Exquisite Vintage Bohemian Ballerina Image! This is such an amazing picture! The illustration shows a beautiful Ballet Dancer wearing a colorful Costume. This one is Circa 1844.
Featured above is a Vintage Dance Girl in Pouf Tutu Sketch! In this delightful colored pencil sketch, a ballerina takes a bow while holding a long red and white striped pole with a fleur de lis topper. Her large round tutu with green trim accentuates her tiny cinched waist in a red, low cut corset top with puffy short sleeves. Her long red hair is pulled back with flowers and cascades over one shoulder. She wears a shining crown and a pendant necklace. The stage lights shine from the top left corner of the drawing.

This is such an odd, but cute, little vintage card! Here we have a little dancer who is balancing on one foot on top of a Snail of all things! Poor snail! I really love the bright turquoise blue used in this one.
Black and White Ballerina Clipart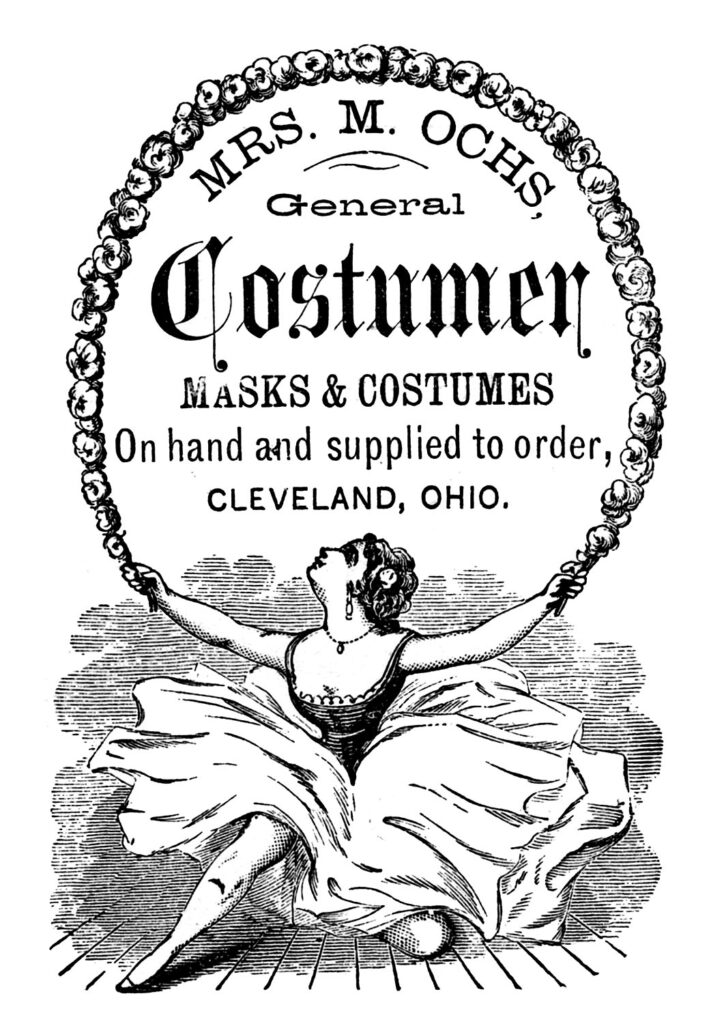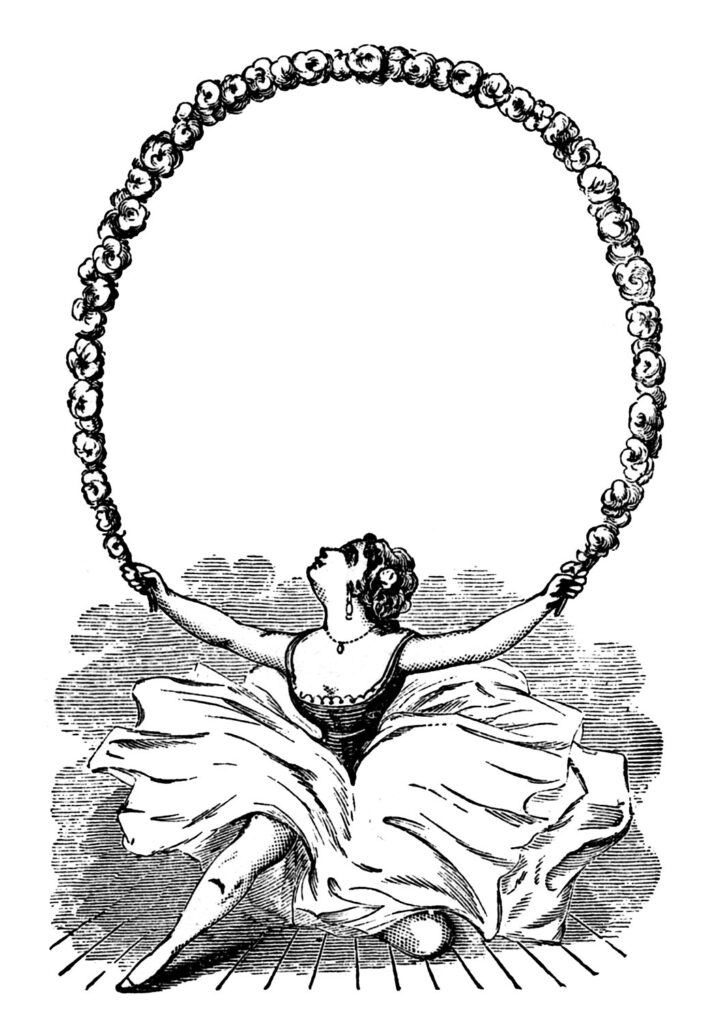 This is an amazing Graphic Frame from an Antique Printers Sample Book!! I just adore this one! The graphic shows a gorgeous Ballet Dancer holding a big Garland of Roses over her head. The Garland is used here as a frame. You can see that the original was used as an ad for a Costumer. I've removed the typography so that you can use it however you like.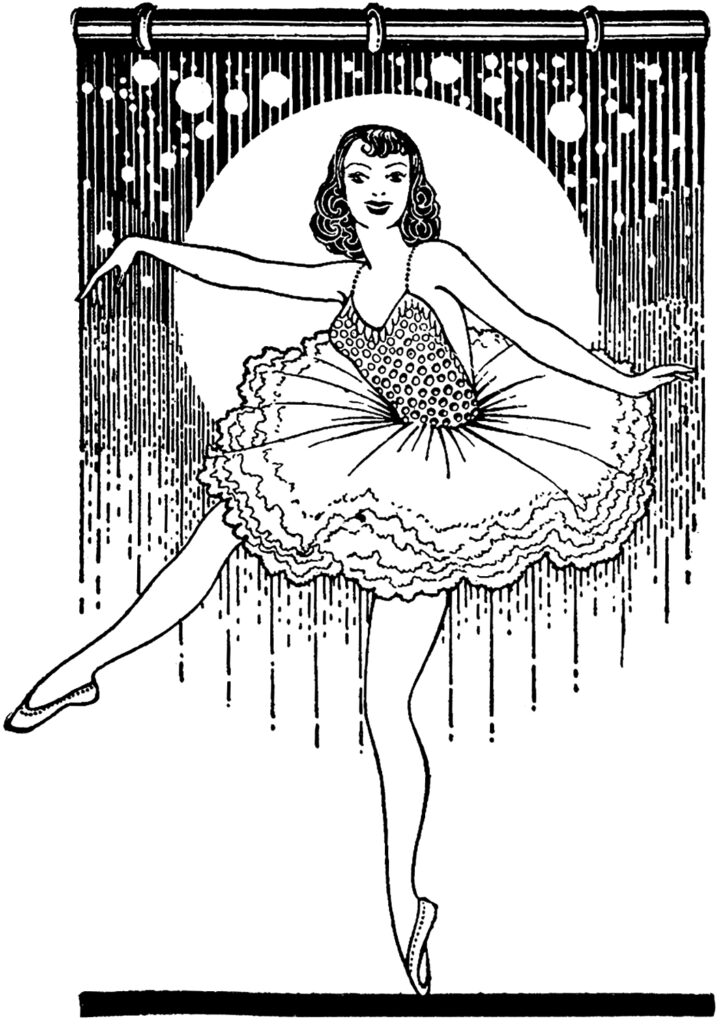 Here we have a Vintage Toe Dancer image! This little lady is wearing a full Tutu and she is balancing on her toes.
Fairy Dancers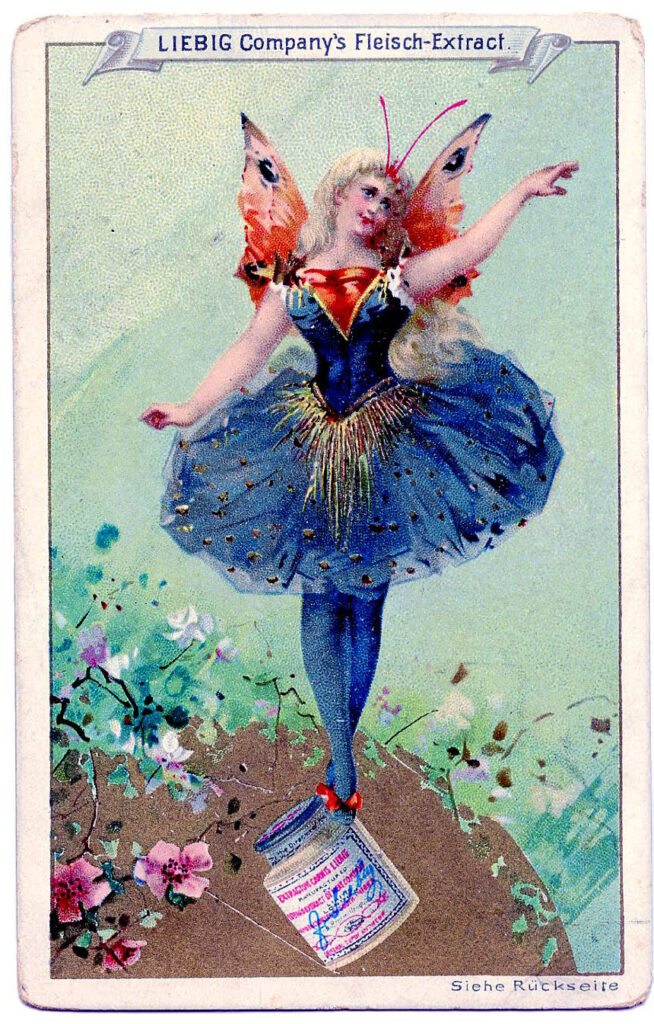 This Ballerina has colorful Butterfly wings and is wearing a beautiful bright red and blue Tutu! I'm told this is circa 1890. Magical!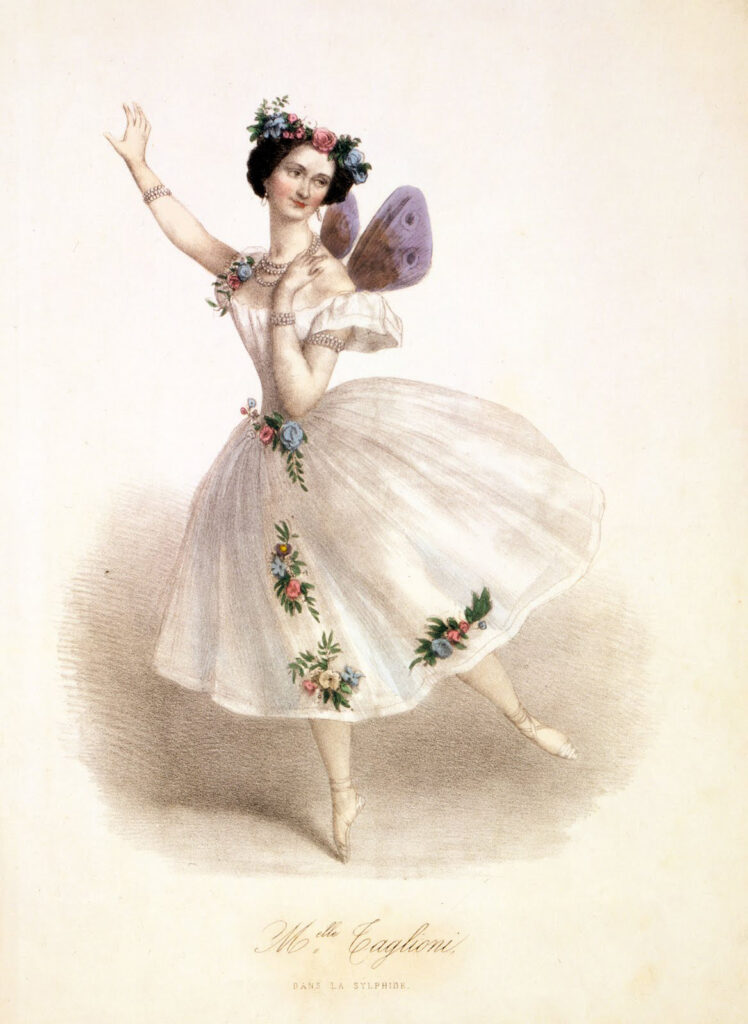 Isn't this wonderful?!!! You may recall a time when I used a similar fairy image, as you see above, for my logo. I've always loved this image, and I decided to share her with you. She is actually one of the most famous dancers that ever lived; her name was Marie Taglioni.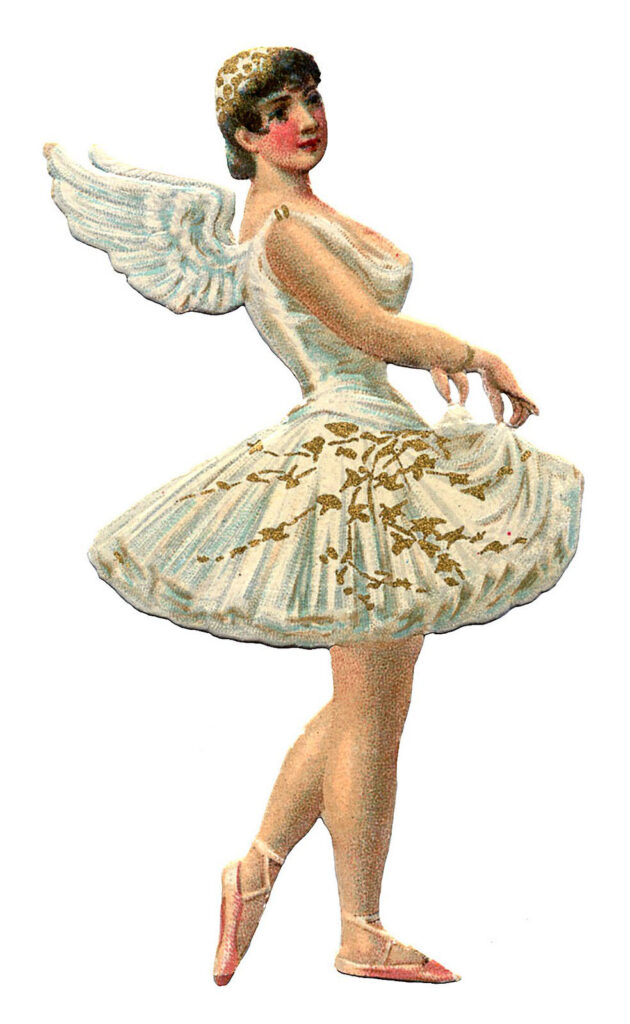 Isn't she a cutey?! I love this pretty little Ballerina Scrap Piece! She's wearing a White and Gold Tutu and has Angel Wings! I think she would make a lovely ornament for a Christmas Tree. Can't you just see her all glittered up?!
I hope you enjoyed this beautiful curated collection of Vintage Pictures! You might also like our Vintage Actress Images HERE. 
Hello! Are you new to The Graphics Fairy?
Welcome, I'm so glad you're here! Browse around to find 
thousands of Stock Images
 that you can use in your projects or designs! I post new Vintage images every day, as well as projects and DIY's too! Need more info about my site? Try my 
FAQ
 page.