31 Vintage Owl Clipart
Today we have a marvelous collection of Vintage Owl Clipart! I know a lot of my crafty readers are probably already making things for the Craft show season. We have some gorgeous Clip Art Owls in warm tones that would work well in your Fall Projects, but many that would work all year round as well. We have a wonderful array of lovely Owl Pictures for you to choose from. Some are a bit creepy looking and could work well in your Halloween or Gothic Style projects! This is a huge collection with so many different styles of these beautiful woodland animals, there's sure to be something that will work for your project, whether it's a classroom project with kids, or for Greeting Cards or Halloween Decorations. These are all high resolution 300 dpi graphics.
Natural Owl Clipart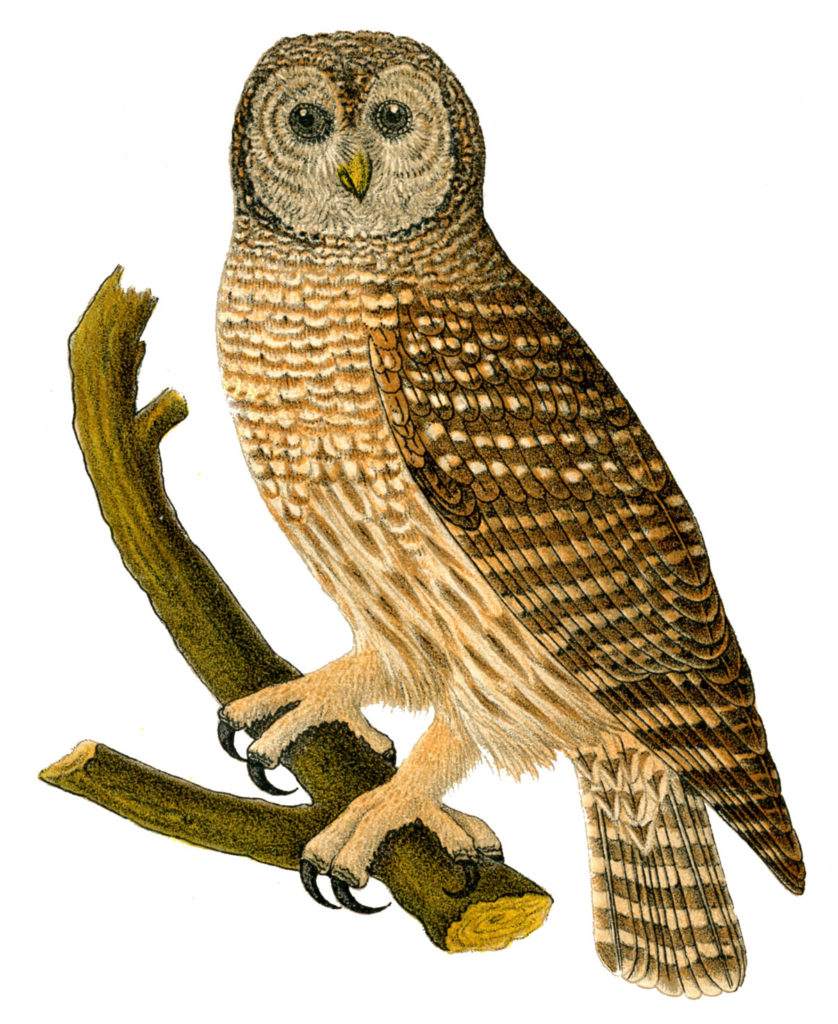 This gorgeous Owl comes from an antique 1890's book! The Owl shown here is called a Barred Owl, and it's a female. There are such splendid Autumn looking tones here, and what an amazingly detailed drawing of the Owl's patterns!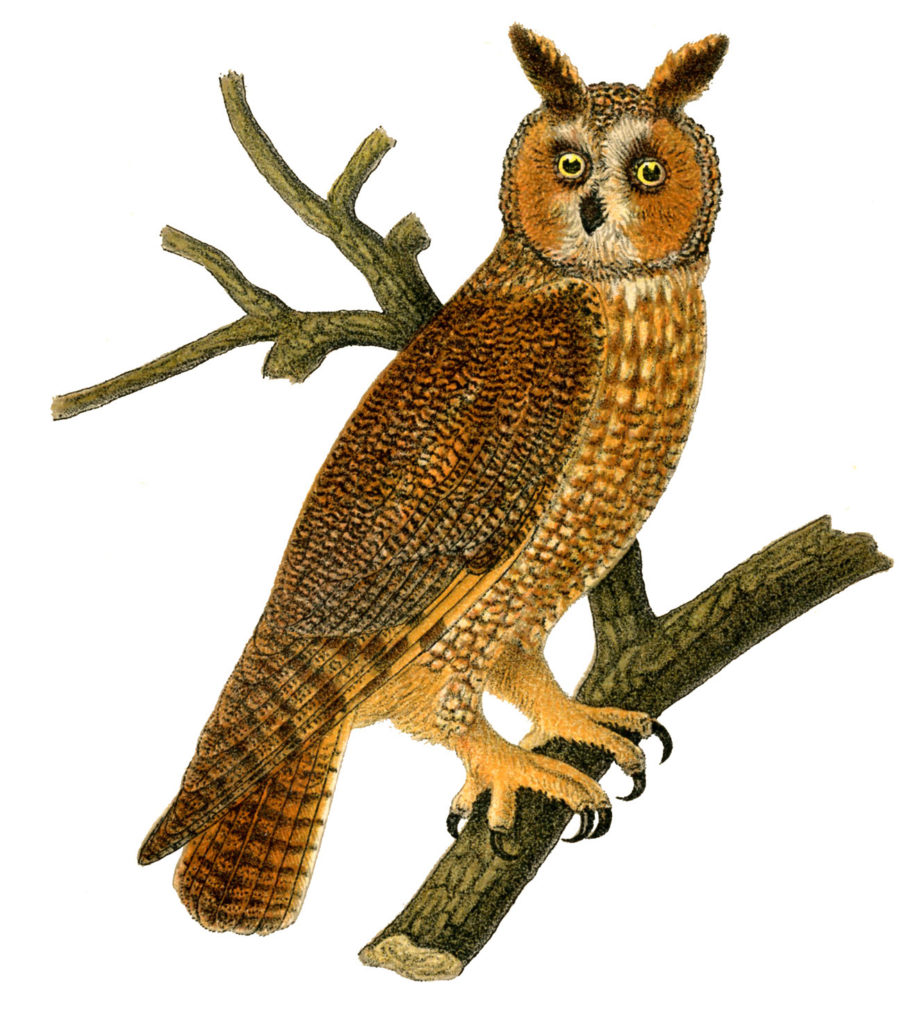 This is another great looking Owl from an 1890's book! This one has pointy ears, and is in fact called an American Long Eared Owl.
Here are have one more from that same book that the two above came from. This one is a Short Eared Owl. He seems to have caught some poor little critter for his dinner. This might be a good one for Halloween!
Cute Owl Clipart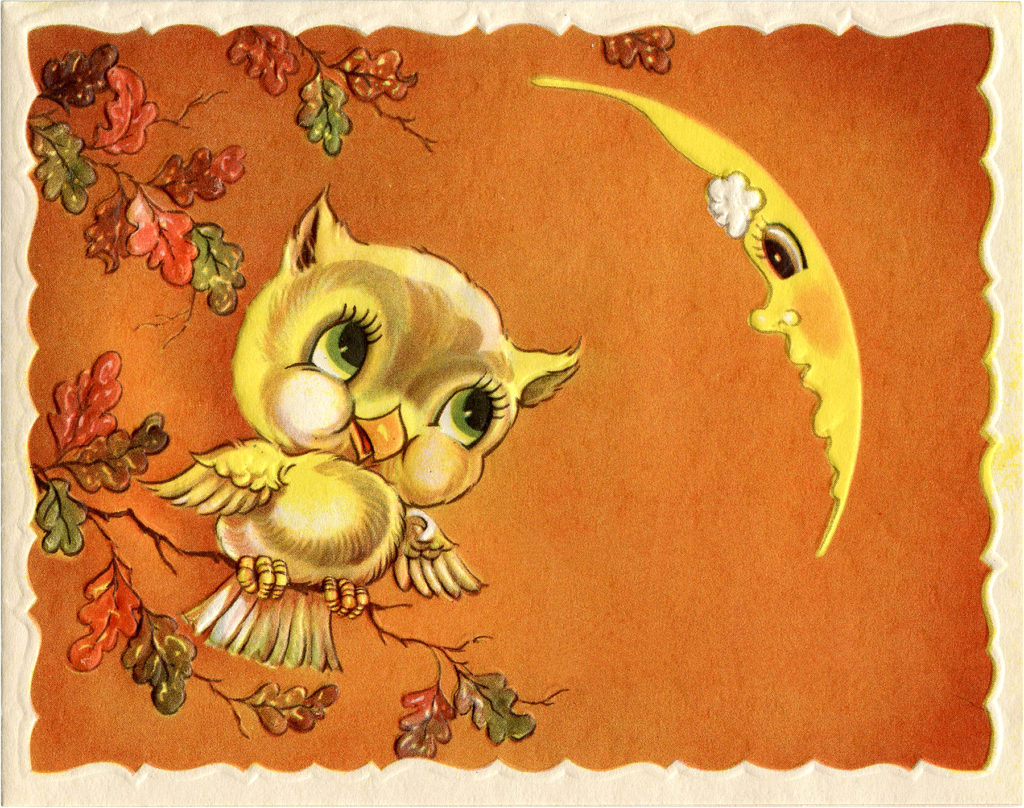 This darling image shows the most adorable little Owl… she has big green eyes and is perched in an Oak Tree, with Orange and Green leaves on it. She appears to be having a conversation with a cute Crescent Moon. The background is a burnt orange tone and there is a charming decorative white border around the scene. This was scanned from an old vintage note card. I purchased the entire set of these wonderful note cards, and they came in their original box. Neither the box, nor the cards, have any type of copyright date on them, and they do not appear to have ever had one. These date to around the 1950s.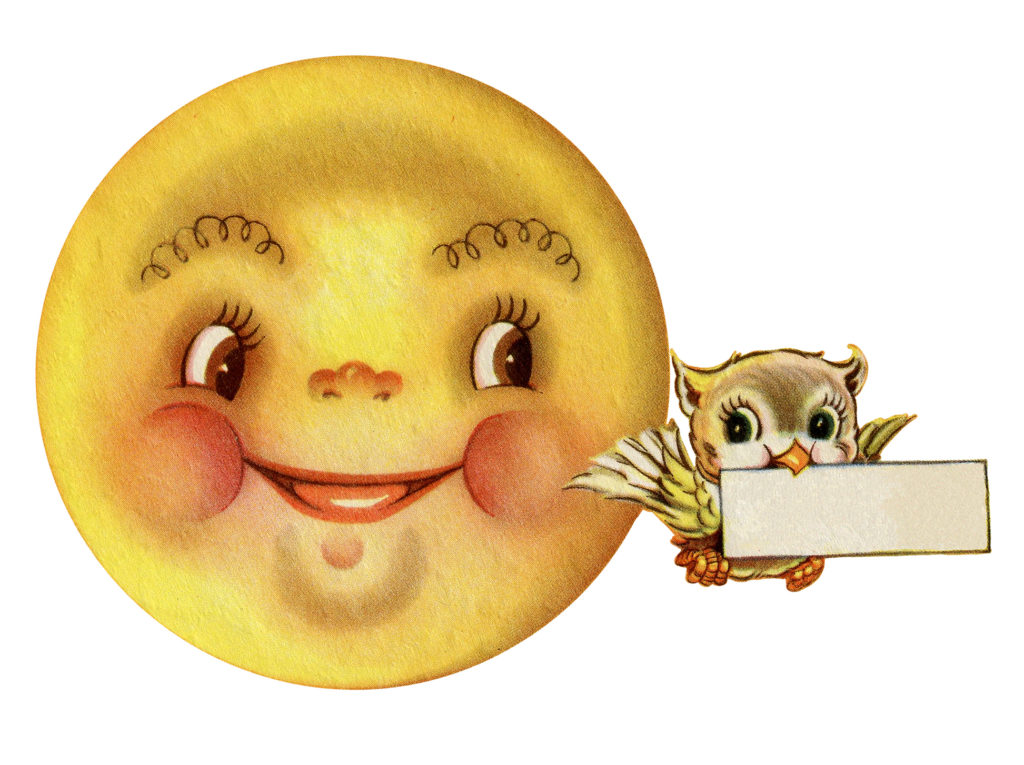 This cute owl clipart is from the same box as the one above. I just love this adorable image of a cute flying owl holding a blank card in his mouth. He is flying beside the cutest, yellow smiling Moon Face with big brown eyes and rosy cheeks and corkscrew eyebrows.
Owl Clipart Black and White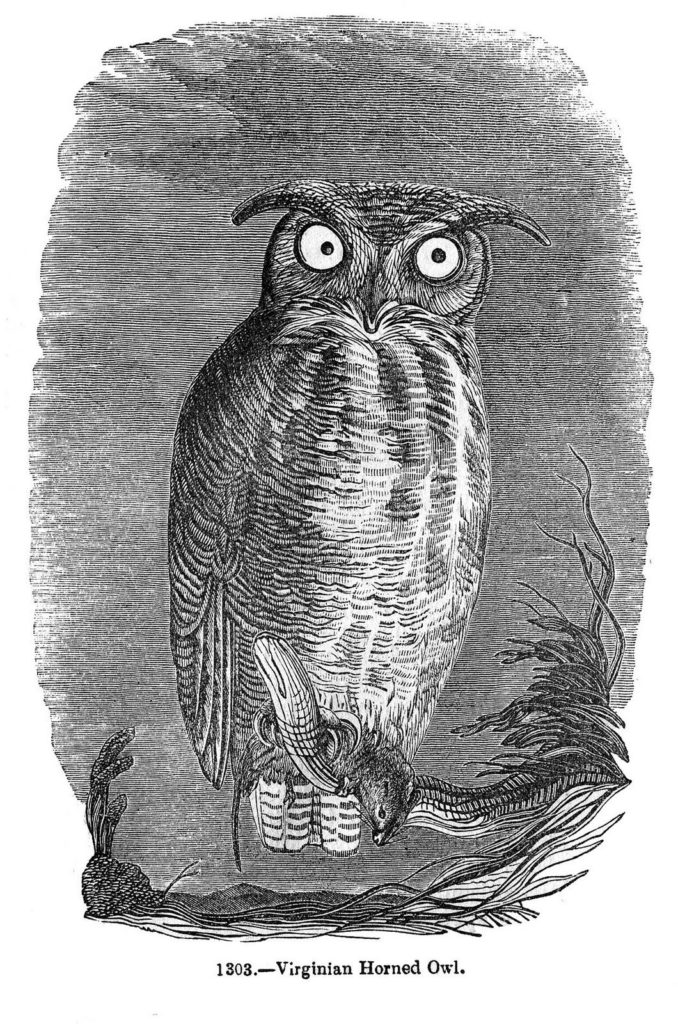 Here's a spooky looking Owl clip art image from an early Natural History book! His glowing eyes make him a great candidate for some Halloween craft projects! I also played around and came up with a reversed image of this just for fun. I could see this one printed on Vellum paper and then wrapped around glass votives or candle holders. So fun!
Pictured above is a fun Free Vintage Owl Image! This black and white engraving is from a Circa 1880's Antique Printer's Book! The Owl is standing on what looks to be a hollow log, and he has quite a serious look on his face!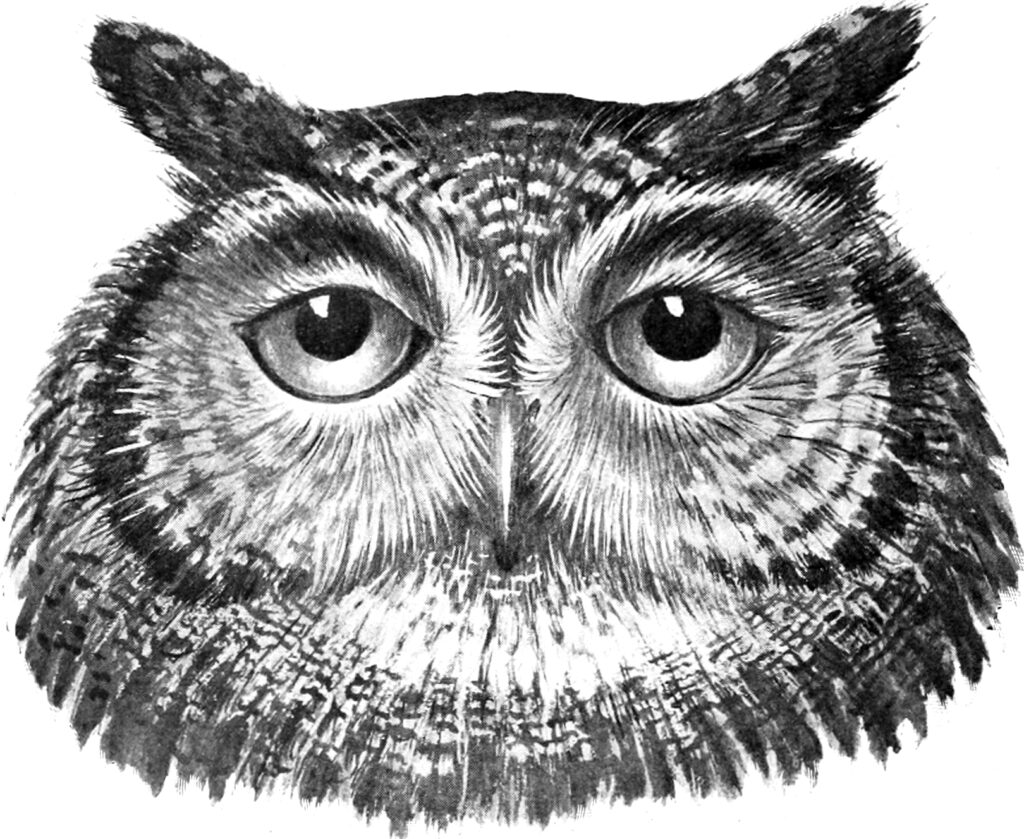 We've got another head shot today. So cute! I think this guy must have stayed up too late, he looks a bit sleepy to me.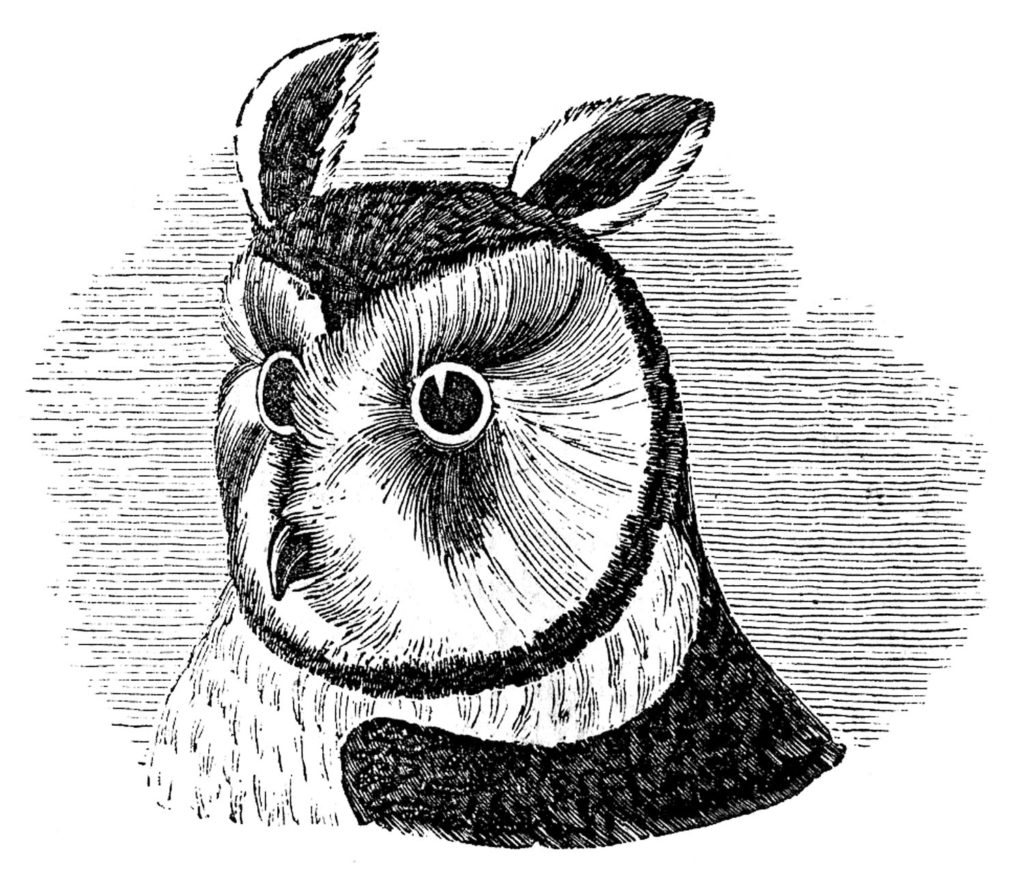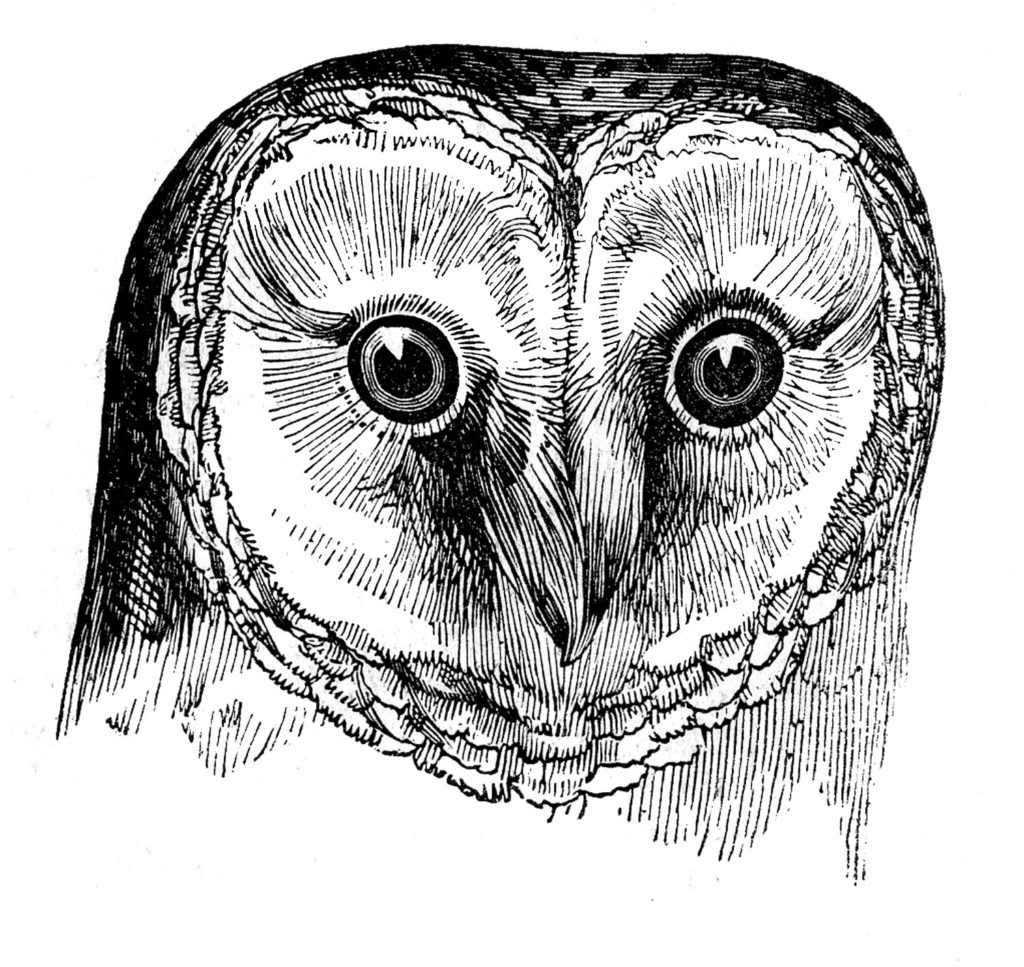 Featured above we have 2 Vintage Images of Owl Heads! These wonderful Engravings with lots of hatching lines come from an Early Natural History Book in my collection.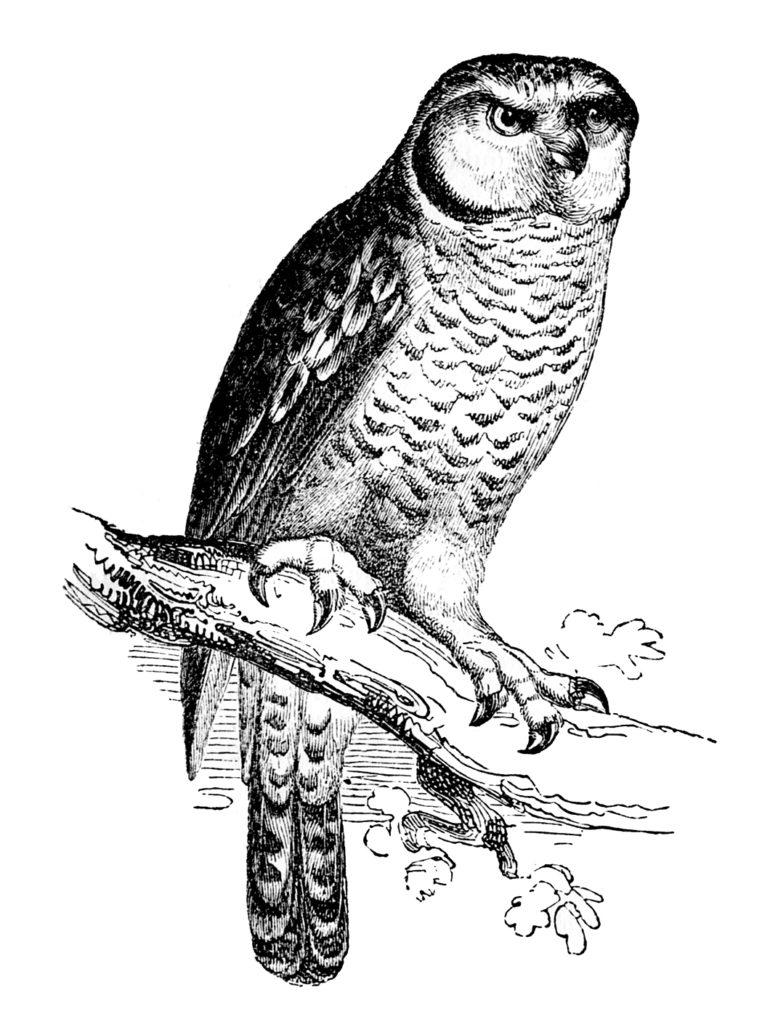 This Engraving was scanned from an early Natural History Book! According to the book this one is a Hawk Owl.

This Spooky Owl Statue Image is an unusual looking engraving of a quirky Owl! He appears to be one angry Owl! This is another image scanned from a very rare printer's book in my collection! There's no date in the book, but my best guess would be that it is from around the 1880′s.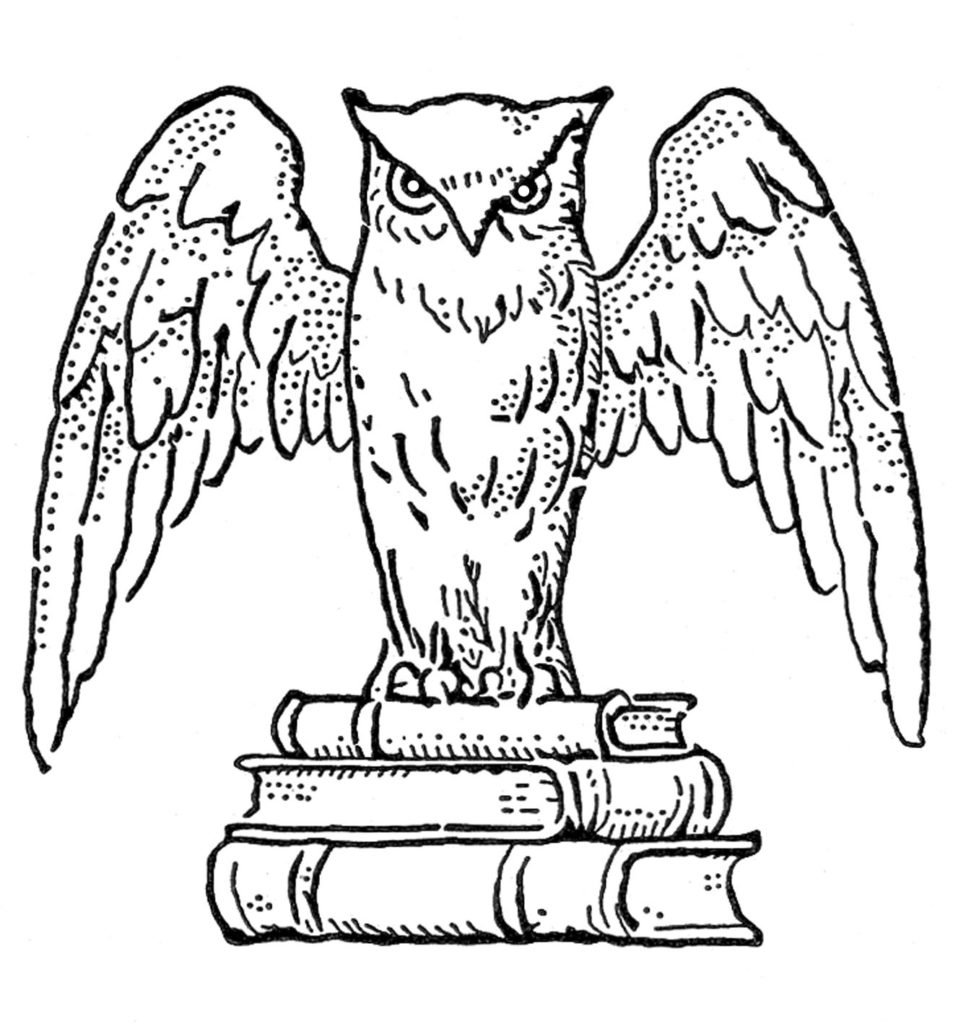 This is an interesting looking one from an Antique Type Book! He has some very large wings that are stretched out and he's perched on some Books. I think he would make a great looking Book Plate! He has a very Harry Potter-esque look to him!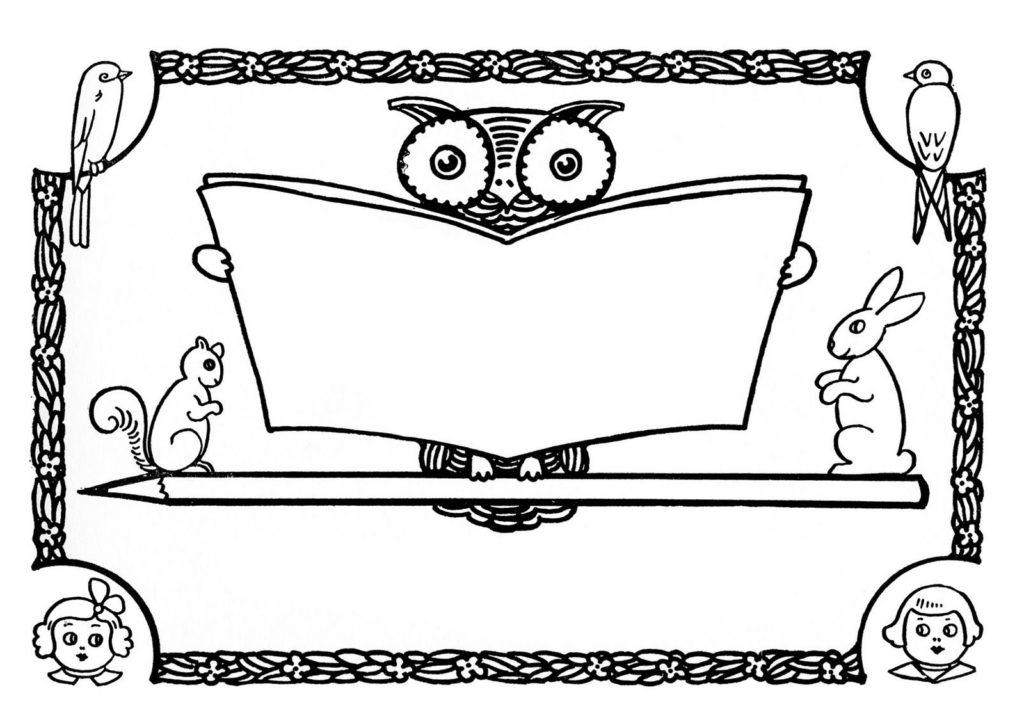 This is from a 1913 Children's book, it's actually the title page but I removed the words so that you can use it as a Bookplate, Gift Tag or whatever you like! I love the darling Owl holding the book. Who knew they were such great readers?!

Above is an interesting old Vintage Owl Clipart Label Image! This one was scanned from a rare, and early, Antique Printer's book Circa 1828. Featured is a primitive picture of an Owl, perched in a Tree, with an Oval frame around it. This was not actually meant for Halloween or probably even to be used as a label. However, I think there could be a great use for it.

Here we have an elegant Vintage Owl Typography Image! Shown above is an old Boston Advertising piece showing a Rustic Frame, with some fancy lettering and a Cute Owl perched on top!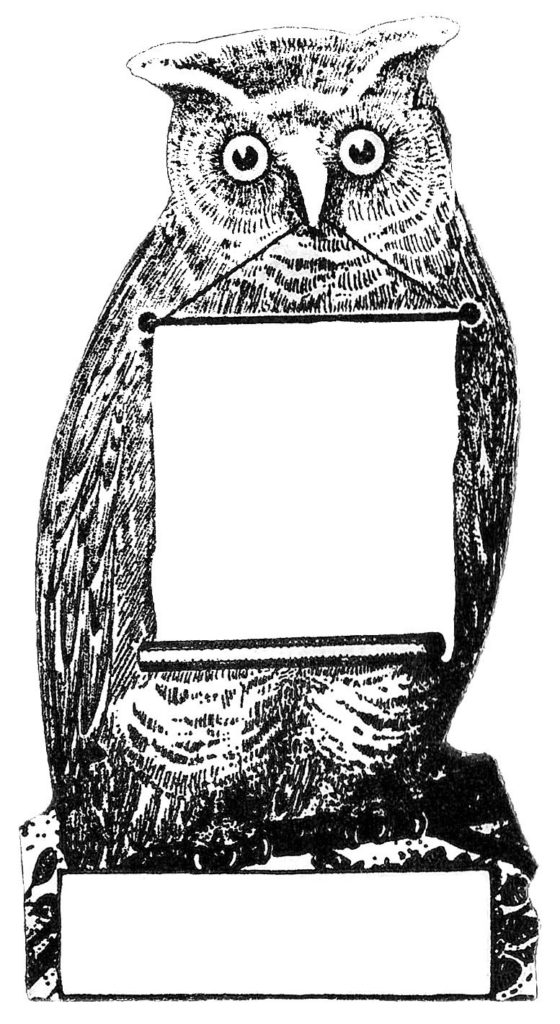 A very sweet reader named Lili, sent me this fantastic vintage Owl image! I just love it! This was a sticker inside of an old book that she owns. This would make an awesome bookplate, label, blog button, invitation etc. The possibilities are endless, with this image, because of the banner in his beak.
Owl Clip Art Silhouettes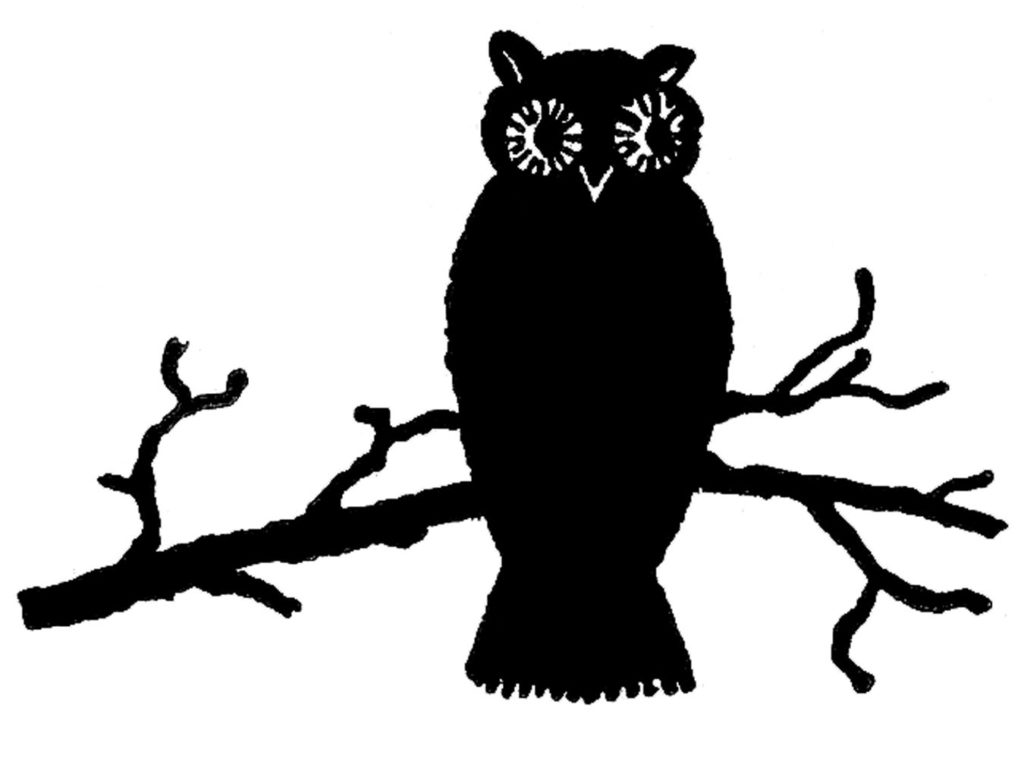 This one is a cute little Silhouette of an Owl on a Branch. It's just a simple little drawing from an old Typography book, but I think he could be quite useful. It would be fun to add a Moon behind him!

Here are some more fun Vintage Halloween Graphics from one of my old Type books! This image shows 4 funny little Silhouette Owls in a row. You can use them just as they are for a cute Handmade card or they would make a great Photoshop Brush or Digi Stamp! I made it into a brush to create the Happy Halloween Frame image that you will see in the next section.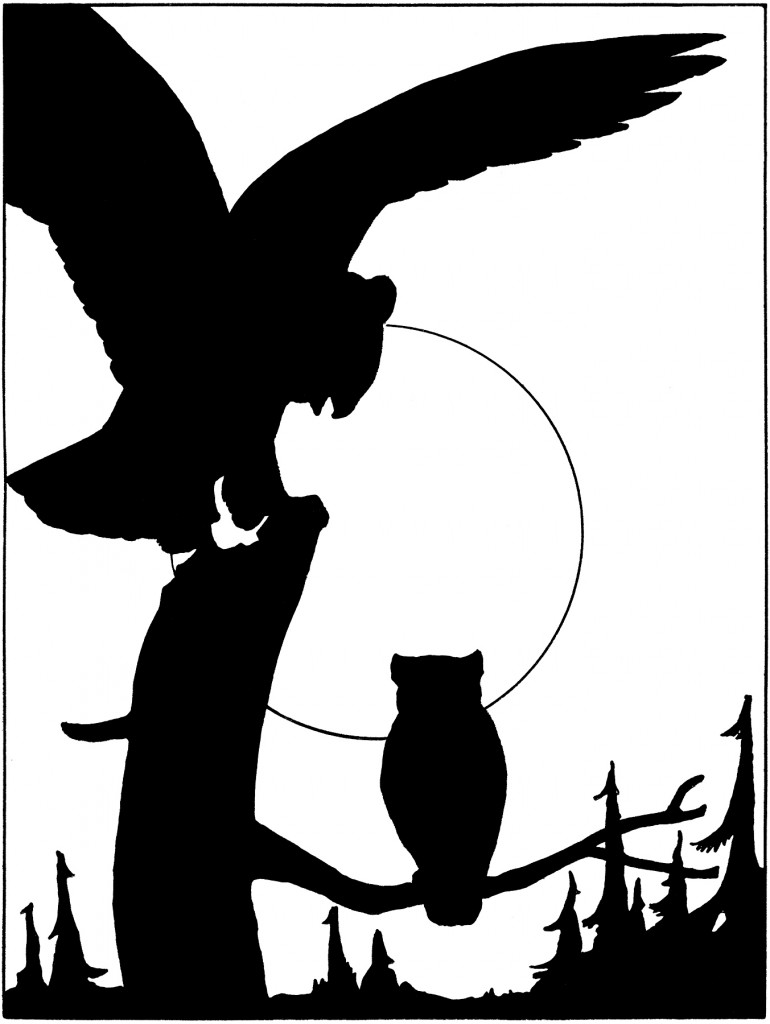 This is a black and white illustration showing a Silhouette of some Owls on an Old Tree. This one is from a Circa 1922 Hiawatha Print Series in my collection. Such a beautiful Scene!
Owl Advertising Art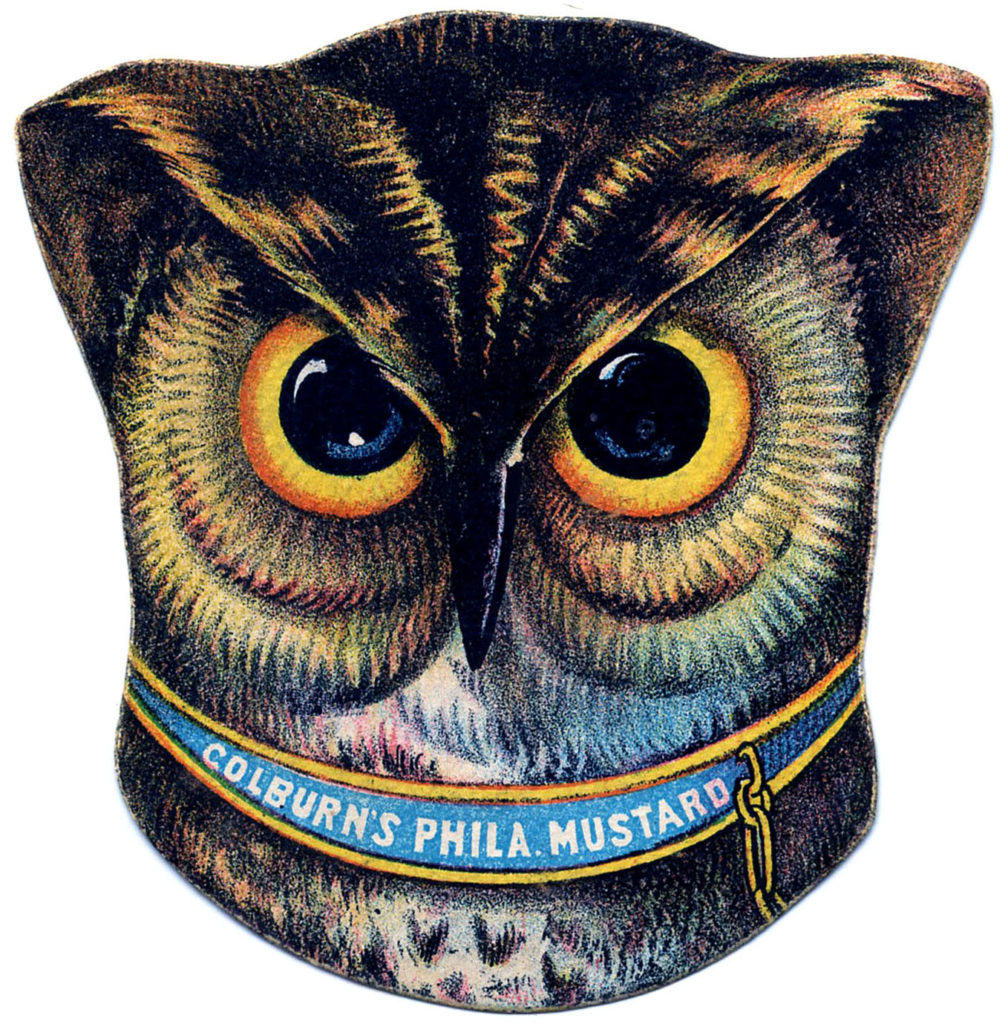 Isn't he wonderful?!! This is a fabulous Scrap Advertising piece showing the head of an Owl. He was used to advertise Mustard. What a face!!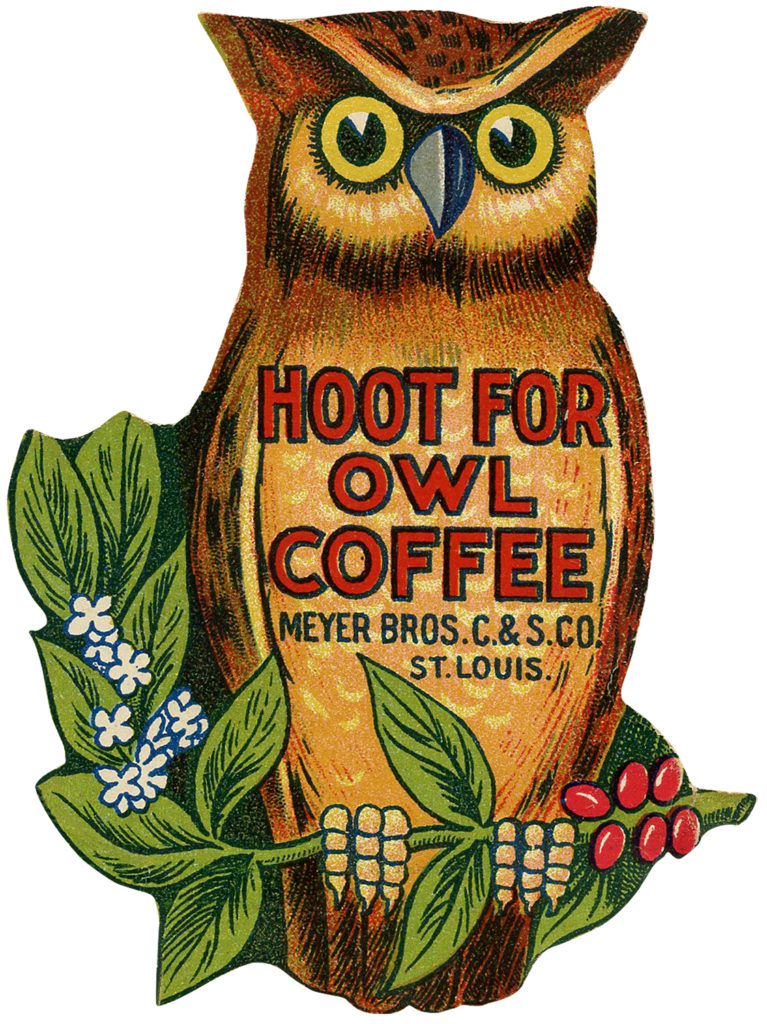 This is a darling little advertising piece is an Antique Trade Card for a Coffee Company. It's a die cut piece in the shape of an Owl!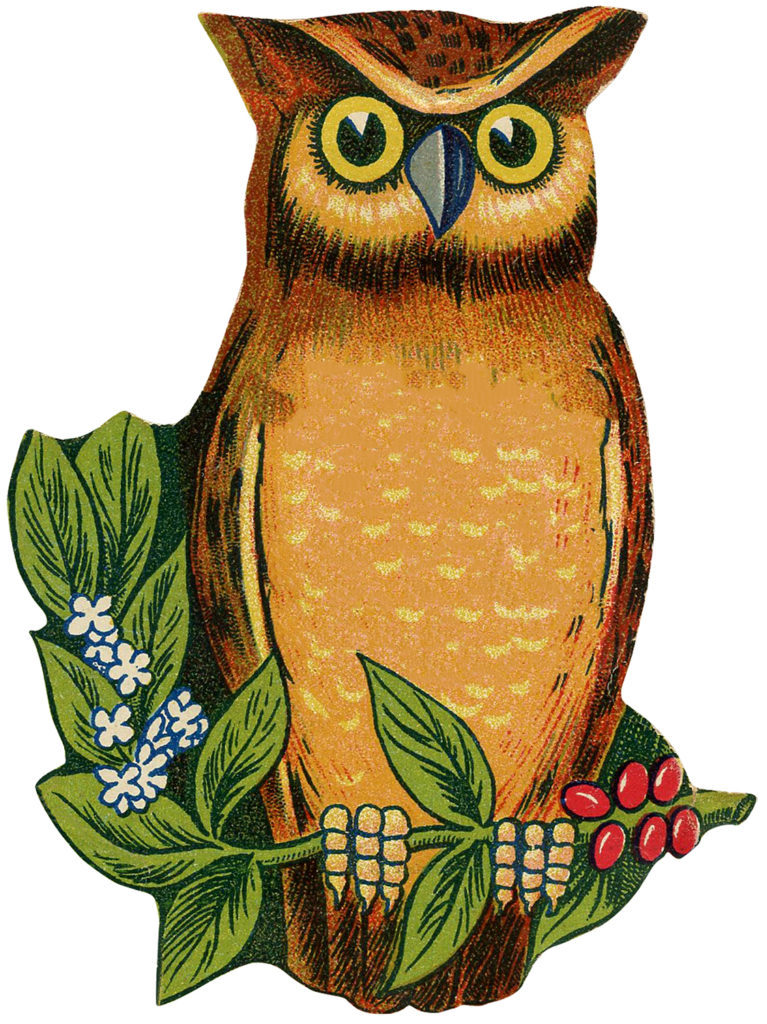 Here's a second version, without the advertisement to give you some options.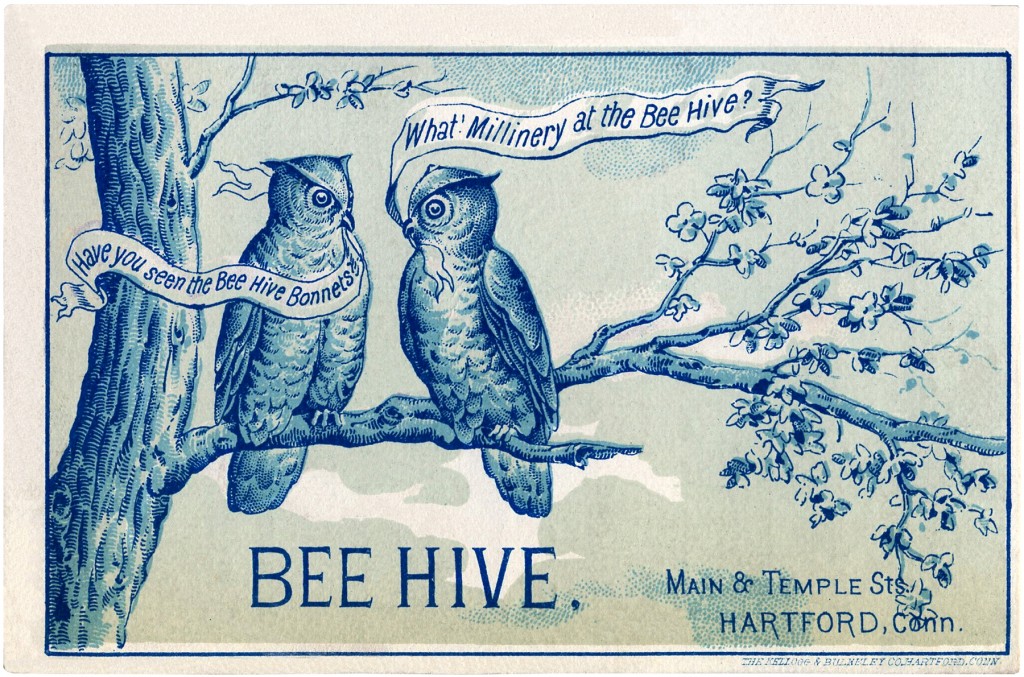 Shown above is a quirky image of two Owls sitting in a Tree, both Owls have banners in their beaks. This was meant to advertise a new millinery department at the Beehive Store in Connecticut.
Pictured above is a Fun Vintage Owl Ad! This is an old Advertising piece, showing a Black Owl in a Chef's outfit with hat, apparently preparing to use the 'Magic Yeast' he is holding for baking something. The card reads, "It's "Owl" Right." There is a Large Yellow Moon Behind him!
Cute Halloween Owl Clipart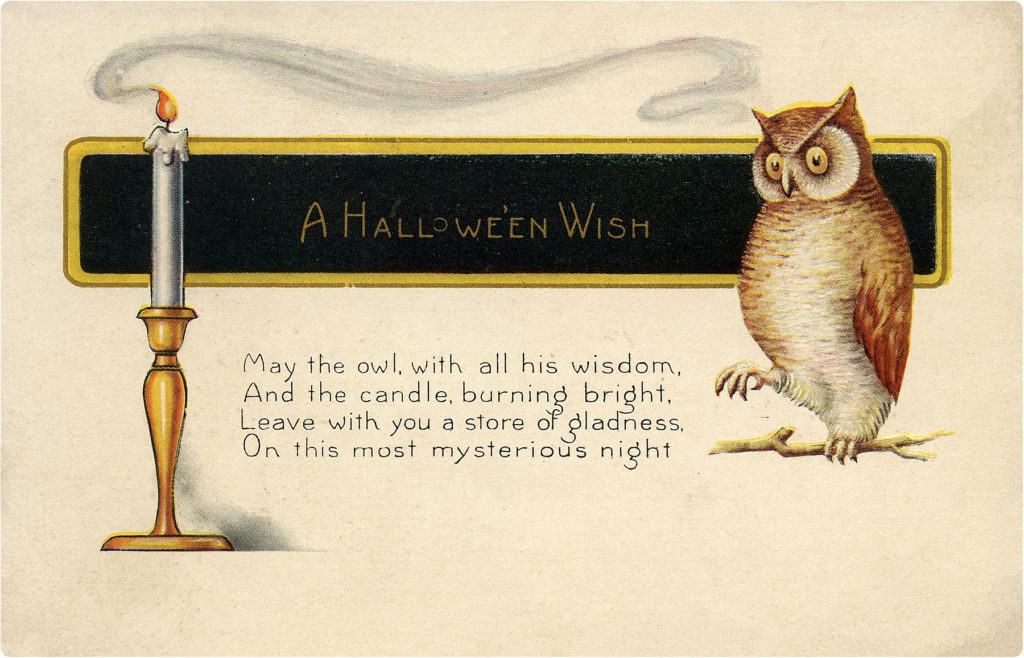 This is the newest addition to this collection. Shown above is a sweet little Owl on a branch. He seems mesmerized by the candle flame that he's staring at. Hopefully he doesn't fall off of the branch!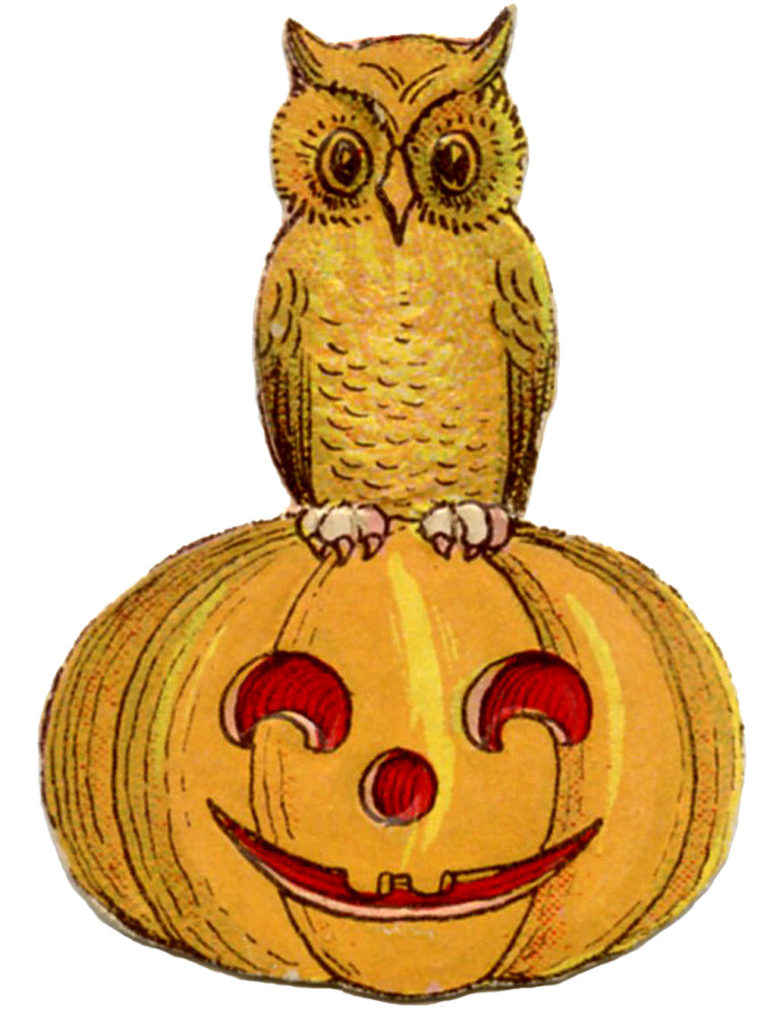 I believe this cute Halloween Graphic was cut out of an Antique Postcard some time ago. This one features a happy smiling Pumpkin, with an adorable little Owl perched on top!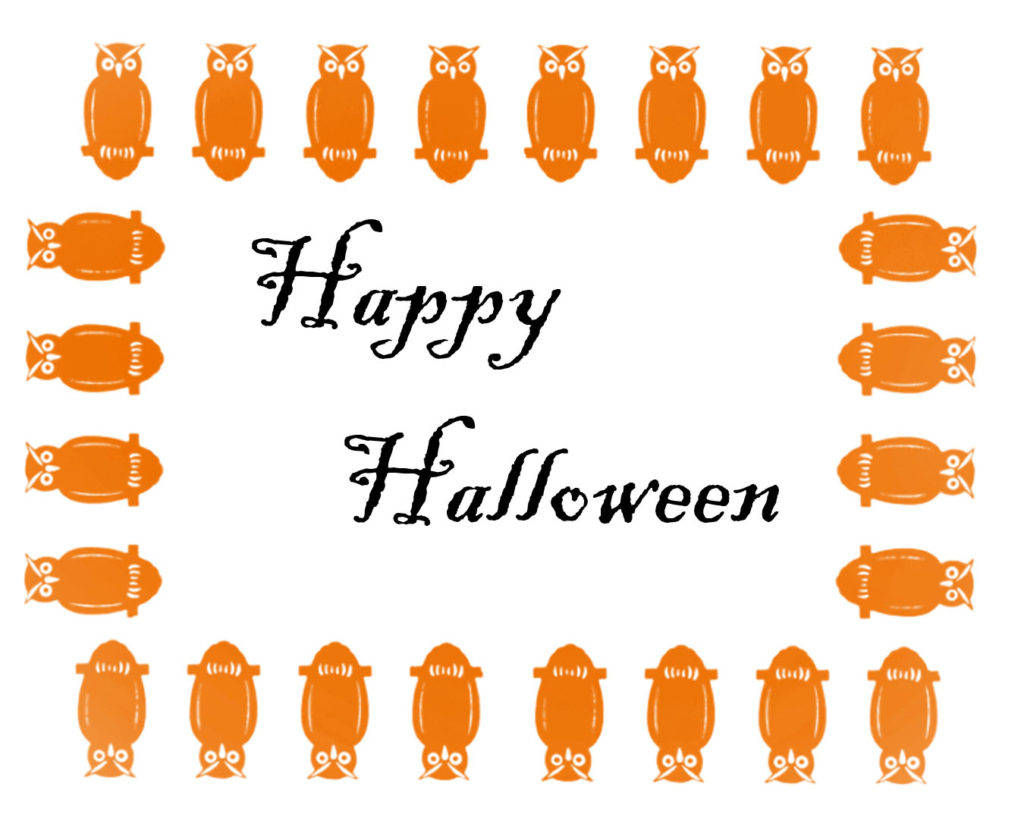 I used one of the funny little Silhouette Owls in the section above to make a Photoshop brush or digi stamp. Then I stamped it out into a border to create the Happy Halloween Frame.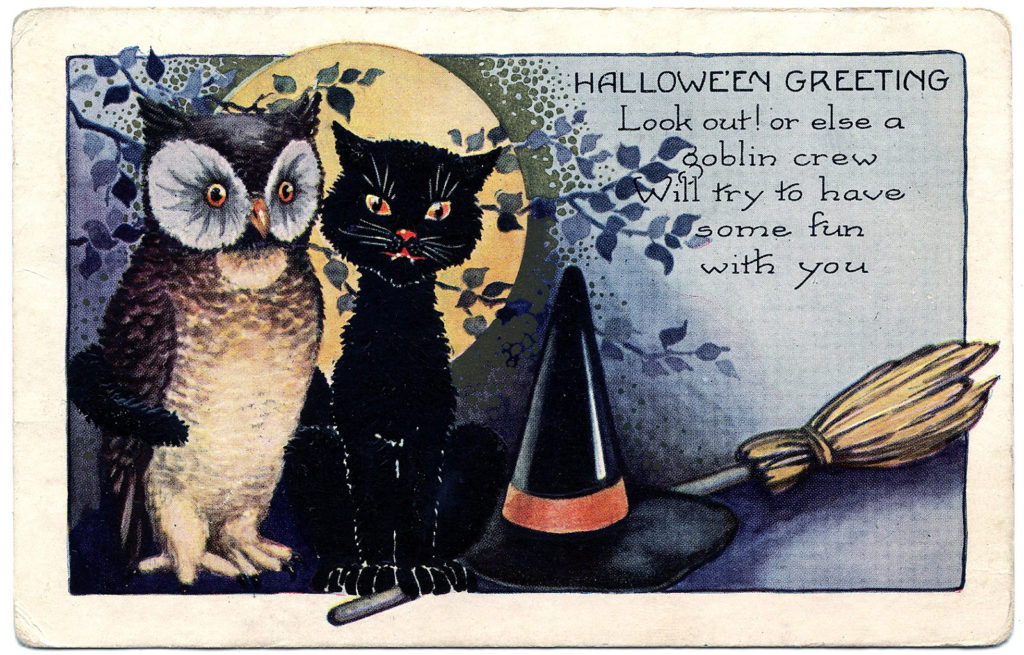 This is a dear little Vintage Postcard showing an Owl, Cat, Witch Hat, Broom, and a Full Moon! I love the Halloween Greeting on the card that reads, "Look out! or else a goblin crew will try to have some fun with you." Darling!
Beautiful Owl Illustrations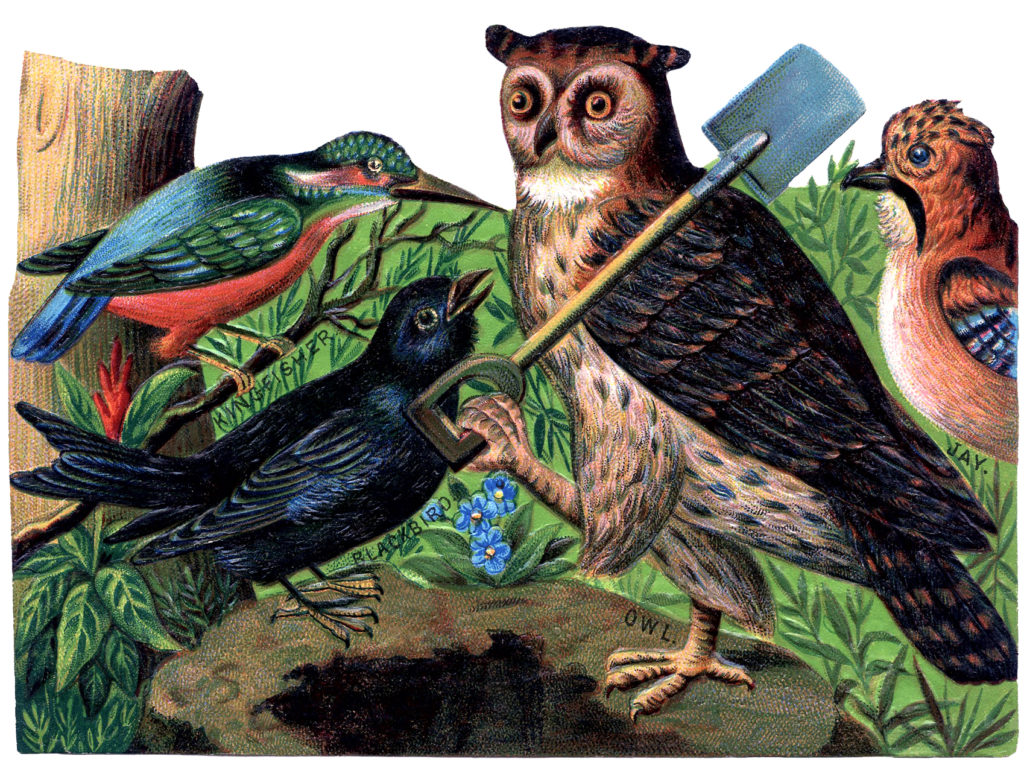 This is a darling Vintage Halloween Owl Clipart Image! Featured here is an Owl, holding a little Shovel. I can't begin to fathom why an Owl would need a shovel, but if any of you can guess, please clue me in! He appears to be having a little party with some of the other Birds in the neighborhood, including a Blackbird, Kingfisher, and a Jay. So cute!! The colors are nice and bright on this one too.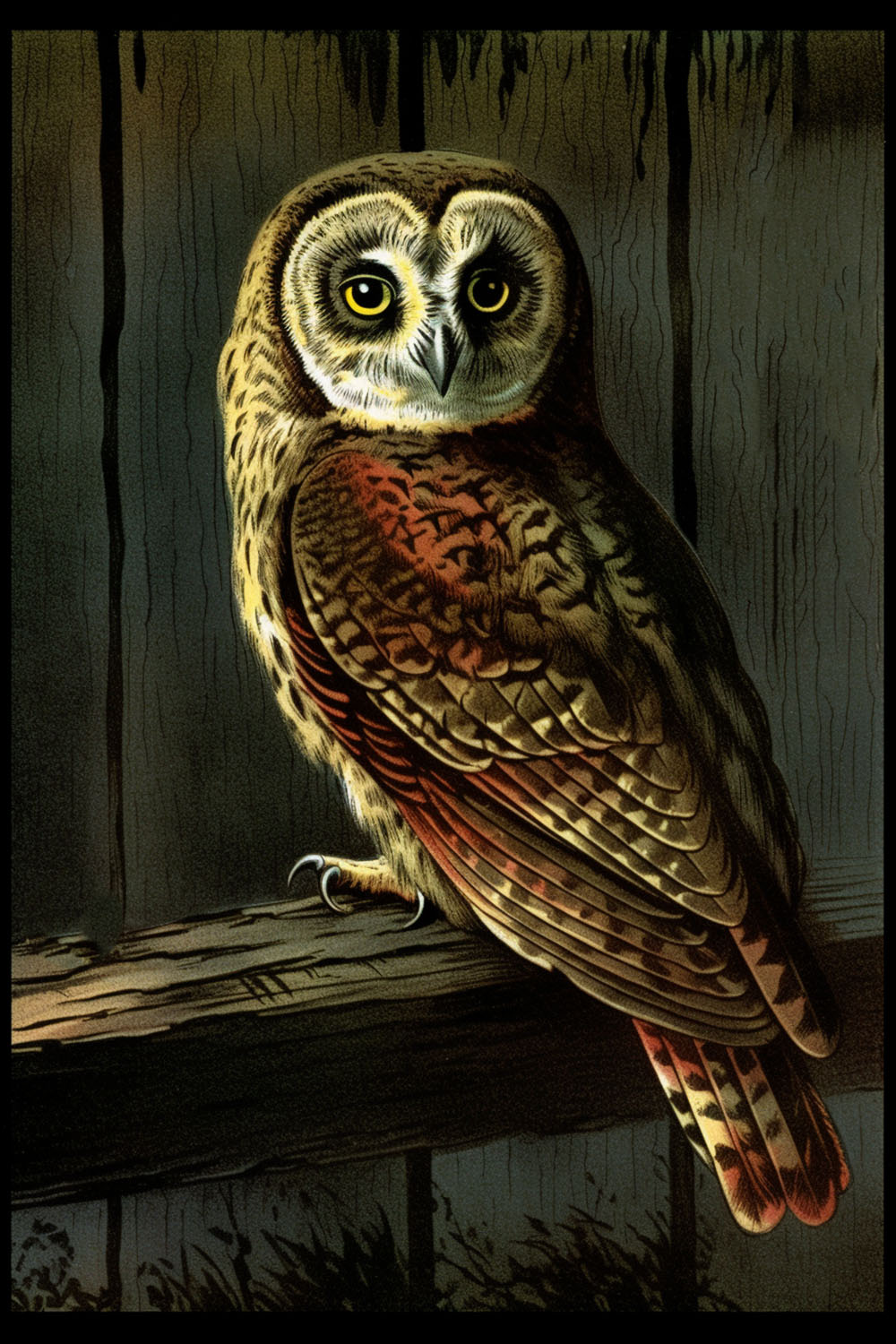 Here is the latest addition to this collection. This lovely wild bird appears to be perched on an old wooden barn timber. He has beautiful yellow eyes!
I hope you enjoyed this fun curated collection of Owl Clipart! You might also like our Best Bird Images HERE or our Best Halloween Images HERE. 
Hello! Are you new to The Graphics Fairy?
Welcome, I'm so glad you're here! Browse around to find 
thousands of Stock Images
 that you can use in your projects or designs! I post new Vintage images every day, as well as projects and DIY's too! Need more info about my site? Try my 
FAQ
 page.