26 Fairy Children Images
Today we have a wonderful collection of Fairy Children Images! I'm always on the look out for beautiful Fairy images, I just can't get enough of them! I'm pretty sure some of you guys feel the same way. Of course if I ever come across a real one, that would be even better! In this collection we've gathered up all of our wee young Fairies. They have such sweet faces and many of them have beautiful wings. We hope these tiny magical creatures will charm and enchant you. They will for sure add some whimsy to your creative projects.
Vintage Fairy Children Images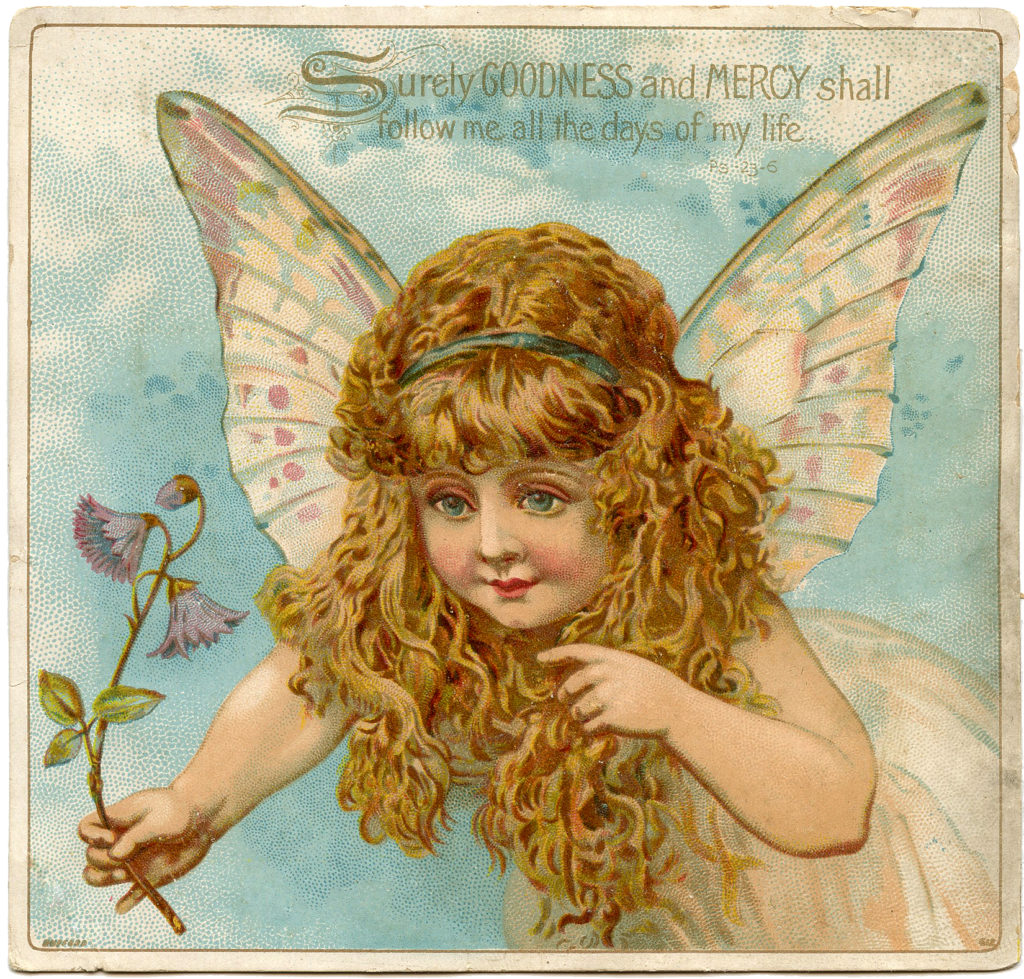 If you've read this blog for awhile, then you know that I'm always on the lookout for beautiful Vintage Fairy images. They are not all that easy to find, so I was especially pleased to come across this one! What a gorgeous face this little Fairy Girl has! I also love the colors and her delicate Butterfly Wings!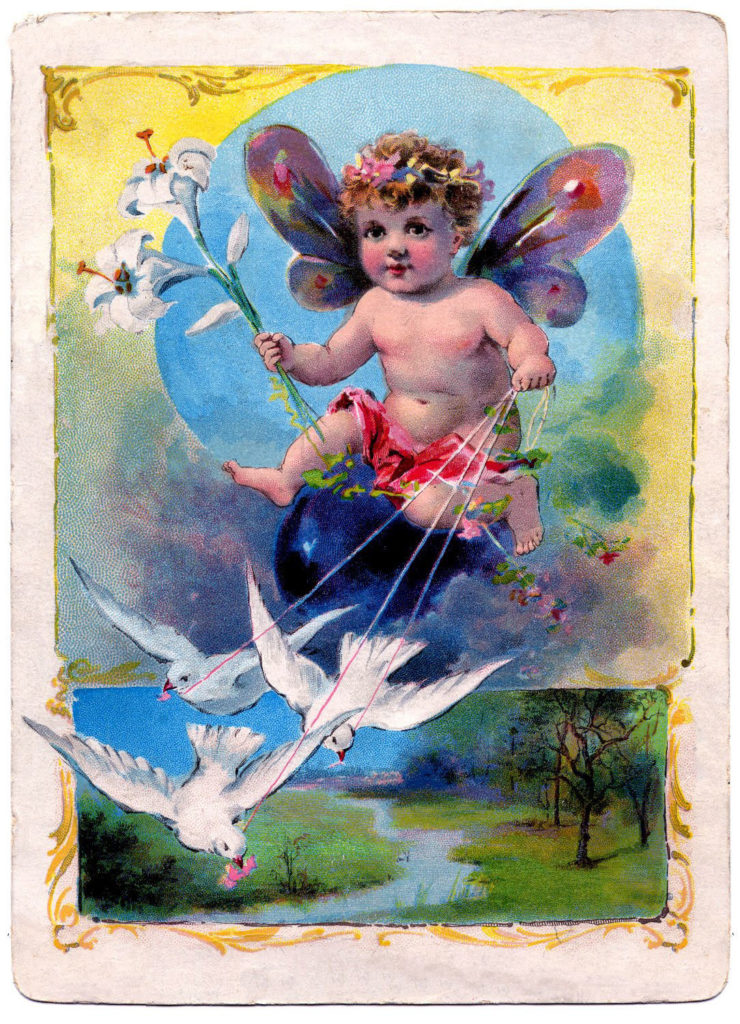 This beautiful advertising trade card is actually an Easter card, which I know is a little late! Hopefully, you can use the back for next Easter, however. I think the front of the card can be used anytime at all. Fairy images are so hard to find; I was so excited to find this little baby Fairy with 3 pretty white Doves!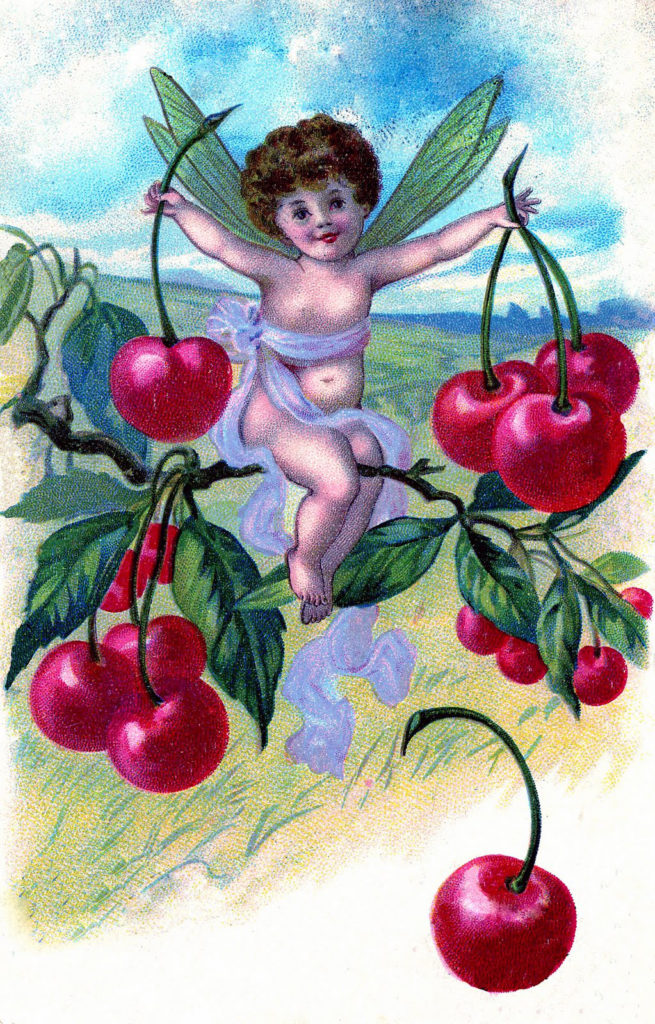 Pictured above is a darling little antique postcard, featuring a happy little Fairy picking some bright red Cherries!! I think this would make such a Cheerful Greeting card for someone who needs a little lift!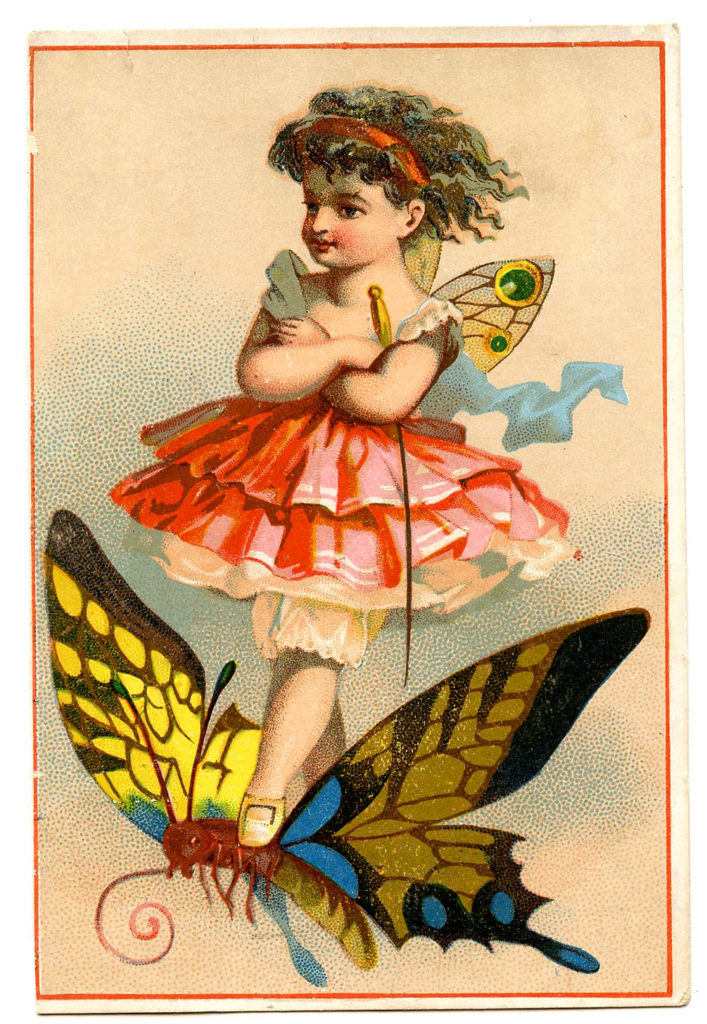 Here we have a really fun antique trade card! This one features a tiny Fairy riding on a Colorful Butterfly!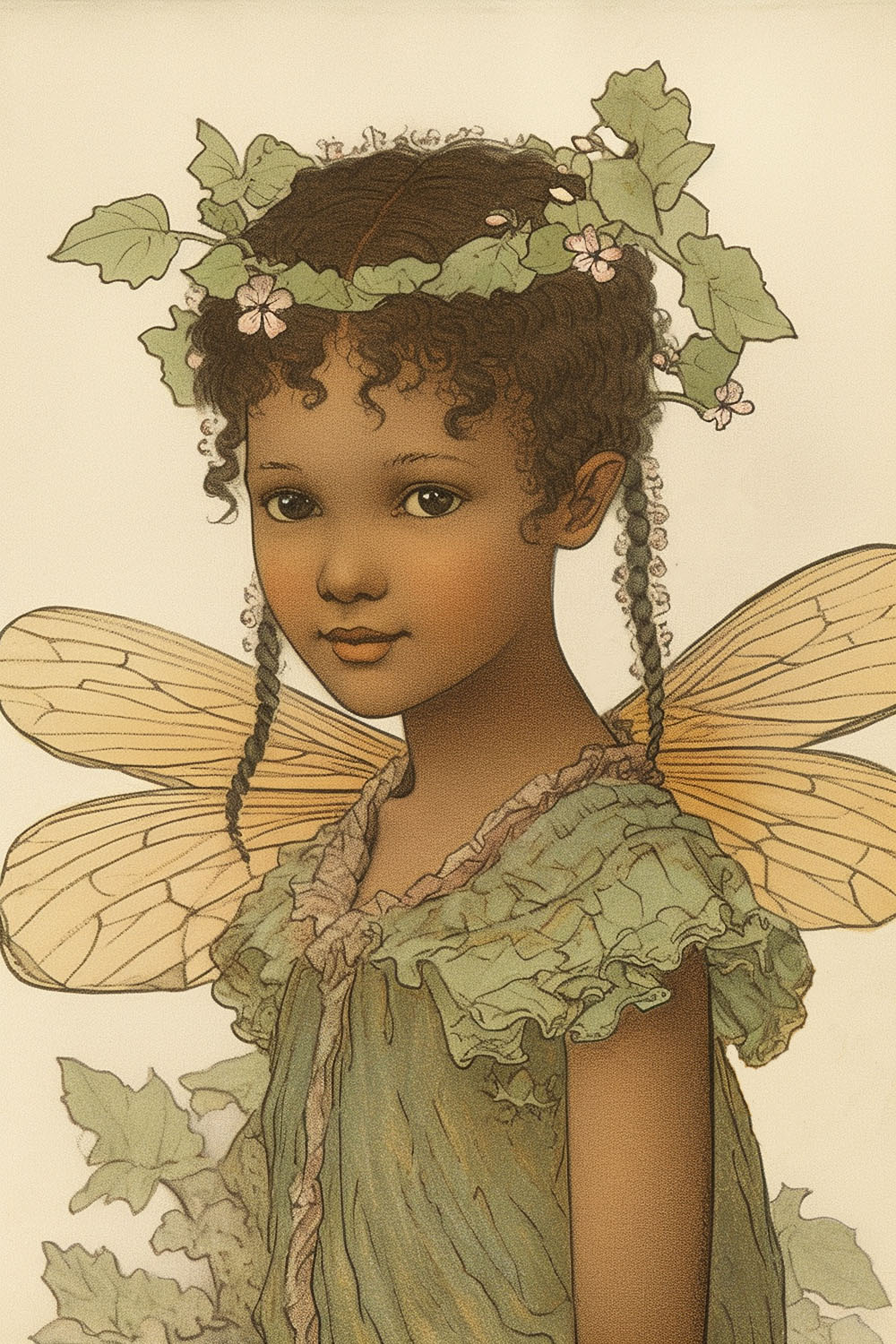 Here is the latest addition to this collection. This sweet girl has beautiful dragonfly wings!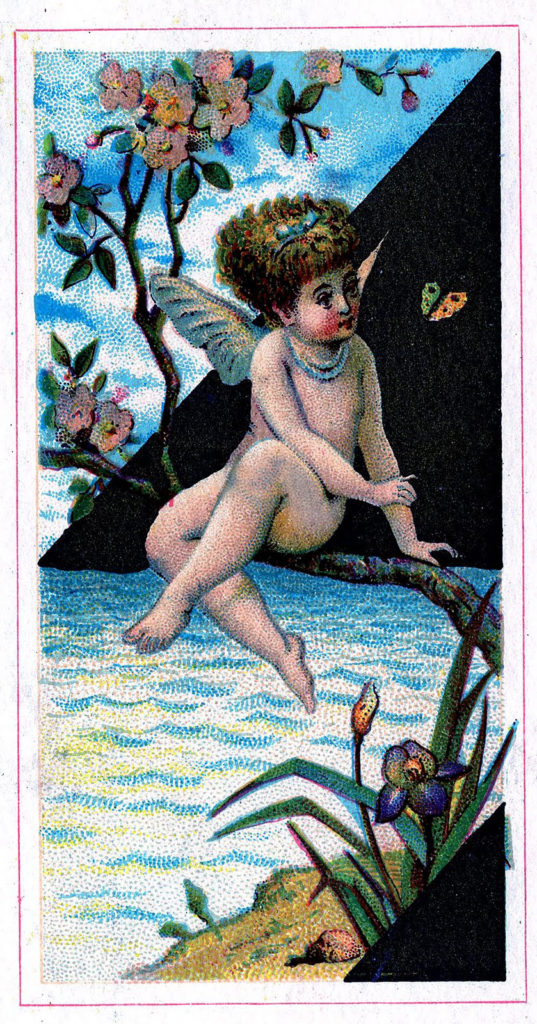 This is a sweet little antique trade card! The card above shows a petite fairy on a branch with a Butterfly. A very pretty little piece!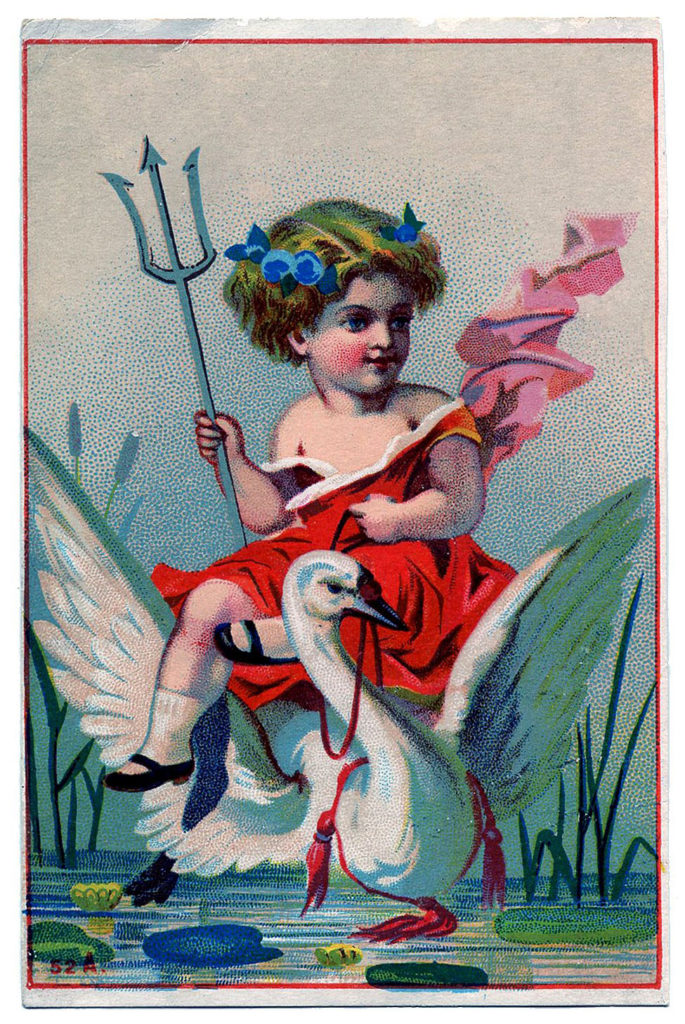 This is a funny little antique card, showing a sweet fairy girl riding a Swan. She has a sort of a mischievous look on her face doesn't she? As if she's up to something!

Above is a cute Fairy Dancing on Egg Image! Shown is an Antique card with a tiny Fairy dancing on top of an Egg. This little Fairy could use some Wings I think! It would be fun to add some.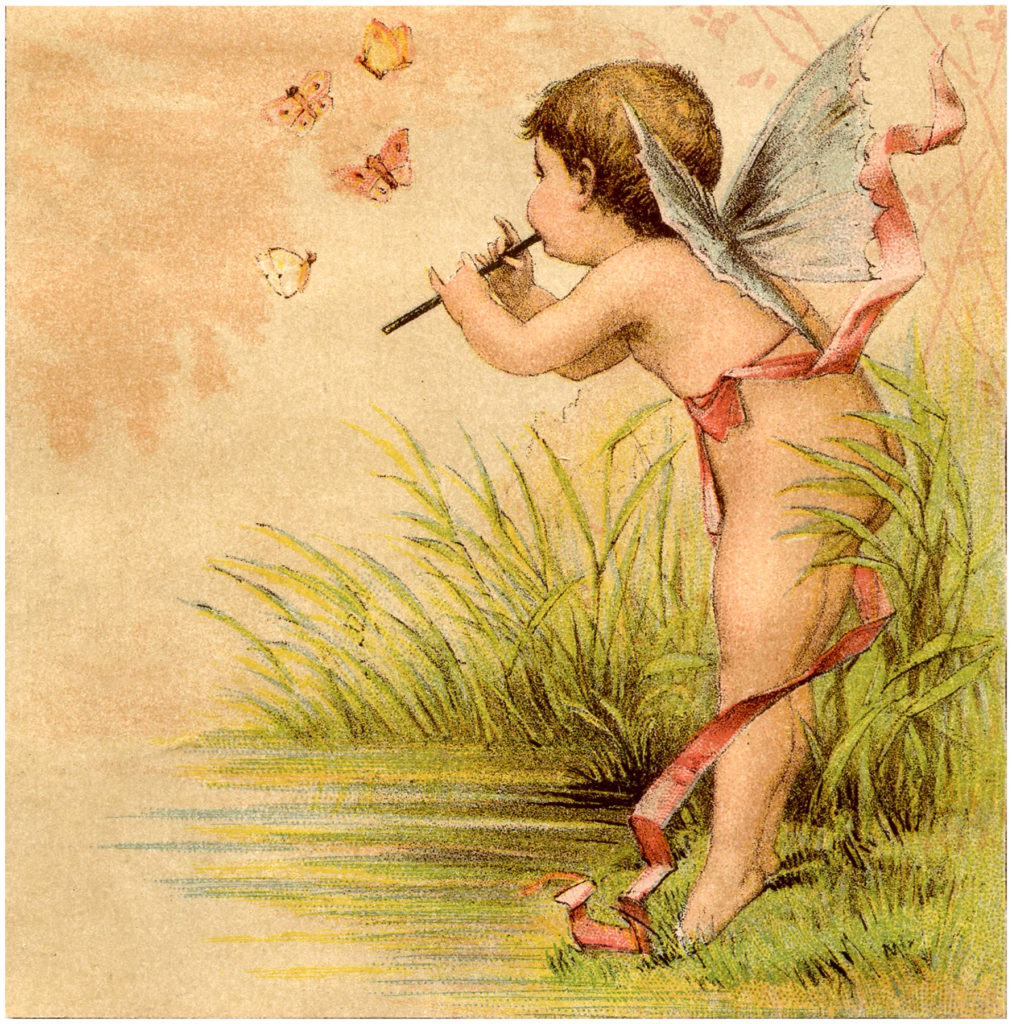 This is a Darling Vintage Fairy Baby Image! Shown here is a lovely Vintage Card with a little naked Fairy Baby! She's got the cutest Butterfly Wings, and seems to be charming some Butterflies with her Flute! So sweet!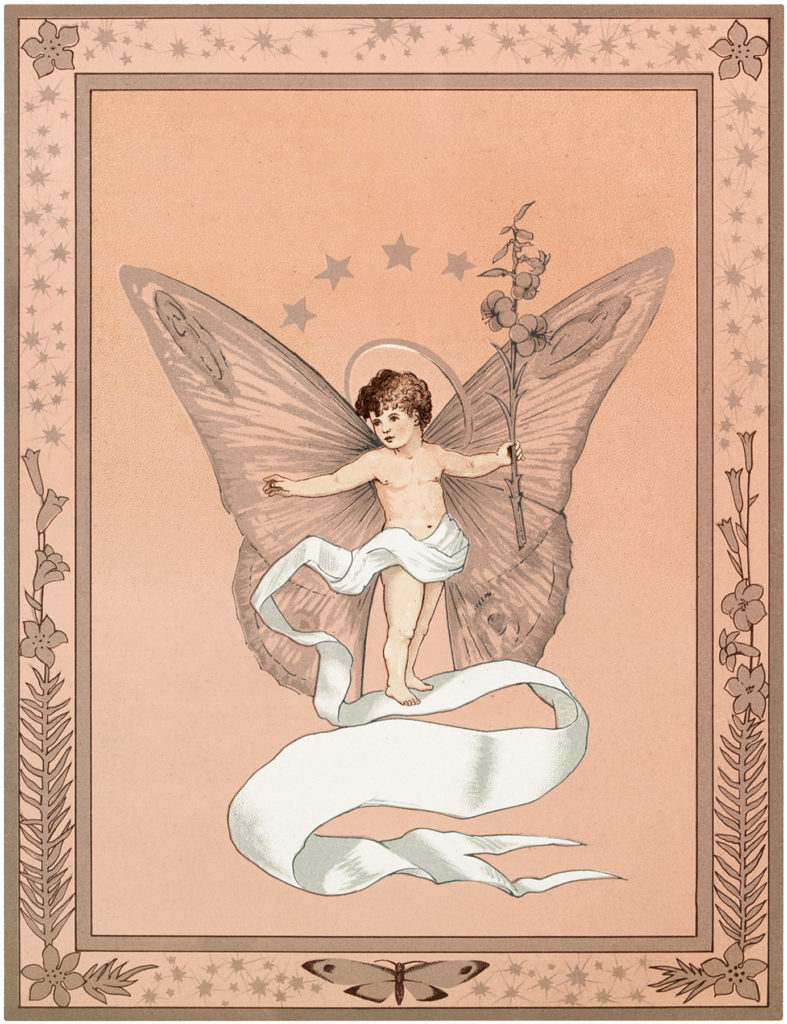 This is a Charming Vintage Butterfly Fairy Image! Shown above is a Vintage Easter Card displaying an adorable little Fairy Baby with huge Butterfly Wings.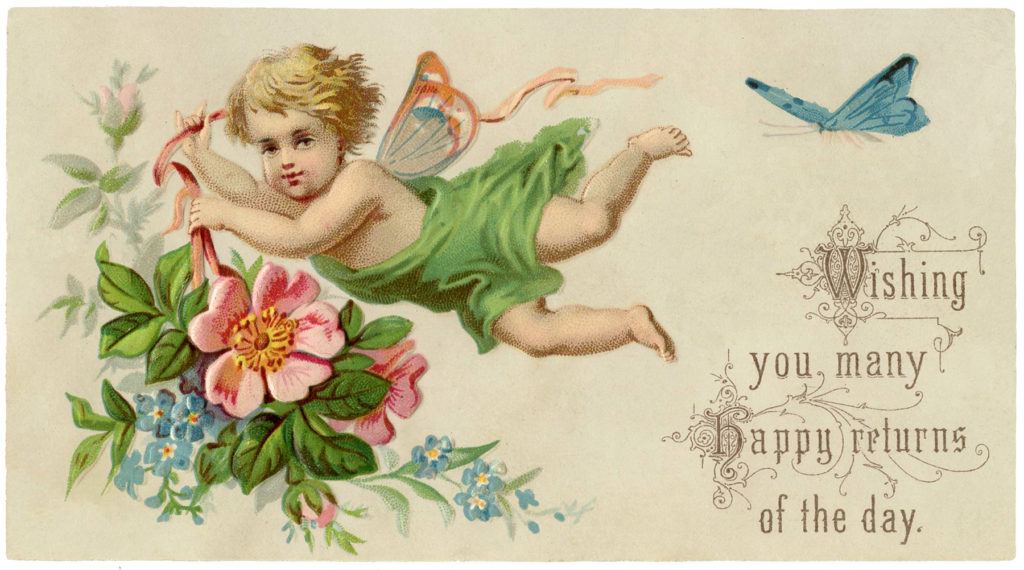 Featured above is a Vintage Fairy Child Image! Shown is a lovely Vintage Card, with a little Fairy Girl flying around while holding a Bouquet of Flowers. She's got the cutest Butterfly Wings too! This one was probably used as a Birthday card. So sweet!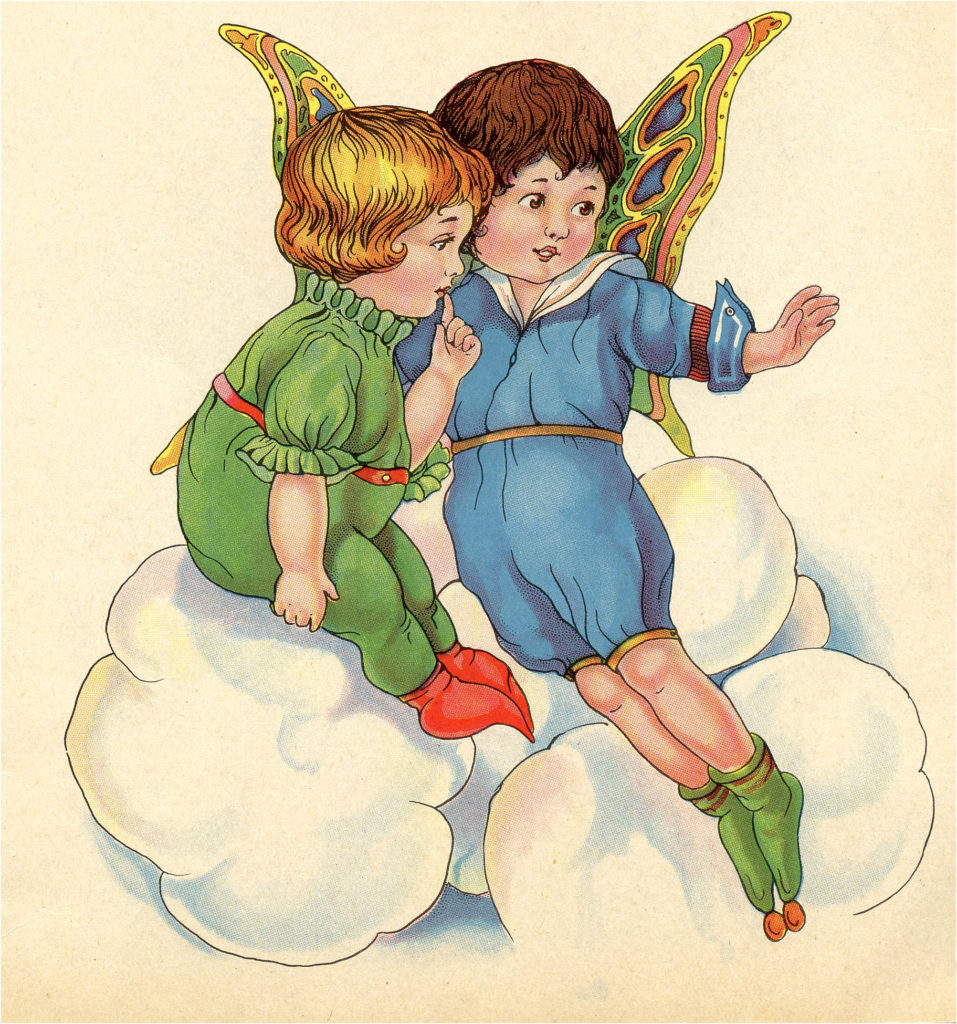 Here is a Super Sweet Vintage Fairy Image with Children! Shown are two Children; the one dressed in blue is a Fairy Child with big Colorful Butterfly Wings! The child in green appears to be getting some guidance from the blue Fairy. The colors are so vibrant. The illustrator is Margaret Evans Price. They remind me of Mary Engelbreit's style.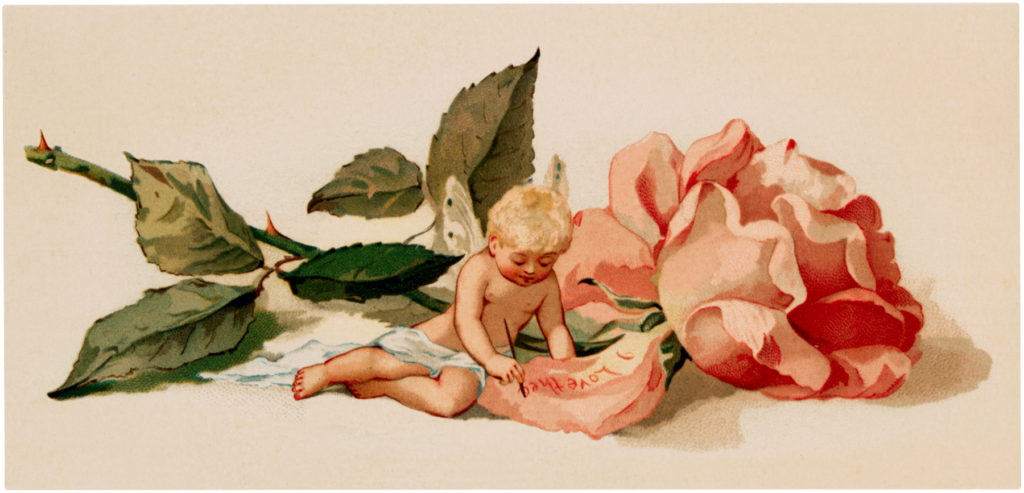 This is a precious Vintage Rose Fairy Baby Image! Shown here is a beautiful Pink Cabbage Rose. Sitting next to the Rose is a dear little Fairy Baby! She is writing a love note on one of the Rose Petals.
Old Fairy Children Advertising Graphics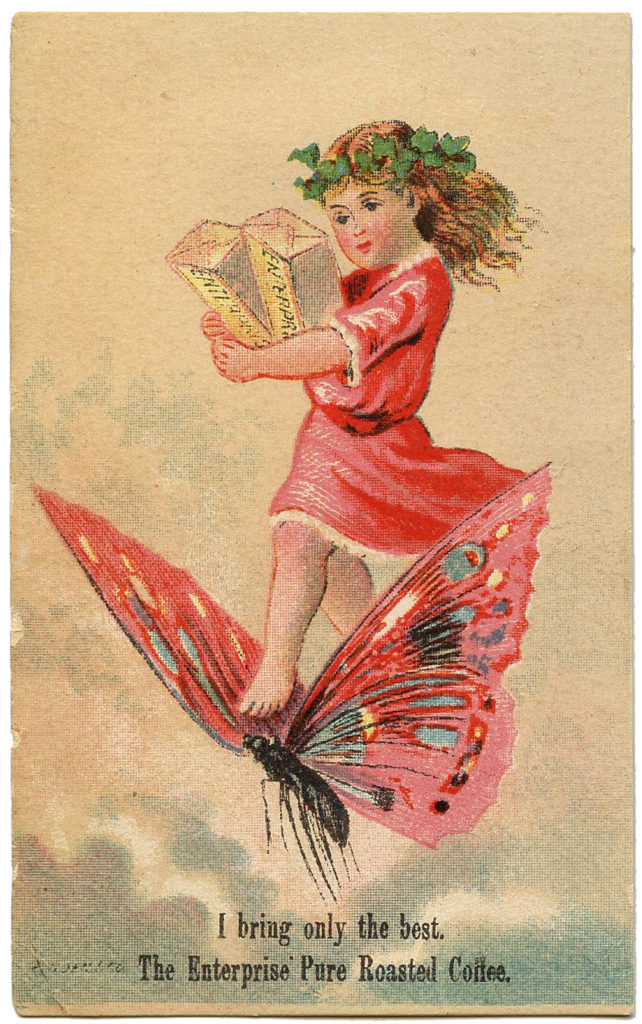 Here is a cute little advertising piece for Coffee, and features a sweet Fairy girl riding on a pink Butterfly. So fun!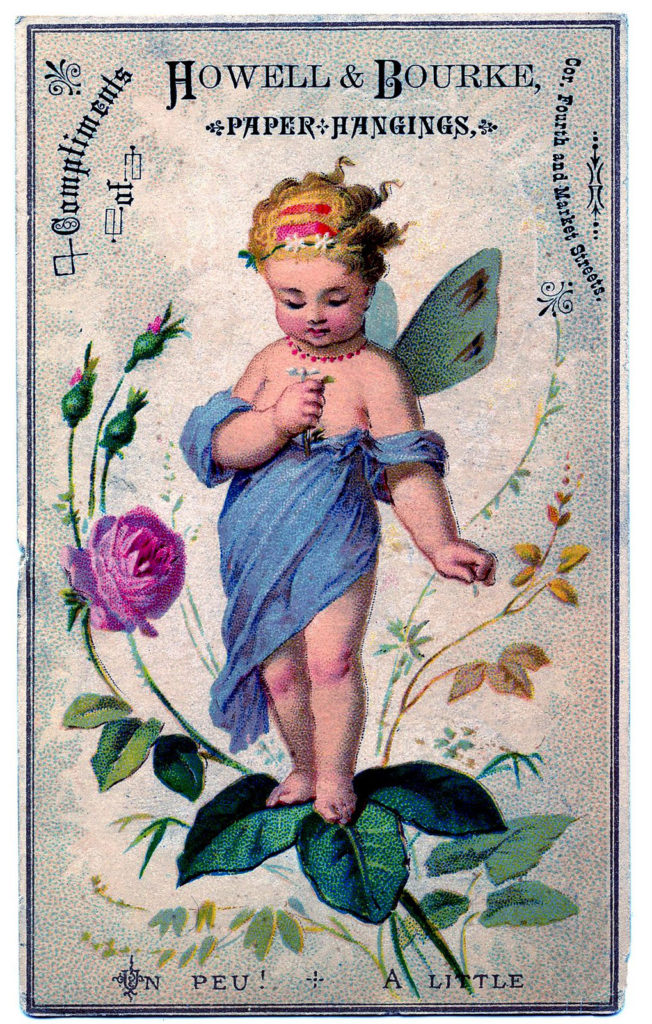 Isn't she dear?! This is an old advertisement for "paper hangings." I'm guessing that means wallpaper. Anyway, I just loved her butterfly wings and the pretty pink Rose she's standing on.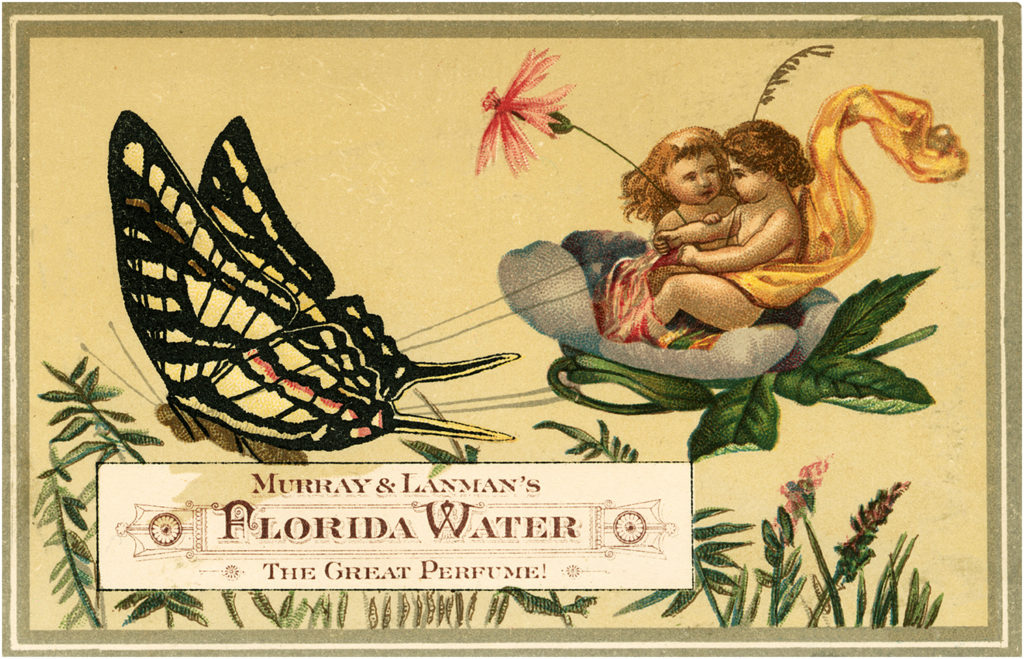 Above is a Vintage Snuggling Fairies and Butterfly Perfume Label! Two tiny fairies snuggle in a white dogwood blossom carriage that is being pulled across the sky by a black and white butterfly. A pink flower acts like an umbrella and golden fabric flows behind the flower carriage. The Label reads, "Murray & Lanman's Florida Water The Great Perfume" in beautiful type inside a framed area with tiny ornaments.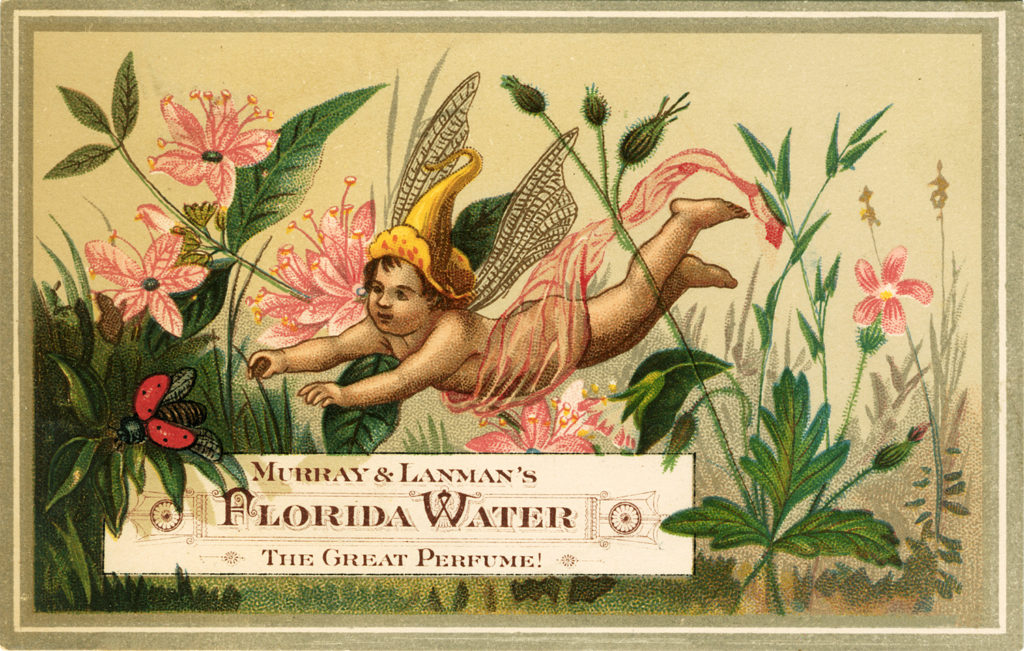 Here is a Vintage Fairy in a Flower Blossom Hat Label! This adorable fairy is flying through a garden wearing an upturned yellow blossom as a hat. A ladybug with outspread wings rests on a text box saying, "Murray & Lanman's Florida Water – The Great Perfume."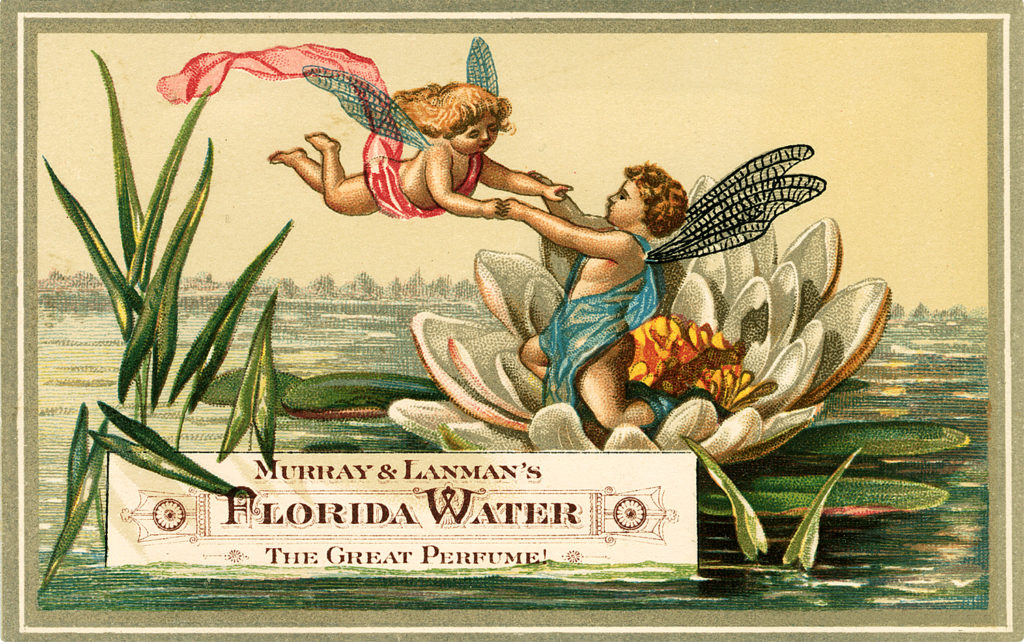 I love this Vintage Fairies Frolic on a Lily Pad Label! There are two fairies, one flying and one standing inside a lily pad flower. They are holding hands. One wears a pink sash the other blue.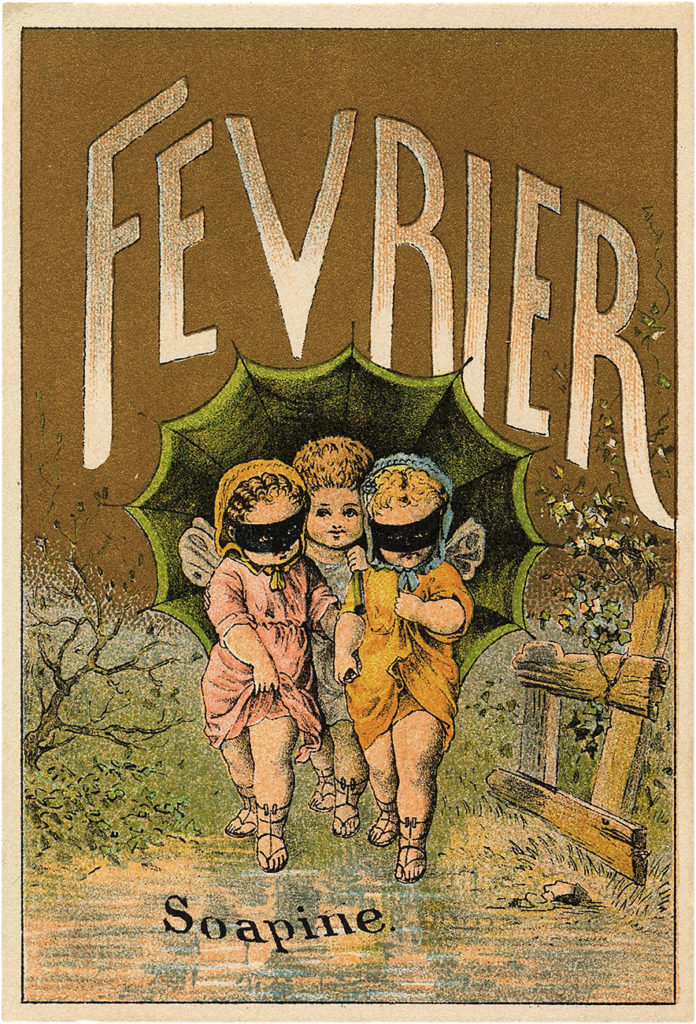 Here we have an Antique Adorable February Fairy Children Image!! Février (French for February) is written across the top in beautiful large white letters, and Soapine (laundry soap) is written in black at the bottom. Three adorable fairy children, walking in a garden under a big green umbrella, are the center of this laundry soap trading card graphic. The children wear pastel dresses of pink, blue, and yellow, and have Roman sandals on legs and chubby feet. Two pairs of tiny wings are visible on blindfolded children playing a game.
Above is another Vintage French Laundry Soap March Ad Graphic! In this French advertising card, three fairies hold their red, yellow, and blue dresses as they swirl around them in the March wind. The fairies wear hats with beautiful ribbons as one blows off in the wind. Written in large overlapping letters with a blue to yellow gradient is the word "Mars," and "Soapine" in black rests near the bottom.
Antique Fairy Children Photographs
Cute, cute, cute!!! Isn't she darling?!! Dressed up like a Fairy Princess, this adorable little girl even has a star Crown on her head and a fairy wand in hand.
This is a fun Antique Photo showing a little Girl in a Fairy Costume. I love her pastel Dragonfly Wings!!

Featured above is an adorable Vintage Cherubs in Clouds with Butterfly Wings Photo Image! The hand-colored grayscale image of two smiling children with curly hair and cute smiles are floating in gray clouds. They wear butterfly wings, which are hand painted in shades of green and burgundy, with a hint of pink.

Isn't she dear?!! Dressed up in a Fairy costume is a darling little girl. Such a fun old photo!
Black and White Clip Art Fairies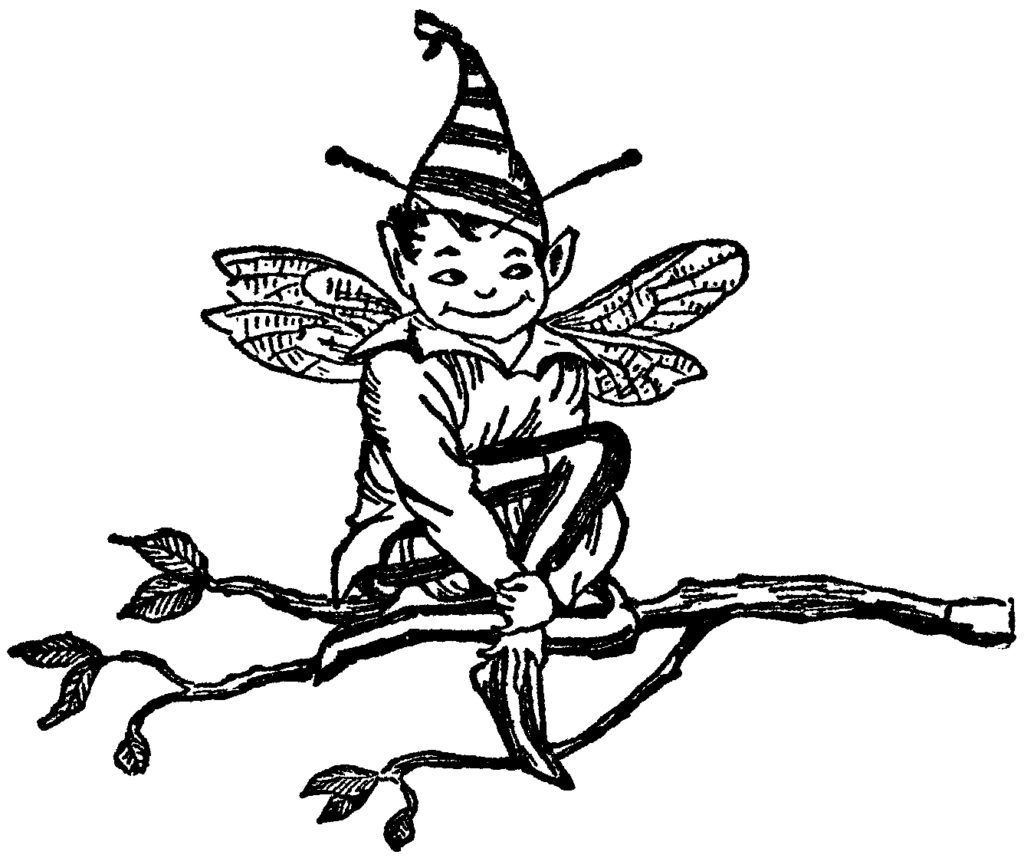 What a cutey this one is! This little guy is wearing striped paints and a matching hat. He has delicate dragonfly wings and a funny smirk on his face. He looks a bit like Peter Pan to me!
Above is a Cute Vintage Black and White Cloud Fairies Label Image! This image was scanned from a Circa 1920 Children's Rhyme Book. This beautiful illustration shows two whimsical little Fairies with Butterfly Wings! The Fairy girls are tugging at some large fluffy Clouds. I'm not sure if they are trying to cover up the Sun or uncover it, but either way it's a really fun picture!
I hope you enjoyed this cute curated collection of Fairy Children Images! You might also like our Best Fairy Pictures HERE.
Hello! Are you new to The Graphics Fairy?
Welcome, I'm so glad you're here! Browse around to find 
thousands of Stock Images
 that you can use in your projects or designs! I post new Vintage images every day, as well as projects and DIY's too! Need more info about my site? Try my 
FAQ
 page.