14 Best Free Vintage Fairy Images!
Today we've rounded up our Best Free Vintage Fairy Images for you! We've searched through our extensive Image Archives here at The Graphics Fairy to find our favorite Fairy pictures. We also threw in a few Fairy Themed projects for inspiration! This is a great collection of some of our most beautiful Fairy Downloads. In this post, you'll find some our most delightful and cute Fairy Graphics!
Vintage Fairy Pictures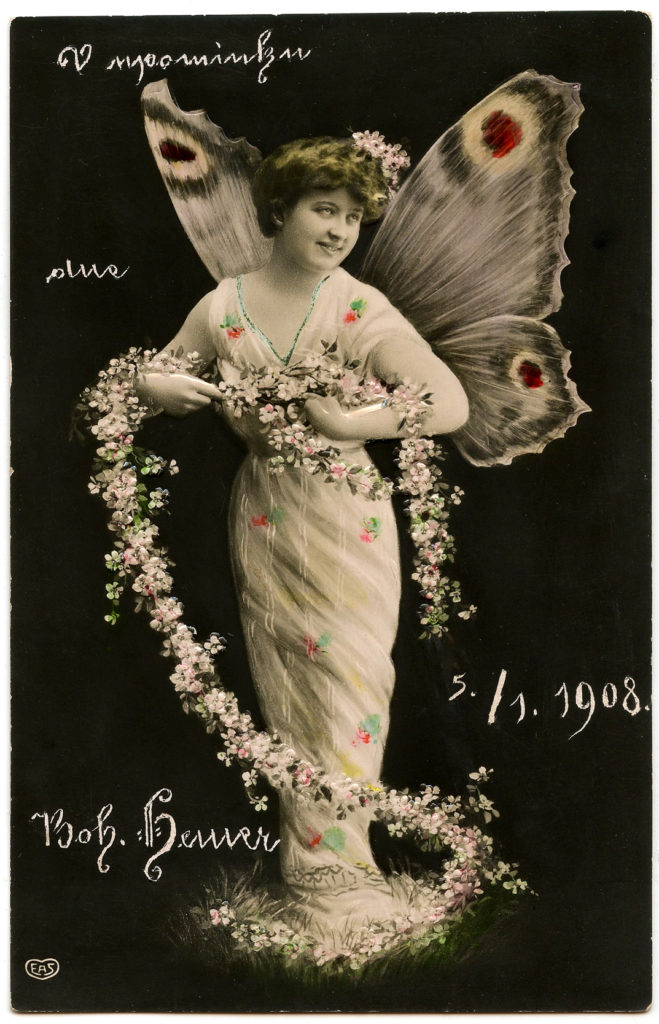 This stunning Real Photo Postcard shows a lady dressed up in a Fairy Costume complete with huge Butterfly wings and a long floral garland. Such a fancy costume she has one. This is a European card that dates back to 1908.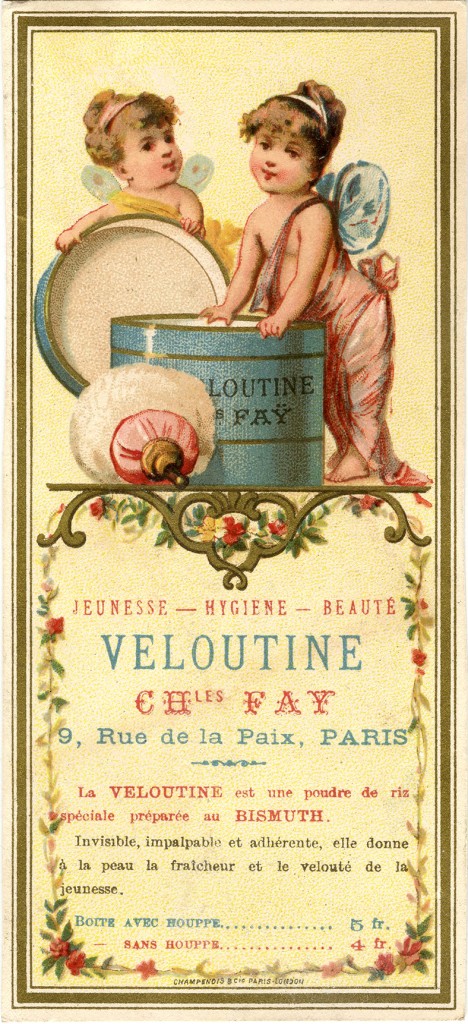 This is a darling old Advertisement for ladies Powder that was made in Paris showing cute little Fairies inspecting the powder! A delicate Floral Frame surrounding French Typography runs along the bottom. There are two versions: the original and the second one that has the text removed, so that you could use this as a label and write what you like inside of the Frame.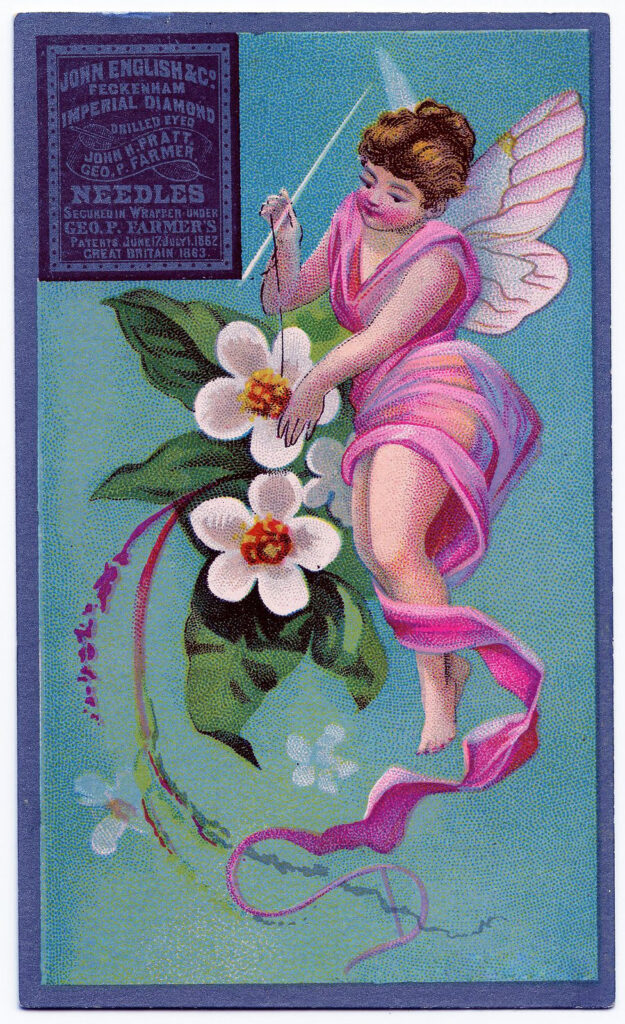 This is a darling little Sewing Fairy Image! This is an Antique needle ad. Here we see a lovely winged lady, sewing some blossoms together. She's dressed in pink swirling fabric.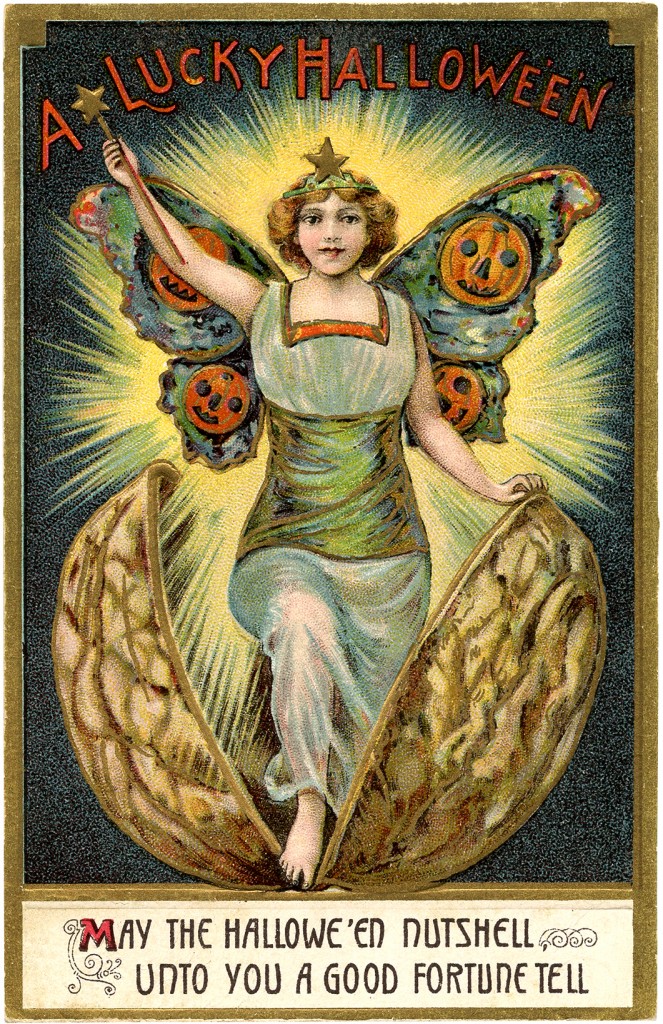 This is an amazing Vintage Halloween Fairy Image. She has fantastic Butterfly Wings, with Orange Pumpkins on them, so unusual! The Fairy is jumping out of a nutshell, wand in hand. The greeting on this Vintage Postcard is "A Lucky Halloween."
This is The Modern Household Fairy! It is an antique advertisement for Sapolio soap. She is simply beautiful with her gorgeous wings and the little star on her head. This is long been one of my most favorite images in my collection. So pretty!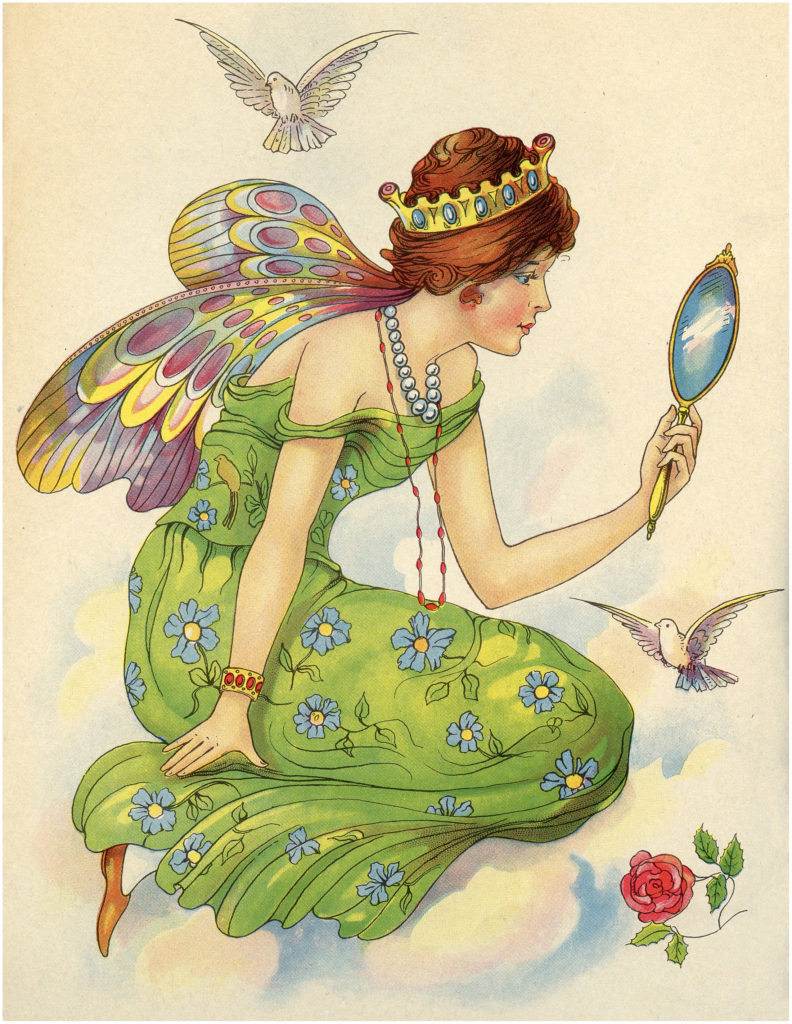 This is an Exquisite Vintage Colorful Fairy with Rainbow Wings Image! In this image, a beautiful fairy dressed in a green gown covered with blue flowers looks into a hand mirror. Her exquisite wings are a flurry of amazing rainbow colors. She wears a crown on her bright red hair and colorful jewelry. Two beautiful birds fly around her. It would make a lovely invitation to a dress up party.
Blue Fairy Images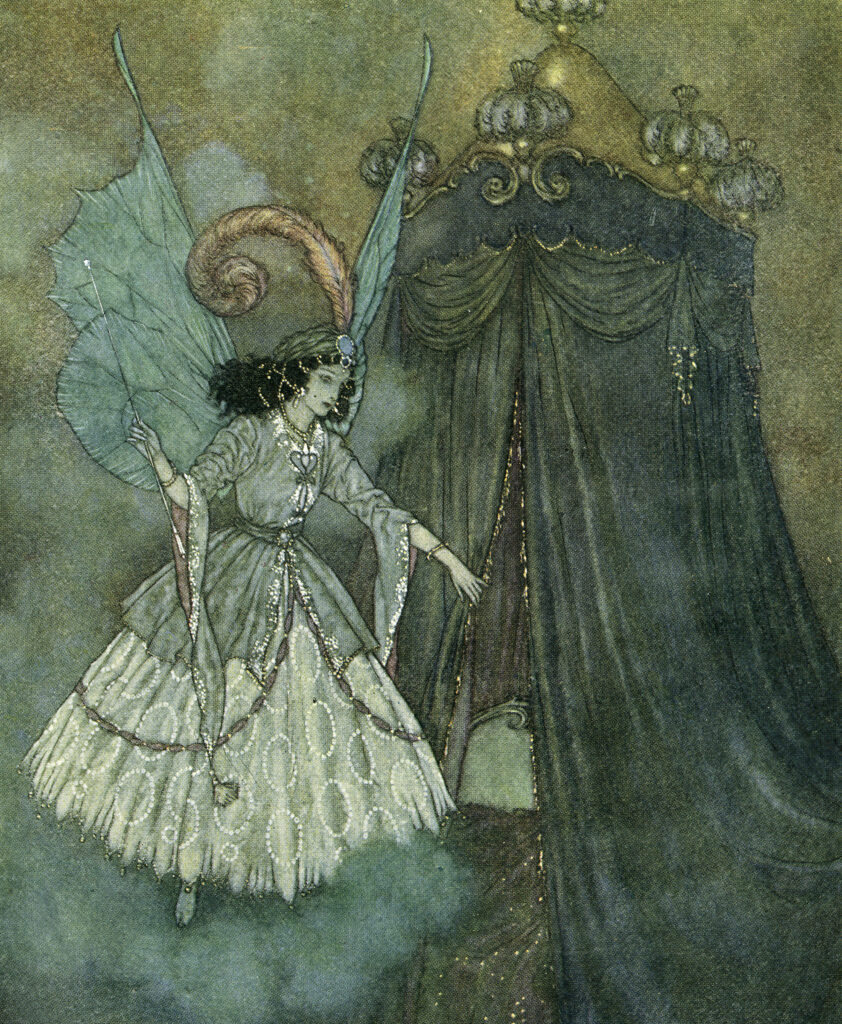 This is a beautiful blue fairy picture. She has her wings open, and she is wearing a hat with a jewel in front and a long feather coming out of it. She is holding a wand, and is wearing a long blue outfit with draped sleeves, while pulling open her canopy where she sleeps. It looks like quite a magical place to sleep!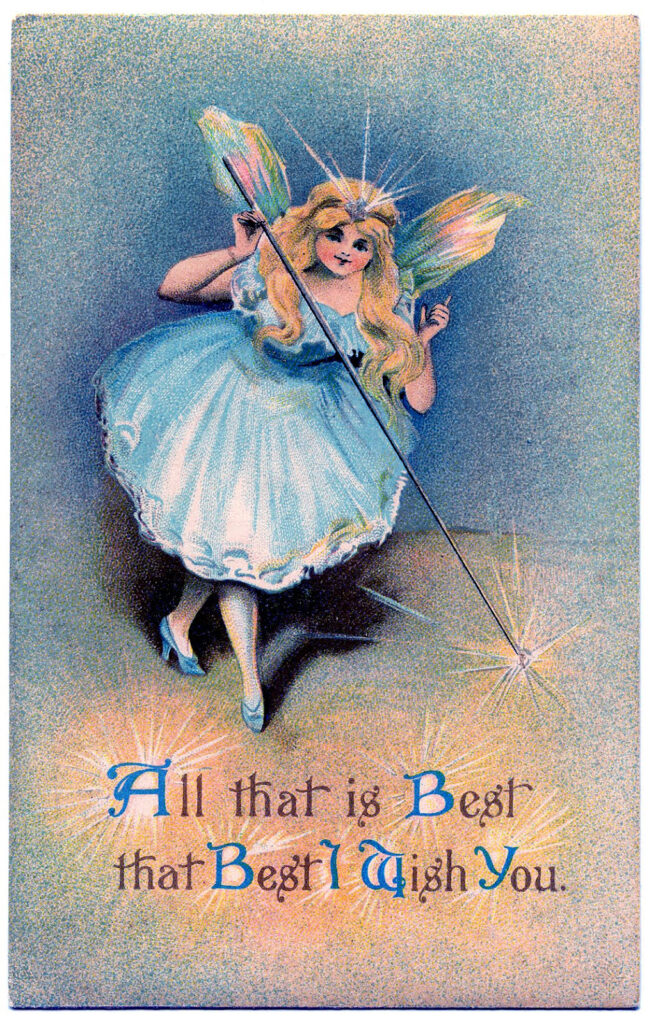 This is a sweet old fashioned Image. This one features a pretty Fairy dressed in Blue! She has a sparkly Tiara on her head and she has a sparkly Wand too!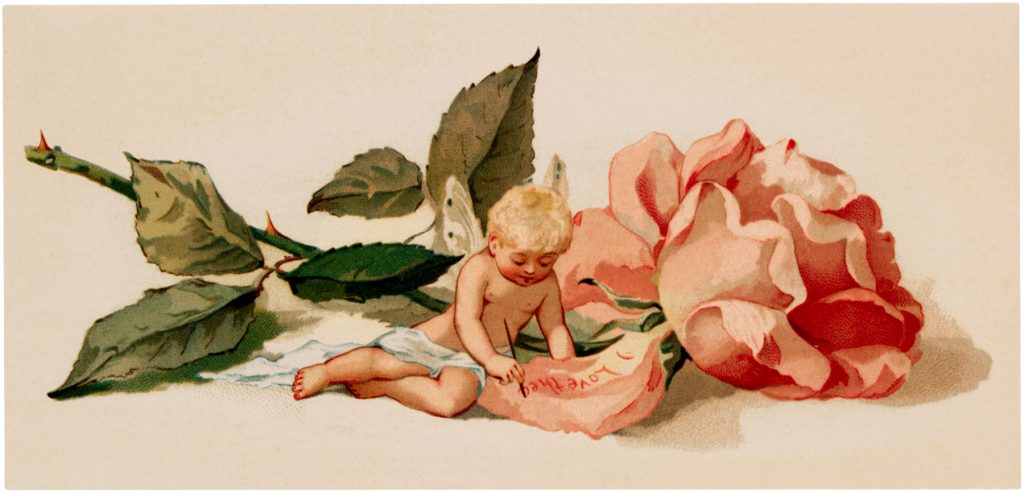 This picture shows a dear little Fairy Baby! She's sitting next to a Pink Cabbage Rose and appears to be writing a love note on one of the Petals. Such a sweet nostalgic image!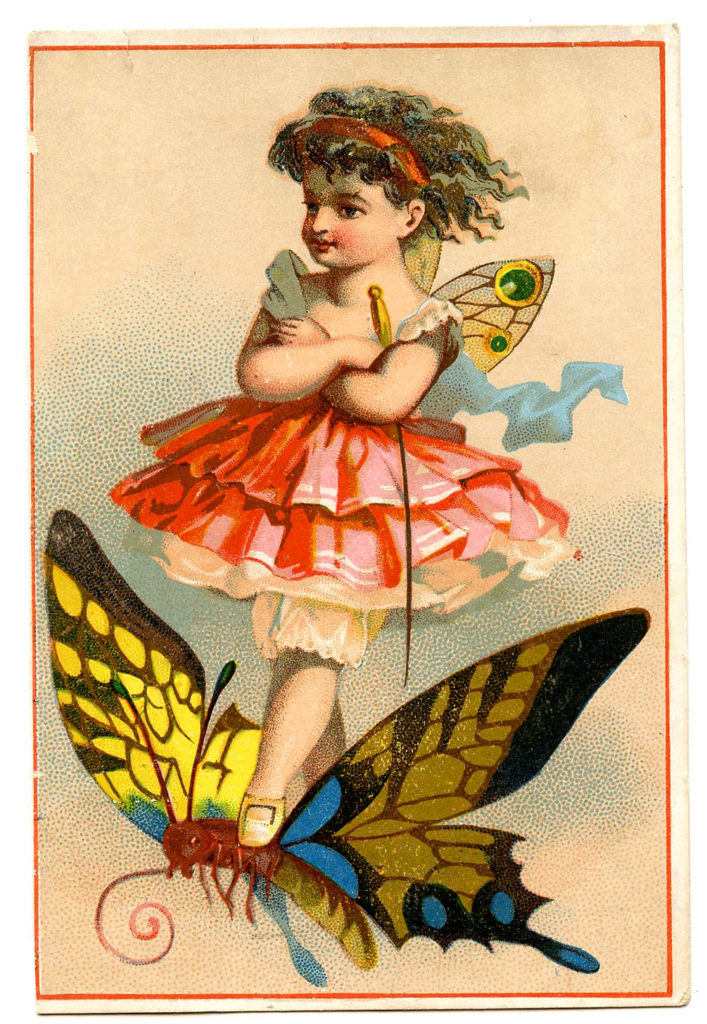 This is a really fun antique trade card. This one features a tiny Fairy riding on a Colorful Butterfly! She has quite a mischievous grin on her face as if she is up to something! I love the bold colors on this graphic.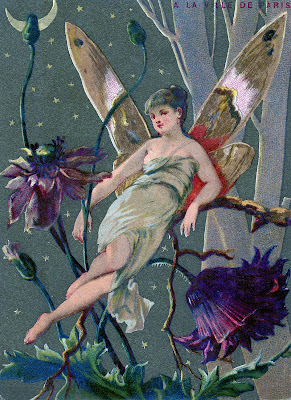 This is a charming old Graphic showing a Fairy Lady at night. She's resting on some bright purple flowers with the Moon and Stars in the background. So magical looking!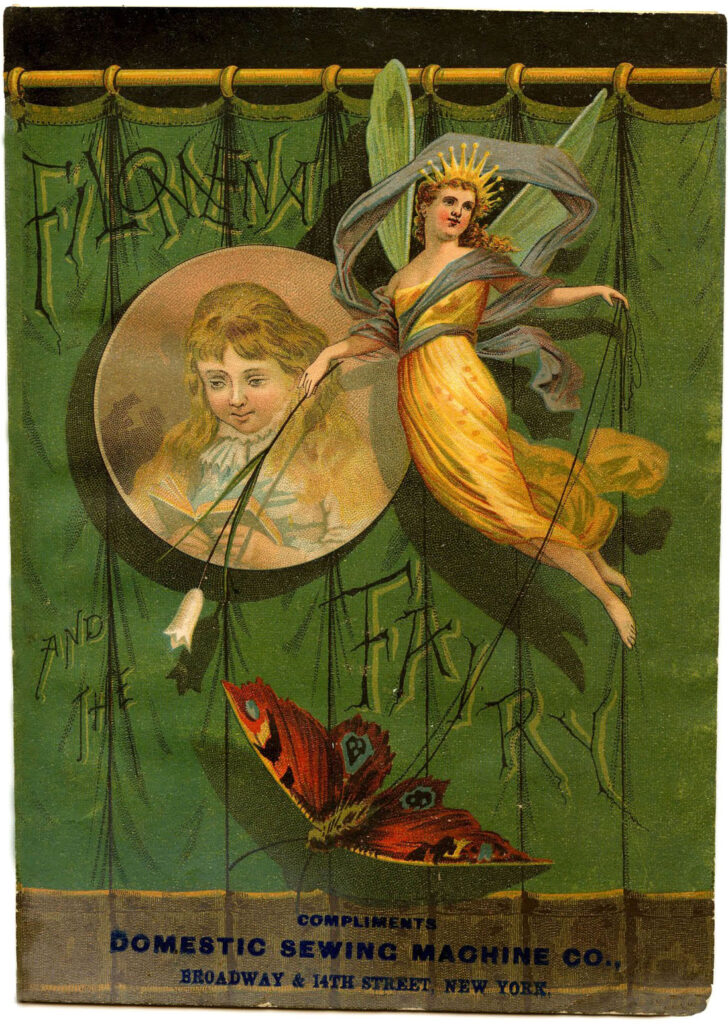 Next we have a lovely Fairy Image from a Sewing Machine advertising card. She is wearing a golden Gown, with matching Crown. She has thin Dragonfly type wings and she is holding, what looks to be reins, that are attached to the Butterfly below here. He appears to be pulling her through the air. Charming!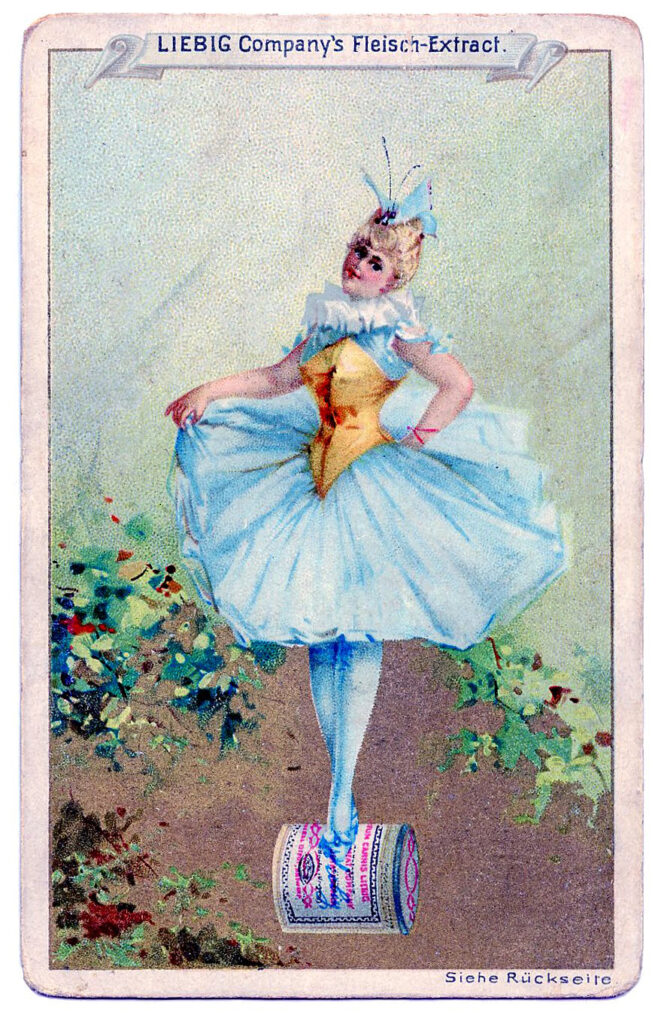 This is such a charming card! This one is an Antique Trade card for the Liebig company. It shows a lovely and dainty Fairy, in a blue and yellow ballerina costume. She's balancing on top of a can of their product. I think it was yeast? She has a blue Butterfly in her hair!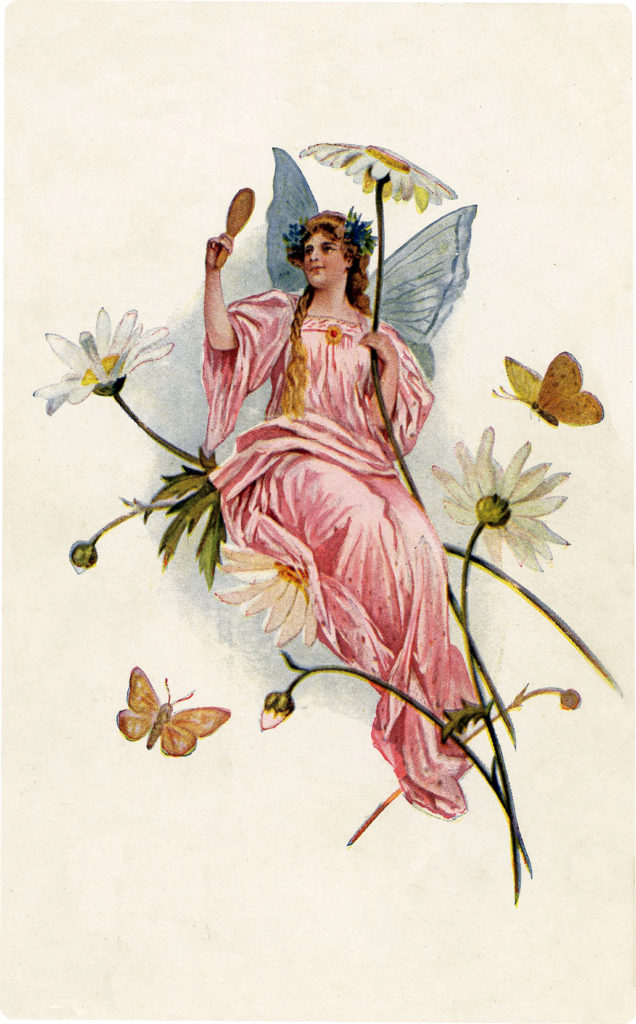 This little lady is perched on some Daisies and appears to be admiring herself in a little mirror! She's wearing a lovely Pink Dress and she has Blue Wings.
Fun Projects Using Fairy Images
These fun Fairy projects are perfect to use in your next Fairy Craft Project! You can learn all of the FREE Techniques by clicking on the links below!
1) HOW TO MAKE FAIRY GARDEN ACCESSORIES – WATERPROOF TECHNIQUE Learn a way to use some of your favorite Graphics Fairy motifs without worrying that the prints would turn to mush at the first touch of dew. With this technique, you can safely use your favorite Graphics Fairy images in your very own Fairy Garden! This really is a very simple project, but it does require a bit of fussy cutting.
2) TABLETOP FAIRY FOREST – FRENCH MINI PLANTER BOXES This fun project uses upcycled materials and twigs from the yard to create a forest for fairies! This classic design depends on a basic square box, so that got me to snooping through the recycle bin…I'll bet you can find several alternatives if you ransack the pantry!
You might also like to check out our Angels and Fairies Image Archives HERE. 
Hello! Are you new to The Graphics Fairy? Welcome, I'm so glad you're here! Browse around to find thousands of Stock Images that you can use in your projects or designs! I post new Vintage images every day, as well as projects and DIY's too! Need more info about my site? Try my FAQ page.