Salt on Watercolor Technique
Hello, my Graphics Fairy Friends! Heather from Thicketworks here. Today we will learn a Salt on Watercolor Technique. This is an easy and fun Mixed Media Art effect and technically, you don't even really need watercolors! Most water based pigments will provide similar results. Today, let's play with our food! Okay, salt is a condiment, but it's the principle of the thing…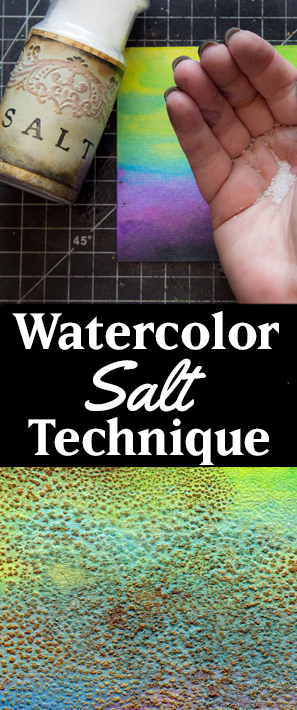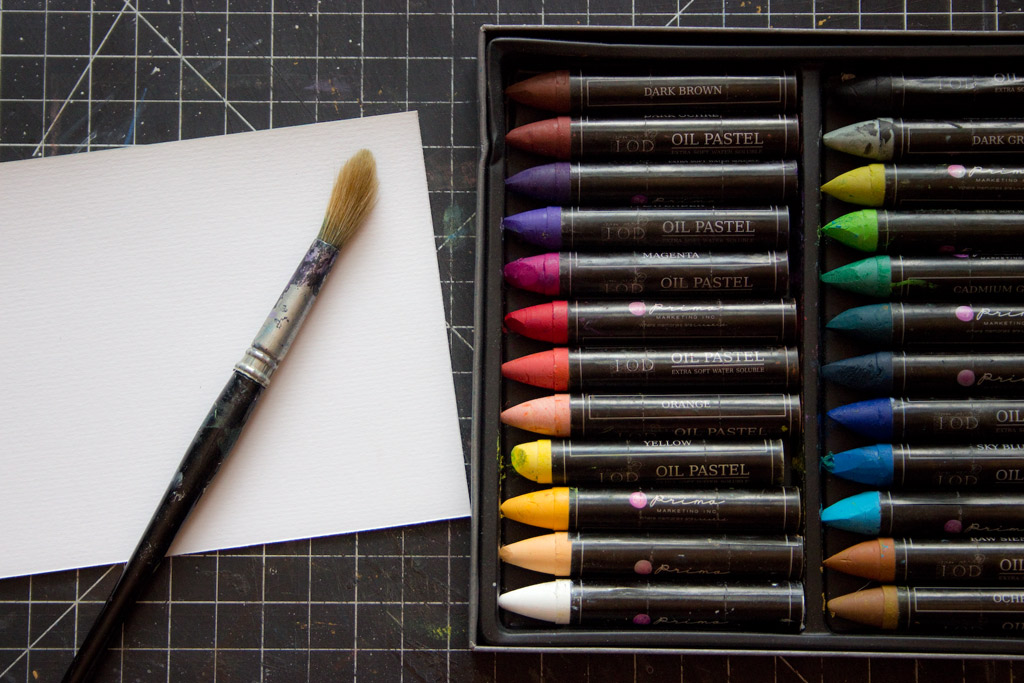 This process is very playful, and requires few supplies.
Come on into my Studio. Let's get Messy, shall we?
Supplies:
How to Create the Salt on Watercolor Technique:
Begin by adding a wash of water based pigment to a piece of watercolor paper.
I'm using Water Soluble Oil Pastels, but any watercolors will work beautifully.
To create a gradient wash, begin by adding a light color along one edge, varying the intensity of coverage.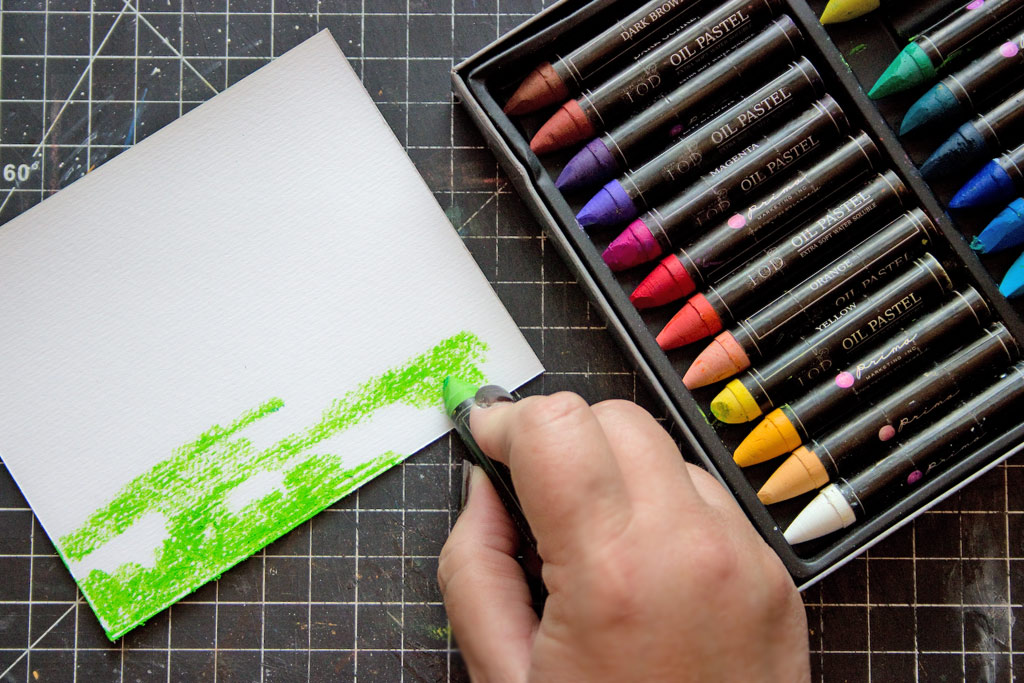 Add a related light color, blending it with the first.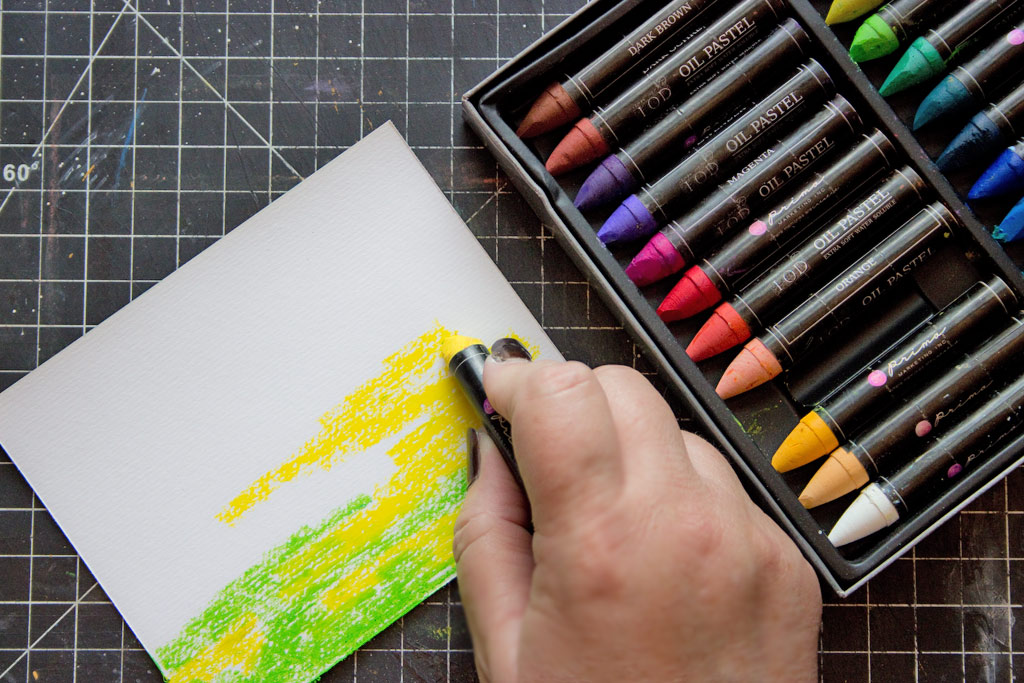 Next, add areas of a contrasting color, being careful to create solid blocks of color.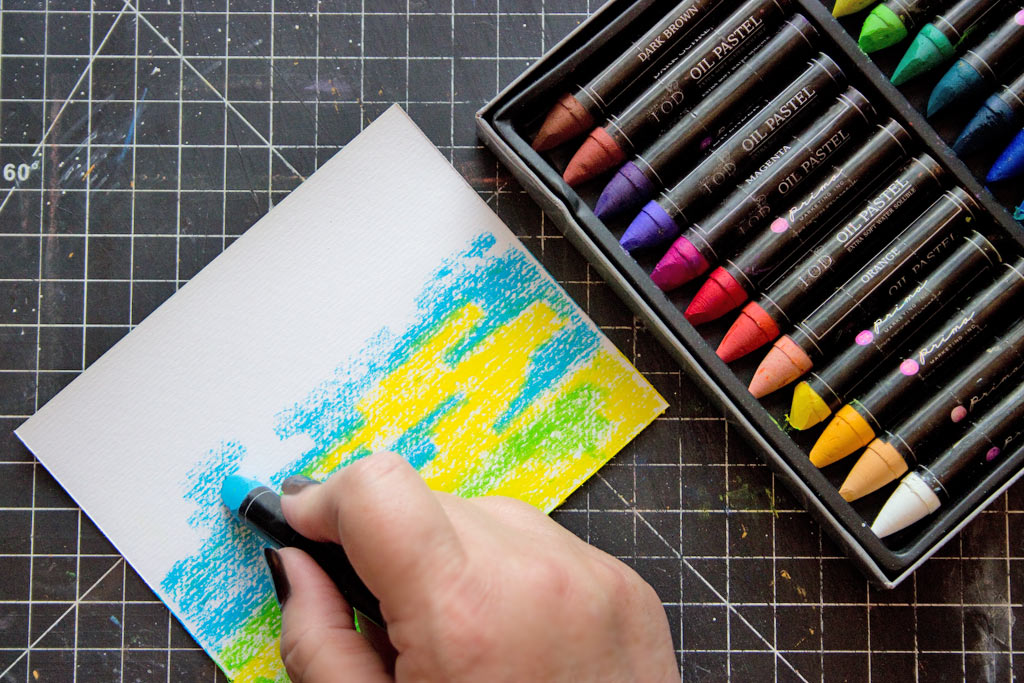 Finish by adding deepening tones as you progress up the paper.
A light to dark gradient works nicely for this technique and provides a rainbow of colors.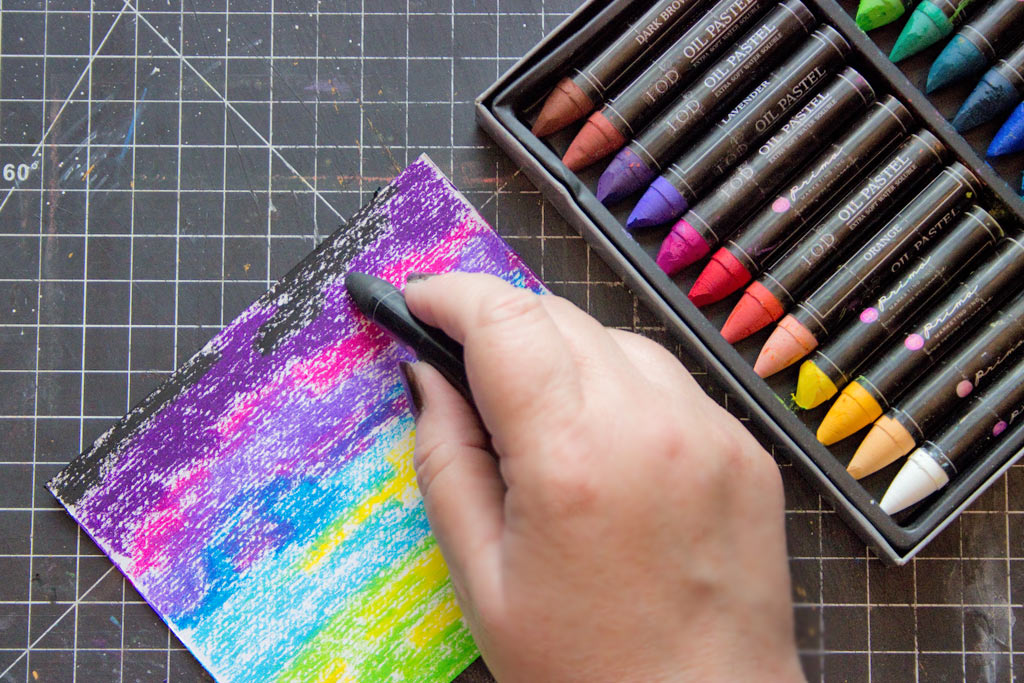 To blend the colors, apply smooth horizontal strokes with a wet, soft round brush.
Clean the brush as often as necessary to prevent over blending the colors.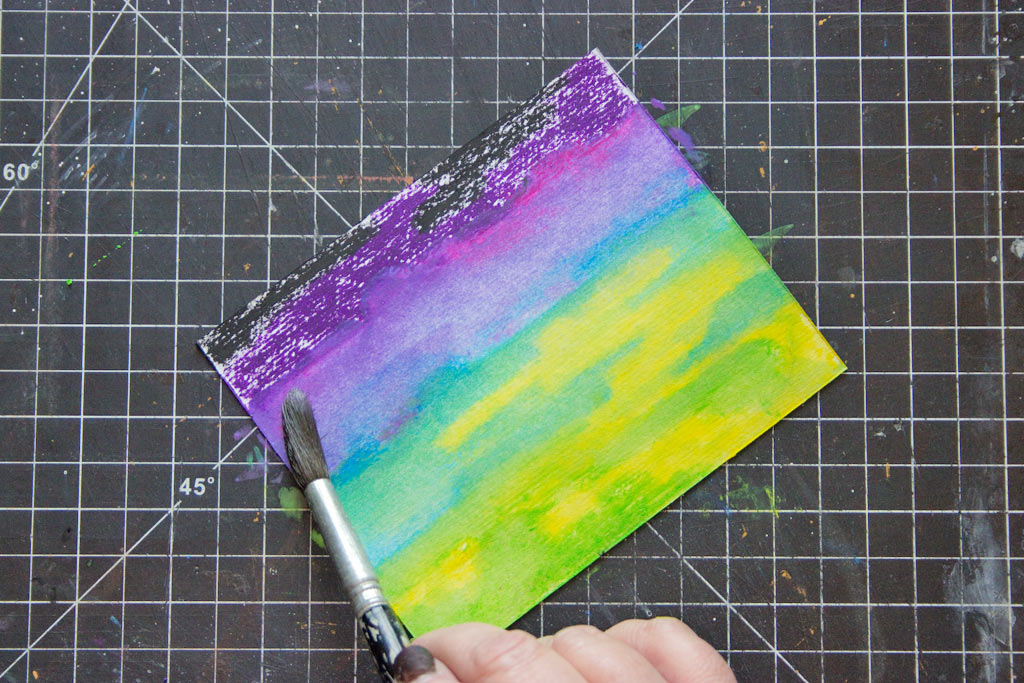 I like to further soften the effect by gently stroking a baby wipe over the surface – again, in a horizontal pattern.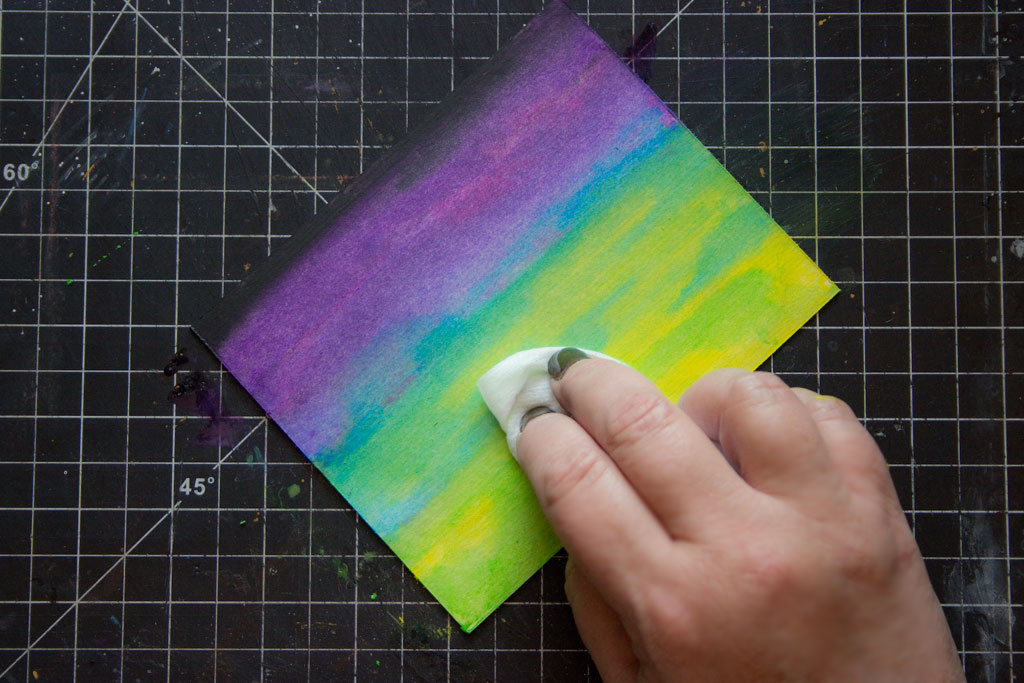 When you are happy with the blending, spritz the surface of the paper, leaving a generous sheen of water moisture.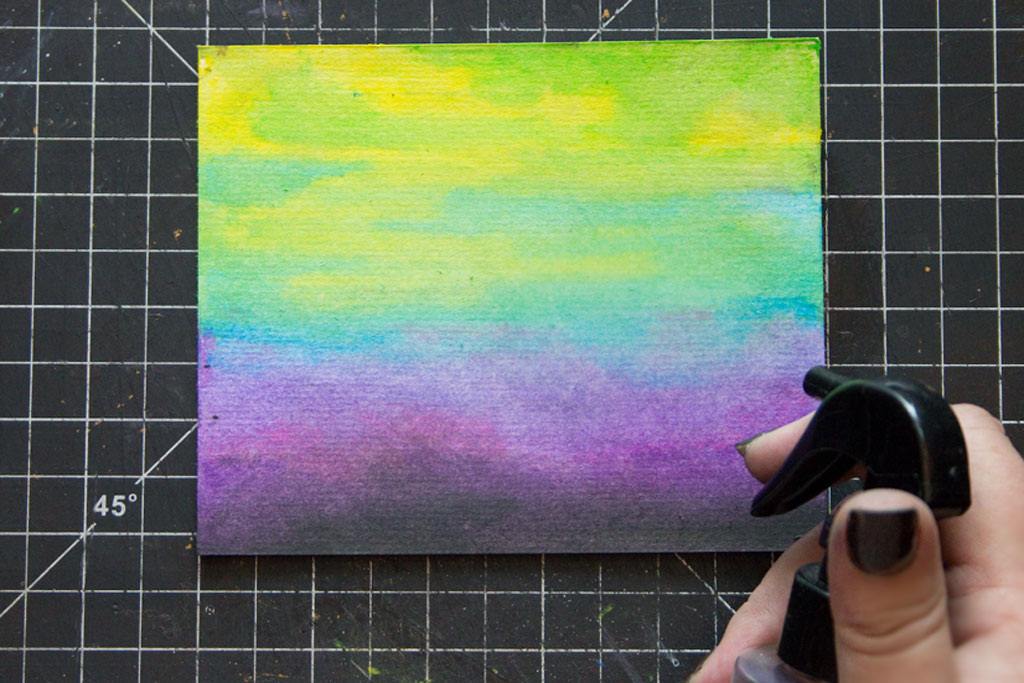 Sprinkle the wet surface with regular table salt…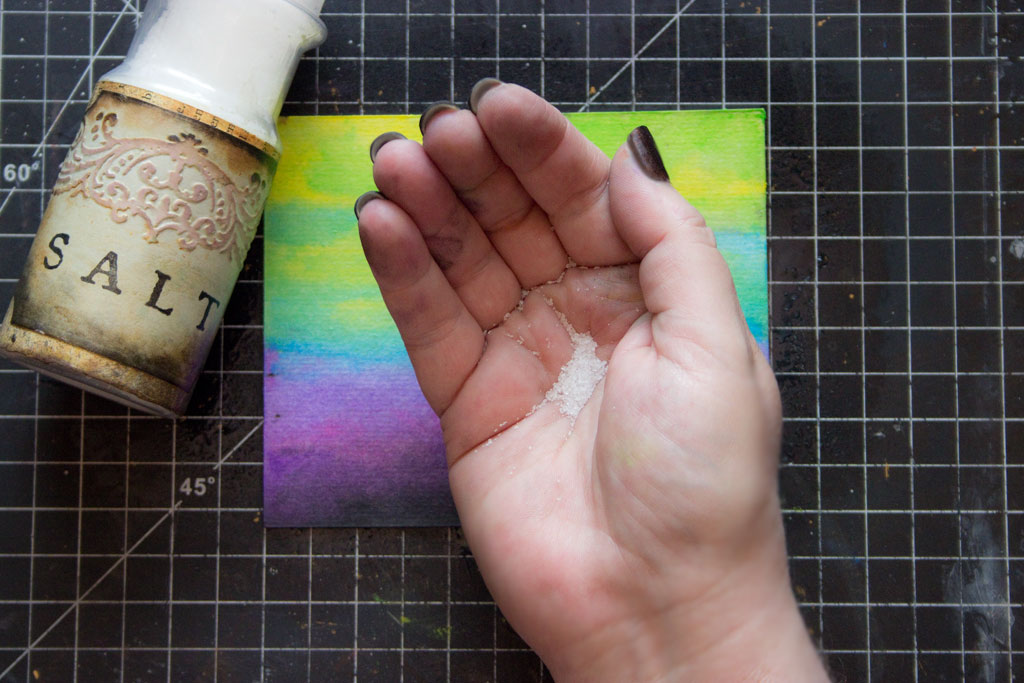 Try experimenting with different types of Salt. For varying effects, I added a bit of Red Sea finishing salt grains. The salt grain is quite coarse.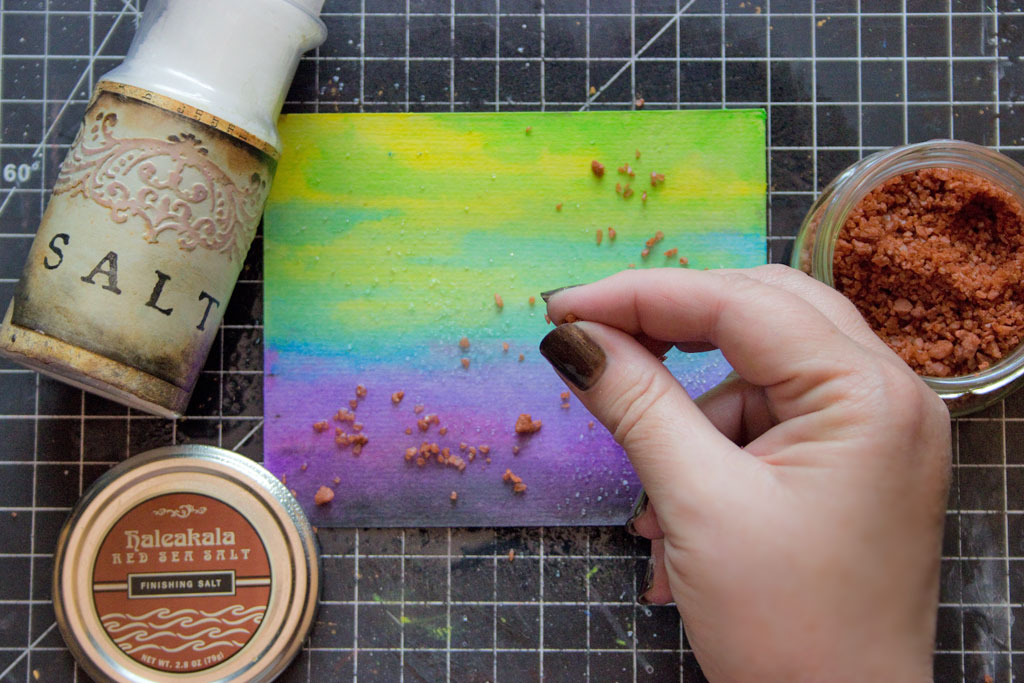 Apply more water to the surface.
For subtle gleam, spray a shimmery mist over the top.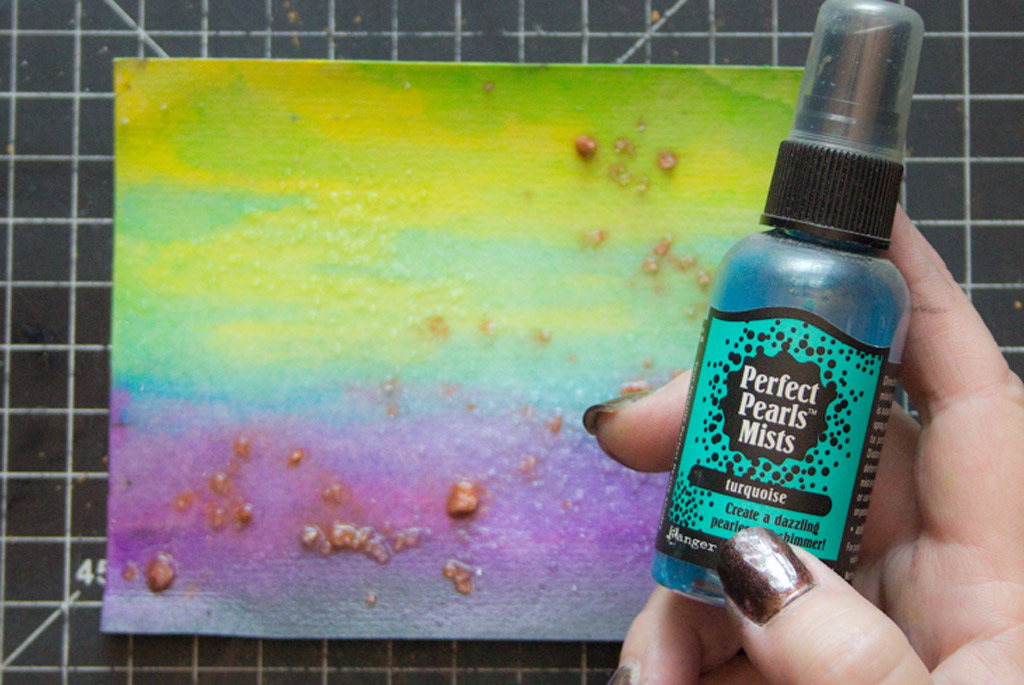 The tiny particles of mica will gather around the salt granules, resulting in tiny halos of shimmer!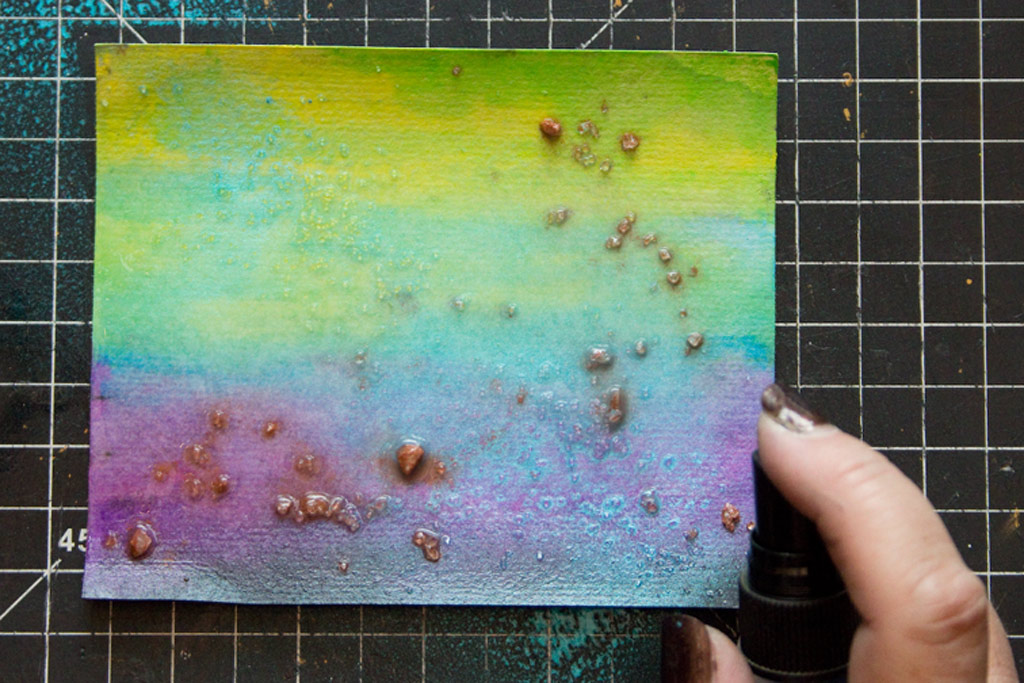 Here, you can more clearly appreciate the glimmering 'halos' created by the mist: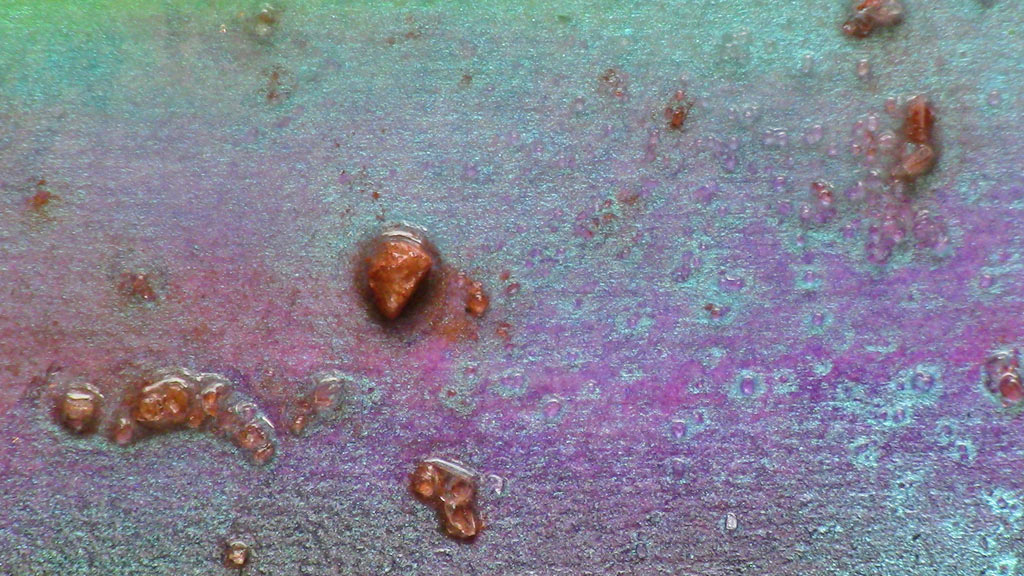 Leave the surface undisturbed until it has dried completely – overnight is best.
(This is one time you do NOT want to use a heat tool)
When the paper is bone dry, gently rub away the remaining loose crystals with your fingertips.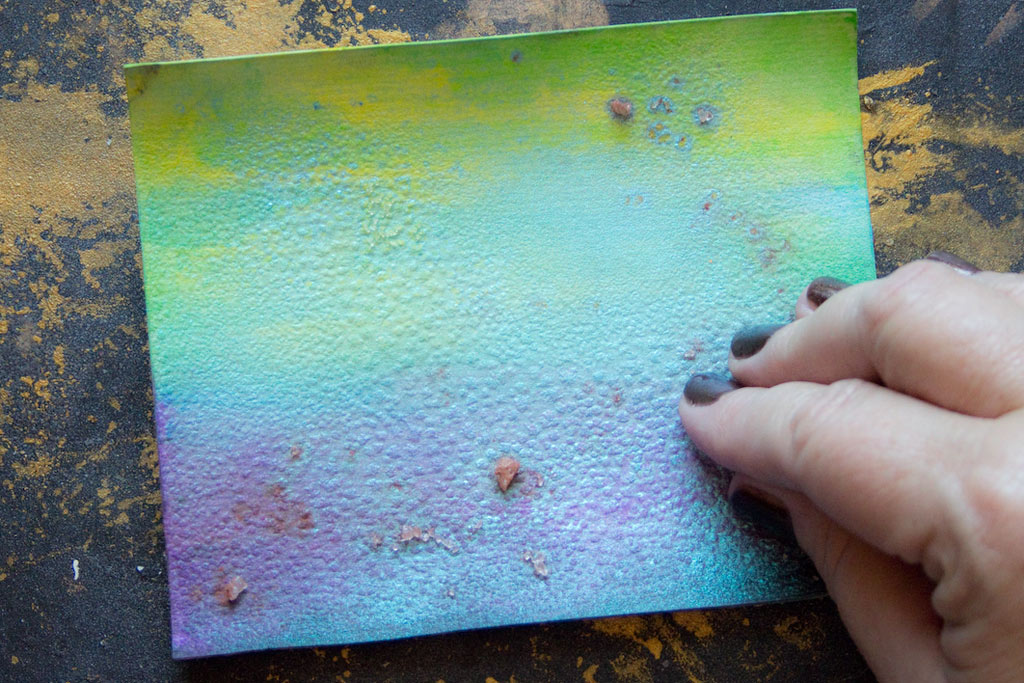 This close up shows the varying intensity of the salt technique, and the slight staining from the Red Sea Salt.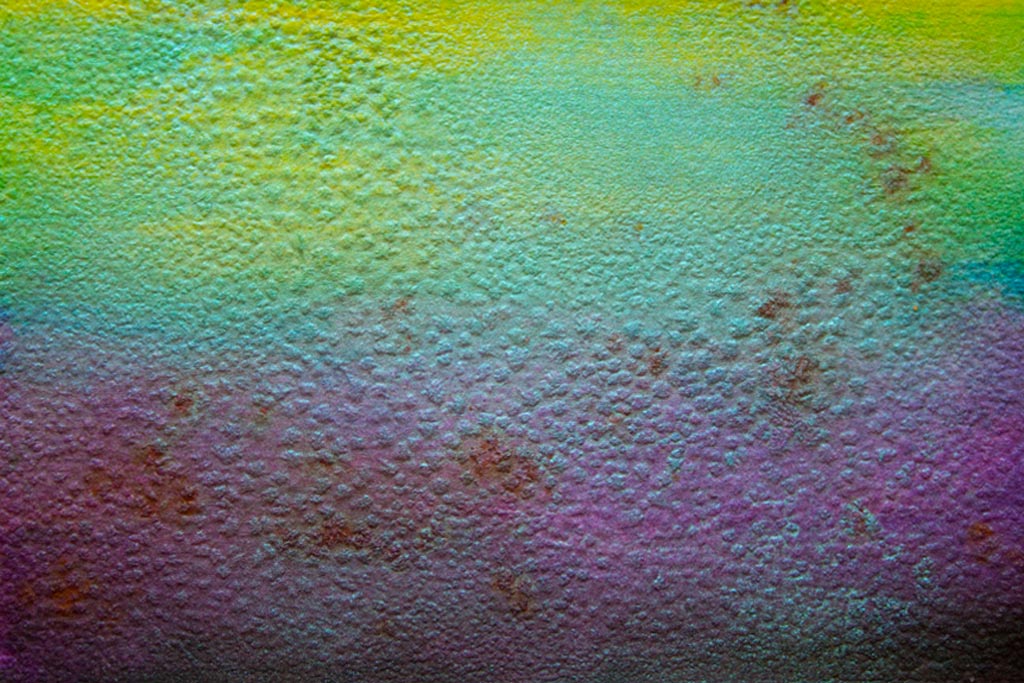 You can enhance the texture by adding Inka Gold highlights…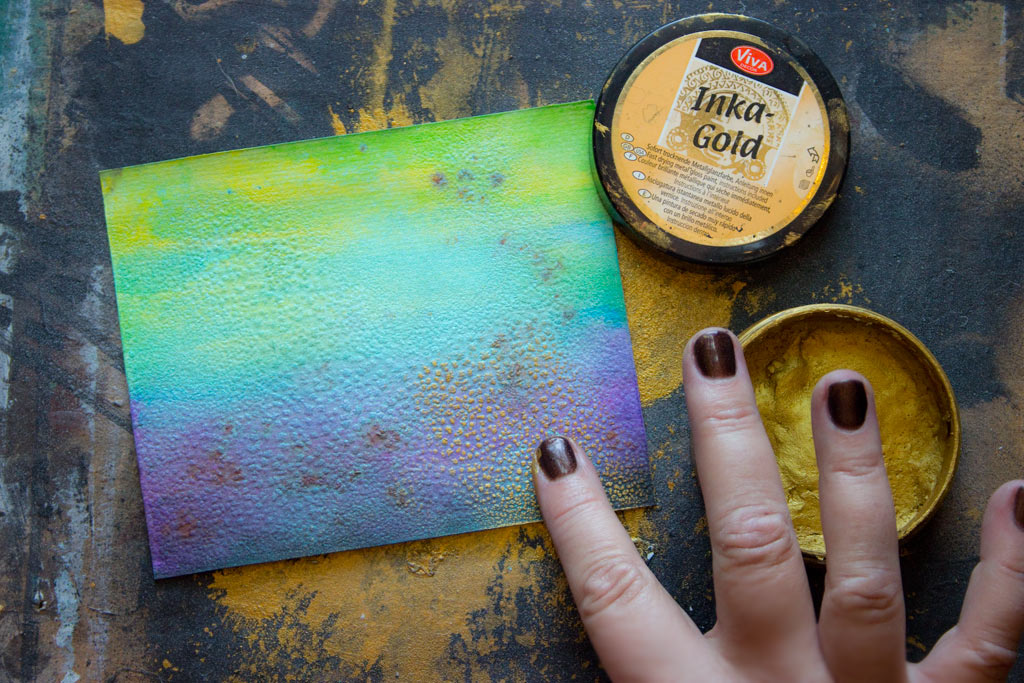 The resulting contrast can be very pleasing…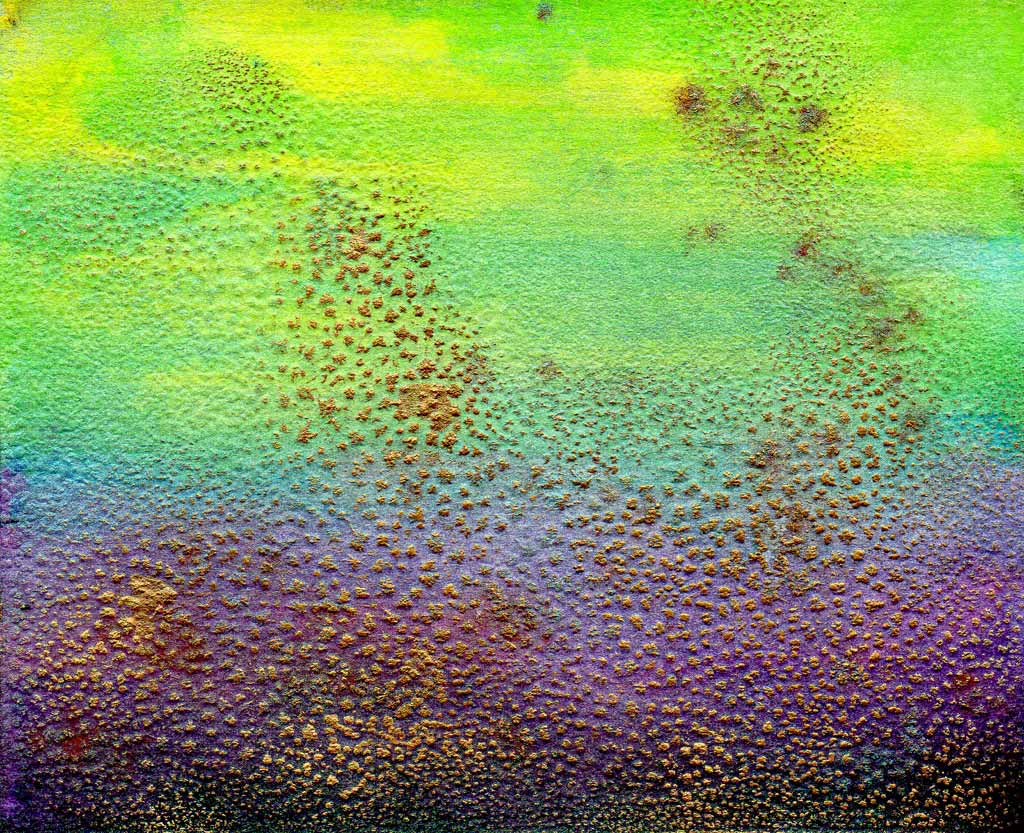 This technique is unpredictable, and creates lovely organic patterning.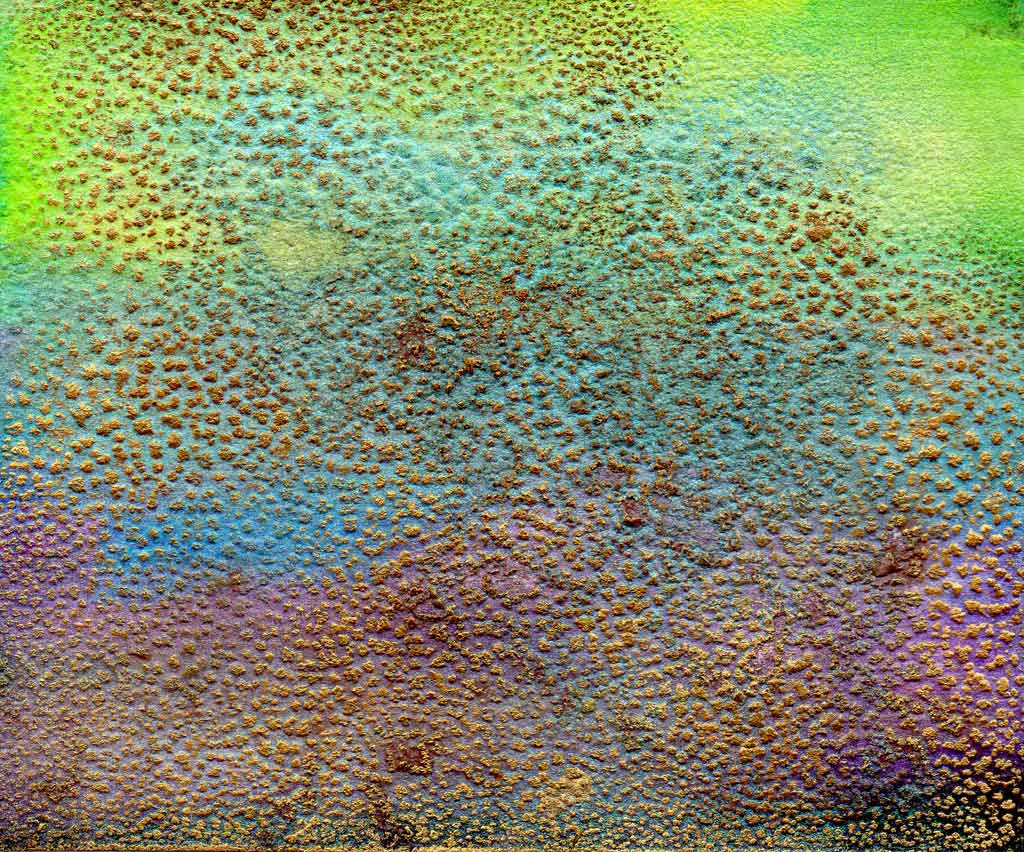 Once you've created your beautiful Watercolor Salt Effects papers, you can use these richly textured salt art papers as background for Mixed Media Canvases, like this one: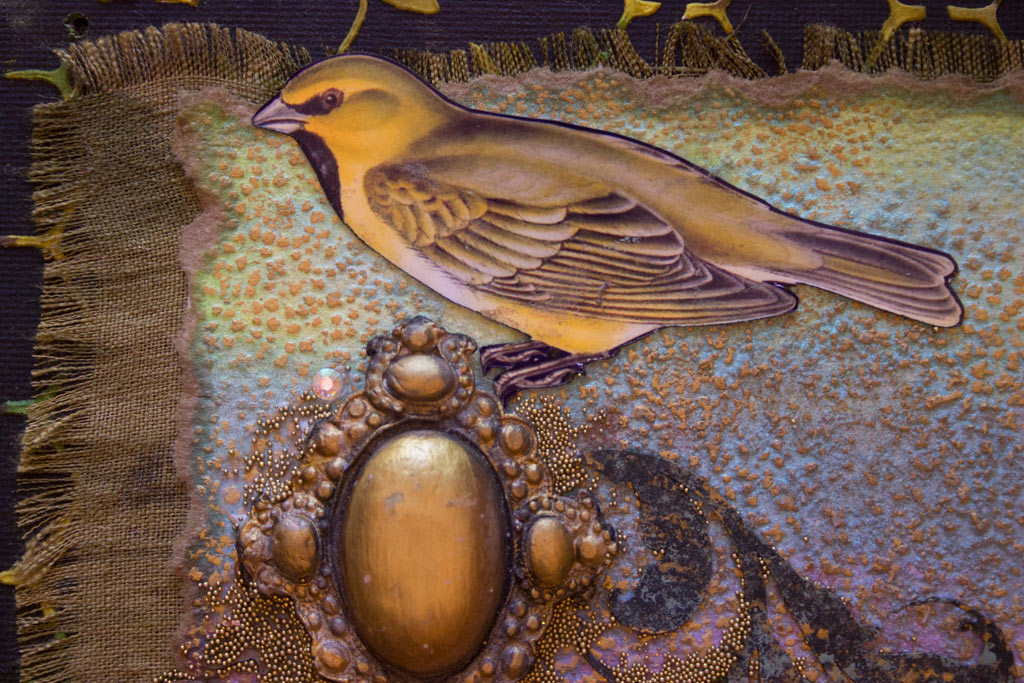 Of course, you can also use them to enhance scrapbook layouts, to add delicious layers to cards, as part of an Art Journal Page…there are no rules, and no limits!
I hope you find time to experiment with this Salt on Watercolor technique – the results are fascinating! You might also like my DIY Marbled Paper Technique HERE.
Until next time,
Heather
To learn how the Mixed Media Canvas above was created click for my blog HERE: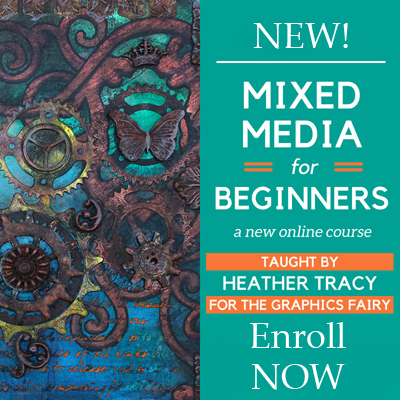 Our students have SO much fun in the Mixed Media for Beginners online course…