What is a Junk Journal?
Have you ever seen a really beautiful handmade book called a Junk Journal and wondered … "What is a Junk Journal?" We get that question a lot here so we thought it was time to put together a post, for those of you that are curious … to go over why you would want to use one, what to use it for, how to use it etc. This is a comprehensive guide that will answer those questions and more.
I am Rebecca E. Parsons and I am a life long journaler and a master bookmaker. I love to make Junk Journals, an ever evolving and oh so popular form of creative book making.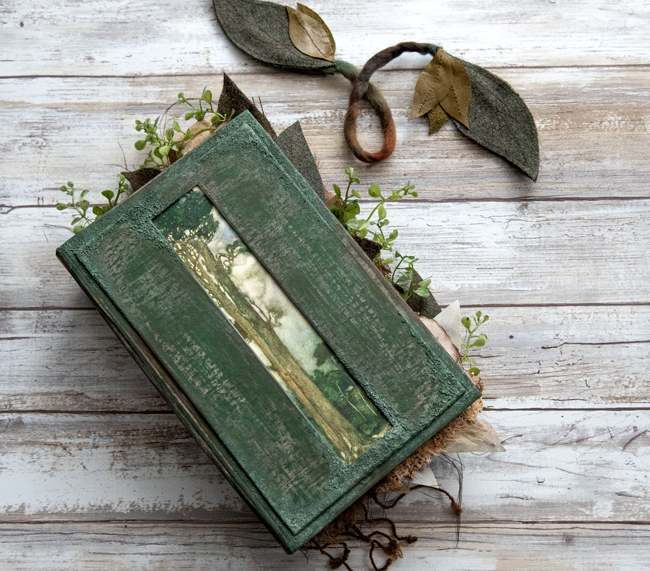 Above is a fine example of titled "Forest Lore Junk Journal" by Nik the Booksmith for our first Graphics Fairy Design Team. Wait till we peek inside this glorious book and others from our Design Team members. You will be inspired by, and probably hooked on, the easy craft of Junk Journaling.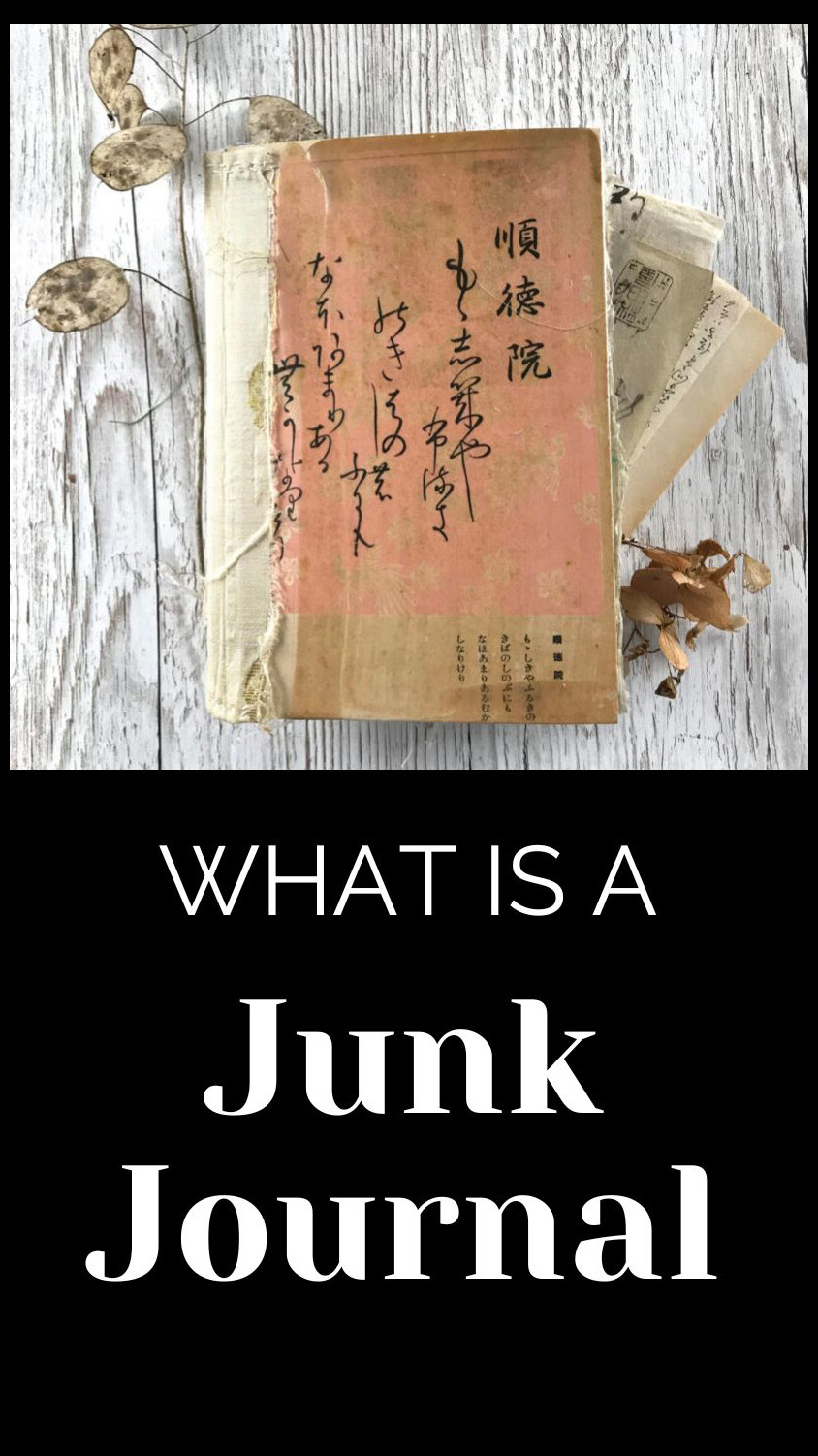 What is a Junk Journal?
In it simplest form, a Junk Journal is an artfully handmade and hand bound book created with recycled paper and found objects that might otherwise end up in the trash. That is where the 'Junk' part of the title comes from. The Journal part of the name emerges from the fact that the book can be used to write your thoughts and record your personal hopes and dreams just like a diary. Plus ,you can add keepsakes and tokens of memories inside. You can see a blank journaling page at right in the photo below from Forest Lore. A good junk journal has plenty of room to write.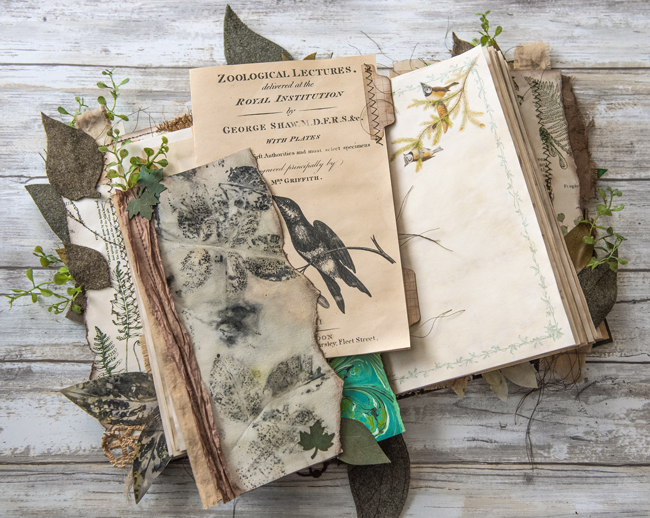 The cover of a book is often made with an old book cover or cardboard faced with fabric or paint. A 'hodge podge' of all sorts of things can be added in a unique, individual manner. It is important to understand that there is no real right or wrong, and no specific guidelines or boundaries to be met. You create your own special art as you imagine it! The 'Junk' is an important part of what makes the book a prized piece of art. Below we have the glorious cover of the "Shabby Mermaid Junk Journal" by Robin Dudley Howes for our Design Team.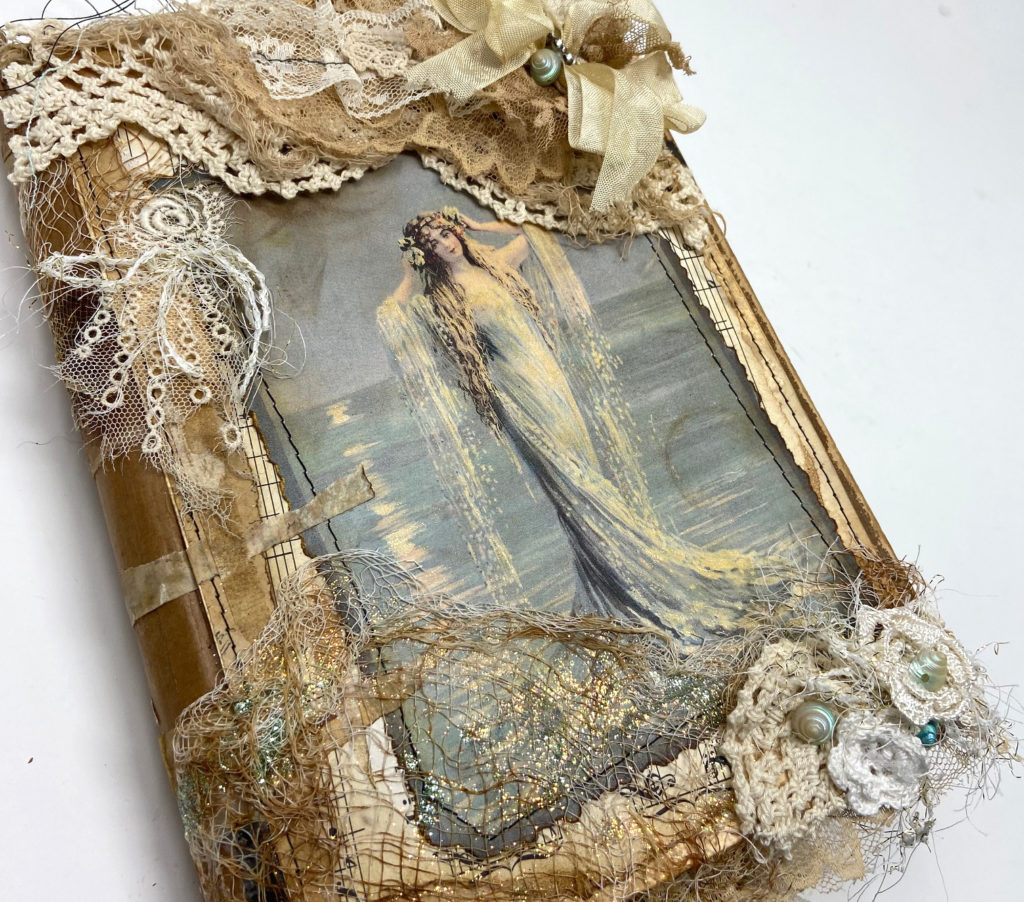 Junk Journal Supplies
There really aren't any "official supplies" per say as the point is to really use what you have! The most common element that comprises your Junk Journal is of course paper. The type of paper and the amount used is up to you, but there are many options such as plain paper, patterned paper, envelopes, sheet music, maps, and paper bags, paper scraps among others. Of course, our favorite ephemera can be found among the beautiful images here on The Graphics Fairy.
Fabric is also a popular option, along with lace, ribbons, Sari Silk scraps, Doilies, beads, and charms. Washi tape is also a popular supply used in the making of these art books. And then we have all of the different types of Ephemera that people like to use like old postcards, ticket stubs, Junk Mail, Stickers, and other assorted memorabilia.
An interior page from Shabby Mermaid is made with images from our TGF Premium Site as well as bits and bobs from the designers stash. Most makers tea or coffee dye the papers to give them an aged look and feel.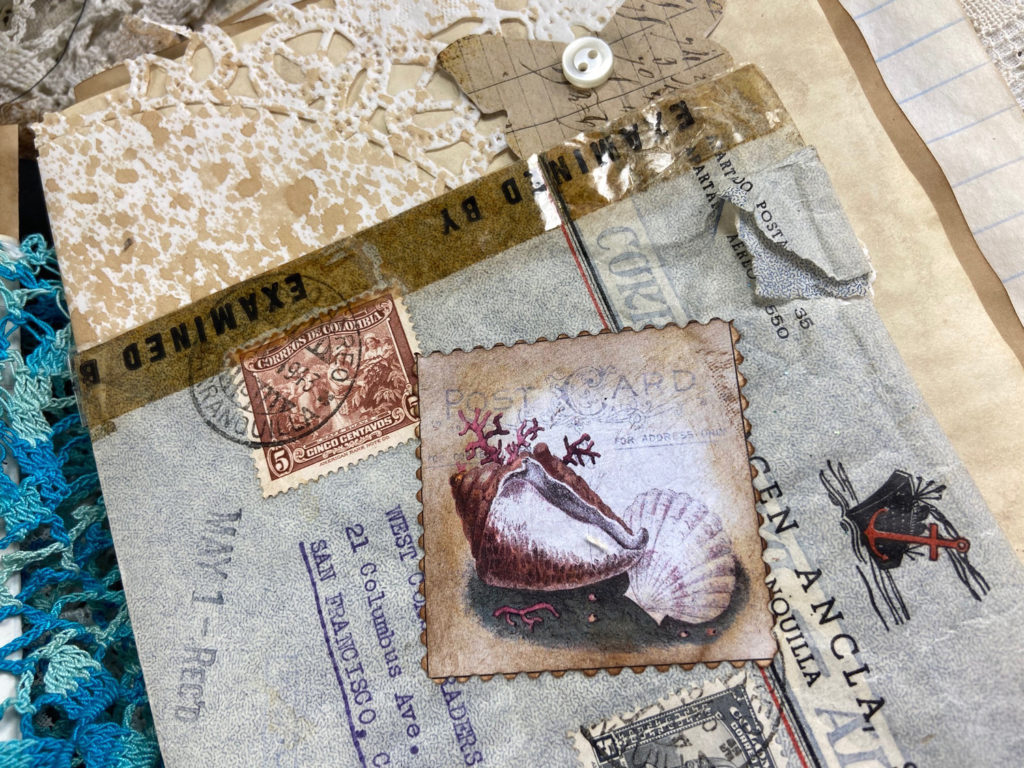 What is the Purpose of a Junk Journal?
There are unlimited reasons, as well as opportunities, for using this special type of journal. One is as a daily diary in which you maintain a record of things such as special memories, thoughts, and ideas. Another ways is as a scrapbook, so that you can update personal experiences as well as collect and display special ephemera like a gift tag from the perfect gift someone gave you or a worn piece of cloth from your child's favorite blanket! Whatever most inspires you is what goes in. It is sort of a "one person's trash is another person's treasure" thing in a sense, because all that matters is what you want to create, remember, or memorialize. What you imagine, love, and add to the journal becomes your own personal treasure chest!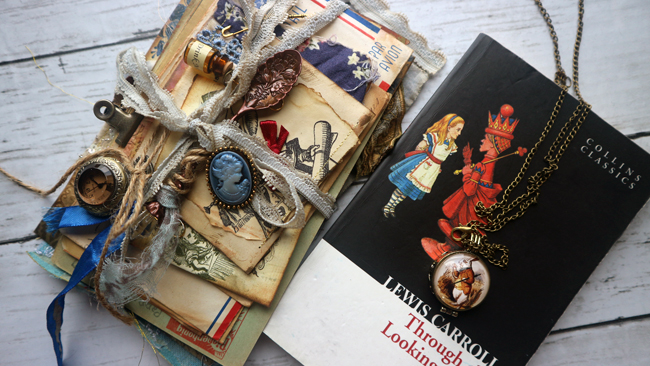 You can see a myriad of mementoes in the magnificent "Alice In Wonderland Junk Journal" by Sheena of Luna Rozu above.
The journal can also work as a daily planner to maintain a record of daily events or future plans that come to mind. This can be an actual Calendar or a Bullet Journal. Another way to use it is as a Memory Book including receipts from travel like plane tickets or a visit to a museum. Anniversary, birthday, graduation, and wedding day cards are examples. Tickets from a musical, the theater, or sporting event could apply. Old letters and bits and bobs collected by an ancestor can be archived as you see on this page from Alice in Wonderland below. You get the point. There are limitless possibilities here.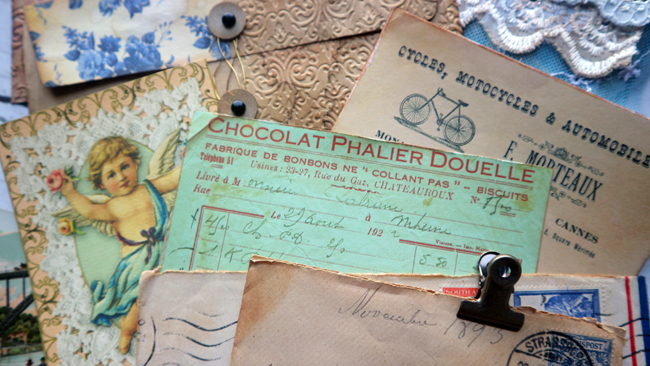 Another highly popular use today is as a Theme book. You will see Themed Junk Journals in all of the images in this post. This simply means that you have one specific theme, or subject matter, that you work with and feature. However, as with other uses of a Journal, there are truly endless opportunities here as well. Your chosen theme can be anything that you especially love. A few subjects might be nature, sewing, travel, painting, gardening, music, fiction or non– fiction books, or books of a particular subject matter. And on and on!
What Size Should They Be?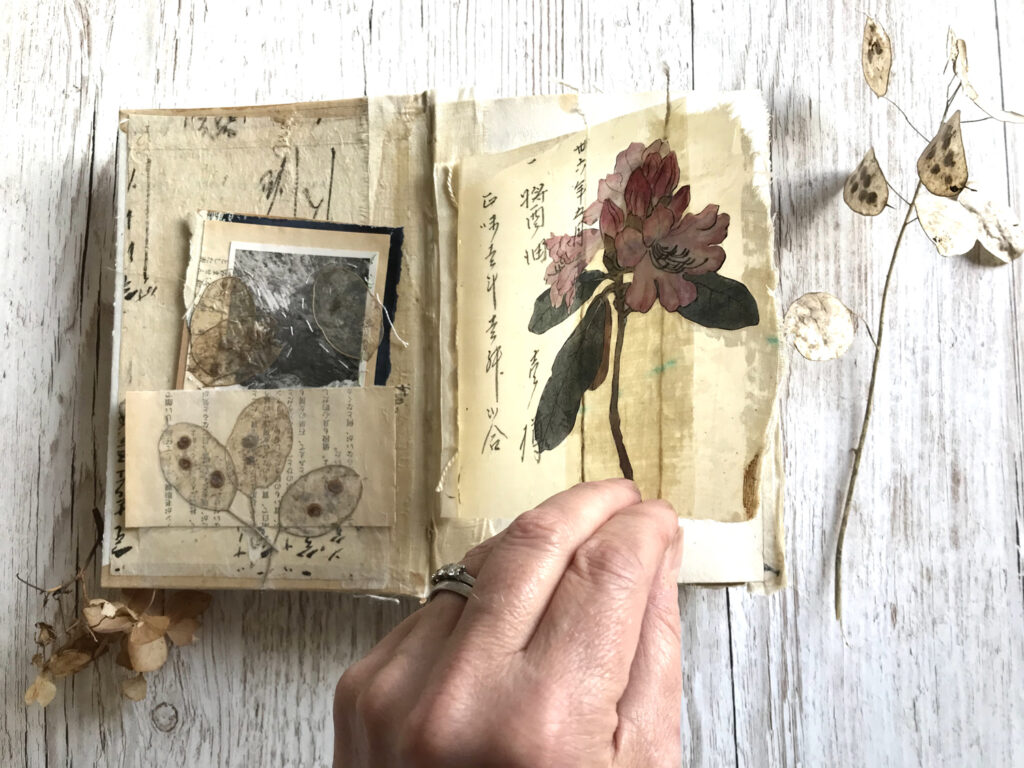 The books can be any size as you can see in the small, pocket size "Japanese Ephemera Art Journal" by Jane Chipp! They can be as tiny as 2-inches wide to a very large, 12-inch plus wide volume for display on the coffee table. Most journals you see today are the size of a normal hardbound book. They fit easily on a bookshelf. You will find many are approximately 5-3/4 inches wide by 8-3/4 inches tall because the paper used to create it is standard (US) 8-1/2 inches by 11 inches folded in half. European junk journals will differ in size because their papers are sized differently.
Who Uses these Handmade Books?
Anyone can use a junk journal. Presidents, Prime Ministers, inventors, and scientists use them. Although people like talented artists and writers of short stories, poetry, and song composers use them, you definitely don't need to have any specific 'expertise' to use one. If you would like an artful way to help you clear your head and keep track of memories, a junk journal will do the trick! Wouldn't you love to journal in this exquisite Japanese Ephemera Junk Journal?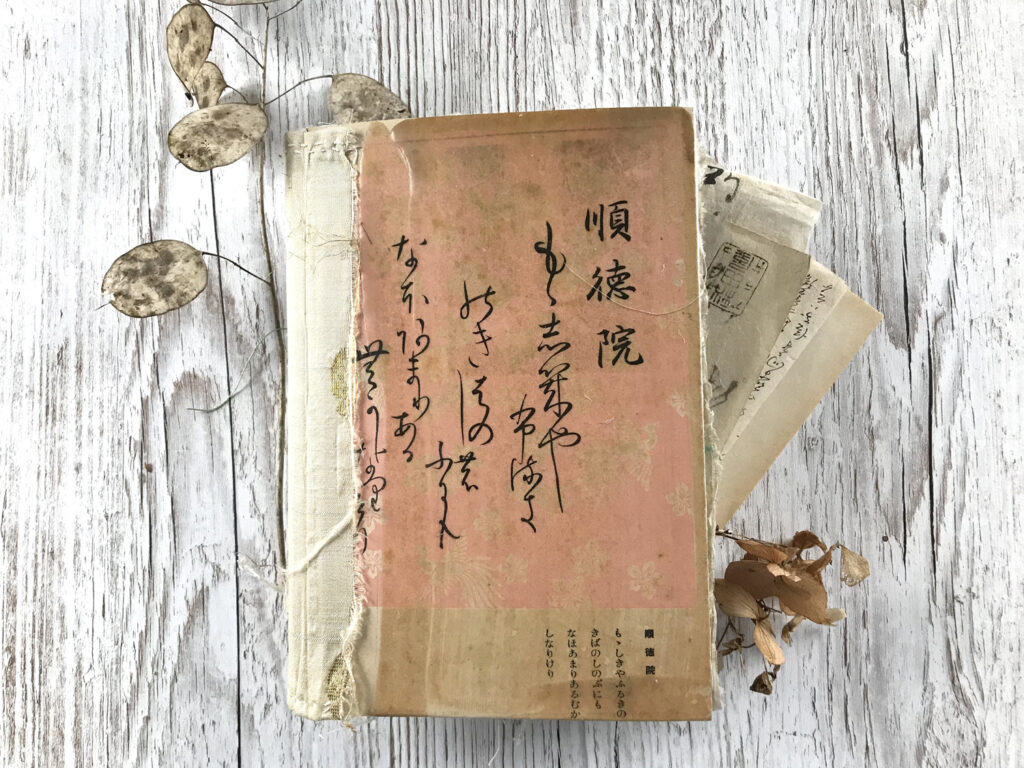 Who Can Make a Junk Journal?
Anyone can learn to create a junk journal. It is really true that everyone has an artist inside of them somewhere, and a Junk Journal is a great way to put that theory to test! If you have ever dreamed of creating art, I will teach you how in my step-by-step eCourse that teaches you to Make Your Own Junk Journal here on TGF! Just remember, anything goes in this art form. There is no right way or wrong way. Realizing that you will have wonderful hobby, which will last a lifetime will quickly come to fruition. I promise!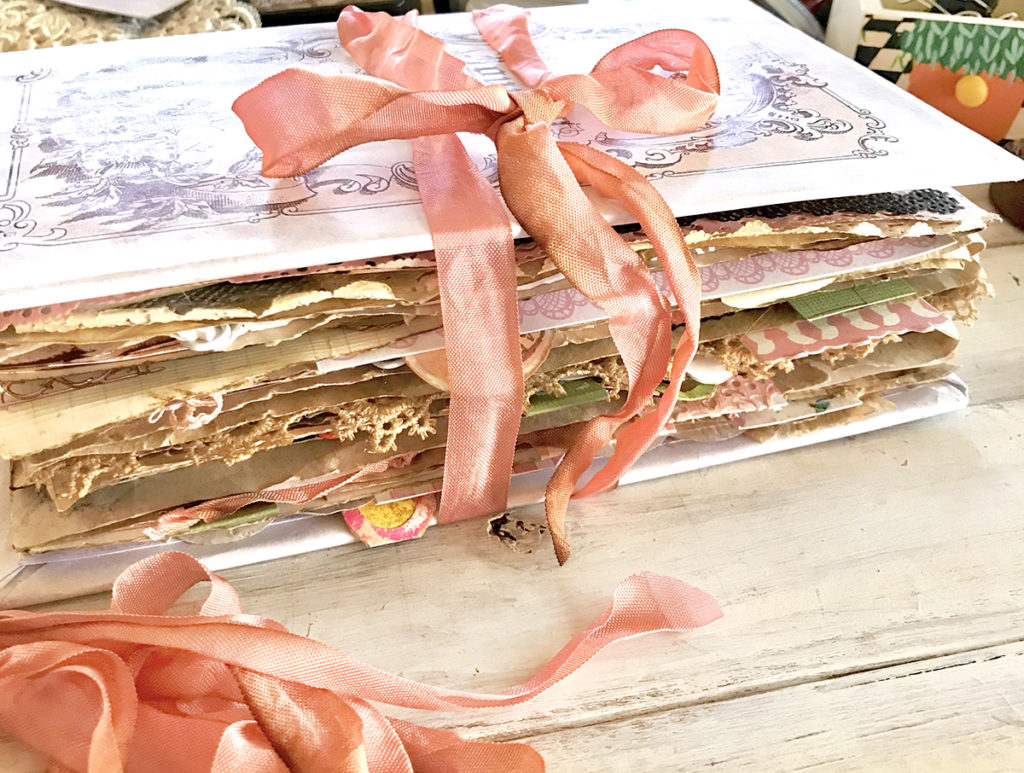 How to use a Junk Journal?
Employing mixed media techniques, which involves the use of multiple mediums, or Collage is one of the most popular reasons  to make or use a Junk Journal. Once again, individuality comes in to play. Some of my favorite things to incorporate are bird feathers, seashells, buttons, wood, and fabric, along with acrylics, pastels, and watercolors. Old photos can be added like the page below from the Japanese Ephemera Junk Journal! I love how she used simple, hand stitching to attach it to the page.
Video Example Watch Below:
This video by Gina Testa on our YouTube channel is a great example of a completed Junk Journal and is sure to give you lots of ideas and inspiration!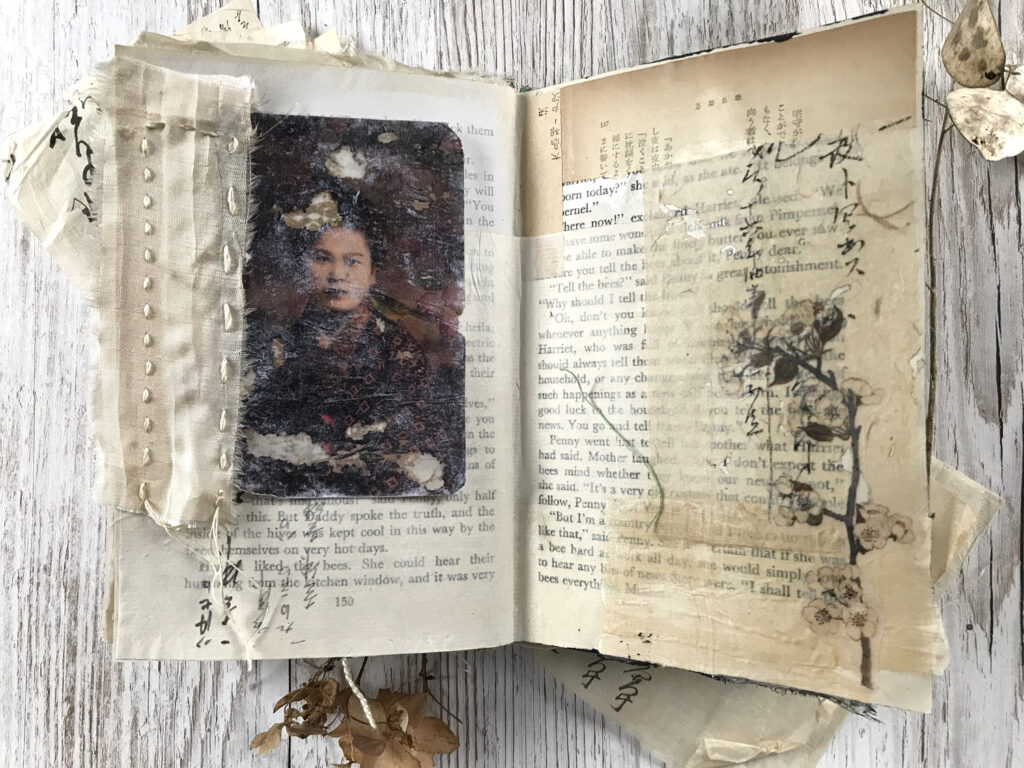 Plus you can add keepsakes and tuck in tokens in pockets and envelopes, as well as record memories. Oh yes, these places to hide and seek are one of the best parts of the junk journal. Robin, who created the Shabby Mermaid, tells of pockets: "Another thing I made and included in this junk journal is a really cute and QUICK pocket. These are so easy to make and you can decorate them any way you want. Glue them onto a signature and you have an instant pocket!" You can see a pocket and envelope below.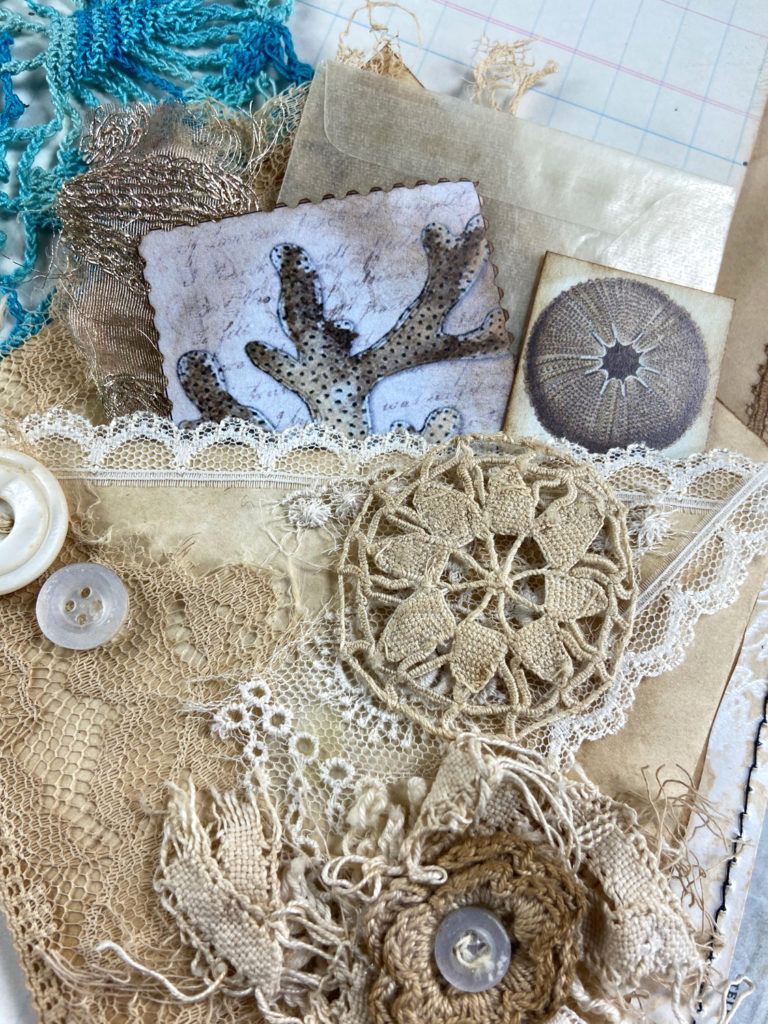 The edges or fore edges are often decorated and accented with laces, nature items, images, etc. They can be attached with paper clips or glued in place. Some have tabs for finding certain pages like you see below in the lavish "Forest Fairy Junk Journal"by Anna Hollingworth!!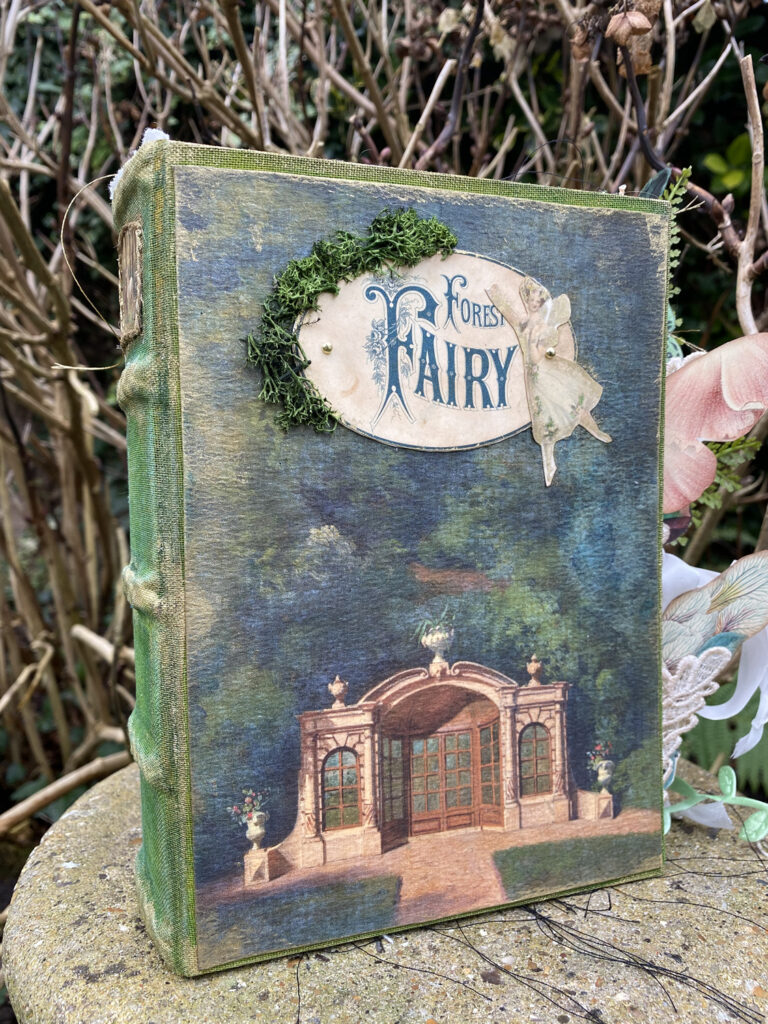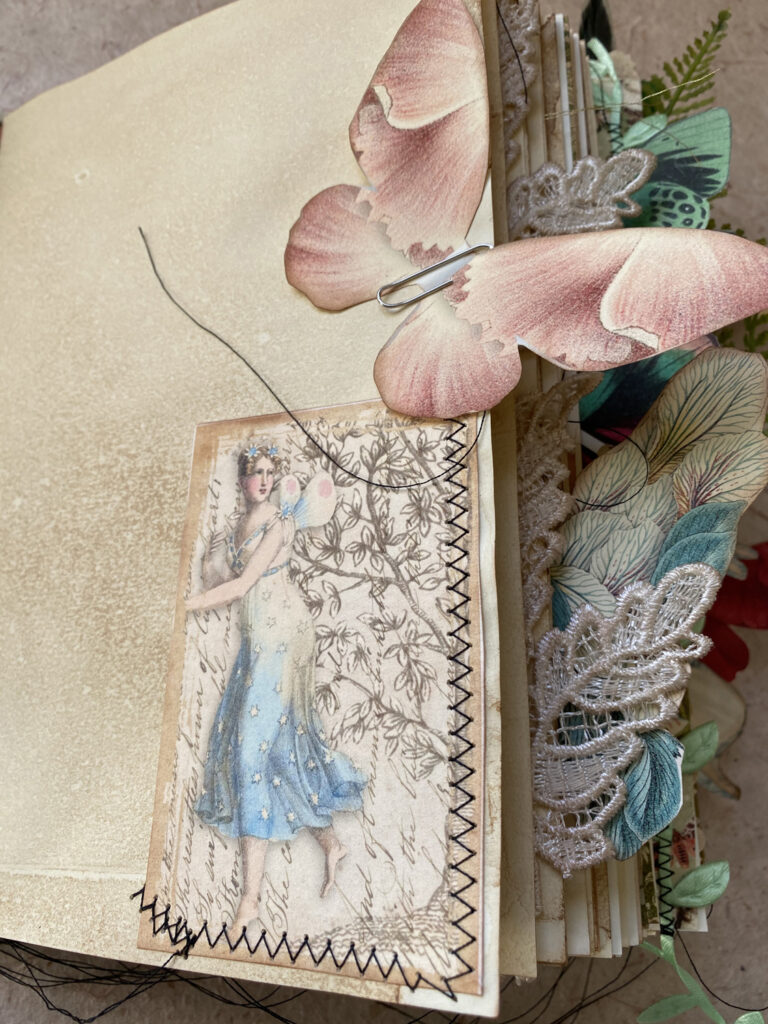 Why I Journal
There are actually many reasons why I enjoy Junk Journaling. First, I love to use my imagination to create many forms of art. The Junk Journal allows me to use many art techniques that I thoroughly enjoy in one place. It enables me to document and save a wide variety of things that are special to me. It really is a personal thing in many respects. I enjoy making something beautiful that represents lifetime memories, which might even be passed down to my Children and Grandchildren. I hope that those of you who are interested in starting to Junk Journal will find as much joy in imagining and creating one of these! How do you use or plan to use a Junk Journal?
I hope you enjoyed playing with me in my Graphics Fairy sandbox today! I also create Photoshop Elements tutorials and craft project videos on The Graphics Fairy Premium Membership site. You can find even more of my art, DIYs, books, and whimsical shenanigans on The Bookery
Rebecca
Hello! Are you new to The Graphics Fairy?
Welcome, I'm so glad you're here! Browse around to find 
thousands of Stock Images
 that you can use in your projects or designs! I post new Vintage images every day, as well as projects and DIY's too! Need more info about my site? Try my 
FAQ
 page.