What is Chalk Couture?
An interview with Sherry from Hearts and Halos Designs
Hey guys, we have something a little different for you today! Today we are talking to Sherry from Hearts and Halos Designs, as she answers the question … What is Chalk Couture? Stay tuned because Chalk Couture is super fun and we think you will love it! First off a bit about Sherry… If you've ever sent an email to our Help Desk on TGF, then you there is a good chance that Sherry helped you, as she has been manning our Help Desk, as one of our Customer Service Reps, since we first opened it in 2014. She is super sweet and super helpful, so the job fits her to a T!
In addition to that, last year, over Thanksgiving weekend, Sherry Foster became an Independent Designer for Chalk Couture, and launched her Hearts and Halos Designs by Sherry Facebook Page. She took a BIG leap of faith by starting her own creative biz. Karen is so very supportive of her team, and I'm happy that she asked me to give you the scoop on Sherry's new creative adventure. We think that Chalk Couture is such a cool product line, that we thought you guys would like it too! (And just so you know, we were NOT paid by Chalk Couture for this post and we don't get a commission or anything like that.)

Chalk Couture "Makes Me Happy!"
The first thing Sherry tells me is that "I am not an amazing crafter." (Although I think she is overly modest about her talent as you will see by the lovely work she does.) "Chalk Couture adds a lot to my life," she muses. "It brings me joy." Sherry became a CC designer as "a way to do something beautiful with my 12 year old daughter." She quietly shares that CC brought joy back into her life coming from a dark time. "Hearts and Halos is to honor my son, Nicholas, who is in heaven." He is "My heart and my angel," she says. "If my story can offer good to someone then that makes me happy." That is truly commendable in my view.
That joy, resulting from a happy spirit, is fully evident as it radiates on her Facebook Page. It is chalk full (pardon the pun) of delightsome images of her work coupled with inspiring quotes and funny memes! My fave is "I brake for thrift stores, coffee, and junk left on the curb." I certainly can relate to that philosophy! Sherry enthuses, "I love sharing DIYs that you can actually DO!!" One thing to mention is that Sherry has a set time for her FB lives. Sherry goes live on Facebook most weeknights at 5:00 PM ET. She has such a fun and warm style of teaching, you will love learning from her!!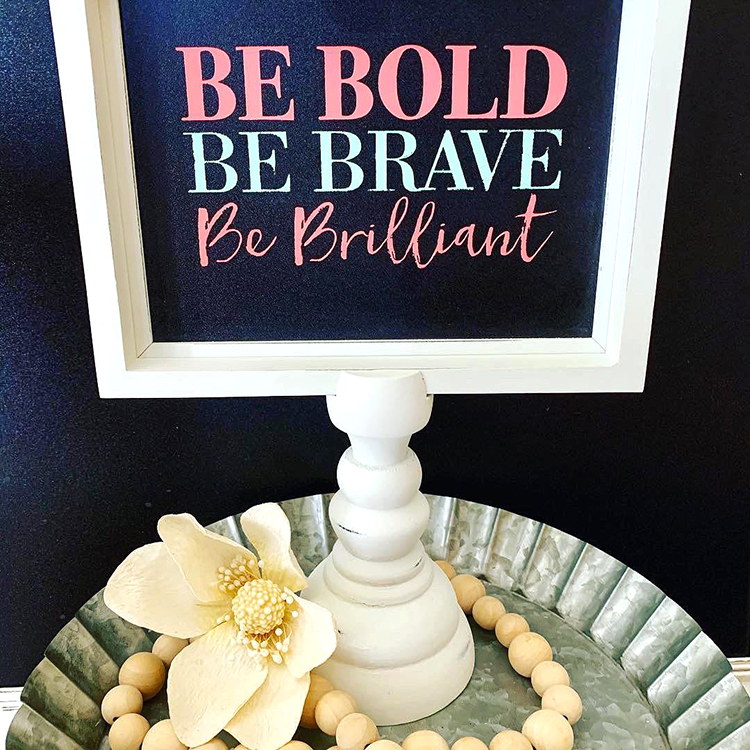 She must be doing something quite well because her page has grown to 3,500 totally engaged fans and followers in just seven months. Congrats on that! Please check out her page and join in the fun and camaraderie while she shares her love (or obsession) freely. You will find a link to her page at the end of this article.
What is Chalk Couture? Gorgeous Home Décor in Minutes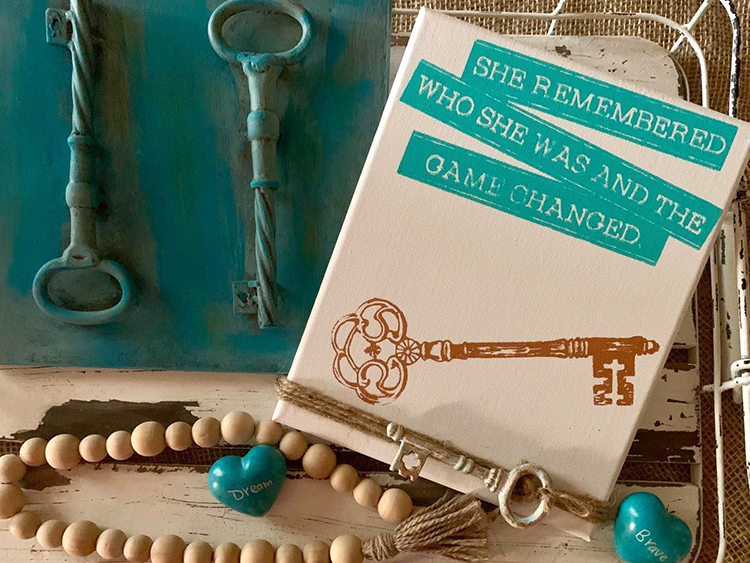 What Sherry loves the most about Chalk Couture is that you can create gorgeous custom home décor in minutes, and it is foolproof! Anyone can create a masterpiece in minutes. When talking about Chalk Couture, you can feel the excitement and passion in her voice. The CC process can be performed on just about any hard surface. It's affordable and looks professional. And therein lies the beauty of this product. The simple tools make it so easy: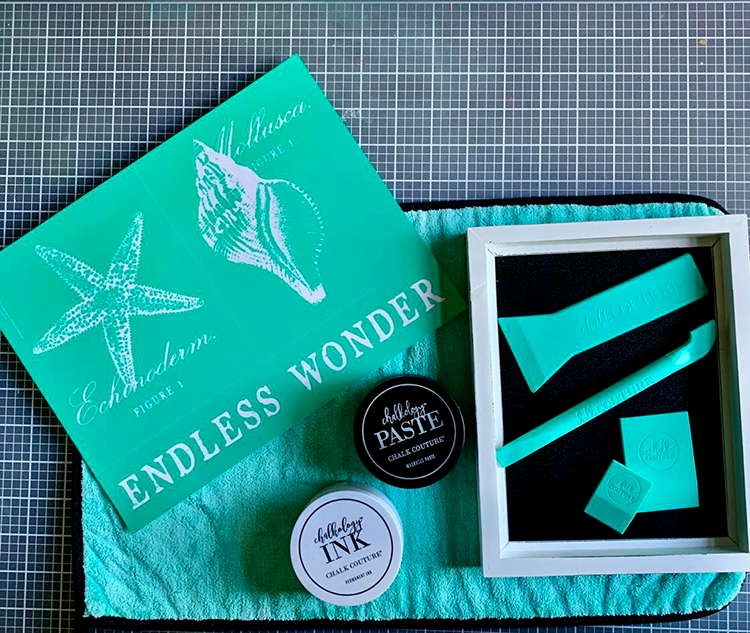 Chalk Paste – school chalk in paste form (removable) in a wide variety of colors
Squeegee – tool for applying paste or ink
Transfer –  reusable, washable, adhesive silkscreen patterns or stencils
Surface – any hard surface will do
Ink – an alternative way of creating the transfer designs on fabric and glass or ceramic
Surfaces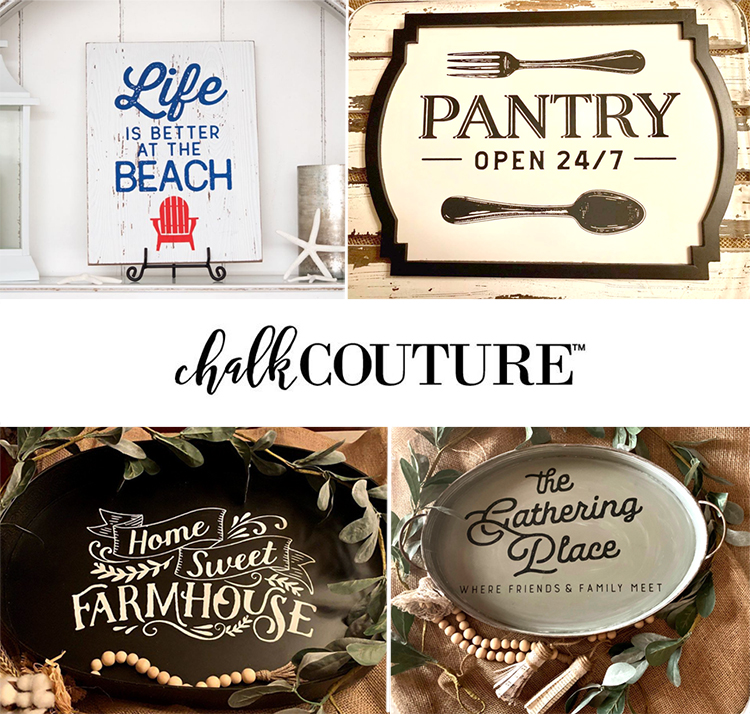 One magical thing about CC is that you can reuse the surfaces because the chalk paste is removable. You can see this perfectly in the two bottom images above. They are photos of the same surface, with different designs. Sherry advises people to "shop their homes" for pieces to enhance. Fabric, furniture, glass, etc. All work well with CC pastes and inks. Sherry even 'chalked' her dishwasher front! She absolutely loves the Peel and Reveal moment … EVERY. SINGLE. TIME! It never gets old to see the beautiful work of your hands.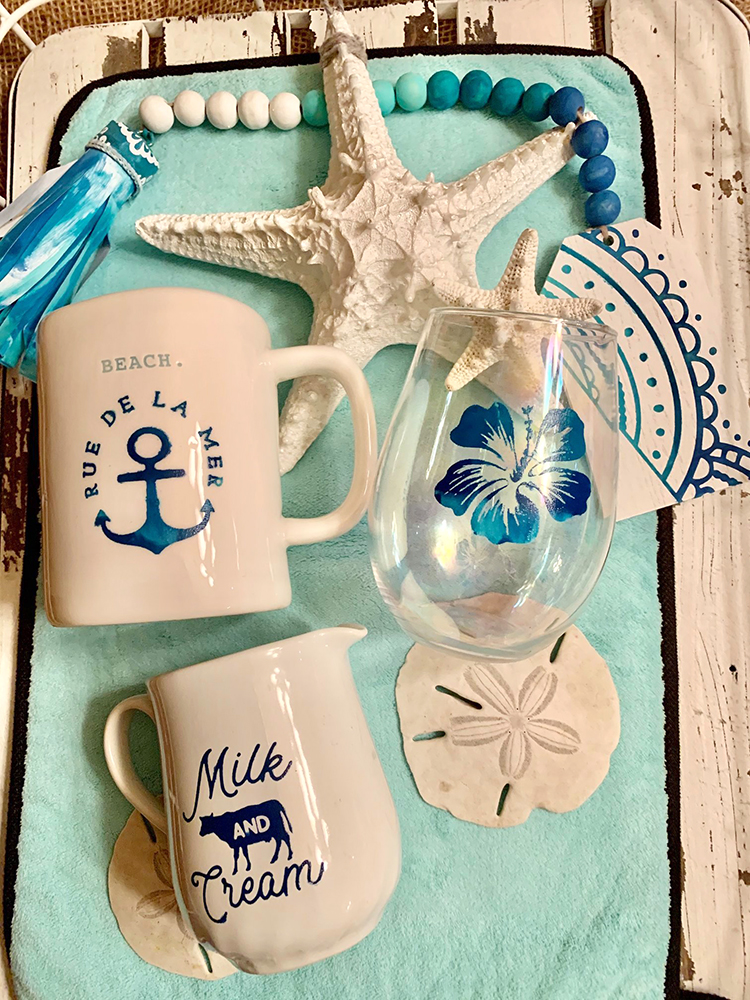 Transfers
Think stencils when trying to imagine what the transfers are. They are durable, silkscreen reusable transfers. The transfers come in many different themes available from farmhouse to garden, words and phrases, signs, occasions, and holidays… there is something for everyone in the collection! And there is a wide variety of sizes for each transfer as well. Sherry notes that CC is only available in the US and Canada.

The Process
You simply use a squeegee to apply the chalk paste through the transfer (stencil). Since the transfer is adhesive, you do not get messy run-unders and smears that can result with regular stenciling. So there is no frustration, which is a really good thing! Just splendid, professional looking results every time!!
Sherry's Shop and Facebook Page
After you have watched Sherry teach and demo on her Facebook page, head on over to her beautiful shop to buy any of the fine products and tools you need to make these fun creations. Here are the links:
Hearts and Halos Designs by Sherry Facebook Page
Sherry also offers what she calls Chalk & Sip (favorite beverage) Parties locally in Maryland. If you are in the area, make sure you see if one of her live events is scheduled. If you would like more information of how to become a Chalk Couture Designer and start your own creative business, please reach out to Sherry at her shop or on her Facebook page.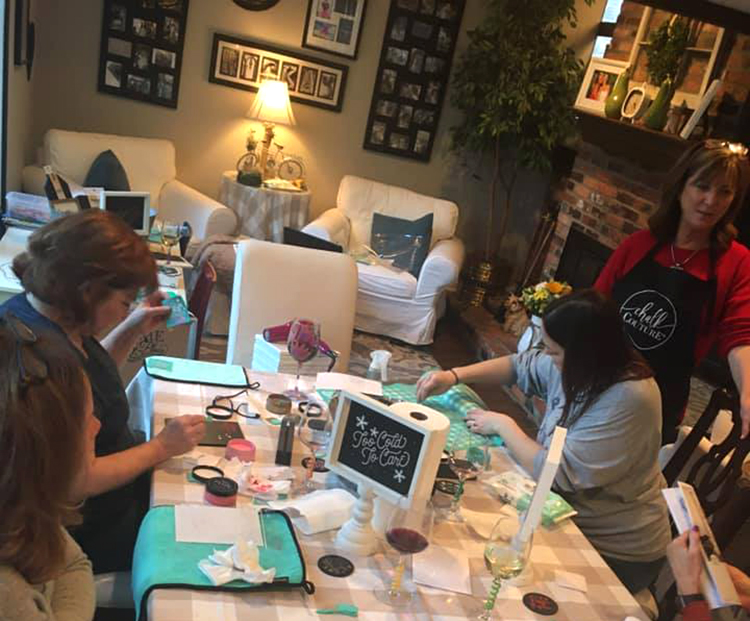 Sherry invitation to you: "Let's hang out and make gorgeous DIY décor and gifts in minutes!" She wants you to know that she is not leaving TGF. "I am grateful to Karen for the opportunity she gave me. I didn't even realize I needed it, but she did."
If you are smitten with what you see or might be interested in more information about becoming a Designer
Click HERE to find more info
. You do not have to sell as a designer, we have many Hobbiest-Designers who just want to have the benefit of the 40% discount.
It was so much fun sharing a little bit about my super talented teammate Sherry and Chalk Couture. She is a rock star CSR. She answers nearly all of the emails that come to the Help Desk assisting our Readers and Members from answering their questions to providing assistance on updating their member info. Plus, she provides resources to help them get the most from their Premium Membership experience.
Hello! Are you new to The Graphics Fairy?
Welcome, I'm so glad you're here! Browse around to find 
thousands of Stock Images
 that you can use in your projects or designs! I post new Vintage images every day, as well as projects and DIY's too! Need more info about my site? Try my 
FAQ
 page.