25 Free Happy Mothers Day Images
In this collection, we've rounded up our favorite Free Happy Mothers Day Images for you my crafty readers! We've searched through our Vintage Image Archives here at The Graphics Fairy to find our favorite vintage Mother and Child Images, and we threw in a few DIY and Craft projects for inspiration too! This is a great collection of some of our best offerings in this theme. These lovely Mom Graphics are perfect to use in your Handmade Gift, Craft Projects and Greeting Cards for your favorite Moms, Grandma's, or Mother in Laws! Such a great way to say "Happy Mother's Day Mom", those thoughtful handmade greetings bring much happiness and sometimes even happy tears! Handmade creates a real personal connection, between the giver and the receiver. In this post, you'll find our Best Happy Mother's Day Clip Art Images, in both black and white and color, and some Printables too. You can download all of the Vintage Freebies to use in your crafts, by clicking on the pictures below!
Happy Mothers Day Pictures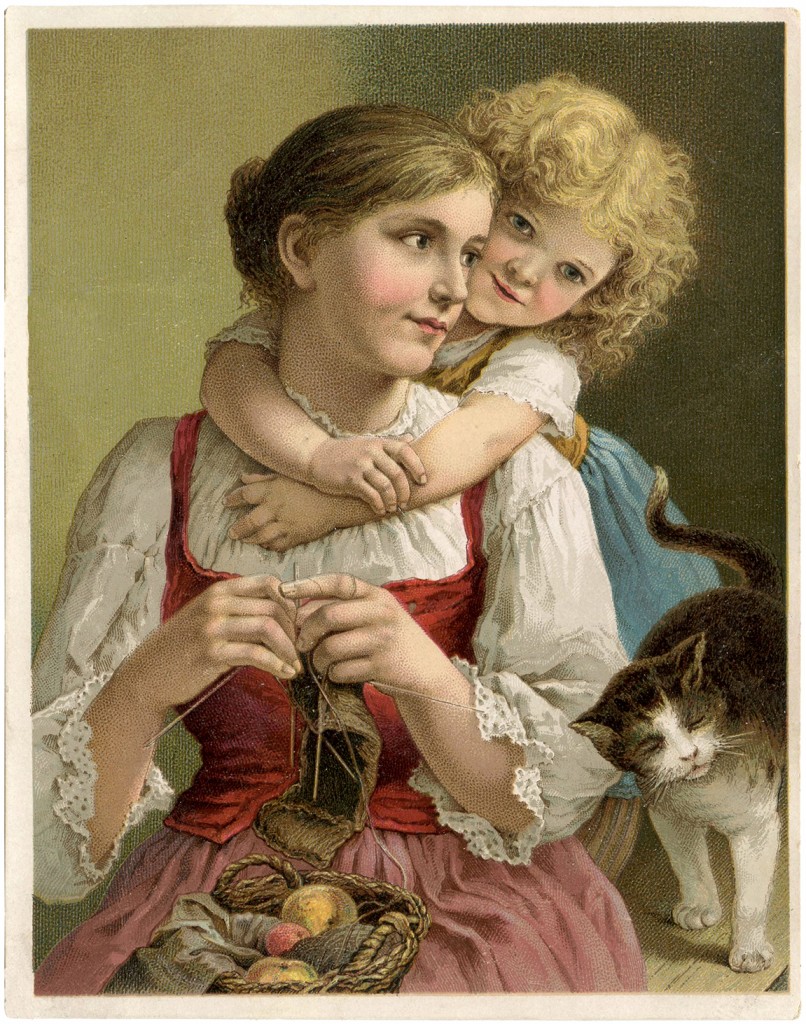 One of my favorite all time Mother's Day Images! This is a lovely, full color, Vintage Graphic of a Mother with her daughter and the family Cat! The Woman is Knitting something, with her little basket of yarn in her lap. A sweet sentimental scene with such tenderness!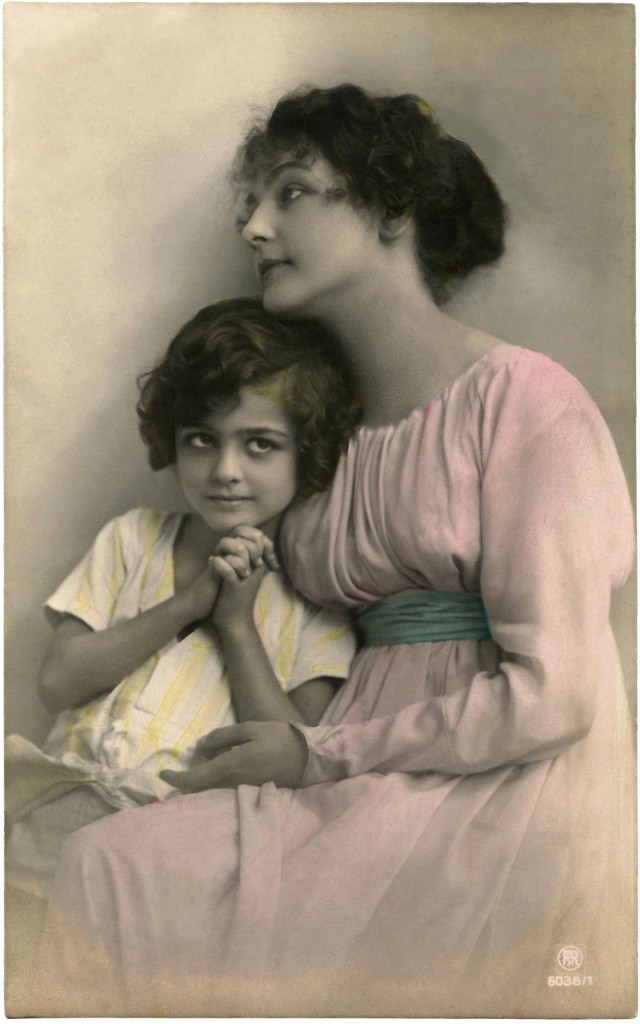 This is an Antique Photo Postcard showing a Mother with her child. This is a tinted card… I love the soft colors on this card!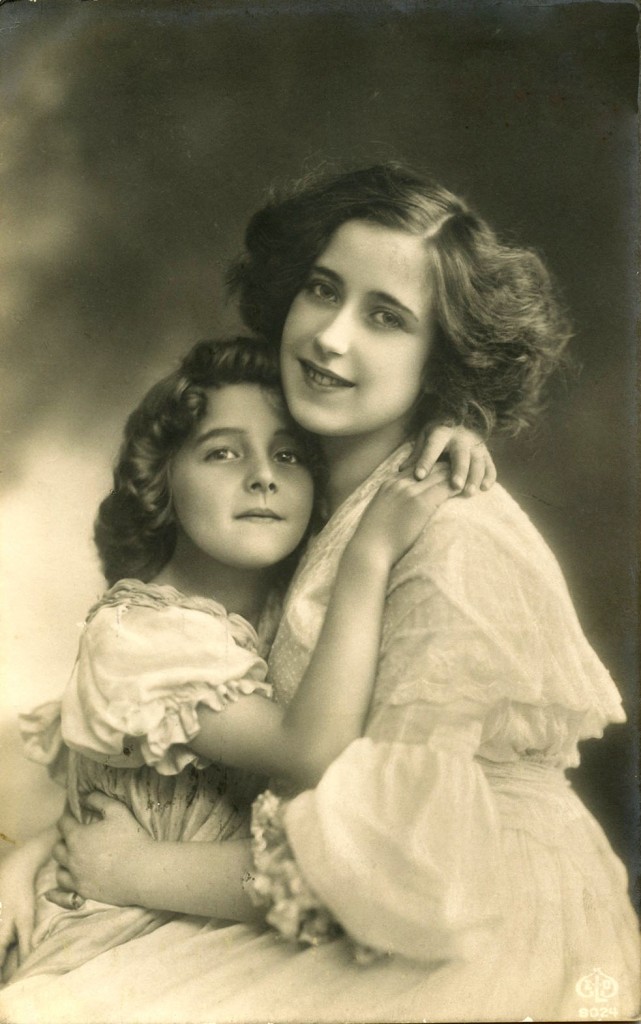 This is a lovely old Stock Photo of a what looks to be a Mother and Child, or it could be 2 Sisters. Such a pretty family photo that really shows the pure love that they have for each other. Such a tender smile on both of the them.
Here is the latest addition to this collection. Here is a lovely Mother's Day picture! They appear to be dressed in regency style clothing. You can see the affection that this lady has for her child!
Mother's Day Silhouette Images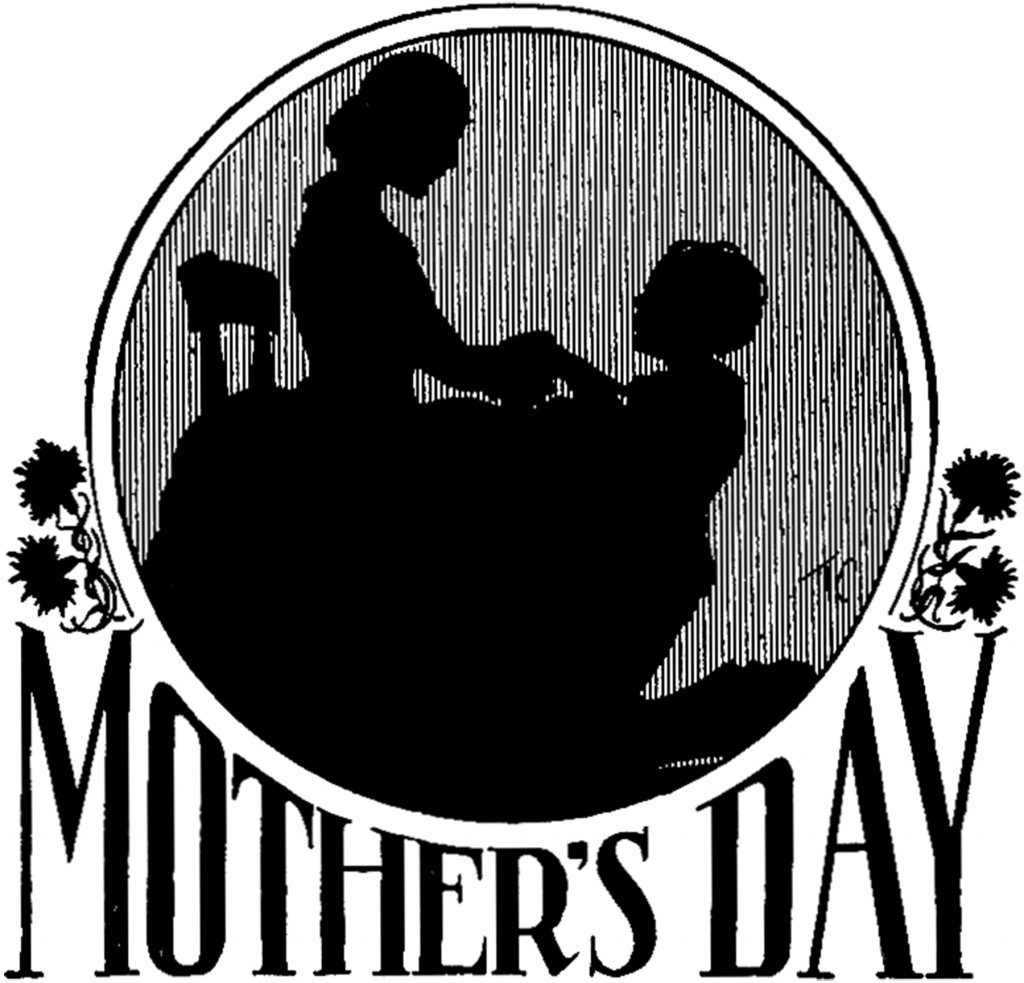 This Silhouette shows a sweet picture of a loving Mother and Child, circa 1940's. So charming and would be lovely on a Handmade project for Mom on her special occasion!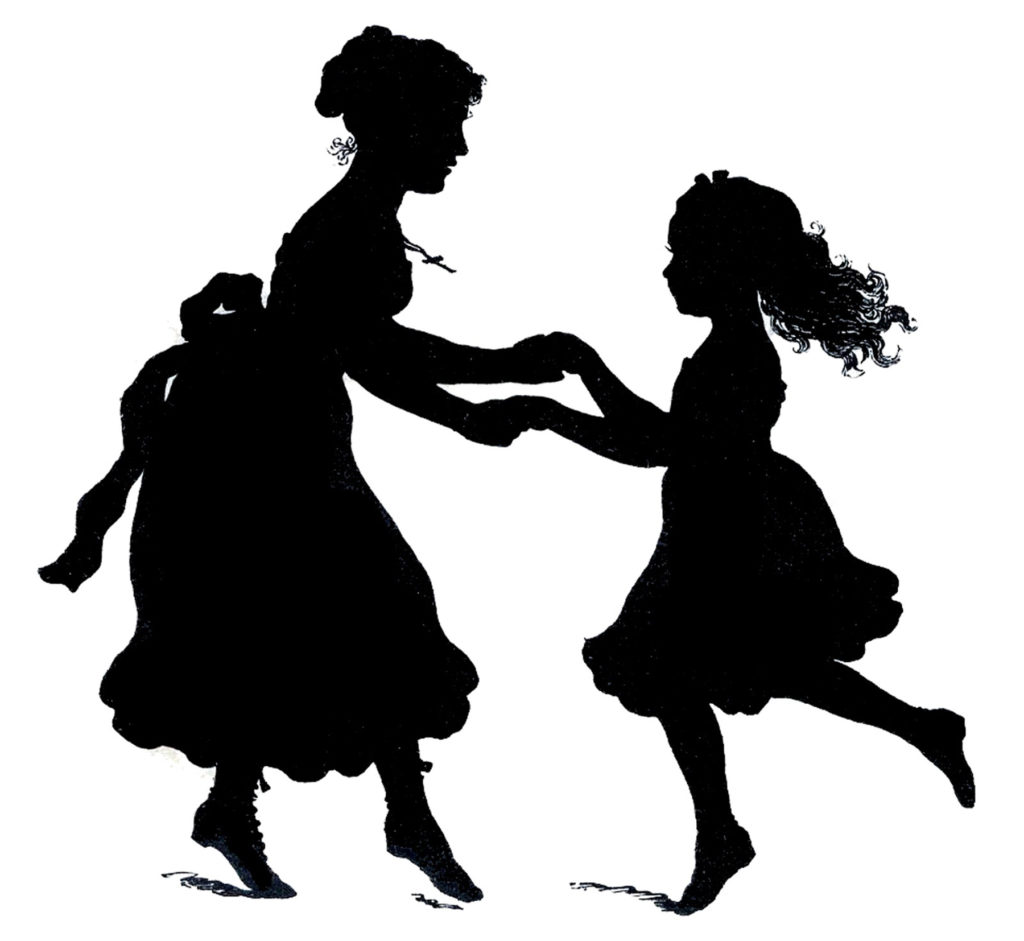 This is a darling Silhouette Image from an 1870's book in my collection! This picture shows a Mother and Daughter holding hands, they appear to be Dancing. Such a charming Graphic!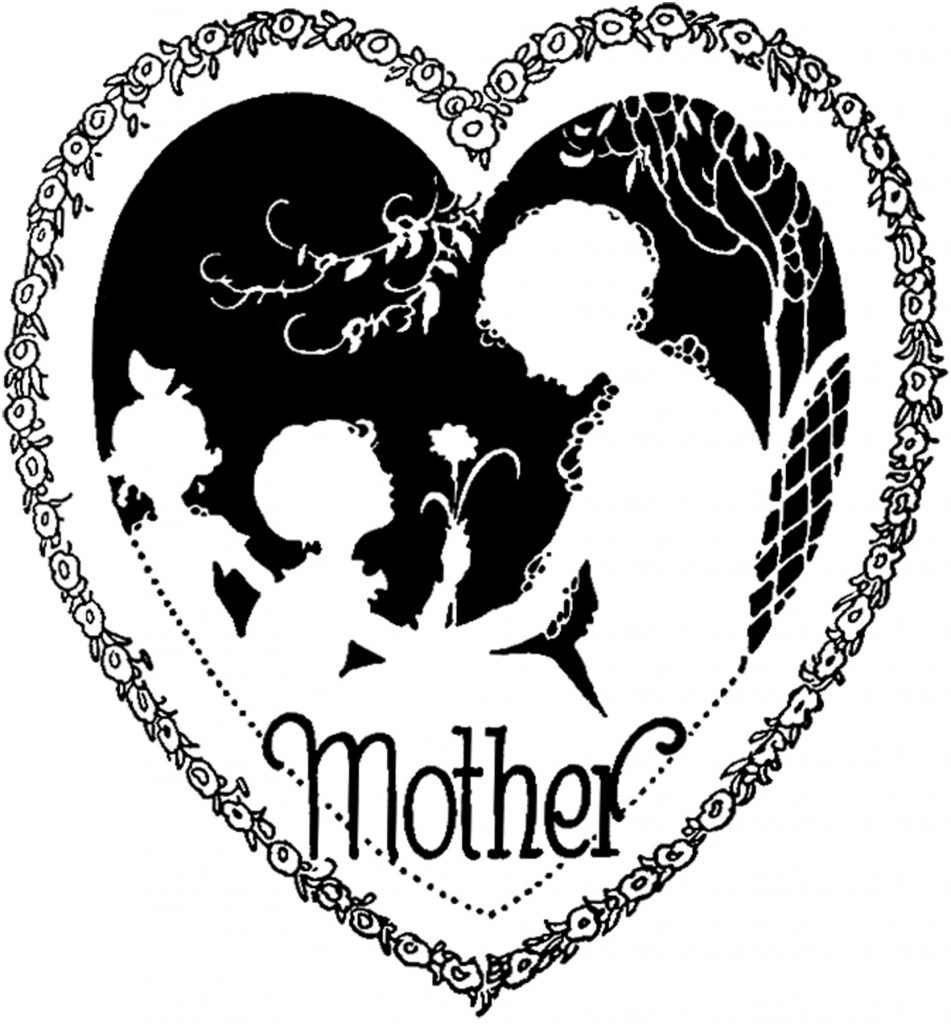 This black and white illustration shows a lovely Silhouette of a Mother and her Two Children, all framed up with a floral Heart. Even in though it's a silhouette you can see the affection that she has for her children, just by her pose.
Mother's Day Grandma Clipart
The Silhouette shows a picture of a Woman in a Rocking Chair, with a Cat at her feet. She's peering out of a window with the word "Mother" at the top of it. This one was scanned from a recent addition to my collection, an old Circa 1941 Printer's Catalog. This one would make a great card for a Grandmother, or mature Mom, on Mother's Day.
Mother's Day Clipart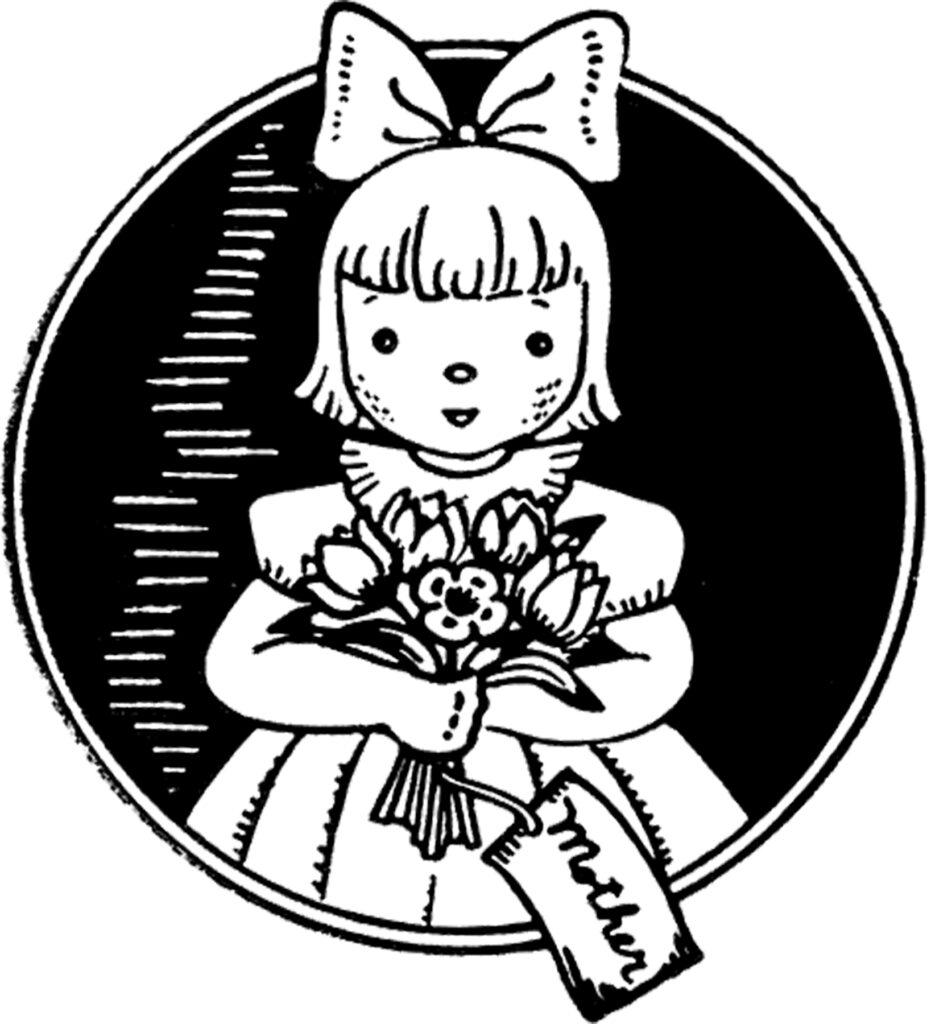 This black and white childhood illustration shows a darling little Girl, she almost looks Doll like to me. The Girl is holding a bouquet of flowers with a tag that says "Mother" attached.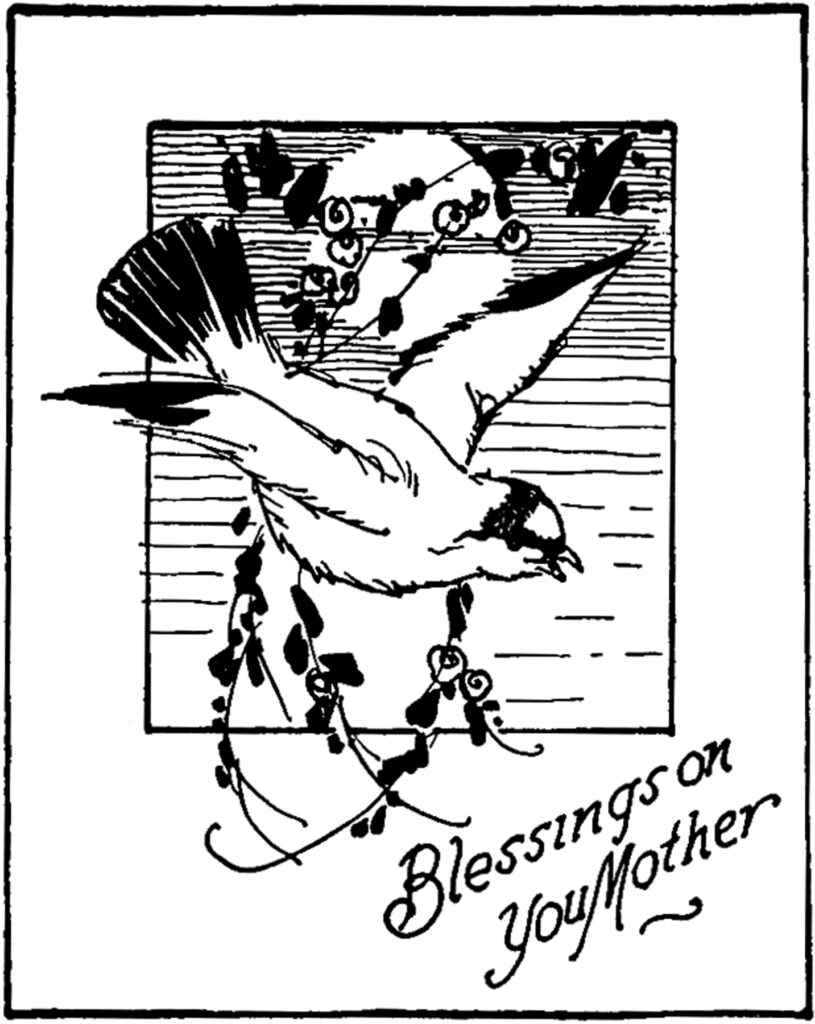 This black and white illustration shows a lovely Bird with the greeting "Blessings on You Mother" written on it. This one is also circa 1941. Charming!
Retro Happy Mothers Day Images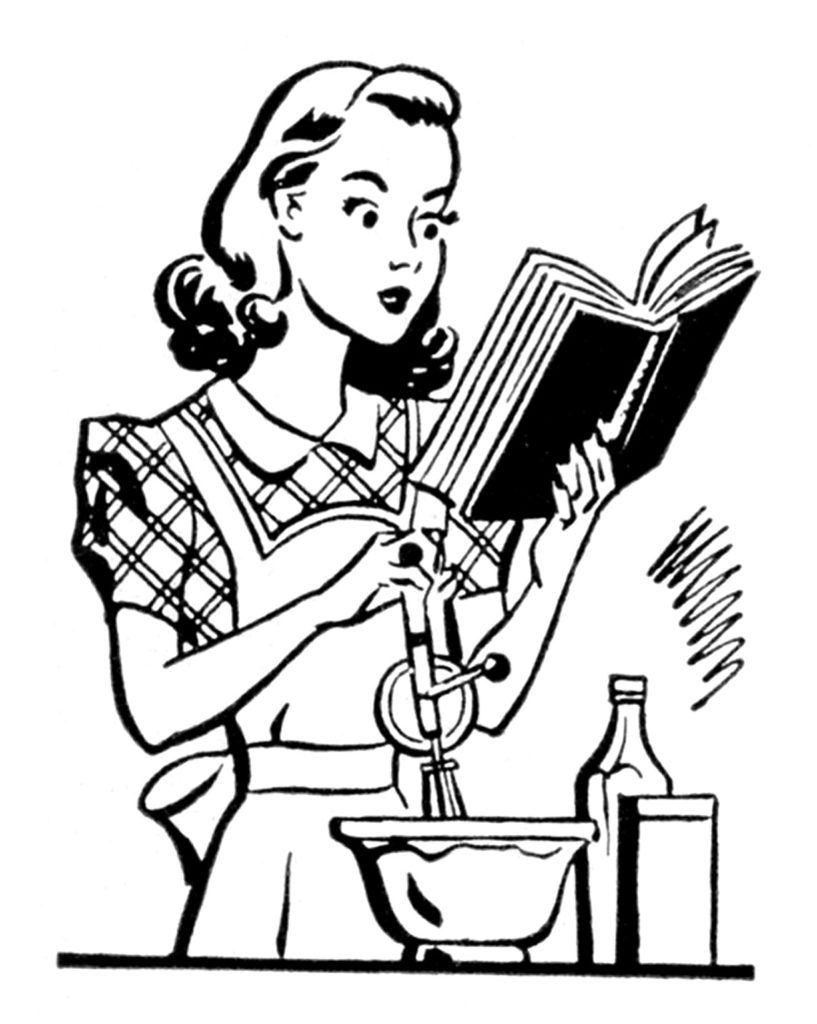 This is a Black and White image of a Classic 1940's Housewife! This one shows a young Mom, who appears to be Baking or Cooking. She's got her recipe book in hand, her mixing bowl and a hand mixer. Cute!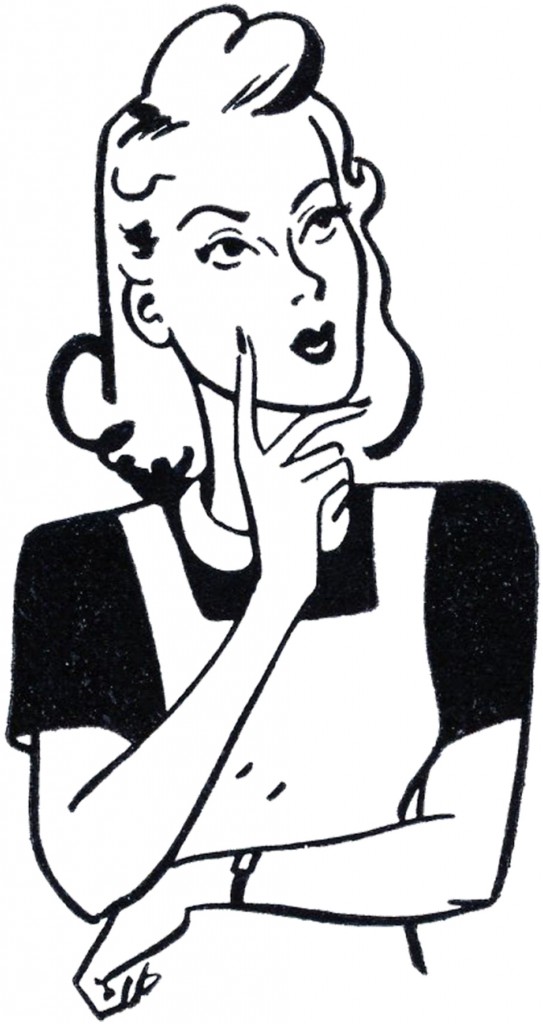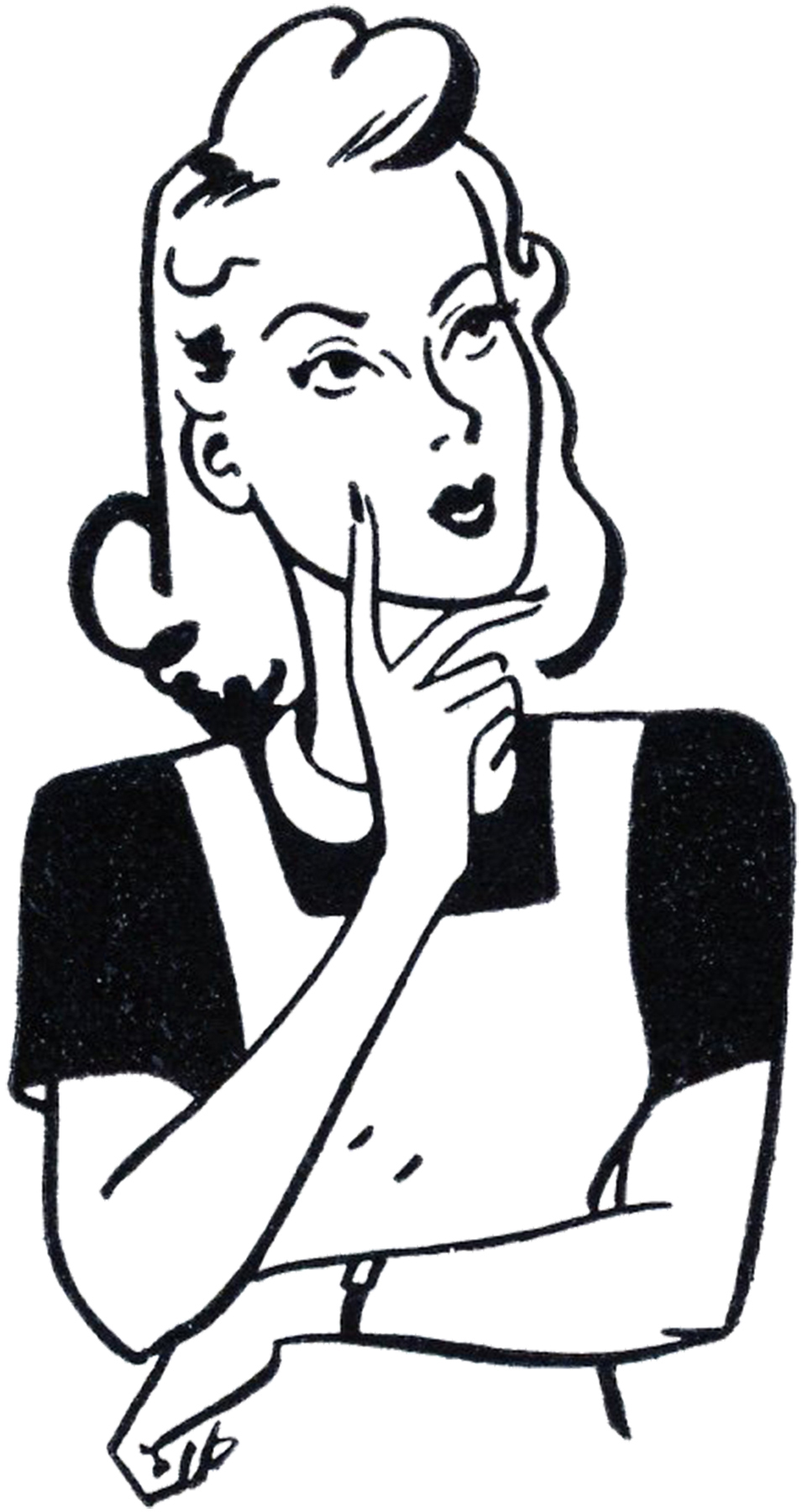 This is a cute Retro Thinker Mom Image! This Vintage Image was scanned from a 1940′s Printer's book. This lady has a classic 1940's Hairstyle, she's wearing a white Apron and she has her hand on her chin as if she is pondering something. So fun! I wonder what she's thinking about?
Mother's Day Illustrations
Kate Greenaway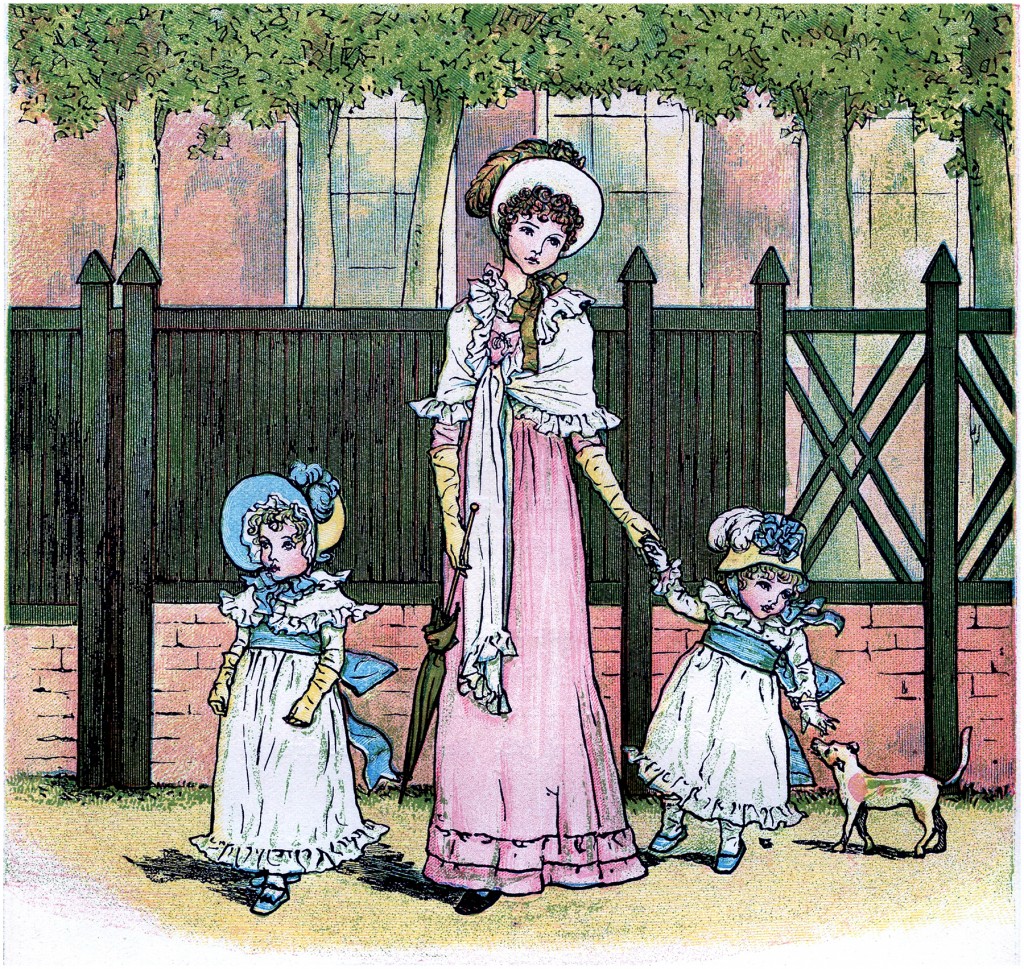 This is a Cute Vintage Mother with Daughters Image! Shown above is a young Mother with her two Darling Children. The girls are dressed in matching Dresses with Blue Sashes! They are all out for a walk on a beautiful day. This illustration was done by one of my favorite Artists, Kate Greenaway.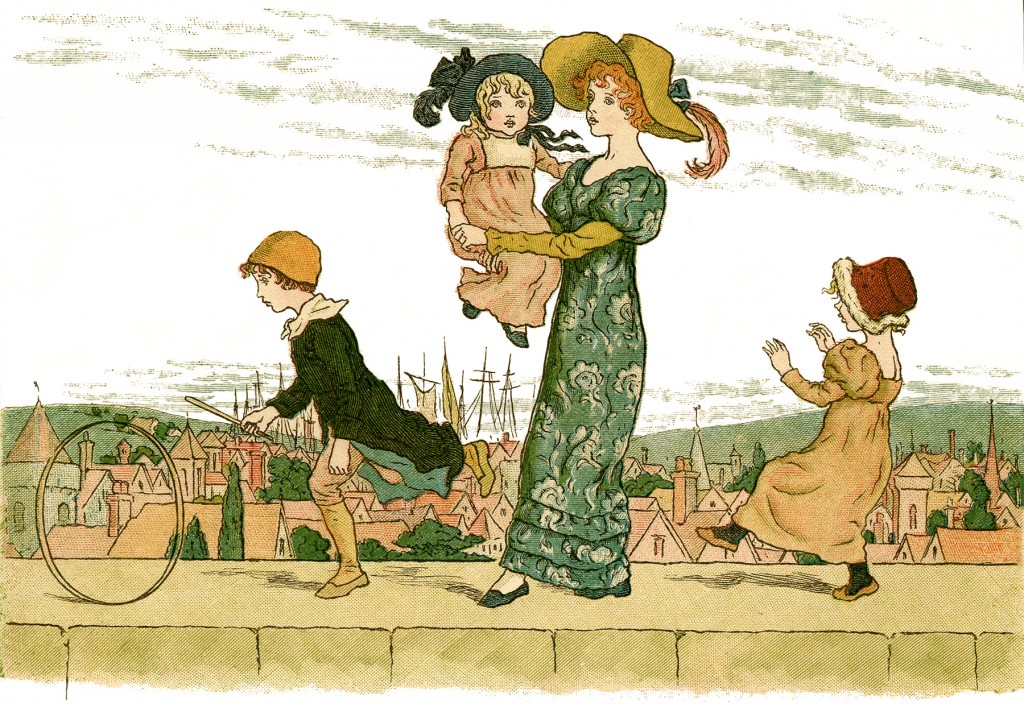 This is a sweet Mother with Children Picture. They are out taking a stroll together! This is another illustration done by Kate Greenaway.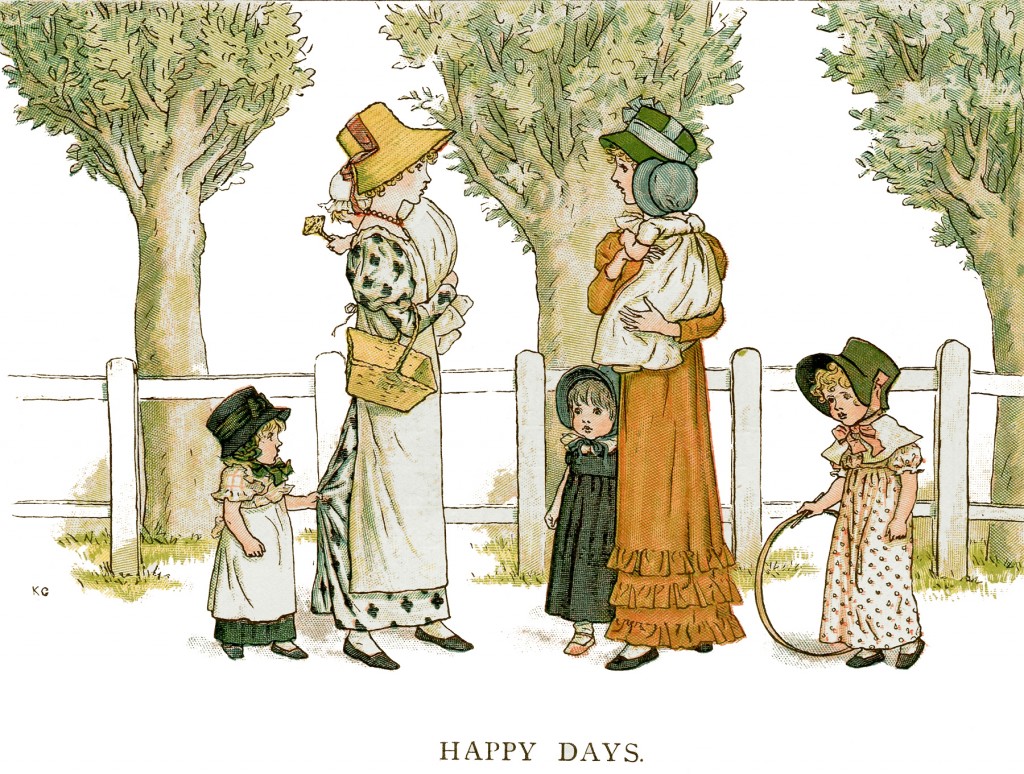 This is another wonderful Vintage Kate Greenaway Illustration! Featured here is a Charming picture of two young Mothers and five small Children. They seem to be taking a walk in a park, it looks like a nice bright day filled with sunshine. You'll want to make some pretty Cards or Note Cards with this one!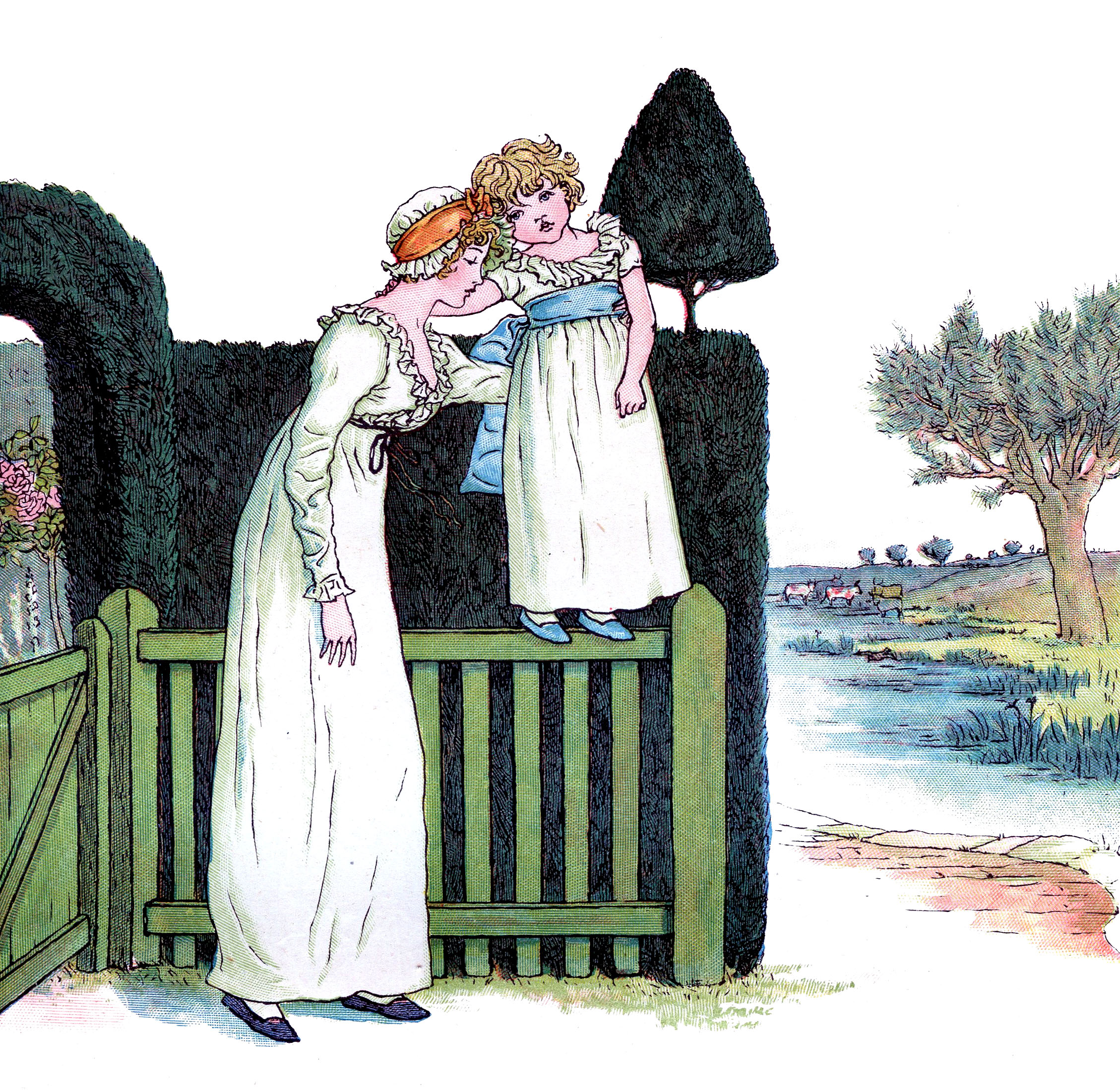 In this charming picture we see a young woman and her little girl, dressed in the Regency style clothing that is so typical in Kate Greenaway's illustrations. According to the book that I scanned this from, this one is called "My little girlie".
 Happy Mother's Day Images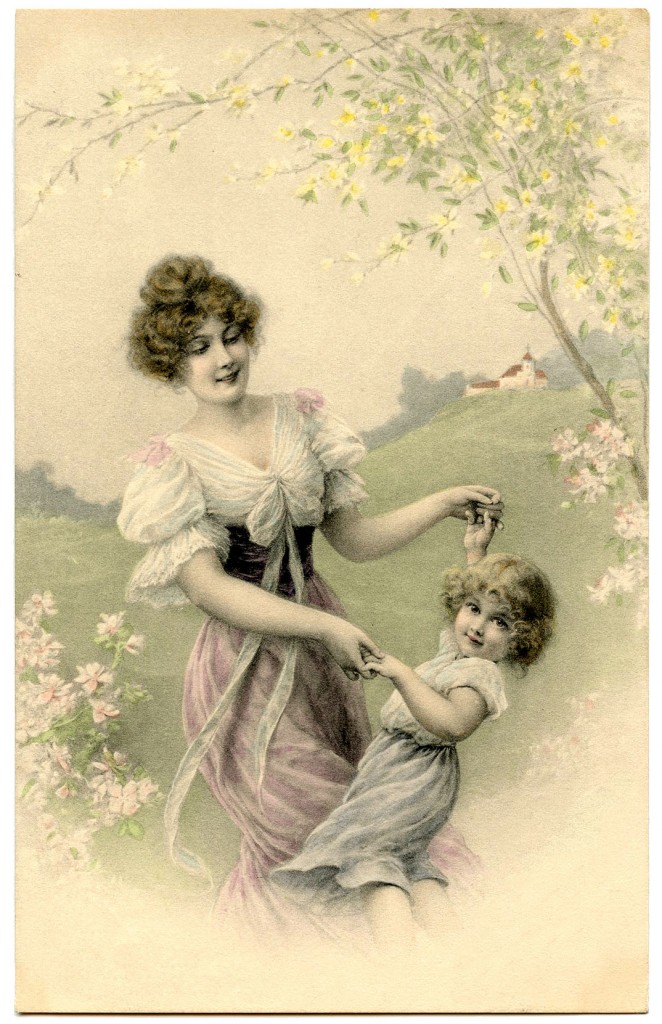 This free download is an old French Postcard showing a young Mom dancing with her Daughter, on a pretty Spring or Summer day. Such a sweet image! I love how soft and muted the colors are in this one, it has such a nostalgic feel to it.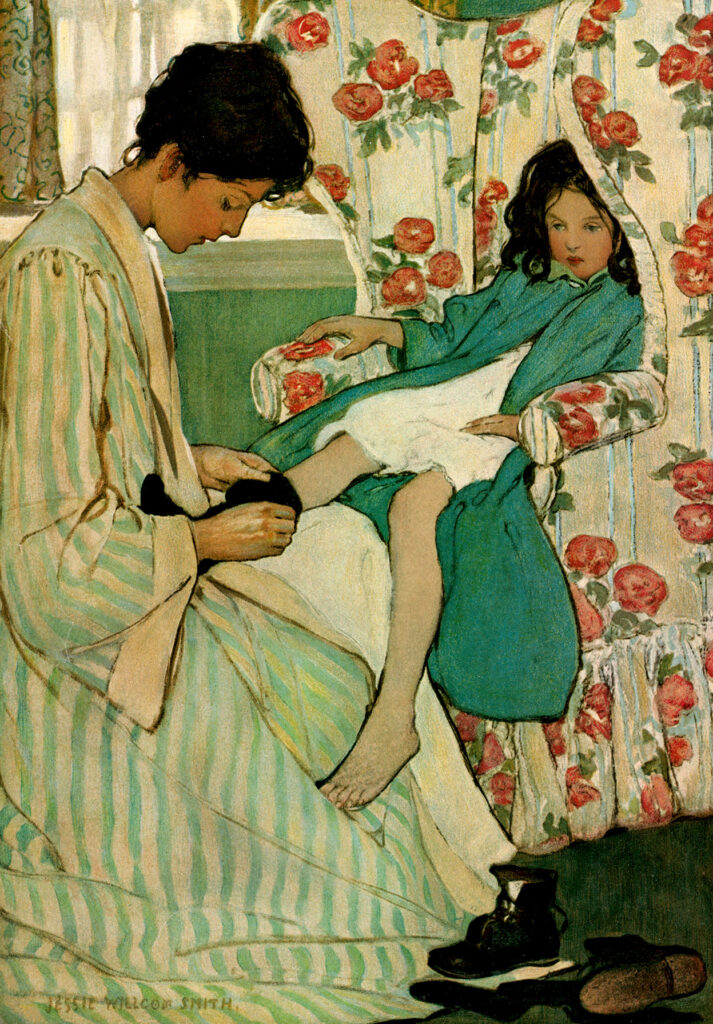 This is a very sweet Happy Mother's Day Picture by Jessie Wilcox Smith. I have had a number of her framed prints over the years, I sold them in my Antiques booth. They are always so charming! This one shows a young Mom putting socks on her little girl. The child does not look too enthusiastic about starting her day!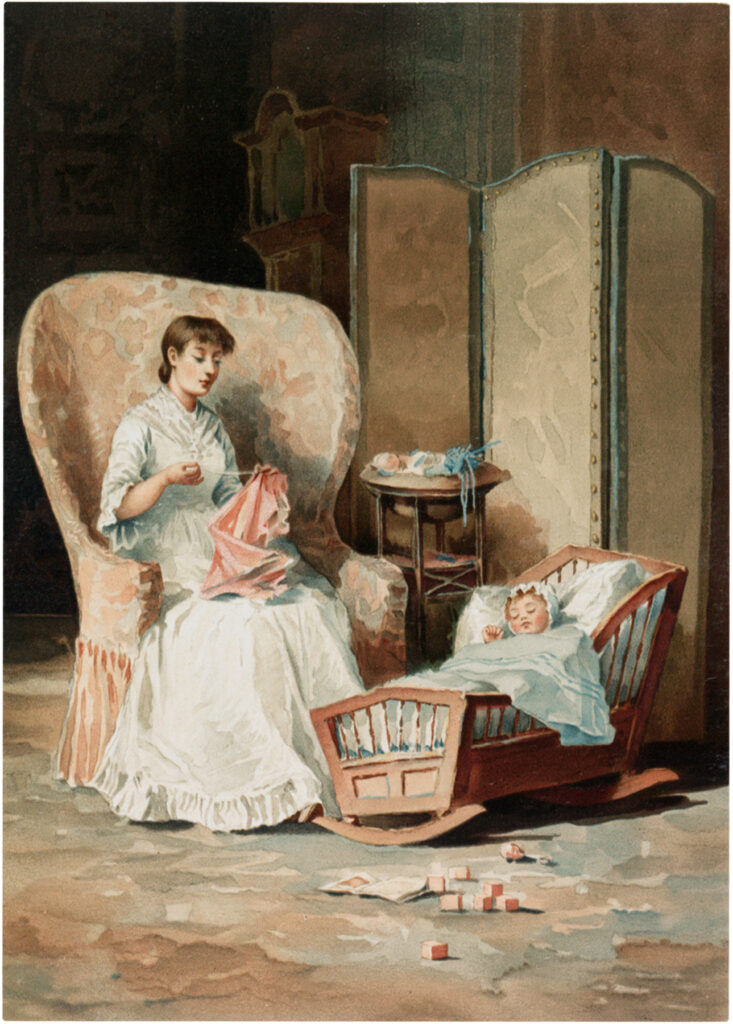 Shown above is a young Mother rocking her Sweet Baby who's in a Cradle. The woman is sewing, perhaps she's making some clothes, or a blanket, for her baby. I love the soft pastel colors in this image!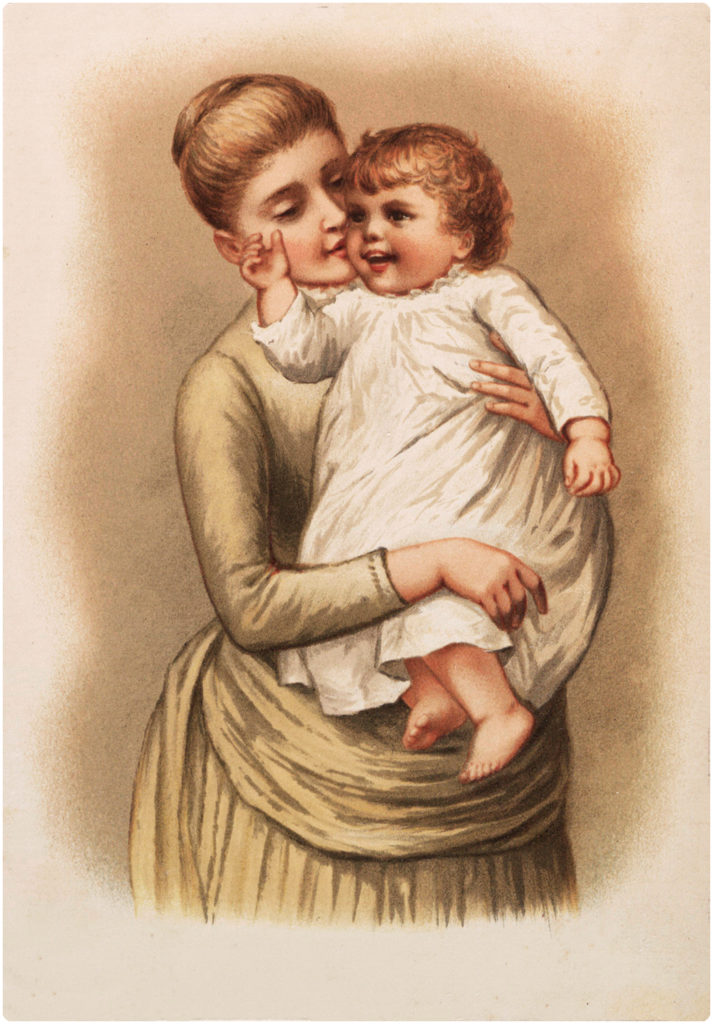 This sweet illustration, shows a Victorian Mother holding her cute Toddler in her arms. You can tell she adores her child!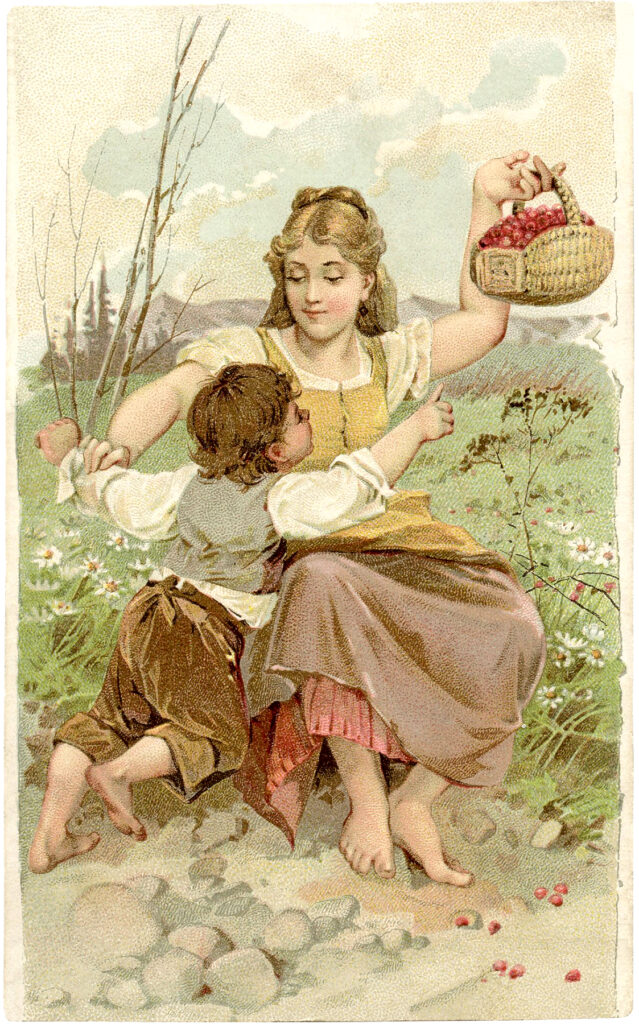 This is a charming Berry Picking Picture! Shown here is an old Advertising Trade Card, featuring a young woman and a little boy, in a pastoral setting. The mother has picked a basket of some type of Berries and she's trying to keep the boy from getting to them. The colors are so soft and lovely and the scene is so serene.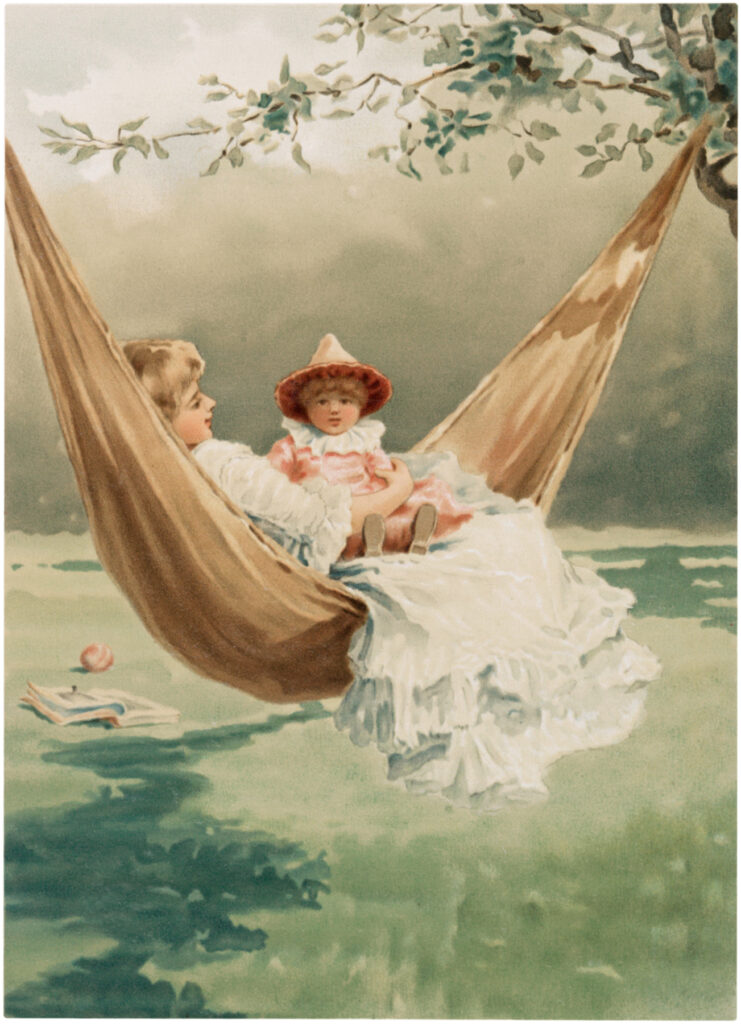 This is a lovely Vintage Mother and Child Hammock Image! Shown above is a young Mother relaxing in a Hammock with her cute little girl. Such a sweet nostalgic scene.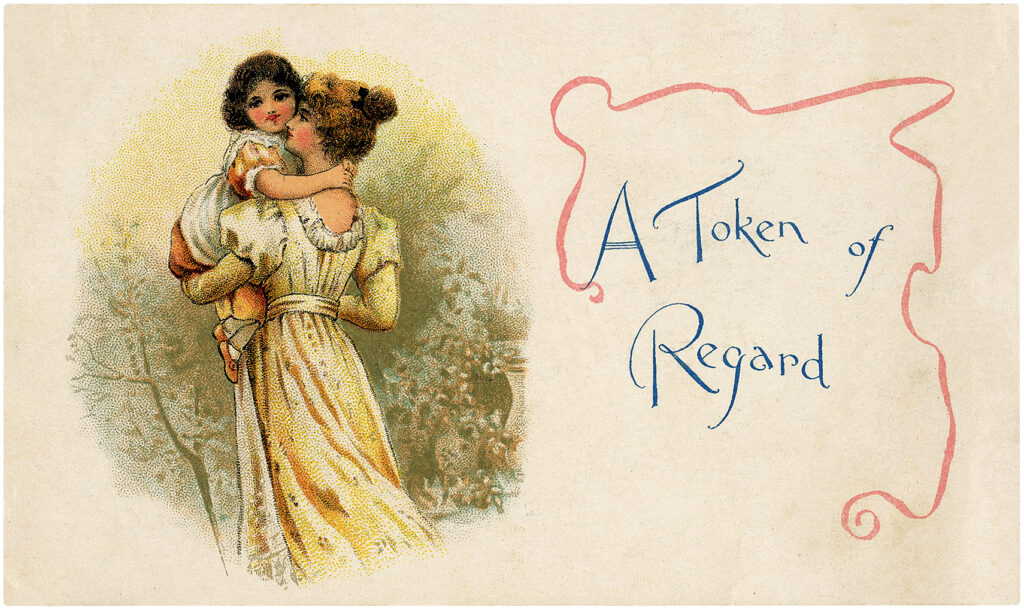 In this sweet postcard, a Victorian Mother carries her Daughter in her arms as she walks through the garden. The woman wears a lovely yellow flowing gown and the daughter, in a pink dress with pinafore and tiny pink shoes, hugs her neck. This young mother looks like she has a heart of purest gold and a dress to match! The Happy Mother's Day Wishes are "A token of Regard" is surrounded by pink ribbons. Lovely!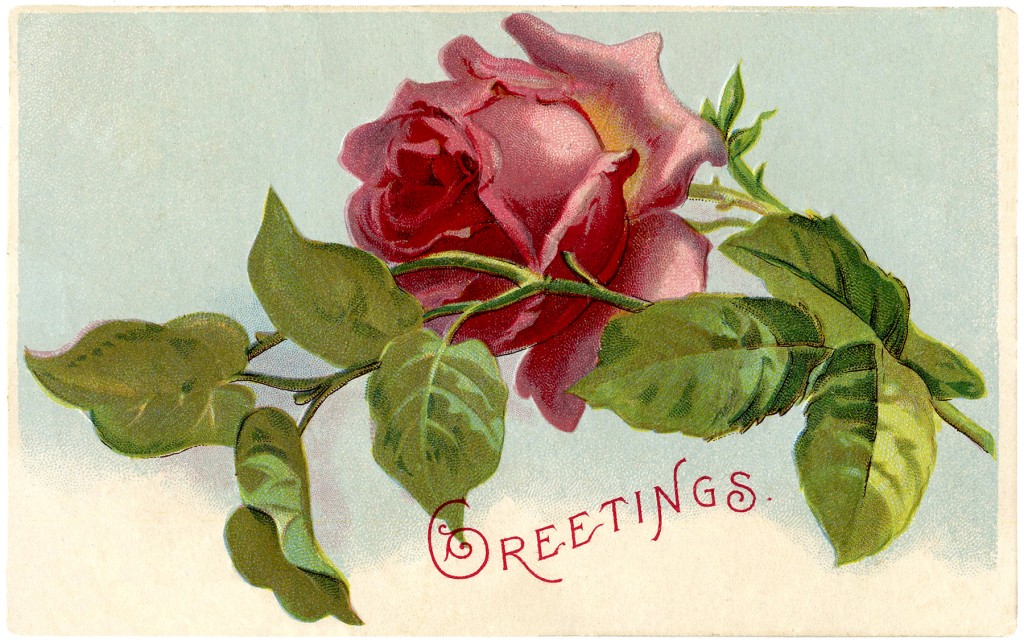 This gorgeous Image is not necessarily just for Mother's Day, but I think any Mom would love to get a card as beautiful as this one on her important day! It's a perfect Cabbage Rose, with the word Greeting on it. You can add your Mother's name to it and use as a lovely Card or Gift Tag!
Printable Mother's Day Banner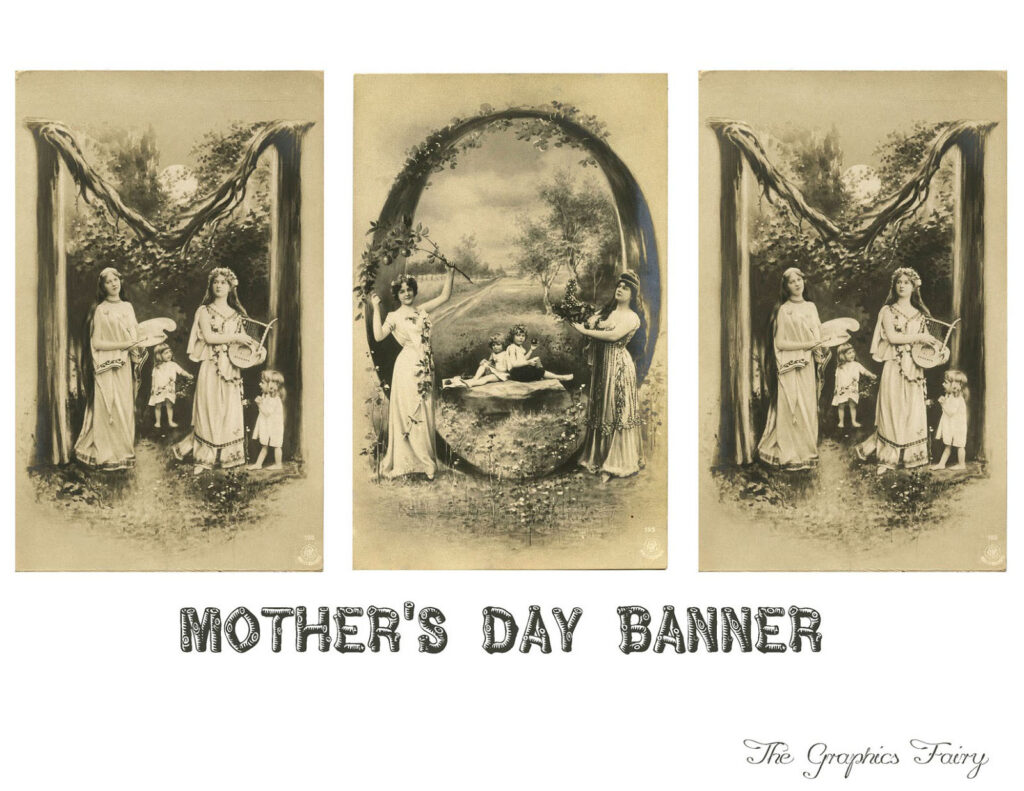 Click HERE for the Full Size Printable PDF of the Mom Banner
This is a nifty little banner that spells out Mom with some old Alphabet cards! Print it out and string it together for some fun decor!
Projects and Printables
Mother's Day Gift Tags  Some Free Printable Mother's Day Gift Tags for Mom! These were made with old French perfume bottle labels, vintage photos, and a crown image taken from antique sheet music.
Mother's Day Printable Wine Labels  Celebrate with Mom by printing these charming Labels and adding them to her favorite bottle of Wine! Nice Gift Idea!
I hope you will find lots of inspiration when you browse through these Happy Mother's Day images, and that you come up with some creative ways to use them in your own Craft and DIY Projects… like a happy mother's day greeting card for Mom on her special day! Happy Mom's Day!! You might also like our Father's Day Images HERE. 
You might also like these Fabulous Vintage Image Kits, available as part of our Premium Membership Site HERE. For one low monthly (or one super low annual) fee you get a plethora of fabulous Premium Images and Photoshop Tutorials! New kits are added each week!
Hello! Are you new to The Graphics Fairy? Welcome, I'm so glad you're here! Browse around to find thousands of Stock Images that you can use in your projects or designs! I post new Vintage images every day, as well as projects and DIY's too! Need more info about my site? Try my FAQ page.