Homemade Birthday Card Ideas for Mom
Hello Graphics Fairy friends! I'm Diana from Dreams Factory and I'm really happy to be here with you for another one of our creative sessions. Today I'm sharing a few absolutely stunning homemade birthday card ideas for Mom! If you love flowers in general or love including them in your creative adventures, I have a feeling you will absolutely adore making this project.
And your mom will love receiving it too, as a special way to say Happy Birthday to her! We will be using natural, freshly cut flowers but I'm also sharing some tips on how to partially or completely dry flowers. There are a few things you need to consider while drying them to ensure beautiful final results, so keep on reading!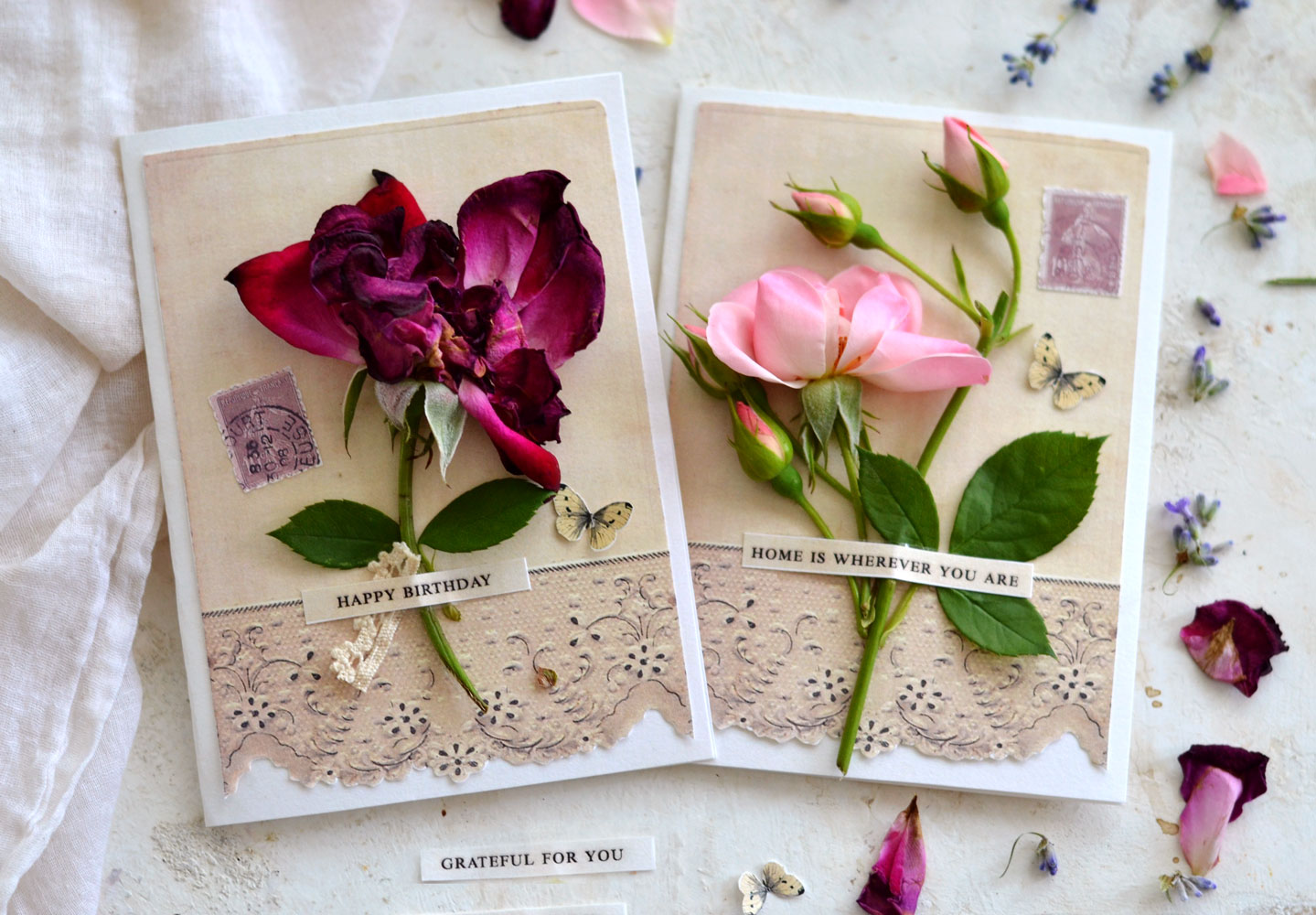 I initially wanted to make this Handmade Cards project using only lavender, but then I thought why stop there?! There is an abundance of gorgeous flowers just waiting to be acknowledged, so I included in this project pink and red roses from our garden. I can say now that it was the best decision ever, they are cute as a button!
Of course, you can use any other flowers that you have around. Use your favorites or better yet, use your mom's favorite to really personalize this birthday card for mom in an original way.
You might be worried that natural flowers would wilt and won't look all that great after drying. But the truth is dried flowers have their own charm, so why not take advantage of all the beautiful stages of flowers and turn them into souvenirs. There are a few things to consider while deciding which flowers to use, but let's just be bold and adventurous on this project to create something truly unique!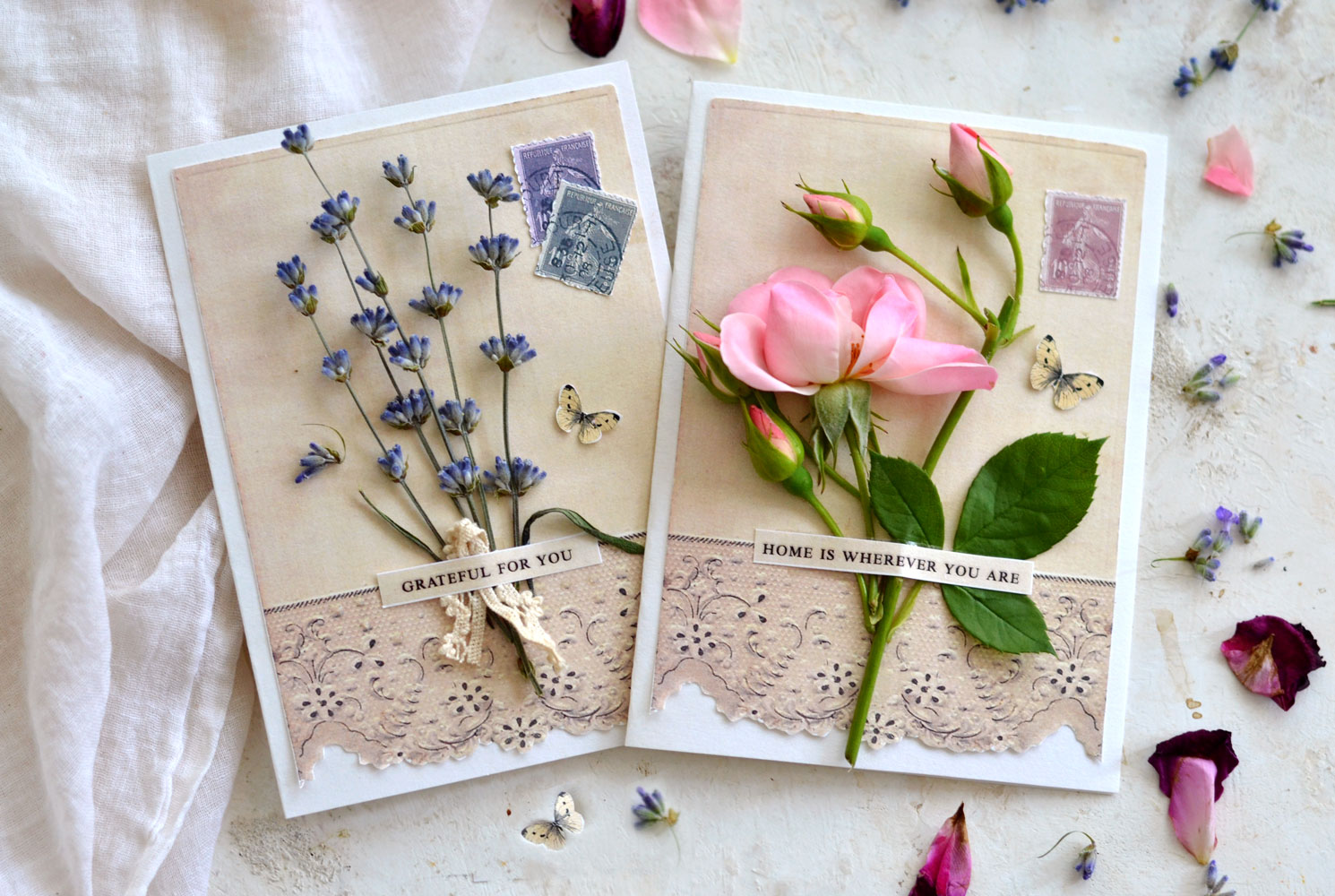 Let's start with lavender, which is one of the most loved flowers all around the world. There's something about the color and the shape of lavender that makes it visually appealing, but I feel its perfume is the one that propels it to the top. It looks amazing when included in vintage projects, so we could consider it simply the best choice for today's project! It can be glued freshly cut on the birthday cards for mom because it dries holding its shape and can be kept for many years.
Roses or any other flowers that you will want to use will look amazing when freshly cut, but the truth is, they will not hold their shape very well afterward. So we basically have three options:
1. Use any freshly cut flowers that you want, then let the receiver (mom in this case) worry about the rest 😉 Of course, mom could put her birthday card between the pages of a book to preserve it if she wanted to keep it for years to come.
2. Use partially or completely dried flowers so that the receiver won't have to worry about a thing. I love hanging flowers to dry around our home, I feel like it's the best way to preserve their color while also holding their shape and body. These red roses were just hanging patiently on one of our bookshelves, I'm always in awe watching their original bright color lightly fade and turn into darker, more intriguing shades, day after day.
3. We also have the option of drying the flowers between the pages of a book before using them. In this case, the flower will turn flat – you can check this project if you want to know how you can upcycle a book into a pretty French flower press and dry your own flowers.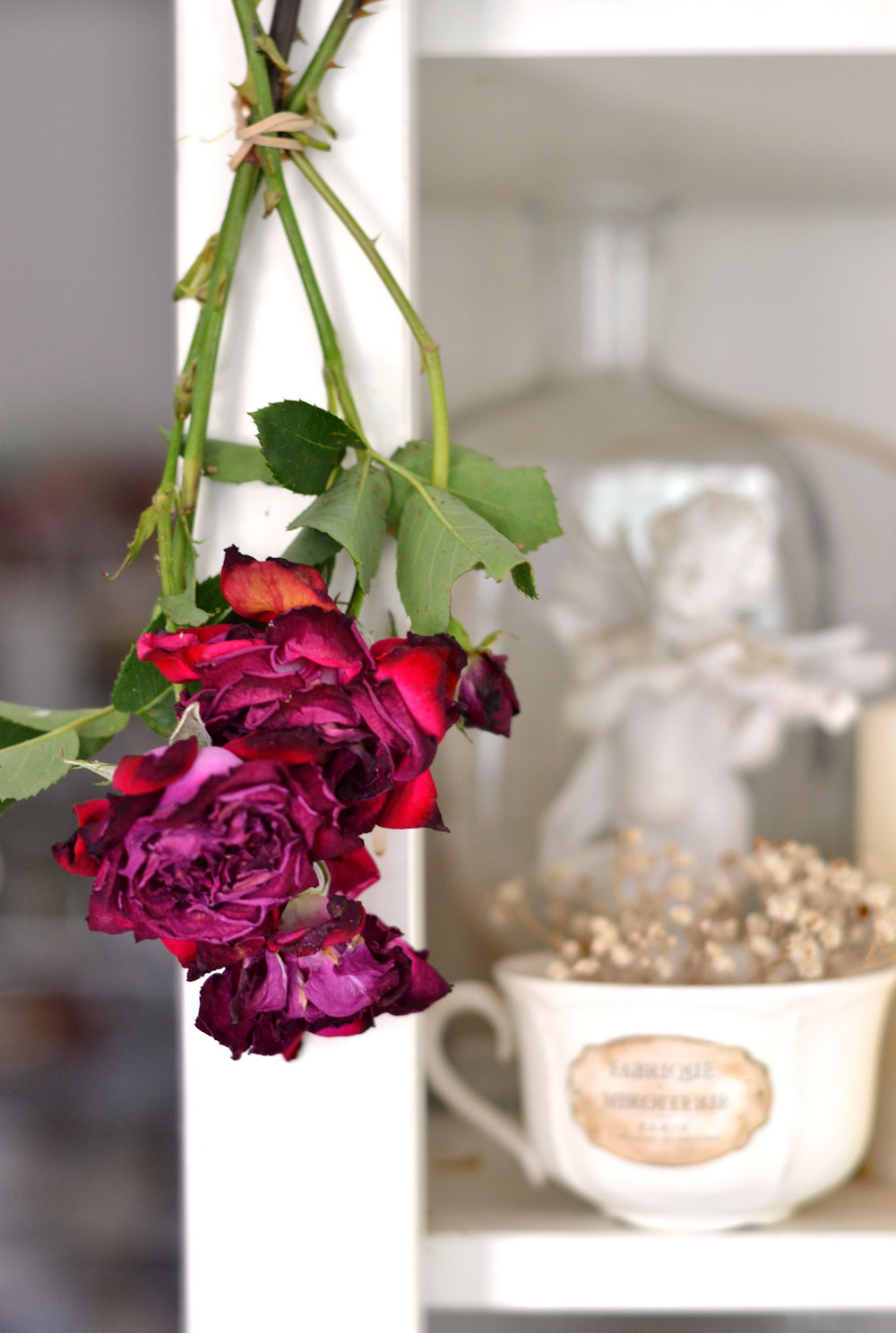 No matter which of the above options you prefer, I would say that the most important thing to keep in mind is to try and choose the smaller flowers that you can find. If the flowers are large, try removing some of the petals to make them smaller before drying or directly using them. You can also cut some of the parts of the flower into smaller sections, then reconstruct them on the cards.
I'm sharing the printable for the birthday card for mom – the printable consists of a simple base and a top with some gorgeous lace. I've also included a few additional elements that you can decide how / if to use – a few postage stamps, sentiments and some lovely butterflies.
Free Printable for DIY Birthday Cards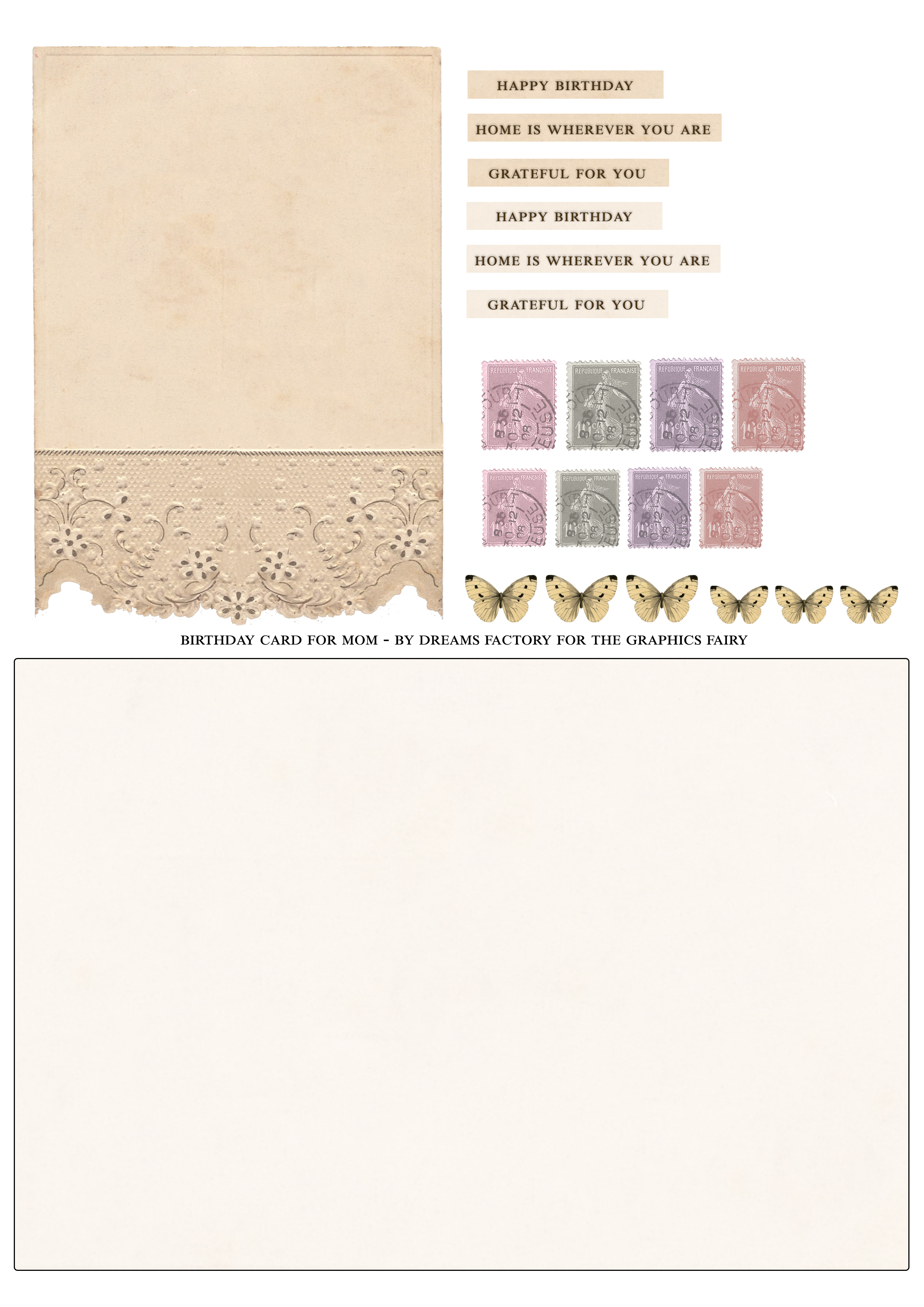 —-> Click HERE to Download the Full Size Printable PDF <—-
SUPPLIES FOR HOMEMADE BIRTHDAY CARD FOR MOM:
Instructions:
1. Start by printing the lovely printable and prepare all the other supplies. If you want to make more cards, print as many copies as you want.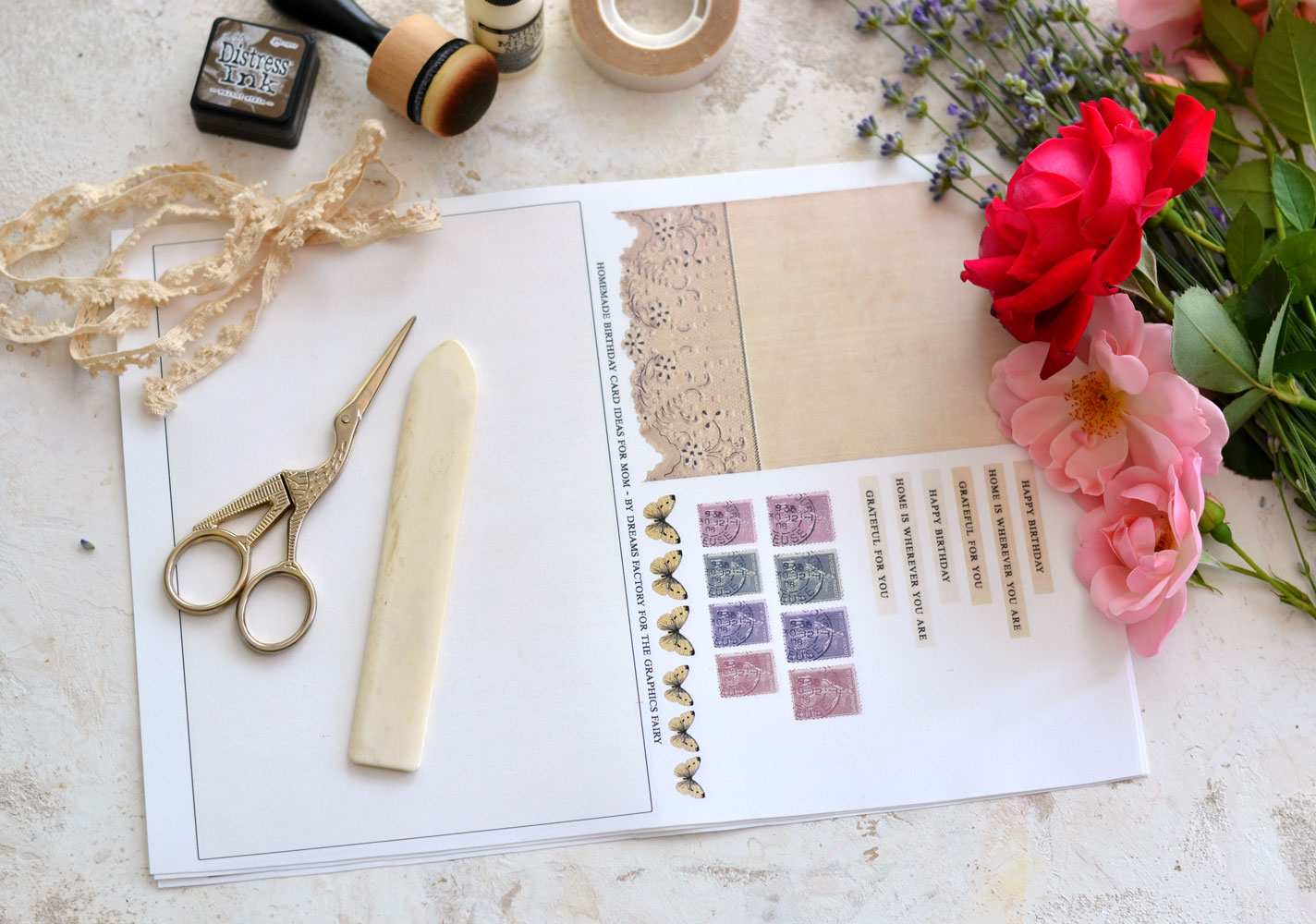 2. Use your scissors to roughly cut the elements, then remove the excess white paper.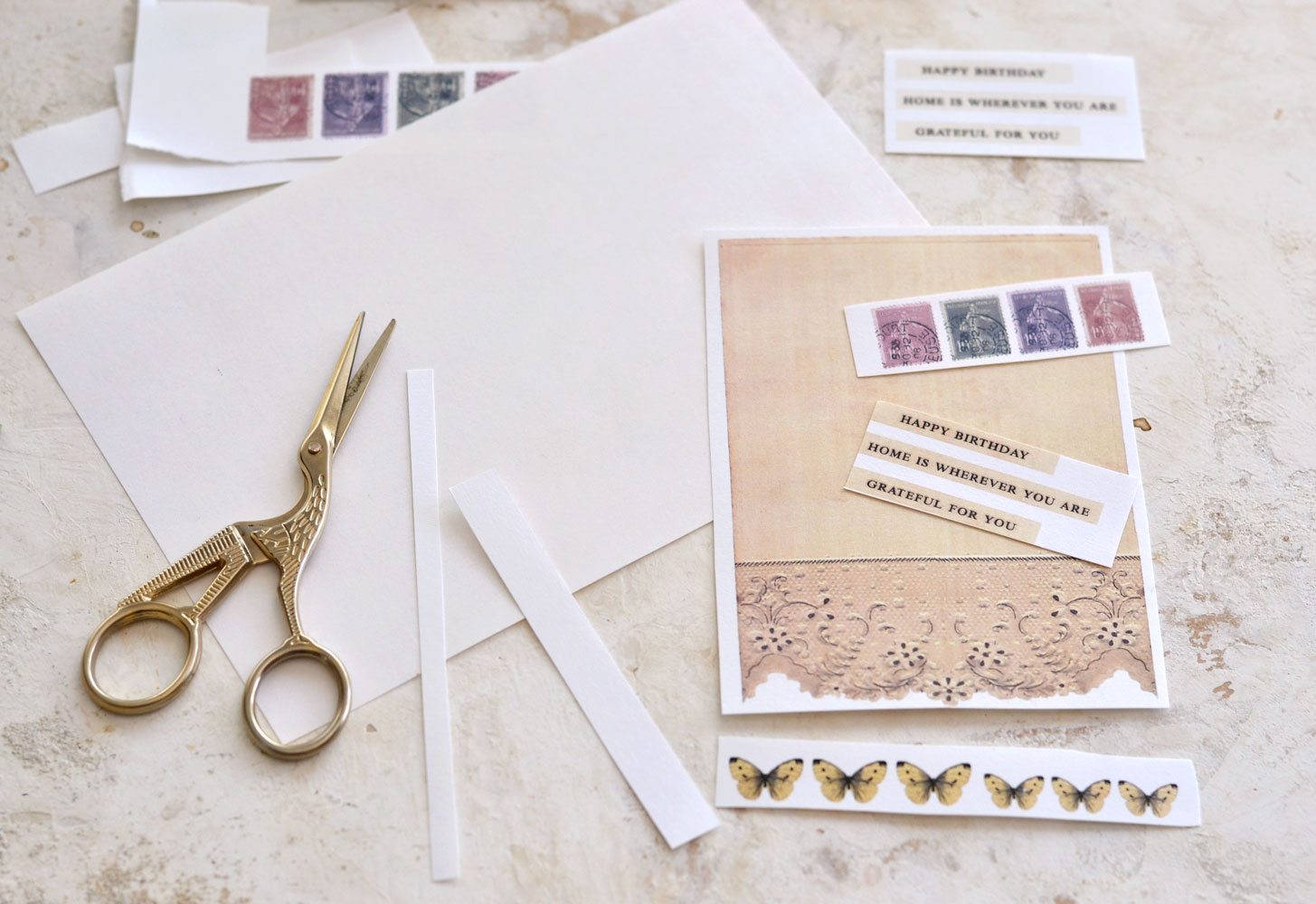 3. Follow the shape of the lace to cut around it, making sure there isn't any white paper left. It would be best to use a smaller scissor for this, even your manicure scissors will work.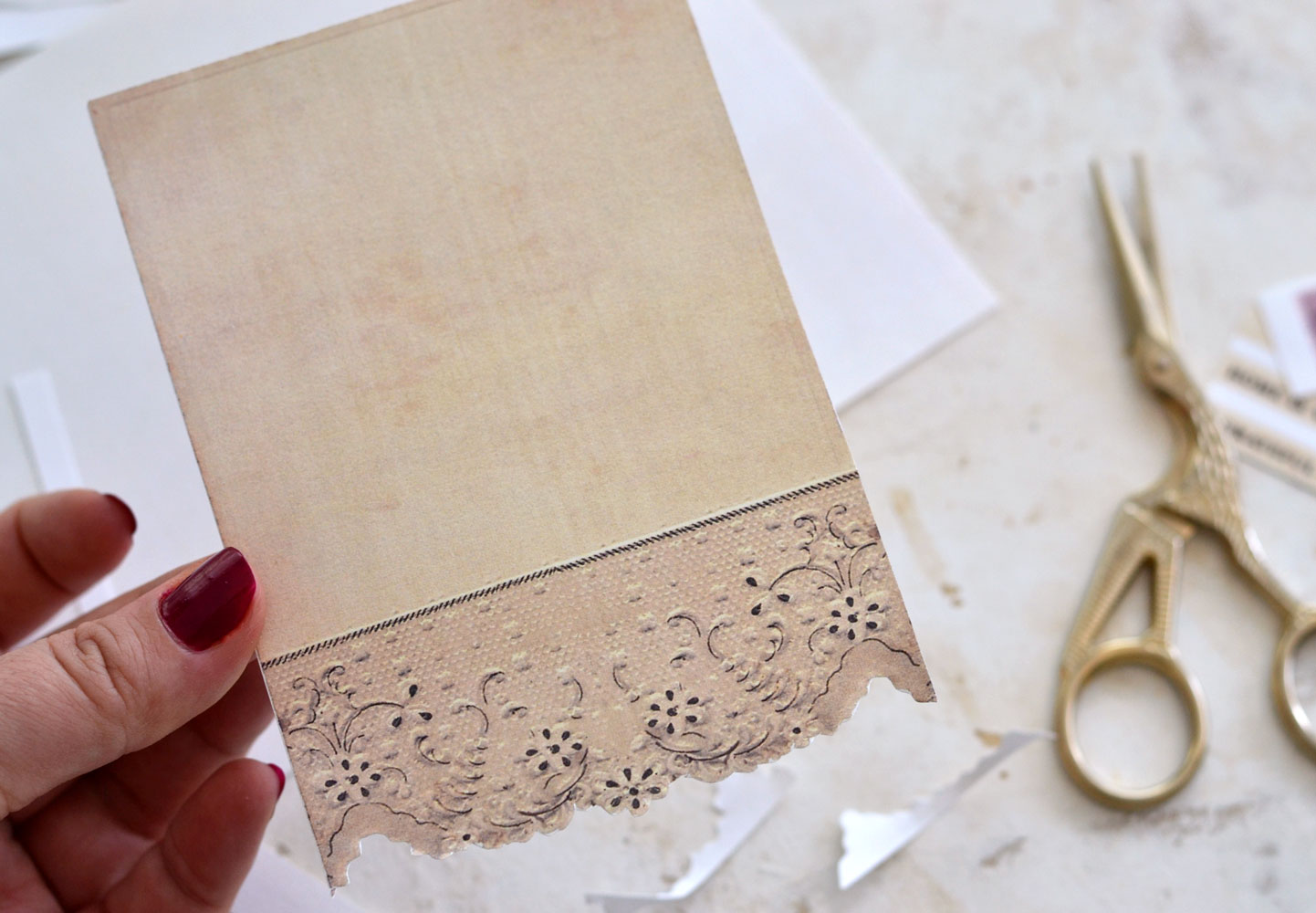 4. When you have all the elements ready, use a bone folder to fold the DIY card base in half and score it.
I kept the top of the card quite simple because I wanted the flowers to stand out, but as an optional step, you can lightly stamp it, distress it and even color it with watercolors if you want.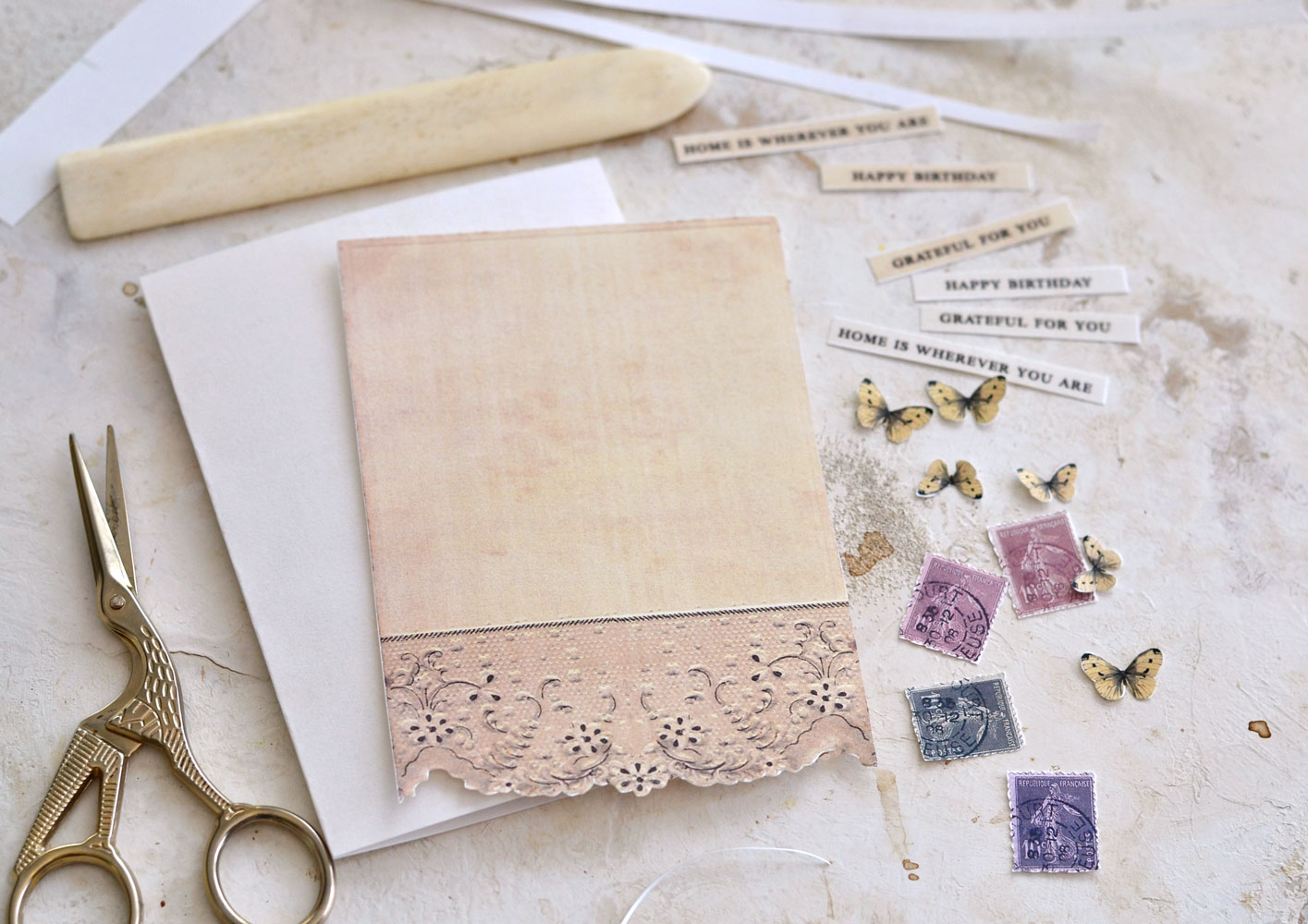 5. Glue the top part on top of the simple card base – you can decide if you want to completely glue all the sides or leave the lower part (the one with the lace) unglued to create a pocket.
You know I love adding dimension to my projects, so today I used a little bit of craft glue to create small raised dots effects on the design of the lace. You can use a small tip bottle to 'paint' with glue over some of the other details of the lace too. Make sure you use glue that dries clear, you will be able to create this way some amazing effects! If you want to know more about this technique, you can check this tutorial here – Boho Wall Decor.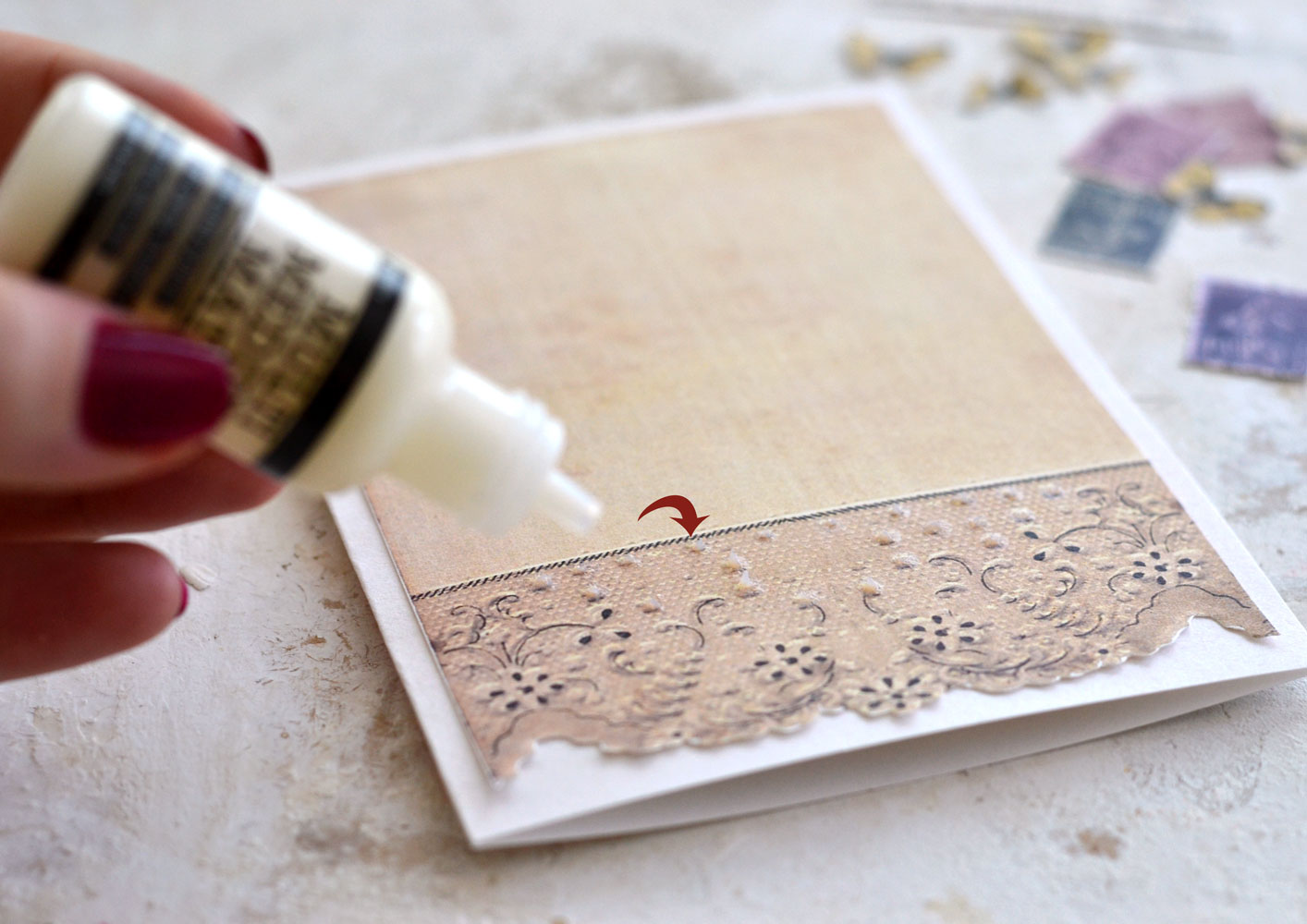 6. I've decided to glue the flowers first, and only after that glue the other additional elements, so I can arrange them on the page to complement the flowers.
I placed some double-sided tape on the paper first, then individually added and arranged the flowers and the leaves on top. Make sure to press with your fingers all the flowers and double check to see if they are stuck on the double-sided tape strip.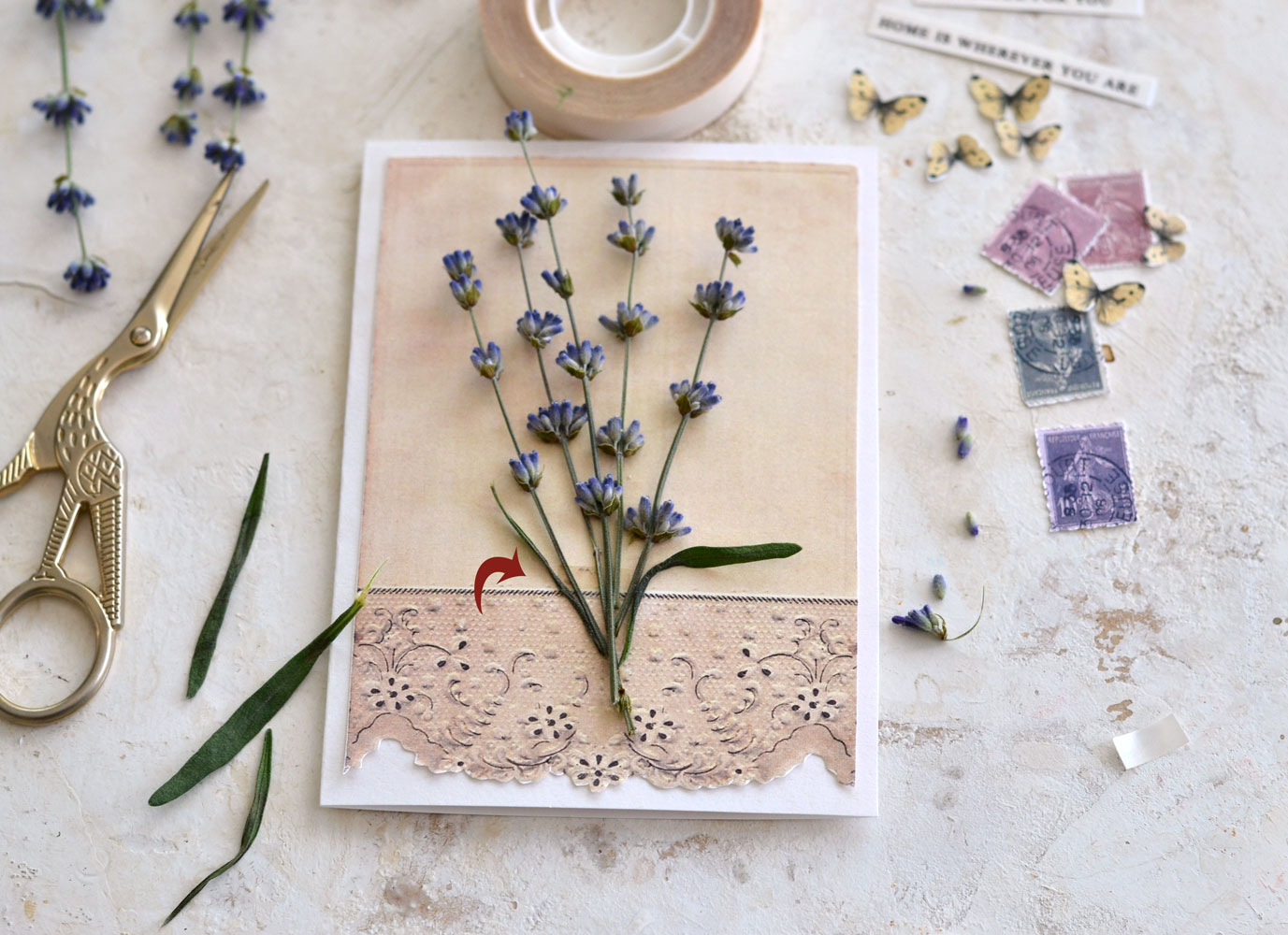 7. Add some lace on top, then add another strip of double-sided tape on top of that, making sure the two tapes are overlapping.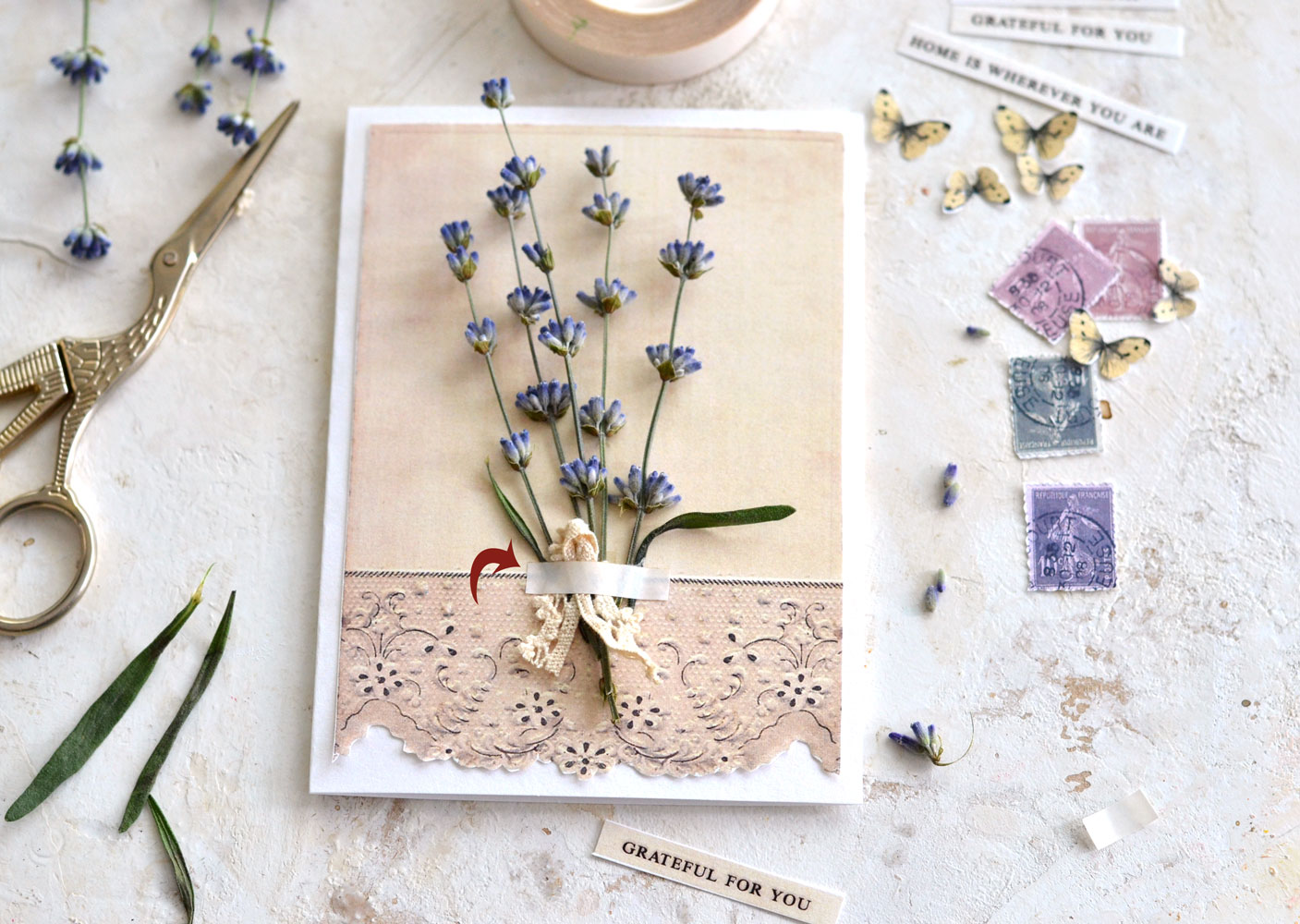 8. Place one of the sentiments that I'm sharing on top, I love the gratitude ones! Of course, you can also use your own sentiments if you would prefer.
Place the other additional elements around the flowers – use one postage stamp or stack two of them together. Finish everything with some playful butterflies!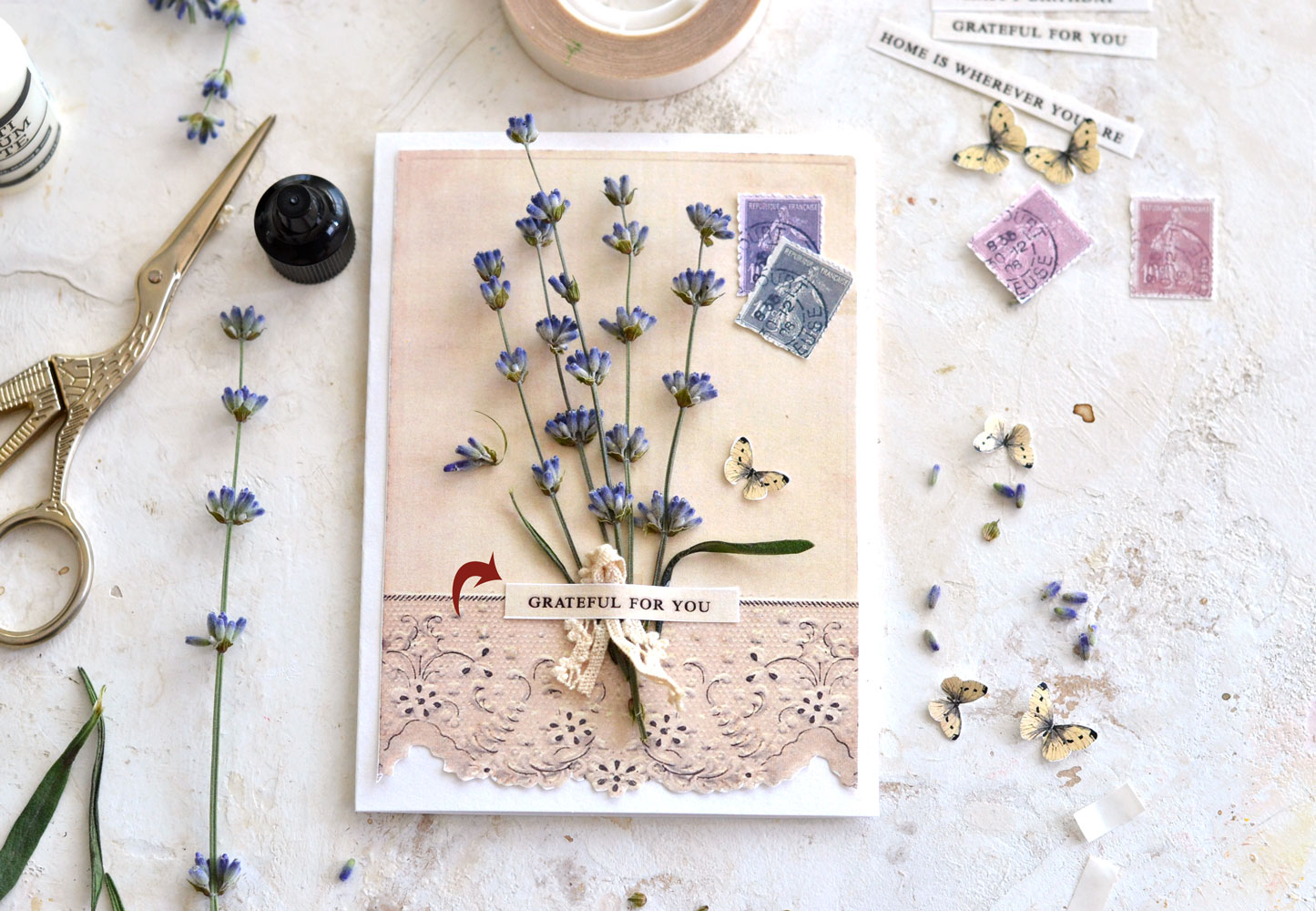 I love working in batches so I've made two more handmade birthday cards – one with pink and one with red roses, following the same 'layering' technique.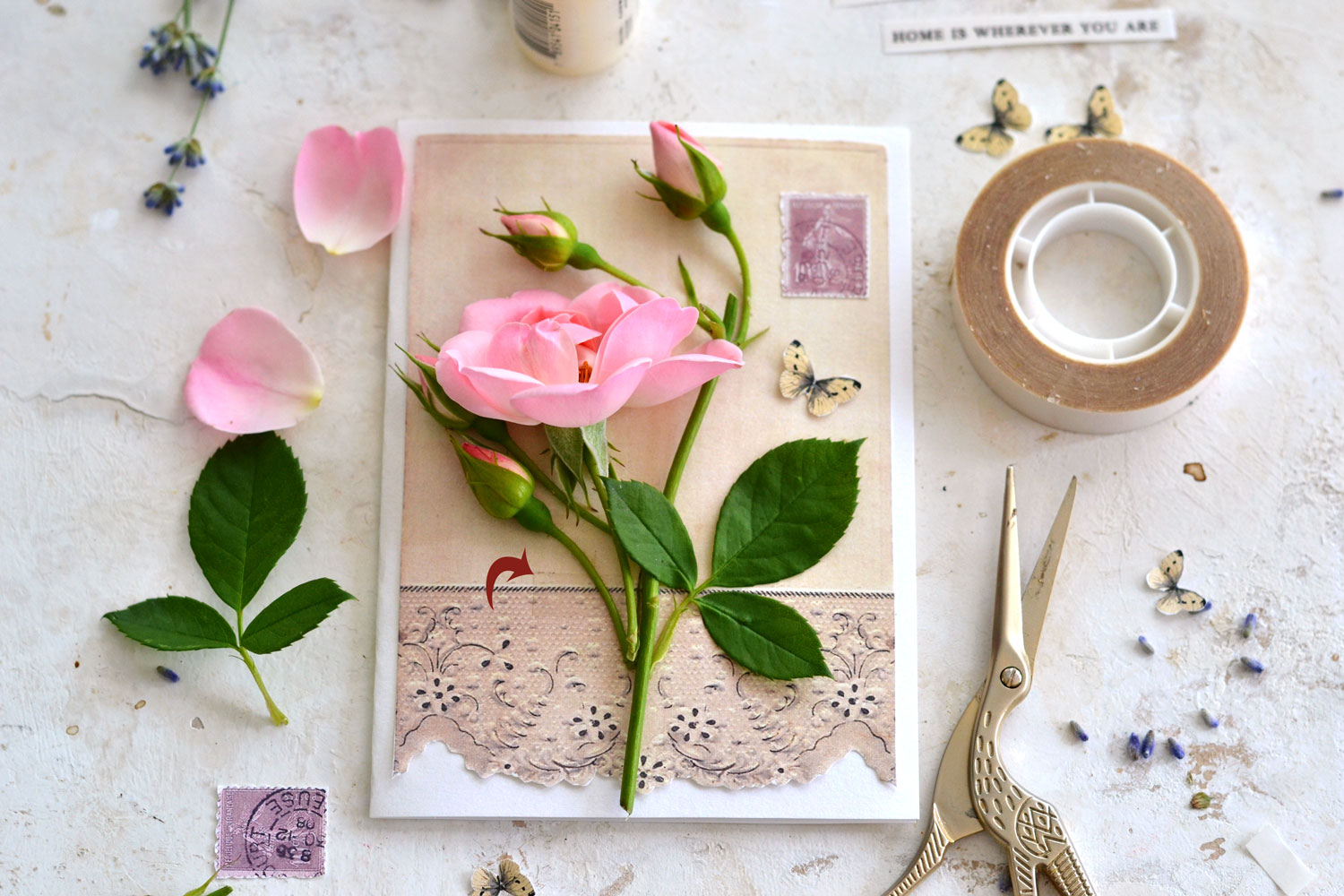 You might need to use some glue or some additional double-sided tape to hold everything in place, especially if some of the petals or the leaves have a strong mind of their own! You can also use hair spray or clear matte spray to better preserve and hold the shape of the flowers, before gluing them on the cards.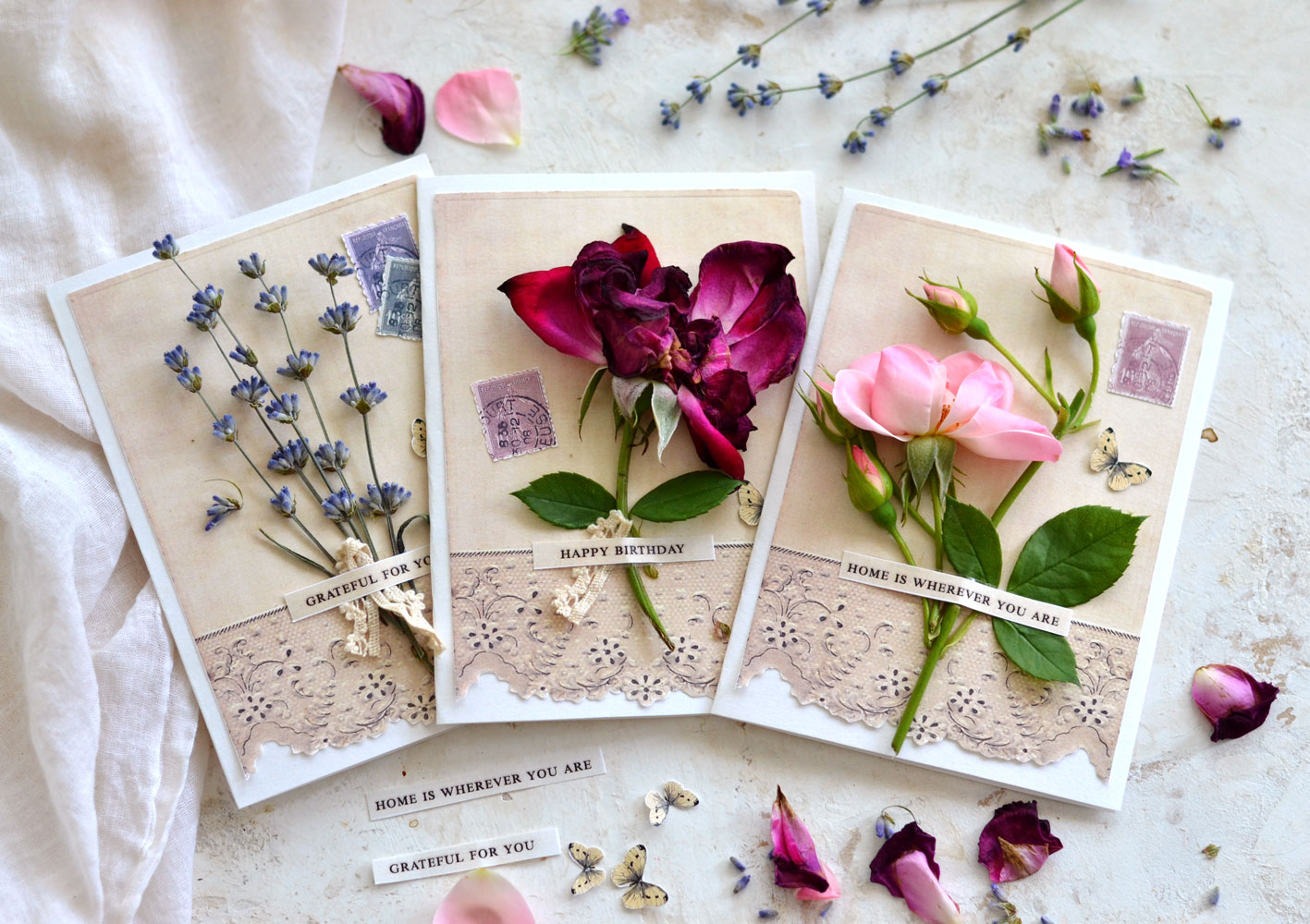 I'm over the moon with how the birthday cards for mom turned out, I'm loving every single one of these gorgeous beauties!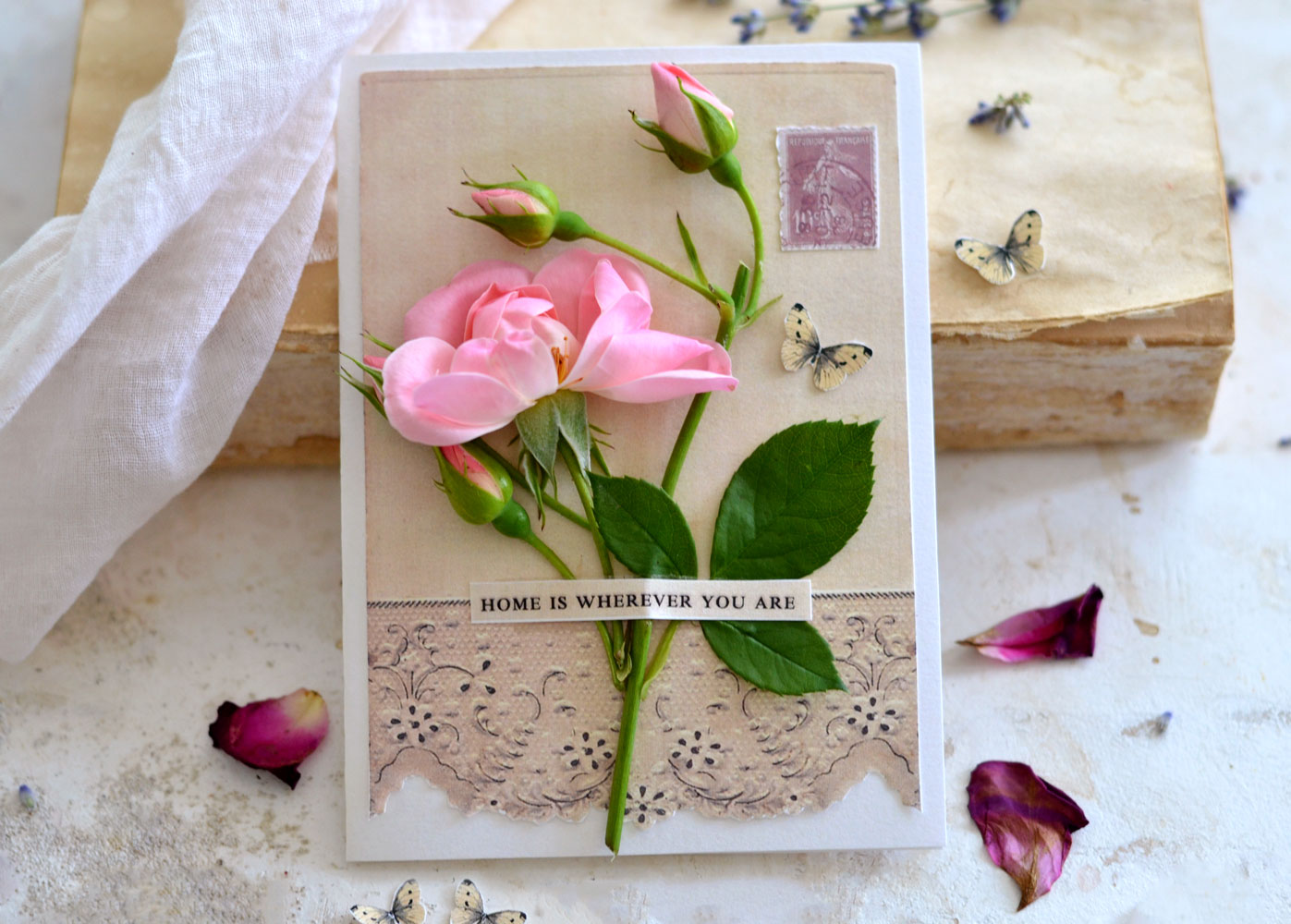 While I was making the initial lavender card I knew it would be amazing!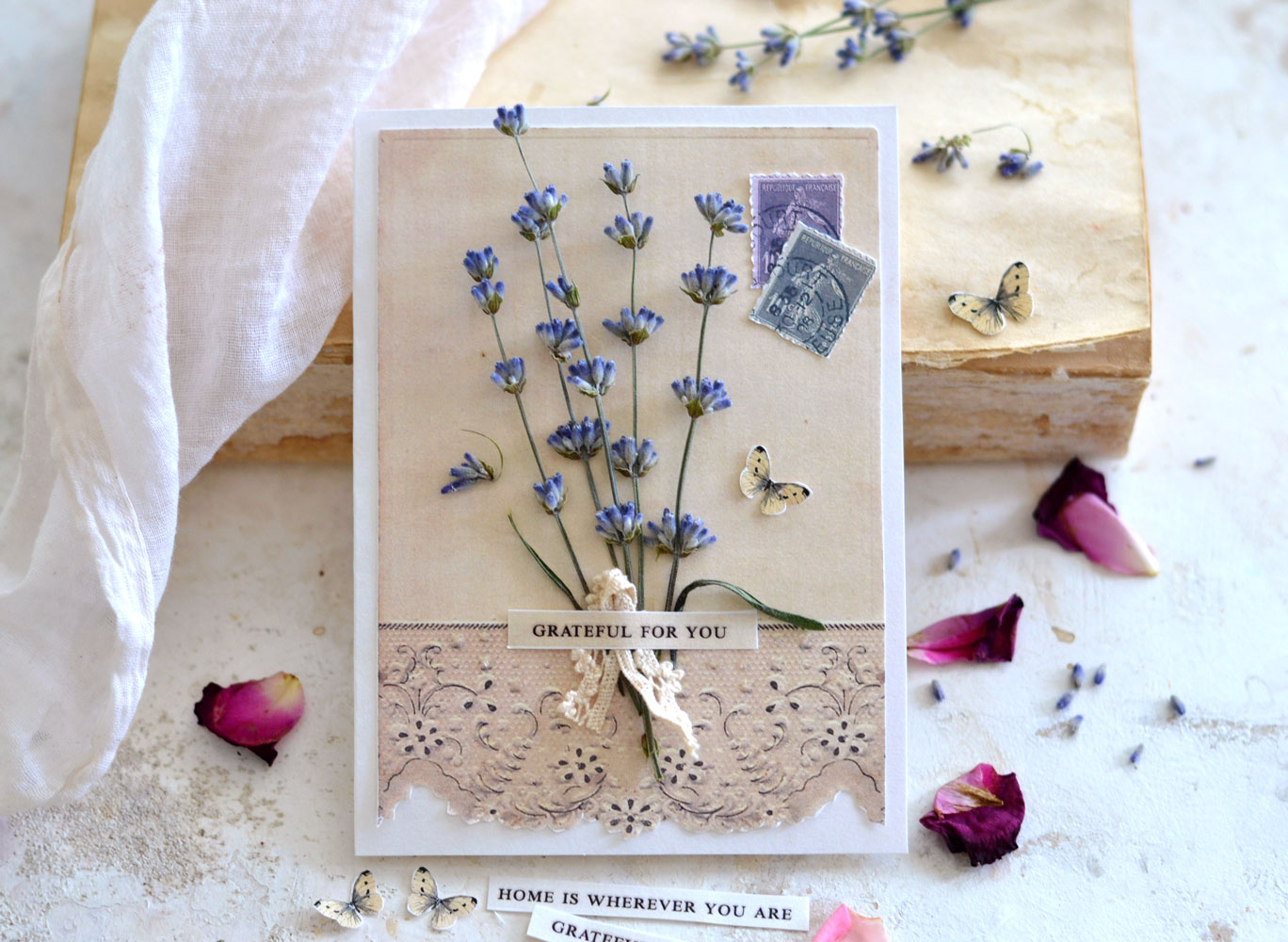 But if I would have to pick a favorite, the red rose birthday greeting card for mom, with all its gorgeous shades might be the winner!
I've noticed that if you dry the flowers long enough while holding them upside down, they will become more brittle but you won't have any problems with the petals coming off.
If you don't dry them long enough, the petals might come off and you will lose the overall shape of the flower. If this happens, don't worry, use some more of that glue to glue the petals together. It will be our own little secret!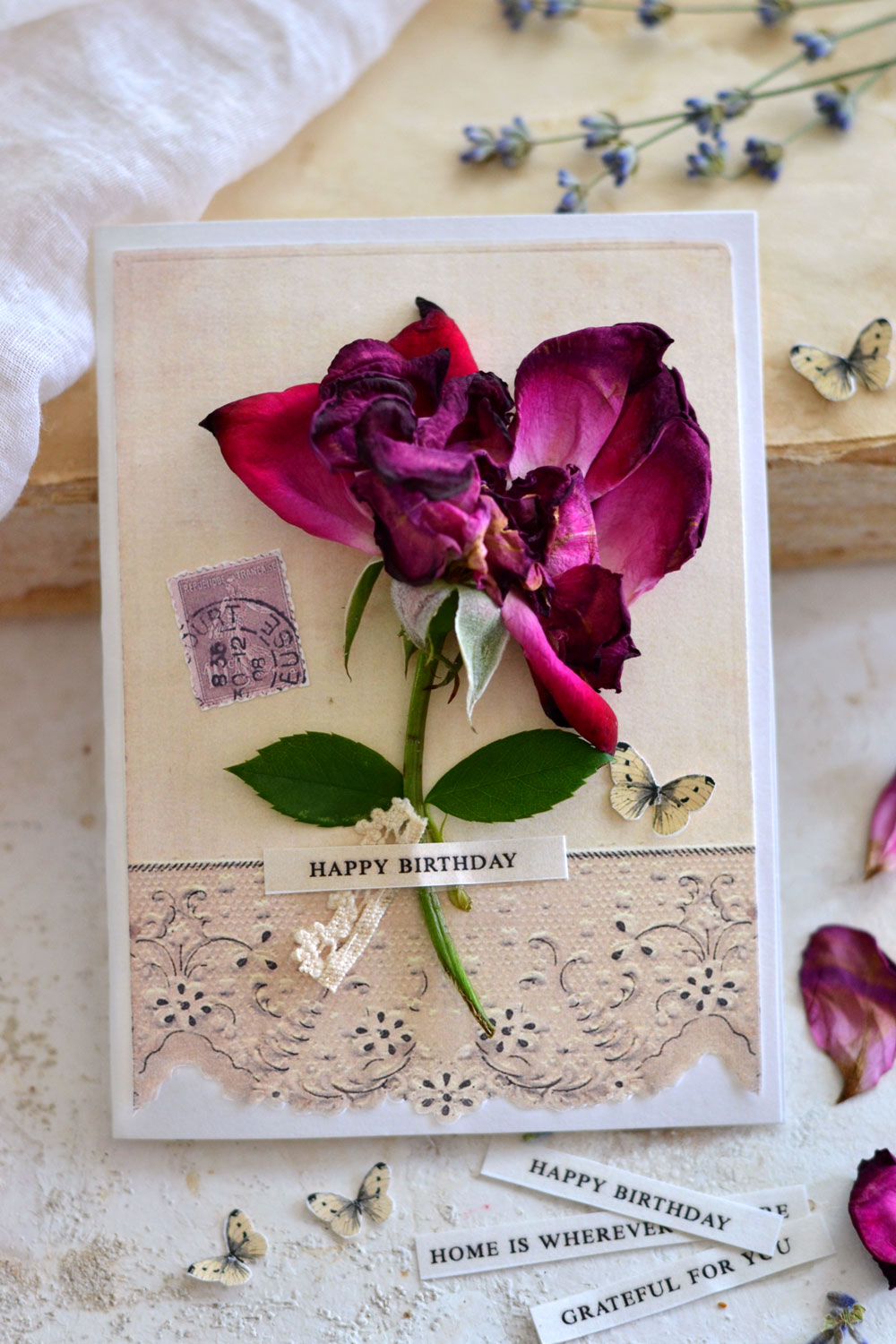 I'm hoping you will give this simple, but absolutely stunning DIY project a try, these make great last minute mini gifts, you could add a gift card inside if you wanted! Use your mom's favorite flowers to create something unique, the sky is the limit when it comes to personalizing these beauties with seasonal flowers, all year long. I've kept the inside blank so that you can write your own personal heartfelt message inside.
You can try creating a small bouquet of flowers, on Mom's birthday card, using different flowers and you can even throw in some aromatic herbs like rosemary, mint or sage, I'm sure they will all look adorable together. Not to mention the amazing fragrance! Just keep in mind to choose the smaller flowers, leaves or herbs that you can find to ensure they will keep their shape while drying. If you have the time to make these in advance, you can make the birthday card, place the flowers on top, then turn the card upside down so the flowers keep their volume while drying.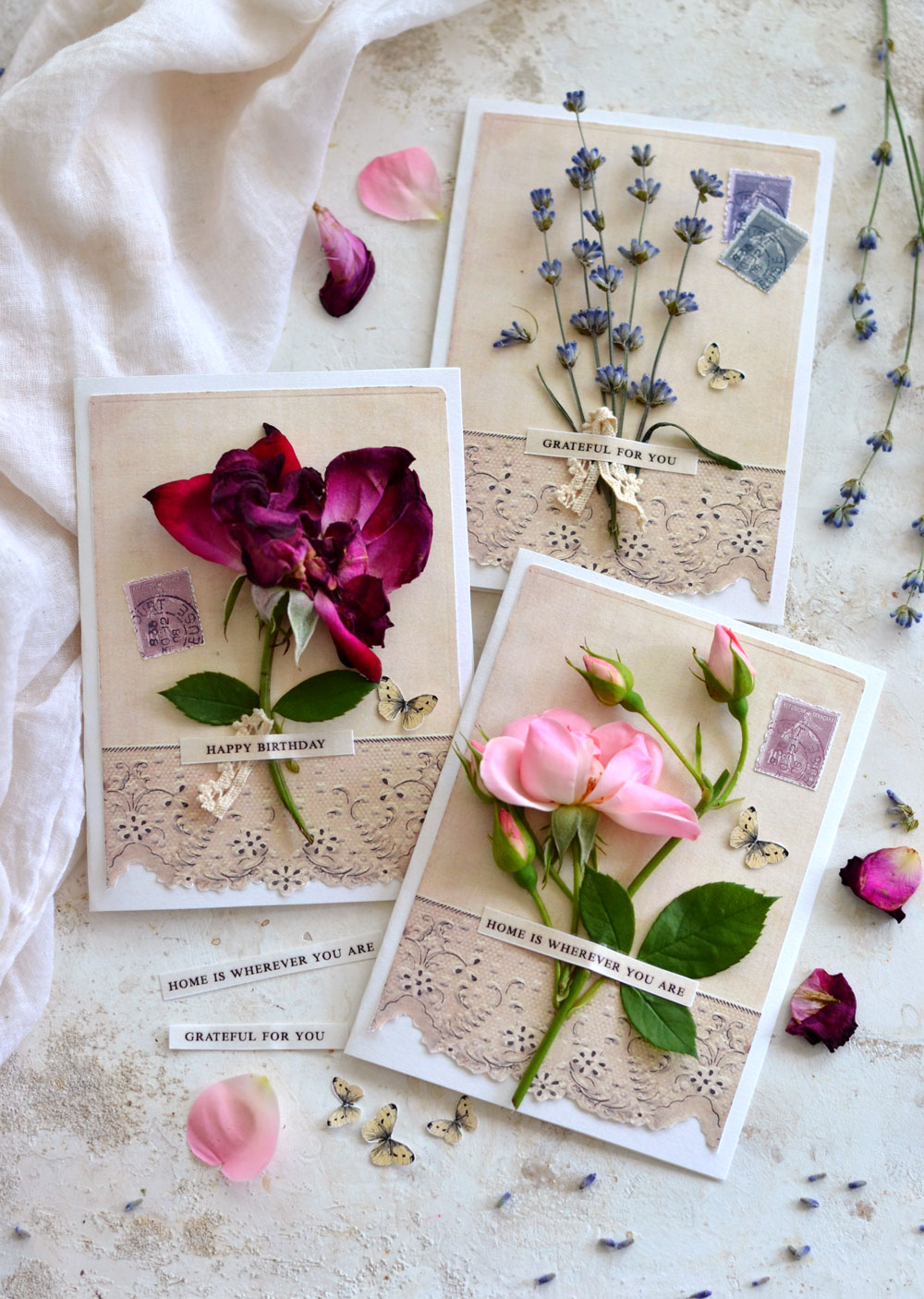 If you already have dried flowers on hand and would prefer to take this route, just use them to create gorgeous still life mini painting birthday cards for your mom, she will definitely appreciate your creativity! I hope you enjoyed these Homemade Birthday Card Ideas for Mom, you might also like my Homemade Mother's Day Cards HERE. 
Happy crafting,
Diana | Dreams Factory