Craft Room Storage Ideas on a Budget
Hello my dear Graphics Fairy friends – it's Rebecca back with over 30 Craft Room Storage Ideas on a Budget. I have curated a marvelous collection of inexpensive ways to store your art and craft supplies and materials. Some are thrifted. A few are store bought. Others are DIY and handmade. Plus, several of our talented TGF Design Team and Tag Team members have shared their favorite craft organization ideas just for you. I promise there will be loads of inspiration along the way plus some fun DIY storage projects for you to create with things you already have. So, let's jump into our stockpiles and get our things stored beautifully!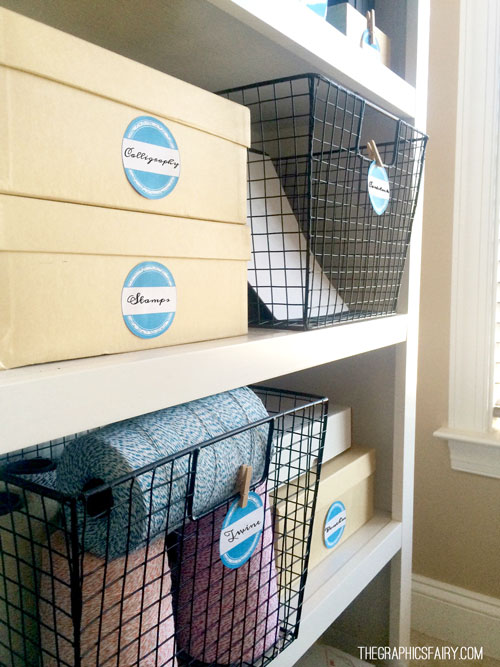 Click to Grab the Free Printable Craft Room Storage Labels
Thrifty Craft Room Storage Ideas
Organization skills for creative people are generally not our strong suit. We would much prefer to be creating than sorting and organizing our stuff. And we tend to have a lot of stuff, don't we? I am opening up my studio (spare bedroom) to give you a few of the systems I have devised from decades of collecting art and craft supplies. When I added collage and junk journaling to my bookmaking and painting endeavors, the 'stuff' quickly began to multiply… exponentially. Saving every bit and scrap of paper, thread, etc. can get out of hand. Lots of storage became a must.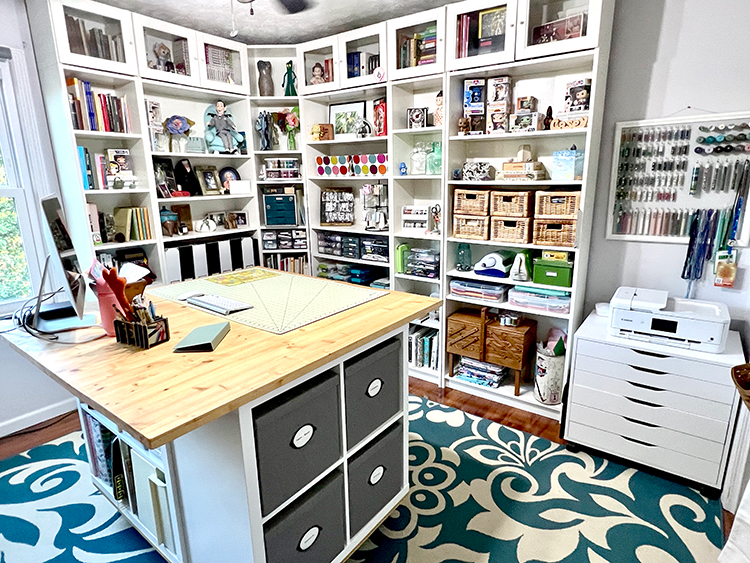 Above is my daughter's lovely, coordinated craft room that is surprisingly affordable with Ikea shelving, drawers, and tables. As you probably know, some craft storage systems are outrageously expensive! As a working artist and  thrifter, my studio is usually strewn with bits and bobs of things in use for my latest projects. It rarely looks so organized. But I do have places to 'keep' my stuff and some of it actually finds its way back there on occasion.
Most of my storage containers come from thrifting, a dollar store, or a 'necessity is the mother of invention' DIY project. That is Craft Room Storage Ideas on a Budget indeed!! The things you will see here are very affordable, even on the tightest budgets. You can even ask friends and family to save things like jars and tins for you at no cost. I hope you will find some inspiration and clever ideas to adopt below. As design team member Anna Hollingworth says, Craft Storage is "a bit of a maze that only I can master." Enjoy the ideas below and let us know which ones you want to use in your craft space. Please share with us in the comments!!
Shelves and Cubbies
Shelves
Can we actually have too many shelves in our studios? Nope! They are a super budget craft storage idea. I adore this small 3-shelf unit I found at a thrift store for a few dollars. It lives on my craft table and holds my most used acrylic paints.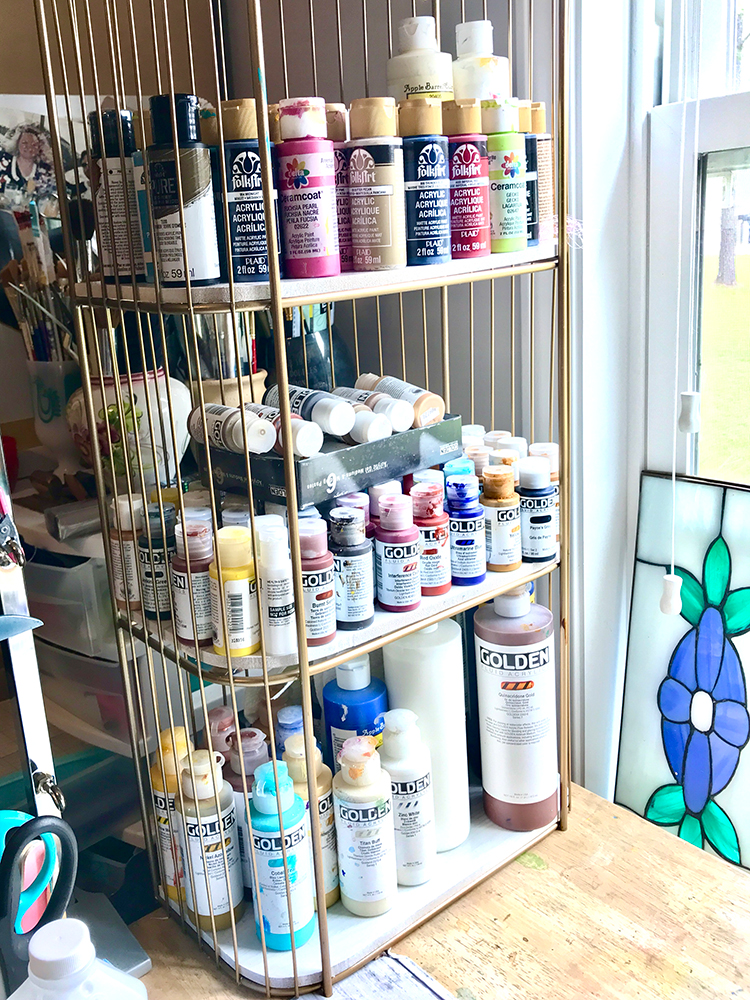 Display Shelves are a must for artists and crafters. Here is a thrifted china shelf unit I repurposed to display and store my books, button jars, and paintings. Craft Room Budget friendly storage ideas are a must.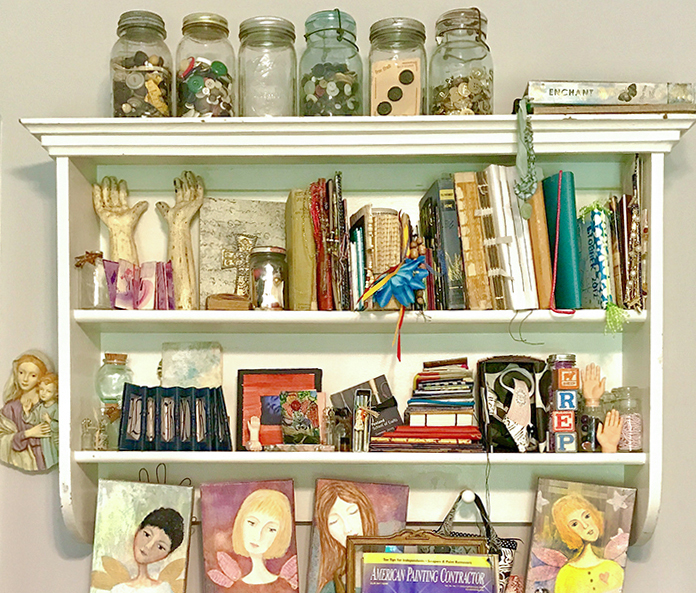 Ikea Storage Systems
Ikea storage is just plain beautiful and it is generally quite affordable. Just add new or vintage baskets, boxes, and jars to hold craft items as seen below.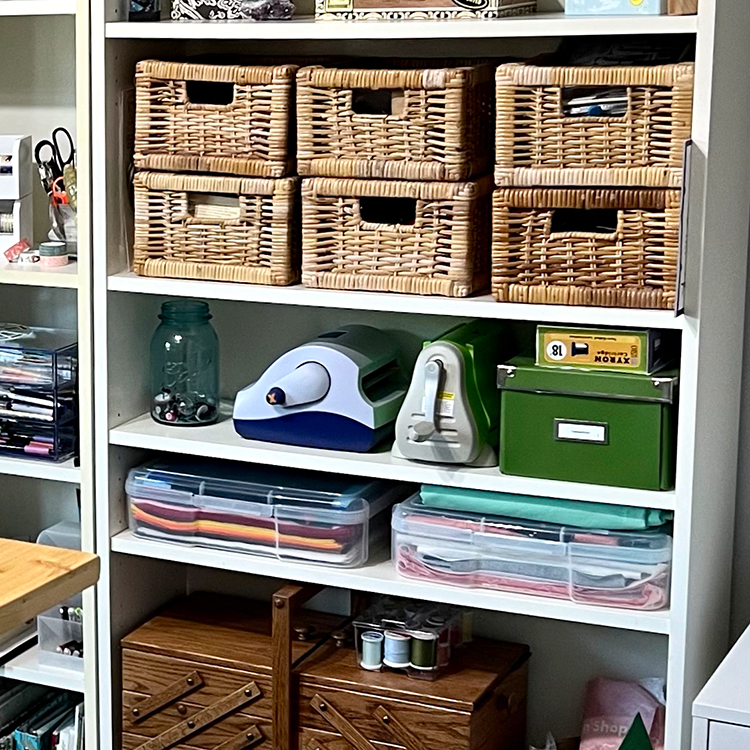 Tanja from the TGF Design Team tells us, "I have Ikea furniture in the studio. The cupboard for the stamps is a Besta cupboard (see in the wooden crate section below) and then I have Alex with drawers."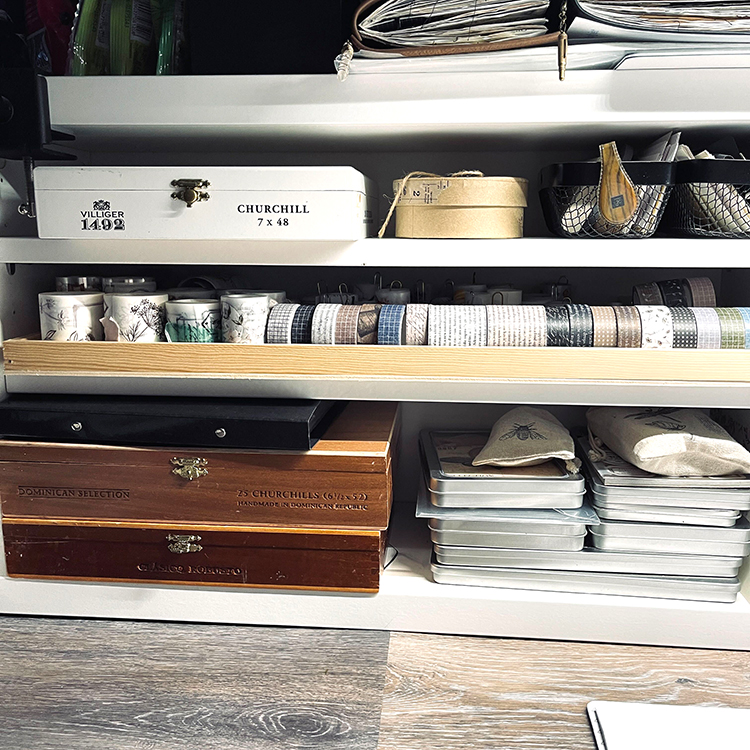 Shoe Cubbies
My wonderfully organized daughter gave me two shoe cubbies that I have found to be perfect to store my fabric and collage fodder. I stacked the units and placed them in the closet of my craft room. They were designed to hold shoes in a closet, so they fit perfectly. I recently found some plastic refrigerator organizers at a discount store. They fit into the cubby and slide out as well. SCORE!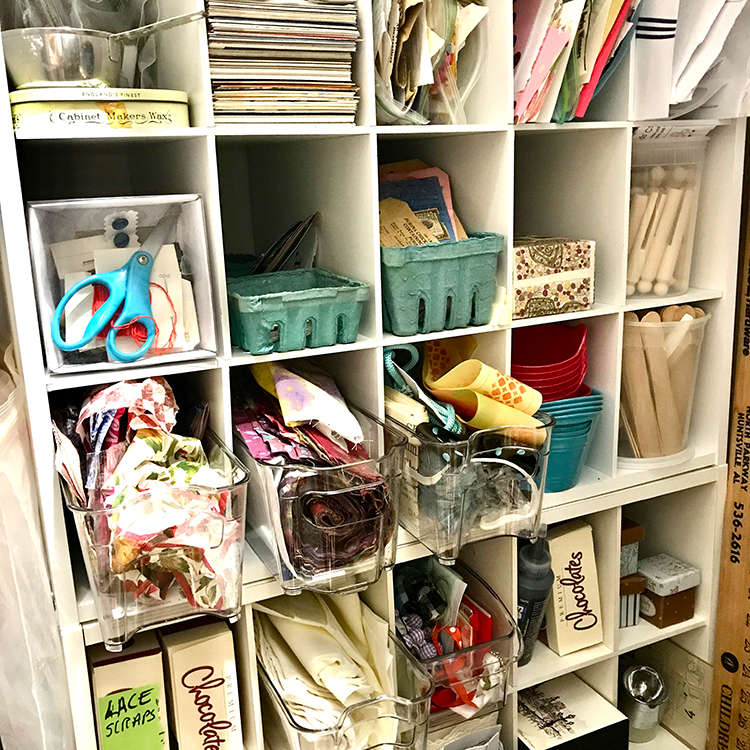 Drawers
Stackable Plastic Drawer Units
My next Craft Room Storage Ideas on a Budget are drawers. I adore them and have several sets in my studio. I keep a see-thru one on my work table that holds my cutting tools, craft knives, blades, etc. (top left) Small 6″ wide stackable drawer units hold bits of paper and things for collage. (top right) This 4′ tall unit sits beside my craft table holding my frequently used book making items: paper trimmer, scoring board, clamps, sewing supplies, etc. (bottom left) These large sets of drawers are stacked in my closet and hold bigger and bulkier items: everything from paper punches, rubber stamps, glue guns, paper packs, etc. (bottom right) These are relatively inexpensive new, but can be found at yard sales and thrift stores if you are patient.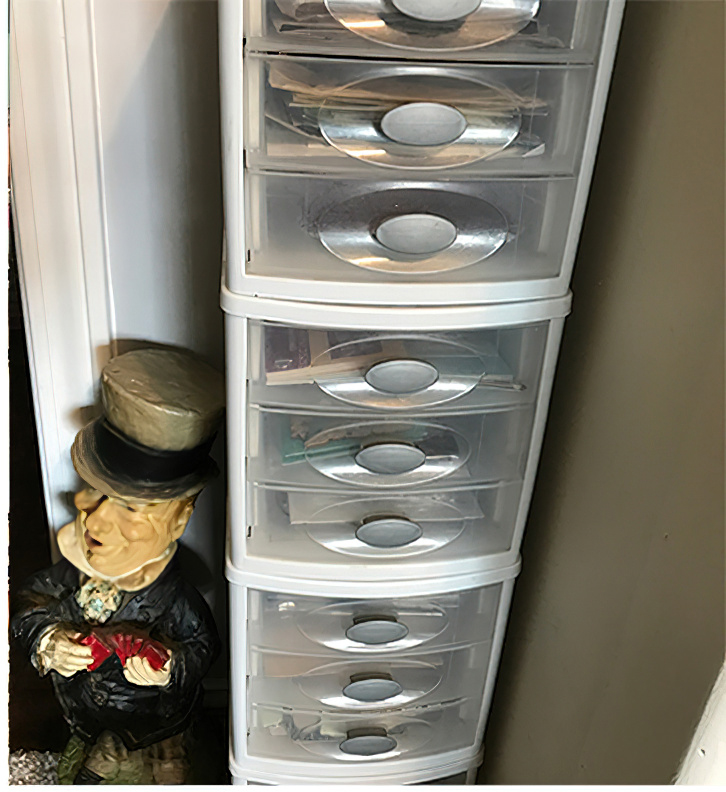 Hardware Drawer Unit
If you can afford only one storage item, this is probably it. This grand storage unit, made to hold nails and bolts, holds tons of smaller craft items. They are affordable new or can be found at yard sales and thrift stores.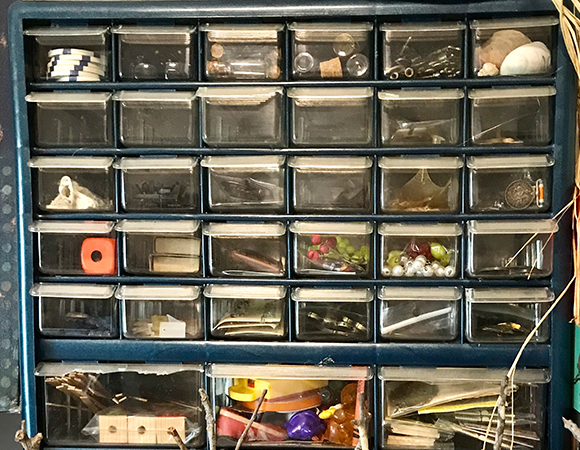 Wooden Drawers
I love when I find an abandoned wooden drawer at a thrift store. I use them to hold projects I am working on or as a gathering place for future projects. They stack nicely as well. Anna Hollingworth, at Leximbue Journals, from the TGF Tag Team shares an old drawer she uses for storing paper items. She has created custom dividers from old wooden slats. I share a quick DIY on how to make dividers for cigar boxes below.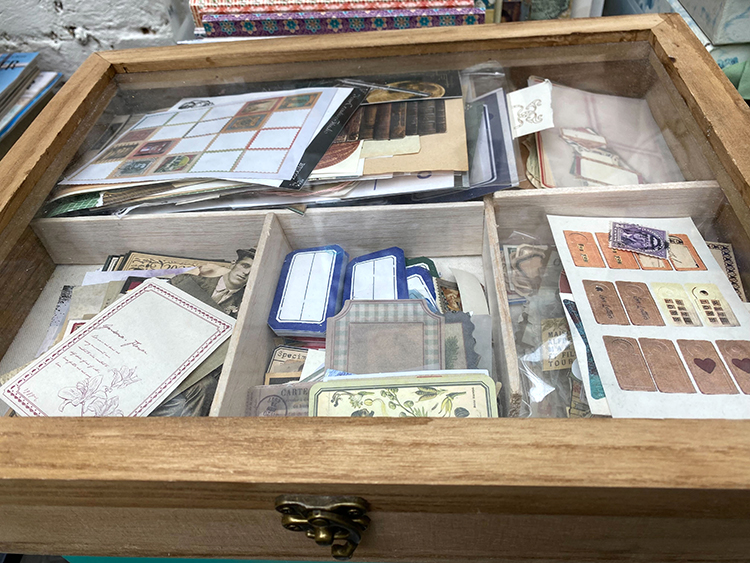 Old Sewing Machine Drawers
These are a great size to hold brushes, pencils and pens, or other taller crafty things. I also use them to hold a batch of my gel printed, marbles, or dyed papers on my table. Letter size paper and folders fit nicely in mine.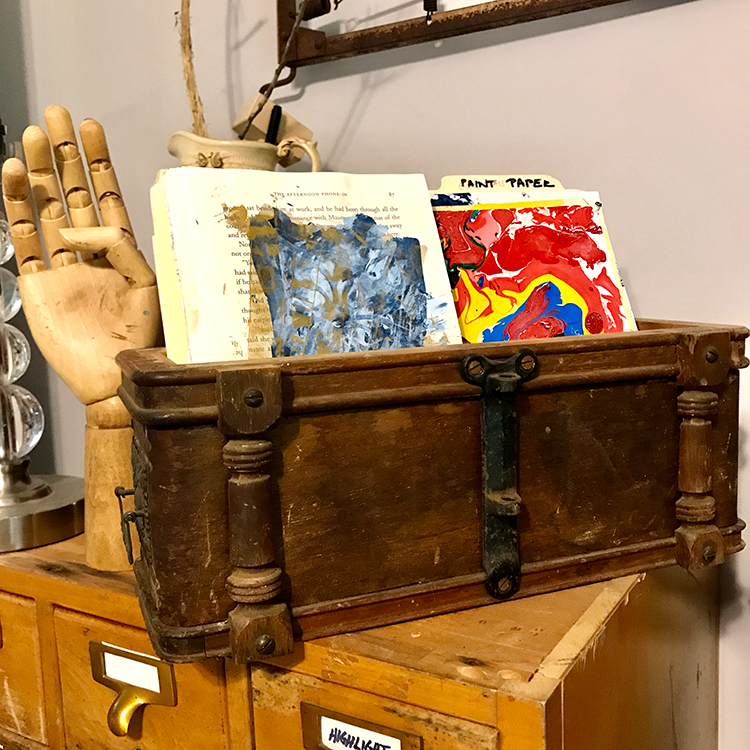 Boxes
Jewelry Boxes
One of my favorite craft room storage ideas on a budget is this large, old jewelry box with loads of drawers and compartments. I store mostly metal things inside – charms, keys, brads, eyelets, etc. Old jewelry boxes are usually a steal!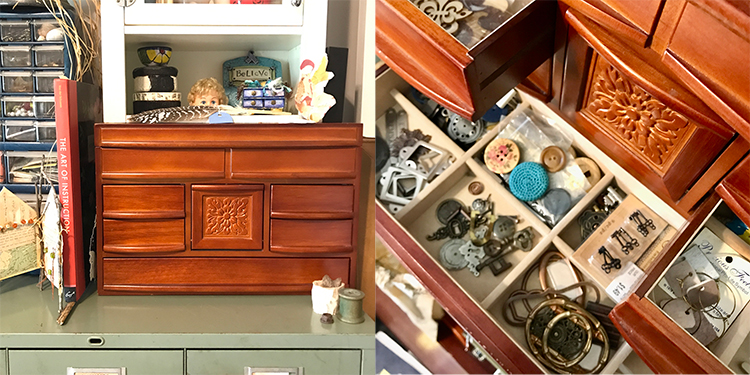 Cigar Boxes
Heather from Ruby and Pearl xo on our Tag Team says, "I collect vintage cigar boxes and floral boxes from flea markets to keep things tucked away. Things I keep in them are paperclips, stamps, ink pads, ribbon, postcards, and other paper ephemera."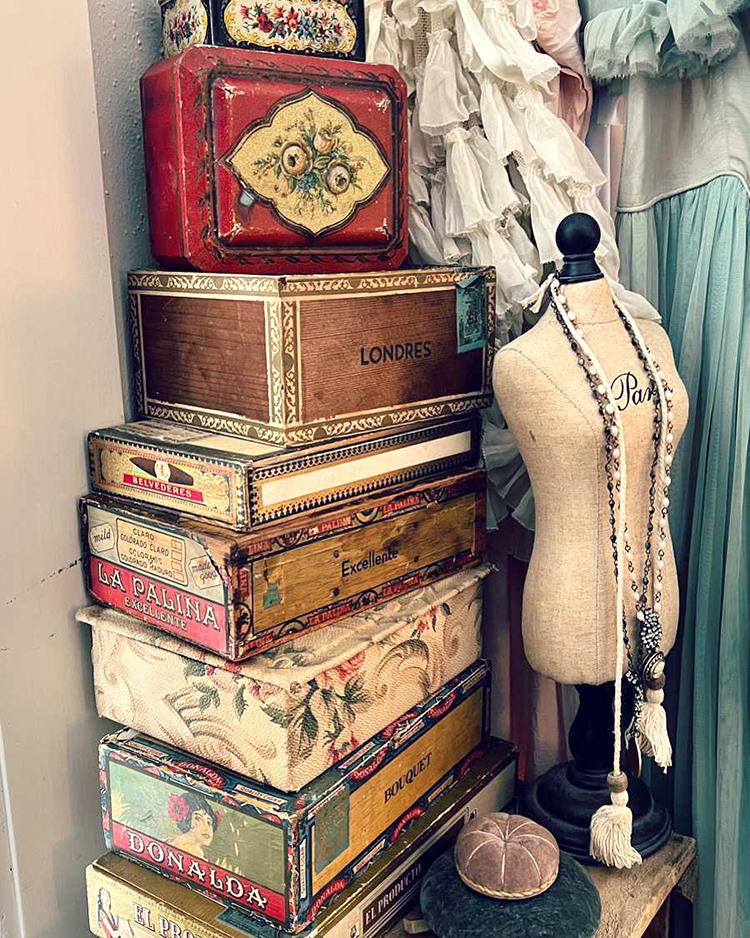 I have a collection of wooden cigar and vintage wooden boxes that sit on the chest of drawers in my studio. These are great for storing clear stamp sets, small stencils, dies, and embossing folders. If you make friends with your local cigar shop, you can get amazing deals on these.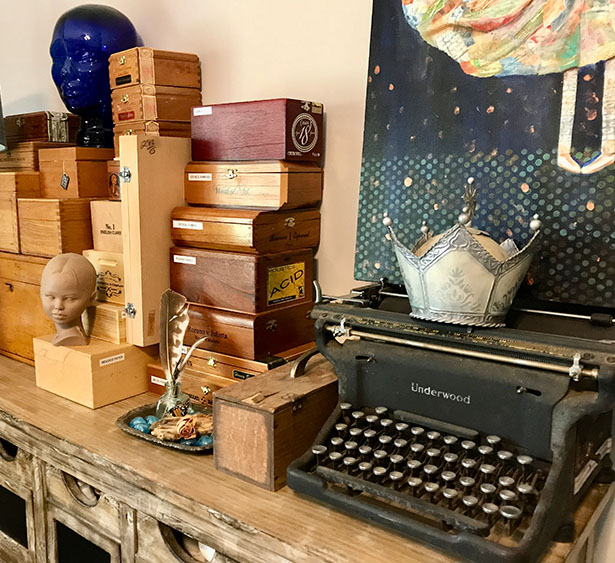 Tins and Jars
Canning Jars
Canning jars are a great place to store buttons, colored pencils, brushes, etc.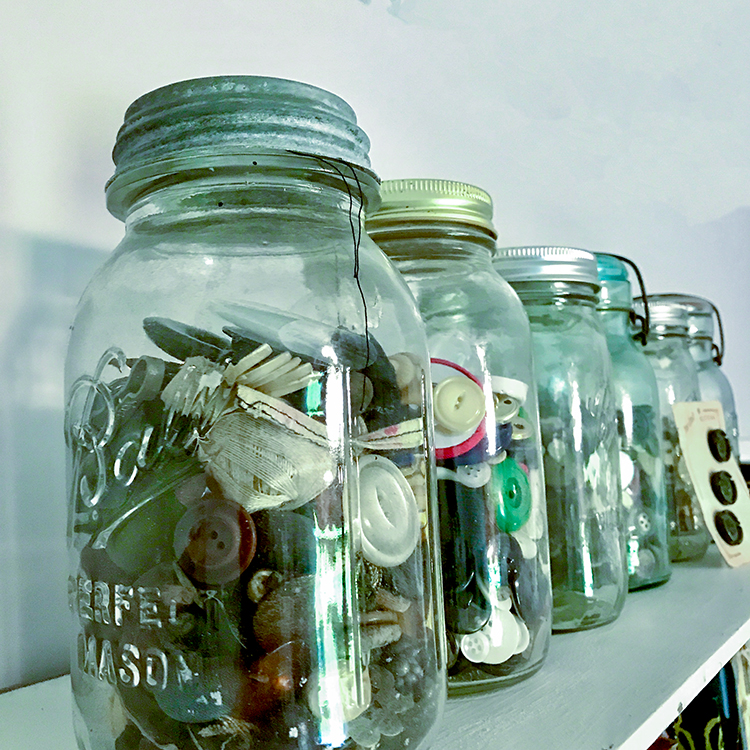 Small Glass Jars and Apothecary Jars
I adore jars to hold my craft items in the studio. The best part is that you can see what is inside them. Below are some of my apothecary jars, small milk bottles, and small canning jars.
Kate Stevens from the TGF Tag Team says, "If I find cheap little glass jars or old tins at a thrift store I buy them and use them to store little things like paper clips, safety pins, etc."
"Jars are a great way to store pretty much anything you can find that fits into them. If you have some jars from and old candle or the jam jar that's almost empty, just a quick rinse with dish soap and water and you have yourself some extra storage. Not to mention they look pretty lined up on a shelf," Saje tells us.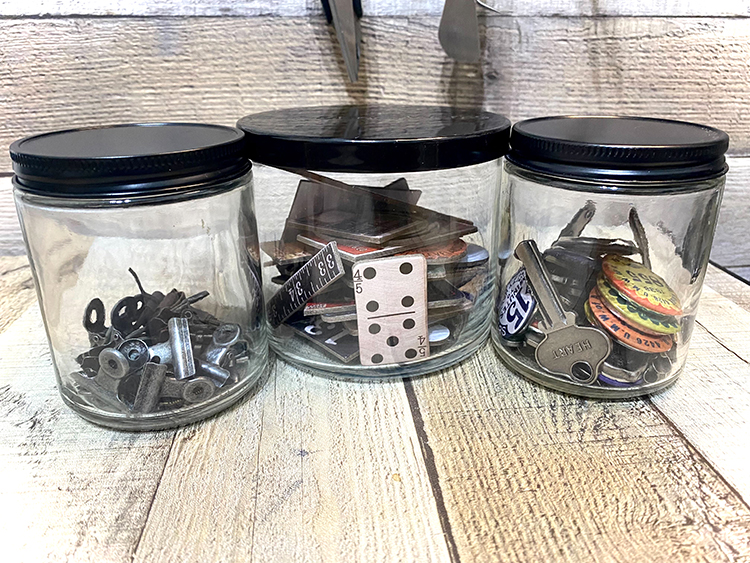 Suitcases
Anna shares, "This old suitcase is filled with fabrics and leather scraps for my journals. And my smaller box with the more precious items."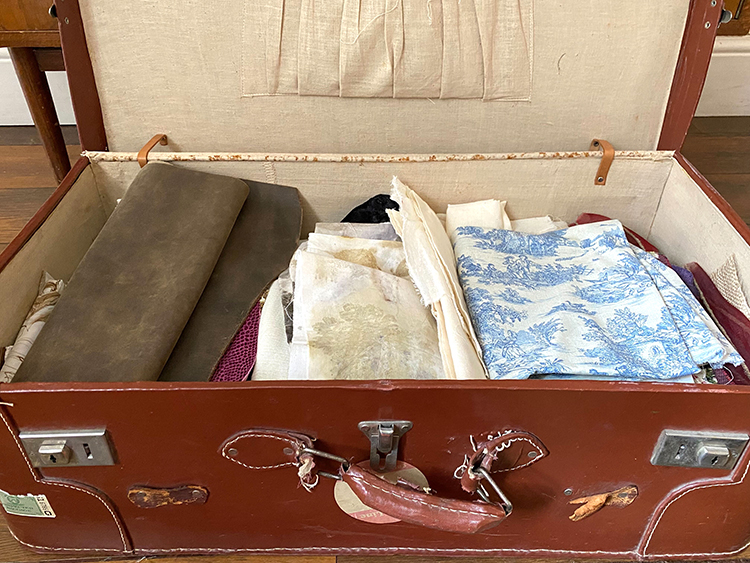 Plastic Storage Containers
There are a plethora of pre-made plastic containers on the market that work well for craft storage. Below are three of my faves.
Scrapbook Paper
I was so thrilled when I found these plastic storage boxes made to hold 12″ X 12″ scrapbook paper. They stack perfectly.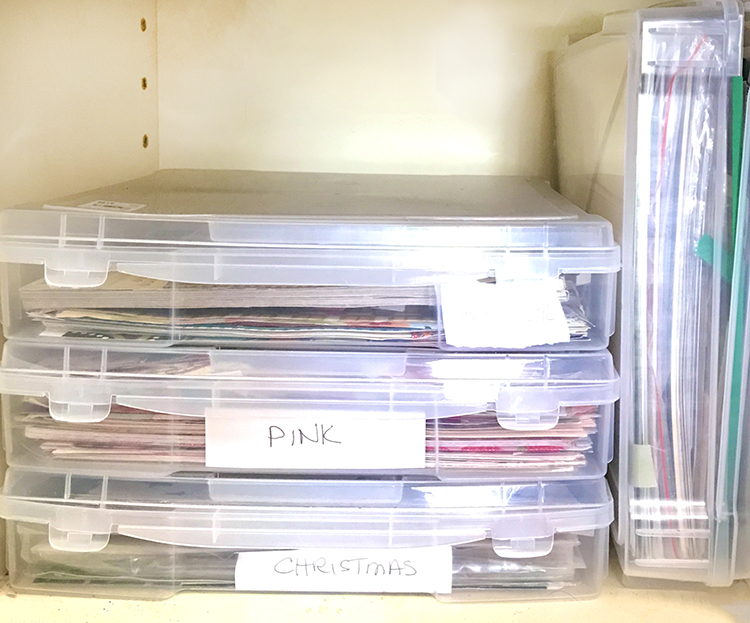 Makeup Storage Units
I always pick up makeup storage units when I find them at thrift stores or on sale. They are compartmented to hold many smaller craft supplies, like these bottles of alcohol inks or my homemade versions.
Dody Williams from the Design Team loves her bins and rolling carts. "I use a rolling file cart normally used for office files (spray painted it white) and place a large wire basket in the top opening and two small baskets beneath. I keep it next to me at my work table filled with paper I am using at the time. I love how I can roll it out of the way and all around the room. I also foraged a bakers rack left as rubbish on the street and filled it with all sorts of papers and small wire baskets filled with supplies."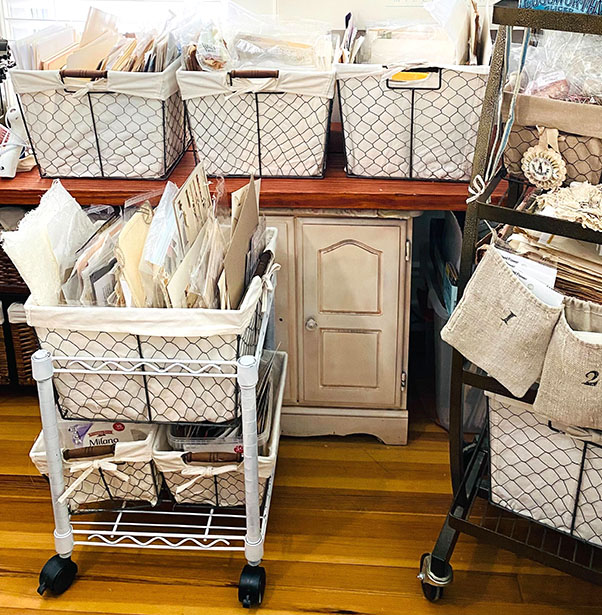 Framed Wall Storage
Anna shares a delightful way to store laces and trims on an old window frame. This is a big time Craft Room Storage Idea on a Budget.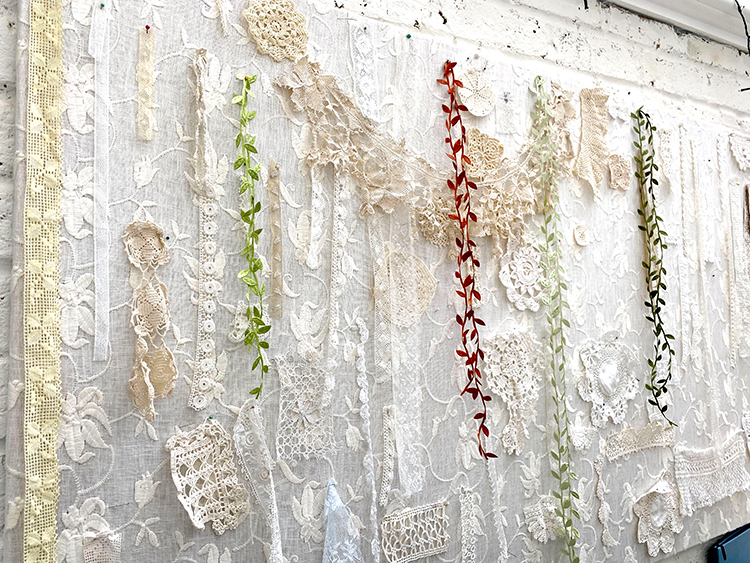 DIY Storage Project with Printable
Mini File Folders Accordion File
Of course, I adore to create a DIY Craft Room Storage Ideas on a Budget. Saje was the inspiration for my printable design below. She told me, "These file folders are a great stash idea. I made mine using Kraft stock, hinged together with accordion folds. It stands upright on my craft table in a long rectangle container. If you're always cutting up TGF paper and need a designated spot for your pieces while you're putting together a project, then these work perfectly." Here is the printable PDF for a Set of 3 Mini File Folders that I designed for you to make your own accordion file like below. Each folder fits on letter size (8-1/2″ X 11″) cardstock. The best thing about them is they can be resized to fit your needs.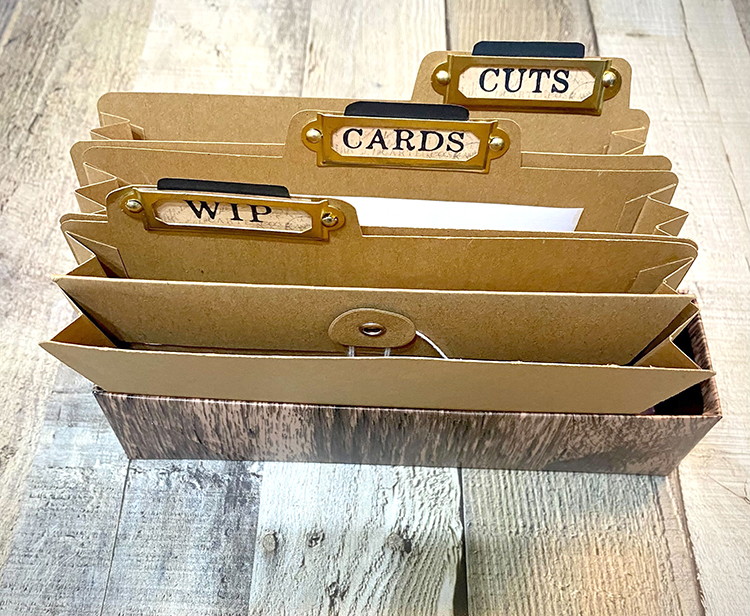 Check out this great Art Studio Hanging Supply Organizer tutorial HERE.
Envelopes & Pockets for Budget Craft Room Storage
One of my favorite places to find beautifully designed and oh-so-easy-to-make small storage paper items is on The Graphics Fairy Premium Membership Site. Oh yeah! You can find hundreds of gorgeous downloadable, printable items like Envelopes, Pockets, and so much more to hold and organize all our TGF ephemera.
I hope you have found some new and exciting Craft Room Storage Ideas on a Budget today! I am so inspired by the design team members' ideas, I have decided to do a month-long craft room organization challenge. When I am not creating for TGF, I also create Photoshop Elements tutorials and craft project videos over on The Graphics Fairy Premium Membership site. You can find even more of my books, art, and whimsical shenanigans on my website –  The Bookery.
Hello! Are you new to The Graphics Fairy?
Welcome, I'm so glad you're here! Browse around to find 
thousands of Stock Images
 that you can use in your projects or designs! I post new Vintage images every day, as well as projects and DIY's too! Need more info about my site? Try my 
FAQ
 page.