This 'Sunken Treasure' Designer Furniture Finish is an exercise in layering…
Hello, Graphics Fairy Friends! It's Heather, from Thicketworks.
Today, we'll be exploring how to create a wonderfully layered DIY finish that evokes Faded European Grandeur, and echoes of the depths of the sea…
---
Thank you, Heirloom Traditions, for sponsoring this post!
Our subject today is this shapely chair that has seen better days…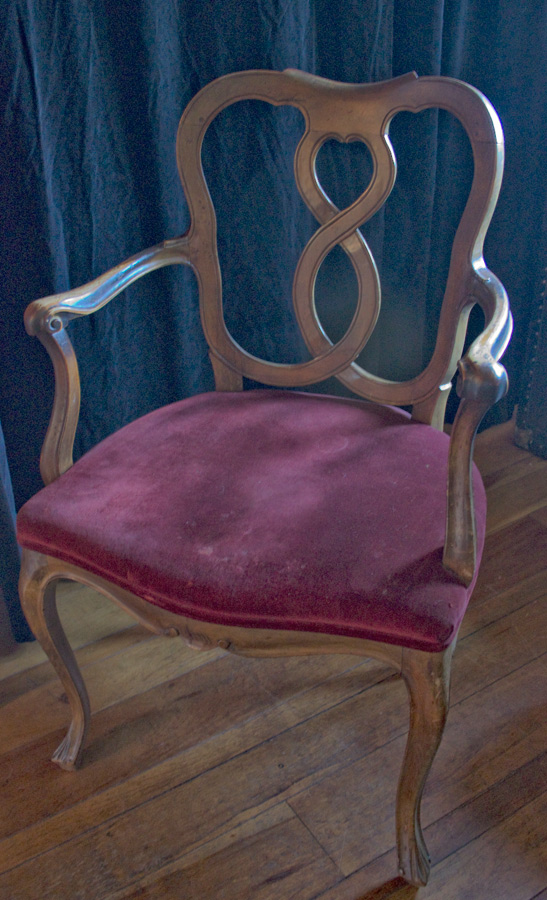 Love the lines…the boring brown stain?
Not so much.
The process of creating a designer furniture finish is part intuition, part experimentation, and ALL about trusting the process!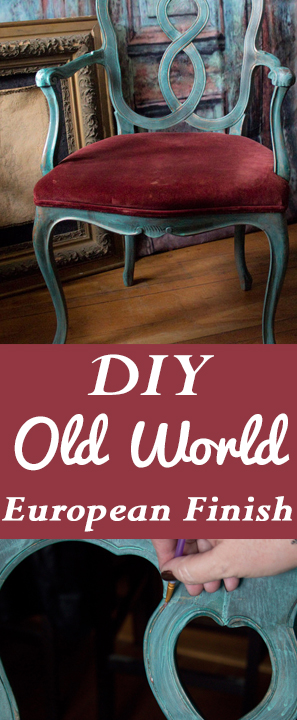 To recreate this look, you'll need a few things…
Assorted Paint Brushes, including a small artists brush
Lint-free rags
A small container for dispensing finishing products
Low-tack painters tape
A plastic garbage bag
Optional: half vinegar / half water solution for cleaning
Optional: protective gloves
---
How to create this DIY Old World European Furniture Finish:
Begin by taping off any areas that you wish to protect from the paint and finishing products.
A plastic garbage bag is a simple way to protect upholstered areas.
Dust and wipe down the surface of the wood, getting it as clean as possible. If necessary, use a vinegar and water solution to remove grime.
Allow to dry thoroughly.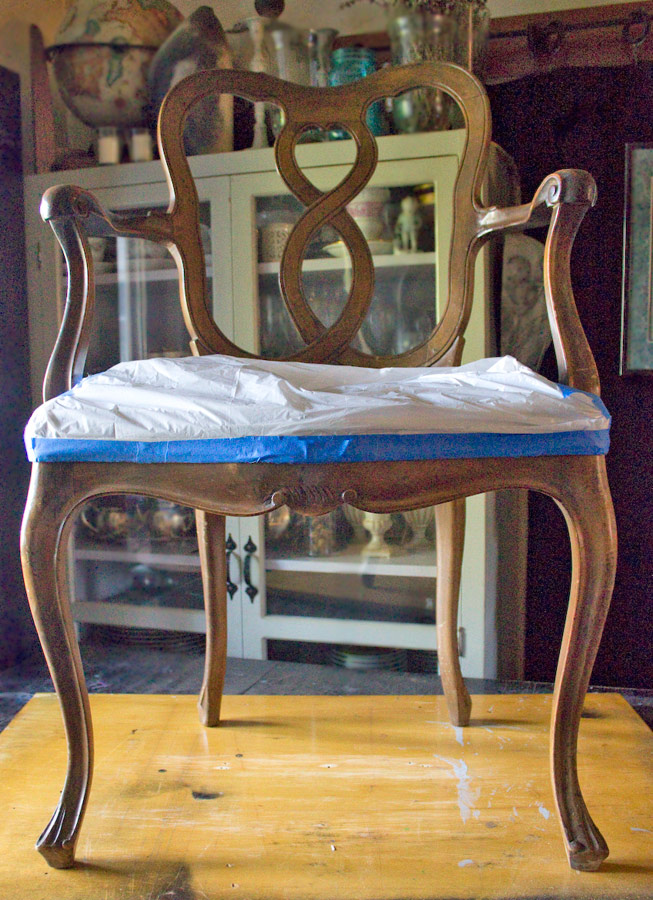 This finish has a base of Alexandrite Chalk Type Paint…a very rich blue green.
Because I knew I would distress the finish back to the wood tones in places, I did not prime the surface prior to painting.
To minimize brushstrokes in the finish, dip your brush in water, wipe away the excess, and then dip in the paint.
Note: boil the water for 1 minute, and allow it to cool. This will prevent any microorganisms from transferring from the tap water into your paint container.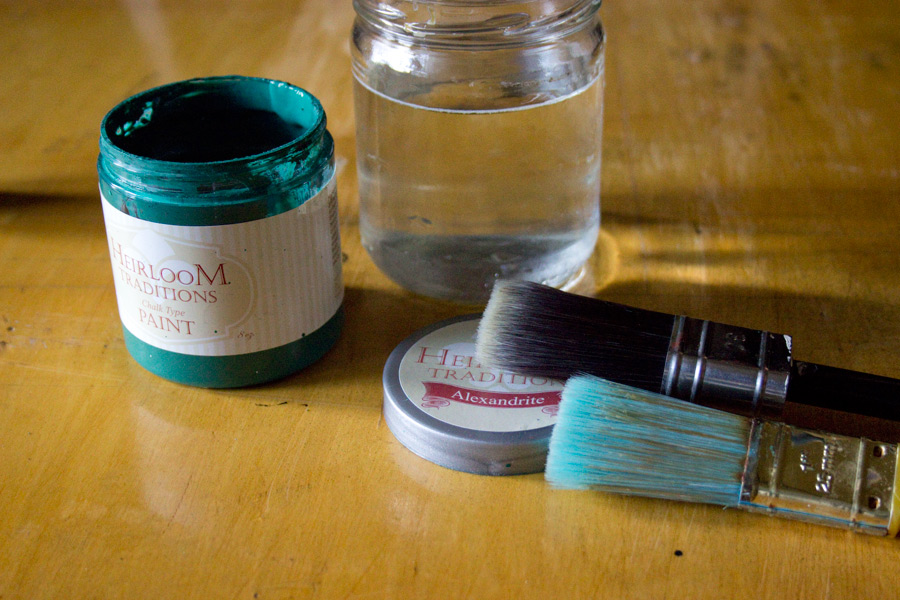 Apply two full coats of Alexandrite Chalk Type Paint, allowing for thorough drying between coats.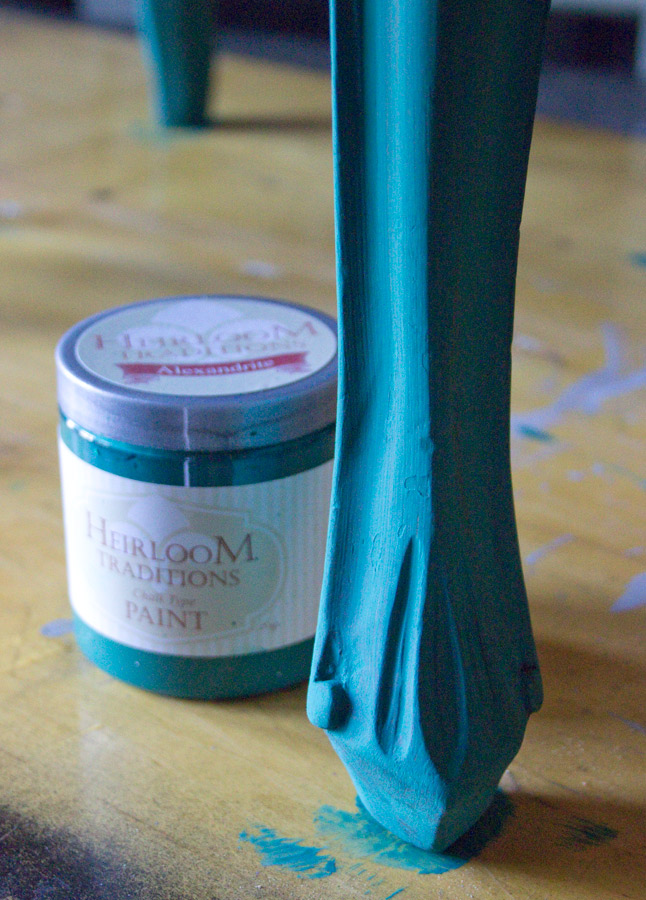 (The paint color in the following picture is much more 'true' than the one above)
Next, smear loose touches of Aurora Staining Gel: Copper Mine over the surface…with your FINGERS.
I know.
Ewwww.
But here's the thing: a brush will create a much more uniform pattern, even if you try to apply it randomly.
The blotches and splotches of a Finger Painted application create energy and soul in the final piece.
Seriously.
Add a bit of detail with a small brush, but use your hands for the large areas.
Note: Aurora Staining Gels are non-toxic & water-based. While they may cling to your manicure, they won't hurt your skin. Wear protective gloves, if you feel more comfortable.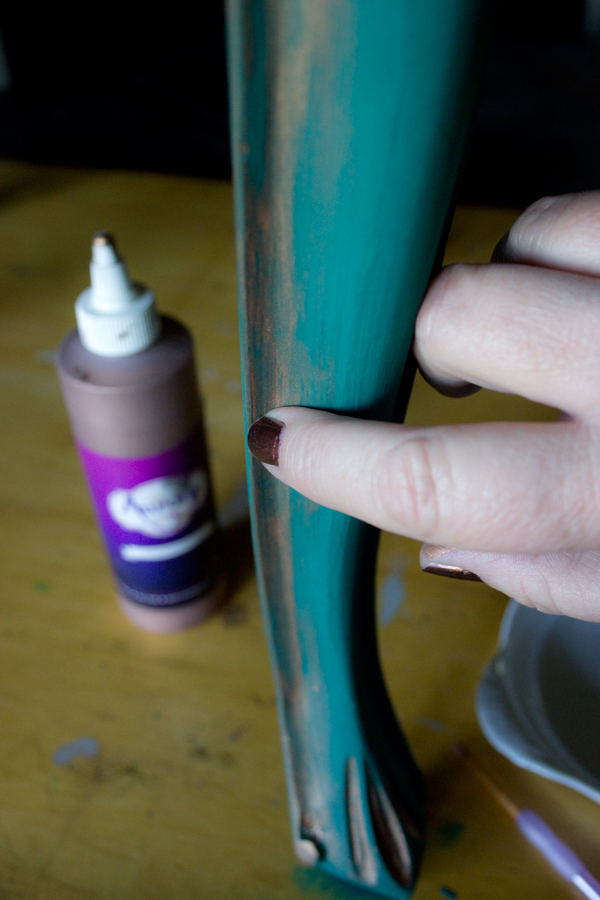 Move quickly, and intuitively.
Don't overthink the process…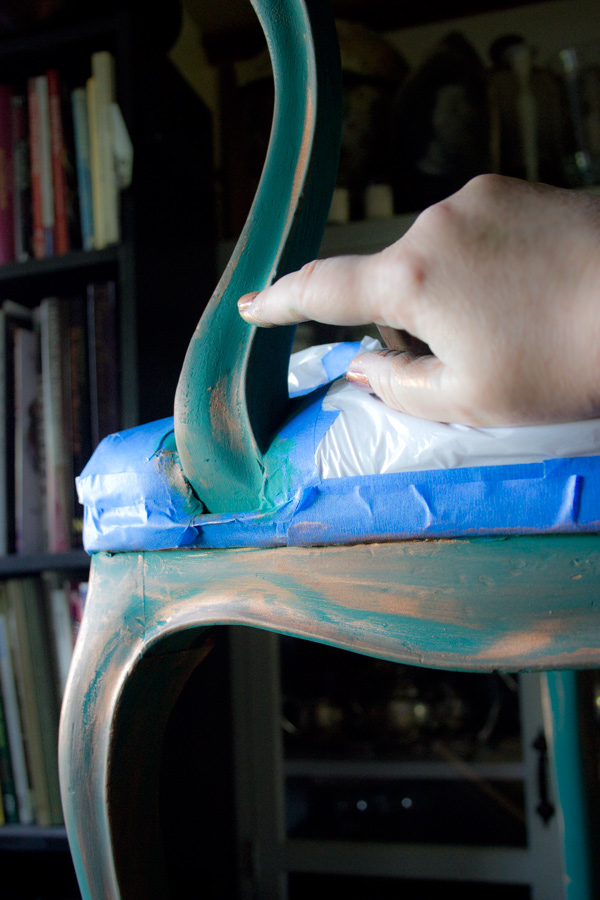 You may not enjoy the resulting effect at ALL.
And that is to be expected…
Here's where trusting the process comes in – we have to be willing to bear the discomfort of the 'ugly' phase,
in order to reap the reward of the final finish.
---
Once you have splotched and dabbed Copper Mine over the surface with your hands, allow it to dry.
It won't take long…
Then, create a thin wash of Copper Mine by adding a bit of water to a dime sized amount of Gel.
Loosely slather it over the entire surface.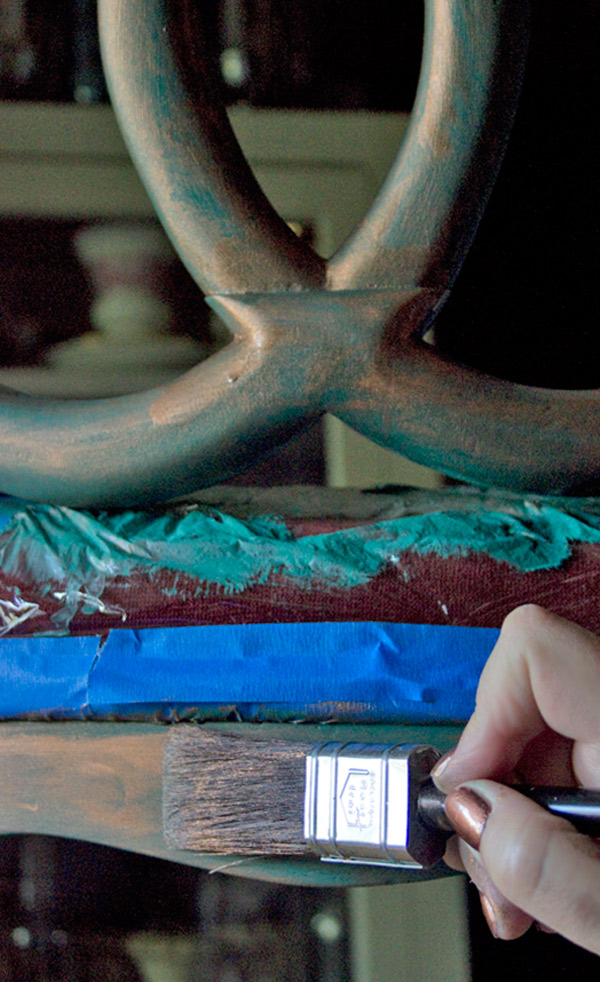 Allow this to dry.
Next, add a loose layer of Aurora Staining Gel: I'm Jaded over the surface.
This is a very intense, but translucent green.
While the 'I'm Jaded' is still damp, begin to wet distress the piece.
With a damp cloth, rub away the layers of Staining Gels and Paint until you reveal small areas of the original wood toned finish: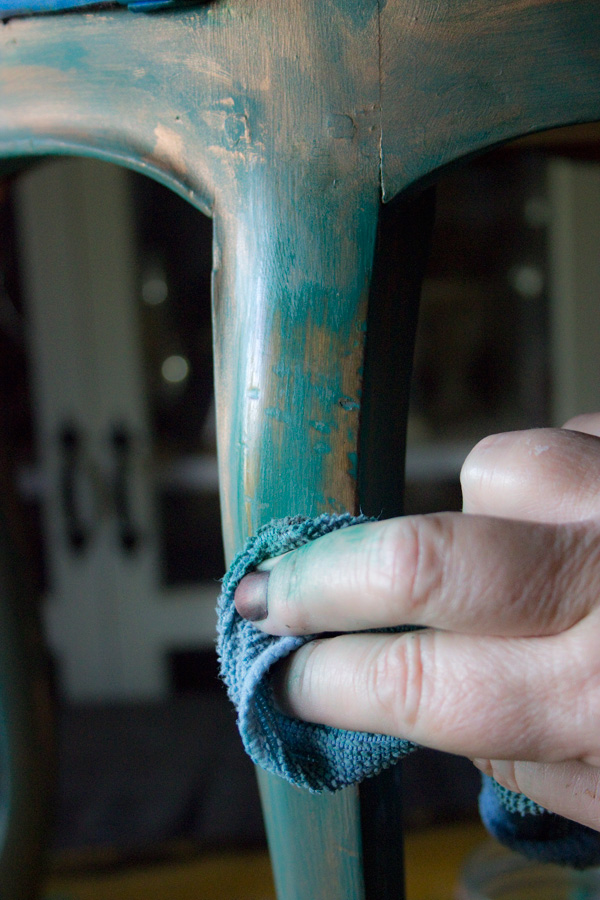 Allow the surface to dry.
Apply a watery layer of 'Oxidized Patina' Aurora Staining Gel over the piece.
Be selective.
The goal is to create a surface that has depth, movement and a touch of mystery….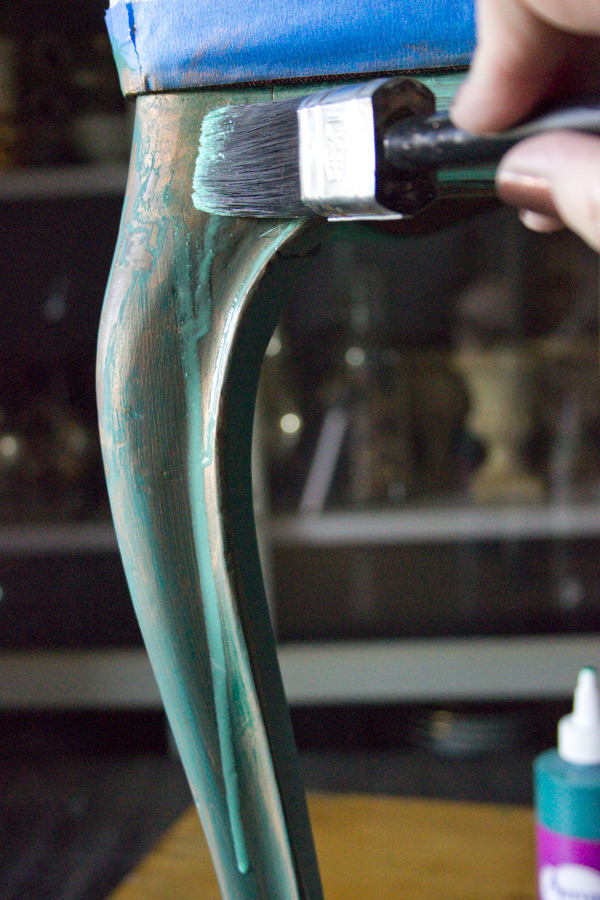 Be bold in some areas, and more demure in others…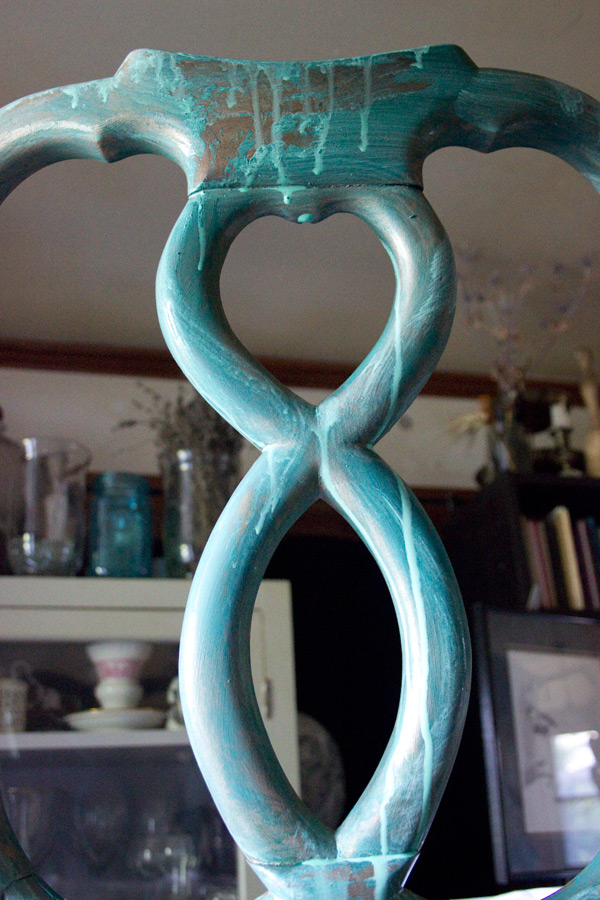 Allow to dry.
At this stage, the complexity of the layers begins to ripen…
Here, you can detect traces of the wood tones, the Alexandrite, Copper Mine, I'm Jaded and Oxidized Patina.
It's the subtle play between these pigments that delights the eye and evokes 'Sunken Treasure'…
If your piece has carved channels, a fun technique is to allow a watery mix of metallic pigment (in this case: Aurora Staining Gel: Copper Mine) to flow just within the carved detail, leaving a faint metallic sheen in its wake.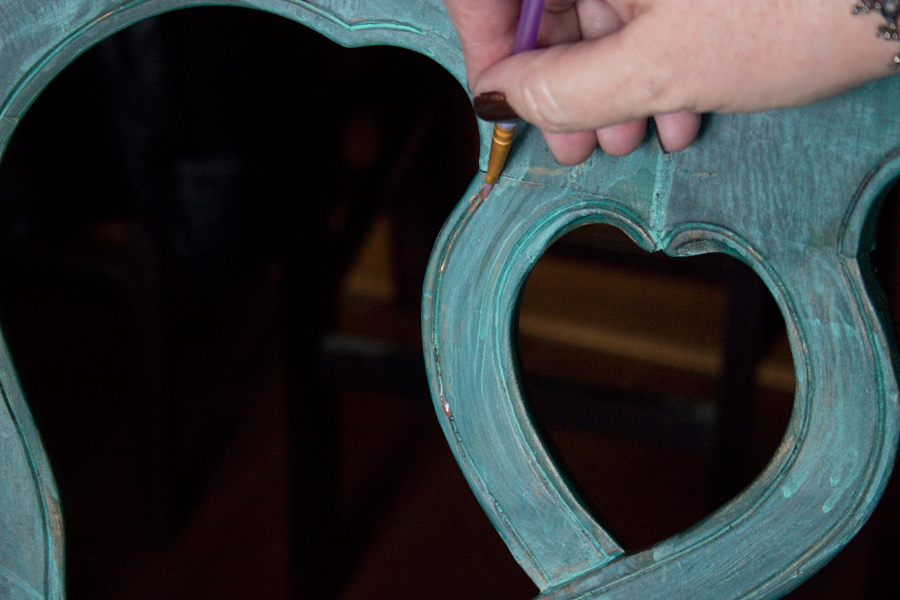 Looking good: the finish is rich, but a bit 'flat'.
One way to correct a slightly-too-uniform surface is to evoke subtle drama with Jet Black Soft Wax.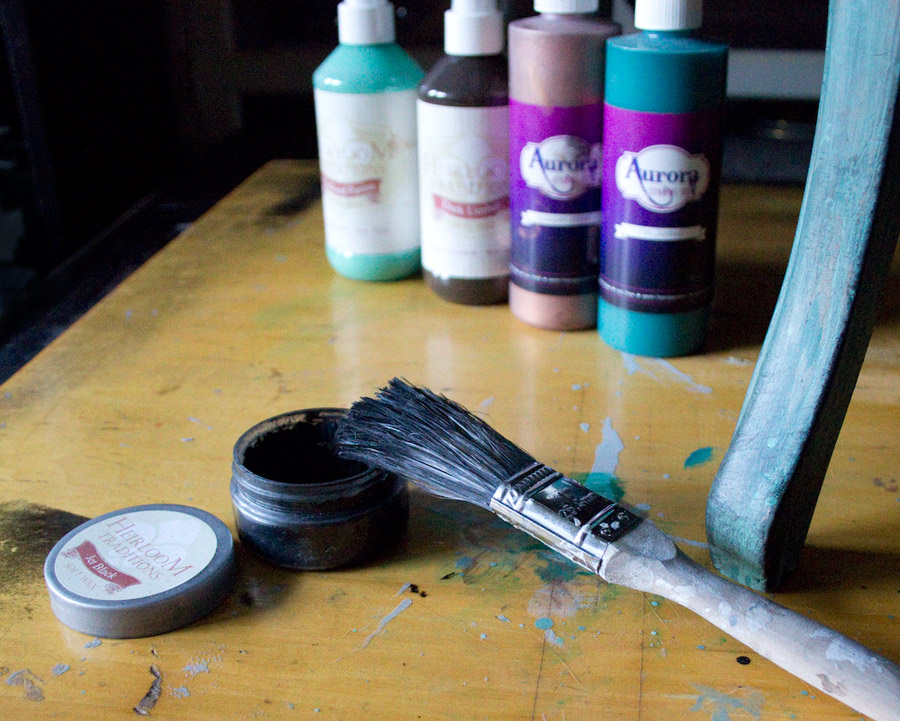 On the right, Jet Black Soft Wax has been applied with a brush.
On the left, you see the surface prior to adding wax.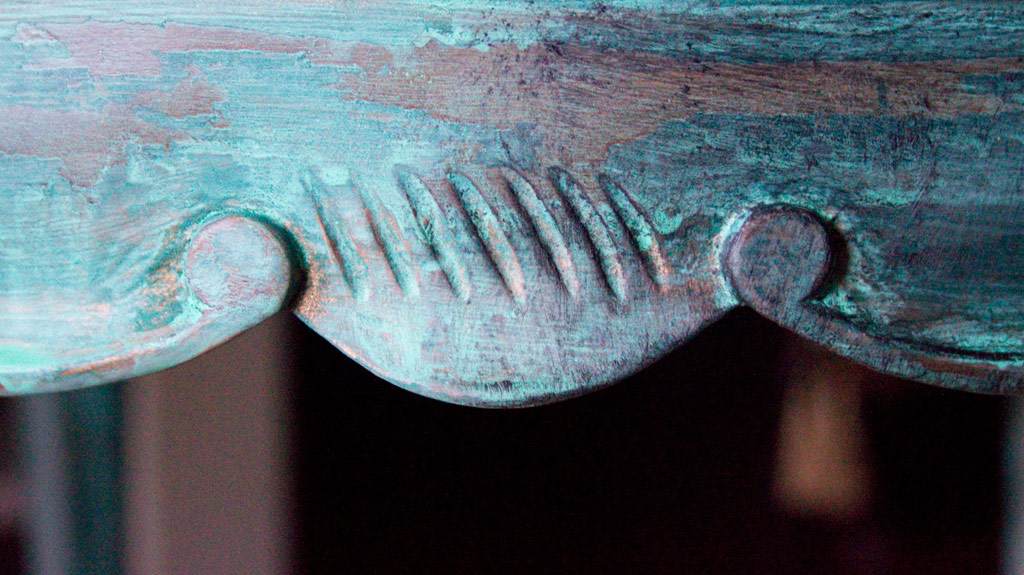 Apply the Black Wax over the entire piece, swirling your brush to reach all the nooks and crannies.
The appearance will become 'dull'.
That's normal, and just what we want.
Allow the Black Wax to set up over night.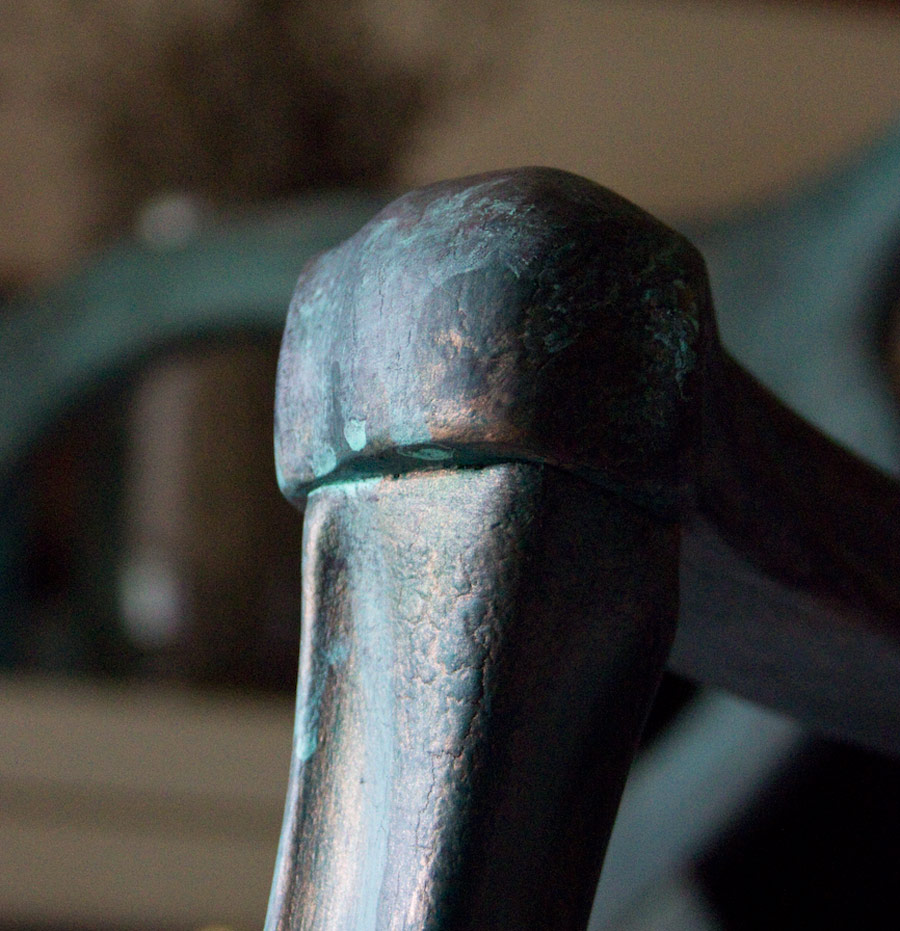 Soft waxes must be buffed with a cloth in order to work them into the finish and bring out the glorious soft gleam that they provide…
Chairs are a fun candidate for soft wax, because you can use a 'shoe-shine' method to buff much of the surface: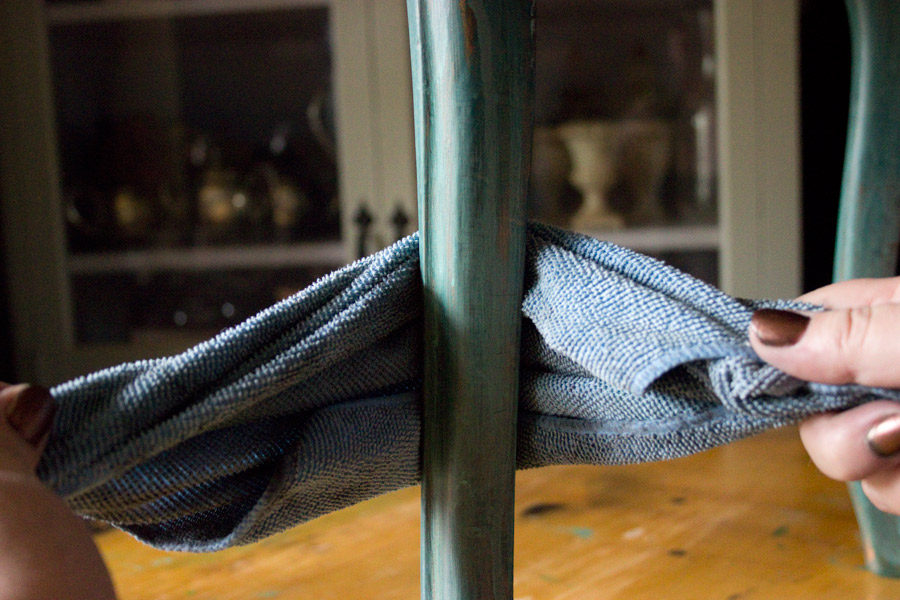 I confess, I'm a 'more is more' person.
(Or, maybe I just can't leave well enough alone.)
BUT, here's the thing: a tiny amount of a complementary color will breathe life into your finish.
Who can resist that?
Not me.
Again, a watery mix. This time: Raspberry Spray Wax, and a scruffy brush.
Test the technique before committing it to the surface of your precious piece.
Load the brush with pigment, then sharply tap the handle to release a fine mist of glorious color: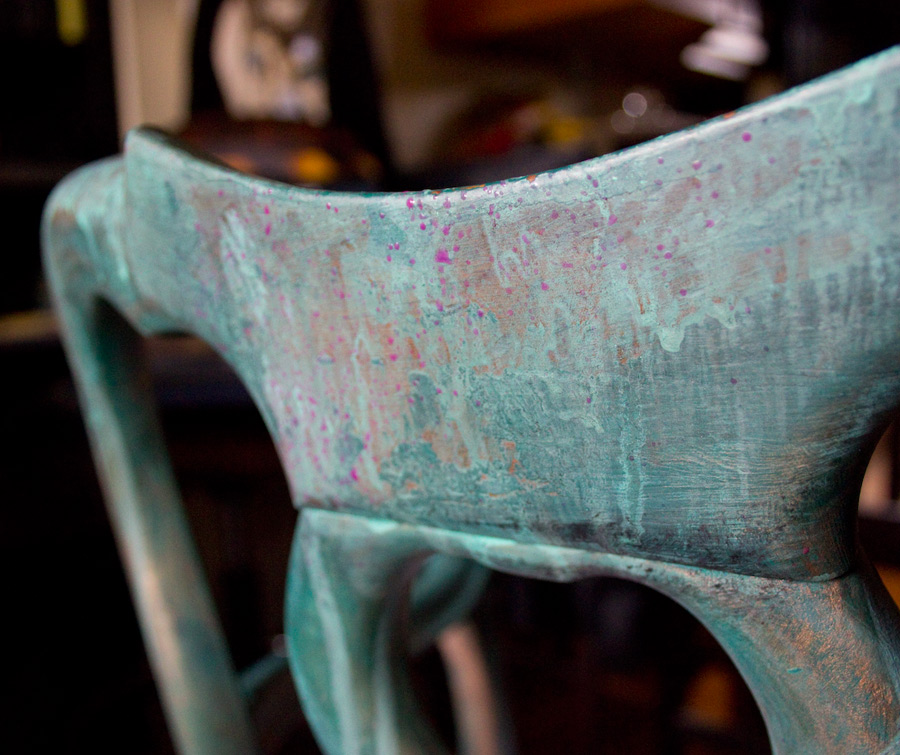 Resist the temptation to touch the surface…go for a walk, do the laundry (yuck) and leave the splatter to dry thoroughly.
When you return the finish will have ripened completely.
The rich complexity of layers will be gleaming in a glorious symphony of patina:
This piece is now part of our permanent collection.
I'll never give up my 'Sunken Treasure'!
Note: the beautiful gleam of buffed wax…yum.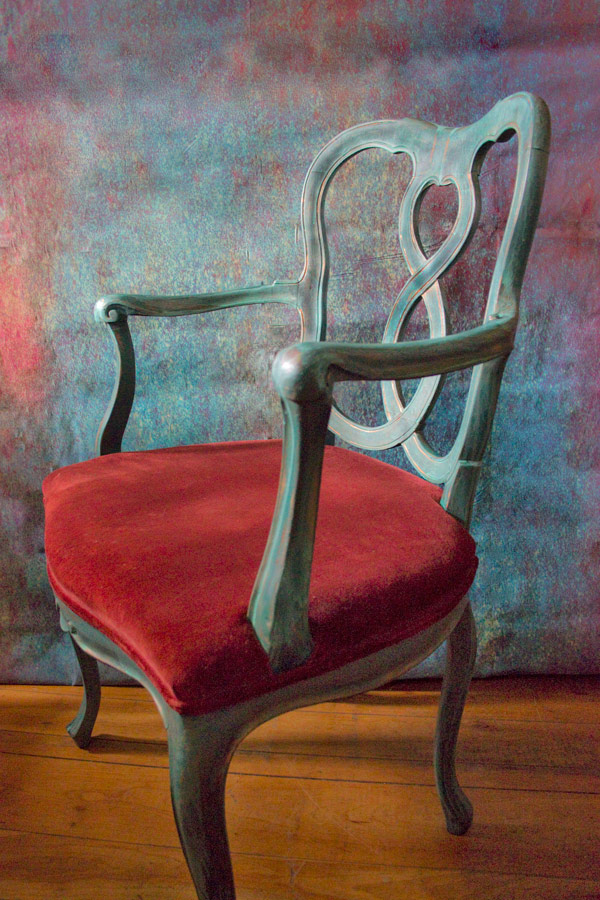 Tiny splatters of Raspberry…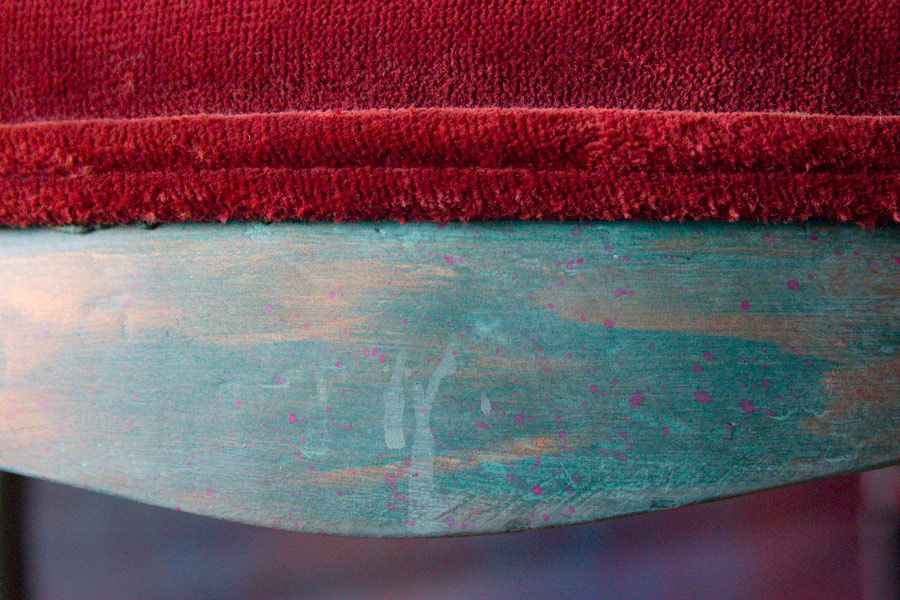 To me, this evokes the rich patina seen on treasures pulled from ancient ships, long since sunk into obscurity…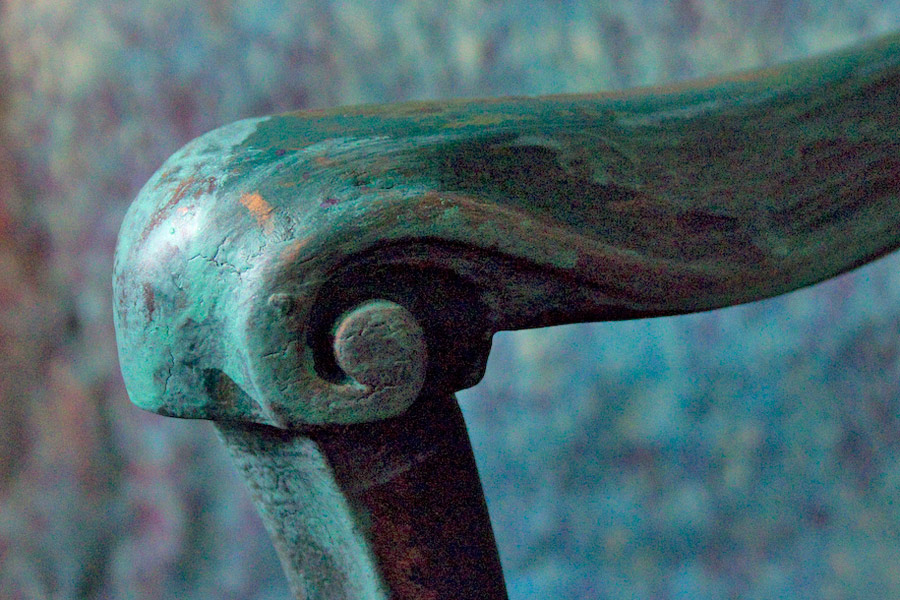 After buffing, the surface doesn't look 'Black' at all, just richer.
And there we have it.
Faded Grandeur…with a hint of the ocean…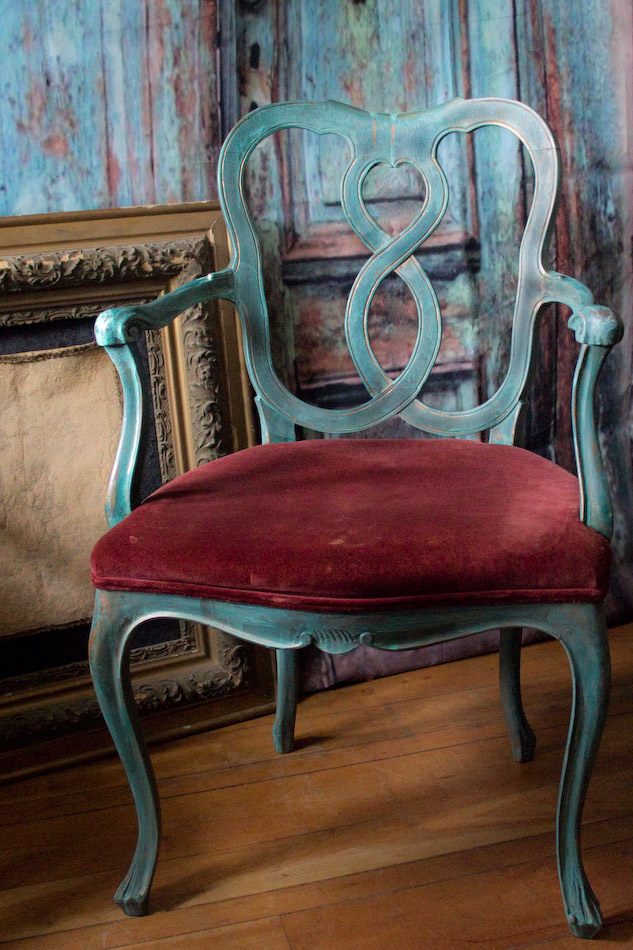 ---
For more information on Heirloom Traditions Products, please visit Heirloom Traditions Paint.
Full Disclosure: Heirloom Traditions supplied their products to be used in this project, and they sponsored this post – however, I supplied the elbow grease, rescued furniture, design concept, and experimental insanity! All of which reflect my own point of view, regardless of affiliation…
---
Thank you so much for visiting The Graphics Fairy today! It's been my pleasure to share this delicious DIY Old World European Finish  with you. I hope that it inspires you to 'push the envelope' and explore the finishes that YOU can create!
Stop by Thicketworks to say hello, or just to giggle at the funny processes I cook up! You are always welcome there!
Until next time,
Heather ♥
You might get a kick out this Recent Mayhem: