Easy Rust Effects
Hello, Graphics Fairy Friends! It's Heather from Thicketworks, here with a demonstration of some of the wonderful finishes you can achieve with Rust Effect Pastes. You probably know that I have a penchant for Grunge…there is something about an aged and timeworn finish that just thrills me. I've experimented with many different ways to achieve these looks, some of which involve simple applications of Acrylic Craft Paints, and some that rely on Metal Paints and chemical reagents.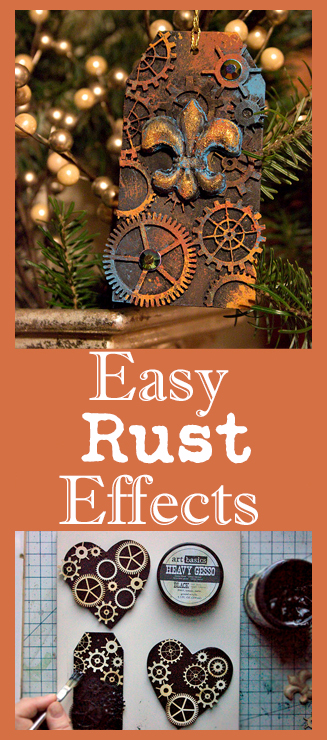 Today, I thought I would find out how Rust Effect Pastes perform. I'm very pleasantly surprised with the results, and hope that you will like them, too!
If you'd like to experiment with these fun products, here's what you'll need…
Rust Effects Supplies:
Items to alter – I used inexpensive Wooden Hearts, a Wooden Fleur de Lis and a Wooden Tag from the local Craft Store, along with an assortment of Wooden Gears, and Laser Cut Sentiments.
Your favorite adhesive – I used Clear Gel Tacky Glue for this project
A Heat Tool and a heat resistant work surface: I use a ceramic tile
Acrylic Craft Paints: Turquoise and Light Green
Some scruffy paint brushes
A container of water to clean your brushes
Baby Wipes
For sparkle, you can add Flat Backed Gems or Flat Backed Pearls – if you do, I recommend using Gem-Tac to hold them securely.
 Matte Medium to seal and protect your treasures!
How to use Rust Effect Pastes:
Prepare your items by adhering 3D Elements to the surfaces in a pleasing pattern.
Clear Gel Tacky Glue works well for this wood-on-wood application:
Speed the drying time with a heat tool: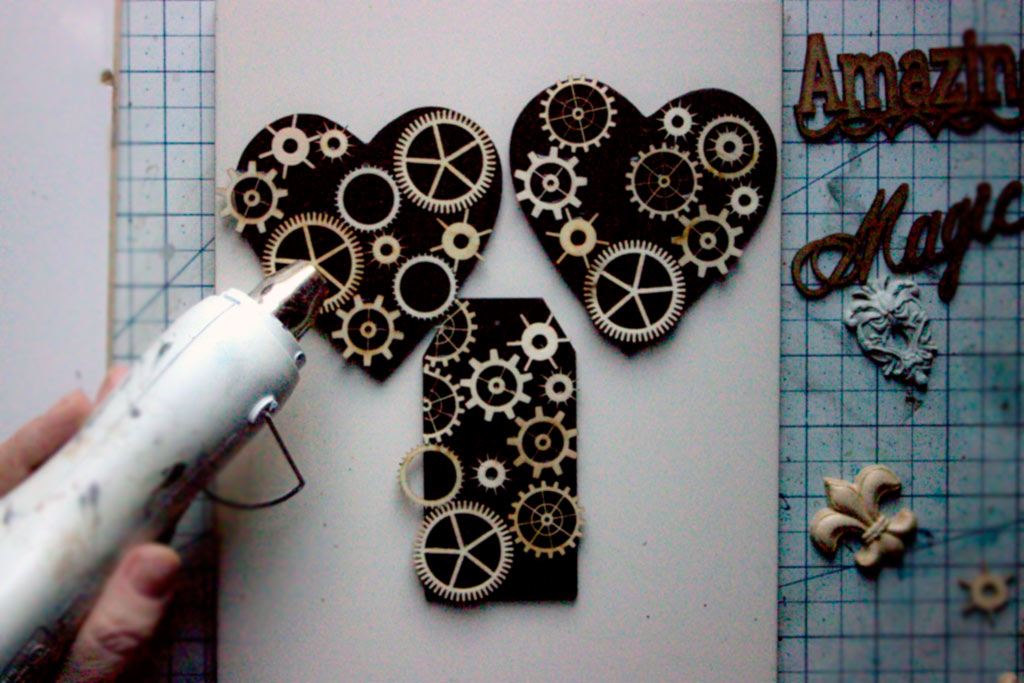 Coat the surfaces with a good quality Black Gesso: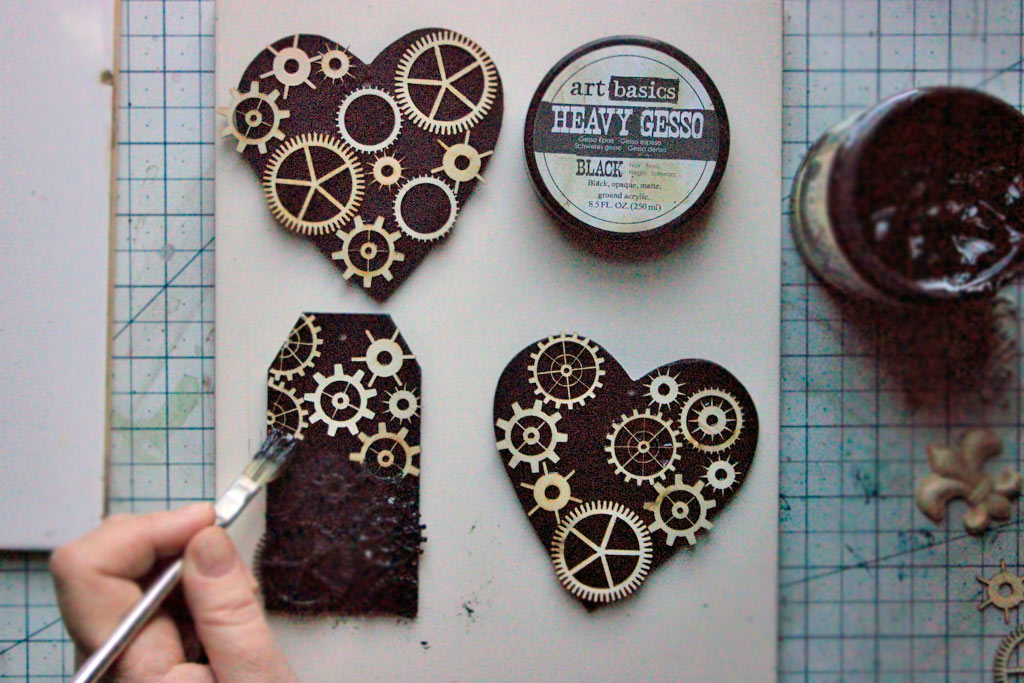 Scumble a blend of Turquoise and Light Green Acrylic Craft Paint over the dry gesso: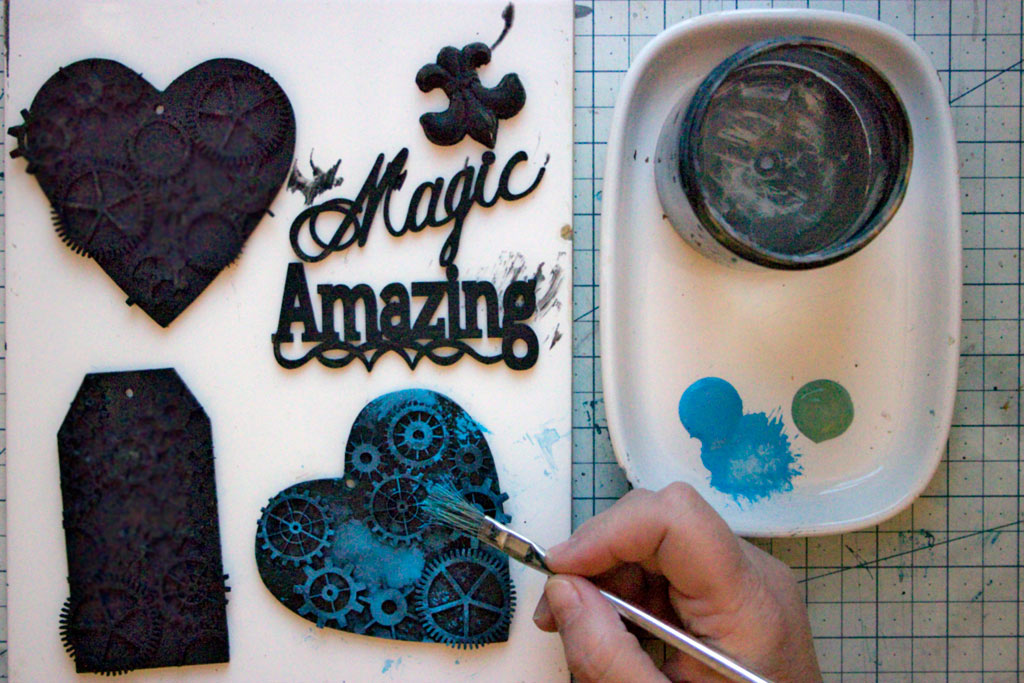 This is a fun look, all by itself… But today, I'm on a Rust Effects Mission!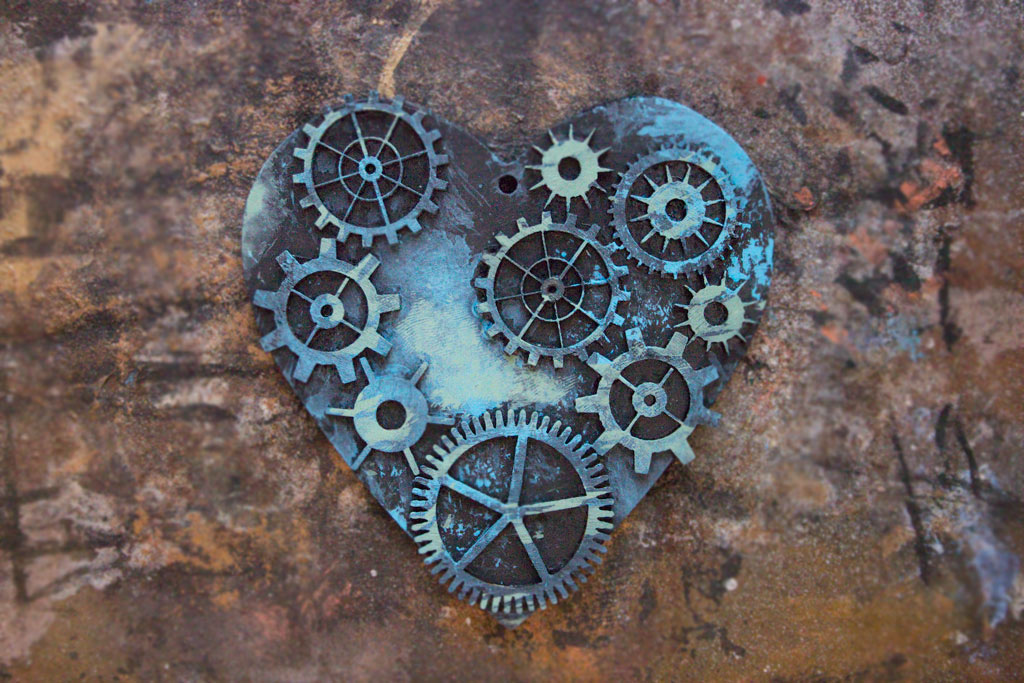 Once the paints are thoroughly dry, begin with a patchy coat of the Brown Rust Effect Paste – the goal is to allow a bit of the Green and Blue paint to show through in selected areas.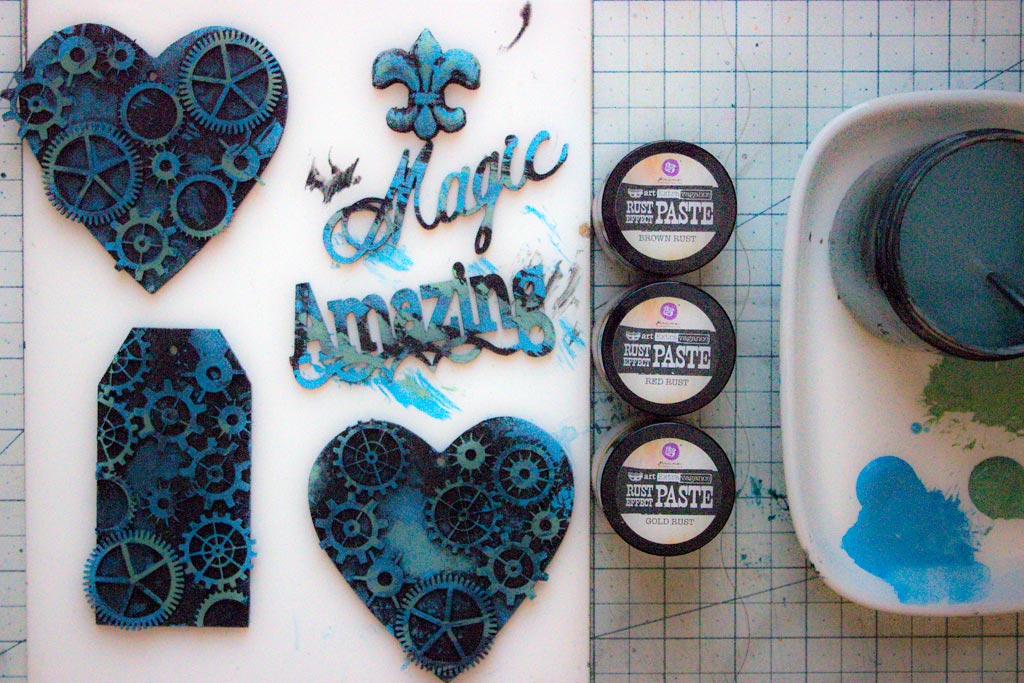 Here's an example of a partial coat of Brown Rust Effect Paste applied over the brighter colors:
Next, apply touches of Red Rust Effect Paste atop the previous layers, while still allowing patches of the Blue and Green to remain untouched: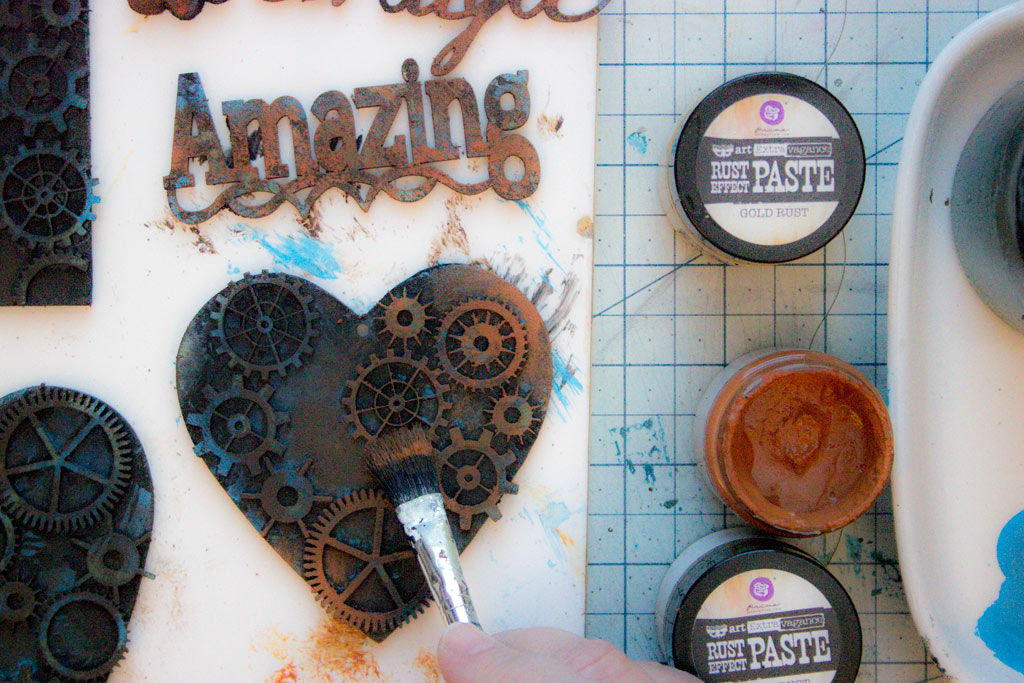 Finally, apply small areas of the Gold Rust Effects Paste, and dab away with a Baby Wipe: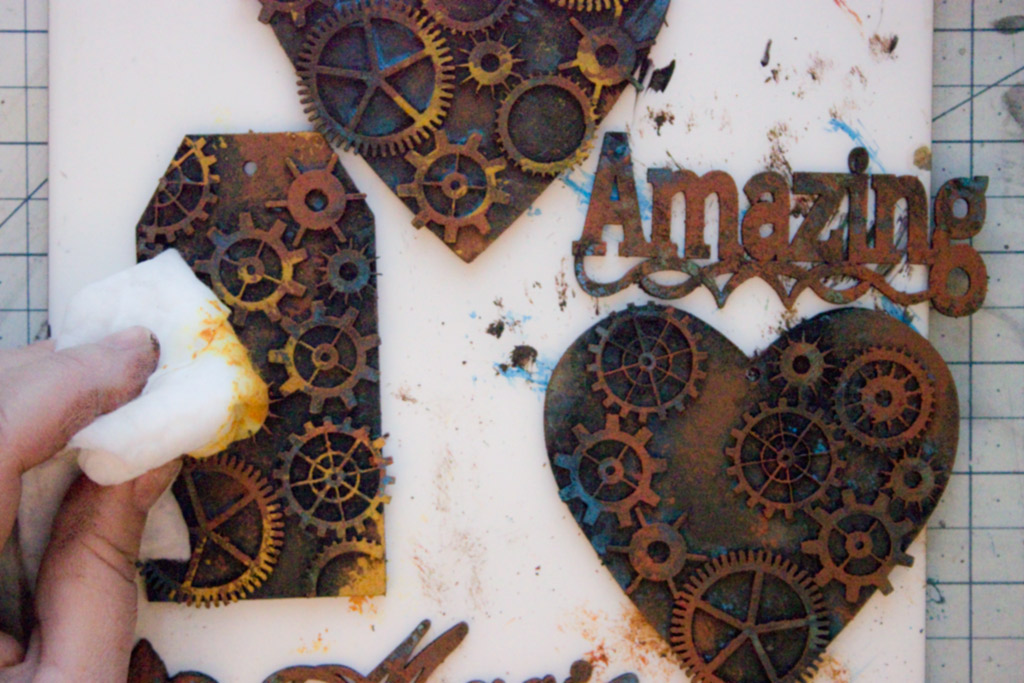 Adhere your Sentiment in place, once the Rust Effects Pastes are dry – it won't take long. Apply a coat of Matte Medium to seal and protect your work – allow to dry. Add Flat Backed Gems to your assemblage, for touches of sparkle; Gem-Tac works perfectly for this: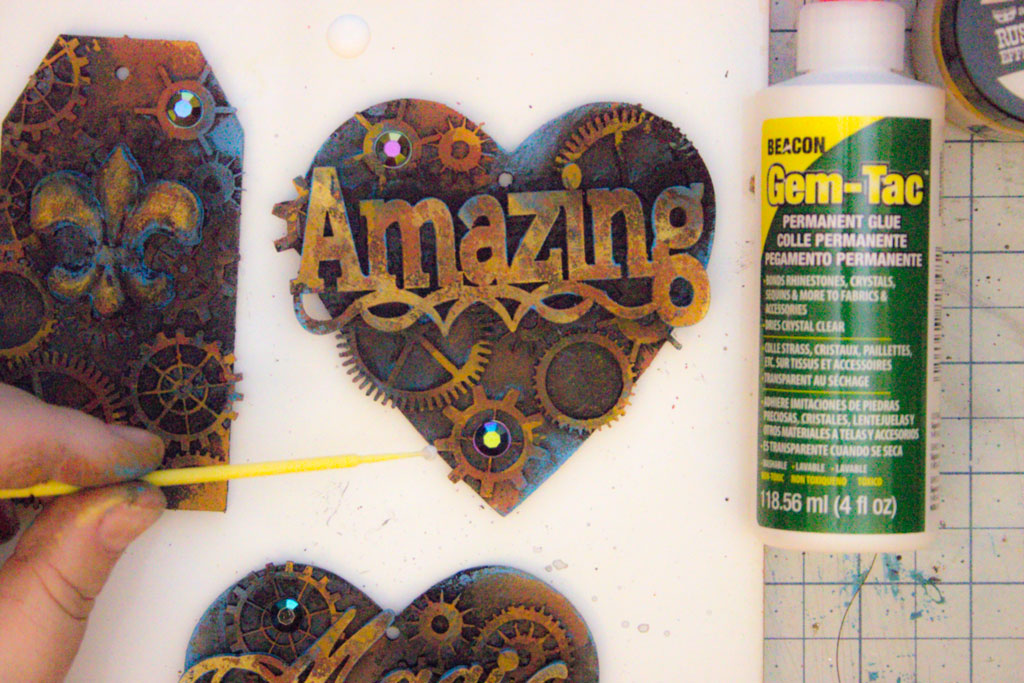 This process is easy, it's fun, and I really enjoy the results. The touches of Blue and Green, plus the sparkle of the Gems create a lively and pleasing overall impression.
The ornaments can be used on a Christmas Tree, or use them as topper for a gift or just as a fun home decor accent: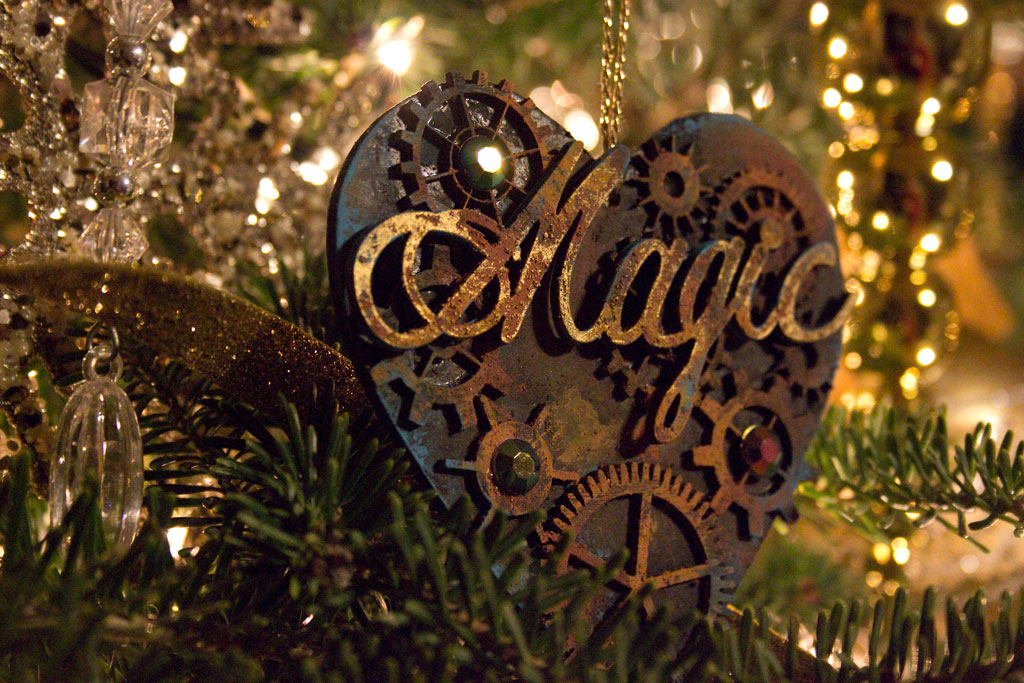 They would also make lovely Mixed Media Tags on a special gift: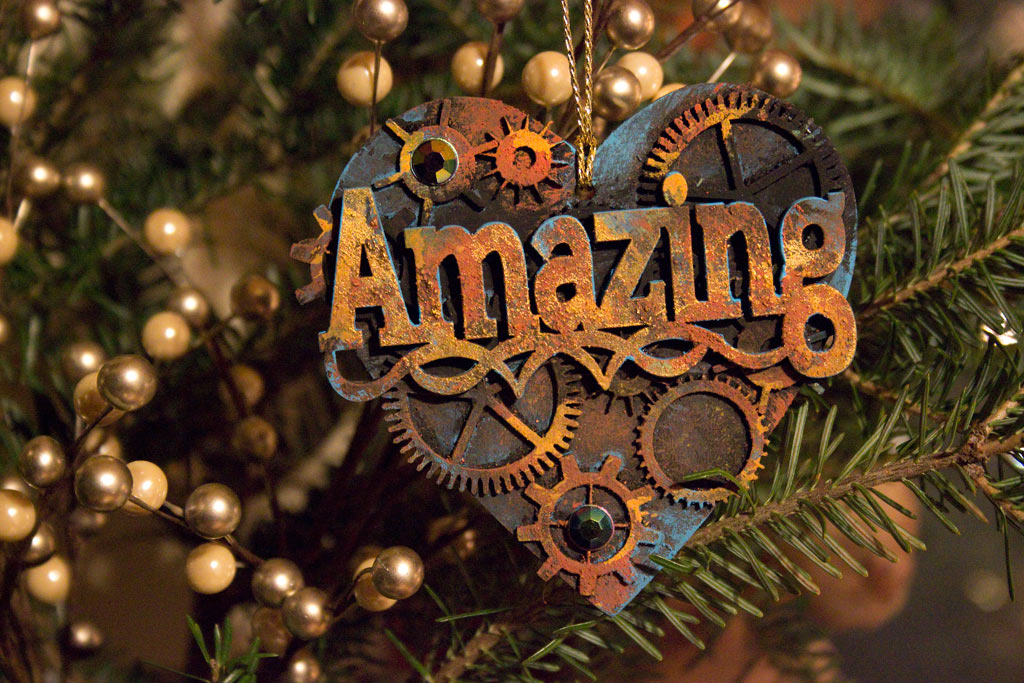 I love the gritty, grungy Rust Effects, coupled with the shine of the Gems:
It took less than 2 hours to complete all of these pieces, from start to finish. You might also like to make your own DIY Rust Type Pastes HERE, and will definitely be using them in future projects, as well!
Thank you for visiting The Graphics Fairy today! It's been a pleasure to share this little experiment with you, and I hope that you give it a try, too!
Visit me anytime at Thicketworks, where you'll find many quirky crafting ideas!
Until next time,
Heather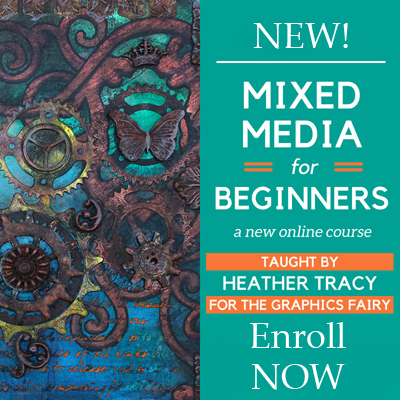 If you've always wanted to try the art of Mixed Media, be sure and check out this amazing course by Heather Tracy!