Selecting the right font for your craft projects is so important. Today, we are featuring a set of Sophisticated Fonts for Fall.  These were chosen specifically to coordinate with your fall projects and would incorporate beautifully in to banners, place cards, and holiday menus.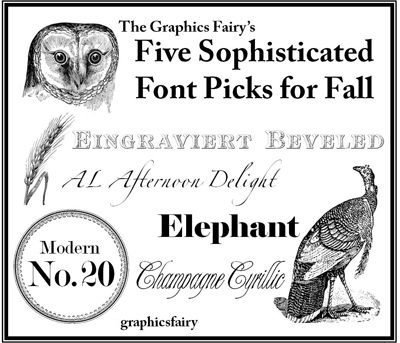 Here are the four picks for you to use for Autumn!   To download a font, click on the hyperlinked words below each font example. The link will take you to a site that offers a free download of the font.*
The four images used in this post compliment the font picks, and will be wonderful for this month's craft projects too.  Here are the links to the high resolution files for the Owl, Wheat, Round Apothecary Label, and Turkey used in this post.
Update: We've removed the link to the Modern No 20 font, as we have not been able to find a safe download for this one, it appears to be corrupt on multiple font sites. This post was originally created last year, for one of my other blogs, and then moved over to this site recently. At the time this post was written that font was fine, but it no longer appears to be so. Sorry for any inconvenience!
Enjoy and please leave a comment if you make something with one of the fonts or images.  I'd love to see what you make!
Emily
********************
*A note about downloading, installing & using fonts:  There are a lot of sites out there that offer free fonts.  Some are set up mostly to display ads, and others take you to suspicious files & links.  While we don't recommend one free font website over another, we have tried to link to the more straightforward sites to make finding the font easier for you.  Don't forget to follow the site's specific directions to download and install the font.  If you are a crafter and will be selling your work, please be sure to read any files or information that comes with the font.  Some fonts have restrictions on the commercial use of a font for mass production quantities and on the sharing / redistribution of the font file itself.
********************