32 Pink Flower Clipart
I am sharing a charming collection of Pink Flower Clipart ! Many of these delightful botanicals are from a late 1800s German Plant Books. We have many shades of florals below ranging from the palest pink to peachy pink, to deep, bright purplish pink. Make sure you enlarge each of these to see the detail on the Botanical Illustrations! There will be something here for all pink flower lovers. A beautiful Botanical image would be nice to use on Handmade Cards, Stationary, or perhaps on a pretty Decoupage project!
Light Pink Flower Clipart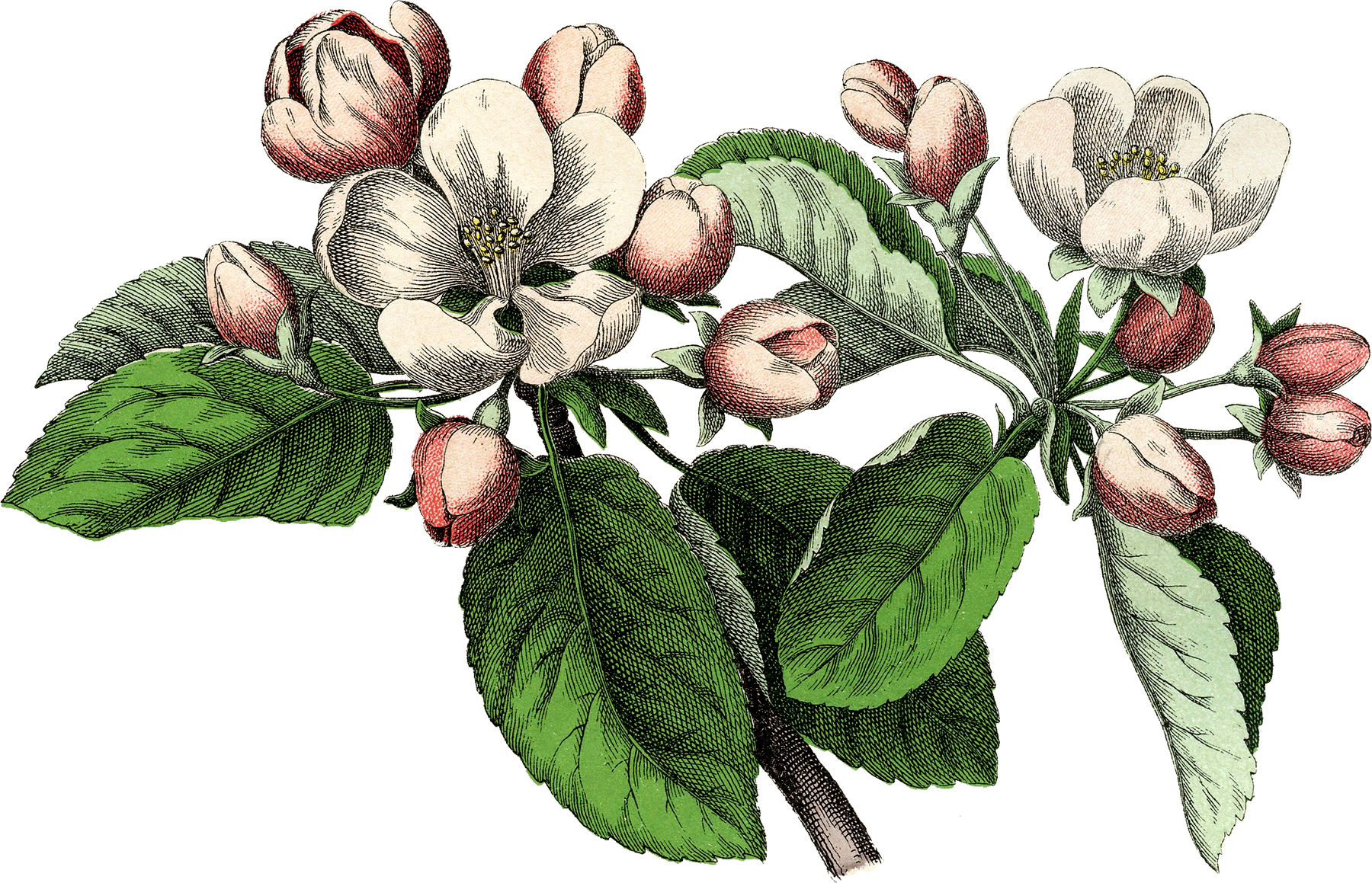 Here is a Gorgeous Vintage Apple Blossom Image! This is an exceptionally lovely picture of an Apple Blossom branch with delicate pale pink blooms! This Botanical illustration was scanned from an amazing antique Botanical book from Germany! The book is Circa 1890's. There are all kinds of wonderful flowers and plants in it.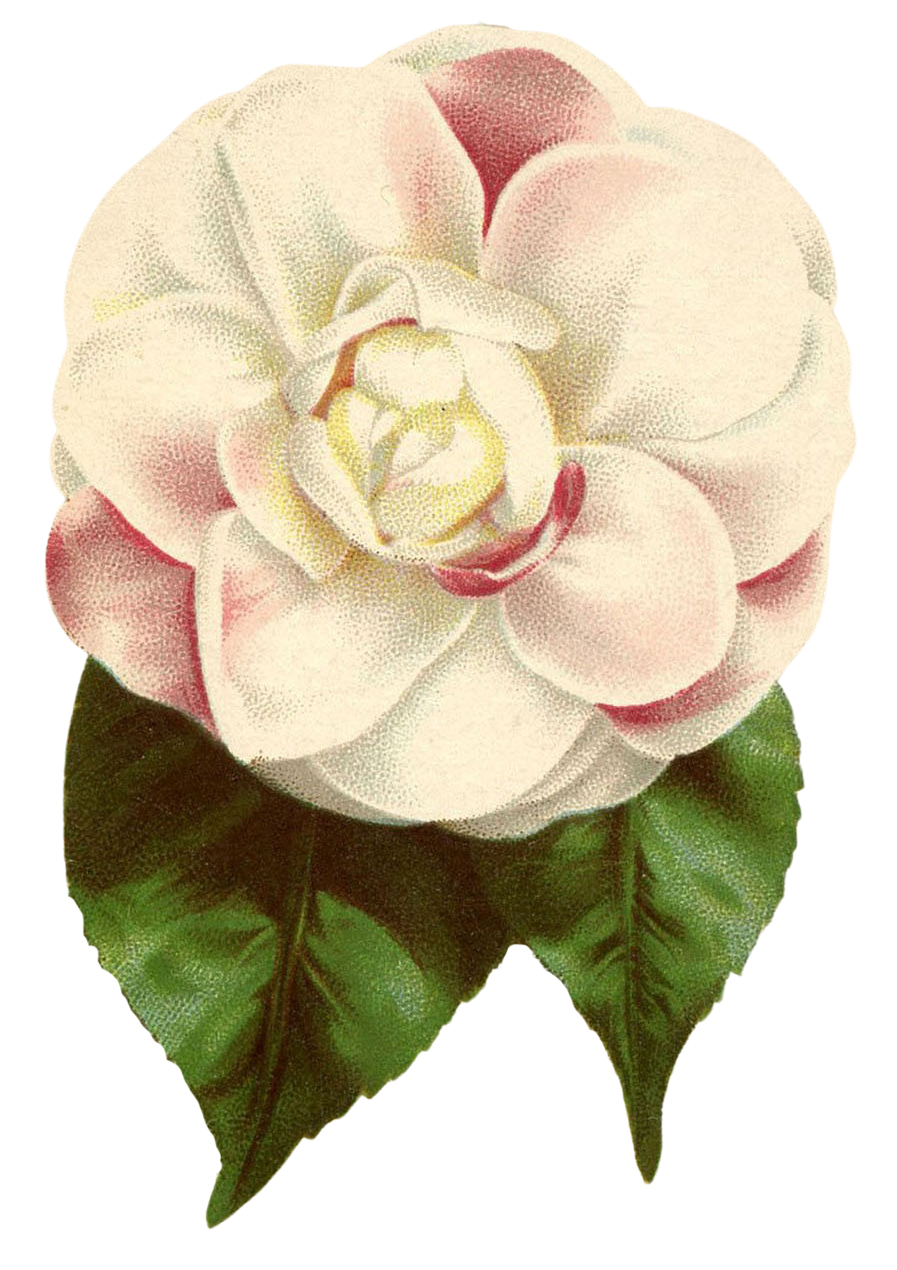 Next we have this pink flower clipart Camellia. Such a stunning flower with it's variegated pink and white petals! You will find the original card for this one further down below, I thought it might be useful to have extracted from the card for various projects.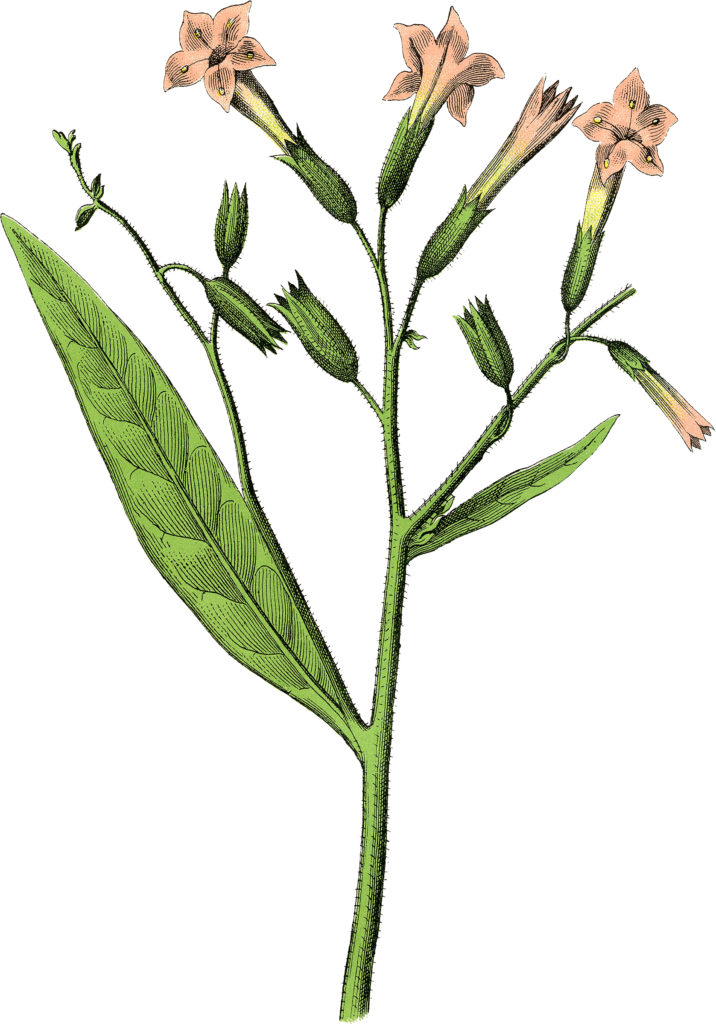 Shown above is a lovely little floral cutting, with bright green leaves and small pale Pink Blossoms on it. The tiny flowers are star shaped and have an interesting long neck. Quite interesting!

Featured above is a tall stem with cute Pink Blossoms and some spiky looking things! This one looks a lot like a Snapdragon to me; it was one of my favorite flowers as a child. I think they are so pretty!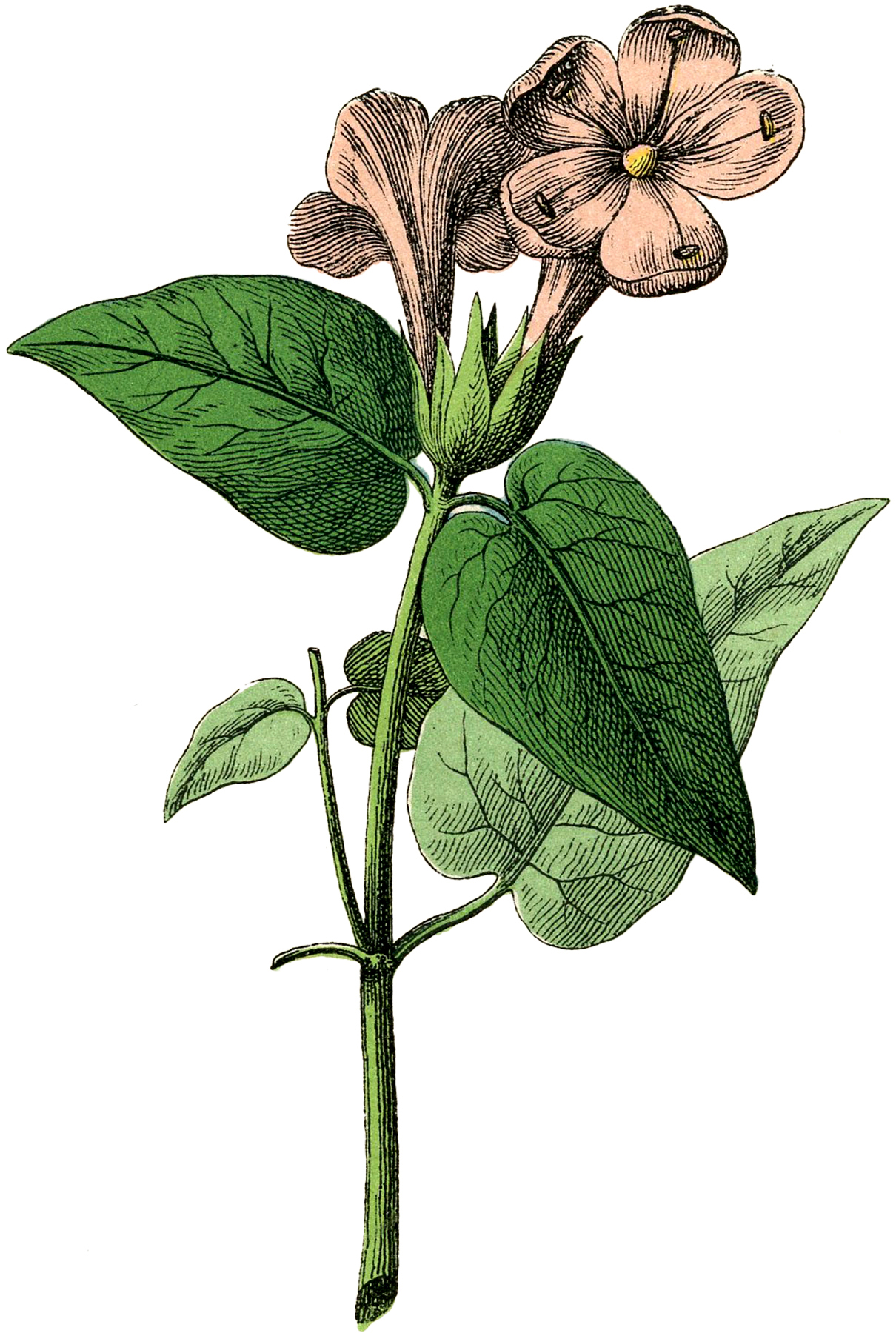 Shown above is a Pretty Botanical Flower Stock Image! Scanned from a Circa 1887 German Plant book, this flower has some lovely soft rose pink flowers with green leaves. Make sure you enlarge it to see the detail on this pretty Botanical!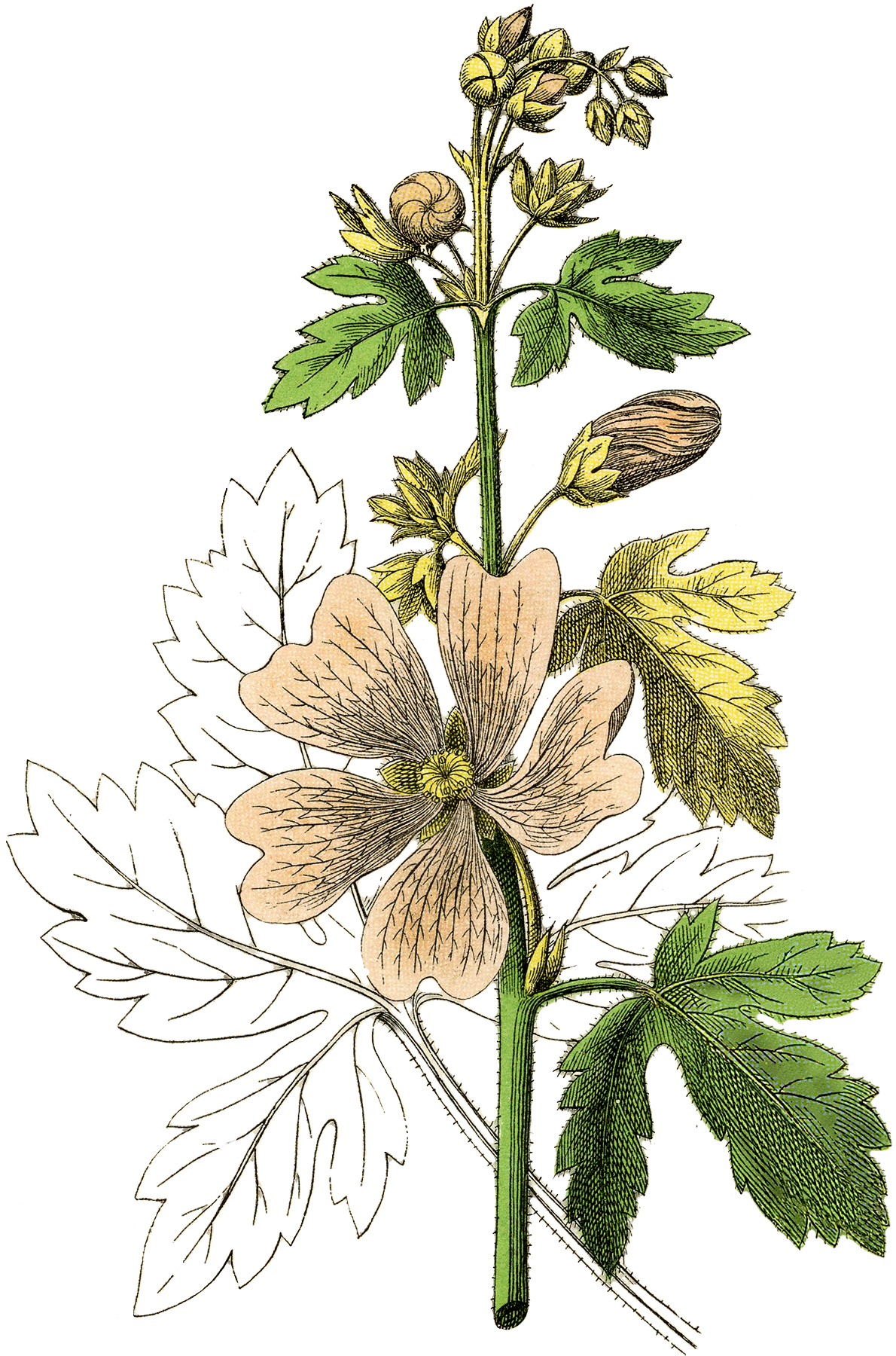 Above is a beautiful Pale Pink Botanical Flower Image! This plant has lovely peach pink flowers with yellow centers, plus green and golden leaves. I love the sketch of leaf shapes in the background. So pretty!
Medium Pink Flowers Clipart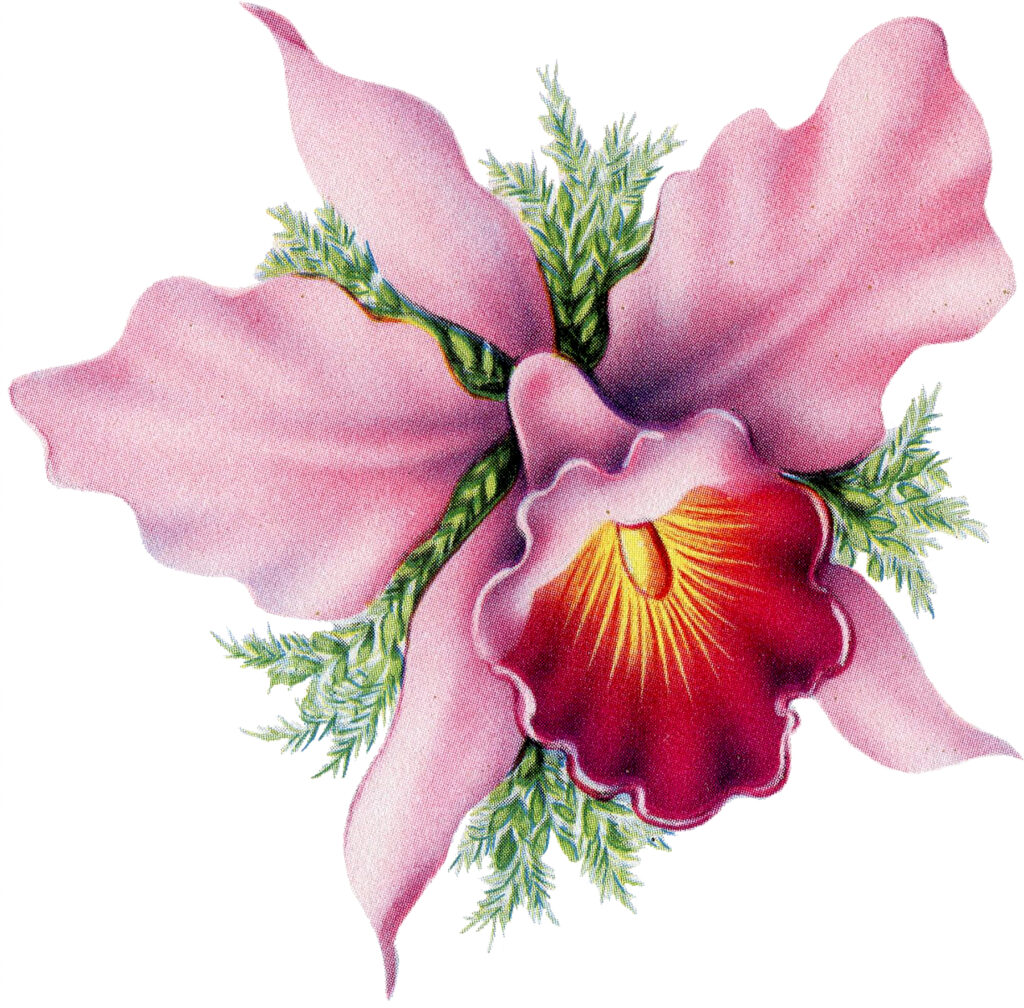 Above is a Stunning Retro Pink Orchid Image! This is a beautiful image of a graceful large pink orchid. Scanned from a circa 1940s/1950s notecard, I purchased an entire set in the original box. The box does not have a copyright mark on it, appearing to have never been copyrighted. The wavy pink petals surround a central red and gold portion. It is resting on frilly green leaves.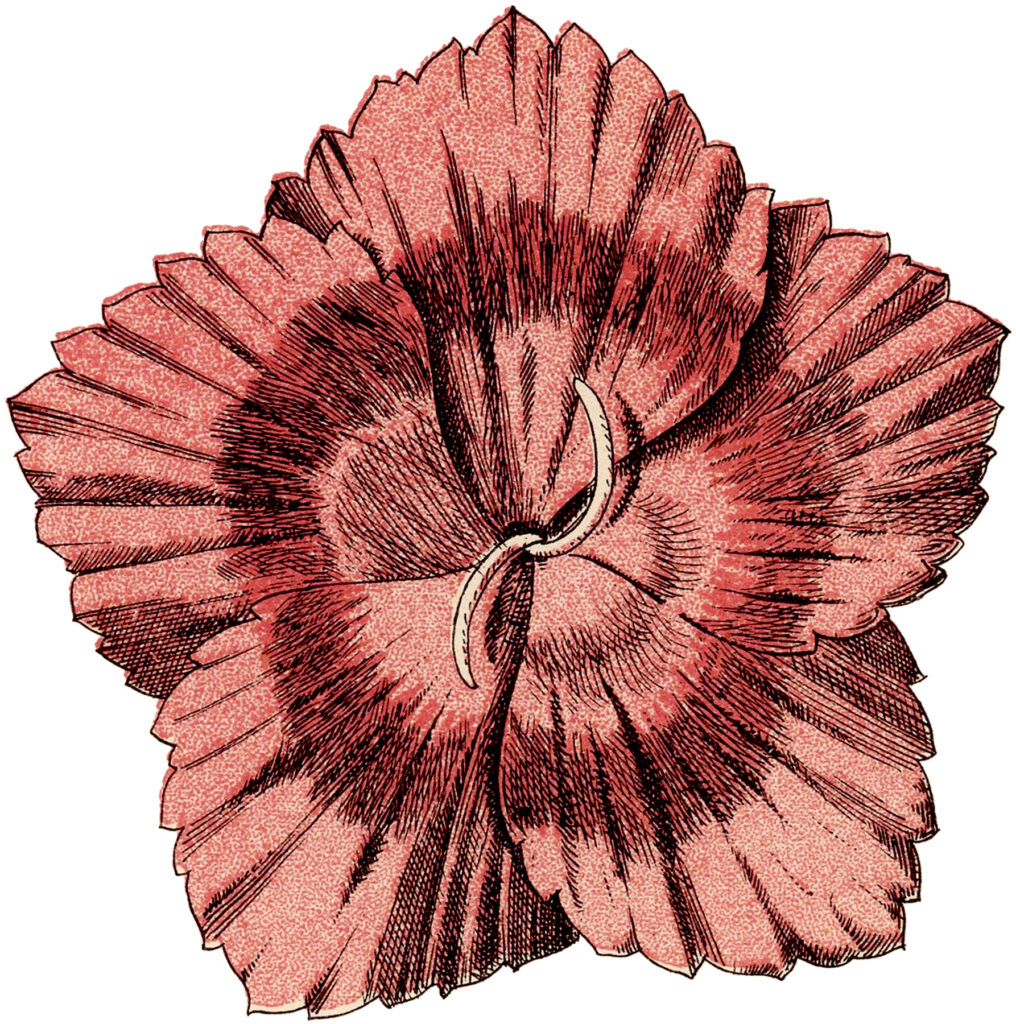 This is a pretty Sweet William Flower Image! Shown here is a stylized looking pink flower. The peachy pink color of the petals is accented with a darker reddish circle shape near the center. Scanned from a Circa 1874 British Design book, this is another splendid floral example.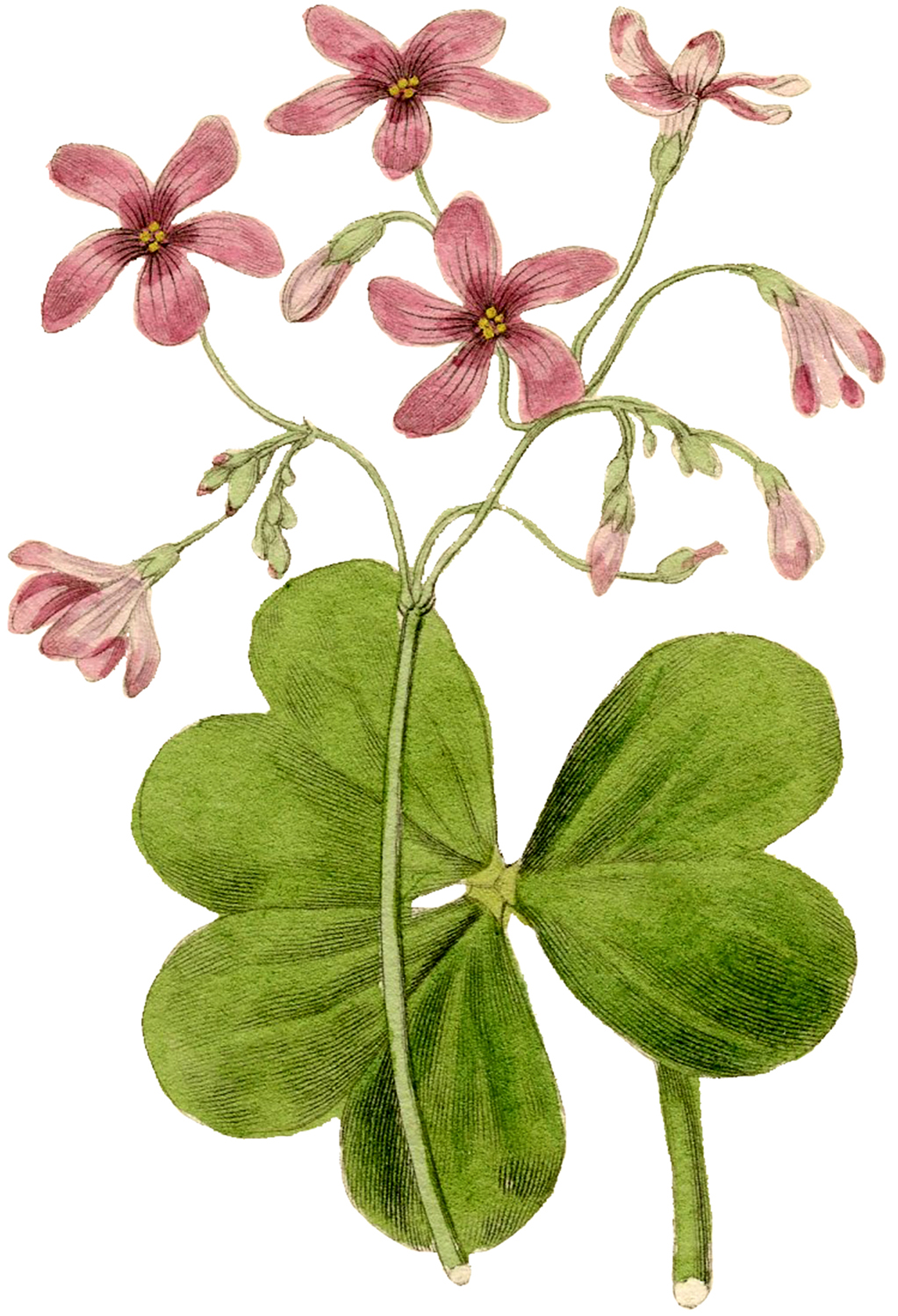 This is a very Graceful Pink Vintage Flower image. This one comes from an antique Botanical print in my collection. According to the print, this is an Oxalis Articulata, which turns out is a Pink Sorrel. It has delicate rose pink looking flowers, and the leaves look similar to a shamrock or clover.

Above is a tall spiked Botanical Pink Flower Clip Art! This showy floral plant has delicate pink/purple blossoms on it. This one was also scanned from the Circa 1887 German Plant book.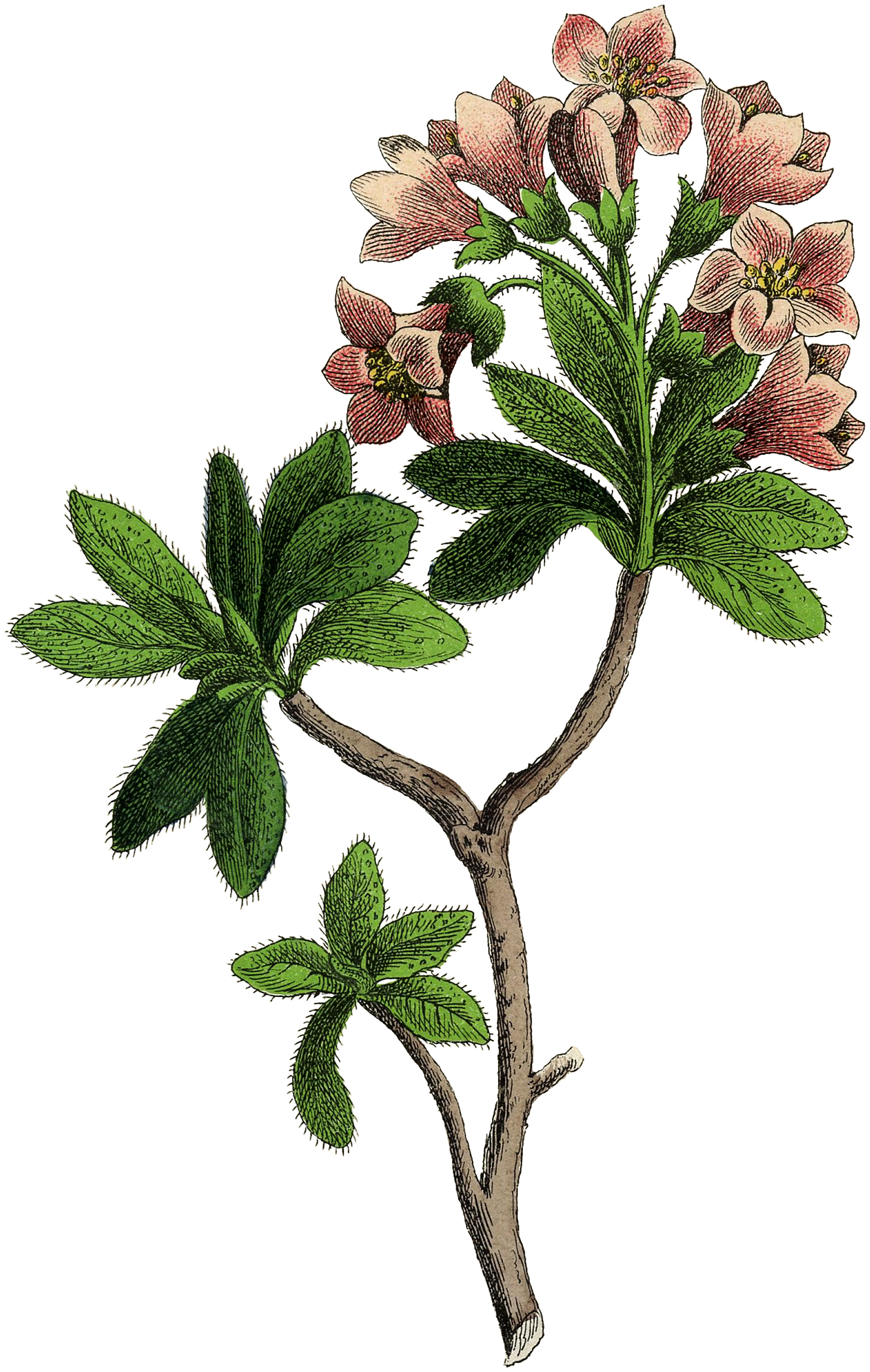 Our next Shapely Vintage Pink Petaled Flower Clusters Image is so elegant! The little clusters of pinkish peach flowers sit atop sumptuous green leaves and a sturdy woody stem. Pointed and cup like with yellow stamens are the five flowers. I think it looks like a Rhododendron.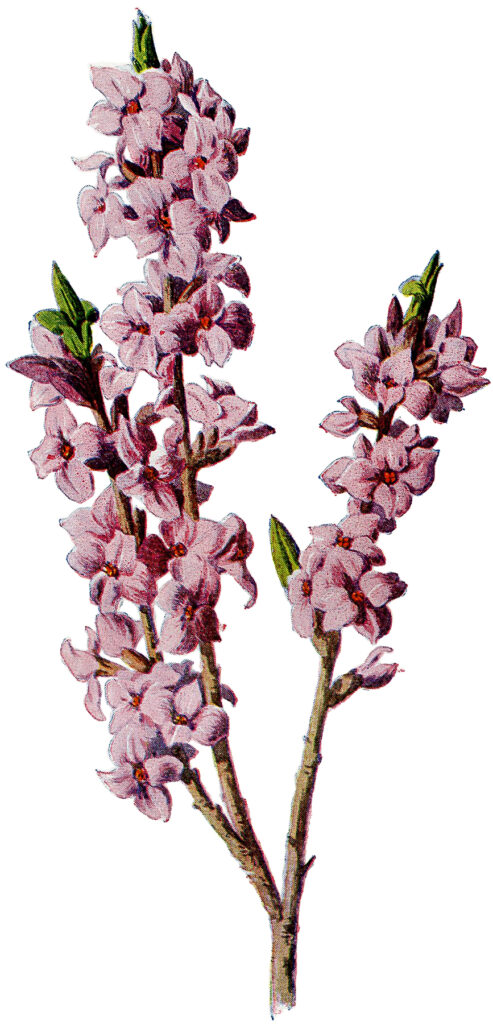 Isn't this a beautiful Vintage Stem of Dainty Pink Flowers Image? This tall stem of pink flowers with tiny red centers bunched on a woody branch is quite stunning! Love it!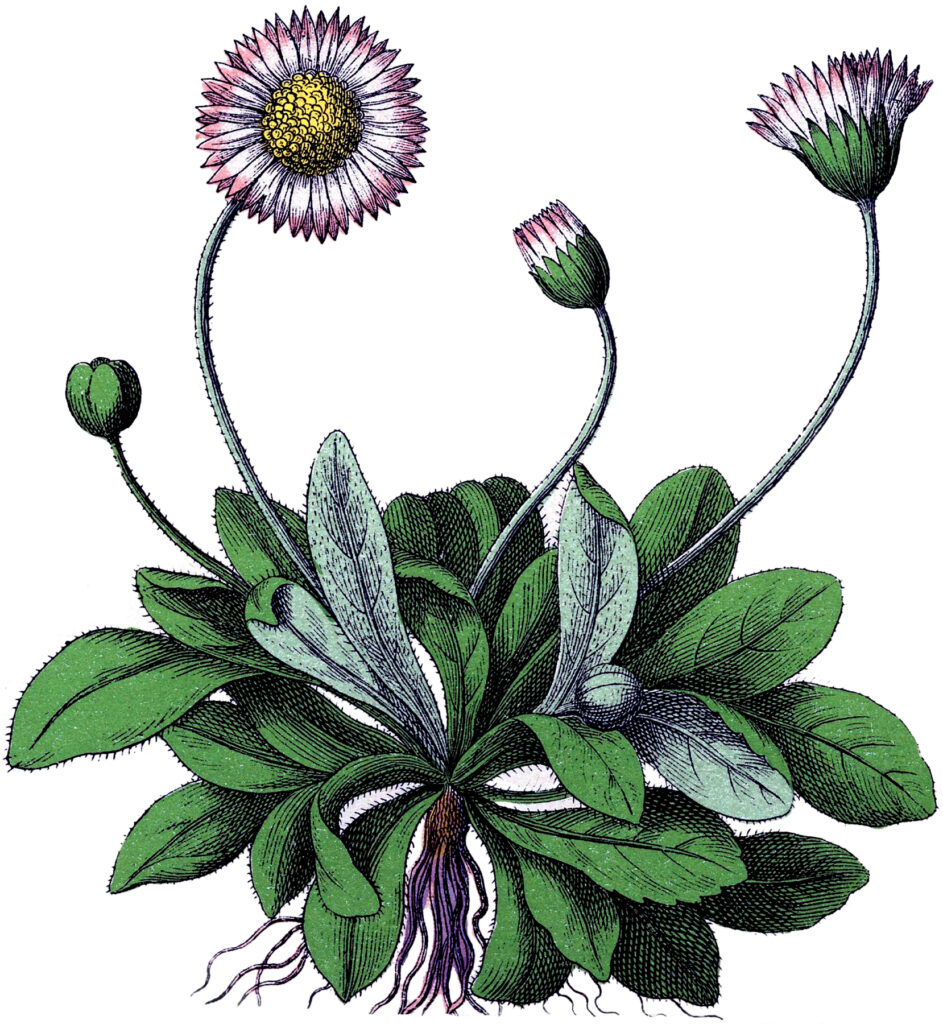 What is more sweet than a Vintage Pink Daisy Image? Shown here is a lovely bunch of pink and white Daisy flowers with roots and all! Make sure you enlarge it to see the detail on this pretty Botanical! This one was scanned from the Circa 1887 German Plant Book.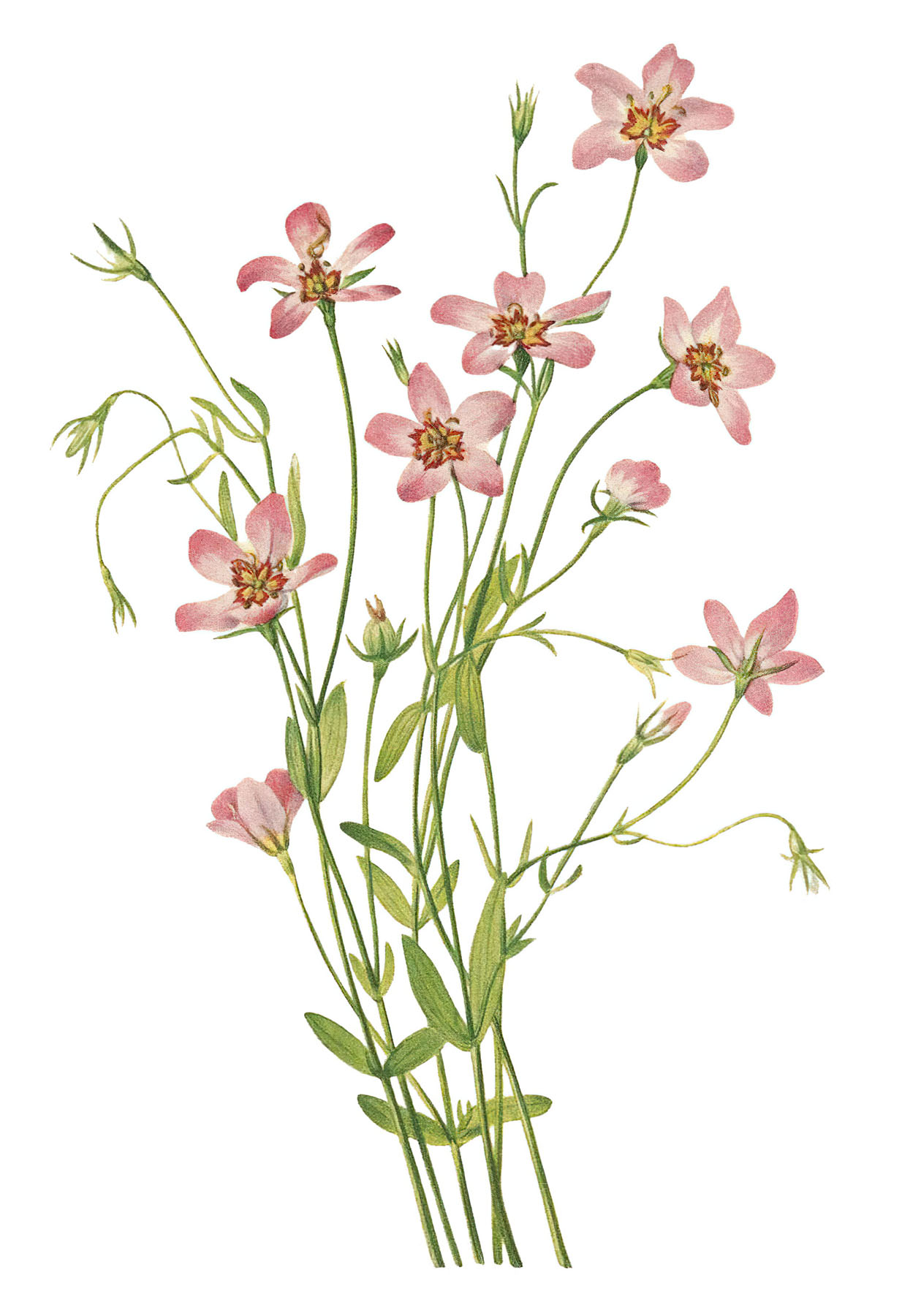 This one shows a sweet and delicate bunch of wildflowers. They are not particularly showy but lovely all the same.
Here is the newest addition to this collection. 
These pretty posies look like Carnations to me. I wish I could smell them!
Dark Pink Botanical Flower Images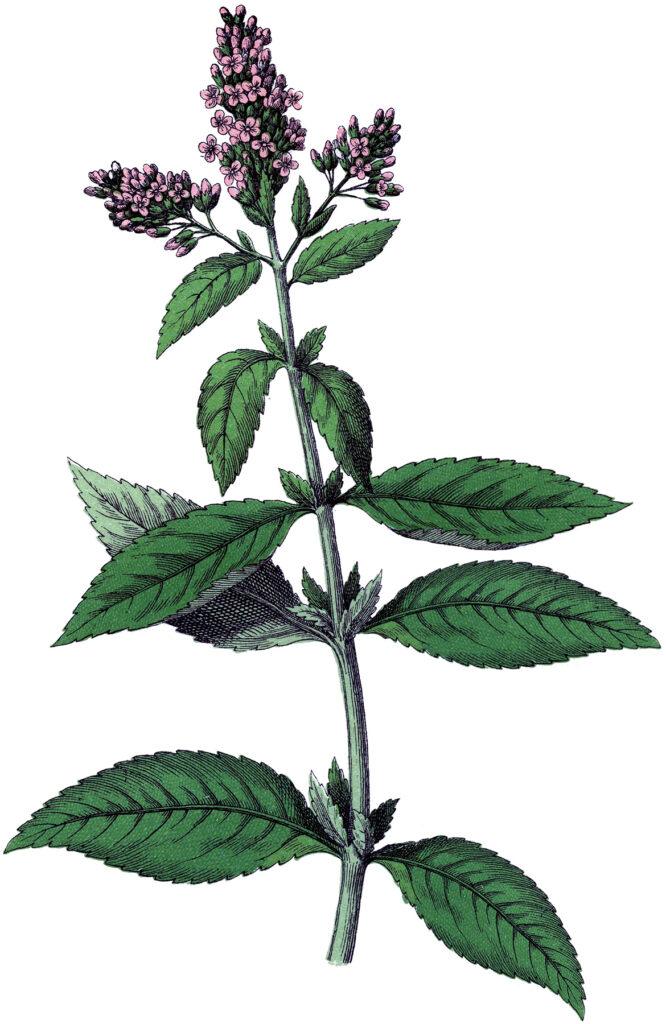 Shown above is a lovely plant with pink blossoms and bold green leaves. It's actually a Peppermint plant! I actually don't think the flowers are colored quite right, unless this is a more unusual variety. But it's a lovely image all the same.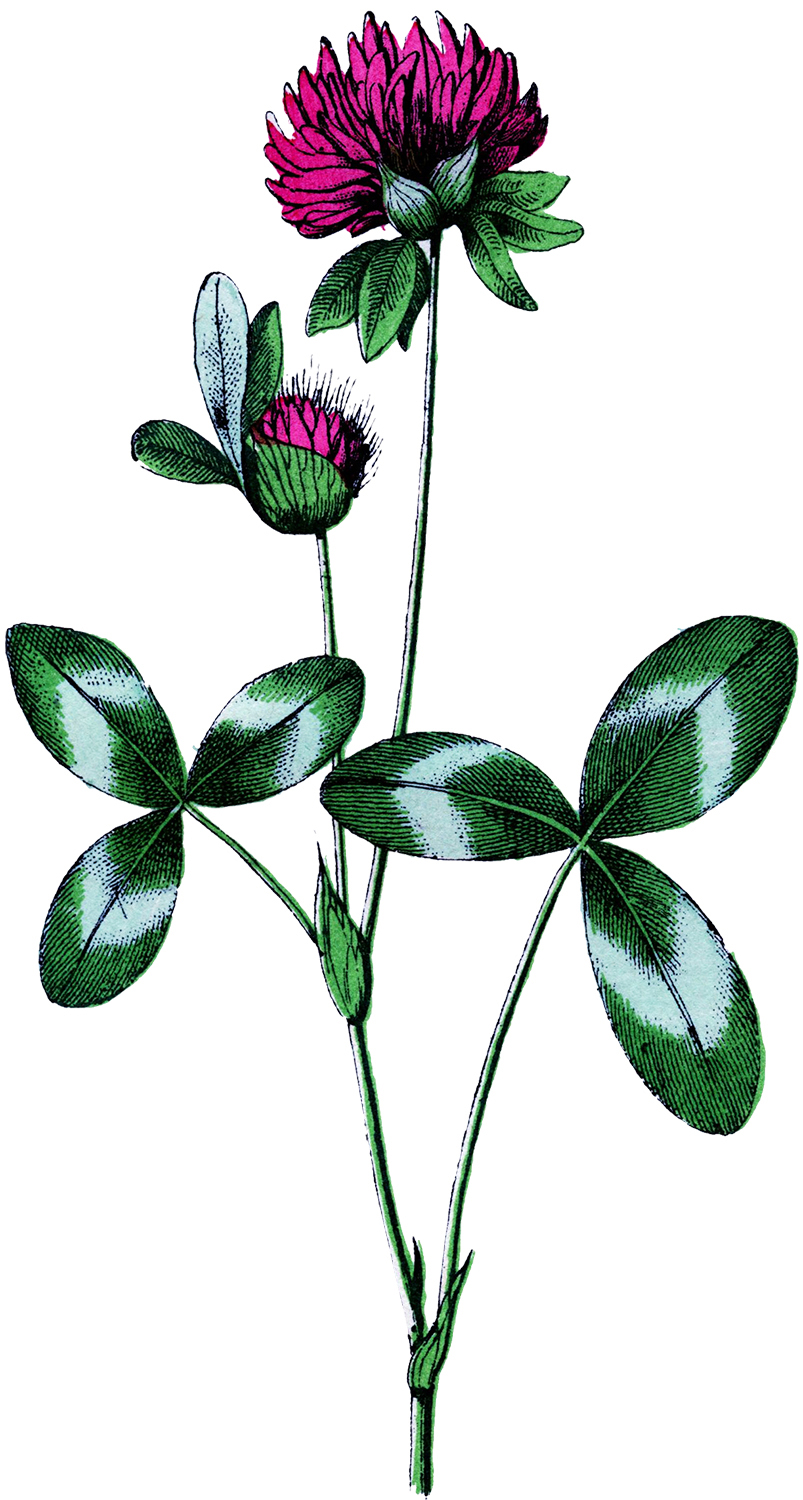 This is a tall, Stately Vintage Clover Flower Illustration! Shown here is a bright Pink Clover flower with tiny dark green leaves. It is so simple yet quite lovely.
This image from our Pink Flower Clipart Collection is a Stunning Vintage Pink Flower Drawing! Shown here is an exquisite fountain like flower, with pink petals and a round yellow center. There is a large leaf in the background.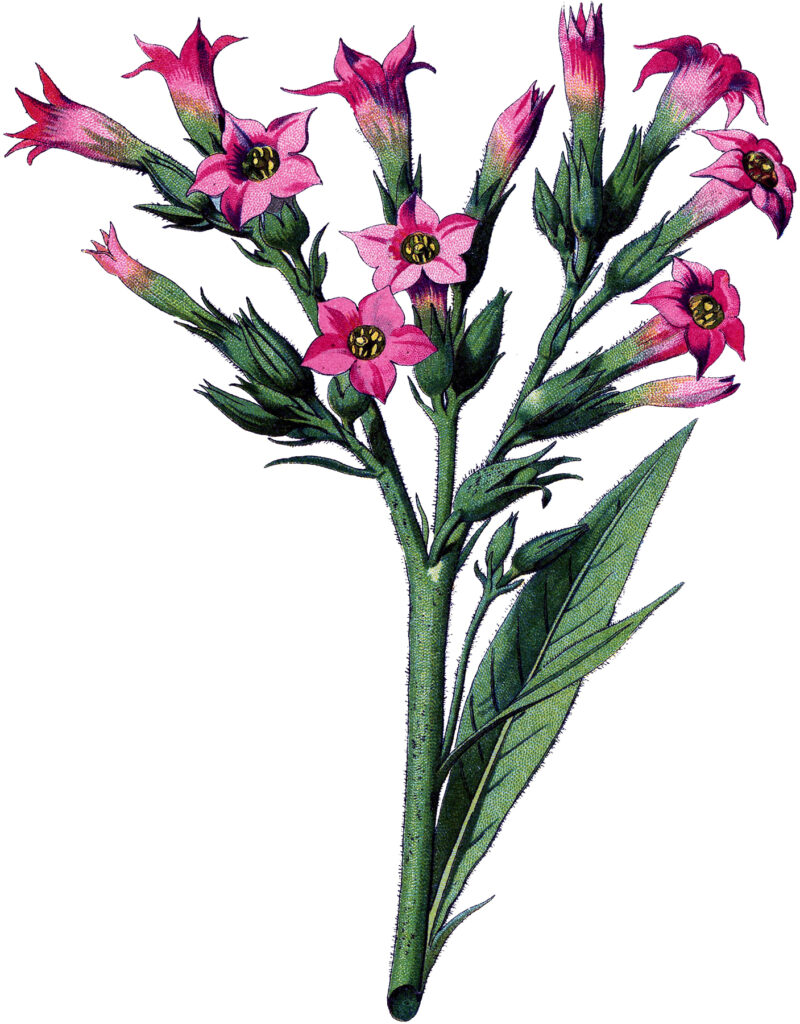 Above is a sweet Pink Botanical Flowers Image! Shown here is a plant with delicate pink flowers plus yellow and black centers. It is a tall plant with a large oval shaped leaf.

Here we have a Vintage Pink Cyclamen Botanical Print! This Victorian Botanical illustration of a pink Cyclamen plant with its lovely heart shaped leaves has shades of red, pink, green, and brown. It looks to be a colored pencil sketch.

Featured above is is a Beautiful Vintage Flowering Bulb Image! It is a lovely bright pink flowering plant. I think it may be a Gladiola because it is so tall. The colors on this one are spectacular with the bright pinks and greens and the blue bulb. This one was scanned from a Circa 1887 German Plant book.

 This next pretty plant looks like a Sweet Pea to me. One of my favorites! It has tiny little tendrils that it will use to hold itself up.
Pink Flower Cards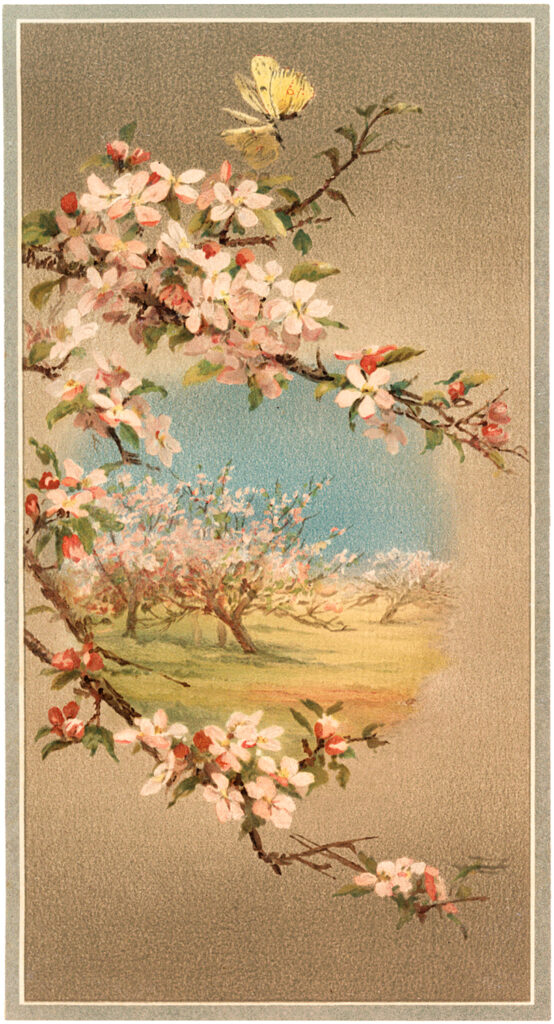 Isn't this lovely?! Shown here is a sweet Free Flowering Branches Clip Art Picture! The card has such a pretty landscape scene, with pink blossom tree and blue sky. It looks like a very charming place to spend the day.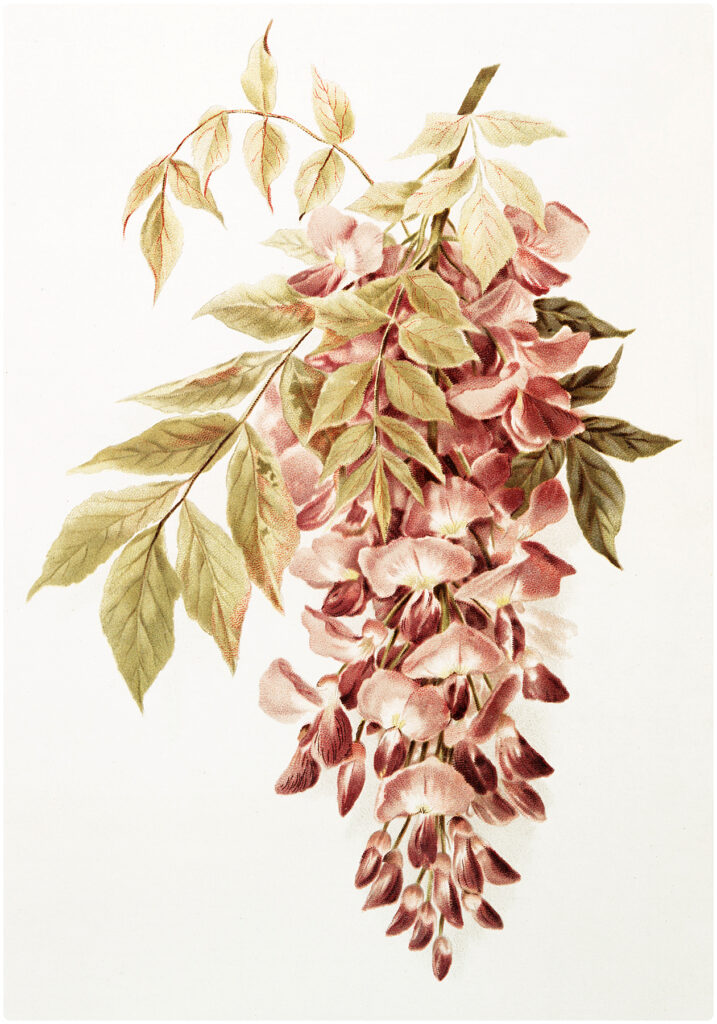 This one is so cute! Shown here is a Pretty Vintage Wisteria Image. This Image displays a a pretty flowering Wisteria vine, with pretty delicate burgundy and pink drooping petals and light green leaves.

Above is a Beautiful Vintage Camellia Flower Image! Featured is very pretty white flower with soft touches of light pink on it. The flower is resting on two lovely bright green leaves. I believe it is a Camellia. Around it is a brown and gold frame..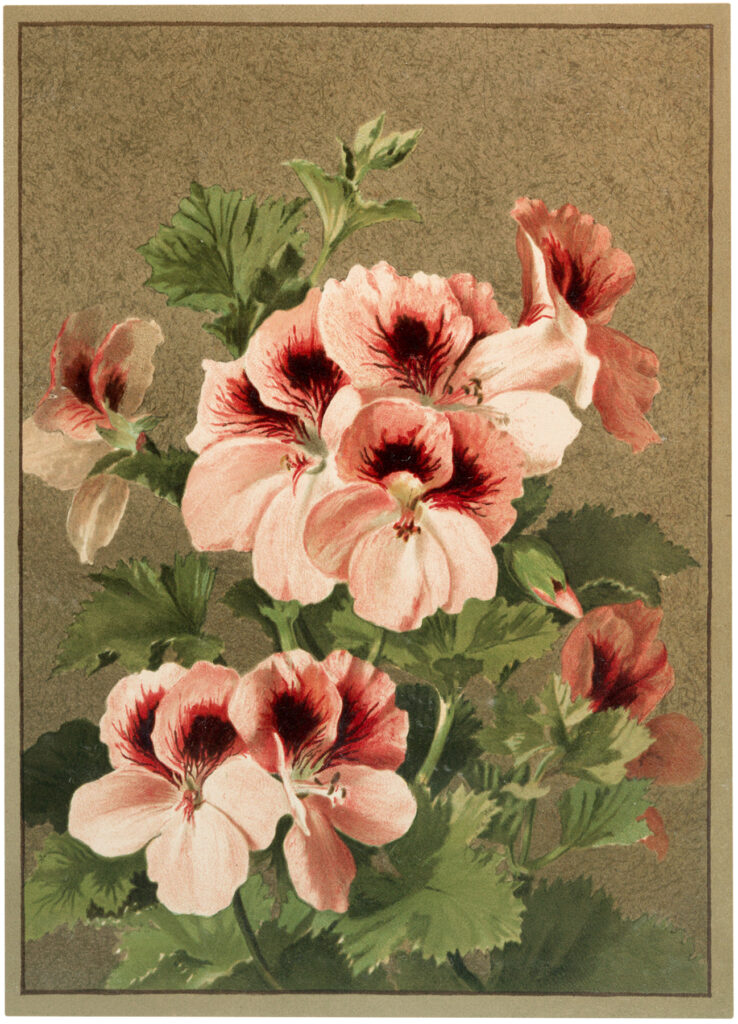 Here we have a lovely Free Vintage Pink Flowers Image! Shown are some pretty pink flowers with green leaves. They resemble Pansies to me, although I have never seen one in this color. The image is from an antique Greeting card.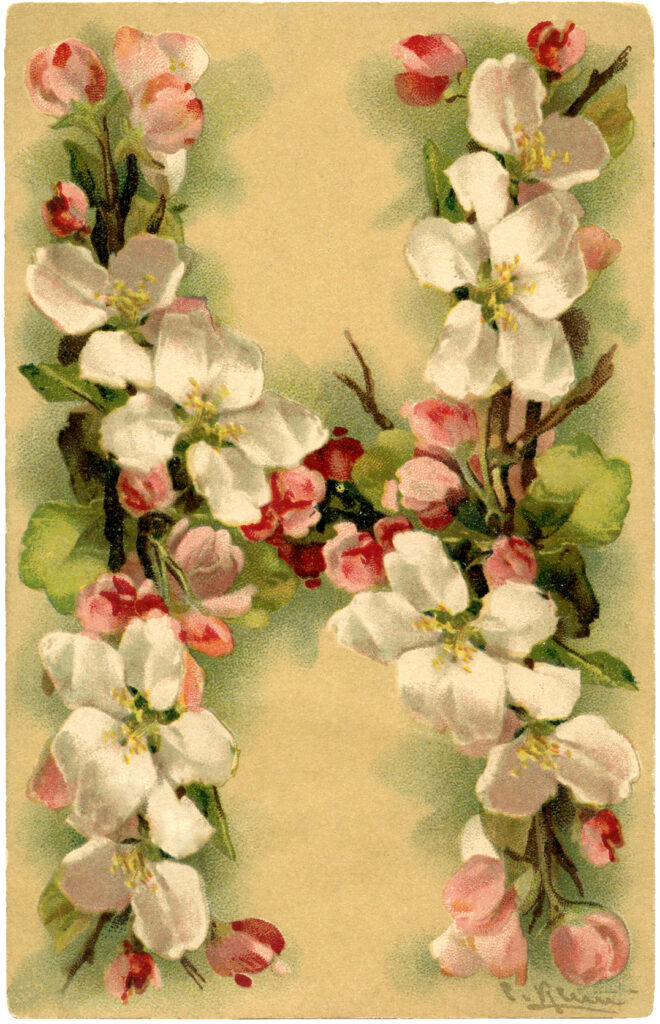 Here we have a beautiful Victorian Floral Alphabet Card! Illustrated by Catherine Klein, all of her lovely cards are highly sought after by collectors, and she is known for her gorgeous Floral illustrations. The image above is the letter "H." It's all done in the prettiest white and pink blossoms!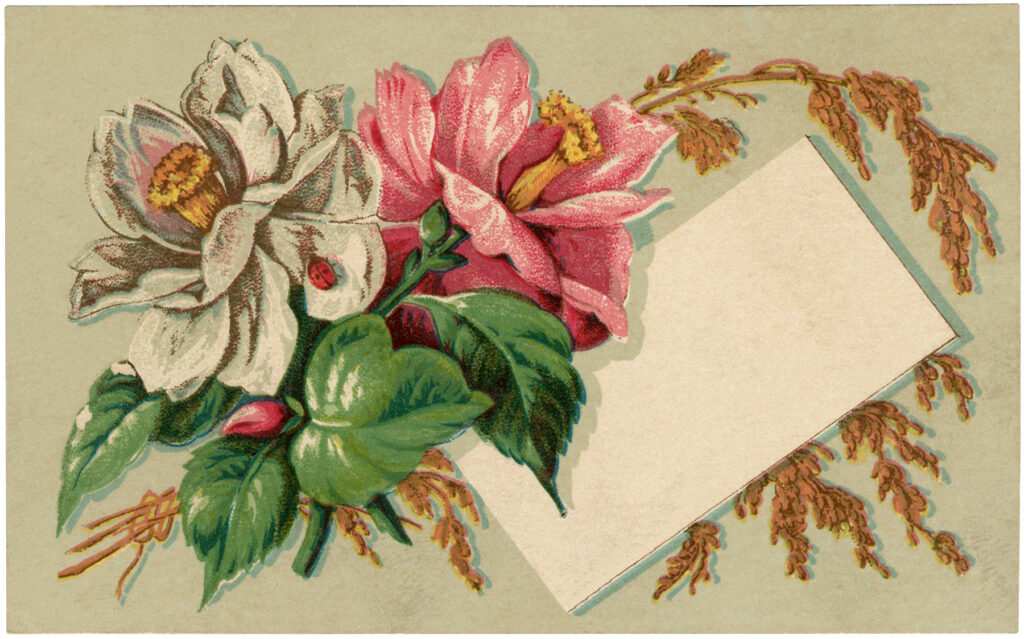 This is a Beautiful Antique Floral Label Image! Shown here are some pretty pink and white flowers, with a cute Ladybug resting on top of a little blank area. The blank area is perfect for adding a bit of text or handwriting that you could use as a Label or Gift Tag!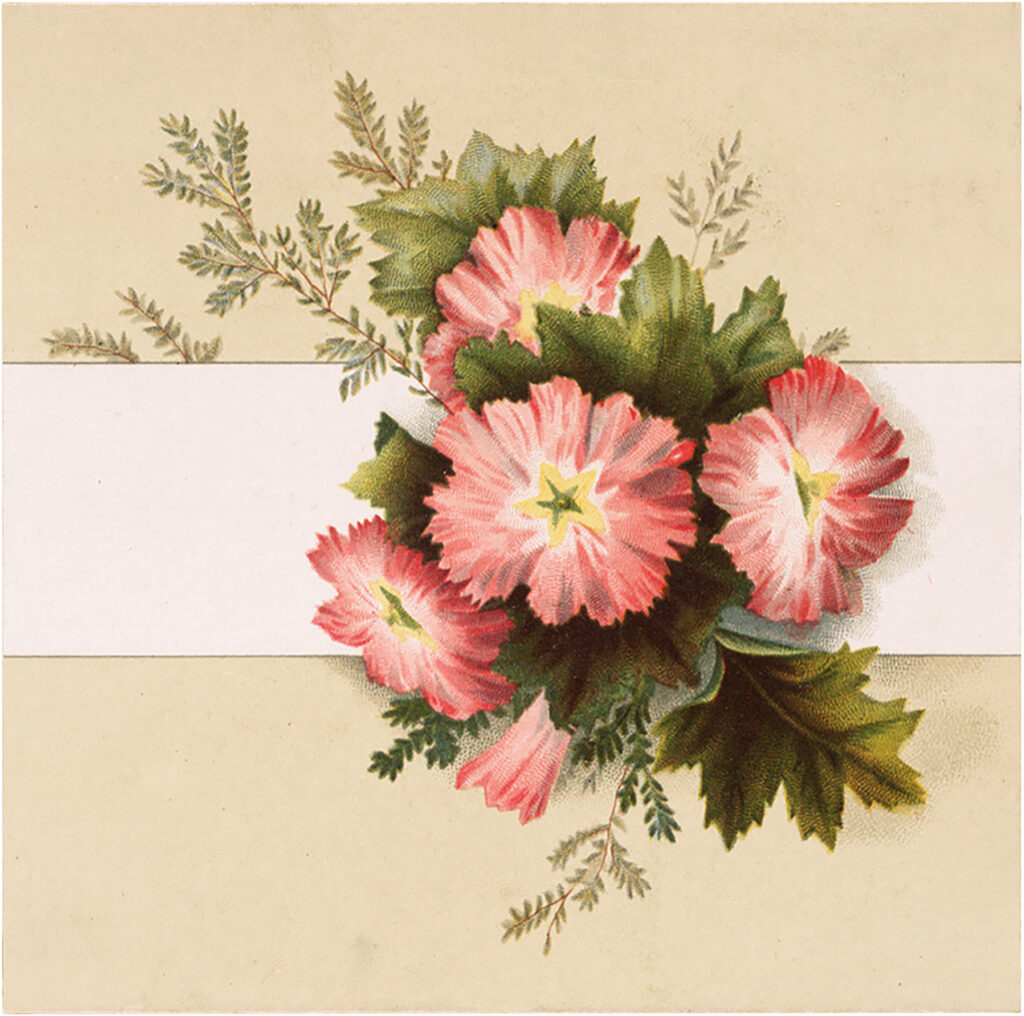 Here is another sweet Vintage Card with Coral Flowers Image! Nestled in green leaves and greenery is a beautiful spray of Coral flowers with ruffled edges along with yellow and green star centers. The card is light tan with a light pinkish band across the center, which has room to write a sentiment.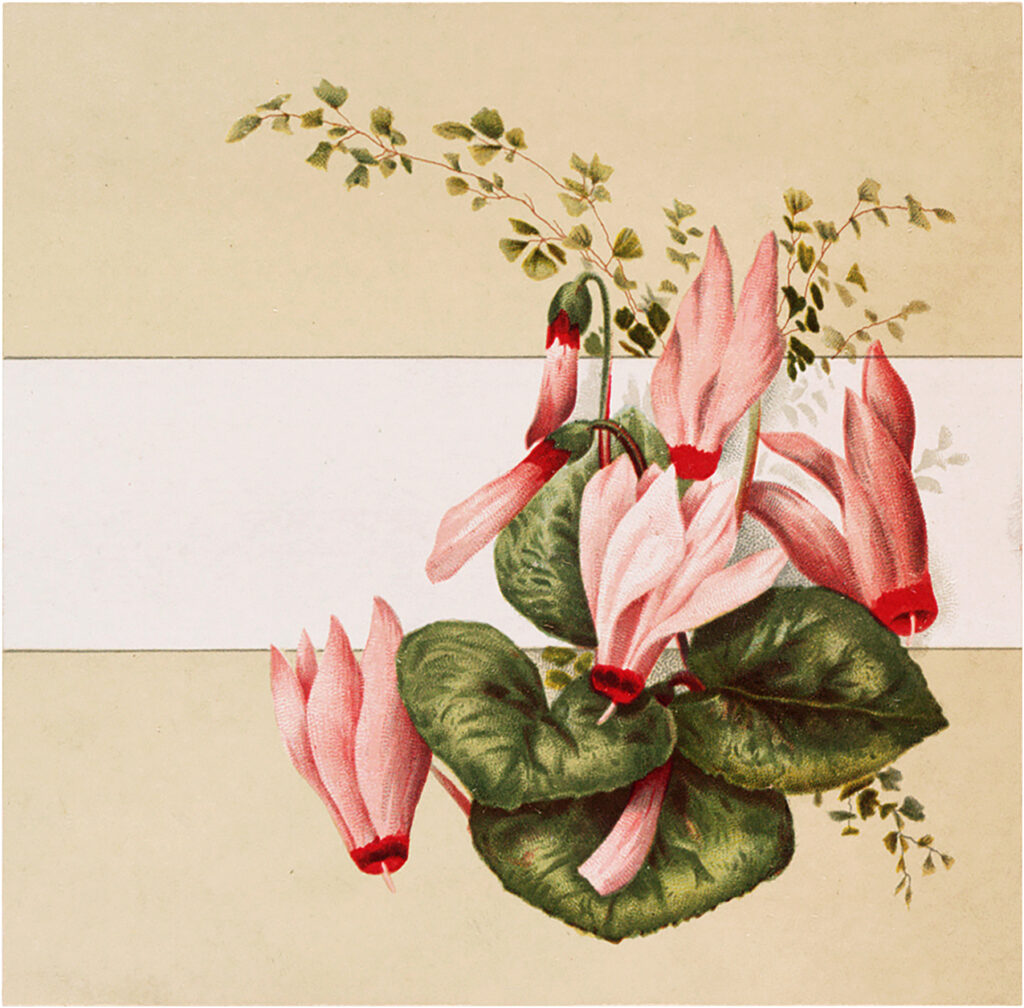 This is a Nostalgic Pink Flower Spray Card Image! There are large green leaves and tiny leafy wisps on each end. Scanned from a Circa 1887 German Plant book, the card background is tan with a wide light tan band large enough for your text.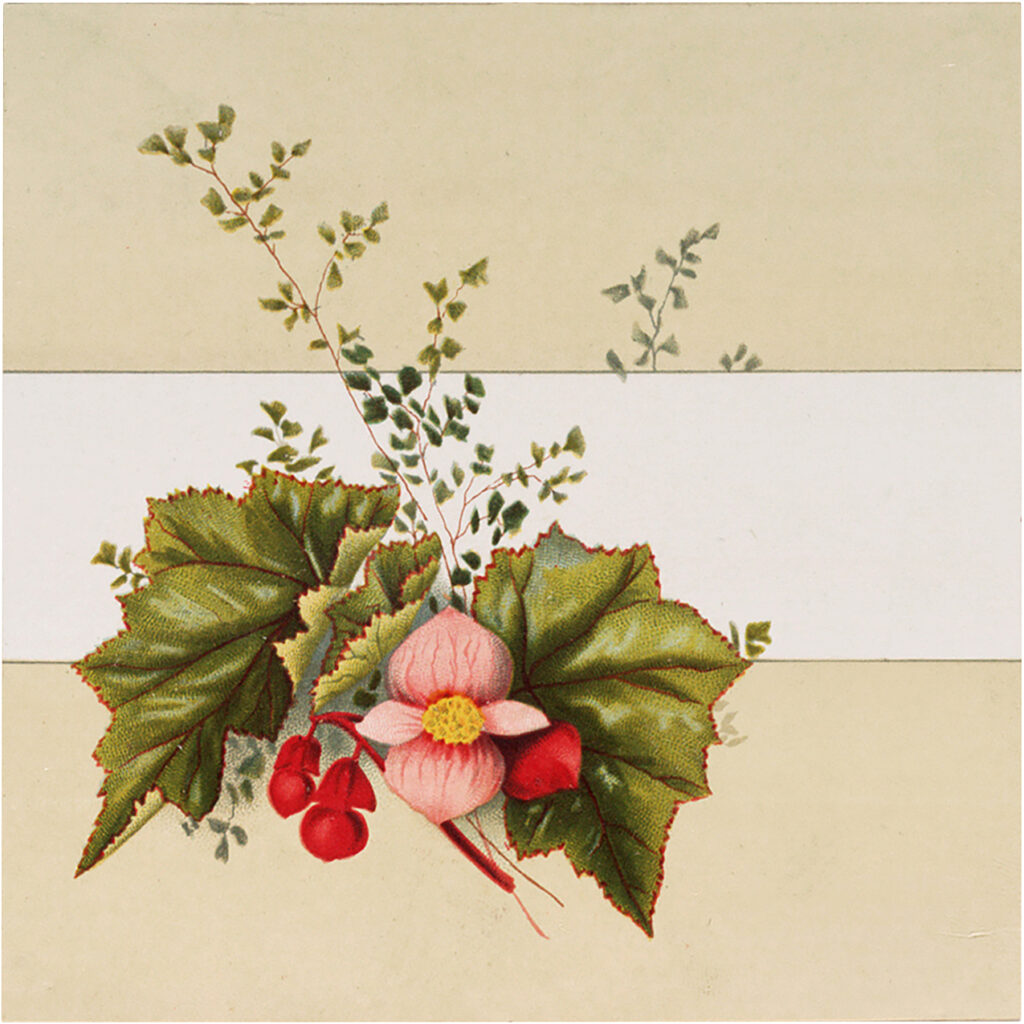 Our final Vintage Card in this collection has a Pink and Red Flowers Image! This card has a tan background and a light gray band suitable for writing a message. The central image is a beautiful spray of pink and red bleeding heart flowers with sumptuous green leaves having jagged red edges. Tiny greenery surrounds the gray band.
I hope you enjoyed this curated collection of Pink Flower ClipArt! For even more lovely Vintage Flower Images, be sure and check out the post 560+ Favorite Free Flower Images HERE
Hello! Are you new to The Graphics Fairy?
Welcome, I'm so glad you're here! Browse around to find 
thousands of Stock Images
 that you can use in your projects or designs! I post new Vintage images every day, as well as projects and DIY's too! Need more info about my site? Try my 
FAQ
 page.