Christmas Gift Tags Printable
Hello Graphics Fairy friends! Diana from Dreams Factory here, are you ready for another DIY project? With Christmas just around the corner, what better way to get into the holiday spirit than making our own beautiful Christmas gift tags printable? They will be perfect for decorating all your Christmas presents this year because they are fun, colorful and easy to make and they will definitely bring a little bit of happiness to anyone receiving them.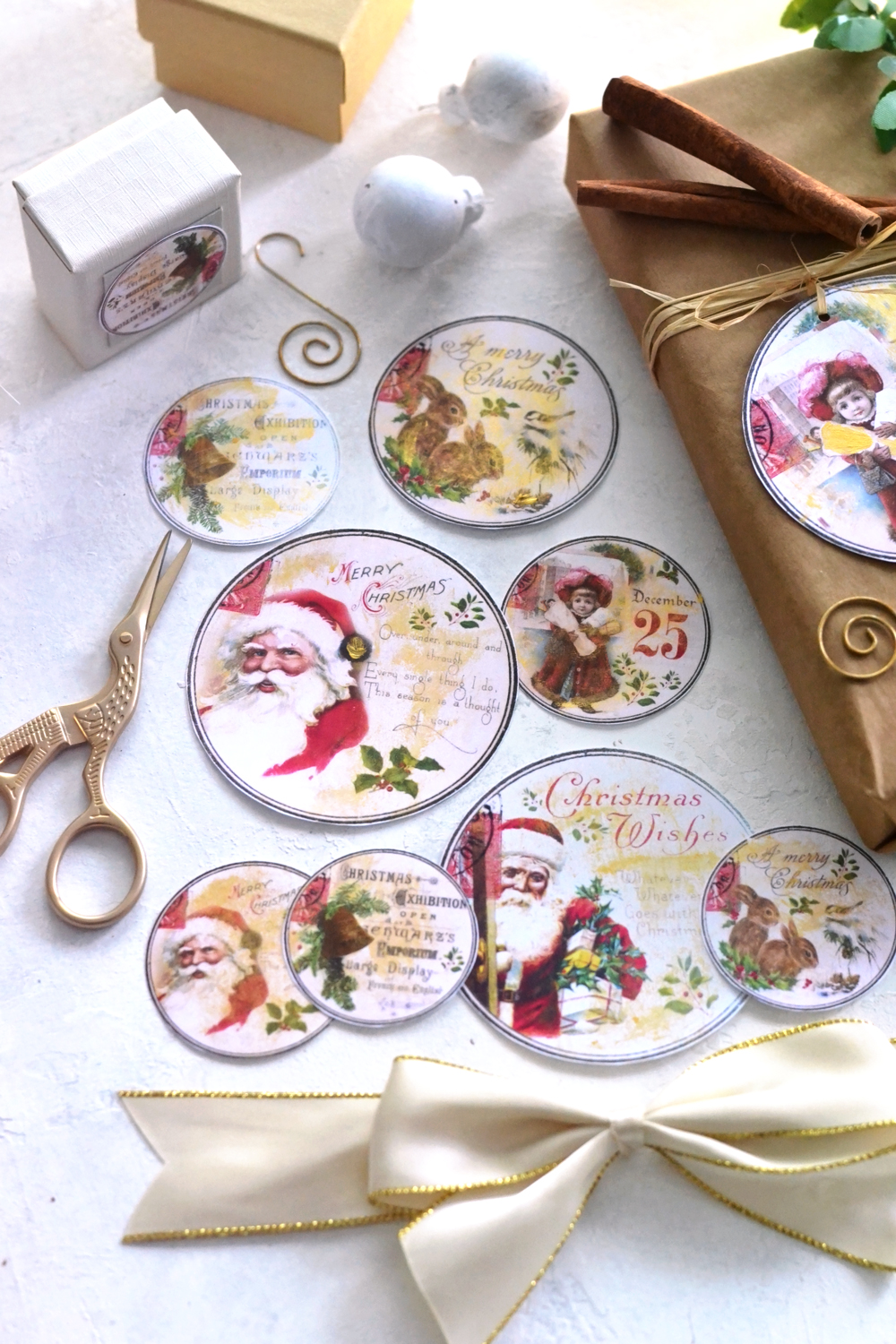 The tags I'm sharing today can be used as they are, but to make things even more interesting, I will show you how to easily add more character to them by using some gold acrylic paint! Gold will help you distress the tags and will not only give them a more vintage and worn feel, but it will also add more depth creating some interesting metallic highlights.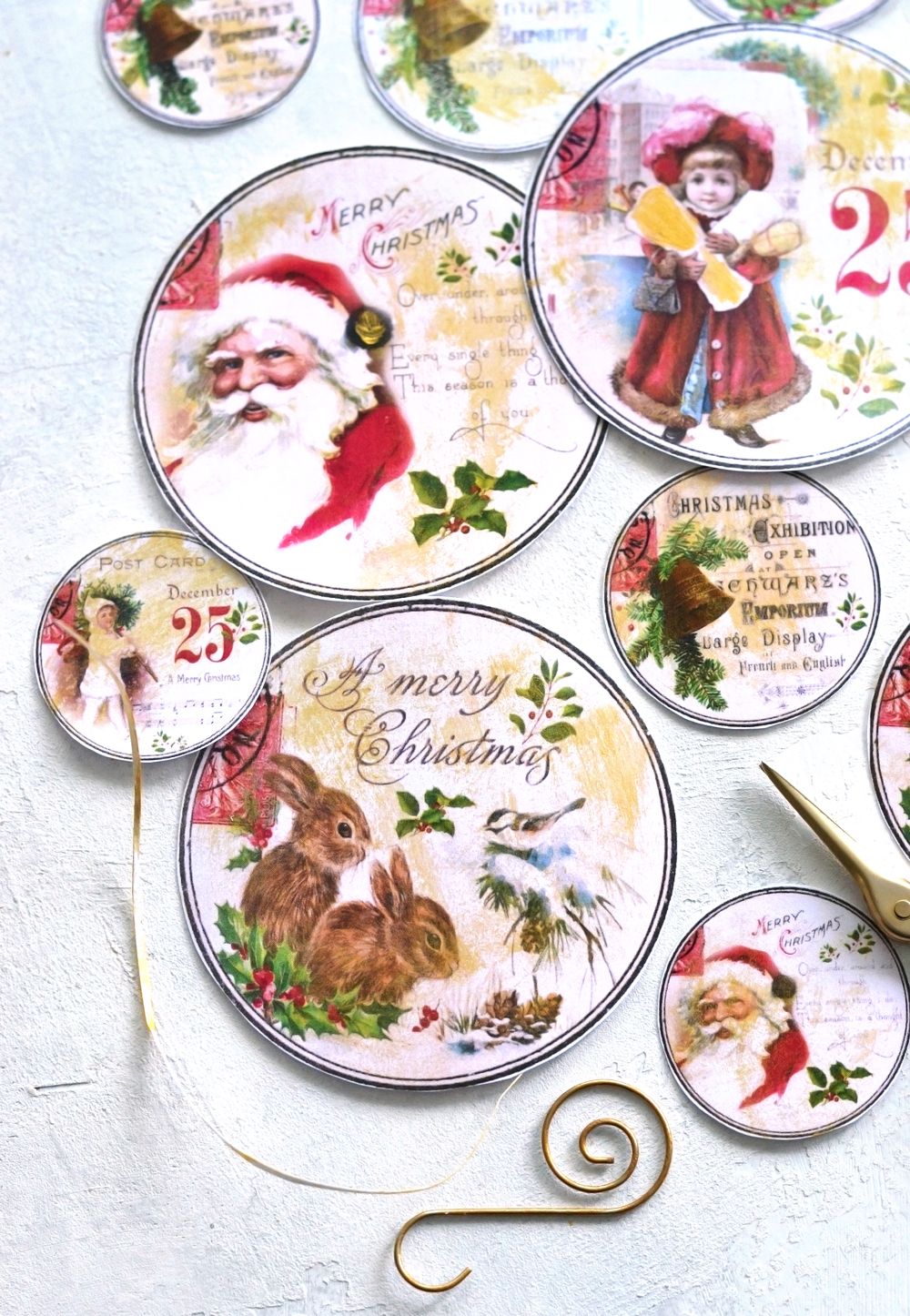 As always, I created these adorable DIY Vintage Christmas gift tags using some images from The Graphics Fairy and now, more then ever, I had so much fun browsing through all the amazing Christmas collection. I must confess, having all these stunning images at one click away can sometimes make things harder when it comes to choosing only a few! But I managed to (eventually) pick the ones I loved most and after mixing things up a little bit – combining joyful Santas, holiday wishes, Christmas bells, Christmas ephemera, music sheets, holly leaves, some postage stamps and a pretty vintage round frame – these charming Christmas tags were born!
Free Christmas Gift Tags Printable
NOTE: Depending on your type of printer, the vintage background of the tags might be more or less visible.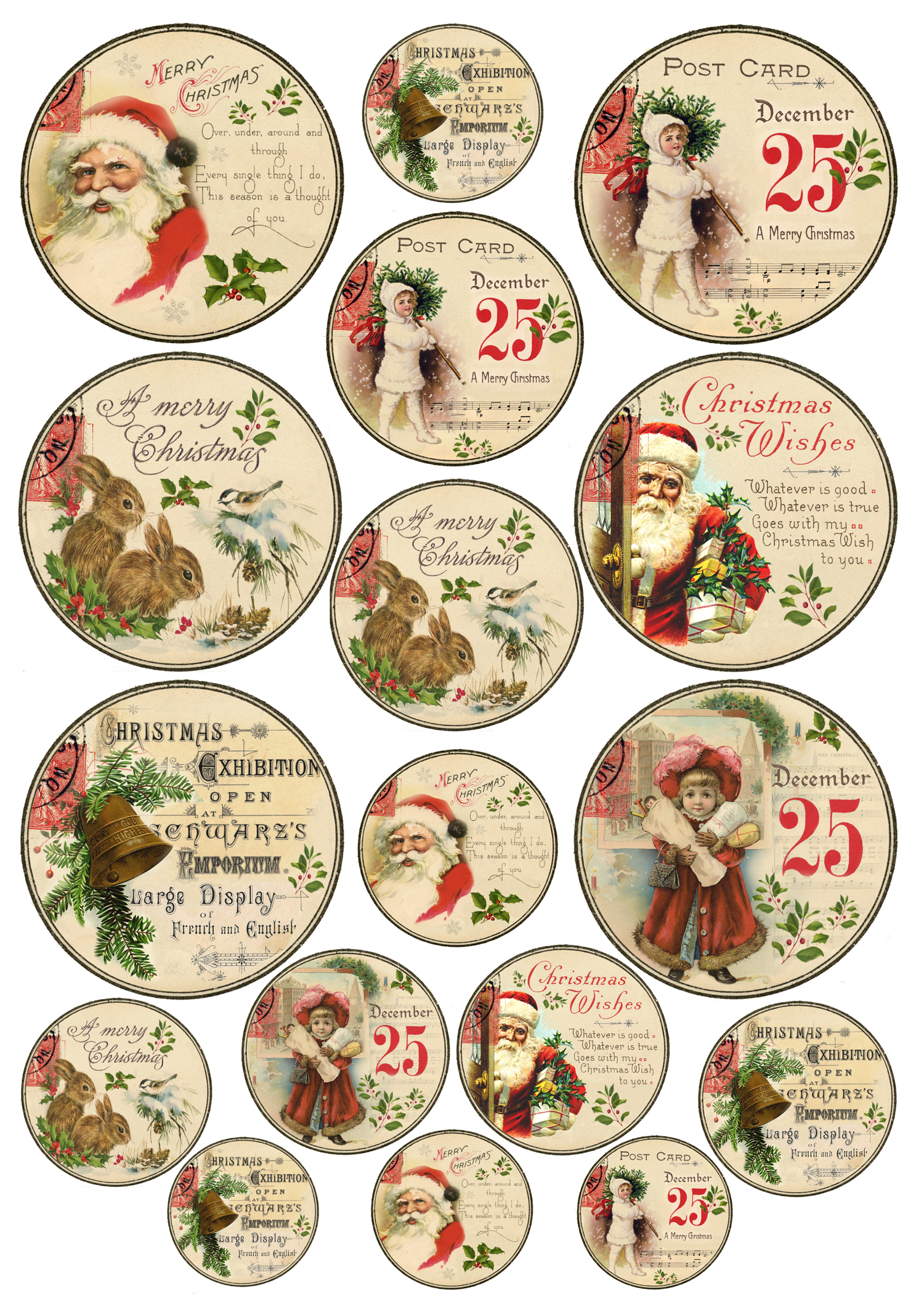 —-> Click HERE to Download the Full Size Printable PDF <—-
You already know how I love to make my projects versatile just to give you more options, right? Whenever I create one of these printables, I usually try to leave room for further experimenting, so you can add your personal touches and get creative in your own way! Well, these Christmas gift tags printable are no exception and let's just say we are generically naming them gift tags, because they can be used in so many other ways! I will give you a few suggestions in a while, but because the images come in so many different sizes, I really challenge you to find other unique ways of using them!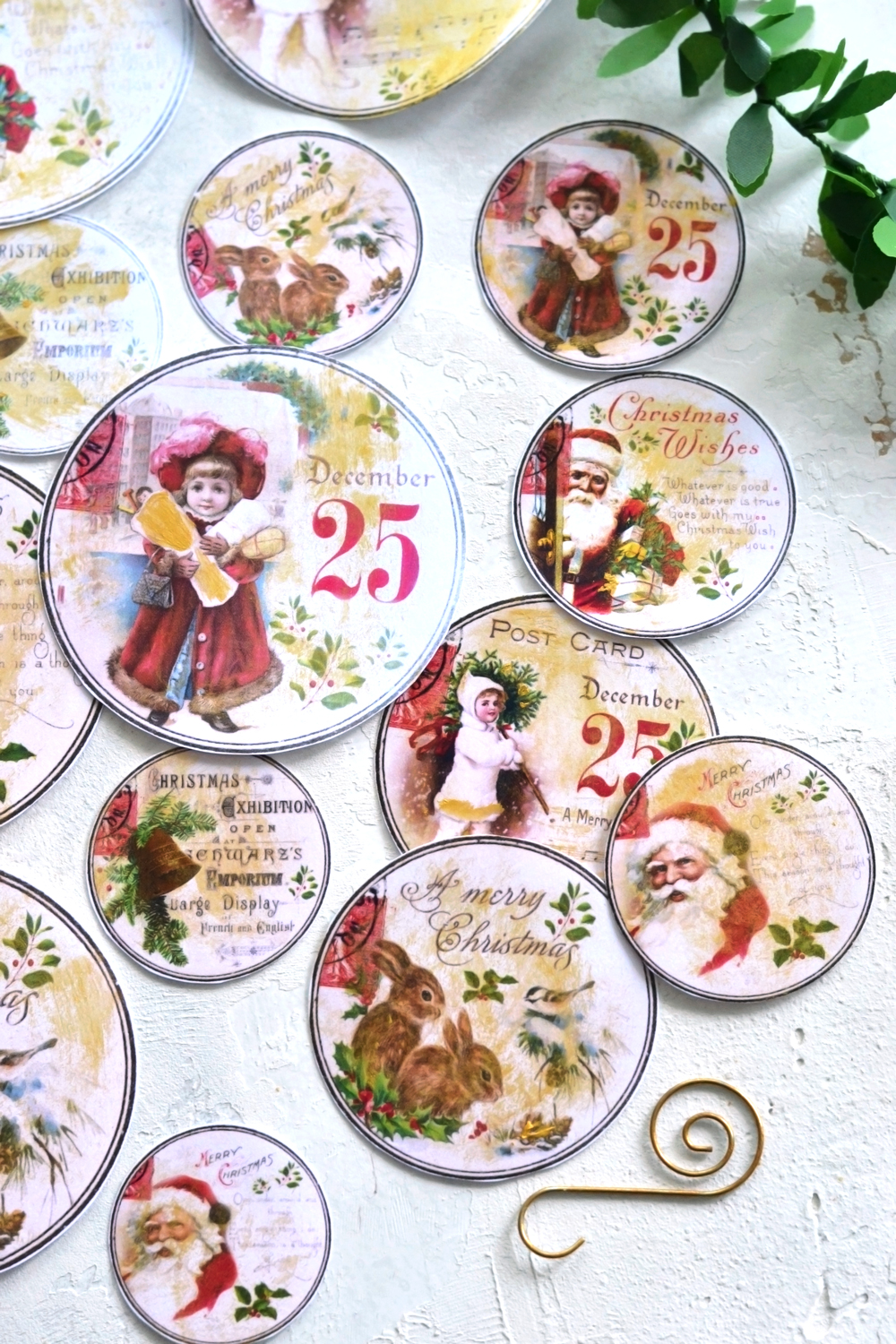 Now put on some Christmas carols and let's make some DIY Vintage Gold Christmas gift tags, shall we?
Christmas Gift Tags Printable Supplies:
Optional
Tutorial:
1. Start by printing the printable on cardstock paper.
I would suggest making a double 'batch', like I did, these beauties are soooo good to have around!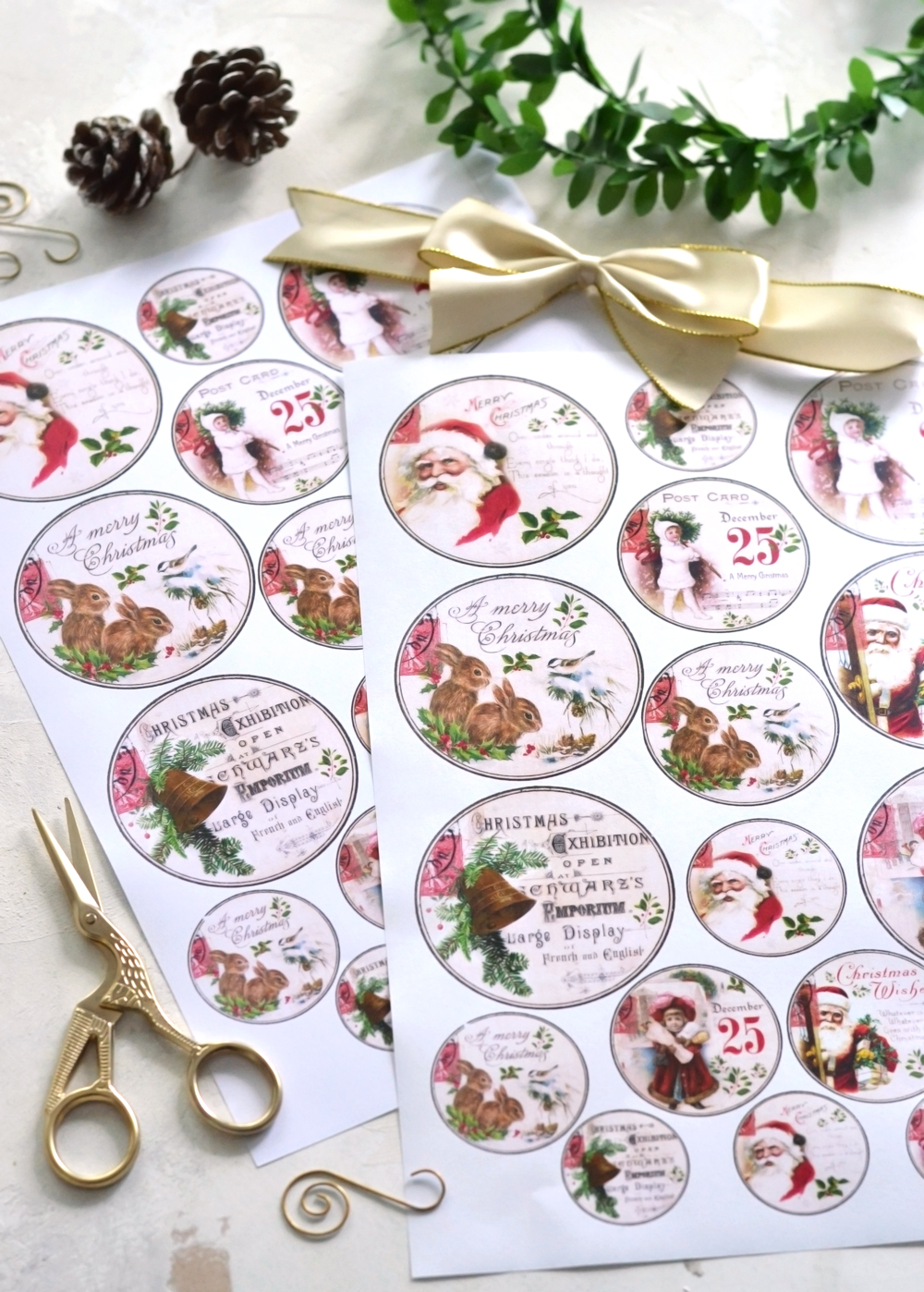 2. Roughly cut each tag using your scissors – do not discard the white excess paper just yet.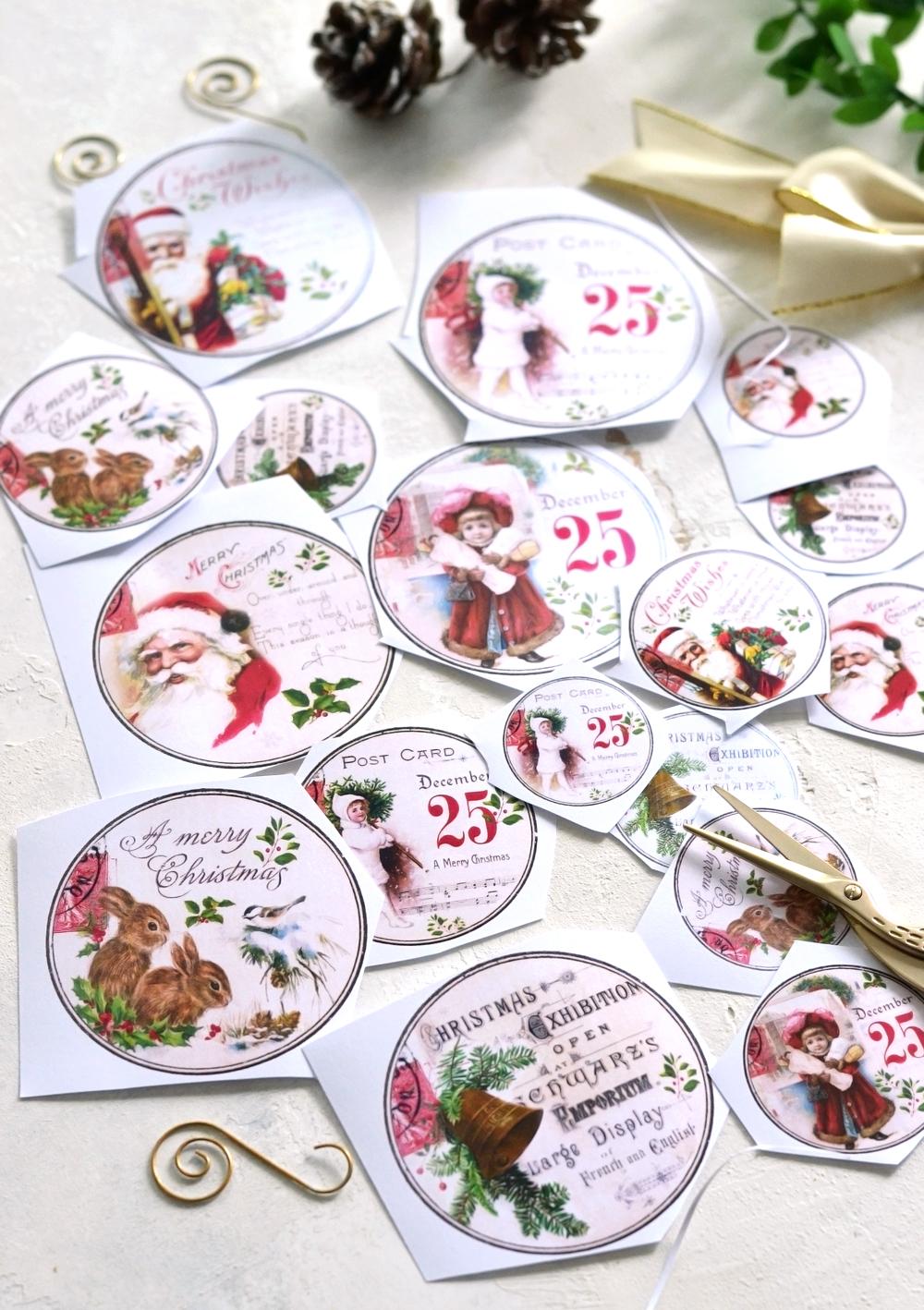 3. Prepare a brush and the gold acrylic paint. Dip the tip of the brush in the gold paint and dab the paint on some of the excess white paper first. We only need a small amount of undiluted paint because we are looking to lightly dry brush the images with some gold and not to completely cover them! Use the white excess paper to test /check the amount of paint from your brush and then lightly brush some of that beautiful glowing gold here and there, inside the round frame. Start with a really small amount of paint and gradually add more highlights to your own liking.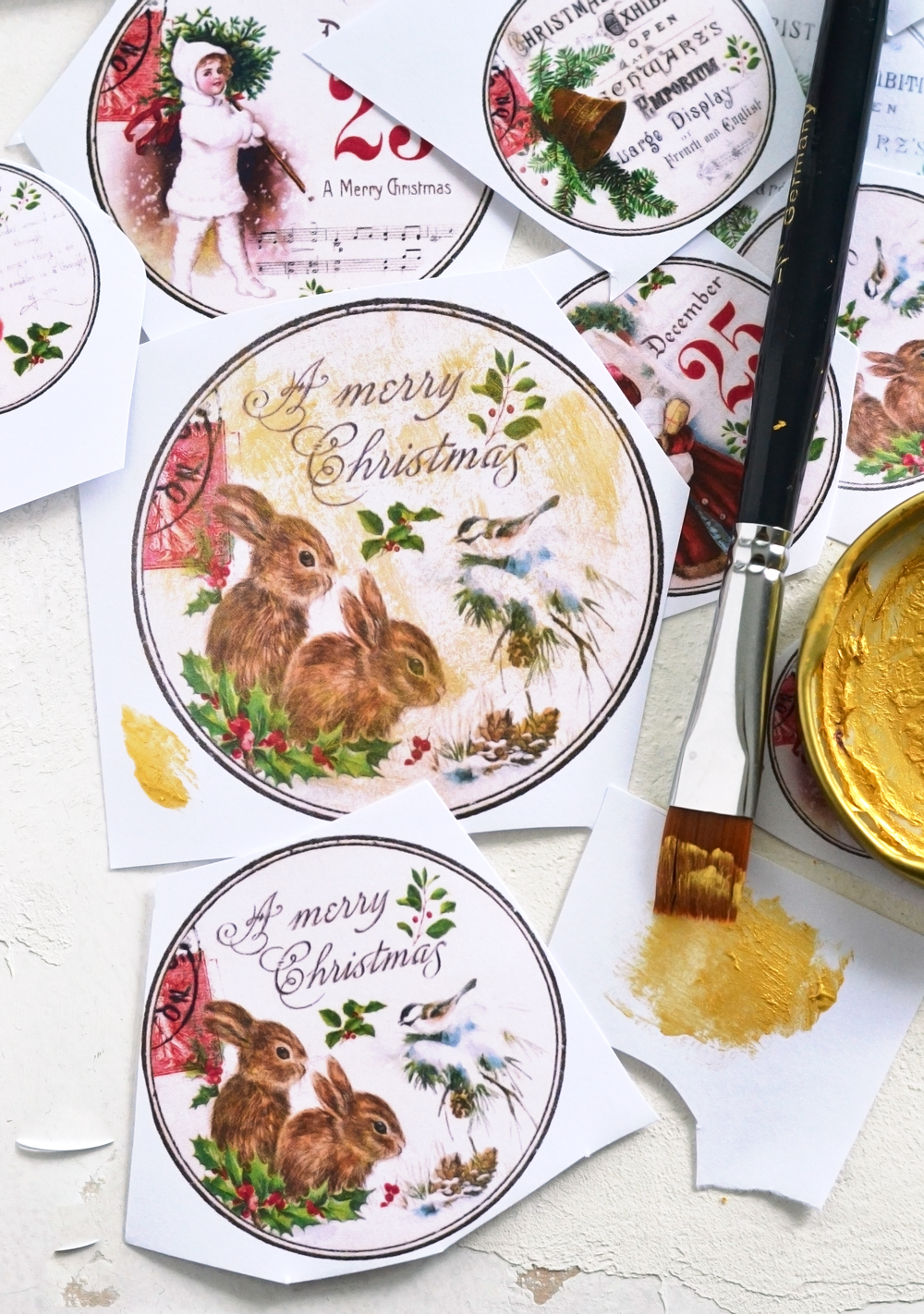 I mainly added dry brushed highlights to each tag using more or less paint, managing to achieve a different effect on each and every one of them.
P.S. : Matching your nails with metallic gold nail polish might help with the whole gold concept we are trying to achieve here! Just saying…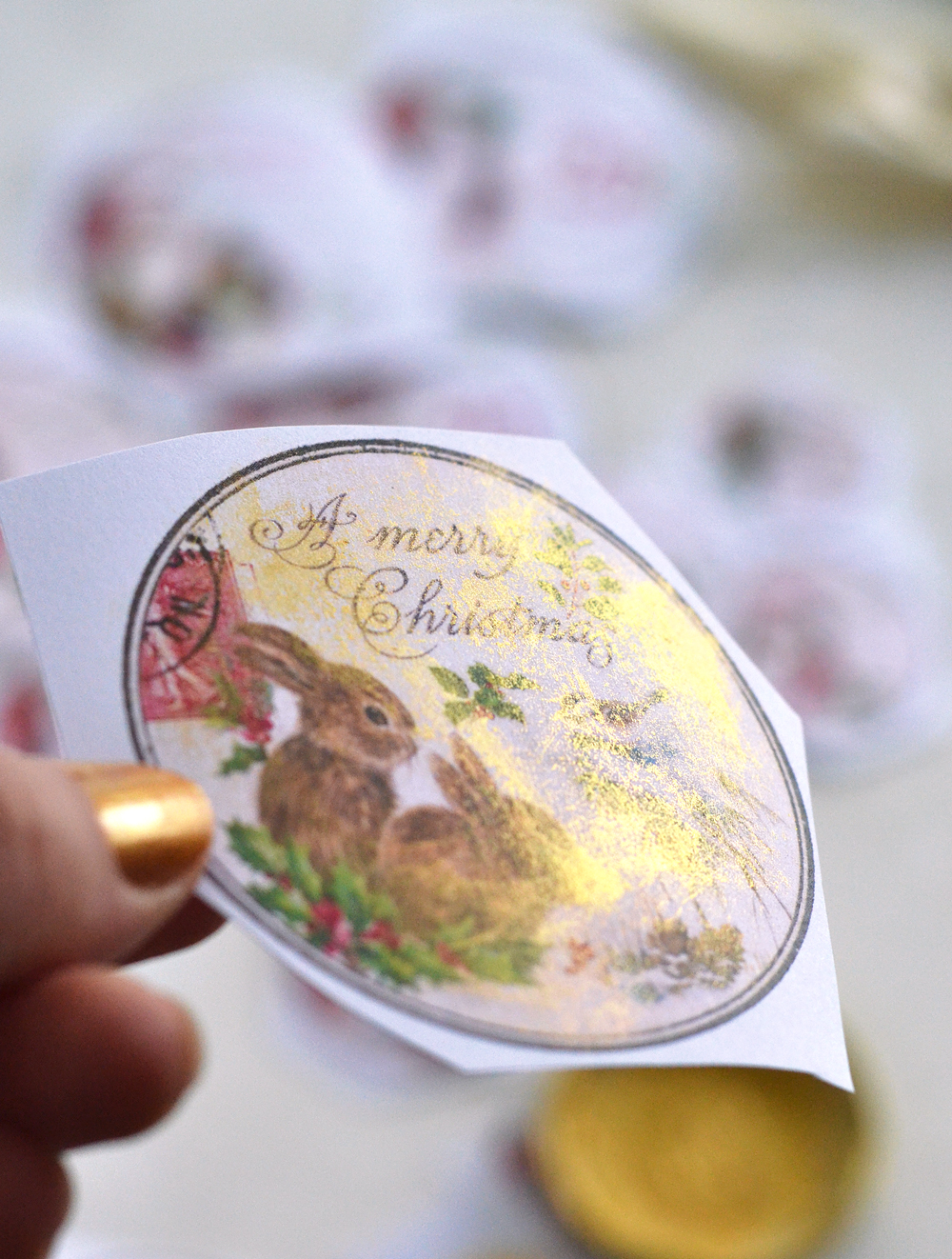 Beside adding all those beautiful dry brushed highlights to your tags, you can also go a little bit further and even add other 'pop-up' accents to some of the images. Below I used some of that amazing gold acrylic paint and painted the bottom part of the girl's coat and even added a few more intense gold strokes to the tree that she is holding.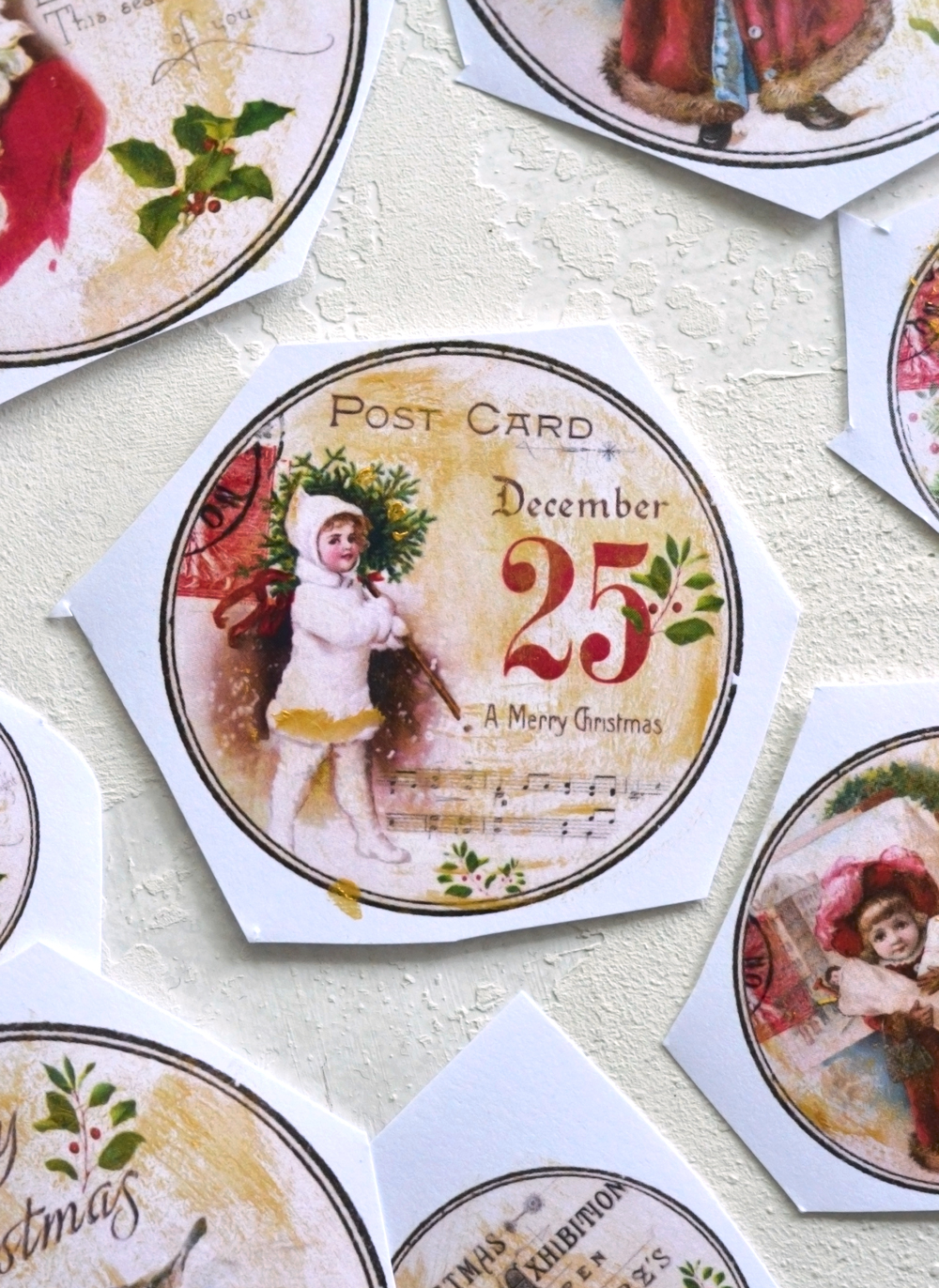 You can find other smaller details that you can paint, like this gift wrap the little girl from the image below is holding, there are many possibilities here too.
Because we will use only a small amount of paint, by the time you will be finishing dry brushing and adding pop-up accents to all of the tags, the paint will be completely dry!
4. You can now cut each tag following the round shape of the tags and completely removing the white excess paper outside each frame.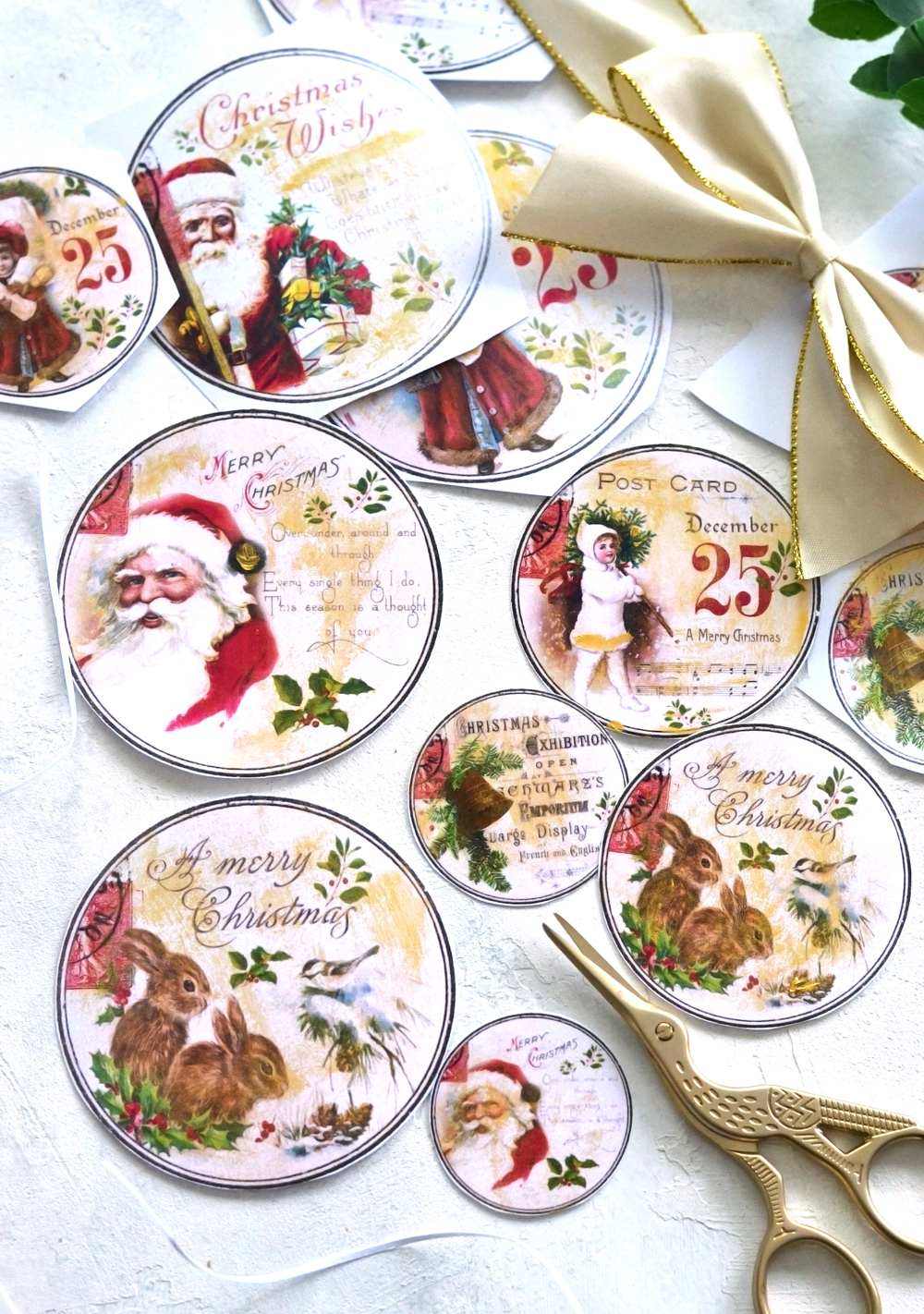 Your new, oh-so-charming and truly unique DIY Vintage Gold Christmas gift tags are done and ready to be used! Don't you just adore them ALL?
I really love how a little bit of acrylic paint managed to highlight, distress and really add character to each and every one of these!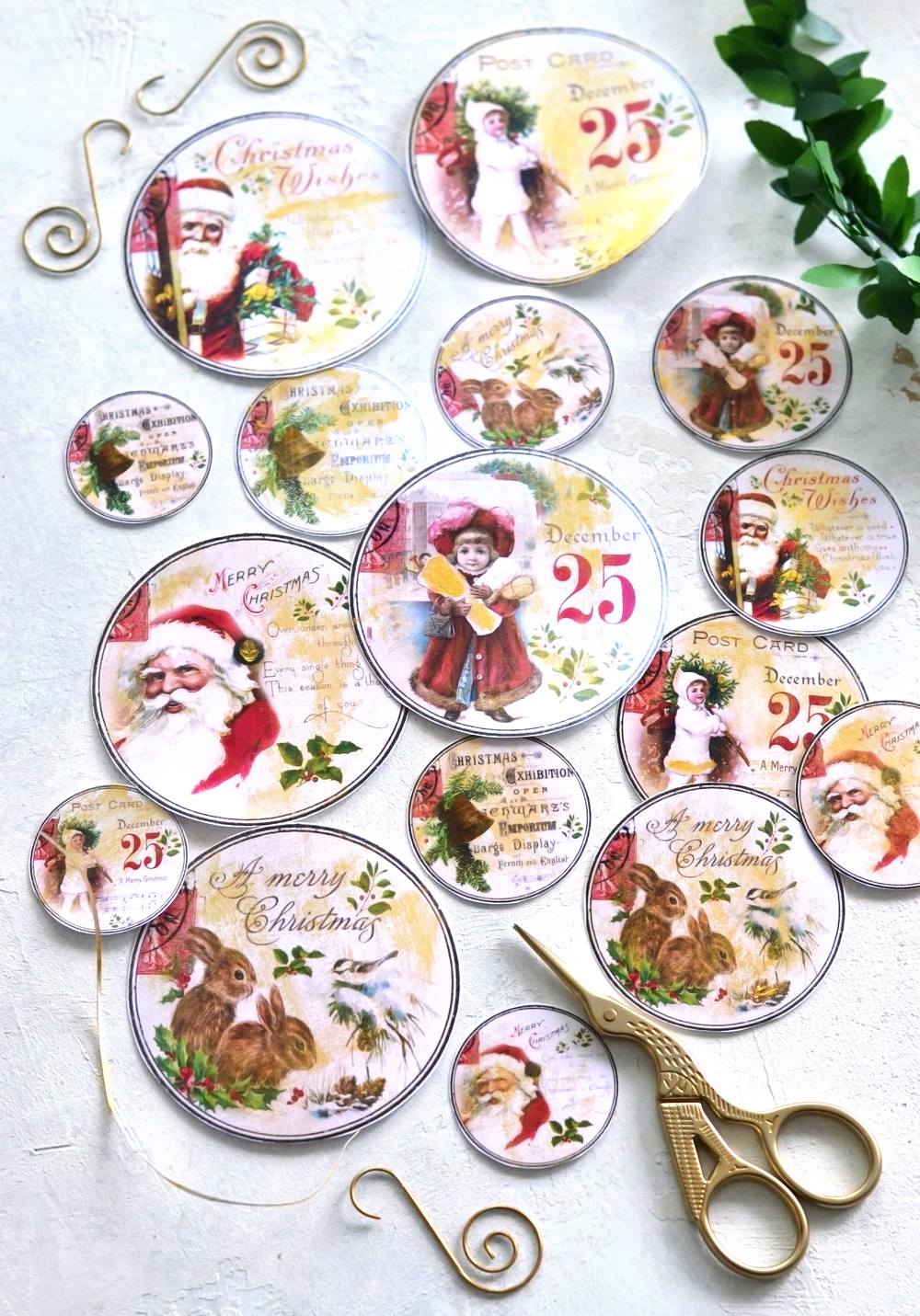 Ideas on how to use Christmas Gift Tags Printable
When it comes to using the Christmas Gift Tags Printable, I guess the main obvious way would be using them … on your gifts. Quite obvious, right?
You can punch holes and use jute twine, white twine or natural Raffia if you are going for a more natural look. Of course you can also use something like ribbon or lace if you are going for a more elegant look.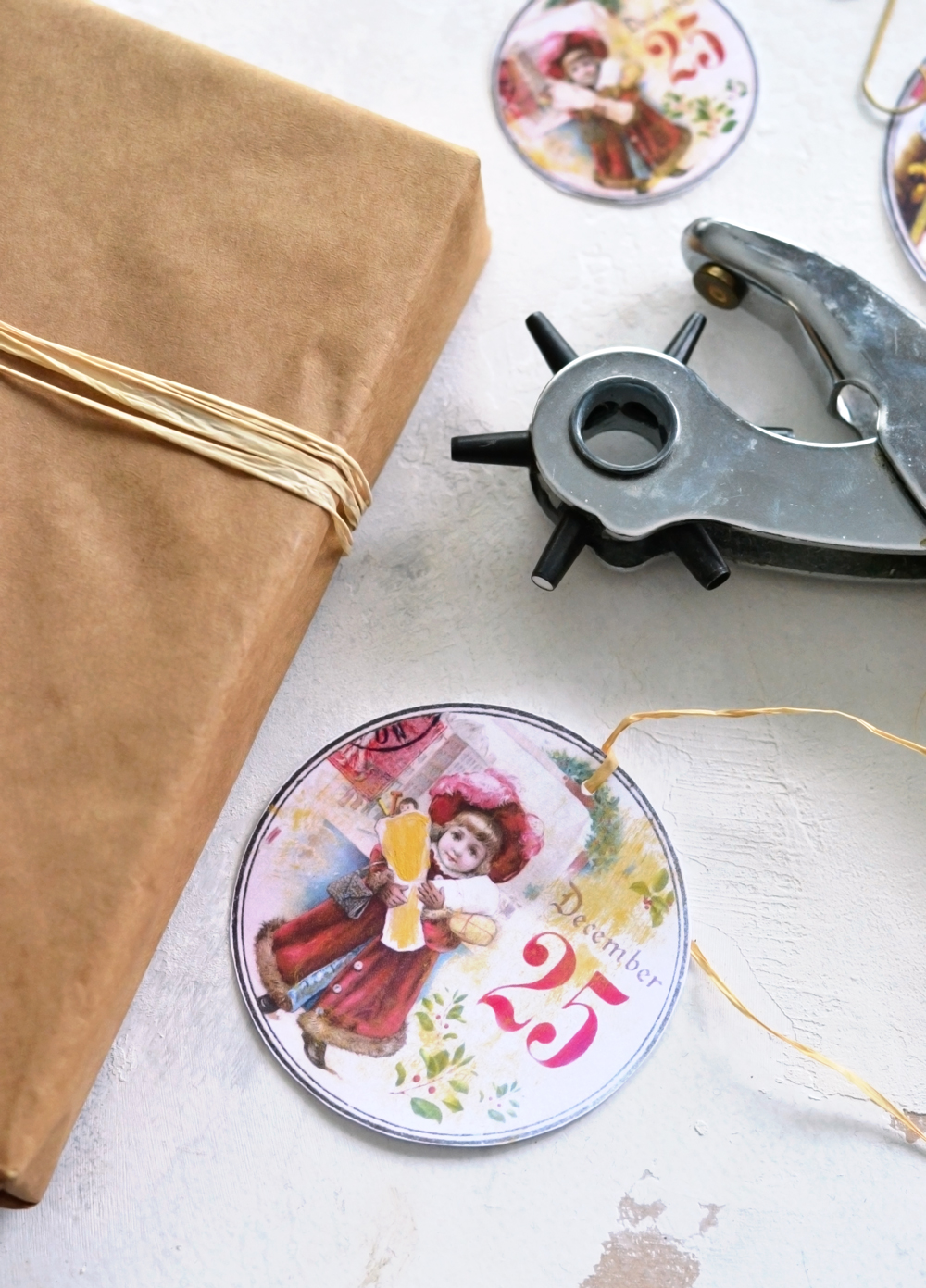 You can even add other pretty embellishment like small Christmas tree hooks or paper clips that you can also paint with gold acrylic paint to match the whole concept.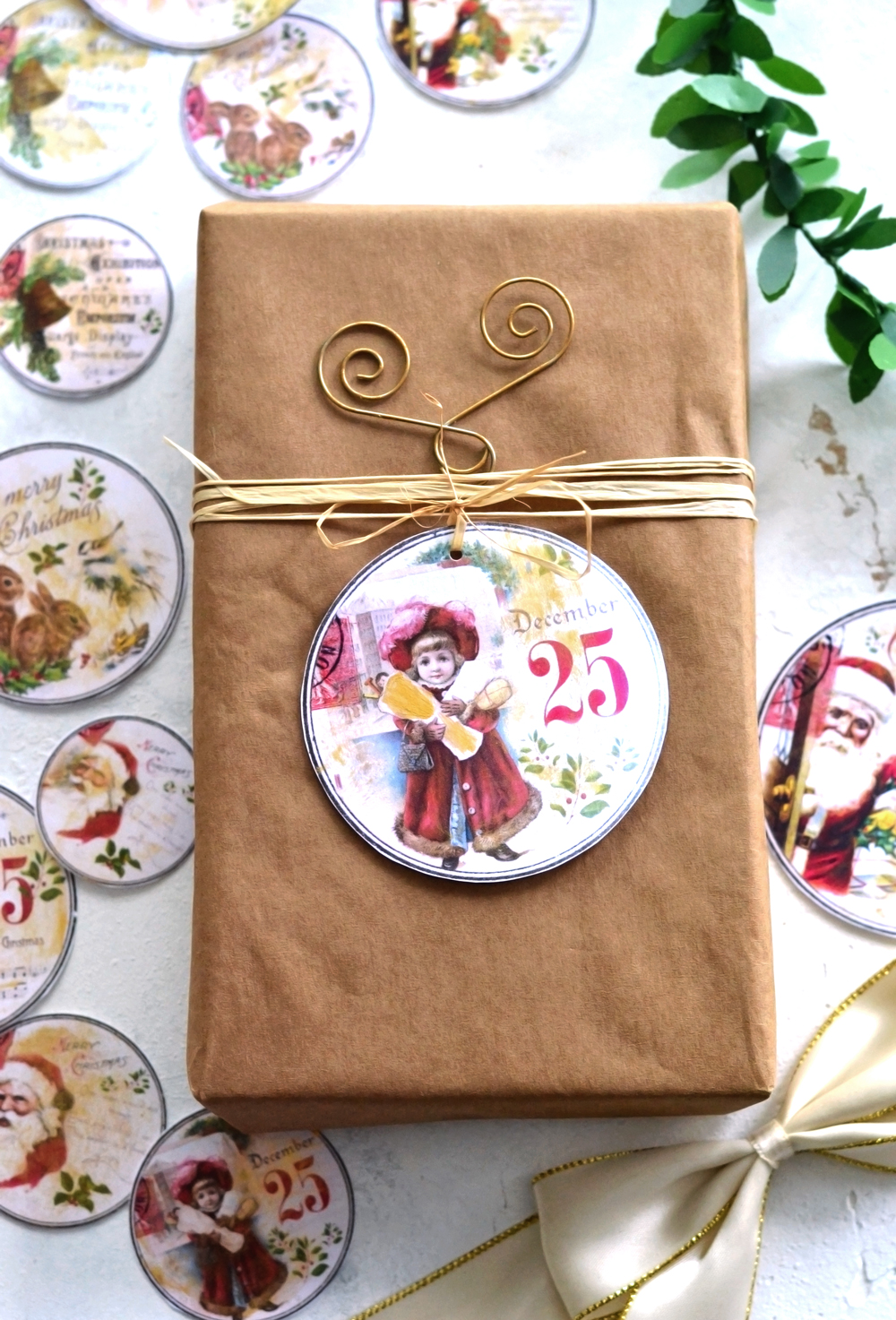 Another way of using the tags? Why not try gluing them directly on the gifts? Different sized boxes – that can be filled with sweet treats or any other goodies – will make the best 'carriers' for your tags! You can use Mod Podge to directly adhere the tags onto boxes and turn them into lovely gifts themselves!
TIPS: If you have some sticker paper around (maybe from making the Vintage Stickers I showed a while ago), the tags can also be printed on this type of paper and can be used without the Mod Podge.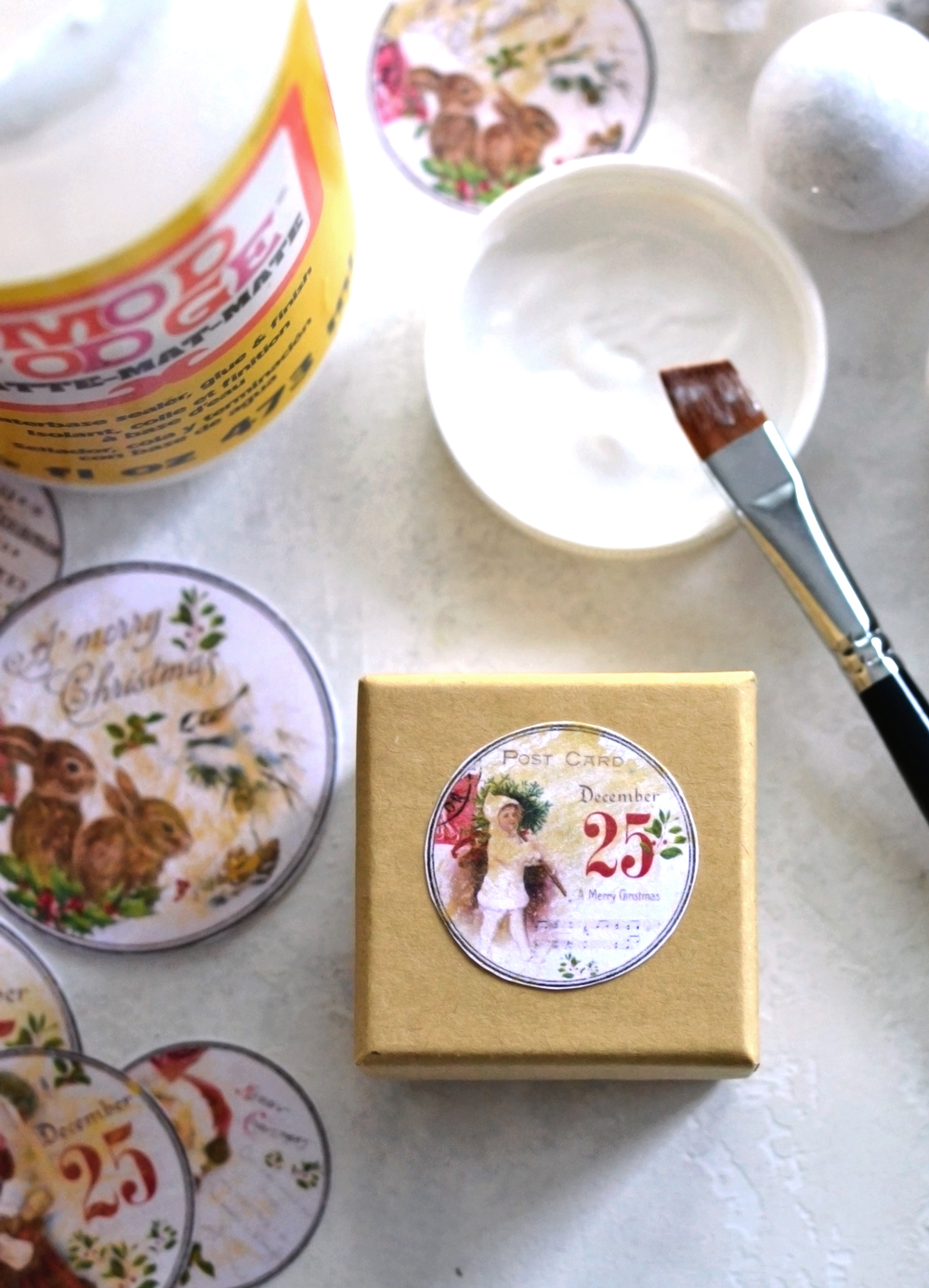 Another great way of using the Christmas Gift Tags Printable? Turn them into Christmas labels and use them on tin boxes! Why not recycling old tin boxes and turn them into chic Christmasy containers to gift cookies or candies to loved ones!? I'm sure you all have quite a stash (please tell me it's not just me) of old tin boxes  that need a little bit of makeover. Plus, that would be such a fun activity for all the family to do, especially now that cold days are rapidly approaching, don't you think?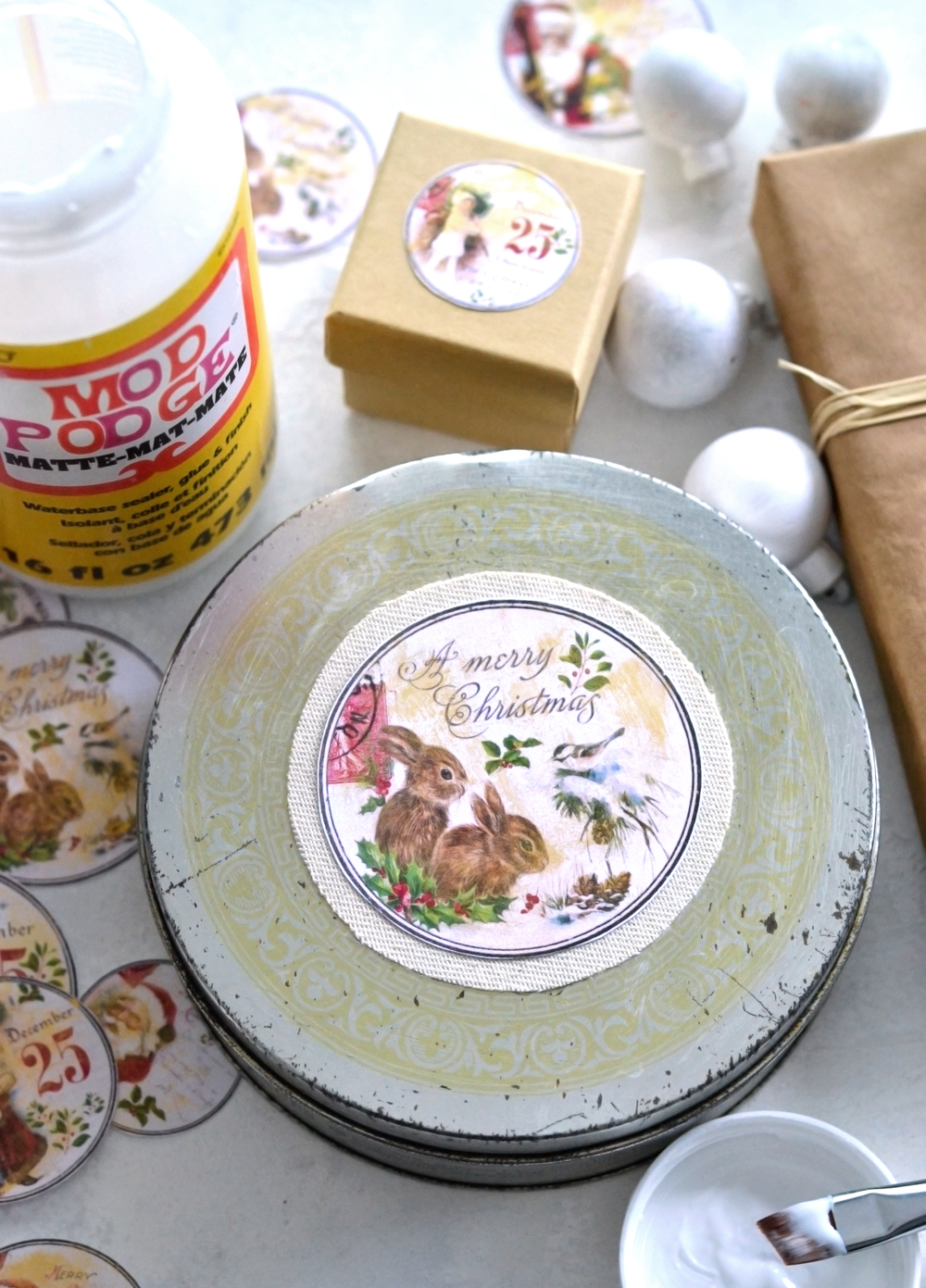 Adding the tags – now turned into decorative labels – to chocolate gold coins? Yes, please! These chocolate gold coins definitely bring back some beautiful memories, we used to love them as kids! Were these tasty shiny treats a part of your childhood, too?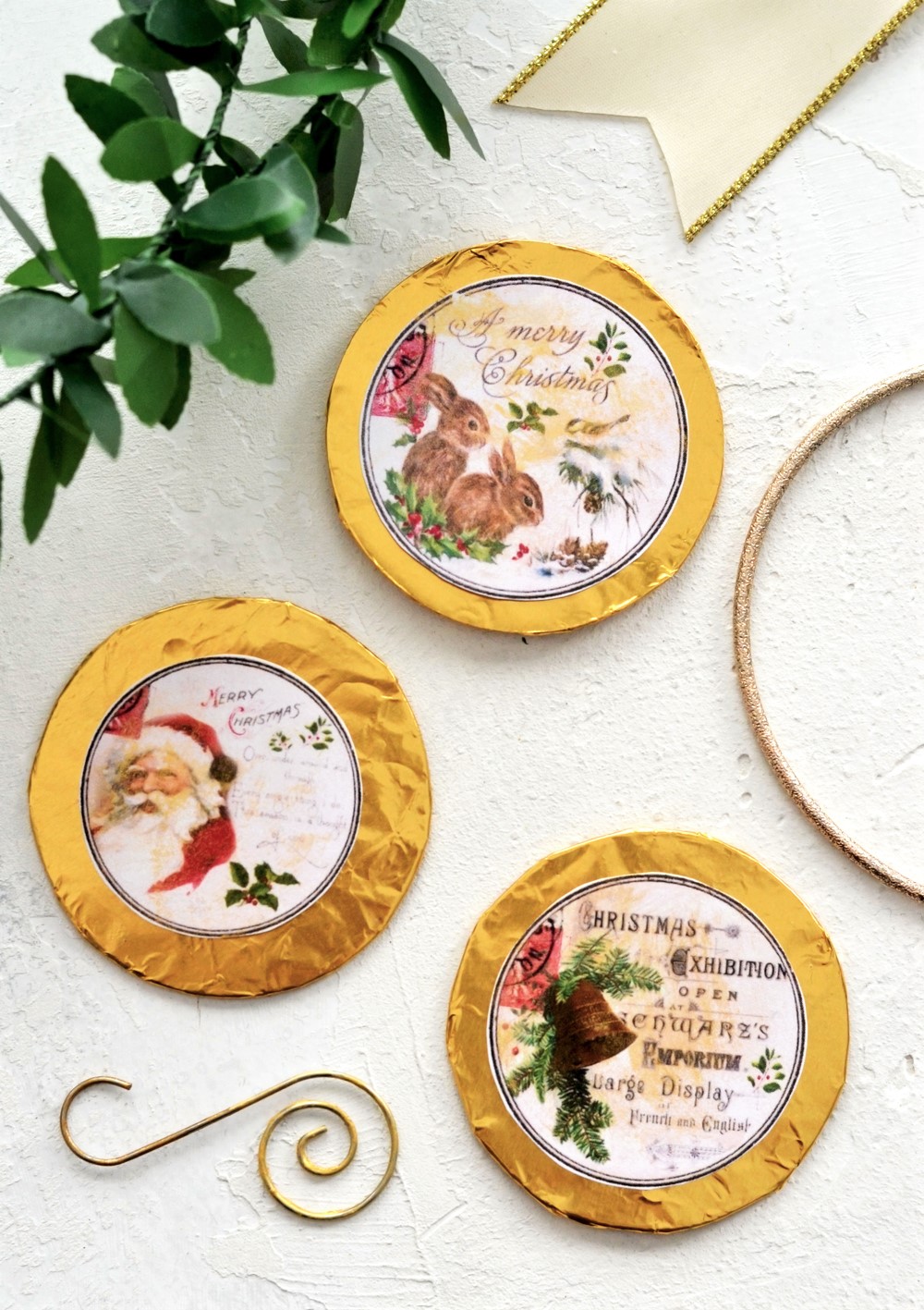 Another somehow 'logical next step' when it comes to using the DIY Vintage Gold Christmas gift tags?Turning them into Christmas tree ornaments, of course!
You can use them on small Christmas trees all around your home to create chic vignettes with other decorative pieces, but you can also use them on THE Christmas tree itself!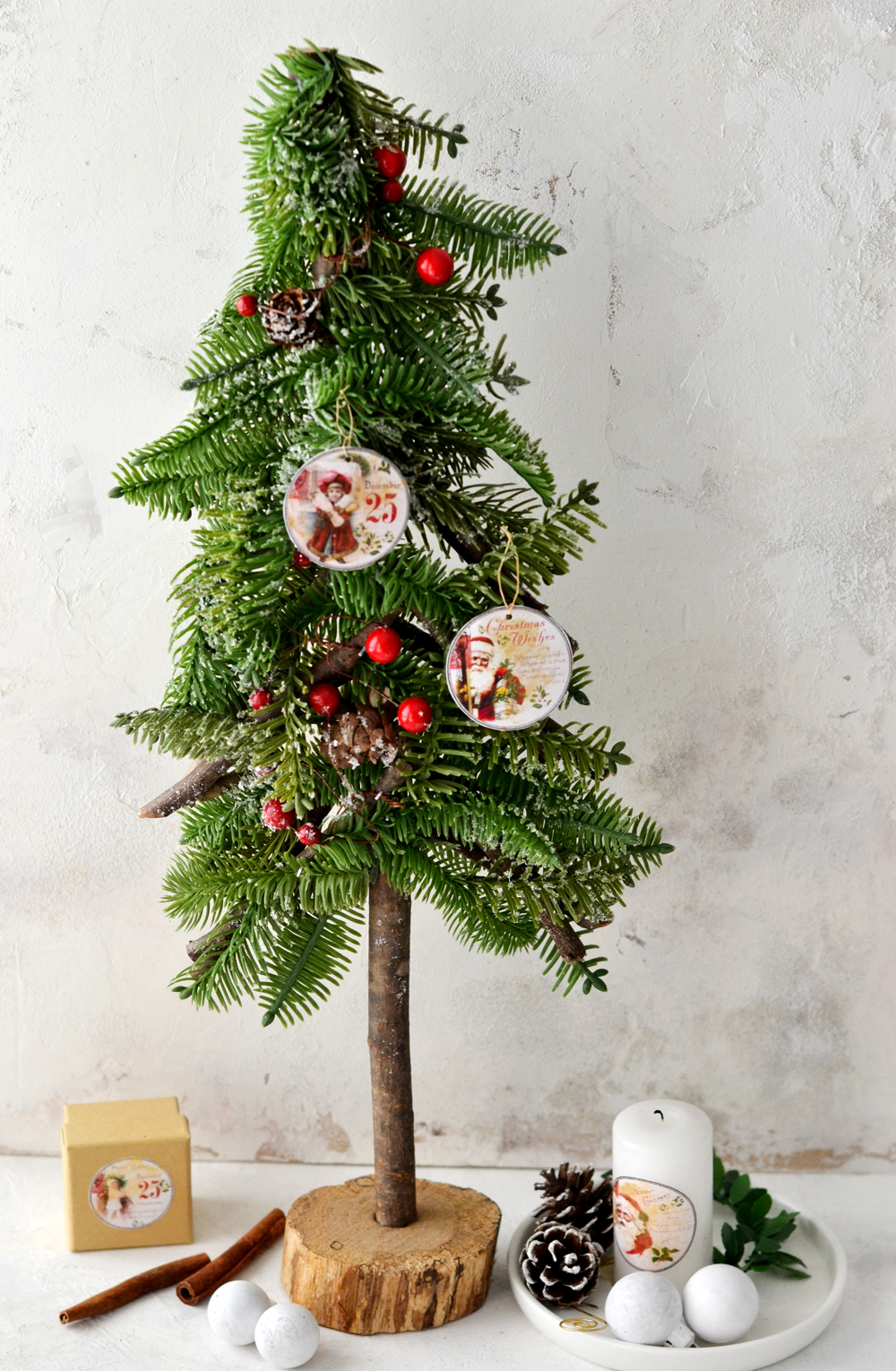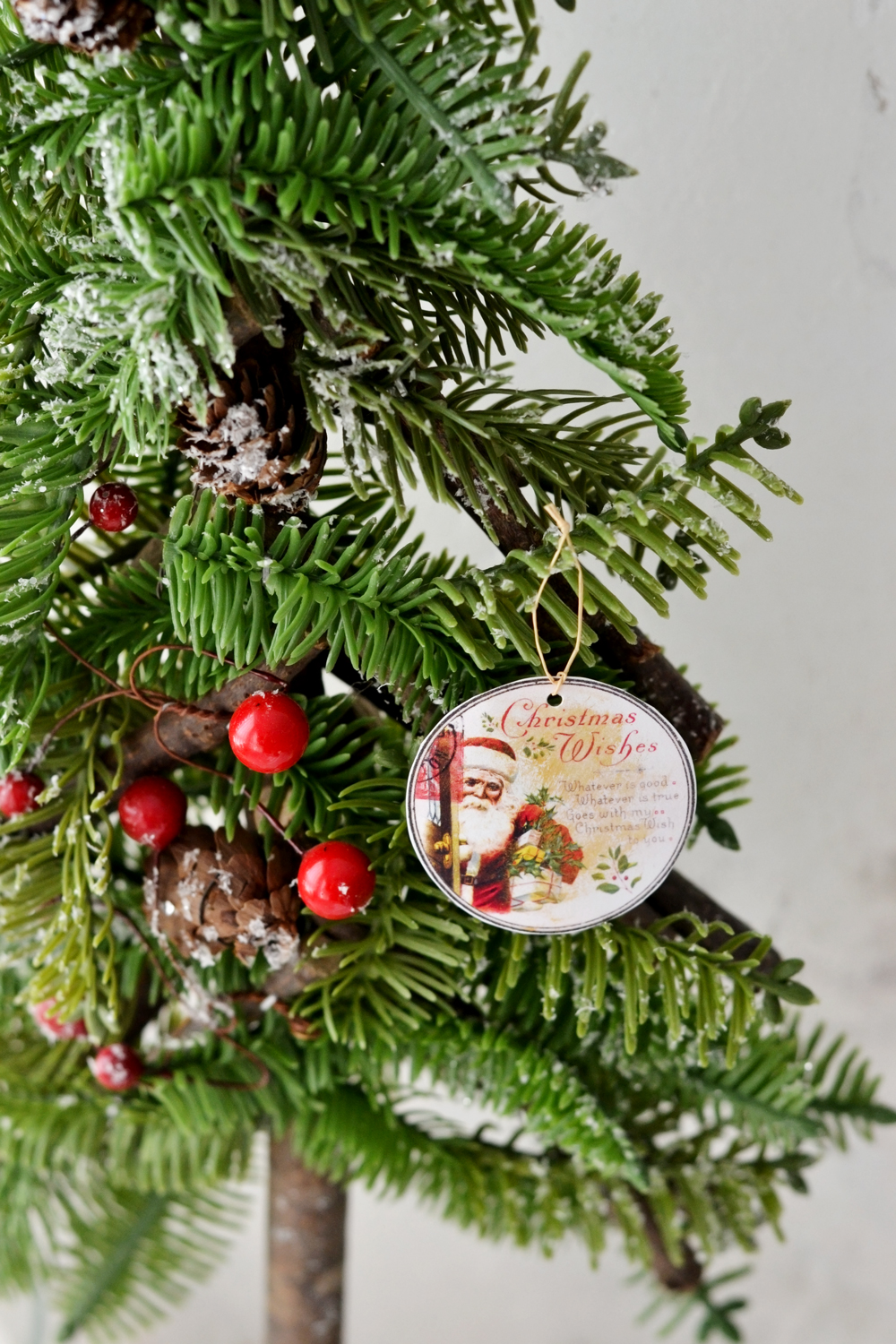 To tell you the truth, I will most likely use them on tons of candles or luminaries, too … because you can never have too many of those, especially for Christmas!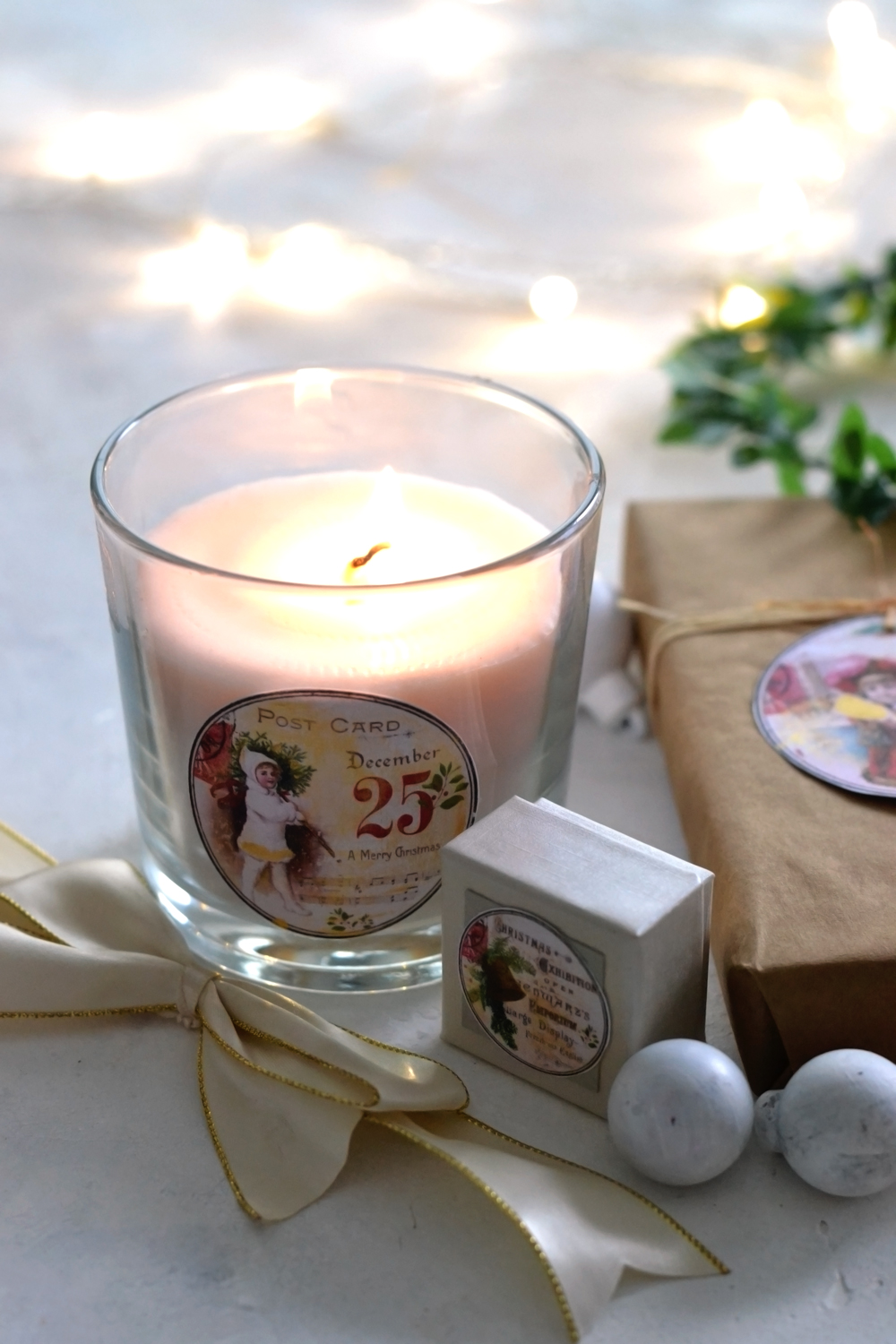 These are only a few ideas of using your tags, just get creative and try finding other interesting ways of using them so you can easily integrate them into your Christmas. Adapt them to what you already have around to create beautiful gifts for your loved ones and chic decor for your home.
I hope you'll love this project as much as I did and you'll make some Christmas Gift Tags Printable this year! And if you have any other ideas on how to use these beauties, please share them below, I'm always looking for more inspiration.
Now go turn all those Christmas lights on and admire all the glowy stunning effects and highlights that you created!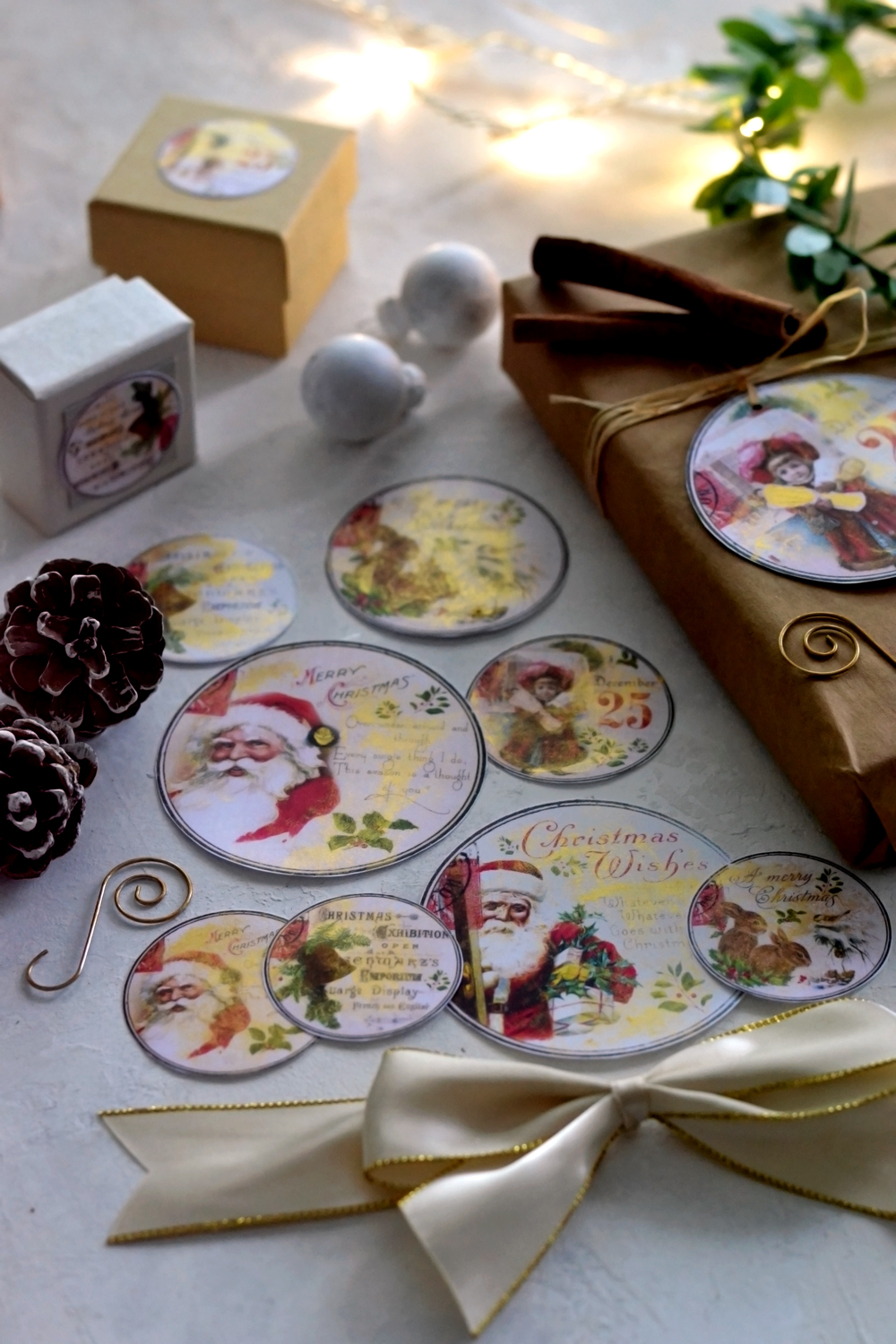 Don't forget to check my other DIY Christmas projects here: Vintage French Christmas Postcards | Cookie Cutter Christmas Tags | DIY French Paper Stars or my DIY Antique Adult Coloring Medallions and How to Make a Bow out of Wrapping Paper!
Christmas Gift Tags Video:
You might also enjoy this video with another beautiful Christmas Gift Tag Tutorial!
Happy Christmas crafting!
Diana / Dreams Factory