How to Get Water Based Paint out of Clothes: Quick and Easy Tips
Painting can be a fun and enjoyable activity, but sometimes accidents do happen, like getting water-based paint on your clothes. We've all been there! You're working away on a craft project and then … oops! …paint splatters on your favorite jeans or shirt, and then you panic about how to remove it without damaging the fabric. It's a common problem faced by many of us, and it's important to know the right techniques for tackling paint stains.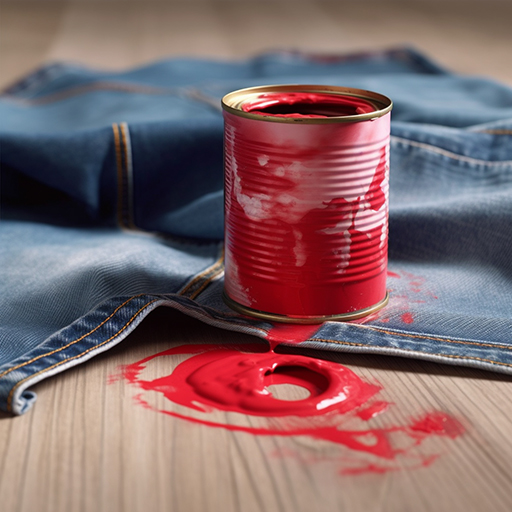 Water-based paints, like latex, acrylic, and those little pots of craft paints that many of us own, are easier to remove than oil-based ones, especially when the paint is still wet. But even if the paint has already dried, don't worry; there are still ways to get it out. In this post, we'll explore a few different ways to help you to remove water-based paint from your clothes without causing damage to them.
Please note, before trying any of these methods you will want to check the care label on your clothing. If your clothing is labeled for dry cleaning only then you will want a professional dry cleaner to handle the stain. I'm going to assume that most of my readers are crafters and would not be crafting in a silk ball gown or other fine fabrics. But if for some reason you did, then check the label first!
Identifying Water Based Paint Stains
As someone who loves to craft, I have had my share of paint mishaps. One of the crucial steps in tackling these stains is identifying the type of paint. In this section, I'll talk about the differences between acrylic paints and latex paints, which are both water-based and are often used for all sorts of DIY and arts and craft projects.
Difference Between Acrylic Paint and Latex Paints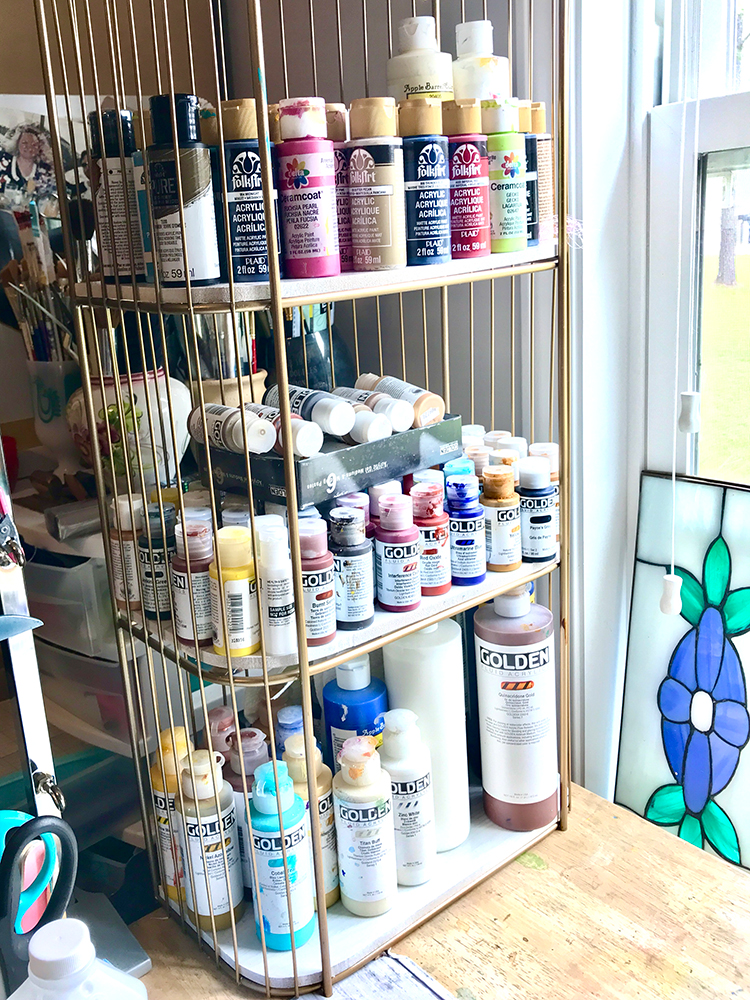 Many crafters, and artists too, love Acrylic paint. Some of us have loads of these little pots in our craft rooms, as they come in a huge variety of colors. These paints dry quickly and can adhere to even more surfaces than latex. Acrylics can be both durable and flexible which makes them a really nice choice for all different types of surfaces. Acrylic paint stains on clothing are often brighter and more vibrant than other types of paint stains.
On the other hand, latex paints are typically used for larger DIY projects like painting walls, furniture and ceilings. Latex paint is water-soluble, making it easier to clean up spills, and brushes, with just water while it's still wet. One of the main differences between acrylic and latex paint is that latex paint has a more opaque and thicker consistency. Stains from latex paint may appear duller than stains from acrylic paint.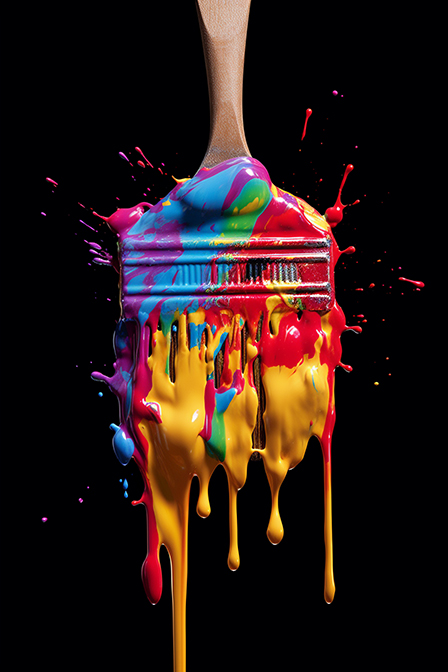 It really helps to know the type of paint stain that you are dealing with before attempting to remove it, to avoid causing even more damage to the fabric.
Pretreatment Methods
Using Dish Soap and Water
Before trying other methods, I like to start with dishwashing liquid (like Dawn etc) and water, as it's a gentle and effective option. First, you want to gently scrape off any dried paint using a spoon or butter knife. Then mix up a bit of the dish soap and water together and wet the stain with your concoction. Next, gently rub the soapy water into the stain, making sure not to damage the fabric. After that, rinse the area thoroughly with cold water. If the stain remains, move on to the next method.
Applying Stain Remover
If dish soap and water don't do the trick, you can opt for a store-bought stain remover. Just follow the product's instructions carefully, making sure to test it on an inconspicuous spot of the garment before applying it to the paint stain. Let the stain remover sit on the stained area of the clothes for a few minutes, then, gently blot it with a clean cloth or paper towel before rinsing the area with cold water.
Rubbing Alcohol Method
For stubborn water-based paint stains, you can also try using a bit of common rubbing alcohol. First, place a clean cloth or paper towel underneath of the stained area to try and keep the paint from spreading. Then dampen another cloth, or a clean sponge, with a little bit of rubbing alcohol and carefully dab away at the stain. As the rubbing alcohol begins to break down the paint, switch to clean portions of the rag or cloth, to avoid putting the paint back onto the clothing. And lastly, rinse the area with some cold water and then check to see if the stain is gone. If needed, you can repeat the process again until the stain is gone.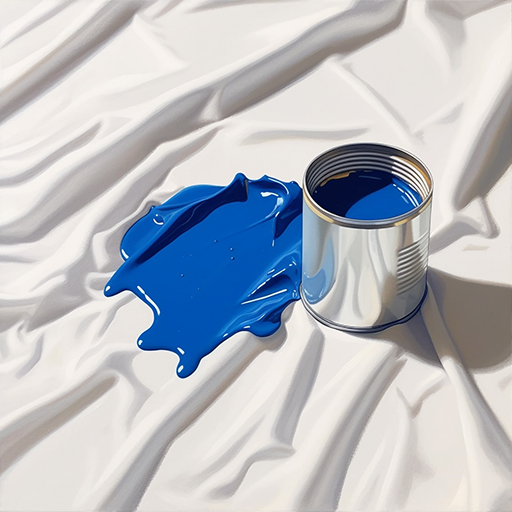 Washing and Drying Techniques
You can also try washing your clothes in your washing machine right away. I would not try this if you have a lot of paint on your clothing! This method is best used after you have pretreated the clothing using the methods above first.
Choosing the Right Cycle
First, make sure to choose the right washing cycle for my clothing. For water-based paint removal, using a heavy-duty cycle would be best, since it offers more agitation to help break up the paint. This cycle also has a longer duration, so the stain remover and detergent have more time to work effectively on the paint stain.
Temperature Settings
When it comes to temperature settings, cold water works best for removing water-based paint from clothes. The reason that you want to use cold water, is that it helps to prevent the paint from setting into the fabric, which can make it easier to remove. So, set the washer to a cold wash-cold rinse setting before starting it.
Drying Tips
After washing, here are a few drying tips. Instead of throwing the clothes right on into the dryer, first check to see if the paint stain is totally gone. If any of paint still remains, do NOT put the item in the dryer, since the heat can set the stain.
If needed, you can go ahead wash the clothes again or spot treat the remaining stain with detergent or stain remover, and then air or line dry your clothing after. If the stain is completely gone, then you should be able to toss the clothes in the dryer, but make sure that you use a low heat setting, just to be on the safe side.
Preventive Measures and Tips
Wearing Protective Clothing
You probably already know this but it's a lot easier to prevent stains on your clothes to begin with, than to try to remove them after the fact! So don't forget to wear an apron, coveralls, or old clothes that you don't mind getting stained, before starting your project. Wearing gloves can also be helpful to protect your hands from paint.
Immediate Action on Spills
In the event of a paint spill on my clothes, remember to act right away to address the problem. First, try to scrape off the paint with a metal spoon or butter knife if it's already dry. Just be careful not to damage the fabric. If the paint is still wet, then flush the stain with some cold water as soon as possible to remove as much of the paint as you can.
An old toothbrush can be a great too for rubbing a good-quality, heavy-duty laundry detergent into the stain, before rinsing or washing the clothing in cold water.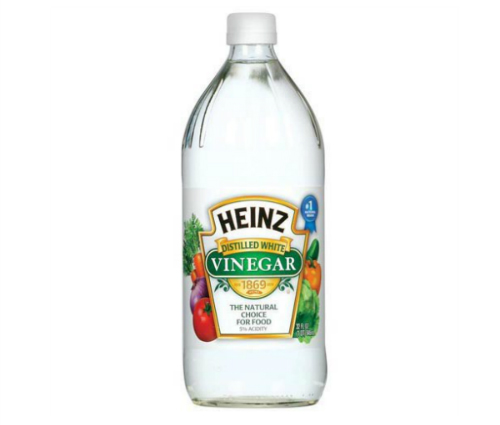 In some cases, you may find that using vinegar can be effective in getting paint out of clothes, although it should be used sparingly as it may weaken the fabric. When using vinegar, Isaturate the stained area with warm (not hot) vinegar, let it sit for about 10 to 15 minutes, and then wash the clothing in a laundry cycle.
By following these preventive measures and quick actions, you can minimize the risks of permanent paint stains on your clothes when working with water-based paints.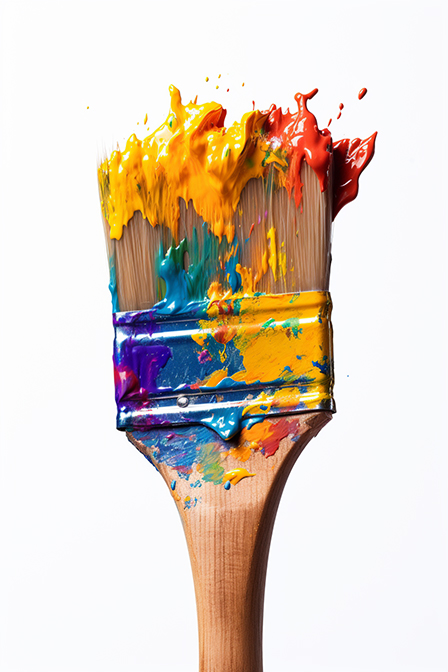 Frequently Asked Questions
Removing dried paint from clothes
When working with already dried water-based paint stains on clothes, try scraping off the dried paint with a spoon or butter knife helped to lighten the stain. Then, rinse the stain well with cold water.
Using household items for stain removal
Surprisingly, there are many household items that can be used to get paint out of clothes. Some of these items include warm water, detergent, a clean rag, non-acetone nail polish remover, hairspray, or rubbing alcohol. Have you tried any of these methods?
Best commercial paint removers
Using commercial paint removers can be effective when dealing with paint stains on fabric or clothing. It's important to choose one that is specifically designed for the type of paint you're trying to remove.
Removing latex paint stains
To remove latex paint stains from clothes, try pouring a small amount of acetone on the stain and blotting with a clean cloth. Be sure to do this in a well ventilated area and wear gloves. Then wash the clothing with laundry detergent and water.
Effective ways to remove emulsion paint
Blotting wet emulsion paint stain with a cloth or a paper towel is effective when the paint is still wet. Remember not to rub the stain, as it might actually make the situation worse!
Will WD-40 work on paint stains?
WD-40 can work on paint stains. It can help to loosen up as well as break down the paint, making it easier to remove it from your clothes. Always test it on a small, inconspicuous area of the fabric first to ensure that it won't cause damage.
You might also like our post about how to Clean a Paint Brush HERE.
Hello! Are you new to The Graphics Fairy?
Welcome, I'm so glad you're here! Browse around to find 
thousands of Stock Images
 that you can use in your projects or designs! I post new Vintage images every day, as well as projects and DIY's too! Need more info about my site? Try my 
FAQ
 page.