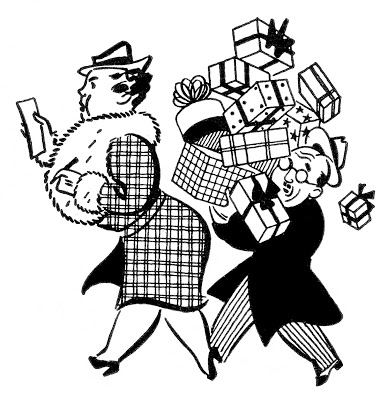 Click on Images to Enlarge
Here are 3 fun Retro Christmas Images from a 1940's Printers Book! These all have a Holiday Shopping theme. The graphic at the top shows a bossy wife, dragging her husband around while she shops, poor little guy, he's having a hard time keeping up with her! The second one shows a bewildered woman with her list and the last one, shows a frazzled shopper trying to shop a sale, in a sea of shoppers! How about you, are you done with your shopping yet? Just getting started? We have most of the major stuff done, we just need to fill in a bit with some small things.
Also, I've added some more photos of the Holiday Decor in my Living Room and have broken it down, with links to the projects and some sources, over on my DIY Blog. So you may want to check it out!