40 Free Valentine's Day Images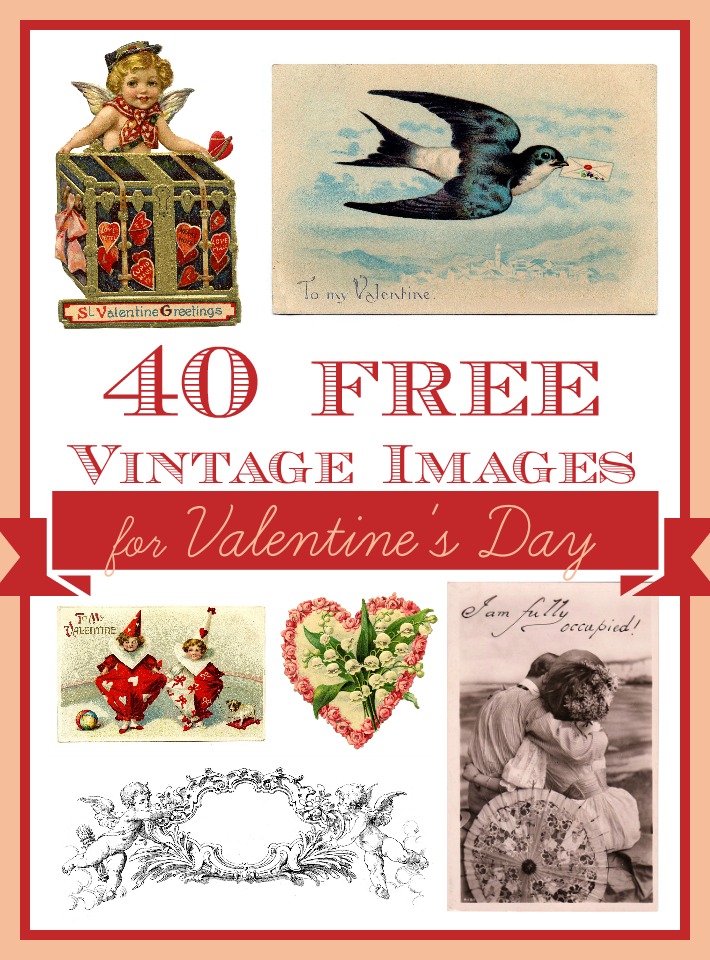 21. Classic Red and White Heart. A simple image of a red heart, accented with what looks like white stitching and a lace heart in the center.
22. Children with Heart Shaped Cookies. These two images were the front and back of a heart shaped valentine. The two scenes include two little girls baking and then eating heart shaped cookies. The predominant colors in these images and red, blue, black, and gold.
VALENTINES WITH BIRDS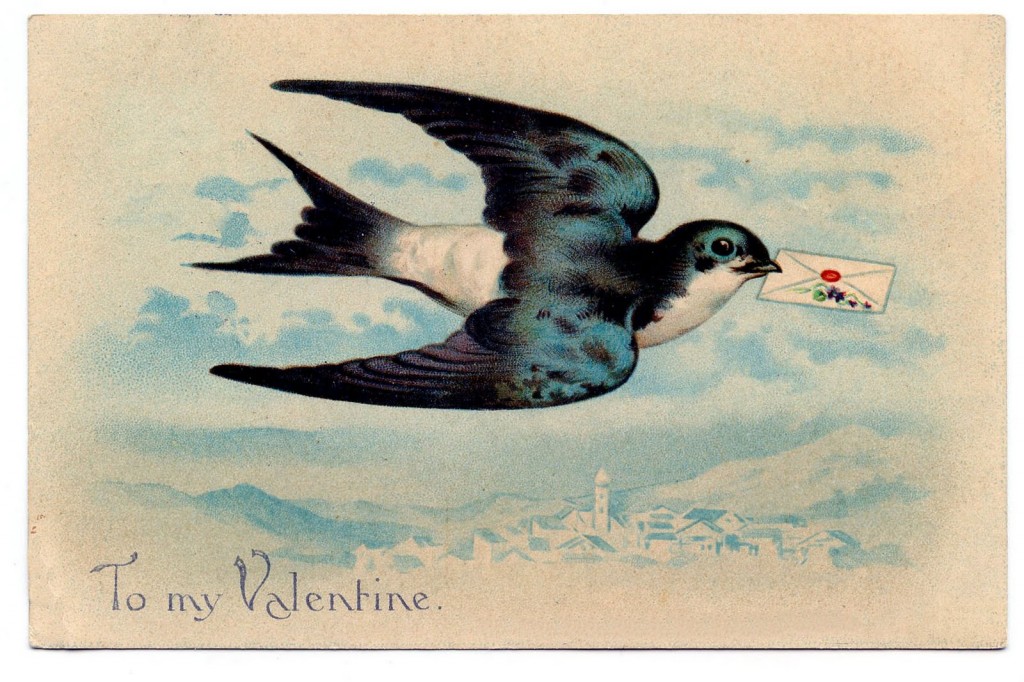 23. Swallow Delivering Valentine. A pretty vintage of a swallow gliding through the air. I love his blue-black wings and how he is carefully carrying a valentine in his beak.
24. Child Riding Dove. This one shows a sweet cherub riding a dove and holding a bouquet of pink roses. The dove has a blue ribbon bridle. This one would be great to accentuate with glitter – just like the original postcard had!
25. White Dove with Roses. A beautiful white dove, carrying some red roses, and a tiny pink letter around its neck. This romantic image is framed in gold.
26. Red & White Doves with Scrolls Ephemera. I just love this antique engraved image of a pair of doves sitting on a scroll frame. They look like they are having the sweetest conversation.
27. Two Birds with Blue Striped Background. This valentine has two little birds ready to land on a heart with a pink border. The image has pretty blue flowers and hearts, with a blue and white striped background.
28. Pair of Love Doves. This lovely valentine features two life-like white doves sitting on a branch of red, pink and yellow roses. I love the geometric border on this card too!
VINTAGE VALENTINES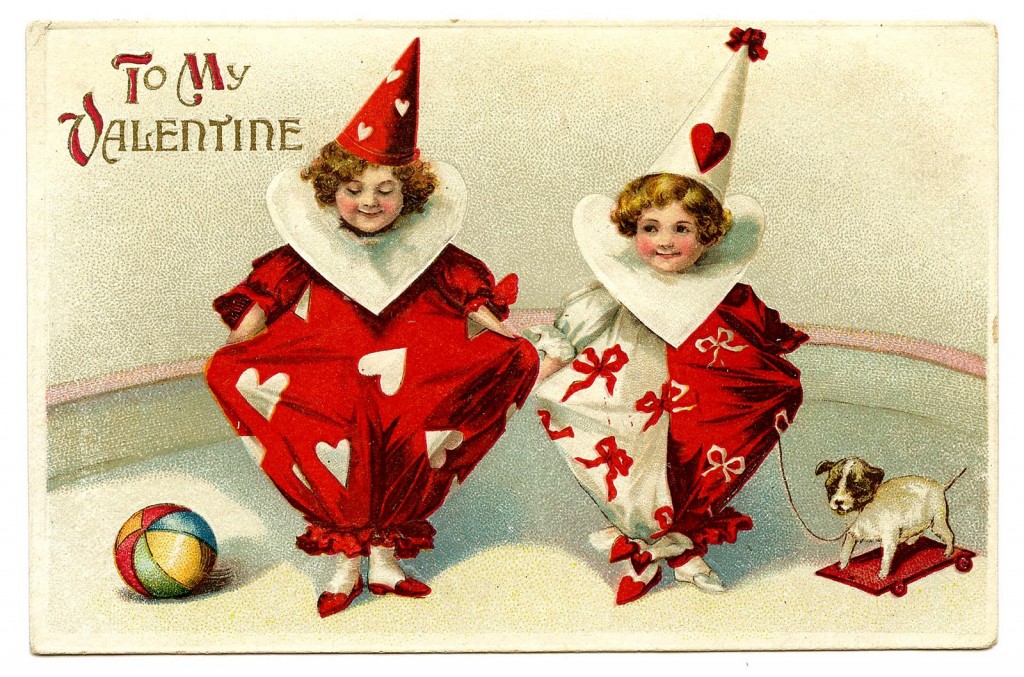 29. Adorable Clown Children. This vintage valentine is of two young children dressed in red and white heart clown-style outfits. They have a cute dog pull toy and a ball at their feet.
30. Valentine Winter Girl. This adorable little girl is dressed in a red and white winter outfit (I love her red hat with white bows). She is coyly looking to the side and holds a red heart valentine in her hands.
31. Scottish Boy Holding Heart. A cute valentine card is of a little Scottish boy with his kilt, holding a heart. The boy has adorable plaid socks and two thistles at his feet.
32. True Love Violet Bouquet. An antique die cut piece features a bouquet of violets. A note is tucked in the bouquet that says "offering of true love". I thought this one would be great to use or modify for Valentine's Day.
33. Pierrot Heart Costume Child. This is a sweet little vintage postcard featuring a young girl wearing a Pierrot costume. Her costume is covered in hearts including her cone shaped hat, even her shoes are heart shaped!
ROMANTIC COUPLES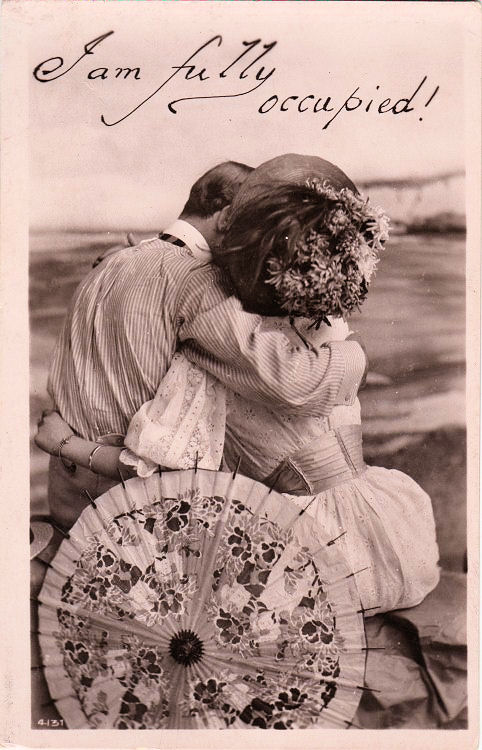 34. Romantic Couple – Photo Postcard. This photo postcard is of a romantic couple at the beach. You can just see their backs, and the caption reads "I am fully occupied!" I love the woman's huge hat and the parasol in this one.
35. Silhouette of Couple with Heart. This post has two black, white & red, Valentine's Day silhouettes pulled from antique cards. Both show romantic young couples, the first couple is standing behind a large red heart, and the second image is of a man in a wig, bending over to kiss the hand of a fancy young woman in a long dress.
36. Oval German Valentine Couple. This vintage scrap valentine features a couple in love walking and talking. She is wearing a pink dress and carrying a bouquet of roses. The man has on a dark red coat, blue hat and yellow pants.
37. 1890's Couple in Love. This one is a wonderful engraving circa 1890′s. This one features a young couple in love, standing by cliffs and the sea. The man looks like a military officer who just returned home, and I adore the Empire style dress the woman is wearing, so Jane Austin -esque!
38. Romantic Couple Photo. This photo features a romantic couple posed in a natural setting with rocks and foliage. There are two sweet doves in the upper corner. The vintage photo has been tinted so the greens and pinks really stand out.
ANATOMICAL HEARTS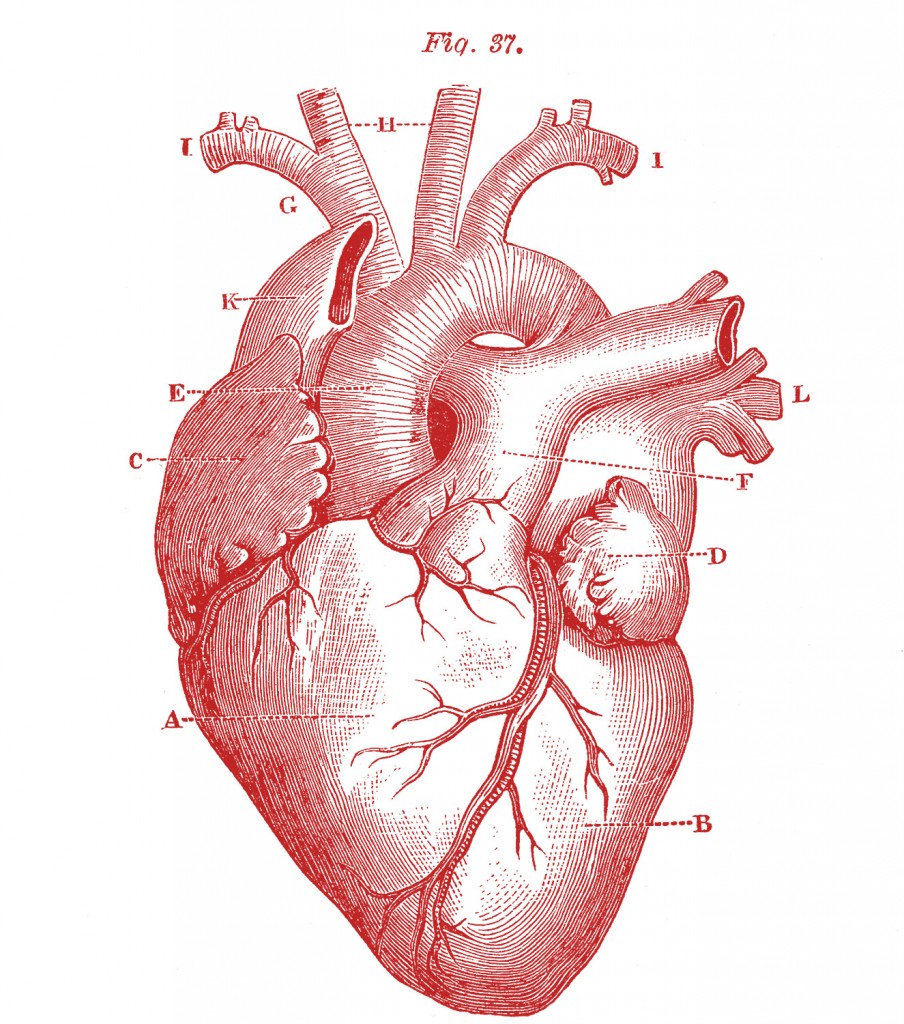 39. Anatomical Heart. This detailed anatomical heart is from an old science book, and it's available in black and white and red. The major chambers and valves have been labeled with letters. This would be fun to use as a unique heart image for Valentine's project.
40. Medical Heart Cross-Section Image. This image is from an old nurse's textbook and reminds me of images in the the traditional Grey's Anatomy texts. The black and white heart cross-section is labeled and has its valves accented with red and blue.