40 Free Valentine's Day Images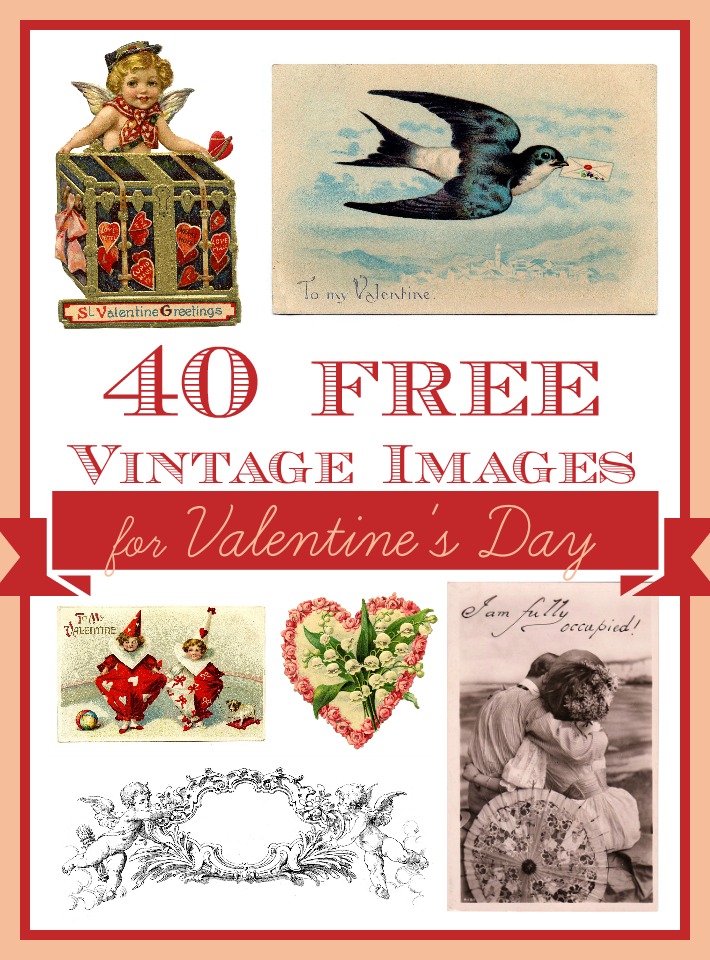 Here is a great collection of some favorite
Valentine's Day images
from
The Graphics Fairy
. In this post, you'll find
40
links to
cherubs & cupids
,
hearts
,
valentines
,
couples
,
frames
, and
retro
images to use in your Valentine's Day projects.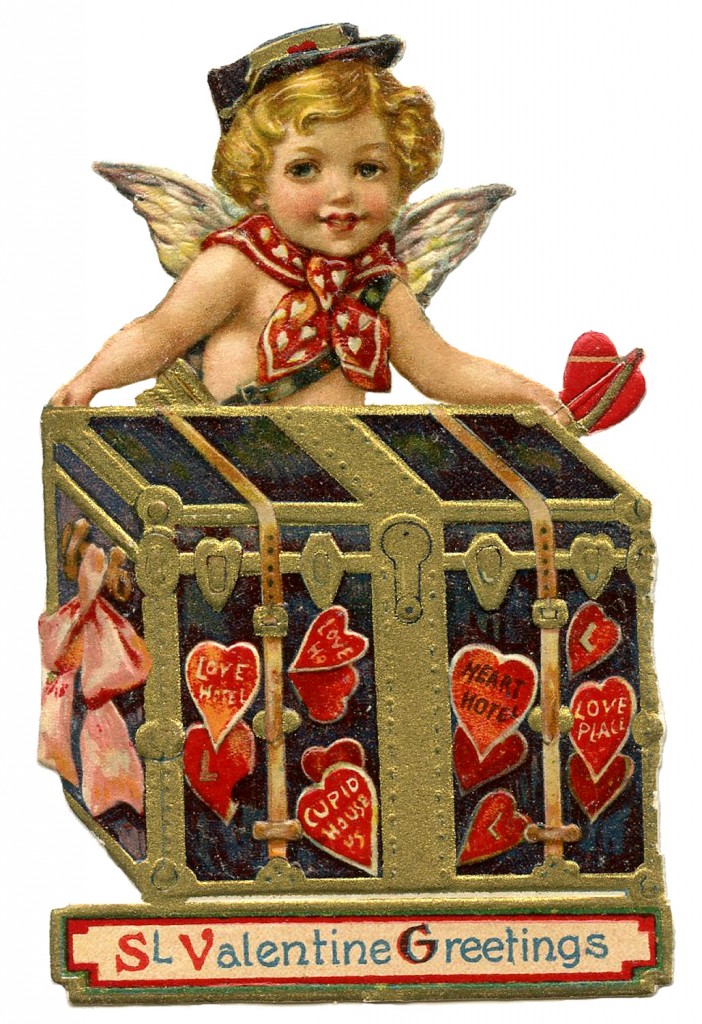 1. Cupid Postman Valentine
. This blonde Victorian cupid is dressed up as a postman, and is standing behind a large black trunk. The trunk is decorated with valentines that look like they're ready to be delivered.
2. Cupid with Bow Silhouette
. This is an adorable cupid carrying a bow with his arm stretched. There are both black and a red versions of the silhouette. This image comes from an 1880's book of love poems and a full scan of the cover (complete with typography, birds, flowers, and the cupid silhouette) is also available to download in the post.
3. Two Cherubs with Bulls Eye Heart
. This darling antique postcard, circa 1911, features a red, light blue, green, and gold colors. The postcard features two standing cherubs next to a giant heart with a an arrow right in the bulls eye.
4. Spencerian Boy. A Spencerian style image with lots of swirls and pen flourishes features a boy with a quill. The banner reads "yours truly" but could be easily modified to include any message you'd like for Valentine's Day.
5. Sweet Cherub Scrap Image. This Victorian scrap is of a young cherub flying through the air. He is passing out pink roses, and has his light blue cloth wrap billowing behind him.
6. Cherub and Double Hearts Postcards. This post has three vintage Valentine's Day postcards. The first is of a cherub postman in gold and royal blue, the second postcard is of a Marie Antoinette-style woman, and the third postcard has two hearts and a valentine pierced by an arrow.
7. Cherub Hearts & Flowers. This is a very pretty vintage Valentine postcard with lots of flowers and a little Cherub popping out of a giant heart. I love the soft aqua and red color combo on this one!
8. Cupid in a Heart Engraved Image. This rare 1907 image is from a wood-burning pattern book. This cute little Cupid, with his bow and arrow, is framed inside of a wooden heart. I love how rustic this one is!
9. Victorian Cherub in Heart Frame. A very Victorian looking cherub is sitting in a ribbon heart frame. The image is accentuated with forget-me-nots, pink roses, and hearts, and the cherub is holding a list in his hands.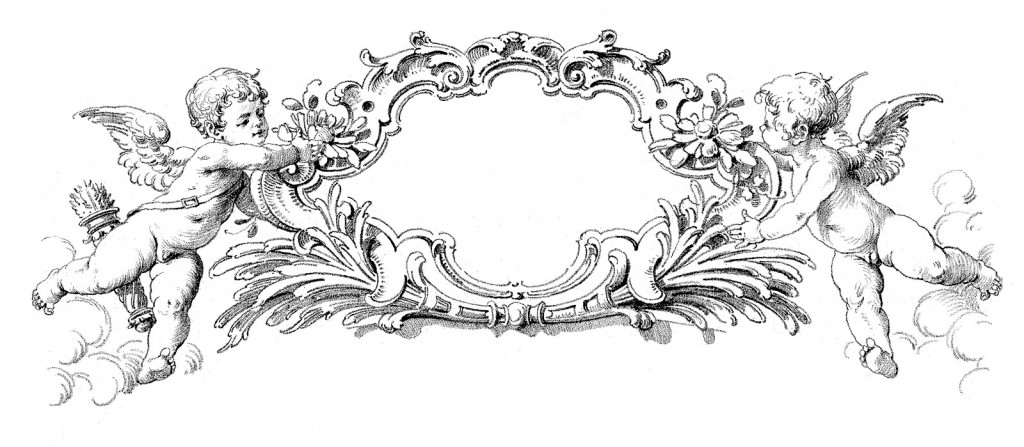 10. Romantic Cherub Frame
. This image features two lovely full body cherubs holding a curvy romantic style frame. There is a blue, pink and black and white version of the frame. I found this one in a design book from the early 1900's.
11. Floral Heart Frame
. This heart is made up of a bunch of black and white flower images, and the cutest arrow is tucked in at the top of the frame. I've included black, red, light pink, and dark pink versions of this graphic frame for you!
12. Double Lined Heart Label
. This simple image of a heart with a thicker line border on the outside, and a thinner line on the inside. This was one an old advertising image, but I've taken off the text, so you can use it as a frame or to make labels. A full PDF sheet of printable labels is also in the post too.
13. Ornate frame with Cupids
. This lovely ornate frame is detailed with curves, plumes, and three adorable cupids looking in the frame. The post includes three versions – red, mulberry and black – for you to choose from, and would be perfect to add some text to.
RETRO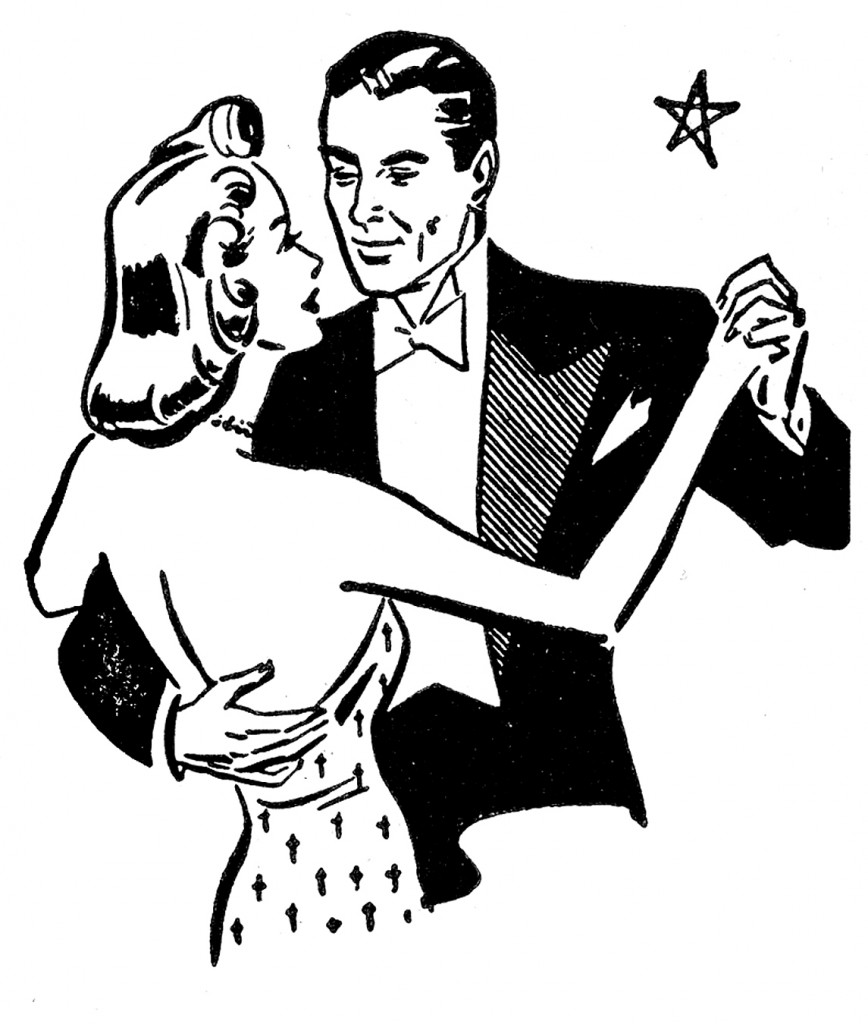 14. Couple Dancing & Eating
. I love these 50's style black and white images of couples. Though they're anniversary images, they could work well for Valentine's Day projects too. The first image is of a man and woman dancing, the second is of a couple enjoying a candlelit dinner, and the third is a couple enjoying a night on the town dressed in their finest.
15. 50's Retro Double Heart with Arrow
. A nice 50's style image of two hearts slightly rotated with an arrow going through them. The original version reads "be my love today", but I've also included a version with just the hearts.
16. Retro Cupid with Heart. A very cute 40's style blonde cupid with a heart. This wide-eyed cupid is accented with hearts and red, blue and purple flowers.
17. Retro Wide-Eyed Boy Valentine. This cute square valentine is of a cute little wide-eyed boy with a blue baseball cap and yellow and white striped shirt. He had a big smile and adorable big brown eyes.
18. Wide-Eyed Little Girl Valentine. This 50's or 60's style square valentine is of sweet little girl with a pink and blue bonnet. She has a bright smile and looks so sweet and happy.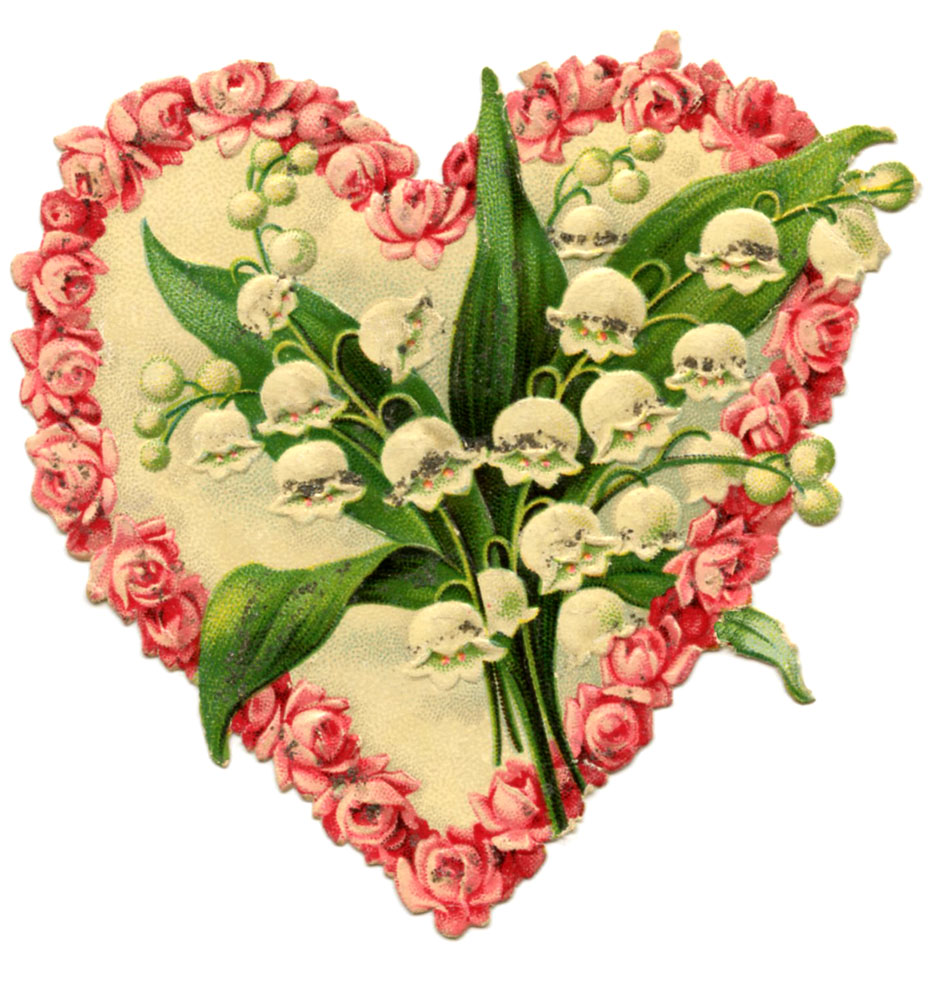 20. Three Piece Victorian Heart Garland
. This post has three images – a heart valentine with a romantic couple, a heart valentine with a pink flower, and a scrap image of a cupid. These three images can be made in to a Valentine's Day garland or used alone.
21. Classic Red and White Heart. A simple image of a red heart, accented with what looks like white stitching and a lace heart in the center.
22. Children with Heart Shaped Cookies. These two images were the front and back of a heart shaped valentine. The two scenes include two little girls baking and then eating heart shaped cookies. The predominant colors in these images and red, blue, black, and gold.
VALENTINES WITH BIRDS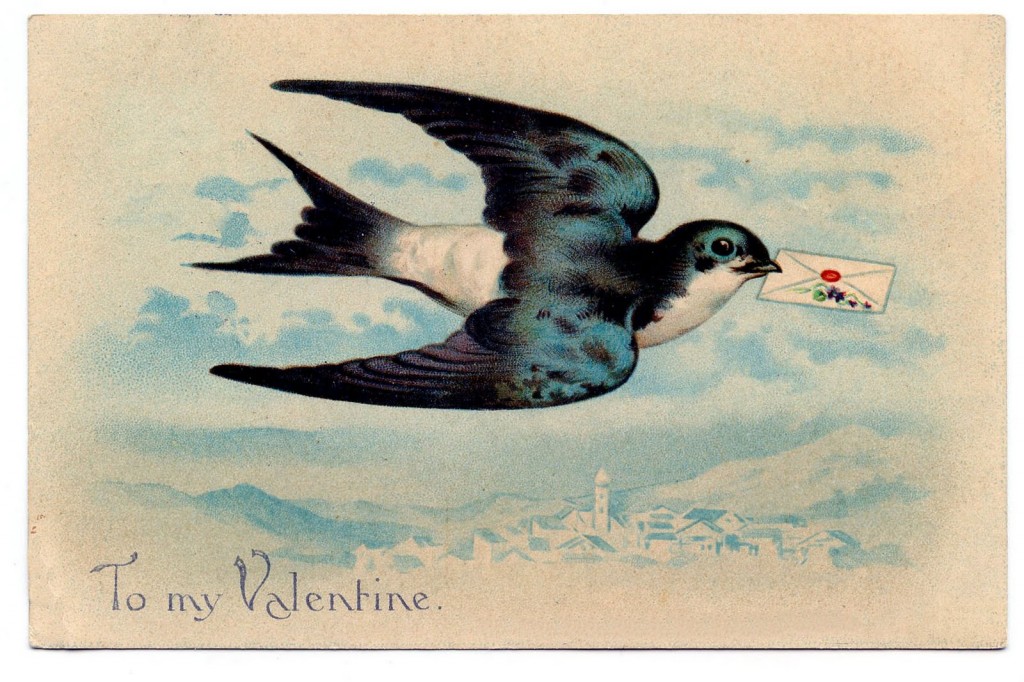 23. Swallow Delivering Valentine. A pretty vintage of a swallow gliding through the air. I love his blue-black wings and how he is carefully carrying a valentine in his beak.
24. Child Riding Dove. This one shows a sweet cherub riding a dove and holding a bouquet of pink roses. The dove has a blue ribbon bridle. This one would be great to accentuate with glitter – just like the original postcard had!
25. White Dove with Roses. A beautiful white dove, carrying some red roses, and a tiny pink letter around its neck. This romantic image is framed in gold.
26. Red & White Doves with Scrolls Ephemera. I just love this antique engraved image of a pair of doves sitting on a scroll frame. They look like they are having the sweetest conversation.
27. Two Birds with Blue Striped Background. This valentine has two little birds ready to land on a heart with a pink border. The image has pretty blue flowers and hearts, with a blue and white striped background.
28. Pair of Love Doves. This lovely valentine features two life-like white doves sitting on a branch of red, pink and yellow roses. I love the geometric border on this card too!
VINTAGE VALENTINES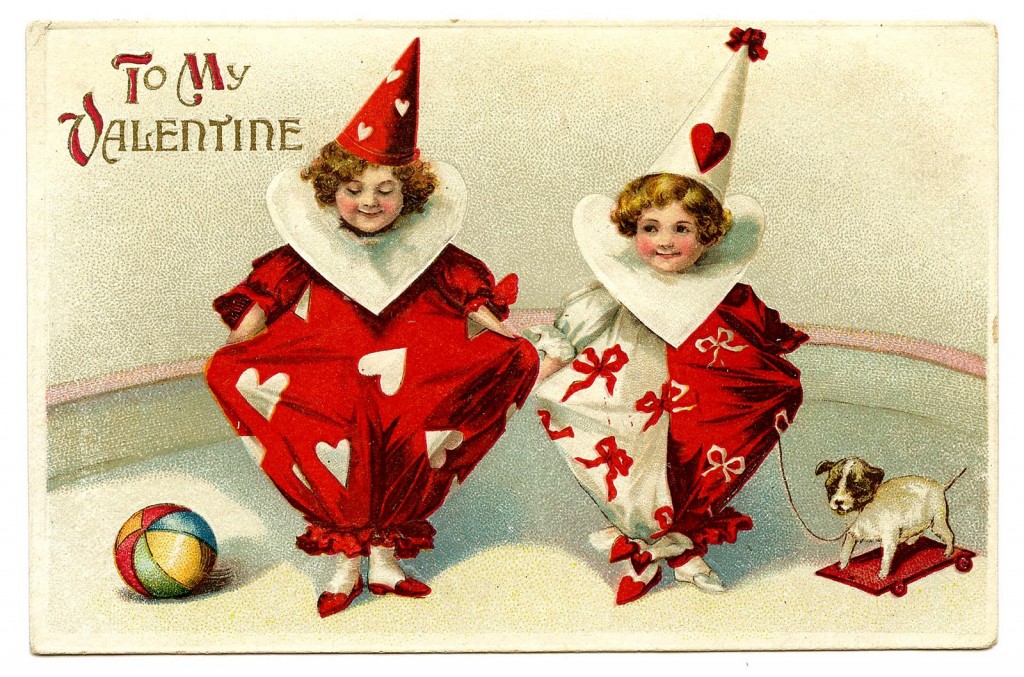 29. Adorable Clown Children. This vintage valentine is of two young children dressed in red and white heart clown-style outfits. They have a cute dog pull toy and a ball at their feet.
30. Valentine Winter Girl. This adorable little girl is dressed in a red and white winter outfit (I love her red hat with white bows). She is coyly looking to the side and holds a red heart valentine in her hands.
31. Scottish Boy Holding Heart. A cute valentine card is of a little Scottish boy with his kilt, holding a heart. The boy has adorable plaid socks and two thistles at his feet.
32. True Love Violet Bouquet. An antique die cut piece features a bouquet of violets. A note is tucked in the bouquet that says "offering of true love". I thought this one would be great to use or modify for Valentine's Day.
33. Pierrot Heart Costume Child. This is a sweet little vintage postcard featuring a young girl wearing a Pierrot costume. Her costume is covered in hearts including her cone shaped hat, even her shoes are heart shaped!
ROMANTIC COUPLES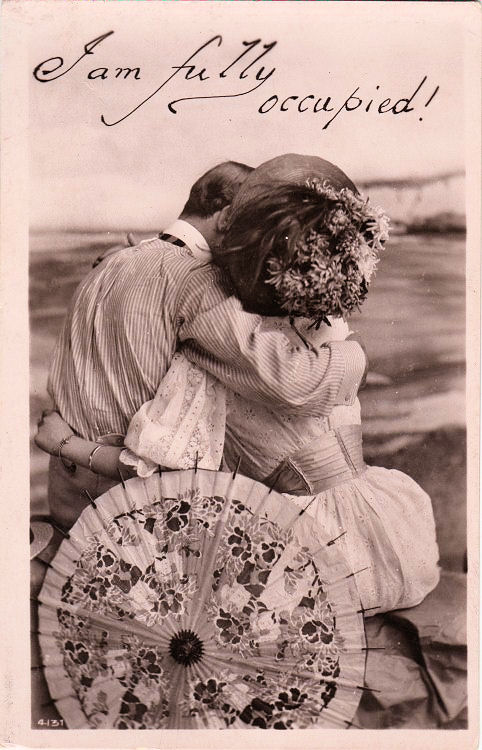 34. Romantic Couple – Photo Postcard. This photo postcard is of a romantic couple at the beach. You can just see their backs, and the caption reads "I am fully occupied!" I love the woman's huge hat and the parasol in this one.
35. Silhouette of Couple with Heart. This post has two black, white & red, Valentine's Day silhouettes pulled from antique cards. Both show romantic young couples, the first couple is standing behind a large red heart, and the second image is of a man in a wig, bending over to kiss the hand of a fancy young woman in a long dress.
36. Oval German Valentine Couple. This vintage scrap valentine features a couple in love walking and talking. She is wearing a pink dress and carrying a bouquet of roses. The man has on a dark red coat, blue hat and yellow pants.
37. 1890's Couple in Love. This one is a wonderful engraving circa 1890′s. This one features a young couple in love, standing by cliffs and the sea. The man looks like a military officer who just returned home, and I adore the Empire style dress the woman is wearing, so Jane Austin -esque!
38. Romantic Couple Photo. This photo features a romantic couple posed in a natural setting with rocks and foliage. There are two sweet doves in the upper corner. The vintage photo has been tinted so the greens and pinks really stand out.
ANATOMICAL HEARTS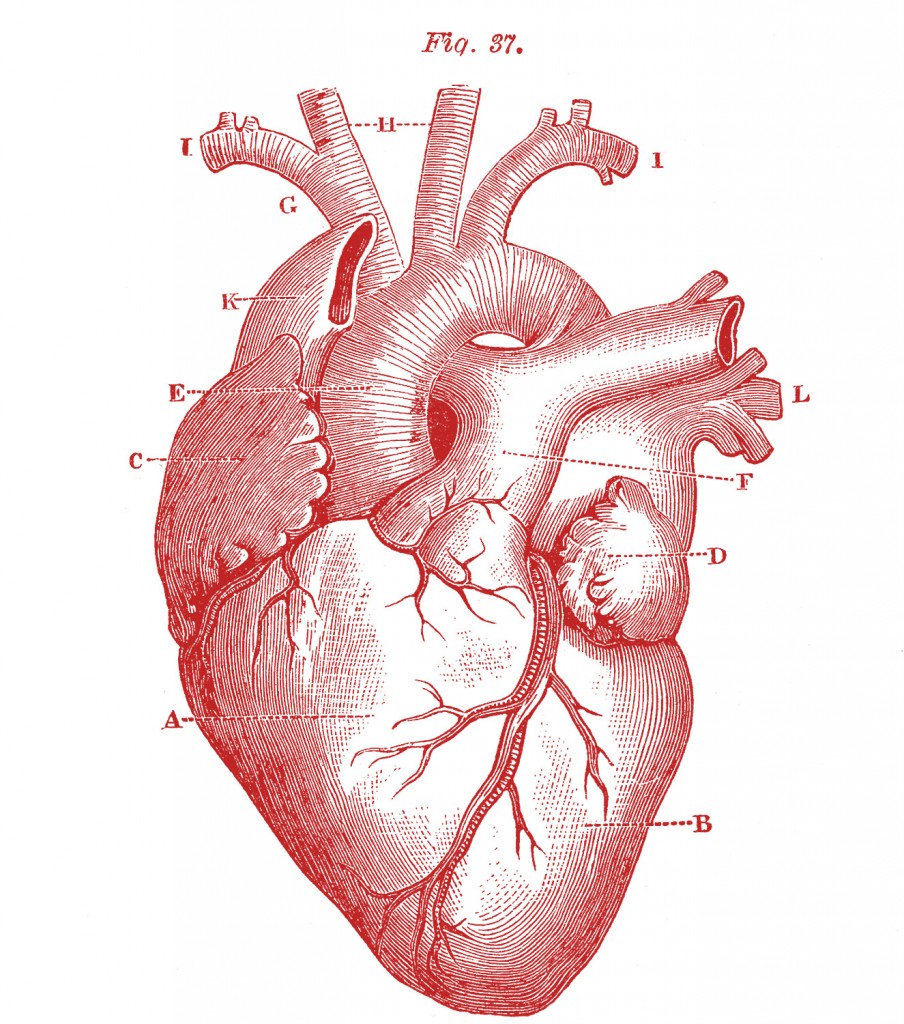 39. Anatomical Heart. This detailed anatomical heart is from an old science book, and it's available in black and white and red. The major chambers and valves have been labeled with letters. This would be fun to use as a unique heart image for Valentine's project.
40. Medical Heart Cross-Section Image. This image is from an old nurse's textbook and reminds me of images in the the traditional Grey's Anatomy texts. The black and white heart cross-section is labeled and has its valves accented with red and blue.
We hope you enjoy these
40 Free Valentine's Day Images
! Don't forget there are even more images in the
Valentine's Day archives
too. Enjoy!
Hello! Are you new to The Graphics Fairy?
Welcome, I'm so glad you're here! Browse around to find
thousands of Stock Images
that you can use in your projects or designs! I post new Vintage images every day, as well as projects and DIY's too! Need more info about my site? Try my
FAQ
page.