25 Victorian Calling Card Images
Today I'm sharing these Beautiful Victorian Calling Card Images! These cards are such fun things to collect, as they don't take up a lot of space and they come in such a wide range of colors and designs. They make wonderful decorative Labels or Gift Tags. If you have small biz they could be used as business cards. And if you are into the Junk Journal craze, then you probably already know that these are perfect for tucking into a little journal pocket. I love collecting these types of smaller treasures, so keep your eye out for more of these on my blog!
Antique Floral Calling Cards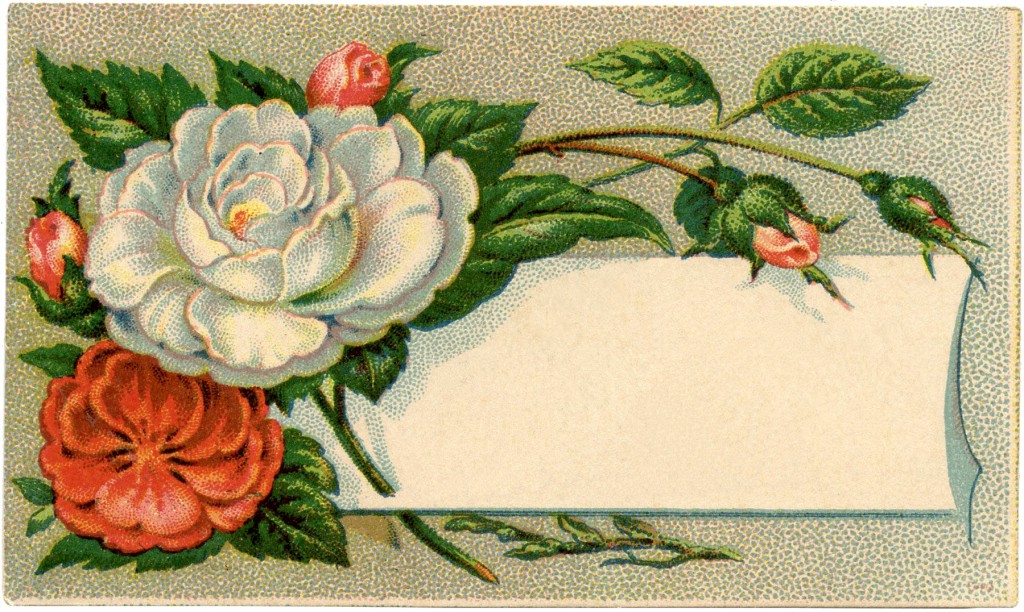 This image may be an old Calling Card or perhaps even a Business Card, but I think it makes a great label! Shown above is an image of some lovely Red and White Roses, framing up a blank white area in the center. The center blank portion is the perfect spot to add a little text. This is a classic looking Victorian graphic that is still plenty useful for today. I think this would also make a cute gift tag or journaling card; you could also write on the front or the back!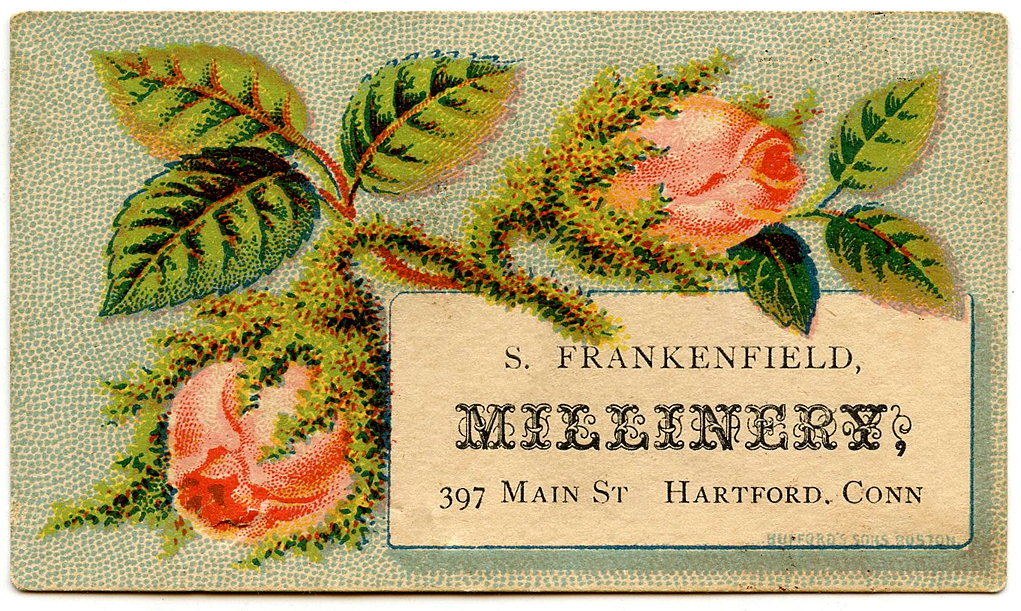 Next in line is this charming Rose Calling Card. It features two lovely soft Pink Moss Rosebuds with a pale blue dotted background. This one was used as a Business Card for a Millinery shop in Connecticut. I scanned and posted this one way back in 2007, when I didn't have a clue about resolution. I have rescanned it for you here at a much higher resolution so it should be a much better quality image for you now! If you downloaded it before, please update your files with this more recent version.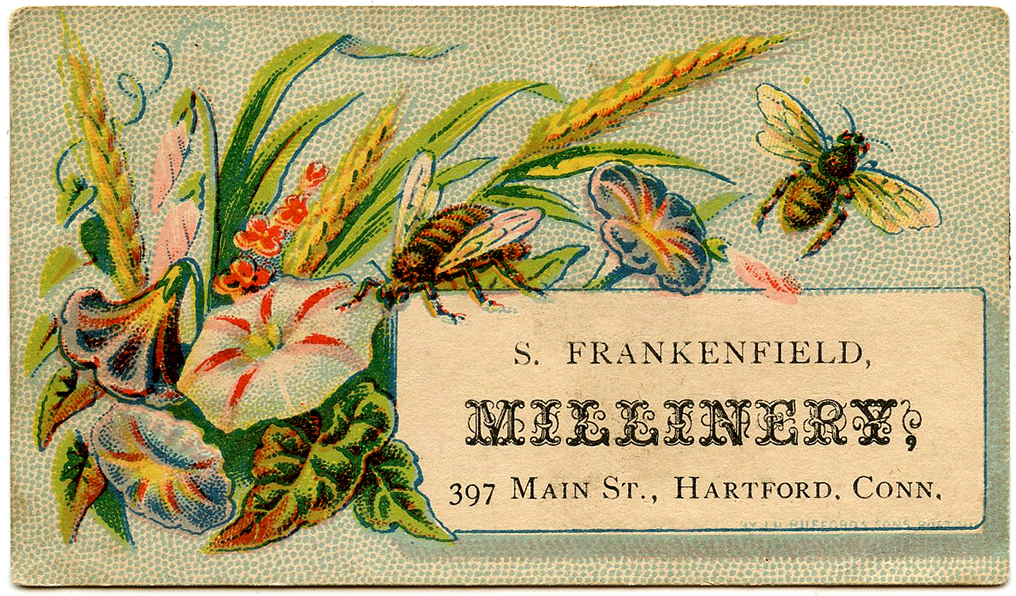 This little charmer of a Card was also a Victorian Biz Card for the same Millinery shop as the one above. I love the cute little Bees on this one, and the pretty Morning Glory Flowers. There are a few bits of wheat tucked into the mix as well.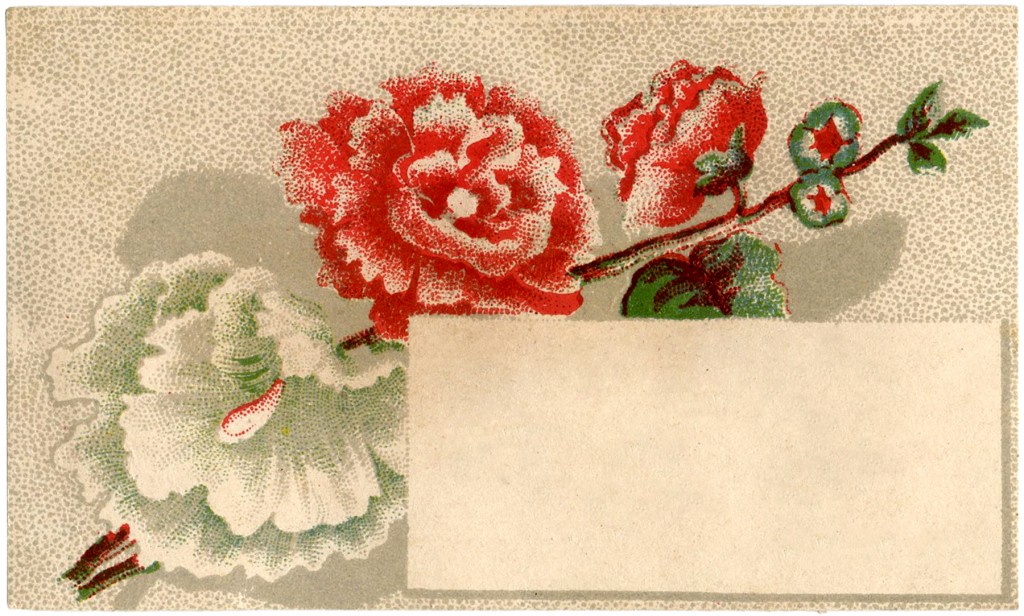 This cute little piece displays some super pretty Pink and White Hollyhock Flowers. There is a perfect little blank space on the front of it where you can add your own text. This one is perfect for a little make shift Gift Tag. Just punch a hole and add a pretty ribbon, or use it as a label. It might make a cute little love note for tucking into someone's lunch box too.
Victorian Trade Card Graphics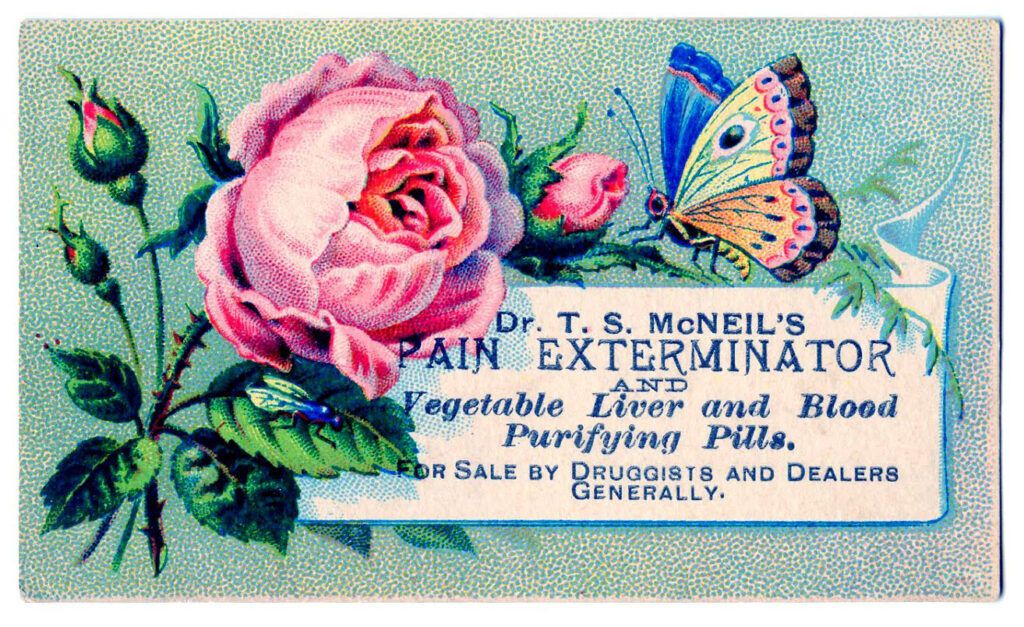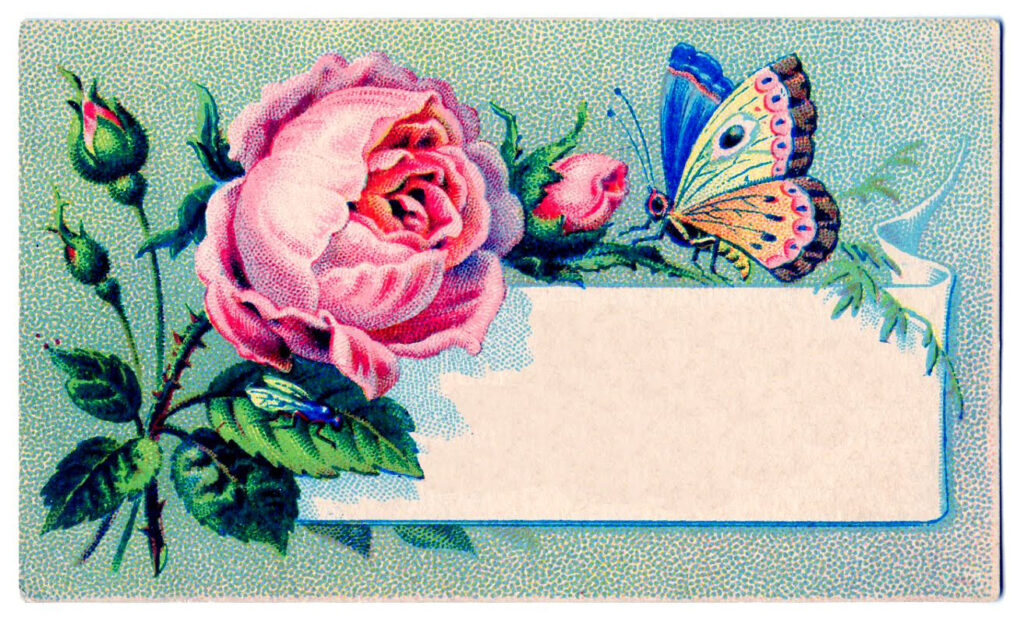 Pictured above is an old Victorian Trade Card, for pain pills no less. I think it is so pretty with the big Pink Cabbage Rose and the colorful little Butterfly. I love the colors and the textured background too! I've created a second version without the advertising that you can use as a label, place card, or even a business card of your own!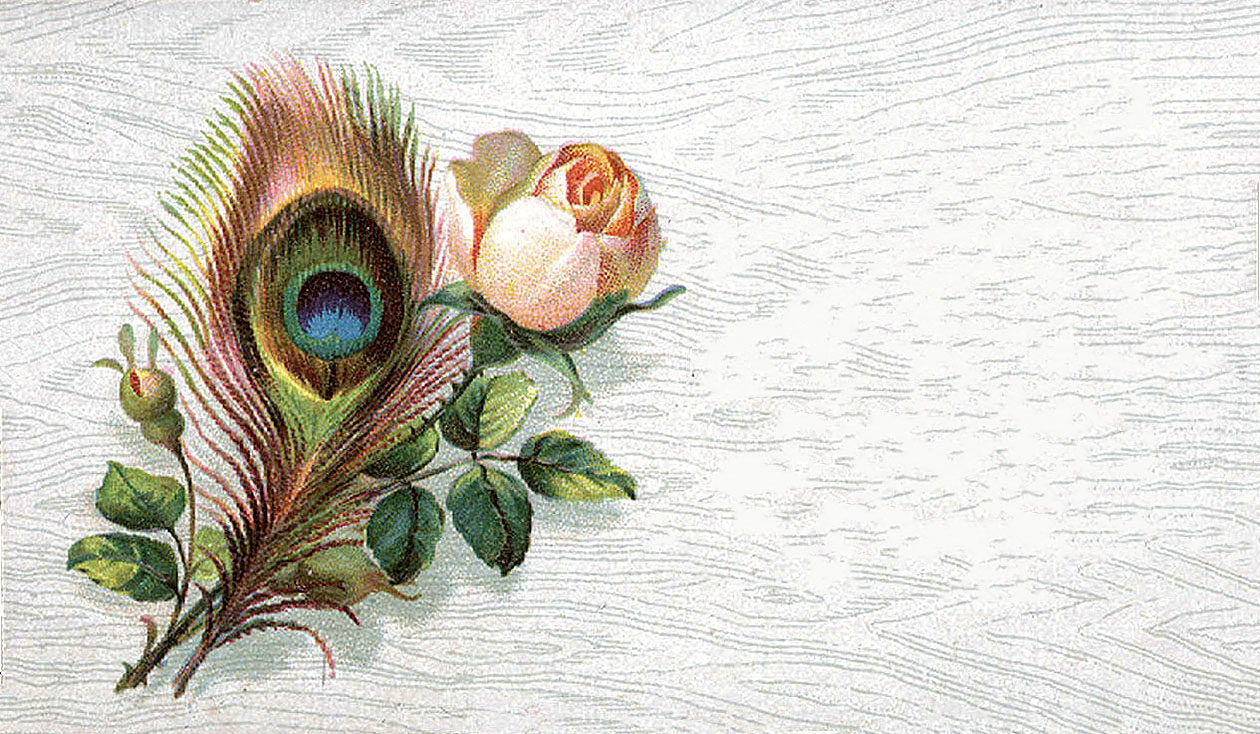 Here is the latest addition to this collection. This one has a cute little Peacock feather on it and a lovely wood grain background. There is space on the right side where you could add some text. Lovely!
Marble Fairy Statue Card Images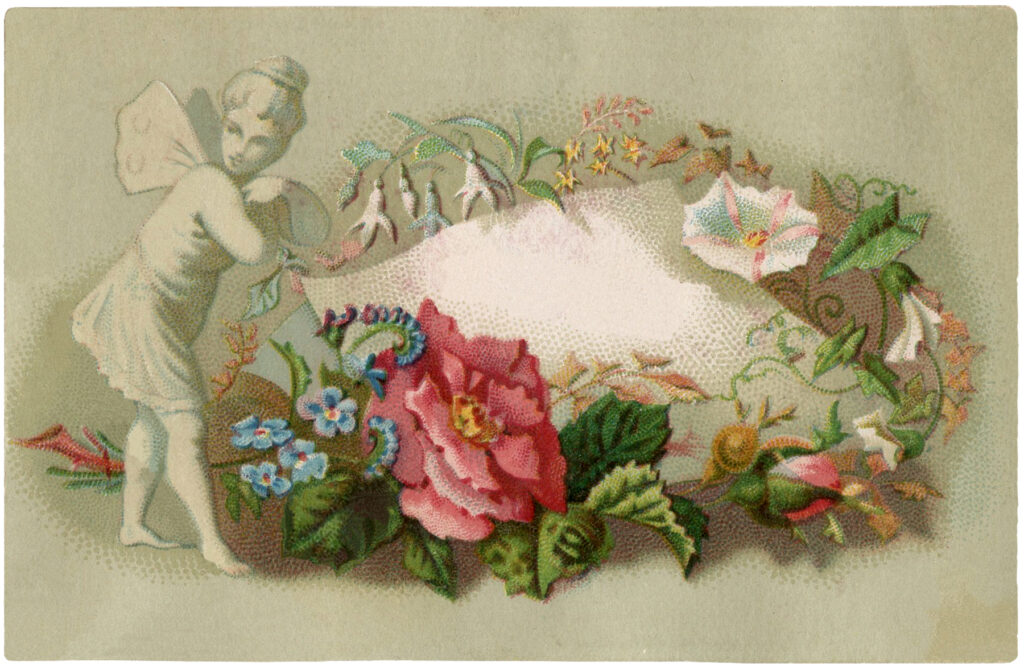 Isn't this a sweet Vintage Fairy Statue Picture? It is one of a set of Victorian Calling Card Images in this section. Here we have a card with a variety of colorful flowers. Standing alongside is a gorgeous Marble Fairy statue. It reminds me of an old Roman or Grecian statue.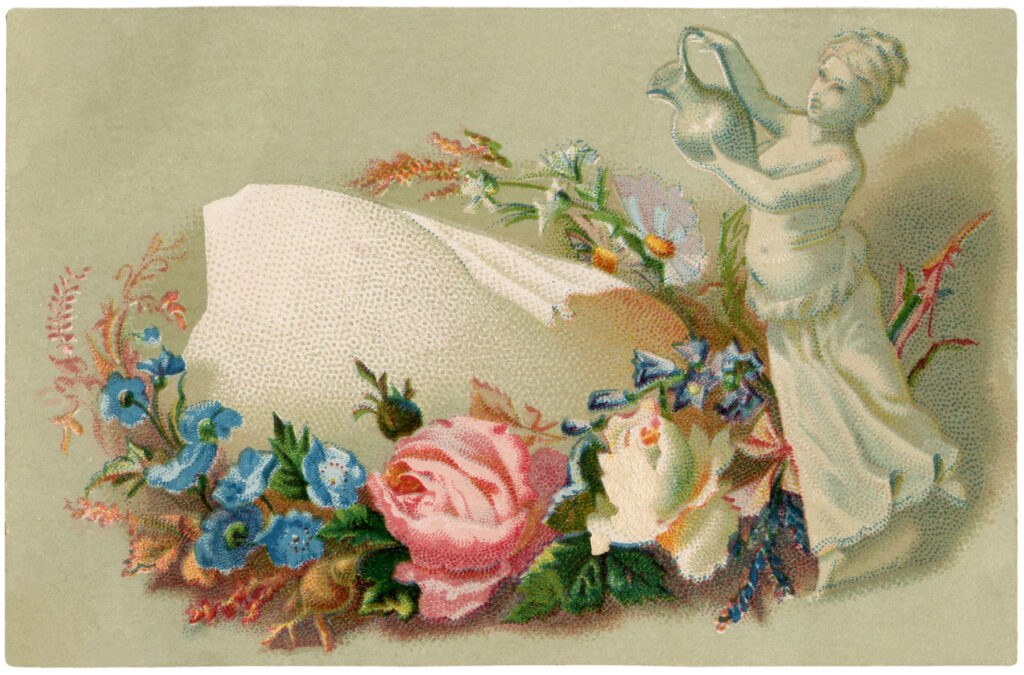 This is a cute Antique Statue Lady Image! Shown here is a card with some lovely pink and blue flowers, along with a Marble Statue of a Woman with an Urn. Brings to mind Rebecca at the Well!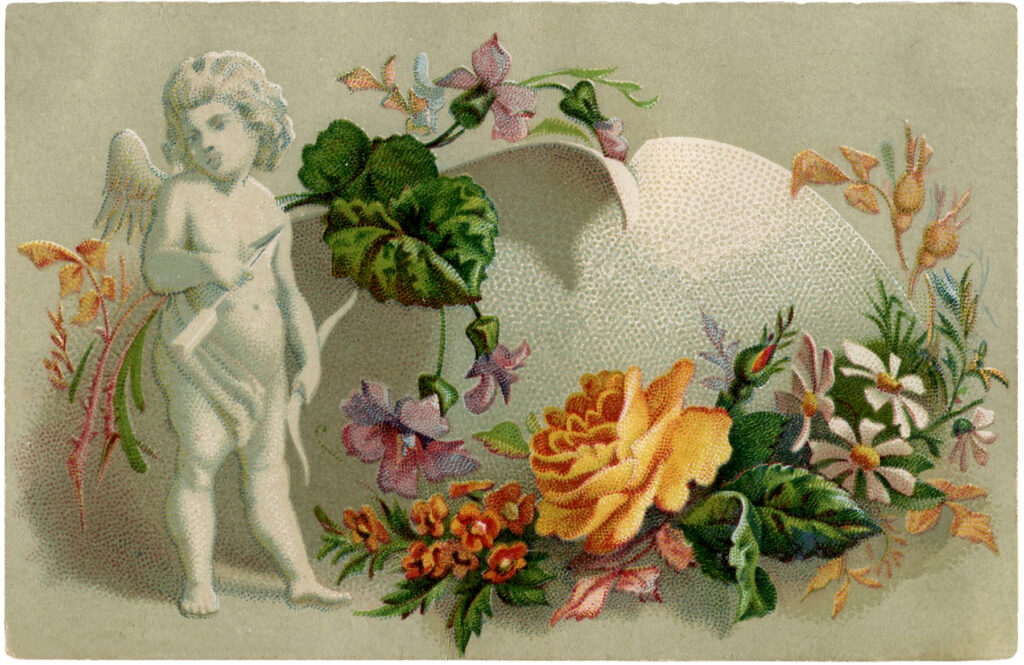 This is a cute Cupid Statue Image! In this picture, we have another white statue that appears to be made of marble. The drawing displays delightful flowers anchored by a large Yellow Rose. The blank area is perfect for adding some text.
Victorian Calling Card Images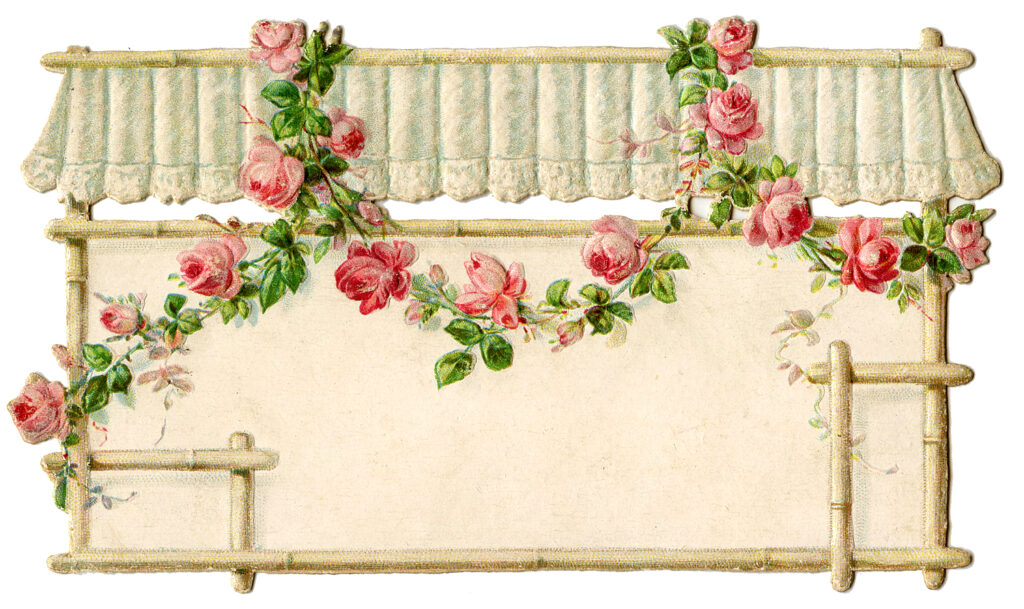 Here's a pretty little piece! This image has such great Cottage style to it! It appears to be a little Garden structure with an awning on the top, a Bamboo frame, and some beautiful Rose Garlands draped over it! There's a nice blank spot in the middle where you could write a message.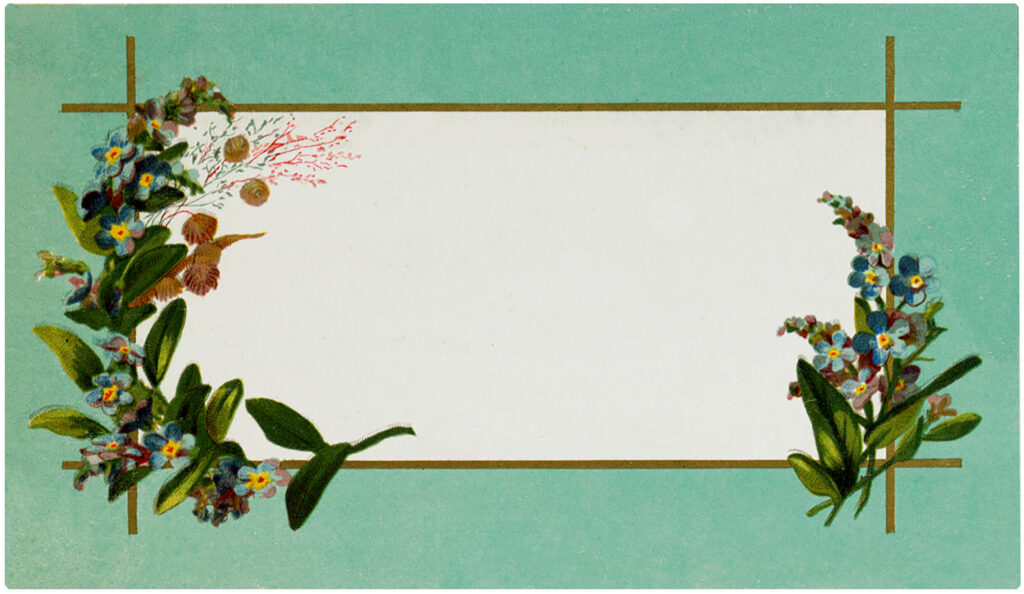 This is a Lovely Vintage Floral label image! Shown above is a pretty label decorated with flowers on a soft aqua blue background, and there is a framed white rectangle.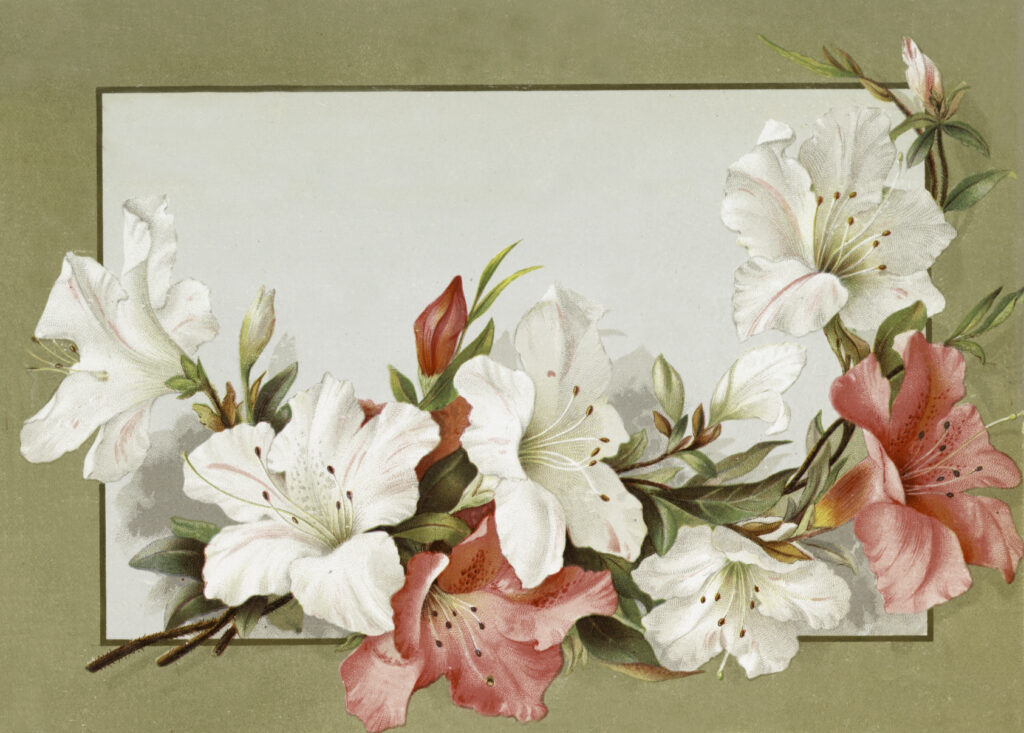 WOW! Isn't this a striking Antique Red and White Lily Victorian Calling Card Image! The beautiful Red and White Lilies swag softly around the gold and cream border. There is room for writing on the card. It perfectly matches the one below.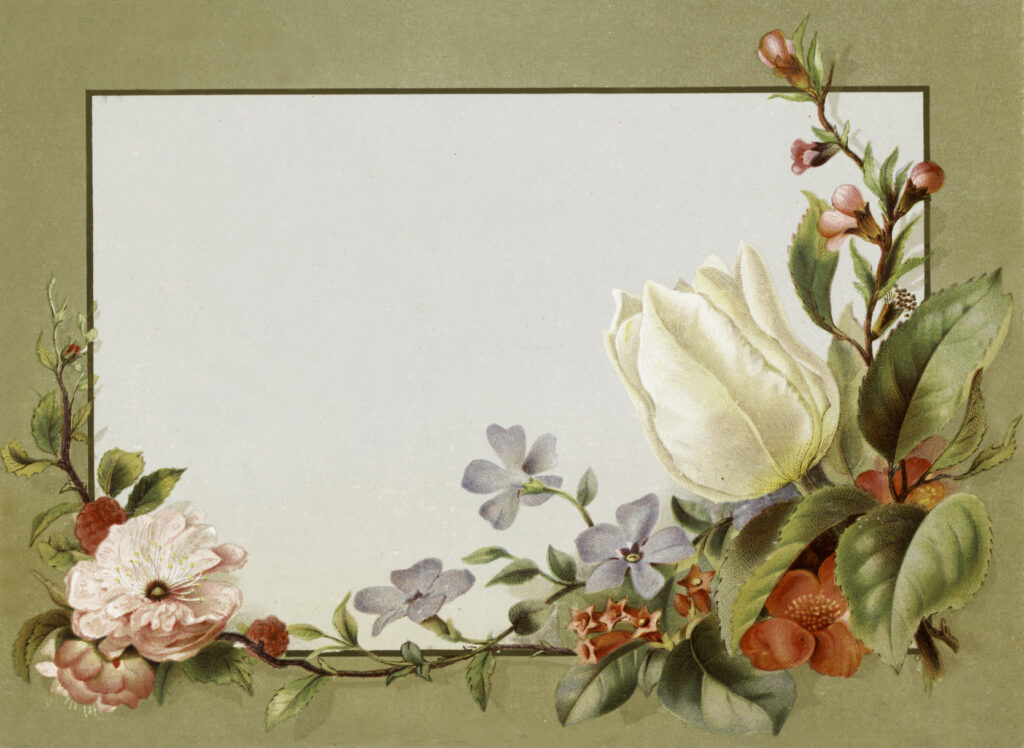 Featured above is a splendid Nostalgic Floral and Berry Swag Label Image! A vine of Pink, Red, Gray, and Cream Flowers, along with Red Berries and light Green Leaves, wrapped with a gold and tan border.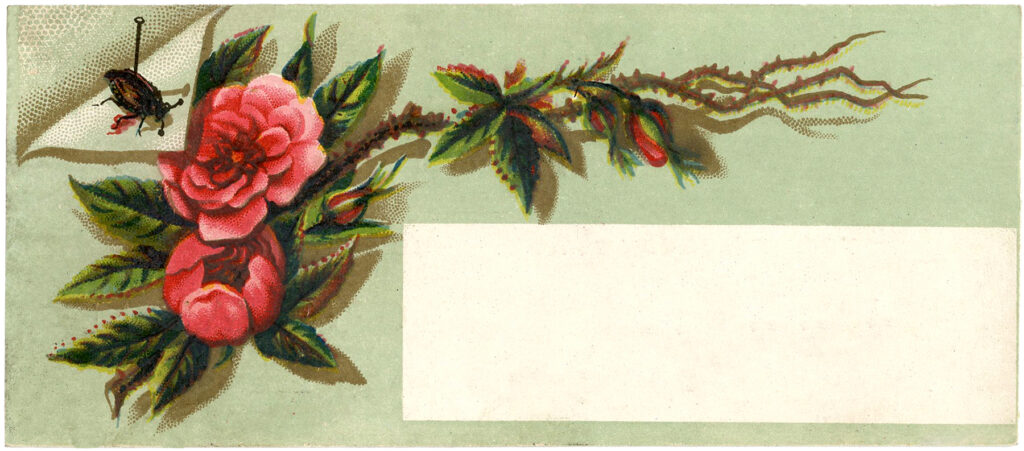 This is a pretty Vintage Roses Label Image! Shown here is an old card with some lovely Pink Roses, along with a little Beetle, and a small blank spot at the bottom. The blank area is perfect for adding some text!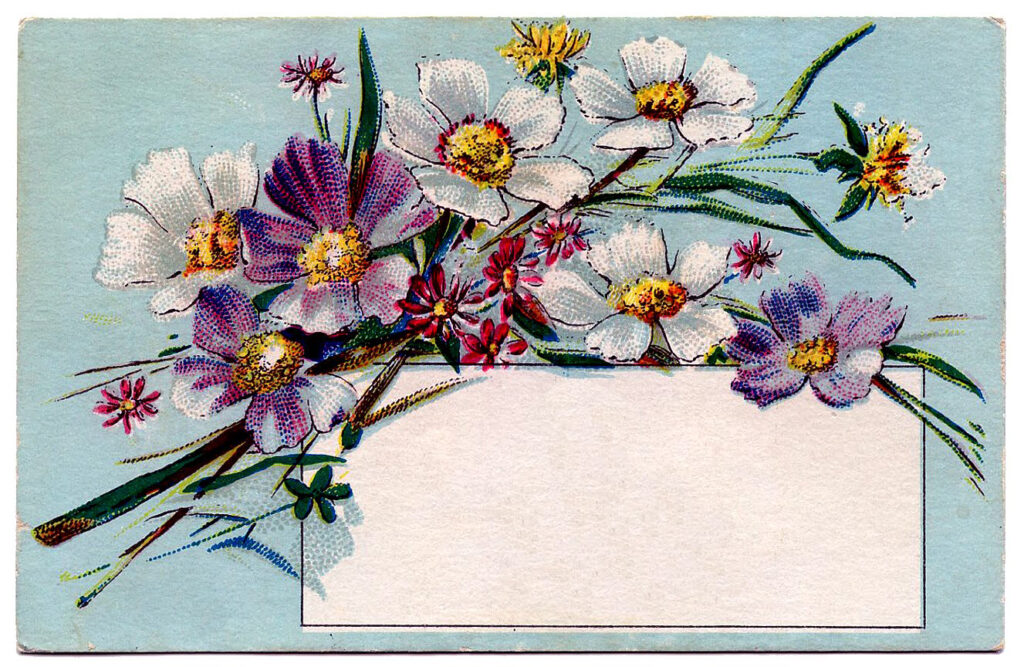 How sweet is this little Antique Advertising Trade or Business Card? I thought the Purple and White Flowers were lovely with the pops of red. I really like this shade of blue in the background and the framed little white area!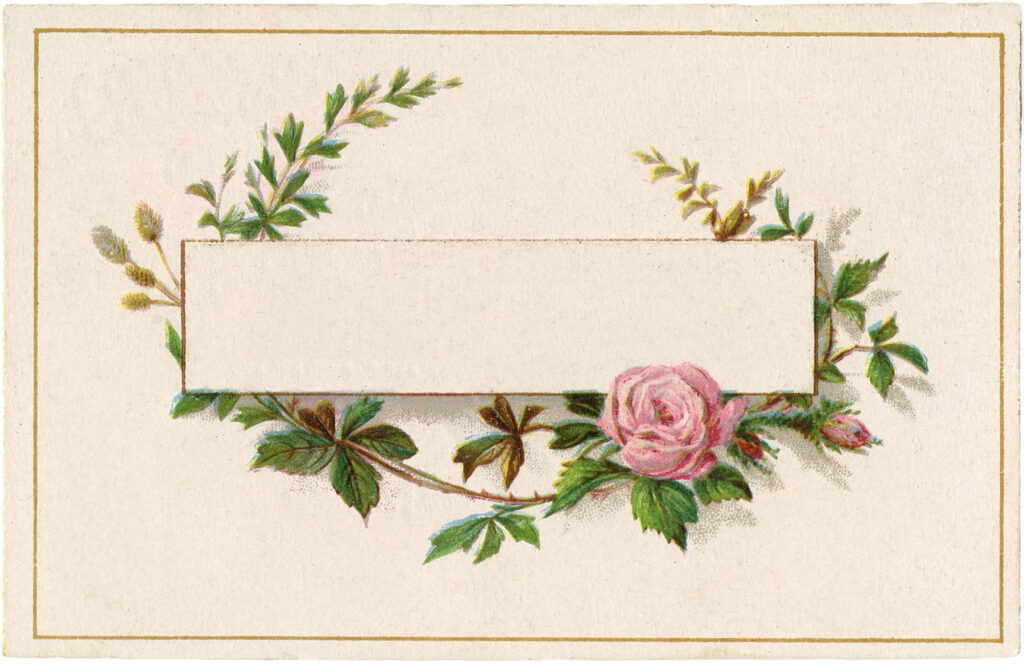 Above is a pretty French Roses Label!! Featured here is a lovely Antique card with a wreath of Pink Roses and Green Leaves surrounding a nice open center space.
Antique Label Style Cards with Pink Flowers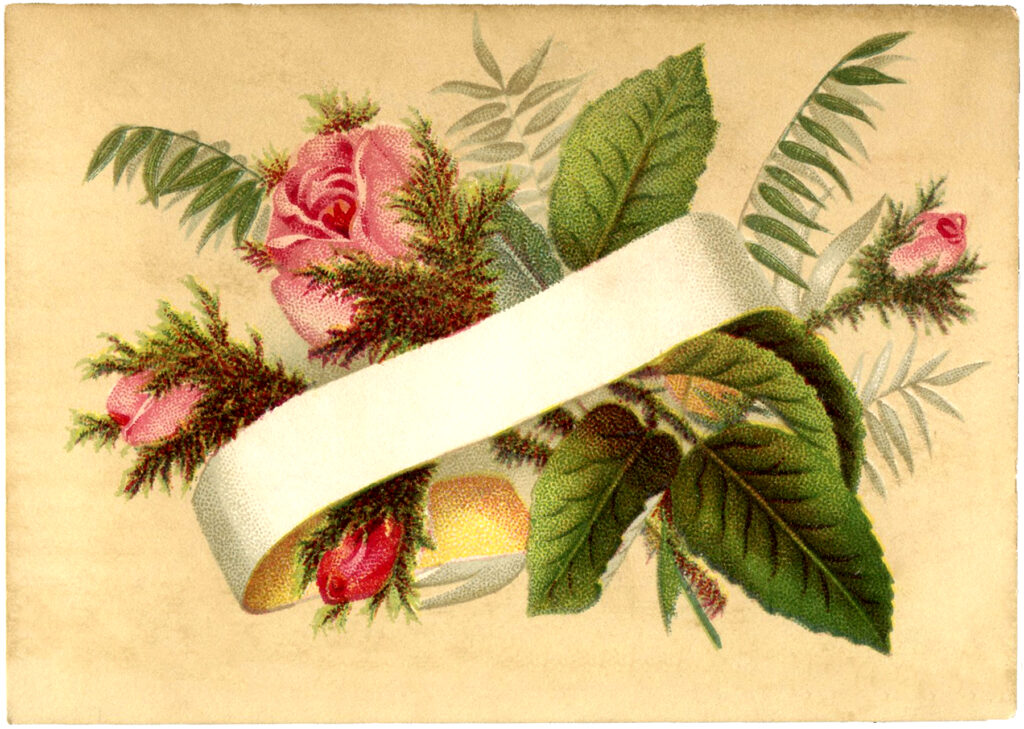 Pictured above is a lovely bouquet of Pink Moss Roses Calling Card Image. The flowers have a banner ribbon spread across the front of it! This one is the first in a set of four cards with Pink Flowers that I am sharing below. You will want to collect them all. I'm not sure what it was used for originally, but possibly it was an Advertising card.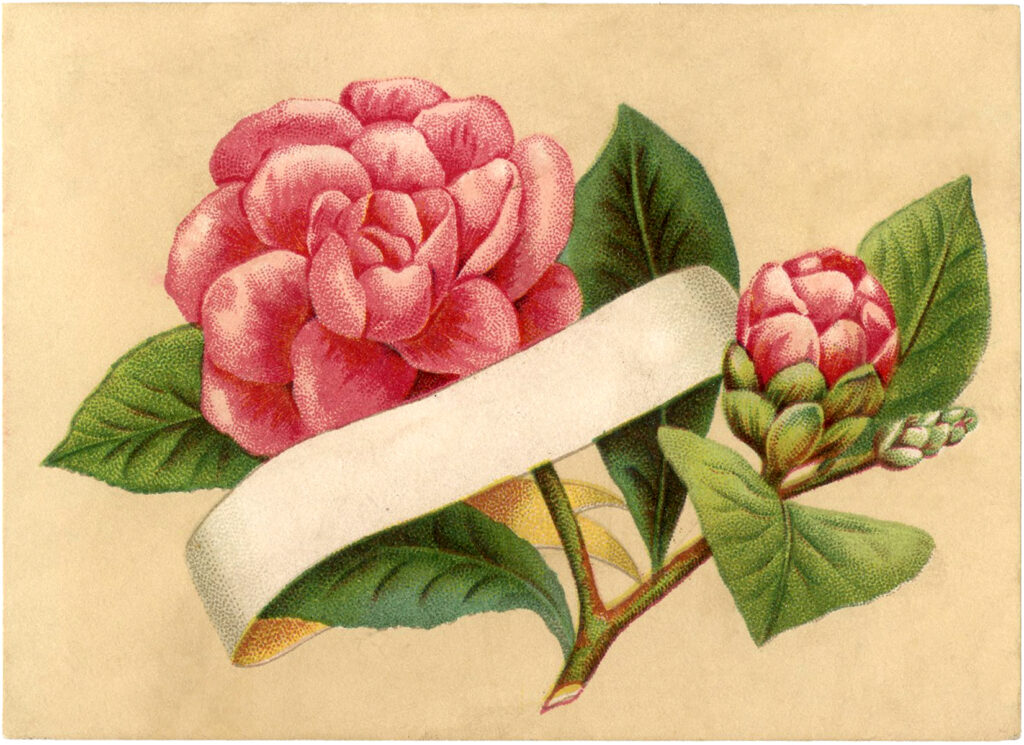 I love this pretty Gorgeous Pink Flower Label! Shown above is a pretty Pink Flower. It looks like a Peony to me, as there's also a bud and some lovely green leaves. The flower has a banner ribbon draped across the front of it. Someone told me that this may have been used as a Florist card. Makes perfect sense to me!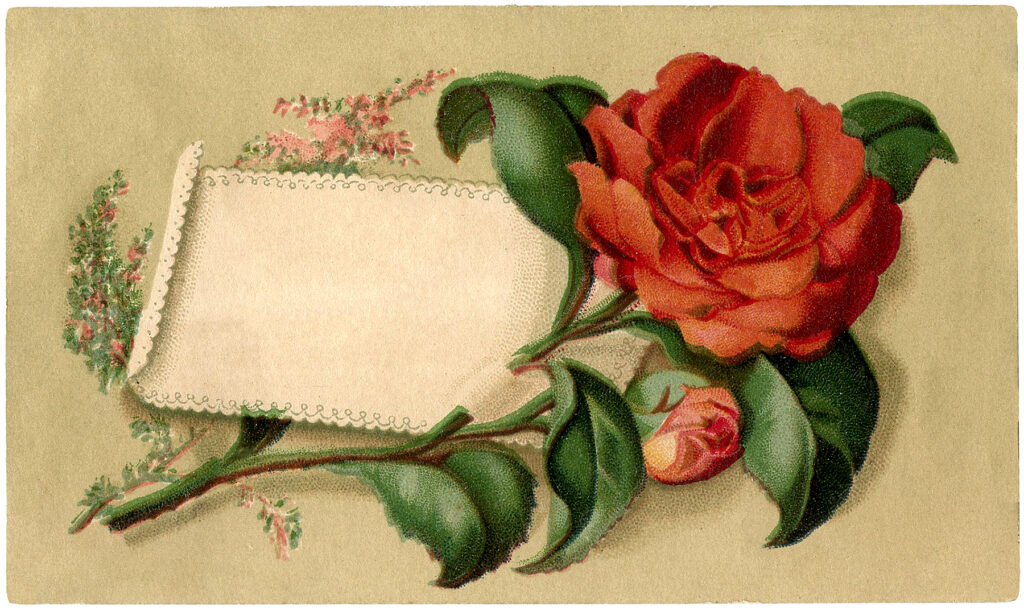 This is a Beautiful Red Rose Label Image! Shown here is a lovely Red Rose and Rosebud, resting on a little white card. The vintage card has a good sized blank area.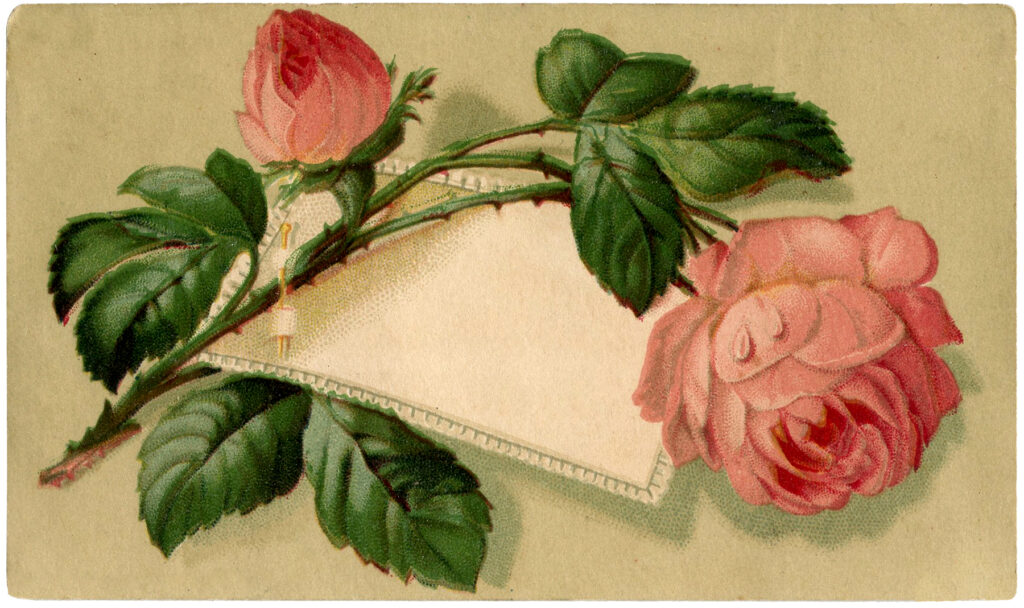 Here we have a Vintage Pink Rose Label Image! Above is a lovely Pink Rose and Rosebud placed on another little white card. The card has a nice blank area surrounded by lace.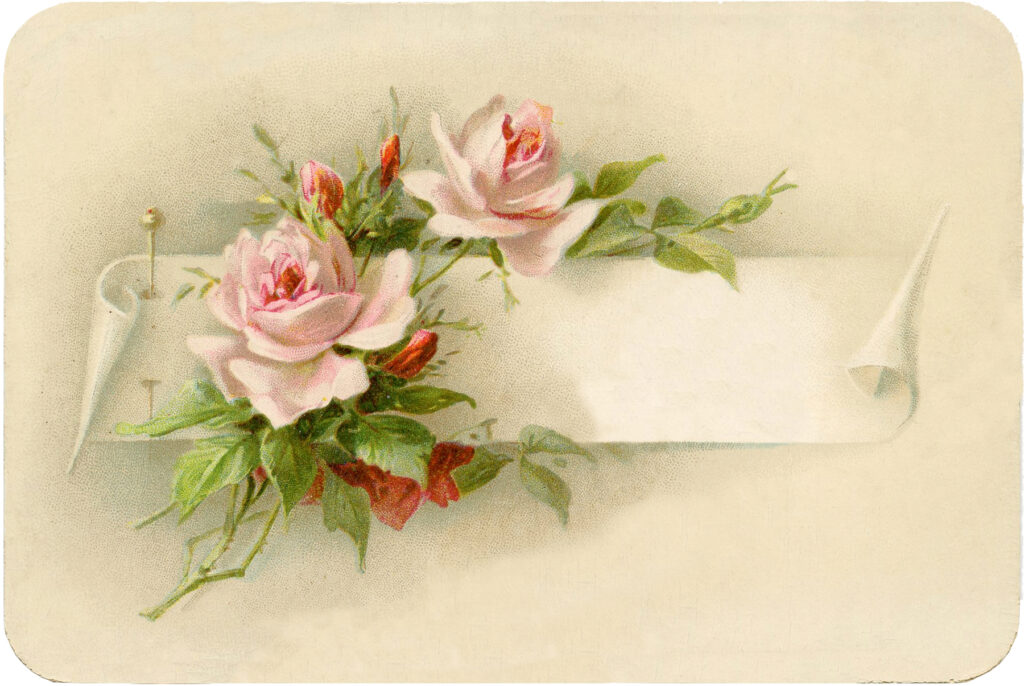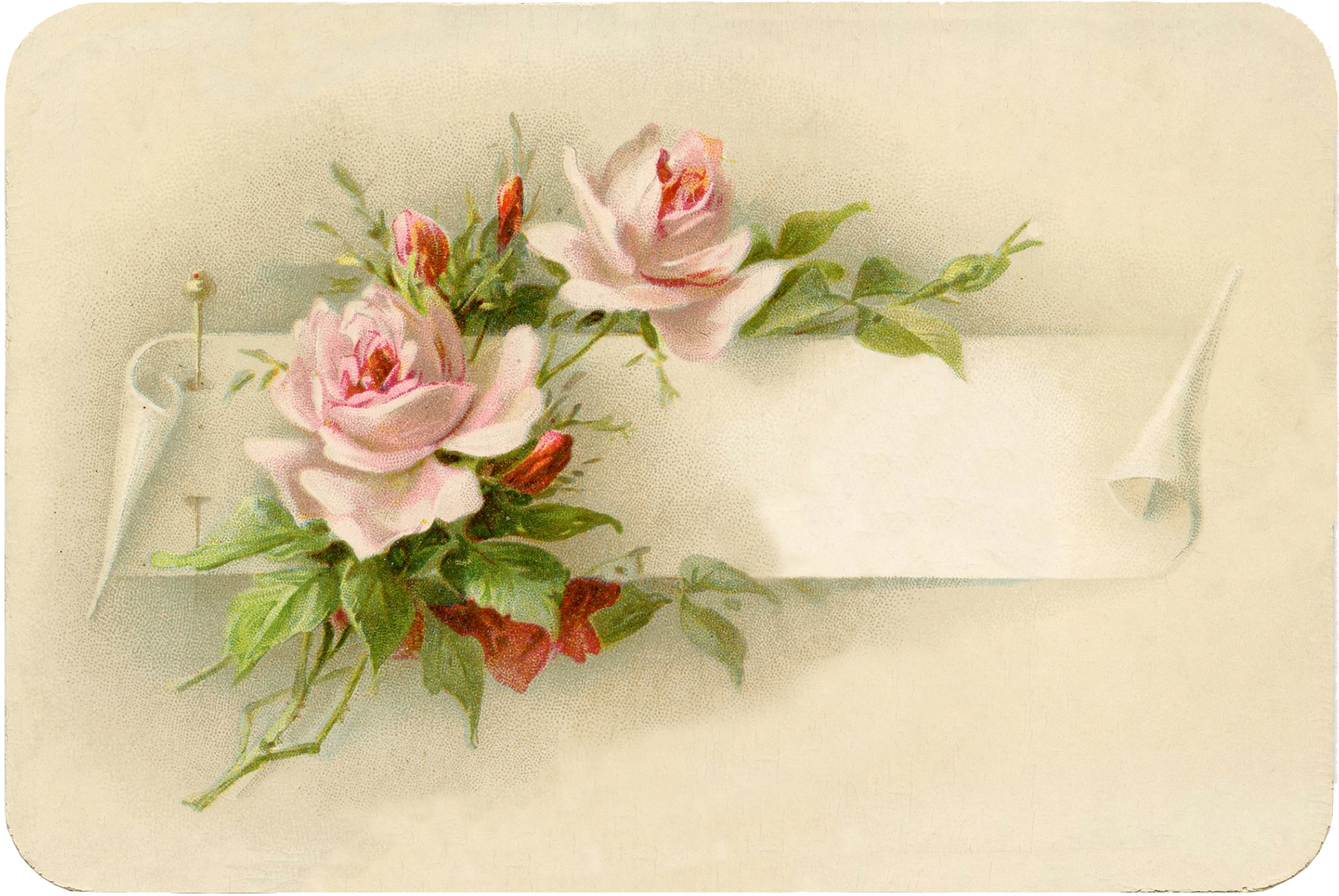 This is an Exceptionally Beautiful Vintage Roses with Pin Image!! Featured here is a gorgeous card with two soft Pink Roses. The Roses are set in front of a curled Paper Label that is attached with a Pin! There's a small blank area on the paper part.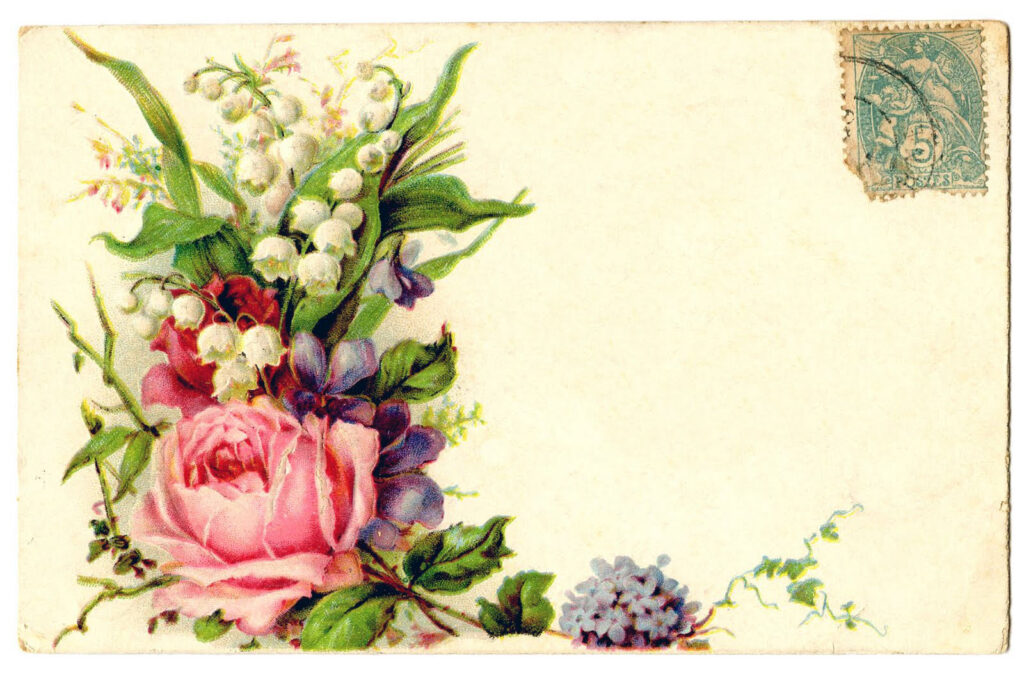 Featured above is a pretty little French Postcard, with a lovely spray of Flowers! Included in the spray are a gorgeous Pink Rose, Lily of the Valley, and some sweet Violets! It has a beautiful old French stamp on it too!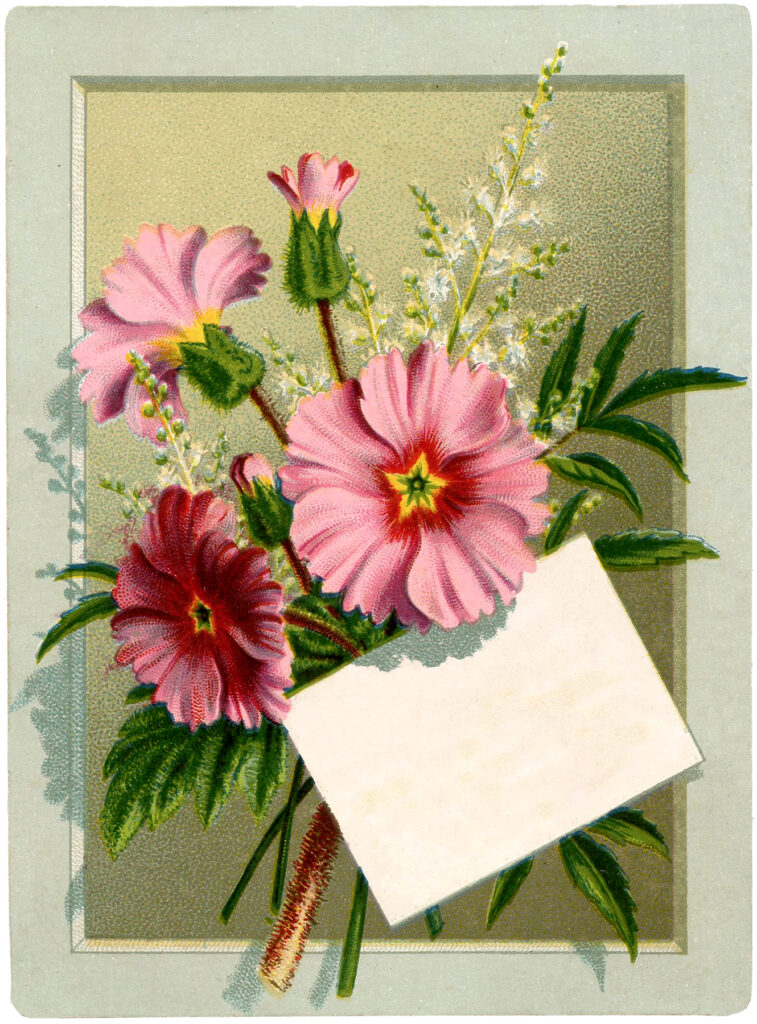 This is a Beautiful Vintage Floral Bouquet Label! Shown here are some lovely Pink and White Flowers, all bundled up into a pretty Bouquet! There is a little blank white card tucked up under them.
Hello! Are you new to The Graphics Fairy?
Welcome, I'm so glad you're here! Browse around to find
thousands of Stock Images
that you can use in your projects or designs! Need more info about my site? Try my
FAQ
page.