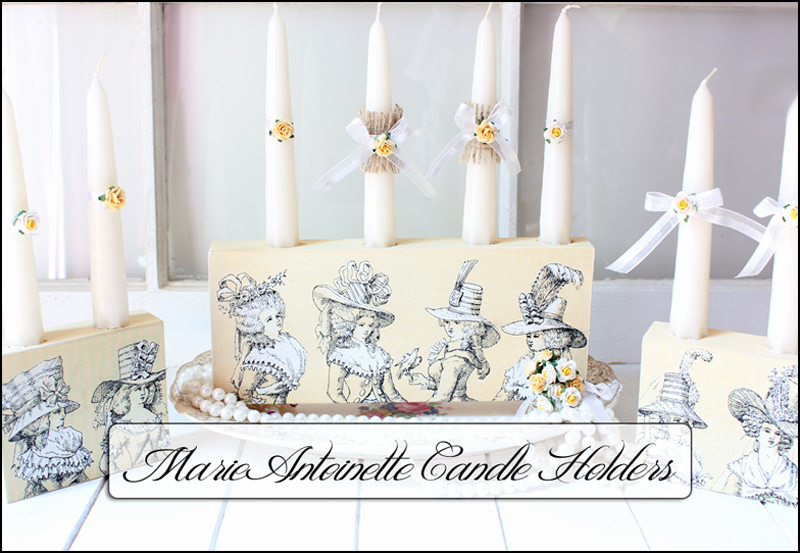 Happy Monday to ya! Please welcome new contributor Andrea, from The Cottage Market!
This post may contain affiliate links which won't change your price but will share some commission, you can find our
privacy policy here
.
I fell in love with these fabulous Marie Antoinette images the first time I saw them here on
The Graphics Fairy!  Karen not only gave us the black and white but different colors including pink!  It was always my intent to use them and today I did.  Hope you enjoy this simple home decor project that you can dress UP or dress down…you are in control…I will help you along with the basic idea and then it is your time to CREATE and make them your own! Hope you enjoy.
Let's start with the supplies…you will need your 1 1/2 – 2 inch block of wood…so cut to fit your image…paint…prints…brush…candles and trim.
Sand you blocks that have had the holes drilled in that will fit the candles of your choice…you can do this by using a wood drill bit…they are available everywhere including Home Depot or your local Hardware Store…it simply attaches to your hand drill…paint your blocks a complimentary color…run off your prints…
Once the print dries…carefully sand the edges so they are completely smooth…sanding is a great way to remove the excess paper perfectly…
Then you can apply a few coats of Modge Podge to the image and the other sides of the block…you can choose glossy or matte…
Now it is time to decorate the candles if you choose to…plain or embellished…they will look great…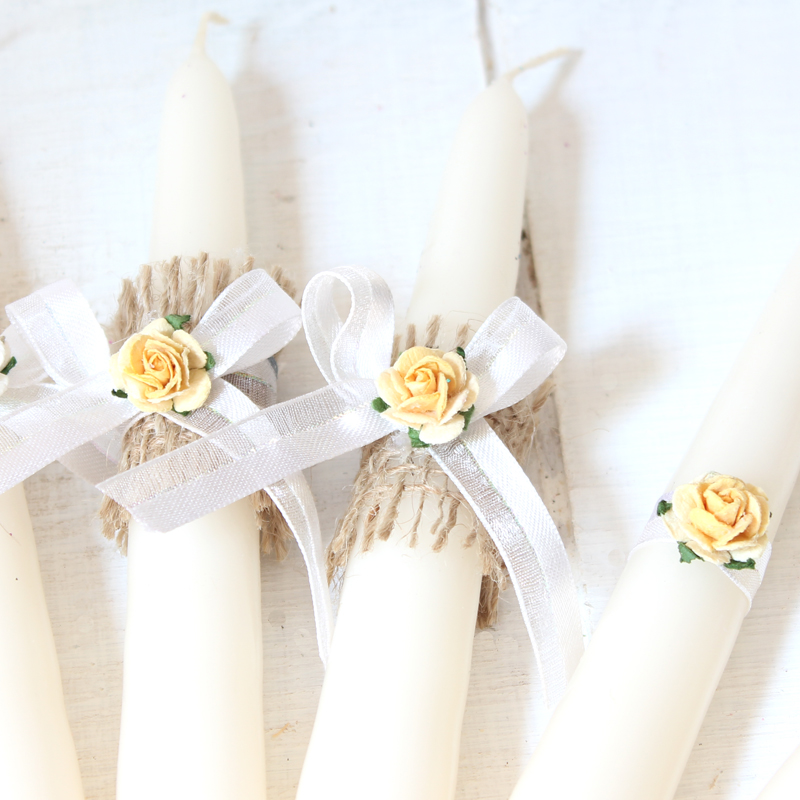 By simply adding a ribbon…a piece of burlap…some flowers you have an extra special candle fit for Marie herself!  Once again…you put your spin on the decorating…this is only an idea…
Then it is time to add your candles…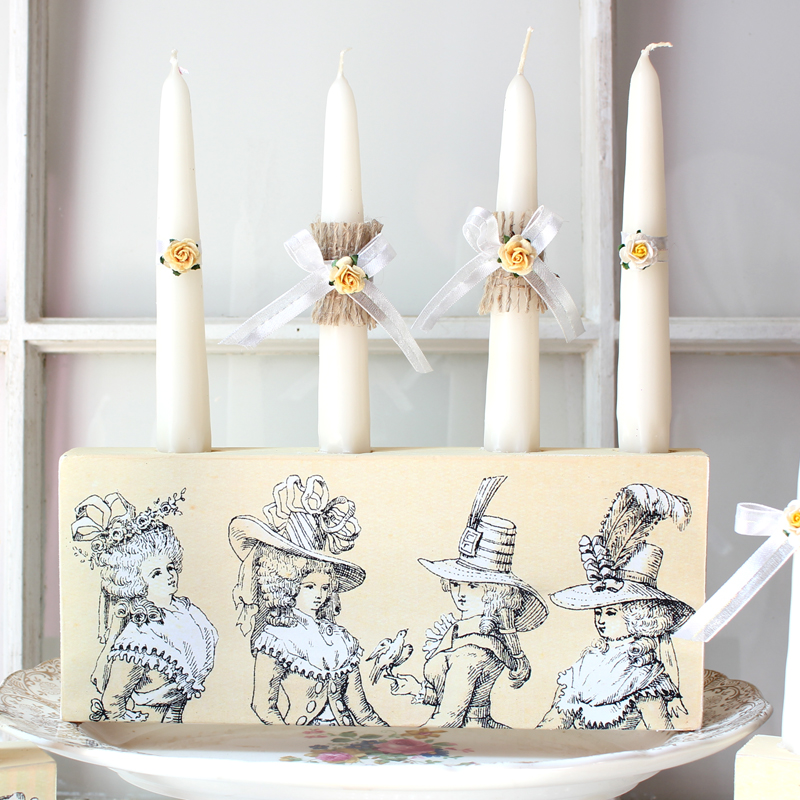 it's tons of fun because you can create all kinds of drama…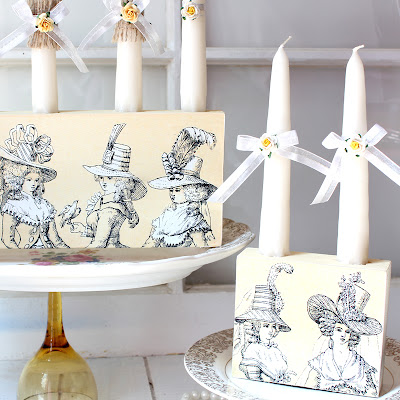 you can stack them by simply using one of your favorite plates and add a piece of complimentary stem ware and viola…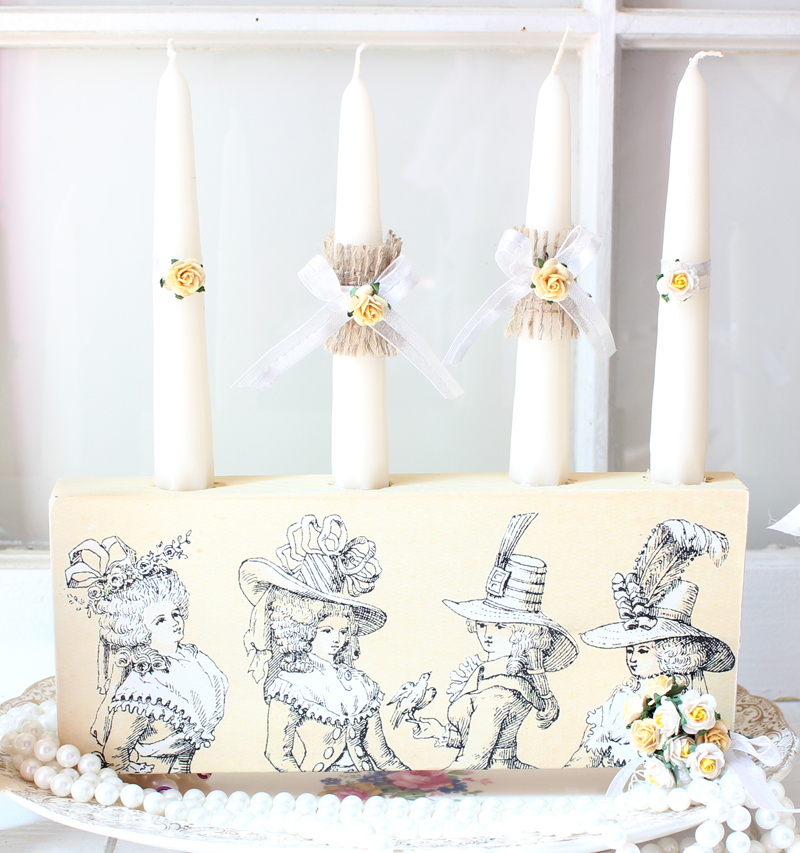 arrange them flat and add some pearls…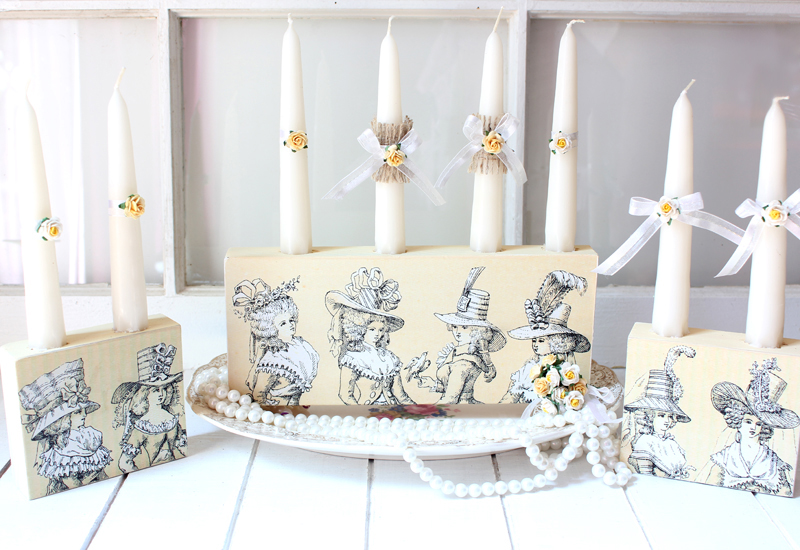 use them all together…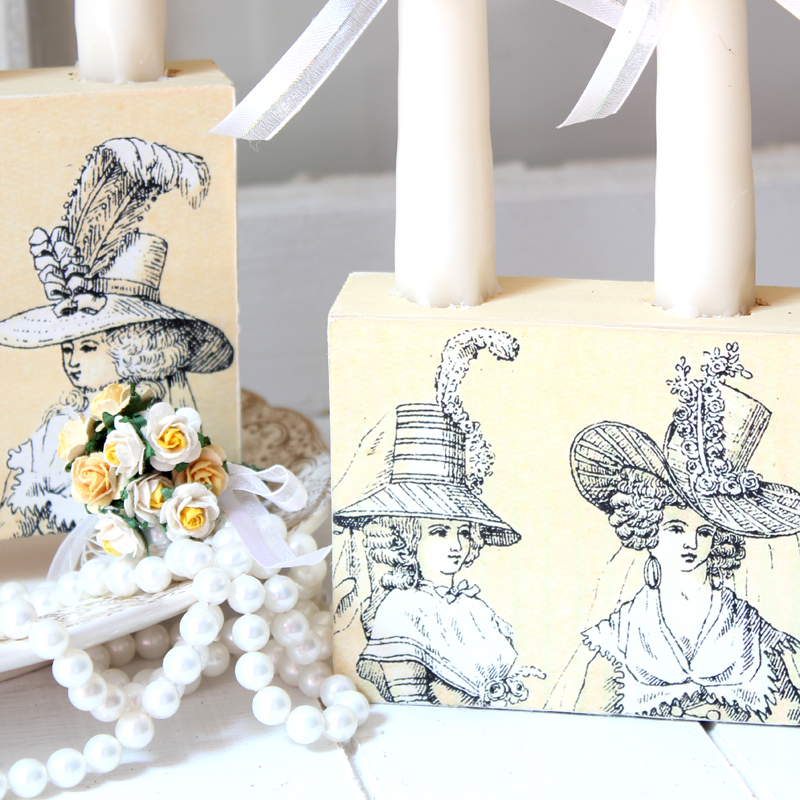 add a touch of height and some flowers…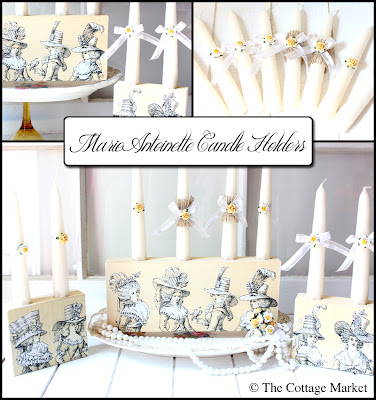 any way you choose…it will look fabulous!  Remember you can create so many different shapes…sizes…heights and more with an array of incredible graphics on
The Graphics Fairy
…the Holidays are coming…just think of the possibilities and they would make great gifts!
Hope you enjoy this simple little tutorial.  If you have some time…it would be wonderful if you came over and visited me over at
The Cottage Market
.  See you all again soon…till then…(HUGS)