Hi there friends, it's Andrea from The Cottage Market.  So glad to be with you all today and hope you are having a great start to your June!  Well June is commonly known as the Wedding Month so today I have the first half of a two part Wedding Series Posts!  Today we are featuring some elegant Vintage DIY Wedding Tags that can be used for place cards…hang tags…escort cards…grooms men gift tags and wait until you see the bunting that will be featured in part two.  These can also be used as gift tags any time of year.  They are easy…affordable and fun to make.  Each tie can be the same or different…well how about I just show you!  Oh yes…click here for your image.
This post may contain affiliate links which won't change your price but will share some commission, you can find our
privacy policy here
.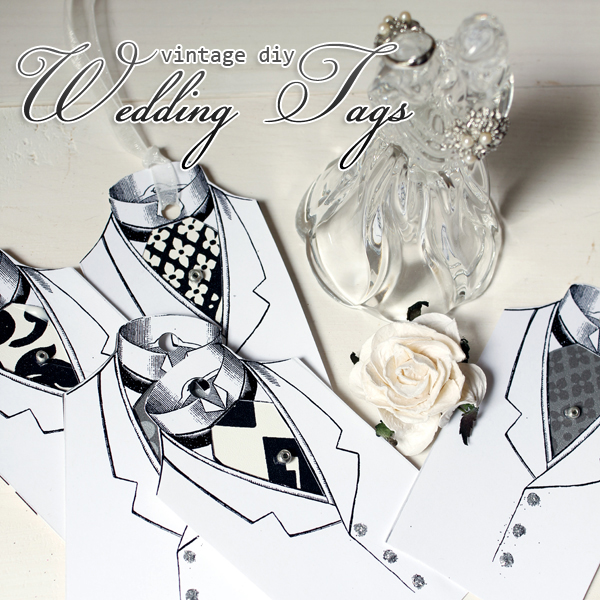 Now for your supplies!  You will need to print your suit jacket graphics.  Size them to the size you want the tag and stack them on the sheet.  I got 6 per sheet and they are a perfect height at 4 1/2 inches.  Then some ribbon…a bit of glitter…some tiny beads or pearls, an exacto blade and some decorative scrapbooking papers…oh yes…and glue of your choice!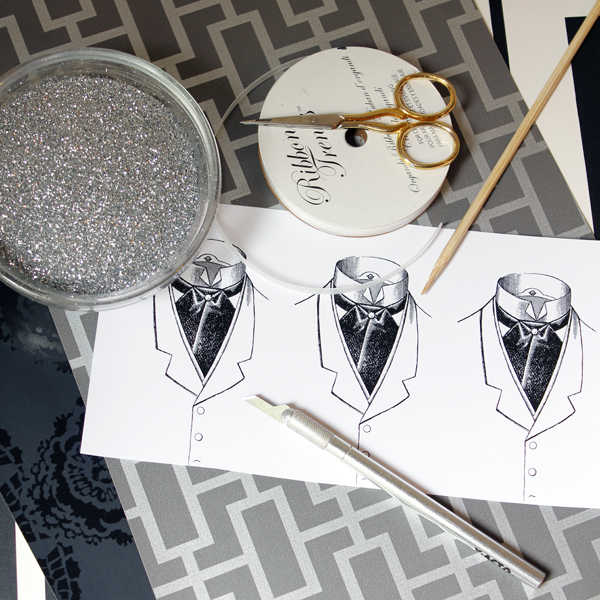 It is time to cut out your jackets.  I drew a very faint line straight down so they were straight.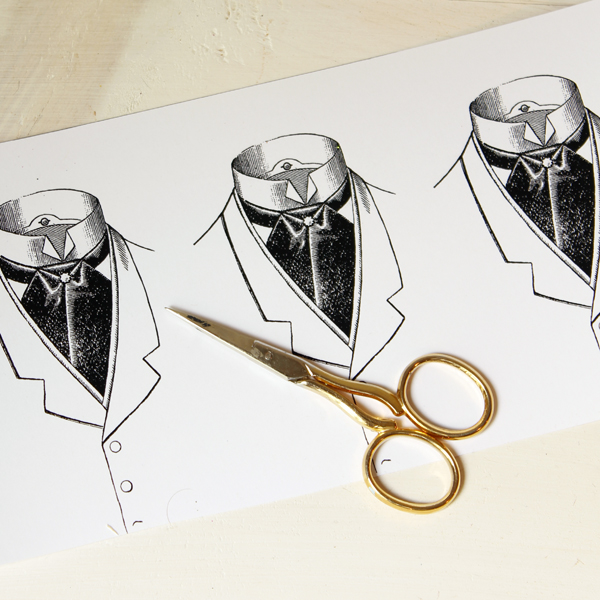 Now take your exacto blade and cut out the tie section only.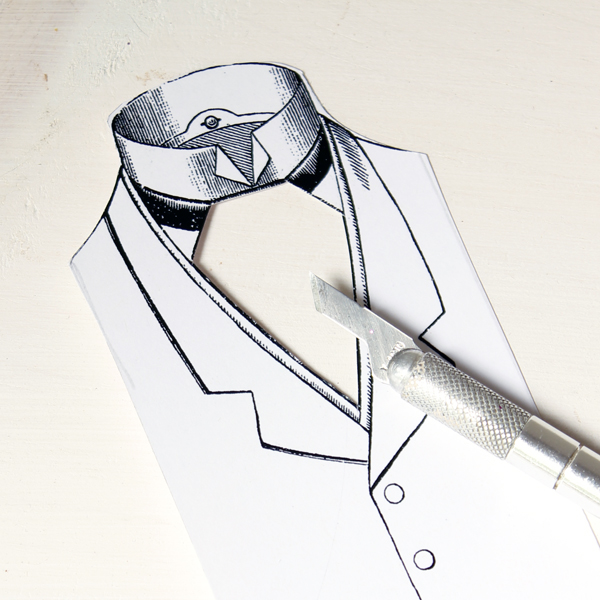 Now trace your jacket onto the paper that you want to show through the tie section.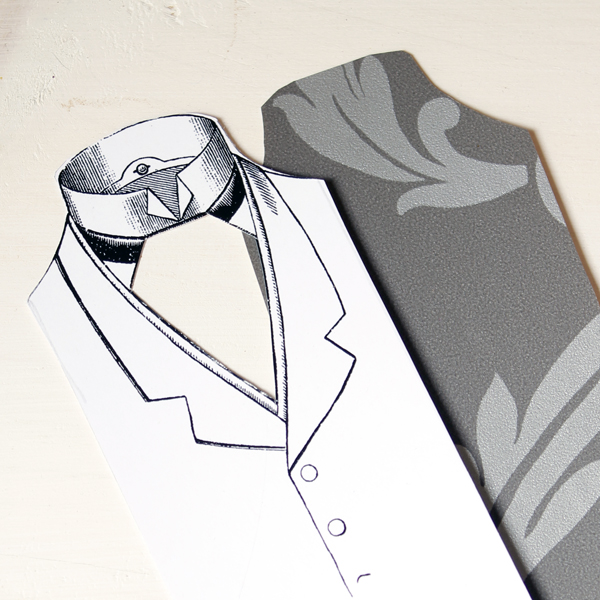 Place your glue or tape around the suit back (no glue in the tie area) and then attach the decorative paper facing towards you.  See how you can personalize it with any pattern…any color…you can even tailor it to the colors of the wedding. Perfect for a Father's Day Tag too…or add it to a card!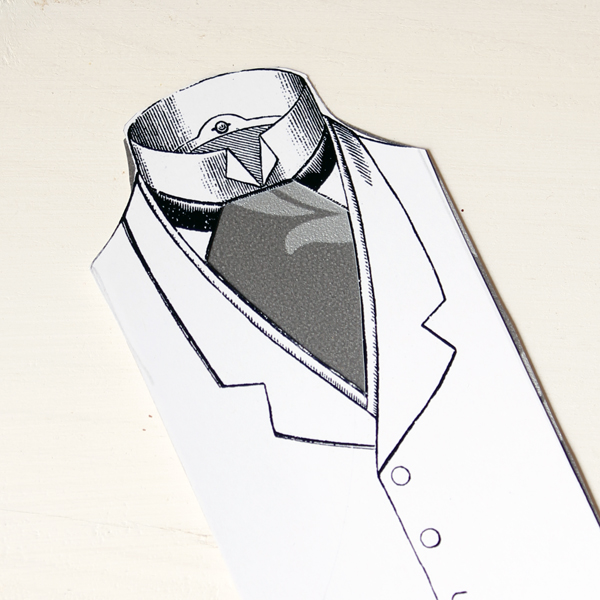 Now for a little bit of glitz!  With a wooden dowel or toothpick…place your glue on the button holes and then sprinkle with glitter…wait a minute and then shake the excess glitter off onto some paper so it is easy to put pack into the original bottle. Then place a little bit of glue on the bead…button or maybe rhinestone you choose for the tie tack and apply!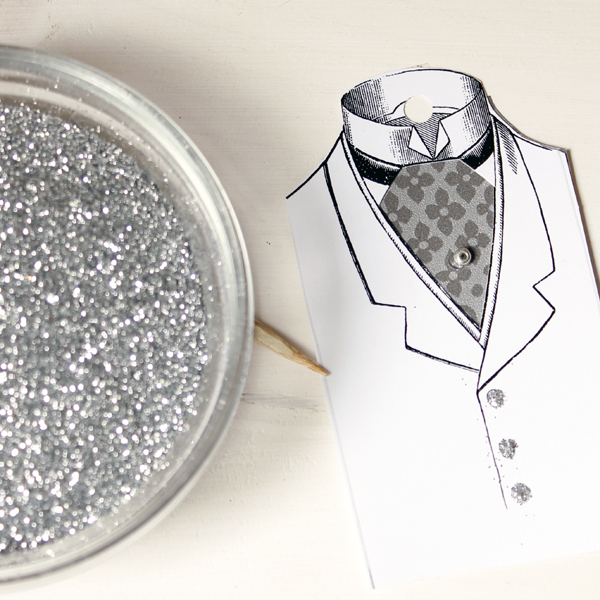 Now it is time to punch the hole and thread with your favorite ribbon! VIOLA!!! Aren't they cool!  Wait till you see the Bride version and then we are going to use them together for a special banner/bunting that I think you are going to love!  Aren't the Graphics Fairy Image GREAT!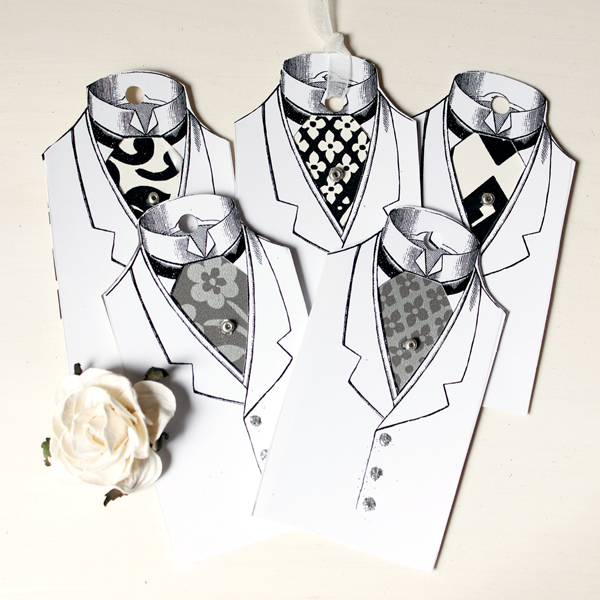 '
Make them by the dozens!  Great for all kinds of occasions!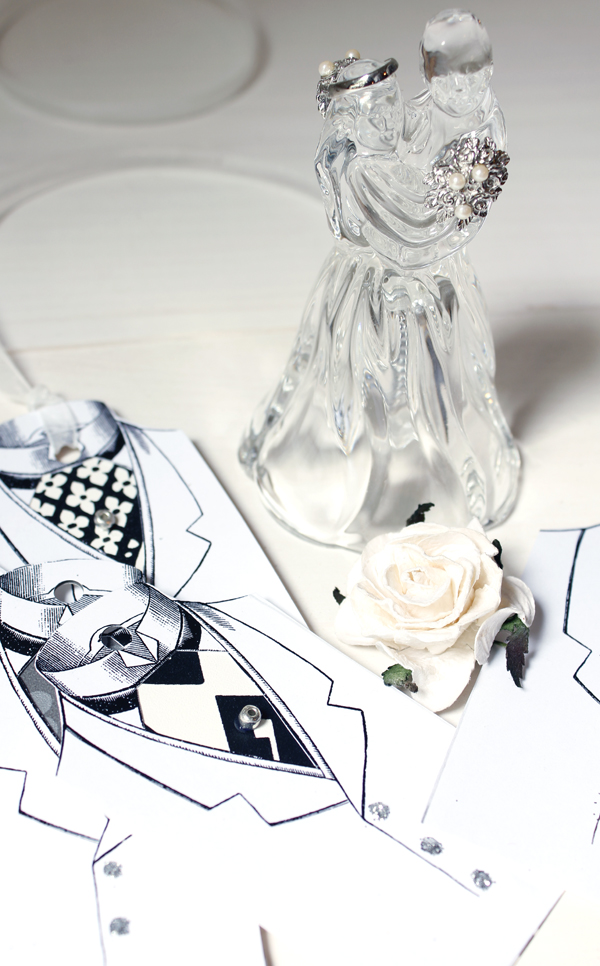 Hope you enjoyed this Quick and Easy Craft.  You can apply this technique to so many other images.  It's fun…it personalizes the piece…and it looks great.  I will see you really soon with Part Two…Here Comes the Bride!  Till then…you can always find me over at The Cottage Market where I am always hanging out!  Hugs to all!
Andrea
Come and cool off with Pina Colada Popsicles!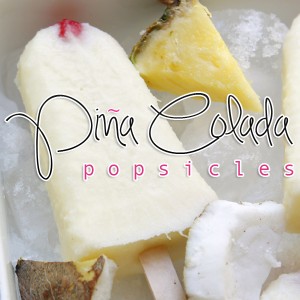 The perfect sweet snack for your next barbecue or picnic! Cherry Pie Pockets!