Today I am sharing with you 24 beautiful DIY Vintage ornaments ideas. All of these ornaments were either created by my readers, or by me, and many of them using vintage graphics found here on The Graphics Fairy.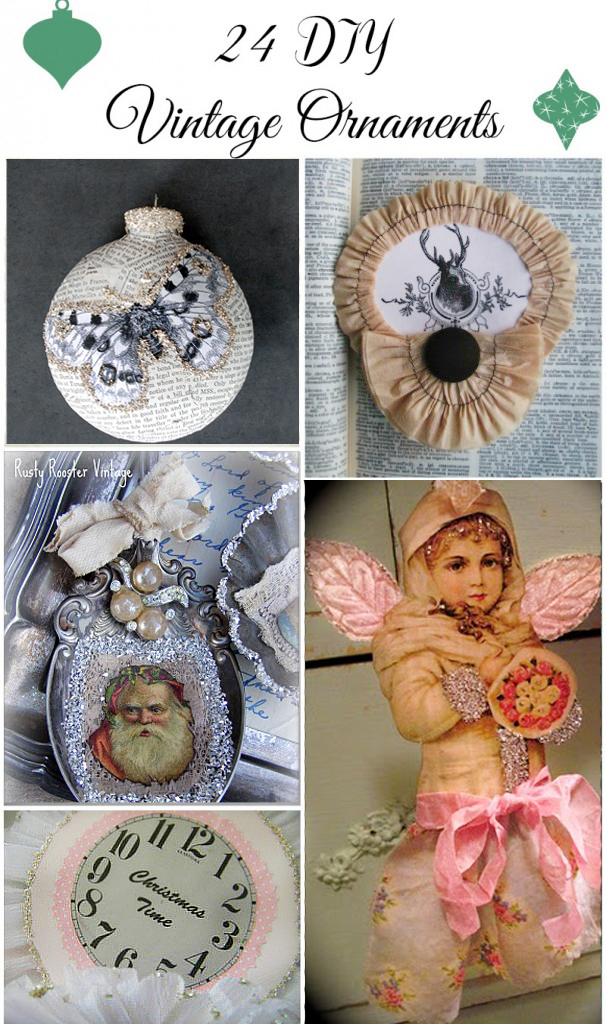 I've featured many of these in the past but wanted to have them as a collection for easy reference as you start thinking preparing for the upcoming holiday and possibly making your own ornaments.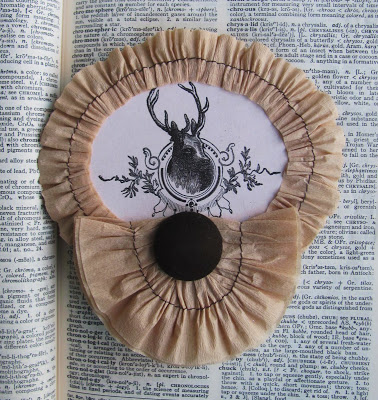 How beautiful is this Deer Ornament crafted by Theresa at 612 Riverside! ! Theresa used the Deer Head image from here , for this lovely ornament.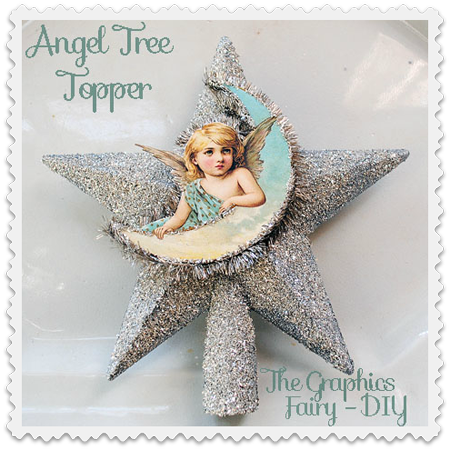 This handmade angel tree topper is the perfect ornament to crown your tree.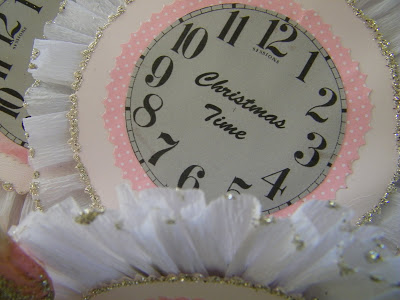 Keep a reminder of how quickly Christmas is approaching with this really lovely "Christmas Time" Ornament, from Nice and Easy Antiques. This one was created with the Clock Face Image found HERE.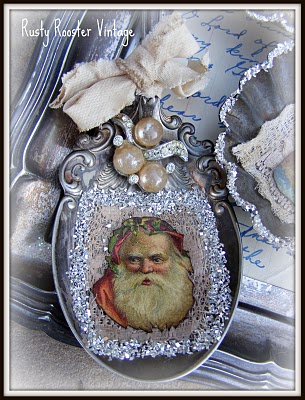 I absolutely love what Vicki from Rusty Rooster Vintage did with the Santa Scrap image from HERE to create this gorgeous spoon ornament.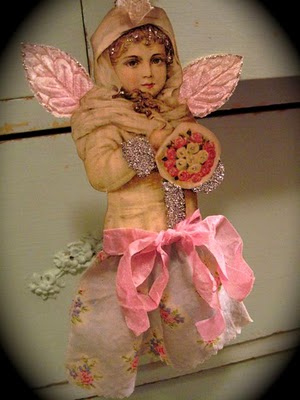 I adore this angel Ornament crafted by Gail at Little Beach Designs! Gail used the Angelic Snow Girl image to create this beautiful piece.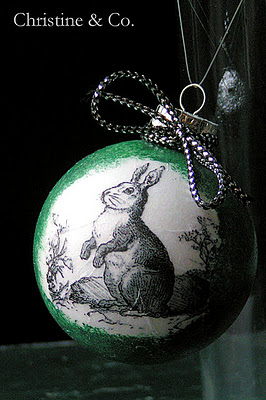 This precious bunny image was transformed into a gorgeous bunny ornament by Christine from Christine & Co.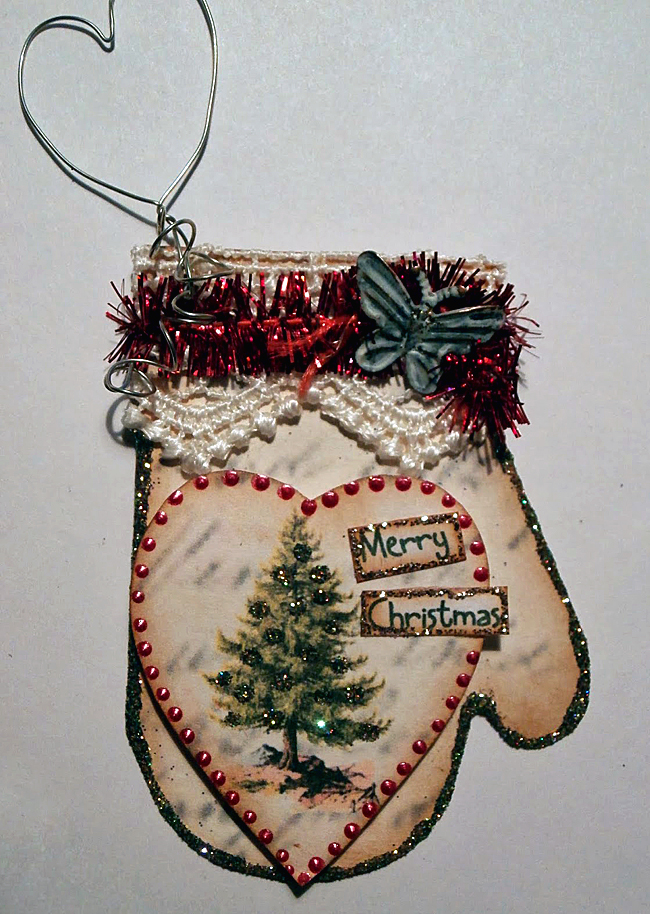 Carol, from Scrappy Dayz, made this Paper Mitten Ornament!  She used the Perfect Pine Tree Image for this super cute ornament! Be sure and check out her blog, for more info on how she made this delightful paper decoration!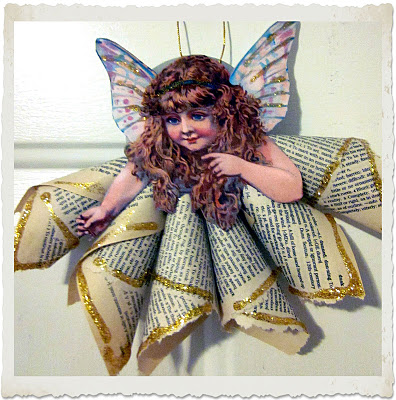 Using the Fairy/Angel Child image, Susan, from Homeroad, created this beautiful angel ornament. You can get the full tutorial by visiting her blog.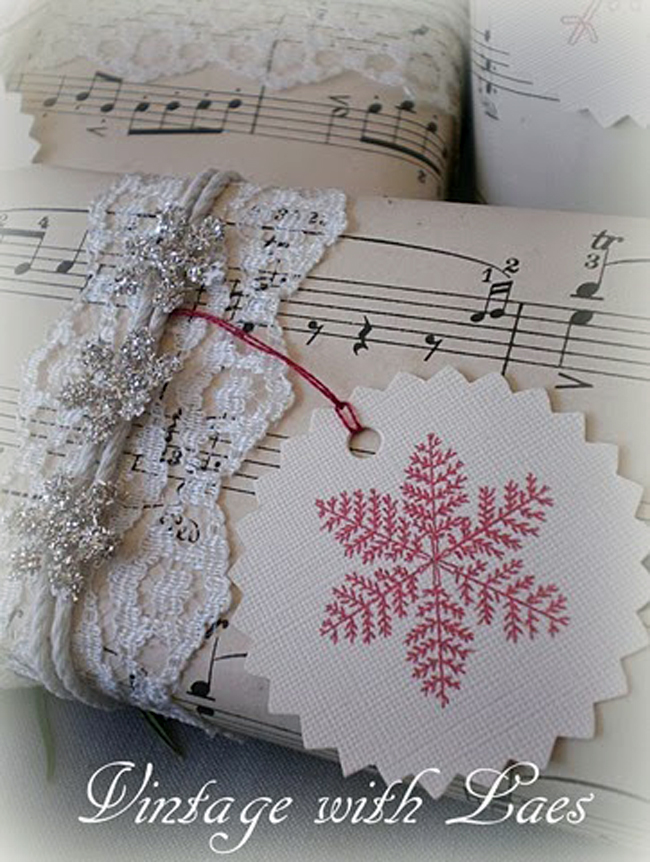 This beautiful Snowflake ornament was created by Julia at Vintage with Laces! Julia used the Real Snowflake Images to create her ornament.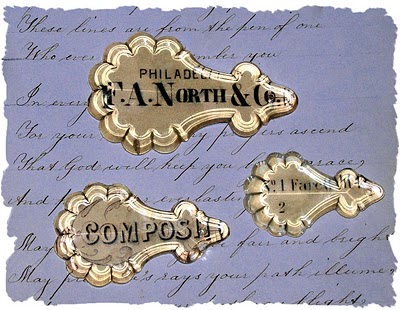 I created these glass prisms, which would make gorgeous Christmas ornaments, using my vintage antique sheet music printable.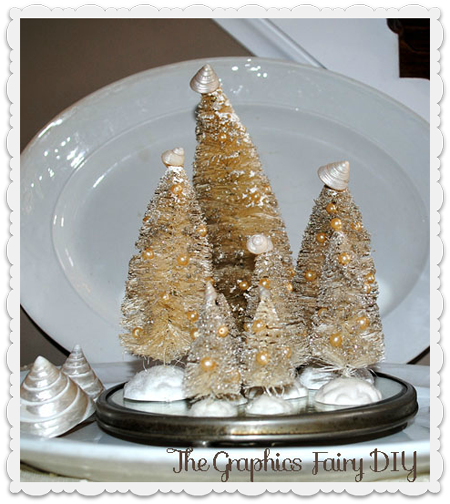 Adding some coordinating string or yarn to these bottle brush trees would make them perfect ornaments. I shared the tutorial for these trees on the site awhile back and they are so easy to recreate.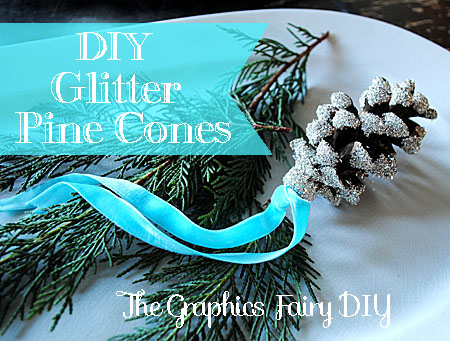 Transforming pine cones into a gorgeous, glittery ornament is as simple as following these directions.
Make a personalized ornament this Christmas using my tutorial for a silhouette embroidery hoop ornament. This one uses my Christmas sheet music graphic printed onto fabric.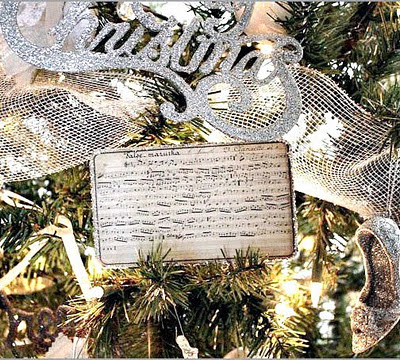 These stunning French Sheet Music Ornaments are from  Lori at Katies Rose Cottage Designs. Swoon!!!! Lori used the French Sheet Music Graphic for these. You can visit her blog for the Tutorial and also check out the the darling burlap bags she made to store these in.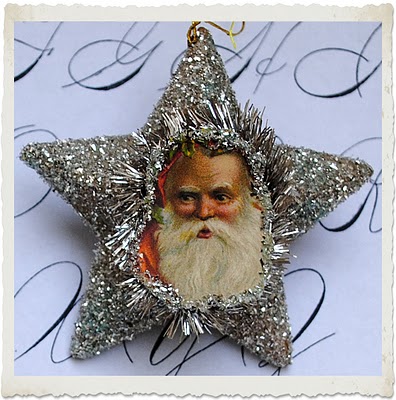 Use high resolution printable Santa images to recreate this gorgeous Santa star ornament.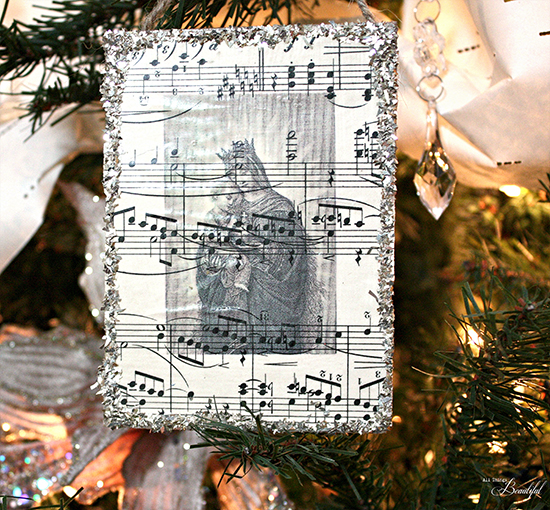 Sheet music makes such a great starting point for ornaments. These gorgeous  Crown Sheet Music Ornaments are from Janis at All Things Beautiful!  Janis printed the Christmas sheet music and a few other printables from The Graphics Fairy's 100 Free Christmas Images Post. You can get all the details on how to make these sheet music ornaments over on Janis' blog.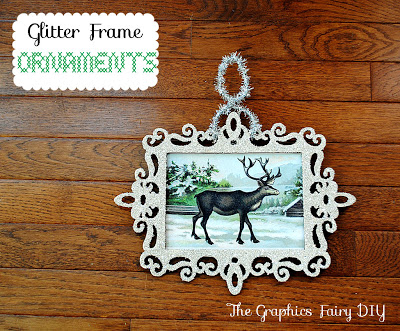 Sometimes adding a little glitter is all that a project needs to take it from ok to amazing. I created these glitter frame ornaments and combined them with some of my graphics for the perfect homemade ornaments.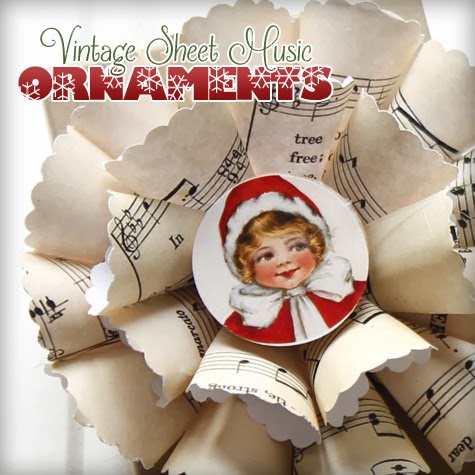 This sheet music Santa ornament is a combination of vintage Christmas sheet music graphics and a vintage circle graphic.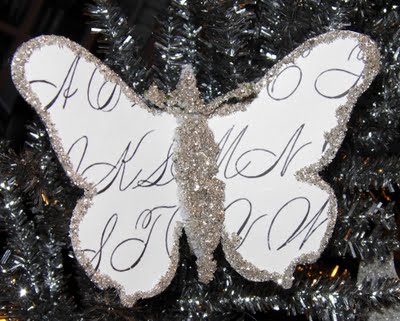 This glittered butterfly ornament is so simple to create. I share a step by step tutorial here.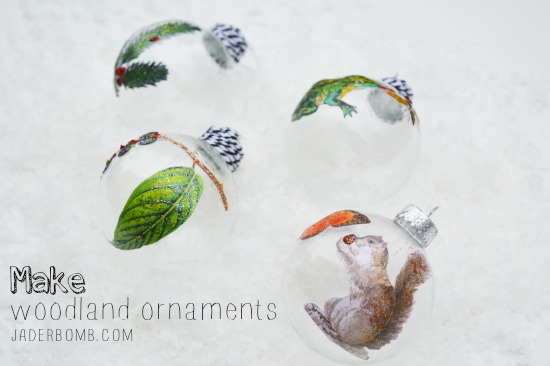 Jade, from Jaderbomb, shared these adorable woodland creature ornaments on the blog before and I still love them. She used the Woodland Walk graphic to create these adorable ornaments.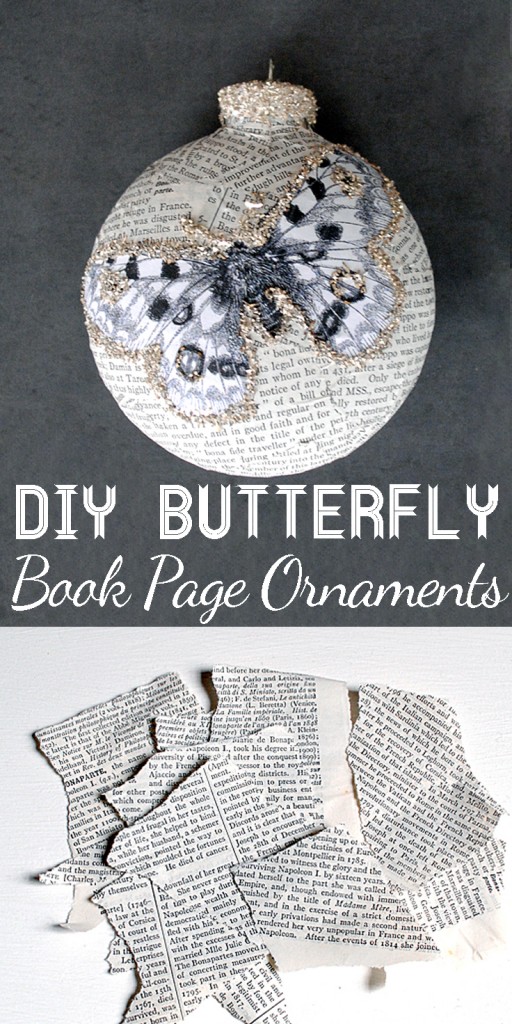 Learn how to make these book page butterfly ornaments by visiting my step by step tutorial that I shared last year.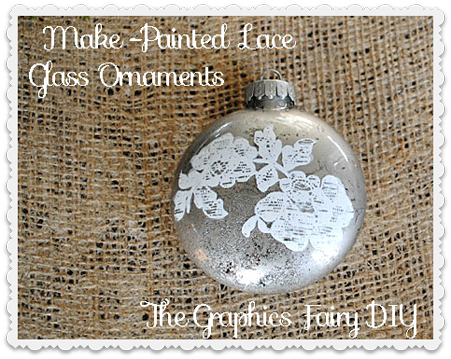 These painted lace glass ornaments might be brand new but they have a perfect vintage feel to them. I have step by step instructions so you can make your own this Christmas.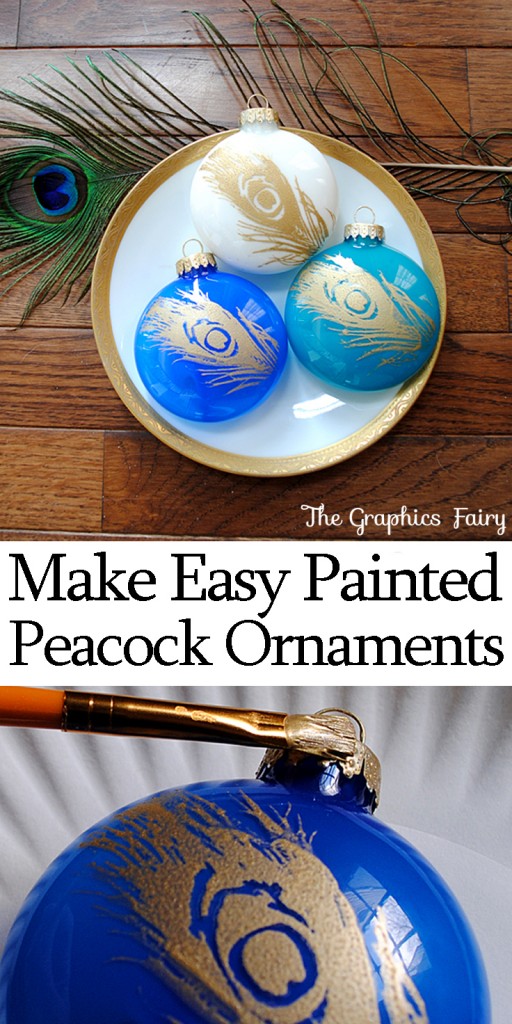 Combine paint and stencils to create these gorgeous painted Peacock ornaments. They are so easy to make!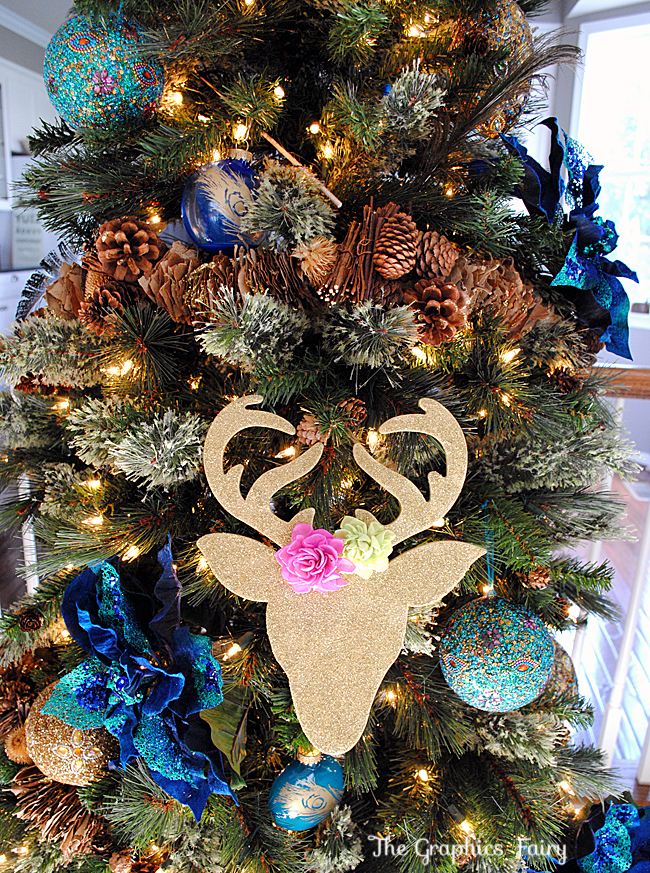 There are few things more Christmas like than a reindeer. Adorn your tree with this gorgeous glittered reindeer ornament this year. It is so easy to make and I have step by step instructions.
I hope you found some inspiration for your own handmade ornaments from this collection. Have fun creating!