Top Coats and Sealers for Crafts – A Comprehensive Guide!
Hey my lovely Graphics Fairy friends – it's Rebecca Parsons back with another comprehensive guide. This one is all about Top Coats and Sealers for Crafts, including Clear Sealant Spray. There are so many choices to protect your precious artwork. Which one is right for you and your arts and crafts projects? A spray sealant like Mod Podge Spray, a brush on product, a glaze or maybe even a wax? As an artist/educator, I especially enjoy learning and teaching others about the features and benefits of our 'tools of the trade.' Today I am taking a deep dive into the products for protecting and/or enhancing your final artwork.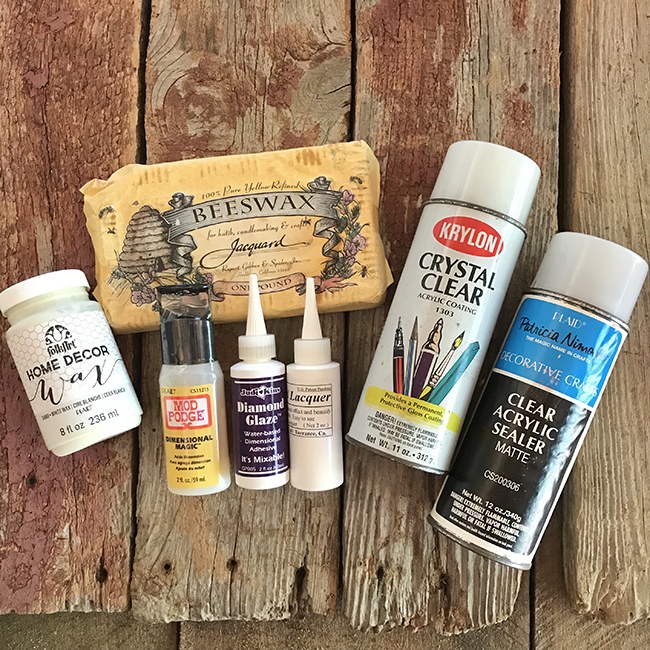 Sealing Artwork
The terms Sealers and Top Coats are generally used interchangeably. For our art, they are practically the same thing. Both protect the underlying surface. Top coats provide embellishment or enhancement as an additional function. For example: A dimensional glaze product is used to add shine and height to a piece. A Matte Gel Medium might be used to produce a dull appearance or a Gloss Gel Medium to bring out the details of an image transfer. Both offer some protective properties as well. TIP: Make sure ALL adhesives, paints, inks, etc. are fully dry before you seal the piece. If anything is still wet, the top coat can trap moisture and become cloudy.
Disclaimer: Unfortunately, I cannot possibly cover all the products used for top coating and sealing crafts and artwork. And there are so many different art forms, each with its own sealing needs and/or issues. Therefore, I will cover the most popular and readily available products along with my faves. I will concentrate on the needs of The Graphics Fairy's papercraft audience here.
To Seal or Not to Seal
The debate continues among artists as to which product is best. Everybody has a favorite. Another raging debate is over the actual 'need' to seal. You should seal or top coat for things like Decoupage, Image Transfers, Fabrics, etc. My personal take is that, if you are dealing with precious or fragile art, you should frame the piece safely behind glass for protection. Again, this is just my personal preference. However, I do support the right of an artist to make the choice to seal their art. I will gladly help you sift through your options with tips to determine the most effective strategy for your art.
The products you use under and over paper affect its appearance. I am sure you have experienced an adhesive that shows through the ephemera as well as top coats changing the appearance of the piece. Some of them will eventually yellow. Some may cause the item to wrinkle or warp. If you embrace these concepts and understand the product's limits, then you have made an informed and artful decision. That is always cool! Typically, I want my art to last for centuries; don't you?
Pre-Seal Components
I totally pre-seal individual components of my art, especially delicate antique ephemera. I prefer to do this with a gel medium product. You can check out my Comprehensive Guide to Gel Mediums HERE. You can also protect with Mod Podge and spray sealers.
Basic Sealers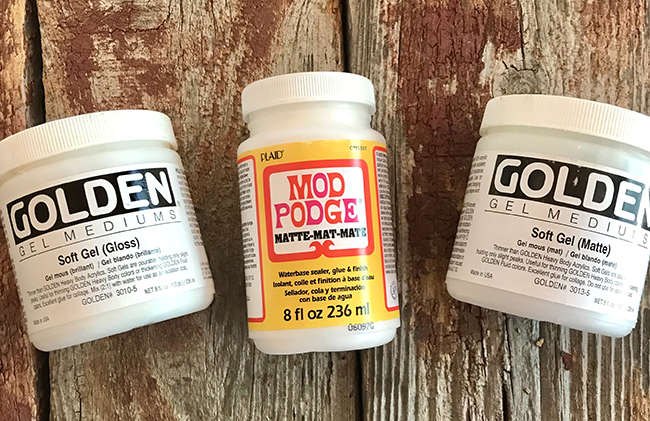 There are many options for Top Coats and Sealers for Crafts on the market today. If I asked you what you use as a sealer or top coat, I imagine most would say Mod Podge, Gel Medium, or a clear sealant spray like Krylon Crystal Clear. Some use waxes as a sealer and top coat. I have recently been introduced to Micro Glaze. This is a pretty cool option. Below I break down the sealing and top coating products that I hear about the most and use on my art. I would love to hear what your favorite is in the comments below.
Basic Sealing Processes Deconstructed
Gel Medium: Easy to apply. Good protection. Gloss and Matte finishes. Can be tinted. Adhesive qualities. Protects against fingerprints. Application: Brush on a thin layer and allow it to dry. Cons: Visible brushstrokes. TIP: A sponge brush or roller can alleviate brush marks.
Mod Podge: Easy to apply. Good protection. Gloss and Matte finishes. Can be tinted. Adhesive qualities. Some protection from fingerprints. Application: Brush on a thin layer and allow it to dry. Cons: Visible brushstrokes. Can pool at the edges. TIP: A sponge brush or roller can alleviate brush marks. (NOTE: I am referring to the original Mod Podge in this article.)
Clear Sealant Spray: Easy to apply. Good protection. Gloss, Satin, and Matte finishes. Degree of protection is low depending on quality of your spraying. Some water protection properties. Application: Spray on several thin coats and allow it to dry. Cons: Needs to be done outdoors or in a spray chamber. Can pool if too close or too much is applied at one time. TIP: Several thin layers work best.
Wax: Fairly easy to apply. Good protection. Can be tinted. Many options from Beeswax to liquid waxes. Often changes paper translucency. Some water protection properties. Application: Brush or rub on a thin layer and allow it to dry. Buff with a soft cloth. Cons: Can be expensive. Can discolor surface. Often changes paper translucency. TIP: Experiment with different waxes to find the ones that do what you need them to do.

Micro Glaze: A

way to seal your Distress and ink jet printing projects. Seals Rubber Stamp Inks, Distress Ink, Markers, Stain, Paint, and more.

Easy to apply.

W

ater resistant. Acid free.

Cons: Leaves a sheen. TIP: Apply a thin coat with your finger. You can use a matte spray over it to alleviate the sheen.
I always recommend that you first create a test piece to see how the Crafts Top Coats and Sealers work on your surface. Some products can change the color and/or the transparency of the piece. That can be a good thing or a bad thing depending on your vision. Take the time to know your products before using them! WINK
Dimensional Glazes for Top Coats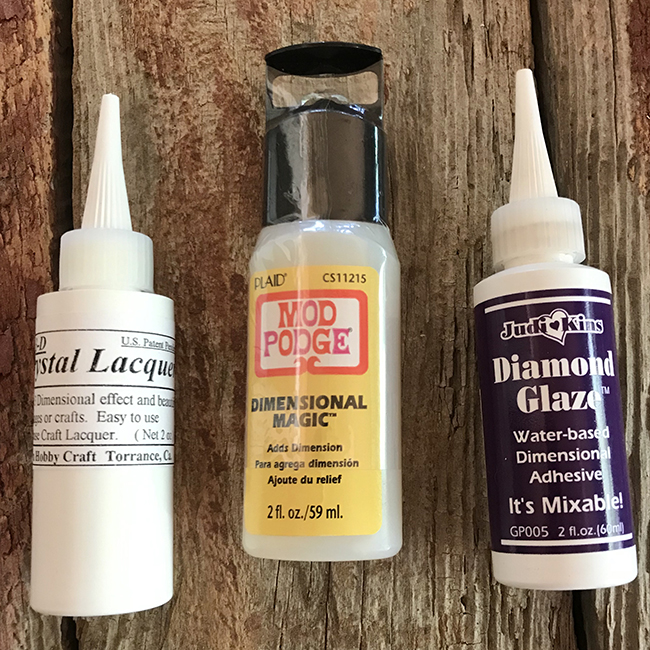 I love the glaze products that are non toxic and offer a nice, thick, 'epoxy like' coating. They have some protective qualities for framed art, handmade cards, and scrapbook pages. However, they are used mostly to add Shine and Dimension, not necessarily to protect outright. Here are three of my faves: Dimensional Magic, (note Mod Podge Dimensional Magic is hard to get right now) Crystal Lacquer, and Diamond Glaze. Check out this post about Glaze on Dominoes by Lynne Morgando, one of our Mixed Media Design Team members.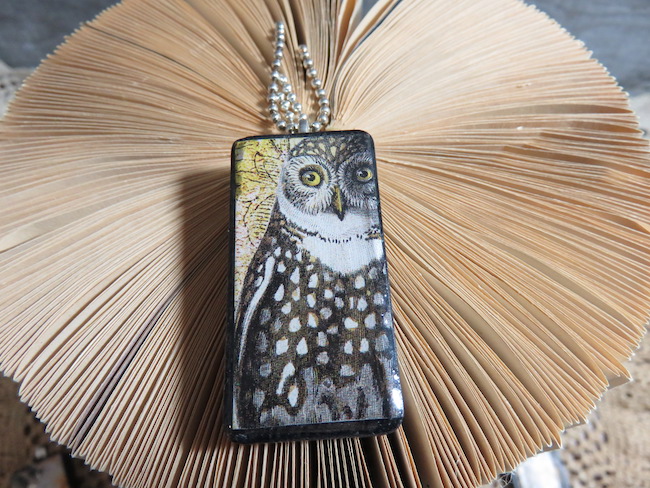 Application: Follow manufacturer's directions. Most glaze goes on cloudy and dries clear. Cons: Glaze can get pesky air bubbles which are difficult to remove. (You can embrace them as added texture if you like.) Glaze can crack. It cannot be applied as thickly as resin.
A Word About Resins
Resin is the way to go for extreme durability, but it can be quite toxic so you will need to take a lot of precautions! If your piece needs to be waterproof or highly protected in other ways, resin does the trick. Some think this is a more professional option. It requires protective mask and clothing to use and lots of ventilation. You can peruse several TGF posts using resin HERE, HERE, and HERE.
A Word About Ultraviolet Coatings
Offers a great protection. It hardens into a protective shield when exposed to UV light. Krylon UV resistant coating comes in a variety of finishes (gloss and matte). If your artwork will be in the sun, please consider this top coating.
Spray Sealant vs Brush on
Painting vs. Spraying
Painting with a brush allows for excellent control, good adhesion, and even, uniform coverage. It is slower than spraying and two coats are often required.
Spraying with clear sealant spray, like Mod Podge Spray, is a faster application of sealer. Spraying takes practice to master; otherwise you may create uneven coverage. That is why I recommend applying several thin coats alternating horizontal, then vertical. If you are wondering how to seal your crafts or art with out brush strokes, this is a nice option.
Gloss vs. Matte
Gloss provides lots of shine and is good where the color needs to POP!
Matte is good for enhancing visual designs with little glare.
Where to Use Top Coats and Sealers
Sealing Paper
Any of the basic sealers work well on papers. Glazes can add a WOW factor.
Sealers for Fabric
Any of the basic sealers work well on fabric art. Glaze is not recommended for use on fabrics.
Sealing Inks
Some inks are permanent; some are not. Ink must be dry before you try to seal it. For those that are not permanent, the preferred product is a spray sealer. Glaze can be used if inks are sealed or permanent. Otherwise, they will smudge and smear. Micro Glaze is the perfect choice for use on paper crafting projects, watercolors, and ink jet printing.
How to seal Acrylic Paint
Paint seal sprays can be a great option for using on Acrylic paint. Make sure you use an Acrylic sealer like Mod Podge Spray or Krylon Crystal Clear Coat. There are times when we paint things and we need to make sure the paint stays on the surface, especially for surfaces where the paint is likely to flake off. If you are into the rock painting craze that a lot of us are currently enjoying, the spray sealers are really nice for spraying your painted rocks to make sure your beautiful designs stay put on the rocks! Please note the sprays would work best for indoor rocks, if you are going to be keeping your rocks outside, you will want to use a product like Mod Podge sealer for outdoors.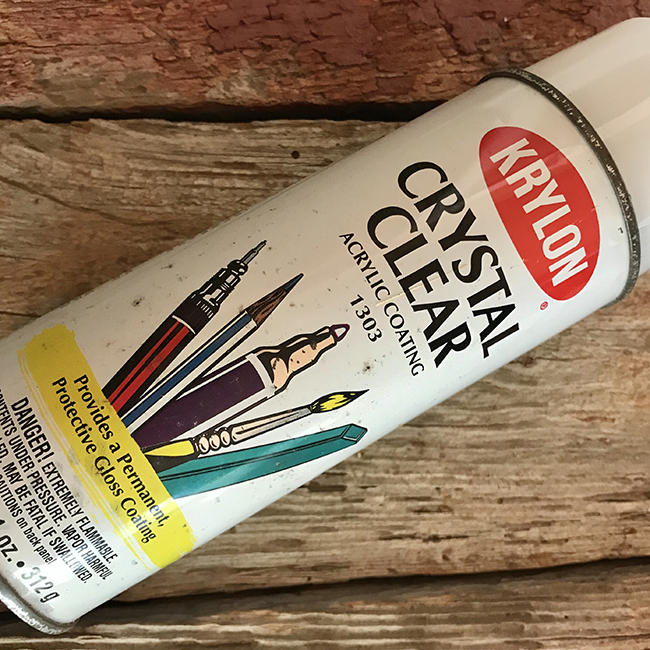 How to seal Charcoal drawings, Pastels and Chalks
These powdery art mediums must be protected because they are not permanent until sealed. The preferred product is a clear spray sealer or fixative on these materials. Krylon or Mod Podge Spray are both good options. Brushing on a sealer would remove these in most instances. Glaze can be used over these mediums if they are sealed first. NOTE: Oil Pastels cannot be set with standard fixatives because they never completely dry and will repel the sealer.
Image Transfers
Depending on the transfer method, all of the basic sealers work well. Glaze can be used over image transfers. Water-based Polyurethane is the preferred protectant on hard surfaces like furniture or wood. Oil based polys dry slowly and will yellow over time.
I hope this article has helped demystify Top Coats and Sealers for Crafts, including the old stand by Clear Sealant Spray. I even found a couple of new to me products during my research, like the Mod Podge Spray. Again, if you have a favorite protective or decorative coating for your crafting, I would love to discuss it in the comments below.
Outdoor Sealer
If you are looking for an outdoor craft paint sealer than Mod Podge Outdoor is a great choice when you want to waterproof your outdoor art.
For example if you are doing rock painting projects and you want to keep those rocks outside you could use this type of product. Nice for painted Terra Cotta pots or other painted planters too.
You might also like our post How to Make Inkjet Prints Waterproof HERE. 
I also create Photoshop Elements tutorials and craft videos over on The Graphics Fairy Premium Membership site. You can find even more of my book art and whimsical shenanigans on my website RebeccaParsons.com.
Rebecca
Hello! Are you new to The Graphics Fairy?
Welcome, I'm so glad you're here! Browse around to find 
thousands of Stock Images
 that you can use in your projects or designs! I post new Vintage images every day, as well as projects and DIY's too! Need more info about my site? Try my 
FAQ
 page.