4 Gingerbread House Coloring Pages
In this post I'm offering some wonderful Vintage Gingerbread House Coloring Pages! These are all fun Free Coloring Sheets. Many of these were scanned from old vintage coloring books in my collection and have been altered, and some have been newly created with old coloring page parts. I'm offering these for non commercial use.
You can print out as many as you want to share with your Family, Sunday School Class, Classroom, Adult Day Care, Creative friends meet up and more. Teachers may be interested in sharing these building Coloring pages with their students. These Printable pages are fun for both kids or grown ups.
Gingerbread House Color Pages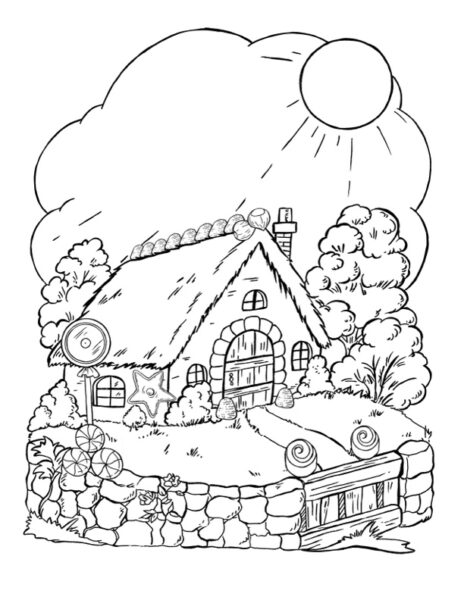 Christmas is just a few weeks away! And, today, we'll share these creative Gingerbread Houses as a part of the Christmas celebration. First, we have this tiny gingerbread house in a fenced yard. This one has four windows and chestnuts on its roof. It is surrounded by different kinds of trees and plants. I see lots of treats included in the design, like gumdrops, hard candies and lollipops!
Sweet Gingerbread House to Color
Click HERE for the Full Size Printable PDF of the Weird Gingerbread House Page
Next up, we have this compact little house all decorated with various sweets, including Candies, Lollipops and I see lots of frosting on the roof, as well as a bit of Licorice I think. This one looks quite tasty!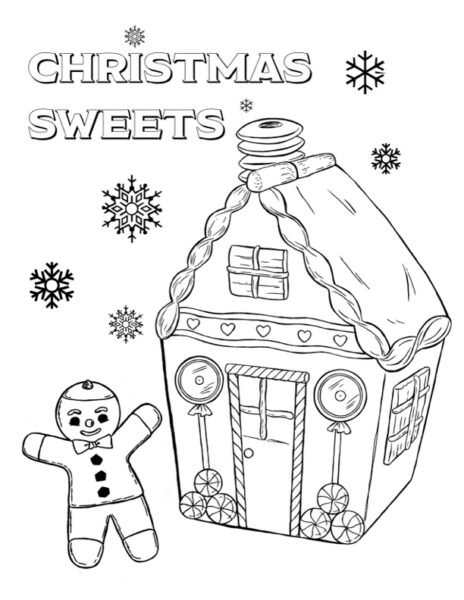 Click HERE for the Full Size Printable PDF of the Decorative Gingerbread House Color Sheet
And here we have another version of the same house above. This one has a Gingerbread man standing outside of his gingerbread house on Christmas day. He looks excited, perhaps he has presents from Santa waiting for him inside … And the snowflakes add to the holiday spirit. So sweet!
Other Coloring Printables
You might also like some of our Other Instant Download Coloring Pages: